The Emmy Awards [1] have all been handed out, so it's time to start reflecting on this year's show. The winners weren't the only highlight of the broadcast, as host Seth Meyers handily steered the show, some unexpected moments pleasantly surprised us, and others had us feeling sentimental. Though there were a few lows (what was that music, anyway?), there were several moments that made this year's Emmys worth watching.
Source: Getty / Kevin Winter [2]
The TV-Insidery Monologue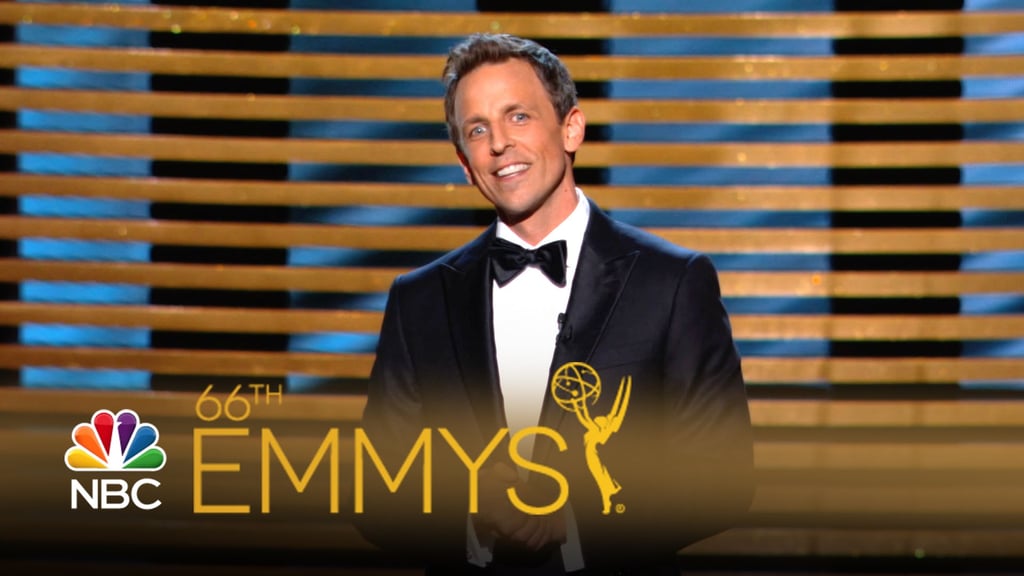 Seth Meyers opened the show with a monologue that wasn't just funny, it was like a gift for TV fans. He made references to How I Met Your Mother, Game of Thrones, and Netflix, and it was right-on but didn't necessarily have to rag on anyone to get laughs. (Except Justin Bieber. Sorry, Bieber.)
All the Breaking Bad Love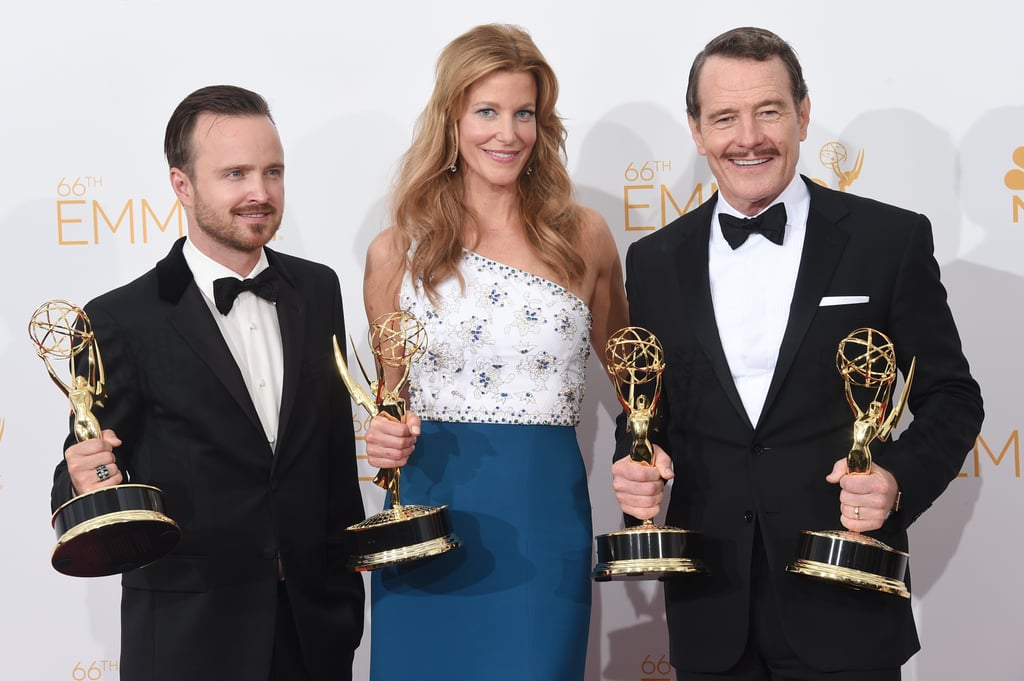 It was Breaking Bad's final year at the Emmys, and it went out in the most appropriate way: with an armful of Emmys. Aaron Paul and Anna Gunn both won in the supporting acting categories, Bryan Cranston beat Matthew McConaughey [3] for lead actor, and the whole show won the big prize of the night: outstanding drama. Paul didn't say it, but we will: "Yeah, b*tch!"
The Billy on the Street Segment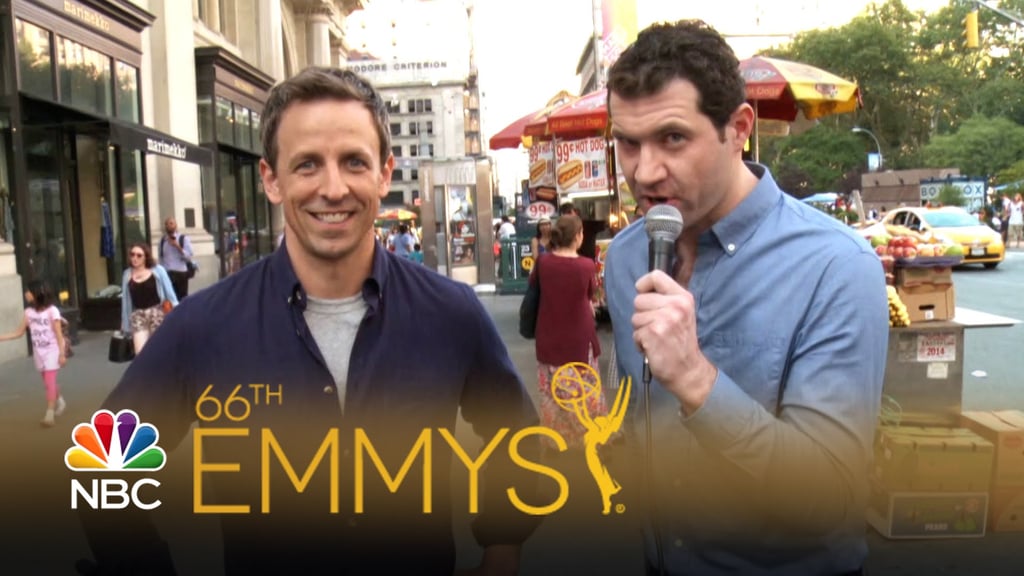 Meyers enlisted Billy Eichner to do a special Billy on the Street segment with an Emmys theme, and the results were predictably hilarious. People on the street didn't know Meyers was hosting the Emmys and didn't seem too concerned about this year's infamous snubs, and Eichner put his high-volume spin on the event. For a night thin on skits, this one was a welcome moment.
Andy Samberg's Joffrey Impression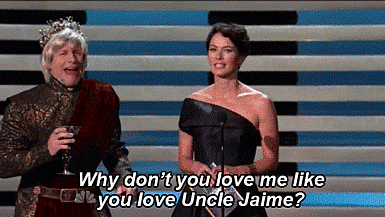 That Weird Al Yankovic bit may have fallen flat, but Andy Samberg [4]'s impression of Game of Thrones' Joffrey was an amazing byproduct. With his poisoned glass in hand, Samberg harassed presenter Lena Headey, who handled it with the ultimate poise.
The Robin Williams Tribute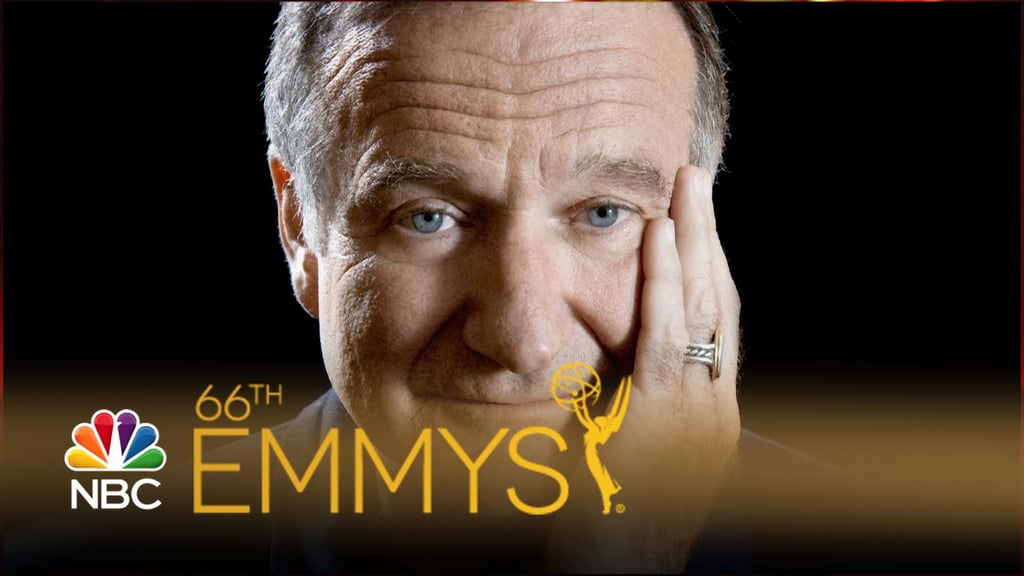 There were a lot of ways the Emmys could have honored the late Robin Williams [5], and the resulting tribute was lovely and fitting. Billy Crystal told touching stories about his old friend that both let us in to the real Williams and made us laugh, and we were rewarded with a brief montage of his stand-up. He really did make us laugh, hard, like Crystal said, and this was a great way to remind us.
Ricky Gervais's Never-Used Acceptance Speech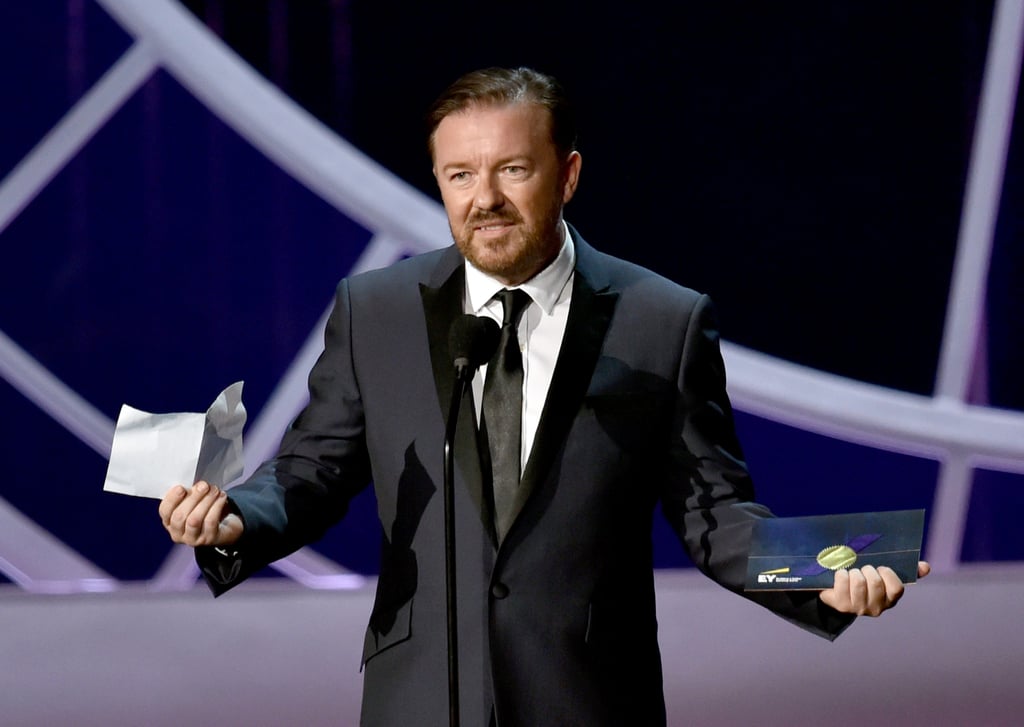 He may not have won, but Gervais still got to give the acceptance speech he had at the ready, which went a little something like this: "Haha, I won. I knew I would because I am the best actor." Kind of makes you wish he had won, right?
Sarah Silverman's Sprint to the Stage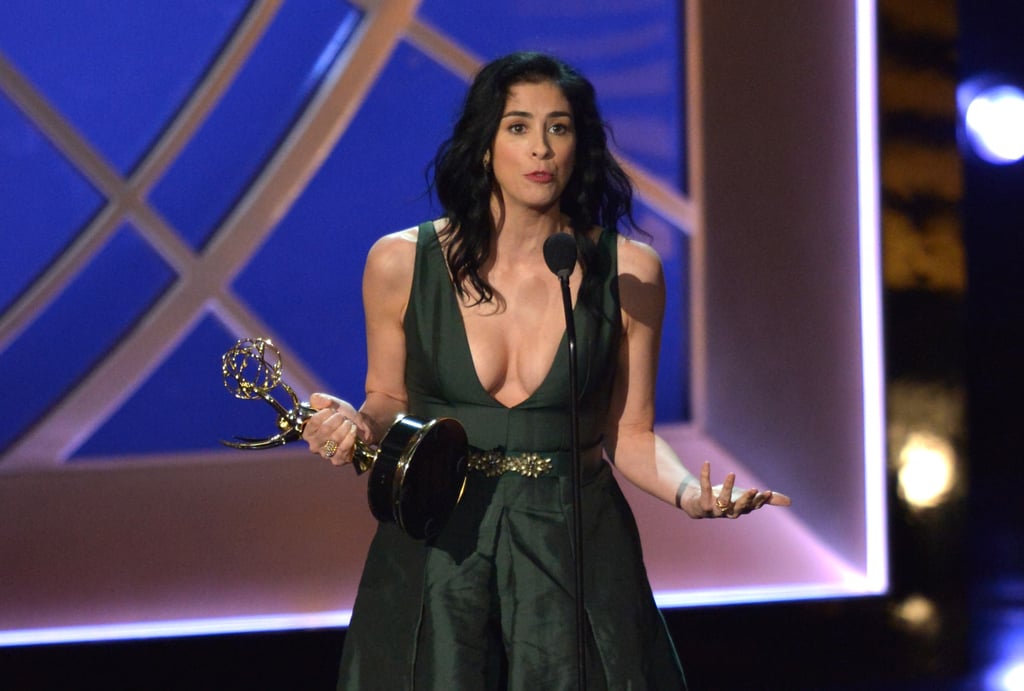 During a night of mostly expected wins, Sarah Silverman's victory in the outstanding writing for a variety special felt fresh. Mainly because she kicked it off by sprinting to the stage barefoot, then went from saying, "Thank you to my Jews at CAA, Larry, Moe and Curly" to talking about her "love, Mr. Fancypants Sheen." For a category we weren't really biting our nails over, it was fun to have the irreverent comic inject a little levity.
Amy Poehler and Seth Meyers's Intro of Matthew and Woody
Not only were Poehler and Meyers's jokes about Matthew McConaughey [6] and Woody Harrelson so funny [7], but their being together also gave us pleasant flashbacks to Weekend Update. Maybe Meyers can join Poehler and Tina Fey [8] the next time they host something together?
Matthew and Woody's Two-Man Show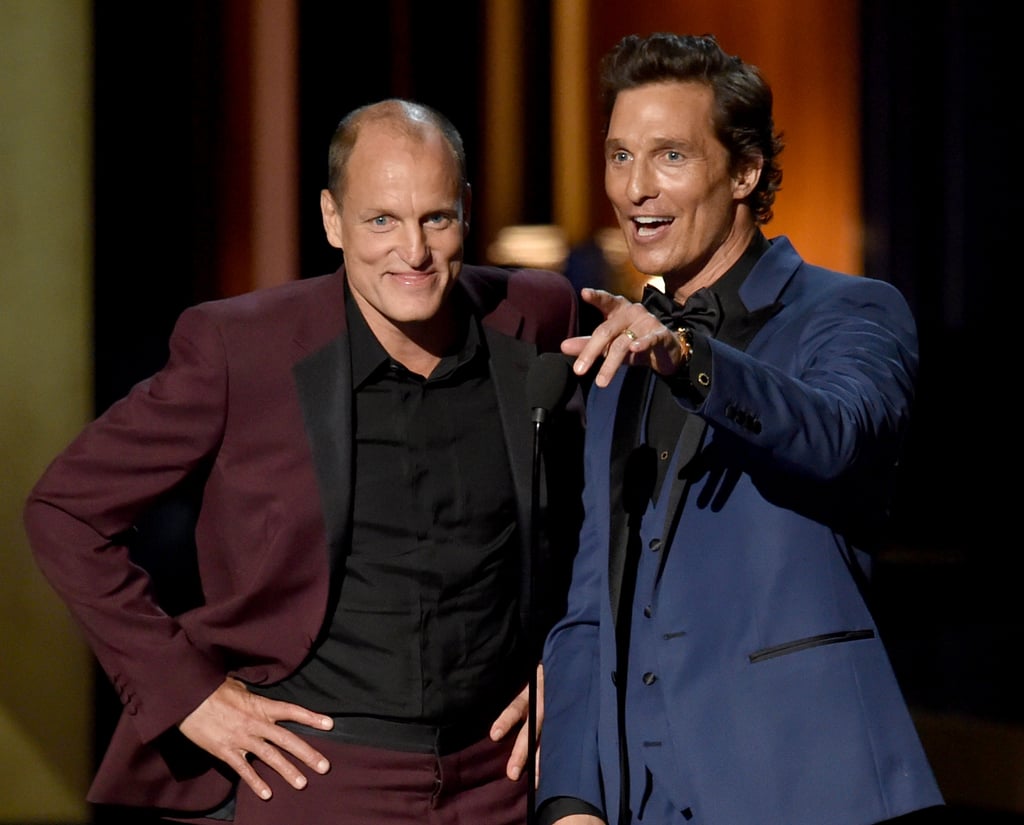 When real-life friends and True Detective costars Matthew McConaughey [9] and Woody Harrelson took the stage to present, they gave each other an epic ribbing. Harrelson mocked McConaughey's "Alright, alright, alright," McConaughey teased Harrelson about being jealous about his award season wins. It felt real — and it was so funny.
Jimmy's Crashing of The Colbert Report's Win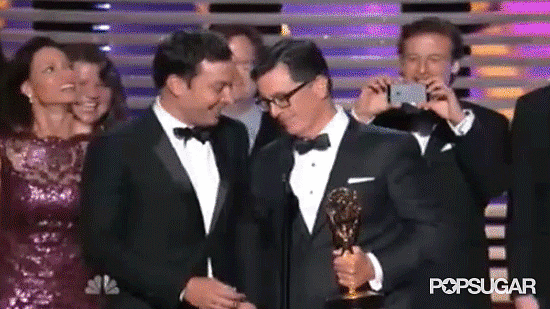 After Gwen Stefani mispronounced The Colbert Report [10], Jimmy Fallon [11] figured that meant the award was up for grabs, so he crashed the stage to accept it. Stephen Colbert [12] played along, whispering his speech in Fallon's ear. It was silly and entirely adorable.
The Big Kiss
When Julia Louis-Dreyfus [13] headed to the stage to accept her Emmy, Bryan Cranston intercepted her and initiated an epic — and epically long — makeout session. It didn't end until Jimmy Fallon [14] broke it up, and it might be the night's most hilarious moment.
Boom.