The month of April is coming to a close, but before we get into Summer and all its jams and blockbusters, let's reflect on the entertainment of the past month. A couple characters bit the dust (not that we'll miss all of them), some big movies triumphed and bombed, and we lost our minds over a few high-profile trailers. Let's go over the best and worst of April entertainment!
Best Way to Kick Off Blockbuster Season — Captain America: The Winter Soldier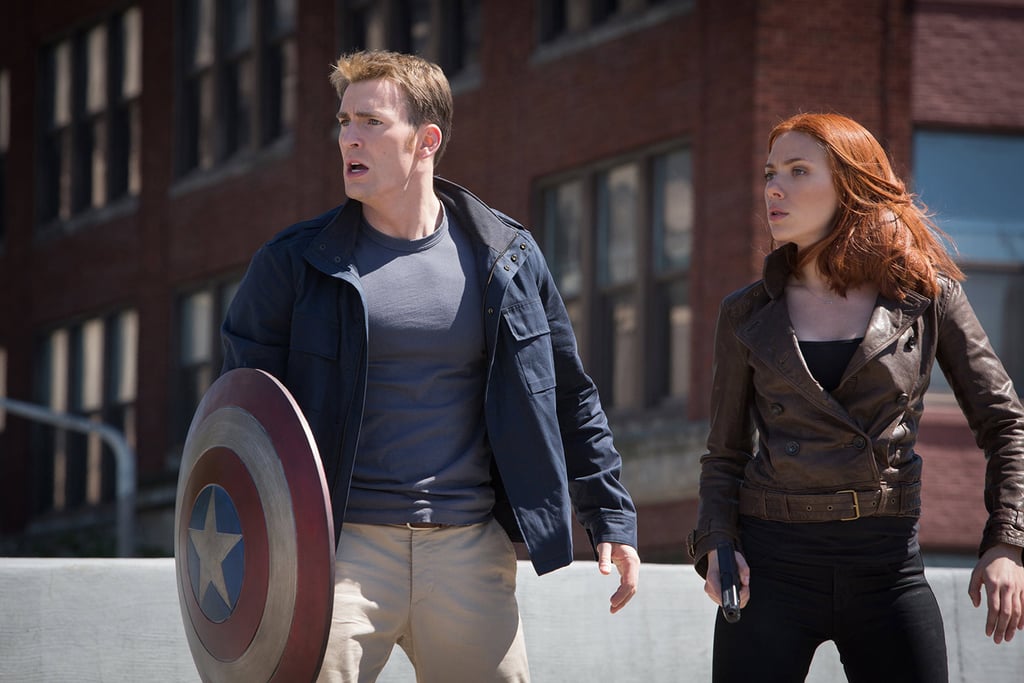 Let's be honest — Captain America and Black Widow weren't anyone's favorite Avengers — at least, not before the release of this month's Captain America: The Winter Soldier. The superhero sequel made both of those characters more entertaining, not to mention the fact that the film is quite relevant in the Marvel universe for its big S.H.I.E.L.D. twist. The movie also spent a few weeks at the top of the box office, making it the unofficial first blockbuster of the season.
Least Tragic Death: Joffrey on Game of Thrones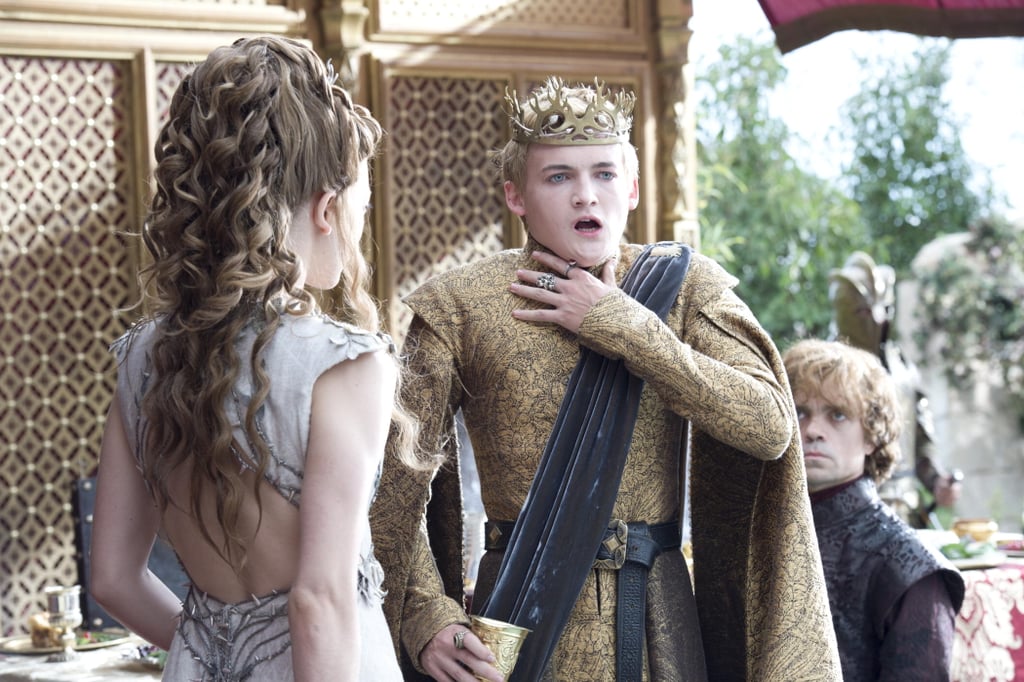 Game of Thrones deaths generally don't shock us that much anymore (especially since the Red Wedding), but this month's death is not only shocking, it's actually . . . kind of great. Joffrey dies at his own wedding [1], having been poisoned by the teamwork of Lady Olenna Tyrell and Littlefinger [2]. Normally a shocking murder is an occasion for grief, but in Joffrey's case, there hasn't been any character more deserving.
Most Tearjerking Trailer: If I Stay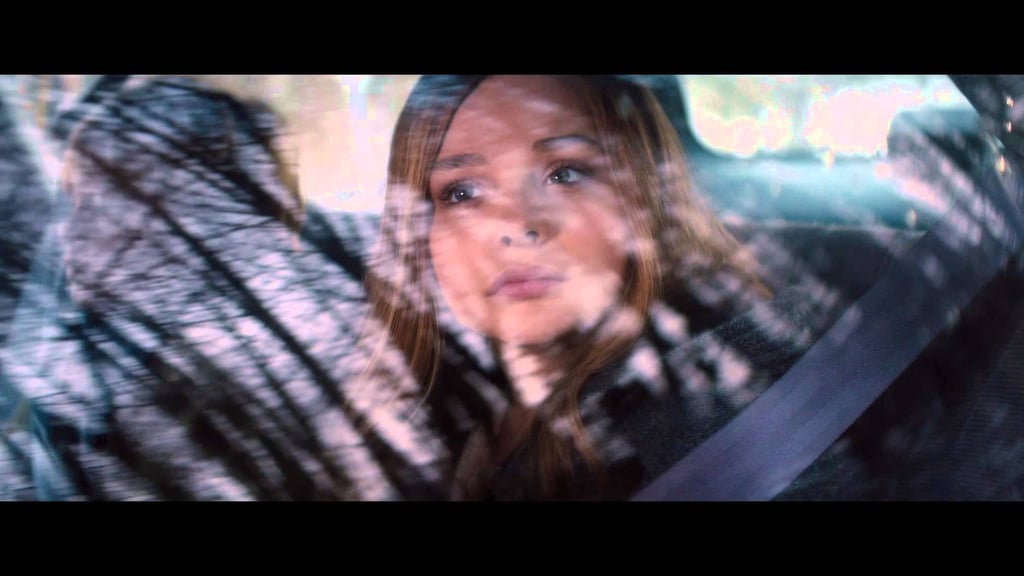 We thought the trailer for The Fault in Our Stars [3] was a tearjerker, and then the trailer for If I Stay [4] came along. Starring Chloë Moretz as a teen who gets into a car crash and has to choose to stay on earth or die, it's heavy, to say the least. Bring on the tissues!
Saddest Character Death: Fitz's Son on Scandal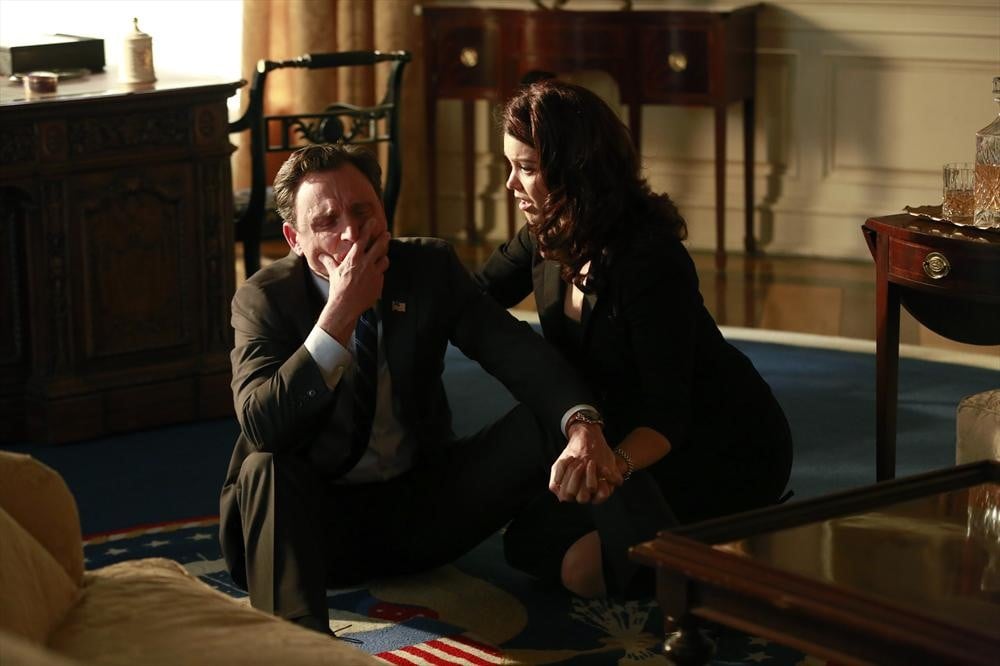 Spoiler alert, guys. Scandal isn't known for shying away from, well, scandal, but killing off Fitz and Mellie's son on the finale [5] is a wicked turn. Little Jerry was just a kid! Fitz isn't a terribly sympathetic character, but you can't help but feel for the guy as he melts down in the Oval Office. And to think he was poisoned at the orders of a man who wants to keep his daughter away from Fitz. It's like a Shakespearean tragedy. Or Game of Thrones.
Best Performance by a Chest: Zac Efron at MTV Movie Awards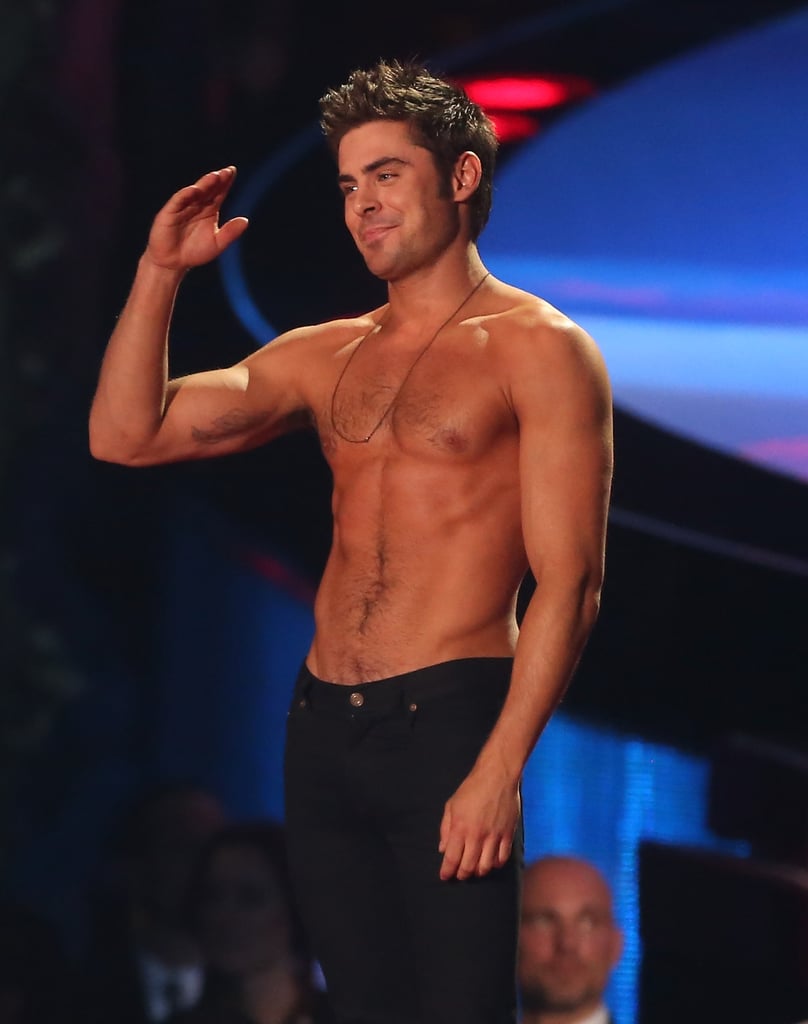 This month's MTV Movie Awards weren't, well let's just say that they weren't the Oscars, but the laid-back atmosphere did have something no other award shows have had: shirtless Zac Efron [6]! The best shirtless [7] performance winner had his shirt playfully ripped off him by Rita Ora, and to say it was the best moment of the night is an understatement. And judging by the pictures of next month's Efron movie, Neighbors [8], he's probably a shoo-in for this award next year too.
Most Exciting Promotion: Colbert's Move From Comedy Central to CBS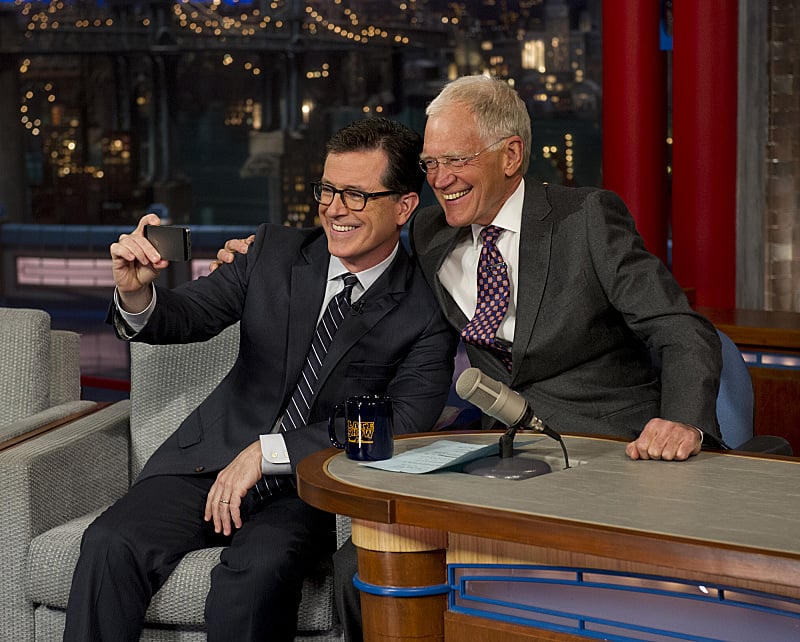 And the late-night shake-ups continue! At the beginning of the month, we were pretty floored when David Letterman announced his retirement [9], and a week later, when Stephen Colbert was announced [10] as his replacement. We can't think of a more worthy recipient of the job, and honestly, we're most excited to see Colbert be the real Colbert [11].
Creepiest Use of the Song "She": Gone Girl Trailer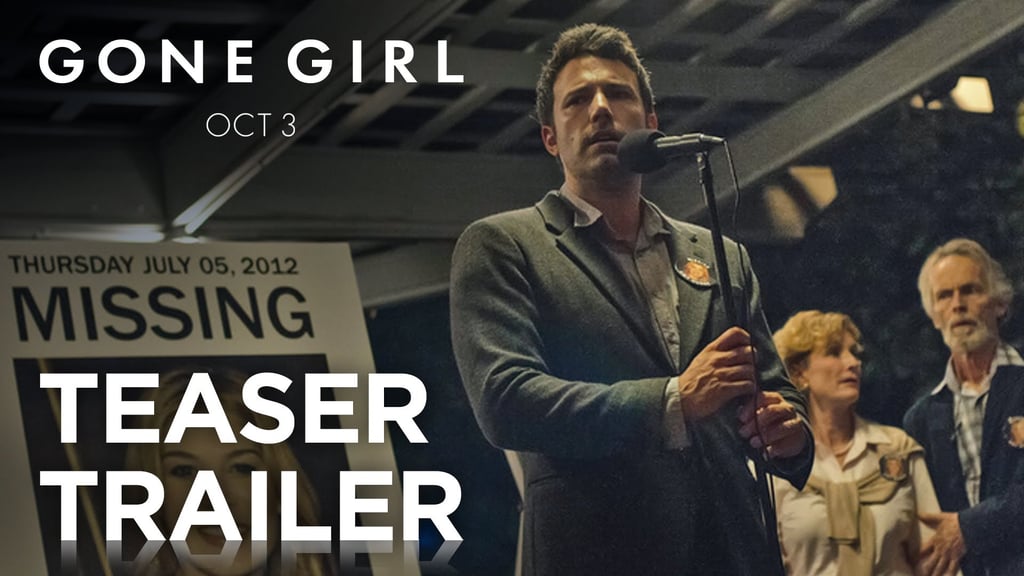 Ever since we gobbled up Gillian Flynn's bestseller Gone Girl, we've been dying for a glimpse of the movie. We finally got a long look in the Gone Girl trailer [12], but we still have so many questions: Will Ben Affleck [13] be the perfect Nick? Can we please see some footage without music playing over it? Where's Neil Patrick Harris [14]? And finally, why "She"? We'll never be able to hear that song the same way again.
Least Predictable Twist: Parks and Recreation's Time Jump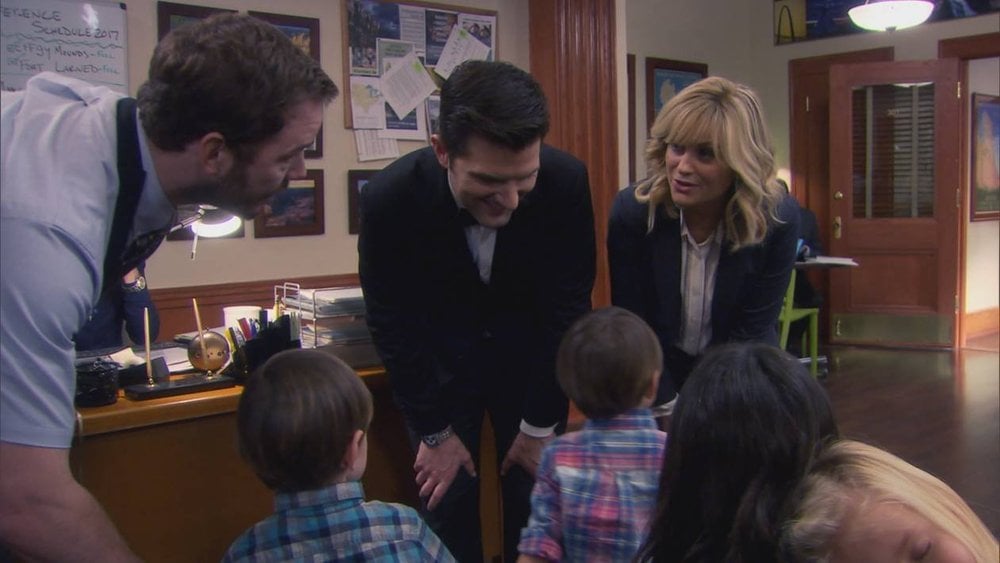 For a mild-mannered sitcom, Parks and Recreation really brought out the big guns with its finale. Michelle Obama [15], Jon Hamm [16], and a whole lot of musicians guest starred, but it was the final moments that surprised us the most. The show jumped forward three years [17], and next season — which will likely be its last — will take place at that time in Pawnee. Pretty crazy for Indiana!
Most Bewildering Sequel News: Mrs. Doubtfire 2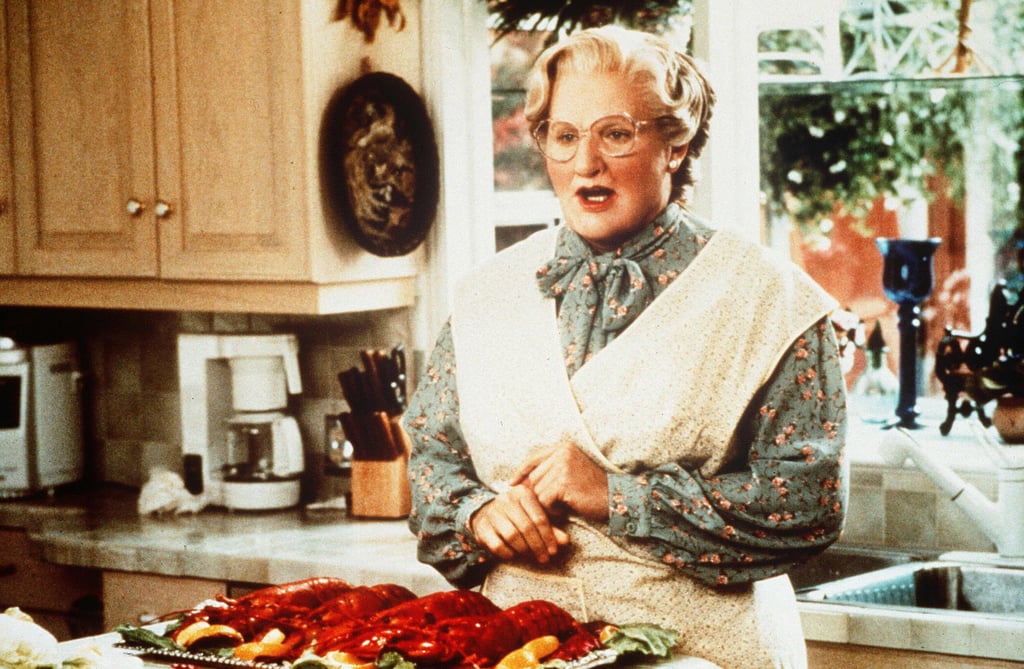 Mrs. Doubtfire was a pretty perfect movie [18], which is why we were surprised when news of a sequel was announced earlier this month. Some of the original actors [19] aren't even acting anymore, so we're also wondering what will happen. Robin Williams [20] is attached though, so I guess that's all that matters.
Most Frustrating Fling: Mindy and Danny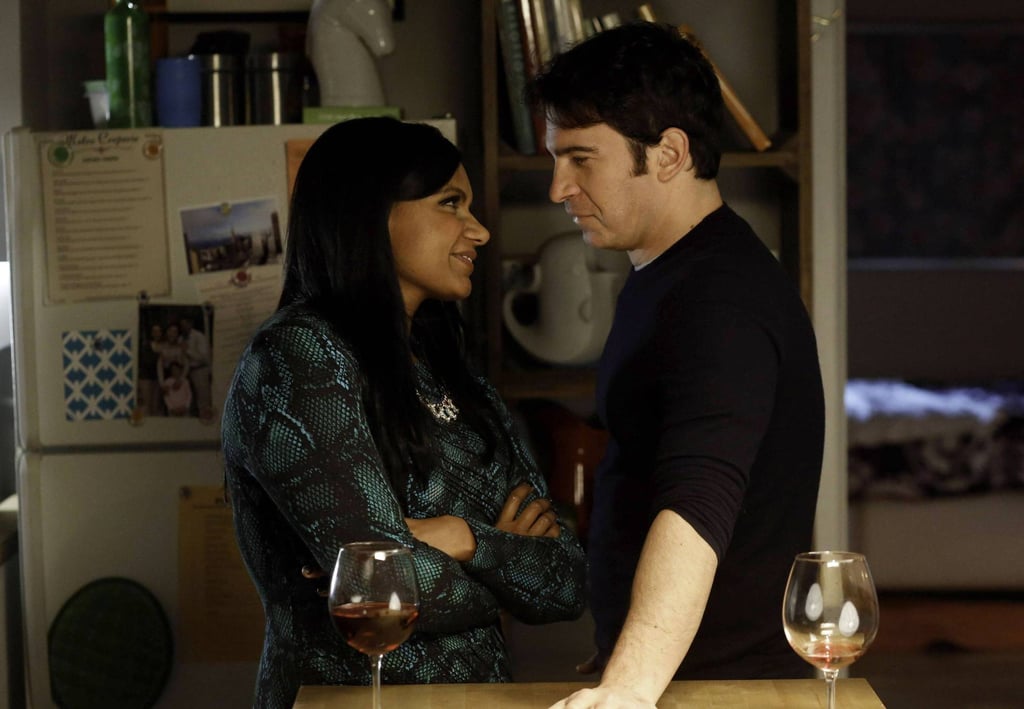 Though we were a little conflicted when Mindy and Danny first kissed [21], when the show came back and they were totally on, we loved it. Their relationship was as funny and cute [22] as their flirtation had been — until it wasn't. Danny breaks it off before they really get anywhere, in a situation that felt real and sad. But we can't be bummed for too long, because the season finale pictures [23] look like we're heading toward a makeup!
Biggest Bomb: Transcendence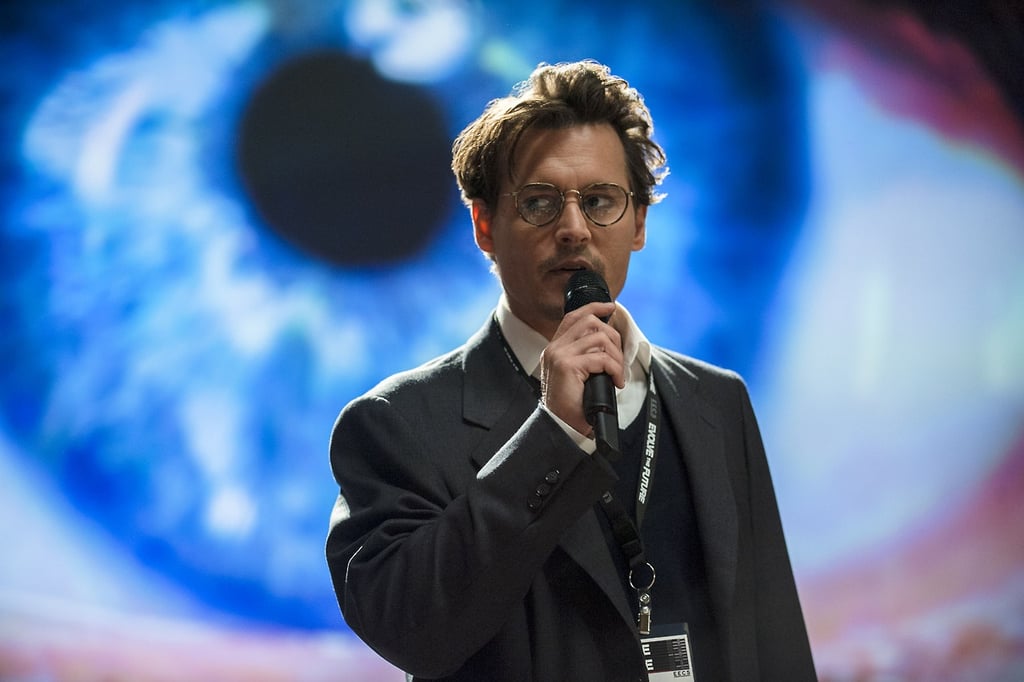 Despite having a huge movie star on the marquee — Johnny Depp [24] — sci-fi thriller Transcendence crashed and burned at the box office. With a relatively tiny haul for such a big-budget movie (it only earned $11.5 million in its opening weekend), it's Depp's lowest-opening film ever. Guess the subject matter just didn't transcend.
Most Musical Host: Anna Kendrick on SNL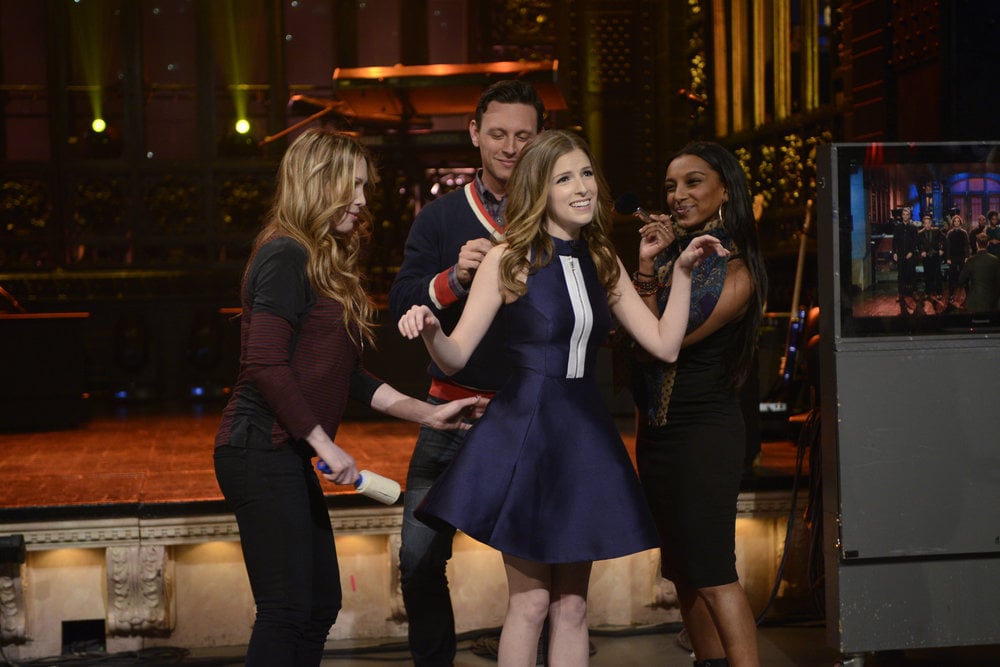 Pitch Perfect star Anna Kendrick [25] was, well, pitch perfect when she hosted Saturday Night Live this month. The musical theater veteran kicked off her episode with a Beauty and the Beast-inspired monologue [26], then parodied The Little Mermaid in another skit, and got a song about dongs all over the world [27] stuck in our heads.
Best Mood Makeover: Pete on Mad Men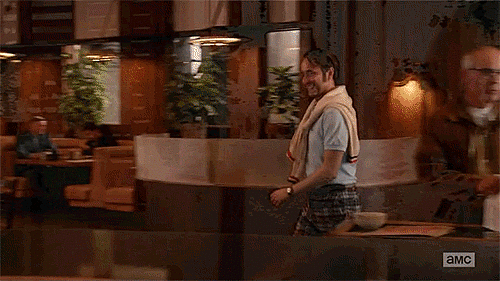 Mad Men returned for season seven this month, and not too much has changed since we saw the characters last — aside from Pete Campbell and his new sunny disposition. Turns out the West Coast looks good on Pete, and he's even a hugger now (it may also have something to do with his new blond squeeze). Mr. Campbell, you are a mystery we love to hate [28].