Buzz In: What Should NBC Do With the Jay Leno Show?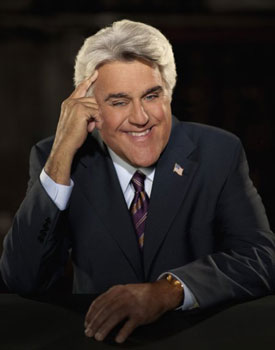 Yesterday the rumors were flying about the fate of The Jay Leno Show. By now we all know that the show hasn't exactly proved to be ratings gold for NBC, but what will the network do about it? At first, we heard that the show had been canceled, and later there was word that NBC was going to give Jay his 11:30 time slot back and pull the plug on Conan O'Brien. NBC later admitted that they are toying with the idea, but nothing has been set in stone yet.
Now, I can't imagine that NBC would just up and fire Conan, and what would happen to The Tonight Show? NBC has reportedly vowed to find ways to improve Jay's show to help it perform better, but there isn't a clear plan of how they plan to accomplish this goal. I'm assuming we'll have a better answer from the execs at this weekend's TCA, but what do you think — what should NBC do with The Jay Leno Show?
To see a video of Jay laughing off the rumors on his show last night, just read more.
Photo courtesy of NBC