Californication 2011 Winter TCA Funny Panel Quotes From David Duchovny and Cast
10 Standout Quotes From Californication's Winter TCA Panel
Like us on Facebook
The cast and creators of Californication stopped by the Winter TCA in good spirits — it was announced that the show has already been renewed for a fifth season. Star and executive producer David Duchovny sipped champagne on stage with costars Evan Handler, Carla Gugino, Pamela Adlon, and Madeleine Martin and creator Tom Kapinos as they chatted about the show. Amid jokes and expletives, they talked about what to expect in the current season and how they feel about the series. Here are my favorite quotes from the panel.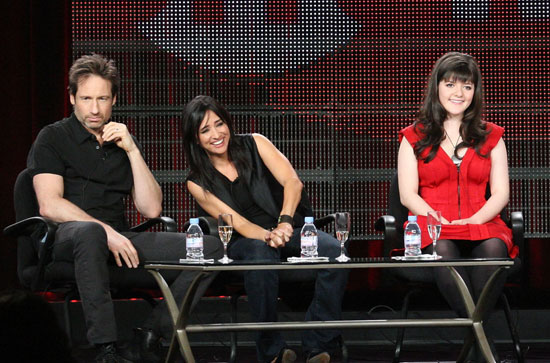 "It's an honest smell." — Duchovny, expanding on his joke that Hank keeps pulling in women because of his natural pheromones.
"My hairstylist can make a lot of sh*t happen." — Duchovny, on how his hairstylist played a pivotal role in snagging Lowe.
Martin, on not watching every scene of the show: "I find it's easier to relate if I don't see scenes

Becca

wouldn't see. I don't need to see Hank naked."
Duchovny: "I'm feeling shame."
"Porn is real people having sex on film, and these people aren't real, so no, I don't think we've ever gone too far" — Kapinos, on a reporter comparing Californication's sex scenes to porn.
"She may seem cold and critical but it's actually her form of self-preservation." — Martin, on why Becca is so hard on Hank.

To find out what other quips and bits the cast said, just

.

"You hear all this bullsh*t about being a family, but we do really genuinely like and respect each other." — Duchovny on how the cast gets along, mentioning that Handler, Gugino, and Adlon came to see him when he was in a play.
"This season Becca steps out of the shadow of her parents, and into the shadow of her peers." — Martin, on where her character is headed this season, hinting at drugs and rock 'n' roll.
Handler: "The show is both high-brow and low-brow."
Duchovny: "So it really just becomes 'brow.'"
"It's like Knight Rider." — Handler on Hank's Porsche and how it's become its own character on the show.
"Her name is Abby Rhodes. How could I not play that character?" Gugino, on playing Hank's lawyer.
Missed any of my Winter TCA coverage? Just click here!