Caption It!
Like us on Facebook
Welcome to the Caption It game on BuzzSugar! Every Wednesday, I'll post a photo still from a TV show or movie here and challenge you to think of the most hilarious caption possible. I'll announce the finalists the following Tuesday, and you'll get to vote for the best caption!
First, let's determine a winner for last week's challenge which featured a photo from Inglourious Basterds. From the looks of the poll, Vanonymous is winning with this quote:
"Oh, don't look at me like that. You and that leopard were hardly friends."
Hooray for Vanonymous! Now on to this week's photo. . . .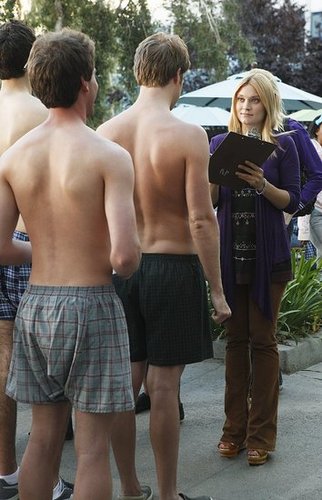 When I was putting together this slideshow featuring Greek cast members in their skivvies, I couldn't help but notice that this photo has prime captioning potential. I know I wouldn't mind being in Casey's shoes here, as long as Cappie were also in that line somewhere.

Leave your captions in the comment space below before 5 p.m. PDT on Monday, Aug. 31 to be considered for a spot in the voting round. Have fun!



Photo courtesy of ABC Family