Desperate Housewives Season Finale Pictures 2010-05-16 08:00:00
New Photos From the Desperate Housewives Season Finale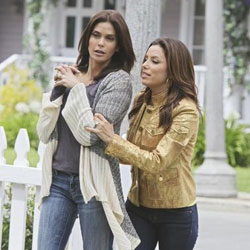 Tonight, another season of scandal on Wisteria Lane will come to an end with the finale of Desperate Housewives. We've been building up to the climax for weeks, between Eddie's murderous streak, Lynette's pregnancy, Angie's dire situation and more — personally, I can't wait to see how season six wraps. To get you all ready for the event, here's a taste of what's to come. Don't forget to head on over to the Desperate For Desperate Housewives group in community to keep the conversation going!
More photos if you read more.
Photos copyright 2010 ABC, Inc.