Throughout nine legendary seasons of How I Met Your Mother, the gang has been through plenty of memorable shenanigans, from subway wars for Woody Allen [1] to opening a puzzling bar within a bar at MacLaren's. Though many crazy moments are contained within one episode, some of the series's most memorable ones are those without instant gratification — the running gags that keep fans guessing (and laughing) for years. With the show coming to an end on Monday, we've rounded up 10 of the best recurring jokes and how much we've seen of them in HIMYM's final season so far.
Source: CBS [2]
The Slap Bet
The Story: Marshall and Barney make a bet that Robin was a stripper named Robin Sparkles, and the winner gets to slap the loser three times as hard as he can. Marshall wins, and Barney ultimately agrees to get five slaps spread out over all of eternity. This later becomes eight slaps after Barney makes a trade for wearing the Ducky Tie.
Where We Left Off: Seven slaps have occurred throughout the show's nine seasons, with the final slap still saved for the end of the series.
Final-Season Status: There was a big episode dedicated to Marshall learning how to slap properly, and the final slap happened on the March 24 episode. What did Marshall save it for? Slapping some sense into Barney at the altar when the groom tries to flee.
Source: CBS [3]
The Five Doppelgängers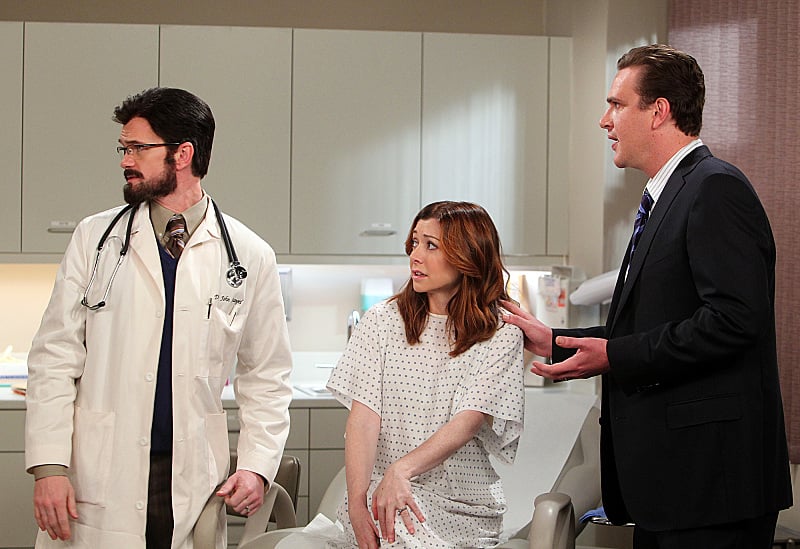 The Story: Each of the four friends have doppelgängers in NYC, including Lesbian Robin, Mustache Marshall, Fertility Doctor Barney, Mexican Wrestler Ted, and Stripper Lily.
Where We Left Off: Barney disguises himself as Dr. Stangel to try to get Marshall to join him in a double laser tag tournament.
Final-Season Status: In a fictional tale told by Marshall, Ted, Lily, and Robin all get second doppelgängers as the three Slap Masters this season.
Source: CBS [4]
Marshall vs. the Machines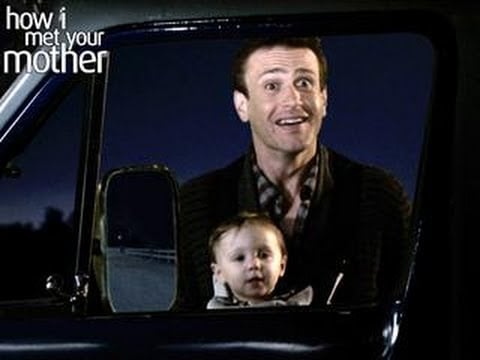 The Story: Whenever Marshall is struggling with a "machine" — like a subway, taxi, or bus — he images himself running while this special song plays.
Where We Left Off: We've seen this in various settings, including "Subway Wars" in season six, as he tries to get to Woody Allen [5], and then twice in season nine.
Final-Season Status: This season doubles up on Marshall's song as he tries to get to the Farhampton Inn — including as he and his son,

Marvin

, meet The Mother for the first time.
The Pineapple Incident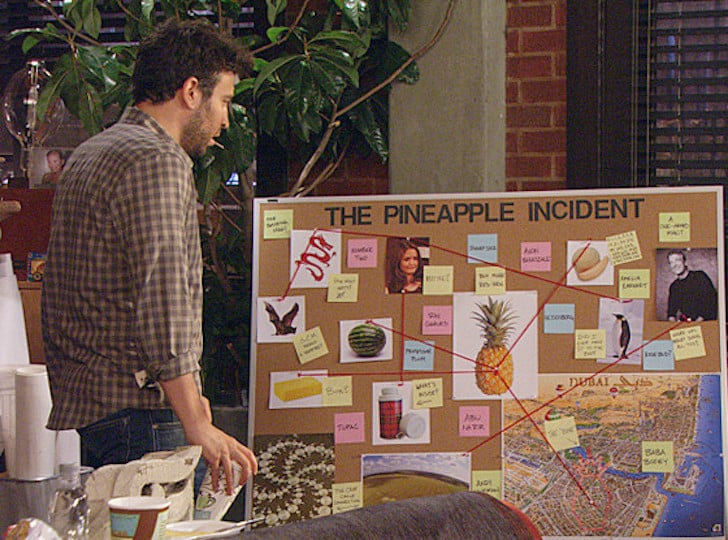 The Story: Back in the show's first season, Ted blacks out and wakes up with a pineapple on his nightstand, a girl he doesn't remember in his bed, and a sprained ankle. He tries unsuccessfully to piece the events of the night together.
Where We Left Off: There were a few clues about the night throughout the following seasons, but no answers.
Final-Season Status: In season nine, we see that Ted has assembled an entire board trying to piece together the night's events and is made fun of for his "detective skills," but he eventually gives up. We still have yet to find out any answers.
Source: CBS [6]
Robin Sparkles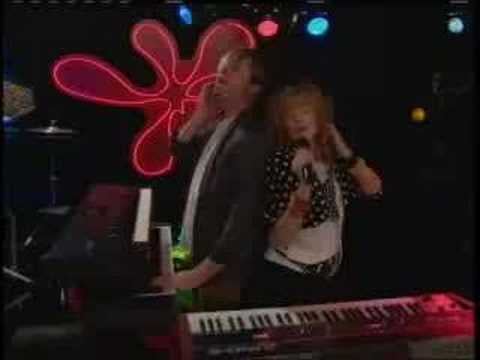 The Story: Robin was a '90s Canadian pop star named Robin Sparkles with the hit songs "Let's Go to the Mall" and "Sandcastles in the Sand," written about her ex-boyfriend Simon (played by James Van Der Beek [7]). The group teases Robin mercilessly as they uncover more and more about her former life.
Where We Left Off: The gang discovers that Robin Sparkles became Robin Daggers after her breakup with Simon, releasing the dark song that ended her career — "P.S. I Love You."
Final-Season Status: In a flashback earlier this season, we see Robin encounter Simon in NYC when she's fresh off a breakup. When she discovers he married Louise Marsh, the girl he dumped her for long ago, she steals their wedding [8] cake and eats it all.
The Wedding Bride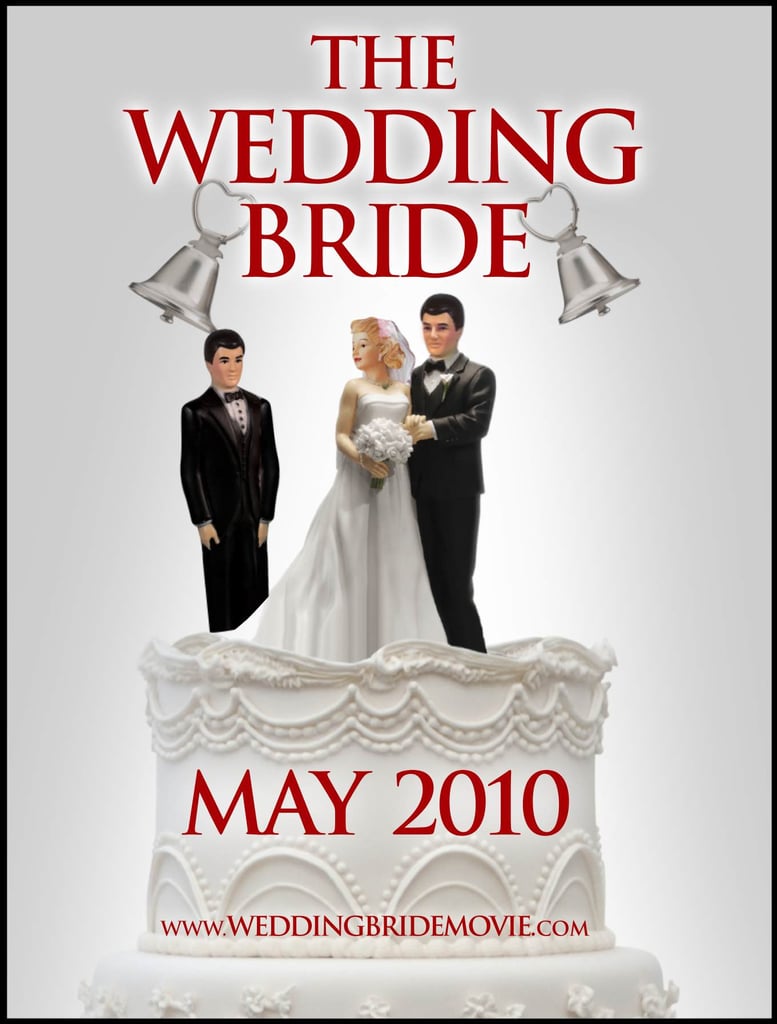 The Story: This movie is a twisted and bogus retelling of Ted's relationship with his ex-fiancée, Stella, who left him at the altar. It was written by the man Stella left him for, Tony, and paints Ted in a bad light as Jed Mosby (played by Chris Kattan), a total jerk.
Where We Left Off: Ted sees this movie while on a date back in season five, and we later find out it spawned sequels and a Broadway musical that ran for 96 weeks.
Final-Season Status: This season, we see The

Wedding

Bride Too, the film's sequel, which the group watches on Pay-Per-View at the hotel and Ted watches on the plane en route to Farhampton. Marshall's counterpart is aptly named Narshall.
Source: CBS [9]
Lily's Crush on Robin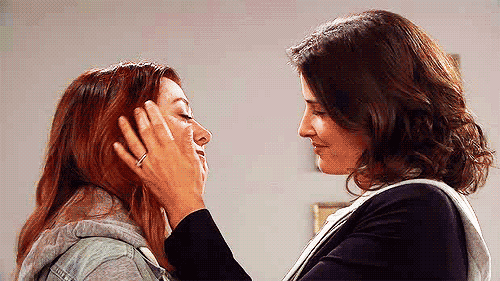 The Story: Lily often shows her big crush on Robin by alluding to her lesbian dreams, trying to kiss her, or suggesting they make out. When Robin denies her, Lily says her idea is "stupid, so stupid . . . "
Where We Left Off: They have kissed three times throughout the series.
Final-Season Status: In a twist, after Robin suggests they kiss to wake Barney up in season nine, it ends Lily's fascination with making out with her. Lily is now reluctant to kiss Robin, saying it "felt weird to her," so Robin is the one to say her own idea is "stupid, so stupid" afterward.
Source: CBS [10]
Intervention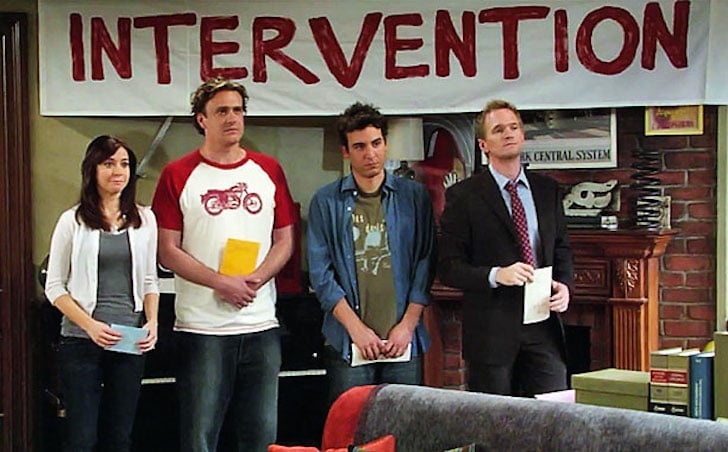 The Story: Whenever one of the friends is doing something in excess and needs to be stopped, the gang steps in with a big intervention banner and their pleas.
Where We Left Off: There have been plenty of memorable interventions through the years, including Barney's magic tricks, Lily's British accent, Marshall's use of charts, Robin's spray tans, and Ted loving a married woman. They were even given an intervention for having too many interventions! Robin was the most recent one to be intervened upon in season eight.
Final-Season Status: None so far, but there's still time.
Source: CBS [11]
Glen McKenna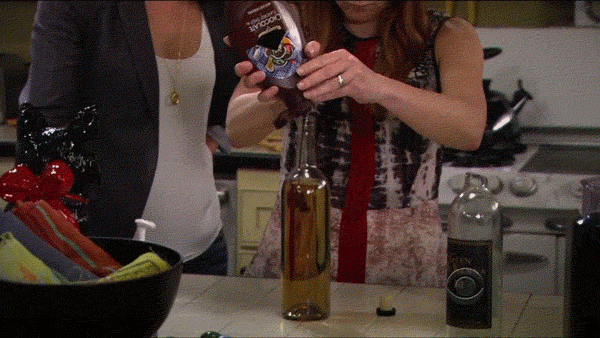 The Story: This fictional single malt Scotch whiskey is seen throughout the show, starting in the early seasons when the gang can't tell apart a $2,500 bottle of 50-year-old Glen McKenna from a $10 Scotch at the bar.
Where We Left Off: The liquor is referenced throughout the series, including when Robin and Lily break Ted, Barney, and Marshall's bottle during a sword fight and replace it with cheap booze, chocolate syrup, ketchup, and hand sanitizer.
Final-Season Status: There is a lot of Glen throughout the ninth season's big wedding [12], including many broken bottles and The Mother buying Ted a glass for punching her jerk of an ex-bandmate, Darren.
Source: CBS [13]
"Eating a Sandwich"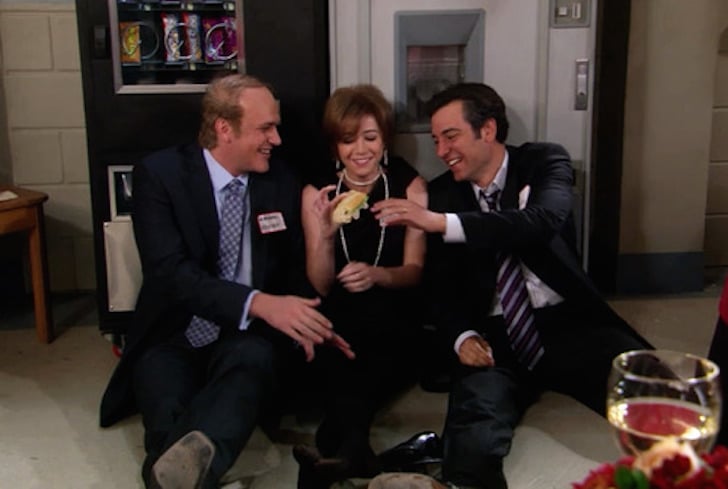 The Story: Whenever Future Ted tells a story in which he and his friends smoke pot, he says they're "eating a sandwich" instead.
Where We Left Off: We've seen this metaphor a dozen times throughout the show's nine seasons, ranging from Ted and Marshall's first meeting to their class reunion in 2020 with Lily.
Final-Season Status: This season, Robin's cousin Claude introduces Ted to an elderly Rastafarian who was "eating a sandwich."
Source: CBS [14]