How to Spend the Winter TV Hiatus
5 Ways to Spend Your Winter TV Hiatus
Now that the holidays are upon us, several TV shows are taking their Winter breaks. I don't know about you, but I'm really going to miss seeing some of my favorite TV characters week after week. So with that in mind, I present to you these five ways to pass the time until the series return. Give them a look, and then tell me — where will you be getting your entertainment fix during the hiatus?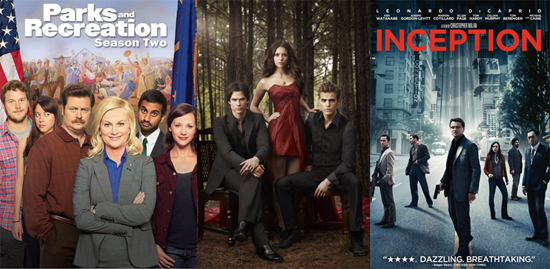 Refresh your memory on the returning shows that are finally coming back. Californication has been off the air for over a year, so it's easy to forget what went down last. You can play catch-up with the third season on DVD before the newest chapter kicks off in January. I'll also be getting my fill of Parks and Recreation, which returns in January as well. Even though I can pretty much recall everything that took place in the second season, why not watch my favorite episodes again?
Rent the potential Oscar nominees you haven't seen yet. As more award season nods are announced, it's time to stock up on the critically acclaimed films you haven't gotten around to yet. While most of my friends have seen Inception or The Social Network, I'd also recommend Winter's Bone and The Kids Are All Right. That way, instead of doing a last-minute movie cram session right before Oscar weekend, you're already prepped.

For more of my suggestions,

.

Read a book that's being adapted into a film. If you're looking for a relaxing way to unwind over the break, why not study up with a few great reads? You can start with our suggested list of books that are being made into upcoming films. As for me, I'm thinking of taking up Mildred Pierce, which is being made into a Spring miniseries on HBO.
Listen to the Grammy-nominated albums all the way through. Admit it: even if you are a music fanatic, you haven't heard every song off 2011's Grammy-nominated albums. Perhaps you've caught one or two songs off Eminem's Recovery, or you're a pop fan, so you don't really follow Lady Antebellum. Use this opportunity to check them out in their entirety — not just the singles.
Watch The Vampire Diaries marathon. If you haven't gotten into it yet, the CW is running back-to-back episodes of The Vampire Diaries this entire week. I've already seen all of them, but I wouldn't mind watching them again in the name of getting a new friend hooked on the show.
Photo courtesy of The CW