Interview with 30 Rock Guest Star Elizabeth Banks
Please Don't Call Elizabeth Banks a B*tch on Facebook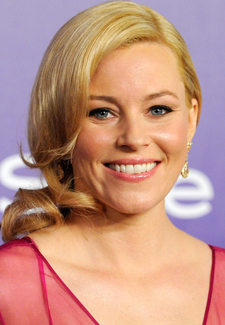 When the season finale of 30 Rock airs tonight, we'll get a look at a very studly Matt Damon, but there is also one major question hanging in the balance: will Jack choose Avery or Nancy? Avery herself, guest star Elizabeth Banks, recently sat down with reporters to discuss her thoughts on Jack's options, whether she'd date Jack in real life, and why she loves to tweet.
On the best thing about working with Alec Baldwin: "He's a really easy laugh which is kind of great. I really enjoy making him laugh, and I feel it's my duty on set to make him laugh. So if I can get him laughing I feel like I've scored that day, so that's part of it. Also, he always tells me how gorgeous I look, and I will take that compliment every day of the week."
On whether Jack should choose Avery or Nancy: "Well, I mean, Avery's ego will definitely say you should choose Avery, but probably only so that then Avery can then dump him, you know what I mean. Like, she'd really want to be chosen just so that she can have this — the glory of then dumping him. I think he's probably paying with fire with Julianne's character. I think he's right in saying she's a fiery red-headed Irish lady from Boston. I know those ladies, and they are tough, tough cookies. So we'll see."
For more from Banks, including a few of her favorite shows (Lost!)
.
On who Avery is based on: "You know, I love Maria Bartiromo. I thought it was sort of based on her in my mind a little bit, but also all the guys, you know. I love the idea of the countdown. I thought it was very Keith Olbermann so that's who I was sort of impersonating. But she's an amalgam of many, many characters, and contrary to the Page Six reports, she's not based on any one person."
On if she would date Jack in real life: "In real life? No...I believe in dating someone your own age. That's just me, I'm really only attracted to people my own age. That's just how I am. It's always been my way. I've never understood dating sort of outside of your age range. Even though when, you know, it's like people say, 'Well 30-40 is not really that different.' I think there's a big difference between 30 and 40, and I like to be in a relationship with someone who's at the same place in their life that I'm at."
On why she loves Twitter: "I just like having a direct connection to my fans...The great thing about Twitter is that there's no expectation to respond whereas, you know, if you're on Facebook, and it's like, 'Why don't you friend me, you bitch?' And I'm like, great I don't really want to be called a bitch on Facebook, so I'm not going to do that anymore."
On her favorite shows right now: "I'm watching Justified. My buddy Timothy Olyphant is in Justified, who I think is great. I'm a huge Lost fan, but I have not seen this week's, so I don't want to hear anything about it. I don't want to read anything about it; I don't want to know anything. I am actually two behind, I'm saving them up for myself. So I'm a huge Lost fan. I'm devastated that the series is ending. I also watch The Office. And, you know, a few other shows. So, yeah, I'm excited for True Blood and Mad Men to come back."