Movie Review of Brothers, Starring Natalie Portman, Tobey Maguire, and Jake Gyllenhaal 2009-12-04 08:15:00
Brothers: Oh, Brother. . .
Like us on Facebook
A remake of a Danish film, Brothers seems like potential Oscar bait — talented actors in a timely story of post-traumatic stress disorder for American soldiers. It has the most honorable of intentions to show the emotional toll that these men and women endure, but Brothers gets overwhelmed by the task and tries too hard.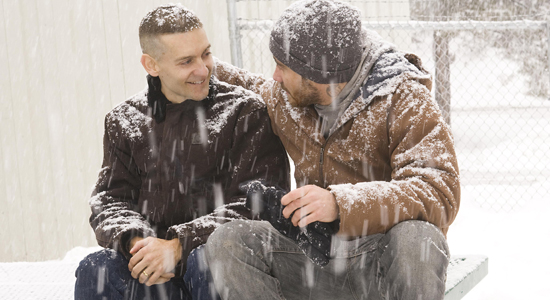 Tobey Maguire plays Capt. Sam Cahill, a respected Marine and pride of his parents. After a helicopter crash in Afghanistan, he's pronounced dead, leaving behind his wife Grace (Natalie Portman) and two daughters. Stepping in to help the family is his younger brother Tommy (Jake Gyllenhaal), an ex-con with enough charm to make up for what he lacks in responsibility. As he spends time at the house with Grace, they turn to each other in their grief, blurring the line between in-law and love interest.
The thing is, Sam isn't dead. He was captured as a P.O.W., and when he comes home, he's a ticking time bomb. Paranoid over the burgeoning relationship between his brother and his wife and coping with memories of Afghanistan, Sam is skin and bones — a walking ghost of his former self.
To hear more on the film,
.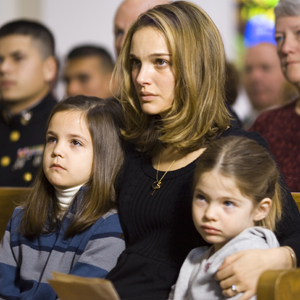 If you've seen the trailer, you know what's next: Sam blows his top. When he paces the backyard with a gun, you're just waiting for him to snap.

As Sam, Maguire deftly carries the intensity that the role requires, but he seems miscast along with Portman and Gyllenhaal. When you watch Portman interact with their two daughters, she seems better fit to be their babysitter than their mother. As for Gyllenhaal, they try to dirty him up into a man with a criminal record, but slapping a tattoo on his neck doesn't exactly camouflage his mega-watt nice guy smile.

Still, all three actors deliver solid performances. It's just too bad they can't save the film from feeling like a belabored melodrama. Several scenes are incredibly tense and interesting to watch, but other times they unintentionally send the audience into laughter. (If I had a dime for every time the script uses "he's my brother" or "you're my brother" for a sentimental moment, I could have paid for my ticket.) The structure also drags the film down, switching between the home front (with Grace and Tommy) and Afghanistan (with Sam). The story rests so long on these split subplots that it takes the majority of the film to reach its real starting point — Sam's return — and when it does, the conclusion feels rushed.

Ultimately this is a great ensemble in a film with problems. I just wish the lead actors had signed up for something else.

If you'd like to review a movie you've seen recently, check out the Movie Reviews Group in community. I may even feature your critique on the site!

Photos courtesy of Lionsgate