Movie Review of The Good Guy, Starring Bryan Greenberg, Scott Porter, and Alexis Bledel
The Good Guy: Very Little Payoff
Love triangles are done to death, but The Good Guy puts a spin on the story convention, showing the audience only what the director wants us to see: our narrator knocking on the door of his girlfriend's apartment. She's with someone else (!) and turns him away with the words, "I feel sorry for you." Seems cold — that is, until our perception gets flipped, and the tale unfolds.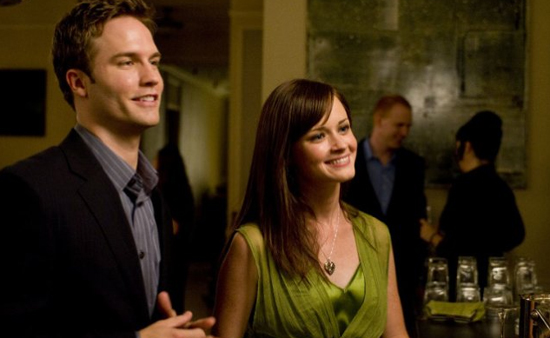 Said narrator is Tommy (Scott Porter), a hotshot Wall Street trader who acts as leader to his office associates, foul-mouthed lotharios with nicknames like Shakespeare and Steve-O whose egos are as big as their pockets are deep. Tommy isn't like them. He has a new girlfriend Beth (Alexis Bledel) who he whisks away on surprise dates while the rest of the boys scrounge for late-night hookups. Or so it appears.
To see what I mean, read more.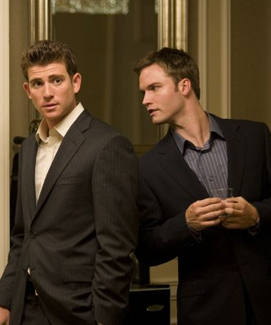 Things get jumbled once Daniel (Bryan Greenberg) arrives on the scene. Daniel is a glorified office intern, meekly mumbling his way through the day in beaten-up khakis. In him, Tommy takes him under his wing as a project, someone to mentor at work — and with women. But despite Tommy's efforts to spruce him up with new clothes, Daniel still can't break from his awkward social shell. Instead, Daniel leans on Beth, joining her book club where he waxes poetic about Pride and Prejudice and Elizabeth Bennett. And so, Beth finds herself torn between two men — Daniel is too nice to be true, Tommy too perfect. You can probably guess who is putting on a show.

The storyline was inspired by the novel The Good Soldier, and it draws several obvious parallels. It's creative thinking on the part of the screenwriter Julio DePietro, but unfortunately none of the characters are endearing enough to carry the film. Daniel's shyness and Beth's "perfect girl" routine only come across as boring. As for Tommy, it's hard to find a single likable quality in him at all. Even the script's attempt at a twist feels expected.

Wall Street is supposed to be about drama – high risks, big rewards. You would think that something with such a fast-paced setting would be a little more, well, exciting.

If you'd like to review a movie you've seen recently, check out the Movie Reviews Group in community. I may even feature your critique on the site!

Photo courtesy of Roadside Attractions