Movie Review of Nicholas Spark's The Last Song, Starring Miley Cyrus, Liam Hemsworth, and Greg Kinnear
The Last Song: Hits the Wrong Notes
Like us on Facebook
Not even two months after Dear John took theaters, Nicholas Sparks pulls out his toolbox of cliches again for the weep fest that is The Last Song.
The story follows rebellious teen Ronnie (Miley Cyrus) who comes to live with her divorced father (Greg Kinnear) for the Summer. With her black belly shirts, the movie is out to prove this girl is no Hannah Montana, as she stomps around slamming doors despite pleas from her little brother Jonah (Bobby Coleman) to be nice. Ronnie is a gifted pianist, accepted into Julliard, but she stopped playing when her parents separated as a show of defiance to her father. As you can guess from the title, she takes to the ivories once again before our story is over.
In fact, most of the storyline — as with the majority of Nicholas Sparks tales — is blatantly predictable. But there are still a couple surprises in the mix, Cyrus's performance being one. To find out what I mean,
.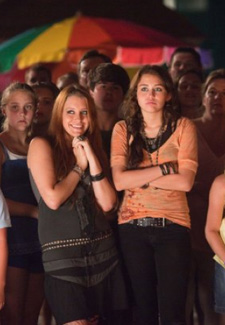 As Ronnie begins to mingle with the preppy, pastel-clad townsfolk, she bumps into local heartthrob Will (Cyrus's real-life boyfriend Liam Hemsworth). Will by all appearances is her opposite, an athletic golden child from a well-to-do family. He's instantly attracted to Ronnie's independence and opinionated streak, and like a glutton for punishment, continues to pop up until her rough exterior melts — which, of course, it does. The two bond over saving a clan of baby sea turtles (yes, really), and soon they're inseparable, much to the chagrin of Will's snooty upper-crust mother. The whole wrong-side-of-the-tracks story convention is in full effect here, as Ronnie's friends consist of a wild girl named after a Lord of the Rings character and her flame-throwing tattooed boyfriend, and Will's bestie is, well, a clean-cut kid named Scott.

The more time Ronnie spends with Will, the more her nature turns from bratty daughter to giddy schoolgirl. Will and Ronnie prance around in the sand, the tune of Maroon 5's "She Will Be Loved" playing in the background as they cruise in his car, and he carves their initials into a tree. Things are going so well that she takes up the piano again, and even her relationship with her dad benefits. But, of course, just when father and daughter are reaching a good place, the bottom falls out — and the waterworks start.

Coleman deserves a kid Oscar for the tears he turns on as Ronnie's little brother. As things fall apart, his desperate cries are heart-wrenching despite how manipulative they feel. The script loves to toy with us emotionally, especially towards the end. You may get misty — that is, if you're not too busy rolling your eyes. But the takeaway here for me is Cyrus's acting skills. While she probably won't earn critical acclaim, I found her performance to be surprisingly solid given the material. It's the schlocky lines here that are ultimately to blame. While Cyrus may draw an audience, she can't save this film from its own sappiness.

If you'd like to review a movie you've seen recently, check out the Movie Reviews Group in community. I may even feature your critique on the site!

Photos courtesy of Disney