Weddings are about more than just the bride and groom — they're about the whole wedding [1] party! After all, what would a ceremony be without the tuxes, ties, and taffeta that go along with the bridesmaids and groomsmen? We've already relived the many onscreen vows from over the years [2], but now we're celebrating our favorite wedding [3] parties. From Blair, Serena, and the gang in the many weddings of Gossip Girl to the uproarious bridal party in Bridesmaids, check out the top wedding parties in movies and on TV!
— Additional reporting by Shannon Vestal and Becky Kirsch
Source: New Line Cinema [4]
Modern Family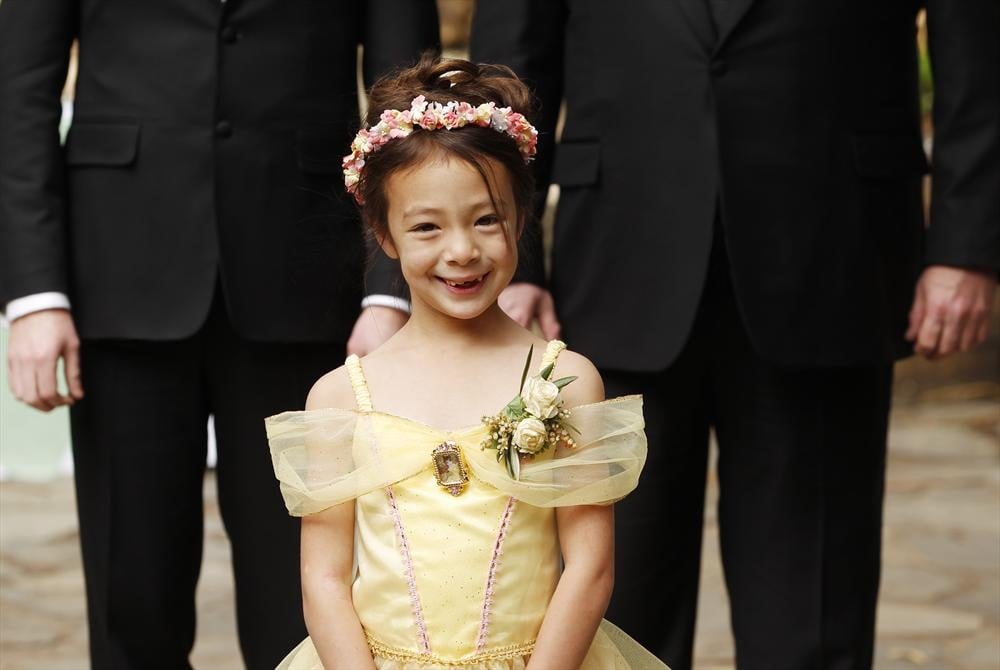 Lily takes over as flower girl for her dads' wedding [5].
Reign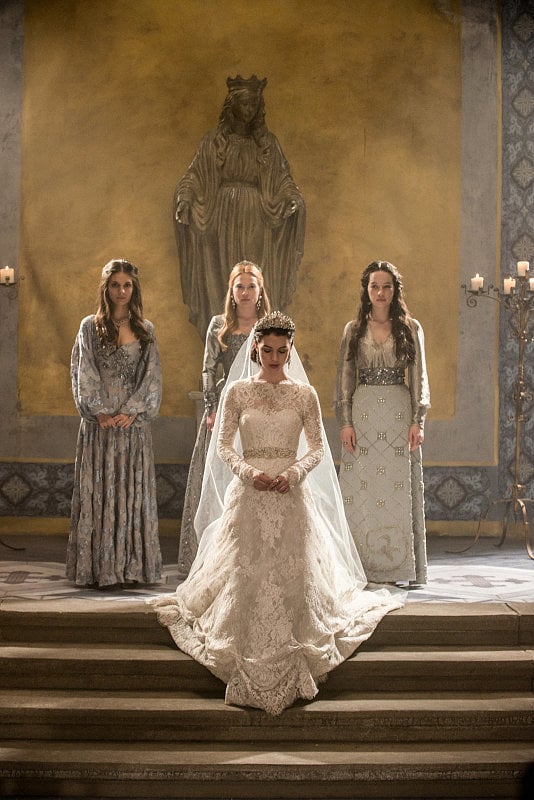 Mary (Adelaide Kane) stands in front of her ladies in waiting.
How I Met Your Mother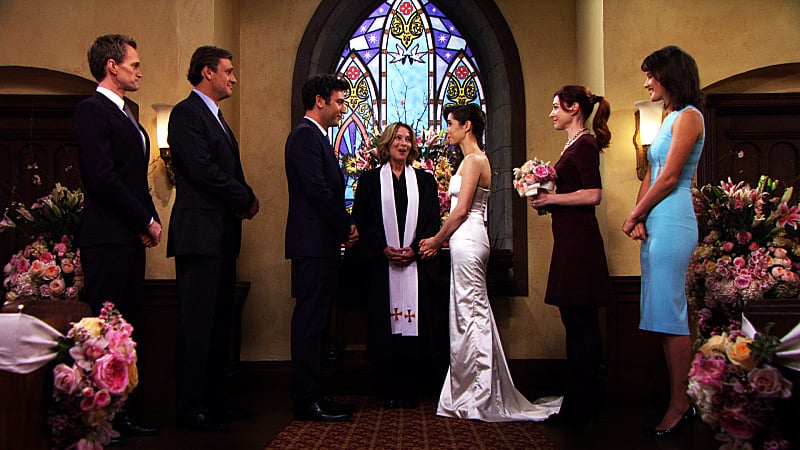 Ted (Josh Radnor [6]) finally finds his bride (Cristin Milioti) and marries her with his friends by his side.
Revenge
Bridesmaid Charlotte (Christa B. Allen) stands in the wings.
Grey's Anatomy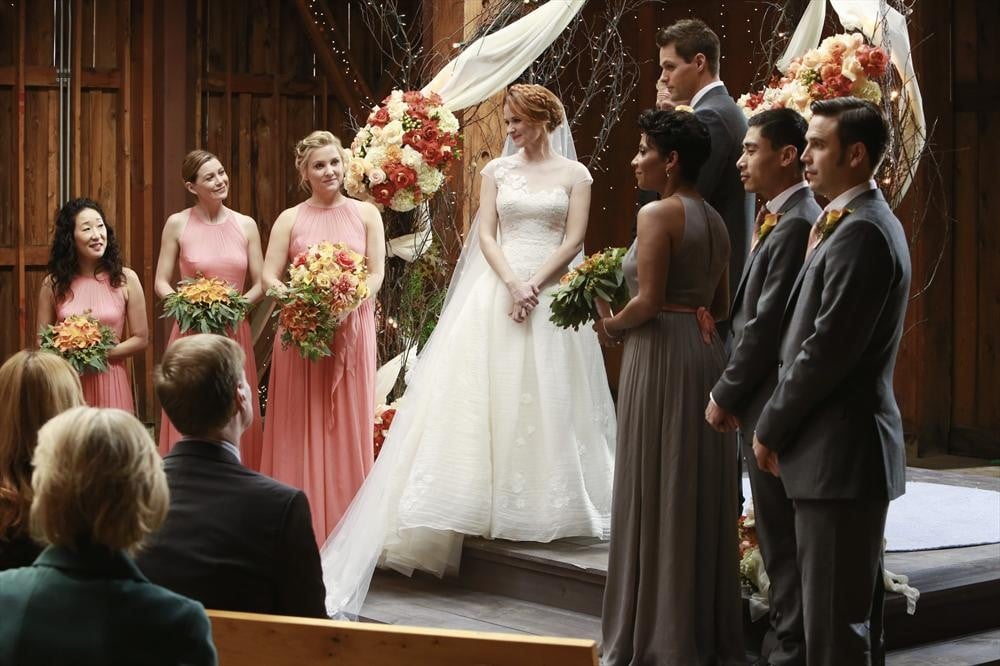 April (Sarah Drew) and Matthew (Justin Bruening) have a rustic barn wedding [7], which is lovely — until Jackson busts in.
Parks and Recreation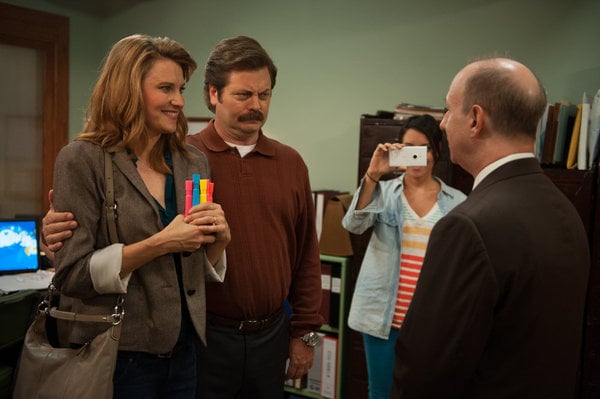 In a ceremony that's no-nonsense and so very Ron Swanson, Ron (Nick Offerman) and Diane (Lucy Lawless) tie the knot minutes after he proposes, but at least April is there to document it.
The Great Gatsby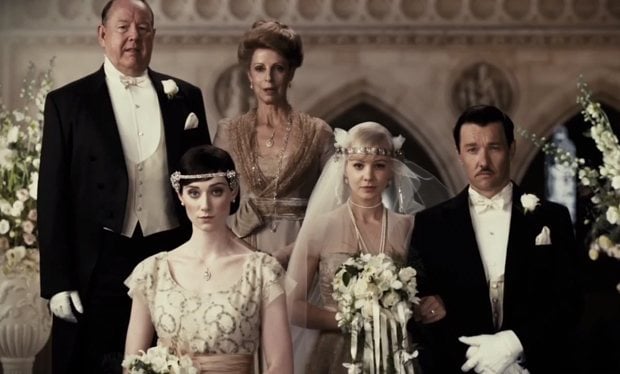 Don't you wish you had gotten to see the wedding [8] scene between Daisy (Carey Mulligan [9]) and Tom (Joel Edgerton)? At least we have this amazing still.
Glee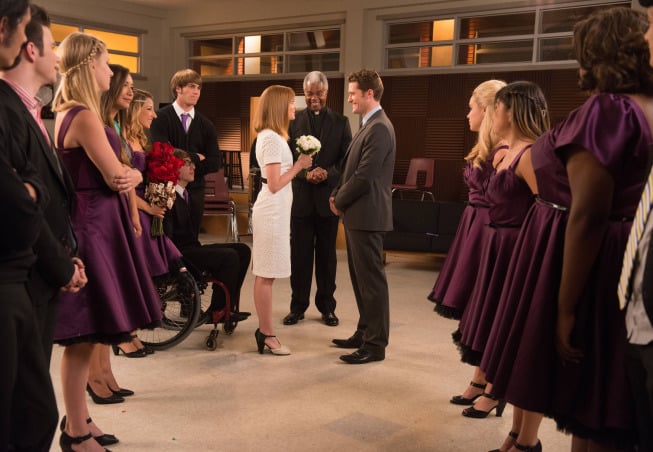 The nuptials of Will (Matthew Morrison [10]) and Emma (Jayma Mays) are a long time coming, and she decides that the best way to deal with her anxiety over a big wedding [11] is to have a low-key event surrounded by the glee club kids as their wedding party.
The Office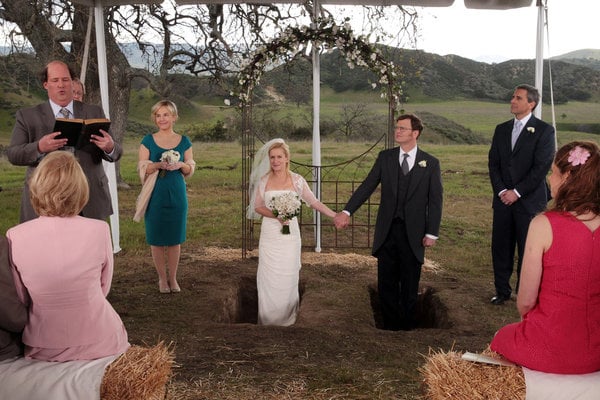 In the series finale, Dwight (Rainn Wilson) and Angela (Angela Kinsey) make it official, with even Michael (Steve Carell [12]) there as best man.
Mad Men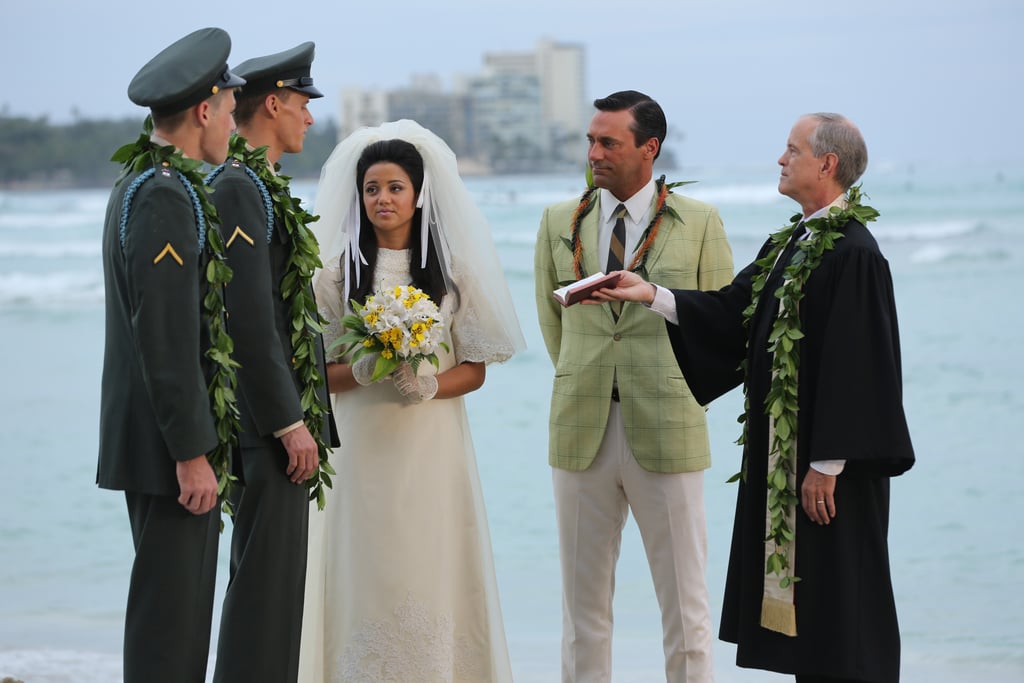 Don Draper (Jon Hamm [13]) has a chance meeting with a stranger in a bar that results in his being named best man at a Hawaiian wedding [14].
Parks and Recreation
Maid of honor Ann (Rashida Jones) gets a good look at the makeshift wedding [15] dress she makes for Leslie (Amy Poehler [16]).
Parks and Recreation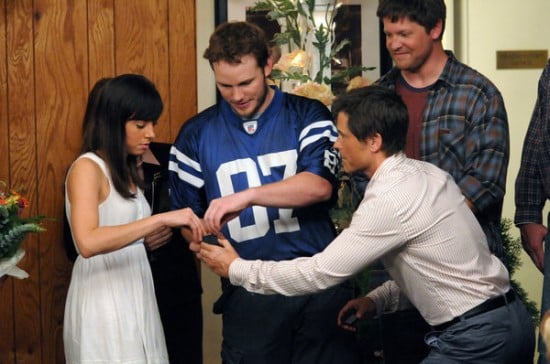 Chris (Rob Lowe [17]) is the ring bearer at Andy (Chris Pratt) and April's (Aubrey Plaza) classy affair, where April's ex and his boyfriend serve as flower boys.
Sex and the City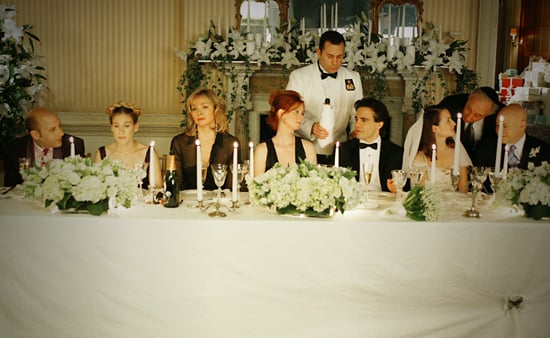 Carrie and the gang all show up to support Charlotte in her second marriage to Harry.
The Big Bang Theory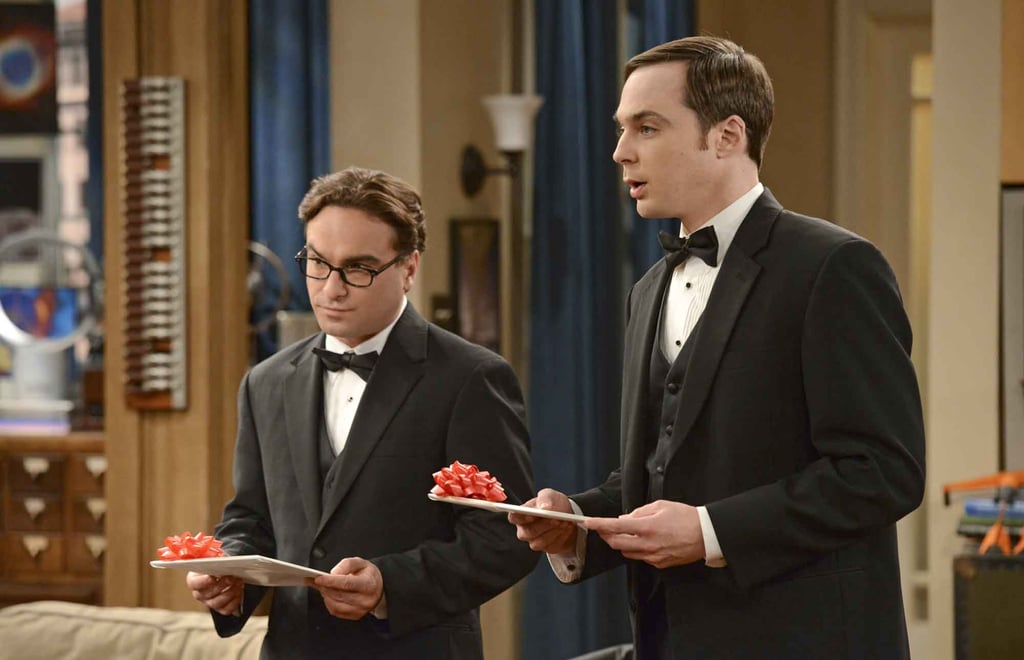 Leonard (Johnny Galecki) and Sheldon (Jim Parsons) are groomsmen when Howard weds his fiancé.
Weeds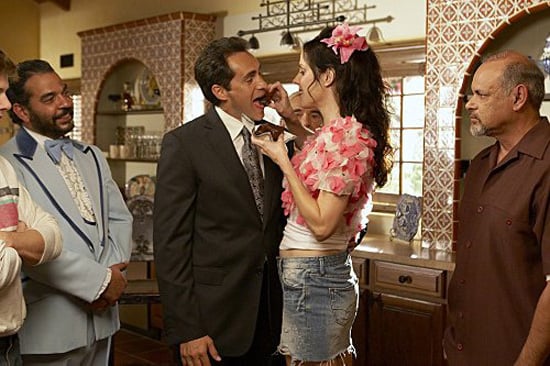 Nancy (Mary Louise Parker) and Esteban's (Demián Bichir) wedding [18] is pretty short — just some simple vows and an Entenmann's cake — but at least Cesar (Enrique Castillo), Silas (Hunter Parrish), and Ignacio (Hemky Madera), in a powder blue tux, are there to witness.
Our Family Wedding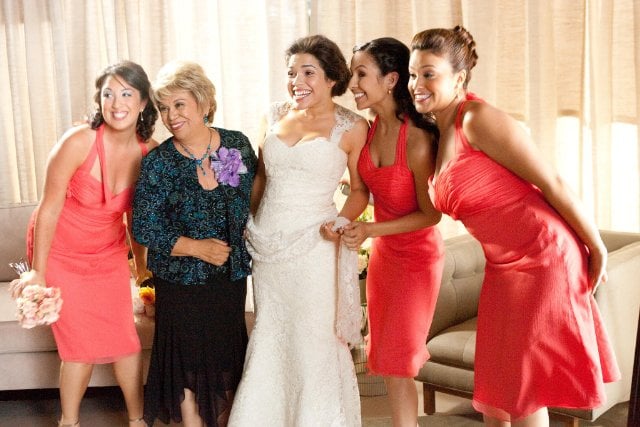 Lucia (America Ferrera [19]) is flanked by her red-clad bridesmaids.
Greek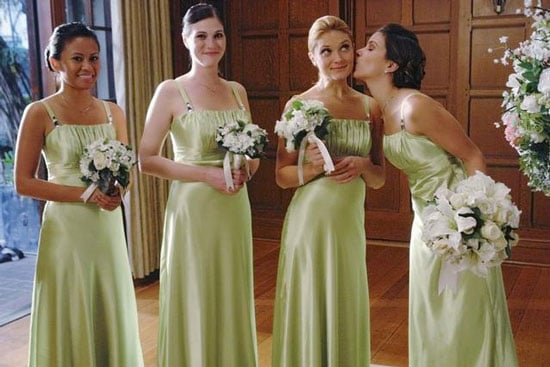 Part of the fun of being in a sorority is getting a lot of chances to be a bridesmaid, as Casey (Spencer Grammer) learns.
One Tree Hill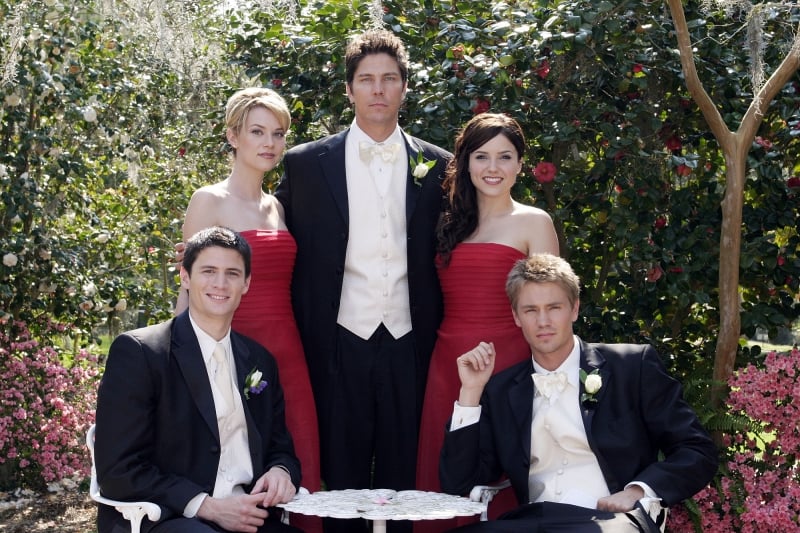 The Tree Hill gang gathers for Nathan (James Lafferty) and Haley's (Bethany Joy Lenz) vow renewal at the church gardens. The couple had eloped months before, but they wanted to have an elaborate ceremony with their pals.
The Best Man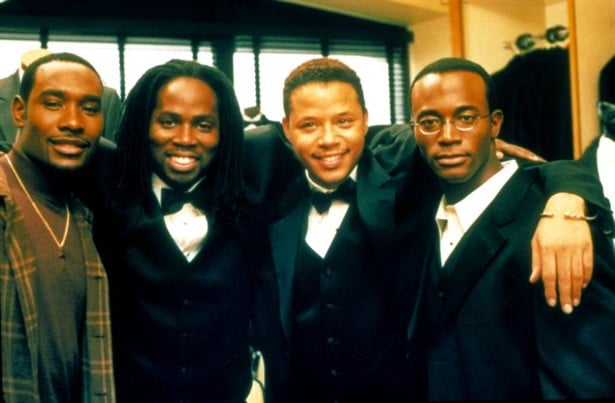 Julian (Harold Perrineau), Quentin (Terrence Howard), and Harper (Taye Diggs [20]) are the best men in Lance's (Morris Chestnut) wedding [21].
Brothers & Sisters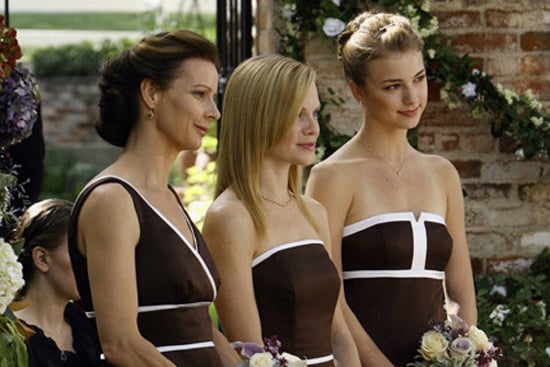 Sarah (Rachel Griffiths), Julia (Sarah Jane Morris), and Rebecca (Emily VanCamp) look on as Kitty marries Robert.
Mystic Pizza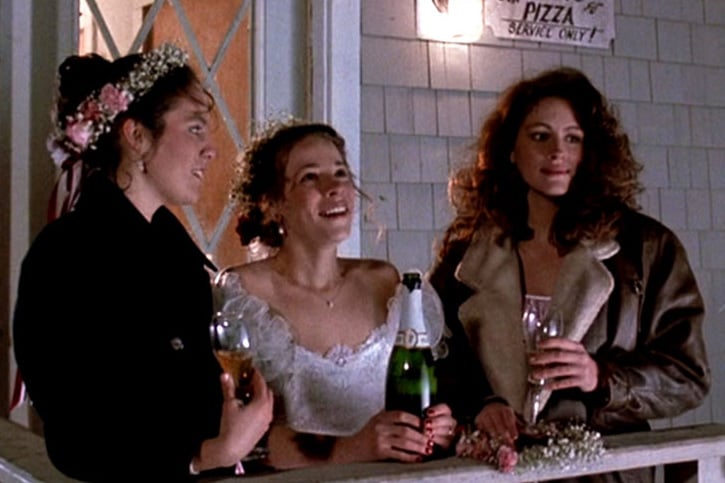 Despite her commitment issues, Jojo (Lili Taylor) ends up tying the knot with her longtime boyfriend Bill, with her two besties Daisy (Julia Roberts [22]) and Kat (Annabeth Gish) by her side.
Muriel's Wedding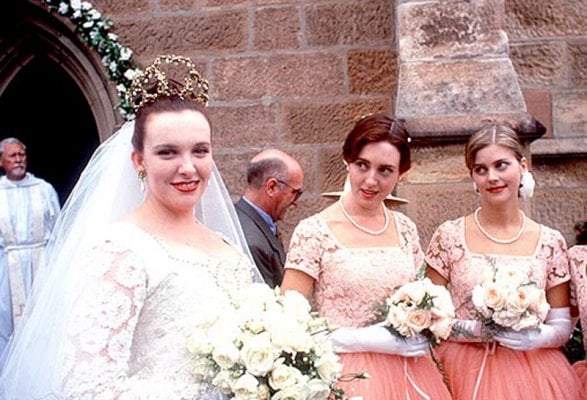 Muriel (Toni Collette) finally gets to have her own big day. It's a shame her bridesmaids, Tania (Sophie Lee) and Cheryl (Rosalind Hammond), are totally ruining the shot.
Source: Miramax [23]
The Deer Hunter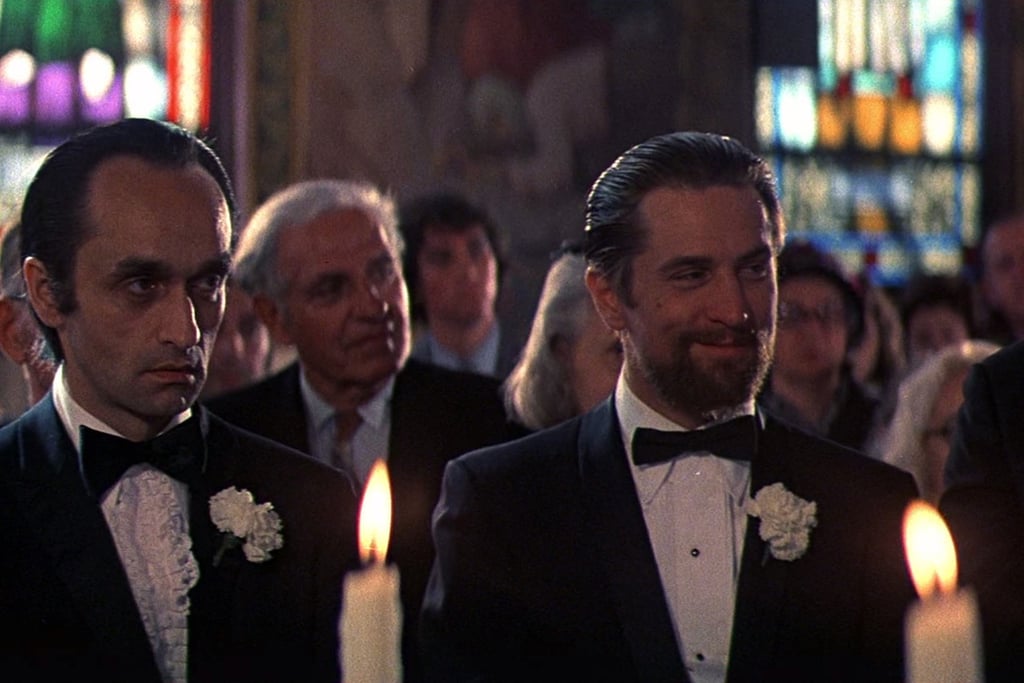 The Deer Hunter starts with the wedding [24] of Nick and Linda, but it gets dark pretty fast. At least Michael (Robert De Niro [25]) and Stan (John Cazale) get to remember the good times as groomsmen for Nick.
Sex and the City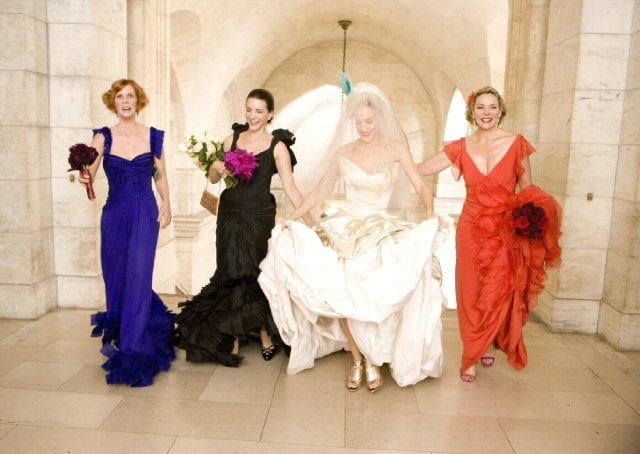 Miranda (Cynthia Nixon), Charlotte (Kristin Davis), and Samantha (Kim Catrall) are blushing bridesmaids for their best friend in the first Sex and the City movie.
Source: New Line Cinema [26]
Gossip Girl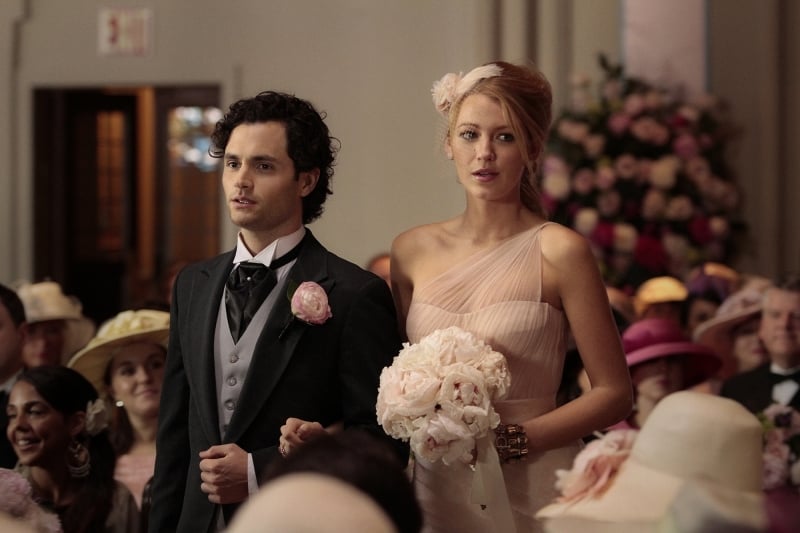 Serena and Dan (Penn Badgley [27]) walk down the aisle as part of Blair and Louis's wedding [28] party, and, of course, they have an awkward talk about their relationship as they stroll toward the altar.
Gossip Girl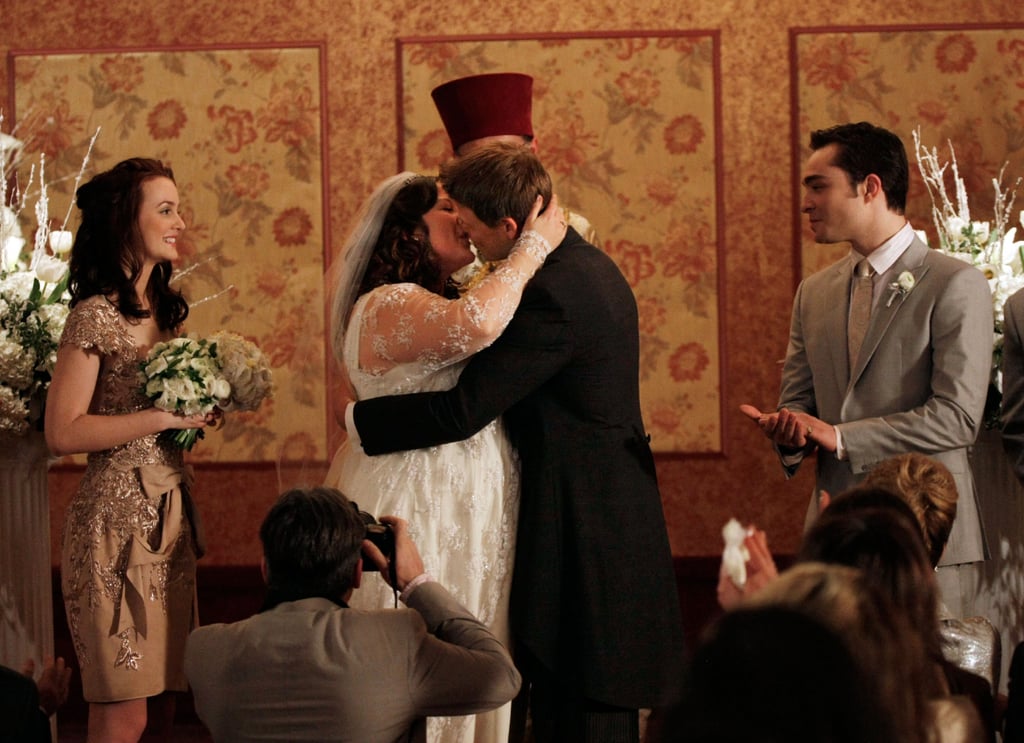 Blair (Leighton Meester [29]) and Chuck (Ed Westwick [30]) happily stand up for beloved maid Dorota's marriage to Vanya.
Bridesmaids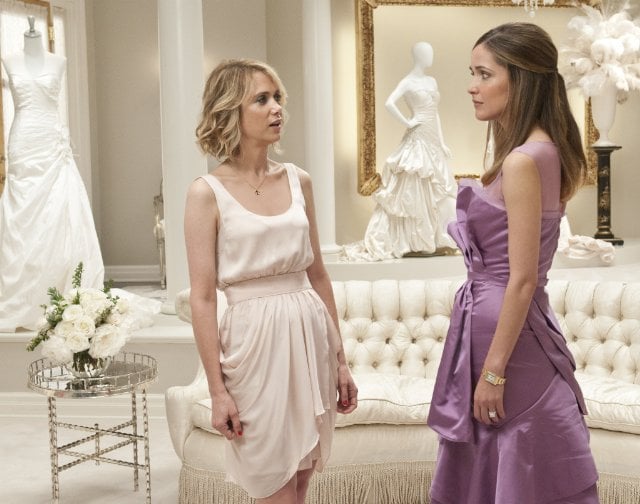 Annie (Kristen Wiig) and Helen (Rose Byrne) initially play nice while competing for the bride's attention, but the stunts soon turn vindictive.
Friends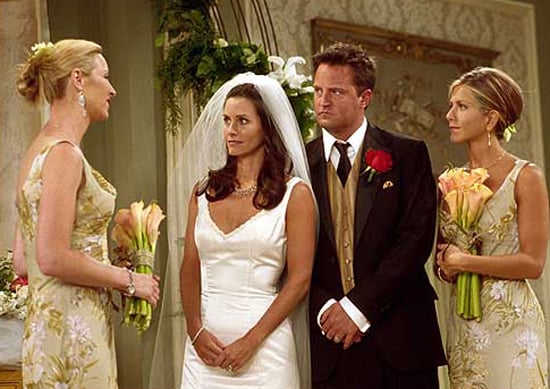 Phoebe (Lisa Kudrow) and Rachel (Jennifer Aniston [31]) rock pretty floral frocks for Monica (Courteney Cox [32]) and Chandler's (Matthew Perry [33]) wedding [34].
The O.C.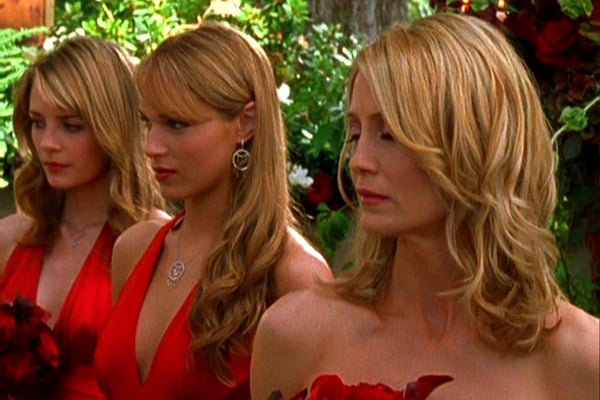 Marissa (Mischa Barton [35]), Hailey (Amanda Righetti), and Kirsten (Kelly Rowan) all turn up for bride Julie when she marries Caleb, though none of them are particularly happy about it.
Wedding Crashers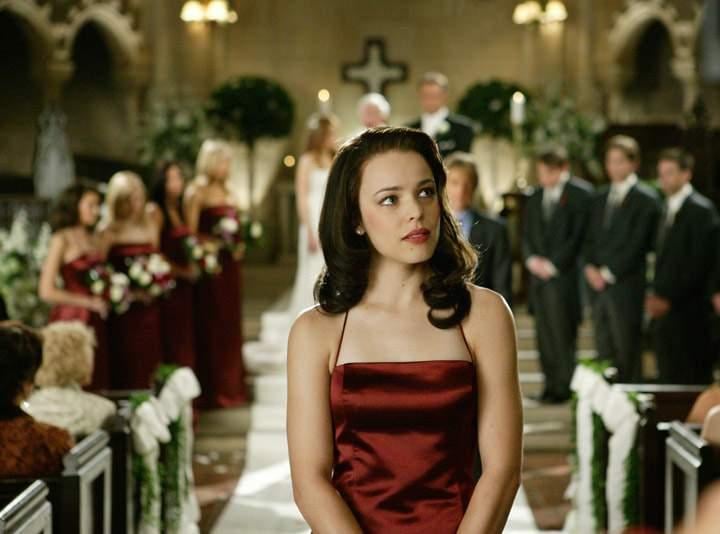 Claire (Rachel McAdams [36]) is a bridesmaid for not one but two of her sisters, and though she gets engaged to Sack Lodge (Bradley Cooper [37]), mercifully, they don't make it down the aisle.
Source: New Line Cinema [38]
The Godfather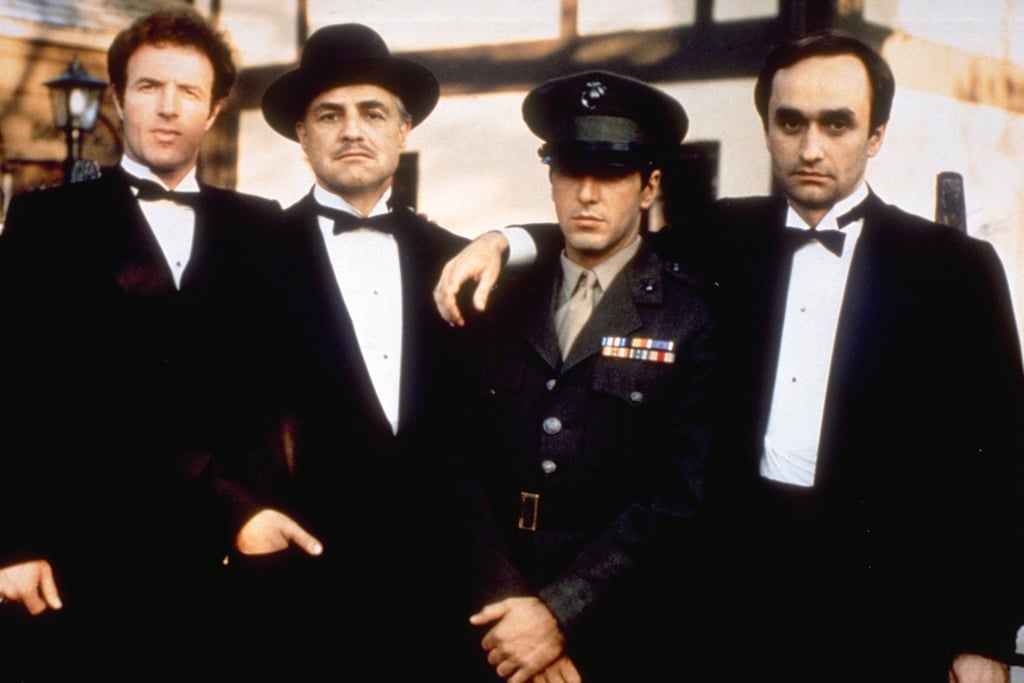 Michael (Al Pacino [39]) is on leave from the service and out of a tux for his sister's wedding [40]. He's joined by Sonny (James Caan), Vito (Marlon Brando), and Fredo (John Cazale).
Sixteen Candles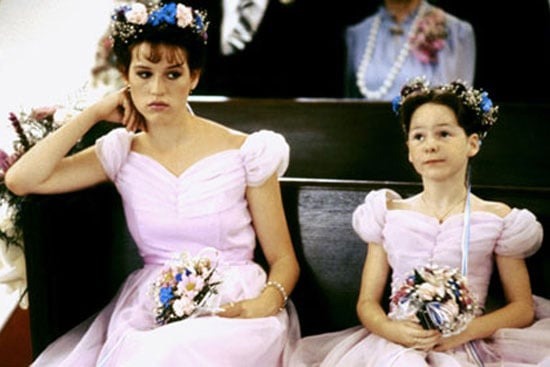 Everyone forgets poor Sam (Molly Ringwald)'s birthday, and to rub salt in the wound, she has to be in her loopy sister's wedding [41] party the next day.
When in Rome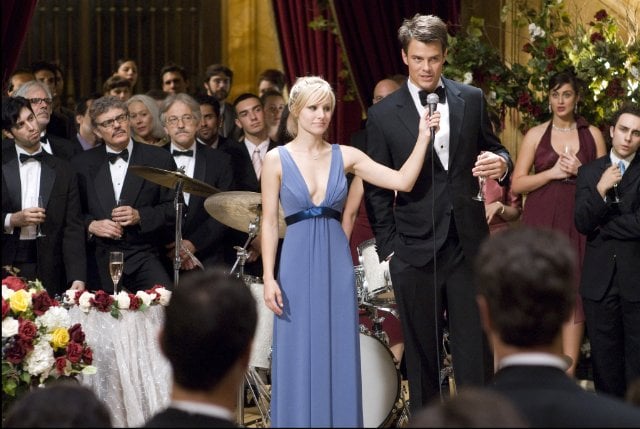 Beth (Kristen Bell [42]) and Nick (Josh Duhamel [43]) are both in Beth's sister's Roman wedding [44], but they don't particularly get along, until Beth throws some magical coins in the Fountain of Love.
One Tree Hill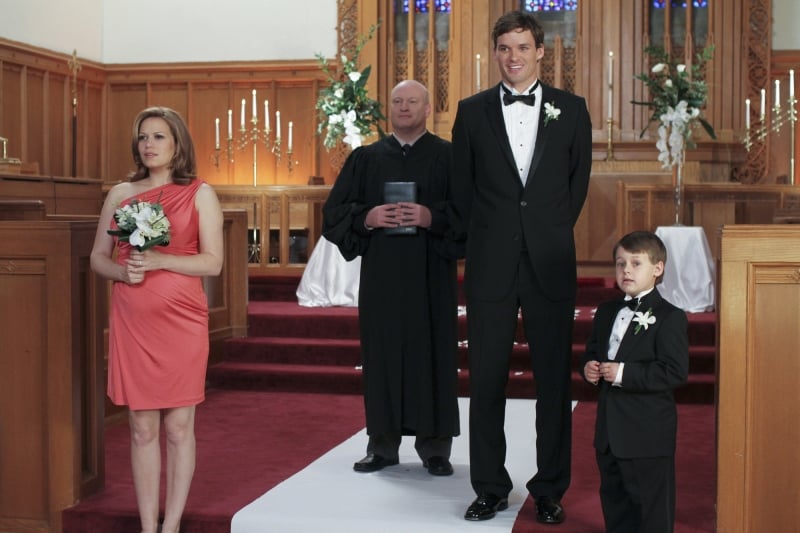 A very pregnant Haley (Bethany Joy Lenz) plays maid of honor in Brooke and Julian's wedding [45], with Jamie (Jackson Brundage) as ring bearer.
How I Met Your Mother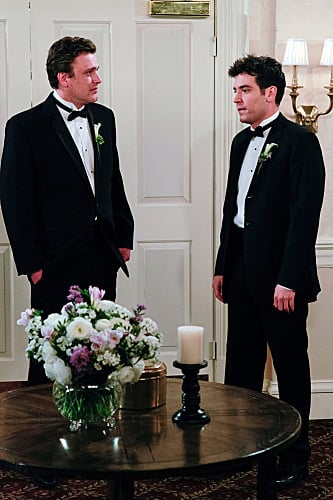 In the season seven finale of How I Met Your Mother, we get a preview of Barney's wedding [46], where Ted (Josh Radnor [47]) and Marshall (Jason Segel [48]) are the groomsmen.
Scarface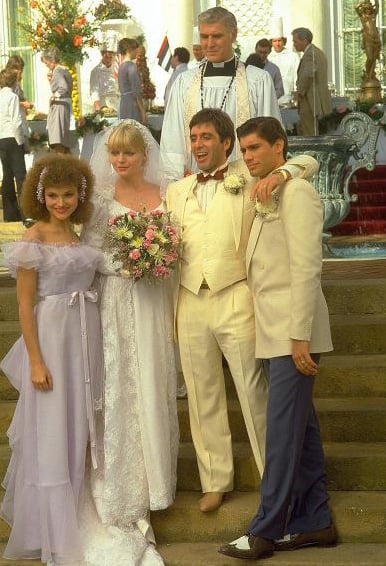 Drug kingpin Tony Montana (Al Pacino [49]) and Elvira (Michelle Pfeiffer [50]) enter into their doomed marriage with their best friends as maid of honor and best man.
Bachelorette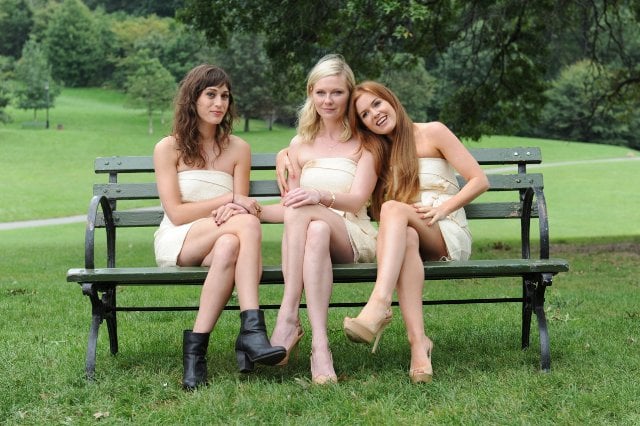 Gena (Lizzy Caplan), Regan (Kirsten Dunst [51]), and Katie (Isla Fisher [52]) are biting, skeptical bridesmaids in their friend Becky's wedding [53].
Gossip Girl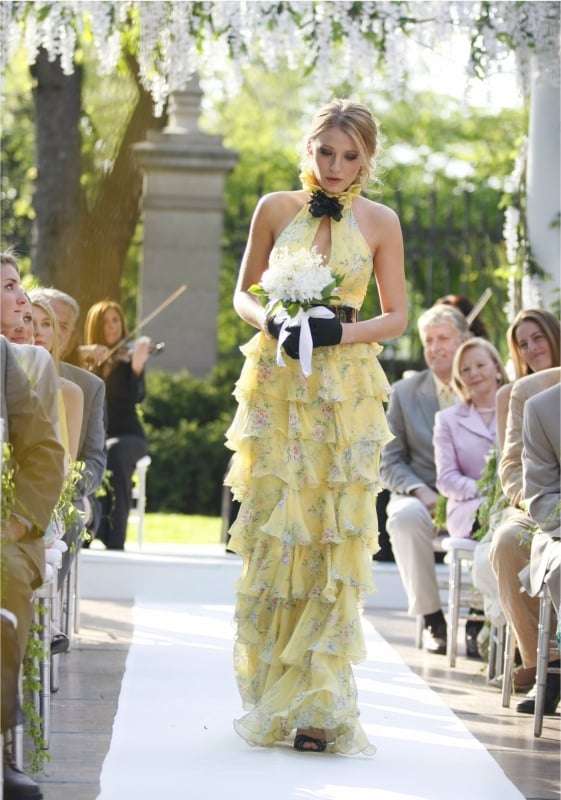 Serena (Blake Lively [54]) is unhappy over her recent breakup with Dan in the first season finale, but she puts on a brave face to stand up for Lily's nuptials to Bart.
Whitney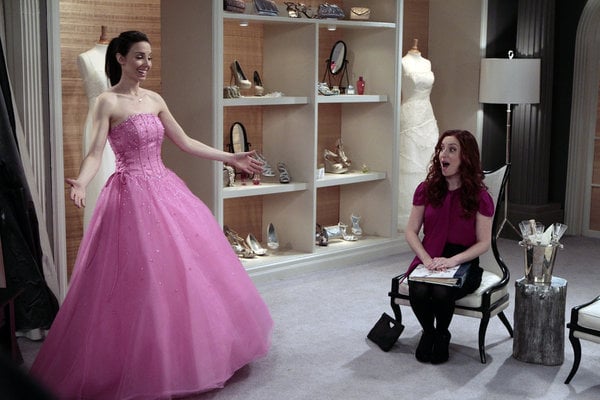 Though Lily (Zoe Lister Jones) and Neil's engagement is ultimately broken, Whitney (Whitney Cummings) agrees to be a bridesmaid and tries on the most garish of dresses.
Revenge of the Bridesmaids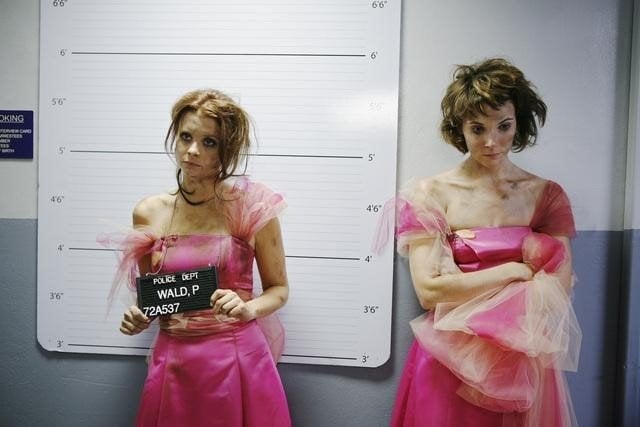 Parker (JoAnna Garcia) and Rachel (Chryssie Whitehead) get into quite a bit of trouble while still wearing their pink, fluffy bridesmaid dresses.
Evening
Though she's entering into a loveless marriage, at least Lila (Mamie Gummer) has Ann (Claire Danes [55]) and Lizzie (Sarah Viccellio) with her as maid of honor and bridesmaid.
He's Just Not That Into You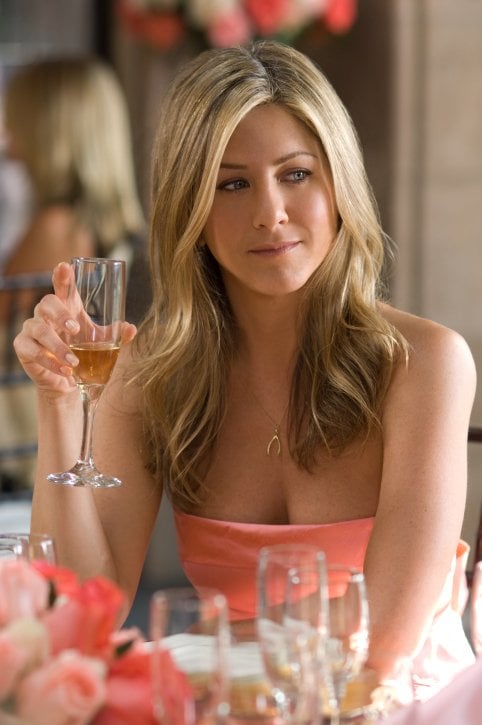 Beth (Jennifer Aniston [56]) thinks she'll always be a bridesmaid, never a bride, at her little sister's wedding [57] — until her boyfriend surprises her with a sweet proposal.
Source: New Line Cinema [58]
The Romantics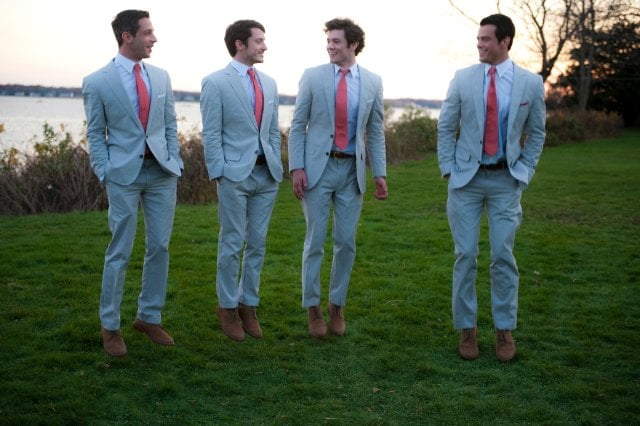 Childhood pals Pete (Jeremy Strong), Chip (Elijah Wood [59]), and Jake (Adam Brody [60]) all wait for their buddy Tom (Josh Duhamel [61]) to marry his girlfriend, Lila.
Source: 10th Hole Productions [62]
My Big Fat Greek Wedding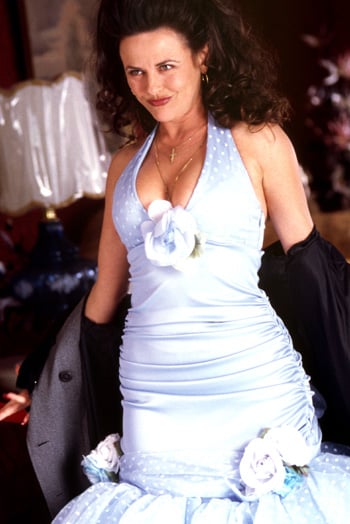 Cousin Nikki (Gia Carides) unveils quite the bridesmaid dress for the wedding [63] of Toula and Ian.
Meet the Parents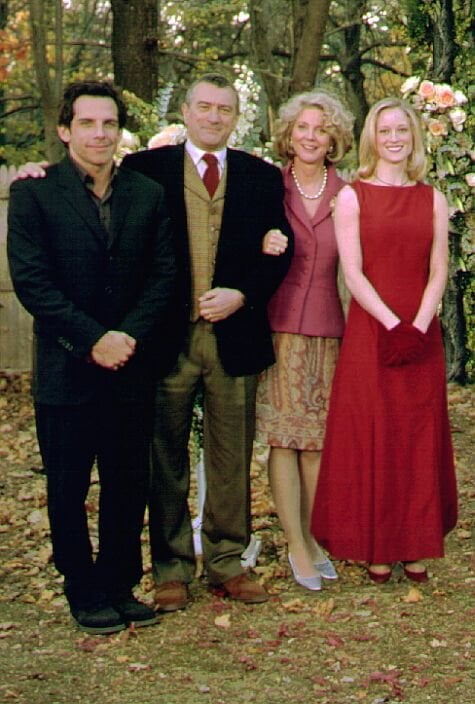 Greg (Ben Stiller [64]) gets her parents' approval just in time to be the wedding [65] date for bridesmaid Pam (Teri Polo) at her sister's big day.
30 Rock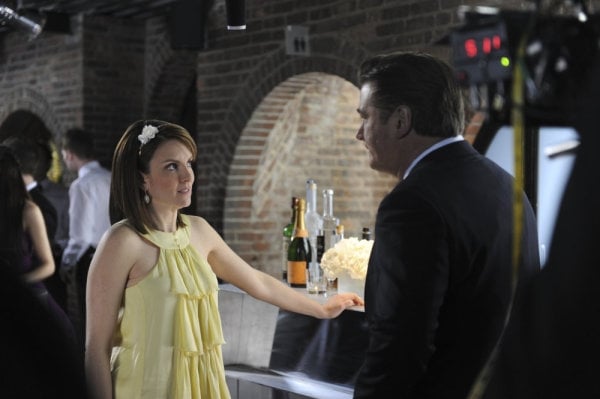 In the season four finale, Liz Lemon (Tina Fey [66]) has to go to three different weddings, but it's at Cerie's nuptials that she sports this hot yellow number.
Very Bad Things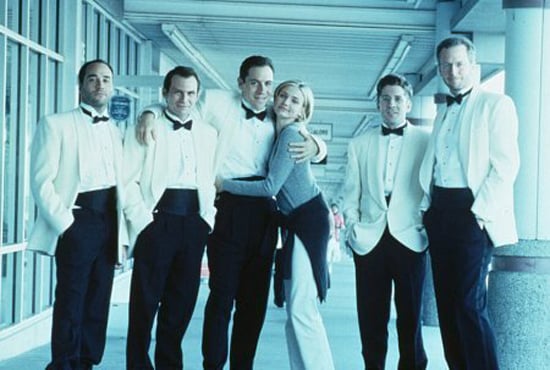 Michael (Jeremy Piven [67]), Robert (Christian Slater), Charles (Leland Orser), and Adam (Daniel Stern) don't all make it to Kyle (Jon Favreau [68]) and Laura's (Cameron Diaz [69]) wedding [70] after they accidentally murder some people in Vegas.
Source: Ballpark Productions [71]
Beverly Hills, 90210
In a union that's a long time coming, Donna (Tori Spelling [72]) finally marries David (Brian Austin Green [73]), flanked by their best friends Dylan (Luke Perry), Kelly (Jennie Garth), Steve (Ian Ziering), and Janet (Lindsay Price [74]).
The Accidental Husband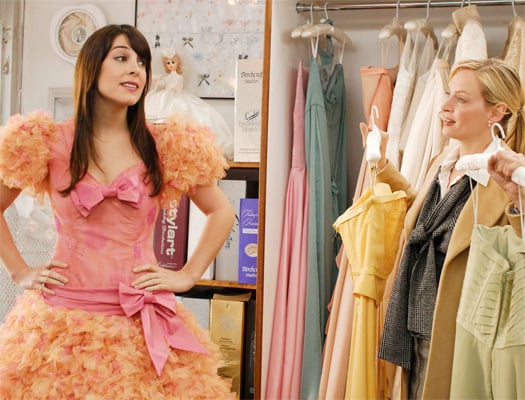 Marcy (Lindsay Sloane) isn't really feeling her puffy gown next to Emma (Uma Thurman [75]).
Gossip Girl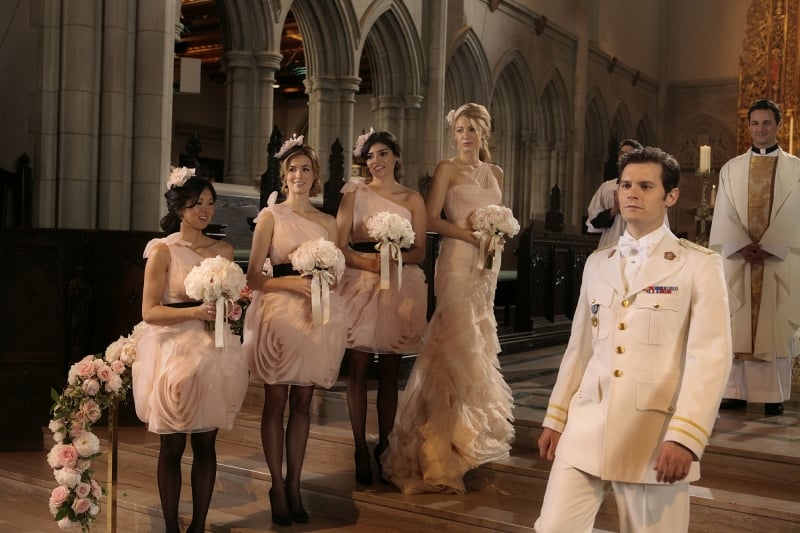 Serena (Blake Lively [76]) is lucky to be maid of honor at Blair's wedding [77] to Louis (Hugo Becker), and not one of the bridesmaids who have to wear a cupcake-like dress.
Grey's Anatomy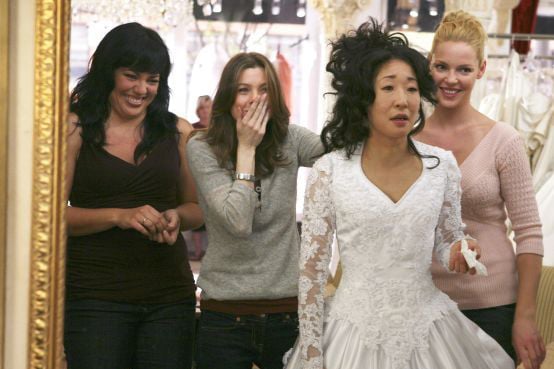 Cristina (Sandra Oh [78]) could probably use some more support from her bridal party — Callie (Sara Ramirez), Meredith (Ellen Pompeo [79]), and Izzie (Katherine Heigl [80]) — when picking out a gown for her big day.
Gossip Girl
Serena plays bridesmaid (in a cute dress to boot!) for yet another of Lily's weddings, this time for her marriage to Rufus.
Riding in Cars With Boys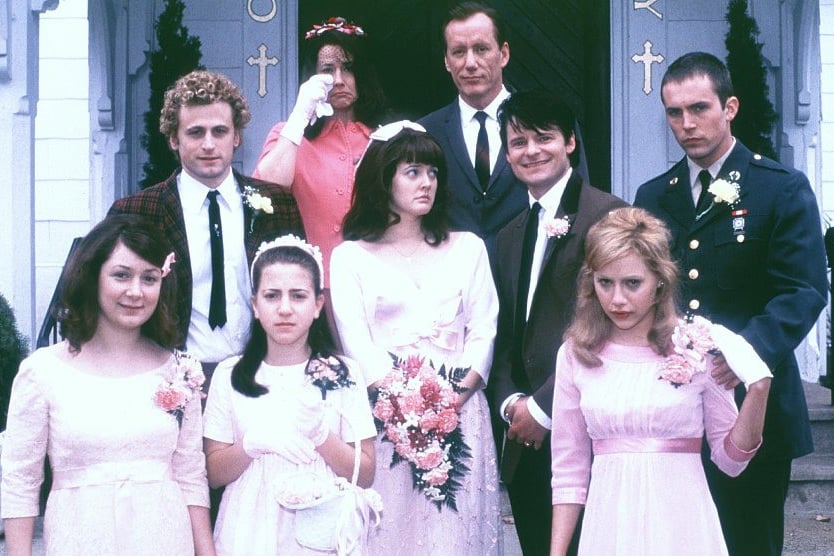 Beverly (Drew Barrymore [81]) may make a huge mistake in marrying Ray (Steve Zahn), but at least their best pals, including Fay (Brittany Murphy [82]) show up for her.
Ringer
Andrew's daughter Juliet (Zoey Deutch) plays bridesmaid at the vow renewals for her father and Bridget.
Friends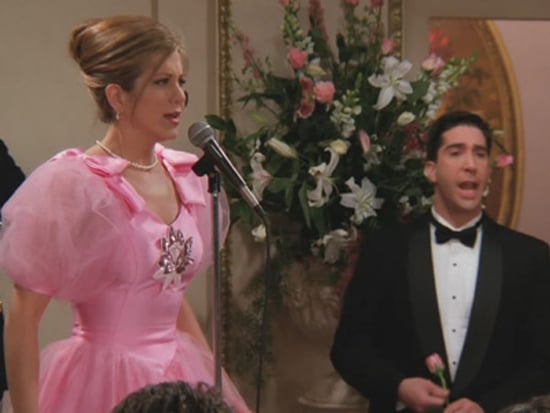 Rachel's (Jennifer Aniston [83]) horrific pink bridesmaid dress for old friend Mindy's wedding [84] is pretty bad, but when she tucks her dress into her pantyhose, it gets considerably worse.
How I Met Your Mother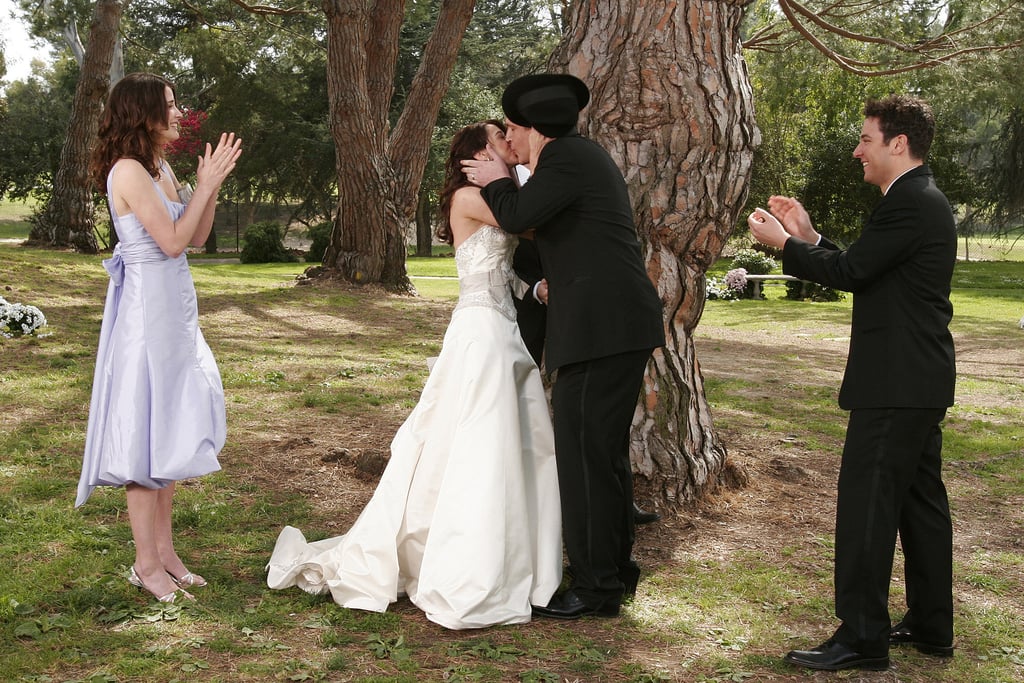 Robin (Cobie Smulders) and Ted (Josh Radnor [85]) serve as maid of honor and best man to their pals Lily (Alyson Hannigan) and Marshall (Jason Segel [86]).
Made of Honor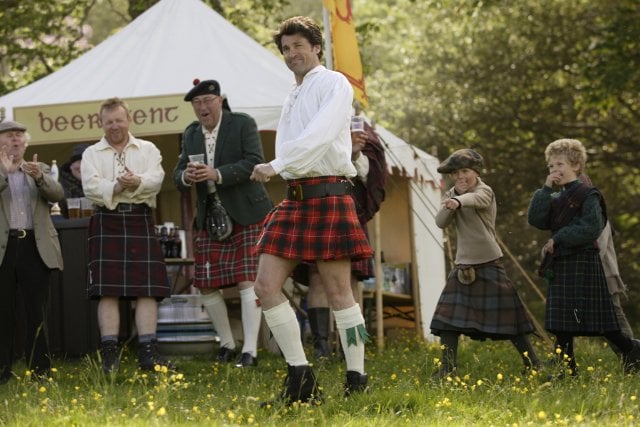 Tom (Patrick Dempsey [87]) agrees to be in his best friend's Scottish wedding [88], even though he's in love with her. Spoiler alert: he gets the girl, even in a skirt.
Mamma Mia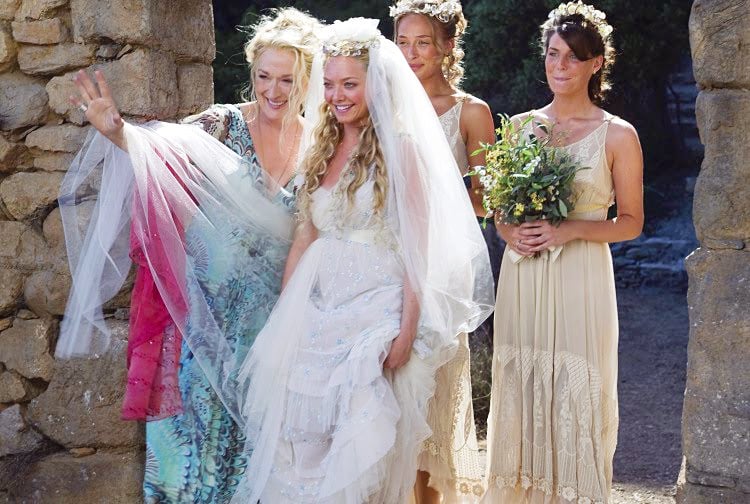 Sophie (Amanda Seyfried [89]) has her friends escort her to the Greek wedding [90] to her love, Sky.
Confessions of a Shopaholic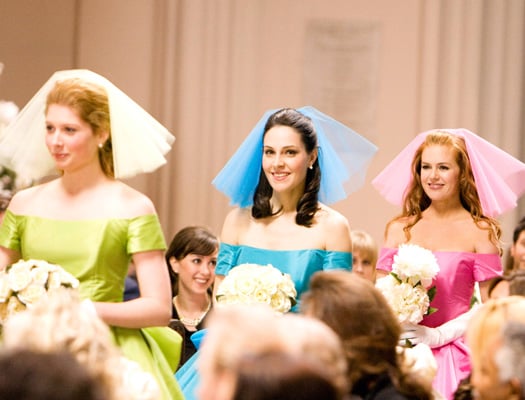 Shopaholic Rebecca (Isla Fisher [91]) is pretty in pink along with her fellow bridesmaids.
Will & Grace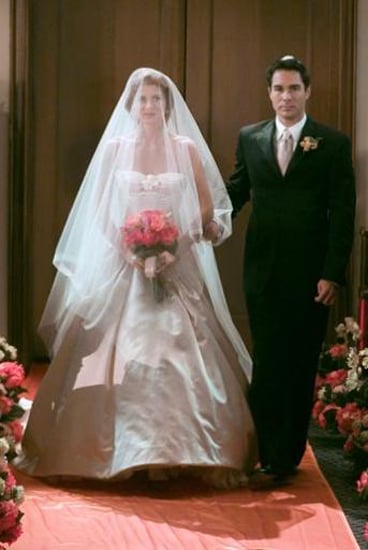 Grace (Debra Messing [92]) gets escorted down the aisle by BFF Will (Eric McCormack) at her wedding [93] to Leo.
Desperate Housewives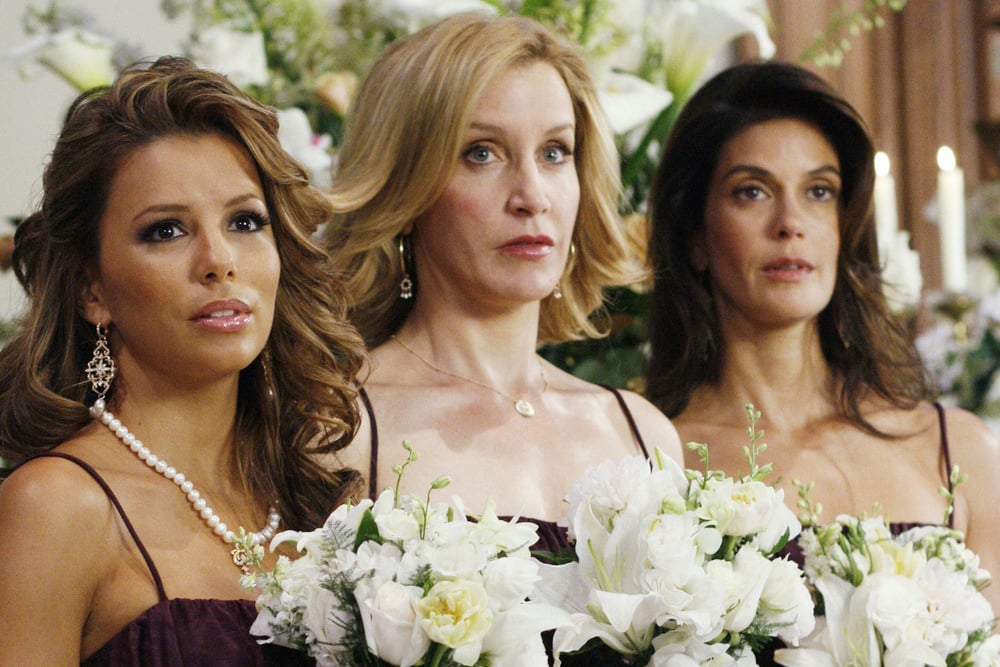 Gaby (Eva Longoria [94]), Lynette (Felicity Huffman [95]), and Susan (Teri Hatcher [96]) are bridesmaids for Bree at her wedding [97] to Orson.
The Best Man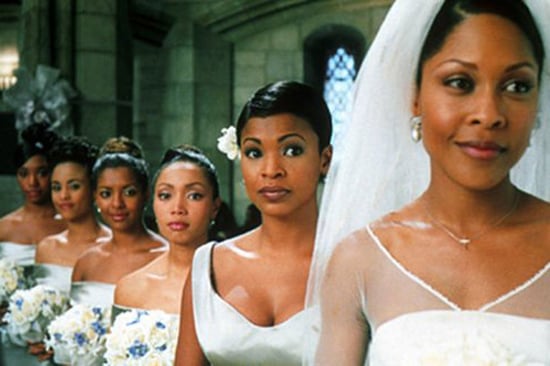 Mia (Monica Calhoun) has Jordan (Nia Long) and a whole crop of bridesmaids backing her.
Sex and the City 2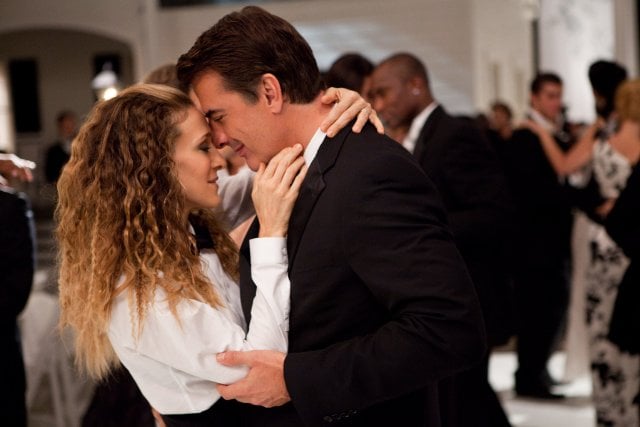 Big (Christopher Noth) accompanies the best man, Carrie, to Stanford and Anthony's civil ceremony in the second big-screen adaptation.
Four Weddings and a Funeral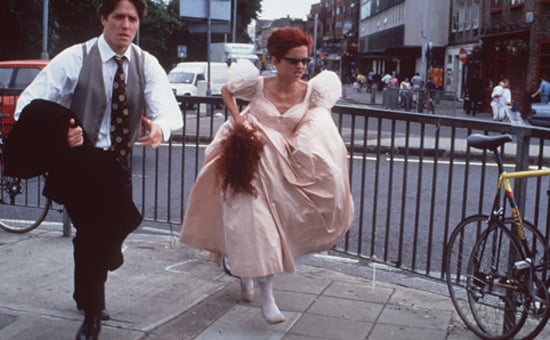 Charles (Hugh Grant [98]) and his roommate, bridesmaid Scarlett (Charlotte Coleman), are late to the first of several weddings.
Source: Working Title Films [99]
The Other Sister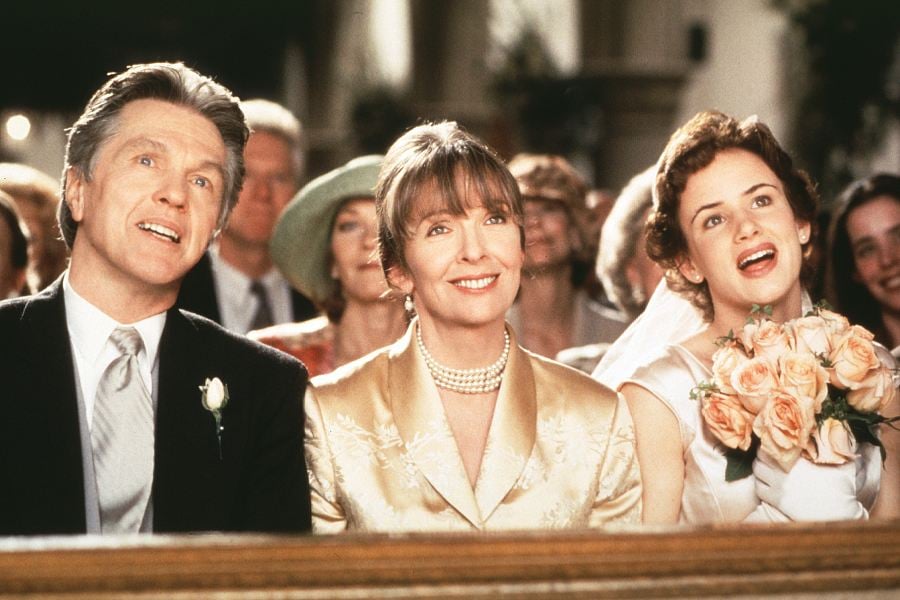 Carla (Juliette Lewis) watches as her sister gets married, but she eventually gets her own time in the sun.
Glee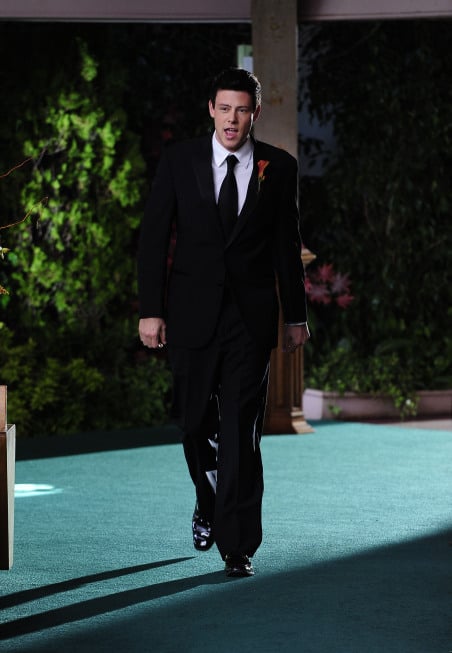 Finn (Cory Monteith [100]) is one of the (singing) groomsmen at the wedding [101] for his mom and Kurt's dad.
One Tree Hill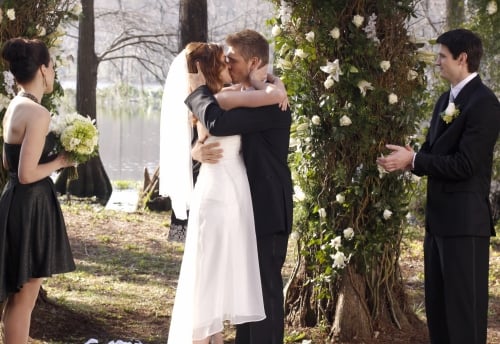 BFF Brooke (Sophia Bush) and brother Nathan (James Lafferty) stand up for the wedding [102] of Peyton (Hilarie Burton) and Lucas (Chad Michael Murray).
My Best Friend's Wedding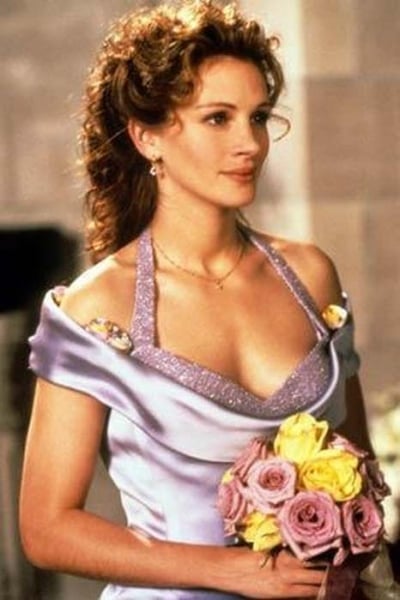 After trying desperately to sabotage her longtime friend's wedding [103], Jules (Julia Roberts [104]) eventually agrees to be the maid of honor for his betrothed.
Modern Family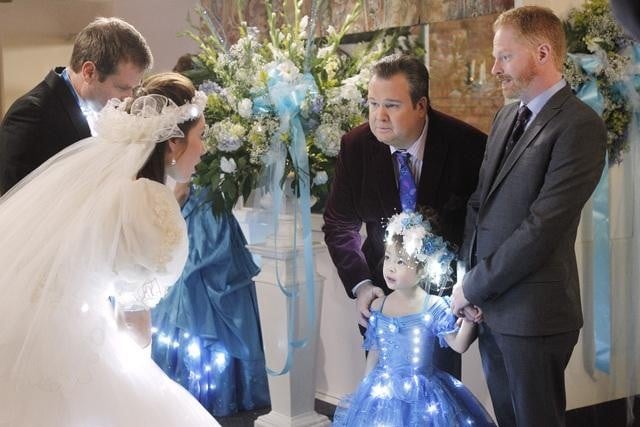 Lily (Aubrey Anderson-Emmons) sports a uniquely flashy outfit during her first stint as a flower girl.
Gossip Girl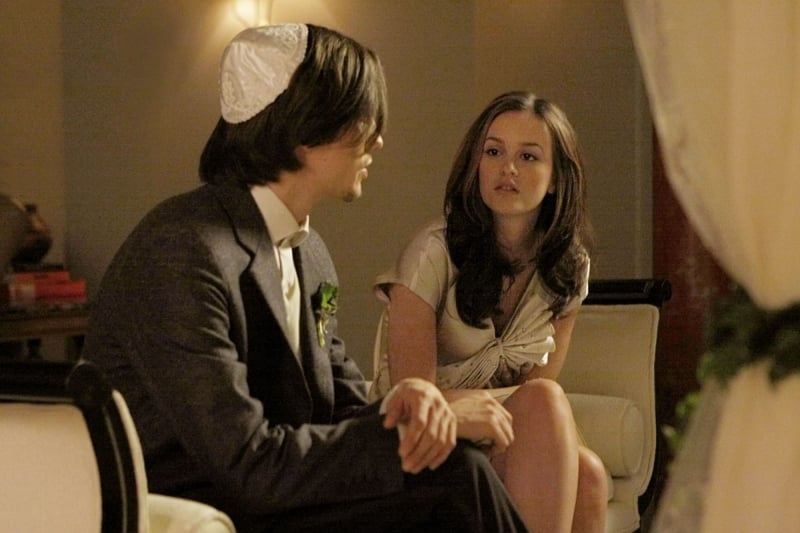 Blair (Leighton Meester [105]) and Aaron (remember Aaron?) are in the wedding [106] party for the marriage of their parents, Eleanor and Cyrus.
27 Dresses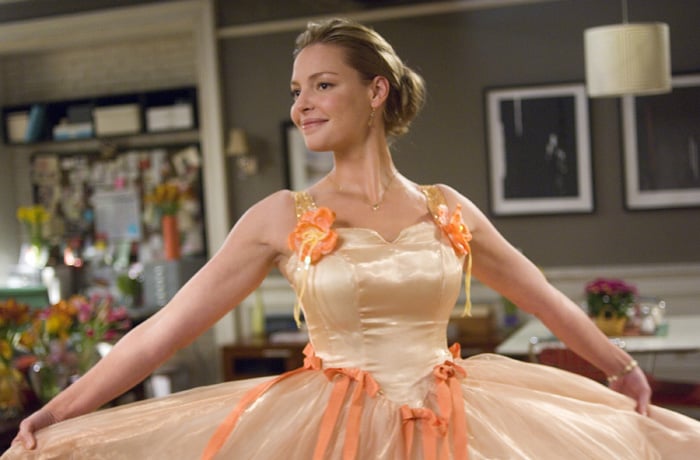 Jane (Katherine Heigl [107]) becomes somewhat of a pro at being a bridesmaid after she is in, as the title gives away, 27 weddings.
Jumping the Broom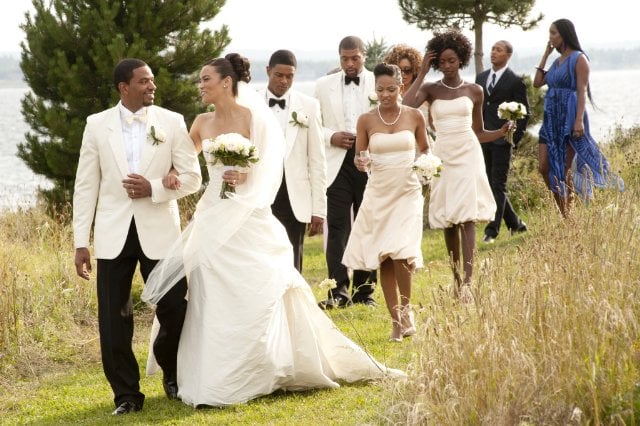 The wedding [108] party follows bride Sabrina (Paula Patton) and groom Jason (Laz Alonso) through Martha's Vineyard.
Clueless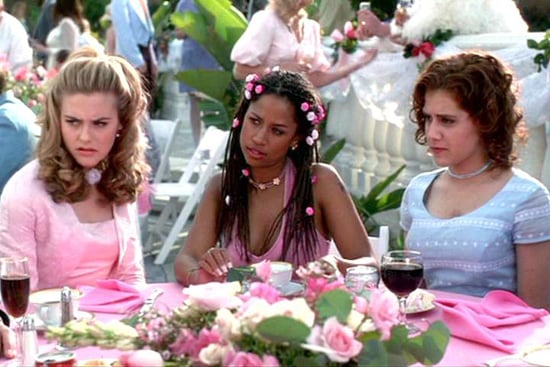 Cher (Alicia Silverstone) and Dionne (Stacey Dash) have the honor of being bridesmaids at their teacher Miss Geist's wedding [109] — which is fitting, since Cher's the matchmaker, after all.
Runaway Bride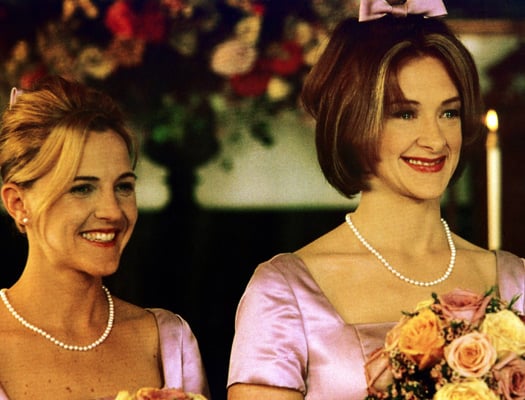 Cousin Cindy (Kathleen Marshall) and Peggy (Joan Cusack) serve as bridesmaids at one of Maggie's many weddings.
The Office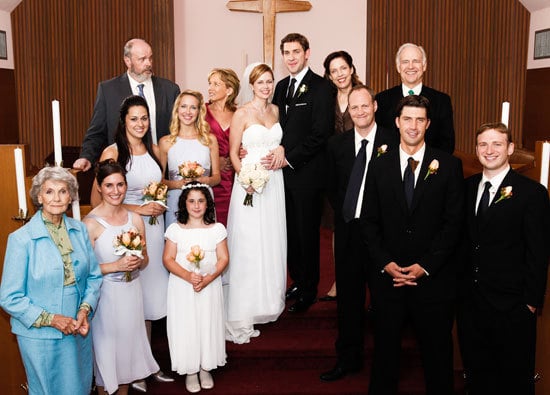 Jim (John Krasinski [110]) and Pam (Jenna Fischer) don't choose any of their office mates to be in their wedding [111] party, but everyone does get to go to the Niagara Falls ceremony.
I Love You, Man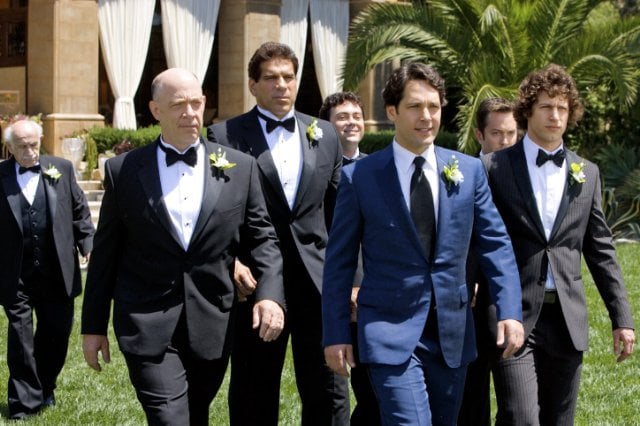 Peter (Paul Rudd [112]) finally makes some friends, but until the last minute when his new BFF arrives, his groomsmen consist of his dad, his brother, and of course, Lou Ferrigno.
The Golden Girls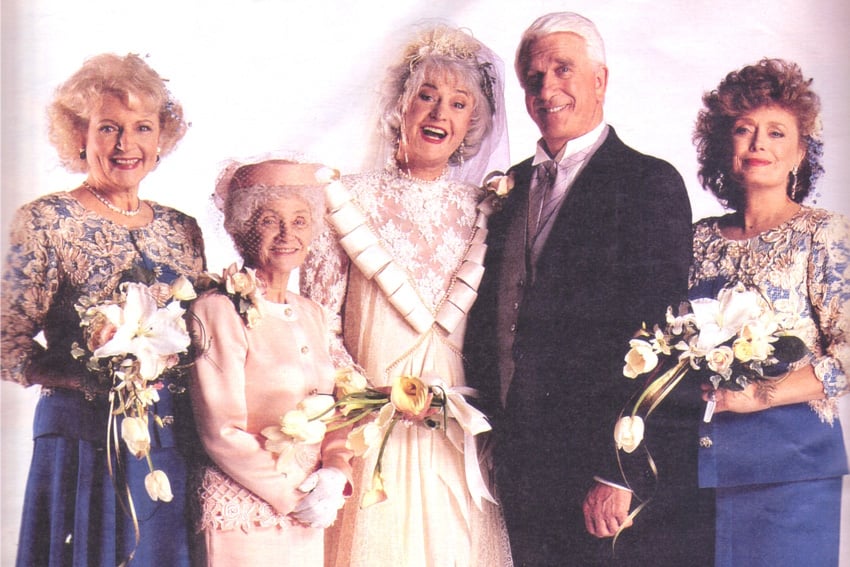 In the series finale, Dorothy (Bea Arthur) marries Blanche's (Rue McClanahan) uncle. Luckily she's got her stylishly clad pals by her side.
I Love You, Man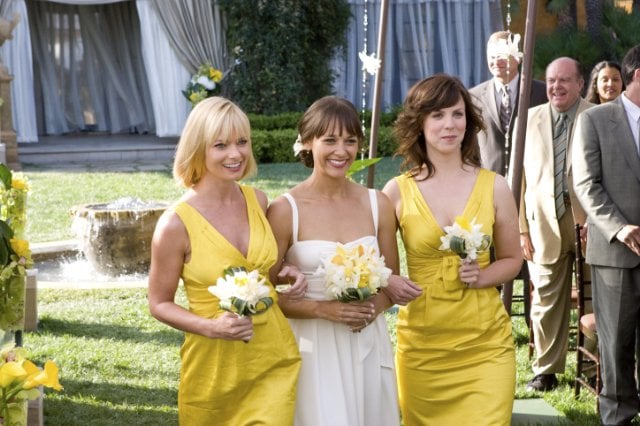 Denise (Jaime Pressly) and Hailey (Sarah Burns) walk Zooey (Rashida Jones) down the aisle to her fiancé, Peter.
Bride Wars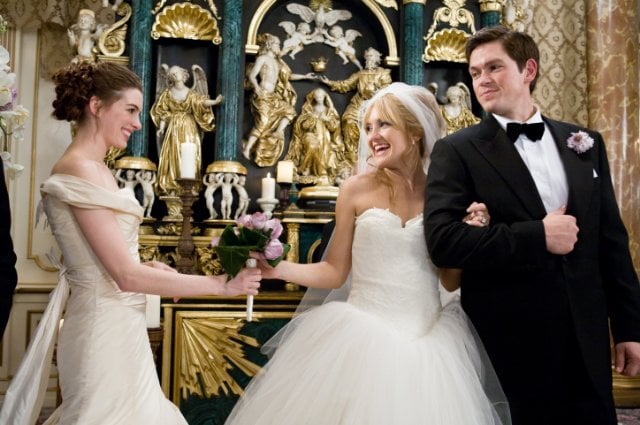 Emma (Anne Hathaway [113]) goes from competitive bride to happy bridesmaid (in the same dress, no less) when she realizes she doesn't want to get married but does want to be there for BFF Liv (Kate Hudson [114]).
The Hangover
After a long weekend hanging out with babies and tigers, Stu (Ed Helms), Phil (Bradley Cooper [115]), and Alan (Zach Galifianakis [116]) finally deliver groom Doug (Justin Bartha [117]) to his bride.
Charmed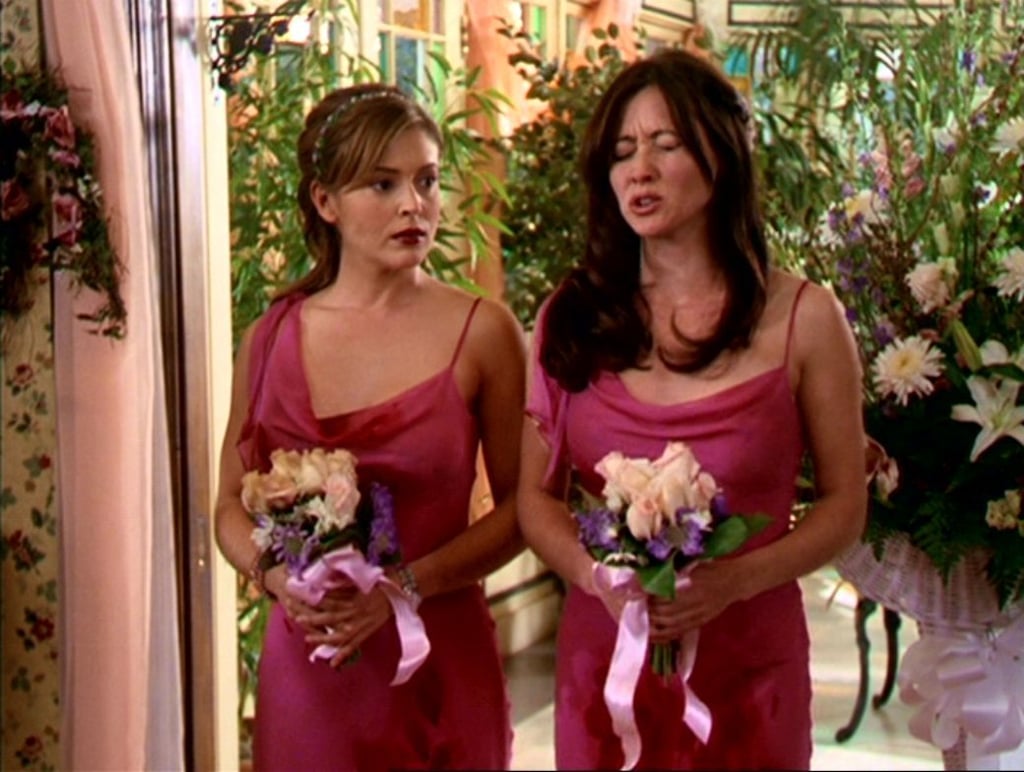 Phoebe (Alyssa Milano [118]) and Prue (Shannen Doherty) serve as maids of honor at Piper's wedding [119].
American Wedding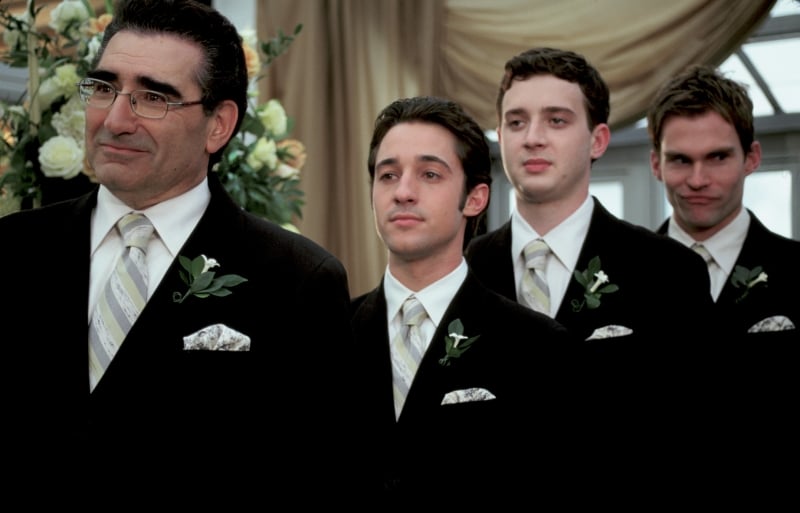 Jim's dad (Eugene Levy), Kevin (Thomas Ian Nicholas), Finch (Eddie Kaye Thomas), and Stifler (Seann William Scott) show up for Jim's vows with band camp alum Michelle.
The Brady Bunch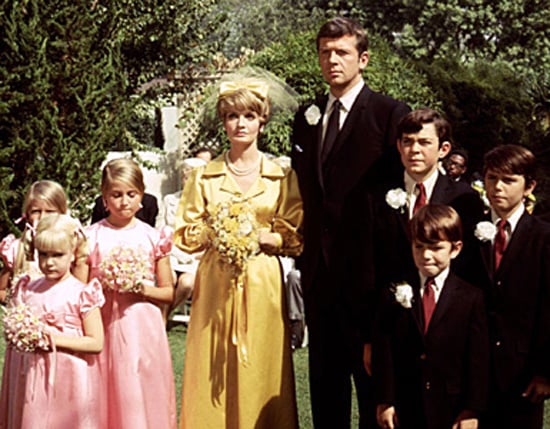 In an unconventional ceremony, Carol (Florence Henderson) and Mike (Robert Reed) are wed with their children serving as bridesmaids and groomsmen. Weird, but let's admit it, adorable.
Wedding Crashers
Bridesmaid Gloria (Isla Fisher [120]) and Jeremy (Vince Vaughn [121]) meet at her sister's wedding [122] and begin a torrid (and kind of terrifying) affair.
Source: New Line Cinema [123]
Sex and the City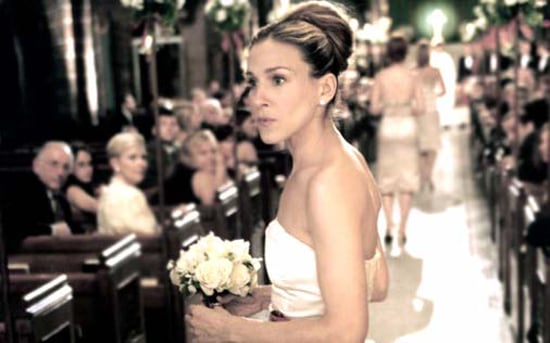 Carrie (Sarah Jessica Parker [124]) is a bridesmaid at Charlotte's first classic wedding [125] to Trey.
Friends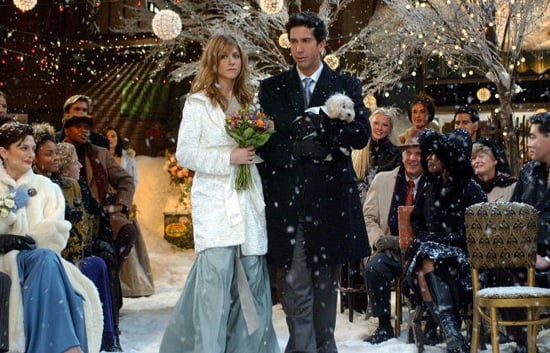 At Phoebe's snowy wedding [126] to Mike, Rachel (Jennifer Aniston [127]) bundles up to walk down the aisle as bridesmaid, paired with Ross (David Schwimmer).
The Wedding Date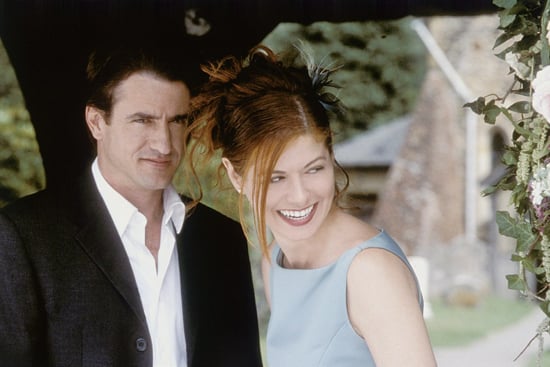 Maid of honor Kat finds the perfect accessory for her powder-blue gown: date Nick (Dermot Mulroney).
Gilmore Girls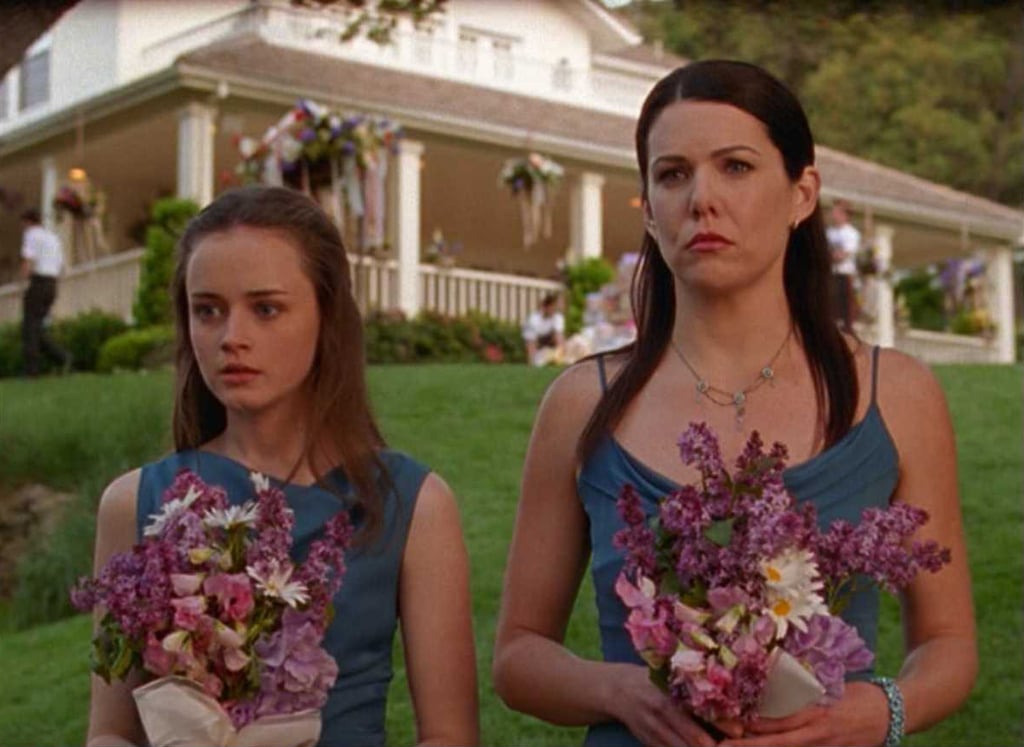 Lorelai (Lauren Graham) and Rory (Alexis Bledel) suit up for Sookie and Jackson's wedding [128].
Old School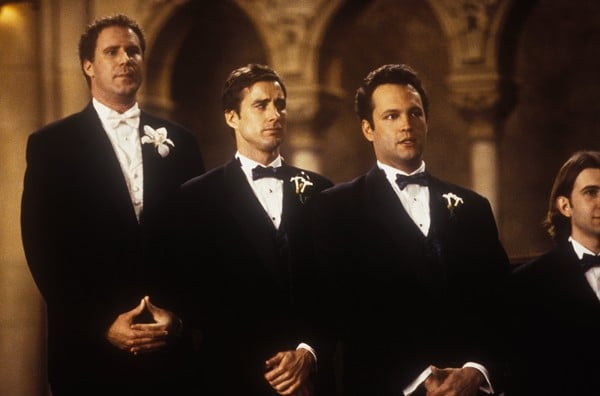 Beanie (Vince Vaughn [129]) and Mitch (Luke Wilson [130]) support their best pal Frank the Tank (Will Ferrell [131]) at his nuptials.
Rachel Getting Married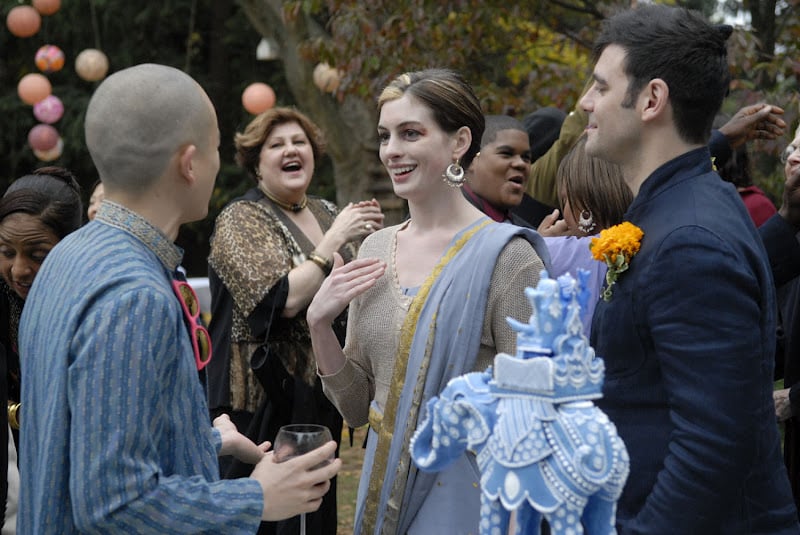 Kym (Anne Hathaway [132]) finally gets something right when she acts like a lady at her sister's wedding [133].
The Five-Year Engagement
Suzie (Alison Brie [134]) is overjoyed to be a bridesmaid to her sister Violet . . . if she and her fiancé ever get married.