The Office Recap, Episode "WUPHF.com"
The Office, "WUPHF.com": Best Lines of the Night
Ryan's up to another scheme on The Office this week, and his fellow employees are backing him 100 percent — at least at first. He's trying to sell his startup, WUPHF.com, a site that connects all of your social networks under one umbrella. Unfortunately no big businesses are biting to buy it, which puts its investors (i.e., Pam, Darryl, Andy, and others) in a pickle. If Ryan doesn't find a way to sell it within nine days, they'll all be out of money.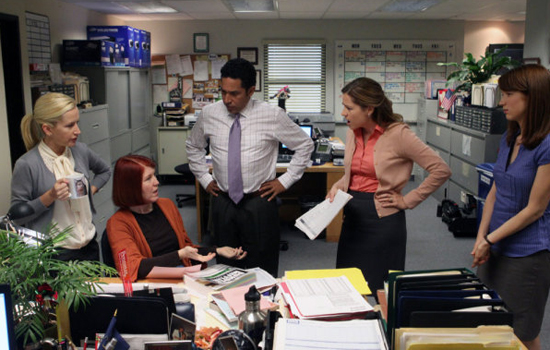 While Ryan's plotting his new venture, Dwight is busy with a side hustle of his own. He's set up "Hay Place," a makeshift hay theme park, in the Dunder Mifflin parking lot. Angela tries to get his attention to "fulfill" their contract, but Dwight's so caught up in hay rides that Angela chats up a new guy instead (guest star Jack Coleman). Jim would like to make some money too, but since he's hit his commission cap, he can't profit off new sales. So instead, he turns his attention to pranking Gabe (I love prankster Jim!).
I didn't really find this episode that funny, but then again, Ryan's never been one of my favorite characters. Even so, I'm curious what might become of Angela and her new beau. Let's go over some of the evening's best lines when you
.
"I know Ryan's kind of a sketchy guy, but hey, I married Jim. I've done my part for the nice guy. Now, I want a bedroom set." — Pam, justifying why she invested in WUPHF.com
"Think about your commission cap as a naked old man in a gym locker room." — Gabe, trying to make Jim feel better about the company policy
"Yes, I have a dream, and it's not some MLK dream for equality. I want to own a decommissioned lighthouse, and I want to live at the top. And nobody knows I live there. And there's a button that I can press and launch that lighthouse into space." — Stanley, explaining the very, very strange way he'll spend his WUPHF.com money
"You know that was my idea, right? I said to Ryan, I try to call you, and you don't have your phone. I try to IM you, but you're not online. I wish there was a way that I could do everything all at once, and I could just be this little dog going ruff, ruff, ruff, ruff, ruff!" — Kelly, who came up with WUPHF.com first
"You just have to play with the cards you are dealt. Jim, that guy is an ace. Dwight is my king up my sleeve. Phyllis is my old maid. Oscar is my queen. That's easy, give me a hard one. That's what Oscar said. Toby is the instruction card that you throw away. Pam is a solid seven. And yeah, you know what, Ryan is probably like a two, but sometimes twos can be wild so watch out. And I am obviously the joker."— Michael, comparing his employees to a deck of cards (not a terrible analogy!)

Did you like the episode? Do you think Angela has a new love interest in her future? Share your thoughts below or head over to The Office community group!

Photo courtesy of NBC