Review of The Boys Are Back Starring Clive Owen
The Boys Are Back: A Quiet Film With a Few Heart-Tugs
Like us on Facebook
Has Clive Owen — a man who's best known for playing con artists, spies, and other brooding alpha males — gone soft? It appears so, and he's surprisingly good at it. In The Boys Are Back Owen plays Joe Warr, a recently widowed sports reporter raising two boys in the Australian wilderness. And thanks to his understated performance, what could've been an overwrought tearjerker worthy of a made-for-cable movie turns into something quietly moving.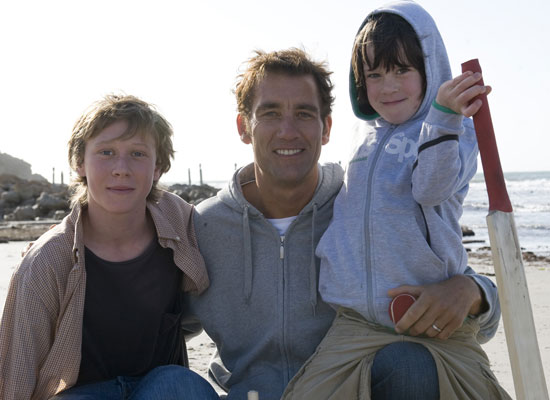 Based on the memoir The Boys Are Back in Town by Simon Carr, the film opens with Joe driving on the beach with his son Artie. Did I mention Artie is sitting on the hood of the car with Joe at the wheel?! Parental guidelines haven't been a priority in the Warr household ever since Joe's wife passed away from cancer. Now, he has to explain her death to Artie, while his older son Harry from his first marriage moves into the house. Left to their own devices, the two boys play soccer in the hallway, zip line across the yard, and even defrost a chicken in the bathtub.
Typical parenting? Not so much. For more on the film,
.
These moments of chaos are fun to watch and add levity to the heavier subject matter, but the movie really shines in the conversations that Joe has with his sons as he helps them grieve — Artie for his mother; Harry for a childhood void of a father. Neither boy really knows how to mourn his loss, but then again, neither does Joe. Instead, he relies on the parental guidance of his deceased wife in the form of visions and voice-overs to help rebuild his family. (This felt very heavy-handed to me, but luckily it was really the only part of the film that crossed over into overly contrived.)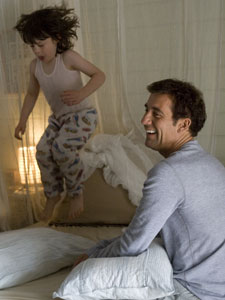 Does it seem out of place to have man's man Owen pillow fight with a 6-year-old and shed tears? A bit. But because he almost seems uncomfortable with the sentimentality, he ends up playing the role with the light touch needed for the part.

The young actors who play his sons are brilliant, even at times stealing the spotlight right out from underneath him. (Not an easy feat when you act — and look — like Owen.) Their performances feel very real despite their ages, and they give us some of the film's most tender moments.

I also must mention the fourth character of the film: the Australian landscape. Oscar-winning director Scott Hicks (Shine) beautifully captures the countryside from sweeping fields to oceanside beaches strewn with rocks, and when paired with music by Icelandic group Sigur Ros, every frame feels almost like a sleepy dream.

All in all, The Boys Are Back is a nicely done portrait of the relationships between fathers and sons. It's not out to be a huge blockbuster, but if you appreciate a good character study kind of film, it's a solid choice for a subdued Saturday afternoon.

Photos courtesy of Miramax Films