Review of James Cameron's Avatar, Starring Sam Worthington and Zoe Saldana 2009-12-18 05:30:00
Avatar: An Out of This World Visual Feast
Like us on Facebook
By now you've probably heard a thing or two about Avatar — how it took nearly 15 years to get made, how it cost around $500 million, etc. A lot is riding on the film's success, and with a run time of two and a half hours and an outlandish sci-fi storyline, this is not your sure-bet family comedy. I know some of you are on the fence, but the special effects make this one worth the price of admission — and then some.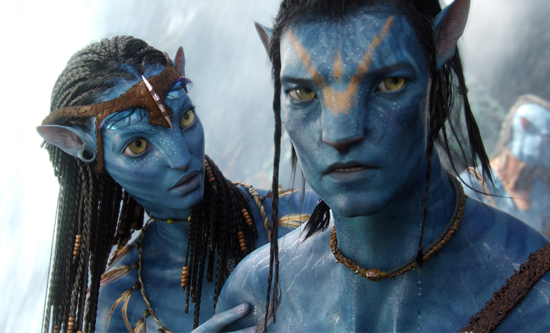 Director James Cameron creates a world called Pandora, an Earth-like moon full of colorful creatures and a tribe of 10-foot tall natives called the Na'vi. It's the year 2154; humans are suffering from an energy crisis, so they begin mining Pandora for a mineral called Unobtainium. The only problem is that the Na'vi village sits on top of the largest deposit.
Enter Jake Sully (Sam Worthington), a paraplegic Marine who arrives to Pandora among a group of ex-soldiers hired by the Resources Development Administration (RDA) and its facilitator Parker Selfridge (Giovanni Ribisi). With the help of the group's scientists led by Dr. Grace Augustine (Sigourney Weaver), Jake becomes a "driver" of their latest technology — an avatar of the Na'vi body for the purpose of living among them and gaining their trust. Which he does, but not without his share of problems.
To see what I mean,
.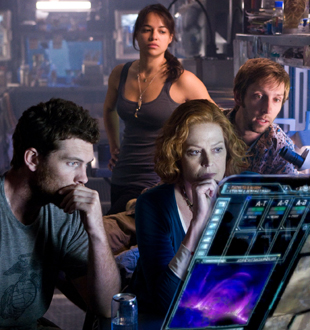 Once Jake inhabits his new avatar form, he encounters Neytiri (Zoe Saldana), a Na'vi princess of sorts who takes him to her village. Under her direction, Jake learns the Na'vi language and hippie-dippy, green way of life; at night, he reports his insider knowledge to the RDA and its head of security, Colonel Miles Quaritch (Stephen Lang).

You can guess what happens next. As Jake's relationship with the Na'vi deepens (including his romance with Neytiri), he questions the RDA's militaristic methods and leads the natives into a war against them.

James Cameron leaves no stone unturned in his magical world of Pandora. It's all cleverly thought out, from the hinges on the RDA's machines to the gills on the planet's animals, and it's beautiful. By combining new CGI technology with 3-D, it's a movie-going experience unlike any before it, and watching the film makes you feel like you're witnessing the future of cinema. Cameron should receive a director's Oscar nomination for that alone.

But unfortunately while the visuals blow you away, the story is mediocre in comparison and never grabs the audience's empathy as an epic tale of war and love should. Perhaps it's because we're distracted by the scenery, or the sci-fi element is so convoluted that we're trying to wrap our heads around it when things don't add up. Sully seems poised to be a great movie hero, but others like the Colonel feel like one-dimensional cutouts that we've seen before.

Still, Cameron definitely pours his heart into this one, and ultimately, he wants this to be a tale that warns against real-life environmental destruction and war. It may get you to think a little, but mainly you'll just leave the theater saying, "Did you see that?!"

Photos courtesy of Fox