Review of Matt Damon in The Informant!
The Informant!: Funny If You Can Focus!
Like us on Facebook
What would happen if Michael Scott were dropped into the movie Michael Clayton? If you're wondering what to expect from Steven Soderbergh's The Informant!, the visual of Michael bumbling his way through a corporate thriller is a good place to start.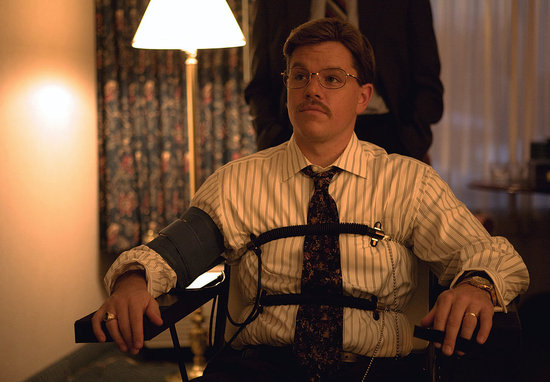 The movie is campy right from the start, almost making an announcement as cheesy music plays over the neon bubble letters of the credits. There's even the rarely seen "Matt Damon IN... The Informant" — Soderbergh isn't trying to hide anything here, though the move is set in the early '90s despite the '70s ambiance. While many of the jokes hit you over the head, don't expect the key plot elements to have the same effect.
To see what I mean, just
.
Matt Damon literally transforms himself into Mark Whitacre, the vice president of real-life lysine developing company ADM. On the surface, Whitacre fits right into the upper-middle class Midwestern stereotype; he's an overweight, mustachioed man who sits down to dinner with his wife and sons every night. In what seems to be a sudden attack of conscience, Whitacre takes it upon himself to rat out ADM's price-fixing schemes to two FBI agents (played by Scott Bakula and a straight-laced Joel McHale). The more involved Whitacre gets with the FBI, the more eager he is to help take down the company that made him rich. The agents (and the audience) quickly begin to wonder — what's in it for him?
Most of my laugh-out-loud moments came from Whitacre's inner monologue. At first his thoughts give us clues about the decisions he makes — he seems to be obsessed with John Grisham novels and conspiracy theories, so it's no surprise that he's relishing in his involvement with the FBI. As time goes on, however, his stream of consciousness shifts from wacky observations about the world at large to ways he can manipulate it to his own benefit.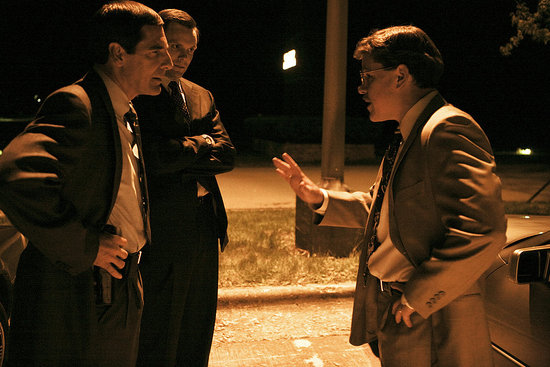 Soderbergh has a solid lineup of supporting comedians (Patton Oswalt and Tony Hale also make appearances) but Matt Damon is the mastermind here. He shines through all that hair, makeup, and extra pounds to deliver a highly enjoyable performance that keeps you guessing. Damon's no stranger to comedy, but his role as Whitacre is a far cry from Stuck On You.
The movie has a sluggish start, and loses its focus towards the middle — but try not to doze off, since almost every loose end is eventually tied up. While only a manageable 108 minutes, the film still feels like it's a half hour longer than it should be. If I had been watching it at home, I may have been tempted to turn it off, which is a shame since many of the laughs and most of the excitement happens in the end.
There's fun to be had here, if you manage your expectations. This is not your typical comedy: the humor is dry, but the laughs are there — just try not to lose focus along the way.
Photos courtesy of Warner Bros.