Singers who Sound Like Amy Winehouse, Lily Allen
Separated at Birth: UK Singing Soundalikes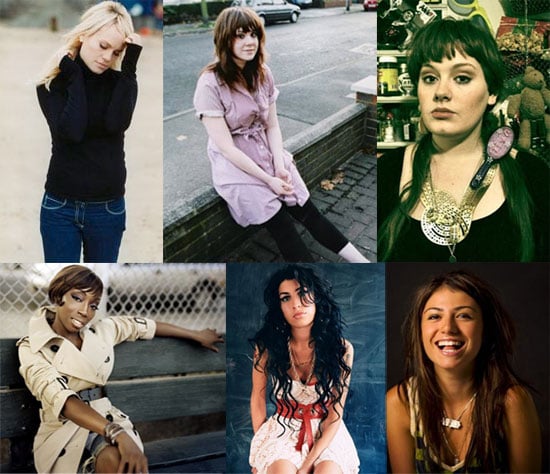 It seems like you can't turn on the radio or surf the music blogs these days (or walk into a Starbucks, for that matter) without hearing a lady singer who is from the UK and sounds strikingly similar to Amy Winehouse or Lily Allen. It's as if all aspiring British female vocalists born between 1979 and 1991 were only given Dusty Springfield and Etta James records to listen to for inspiration.
Winehouse and Allen reintroduced the "soulful songstress with attitude and distinctive vocals" persona to the mainstream when they took the USA by storm a few years ago. However, they now appear to be imploding personally, leaving a hole in the genre that record labels have rushed to fill. I'm not complaining, as I happen to really enjoy this kind of music, but how to tell all this talent apart? There are a lot of 'em, and in addition to having similar musical styles, their names (er, um, "name," as the case may be for several of them) are hardly distinctive. It's confusing! For your benefit and mine, here's my attempt to break it all down:
| | | | | | |
| --- | --- | --- | --- | --- | --- |
| Name | Duffy | Adele | Estelle | Kate Nash | Gabriella Cilmi |
| Recent Album | Rockferry, 2008 | 19, 2008 | Shine, 2008 | Made of Bricks, 2008 | Lessons to Be Learned, 2008 (not yet for sale in US) |
| Single to Download | "Mercy" or "Warwick Avenue" | "Chasing Pavements" | "American Boy" | "Foundations" and "Merry Happy" | "Sweet About Me" (not yet available in US) |
| Identifying Features | "Mercy" featured on Grey's Anatomy; album sold at Starbucks | Voice getting a lot of hype; lacks the bad-girl storytelling of the others | As good at rapping as singing; big names like Kanye West and John Legend behind her | More Lily Allen than Winehouse; a great choice post-breakup | Technically Australian, a budding talent now working it in the UK |
| iPod Replay Potential* | 3 | 4 | 8 | 7 | 6 |
*scale of 1-10, 1 = "What's this lady doing on my iPod?" and 10 = "Cannot get enough — it's the soundtrack of my life!"
Source and Source
— Additional reporting by Kate Emswiler and Kimra McPherson
POPSUGAR, the #1 independent media and technology company for women. Where more than 75 million women go for original, inspirational content that feeds their passions and interests.
All the Latest From Ryan Reynolds