It's always wedding [1] season to us, so we're turning to the big and small screens, where fictional characters take marriage vows all the time. Whether the marriages lasted for minutes, months, or never even happened, we've compiled some of the best weddings from TV and movies. Take a trip down memory lane with all these ceremonies, complete with gorgeous gowns, scenic locations, and sweet kisses!
— Additional reporting by Laura Marie Meyers, Shannon Vestal, and Maggie Pehanick
Bones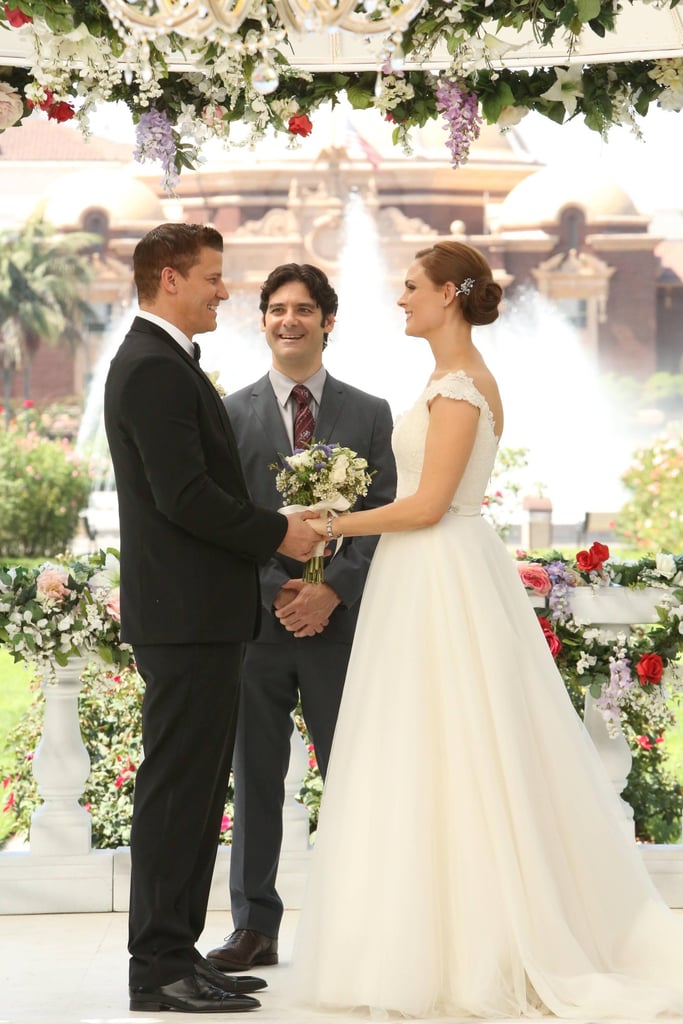 Booth (David Boreanaz) and Brennan (Emily Deschanel) tie the knot after nine seasons of flirtation, courting, and forensic evidence.
Legally Blonde 2: Red, White, & Blonde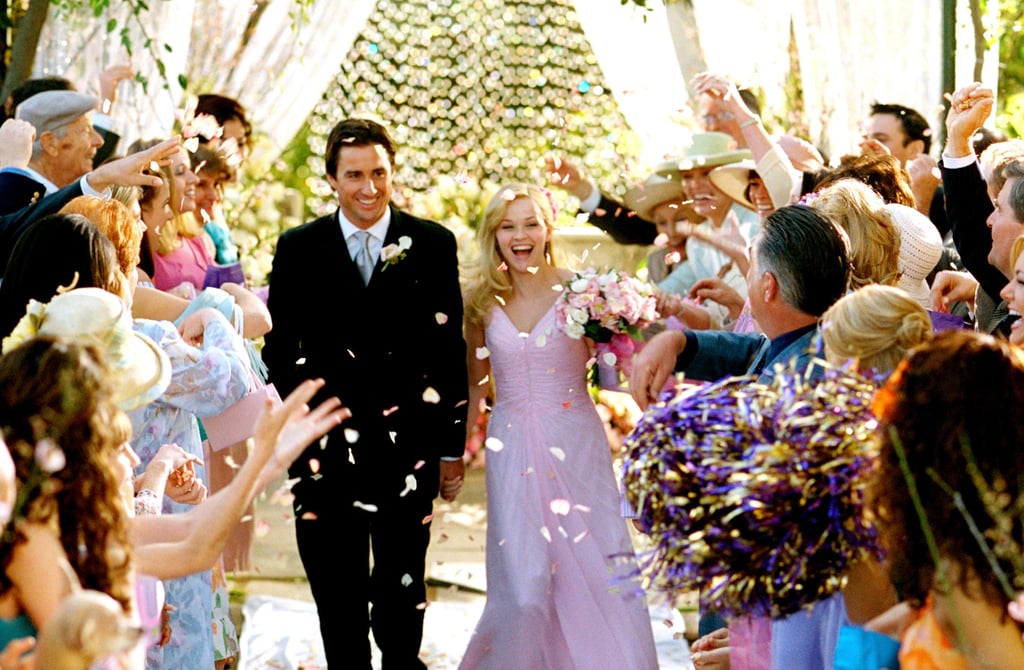 We saw the power couple first fall in love in Legally Blonde, but in the sequel, Emmett (Luke Wilson [5]) and Elle (Reese Witherspoon [6]) wed in true Delta Nu style, and in her signature color, of course.
The Office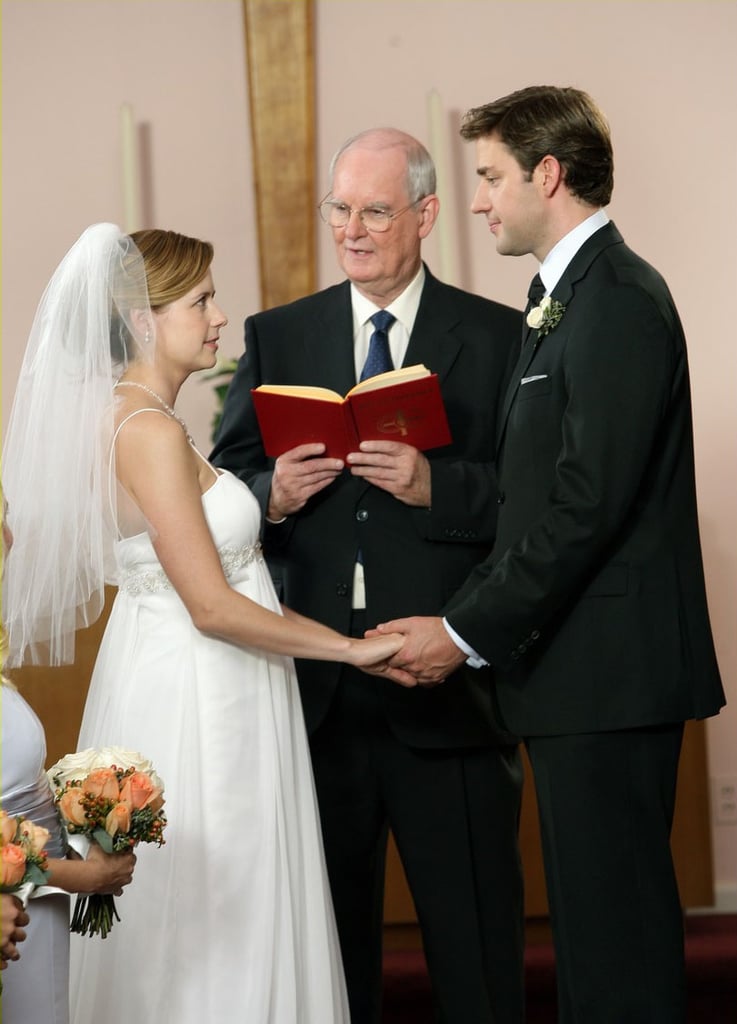 Is there anything sweeter than when Jim (John Krasinski [7]) and Pam (Jenna Fischer) make it official in front of all their friends and co-workers?
Melancholia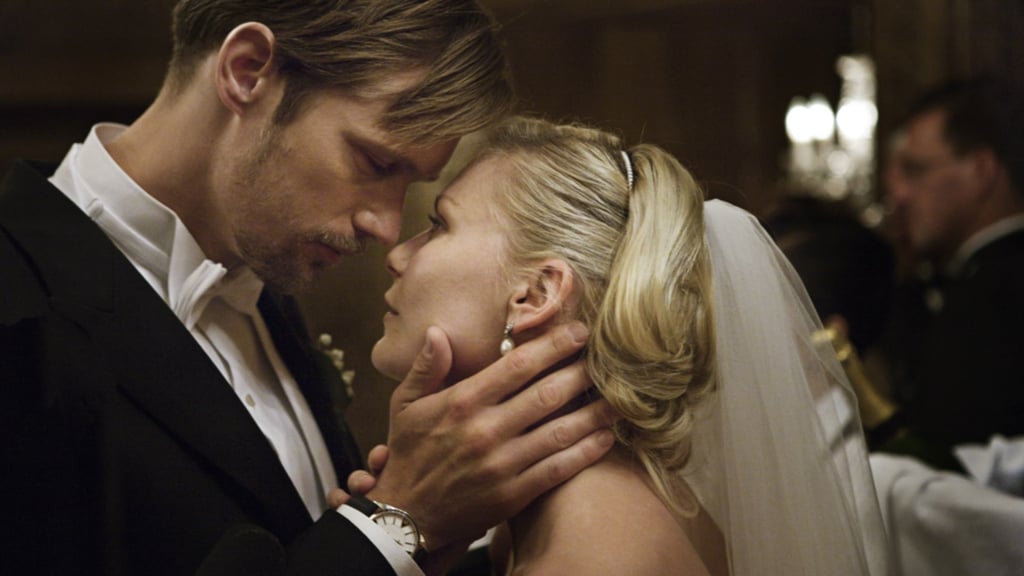 Justine (Kirsten Dunst [8]) and Michael (Alexander Skarsgard [9]) make one beautiful couple in the very dark Melancholia, but her battle with depression puts a bit of a damper on the festivities.
Blue Valentine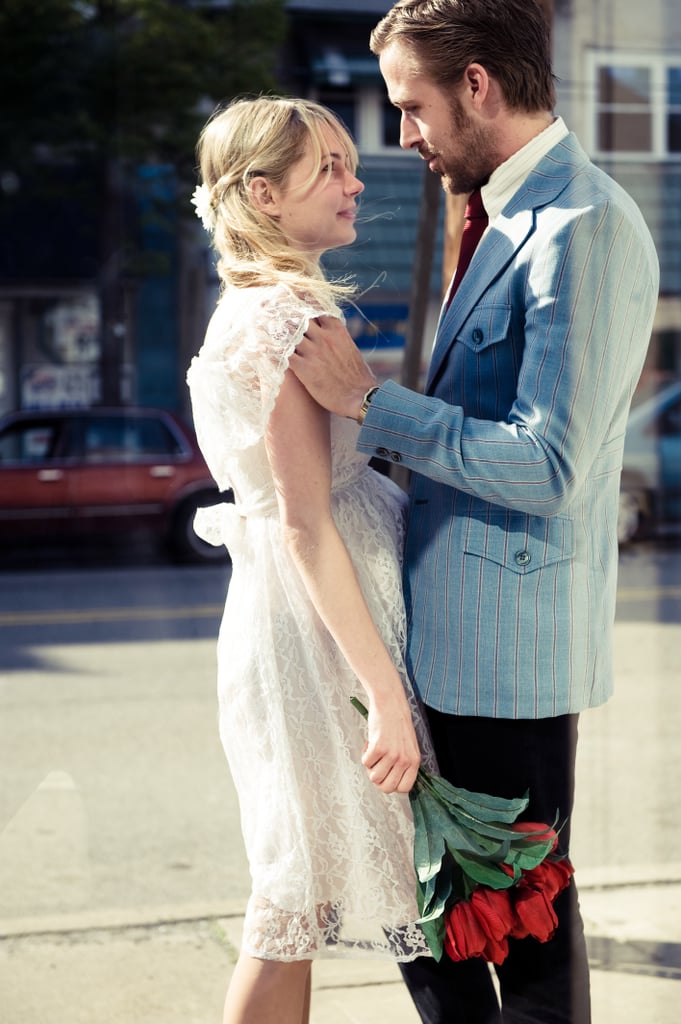 After Cindy (Michelle Williams [10]) learns she's pregnant, she and her sweet boyfriend, Dean (Ryan Gosling [11]), have a no-frills wedding [12] at the Justice of the Peace office — but they still both dress up for the milestone.
The Wedding Singer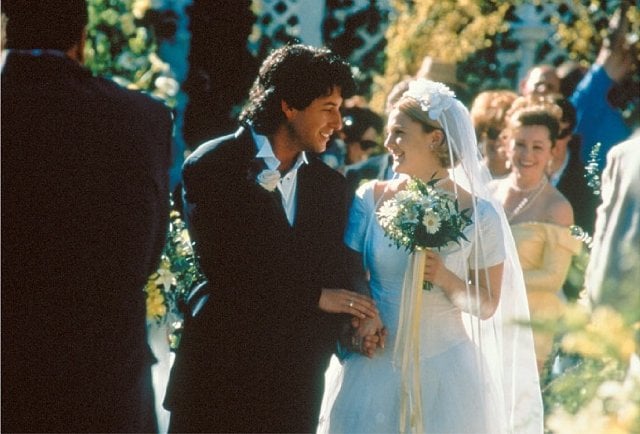 Instead of making the big mistake of being Julia Gulia, Julia (Drew Barrymore [13]) and Robbie Hart (Adam Sandler [14]) tie the knot in a beautiful wedding [15] — to the tune of "I Know This Much is True."
Gossip Girl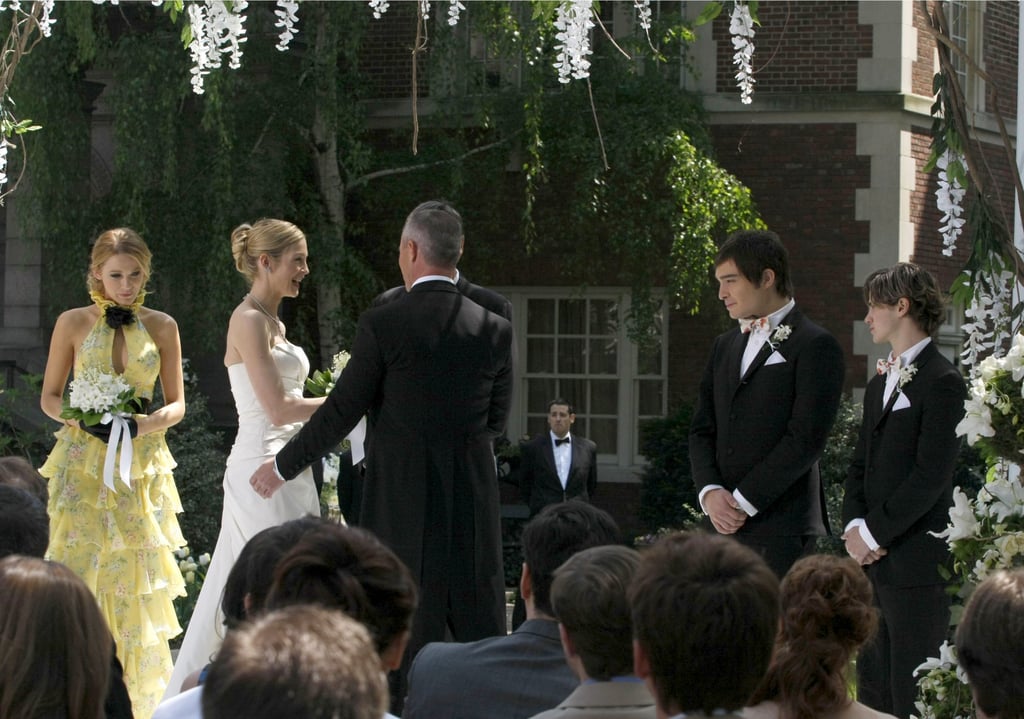 Though Lily (Kelly Rutherford) has been married a few times before, that doesn't stop her from choosing a white dress for her fancy wedding [16] to Bart (Robert John Burke). The UES couple wed before friends, family, and their disapproving children.
Lost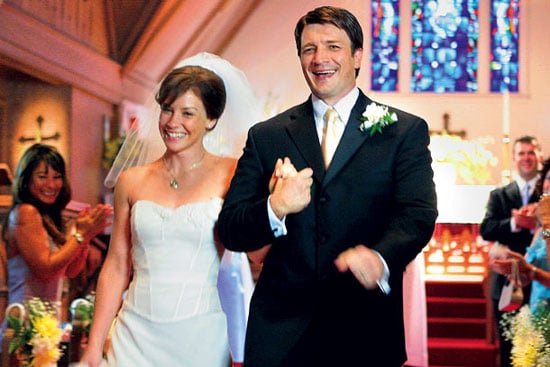 Kate (Evangeline Lilly [17]) weds policeman Kevin (Nathan Fillion), whom she truly loves, but their love doesn't last because she's a fugitive on the run — and pretending to be someone else.
The Baxter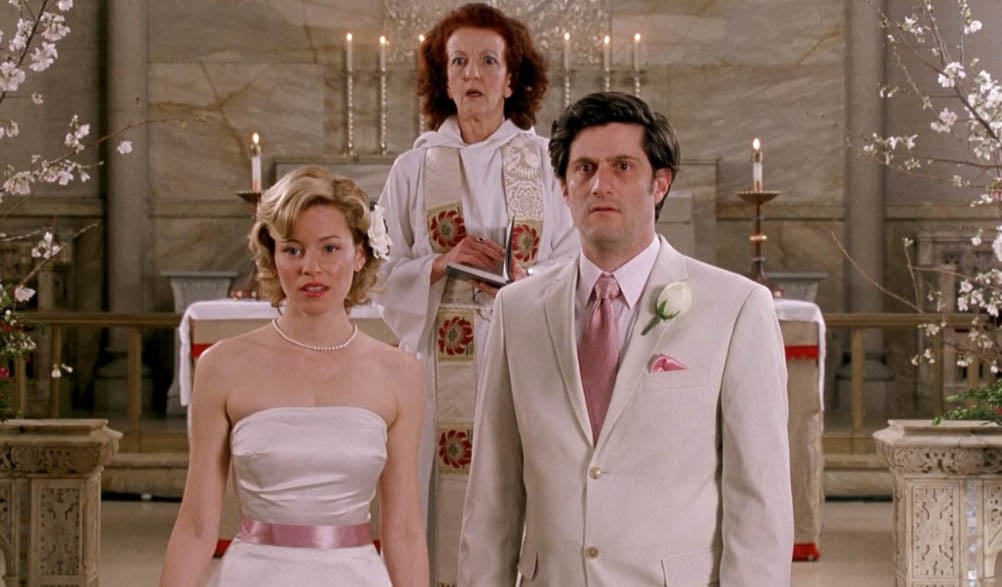 Caroline (Elizabeth Banks) and Elliot (Michael Showalter) get a big surprise when one of her exes shows up and declares his love for her.
Desperate Housewives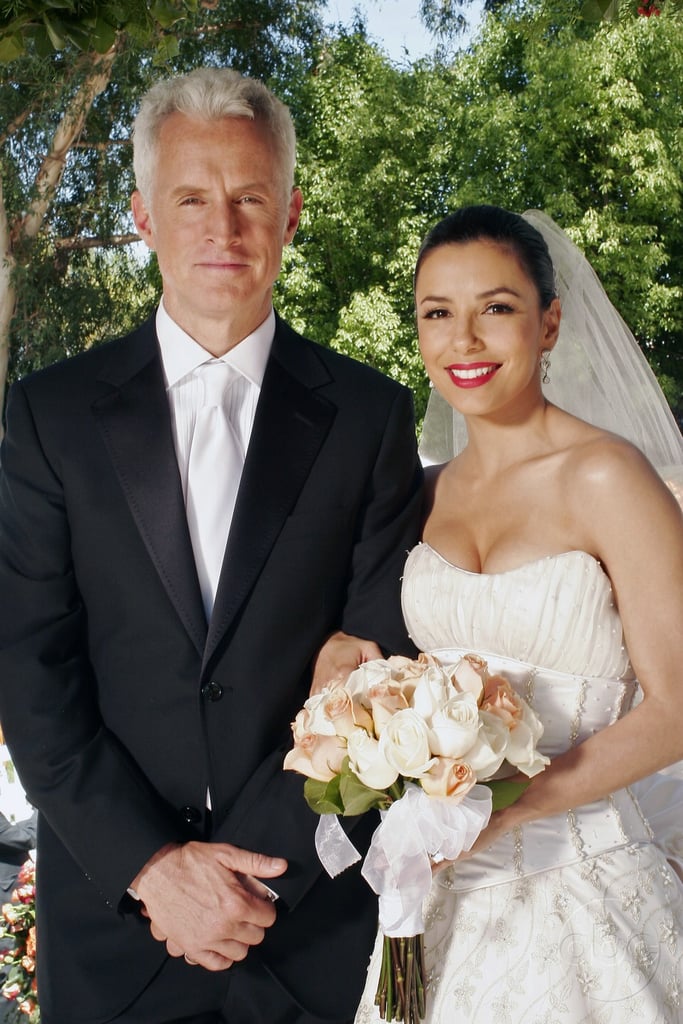 After divorcing Carlos, Gaby (Eva Longoria [18]) starts dating politician Victor (John Slattery). Though she doesn't really love him, she marries him out of spite over Carlos's new dating life. It doesn't last very long — Carlos and Gaby reunite, and Victor is eventually killed in a tornado.
Scrubs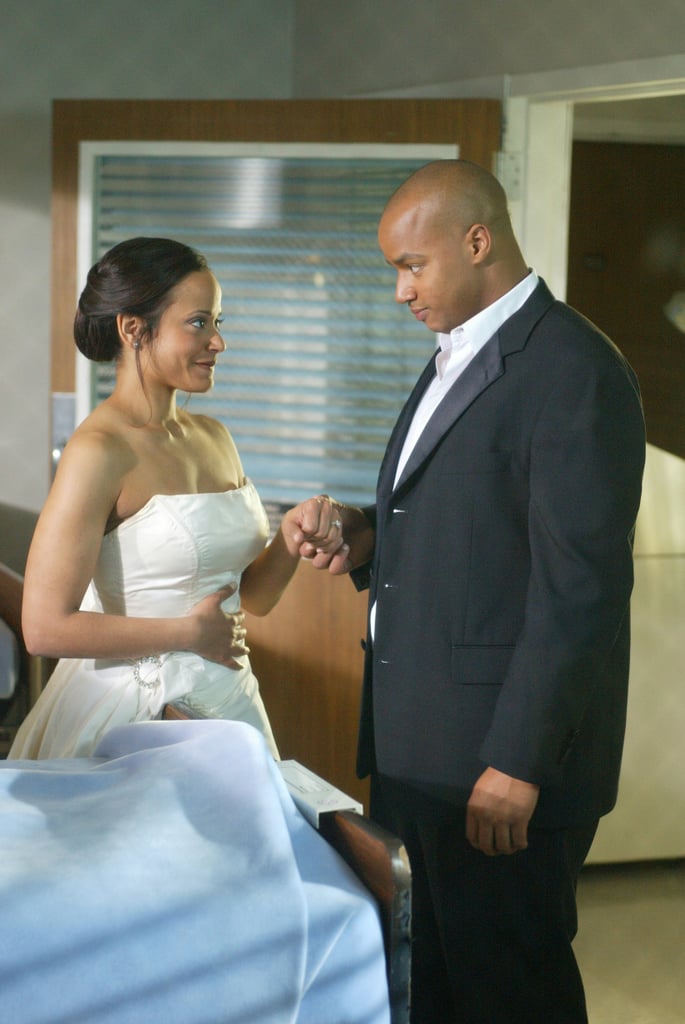 Early in the series, co-workers Turk (Donald Faison) and Carla (Judy Reyes) get together, and we loved seeing them make it official in season three — even though Turk misses the fancy party due to work.
Frasier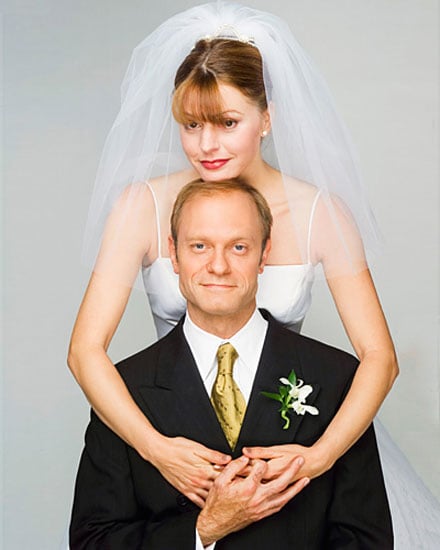 Daphne (Jane Leeves) and Niles (David Hyde Pierce) have big plans for a big wedding [19] but end up flying to Reno when they can't wait a minute longer.
Tony 'n' Tina's Wedding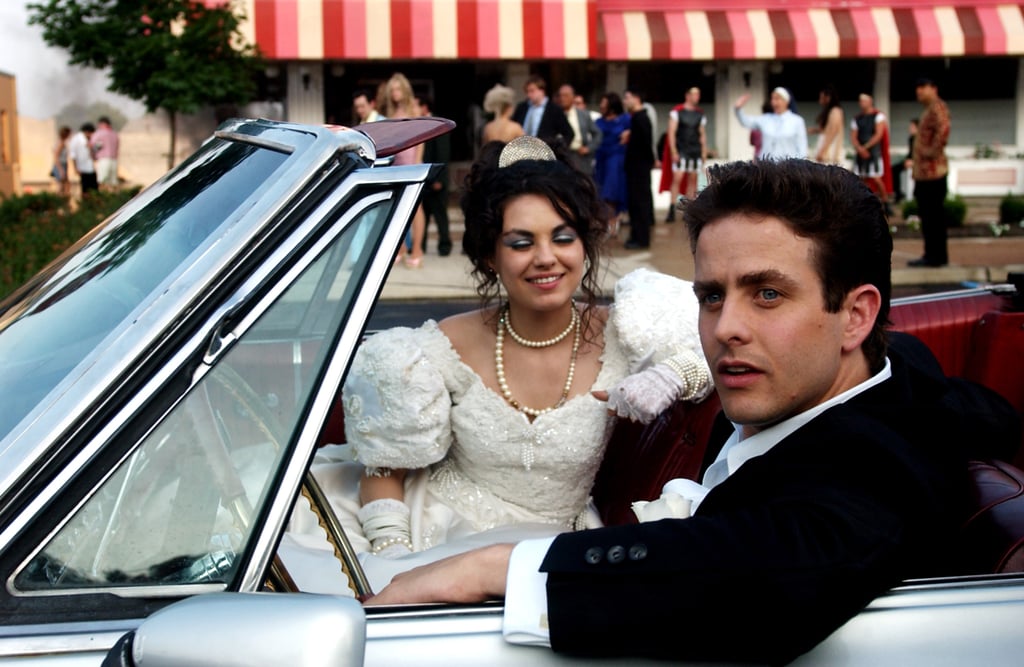 Tony (Joey McIntyre) and Tina (Mila Kunis [20]) are two Italian-Americans from different sides of the tracks who fall in love and get married.
90210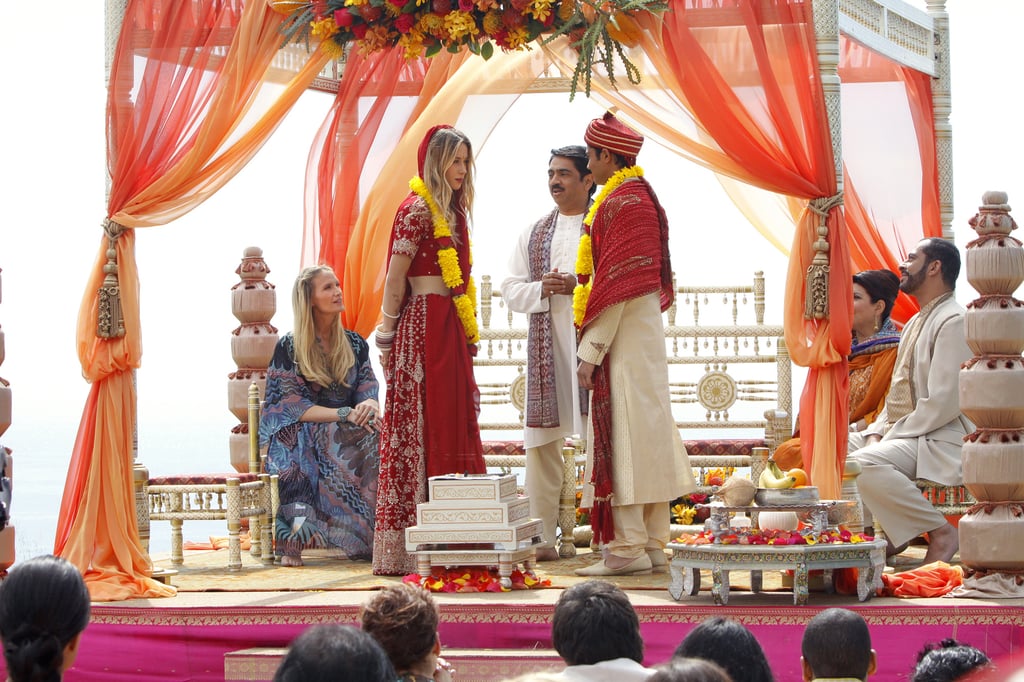 When Raj learns that his cancer is terminal, he asks girlfriend Ivy to grant him one wish — a traditional Indian wedding [21] ceremony, complete with elephants.
Gilmore Girls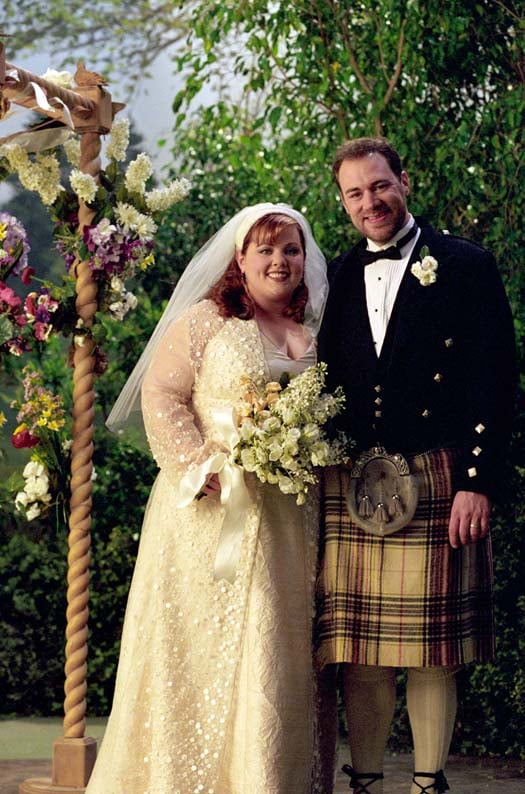 When Lorelei's best friend Sookie St. James (Melissa McCarthy) marries Jackson Belleville (Jackson Douglas), he's forced to wear the same kilt his father and grandfather wore at their respective weddings.
One Tree Hill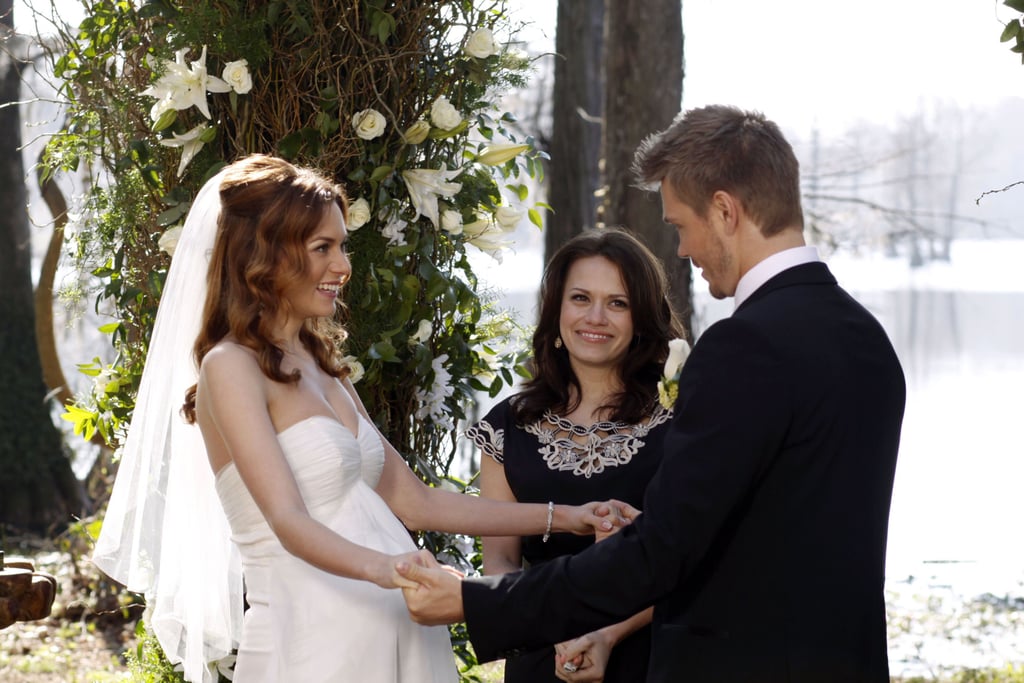 Lucas (Chad Michael Murray) and Peyton (Hilarie Burton) and all their closest pals make for one beautiful bridal party.
Smallville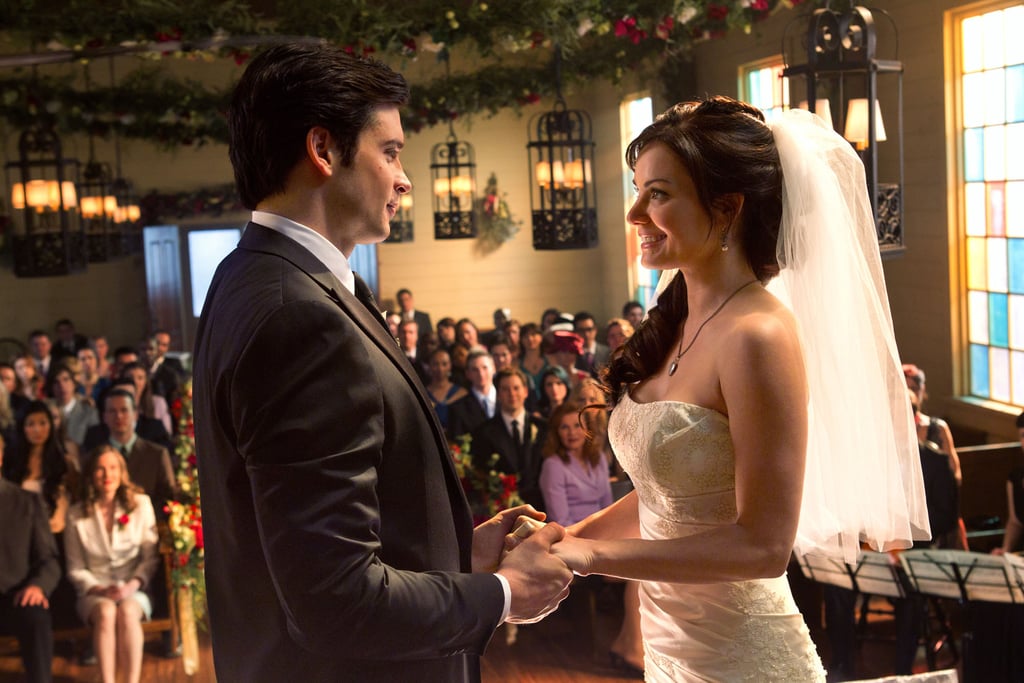 It's no surprise if you know any Superman lore: Lois (Erica Durance) and Clark (Tom Welling) fall deeply in love and get married.
Happy Days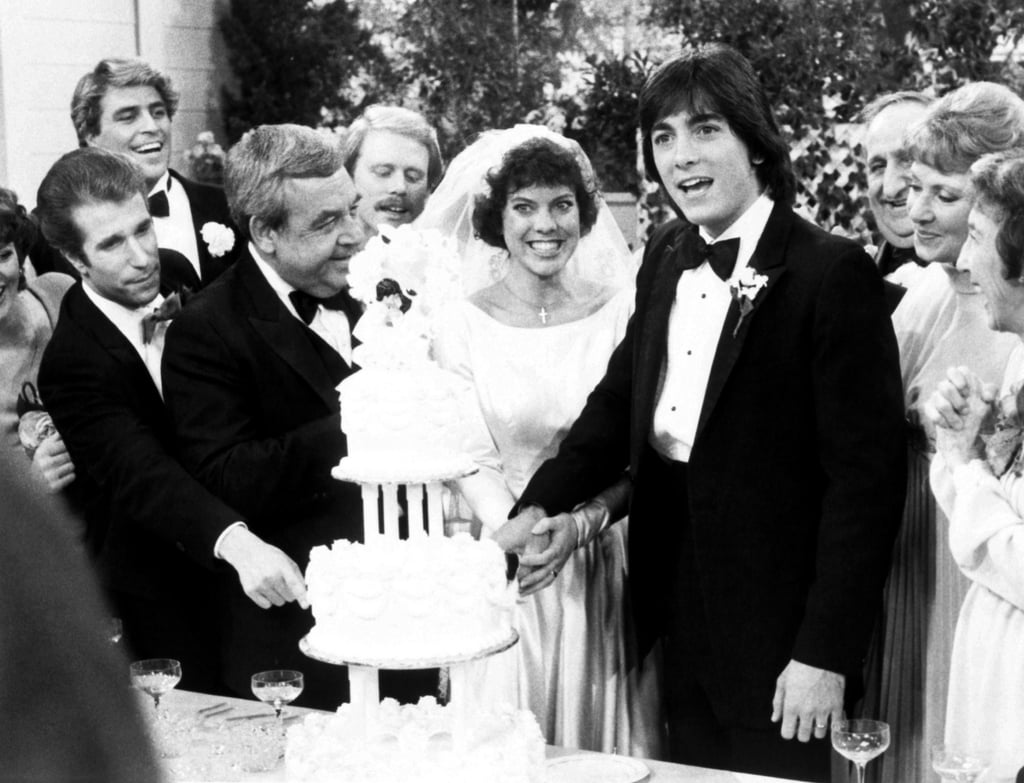 On the Happy Days series finale, Joanie (Erin Moran) and Chachi (Scott Baio) get hitched, and the whole gang is there for one big celebration.
Dynasty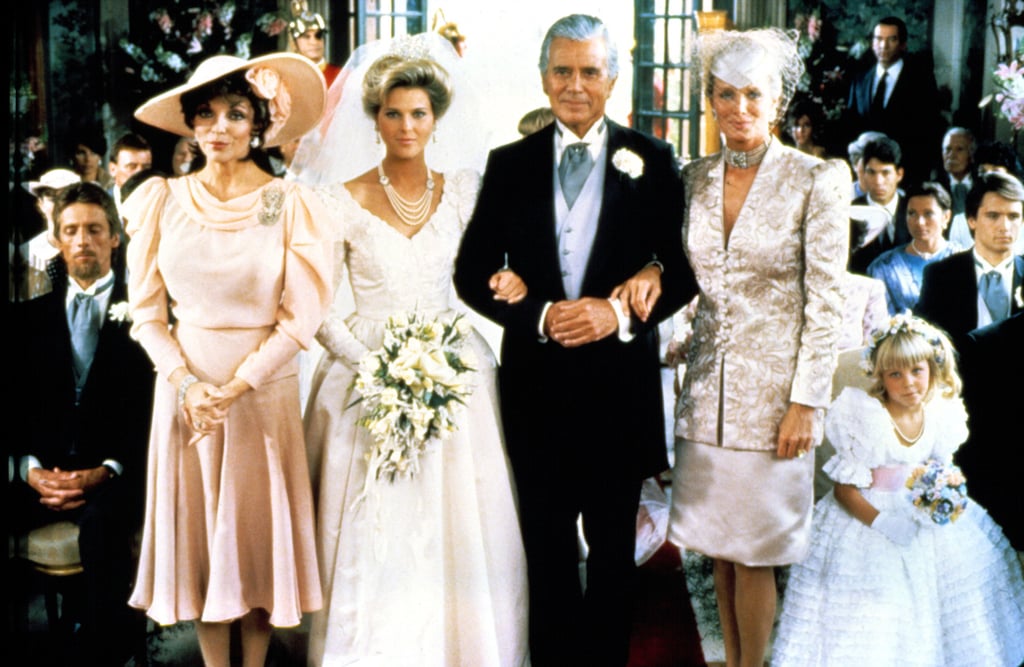 Oil tycoon Blake Carrington (John Forsythe) walks his daughter Amanda down the aisle to her prince, but a terrorist attack puts a damper on the event.
Made of Honor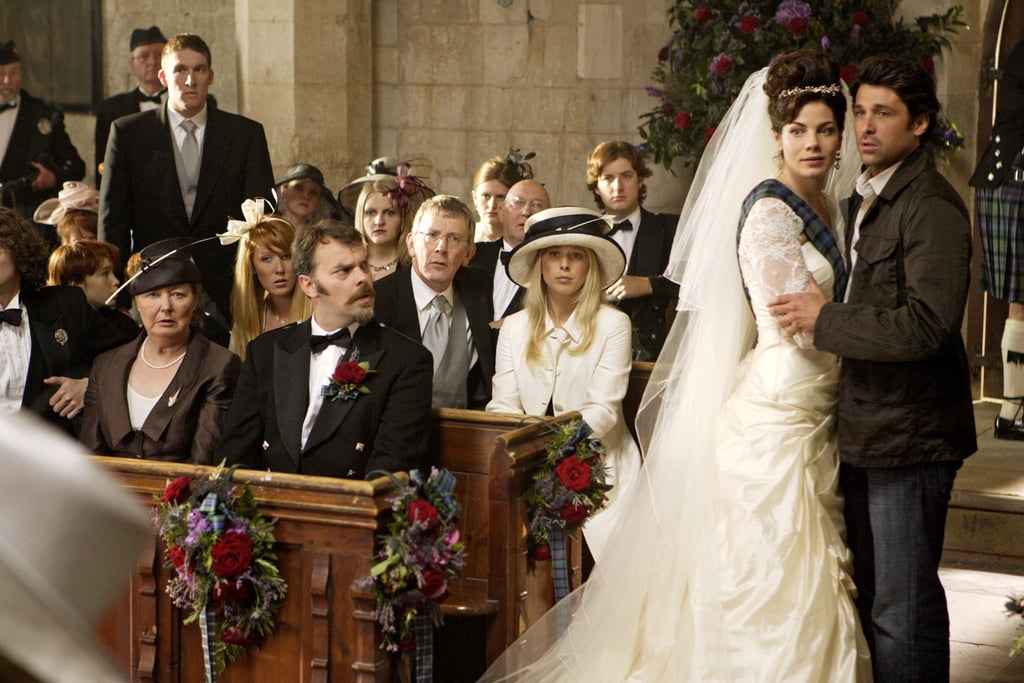 Hannah (Michelle Monaghan) has got the fairy-tale wedding [22] all mapped out until she realizes that her best friend Tom (Patrick Dempsey [23]) is the one she wants.
Ghosts of Girlfriends Past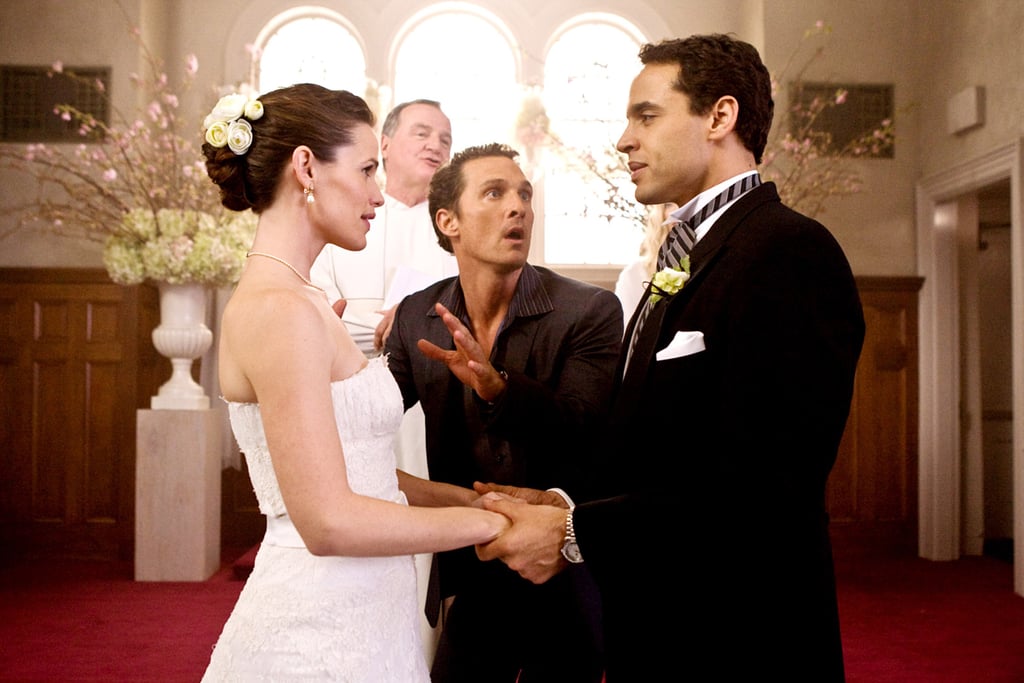 While watching what his future could hold, Connor (Matthew McConaughey [24]) realizes he's about to lose Jenny (Jennifer Garner [25]), the true love of his life.
One Tree Hill
Brooke (Sophia Bush) was once married to her work, but she finally settles down with Julian (Austin Nichols).
Brothers & Sisters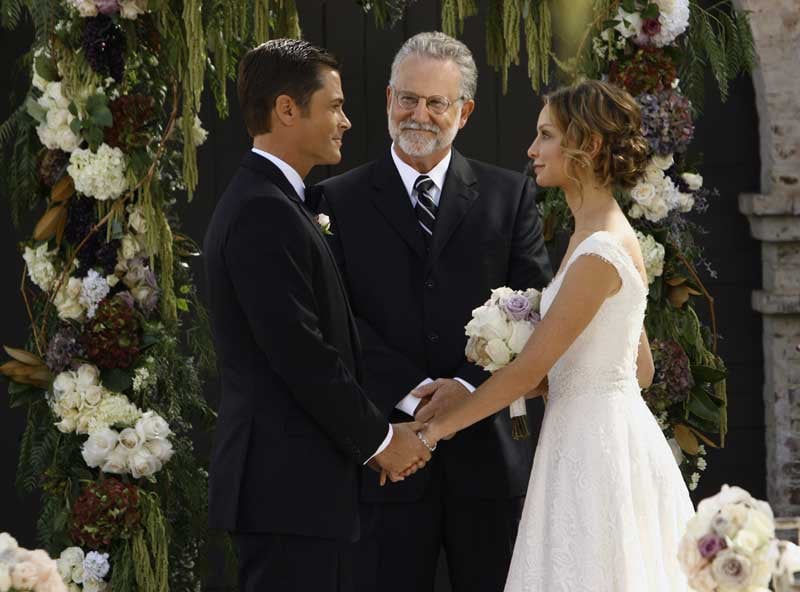 The Senator Robert McCallister (Rob Lowe [26]) and Kitty (Calista Flockhart [27]) spend a long time planning a perfect wedding [28] for the political scene.
John Carter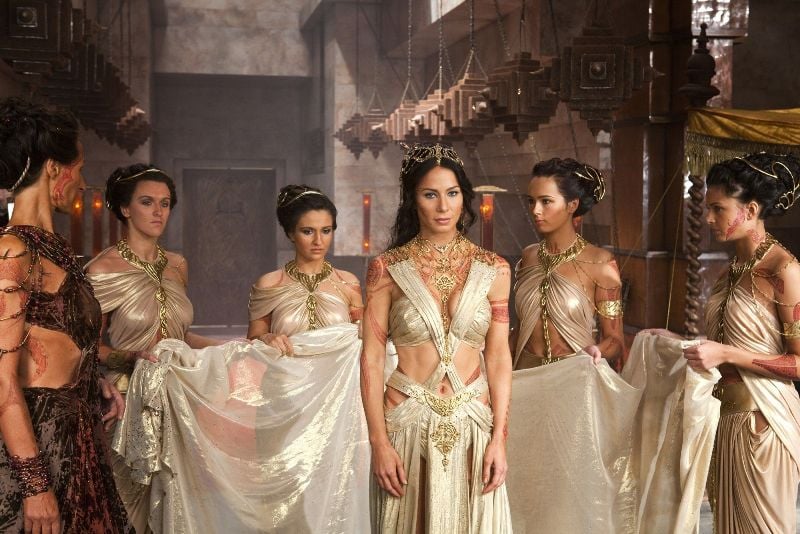 Dejah Thoris (Lynn Collins) is supposed to marry someone she doesn't love to end the conflict of her people but is rescued in the nick of time.
ER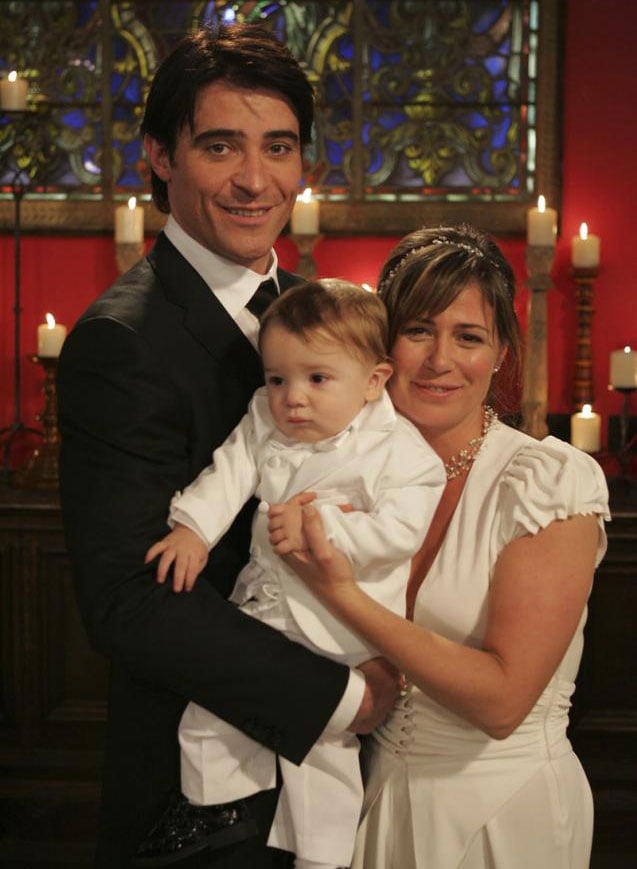 The couple first have beautiful baby boy Joe before Abby (Maura Tierney) overcomes her worries and marries Luka (Goran Višnjić).
Six Feet Under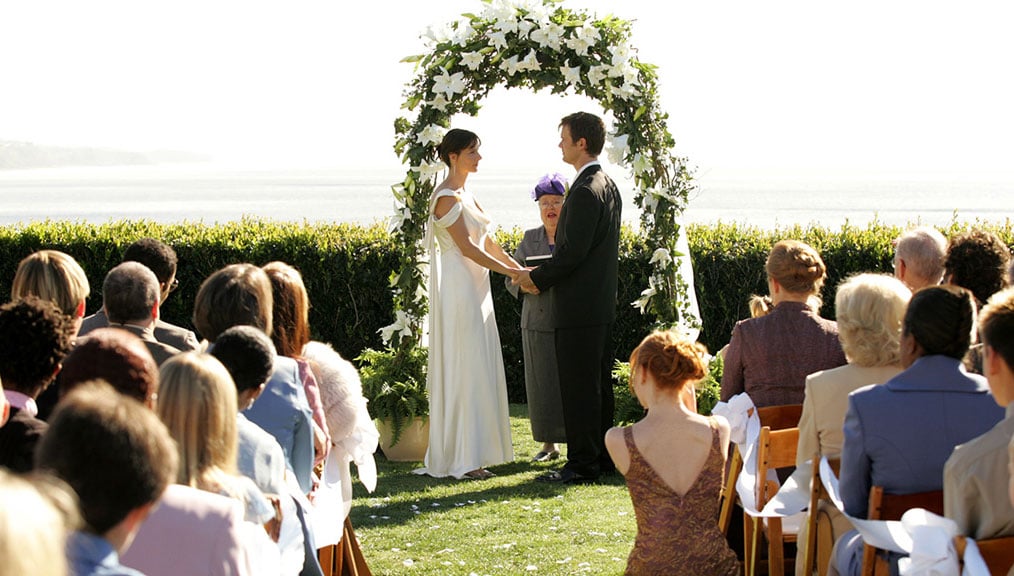 Brenda (Rachel Griffiths) and Nate (Peter Krause) have a roller-coaster relationship from the start, and their wedding [29] is equally emotional, since it comes the day after Brenda miscarries.
Charmed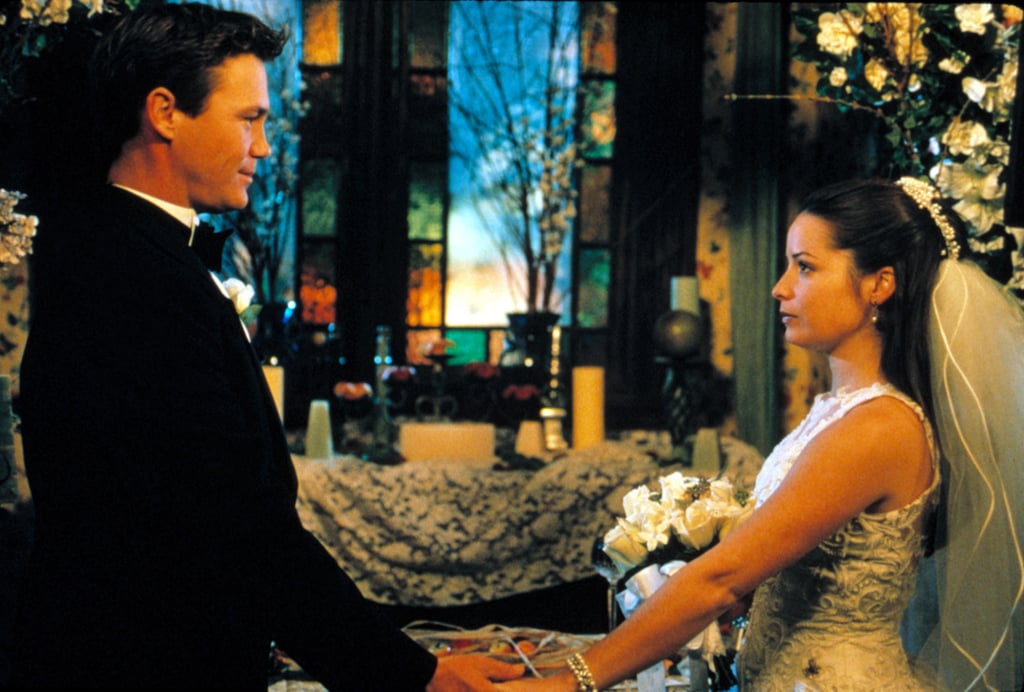 The third time is the charm when Piper (Holly Marie Combs) and Leo (Brian Krause) finally get to have their wedding [30].
Mona Lisa Smile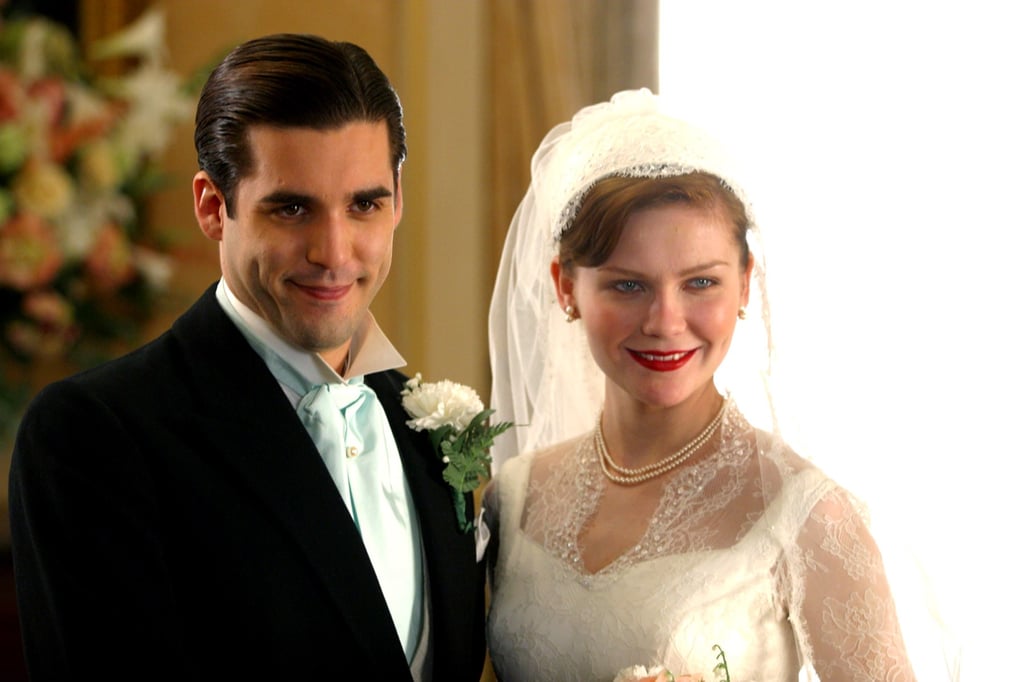 Conservative Betty (Kirsten Dunst [31]) just wants the picture-perfect life of a 1950s housewife, but her marriage to Spencer (Jordan Bridges) doesn't give her the happy ending she hopes for.
Imagine Me & You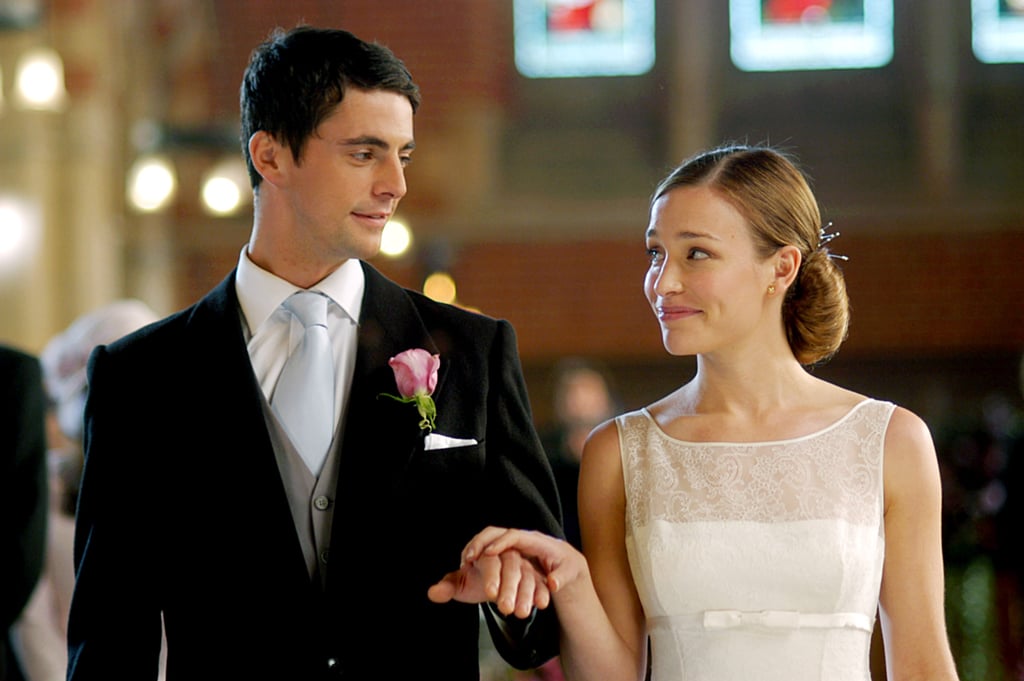 The happy young couple Hector (Matthew Goode) and Rachel (Piper Perabo) are about to get married when an unexpected guest — the female wedding [32] florist — catches her eye.
Community
It's hard to believe that the second wedding [33] between Shirley (Yvette Nicole Brown) and Andre (Malcolm Jamal-Warner) actually happens considering the issues that arise thanks to Shirley's wacky study group. However, that kiss can't be denied — these two manage to get it done.
I Love You, Man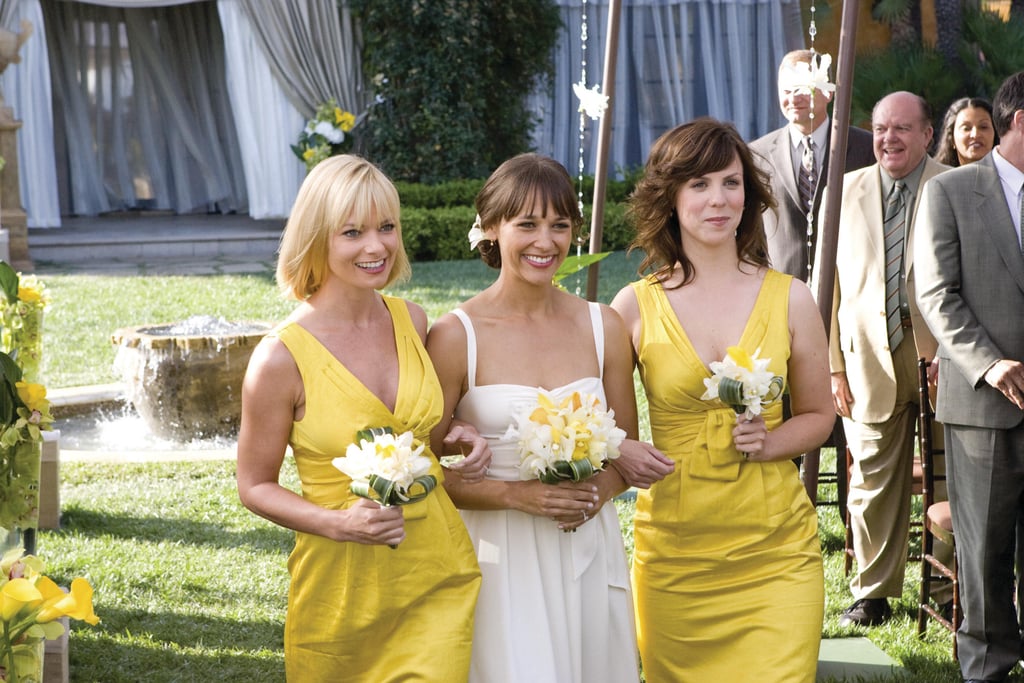 Zooey (Rashida Jones) walks down the aisle with her best friends and co-workers Hailey (Sarah Burns) and Denise (Jaime Pressly) before meeting up with her future hubby, Peter (Paul Rudd [34]).
Parks and Recreation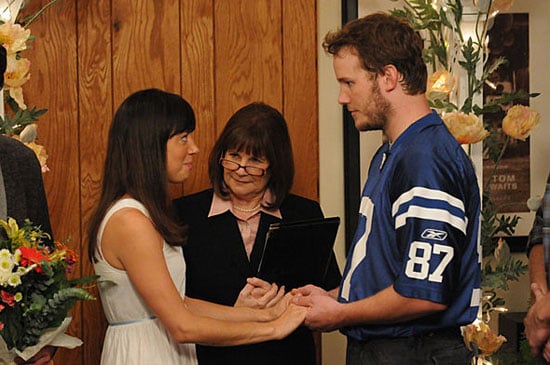 April (Aubrey Plaza) and Andy (Chris Pratt) surprise their friends (and fans) with their impromptu wedding [35] after just one month of dating.
Supernatural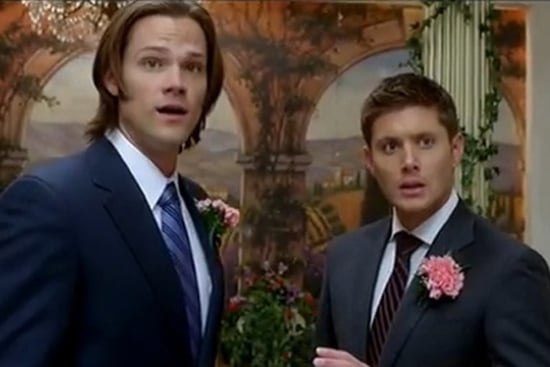 Sam (Jared Padalecki) gets married with his brother Dean (Jensen Ackles) right by his side, but it's not a dream marriage — he's a victim of a love potion, given to him by his bride, Becky.
Desperate Housewives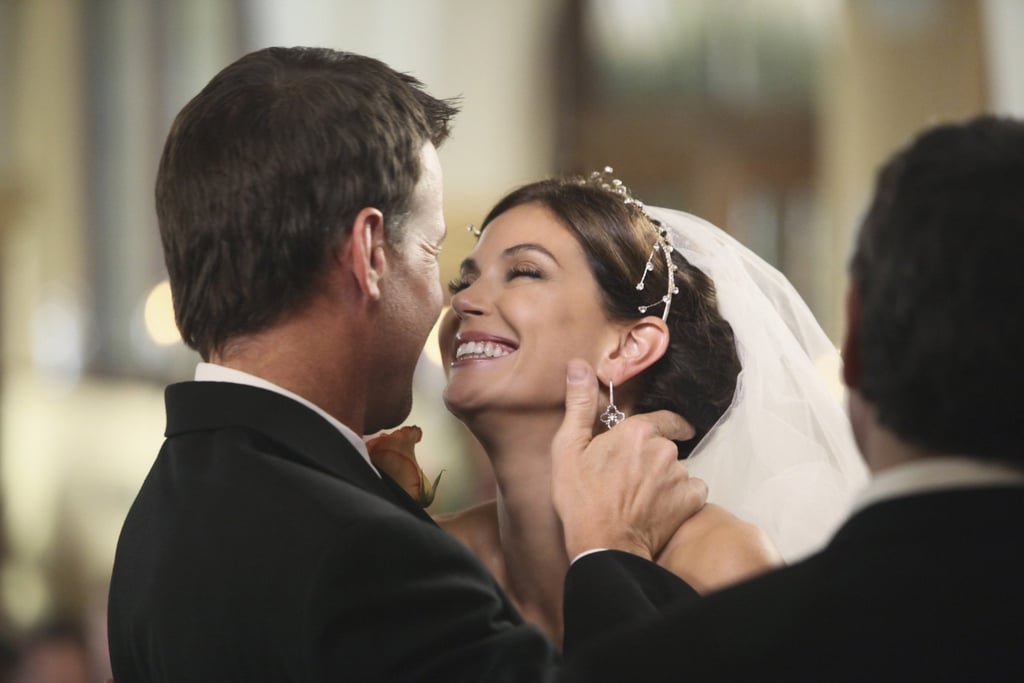 The first time around, Susan (Teri Hatcher [36]) and Mike (James Denton) have a small, inexpensive wedding [37] — but they do it up for their second round of nuptials, which takes place years later.


Buffy the Vampire Slayer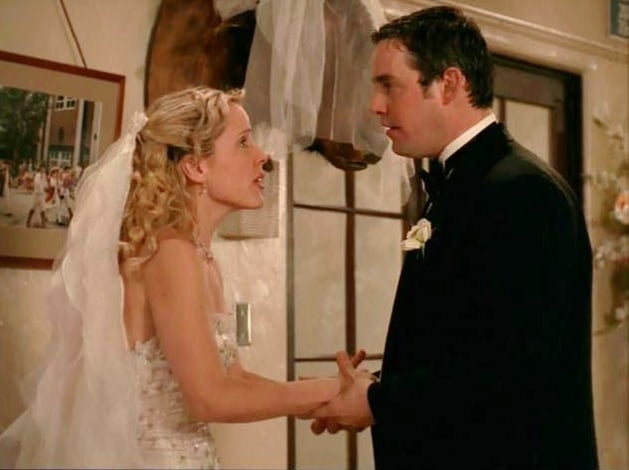 After trepidations about their marriage, Xander (Nicholas Brendon) leaves ex-demon Anya (Emma Caulfield) at the altar.
Sense and Sensibility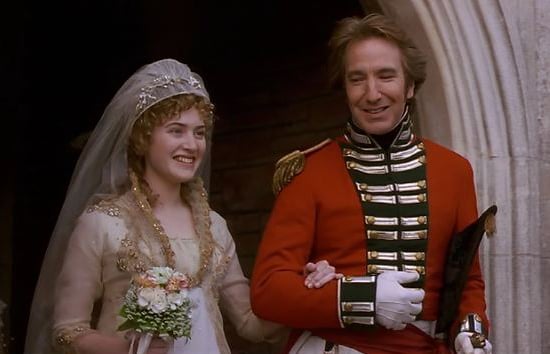 Marianne (Kate Winslet [38]) is not initially pleased with the idea of Colonel Brandon (Alan Rickman [39]), but with time the two fall in love.
Brothers & Sisters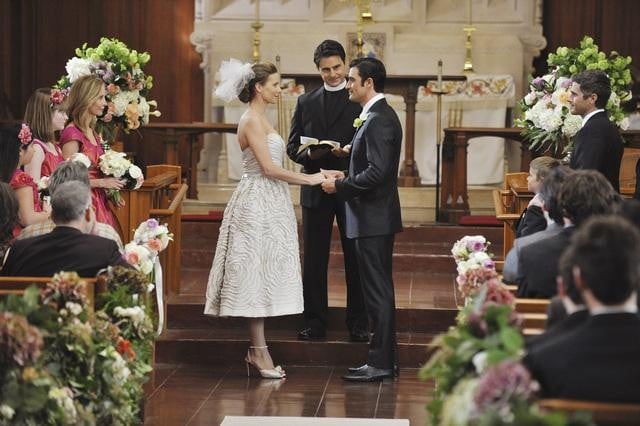 Sarah (Rachel Griffiths) and Luc (Gilles Marini) tie the knot in a traditional ceremony.
Brokeback Mountain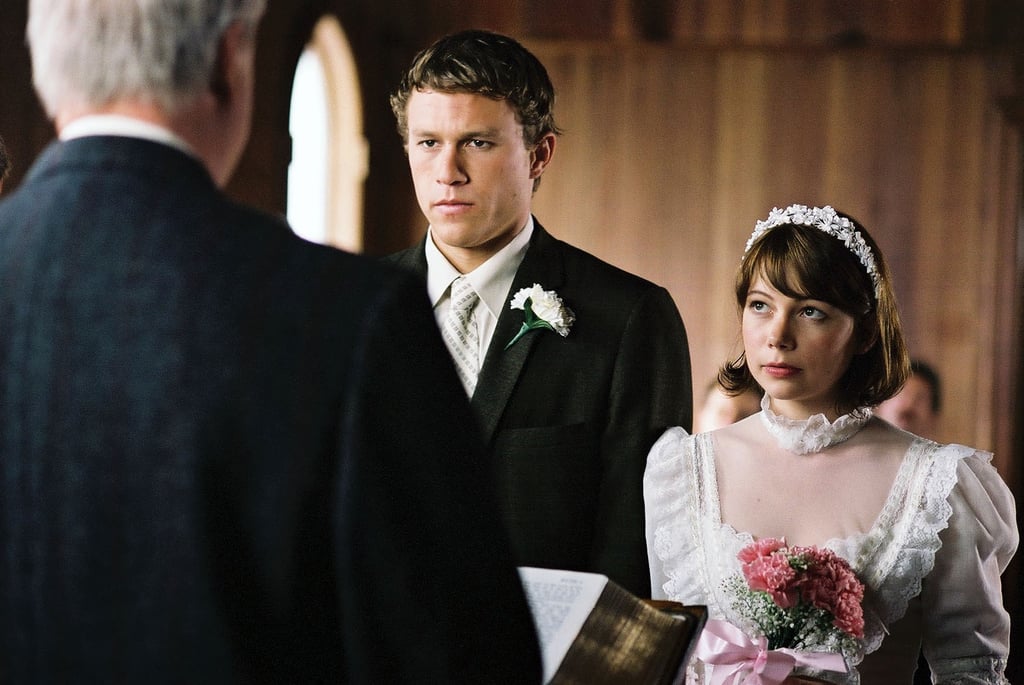 Ennis (Heath Ledger [40]) and Alma (Michelle Williams [41]) tie the knot, even though his heart truly belongs to Jack (Jake Gyllenhaal [42]).
The Duchess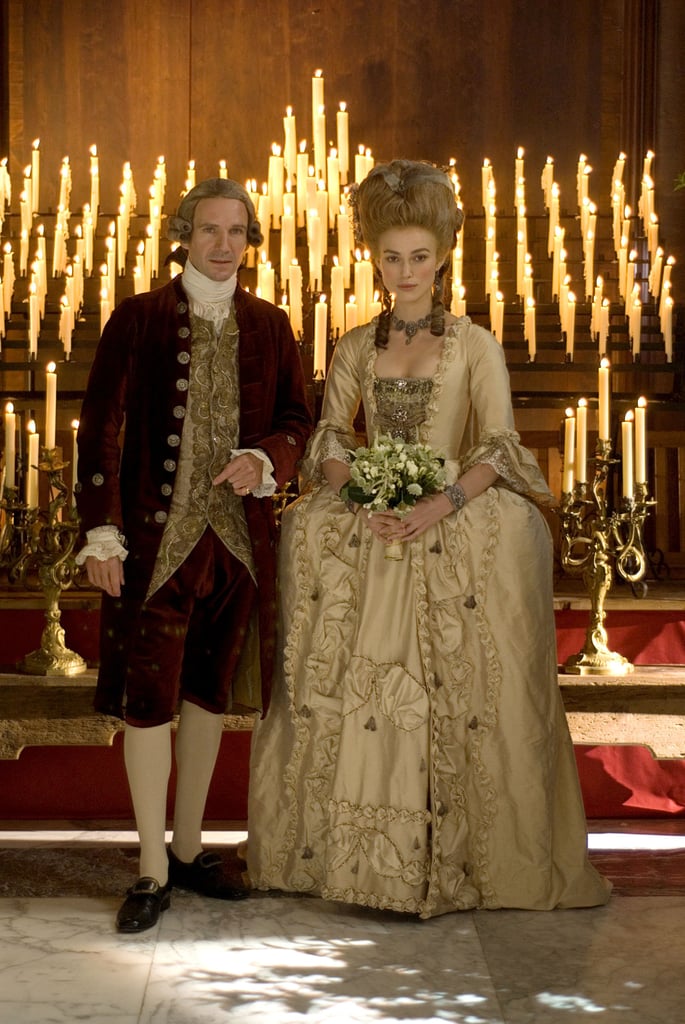 While Georgiana Cavendish (Keira Knightly) has a beautiful wedding [43] to the cold and unfaithful William Cavendish (Ralph Fiennes [44]), she later takes on a steamy love affair with someone else.
Grey's Anatomy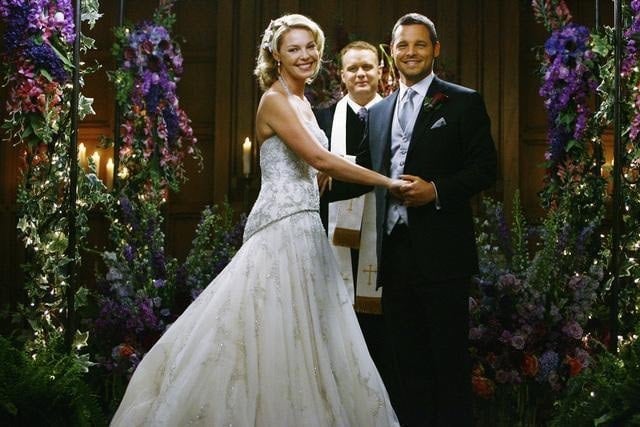 When the doctors discover that Izzie (Katherine Heigl [45]) has another tumor, Meredith and Derek give their dream wedding [46] to her and Alex (Justin Chambers) instead.
Gossip Girl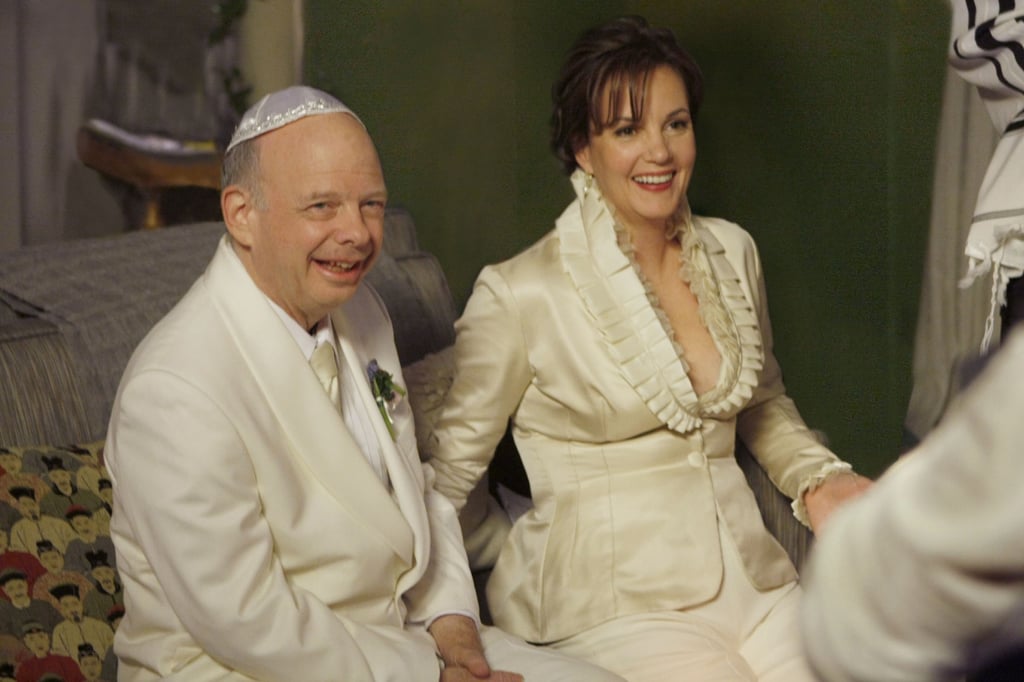 Eleanor (Margaret Colin) and Cyrus (Wallace Shawn) almost get broken up thanks to Blair's obnoxious meddling, but this coupling has proved to be one of the few that has lasted on the show — and never faltered.
The Godfather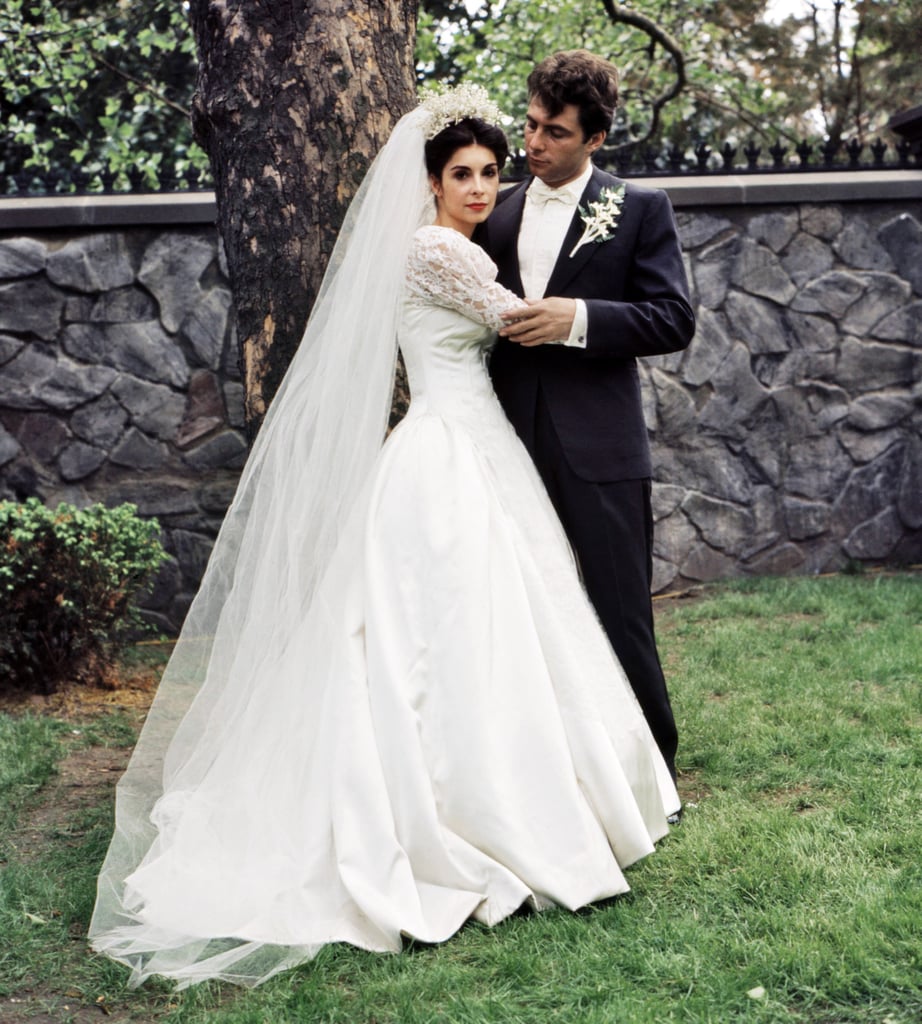 The film kicks off at the traditional Sicilian wedding [47] of Connie Corleone (Talia Shire) to Carlo Rizzi (Gianni Russo). Don Vito Corleone (Marlon Brando) is there to give his daughter away — and take meetings with guests who need something from him.
Californication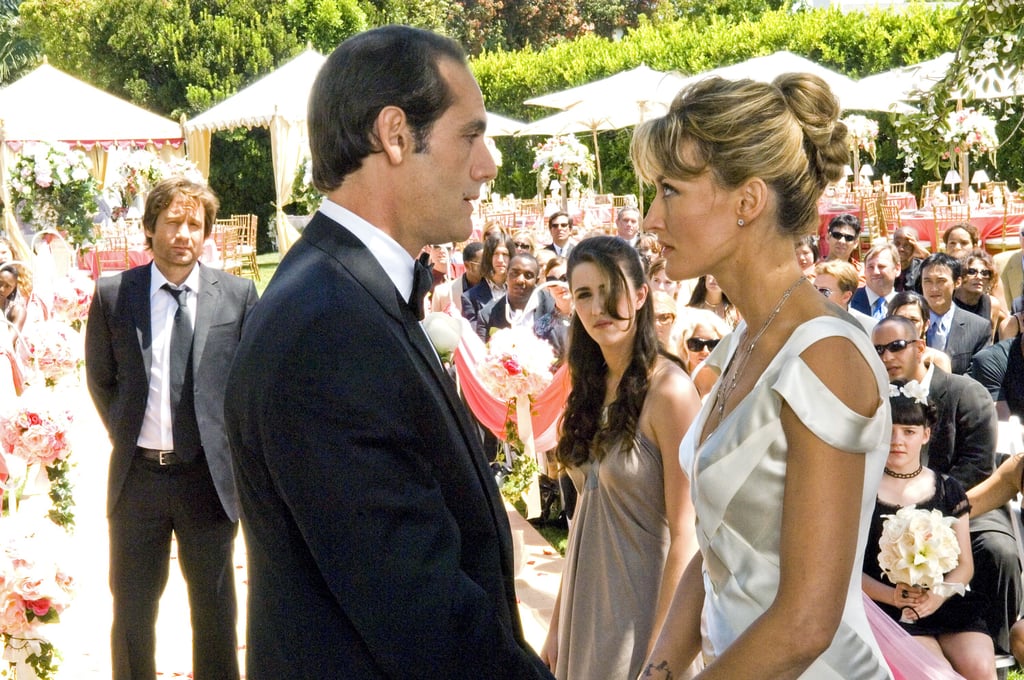 In a rare moment of willpower, Hank (David Duchovny [48]) stands by and respects his ex Karen's (Natascha McElhone) decision to marry Bill (Damian Young). But after the reception, Karen and Hank drive off into the sunset together with their daughter.
Hawaii Five-0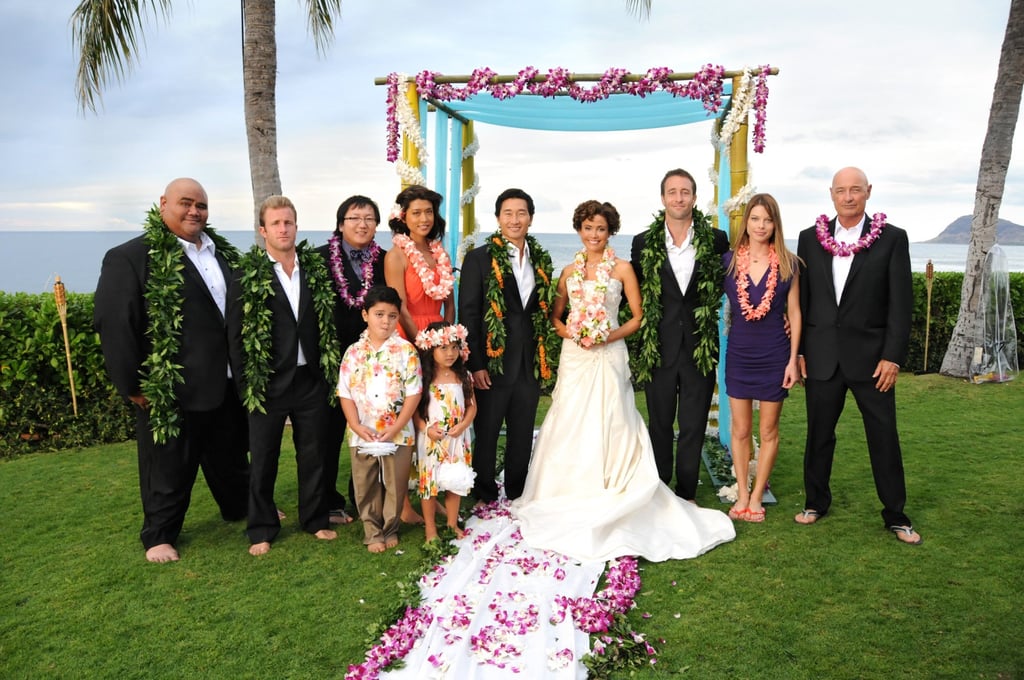 Chin Ho (Daniel Dae Kim) and Malia (Reiko Aylesworth) don't have to travel anywhere to have a picture-perfect beach wedding [49]. This is just the backyard for the folks of Hawaii Five-0.
How I Met Your Mother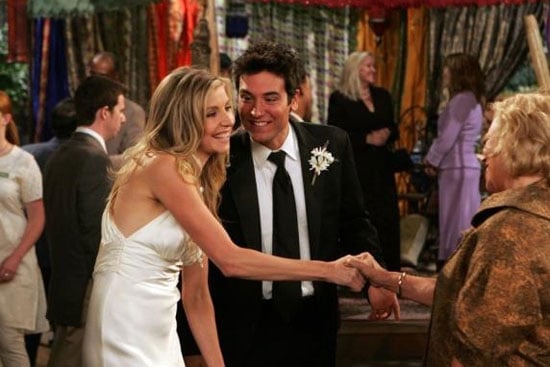 Ted (Josh Radnor [50]) and Stella (Sarah Chalke [51]) come very, very close to their dream wedding [52] — until Stella realizes that she's not over her ex, which leaves Ted single once again.
Chuck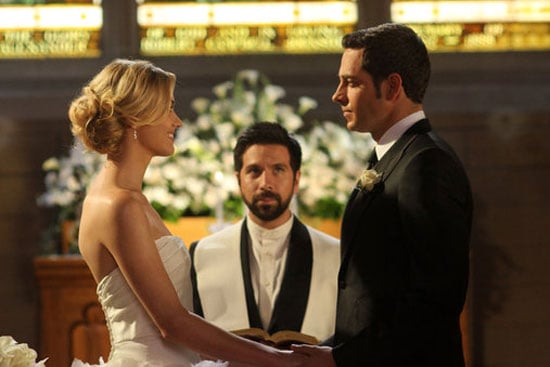 Chuck (Zachary Levi) and Sarah (Yvonne Strahovski) make their dreams come true after much careful planning and a little help from Morgan as officiator.
Marie Antoinette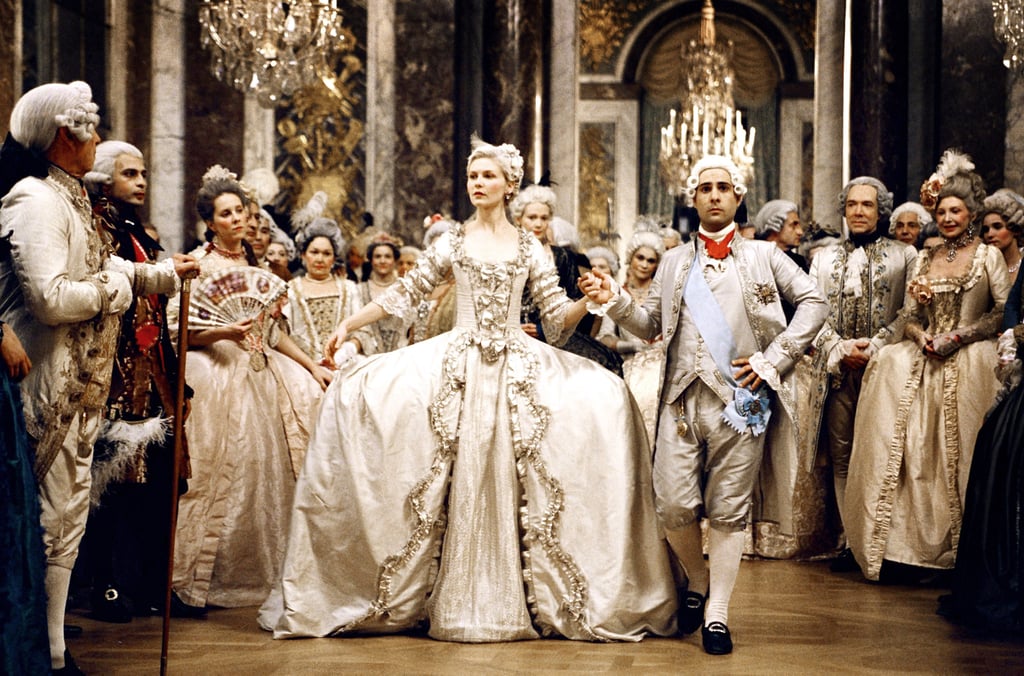 Shortly after meeting her betrothed, Marie (Kirsten Dunst [53]) and Louie (Jason Schwartzman [54]) have a lavish royal wedding [55].
Mamma Mia!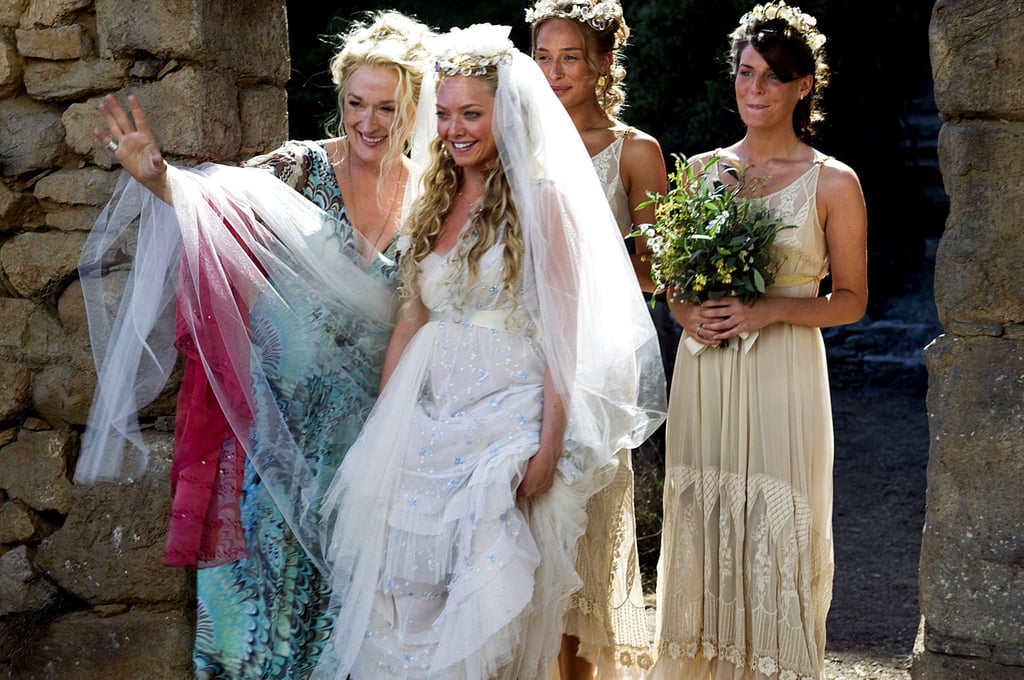 Donna (Meryl Streep [56]) shows her only daughter, Sophie (Amanda Seyfried [57]), the way down her Grecian aisle, but when Sophie bails, Donna is the one who ends up a wife.
Love, Wedding, Marriage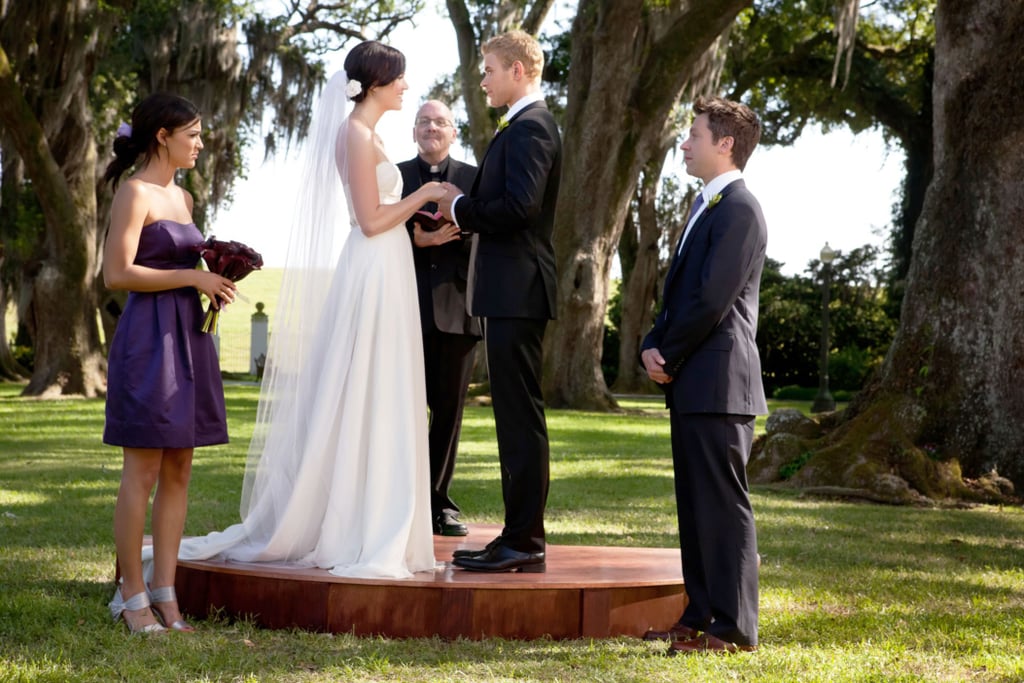 Marriage counselor Ava (Mandy Moore [58]) marries her smoking-hot boyfriend, Charlie (Kellan Lutz [59]), in a sweet, intimate gathering.
Boys on the Side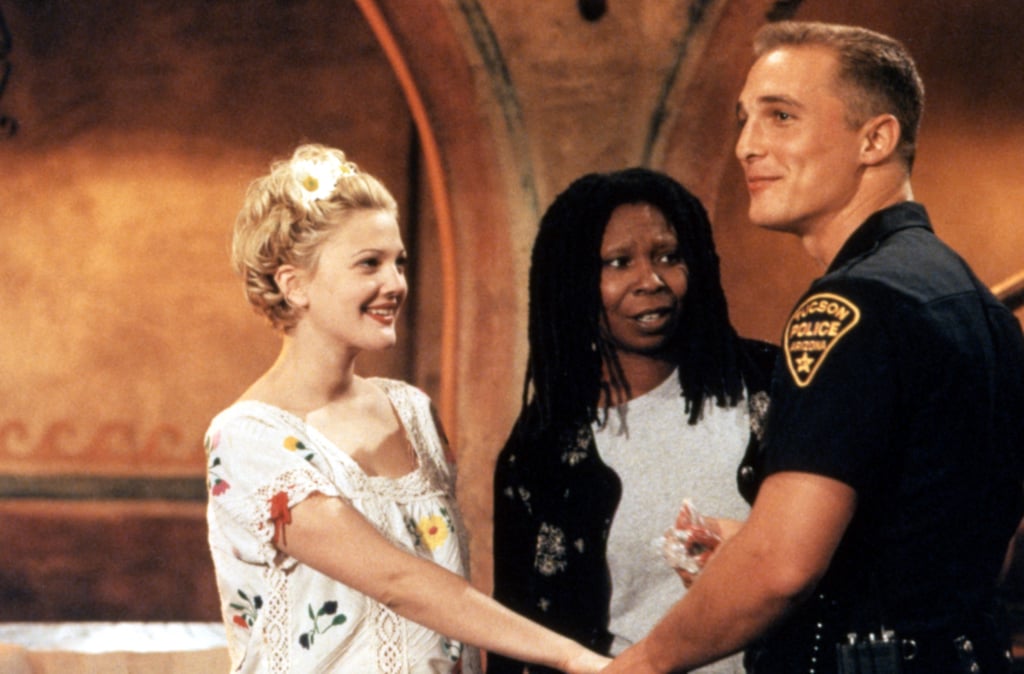 Holly (Drew Barrymore [60]) finds love with cute police officer Abe (Matthew McConaughey [61]).
Parenthood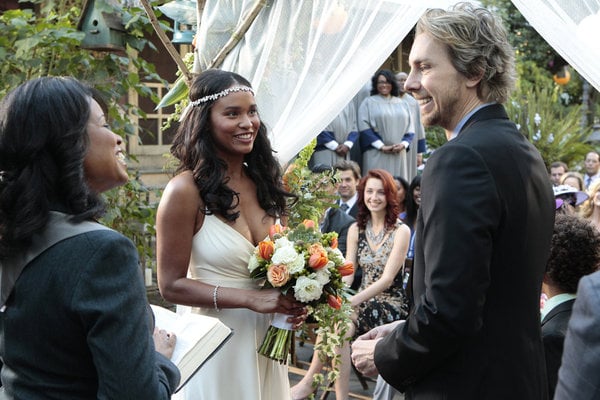 After deciding to give their relationship another shot, Crosby (Dax Shepard) and Jasmine (Joy Bryant) waste no time getting married in a beautiful Braverman backyard wedding [62].
Gossip Girl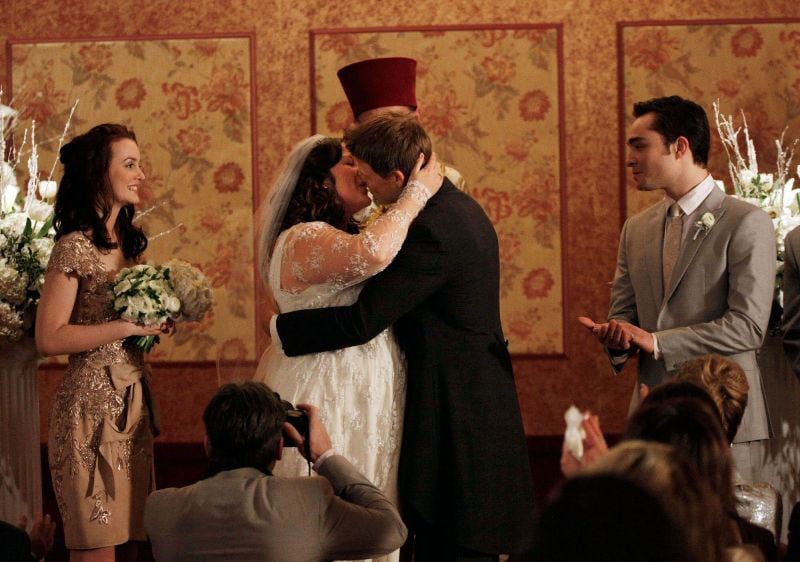 It's a shotgun wedding [63] for Dorota (Zuzanna Szadkowski) and Vanya (Aaron Schwartz), made all the sweeter by Blair and Chuck filling in for the bridal party.
Intolerable Cruelty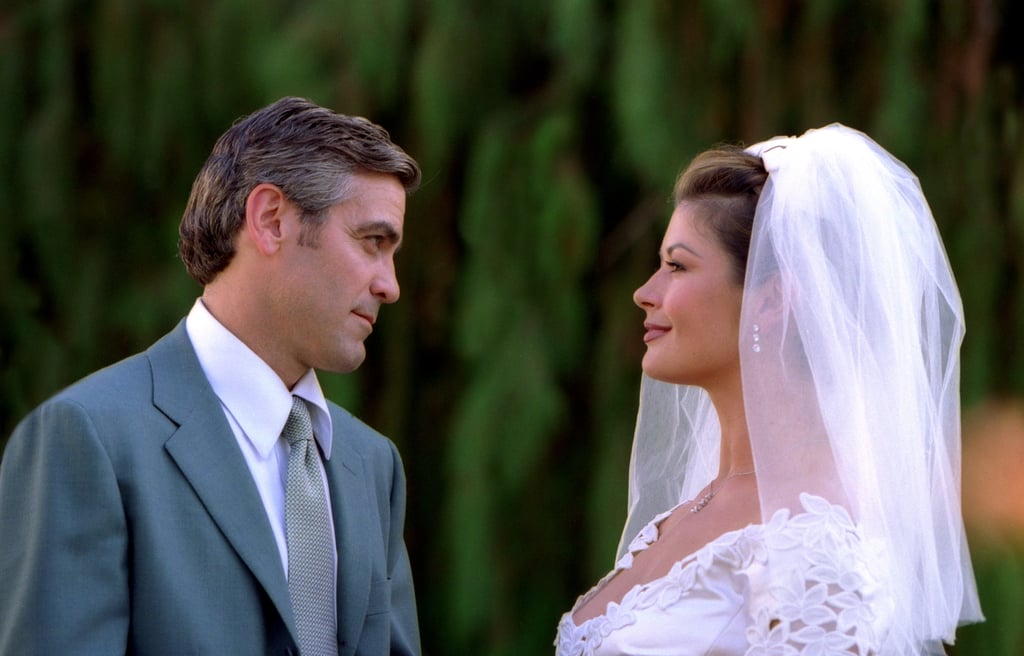 Divorce lawyer and former womanizer Miles (George Clooney [64]) falls for the gorgeous but gold-digging Marilyn (Catherine Zeta-Jones [65]).
Ceremony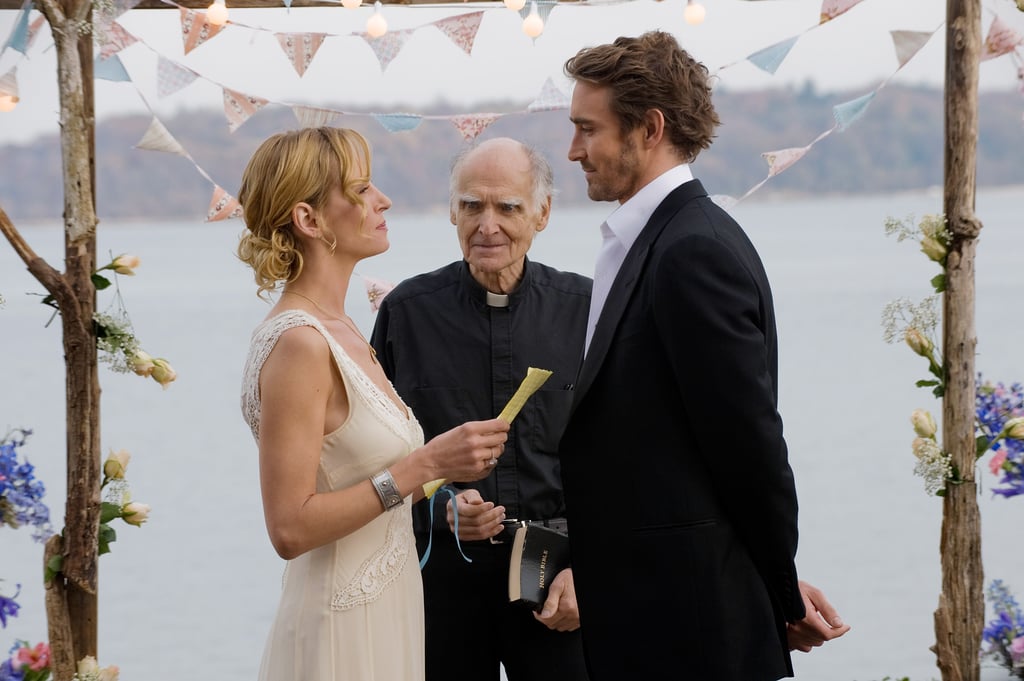 Zoe (Uma Thurman [66]) and Lee Pace [67] tie the knot, despite Sam's (Michael Angarano) best efforts.
Romeo + Juliet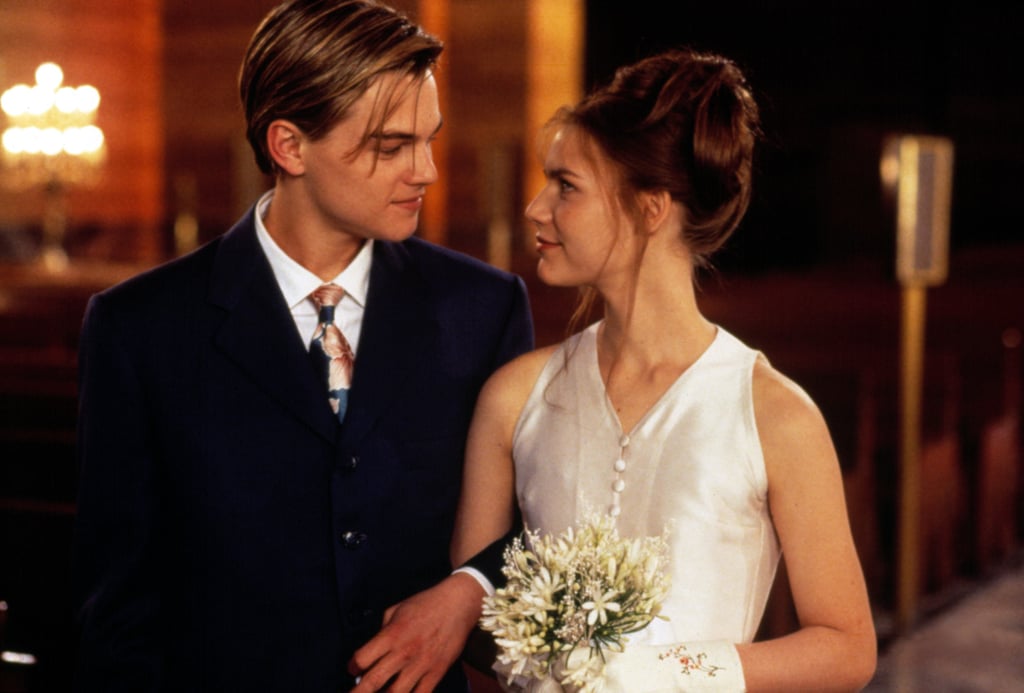 In Baz Luhrmann's retelling of the classic tale, Romeo (Leonardo DiCaprio [68]) and Juliet (Claire Danes [69]) marry in a private, romantic ceremony before their tragic double suicide.
Our Family Wedding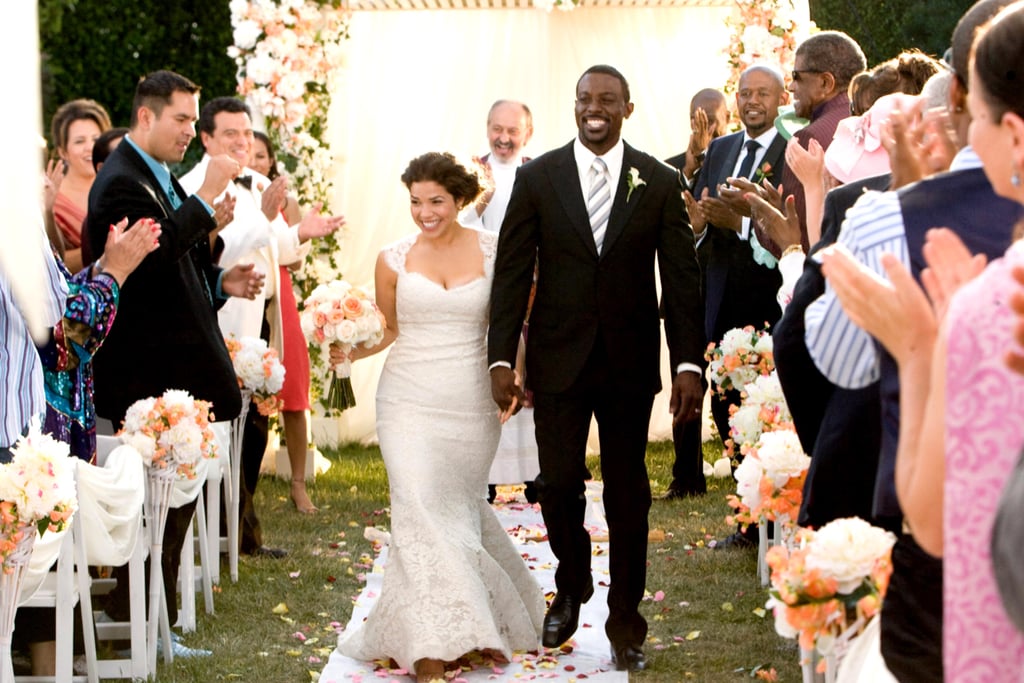 Once their fathers put their feud to rest, Lucia (America Ferrera [70]) and Lance (Marcus Boyd) are free to take their happy first steps as a married couple.
Grey's Anatomy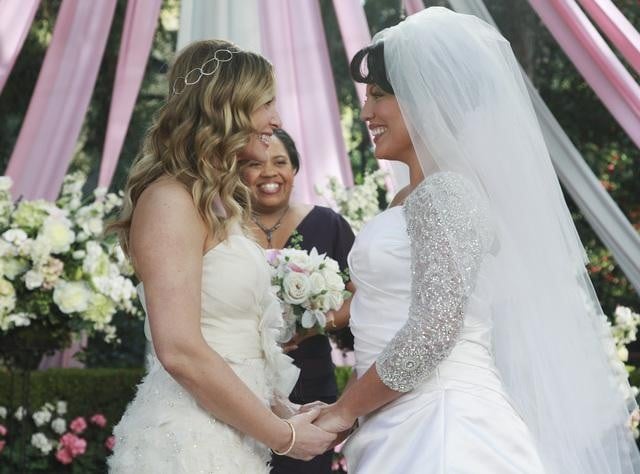 Despite intense pressures from Callie's family, Arizona (Jessica Capshaw) and Callie (Sara Ramírez) rock two beautiful dresses and tie the knot.
What Happens in Vegas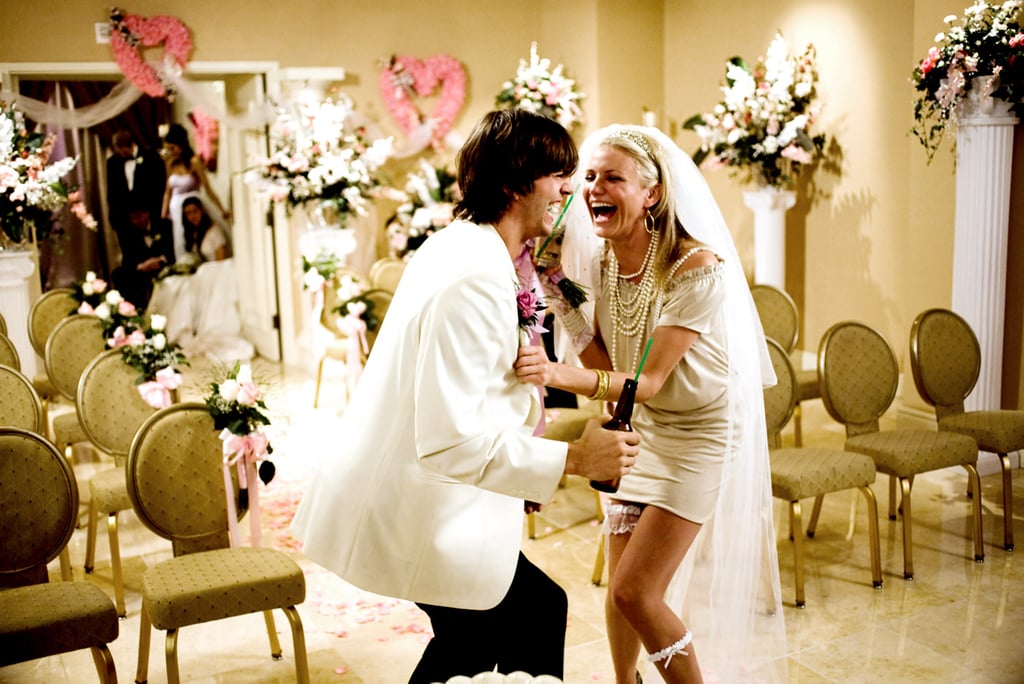 During one wild night in Vegas, Jack (Ashton Kutcher [71]) and Joy (Cameron Diaz [72]) go from strangers to newlyweds.
Ugly Betty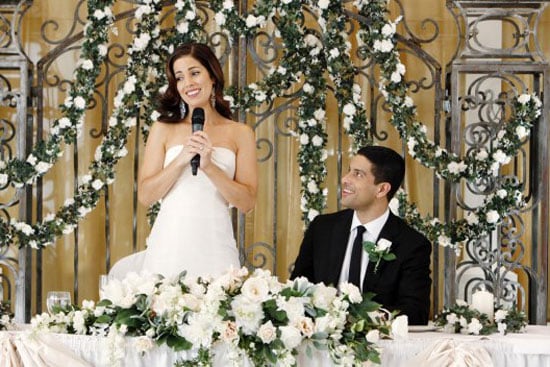 Hilda (Ana Ortiz) marries her high school boyfriend Bobby (Adam Rodriguez) before they move in together.
Rachel Getting Married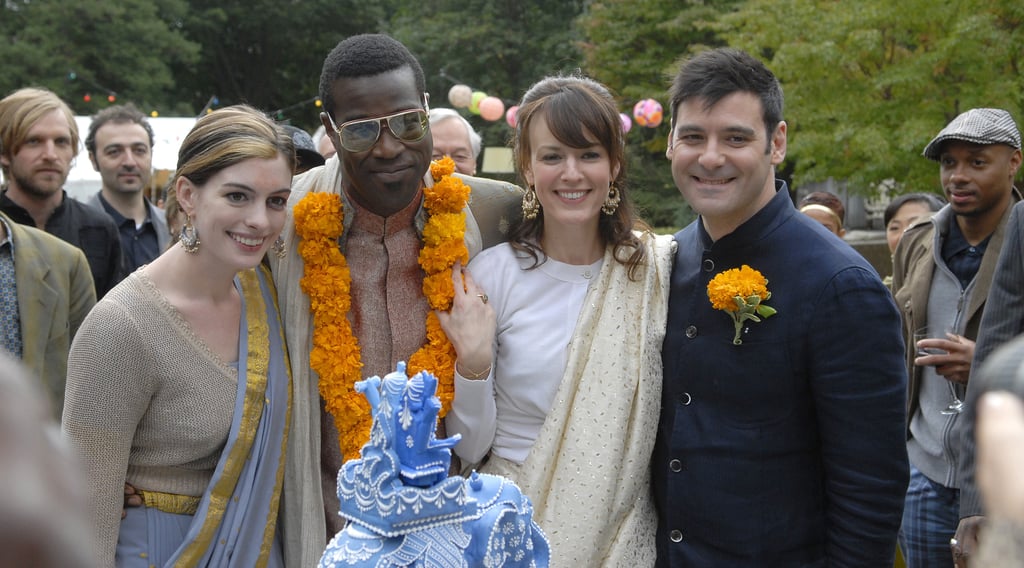 Kym (Anne Hathaway [73]) comes home from rehab to play bridesmaid for her sister Rachel (Rosemarie DeWitt) to Sidney (Tunde Adebimpe), and like many weddings, family drama abounds.
Beverly Hills, 90210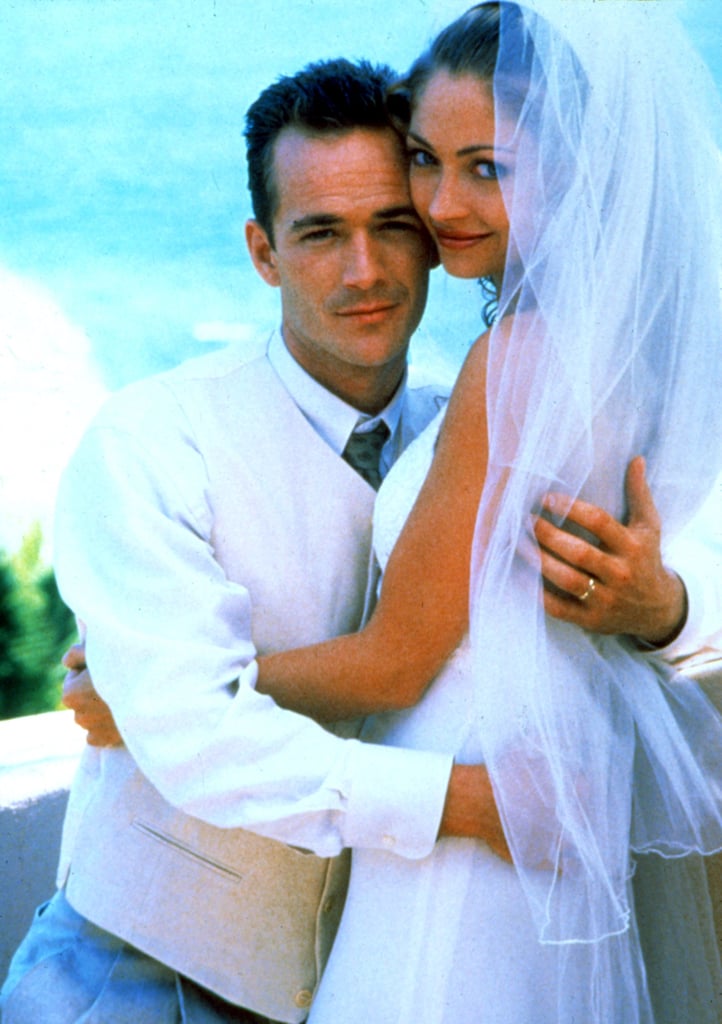 Dylan (Luke Perry) falls hard for Toni (Rebecca Gayheart), the daughter of his father's murderer. Their wedding [74] bliss is quite short-lived though; she gets shot soon after by a bullet intended for Dylan.
Sex and the City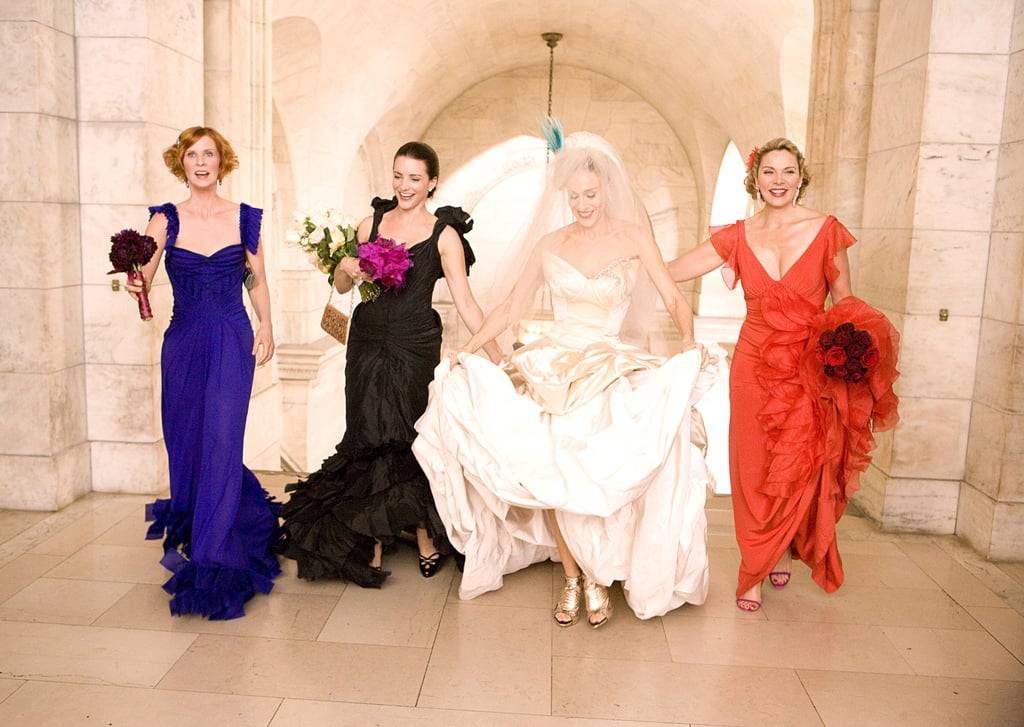 Carrie (Sarah Jessica Parker [75]) makes for one beautiful New York bride at her "practice" wedding [76] with best gal pals Miranda (Cynthia Nixon), Charlotte (Kristin Davis), and Samantha (Kim Cattrall [77]) by her side.
How I Met Your Mother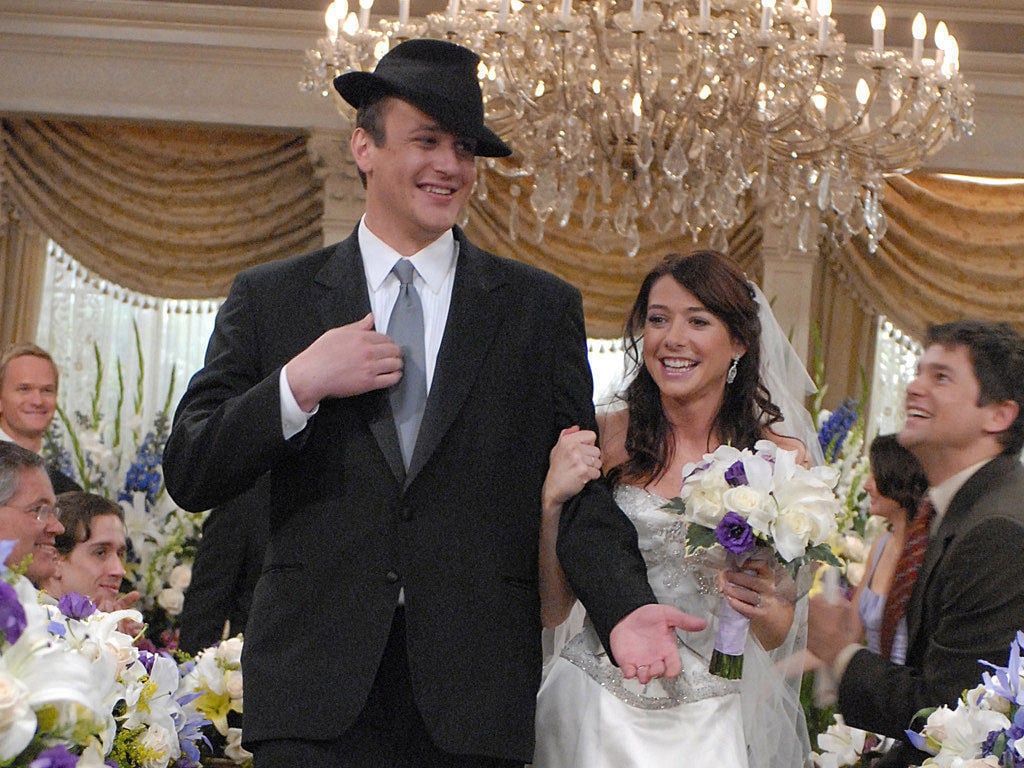 Even after Marshall (Jason Segel [78]) gets an awful haircut, he manages to rock a wedding [79] fedora when he walks down the aisle with Lily (Alyson Hannigan).
The Office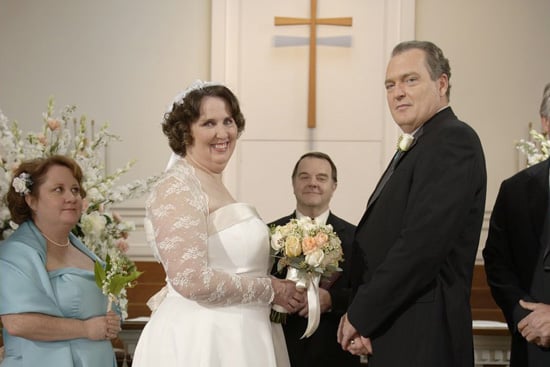 Phyllis makes for one cute bride when she marries Bob Vance of Vance Refrigeration.
The Ghost Whisperer
Even though he knows about her supernatural powers, Jim (David Conrad) doesn't let it stop him from marrying Melinda (Jennifer Love Hewitt [80]).
Friends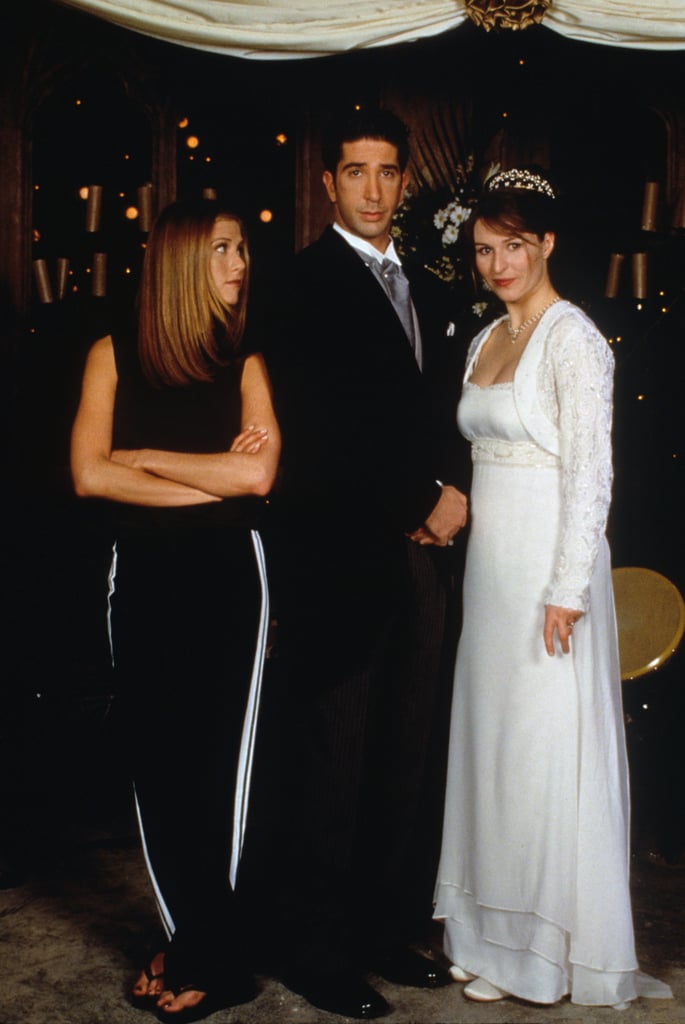 Ross (David Schwimmer) and Emily (Helen Baxendale) make it through their beautiful British wedding [81] until Rachel (Jennifer Aniston [82]) shows up unexpectedly, and Ross says her name instead of Emily's during his vows. Whoops.
Jumping the Broom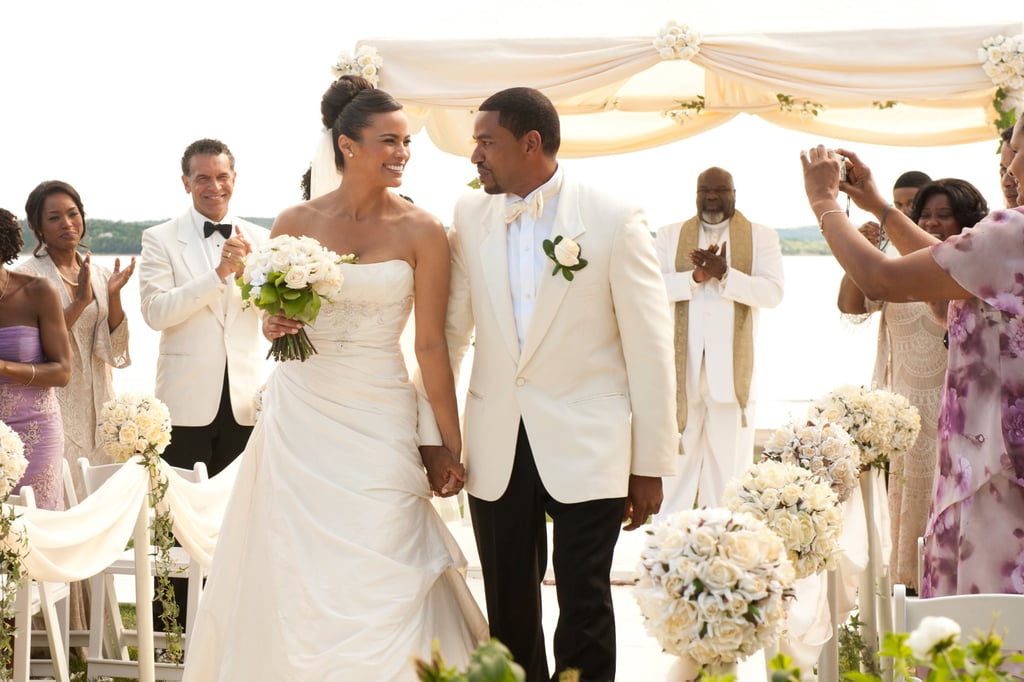 Sabrina (Paula Patton) and Jason (Laz Alonso) come from very different worlds, but their love for each other sees them through the tough times.
The Young Victoria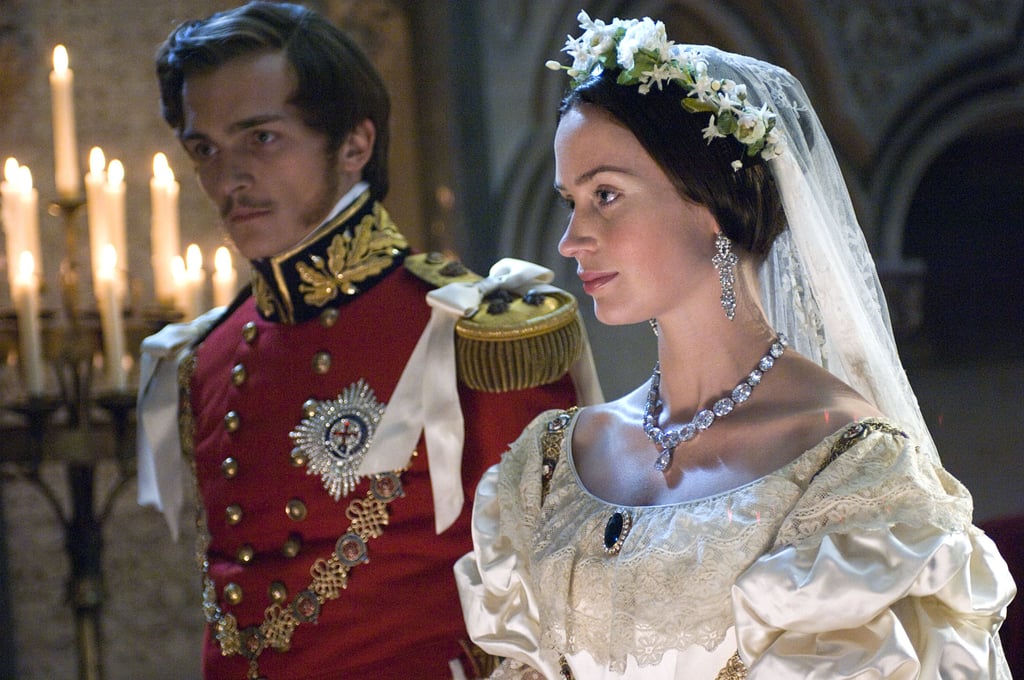 Queen Victoria (Emily Blunt [83]) and Prince Albert (Rupert Friend) have a gorgeous wedding [84] and, unlike many of their contemporaries, a loving marriage.
Brothers & Sisters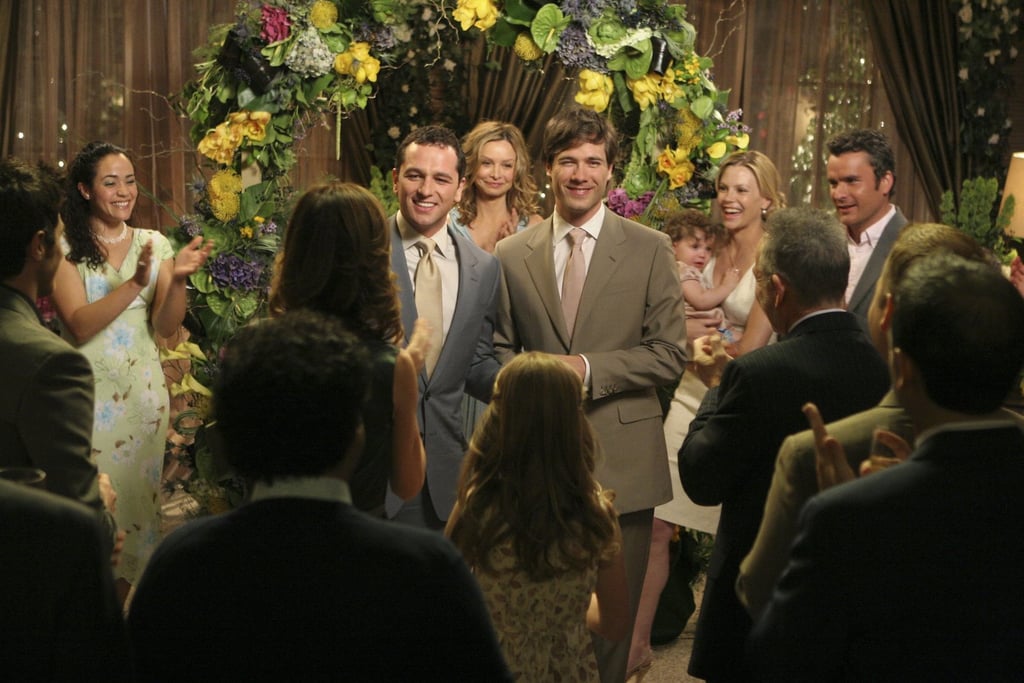 Kevin (Matthew Rhys) and Scotty (Luke Macfarlane) have one of the first civil-union ceremonies depicted on TV.
Grey's Anatomy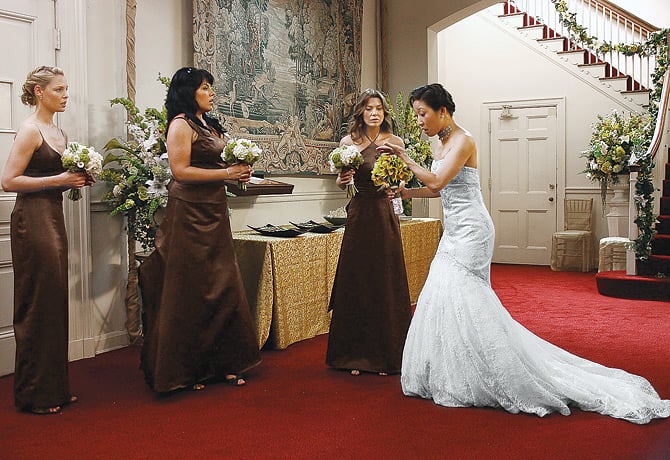 Cristina (Sandra Oh [85]) never wants a fancy wedding [86], but she goes through the motions for Burke (Isaiah Washington [87]). When it comes time to walk down the aisle, though, she balks, and he leaves her right then and there.
One Tree Hill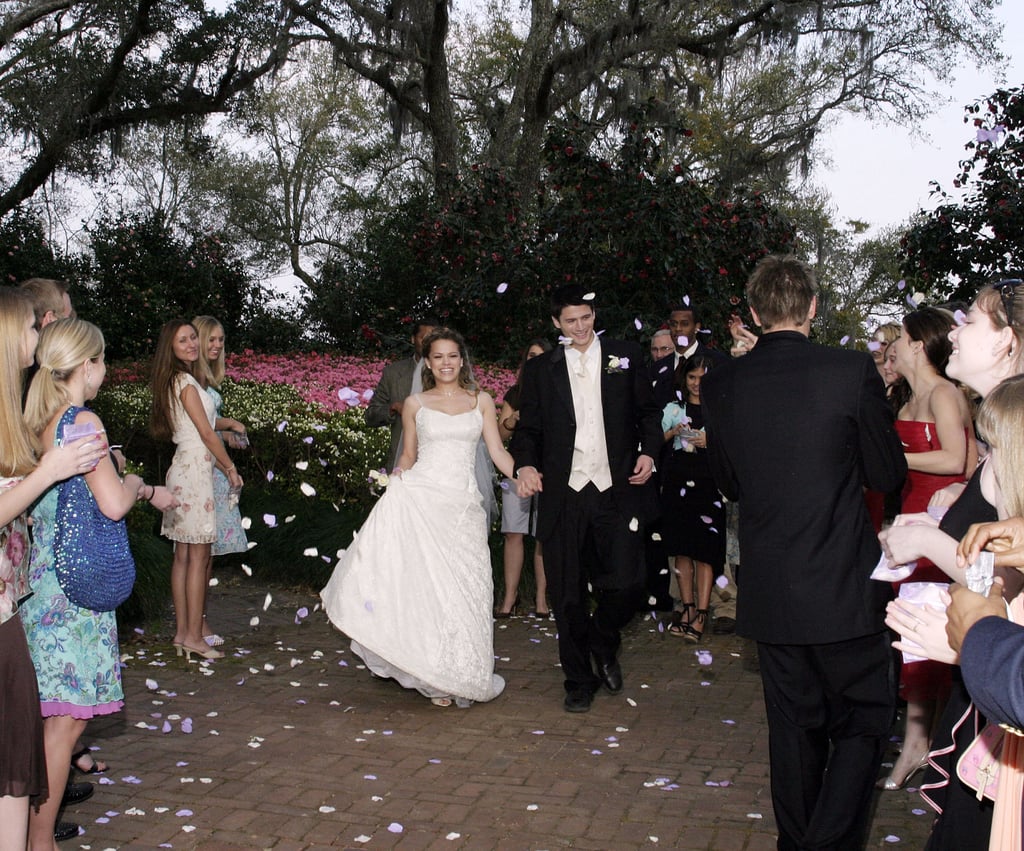 Haley (Bethany Joy Lenz) and Nathan (James Lafferty) run off to get married in high school but have their "real" wedding [88] some time after.
Because I Said So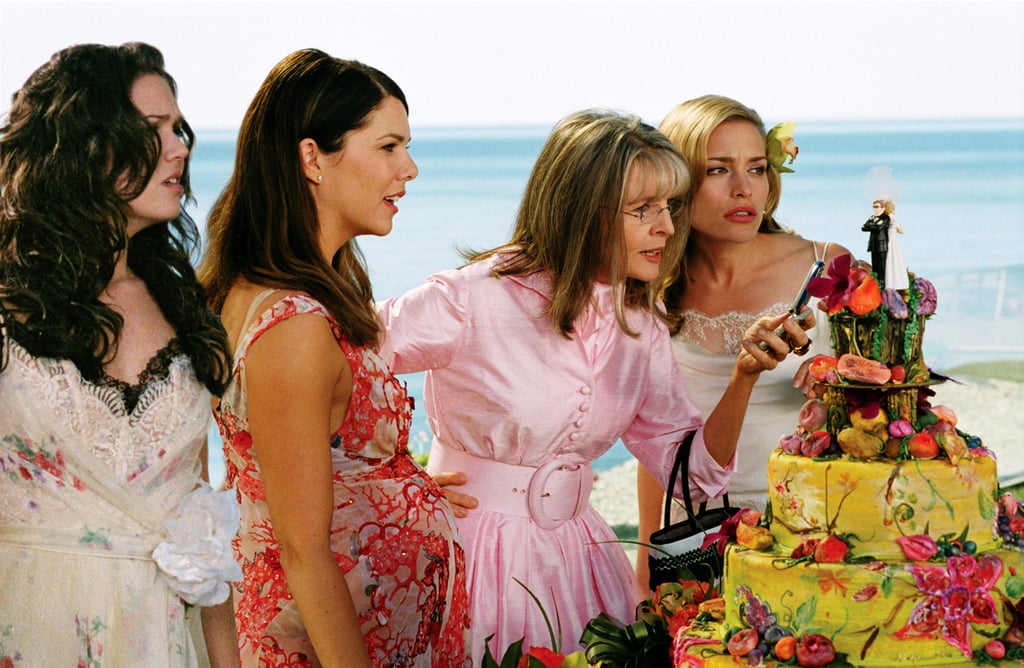 Daphne (Diane Keaton [89]) meddles in just about every part of the lives of her daughters Milly, Maggie, and Mae (Mandy Moore [90], Lauren Graham and Piper Perabo), but at least she can decorate one gorgeous wedding [91] cake.
Forrest Gump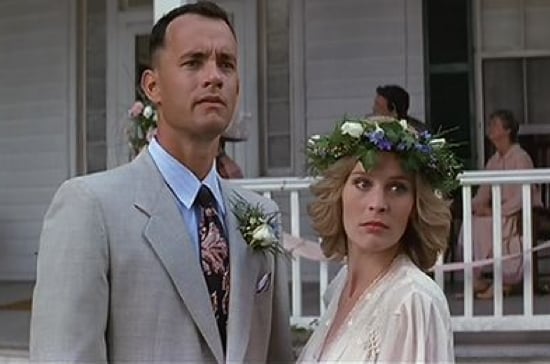 Best friends all their lives, Forrest (Tom Hanks [92]) and Jenny (Robin Wright) finally go from being "peas and carrots" to man and wife in a backyard wedding [93] at his house.
Sweet Home Alabama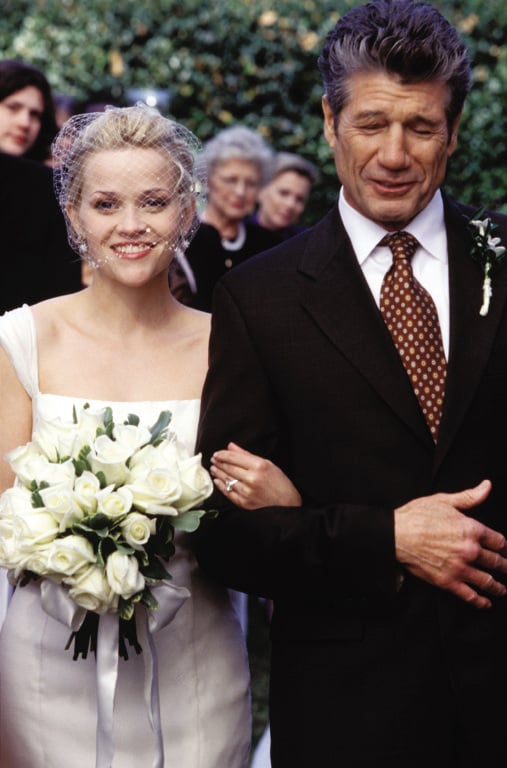 Melanie (Reese Witherspoon [94]) almost ties the knot with Andrew (Patrick Dempsey [95]) before realizing her heart has always belonged to her longtime sweetheart Jake Perry (Josh Lucas [96]).
Bride Wars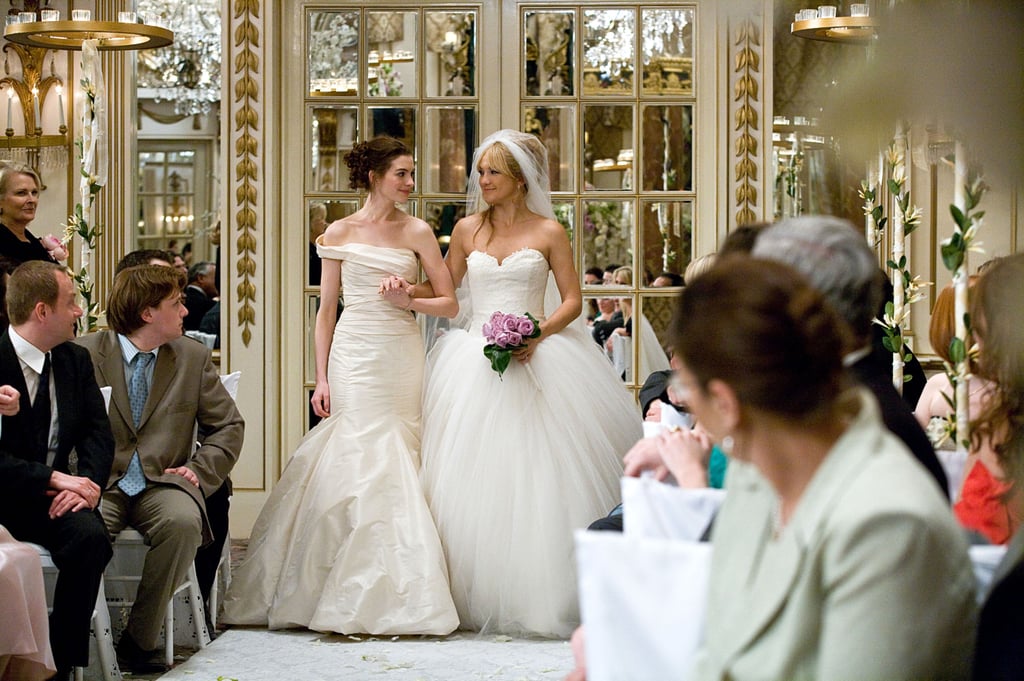 Emma (Anne Hathaway [97]) and Liv (Kate Hudson [98]) have their fair share of bridezilla moments throughout the film but eventually get it all together before Liv makes moves down the aisle.
Ugly Betty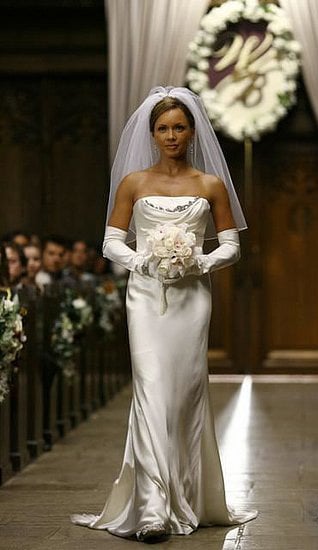 sWilhelmina's (Vanessa Williams) wedding [99] to Bradford Meade (Alan Dale) is rudely interrupted when he has a heart attack at the altar.
Wedding Crashers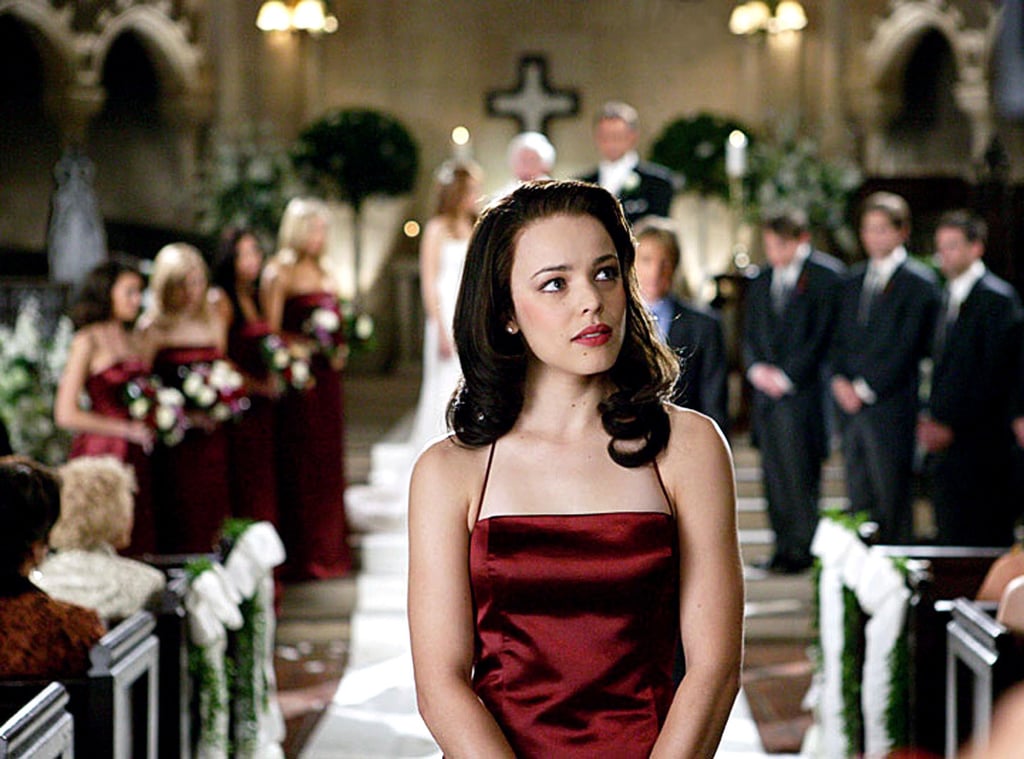 Claire plays bridesmaid for her sister Gloria's (Isla Fisher [100]) wedding [101] to Jeremy (Vince Vaughn [102]).
Gossip Girl
Rufus (Matthew Settle) and Lily (Kelly Rutherford) don't let a little resurfaced love child get them down. They still have their laid-back grunge wedding [103], complete with Sonic Youth as their band.
Full House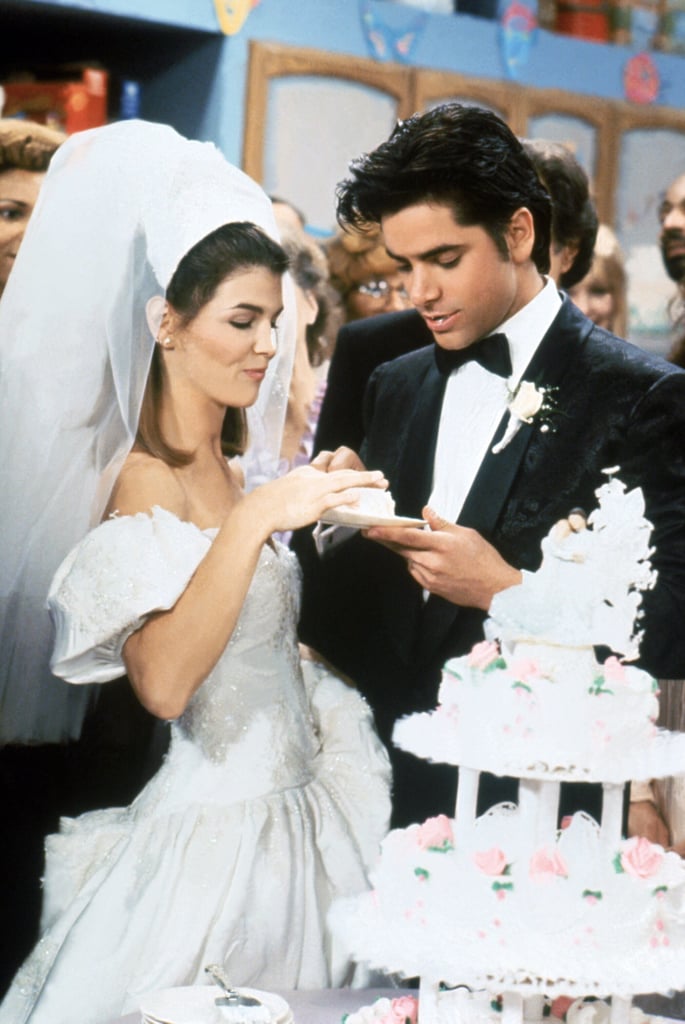 Uncle Jesse (John Stamos) and Becky (Lori Loughlin) hit a lot of snafus on their big day: he goes skydiving and ends up in jail, she ends up driving a bus to their party. It all works out in the end, though: who could forget Jesse's sweet dedication of "Forever" during their ceremony?
CSI: NY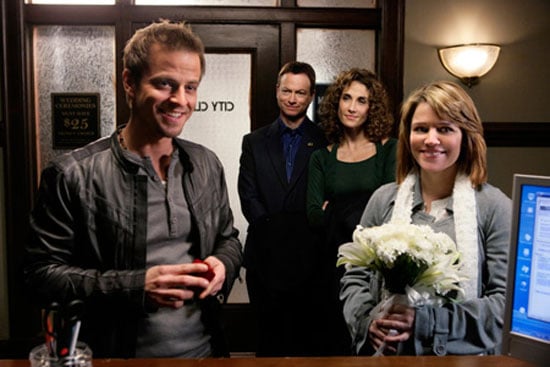 While they got off to a rocky start, detectives Danny (Carmine Giovinazzo) and Lindsay (Anna Belknap) end up having an impromptu wedding [104] at the clerk's office.
Lost
Jack (Matthew Fox [105]) weds Sarah (Julie Bowen) in a ceremony accentuated by a gorgeous floral arrangement, but the marriage falls apart even before Jack gets stranded on the mysterious island.
Mirror, Mirror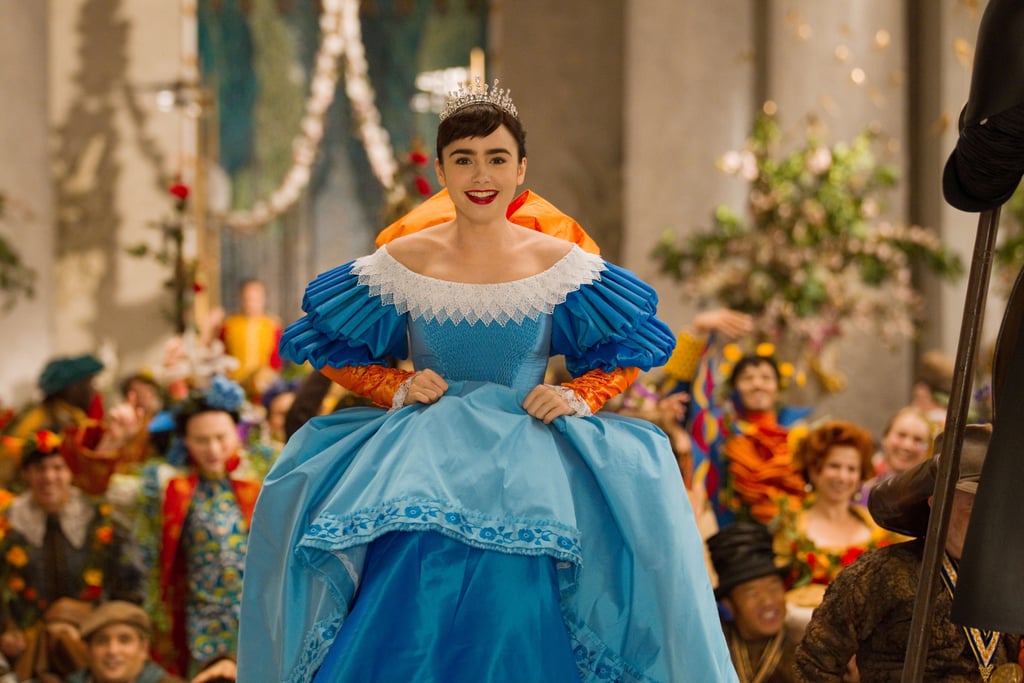 Instead of the traditional white garb, Snow White (Lily Collins) rocks a beautiful blue gown on her big day.
Cheers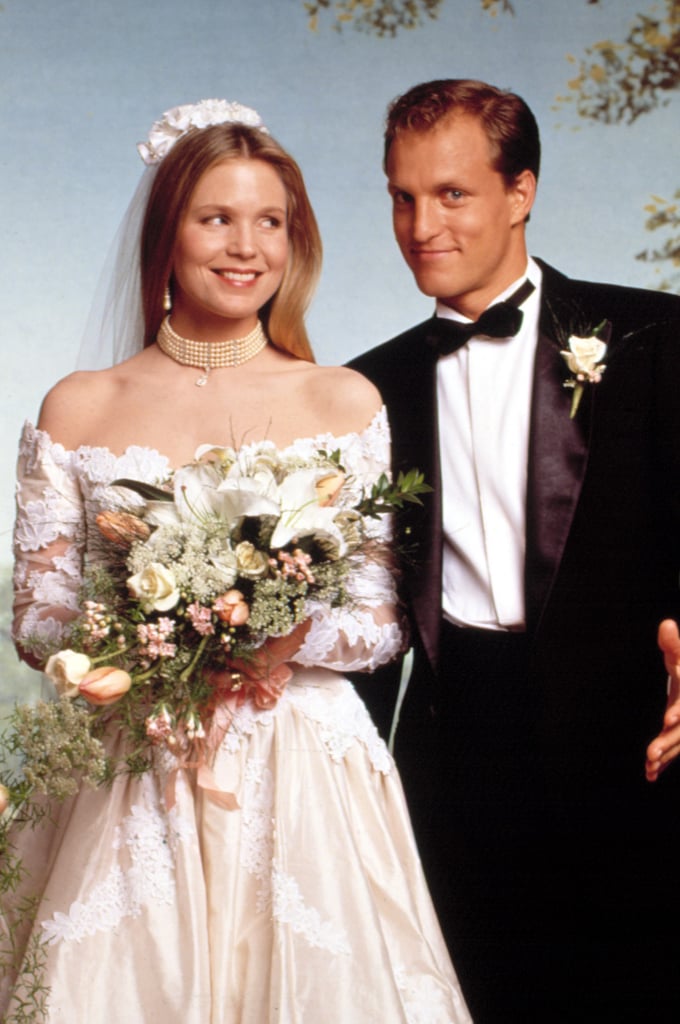 Woody (Woody Harrelson) and Kelly (Jackie Swanson) do their best to wait to consummate their relationship until they are official on paper.
Desperate Housewives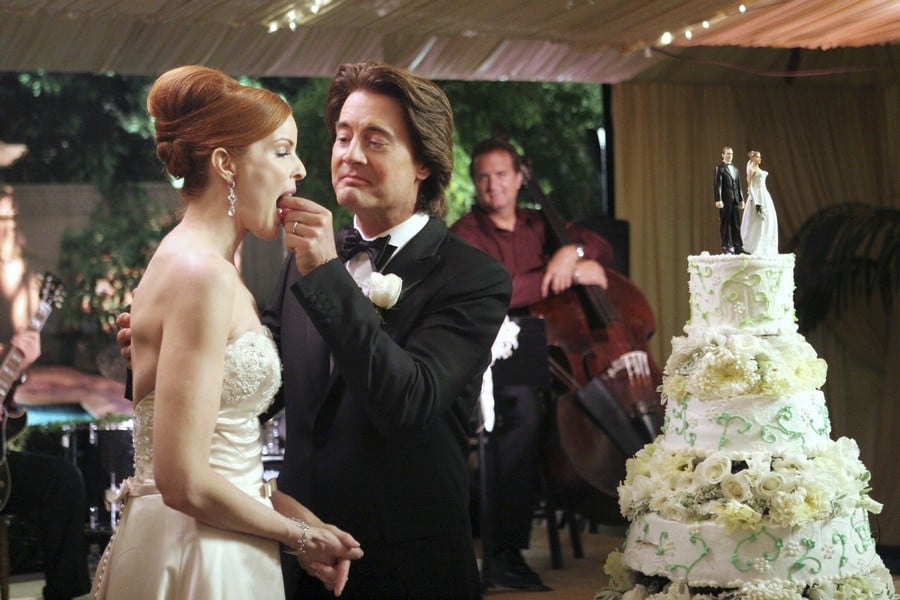 Orson (Kyle MacLachlan) and Bree (Marcia Cross [106]) have an unconventional meet-cute: they find each other in a mental hospital. Still, they make a connection and marry in a beautiful ceremony — we know perfectionist Bree wouldn't have it any other way.
Honeymoon in Vegas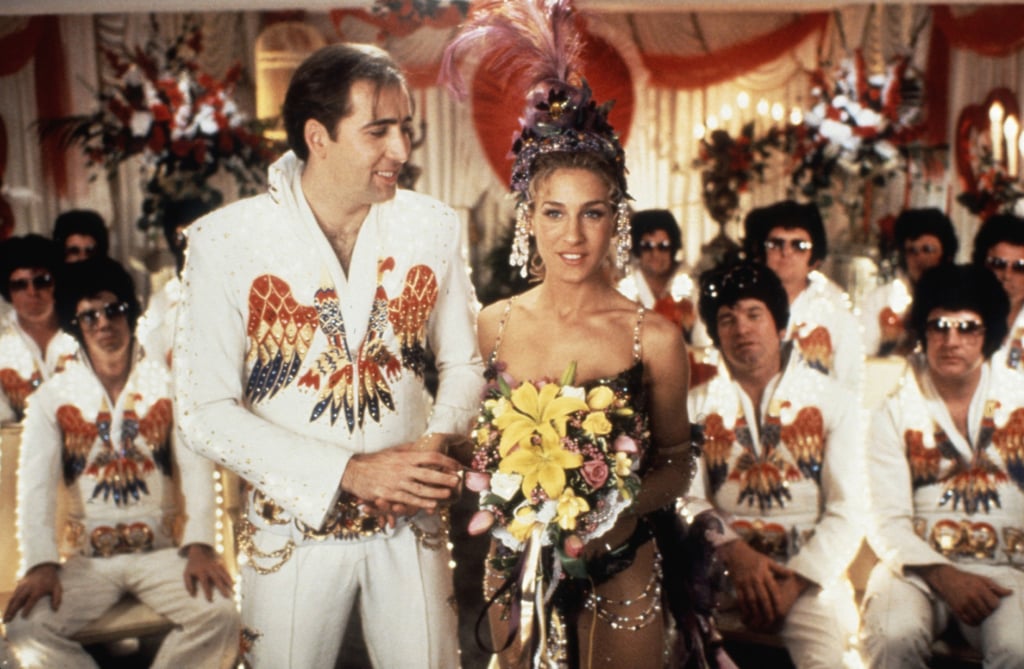 Despite all the craziness that happens in Vegas and Hawaii, Jack (Nicolas Cage [107]) and Betsy (Sarah Jessica Parker [108]) eventually tie the knot in true Elvis style.
Riding in Cars With Boys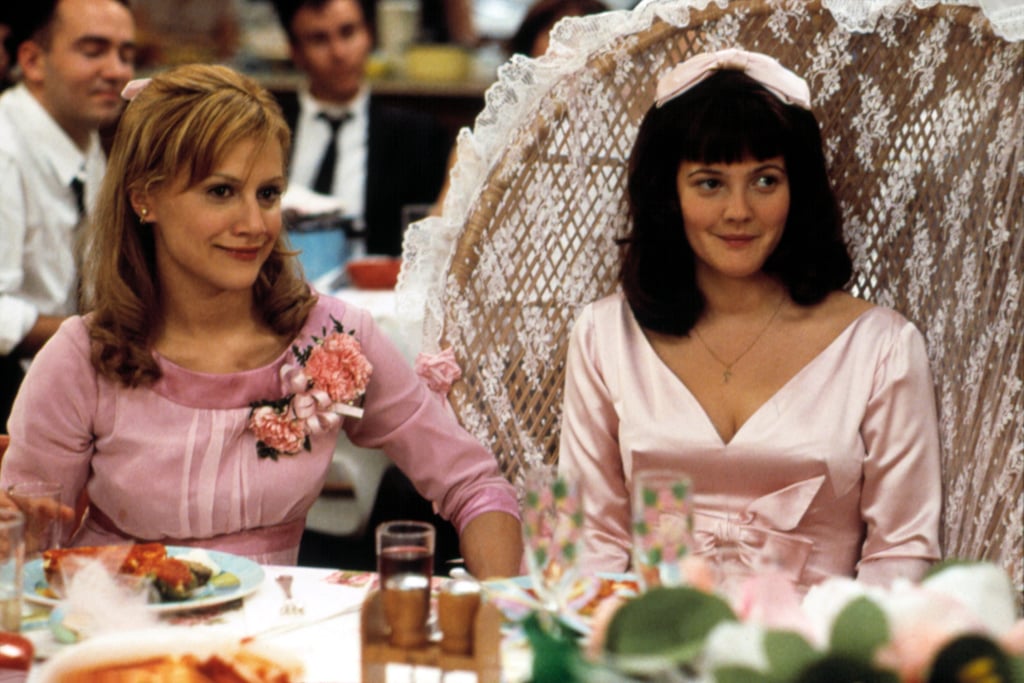 Set in 1965, Drew Barrymore [109]'s character, Bev, is only 15 years old when she gets married to her baby daddy Ray (Steve Zahn). Luckily she's got her best friend Fay (Brittany Murphy [110]) by her side.
Mork & Mindy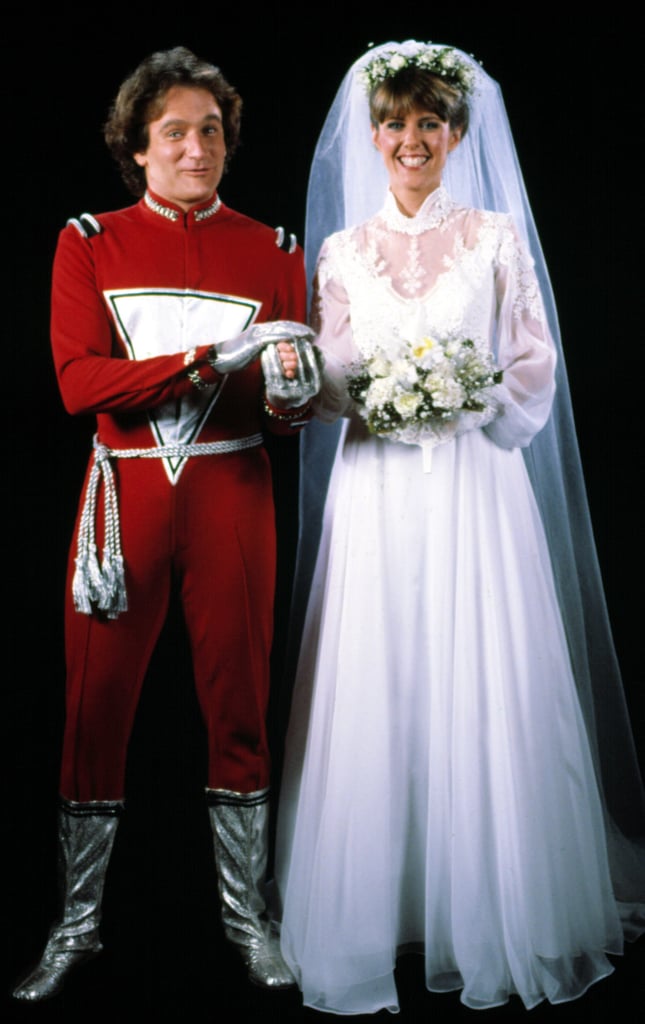 Mork (Robin Williams [111]) may be from the far-off planet Ork, but that doesn't stop him from falling for, and eventually marrying, Mindy (Pam Dawber).
The Princess Bride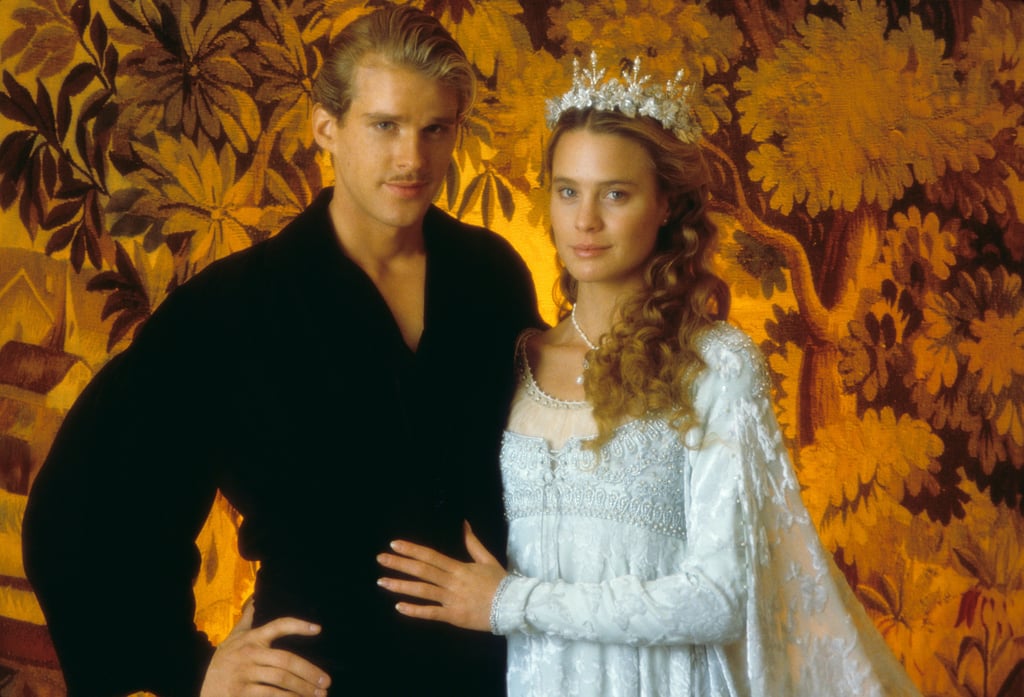 Prince Humperdrink (Chris Sarandon) may have been promised to take the sweet Buttercup (Robin Wright) as his bride, but of course her Westley (Cary Elwes) comes for her and saves the day.
Beverly Hills, 90210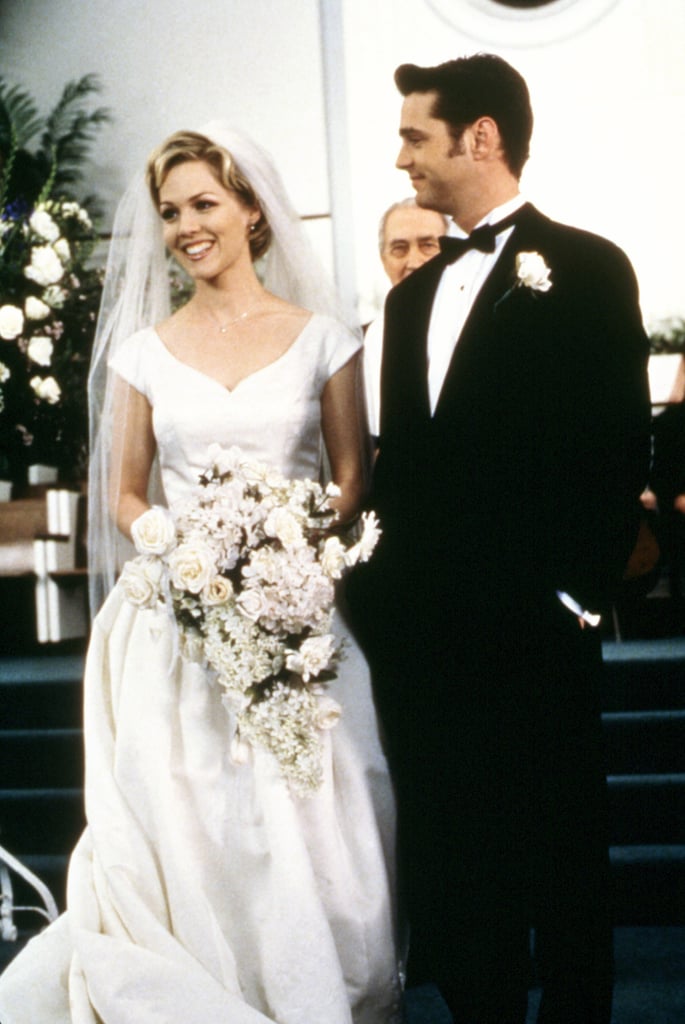 Longtime lovers Kelly (Jennie Garth) and Brandon (Jason Priestley) nearly marry, until they realize that they are just not ready for that kind of commitment.
Friends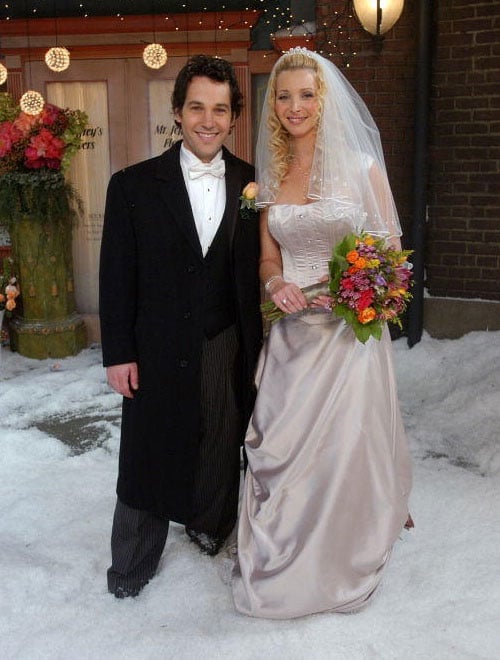 Mike (Paul Rudd [112]) and Phoebe (Lisa Kudrow) get married despite the chilly and snow-filled weather. In true Friends tradition, Joey performs in the ceremony.
Wedding Daze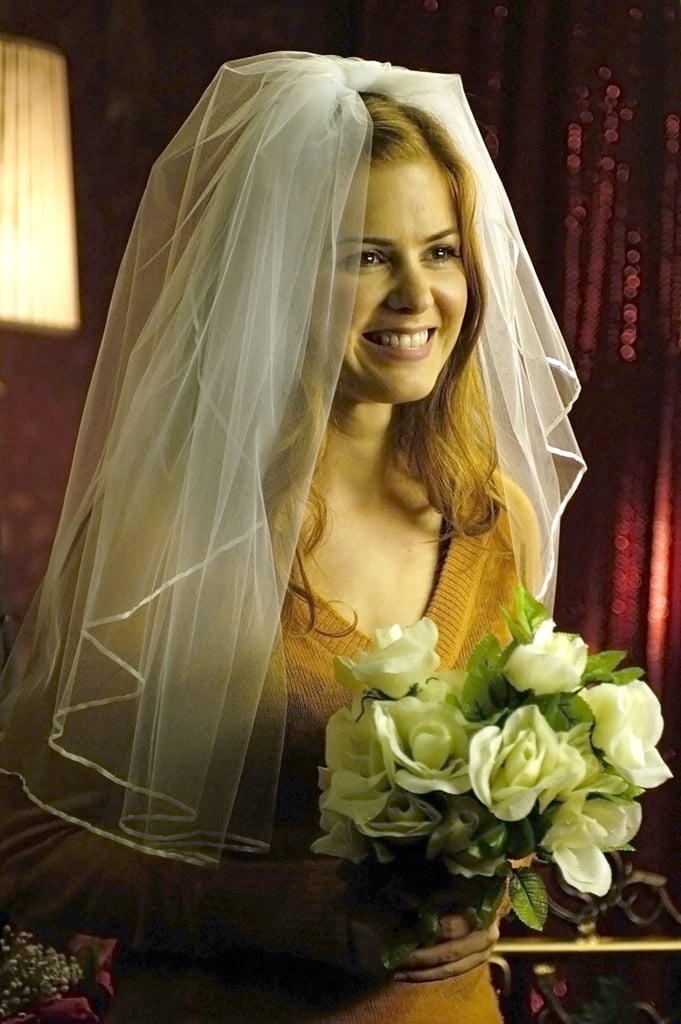 Still reeling from the shocking death of his ex-girlfriend, Anderson (Jason Biggs) impulsively decides to marry Katie (Isla Fisher [113]), a rebound girl he's using to move on. Of course, hijinks ensue.
Ira & Abby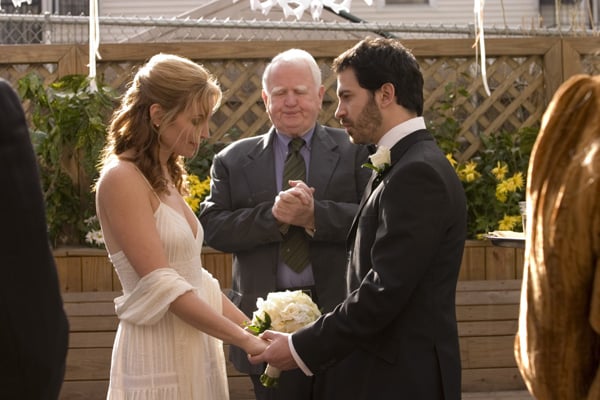 Uptight Ira (Chris Messina) quickly falls for the free-spirited Abby (Jennifer Westfeldt), and the duo get married in the blink of an eye.
You, Me, and Dupree
Molly (Kate Hudson [114]) and Carl (Matt Dillon) are so happy to start their new life together until they realize that best man Dupree (Owen Wilson [115]) has basically decided to move in.
The Wood
While he goes missing before the ceremony, eventually the groom Roland (Taye Diggs [116]) and Lisa (LisaRaye McCoy) get married in front of all their loved ones.
Buffy the Vampire Slayer
Unfortunately, the closest we ever get to Buffy (Sarah Michelle Gellar [117]) and Angel (David Boreanaz) getting hitched is in a wild dream sequence.
27 Dresses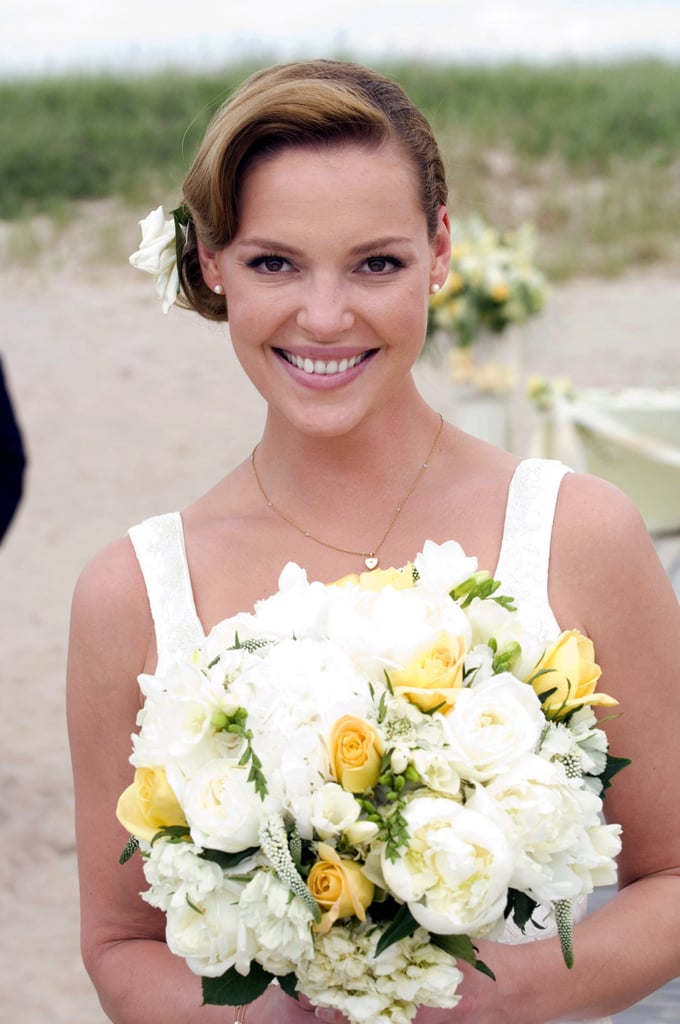 Always the bridesmaid, never the bride is the mantra for Jane (Katherine Heigl [118]), until she gets to change her tune with Kevin (James Marsden).
Father of the Bride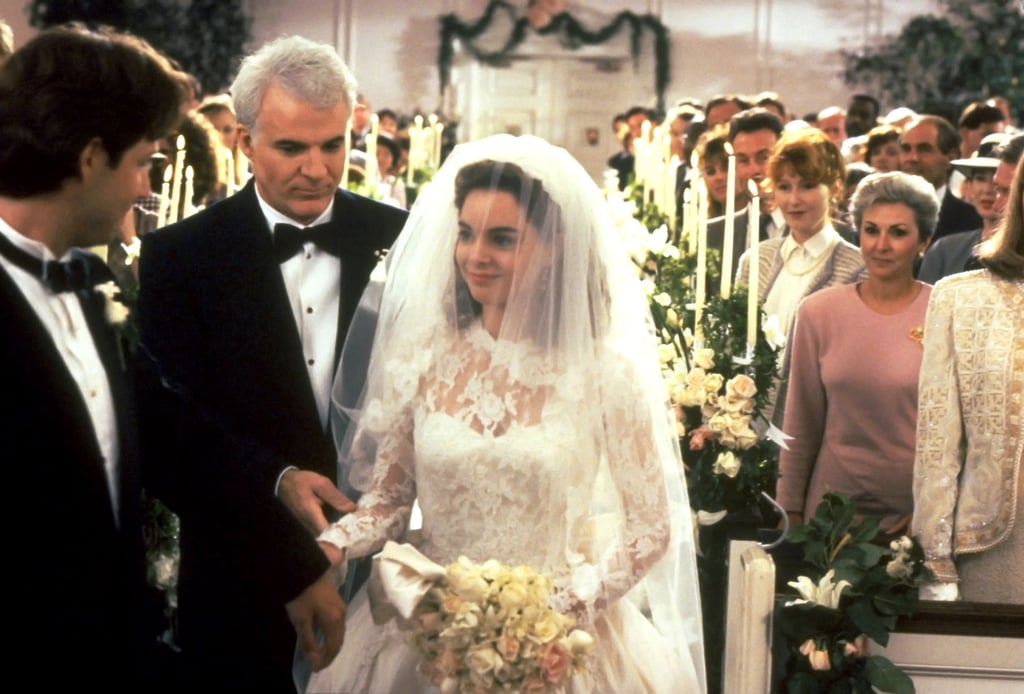 George Banks (Steve Martin [119]) is incredibly anxious about his 22-year-old daughter's (Kimberly Williams) wedding [120] — particularly the cost. Still, he manages to hold it together for her big day, and even custom-designs her an awesome pair of fancy wedding sneakers.
The Princess Diaries 2: Royal Engagement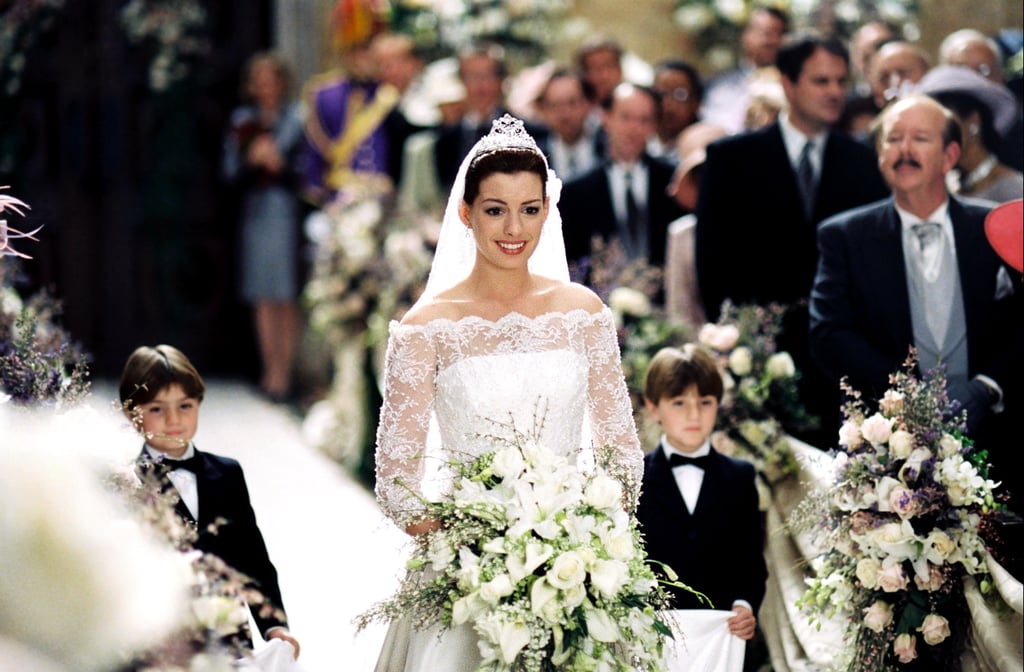 Once the ultimate ugly duckling, Princess Mia (Anne Hathaway [121]) makes one beautiful bride.
Just Married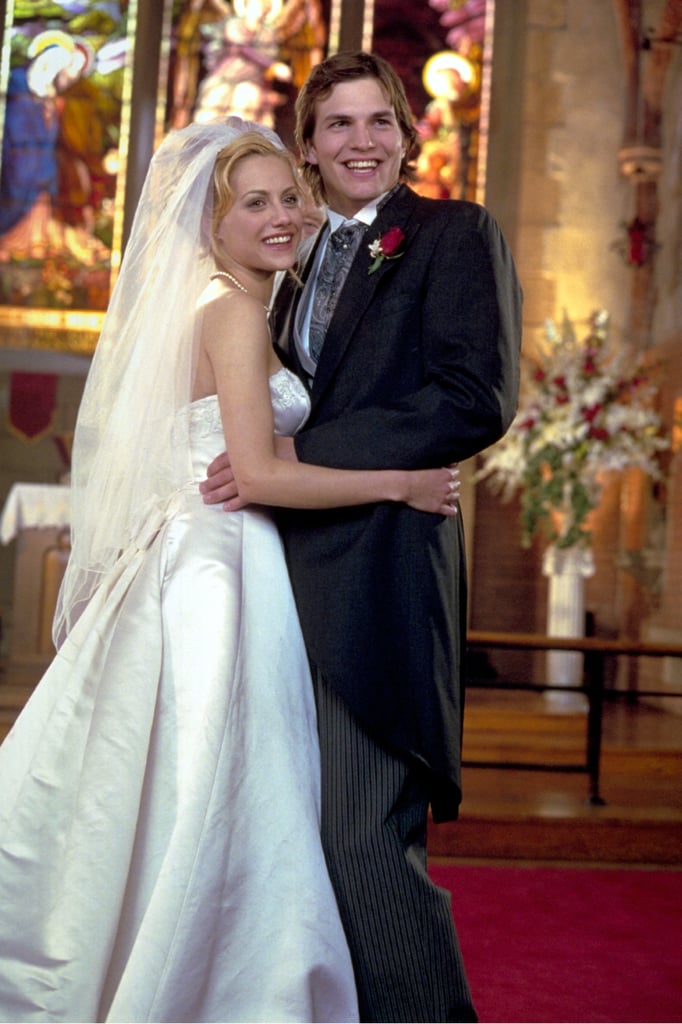 It's love at first sight for Tom (Ashton Kutcher [122]) and Sarah (Brittany Murphy [123]), and their wedding [124] is idyllic . . . though the honeymoon is anything but.
The Muppets Take Manhattan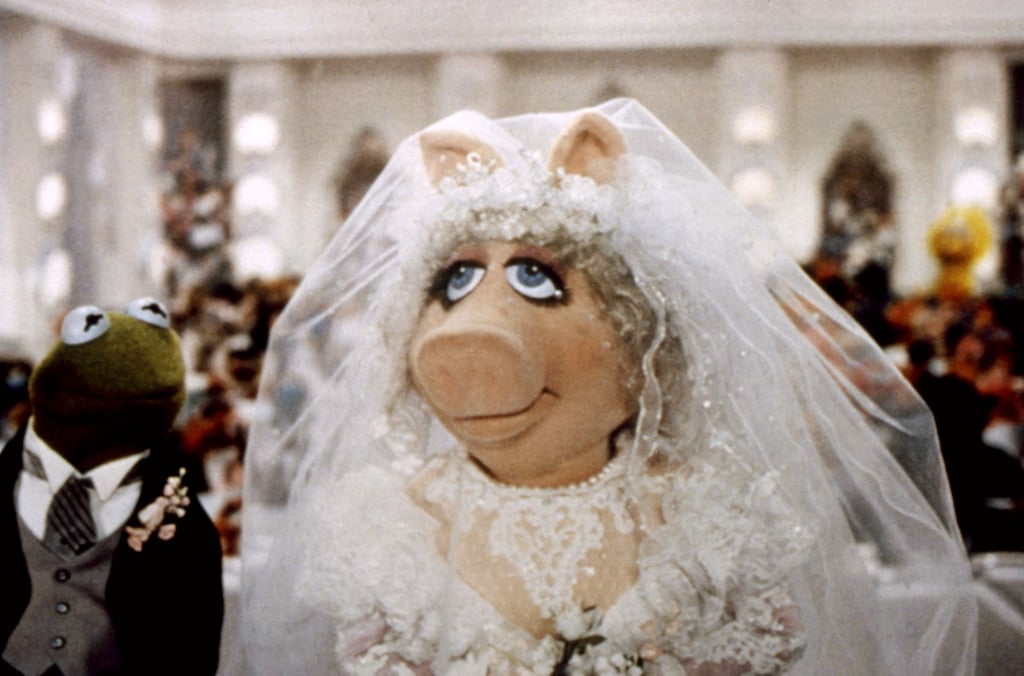 27 dresAfter a huge Broadway number, Kermit and Miss Piggy finally tie the knot after all these years!
House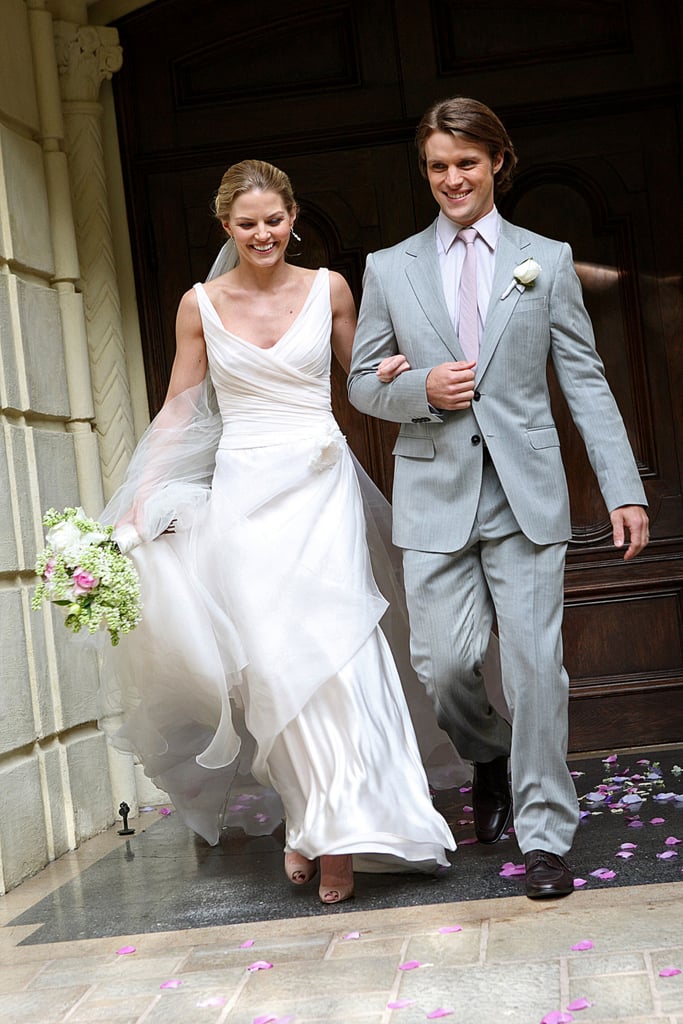 Cameron (Jennifer Morrison) and Chase (Jesse Spencer) may have started off as a one-night stand, but their lust turns to love — and wedding [125] bells!
Steel Magnolias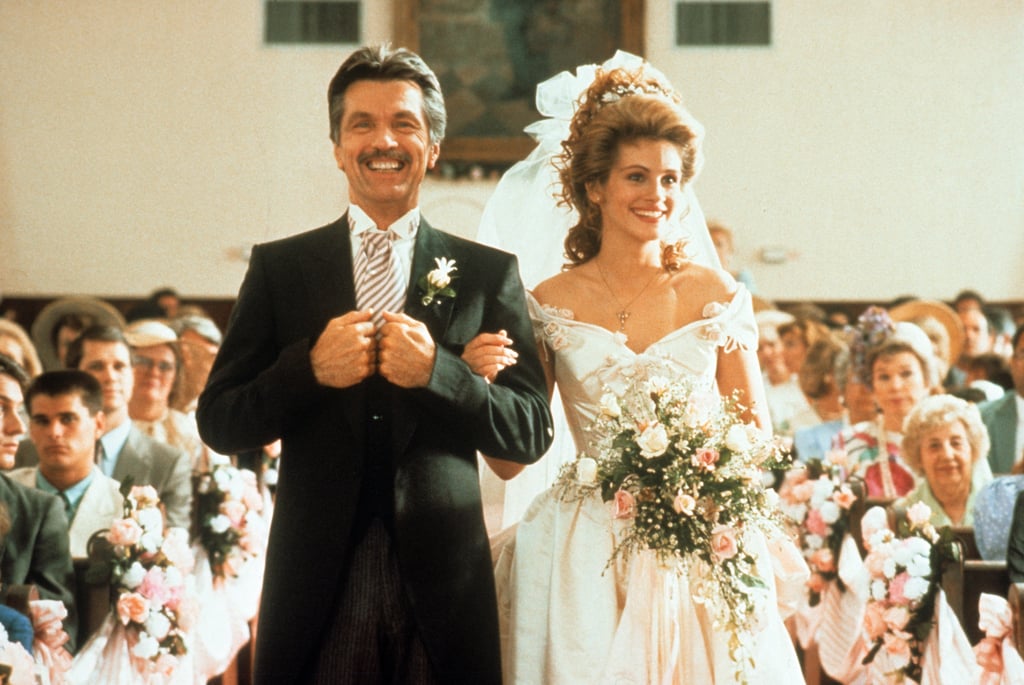 Shelby (Julia Roberts [126]) has the dream wedding [127] any Southern belle would appreciate, complete with dashing groom Jackson (Dylan McDermott) and pink-on-pink color scheme.
The Wedding Planner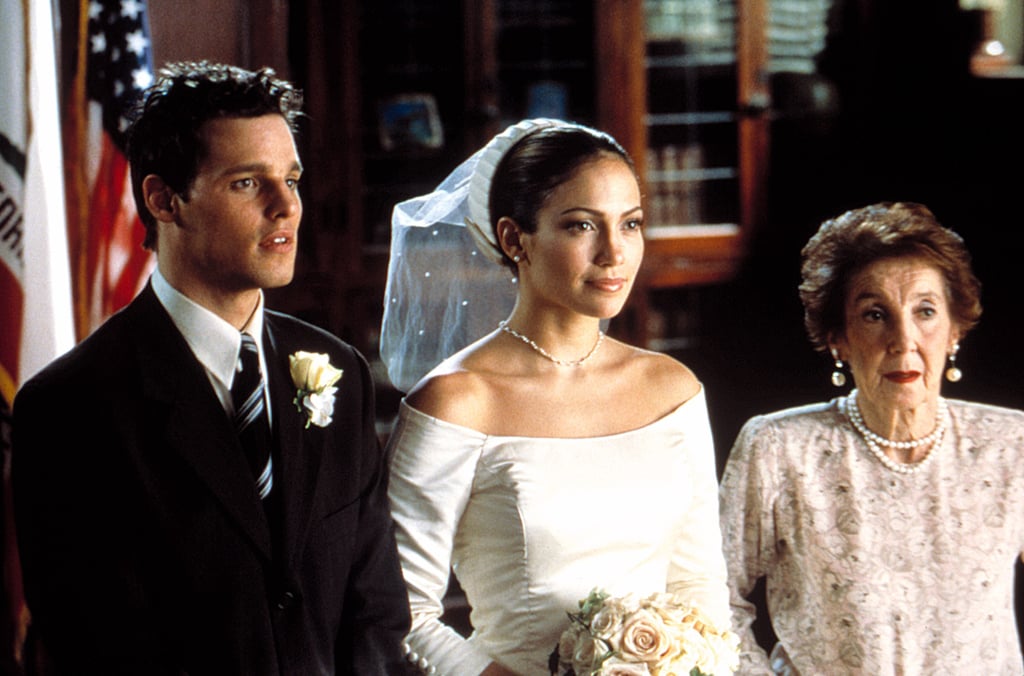 Even though her heart belongs to someone else, Mary (Jennifer Lopez [128]) tries to please her father and marry Italian immigrant Massimo (Justin Chambers).
American Wedding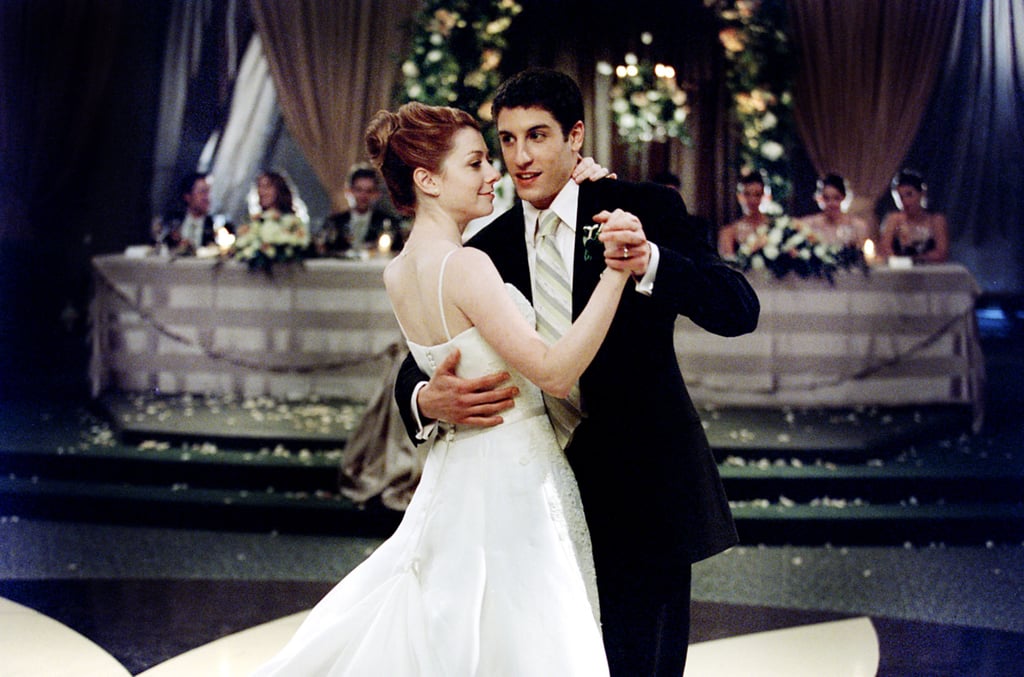 Years after their big prom night, Jim (Jason Biggs) and Michelle (Alyson Hannigan) tie the knot with all of their old friends there to celebrate.
Muriel's Wedding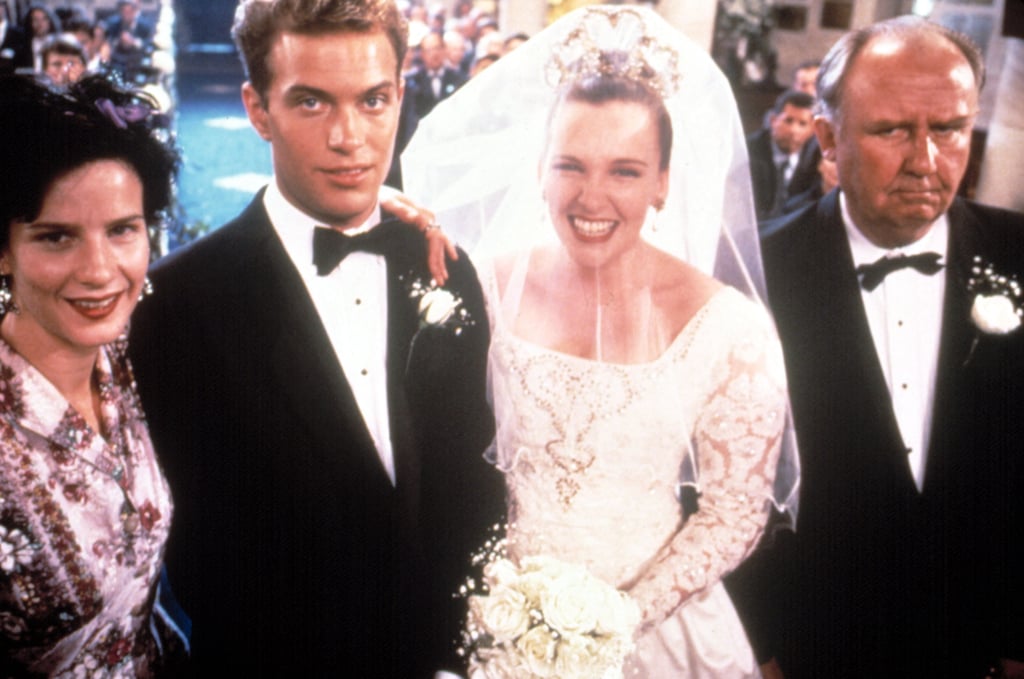 Since Olympic swimmer David (Daniel Lapaine) is desperate to stay in the country, Muriel (Toni Colette) has no problem taking him as her husband, even if it's just for show.
Love Actually
Juliet (Keira Knightley [129]) and Peter (Chiwetel Ejiofor) have a beautiful British wedding [130], which comes complete with a performance of "All You Need Is Love" (thanks to Peter's BFF Mark, who also has the hots for Juliet).
Dexter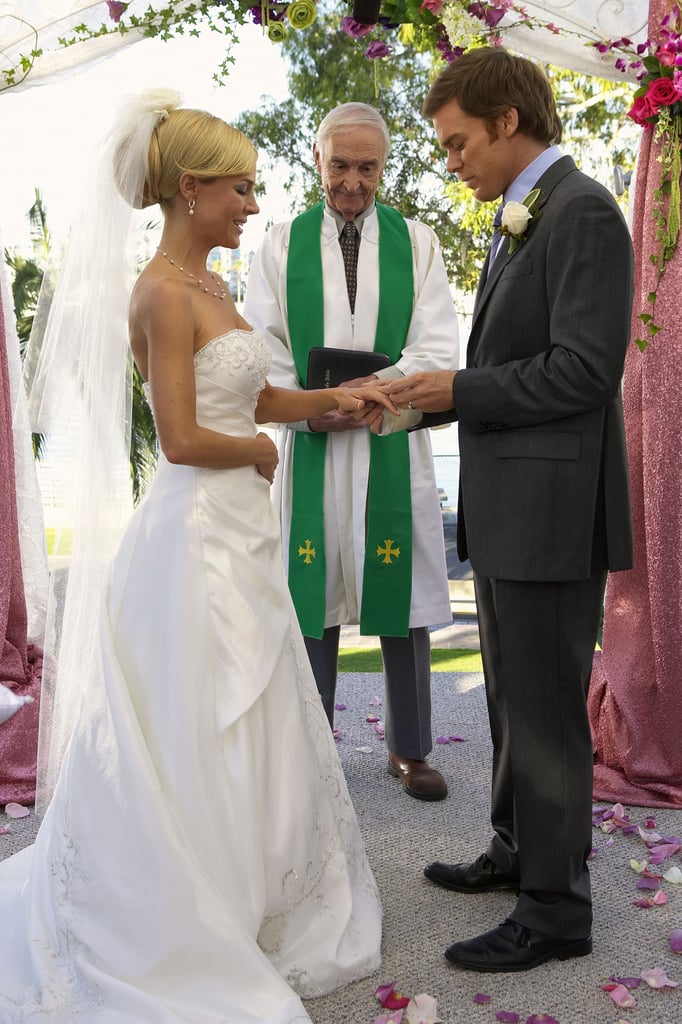 Blissfully unaware of her groom's big secret, Rita (Julie Benz) and Dexter (Michael C. Hall) get married in a lovely Miami wedding [131].
Bridesmaids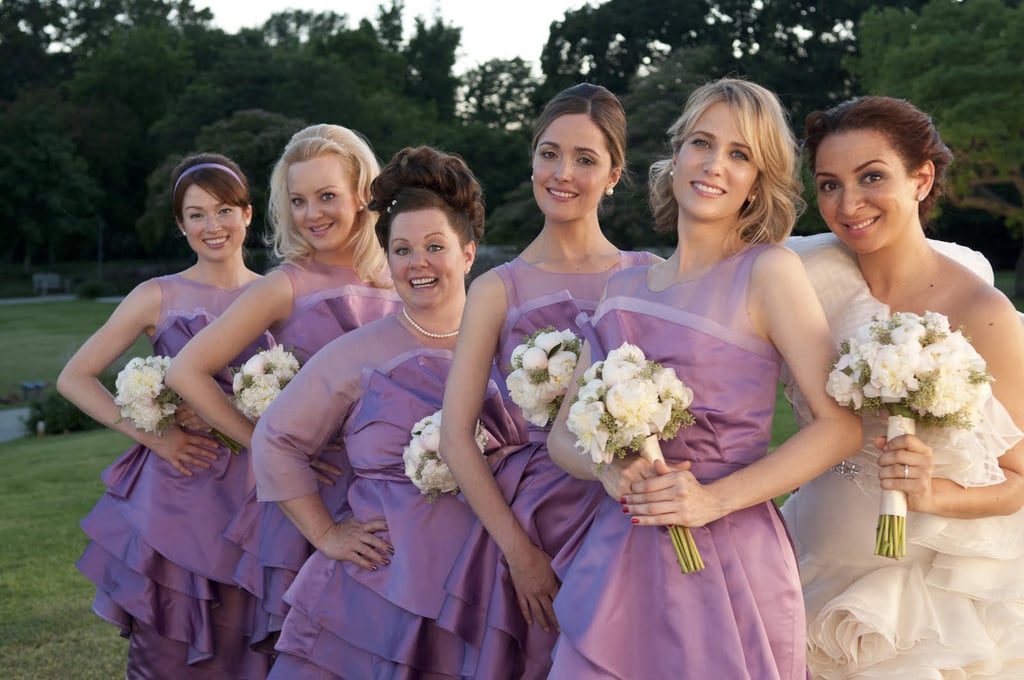 While the competition between Annie (Kristen Wiig) and Helen (Rose Byrne) is taken to a whole new level of crazy, Lillian (Maya Rudolph) and her team of bridesmaids manage to pull off a gorgeous wedding [132].
The O.C.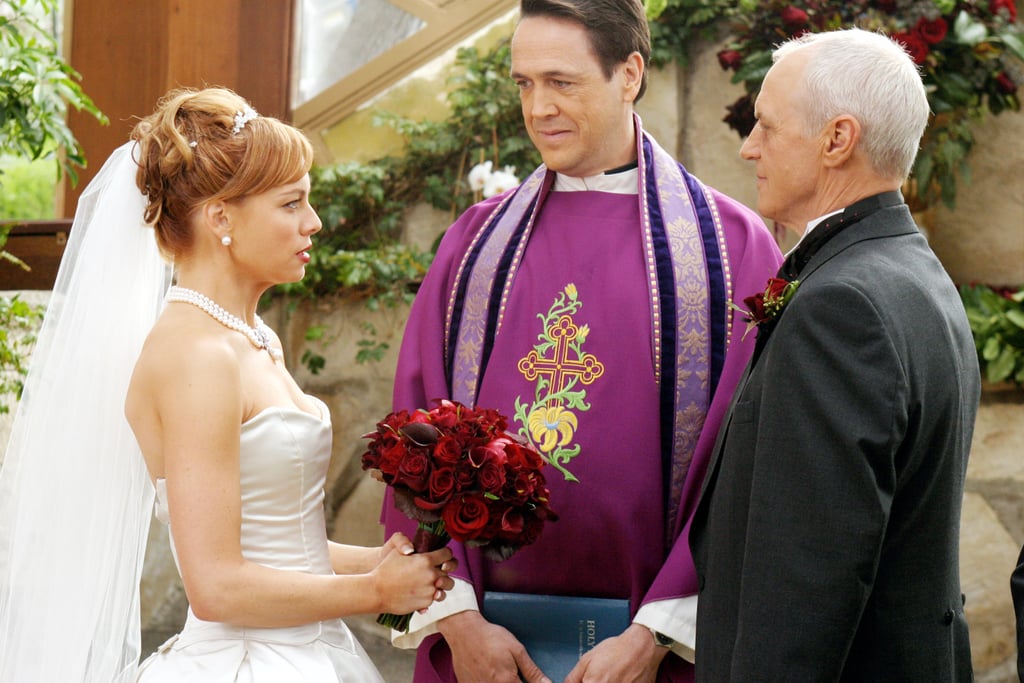 After her husband goes bankrupt, Julie (Melinda Clarke) marries much-older Caleb (Alan Dale) for his money, much to his daughter Kirsten's chagrin.
Betsy's Wedding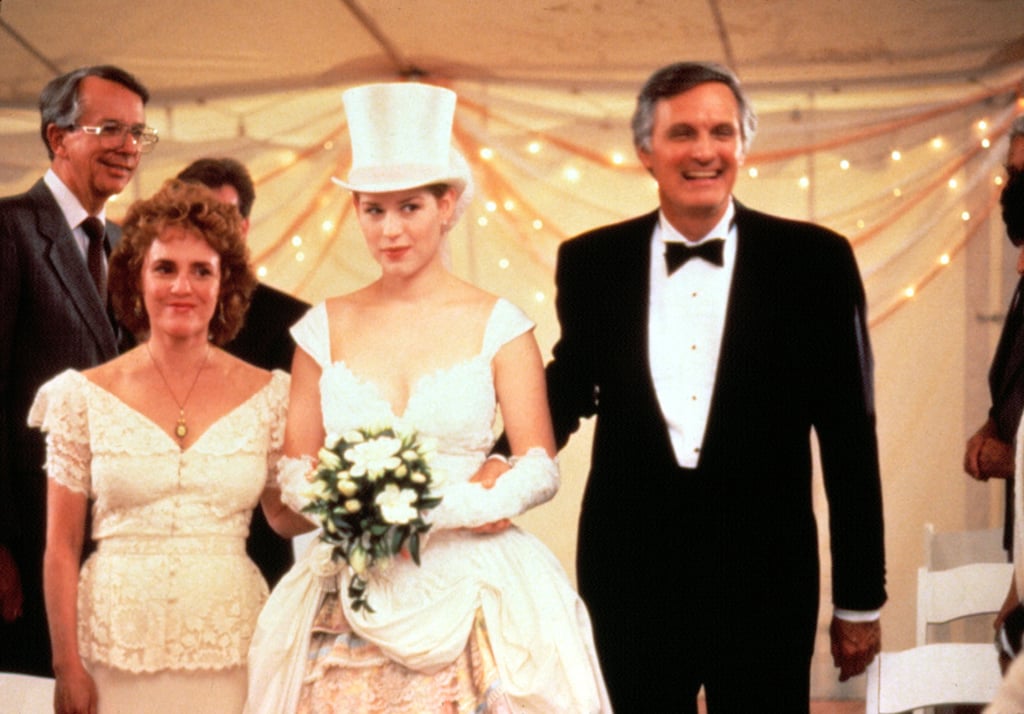 Betsy (Molly Ringwald) and her investment-banker husband want a small, intimate gathering, but her father, Eddie (Alan Alda), has very different plans for a big blowout.
Gossip Girl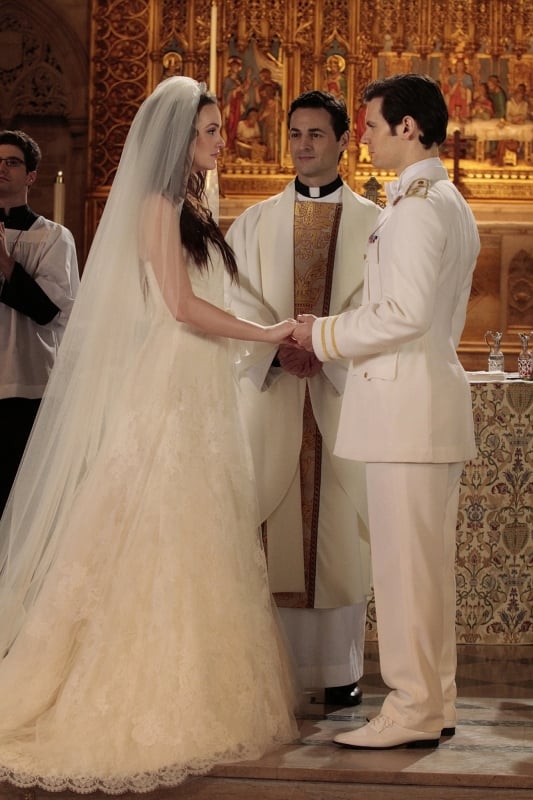 Blair (Leighton Meester [133]) makes it to the altar with her Prince Louis (Hugo Becker), but their fairy tale is spoiled when a Gossip Girl blast reveals that she still loves Chuck.
Old School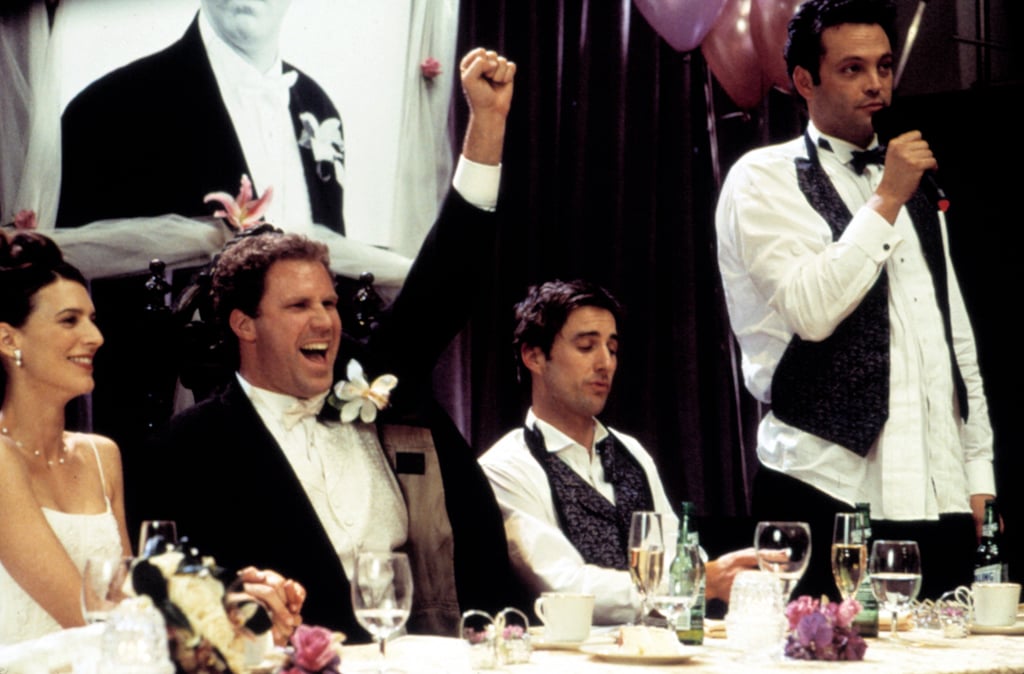 Frank and Marissa get hitched, and Bernard (Vince Vaughn [134]) saves the day when groomsman Mitch (Luke Wilson [135]) gets a little too drunk and gives an awkward wedding [136] toast.
Sherlock Holmes: A Game of Shadows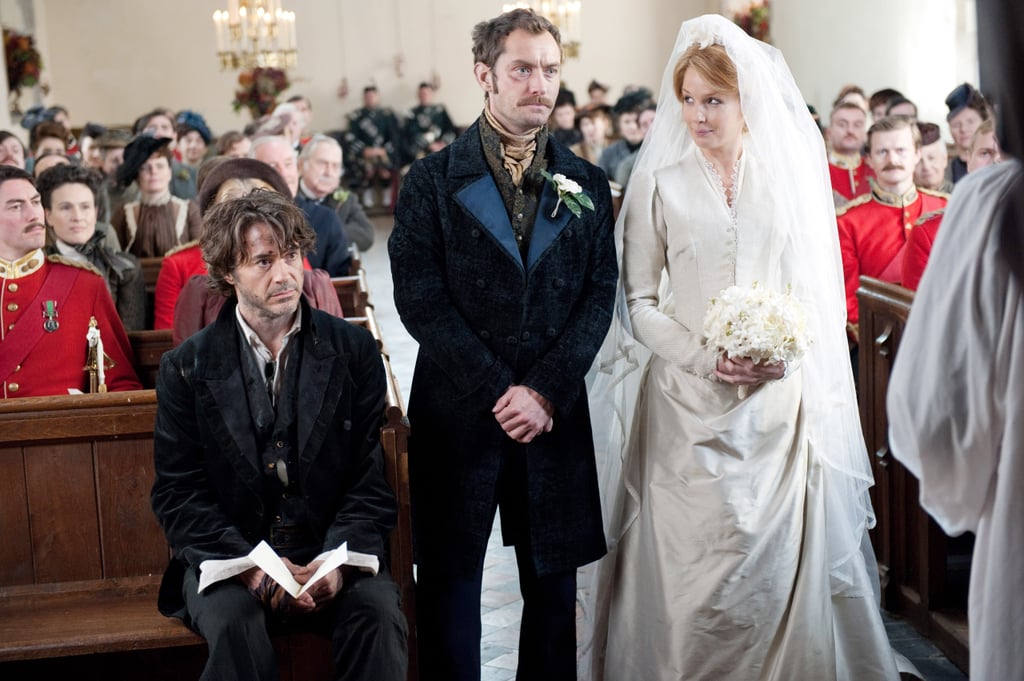 As you can see, Watson (Jude Law [137]) has a big night out with Holmes (Robert Downey Jr.) before his wedding [138] to Mary (Kelly Reilly).
Pirates of the Caribbean: At World's End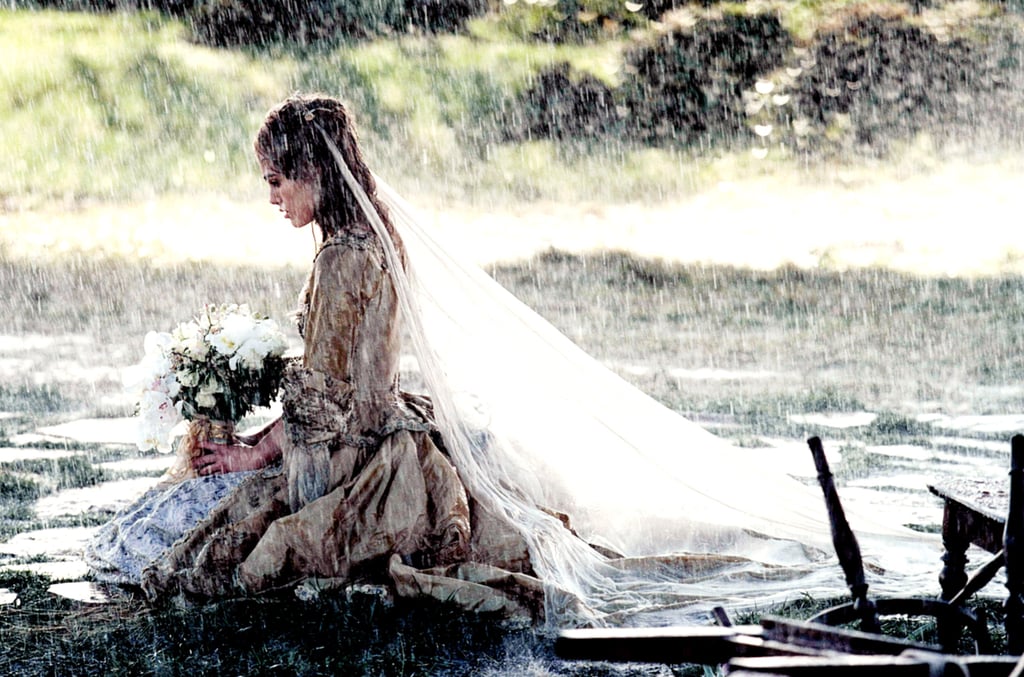 Will (Orlando Bloom [139]) proposes to Elizabeth (Keira Knightley [140]), and Captain Barbossa (Geoffrey Rush) marries them in the middle of battle.
Breaking Dawn Part 1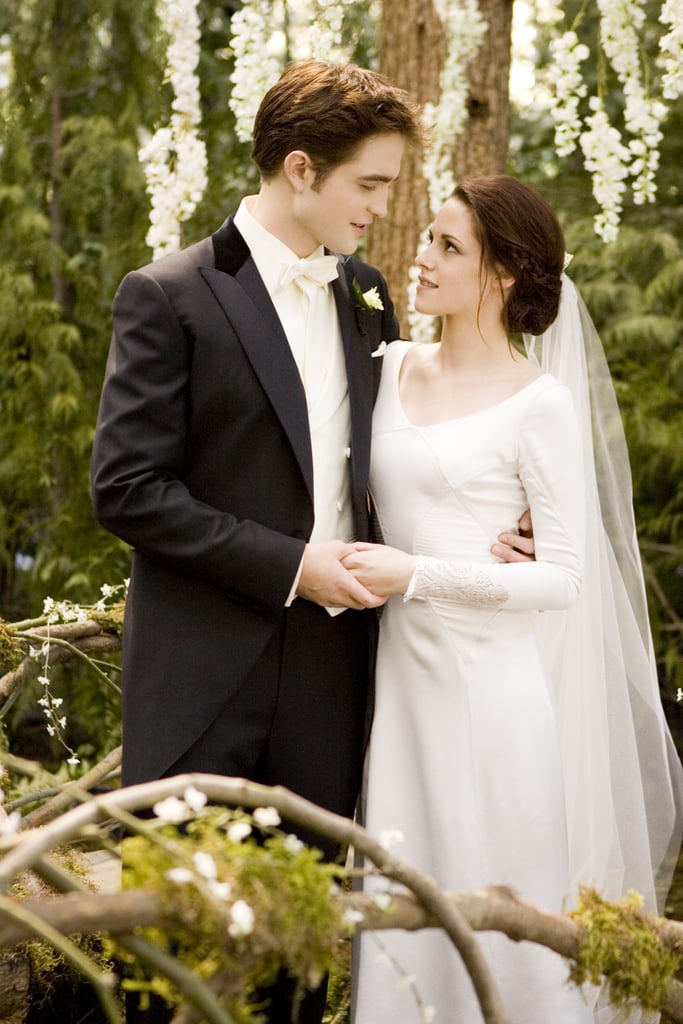 At long last, Edward (Robert Pattinson [141]) and Bella (Kristen Stewart [142]) have a beautiful wedding [143] at the Cullen house.
Your Highness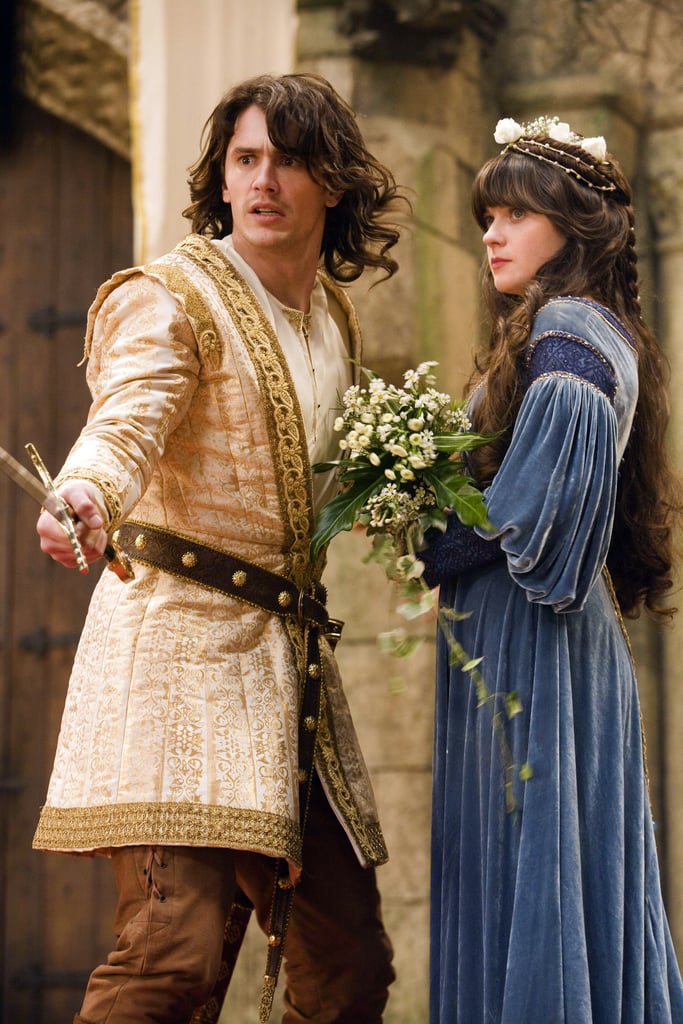 Fabious (James Franco [144]) is all set to marry his virginal bride, Belladonna (Zooey Deschanel [145]), but their ceremony is rudely interrupted by evil wizard Lazaar, who kidnaps Belladonna and takes off.
The Romantics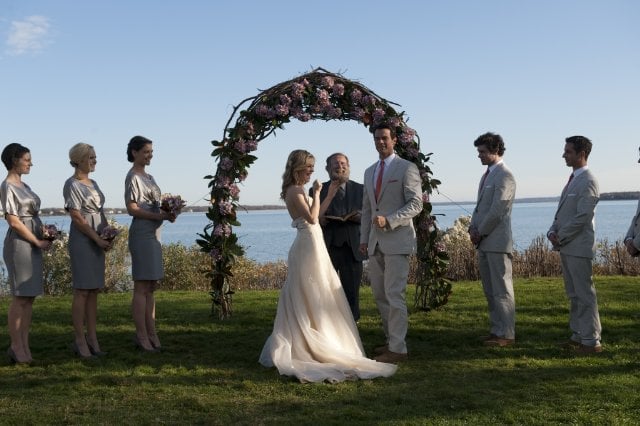 Lila (Anna Paquin [146]) and Tom (Josh Duhamel [147]) have their Long Island nuptials all set up, but a thunderstorm crashes the party, leaving us all wondering if they went through with it.
Charmed
Paige (Rose McGowan) and Henry (Ivan Sergei) suffer from a little case of cold feet, but the sisters are able to work some magic and get their sister to the altar.
Sex and the City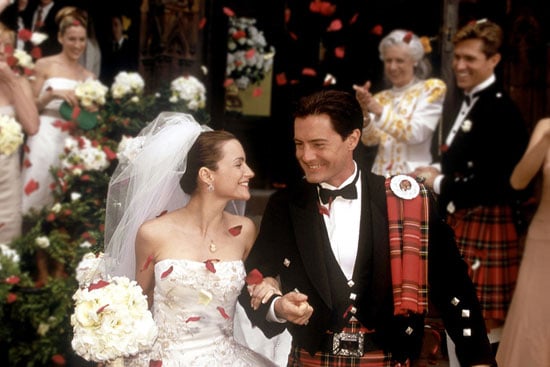 Even though the marriage doesn't last, Charlotte (Kristin Davis) and Trey (Kyle MacLachlan) have a big, beautiful, tartan extravaganza for their wedding [148].
Nine Months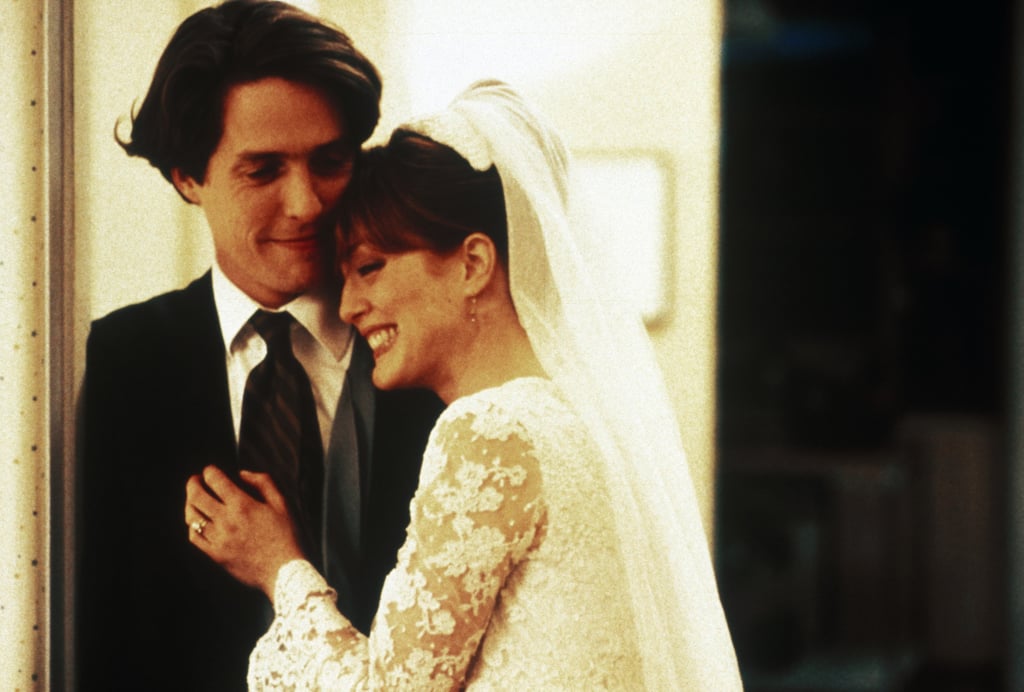 Samuel's (Hugh Grant [149]) baby jitters almost cause him to lose Rebecca (Julianne Moore), but he sacks up in time for a sweet shotgun wedding [150]. He even carries his pregnant bride across the threshold!
Sex and the City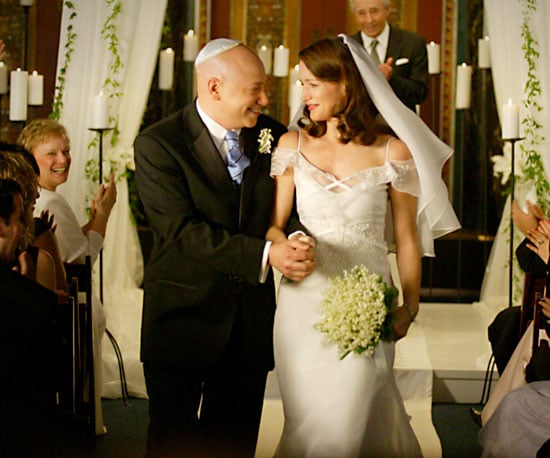 Charlotte (Kristin Davis) has a hard time accepting her feelings for Harry (Evan Handler) at first, but she eventually falls for him — and even converts to Judaism so they can have a traditional religious wedding [151].
Beverly Hills, 90210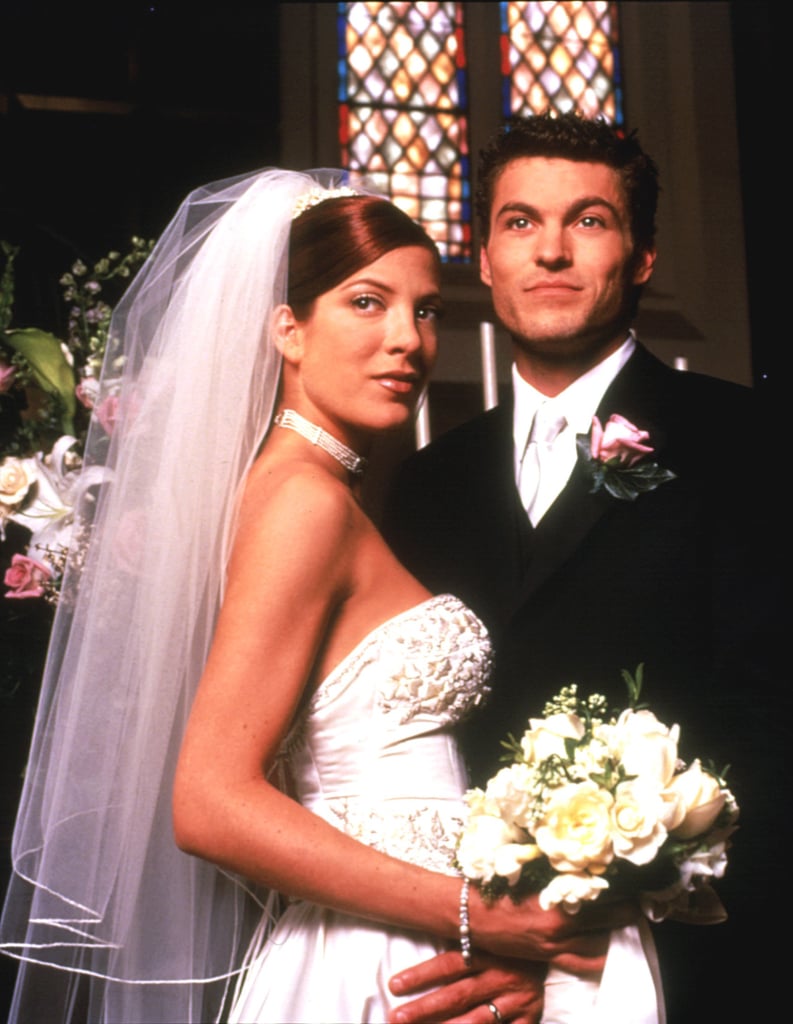 The nuptials of high school sweethearts David (Brian Austin Green [152]) and Donna (Tori Spelling [153]) mark the series finale, and it's a wedding [154] that many fans had been waiting for since the early days of the show.
Glee
The glee club gets to join in the fun by performing "Marry You" when Finn's mom (Romy Rosemont) and Kurt's dad (Mike O'Malley) make it official.
My Best Friend's Wedding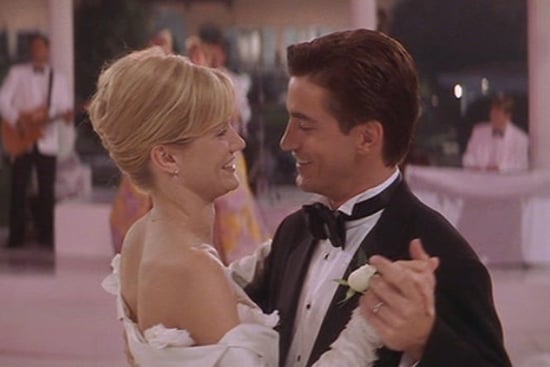 Jules (Julia Roberts [155]) does all she can to break up the wedding [156] of her BFF Michael (Dermot Mulroney) and his "dear, sweet chocolate-covered Kimmy" (Cameron Diaz [157]) — but in the end, Jules realizes Michael and Kimmy are made for each other, and they happily tie the knot.
A Guy Thing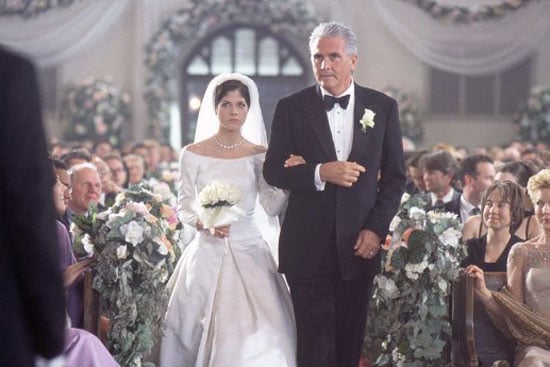 Ken (James Brolin) walks his daughter Karen (Selma Blair [158]) down the aisle to Paul (Jason Lee [159]).
Wedding Crashers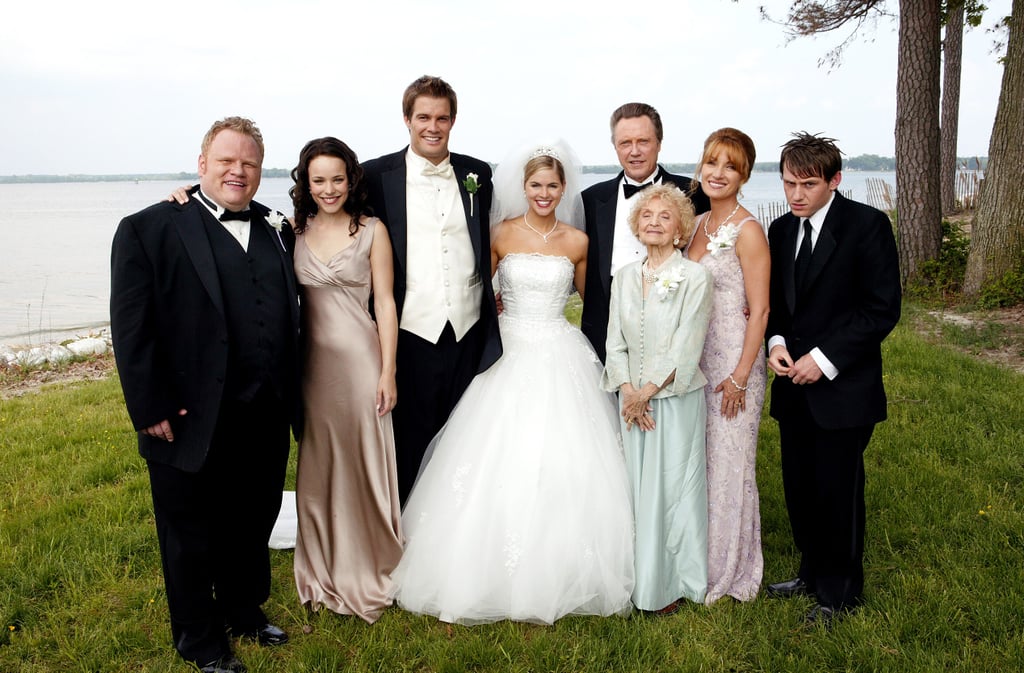 Christina (Jennifer Alden) marries her "first mate" Craig (Geoff Stults) in a lavish ceremony complete with friends, family, and a couple of crashers.
The Vow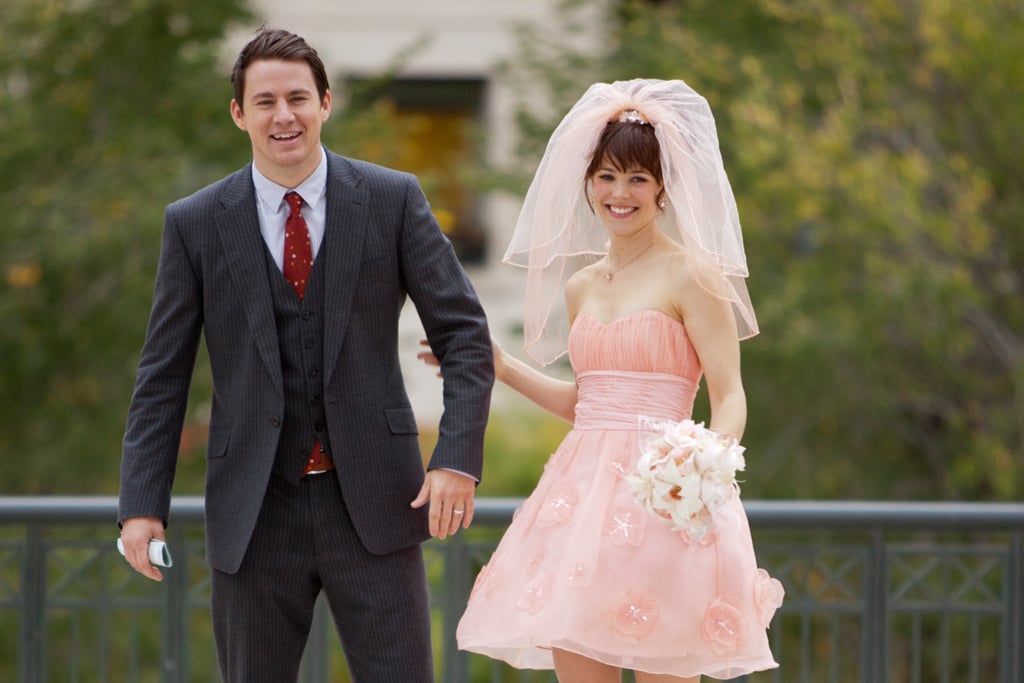 Paige (Rachel McAdams [160]) is pretty in pink when she ties the knot with Leo (Channing Tatum [161]), even though their nuptials are broken up by the cops.
Star Wars Episode II: Attack of the Clones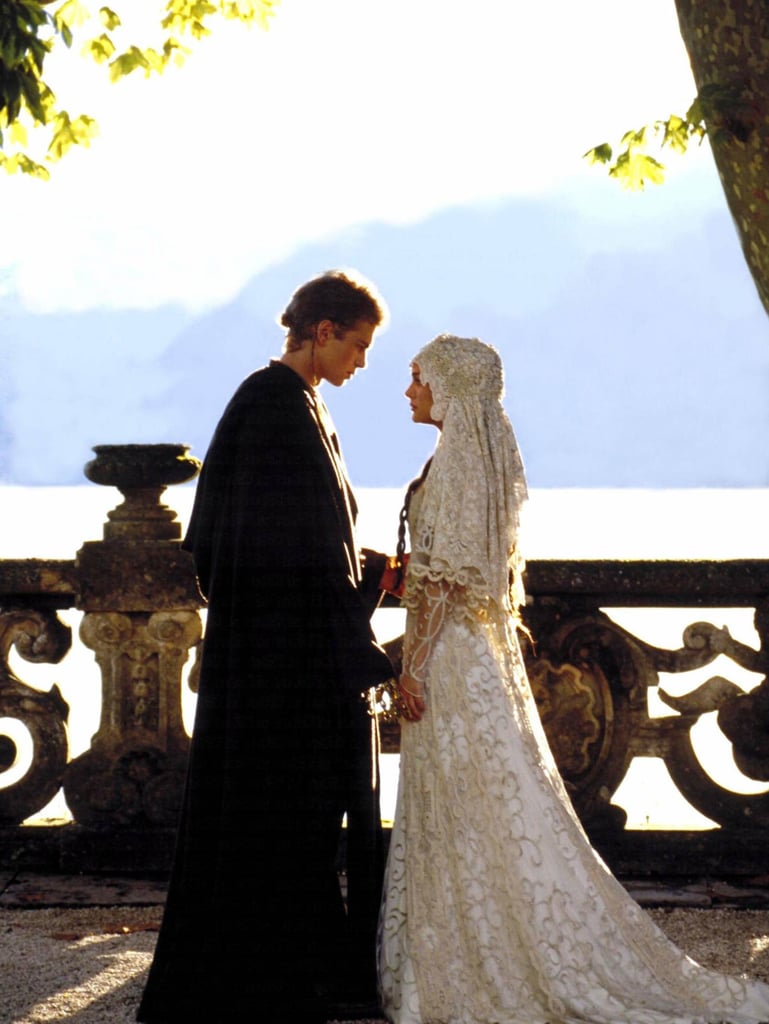 Anakin Skywalker (Hayden Christensen [162]) and Padmé Amidala (Natalie Portman [163]) have a picturesque wedding [164] in secret. The only witnesses? C-3PO and R2-D2!
The Time Traveler's Wife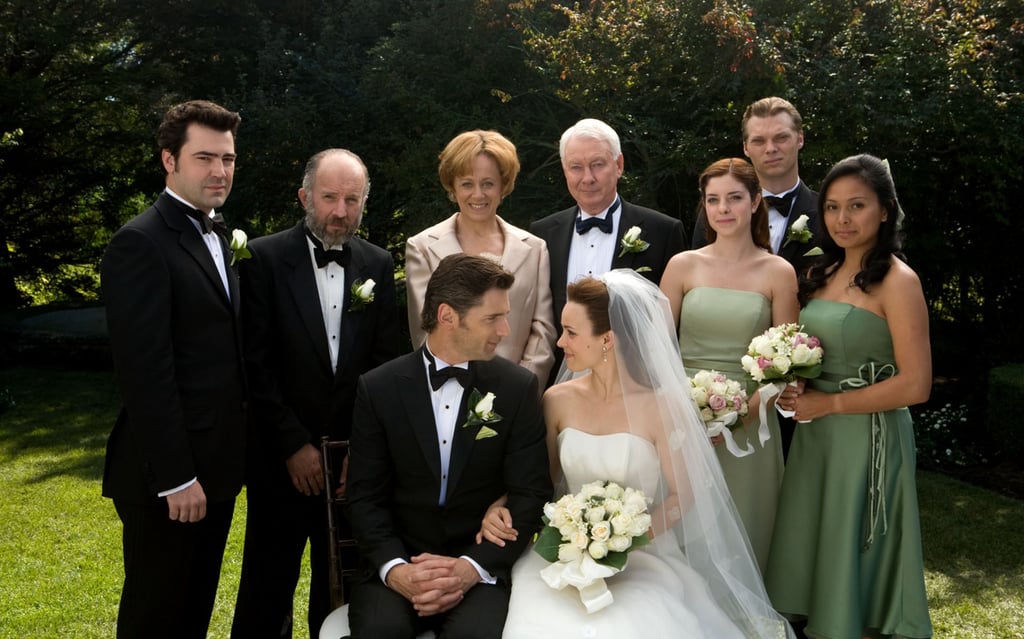 Though he's a time traveler, Clare (Rachel McAdams [165]) and Henry (Eric Bana [166]) manage to stay in the same place long enough for a romantic wedding [167].
When in Rome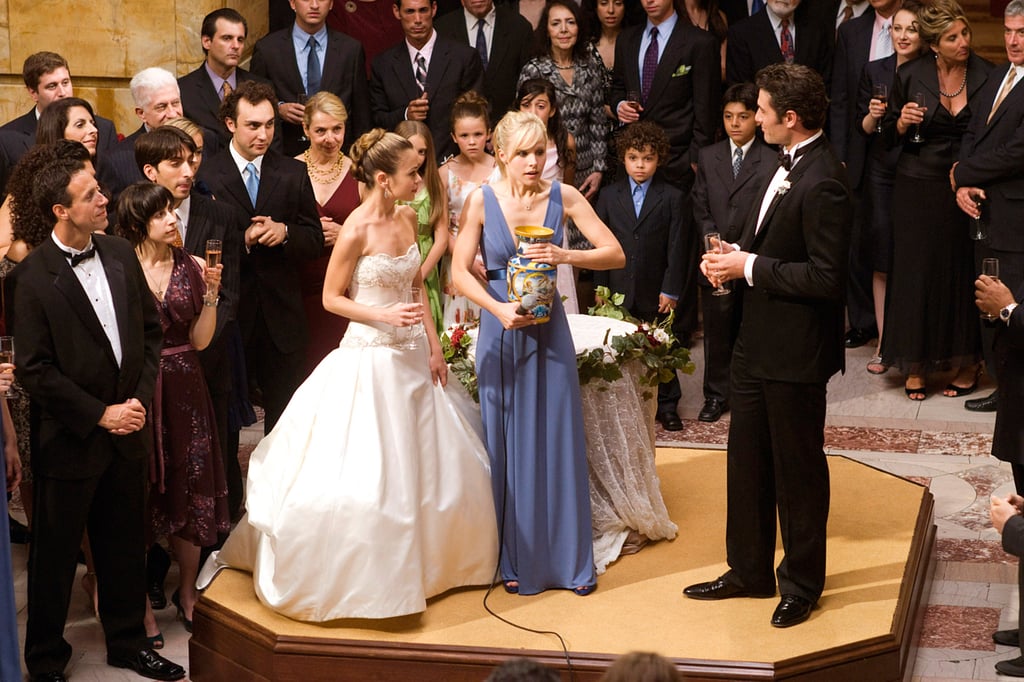 Maid of honor Beth (Kristen Bell [168]) tries to help the bride Joan (Alexis Dziena) as she's preparing for her big Italian wedding [169].
Chuck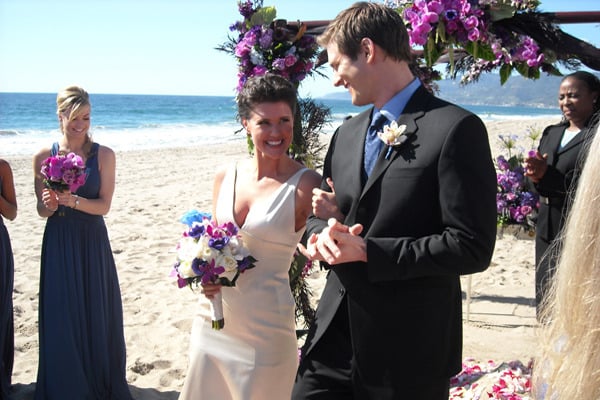 When Chuck's job as a spy destroys his sister Ellie's (Sarah Lancaster) church wedding [170], he quickly throws together her dream — nuptials on the beach with Devon (Ryan McPartlin).
Four Weddings and a Funeral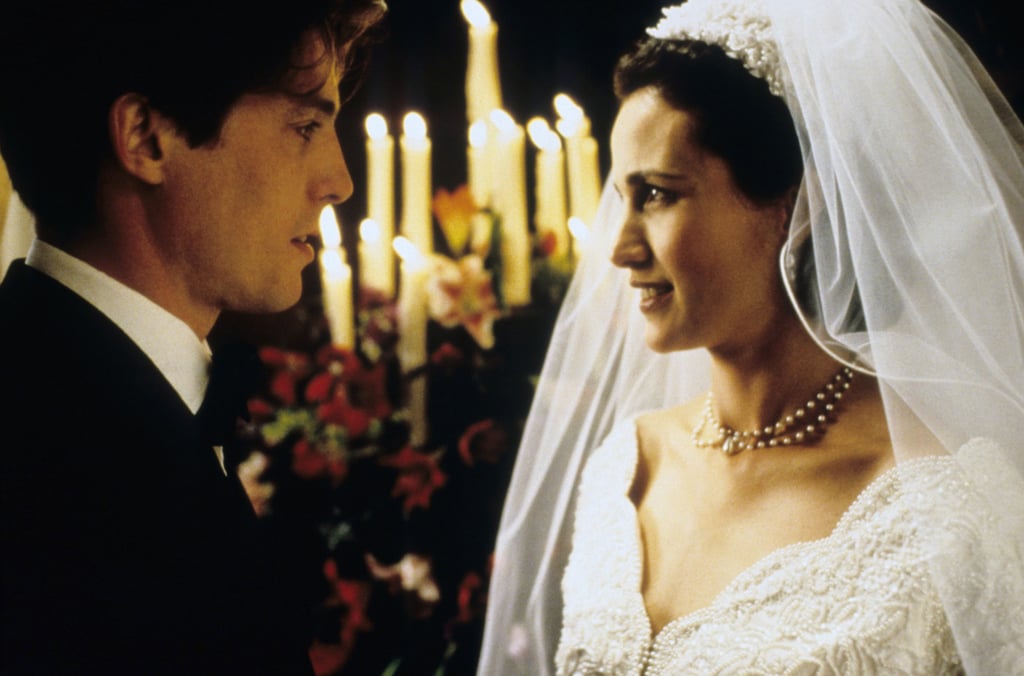 Once a committed bachelor, Charles (Hugh Grant [171]) falls for an attractive American girl, Carrie (Andie MacDowell).
The O.C.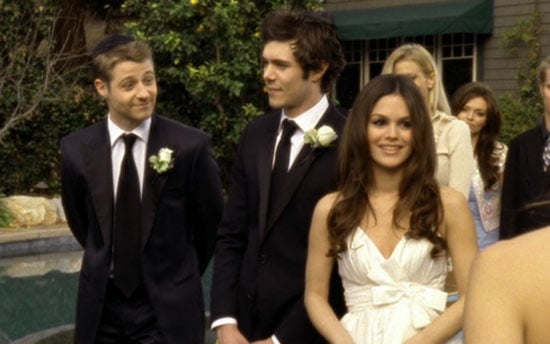 In the series's final moments, we flash forward into the future and see that Seth (Adam Brody [172]) and Summer (Rachel Bilson [173]) really do have their happily ever after. Aww.
Friends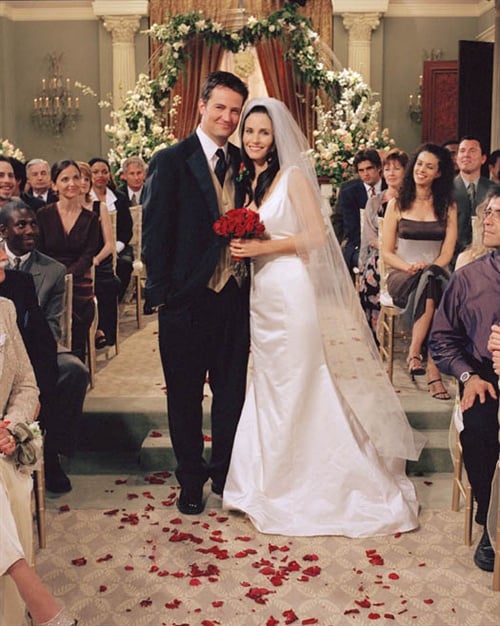 Best friends Monica (Courteney Cox [174]) and Chandler (Matthew Perry [175]) tie the knot in a beautiful heartfelt ceremony, with Joey acting as officiator. Their big day is only partially overshadowed when Rachel learns she's pregnant with Ross's baby!
Sex and the City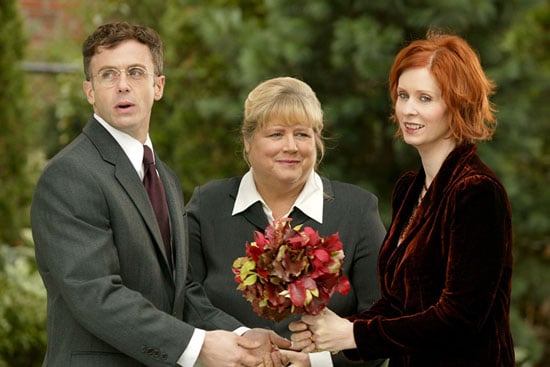 Miranda (Cynthia Nixon) and Steve (David Eigenberg) make their love official on Sex and the City. Of course Miranda opts for a chic suit instead of a big frilly gown.
My Big Fat Greek Wedding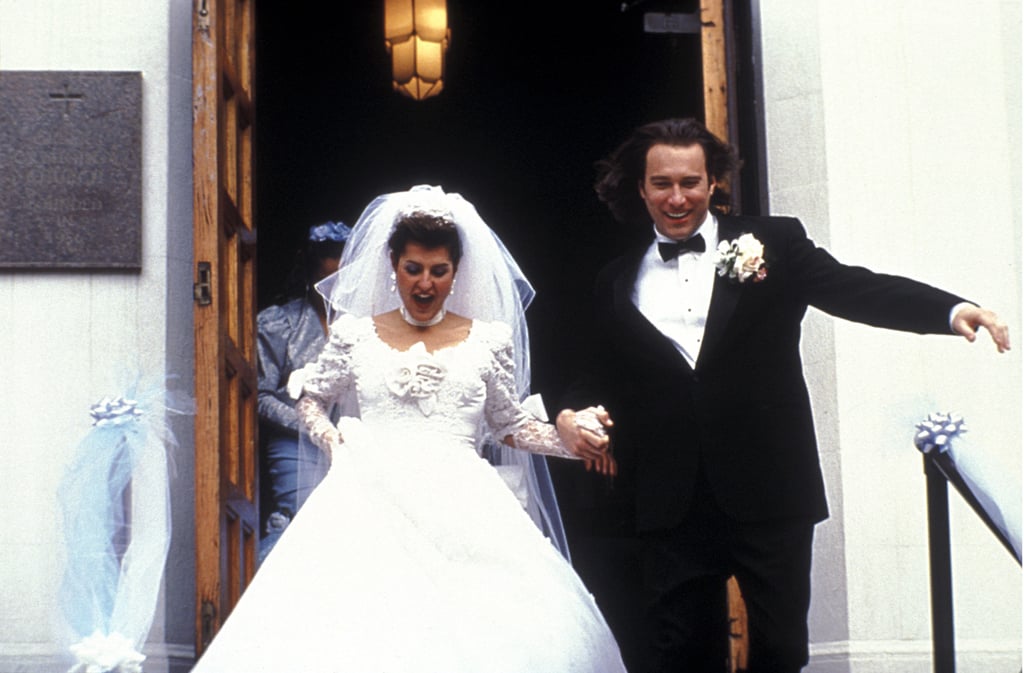 Big family, big personalities, and big traditions all meet for one big wedding [176] between Toula (Nia Vardalos) and Ian (John Corbett).
Life Unexpected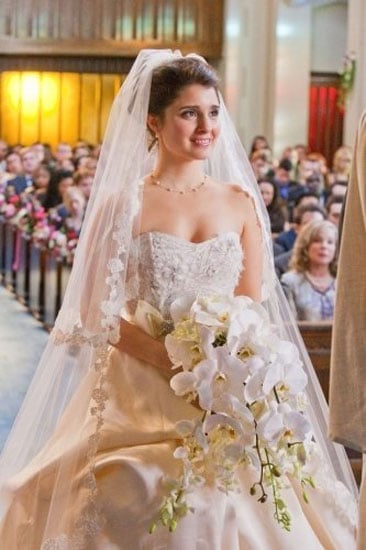 Though Cate (Shiri Appleby) still has feelings for Baze (Kristoffer Polaha), she goes through with her marriage to Ryan (Kerr Smith).
Grey's Anatomy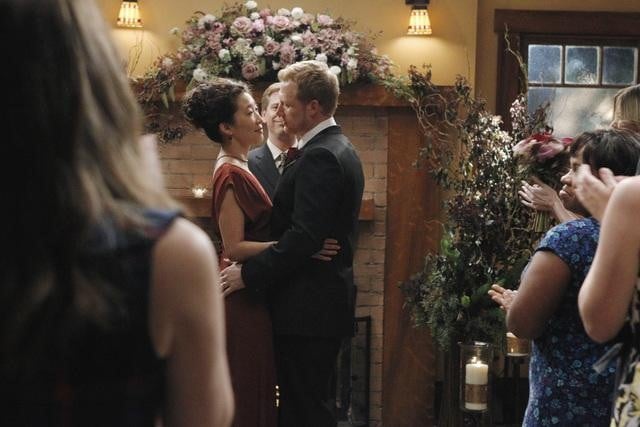 In true Cristina style, Dr. Yang (Sandra Oh [177]) and Dr. Hunt (Kevin McKidd) have an intimate, low-key wedding [178] with their loved ones at Meredith's house.
Scrubs
The Janitor (Neil Flynn) marries his girlfriend Lady (Kit Pongetti) in a beachfront ceremony with all of the hospital staff there to celebrate.
Atonement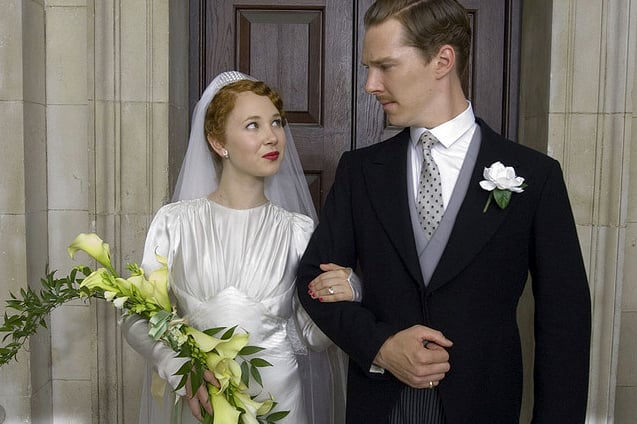 Lola (Juno Temple) and Marshall (Benedict Cumberbatch) look beautiful on their wedding [179] day, but it's hard to appreciate it when you know how unsavory their relationship's start is.
Coming to America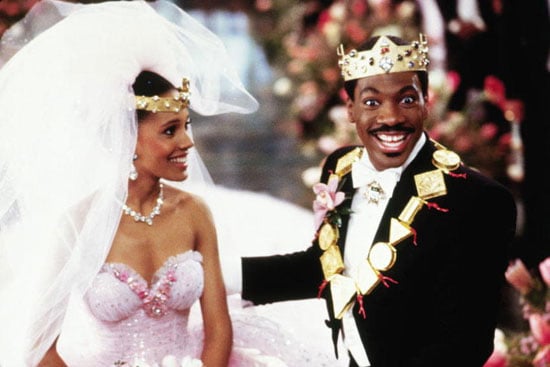 Akeem Joffer (Eddie Murphy [180]) travels all the way to NYC to find the perfect woman to marry who does not know about his family and their wealth.
Beetlejuice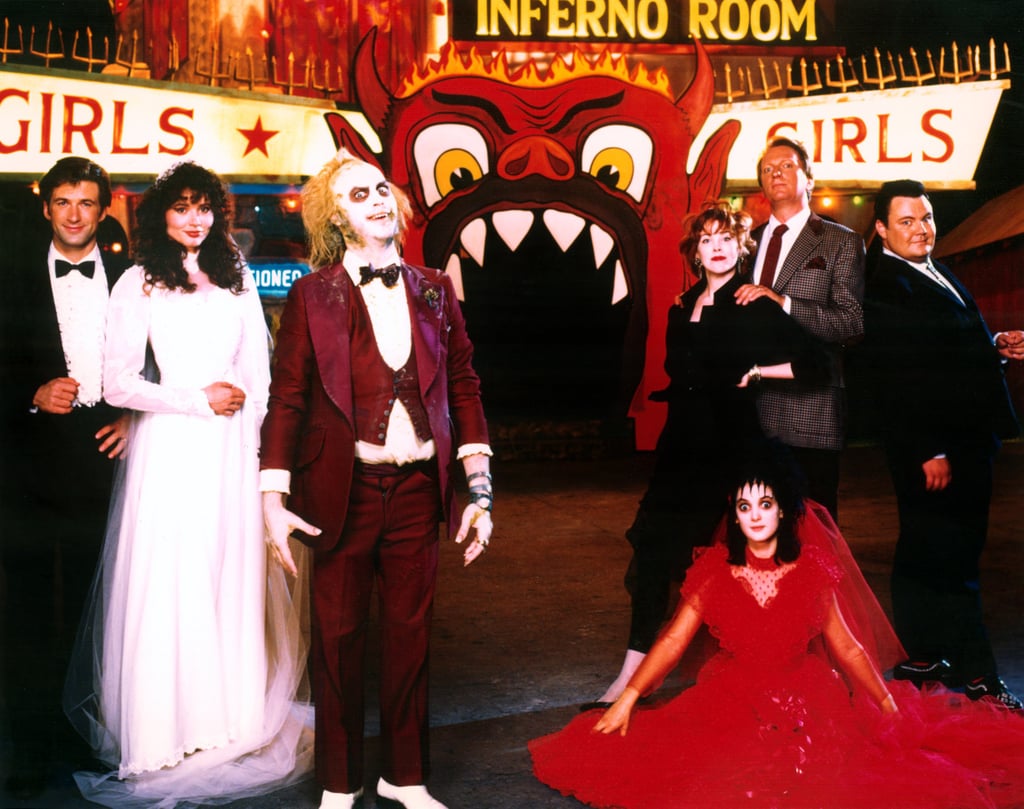 Beetlejuice (Michael Keaton) nearly tricks Lydia (Winona Ryder [181]) into marrying him after she enlists his help to protect her ghostly friends.
7th Heaven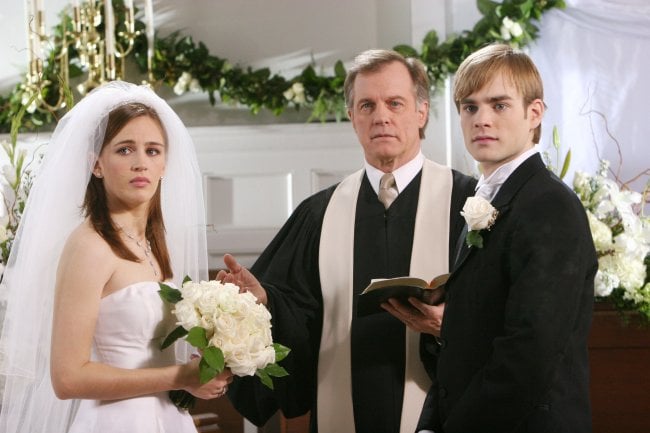 Simon and Rose (David Gallagher and Sarah Thompson) express their doubts the morning of but make it to the altar with none other than dear old dad Reverend Camden (Stephen Collins) presiding over the ceremony.
The Wedding Date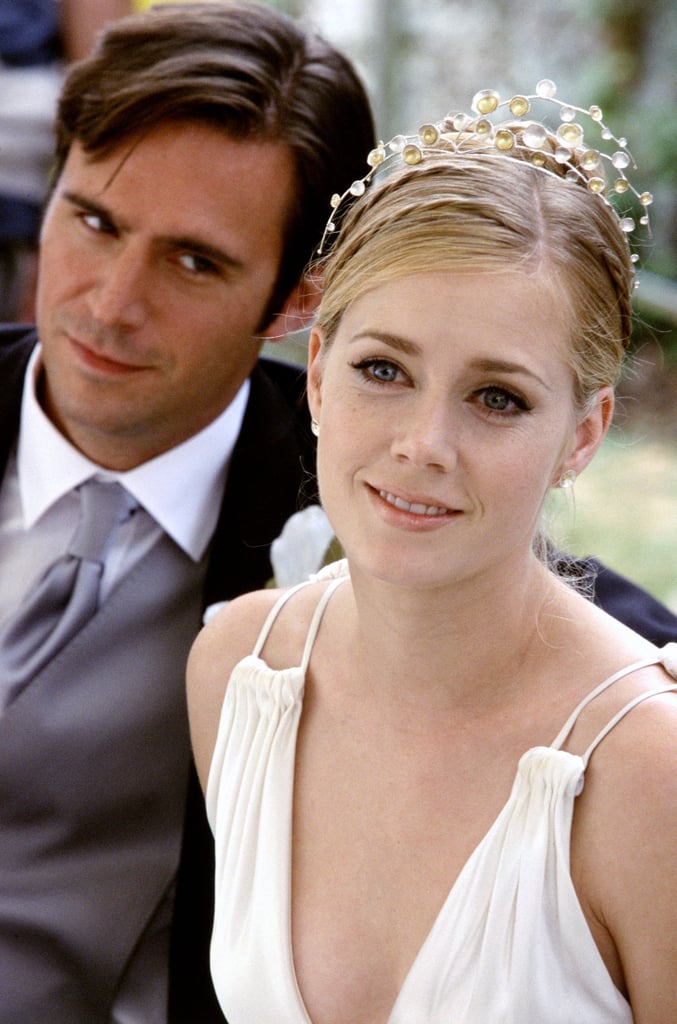 Much to her sister Kat's (Debra Messing [182]) chagrin, Amy (Amy Adams [183]) is one adorable bride.
Kill Bill: Vol. 2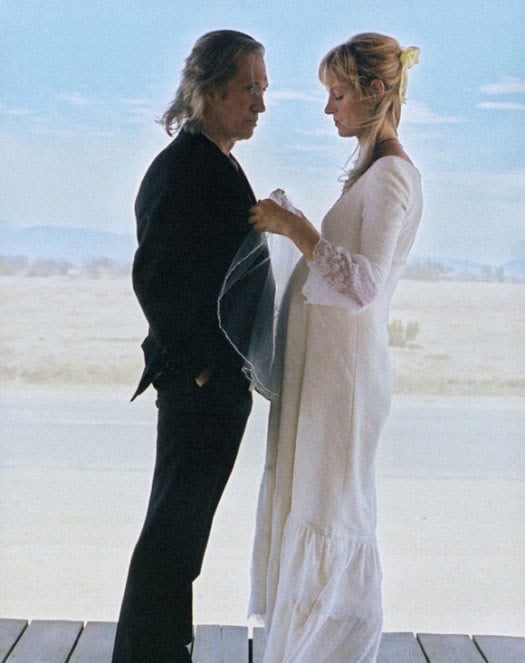 The titular Bill (David Carradine) crashes The Bride's (Uma Thurman [184]) wedding [185] to another man at a Texas chapel. Though he wishes her well, he doesn't really mean it, attempting to kill her during the ceremony.
The Parent Trap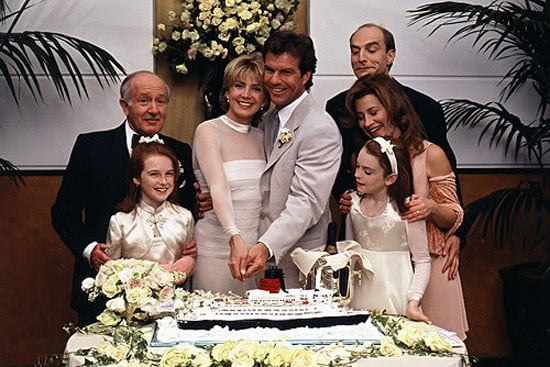 After being reunited at Summer camp, twins Hallie and Annie (Lindsay Lohan [186]) bring back together their birth parents, Elizabeth (Natasha Richardson) and Nick (Dennis Quaid).
The Wedding Planner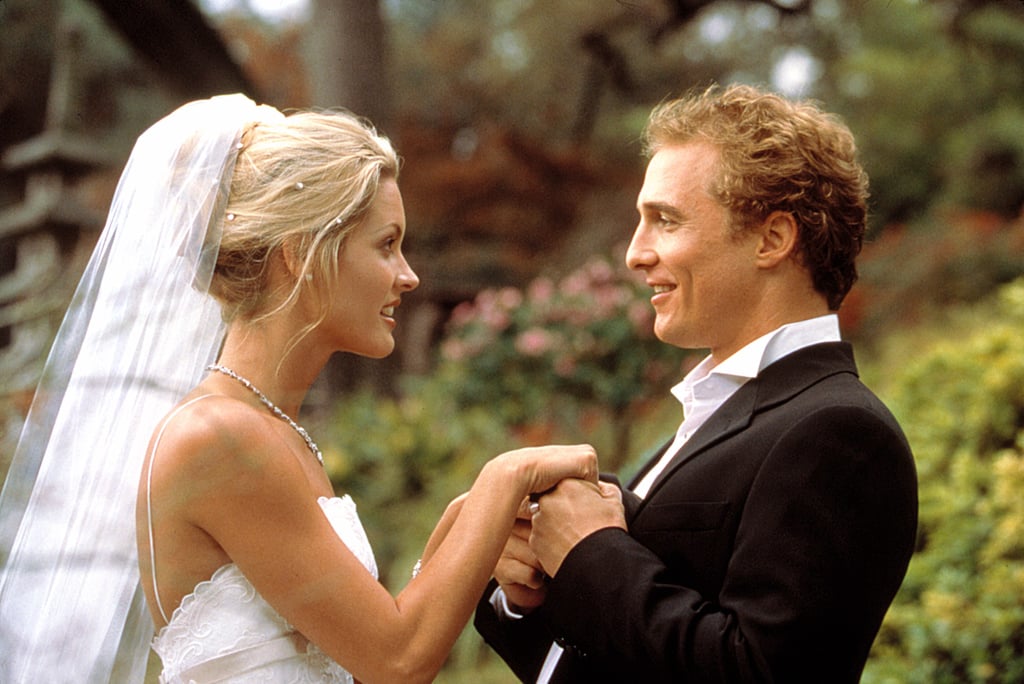 Steve (Matthew McConaughey [187]) and Fran (Bridgette Wilson-Sampras) don't realize until their wedding [188] day that things just aren't right.
Monster-in-Law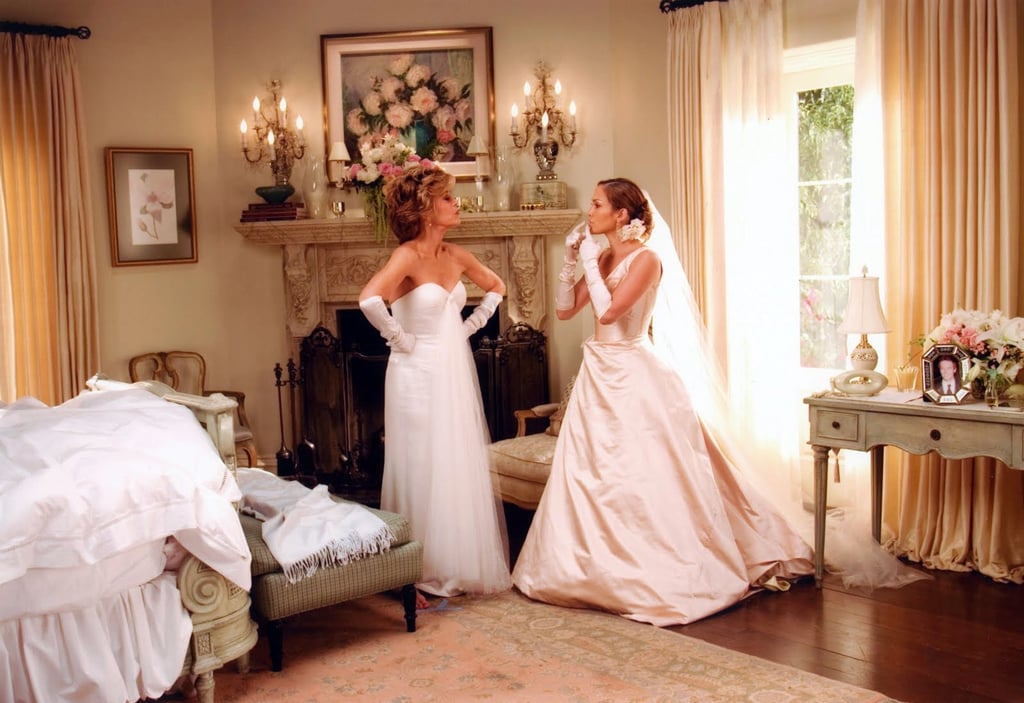 Future mother- and daughter-in-law Viola (Jane Fonda) and Charlotte (Jennifer Lopez [189]) continue to battle it out — even on Charlotte's big day!
Norbit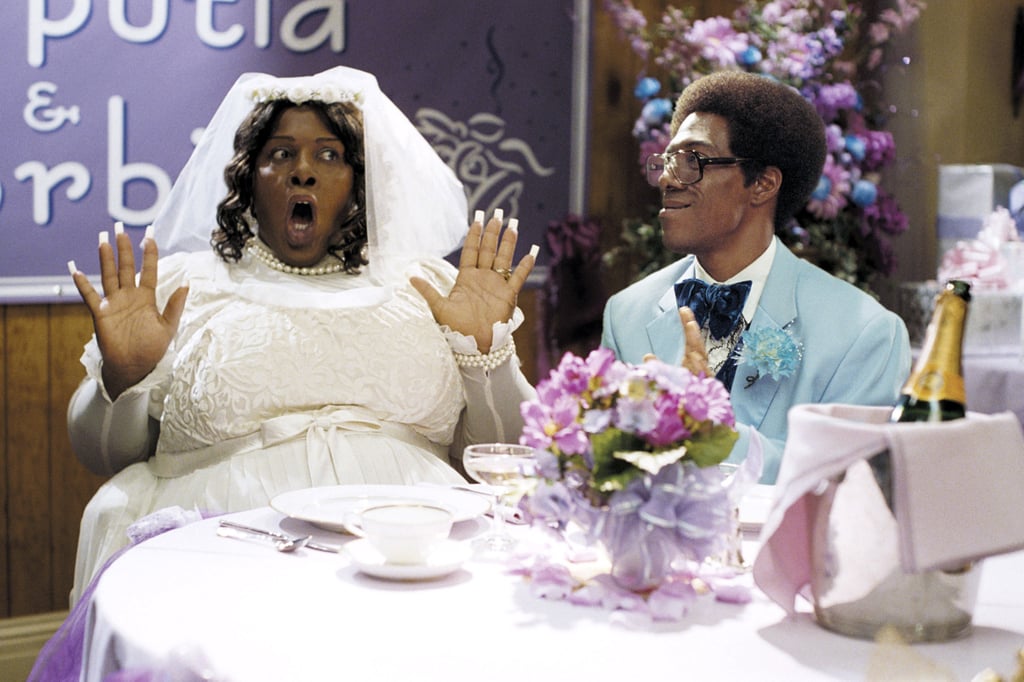 Rasputia (Eddie Murphy [190]) and Norbit (Eddie Murphy) enjoy some bubbly while Mr. Wong makes an incredibly embarrassing wedding [191] speech.
Smallville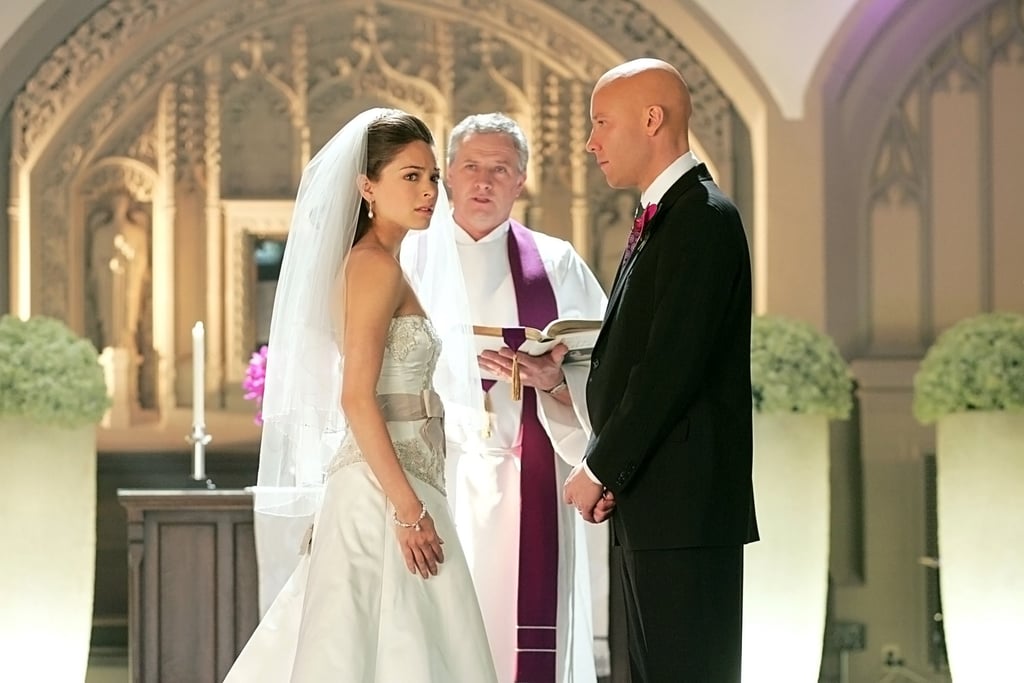 Lana (Kristin Kreuk) and Lex (Michael Rosenbaum) get hitched in a big church wedding [192].
Charmed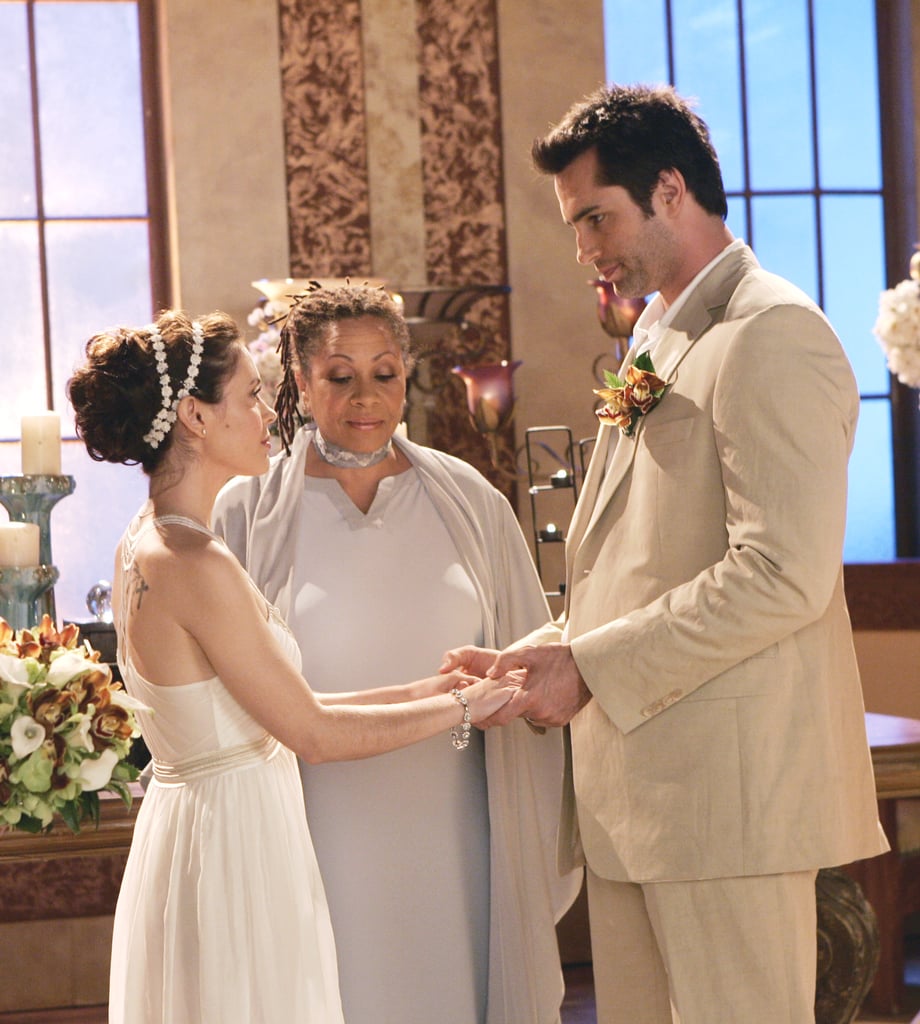 The wedding [193] of Phoebe (Alyssa Milano [194]) and Coop (Victor Webster) is performed by an Angel of Destiny at the Magic School.
7th Heaven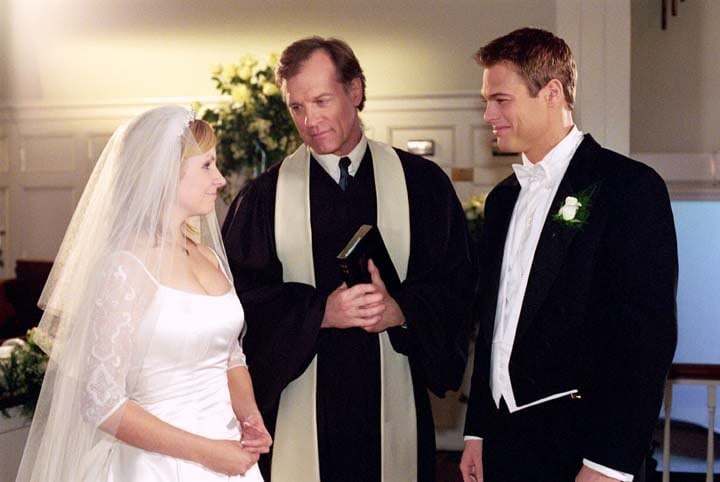 Lucy (Beverley Mitchell) marries police officer Kevin Kinkirk (George Stults) with her father, Reverend Camden (Stephen Collins), performing the ceremony.
Ugly Betty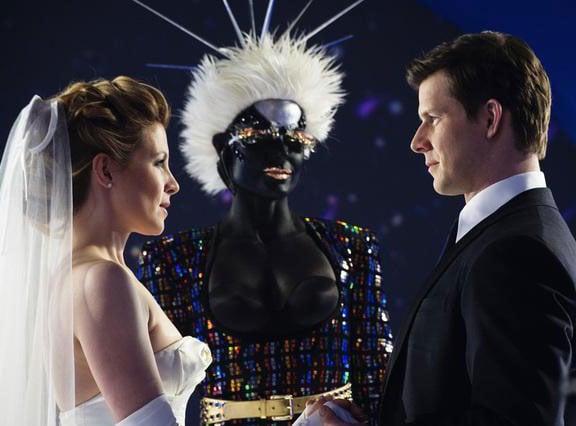 When Daniel (Eric Mabius) learns that his love, Molly (Sarah Lafleur), is dying, they use Betty's YETI fashion photo shoot for their nuptials.
Eight Is Enough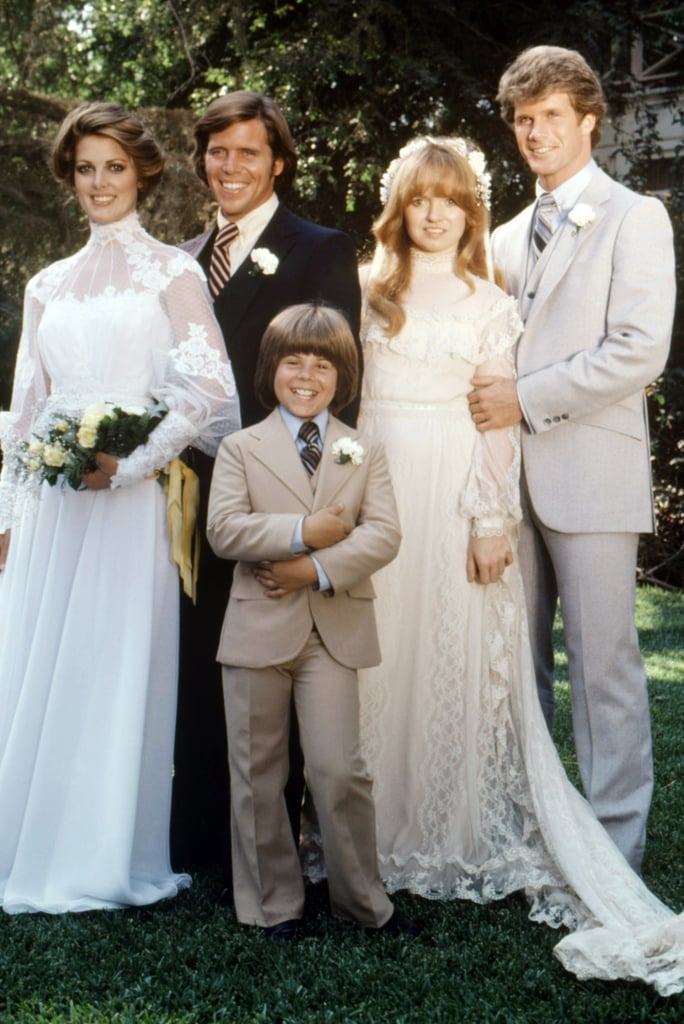 The Eight Is Enough TV movie gives us the double wedding [195] of Susan (Susan Richardson) and David (Grant Goodeve), who marry their respective loves.
New York, I Love You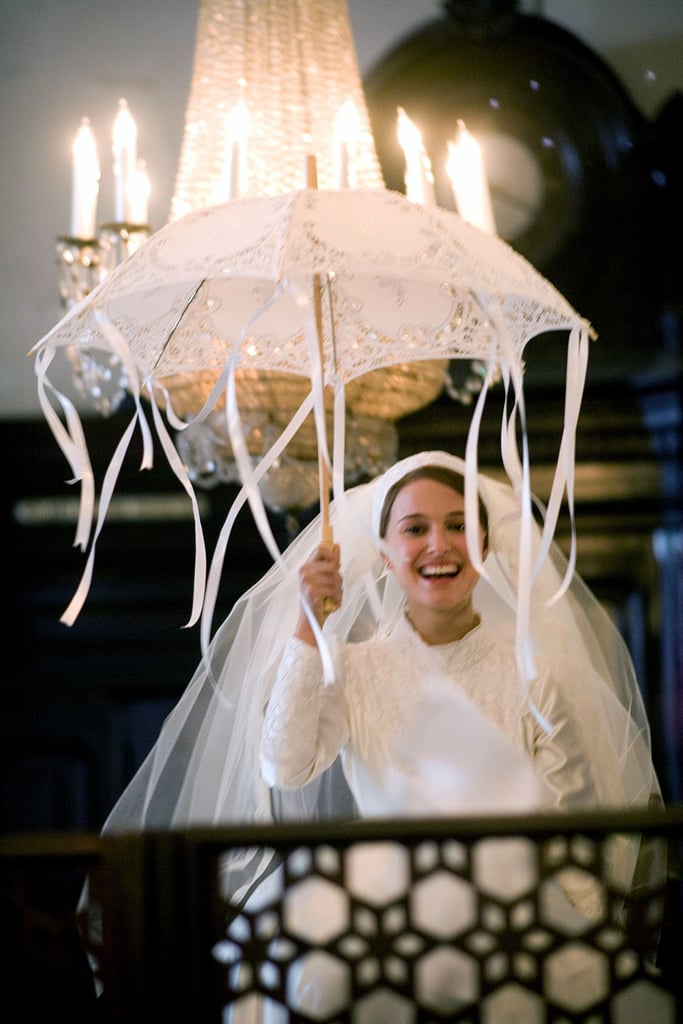 After a close encounter with a jewel broker, Rifka (Natalie Portman [196]) has a traditional Orthodox wedding [197] in New York, I Love You.
Lost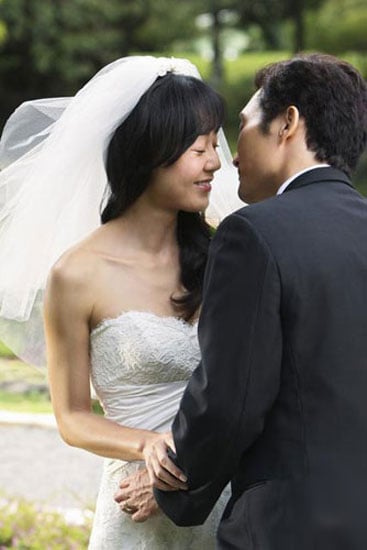 Before their marriage gets rocky, Sun (Yunjin Kim) and Jin (Daniel Dae Kim) are blissfully in love: she, the well-to-do daughter of a rich man, and he, the fisherman's son.
Pride and Prejudice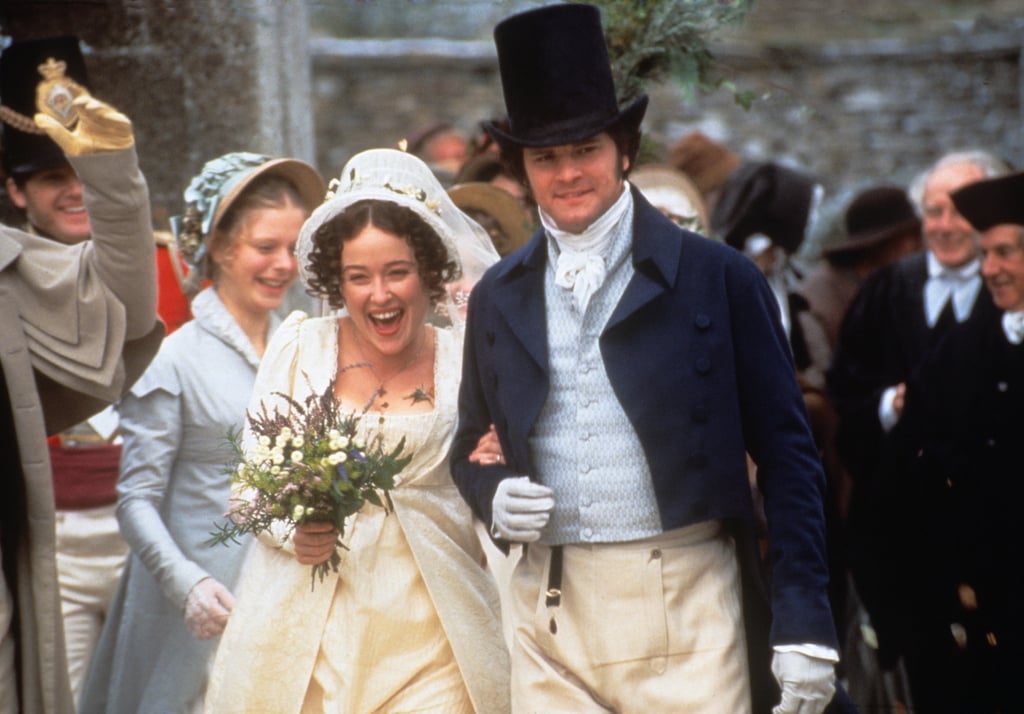 The Bennets have much to celebrate with a double wedding [198] of their daughters: Jane to Mr. Bingley and Elizabeth (Jennifer Ehle) to Mr. Darcy (Colin Firth [199]).
Baywatch: Hawaiian Wedding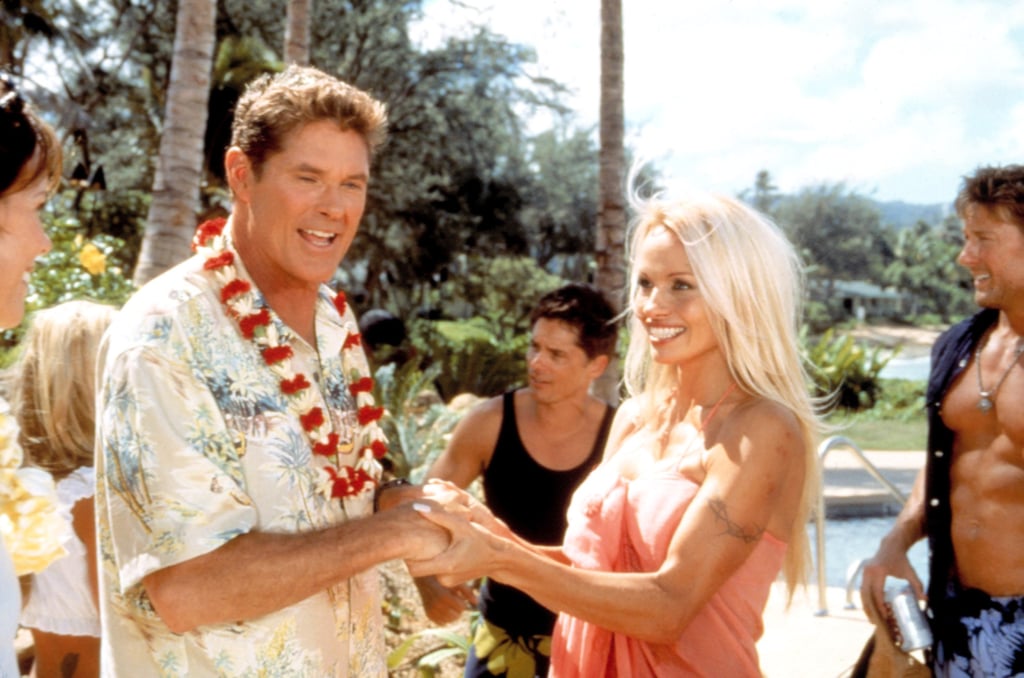 While Mitch (David Hasselhoff) goes back to Hawaii with every intention to get hitched to fiancée Allison, things take a different twist. His old friend C.J. (Pamela Anderson) is by his side to support him either way.
Great Balls of Fire
In this biopic about Jerry Lee Lewis (Dennis Quaid), the '50s singer weds his underage bride Myra (Winona Ryder [200]) . . . . who was also his cousin.
The Secret Life of the American Teenager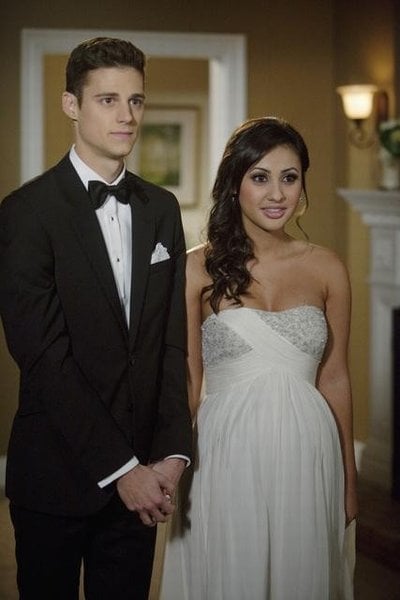 Adrian (Francia Raisa) and Ben (Ken Baumann) have a small wedding [201] after she learns she's pregnant, but the marriage later falls apart.
Camille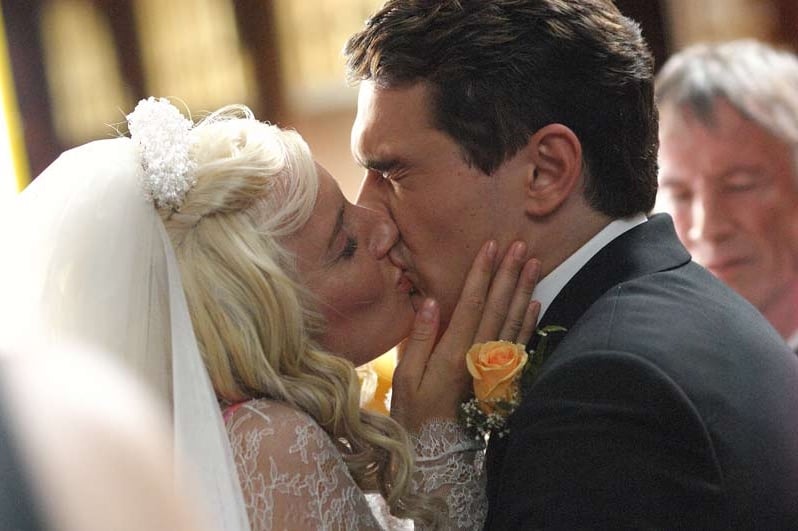 Good-lucking couple James Franco [202] and Sienna Miller [203] wed, but it's a marriage of convenience for Franco's criminal character Silas.
Robin Hood: Men in Tights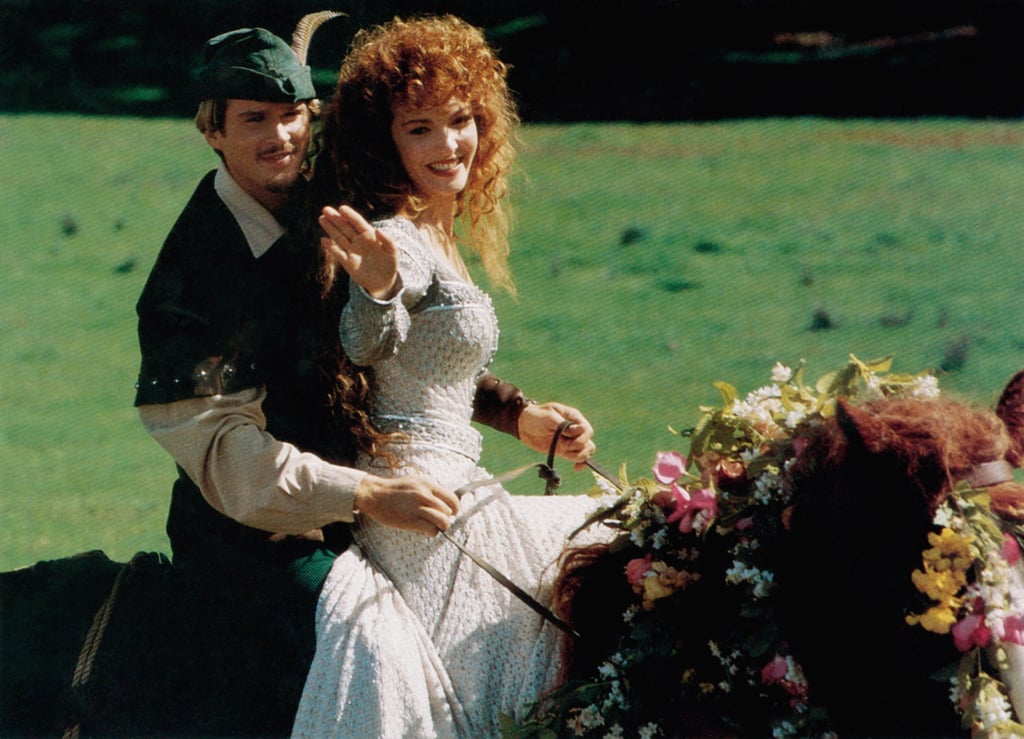 In this parody of the classic tale, Maid Marian (Amy Yasbeck) and Robin Hood (Cary Elwes) marry so they can head off to more intimate activities.
Boardwalk Empire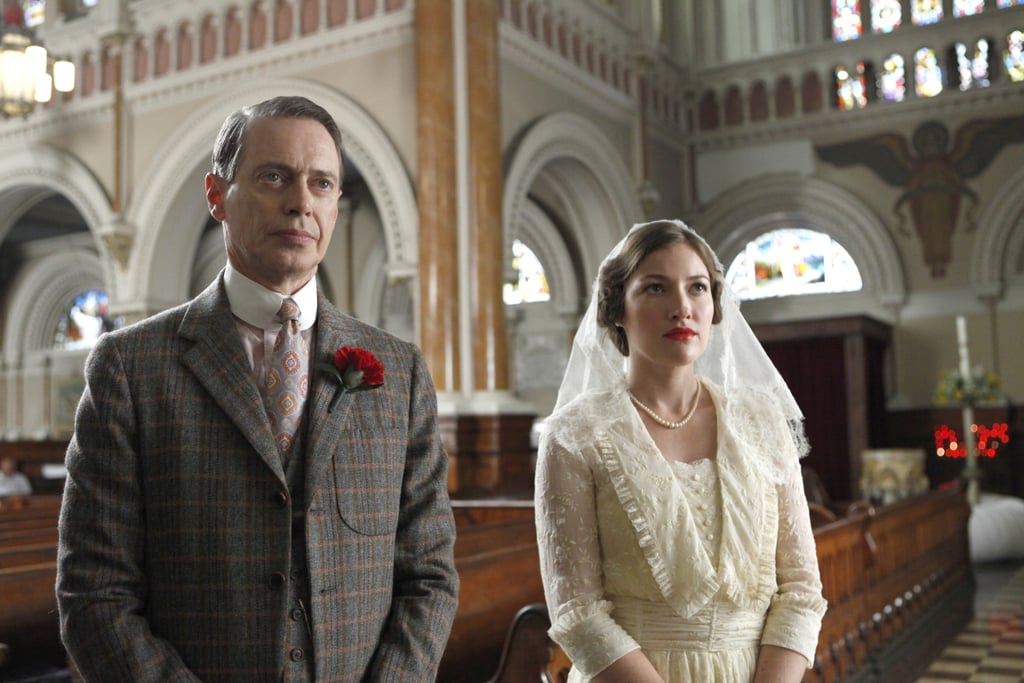 At the end of season two, Nucky (Steve Buscemi) and Margaret (Kelly Macdonald) make it to the altar.
The Heartbreak Kid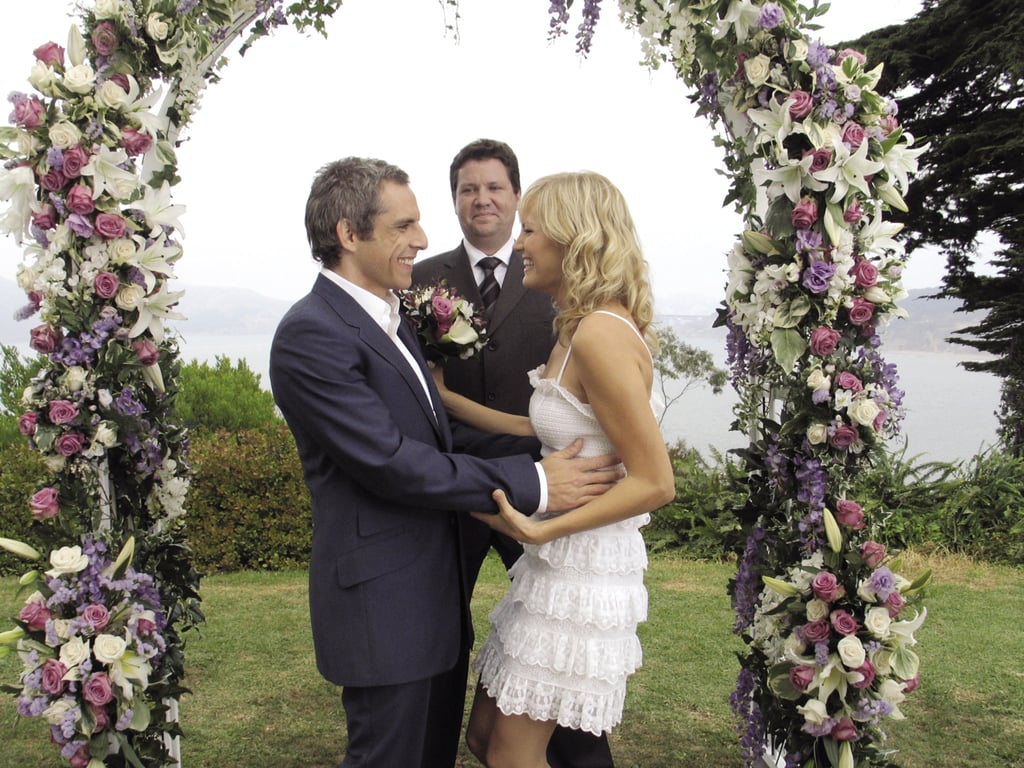 Eddie (Ben Stiller [204]) marries Lila (Malin Akerman), but after she shows her true colors on their honeymoon, he falls for someone else.
Ringer
Bridget (Sarah Michelle Gellar [205]) and Andrew (Ioan Gruffudd) plan a romantic vow renewal ceremony, but it all goes to waste.
The Big Bang Theory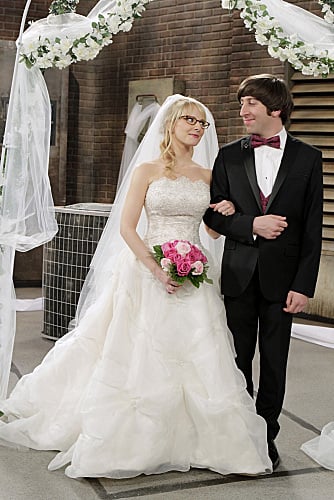 When Howard (Simon Helberg) and Bernadette (Melissa Rauch) throw together a quickie wedding [206] they decide they want to be married before his NASA launch.
Harry Potter and the Deathly Hallows Part 1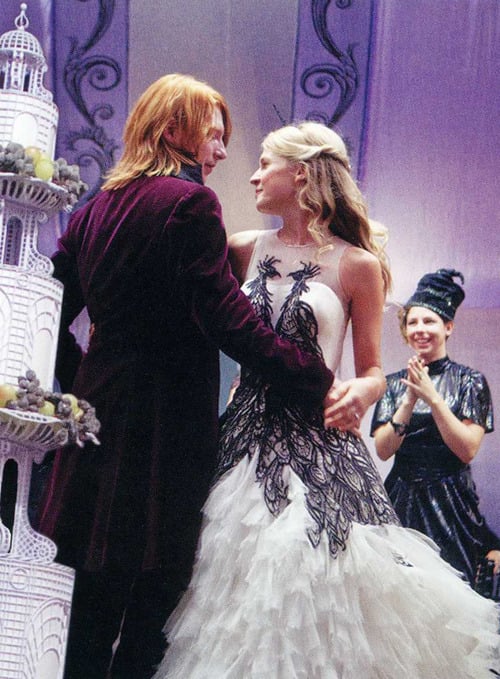 Though war is on the horizon of the wizarding world, Bill Weasley (Domhnall Gleeson) and Fleur Delacour (Clemence Poesy) still have a lavish ceremony with their family, friends, and a bit of magic.
Mike and Molly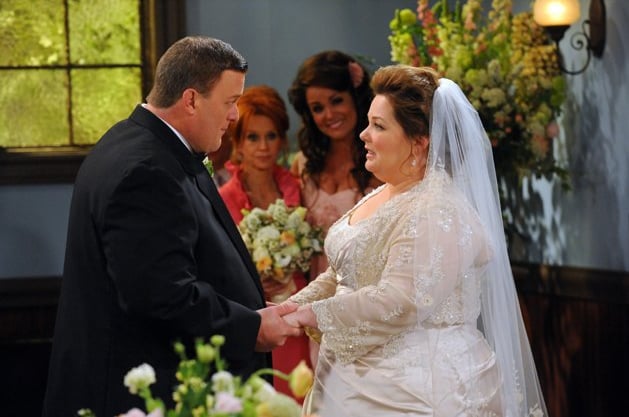 Mike (Billy Gardell) and Molly (Melissa McCarthy) tie the knot just a couple of years after meeting at Overeaters Anonymous.
The Sound of Music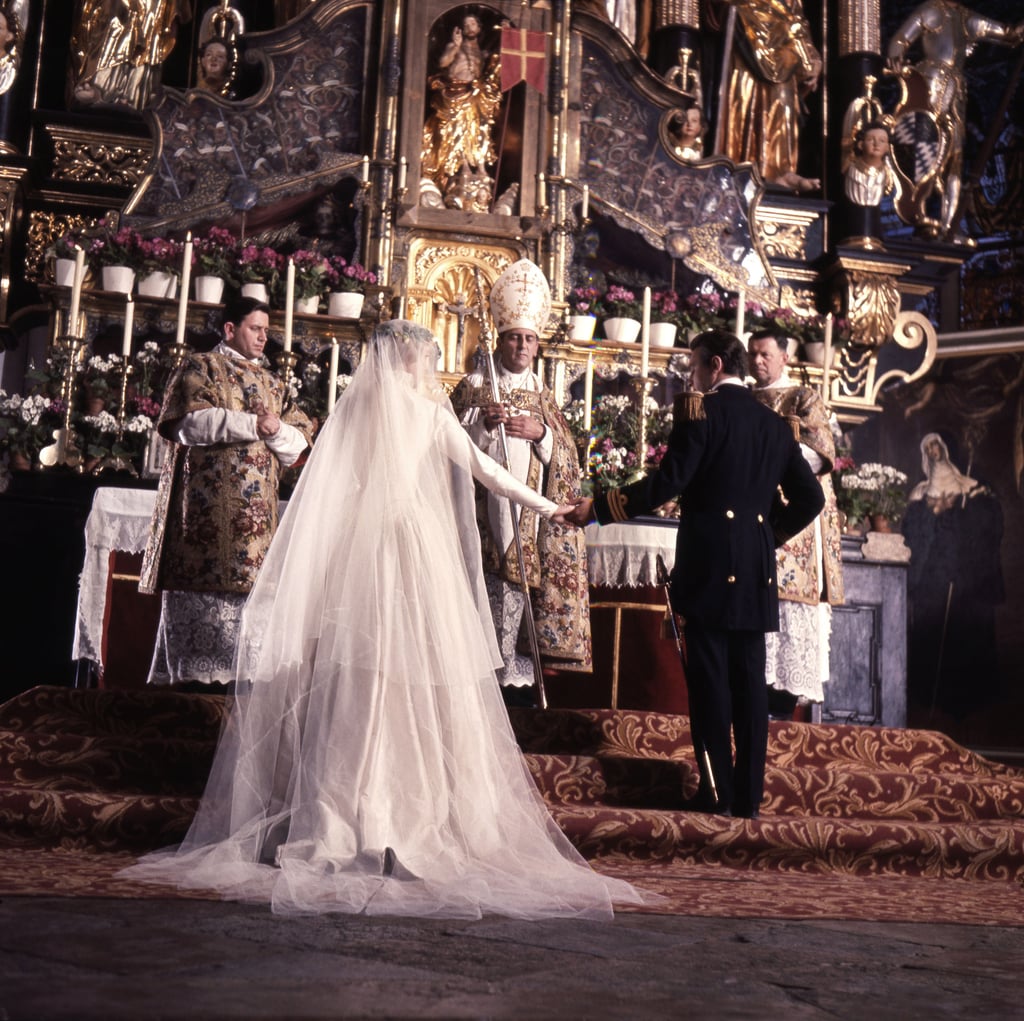 Maria (Julie Andrews) and Captain Von Trapp (Christopher Plummer) have a big wedding [207] in Austria's Salzburg Cathedral with many of the nuns from Maria's abbey in attendance for her big day.
In Her Shoes
Rose (Toni Collette)'s wedding [208] is more than a declaration of love for her new husband; it's also a bonding moment with her sister Maggie (Cameron Diaz [209]) and her grandmother Shirley MacLaine.
American Gangster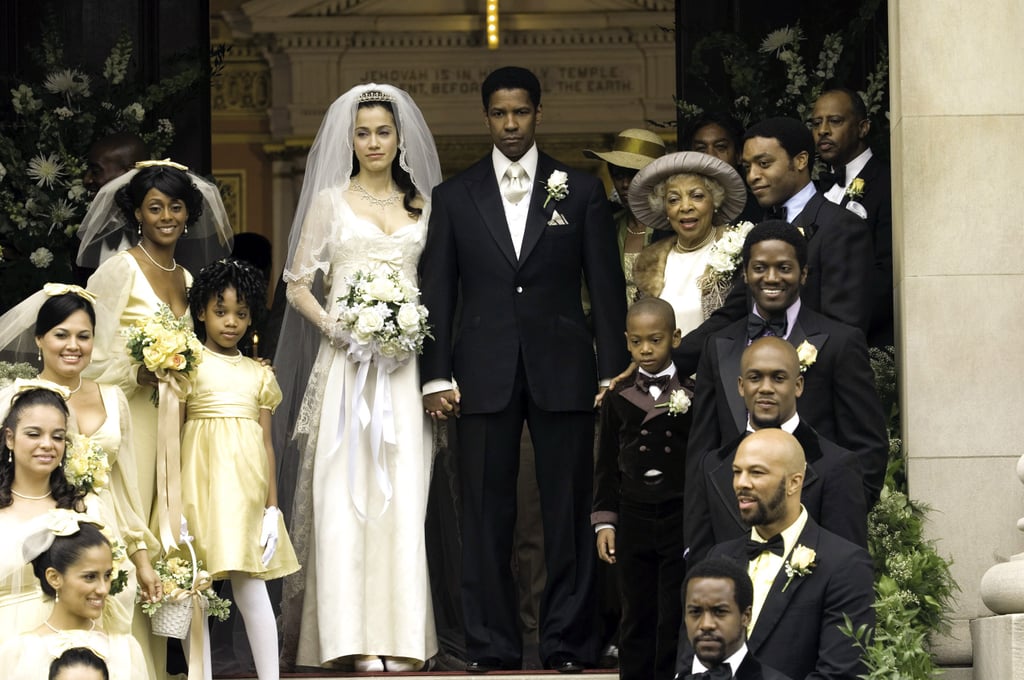 In a celebration not necessarily indicative of the violent tone of the rest of the movie, Frank (Denzel Washington [210]) and Eva (Lymari Nadal) tie the knot in a ceremony surrounded by their family.
The Patriot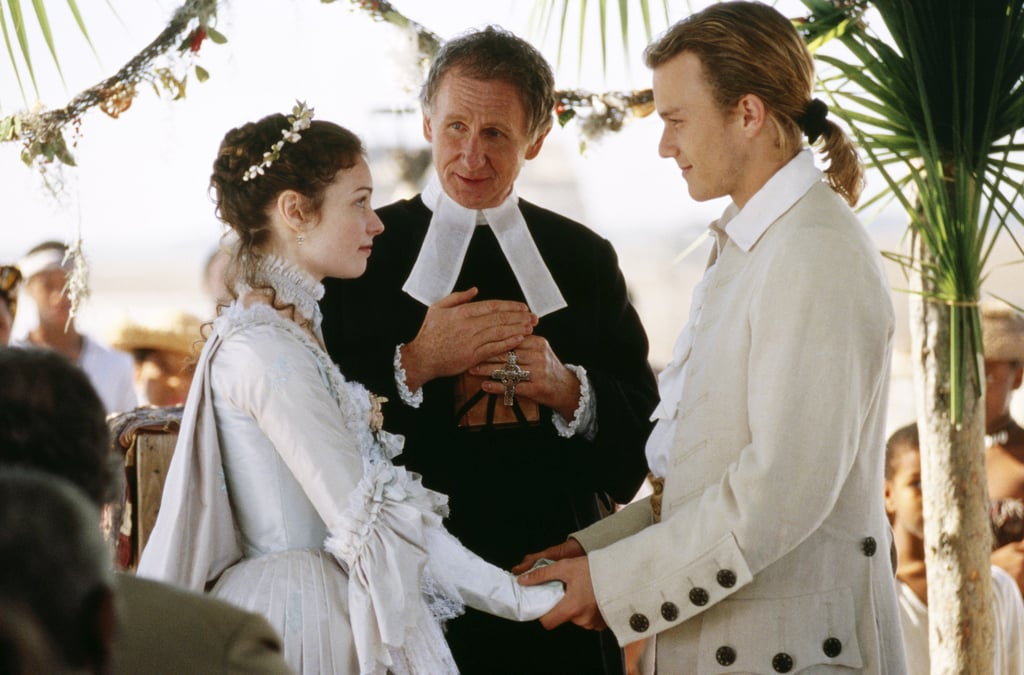 Before war strikes, Gabriel (Heath Ledger [211]) weds Lisa (Anne Howard) with friends and family by their side. We don't want to spoil the movie, but it's a shame they don't get to live happily ever after.
Goodfellas
Before it all comes crashing down in a veil of dead bodies and cocaine, Karen (Lorraine Bracco) and Henry (Ray Liotta) are actually a really great couple.
Nip/Tuck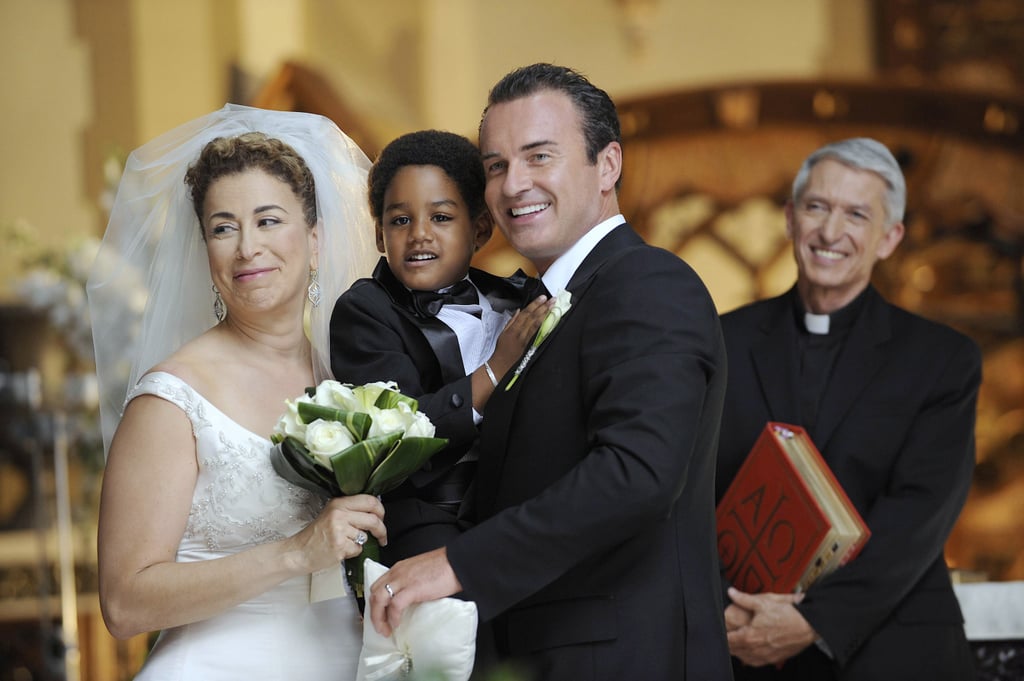 In a last-ditch effort to be a good person, Christian (Julian McMahon) marries Liz (Roma Maffia), with his son Wilbur (Josiah Henry) as the ring bearer. It doesn't really work out.
The Deer Hunter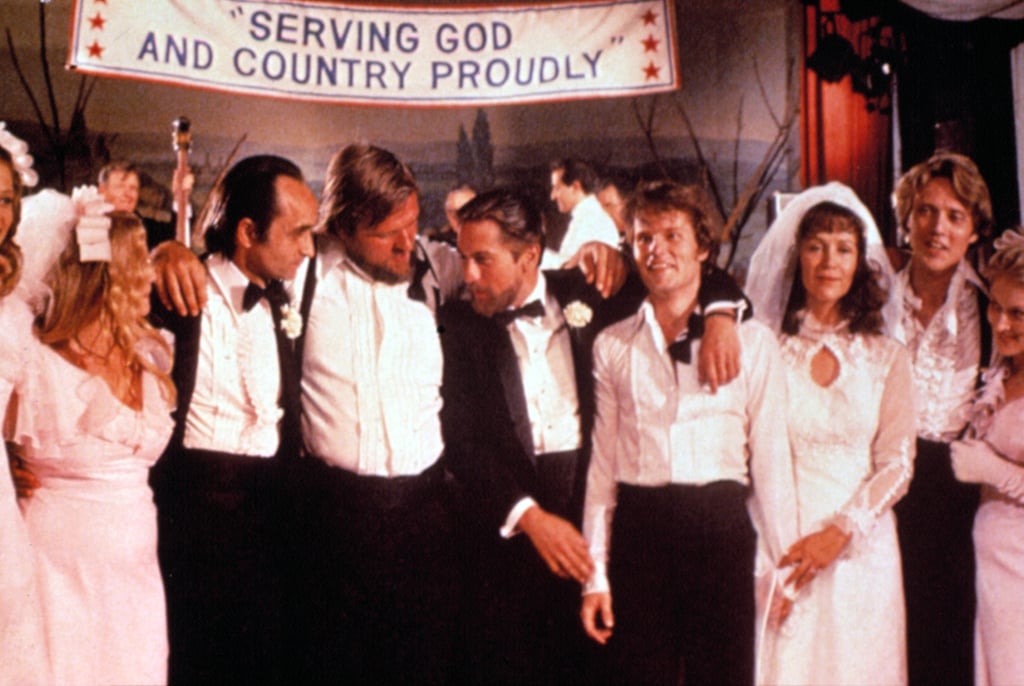 In this Vietnam War-era set drama, Steven (John Savage) and Angela (Rutanya Alda) wed in their small Pennsylvania mining town.
When Harry Met Sally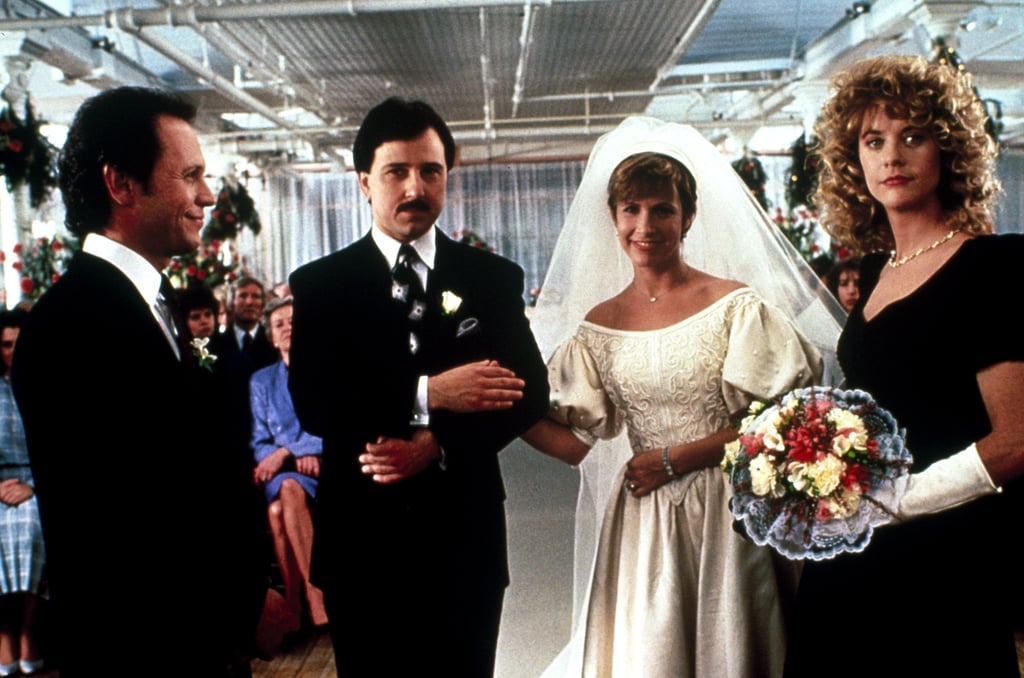 Harry (Billy Crystal) and Sally (Meg Ryan [212]) find themselves face to face when their friends Marie (Carrie Fisher) and Jess (Bruno Kirby) tie the knot.
Emma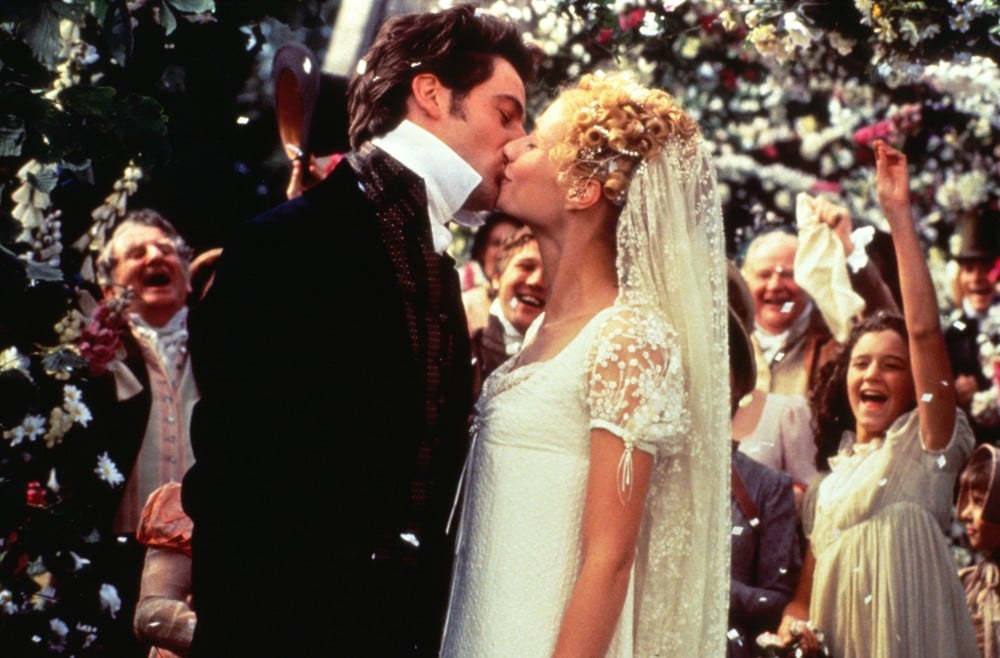 Everybody cheers as Emma (Gwyneth Paltrow [213]) and Mr. Knightley (Jeremy Northam) share their wedding [214] kiss.
Celeste & Jesse Forever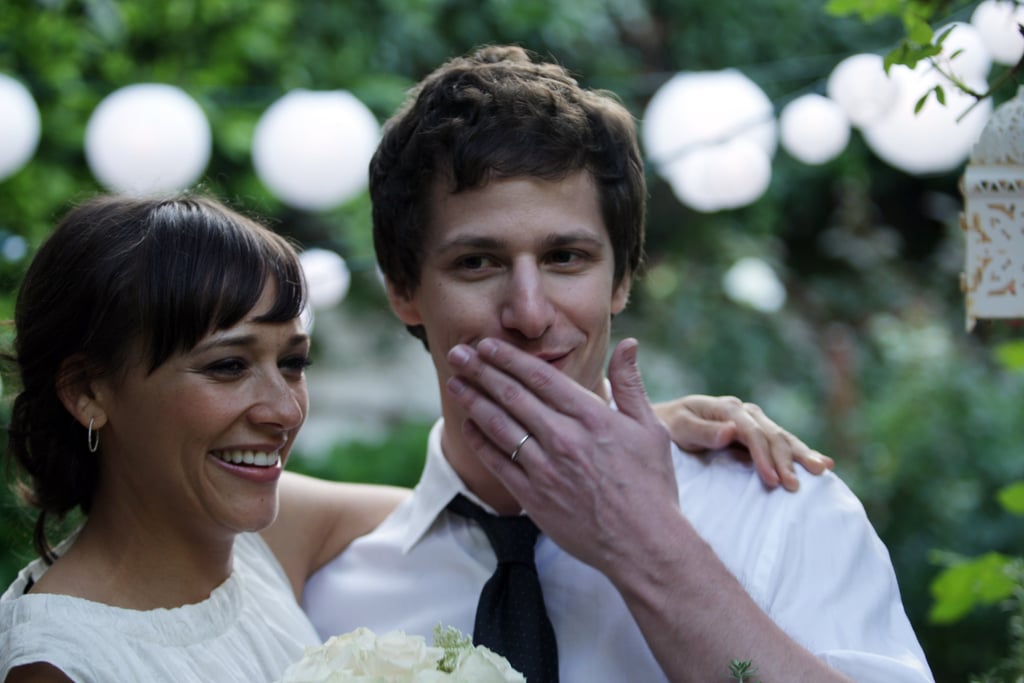 Celeste (Rashida Jones) and Jesse (Andy Samberg [215]) make an adorable pair on their wedding [216] day.
Step Brothers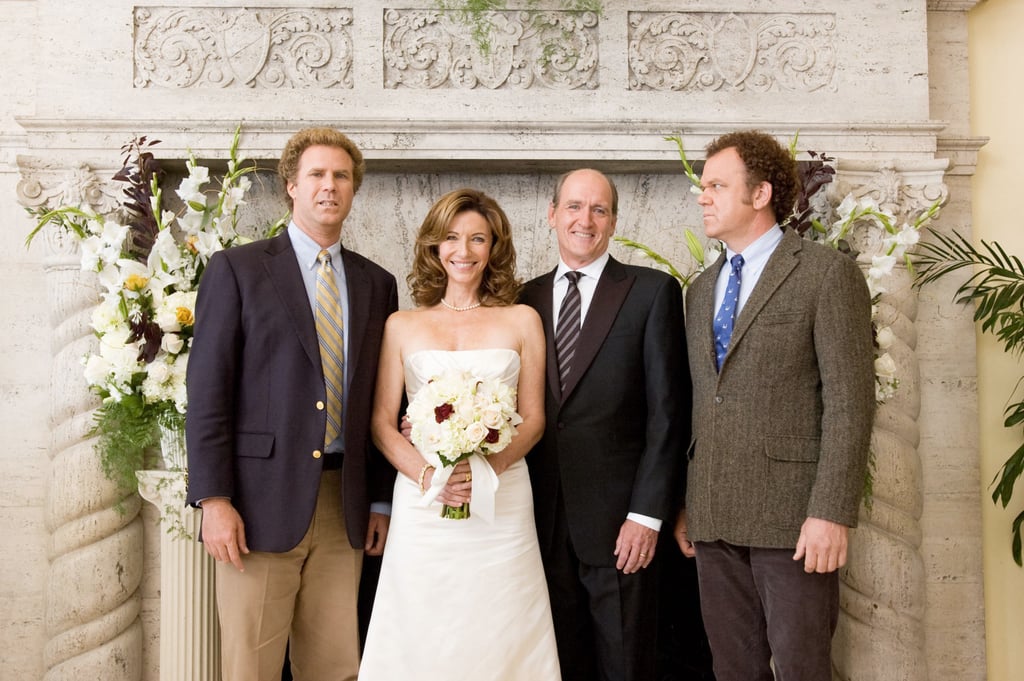 Brennan (Will Ferrell [217]) and Dale (John C. Reilly) aren't too thrilled when their parents (Mary Steenburgen and Richard Jenkins) get married.
Game of Thrones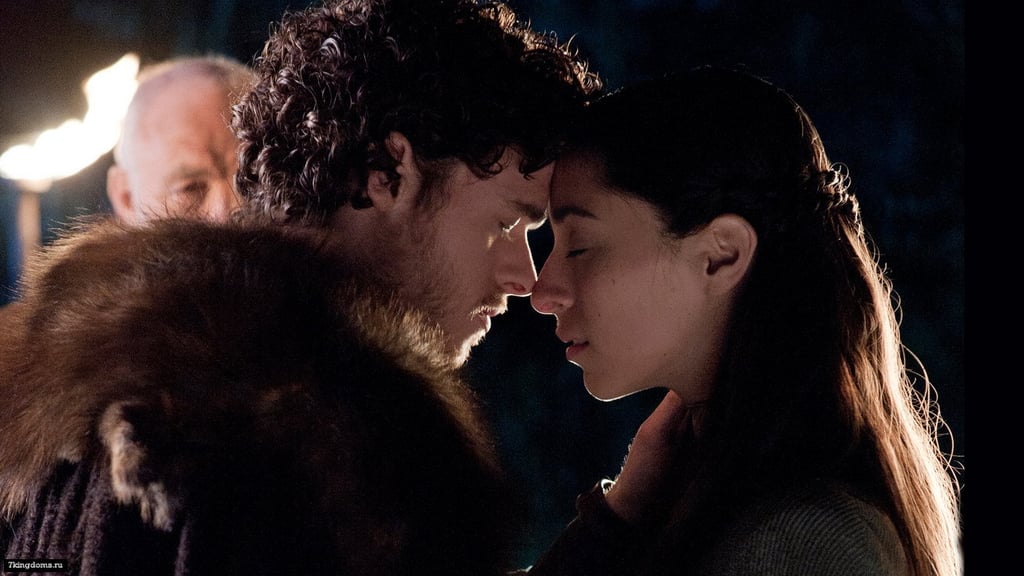 Although he's sworn himself to another, Robb (Richard Madden) weds Talisa (Oona Chaplin) in a secret nighttime ceremony.
The Accidental Husband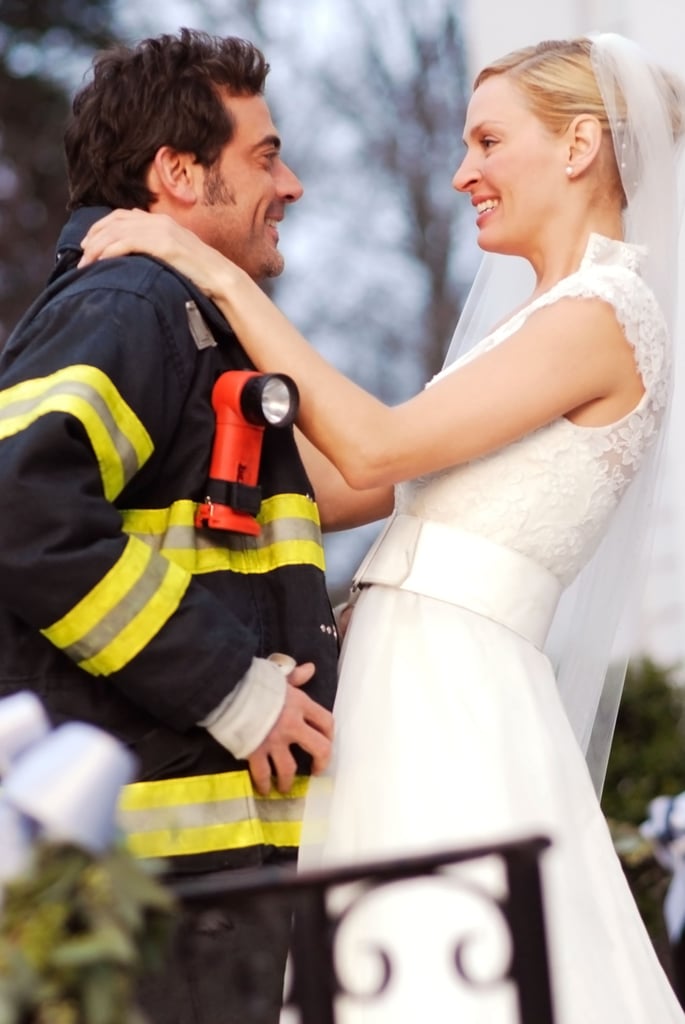 It may have started as a confusing prank, but Emma (Uma Thurman [218]) finds herself swept away by her "accidental husband," Patrick (Jeffrey Dean Morgan).
Bel Ami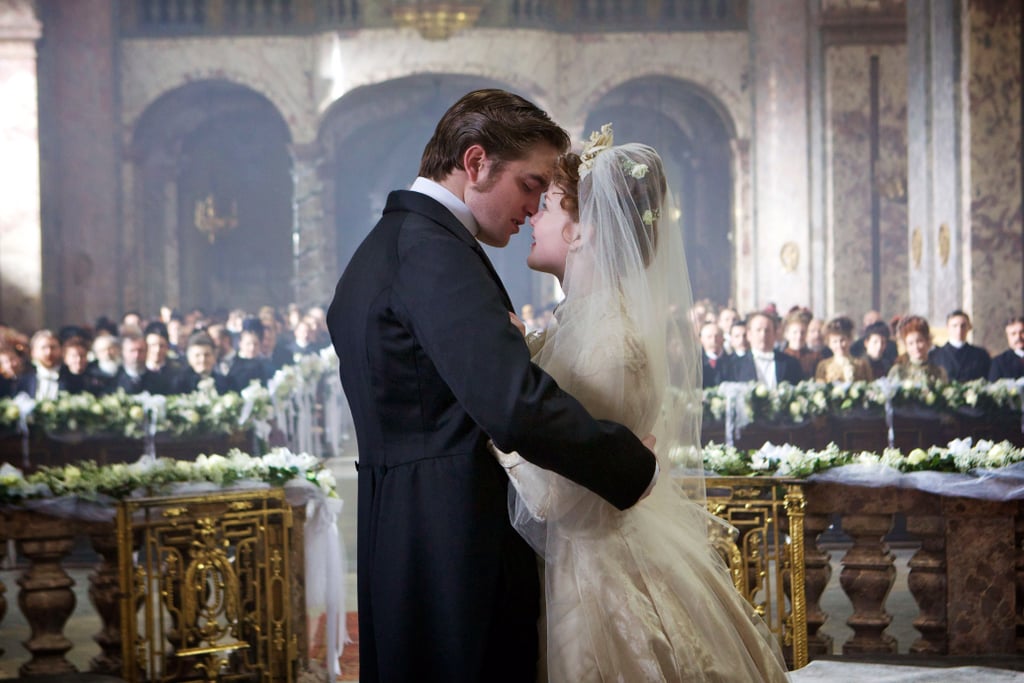 Georges (Robert Pattinson [219]) leans in to kiss Suzanne (Holliday Grainger) in front of their friends and family.
Bachelorette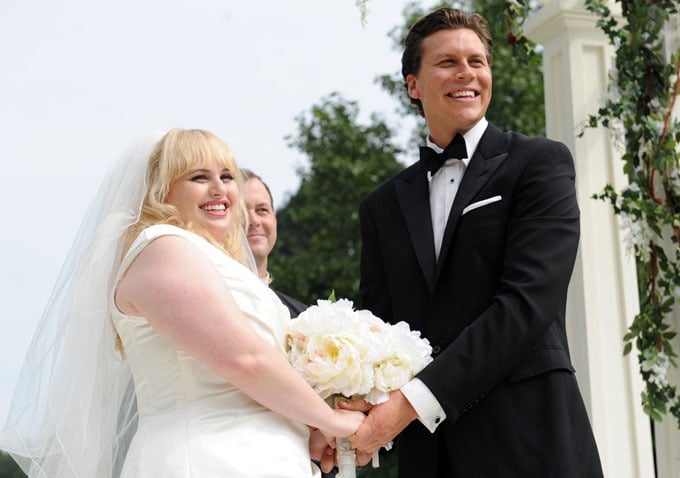 Despite more than a little behind-the-scenes drama, Becky (Rebel Wilson) glows beside Dale (Hayes MacArthur) when it's time to say "I do."
Will & Grace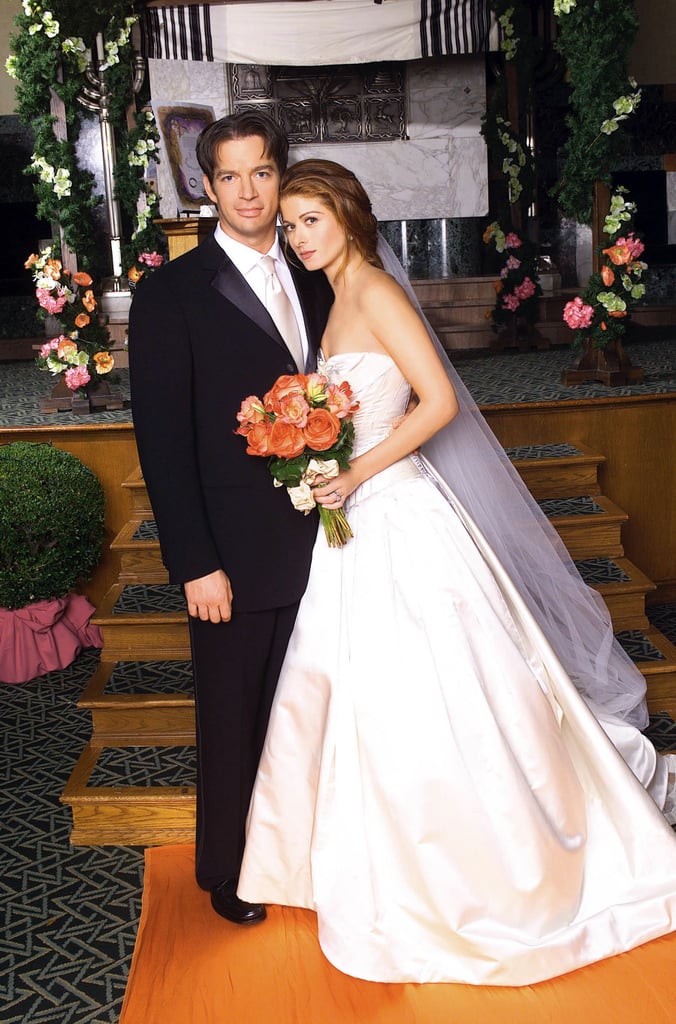 Grace (Debra Messing [220]) makes for a blushing bride when she weds Leo (Harry Connick Jr.).
Revenge of the Bridesmaids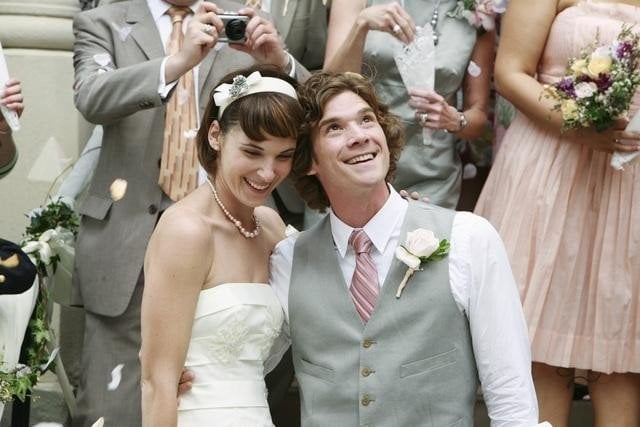 Rachel (Chryssie Whitehead) and Tony (Lyle Brocato) look like a couple from a wedding [221] magazine on their big day.
Up All Night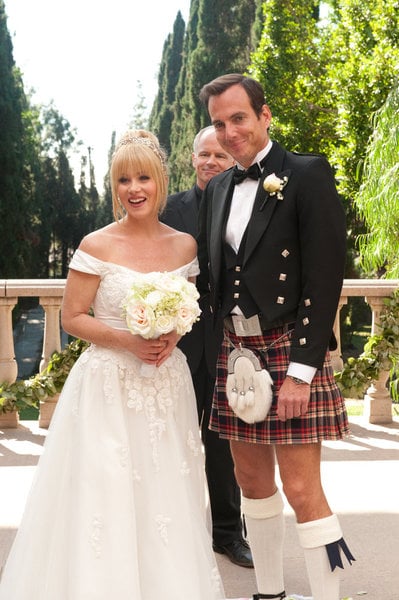 Chris (Will Arnett [222]) rocks a traditional kilt when he marries Reagan (Christina Applegate [223]).
The Back-Up Plan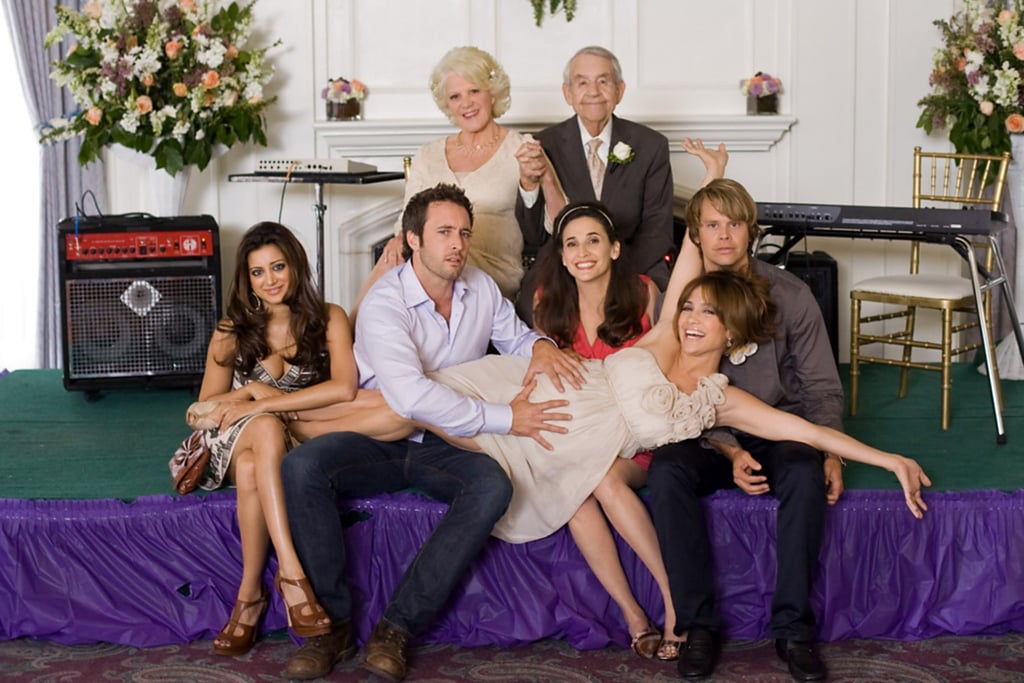 It's a complicated road for Zoe (Jennifer Lopez [224]) and Stan (Alex O'Loughlin), but he stays by her side and they hit up her grandma's wedding [225].
How I Met Your Mother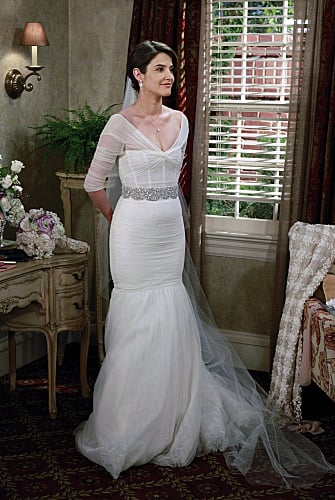 Wearing her beautiful wedding [226] gown, Robin (Cobie Smulders) takes a moment to herself before marrying Barney (Neil Patrick Harris [227]).
Girls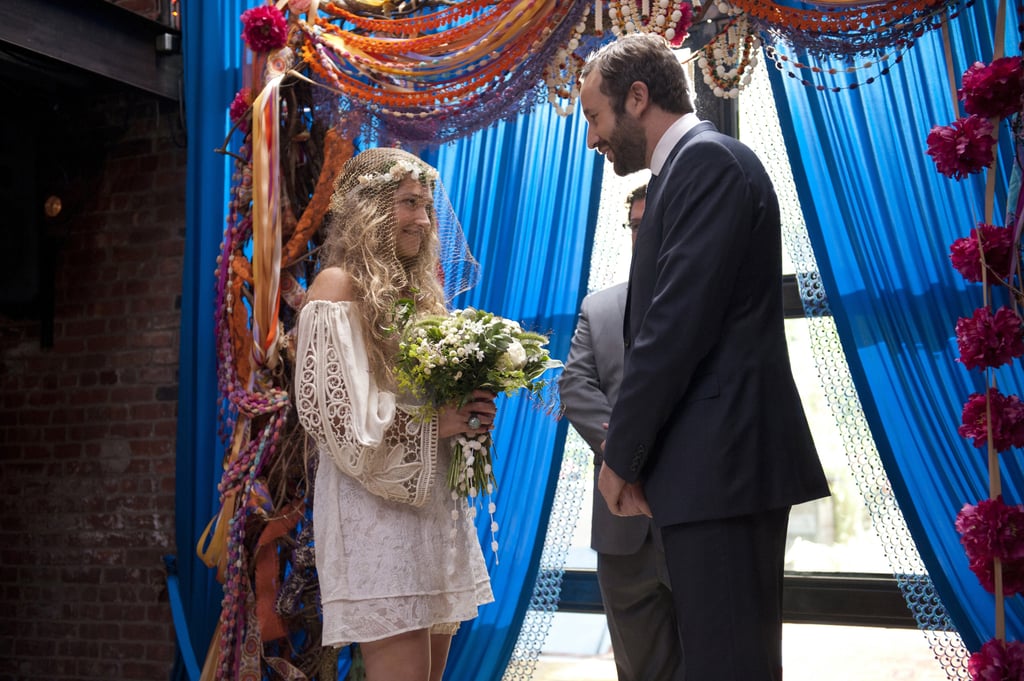 Things move quickly between Jessa (Jemima Kirke) and Thomas-John (Chris O'Dowd), who surprise their friends with a quirky Brooklyn ceremony.
The Master
Dodd (Philip Seymour Hoffman [228]), Elizabeth (Ambyr Childers), and Clark (Rami Malek) are all smiles after the pair says "I do."
Cougar Town
It's a beautiful, beachy wedding [229] for Jules (Courteney Cox [230]) and her handsome beau, Grayson (Josh Hopkins).
Nicholas Nickleby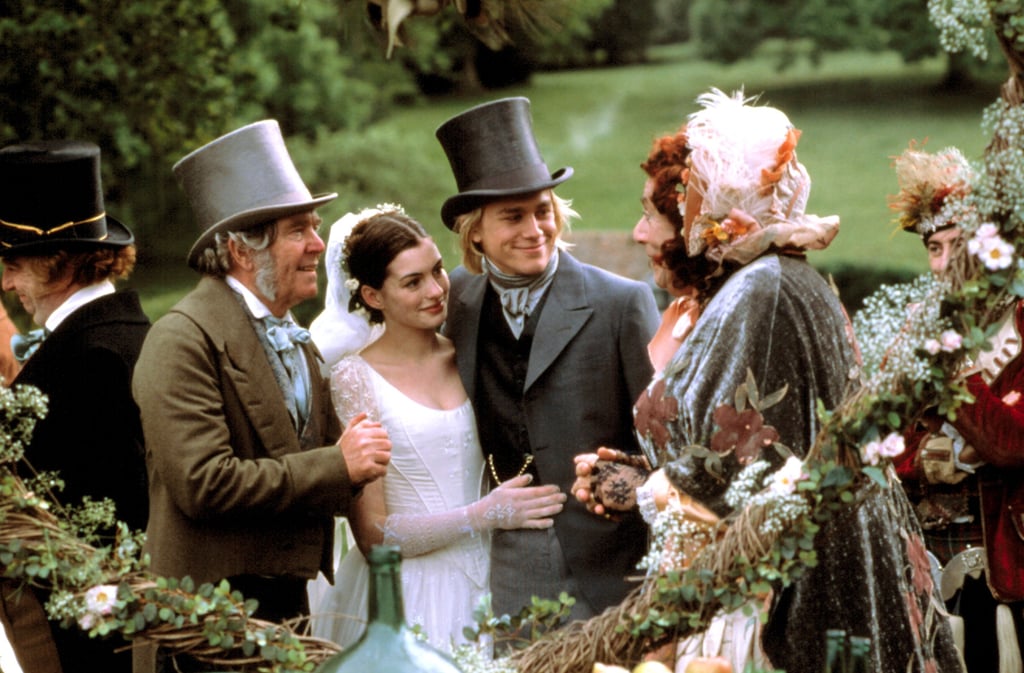 After a series of complicated mishaps, Madeline (Anne Hathaway [231]) and Nicholas (Charlie Hunnam [232]) have a gorgeous garden wedding [233].
CSI: Miami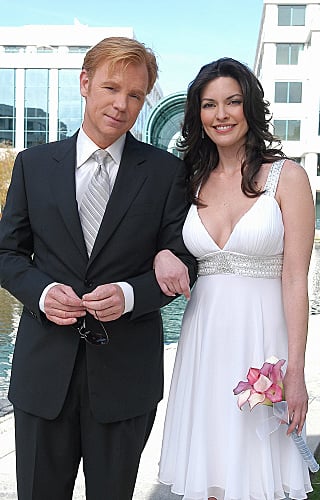 Caine (David Caruso) and Marisol (Alana De La Garza) have a small, low-key ceremony beside a pretty public fountain.
The New Normal
David (Justin Bartha [234]) and Bryan (Andrew Rannells) tie the knot after getting their new little bundle of joy.
Rush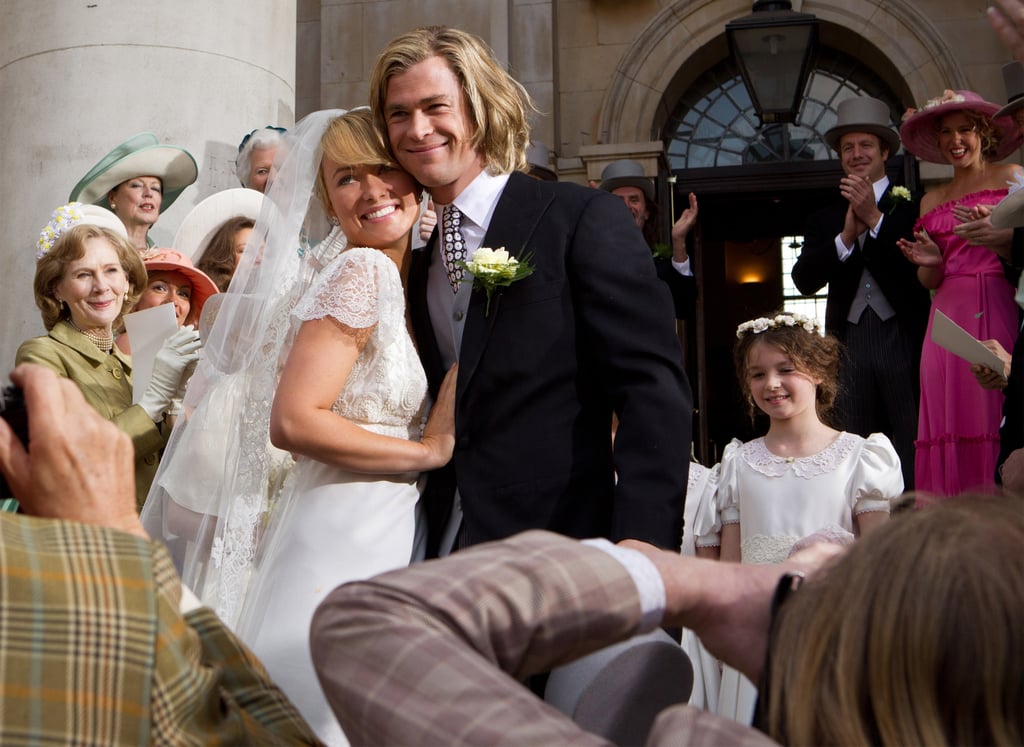 Suzy (Olivia Wilde [235]) makes an honest man out of race car driver James (Chris Hemsworth).
The Big Wedding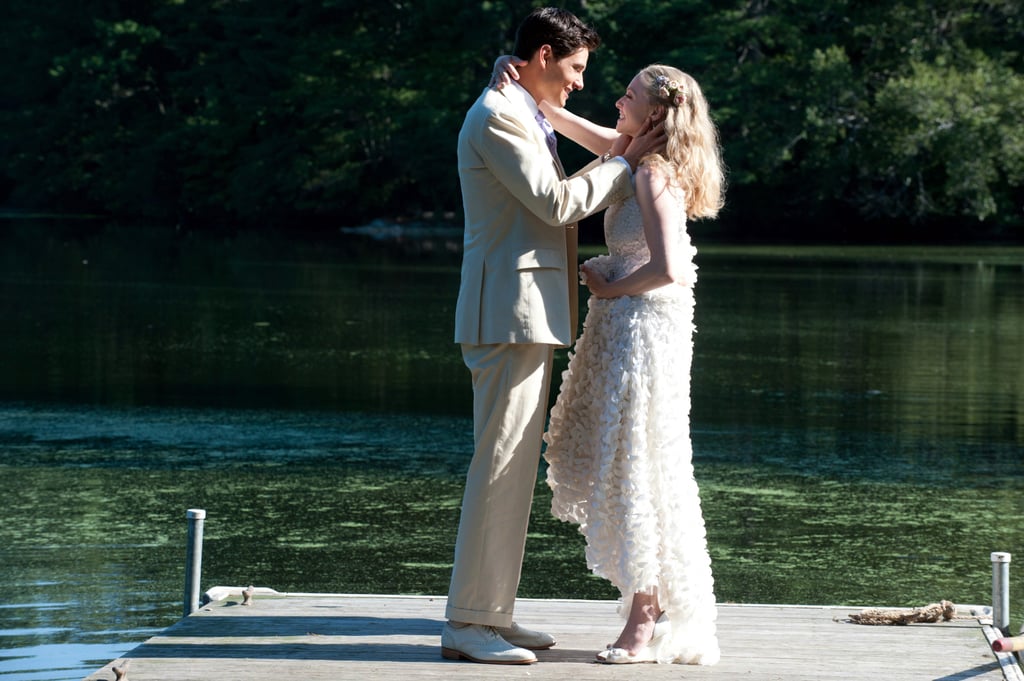 Alejandro (Ben Barnes) and Missy (Amanda Seyfried [236]) manage to make their wedding [237] romantic despite their family drama.
Mad Men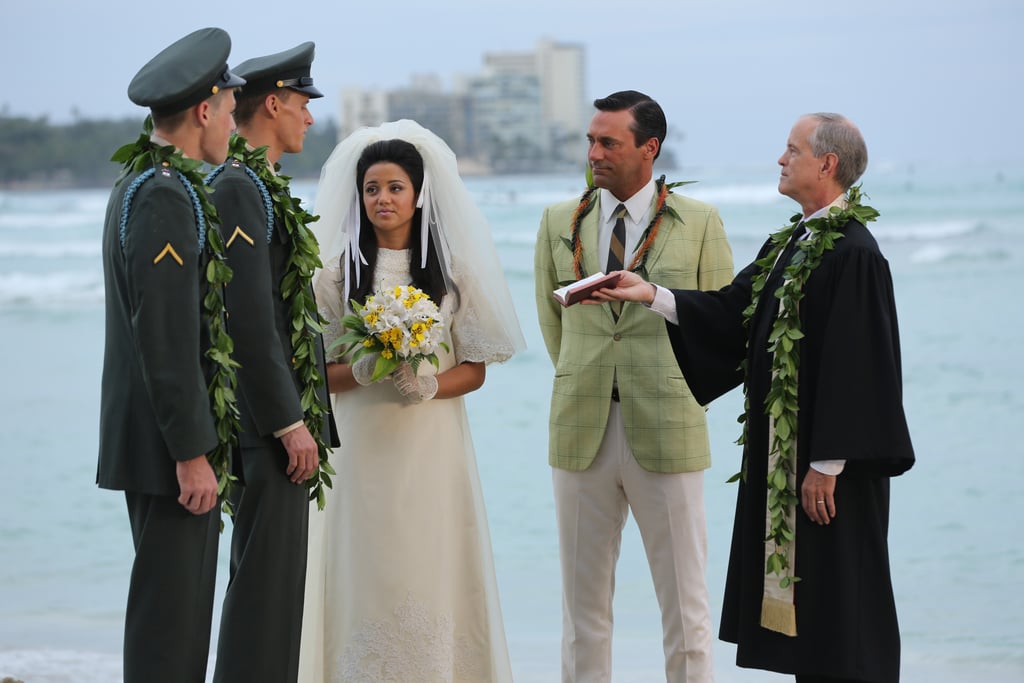 Don Draper (Jon Hamm [238]) has a chance meeting with a stranger in a bar that results in his being named best men at a Hawaii wedding [239].
1600 Penn
After learning they aren't legally married (oops), the First Lady (Jenna Elfman) and President (Bill Pullman) tie the knot again.
Game of Thrones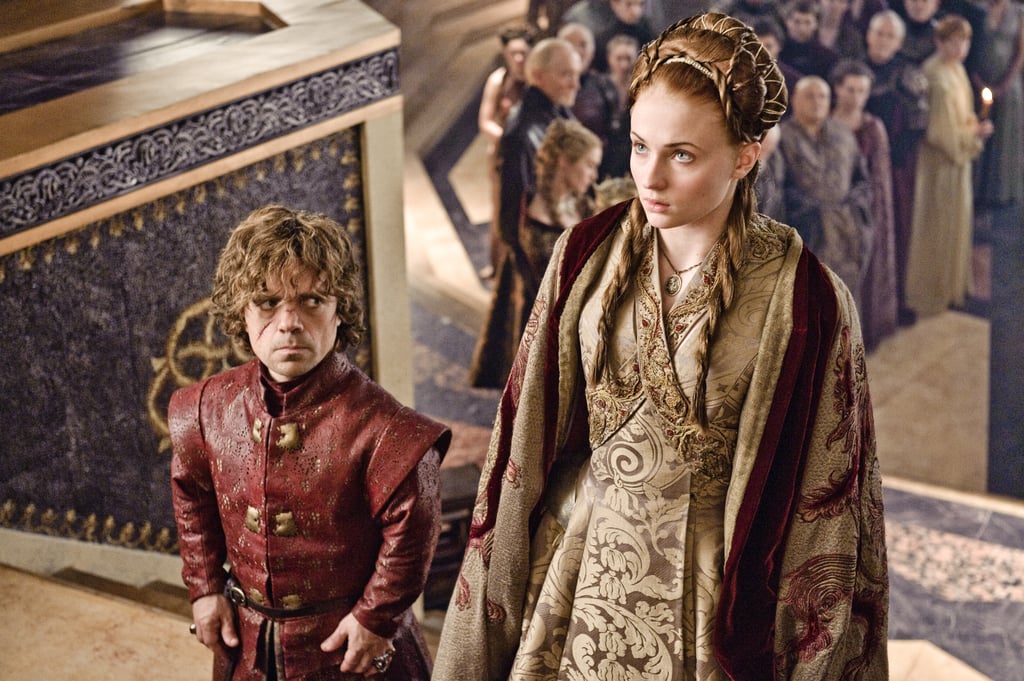 Tyrion (Peter Dinklage) and Sansa (Sophie Turner) may be a match made in political heaven, but neither of them is pleased about the union.
The Office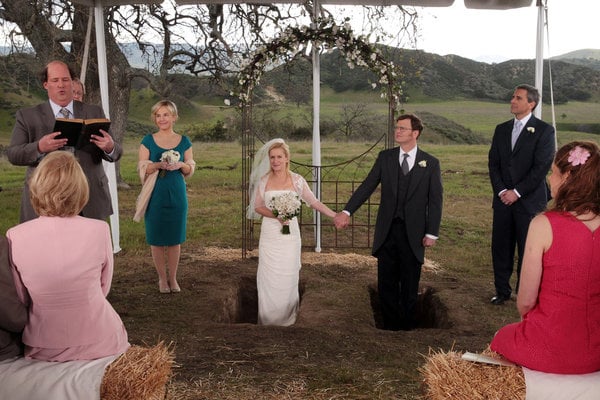 In the series finale, Dwight (Rainn Wilson) and Angela (Angela Kinsey) make it official, with even Michael (Steve Carell [240]) there as best man.
Glee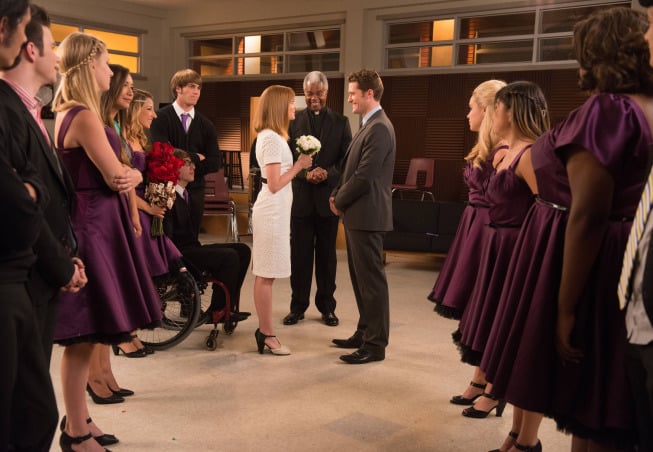 The nuptials of Will (Matthew Morrison [241]) and Emma (Jayma Mays) are a long time coming, and she decides that the best way to deal with her anxiety over a big wedding [242] is to have a low-key event surrounded by the glee club kids.
New Girl
Cece (Hannah Simone) and Shivrang (Satya Bhabha) make it to the altar — but they don't get around to exchanging vows, thanks to Cece's lingering feelings for Schmidt. At least their Indian wedding [243] looks beautiful!
The Great Gatsby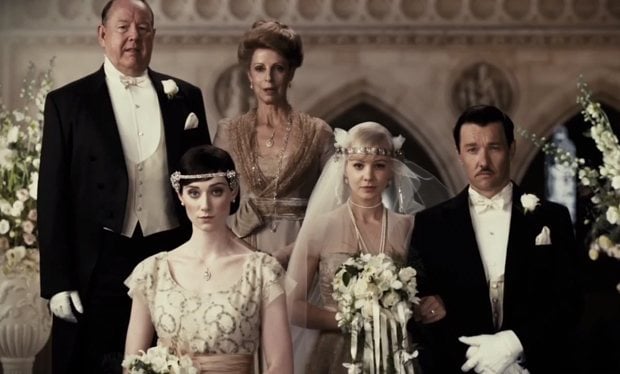 Don't you wish you had gotten to see the wedding [244] scene between Daisy (Carey Mulligan [245]) and Tom (Joel Edgerton). At least we have this amazing still.
Once Upon a Time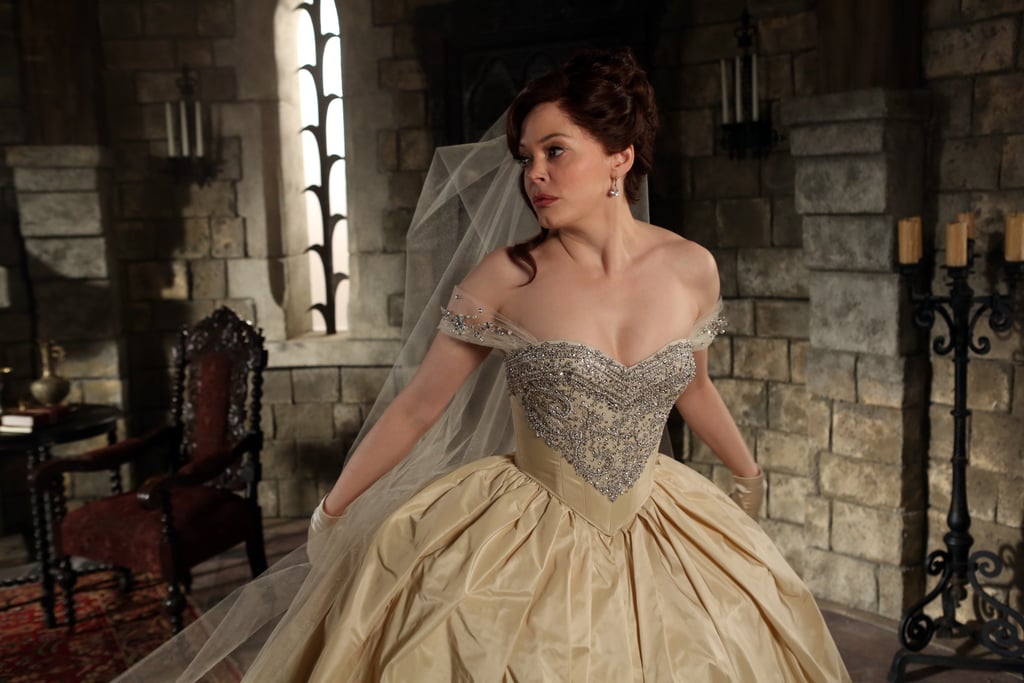 Cora (Rose McGowan) — even though she's in love with Rumpelstiltskin — marries the king's son instead. I kind of understand, given that that's the kind of dress you get for a royal wedding [246].
Parks and Recreation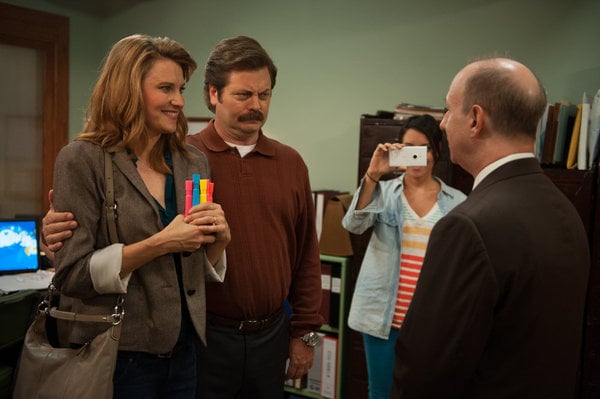 In a ceremony that's no-nonsense and so very Ron Swanson, Ron (Nick Offerman) and Diane (Lucy Lawless) tie the knot minutes after he proposes.
Revenge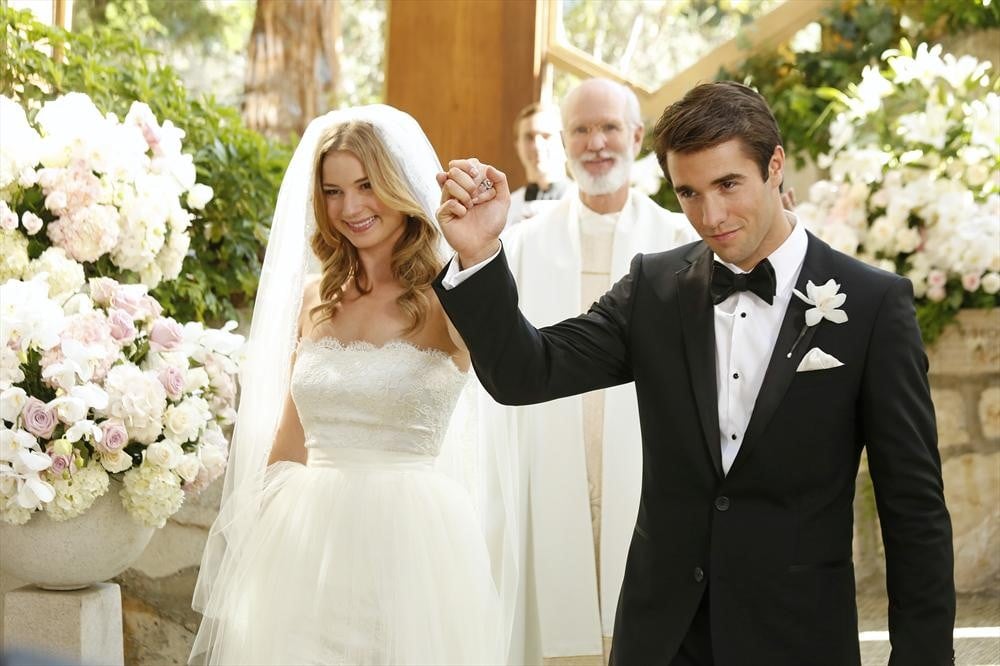 Emily (Emily VanCamp) and Daniel (Josh Bowman) exchange vows in a beautifully doomed ceremony.
Evening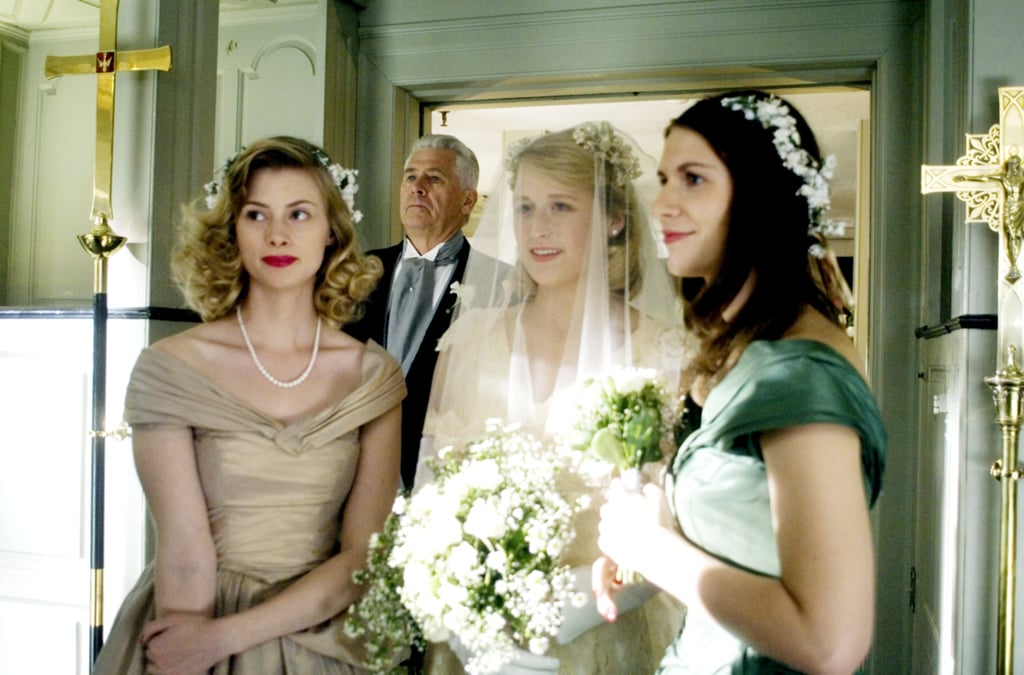 Lila (Mamie Gummer) ties the knot with her bridesmaids (including Claire Danes [247]) by her side.
The Carrie Diaries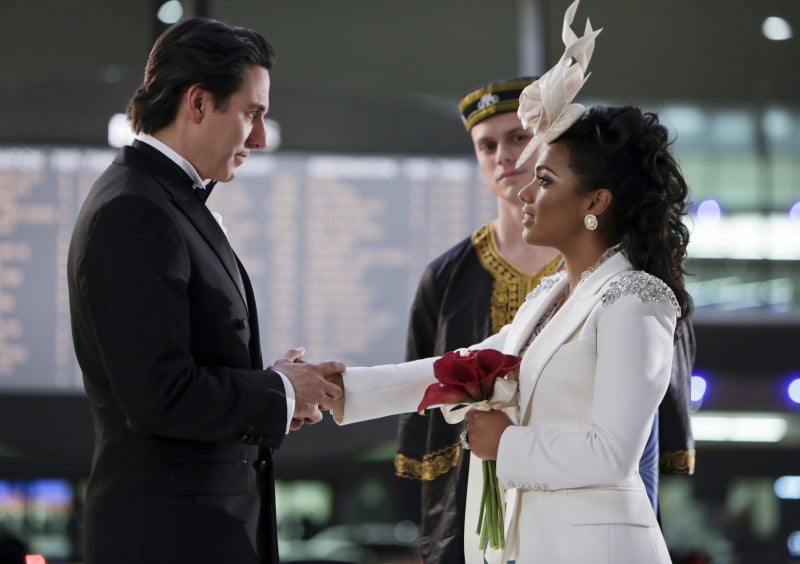 A somewhat odd couple, Harlan (Scott Cohen) and Larissa (Freema Agyeman) actually make a perfect pair.
That's My Boy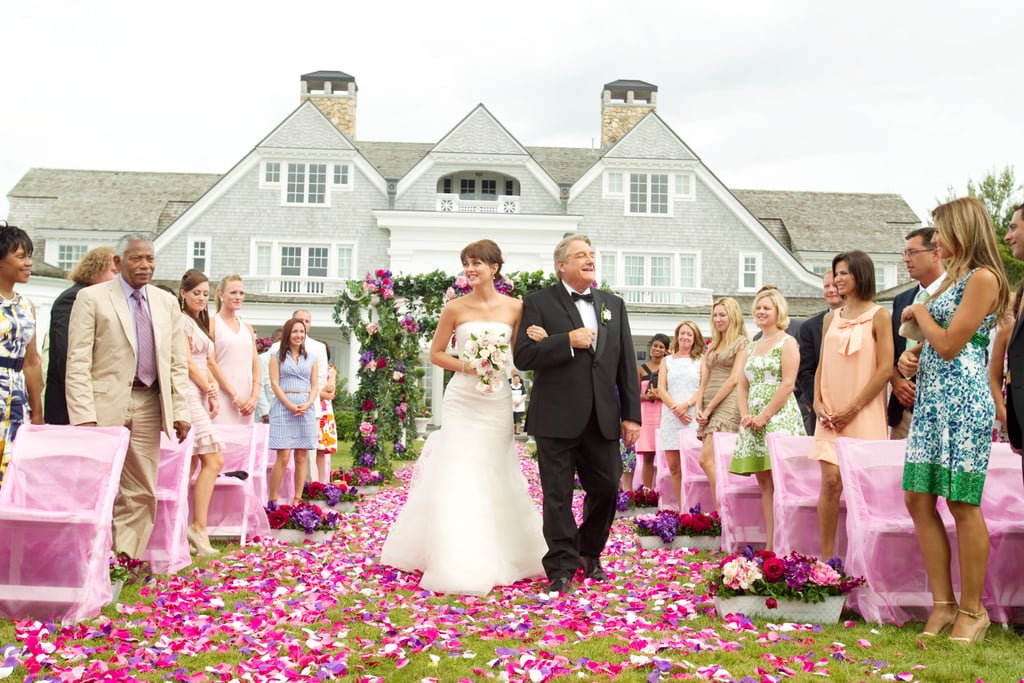 Jamie (Leighton Meester [248]) makes her way down the aisle to marry Todd (Andy Samberg [249]).
Grey's Anatomy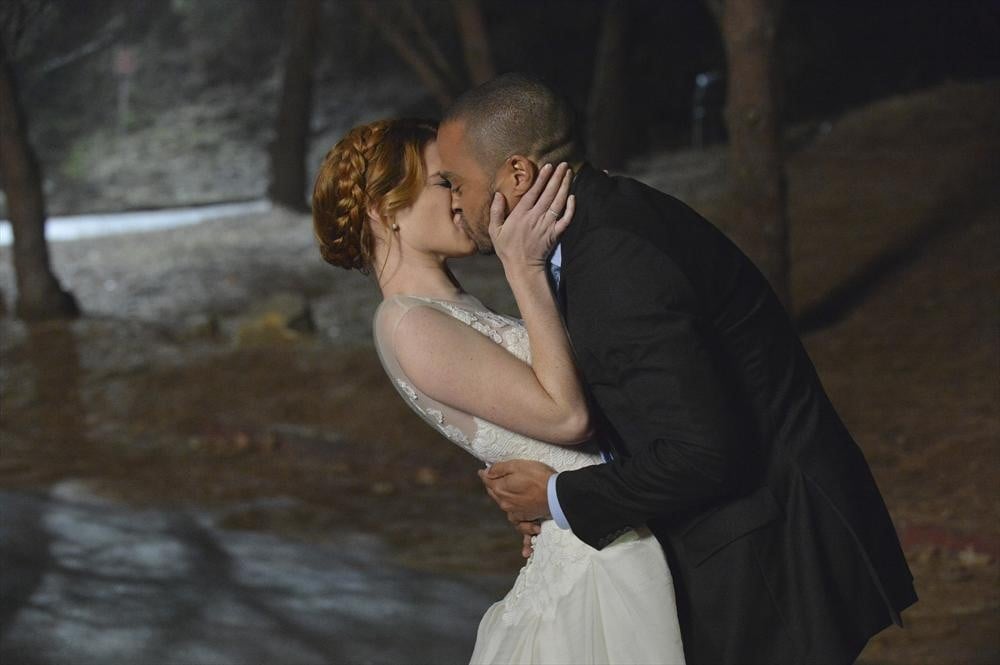 April (Sarah Drew) and Jackson (Jesse Williams) elope in the clothes meant for her wedding [250] to another man. Oh well.
Trophy Wife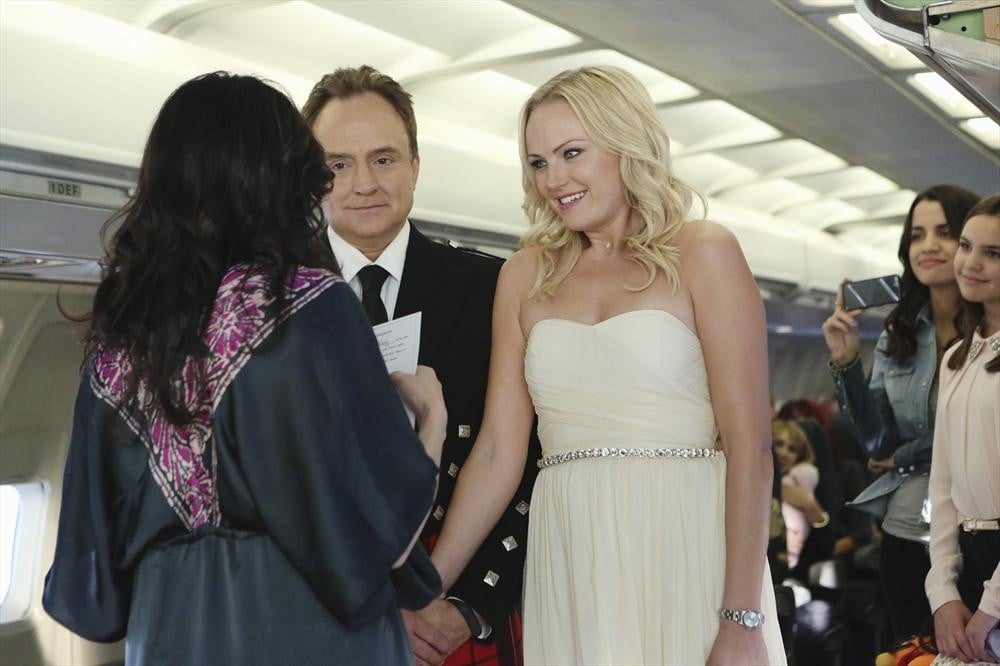 Pete (Bradley Whitford) and Kate (Malin Akerman) finally have the wedding [251] they never got — on a plane, as a surprise to Kate.
Game of Thrones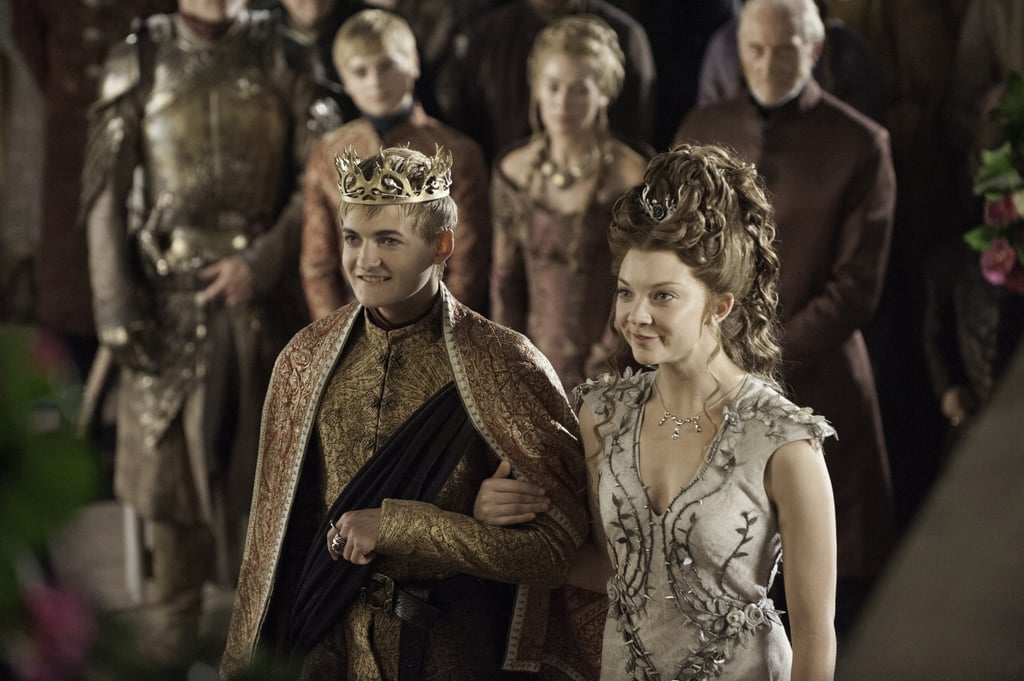 Margaery (Natalie Dormer) and Joffrey (Jack Gleeson) wed in what's infamously come to be known as the Purple Wedding [252].
The Hangover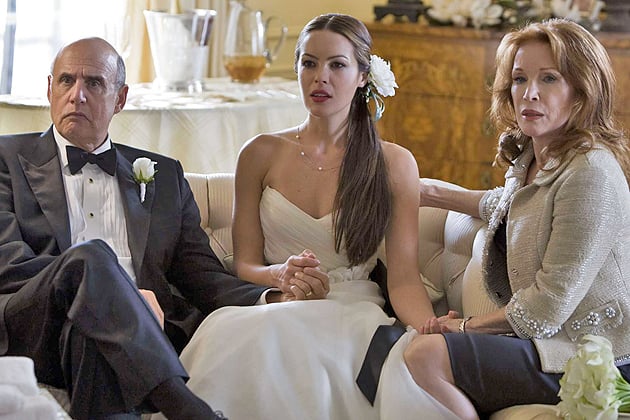 Tracy (Sasha Barrese) waits patiently for her groom to return from Las Vegas.
Reign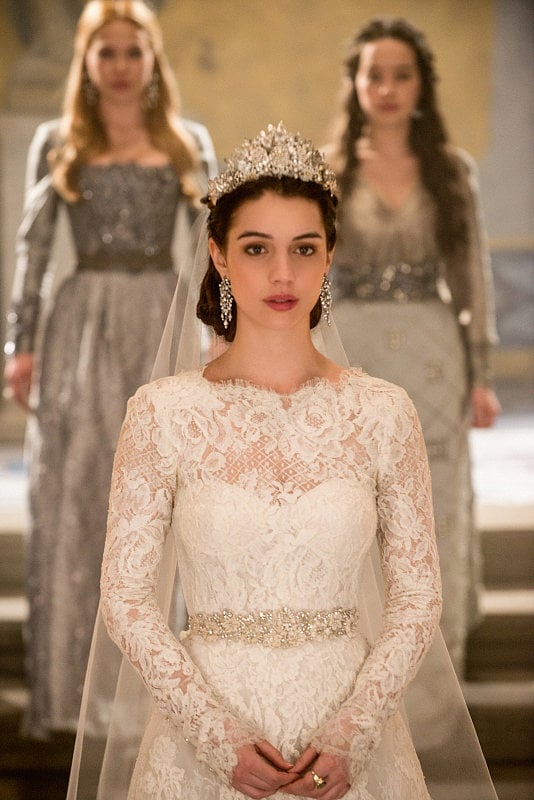 Mary (Adelaide Kane) almost marries Bash before she's free to marry Francis (Toby Regbo).
How I Met Your Mother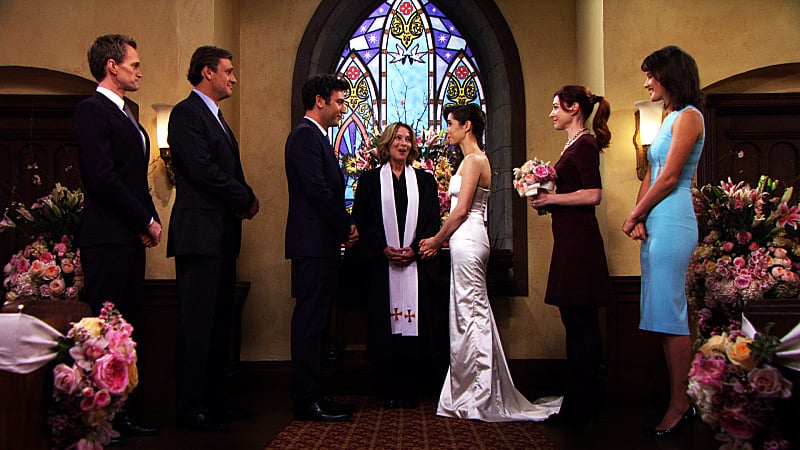 Ted (Josh Radnor [253]) and Tracy (Cristin Milioti) finally get to have their storybook wedding [254].
Effie Gray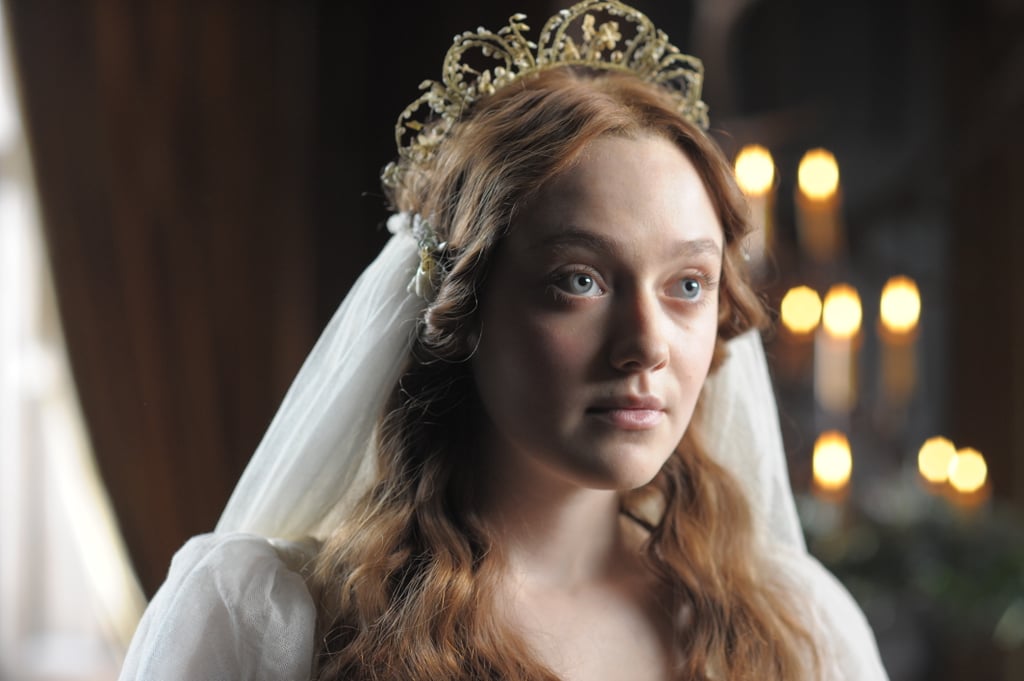 Dakota Fanning [255] plays a teenage bride in the Victorian era in this 2014 drama.
Modern Family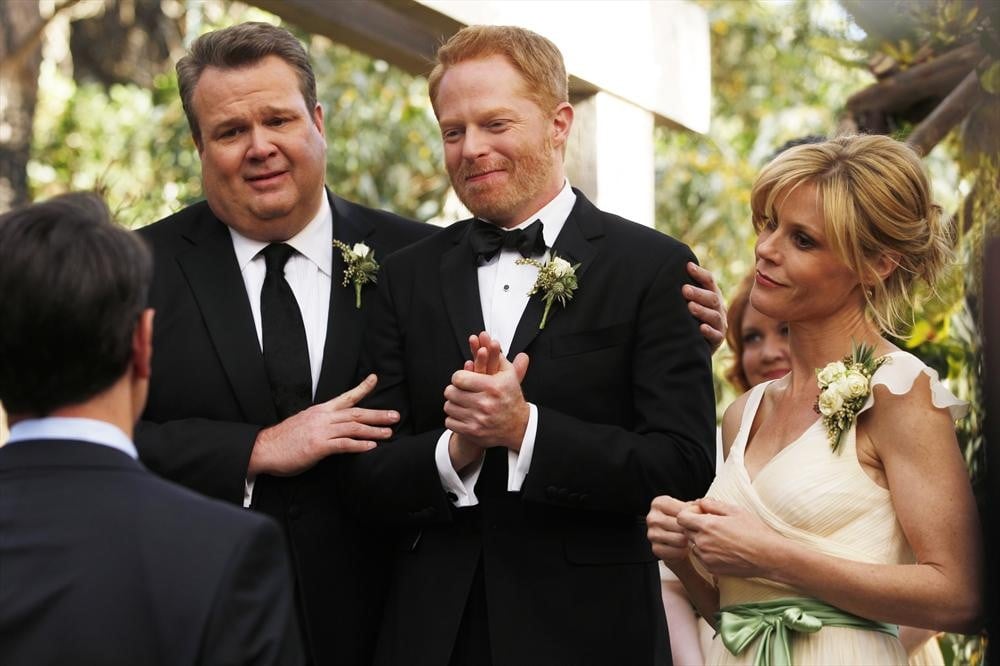 In an emotional and beautiful wedding [256] that's not without its bumps, Mitch (Jesse Tyler Ferguson) and Cam (Eric Stonestreet) make it legal.
The Theory of Everything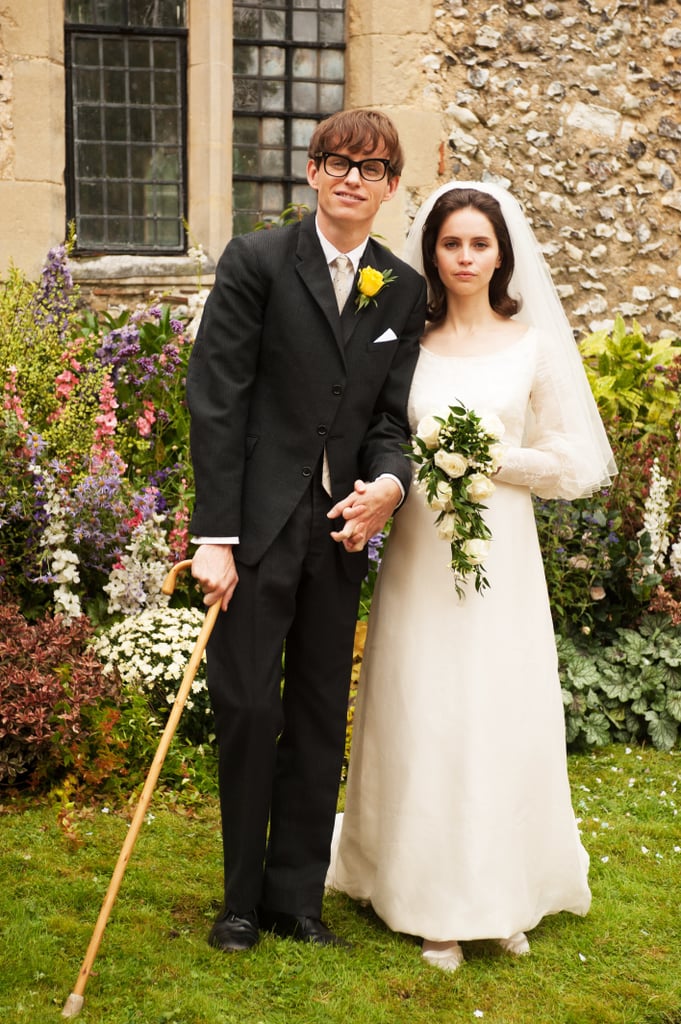 Eddie Redmayne and Felicity Jones re-created Stephen and Jane Hawking's wedding photo [257] for the biopic.
Outlander
Claire (Caitriona Balfe) is pushed into a marriage of convenience with Jamie (Sam Heughan), who's not so bad to be bound to.
Outlander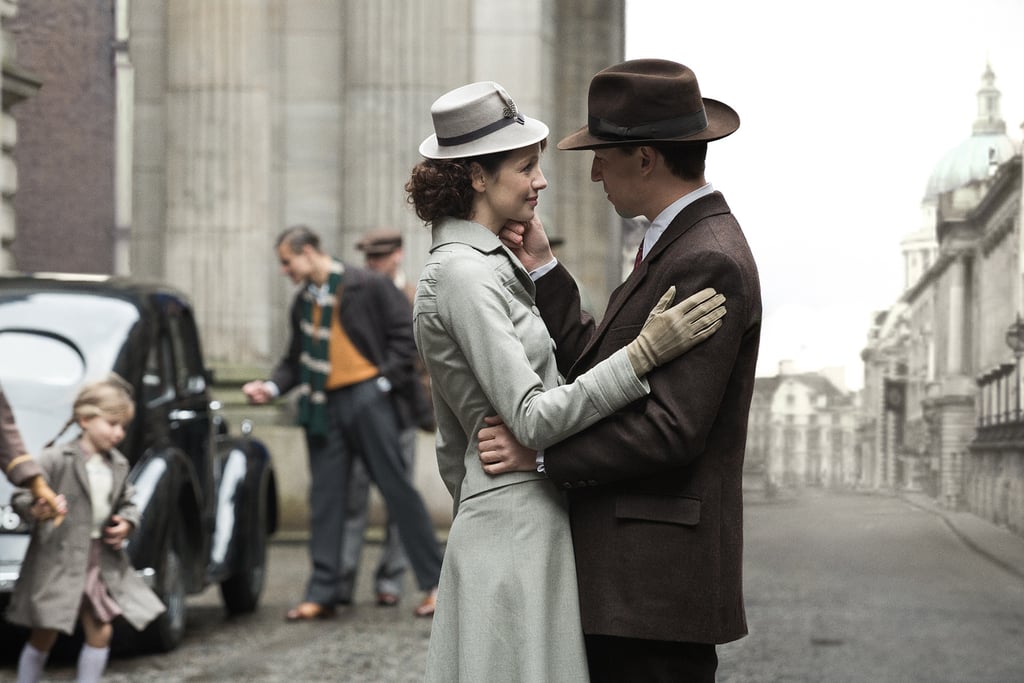 Meanwhile, Claire (Caitriona Balfe) remembers her original wedding [258] day in the 1940s to Frank (Tobias Menzies).
Gone Girl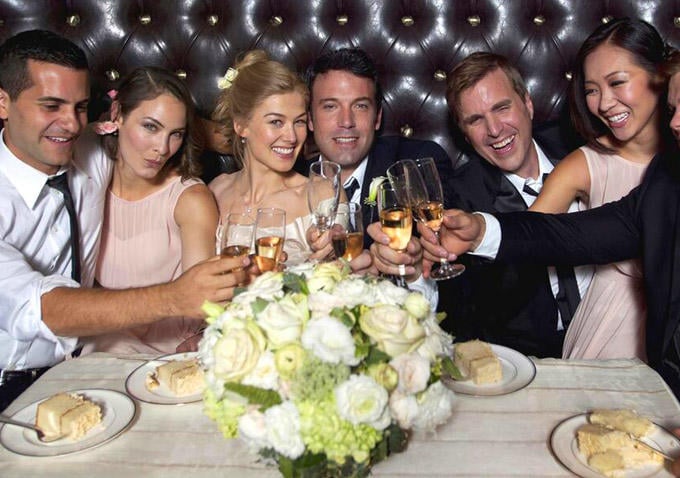 It may be a complicated marriage, but the wedding [259] between Nick (Ben Affleck [260]) and Amy (Rosamund Pike) looks like it was a great time.
Castle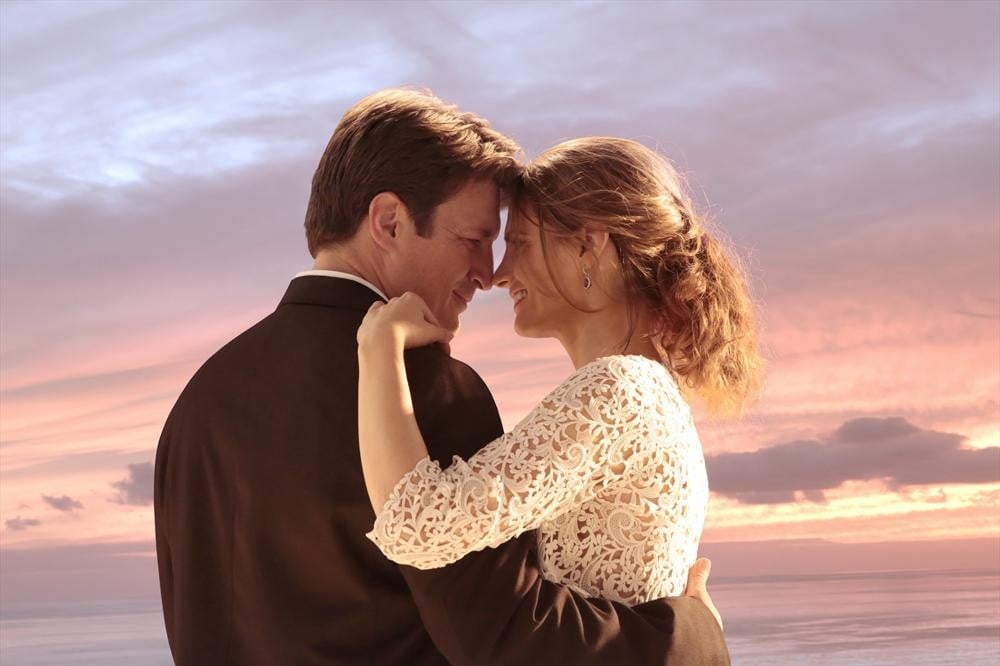 Castle (Nathan Fillion) and Beckett (Stana Katic) finally make it to the altar.
Reign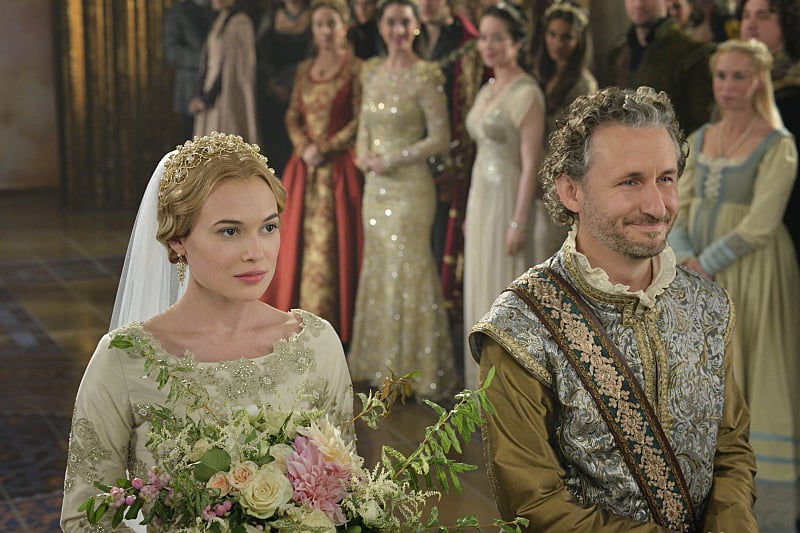 Greer (Celina Sinden) and Lord Castleroy (Michael Therriault) marry in a gorgeous wedding [261].
The Sound and the Fury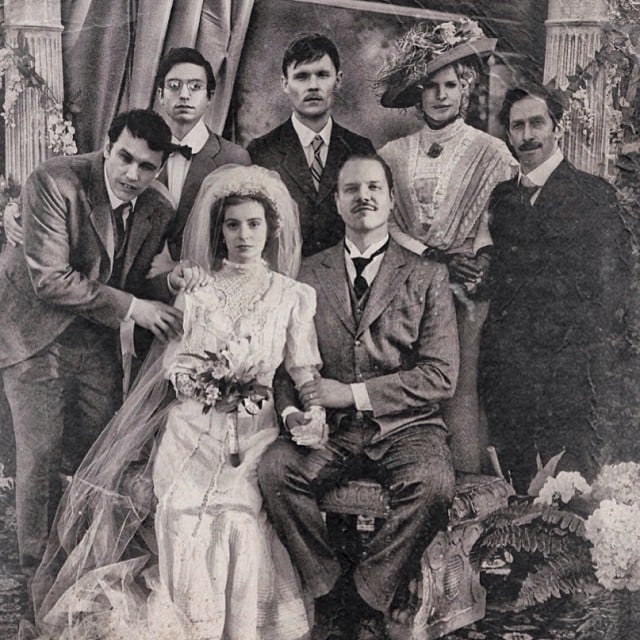 Jim Parrack and Ahna O'Reilly marry in this adaptation of the Faulkner novel as James Franco [262] stands up for them.
Two and a Half Men
While things don't work out for Gretchen (Kimberly Williams-Paisley) and Alan (Jon Cryer), it does work out for another arrangement.
Two and a Half Men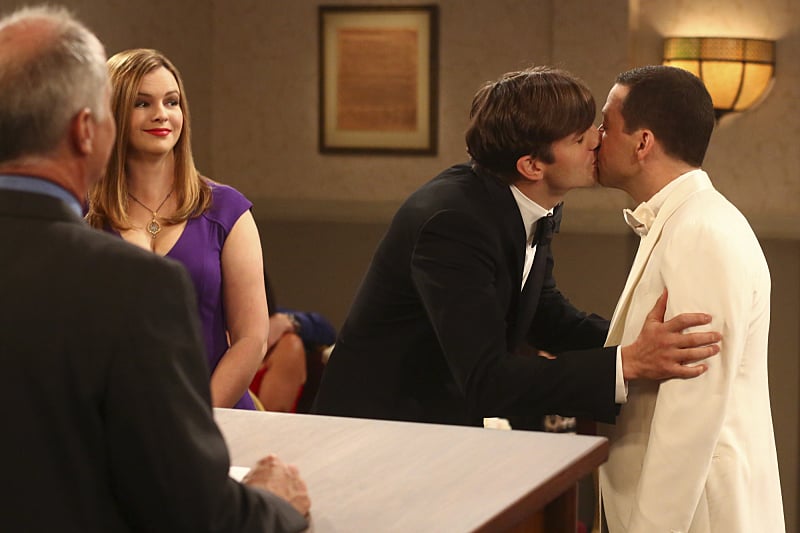 Yep, so Walden (Ashton Kutcher [263]) can marry Alan. It's a marriage of convenience, but it still gets sealed with a kiss.
Melissa & Joey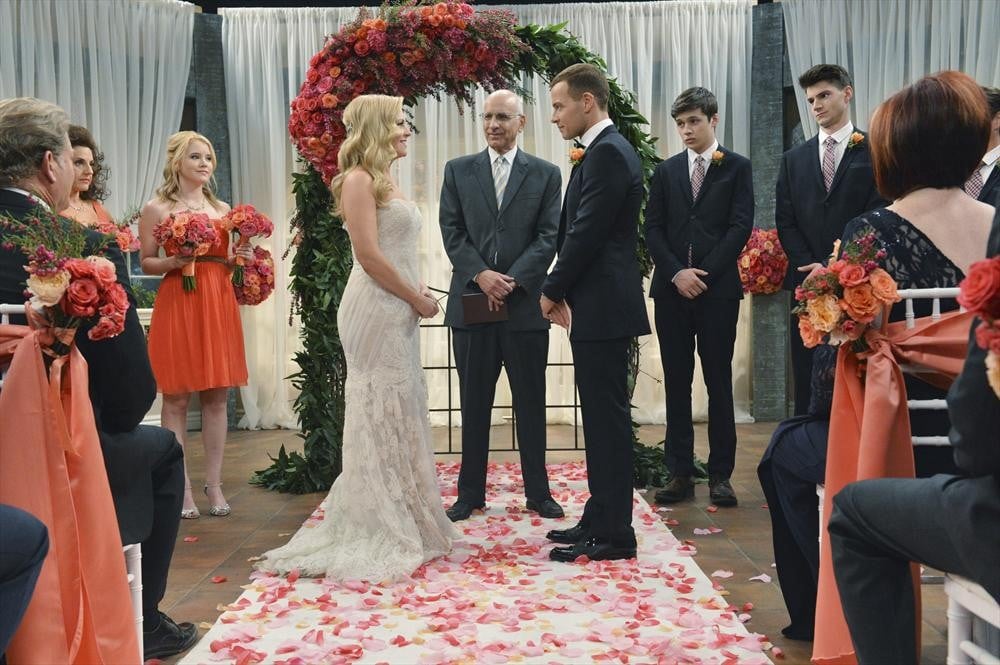 Melissa (Melissa Joan Hart) and Joey (Joey Lawrence) say their vows during a gorgeous wedding [264] . . . before they get interrupted by surprising news.
True Blood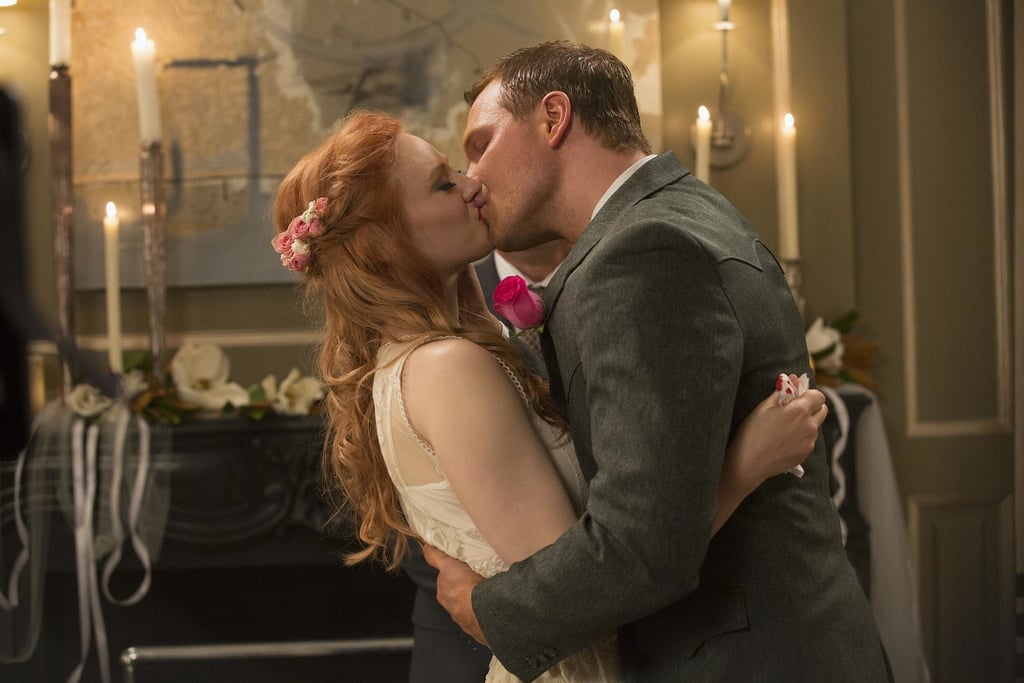 Jessica (Deborah Ann Woll) and Hoyt (Jim Parrack) reconnect and marry soon after, so Jessica can have Bill give her away before he dies.
White Collar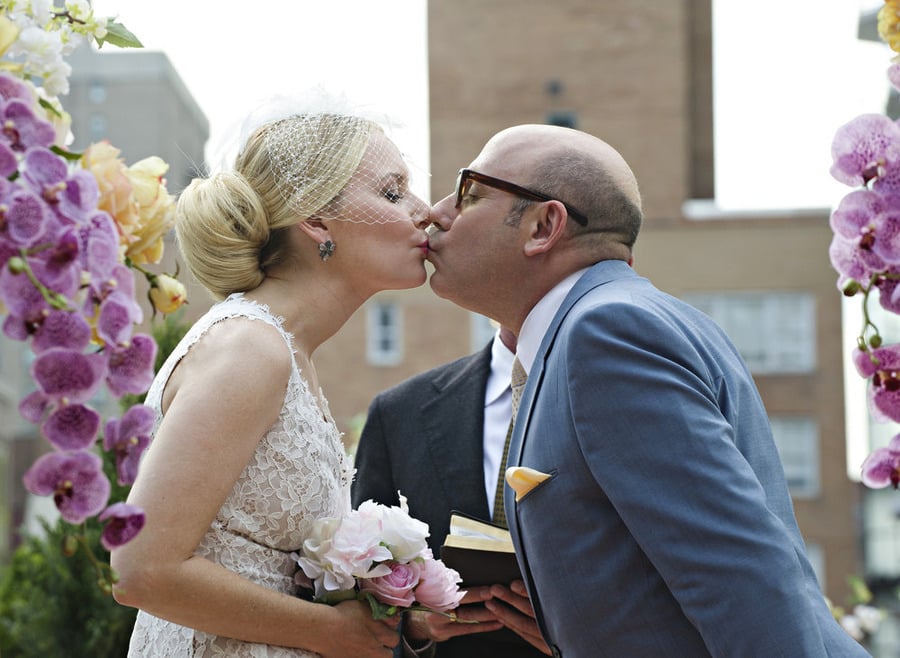 Mozzie (Willie Garson) weds Eva (Megan Dodds).
Big Eyes
In this biographical drama, Christoph Waltz marries Amy Adams [265] in a biopic about the Keanes.
Saved by the Bell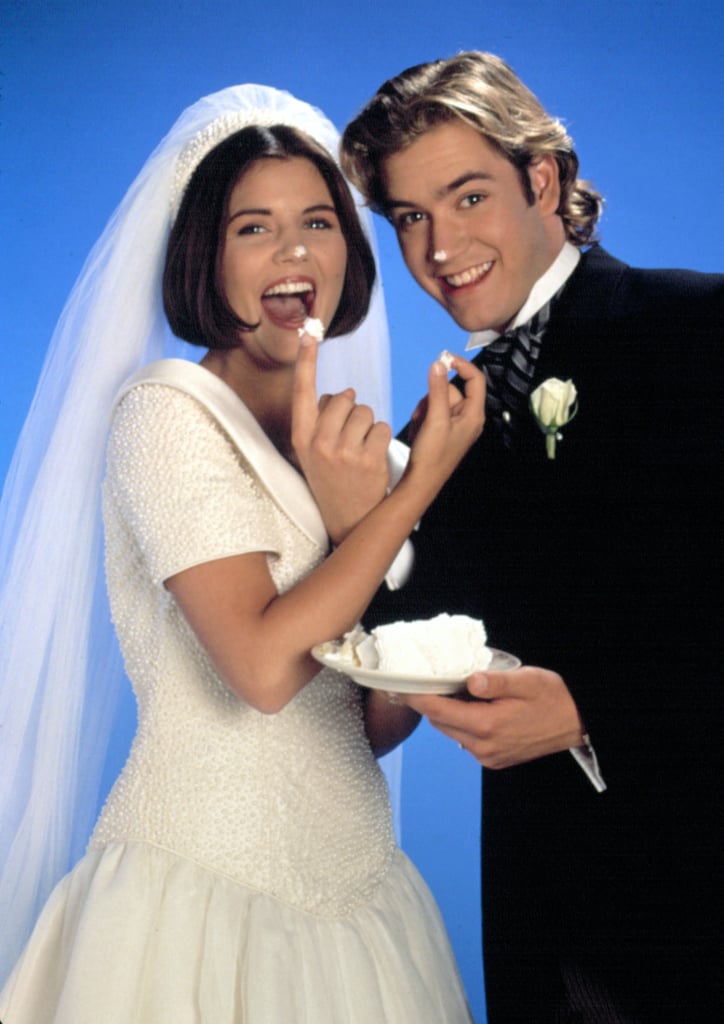 Zack (Mark-Paul Gosselaar) and Kelly (Tiffani Thiessen) finally make it legal on their wedding [266] special.
The Vampire Diaries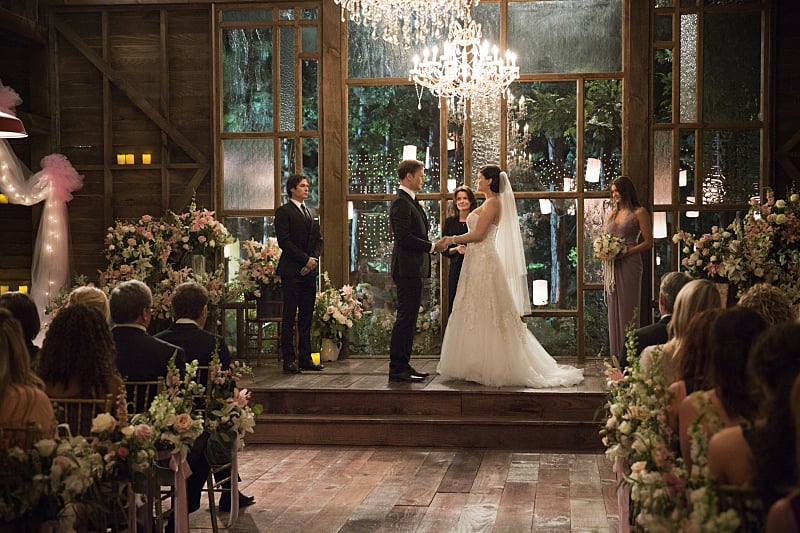 Well, before it's busted up, the wedding [267] of Alaric (Matt Davis) and Jo (Jodi-Lynn O'Keefe) sure is beautiful.
I Saw the Light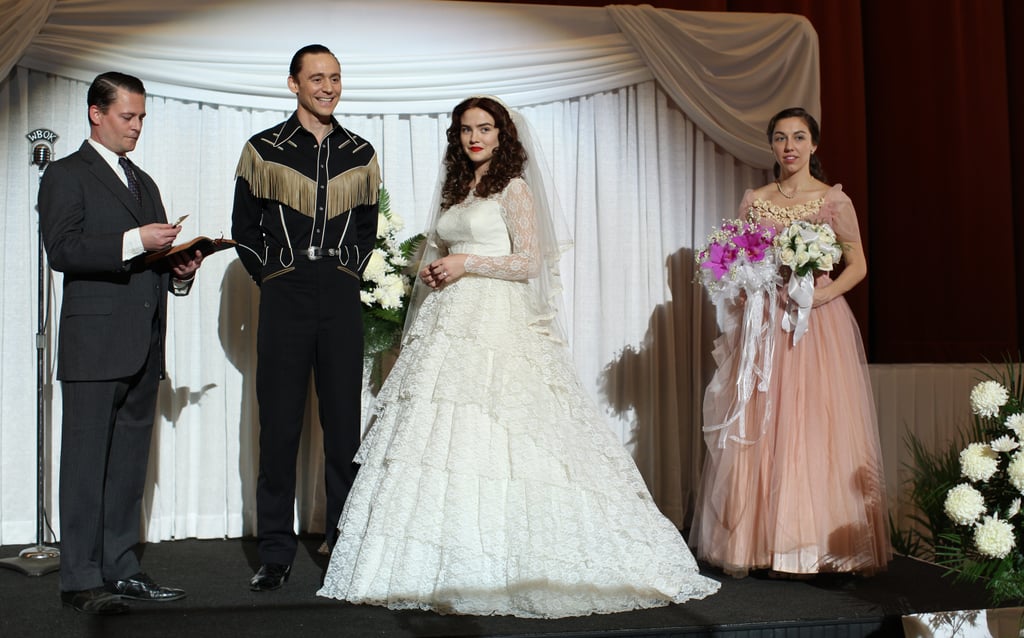 Hank Williams (Tom Hiddleston) stands by his bride (Maddie Hasson) in I Saw the Light.
Girls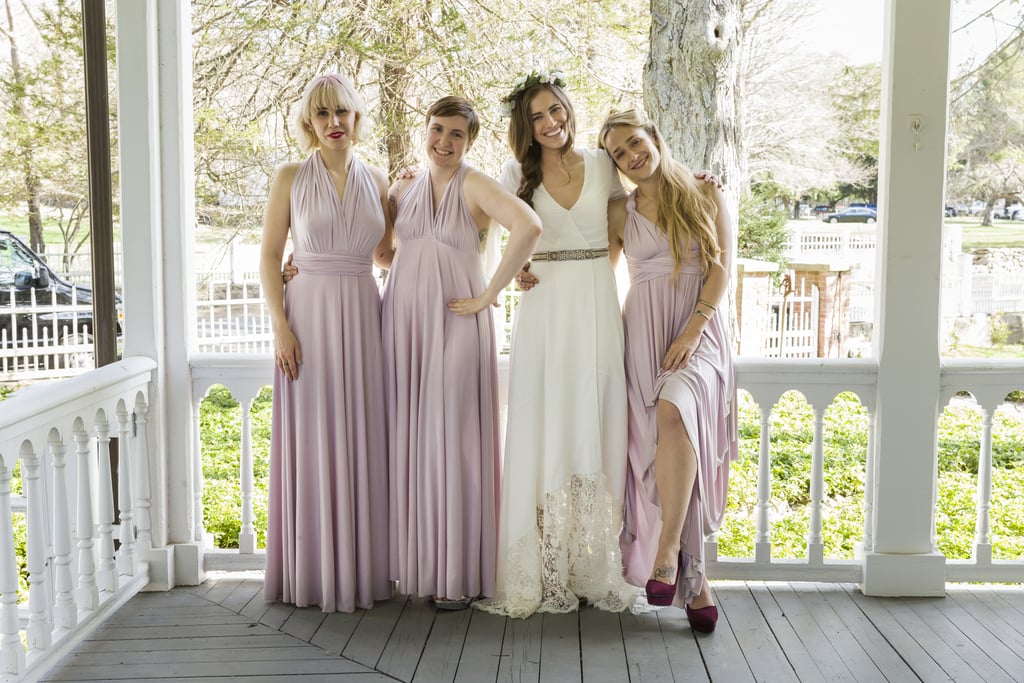 Marnie's (Allison Williams) marriage to Desi (Ebon Moss-Bachrach) doesn't last long, but her wedding [268], on the other hand? Totally gorgeous.
Girlfriends' Guide to Divorce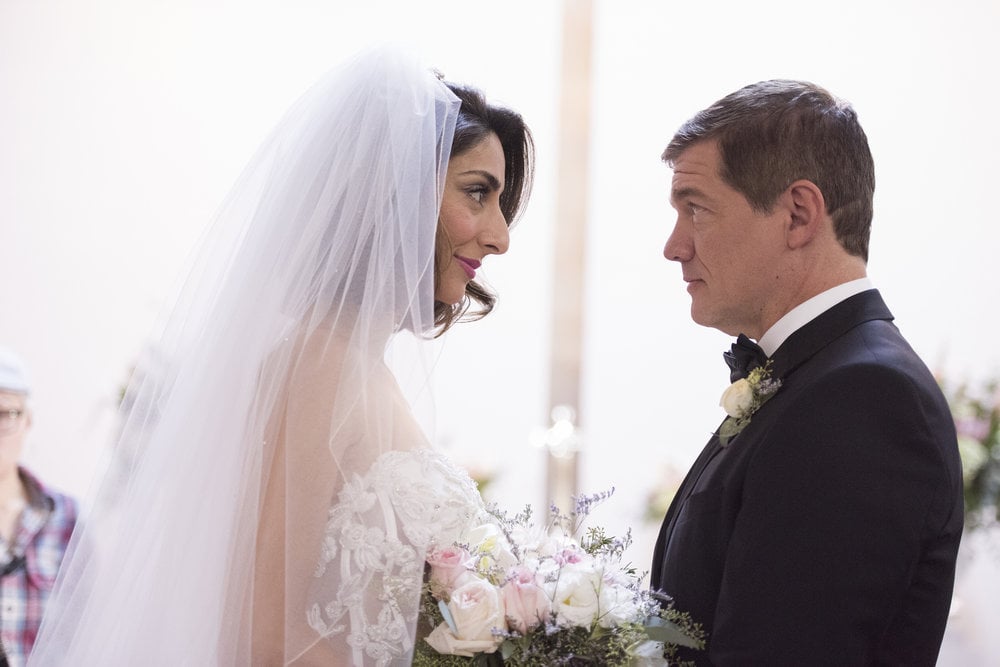 Delia (Necar Zadegan) finally gives in to having a big wedding [269] to Gordon (Matthew Glave), but when he finds out her big infidelity secret, he dumps her — but still makes her go through their wedding. Ouch.
Mew Girl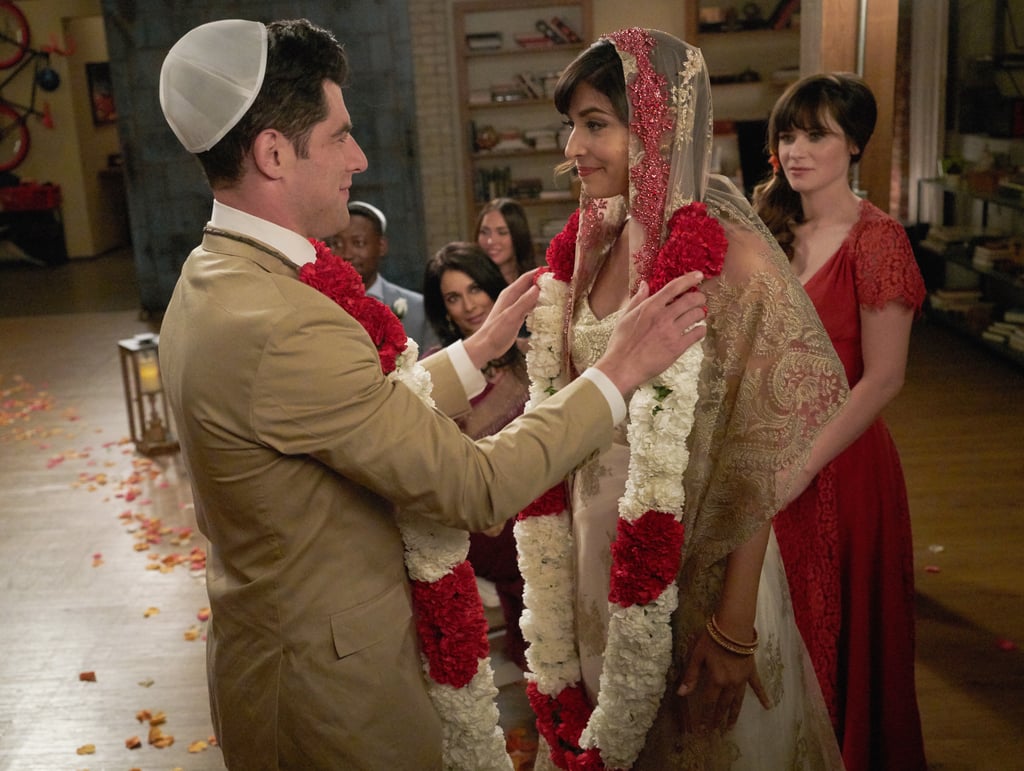 After an unfortunate travel delay, Schmidt (Max Greenfield) marries Cece (Hannah Simone) in the gang's loft.
Jane the Virgin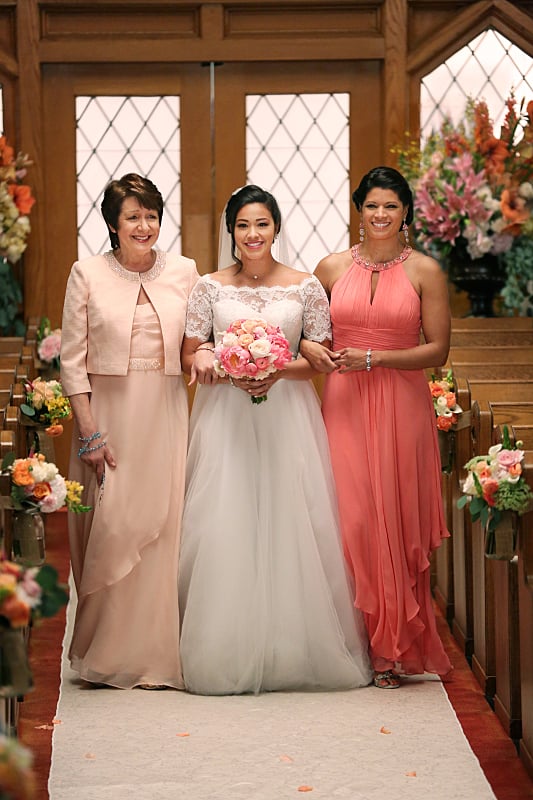 Jane (Gina Rodriguez) finally makes it to the altar after choosing Michael (Brett Dier).
Search Party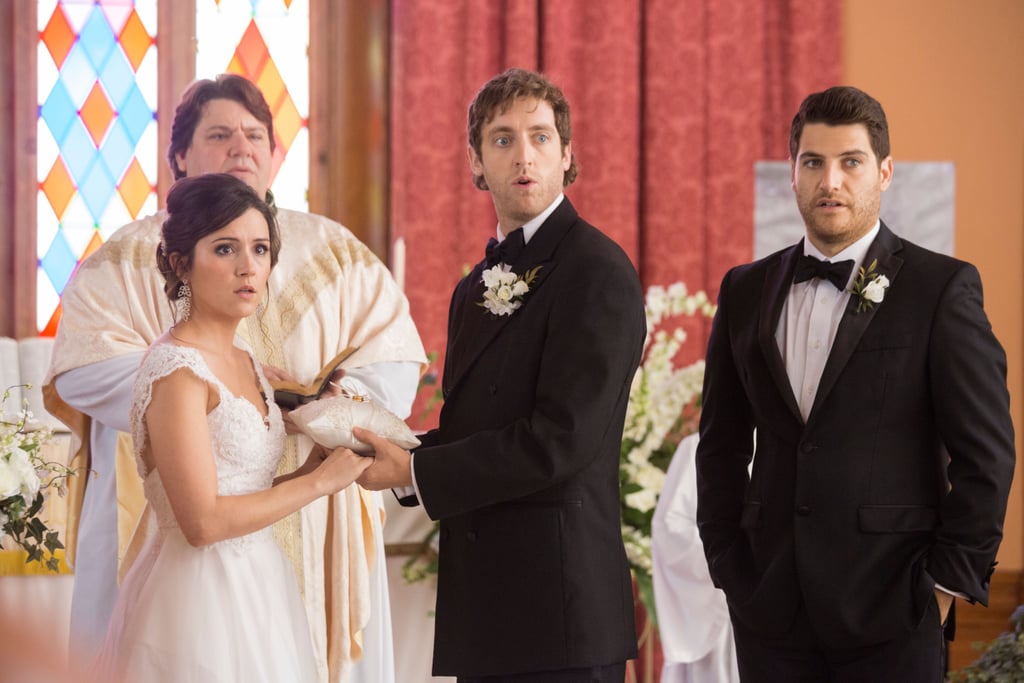 This 2016 comedy sees Shannon Woodward and Thomas Middleditch tie the knot.
The Blacklist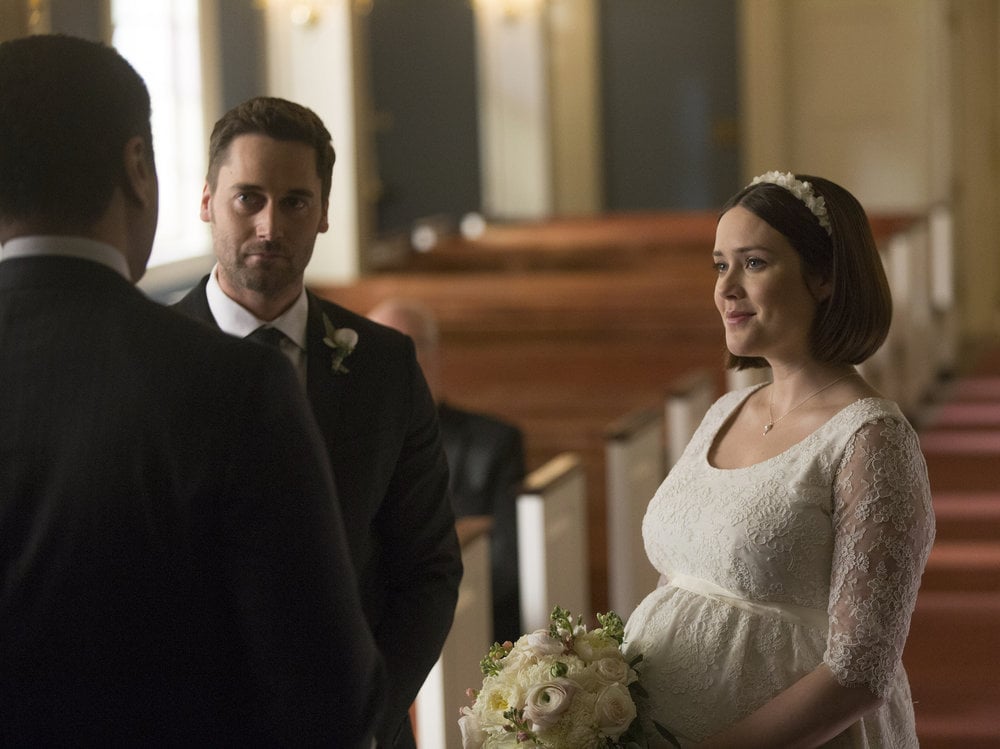 Liz (Megan Boone) marries Tom (Ryan Eggold) again, but there is no happy ending for these two.
Grey's Anatomy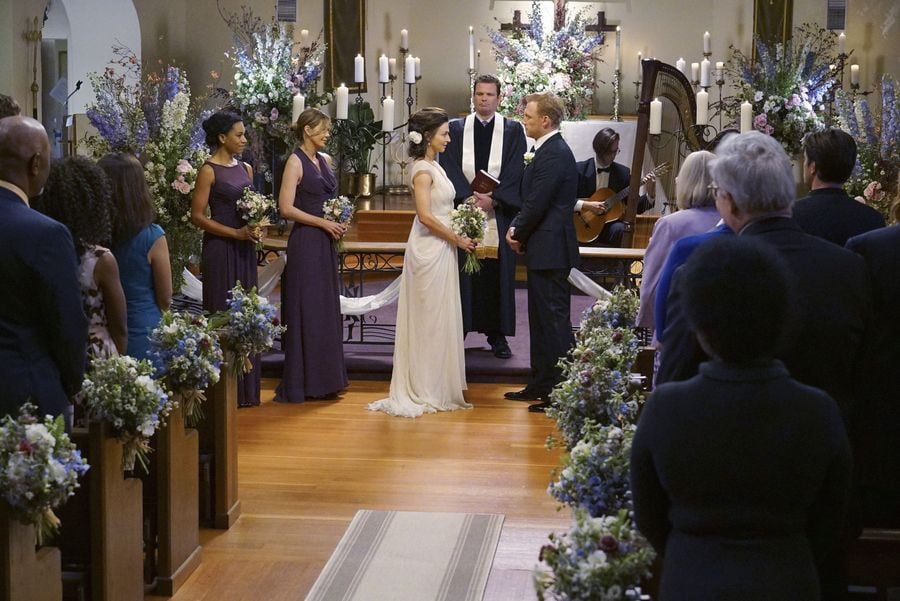 Amelia (Caterina Scorsone) and Owen (Kevin McKidd) have a superdramatic wedding [270], but they still come together for a gorgeous ceremomy.
Nashville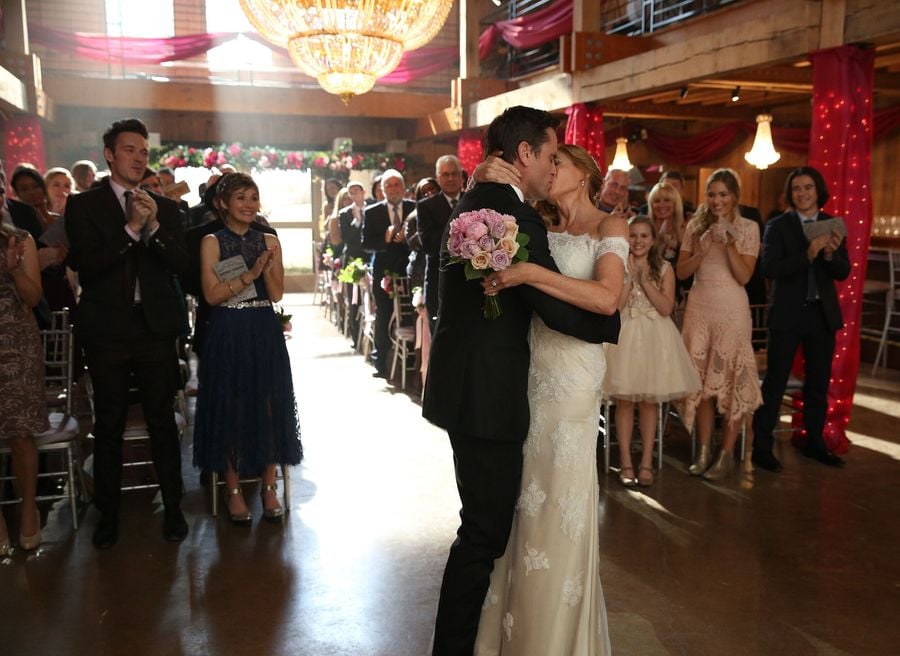 Country crooners Rayna (Connie Britton) and Deacon (Charles Esten) get married in a barn after a last-minute paparazzi swarm at their chosen venue.
Arrow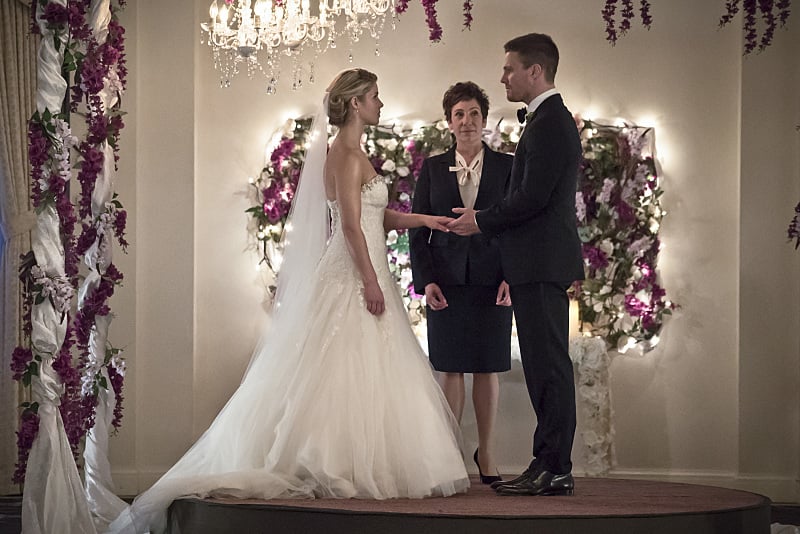 Olicity's wedding [271] is supposed to be the event of the century, but by the time it rolls around, Oliver (Stephen Amell) and Felicity (Emily Bett Rickards) have broken up. They have to stage the ceremony to thwart Cupid, and it's so painful.
Shadowhunters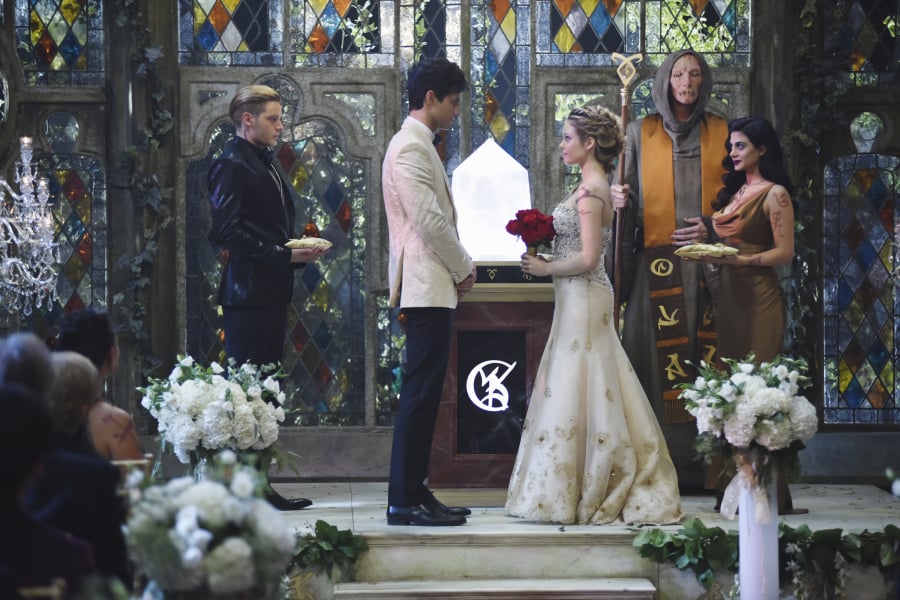 How gorgeous is Lydia's (Stephanie Bennett) wedding [272] gown during her ceremony with Alec (Matthew Daddario)? Even Malec shippers have to recognize that.
Mom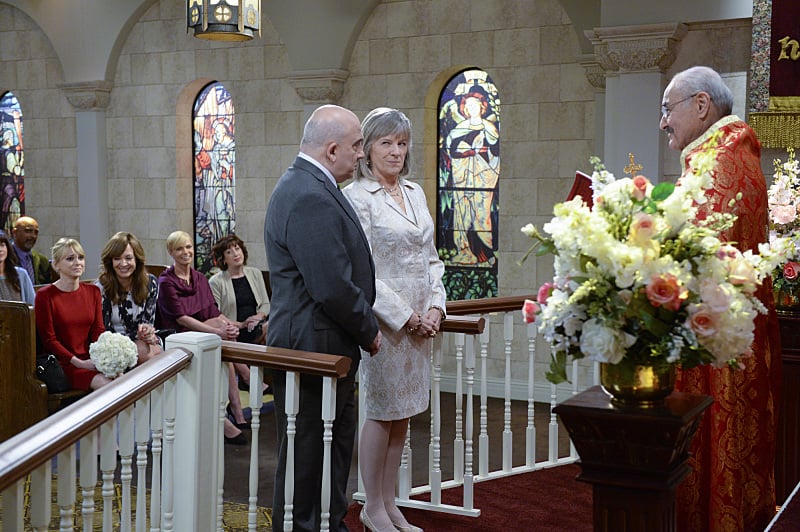 Marjorie (Mimi Kennedy) adorably ties the knot with Mr. Perugian (Jonny Coyne) on Mom.
Scandal
Jake (Scott Foley) marries Vanessa (Joelle Carter) while Olivia waits in the wings, having been threatened by her father.
Agent Carter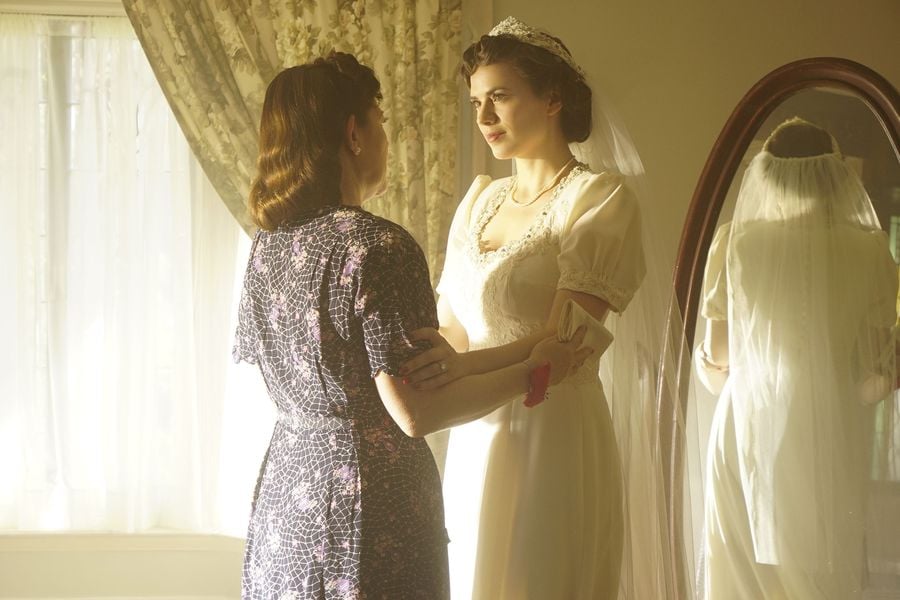 Unfortunately, the wedding [273] between Peggy (Hayley Atwell) and Fred (Kevin Changaris) ends in tragedy when Peggy learns her brother has been killed and the wedding is called off.