Video of Lea Michele and Matthew Morrison Singing at the 2010 Tony Awards 2010-06-14 06:00:00
Video: Matthew Morrison and Lea Michele Belt Out at the Tonys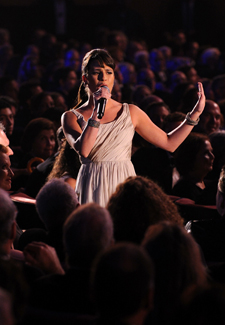 What would The Tony Awards be without the musical-loving gleeks? In a night that was full of flash, Glee stars Matthew Morrison and Lea Michele joined forces for a Broadway number that was one of the show's most memorable. Morrison went first, rocking some man cleavage for his rendition of "All I Need is a Girl" from Gypsy, and I've got to say the traditional show tunes seem to suit him better than, say, "The Thong Song."
But then came Michele. Glee's favorite diva made a grand entrance down the aisle to "Don't Rain on my Parade" from Funny Girl, stopping along the way to sit on Jonathan Groff's (aka Jesse St. James)'s lap and flirt with Jay-Z. Rumor has it that Michele is in consideration for the Barbra Streisand role when the show comes to Broadway in 2012, and they might as well hand it to her. To put it plainly, the girl blew the roof off the joint. Watch the video of both stars when you
.
POPSUGAR, the #1 independent media and technology company for women. Where more than 75 million women go for original, inspirational content that feeds their passions and interests.