Planning a wedding [1]? There are lots of details to consider, and sometimes it can be hard to get inspiration for truly unique ideas for your wedding [2] day. Movies are a great source of inspiration, especially because they tend to be over the top or distinctive. From Sex and the City to Wedding Crashers, these movies and TV shows feature cool details for your own day.
Floral Bridesmaids' Dresses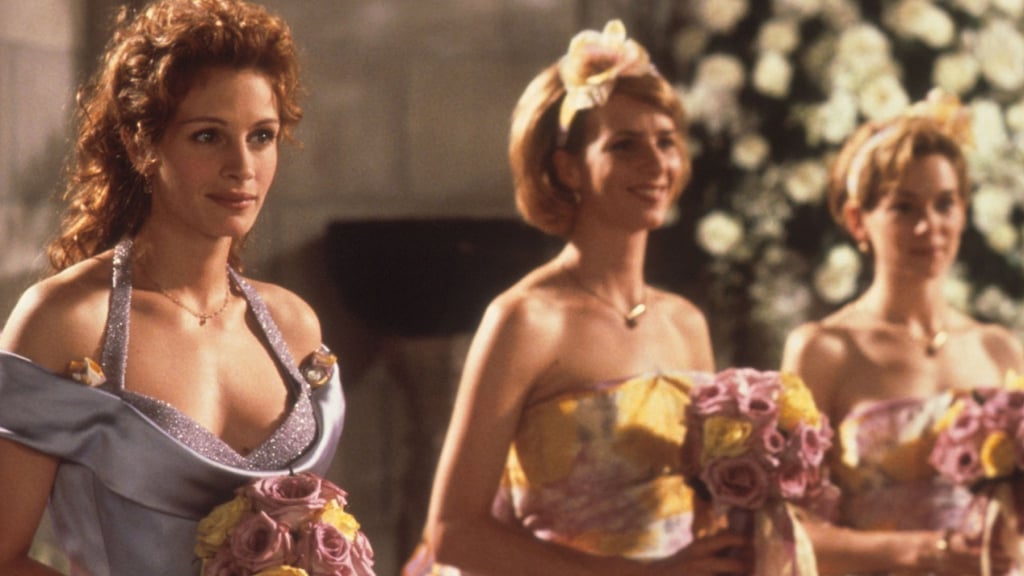 While Julianne (Julia Roberts [3]) is meant to be the distinctive one in My Best Friend's Wedding, it's the two other bridesmaids who stand out in floral-print dresses. Why do they have to be solid, anyway?
Sneak Off For the Ceremony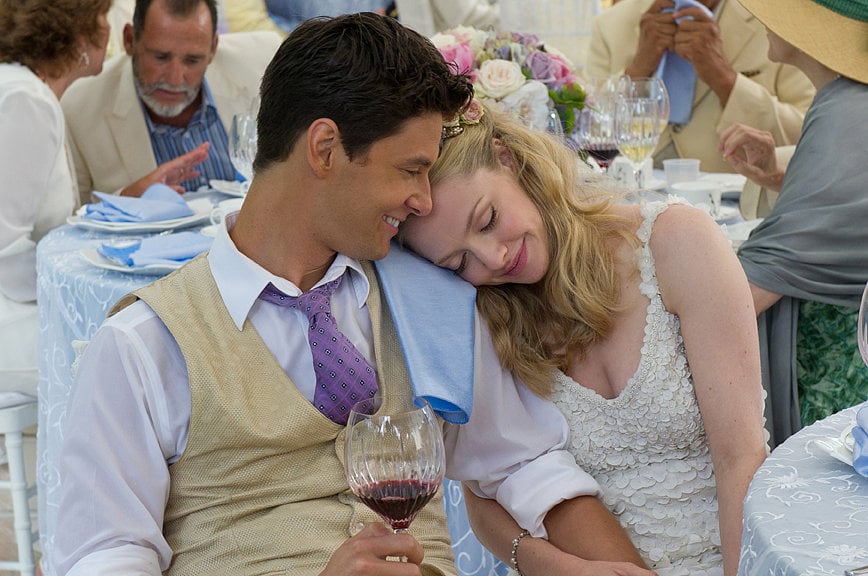 In The Big Wedding, a warring family makes bride Missy (Amanda Seyfried [4]) and groom Alejandro (Ben Barnes) take off to do their vows alone. Your situation may not be as extreme, but it's a lovely idea to do your vows with just the two of you and to party with everyone else afterward.
A Feather in Your Veil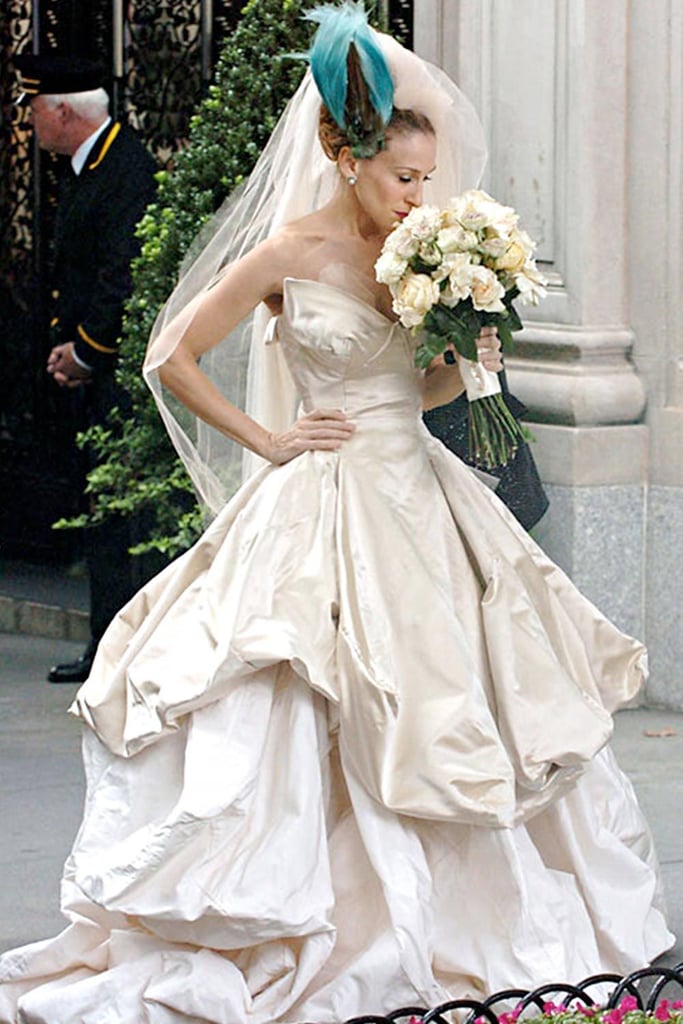 In Sex and the City, Carrie Bradshaw really goes for it with her bridal look, topping it all off with a bird headpiece and a veil. Translate this look by wearing a feather headpiece with or without a veil.
A Red Wedding Dress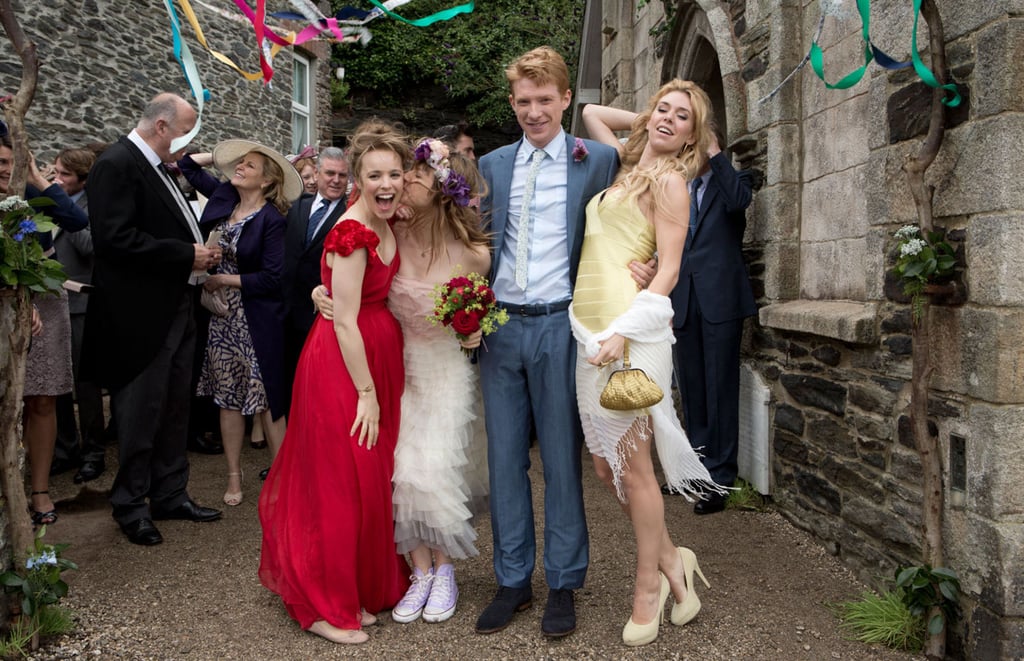 When Mary (Rachel McAdams [5]) and Tim (Domhnall Gleeson) tie the knot in About Time, Mary flouts the white dress tradition and goes for red. Don't be afraid to break the rules.
Have Your Attendants Walk You Down the Aisle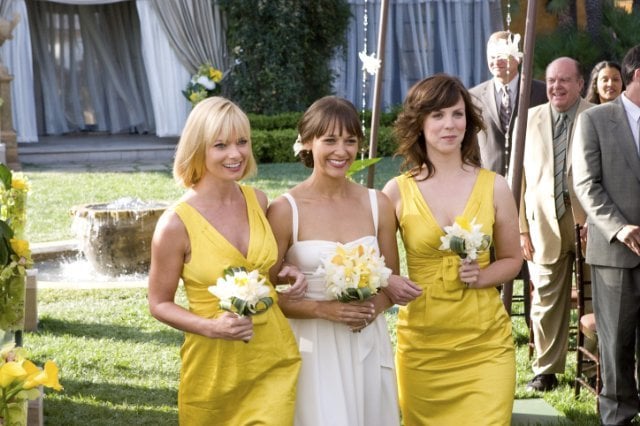 If your dad isn't going to walk you down the aisle but you still want an escort, why not have your bridesmaids do the job? It was sweet in I Love You, Man, and it makes perfect sense.
Go Monochrome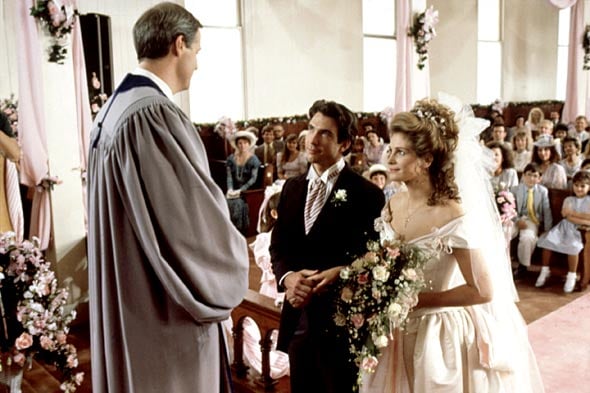 "My colors are blush and bashful."
"Her colors are pink and pink."
This is one of the best conversations from Steel Magnolias, when Shelby (Julia Roberts [6]) defines her shades of pink. We get it. The inspiration here is in using two shades of the same color for your wedding [7], rather than going with two contrasting colors.
Have Entertainment For Kids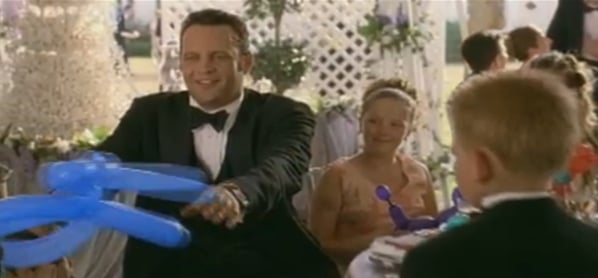 Jeremy (Vince Vaughn [8]) isn't hired to be the balloon guy at a reception in Wedding Crashers, but he ends up doing it anyway. If you have kids coming to the wedding, let this be inspiration to you, and hire some sort of entertainment for children at the reception.
Go Short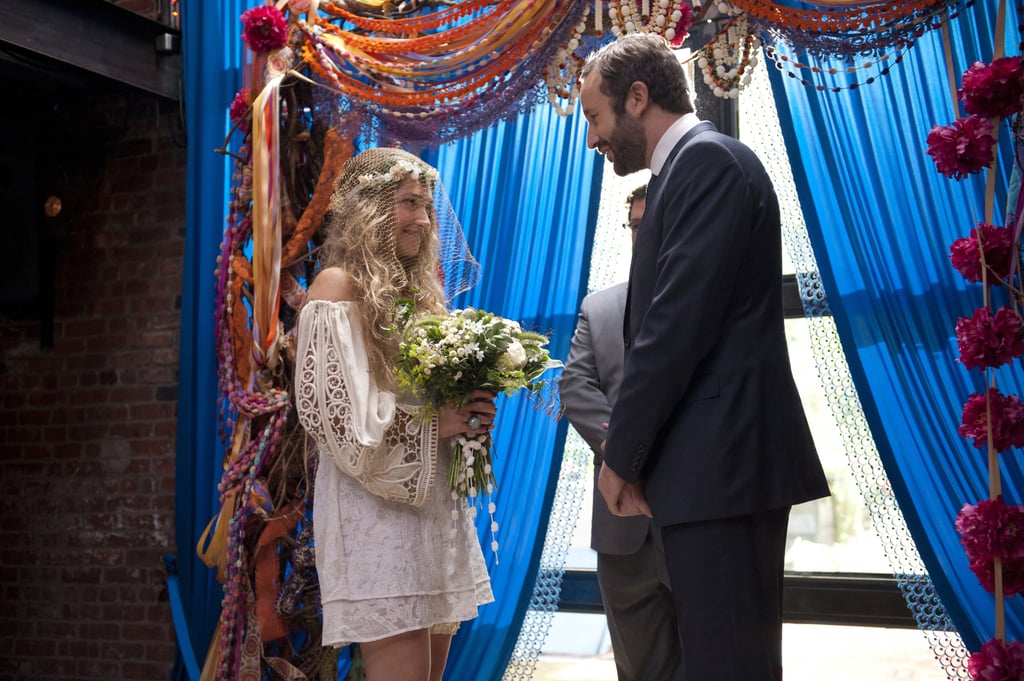 When Jessa (Jemima Kirke) marries Thomas-John (Chris O'Dowd) on Girls, she rocks a short boho dress in her quirky Brooklyn ceremony. Don't be afraid to go short!
Multicolored Bridesmaids' Dresses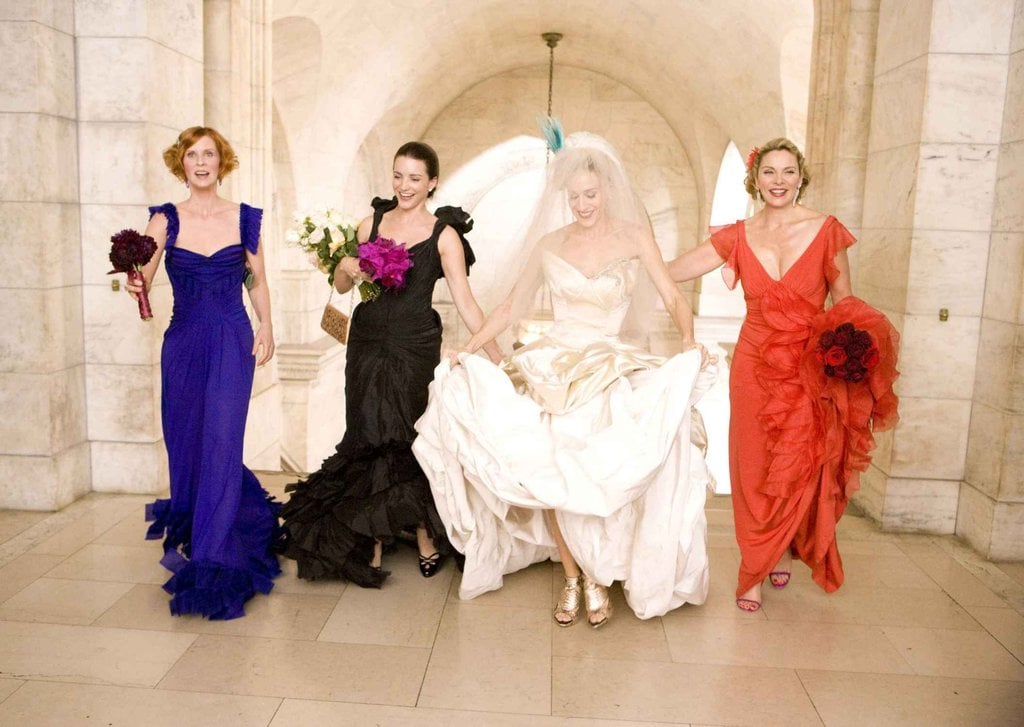 Bridesmaids' dresses are traditionally one single color, but, of course, Carrie Bradshaw dares to be different in the Sex and the City movie, and she puts her attendants in completely different colors. If this is too extreme for you, then consider varied shades of the same color for your bridesmaids.
Swans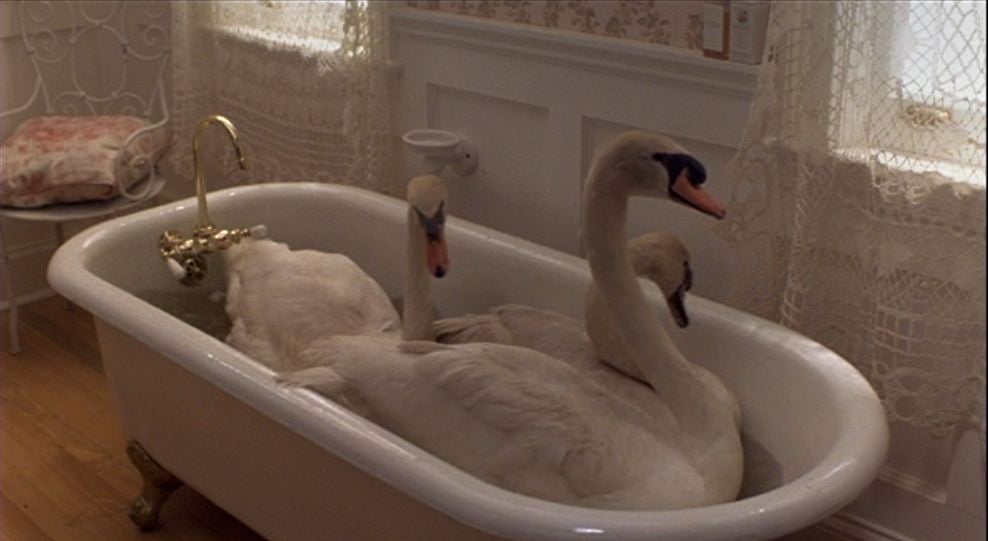 George Banks (Steve Martin [9]) thinks swans are a bit over the top in Father of the Bride, but shoot, if you can't be over the top at your wedding [10], when can you be?
Stay Home For the Wedding
That is, throw the party in your home, or a home that will accommodate as many guests as you'd like. It's warm, intimate, and might be more your style than any other venue — it was perfect for Dr. Yang (Sandra Oh [11]) and Dr. Hunt (Kevin McKidd) on Grey's Anatomy.
Have a Best Woman or a Bridesman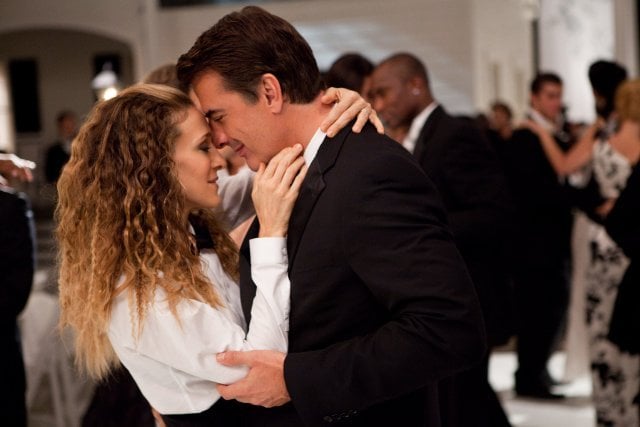 Subvert gender stereotypes, and use your closest friends in the wedding [12] party on whatever side you like. For a fun touch, put the best woman in a suit, like Carrie rocks for Stanford's wedding in Sex and the City 2.
A Singing Groom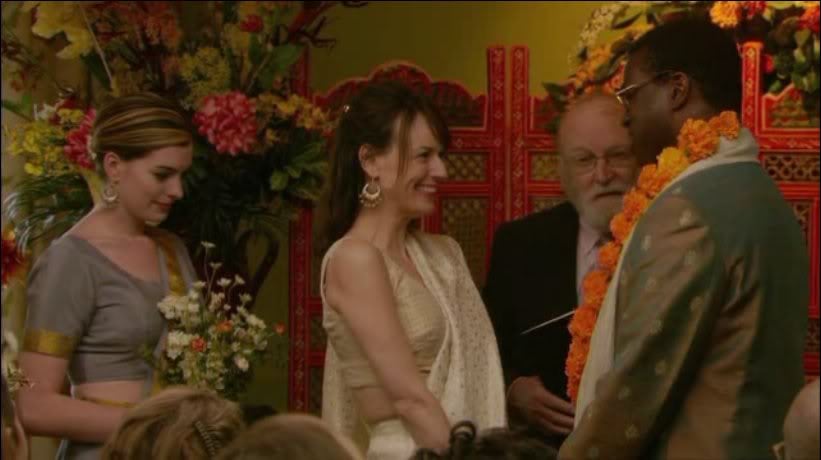 Want to make your ceremony truly special? Have the groom sing a song. Make sure he has some good pipes, though, like in Rachel Getting Married.
Send Off Lanterns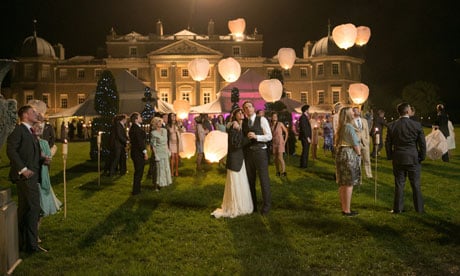 Give your wedding [13] a grand finale by sending off paper lanterns into the night, like the characters do in I Give It a Year.
Let Grooms Show Off Their Style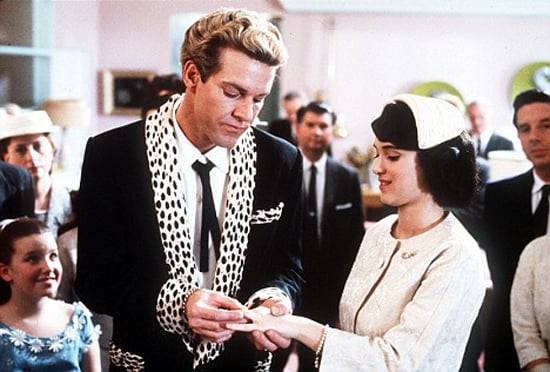 Grooms usually get the more generic look at the wedding [14], but why? The groom or grooms should be able to express themselves through fashion, much the way Jerry Lee Lewis (Dennis Quaid) does in biopic Great Balls of Fire. Look how rad he looks!
Wedding Ideas to Steal From Movies