Other than Brad Pitt [1] and Angelina Jolie [2], the other big name surrounding the couple's secret wedding last weekend [3] is Donatella Versace. That's because she was the lucky designer to create the bride's custom silk-satin wedding [4] dress, with the help of the brand's master tailor, Luigi Massi. Still, the Atelier Versace gown — which featured artwork created by her six children in the form of hand-embroidered drawings on her elongated train and reproduced illustrations on her silk veil — wasn't too much of a surprise to fans of Angelina's bold style.
The star has often turned to the Italian fashion house for her most memorable red carpet moments. In fact, we don't even think her wedding [5] dress is the most awe-inspiring look of them all. We handpicked our 10 all-time favorite Angelina-in-Versace looks so you can see for yourself.
Source: People [6]
Angelina Jolie on Her Wedding Day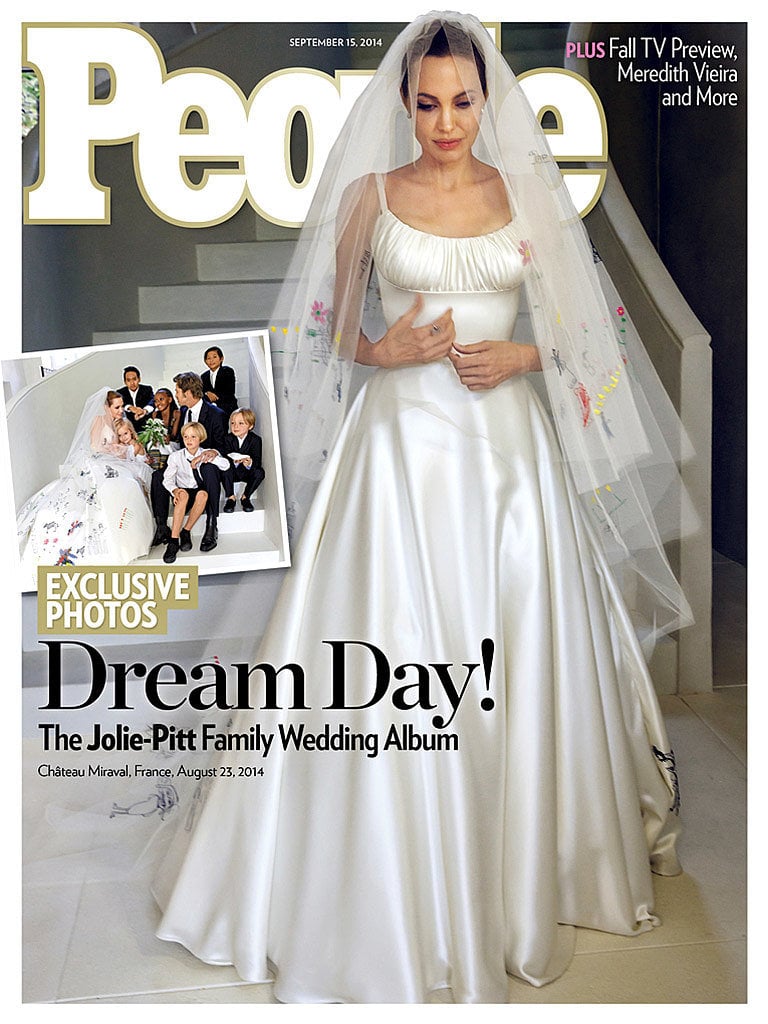 "Luigi is like family to me, and I couldn't imagine anyone else making this dress," Angelina told People. "He knows and cares for the children, and it was great fun putting it together."
In addition to the bespoke dress, the star accessorized with a pair of white Versace silk satin pumps.
Source: People [7]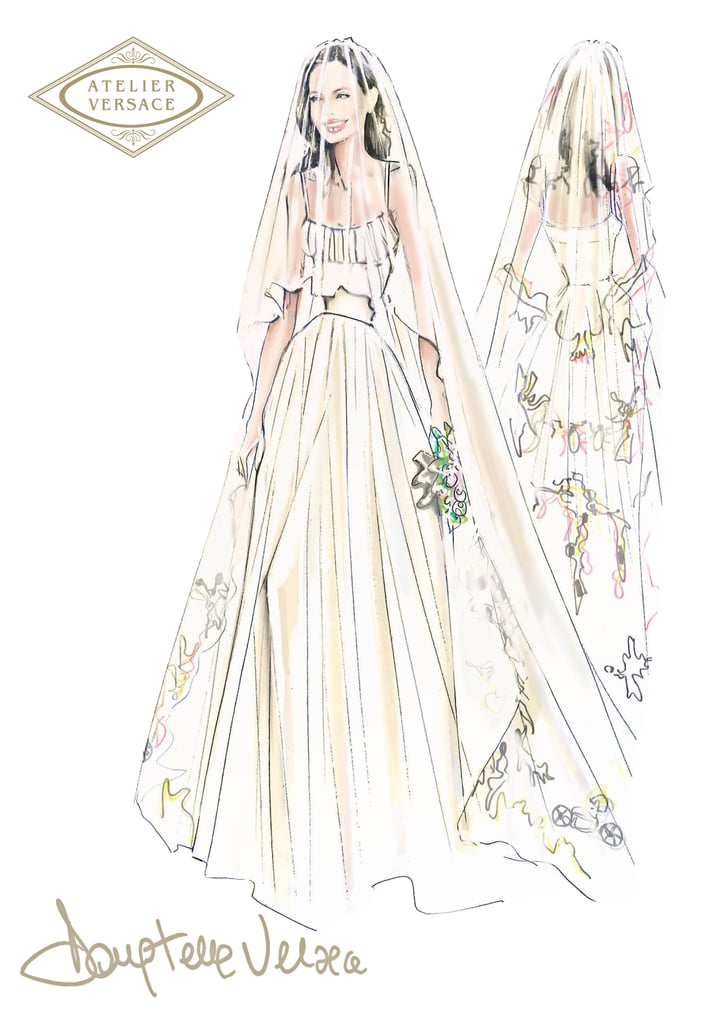 A sketch of Angelina's wedding [8] dress and veil.
Courtesy of Versace [9]
Angelina Jolie at the 2012 Golden Globe Awards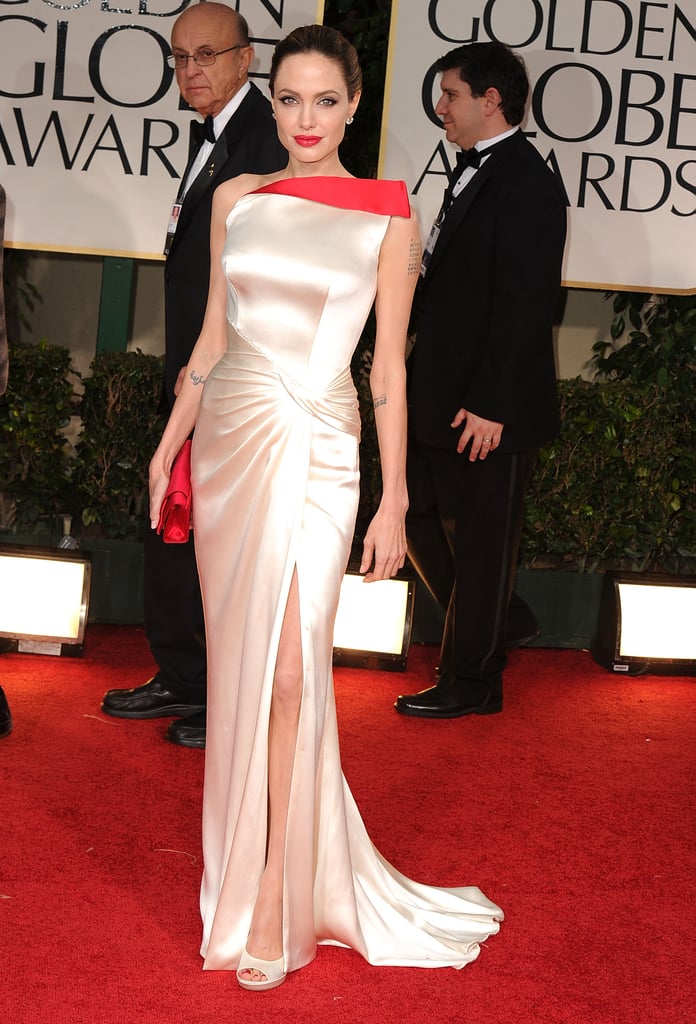 The star went for serious Hollywood glam in a bold one-shouldered cream Versace dress with a dramatic red collar accent. We love how she accented the look with a perfectly matching clutch and red lip.
Angelina Jolie at the 2011 Golden Globe Awards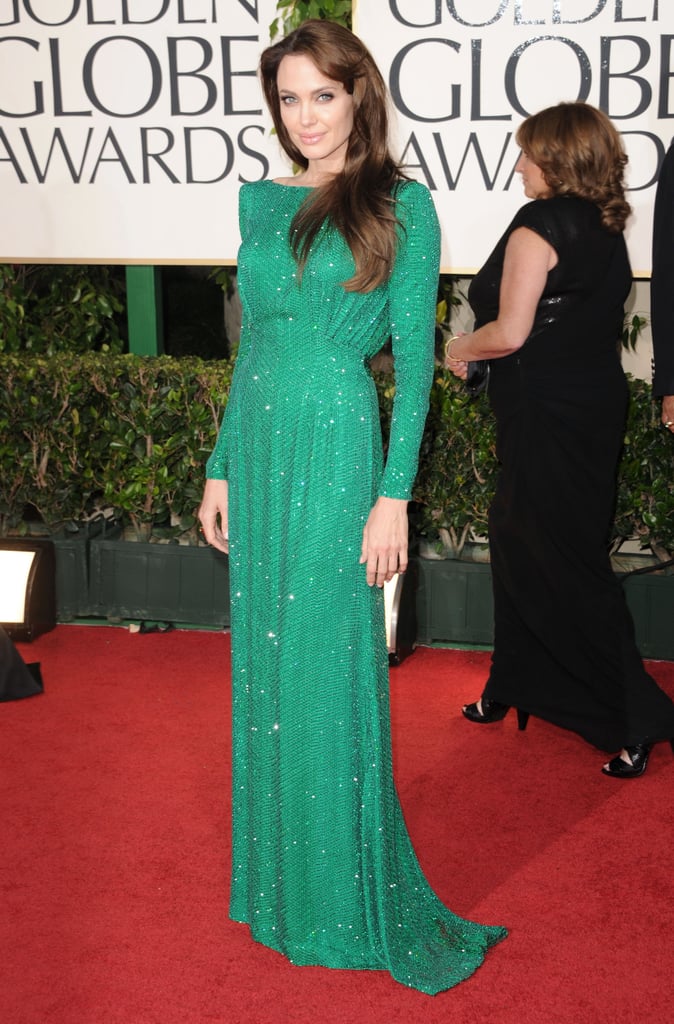 One of our favorite looks from Angelina has to be this long-sleeved emerald-green Atelier Versace gown. Covered entirely in Swarovski crystals, the open back complemented the conservative neckline flawlessly.
Angelina Jolie at the 2014 Maleficent Premiere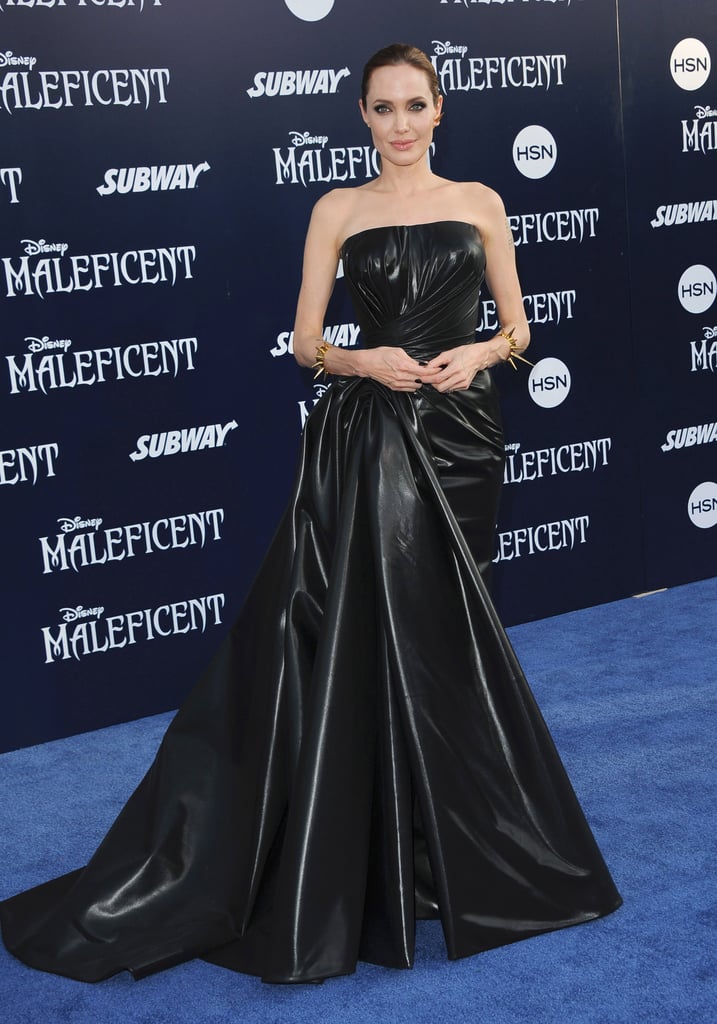 Only Angelina can pull off an all-leather ball gown, like she did in this gathered black Atelier Versace dress.
Angelina Jolie at the 2009 Golden Globe Awards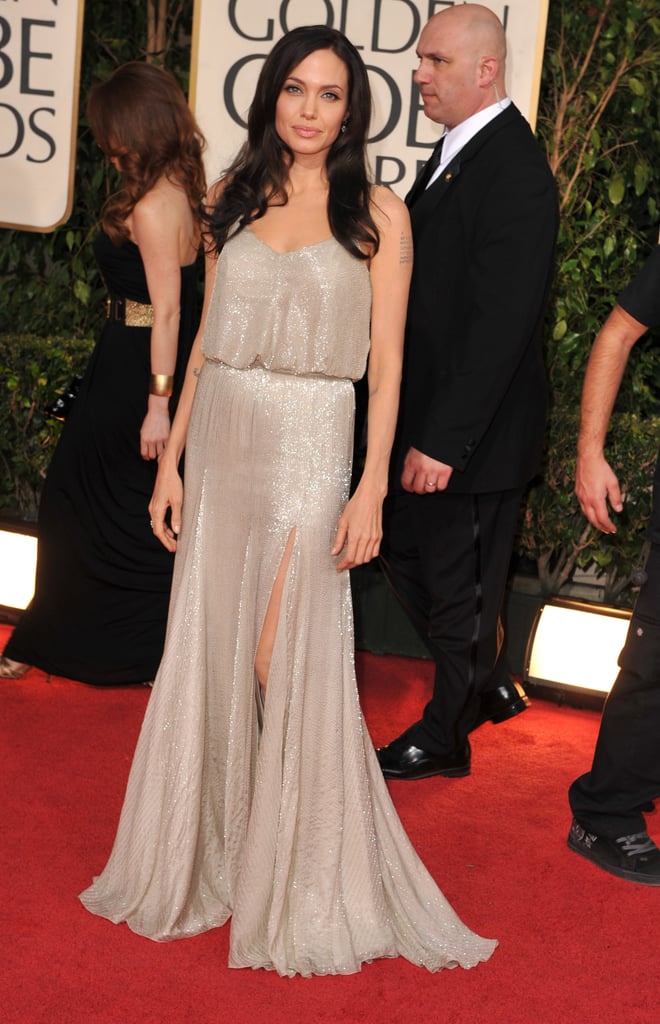 The actress shimmered in this simple, ice-colored drop-waist gown by Atelier Versace.
Angelina Jolie at the 2010 Madrid Premiere of The Tourist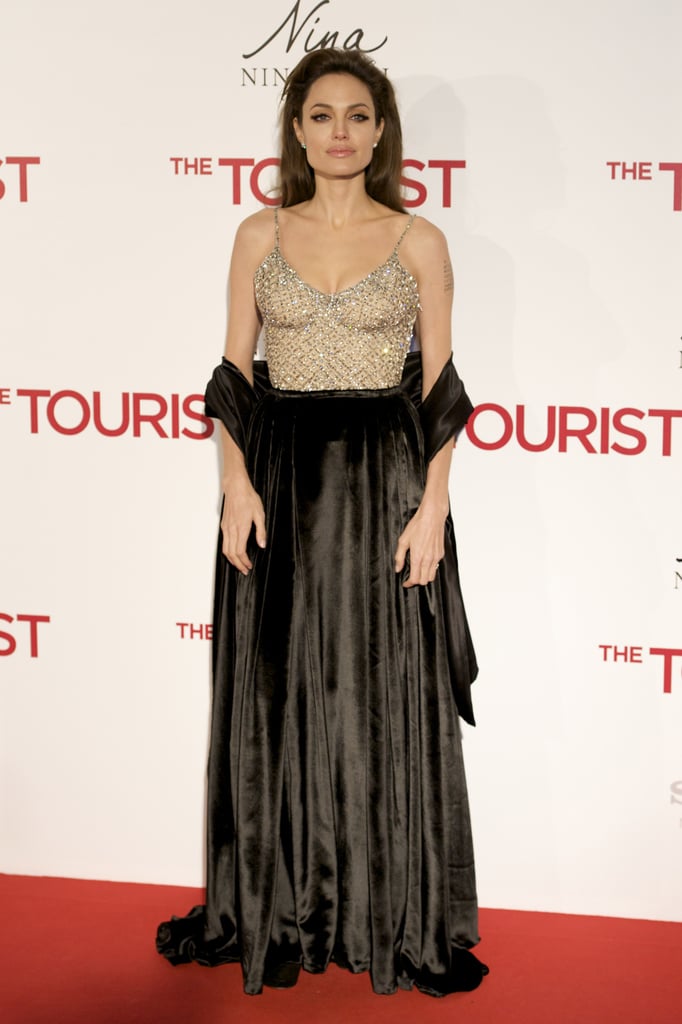 The star paid homage to her more gothic side in this Atelier Versace ensemble that featured a Swarovski-encrusted nude top and black velvet skirt with matching shawl.
Angelina Jolie at the 2011 Cannes Film Festival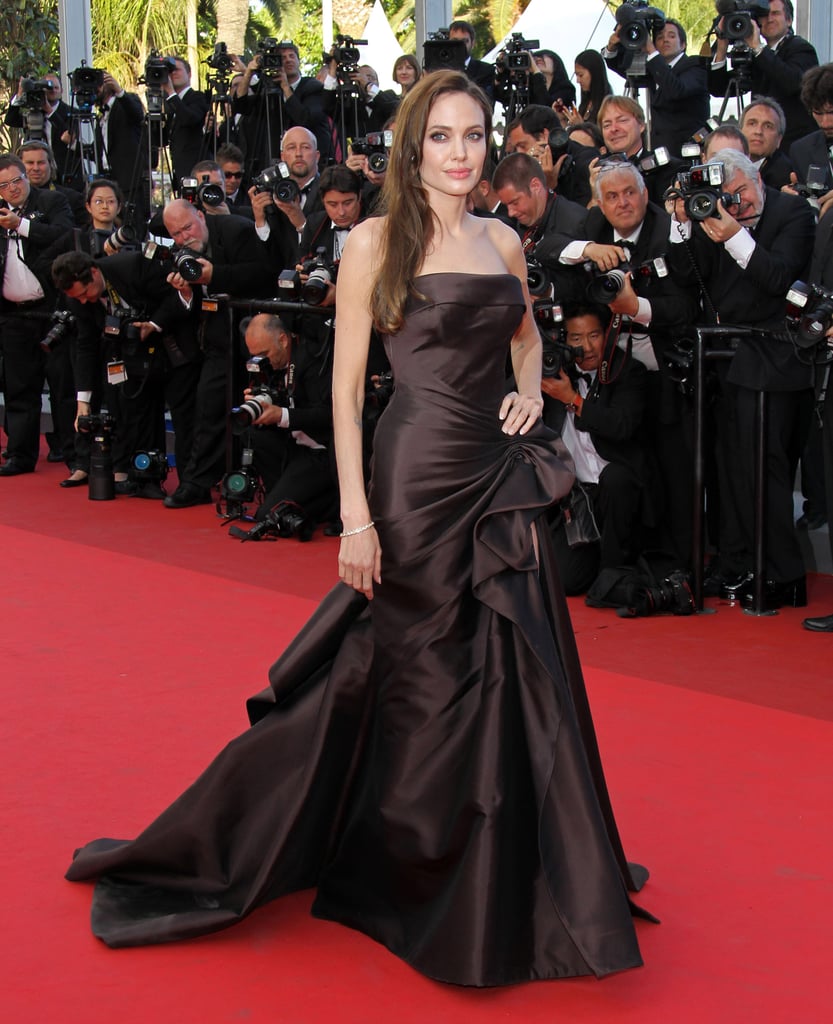 We like how Angelina alternates between slinky gowns and high-volume ones, as she did when she wore this rich-chocolate strapless Atelier Versace gown with a long train.
Angelina Jolie at the 2010 New York Premiere of The Tourist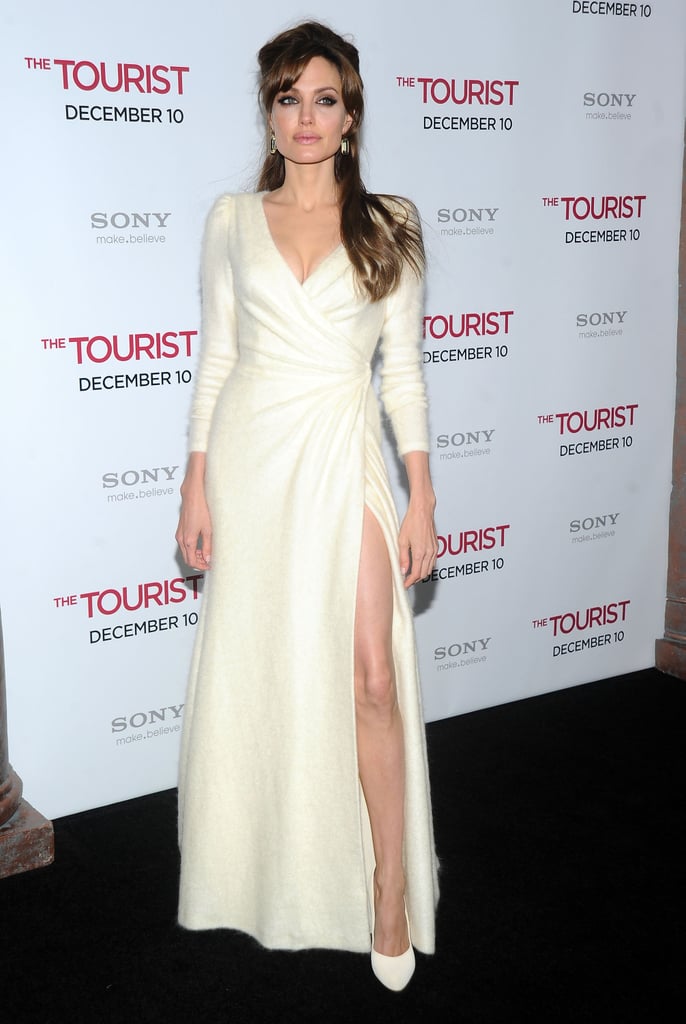 This cozy cashmere dress by Atelier Versace was both sweet with its fuzzy texture and sexy with its plunging neckline and thigh-high slit.
Angelina Jolie at the 2009 Cannes Film Festival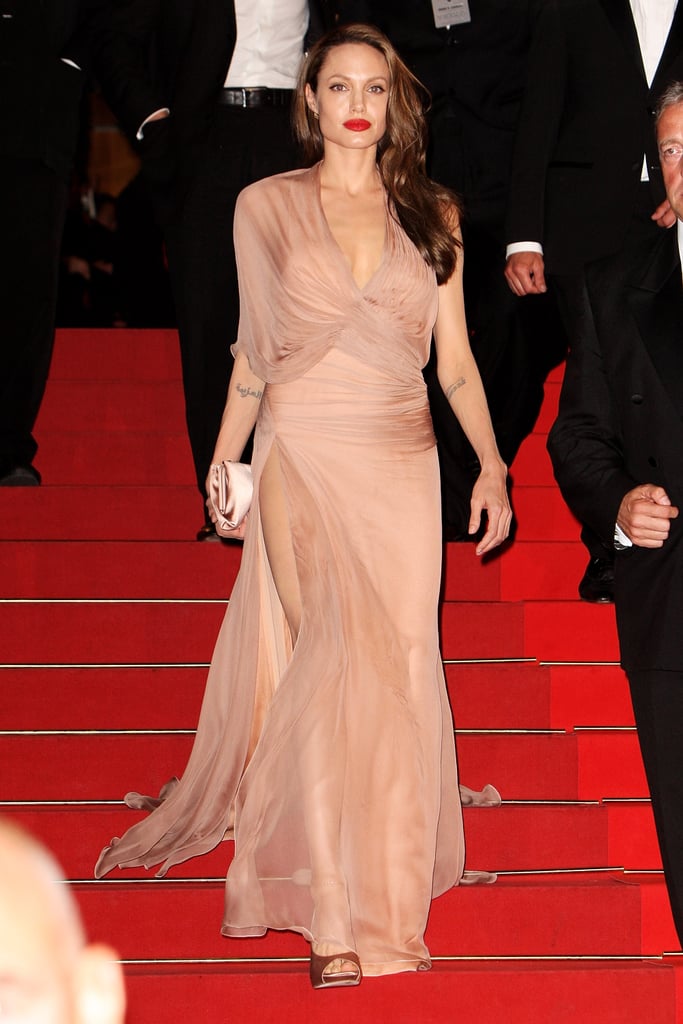 It didn't get much more jaw-dropping than this nude-hued silk chiffon Versace creation, with a superhigh slit that has since become a classic styling choice of the star.
Angelina Jolie at the 2012 Oscars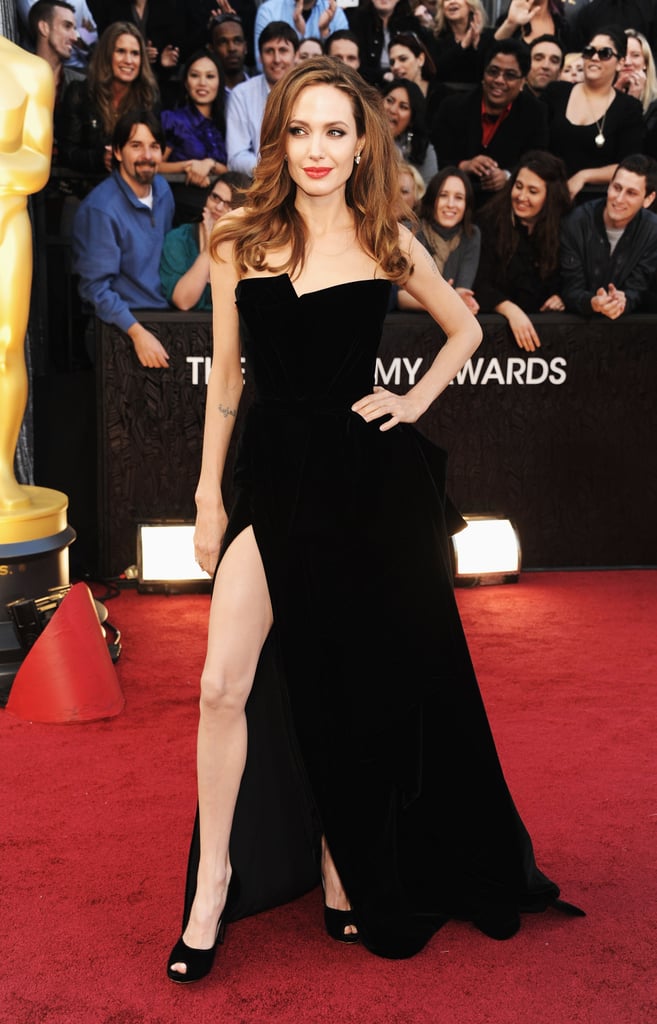 When the actress bared her right leg in this stunning black velvet Atelier Versace gown, which happened to be designed by Massi, it became such an Internet sensation that a Twitter account was created on her appendage's behalf.