It's no longer a question of when or what, because Angelina Jolie said "I do" [1] in what we now know was an Atelier Versace gown [2]. Still, with a style résumé as eclectic as Angelina's, the bride could have gone [3] a myriad of directions.
After all, from dangerous accessories [4] to risqué materials, it's almost easier to imagine all the moments that wouldn't be repeated on her wedding [5] day than the looks that could easily double as bridal attire. So we've picked the nine styles that were nearly (this is Angelina, after all) guaranteed not to be repeated, all building up to Angelina's ultimate wedding [6] day pick.
A Tuxedo
Though she's never been a conformist, we suspect Angelina would stick to tradition on this one and let Brad stand alone in his penguin suit.
Spikes
Even this edgy dresser [7] knows that there's a time and place for leather accessories.
Long Locks
We've yet to see the return of the style that got her dubbed "Morticia Addams" since she picked up her Oscar. The wedding [8], no doubt, would not be the ideal day to resurrect them.
The Vial of Blood
No explanation necessary.
A Slit
Angelina Jolie [9]'s not playing second fiddle to anyone on her wedding [10] day, not even her own leg.
Pearls
'Twas a time when Angelina would deck herself in the classic gem, but these days, Angelina's much more a diamond and emerald girl.
Leather
The woman loves her leather — be it an evening gown or Lara Croft's tight trousers — but a leather wedding [11] gown? Highly unlikely.
Bloody Wedges
Though these Christian Louboutin heels have taken a charitable spin (with proceeds benefitting SOS Children's Villages [12]), we still think Angelina would opt for something a bit more, dare we say, comfortable for a walk down the aisle.
A White Suit
How chic would the actress look stepping out in a classic style that speaks to the way she looks most comfortably dressed? Still, we Angelina would never go so low-key for a chateau affair.
But She Did Wear This — Was It the Right Choice?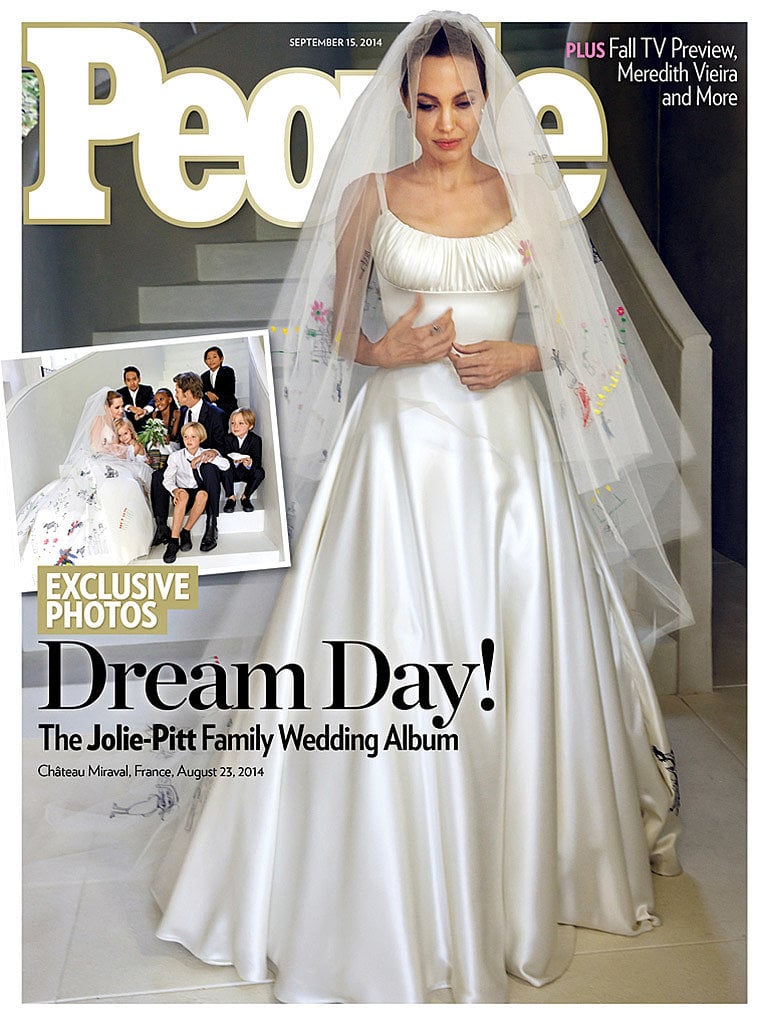 With all the choices she could have made, Angelina opted for a custom Atelier Versace gown. Was her decision the right one?