You don't have to be a fan of basketball (or any other sport, for that matter) to appreciate what's happening on the NBA's hottest courts. That's because celebrities have really upped their games with some amazing sideline style [1]. And if you're like us, with the din of college basketball games somehow in the background everywhere you are, there's never been a better excuse to study their style.
Fans like Jessica Alba [2], Rihanna [3], Cara Delevingne, and Olivia Wilde [4] have stepped out in all manner of things, from knee-high boots or stilettos to sneakers and sweats. With such a variety, you're sure to find a star who aligns with your own sporting sensibilities (Olivia even rocked team colors!). Keep reading to see all of our favorite courtside looks.
— Additional reporting by Randy Miller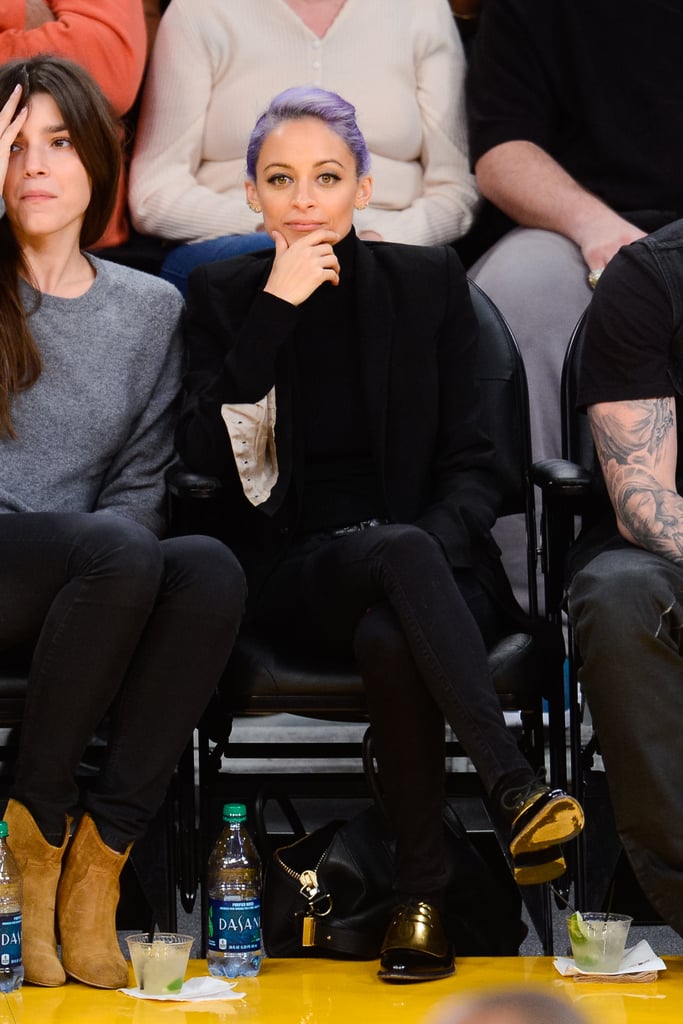 The most shocking part of Nicole Richie [5]'s all-black outfit? Her lilac hair! [6] The bright hue was the only thing that could've distracted us from her chic gold and black oxfords.
Emmy Rossum went for the athletic vibe (albeit a more classic Americana one) at the Staples Center, picking a varsity sweater, black jeans, ankle boots, and a candy necklace.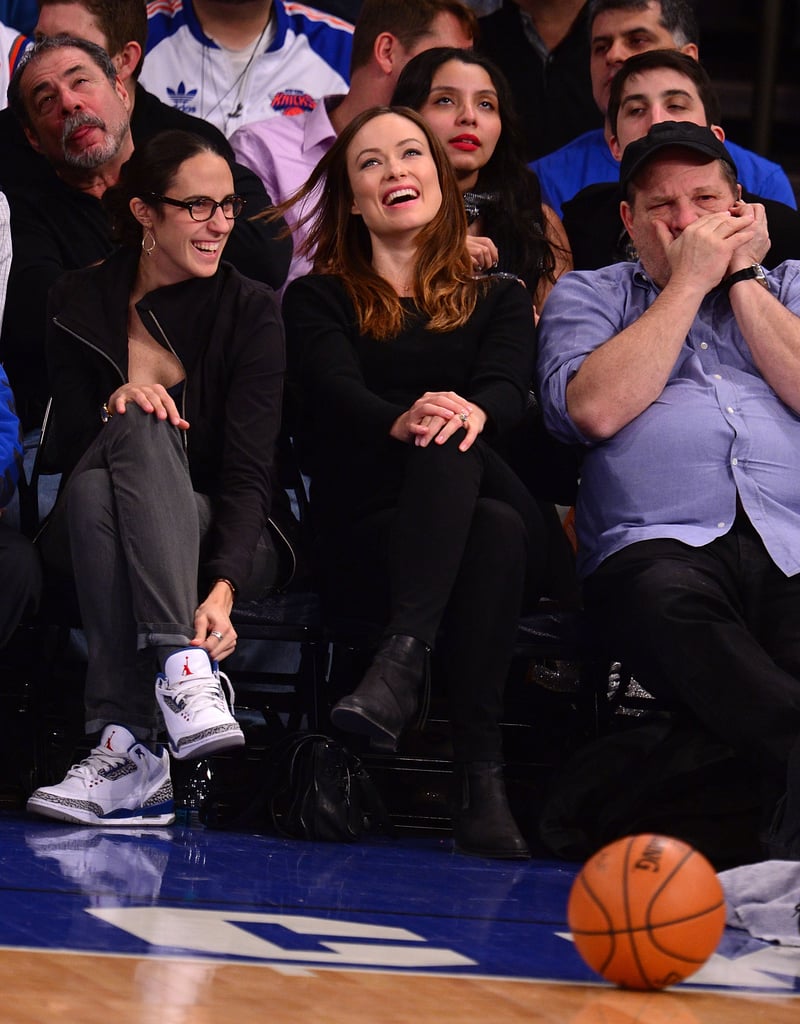 To support the Knicks, Olivia Wilde [7] dressed like a true New Yorker — all in black.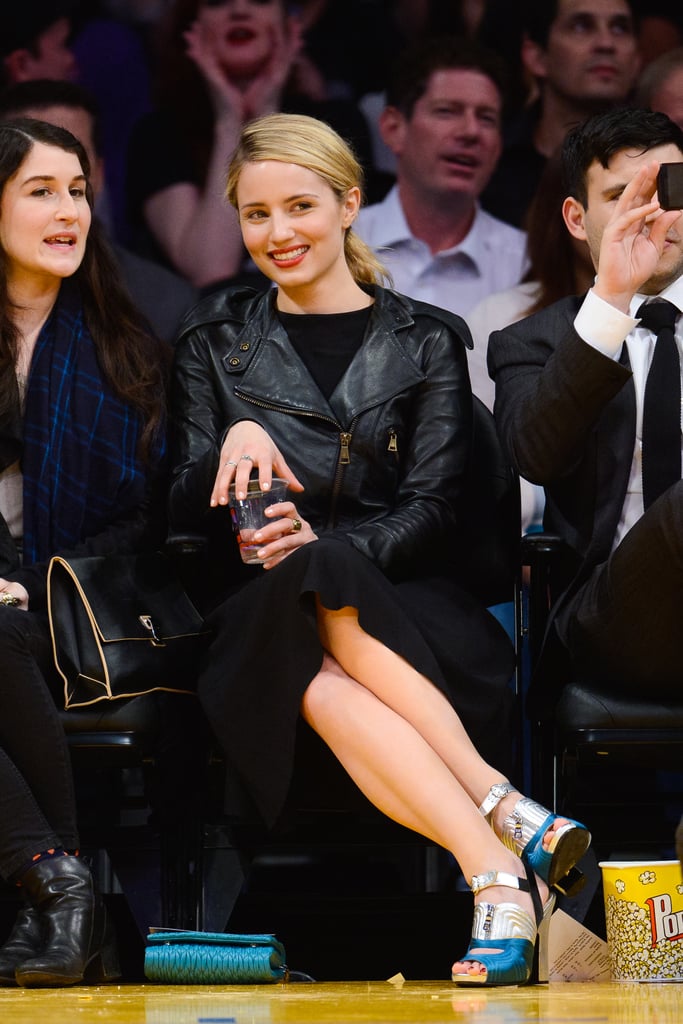 You can take the lady courtside, but you can't take the lady out of her. No t-shirt here: Dianna Agron [8] caught a Lakers game in a chic black motorcycle jacket and metallic heels.
Emmy Rossum's never been shy about her basketball obsession, and this getup sends the message loud and clear. She fully embraced her team spirit with a classic basketball cap accenting her leather skinnies and embellished top.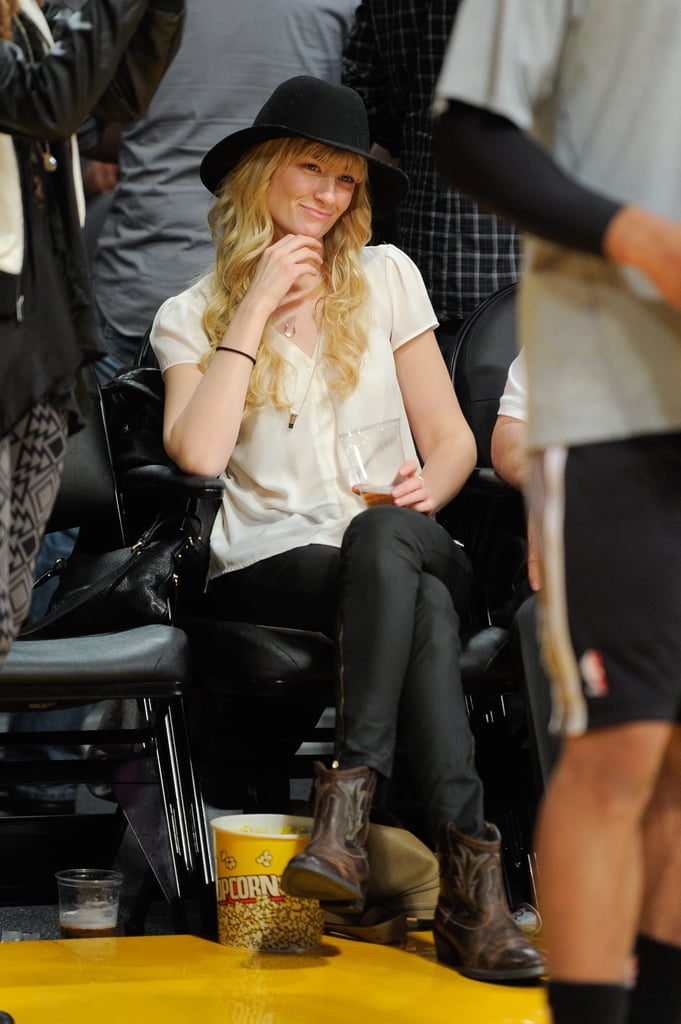 Things felt a little country for Beth Behrs in LA, where she watched a game in a simple black and white outfit accented by a pair of ankle-high boots that felt decidedly western.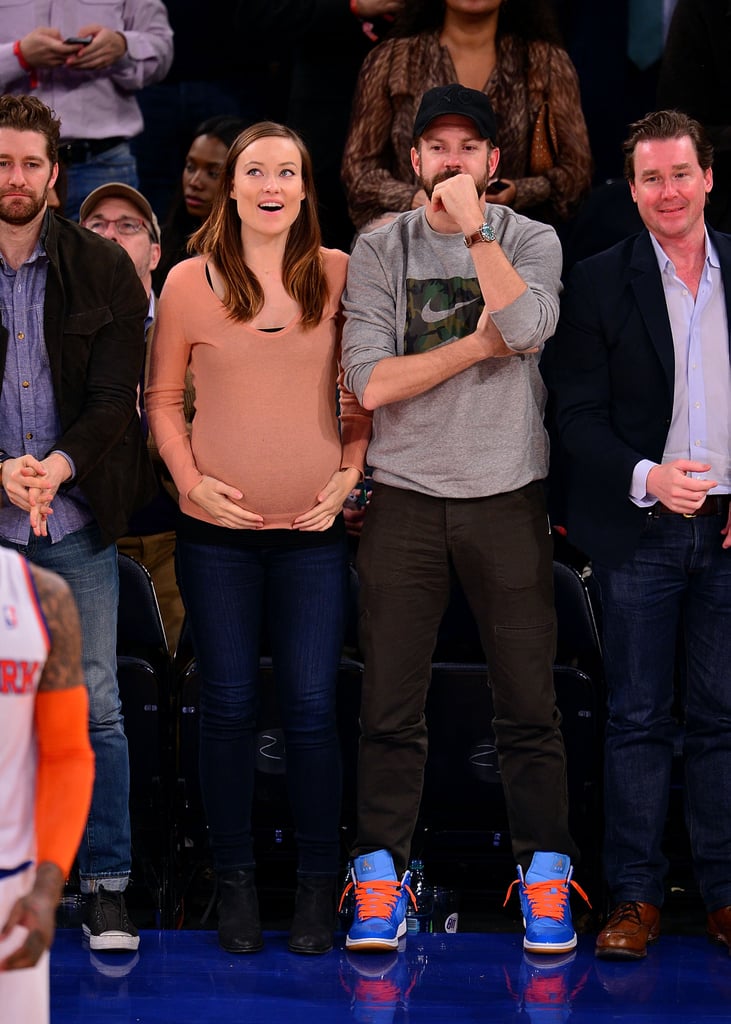 It must be tough to find Knicks-orange in maternitywear! Instead of the bright orange, Olivia picked a more subdued sherbet-colored sweater for a game with love Jason Sudekis (who went there with bold sneakers!).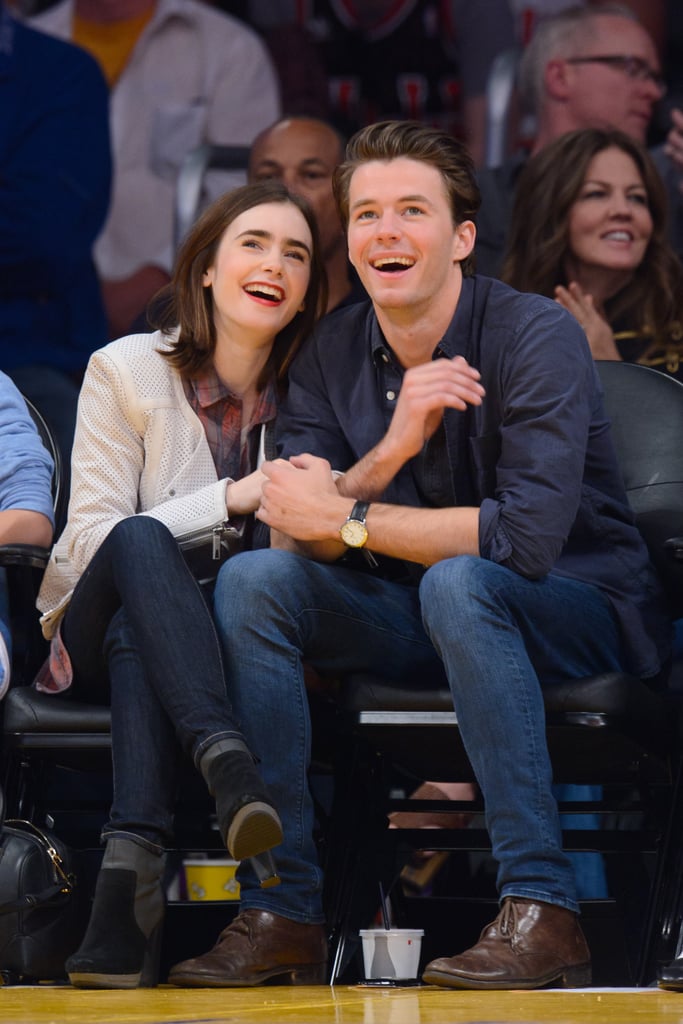 Lily Collins skipped team colors in favor of a perforated leather jacket at a February game.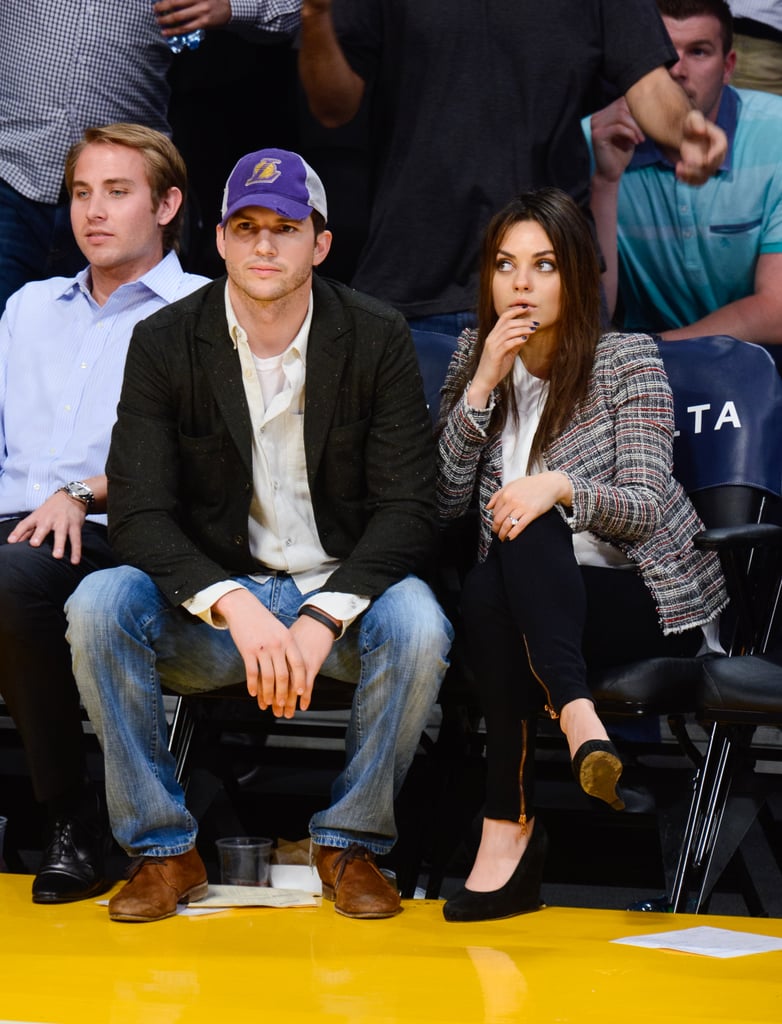 For one of their first appearances as an engaged couple [9], Mila Kunis [10] and Ashton Kutcher [11] took to the courts. She looked office-appropriate, though, in a tweed jacket, wedges, and zippered skinnies.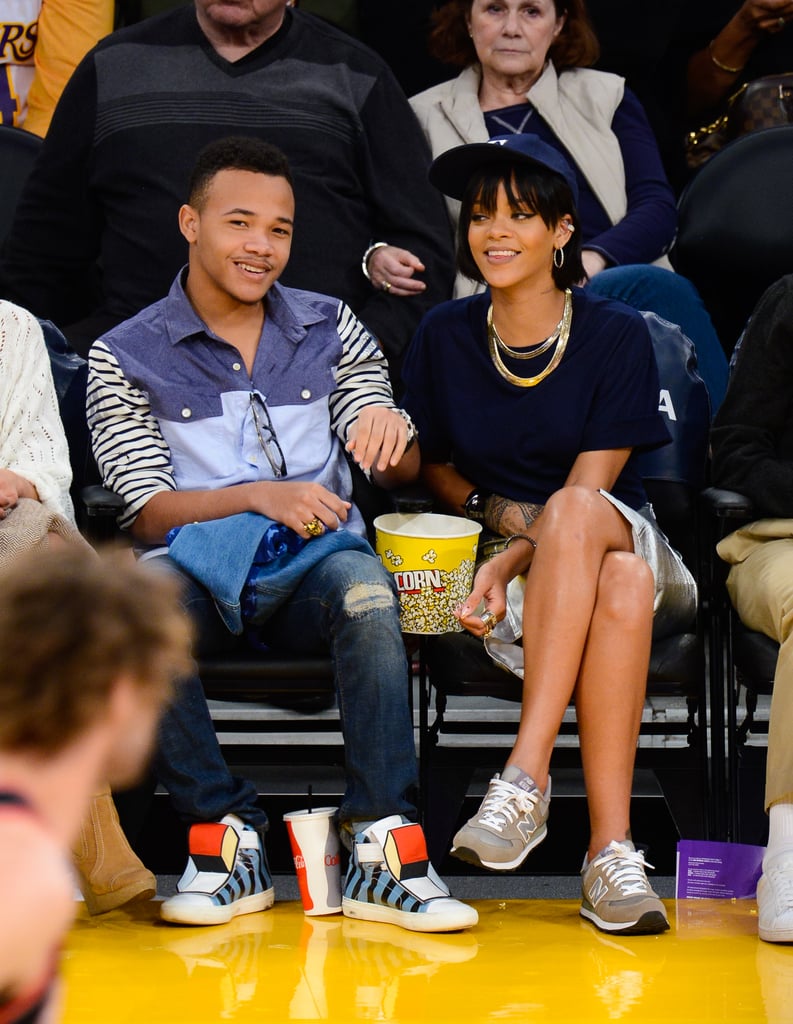 Our favorite basketball game look from Rihanna [12]? The time she wore classic gray New Balance kicks [13] to take in a December game with her little brother.
Cara Delevingne was quite the sport in Nets gear when she joined good pal Rihanna [14]'s cheering section at a recent game.
Jessica Alba [15] kicked up her heels in Coach boots while sitting courtside at a Lakers game.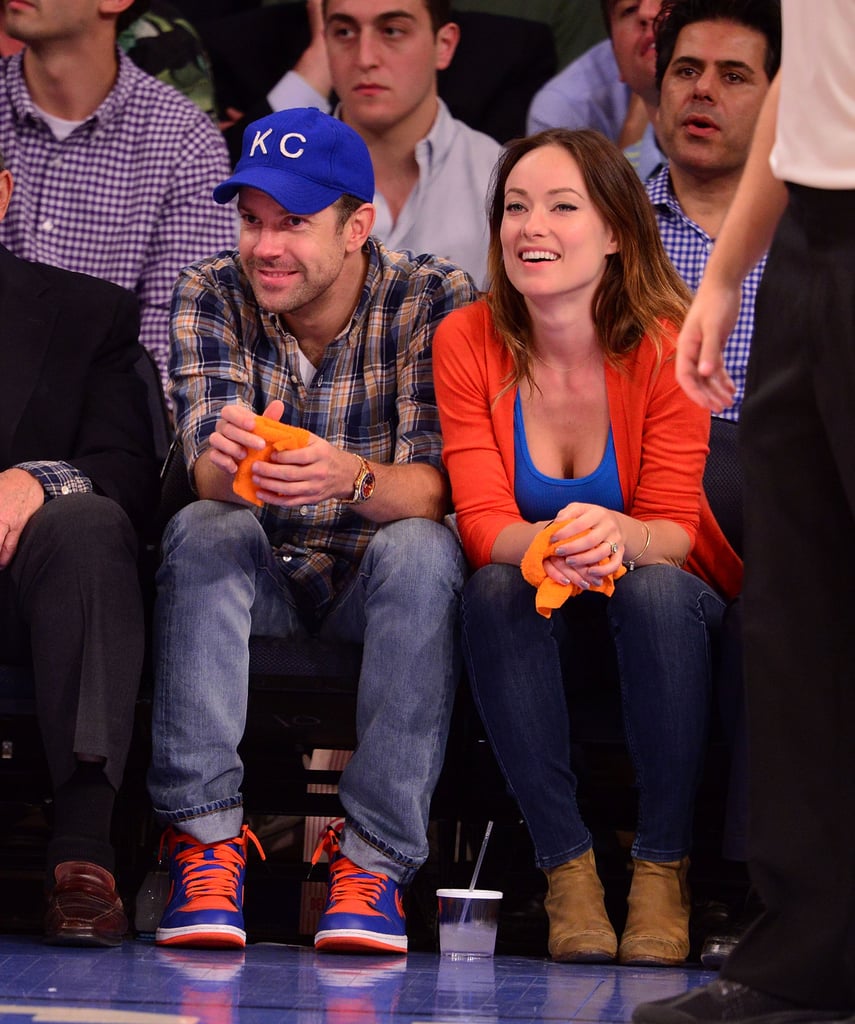 Olivia Wilde [16] showed her pride for the New York Knicks in a blue tank and orange cardigan during the playoff game vs. the Indiana Pacers in May.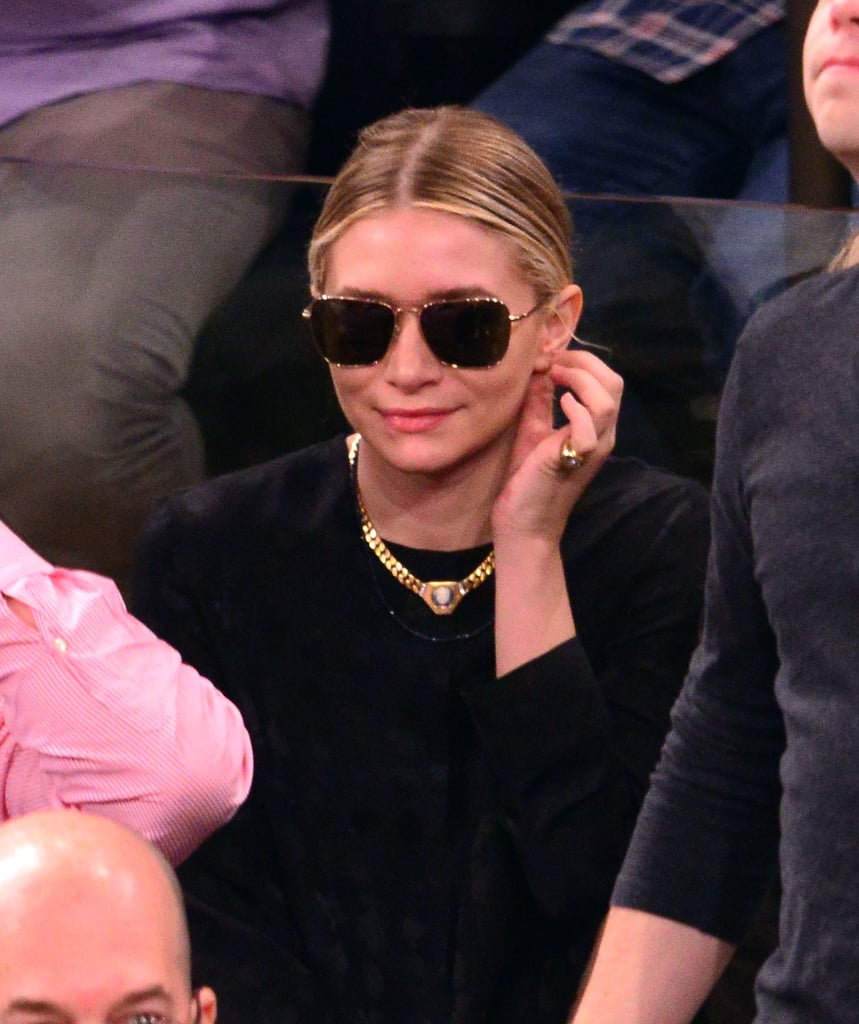 Leave it to Ashley Olsen [17] to look ultrachic at the same New York Knicks playoff game. She sported her signature all-black, then added a gold necklace, pinkie ring, and aviator sunglasses.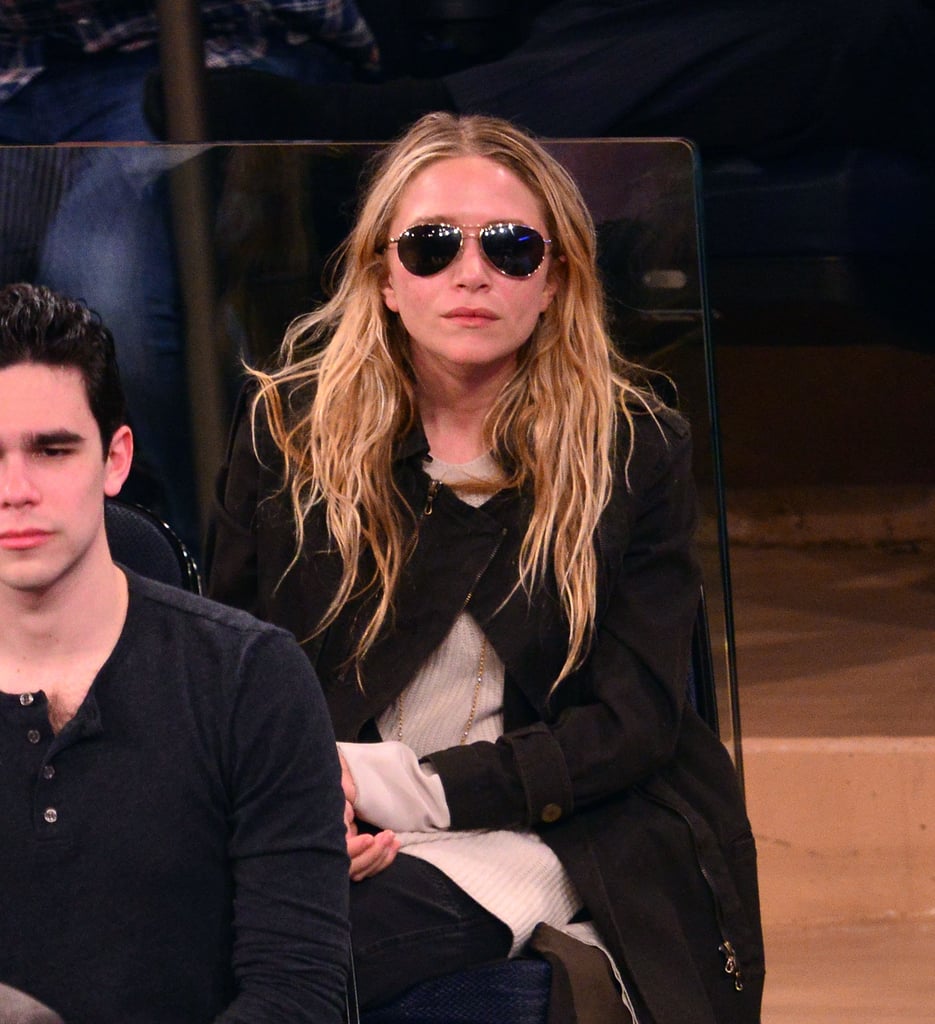 Mary-Kate Olsen [18] also wore aviator sunglasses with a black coat while cheering on the New York Knicks in May.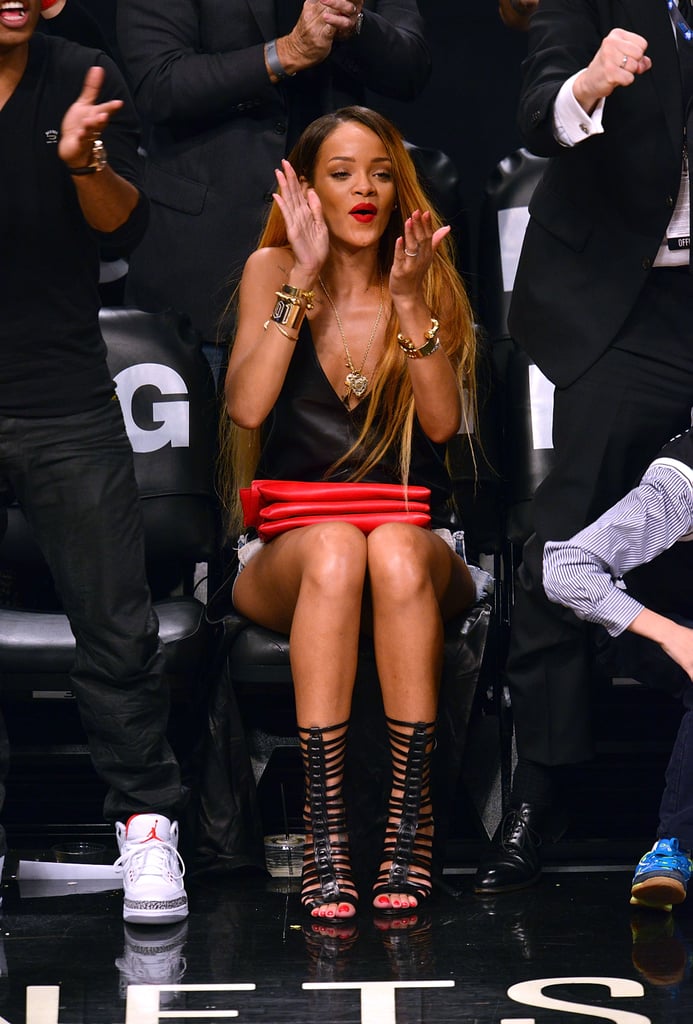 Rihanna [19] sat courtside at a Brooklyn Nets playoff game in April looking risqué in a black leather tank and caged sandal boots by Brian Atwood. For accessories, the singer chose a bright red clutch and a bevy of gold jewels.
At a March Lakers game, Selena Gomez [20] worked plaid in an edgy way by pairing her sleeveless top with all black, including lace-up, peep-toe booties.
At the Lakers game in March, Julianne Hough cheered on the team with Nina Dobrev [21], who sported a bright red top with a black leather jacket, gray ankle booties, and a black Tory Burch satchel.
Hannah Simone and Olivia Munn both wore head-to-toe black to cheer on the Lakers in March.
Beyoncé basically shows everyone how courtside glamour is done whenever she attends Brooklyn Nets games with her hubby (and part-owner of the team) Jay-Z. For a February 2012 game against the NY Knicks, Bey stepped out in black skinnies and a slouchy white tee, which she paired with a bright yellow Rag & Bone blazer and sky-high Christian Louboutin pumps.
We love how relaxed Cameron Diaz [22] looked at this January 2011 Lakers game — she wore a pair of black skinnies, an olive jacket, and brown flat boots for maximum comfort. Plus, she's got the best basketball game accessory of all: an ice-cold beer.
Bar Refaeli [23] kept things rocker-cool in a vintage tee and motorcycle boots for a Lakers game in January 2010.
The only thing cooler than Drew Barrymore [24]'s military-inspired courtside look: the fact that she's so into the game! Drew watched the Lakers play the LA Clippers with husband Will Kopelman in March 2011 in a vintage tee and laid-back olive-hued pants.
Victoria Beckham [25] sat front-row with her husband, David, for a May 2012 Lakers game wearing wide-legged dark denim jeans and high-heeled boots.
Reese Witherspoon [26] wore a buttery leather jacket with black pants and high-heeled boots for a March 2013 Lakers game.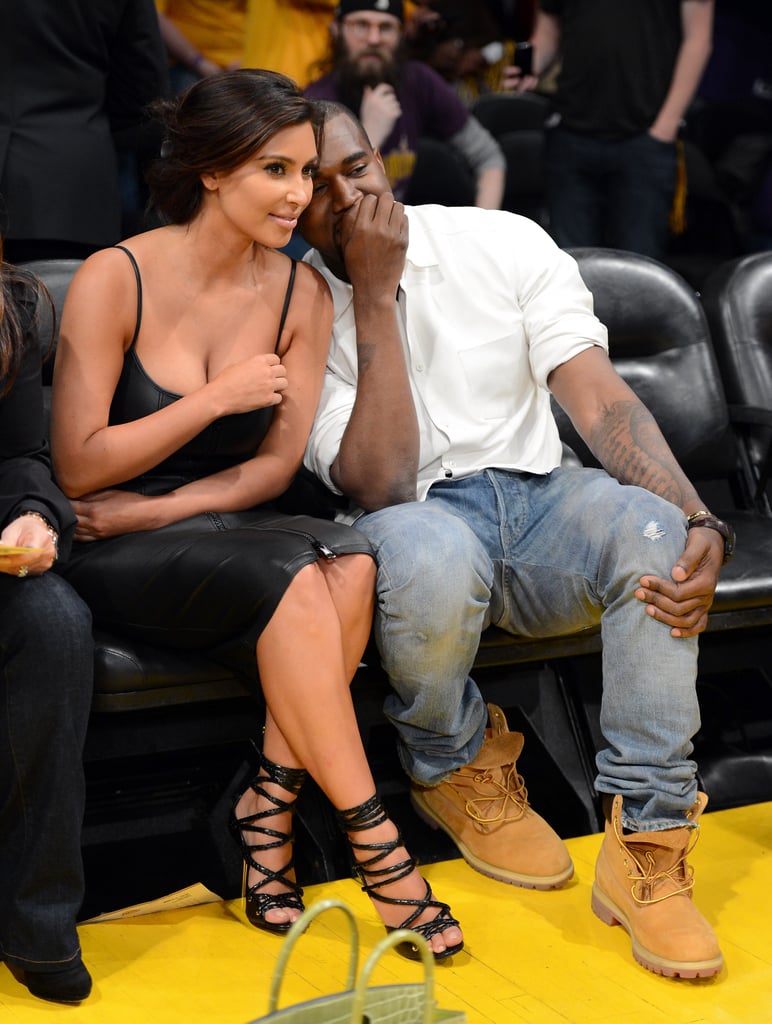 Kim Kardashian [27] was definitely dressed up for this May 2012 Lakers playoff game, but we love her black strappy leather dress and matching lace-up heels. When you're sitting courtside with Kanye West [28], why not go all out?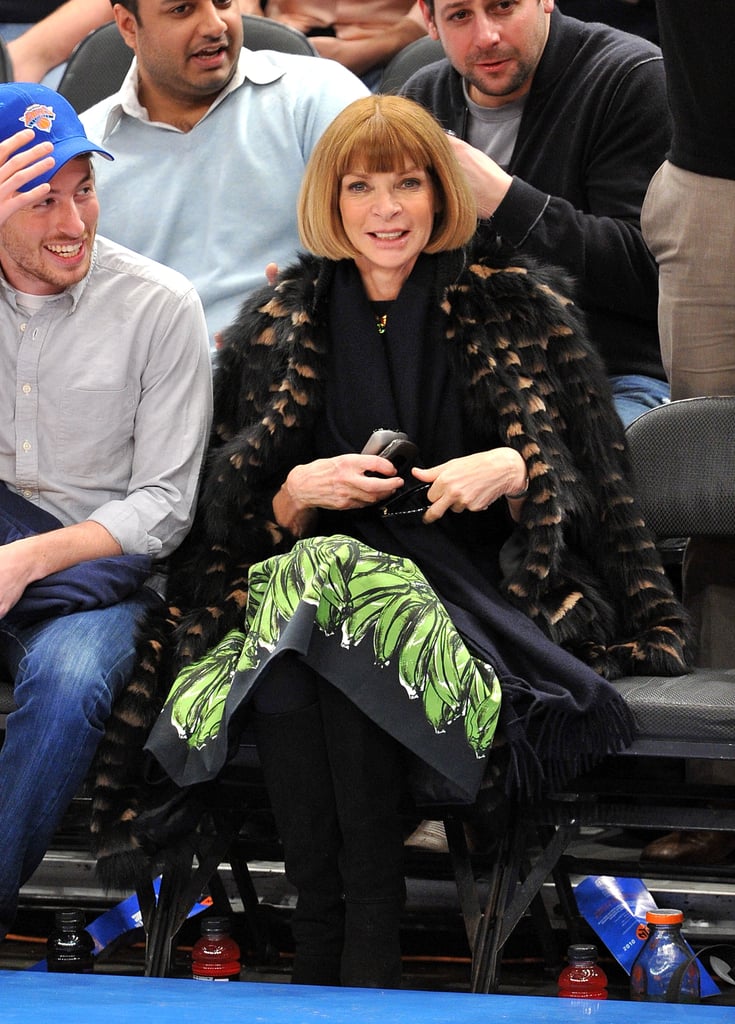 Anna Wintour sat courtside for a February 2011 Knicks game in the exact way you would expect her to: looking fabulous and chic in a printed skirt and fur coat.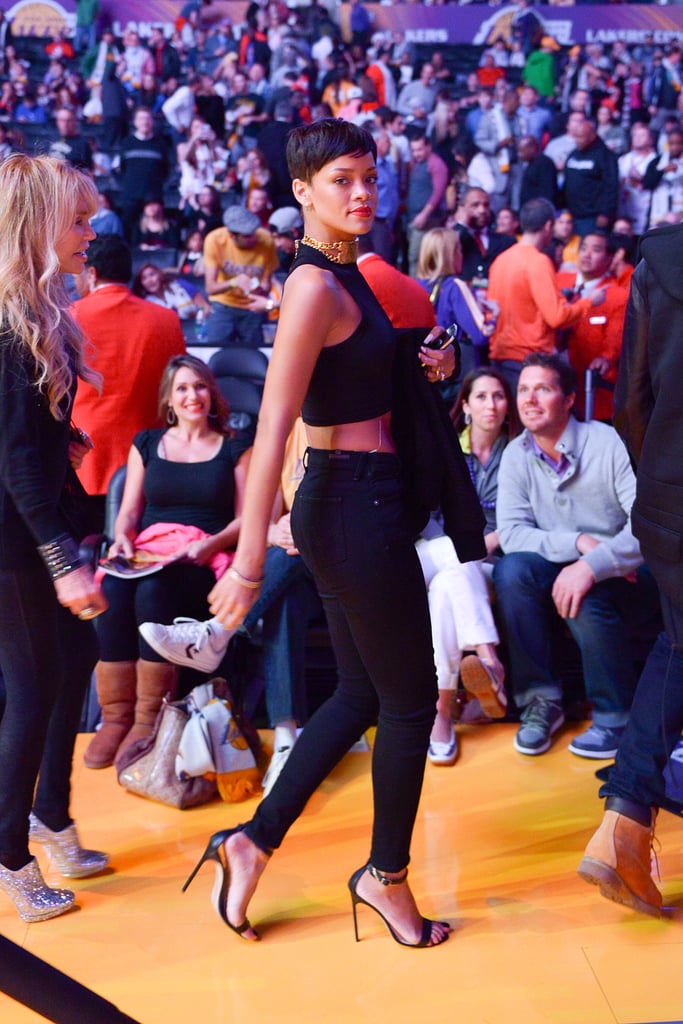 Rihanna [29] went full-on sexy in tight black pants and a crop top while checking out a Lakers game on Christmas Day in 2012.
Kate Upton went with an all-black ensemble to cheer on the NY Knicks in May 2012.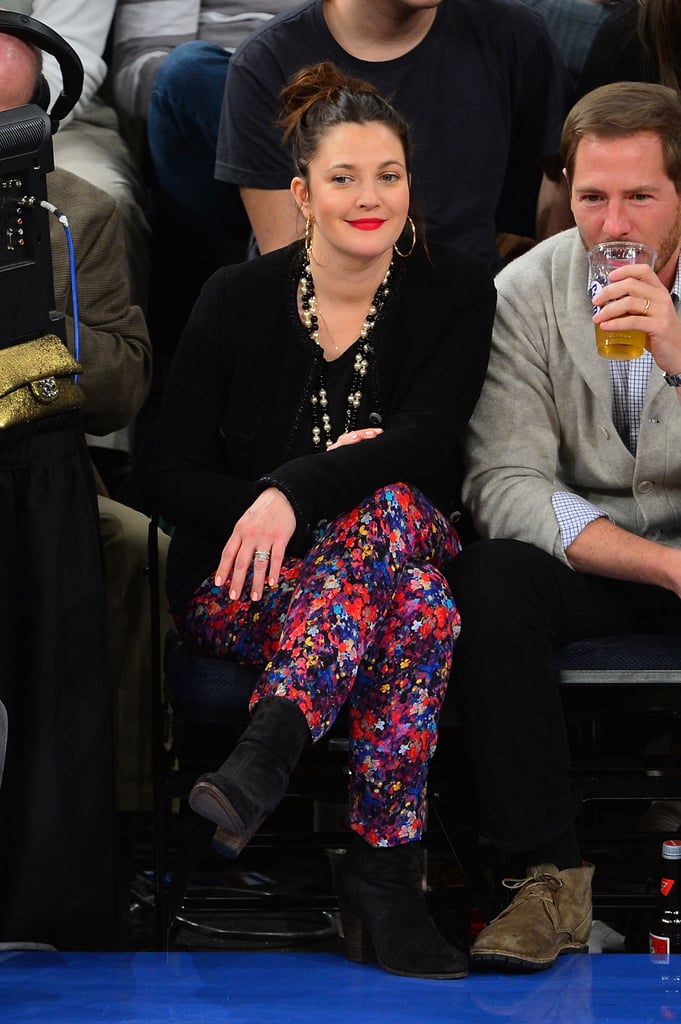 Drew Barrymore [30]'s floral-print pants and sweep of bright lipstick stole the show during a January 2013 Knicks game.
Olivia Wilde [31] chose a rocker-cool leather jacket and quilted ankle boots for a February 2013 Knicks game with fiancé Jason Sudeikis.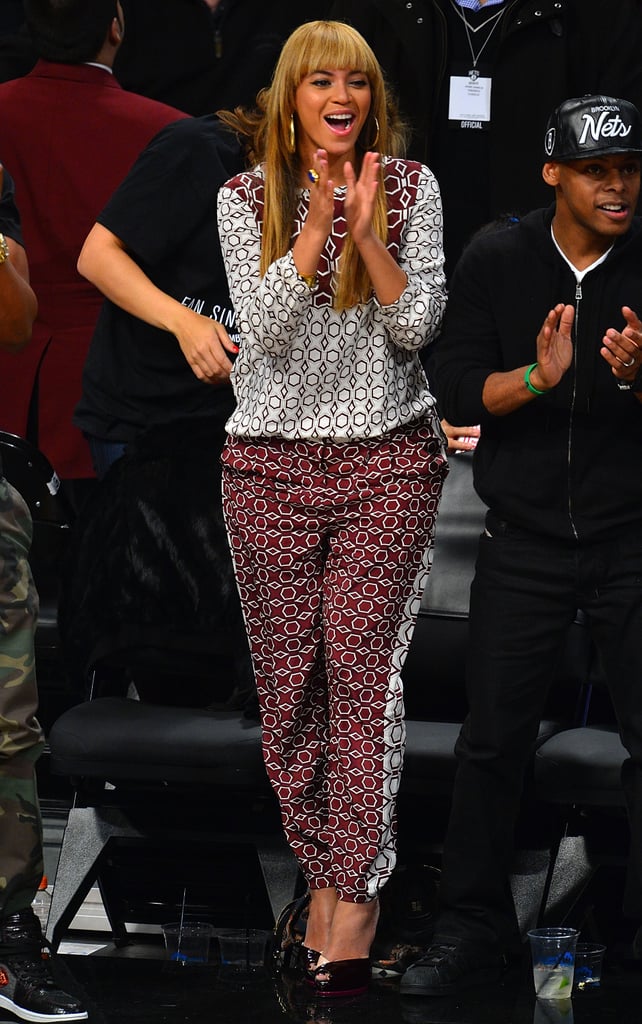 Ah, Beyoncé: this print-on-print Tibi look was pretty much the stuff dreams are made of. This November 2012 Nets game got a whole lot more stylish with Bey's front-row presence.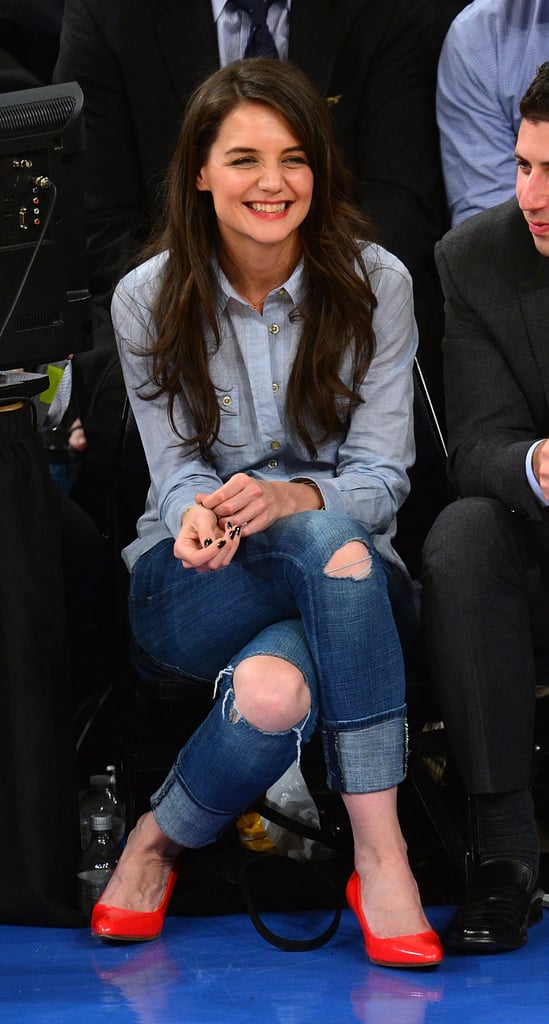 Katie Holmes [32]'s double-denim outfit and bright pumps were a fun, fresh addition to the front row at a February NY Knicks game.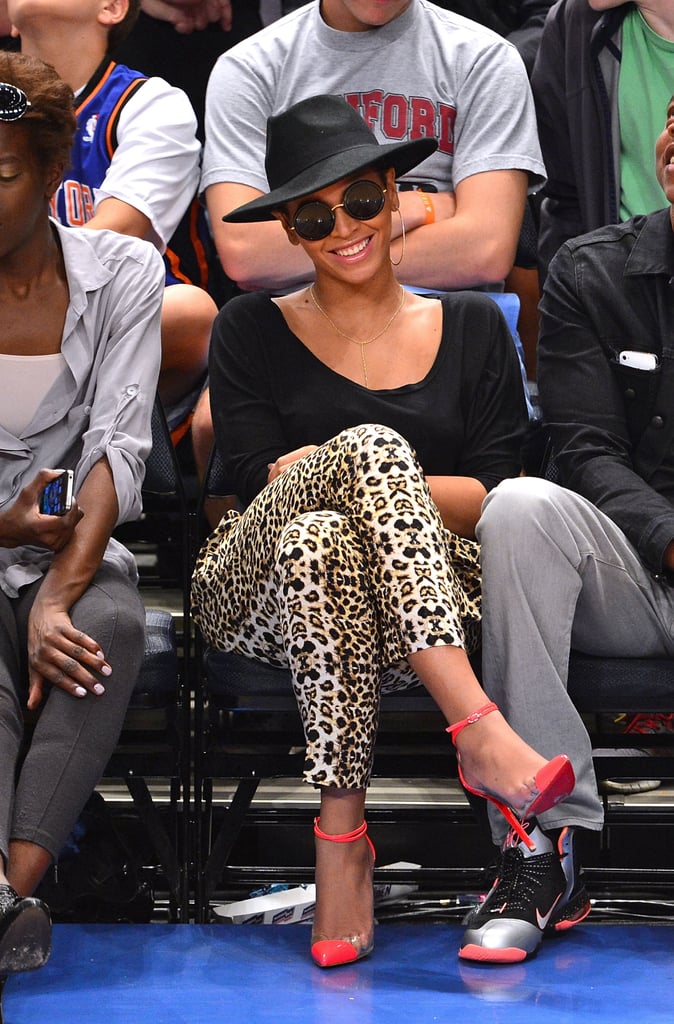 Beyoncé showed off fierce sideline style in April 2012, wearing a pair of leopard-print pants, hot-pink Christian Louboutins, and a wide-brimmed hat.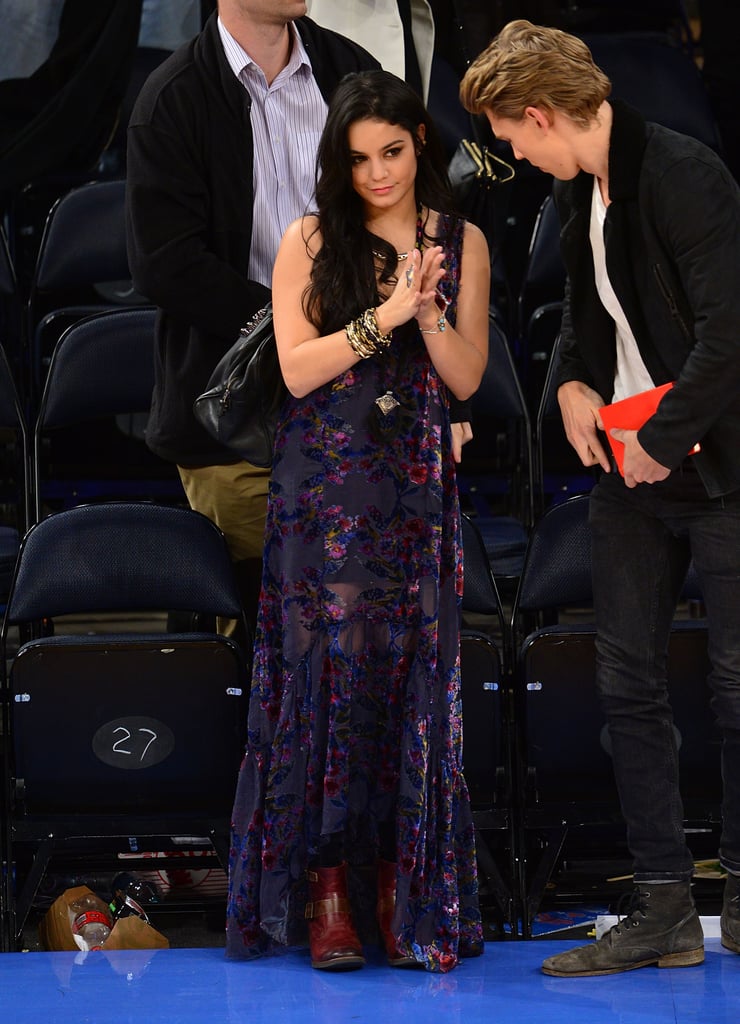 Vanessa Hudgens [33] showcased a hippie-chic look while checking out a Knicks game in November 2012.
Lana Del Rey took a literal approach to sporty chic in a cool blue varsity jacket while arriving at a Lakers game in April 2012.
Nicole Richie [34] stayed slightly incognito at a March 2012 Lakers game in a wide-brimmed wool hat. Her bright blue sweater is probably what tipped off the cameramen.
Charlize Theron [35] brought her mom along for a Lakers game in January. We love how she paired black waxed jeans with a white tee, denim jacket, and nude ankle booties.
Mila Kunis [36] cheered on the Lakers in February in a team shirt, black skinnies, and high-top sneakers — a classic, low-key game look.
Alicia Keys [37] was boasting a sleek black leather look while posing with the Knicks City Dancers at a game in November 2012.