We see a lot of clothing coming and going on the New York Fashion Week runway — and we mean a lot. So it's easy for a piece or two to get lost in the shuffle, let alone entire collections. If you're not the most avid of followers, don't worry, because we've got you covered. Whether it's a trend you'll be wearing all Spring long, a notable model, or just a show highlight, these are the must-know moments from the week's runways.
Source: IMAXTREE [1], Getty / Brian Ach [2]
Day 8: Calvin Klein Spring 2015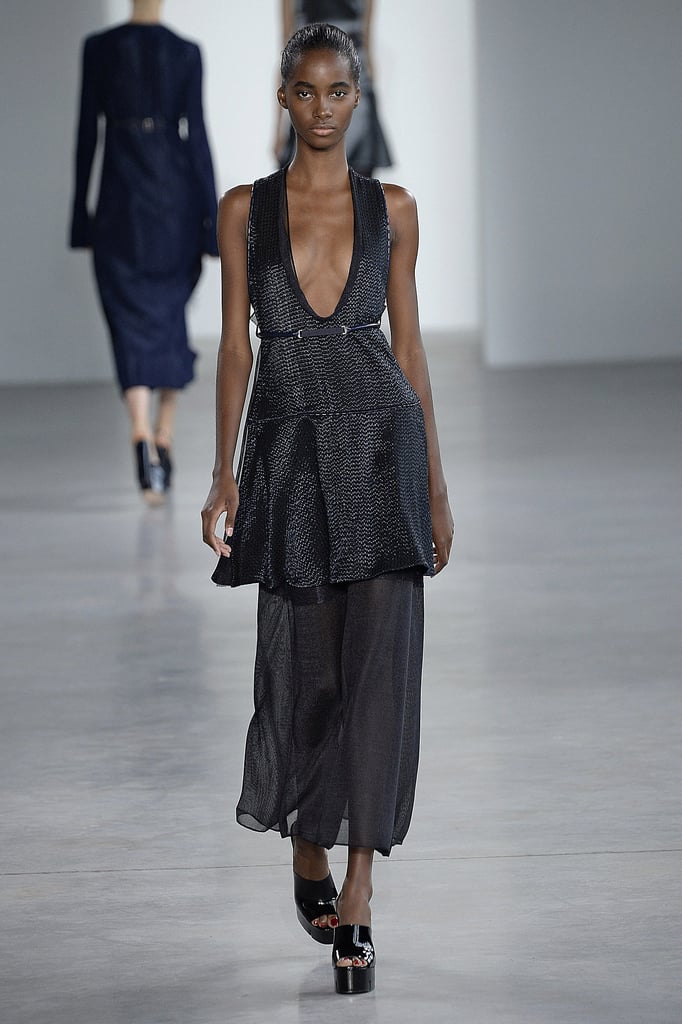 Just because you're a minimalist doesn't mean you can't get on board with layering — because if Calvin Klein can top a skirt with a dress, anyone can.
Day 8: Marc Jacobs Spring 2015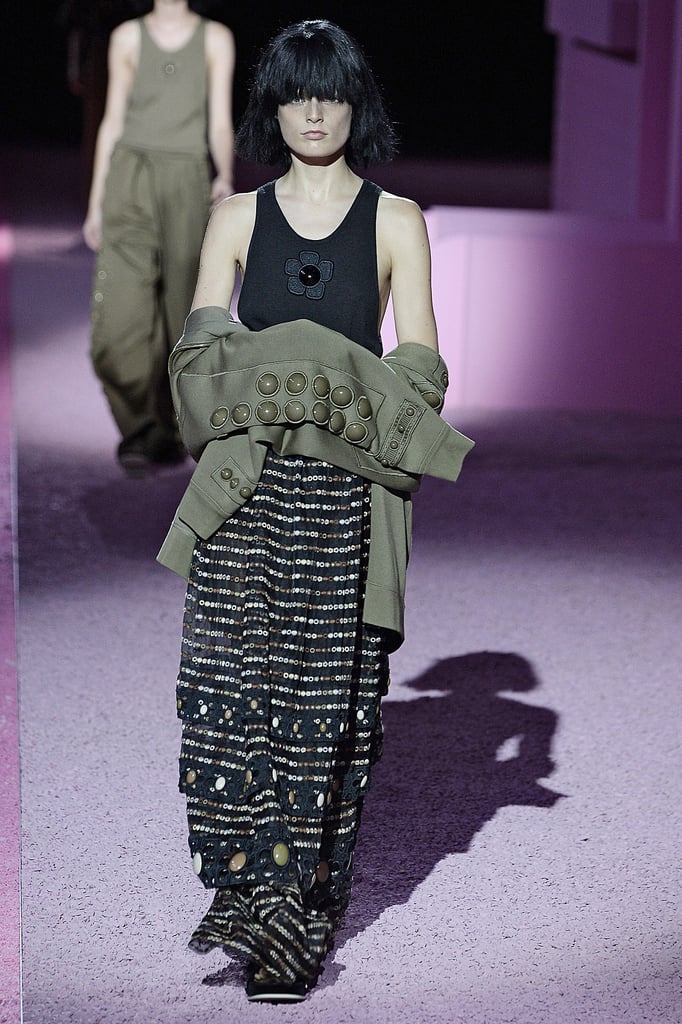 Every time we think we have our eveningwear routine down, Marc Jacobs twists it up with a makeup-free model slinging a sweatshirt off her shoulders.
Day 8: J. Mendel Spring 2015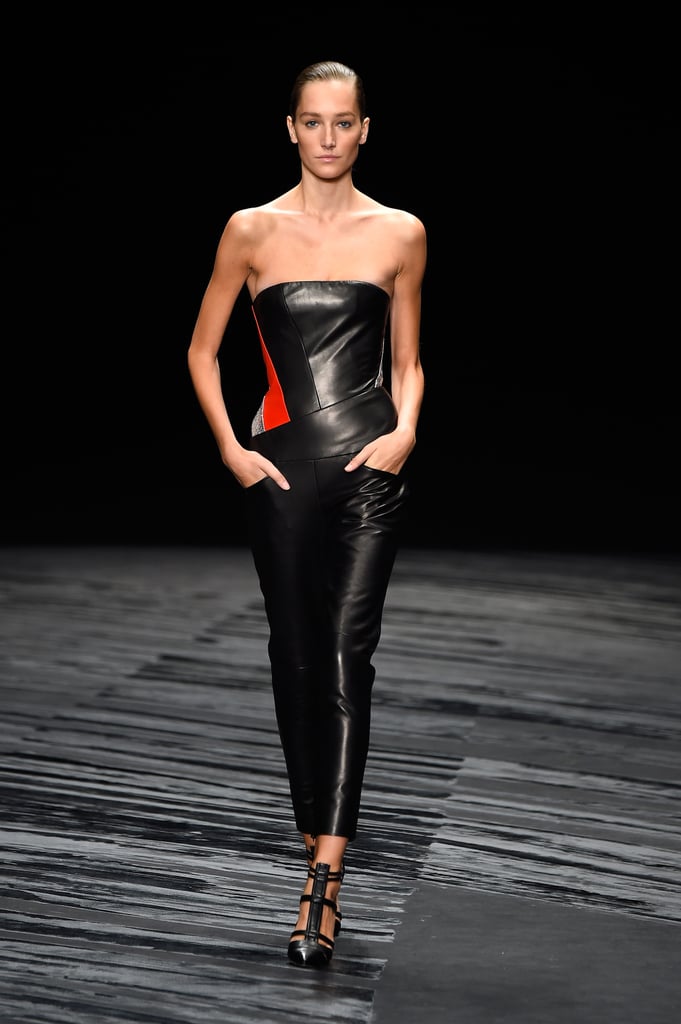 As Taylor Swift [3] has embraced her edgier side, so has her most beloved label. So it makes us wonder if we'll see the singer donning head-to-toe black leather on an upcoming red carpet.
Day 8: Ralph Lauren Spring 2015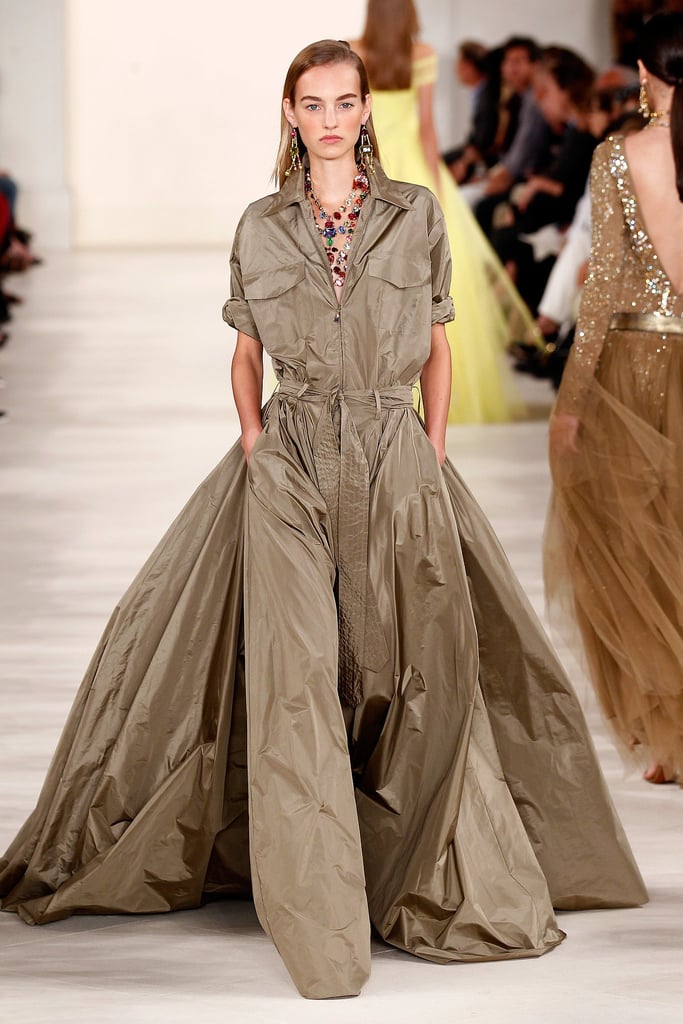 If Ralph Lauren's safari-inspired finale gown didn't take your breath away, you didn't have a pulse to begin with.
Day 7: Delpozo Spring 2015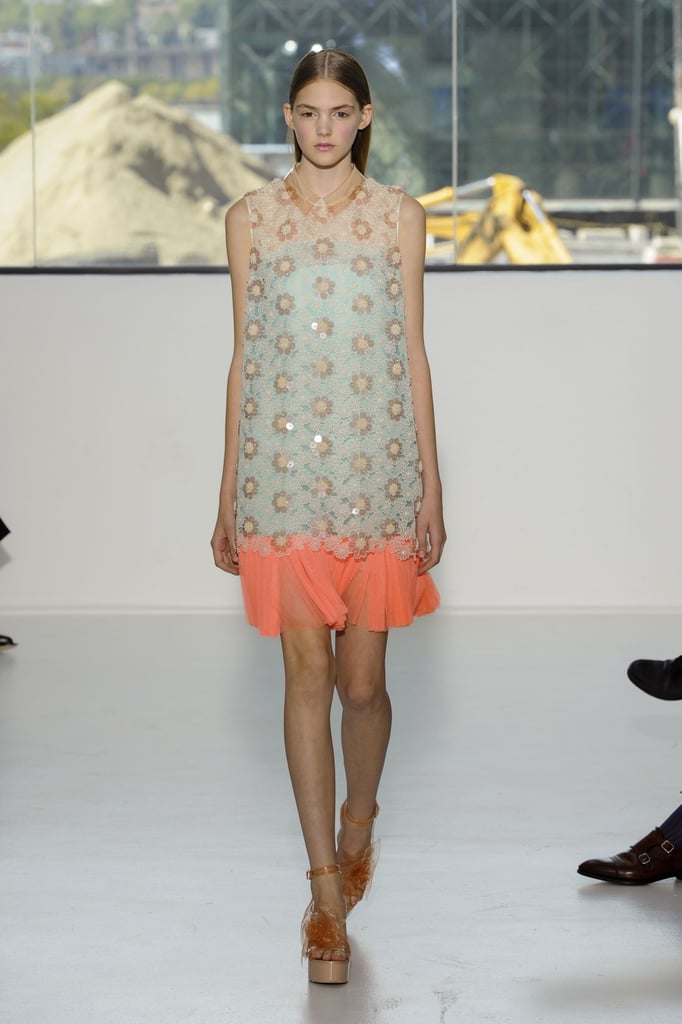 Josep Font's detailed collection included dreamy options like this high-contrast, drop-waist cocktail dress.
Day 7: Proenza Schouler Spring 2015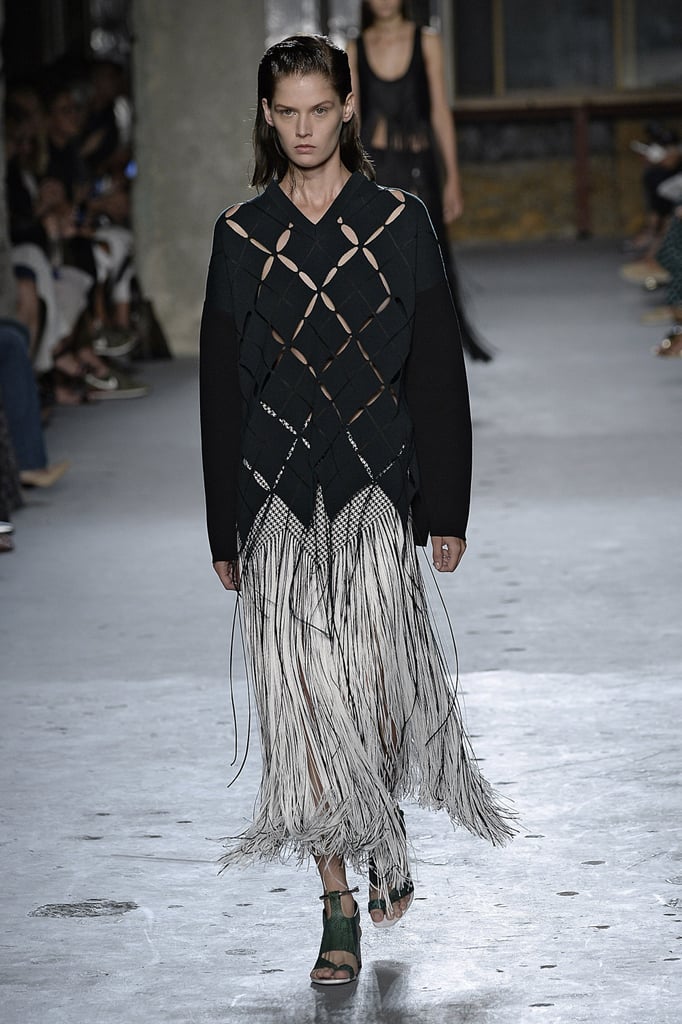 Cool girls, take note: Proenza Schouler has reinvented fringe and made it totally downtown-appropriate.
Day 7: Boss Spring 2015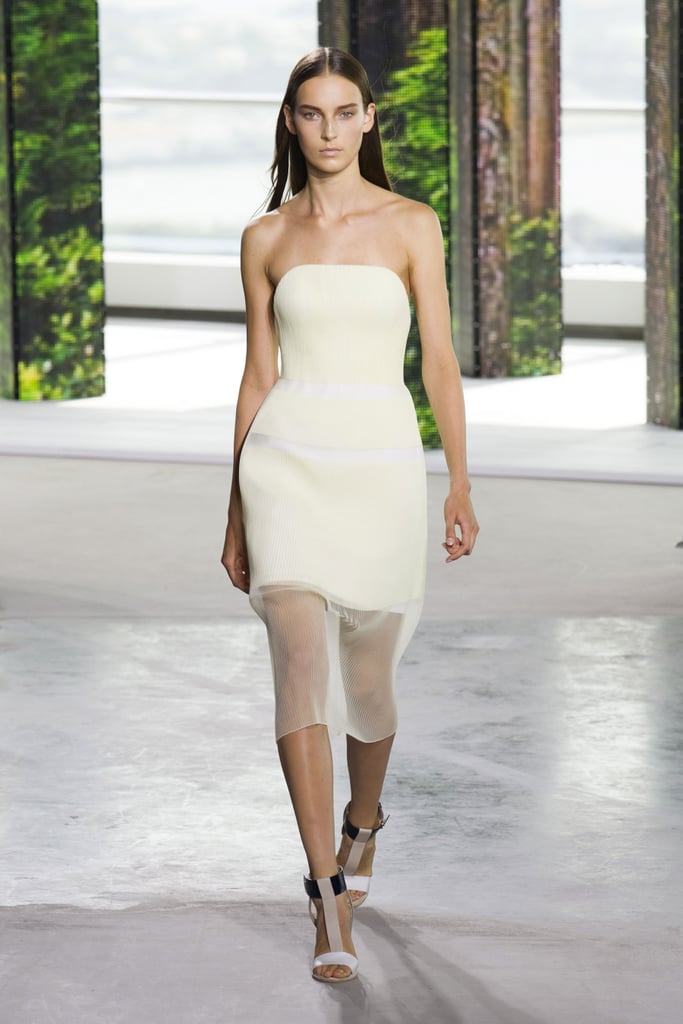 Sexy sheer panels added more allure to Jason Wu's black-and-white cocktail collection.
Day 7: Michael Kors Spring 2015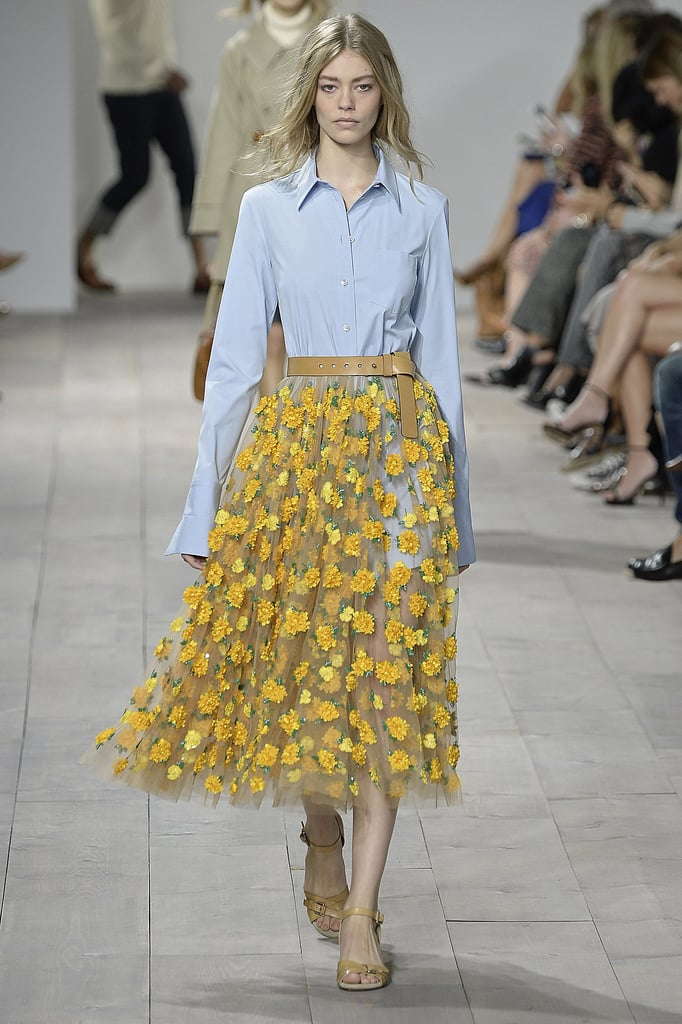 We can't decide which drew us in more to Michael Kors's collection: the mash-up combo of button-downs and floral-embellished tulle skirts, or those ultralong oxford sleeves.
Day 7: Clover Canyon Spring 2015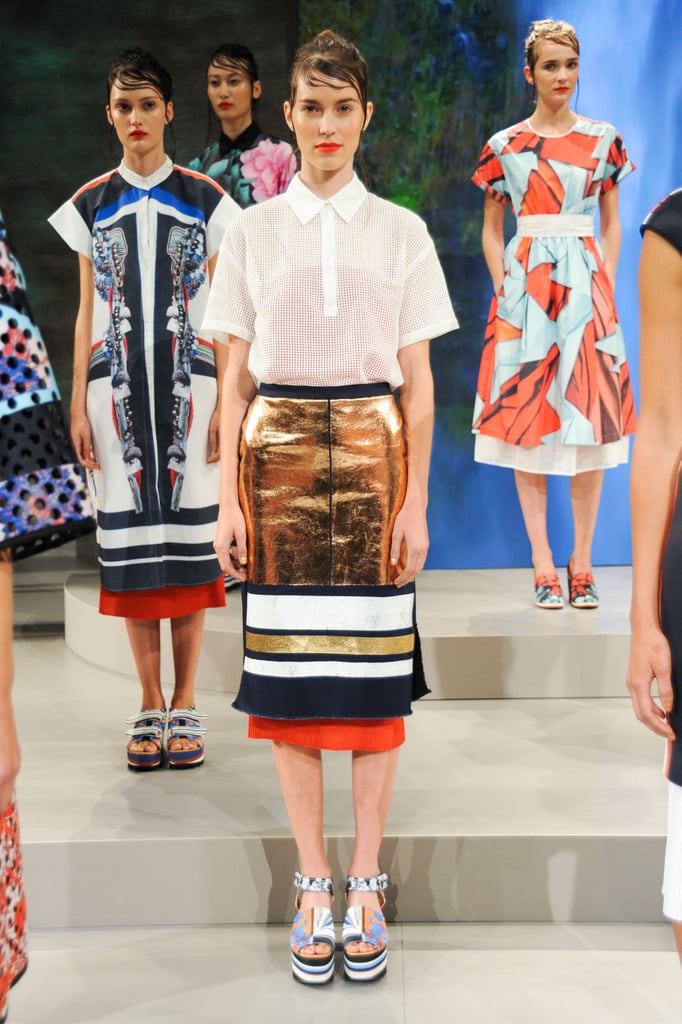 In a season of stripes, it's no surprise that none stood out more than print-loving Clover Canyon's.
Day 6: Rodarte Spring 2015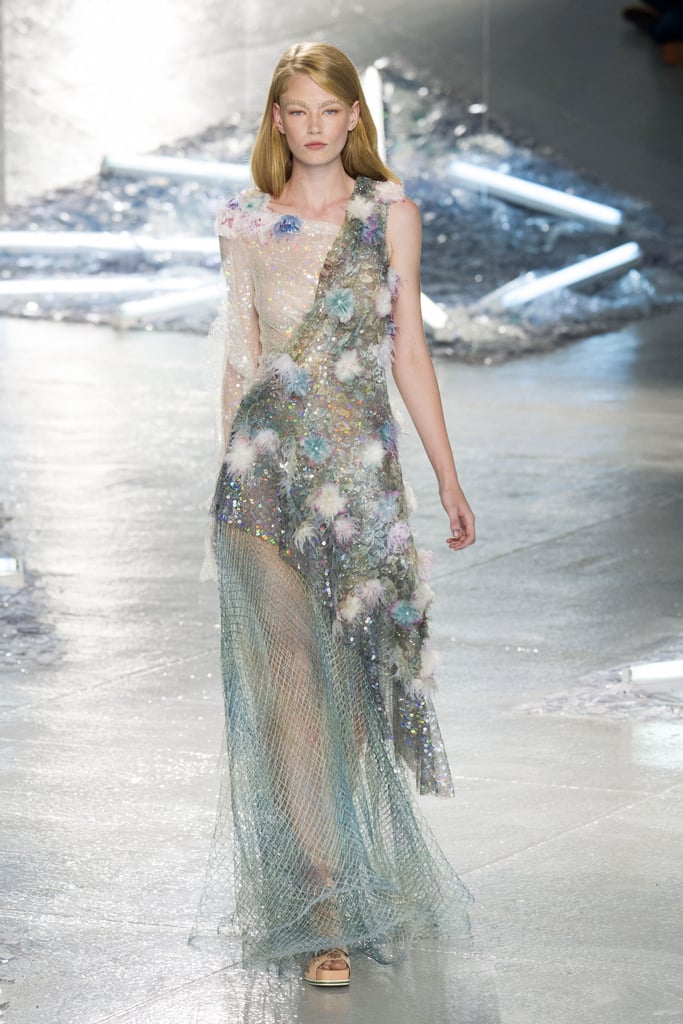 Like nymphs emerged from the sea, Rodarte's models were caught up in netting and barnacles. Not to let the edgy brand's designs look too pretty, eyebrow rings [4] added danger to even the most ethereal gowns.
Day 6: J.Crew Spring 2015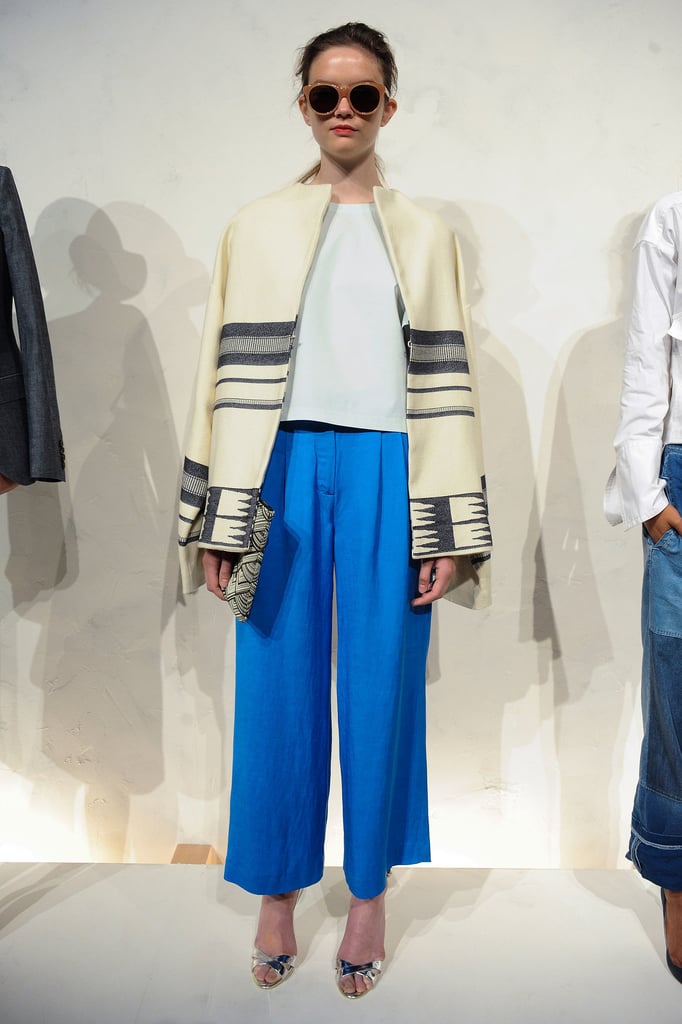 Sign us up to be first mate of this crew if it means an oceanic color palette and easy, wearable designs (hello, culottes and anoraks) that were just begging to set sail.
Day 6: Oscar de la Renta Spring 2015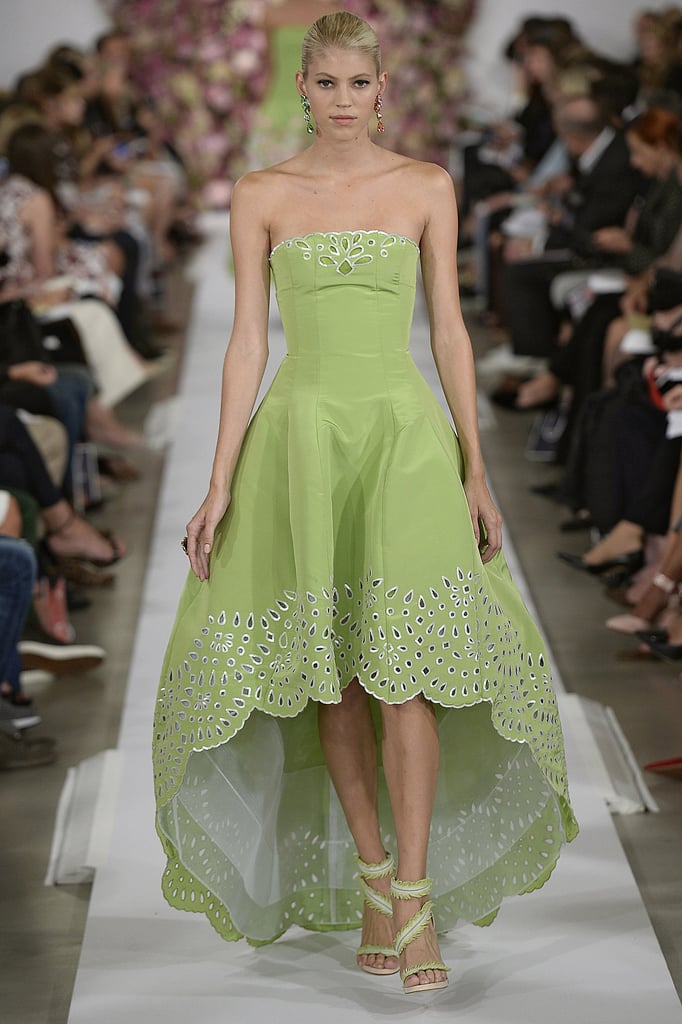 Nice stems! Oscar de la Renta went to great lengths to ensure his footwear handiwork was as much on display as his gowns' craftsmanship.
Day 6: Marc by Marc Jacobs Spring 2015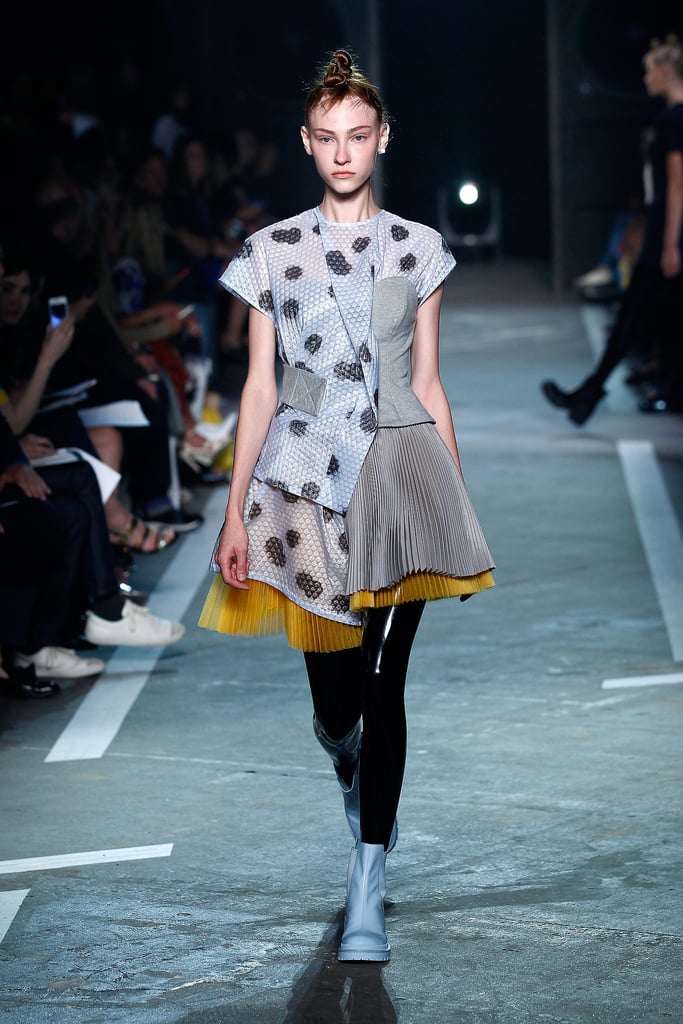 A show about complete contrast could be summed up in a design that included polka dots, latex, pleats, pastel, black, and a corset. You got all that?
Day 6: Tory Burch Spring 2015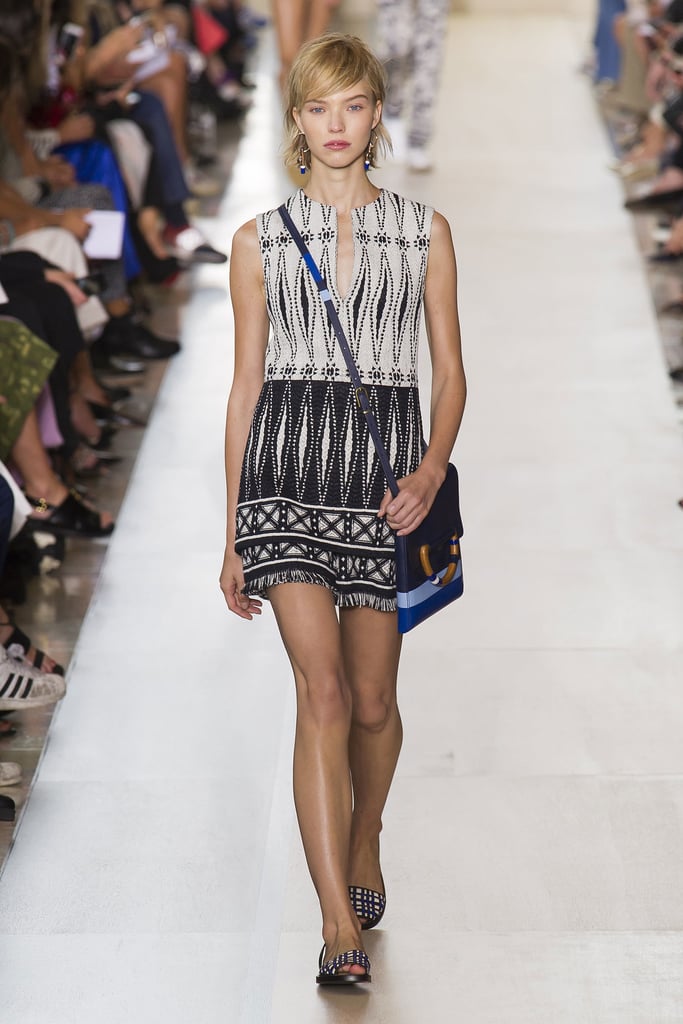 Eye-catching patterns weren't enough to distract us from the main event: accessories. From desert boots to this striped crossbody bag, we wanted them all!
Day 5: Ralph Lauren's Polo Spring 2015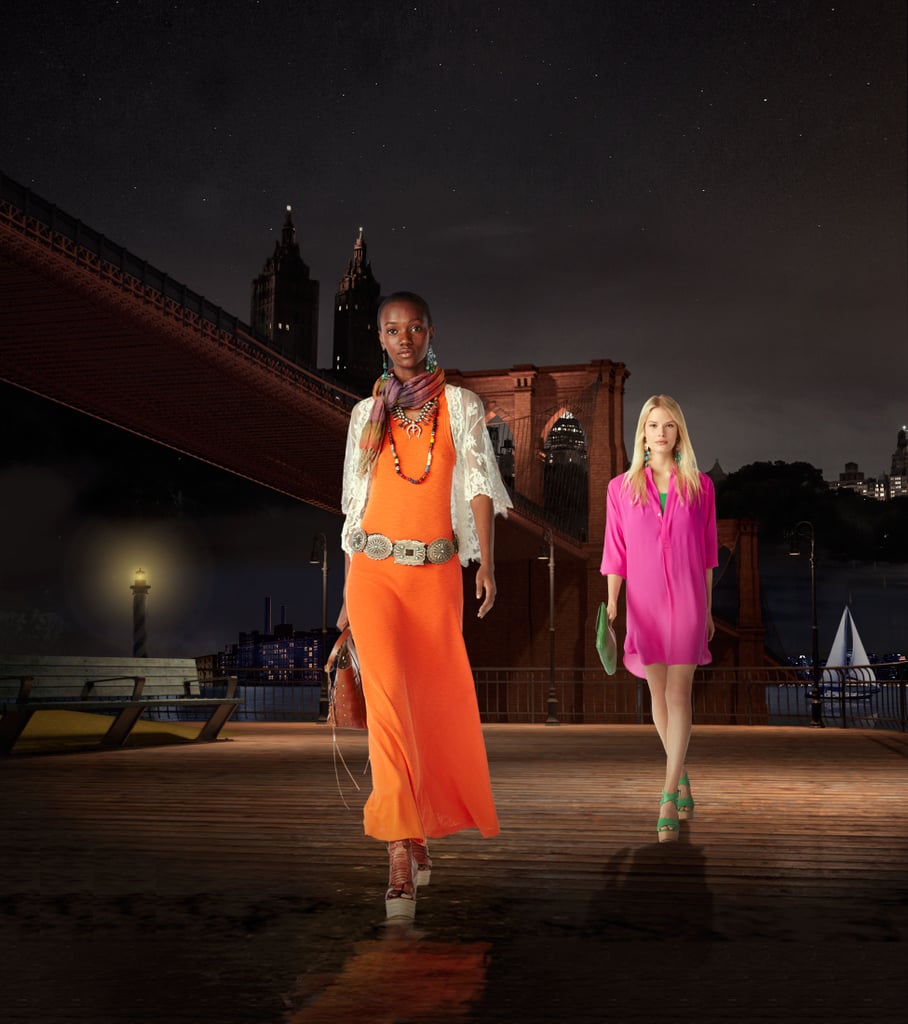 How does one debut an entirely new line smack dab in the middle of Fashion Week? If you're Ralph Lauren, and it's the new Polo line for women, you send 4-story-tall holographic models down a mirage runway that includes New York landmarks like the Brooklyn Bridge and the High Line. And, oh yeah, you do it in Central Park.
Day 5: 3.1 Phillip Lim Spring 2015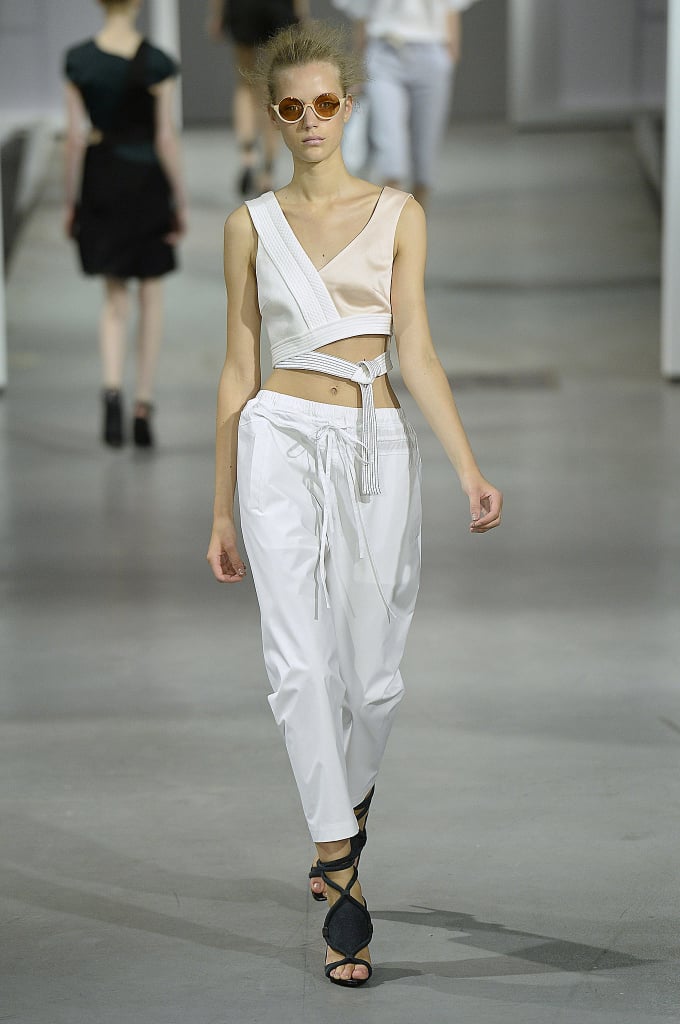 Hi-ya! How kick butt were 3.1 Phillip Lim's models? Well, they were wearing martial-arts-inspired black and white belts. So, we'll let you be the judge.
Day 5: Carolina Herrera Spring 2015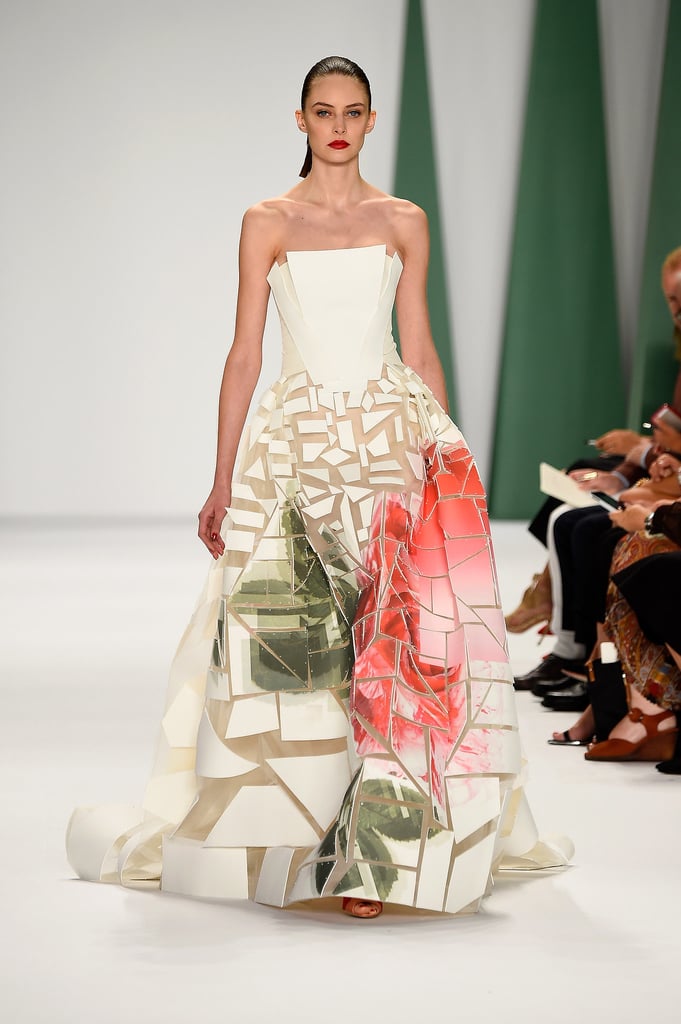 Carolina Herrera's deconstruction of flowers resulted in broken down-prints that looked absolutely put together.
Day 5: Donna Karan Spring 2015
Hey Donna Karan, Pharrell called, he wants his hat back (and he'll have to get in line with all the street style stars who will be lining up for this straw fedora).
Day 5: Zac Posen Spring 2015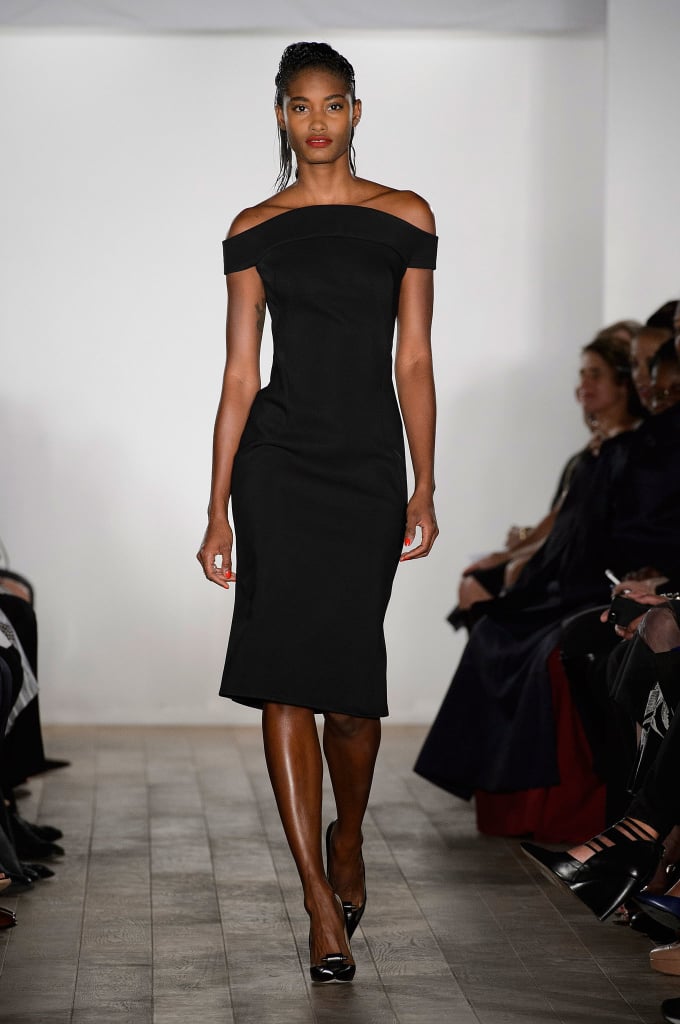 In a black, white, and red collection inspired by Audrey Hepburn, this off-the-shoulder gown struck us as the most modern way to have Breakfast at Tiffany's.
Day 4: Victoria Beckham Spring 2015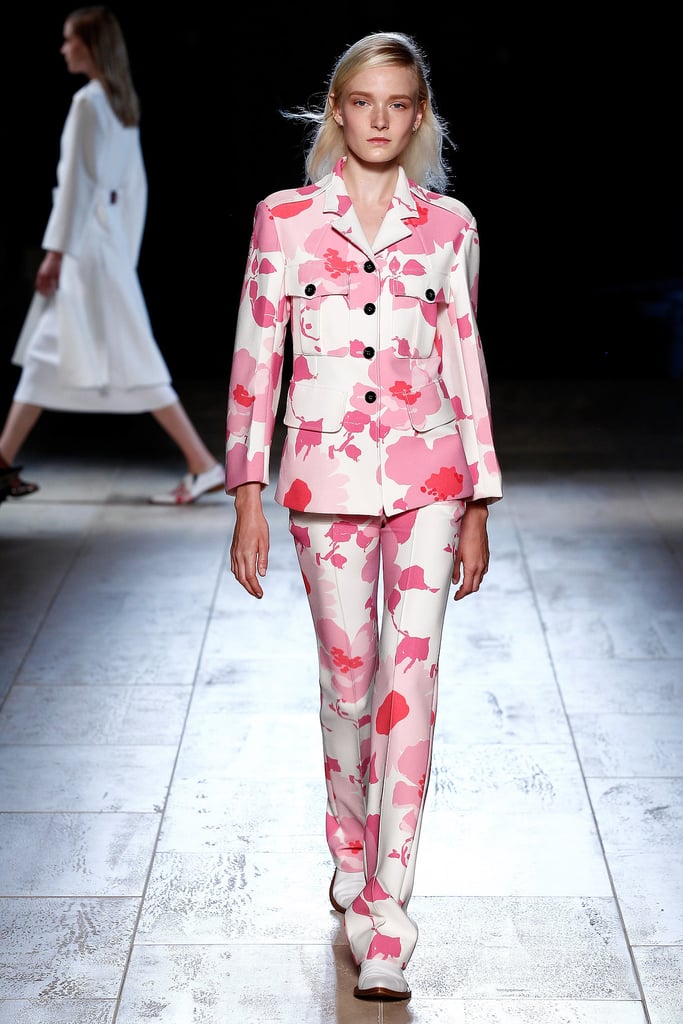 While we were shocked to see florals at Victoria Beckham [5], the real surprise was that she unveiled a shoe collection. But the wonder didn't end there, because the heel-loving designer put many a model in flats.
Day 4: Diane von Furstenberg Spring 2015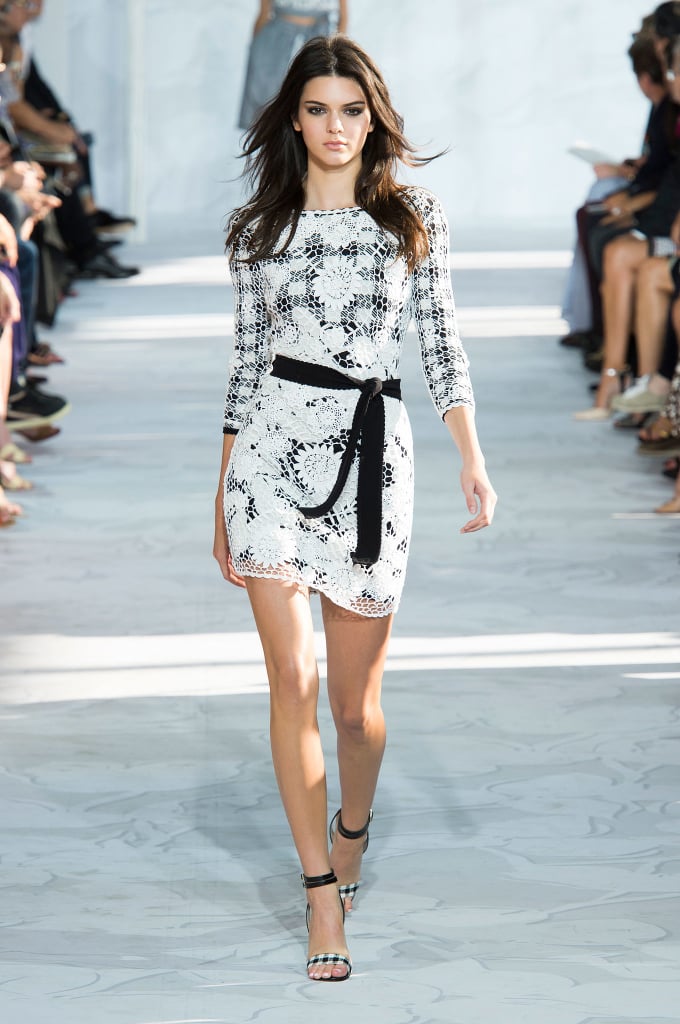 It's hard to say who got more cred at this show: DVF, who had model of the moment Kendall [6] wearing her designs, or Kendall, who got to walk a DVF runway!
Day 4: DKNY Spring 2015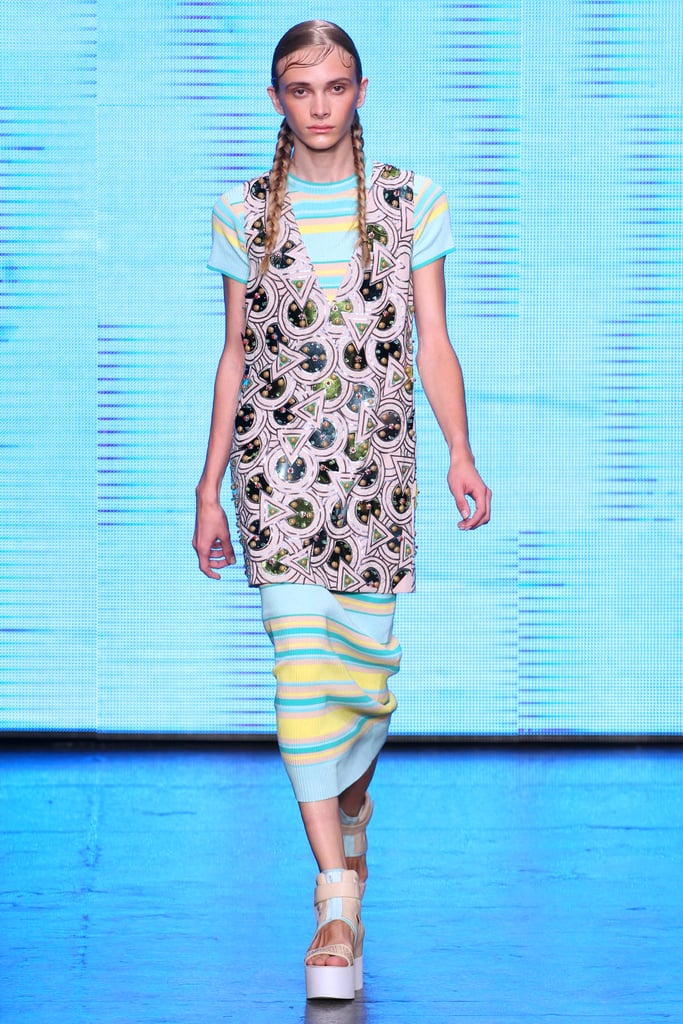 Thanks to DKNY, we'll be layering dresses on dresses come Spring.
Day 4: Versus Versace Spring 2015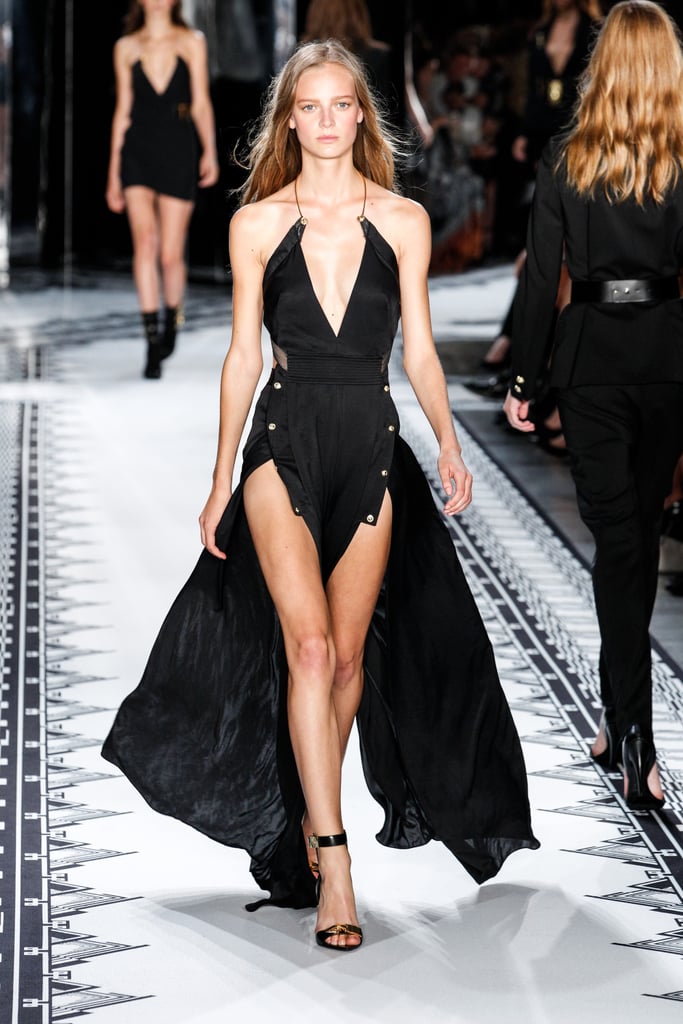 What would Versus Versace look like helmed by Anthony Vaccarello [7]? Turns out it's 50 percent Versace, 50 percent Vaccarello, and 100 percent sexy.
Day 4: Derek Lam Spring 2015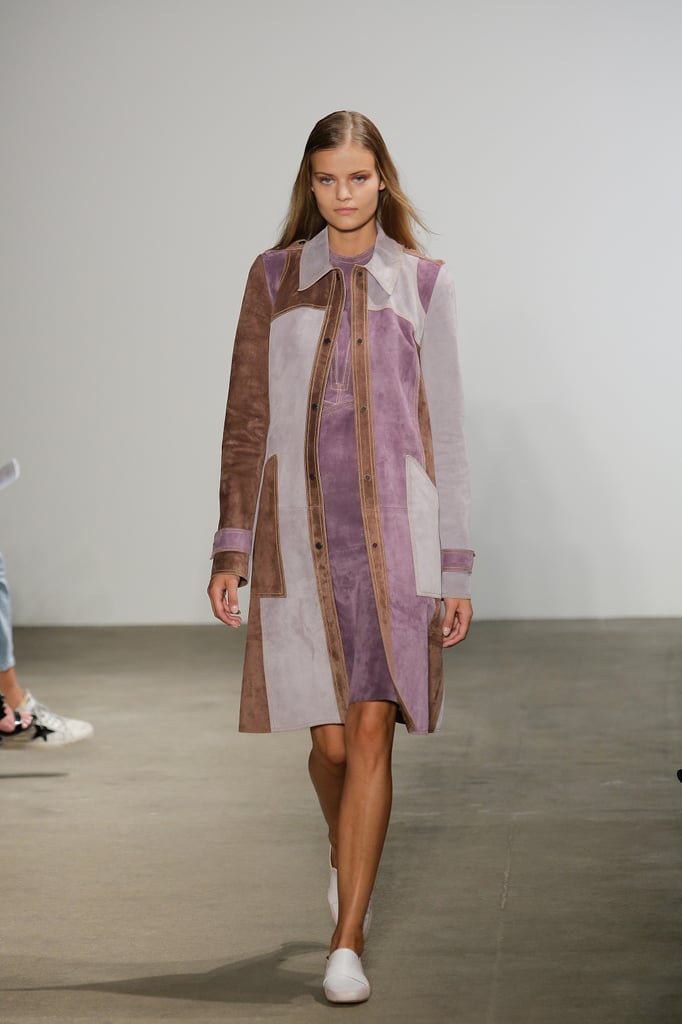 Proof that suede and the '70s are coming back in a big way arrived when Derek Lam sent this patchwork beauty down the catwalk.
Day 3: Prabal Gurung Spring 2015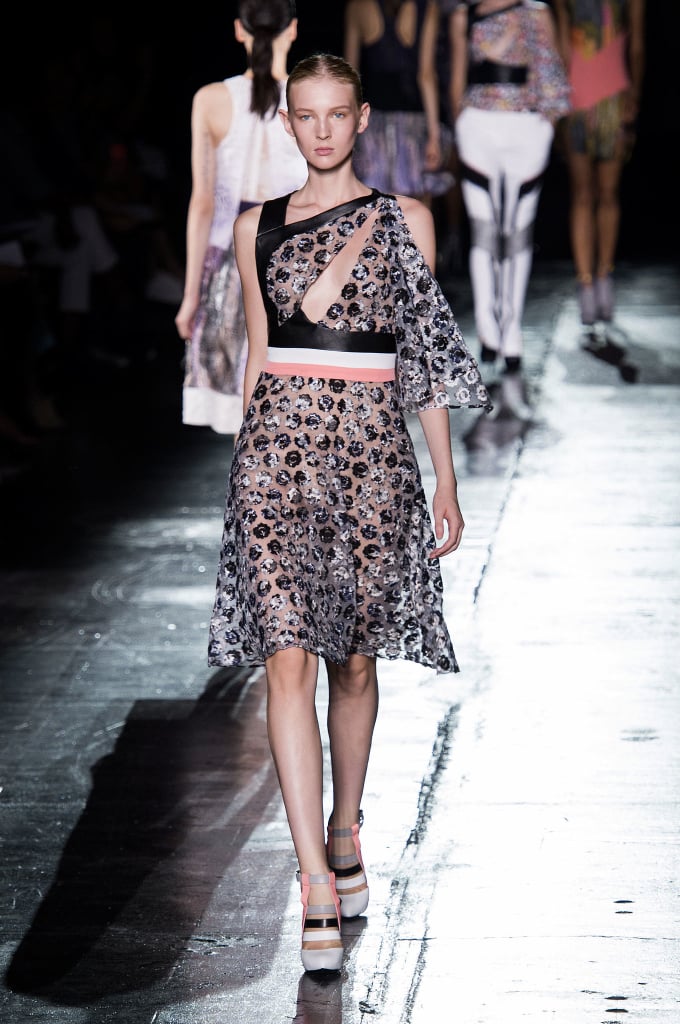 The dresses on their own were pretty — this is Prabal Gurung, after all. But the real trick of this show's designs was how they highlighted (yet were just as eye-catching as) the main attractions: Gurung's debut shoe collection [8].
Day 3: Rebecca Taylor Spring 2015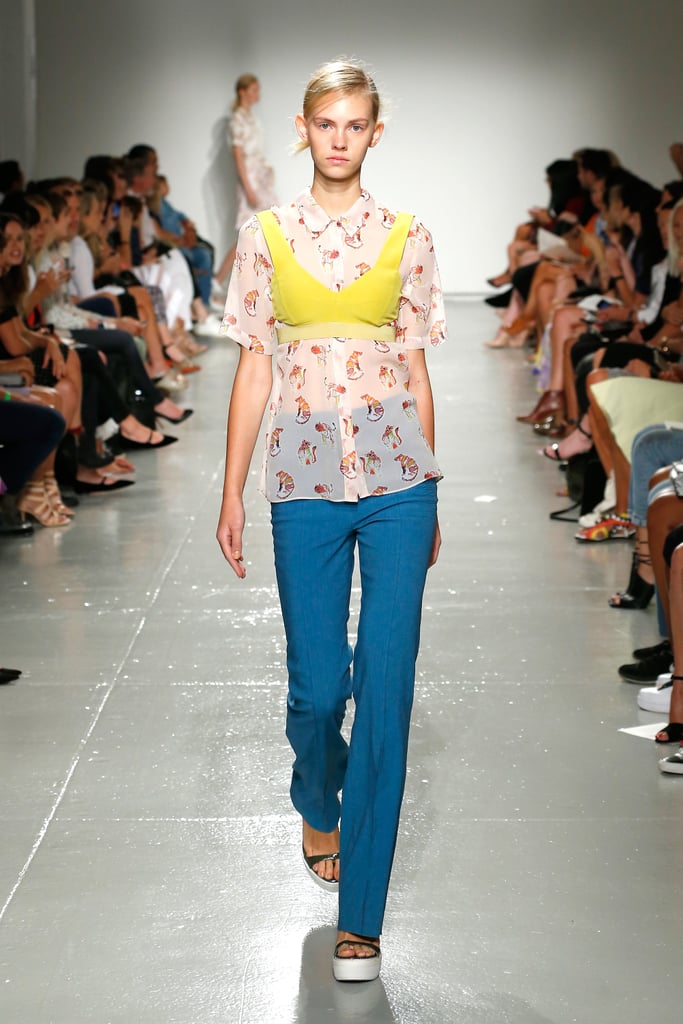 Welcome to the next phase of layering! Whether you're sick of the crop top by next Spring or just not comfortable baring that much skin, Rebecca Taylor found a practical yet chic solution.
Day 3: Altuzarra Spring 2015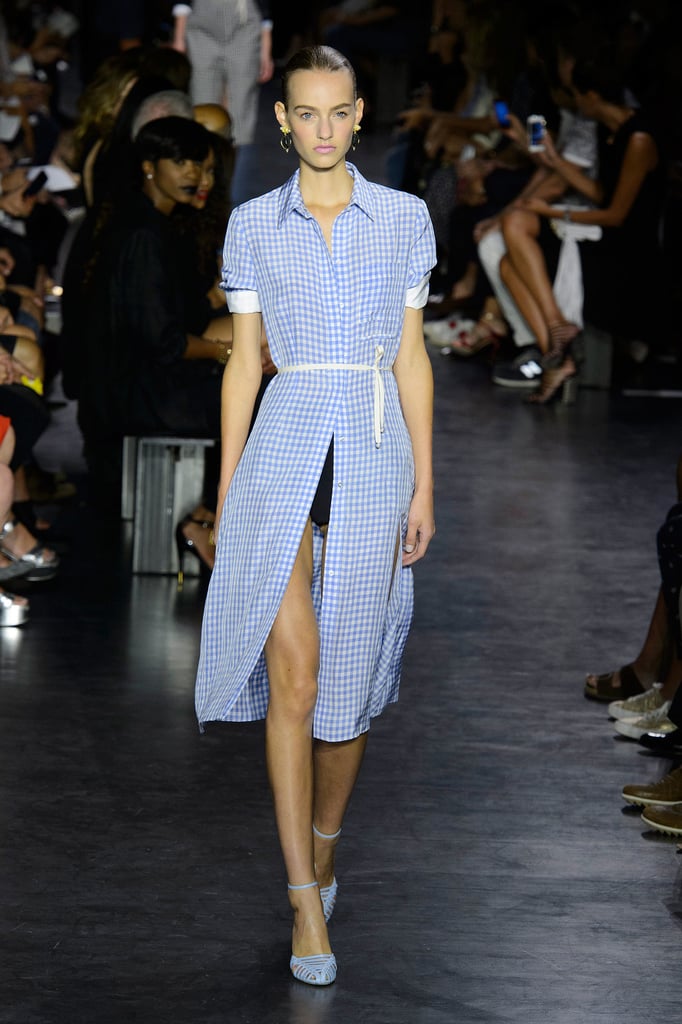 Not since our first viewing of The Wizard of Oz have we coveted a blue gingham dress so intensely.
Day 3: Tibi Spring 2015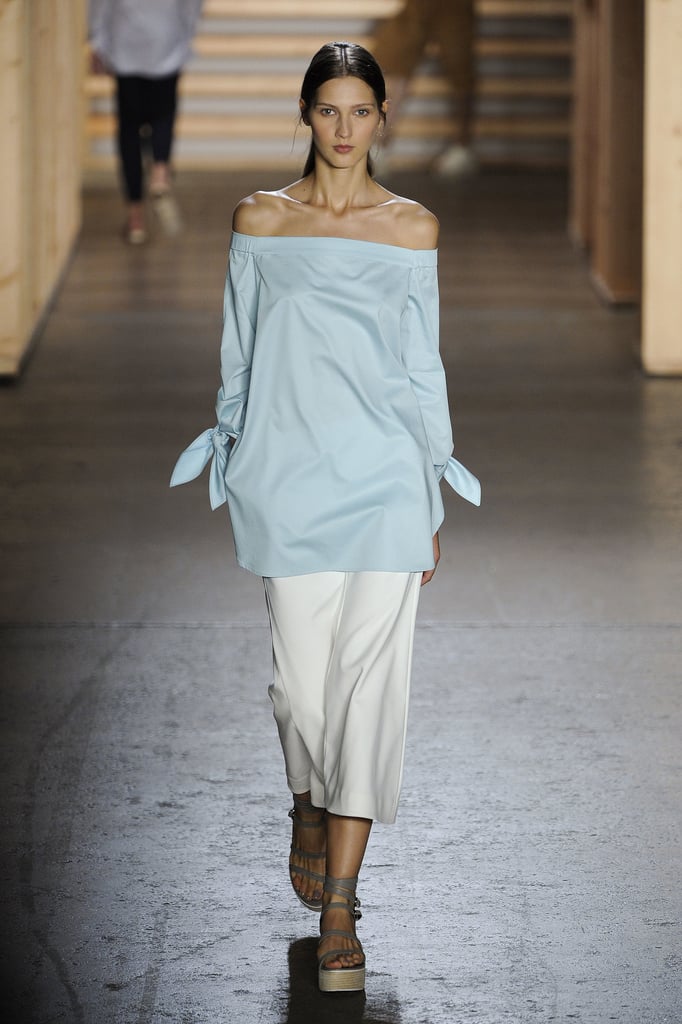 Don't say we didn't warn you — mint is clearly the color of the season [9] when cool-girl-approved line Tibi features it in unexpected, relaxed shapes.
Day 3: Alexander Wang Spring 2015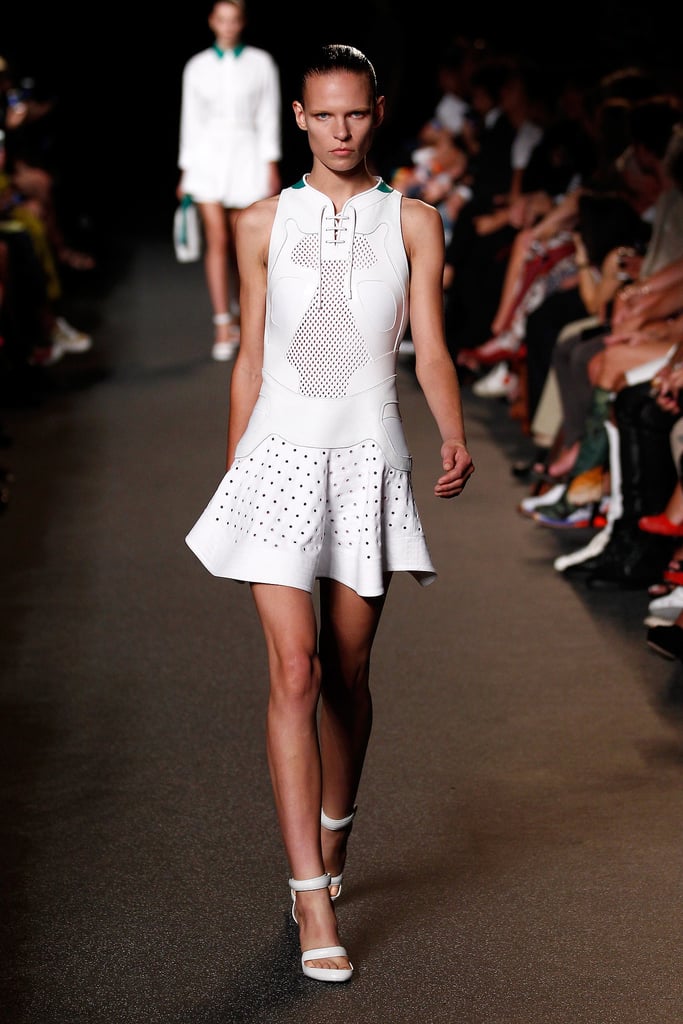 By this point in Fashion Week, we'd seen our fair share of little white dresses. Still, nobody does it like Wang — and the designer's sporty take on the emerging trend was so unique and true to the brand.
Day 2: Jason Wu Spring 2015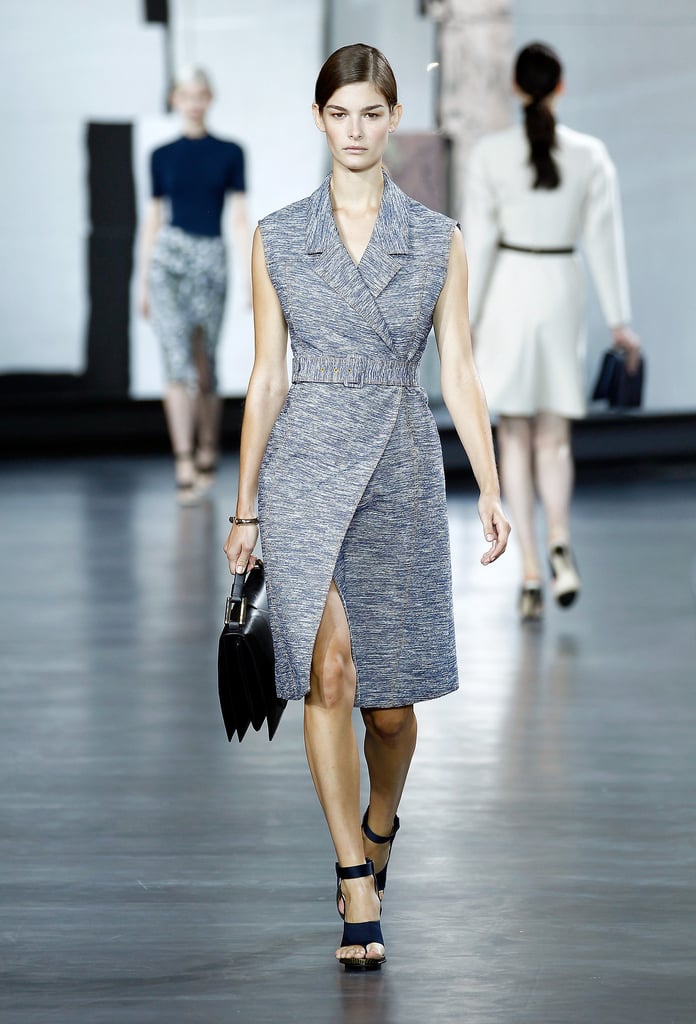 For years we've been admiring Jason Wu's luxurious eveningwear, but this season brought a softer, totally wearable side of Wu.
Day 2: Kate Spade New York Spring 2015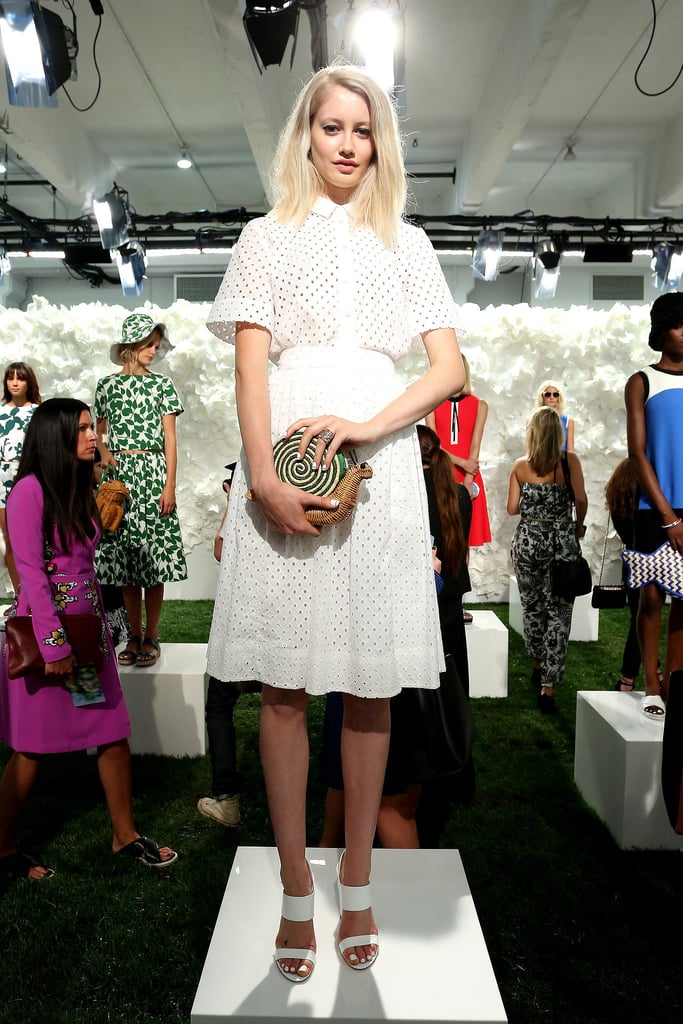 Pretty eyelet? Sign us up! But truthfully, at the end of the day, Kate Spade New York is all about the accessories. And how can you resist a snail-shaped wicker purse?
Day 2: Monique Lhuillier Spring 2015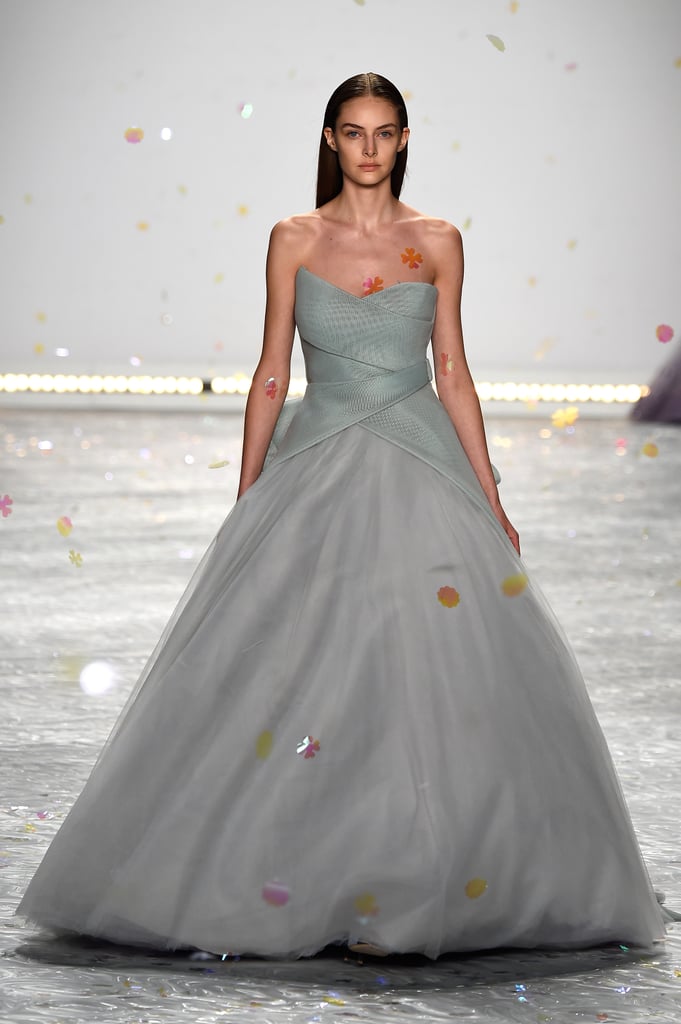 Some things aren't complicated — they're just plain pretty. Monique Lhuillier's Spring collection was just that.
Day 2: Cushnie et Ochs Spring 2015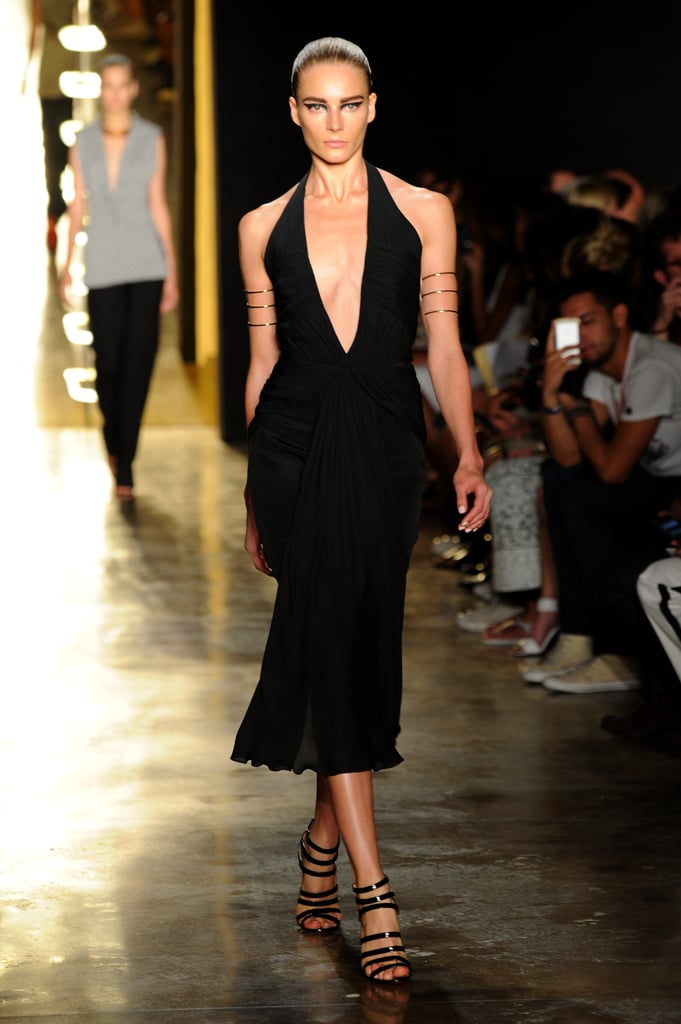 True masters of smolder, Cushnie et Ochs knows sexy comes with a balance. Too much skin and the look can veer toward vulgar. But a plunging deep-V paired with a calf-length hem, strappy Louboutin sandals, and delicate Jennifer Fisher arm cuffs is perfectly alluring.
Day 1: Rebecca Minkoff Spring 2015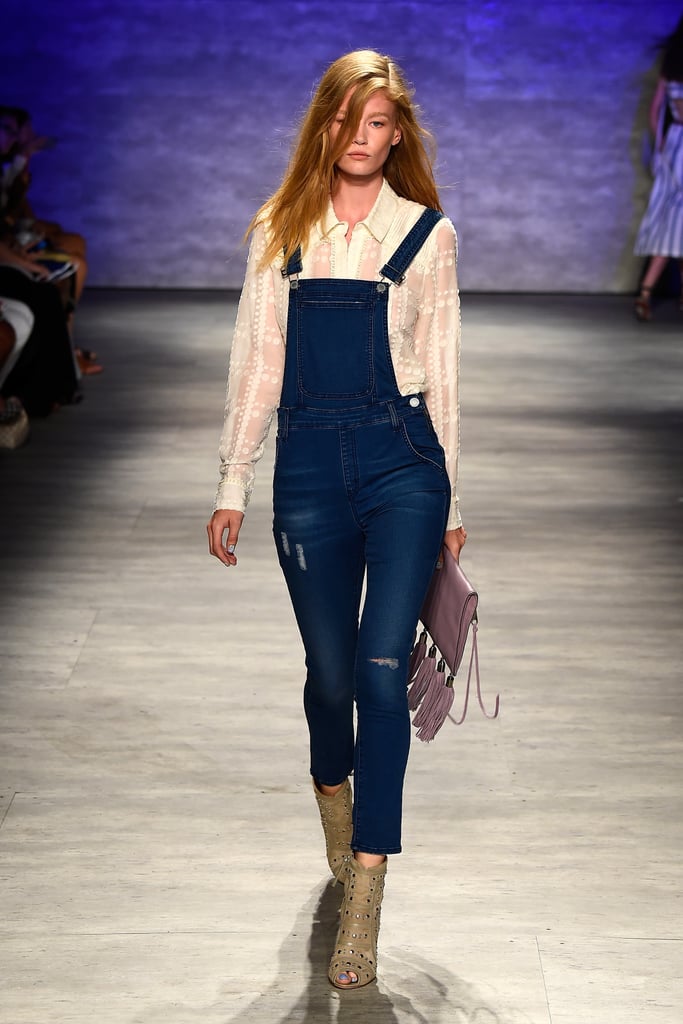 The people have spoken, and social media-savvy Rebecca Minkoff let her followers choose [10] these indigo denim overalls to walk her Spring runway.
Day 1: Richard Chai Love Spring 2015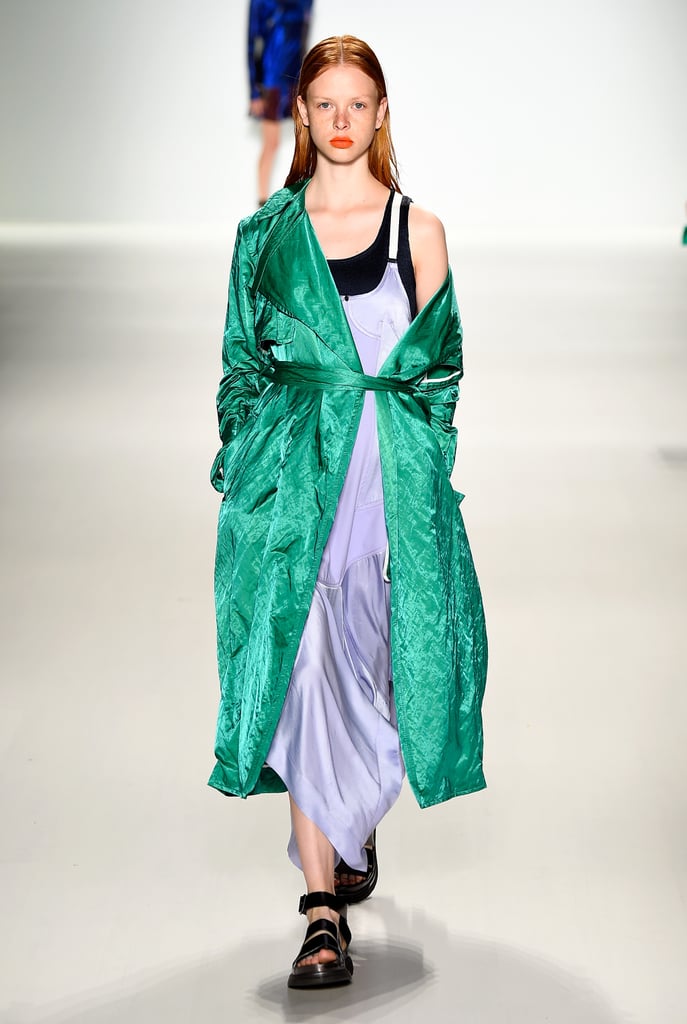 Though we would never remove Richard Chai's amazing emerald coat once we laid our hands on it, wearing it off the shoulder looks to be the coolest styling trick for the transitional months.
Day 1: BCBG Spring 2015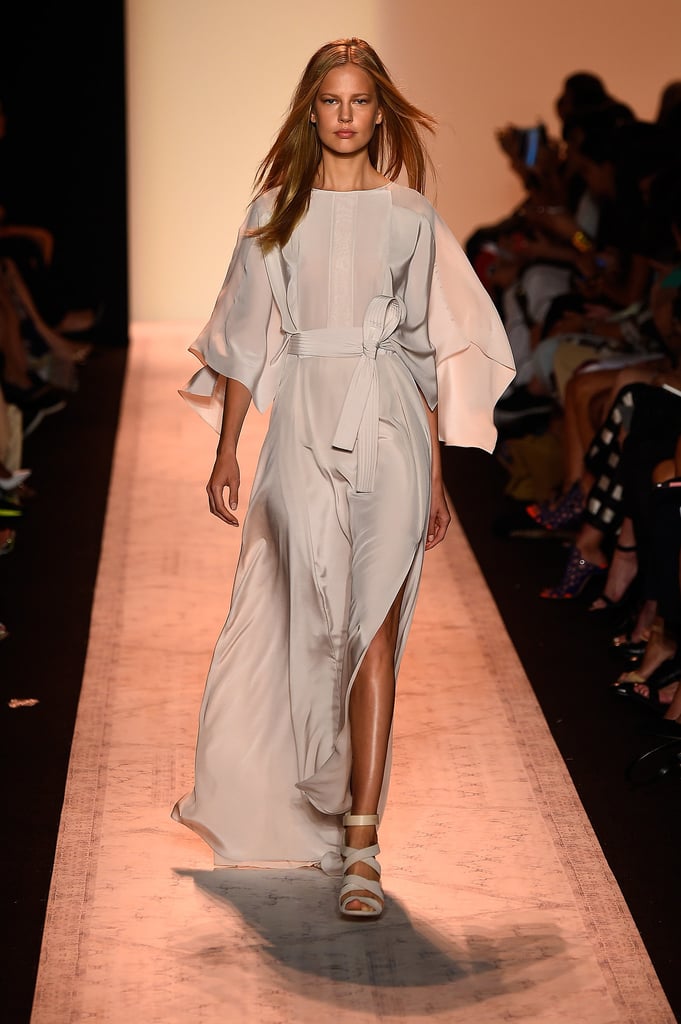 The easiest, breeziest way to kick off Fashion Week came from BCBG Max Azria's floaty, beach-inspired collection.
Day 1: Coach Spring 2015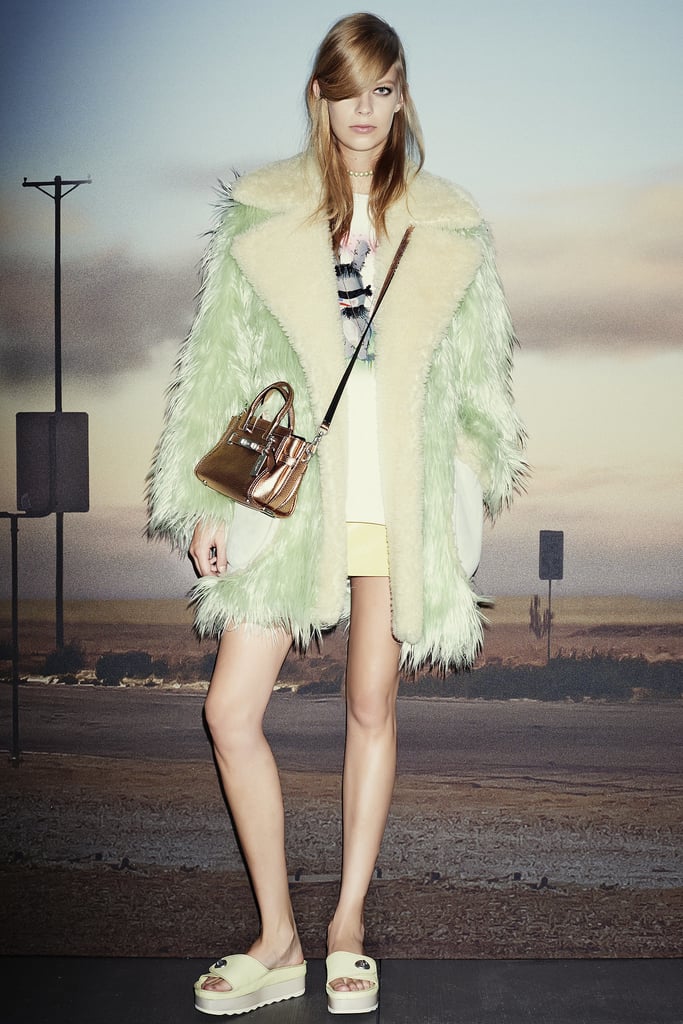 Flatforms and furry coats? This is our uniform for Spring, says Coach.
Day 1: Marissa Webb Spring 2015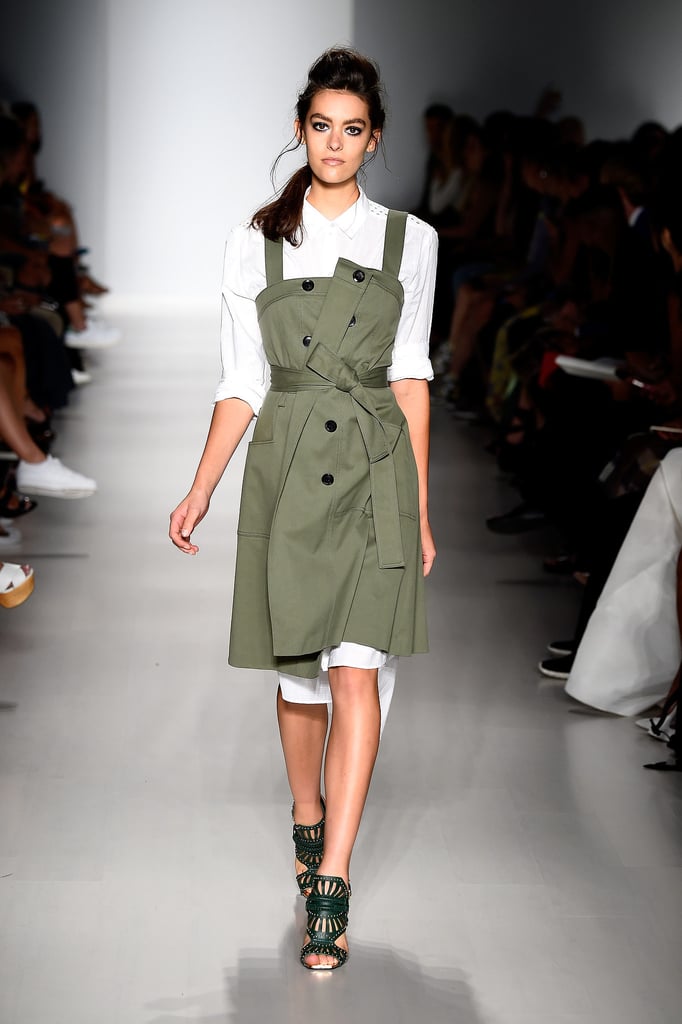 The master of layering struck again with button-downs under cool khaki gear, including army green jumpers.
Day 1: Houghton Spring 2015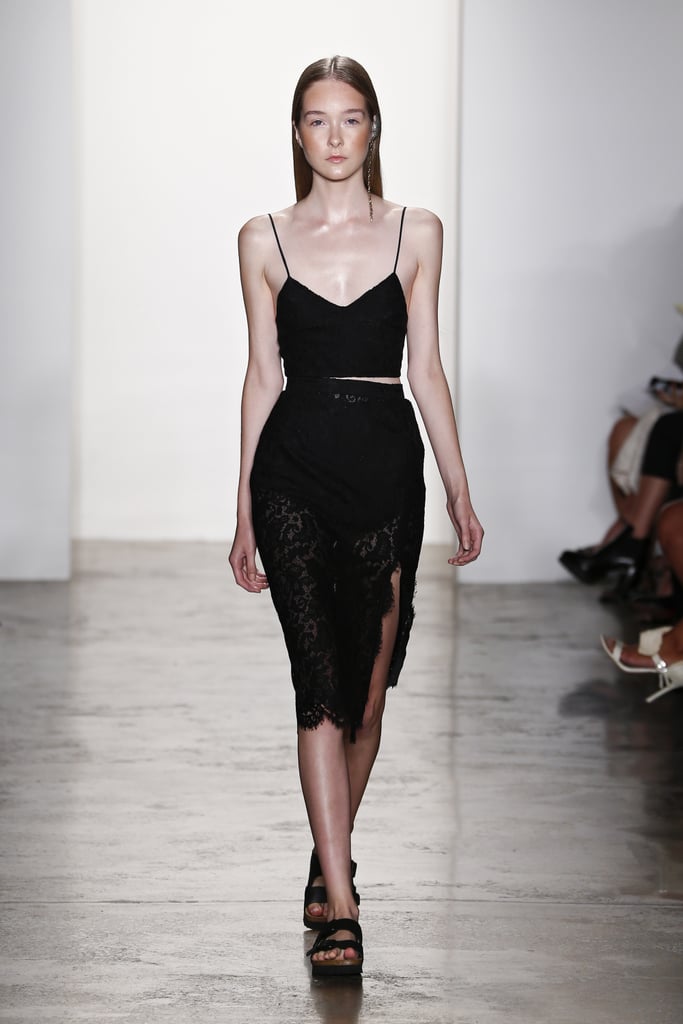 Crop tops going anywhere? According to Houghton, the only place they're going is down (where they met with high-waist skirts).