The moment Michelle Obama enters a room, whether or not she's got Barack by her side, we're usually focused on what she's wearing. OK, we obviously care about listening to her inspiring words of wisdom, but she's also got a killer wardrobe stocked with our favorite designers [1]. Her latest look — an electric Fall 2014 Kenzo dress, which she cinched at the waist with a Roksanda Ilincic belt — is no exception.
But while we're in awe of the FLOTUS's smart styling tricks — just look at how the rounded hardware of her wide belt contrasted the sharp print of her chartreuse design — the backstory of this outfit is way more important. Michelle disembarked from her plane in Tokyo, which is fitting since founding designer Kenzo Takada hails from Japan! While the label is now run by Humberto Leon and Carol Lim, who are based in America, the connection is obvious.
Since Michelle is partnering with Japan to promote her educational program Let Girls Learn [2], her dress selection makes perfect sense. But this isn't the first time the FLOTUS's look was equal parts stylish and calculated. Keep reading to see how Michelle's style choices teach us a lot about power dressing and rocking a bold design with killer confidence.
— Additional reporting by Sarah Wasilak and Samantha Sutton
Source: Instagram user michelleobama [3]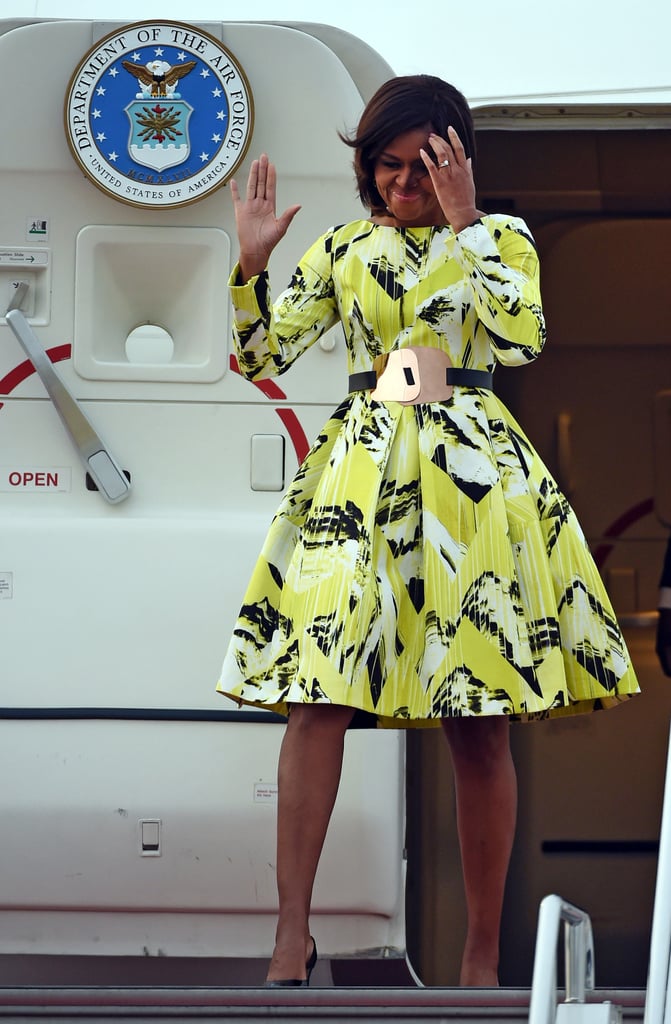 The FLOTUS selected a chartreuse printed Kenzo look since founding designer Kenzo Takada hails from Japan. Because the label is now run by Humberto Leon and Carol Lim in America, Michelle's dress selection connects both countries. The FLOTUS completed her look by cinching her waist with a Roksanda Ilincic belt and accessorizing with black pumps and her engagement ring.
The FLOTUS chose a gray, zipper-embellished Michael Kors suit that felt equal parts sporty and demure.
Giving rise to the hashtag #YesWeTan, the White House made us believe the president was suiting up in his camel-colored suit. Needless to say, it was all a joke, and Barack looked spiffy in darker tones [4].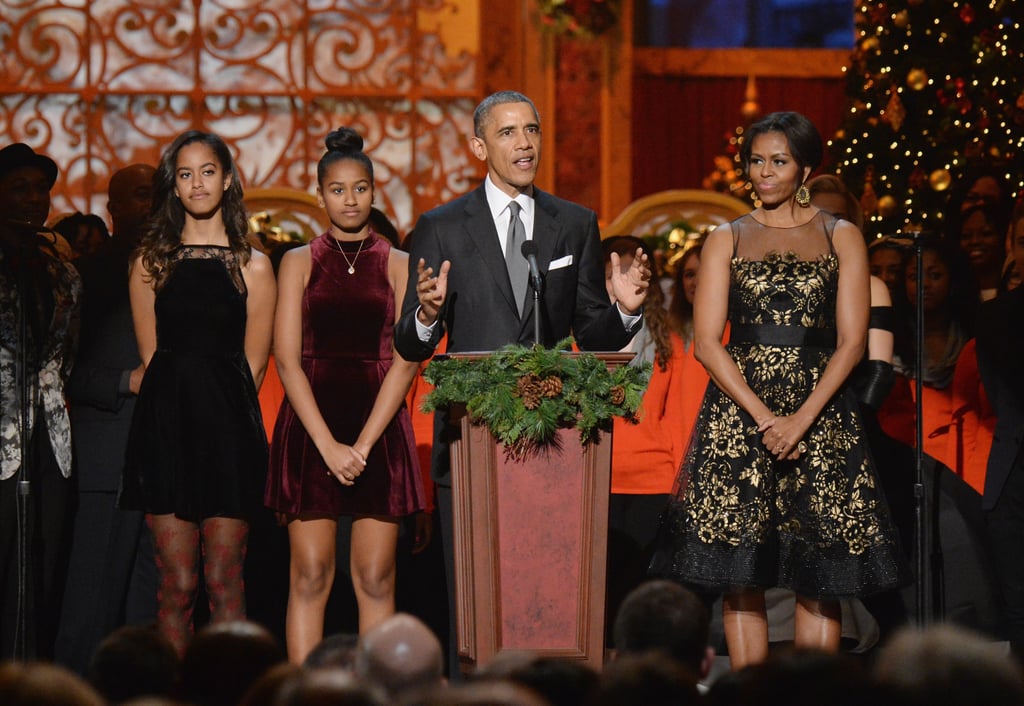 While Michelle was shining in a festive [5], floral frock at the 33rd annual Christmas in Washington event, Malia and Sasha wore velvet dresses, and Sasha's cranberry skater dress is available to shop at ASOS [6]! Malia complemented her sister's look with her own red printed stockings.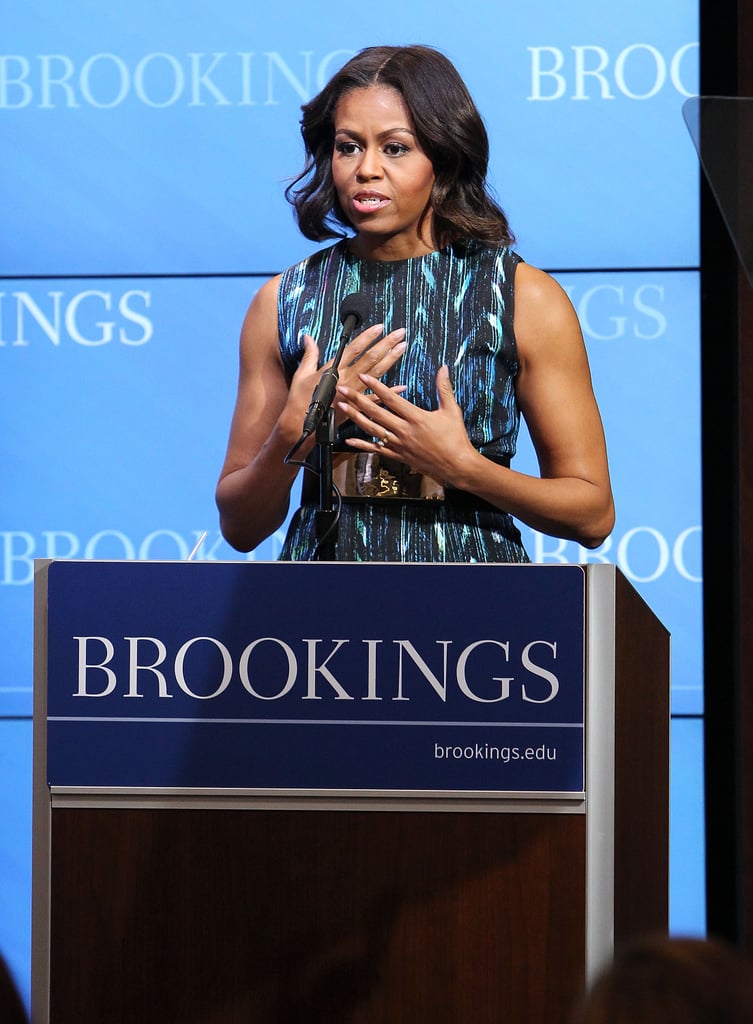 Michelle opted for a graphic print tank dress and smartly cinched her waist with a gold plated belt when she spoke at the Mobilizing for Children's Rights event.
The first lady wore an embellished blush-pink Monique Lhuillier gown to the 37th annual Kennedy Center Honors on Sunday, which she chose to accessorize with matching drop earrings.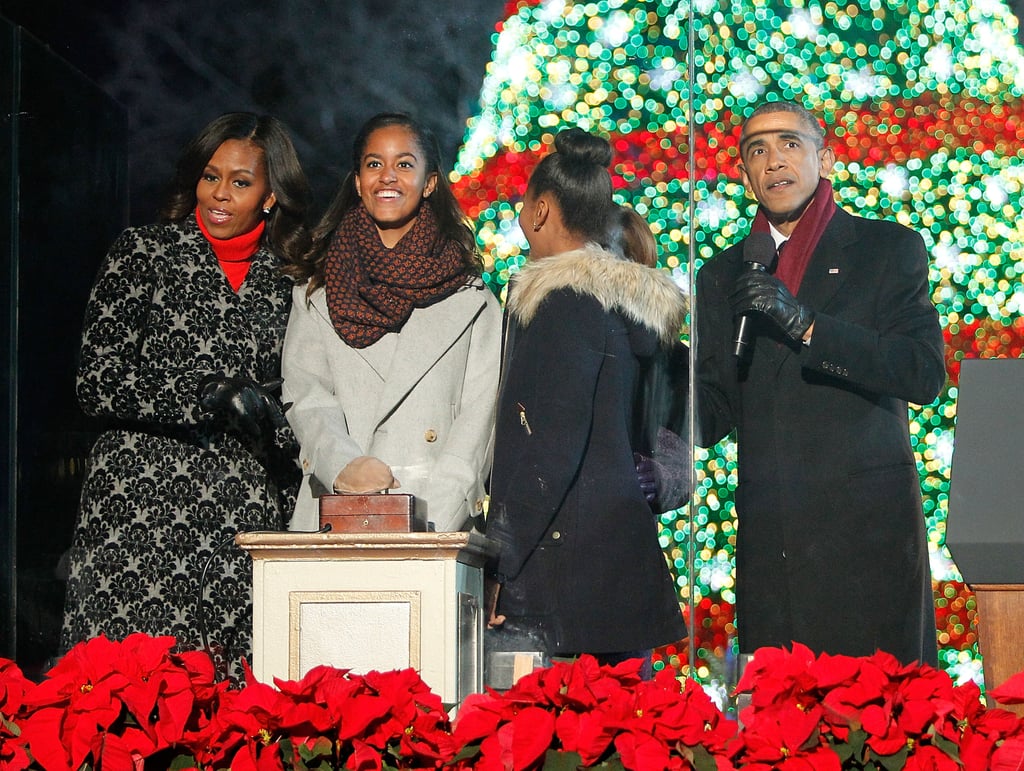 Michelle chose the cozy combination of a red turtleneck and printed coat at the National Christmas Tree Lighting Ceremony this year.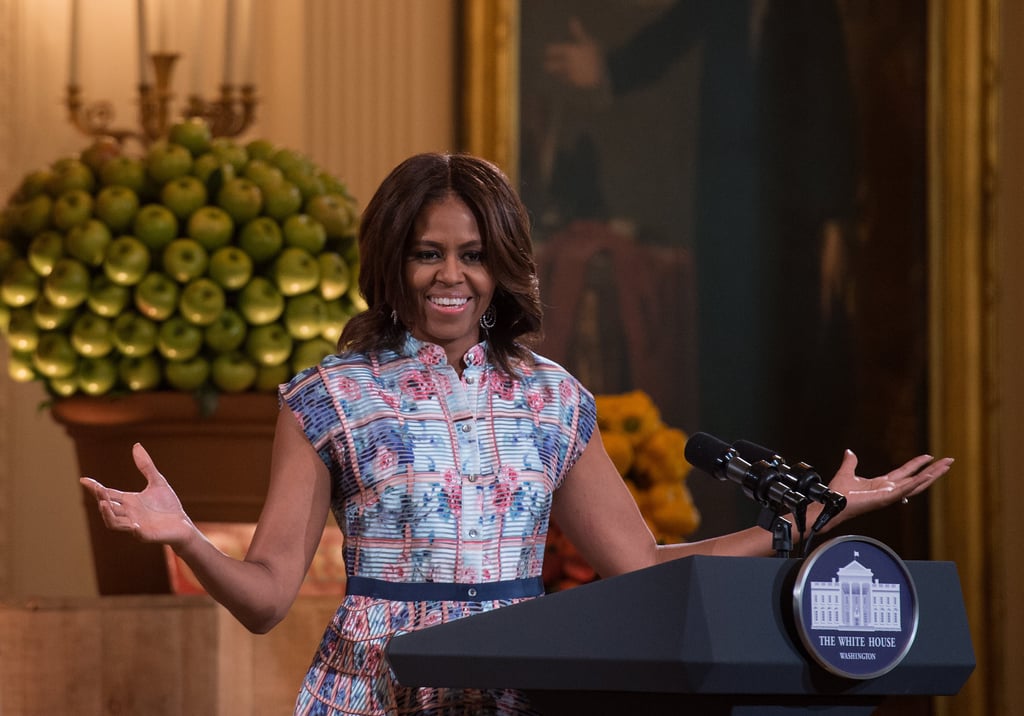 Michelle wore this ultramodern, fun, and floral Mary Katrantzou number to the Kids' State Dinner, accessorizing with simple, crystal-embellished dangling earrings.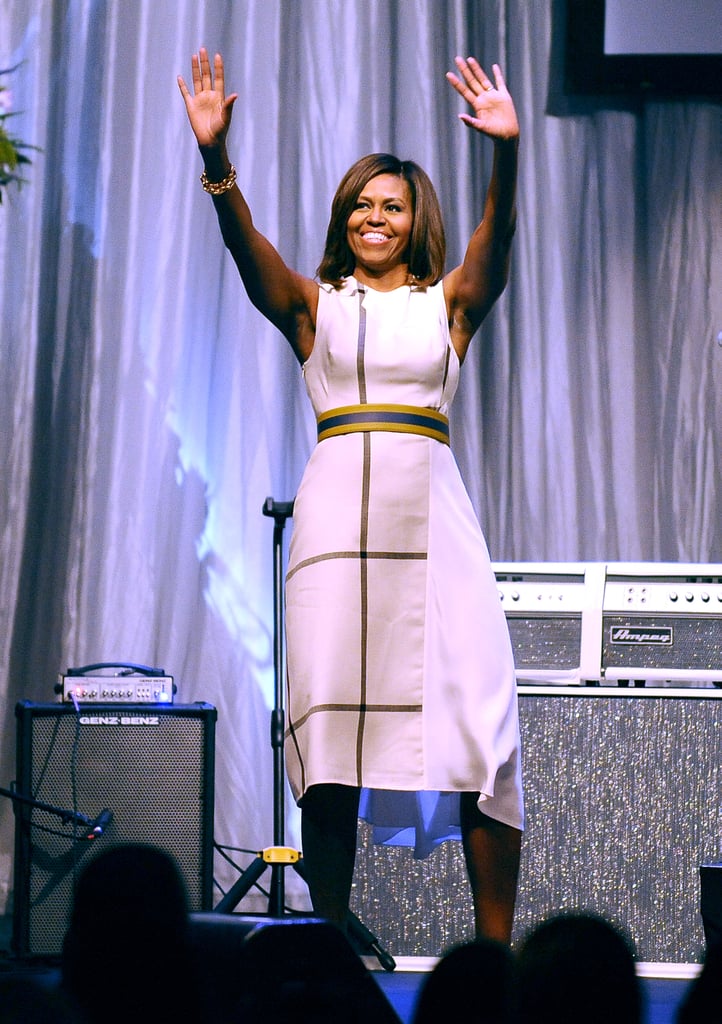 At the Grammy Museum's Jane Ortner Education Award Luncheon, the FLOTUS sported this geometric 3.1 Phillip Lim design, smartly accessorizing with nothing but a chunky bauble on her wrist.
Obviously, blue is Michelle's color. She wore this demure Tanya Taylor dress at the LULAC/NUVOtv Unity Luncheon in New York, where she hung out with Jennifer Lopez [7].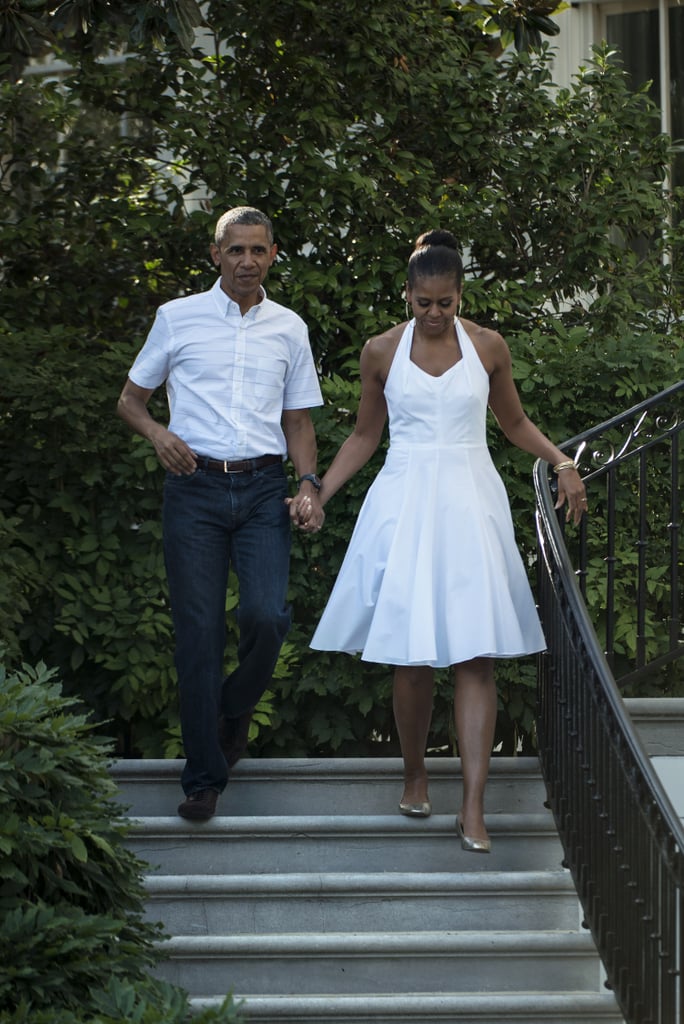 A crisp and casual halter-style dress was the perfect choice for Independence Day celebrations at the White House.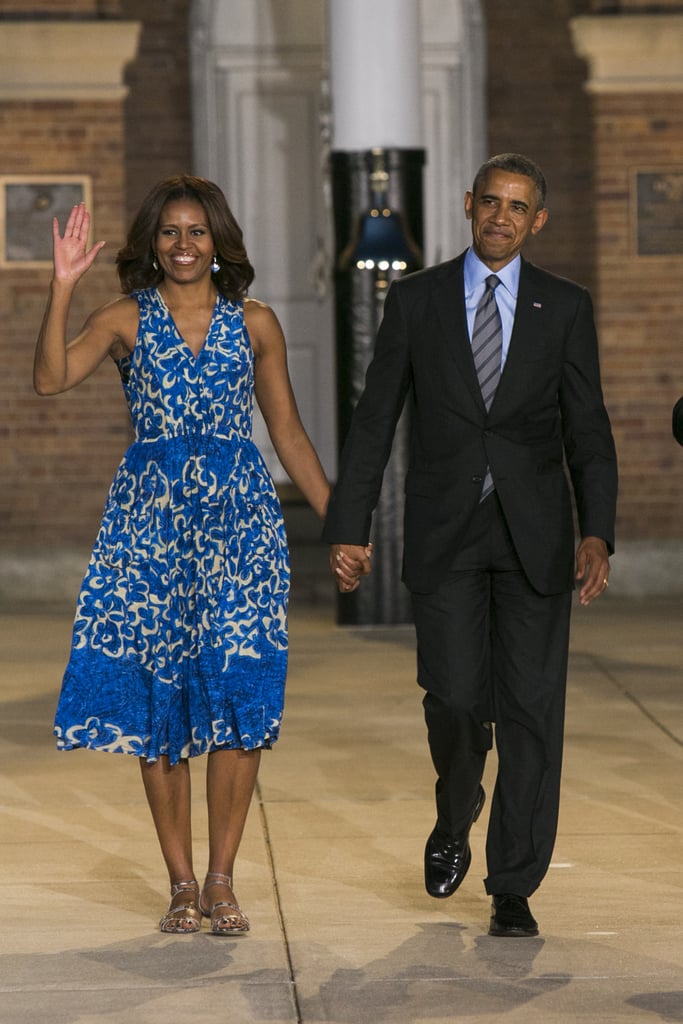 This isn't the first time Michelle wore this cobalt, floral-printed Tracy Reese frock. She wore it back in June 2013, but the look feels fresh with a pair of strappy sandals in a contrasting pattern.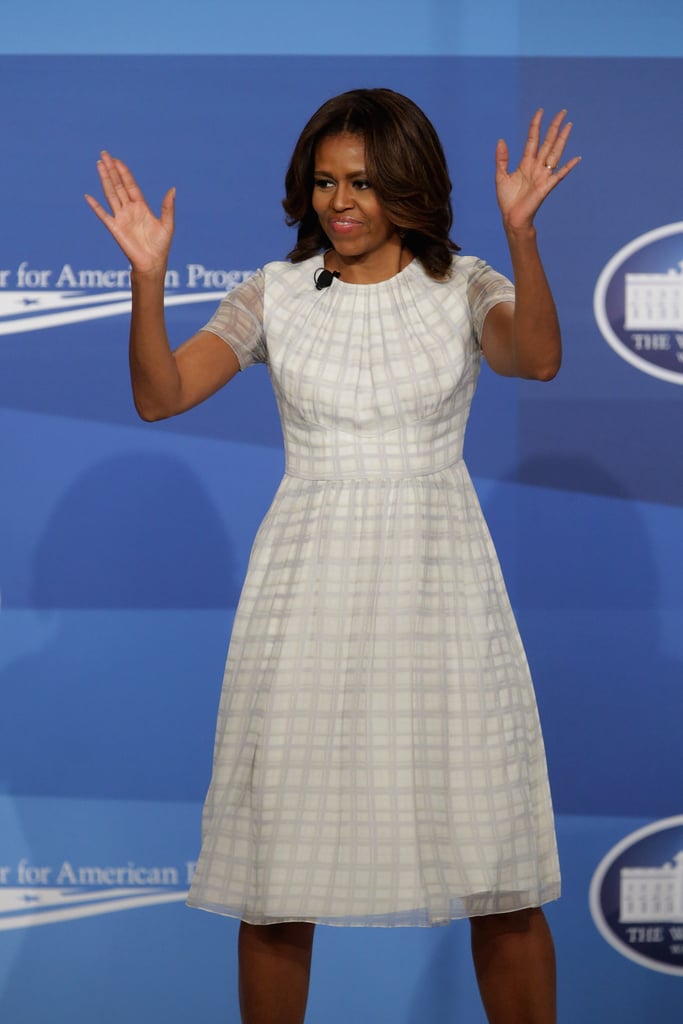 Michelle wore this breezy sheath to participate in the White House Summit on Working Families, proving that it's all about subtlety. Her light lipstick contrasts the subdued, gray checkered print of her frock.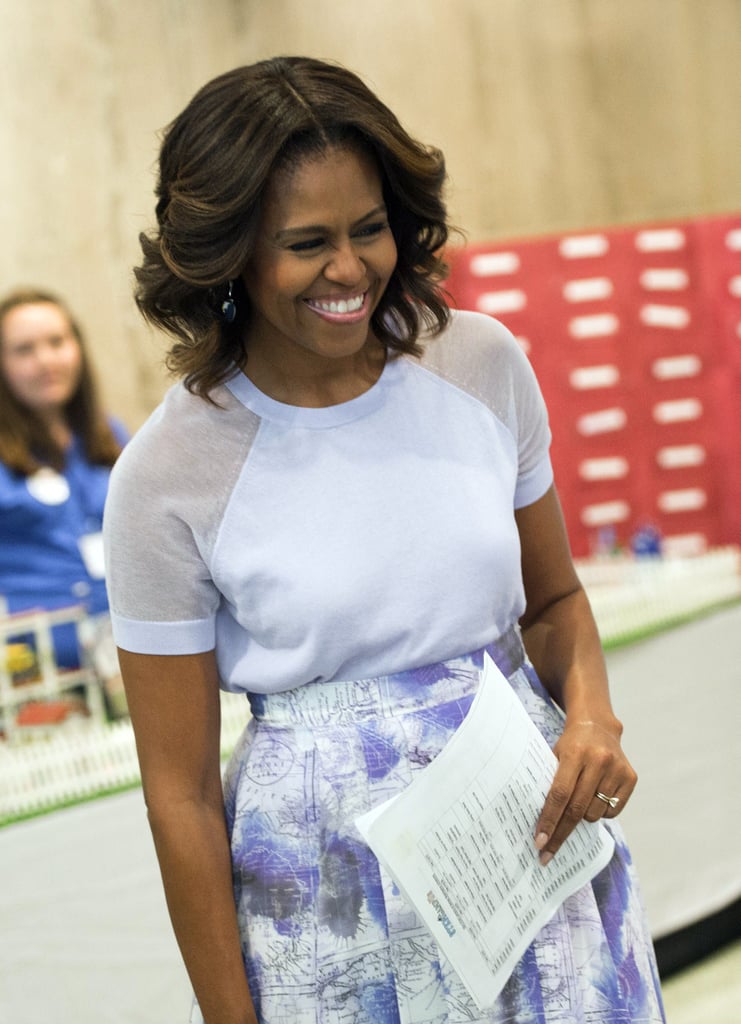 We love the romantic look of the FLOTUS's tee-and-skirt combo — and her sheer paneled sleeves are the icing on the cake.
Michelle Obama's printed Tanya Taylor tank dress actually took the form of a two-piece set on the designer's Spring 2014 runway. But, we love how Michelle keeps things polished with the simple addition of a silver belt.
Michelle's laid-back look is the epitome of casual chic, but, of course, she always incorporates her own twists. Tan flats, a thick headband, and hoop earrings give off a playful vibe for a day of traveling.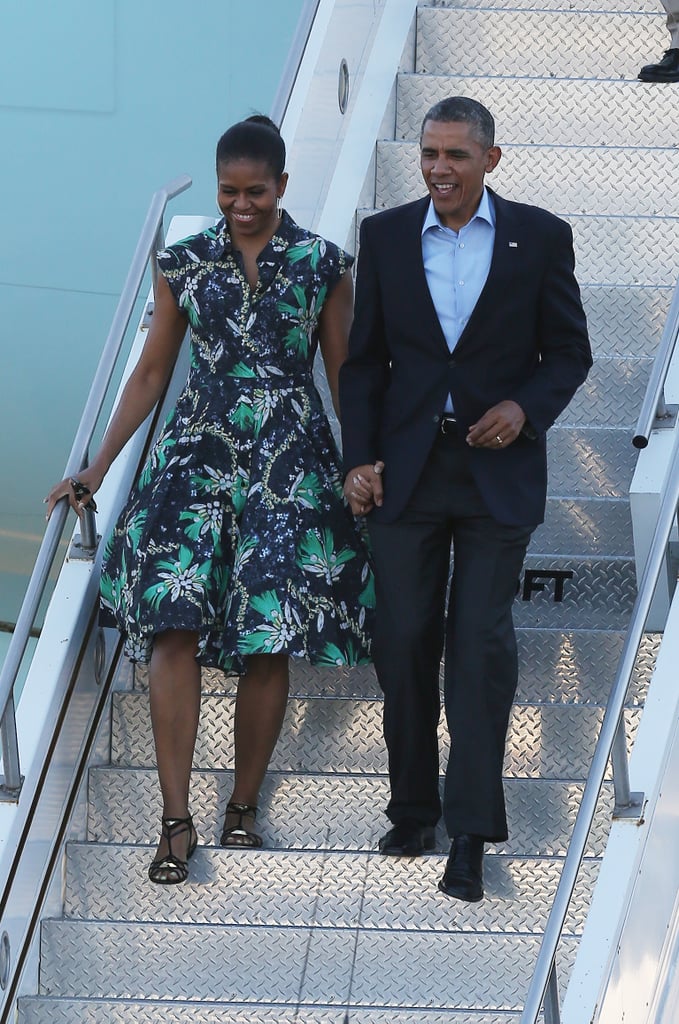 Michelle disembarked from Air Force One in Mary Katrantzou's lightweight button-down dress back in June. We love how her gold-plated, strappy black sandals and hoop earrings play up the yellow tones of the tropical pattern.
Michelle announced the Mayors Challenge to End Veteran Homelessness in a colorblock sheath that she completed with a perforated belt and a flower brooch. All the elements come together and work for her — proof that she's truly a sartorial wonder.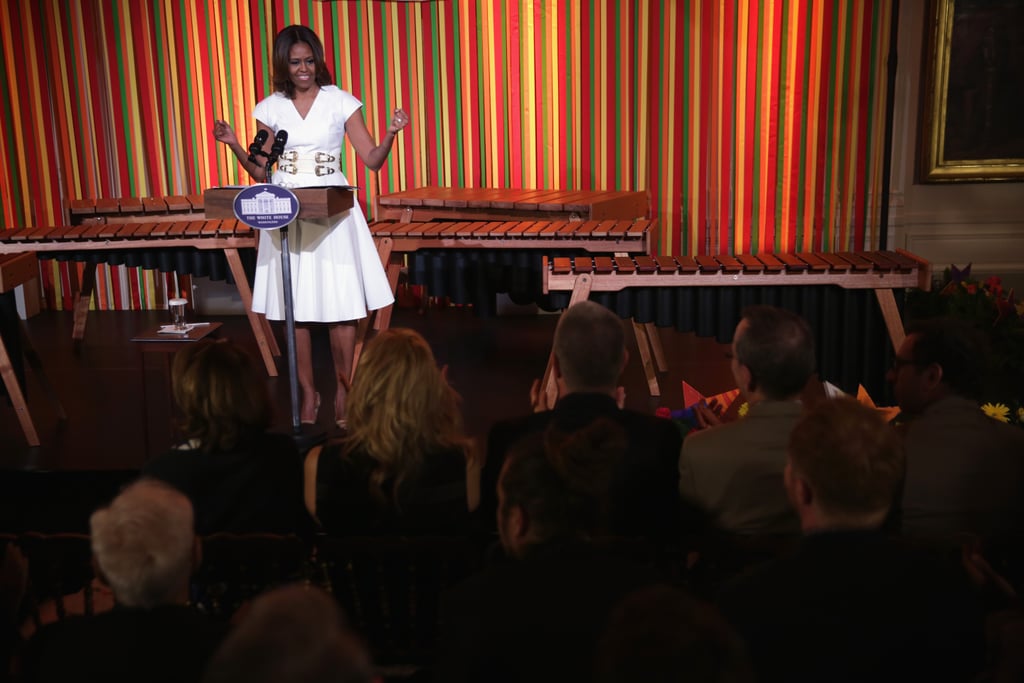 We were obsessed with the edge Michelle's double-buckle belt brought to her flared Michael Kors number at the White House Talent Show. While the always-fashionable SJP made an appearance, we're pretty sure the FLOTUS stole the style show this time around.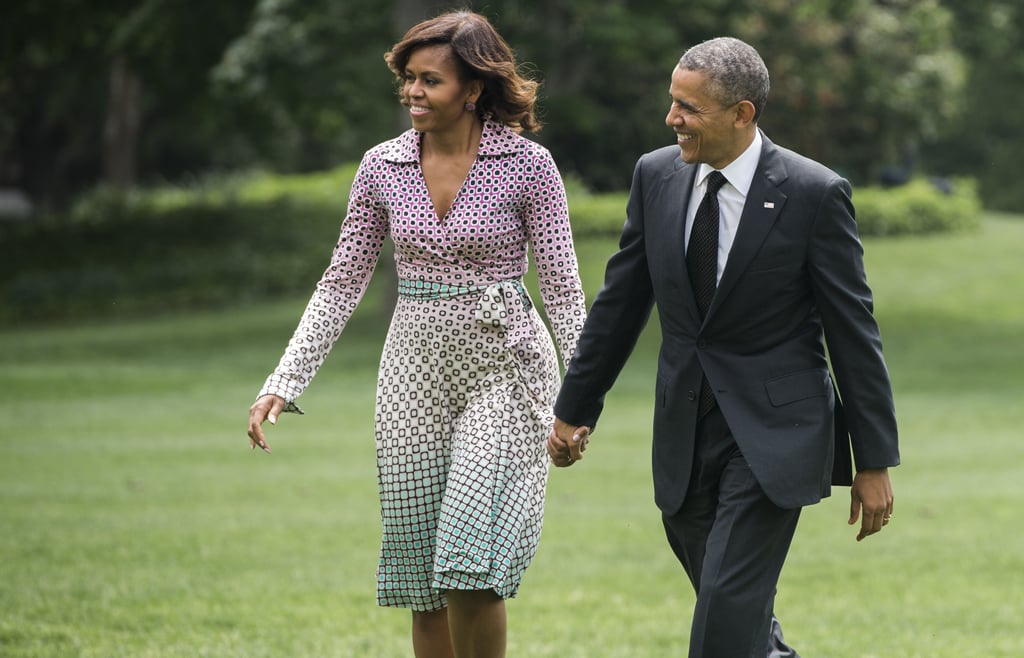 Michelle's worn many a wrap dress before, but this printed pastel style is right on point for Spring and just a little bit quirky.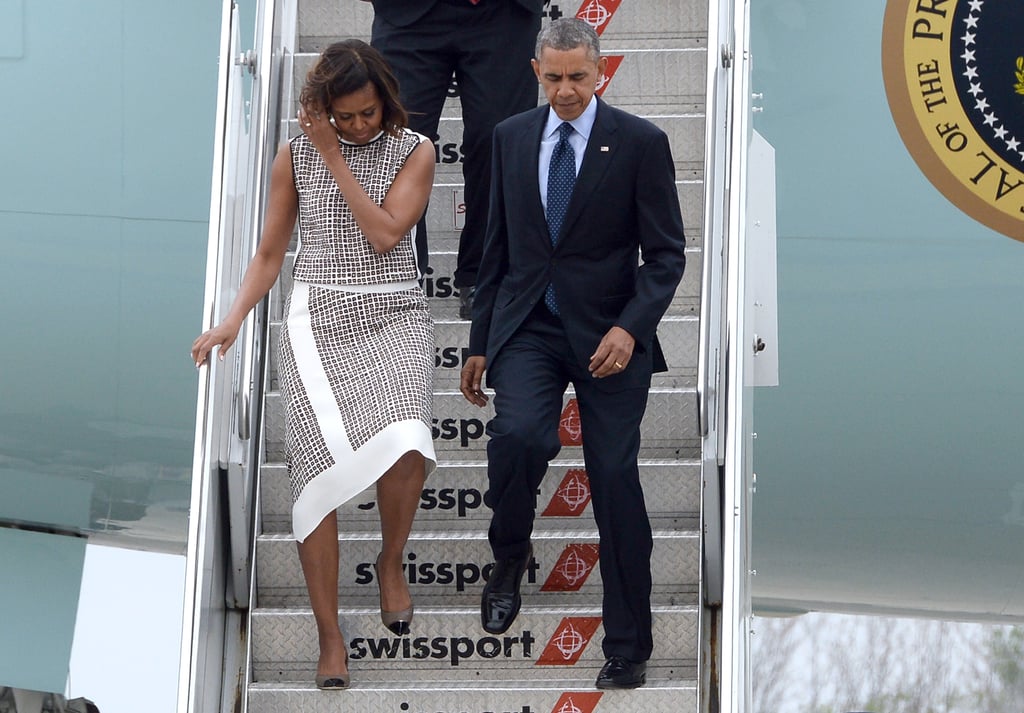 Michelle emerged from Air Force One in an asymmetric two-piece set that's totally eye-catching and made us completely rethink our own airport style.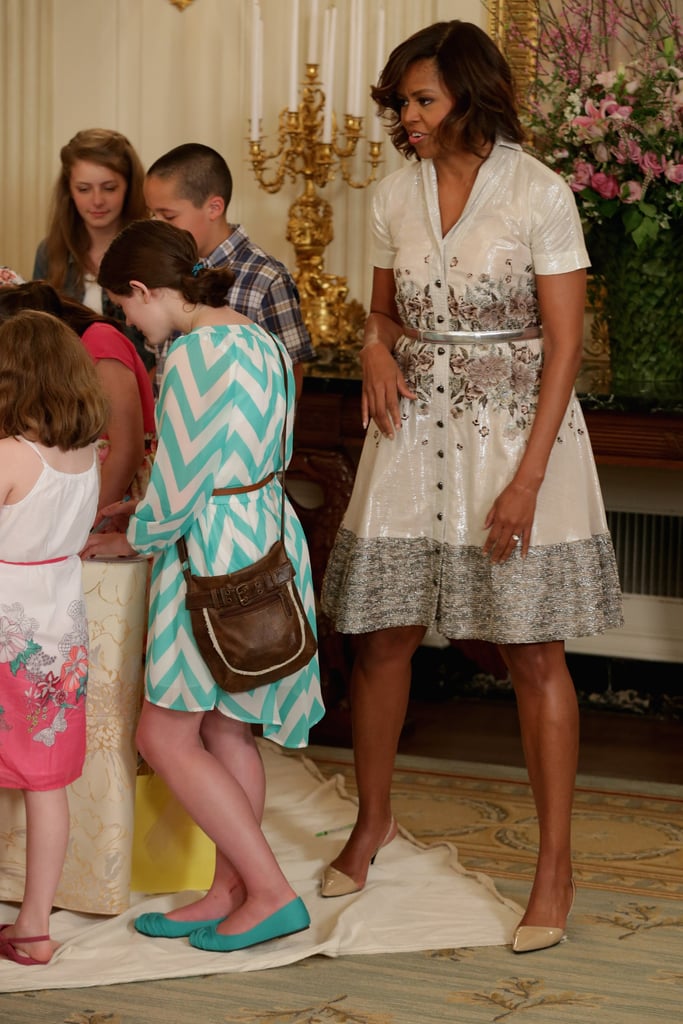 Michelle wore this knee-length, shimmer shirtdress back in 2012, but we love how she paired it with patent leather, pointed-toe pumps for the Annual Mother's Day [8] Tea this year. And she accessorized with one very familiar metallic belt.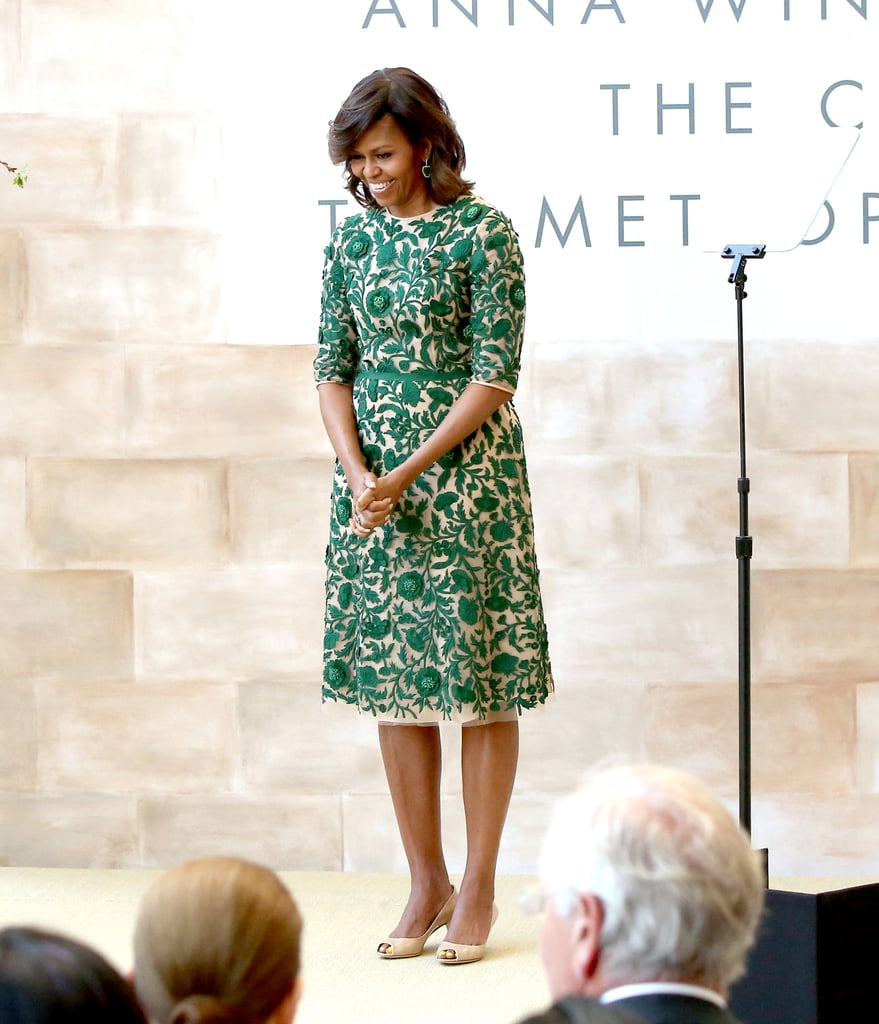 The first lady cut the ribbon at the Anna Wintour Costume Center Grand Opening in a custom floral-appliqué Naeem Khan dress.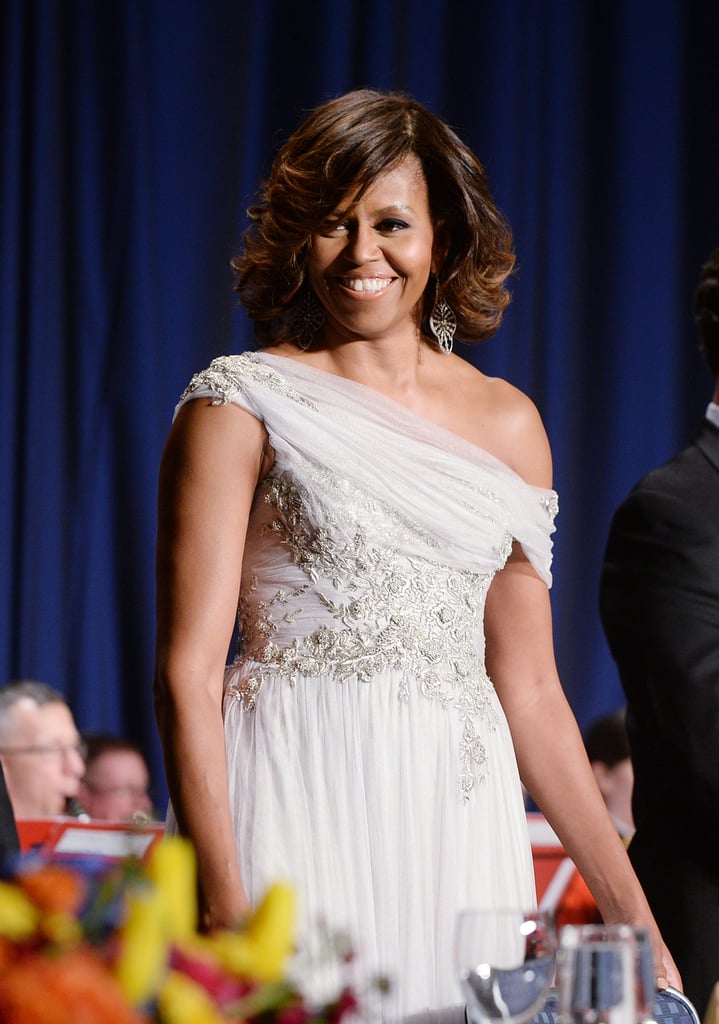 While attending the 100th Annual White House Correspondents' Dinner, Michelle gave us one for the ages with her romantic Marchesa gown.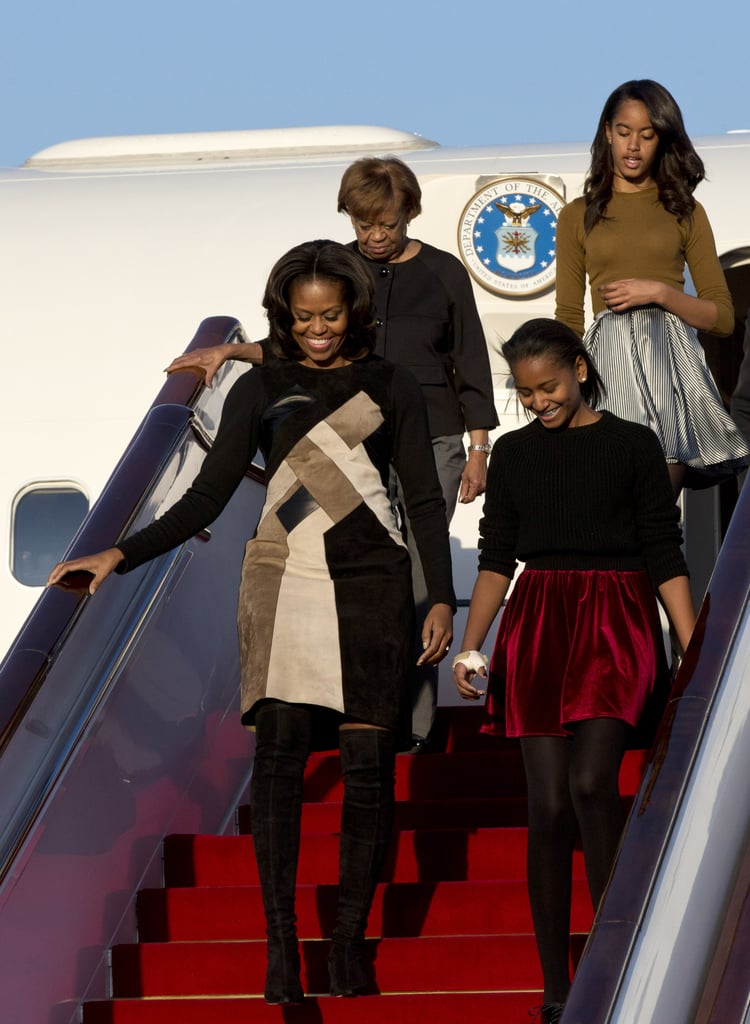 More like air fierce one! The first lady stepped off the plane in Derek Lam's mosaic dress at the Beijing Capital International Airport.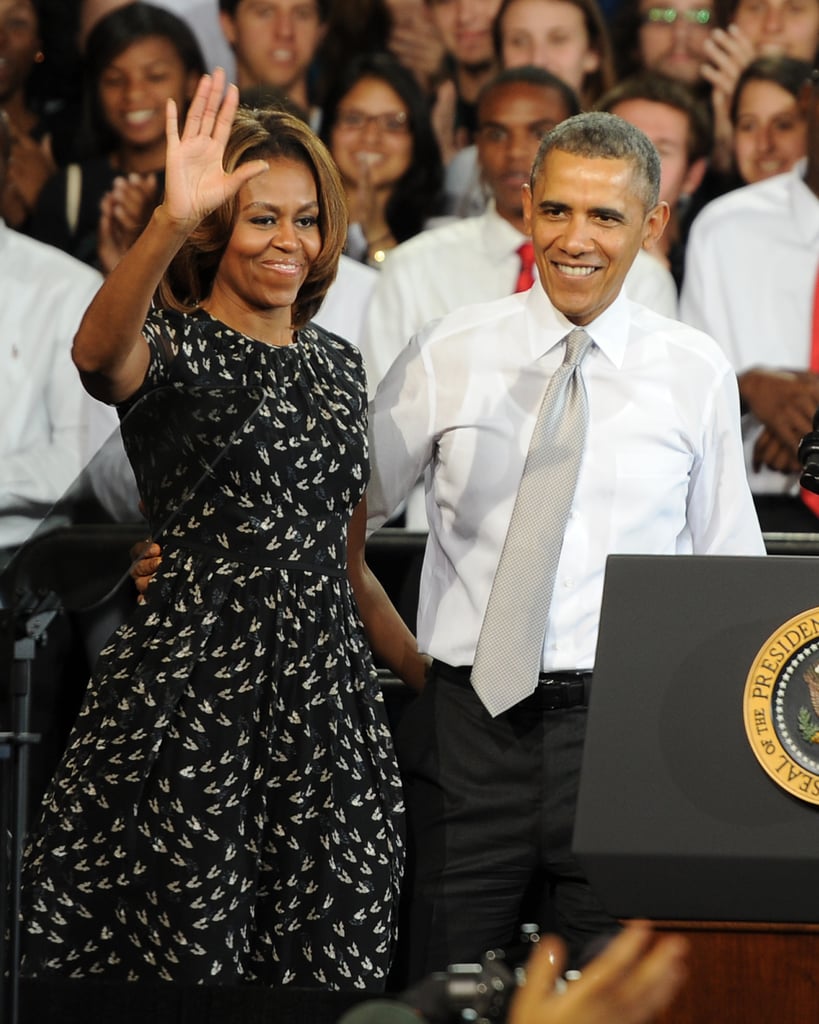 What's black and white and something we'd love in our closet? Michelle's frilly dress that she wore to speak at a Miami High School.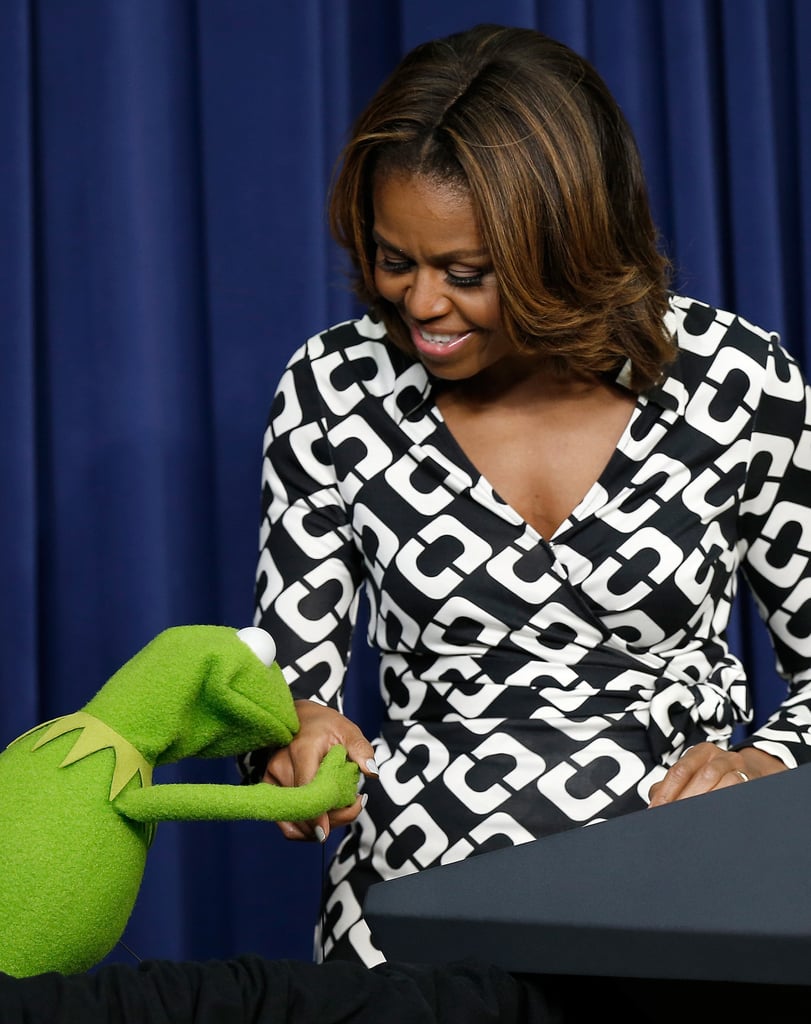 We hope Miss Piggy wasn't too jealous when Kermit the Frog spent some time with the DVF-clad first lady.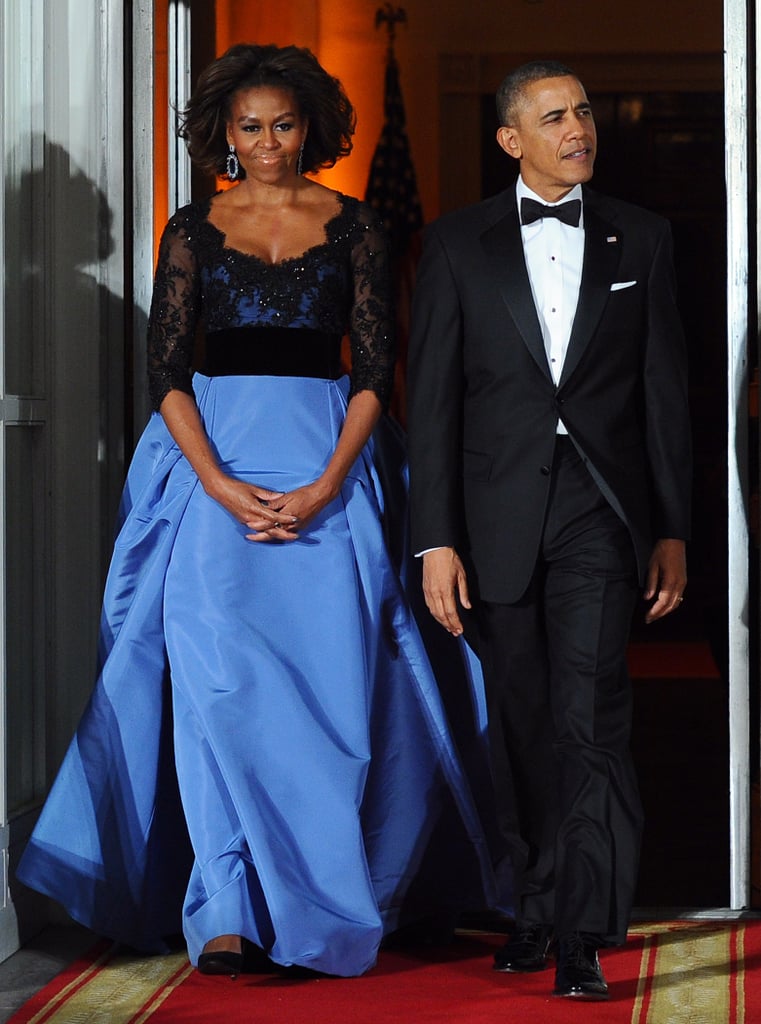 Très chic! To greet French President Francois Hollande, the first lady made a fittingly sophisticated choice of a beaded liberty blue silk faille Carolina Herrera design that she paired with coordinating Sutra earrings.
Michelle took the black and white trend for a spin, styling a geometric-print top with a lace-trim skirt and metallic sandals, while chatting with Marine Corps in Hawaii on Christmas Day 2013.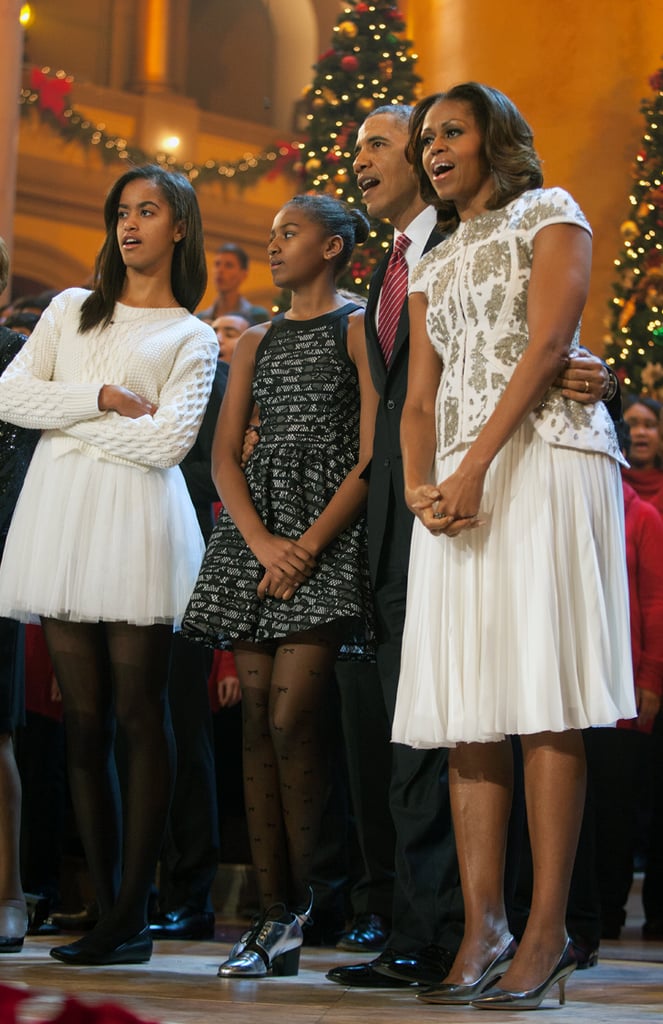 The first lady trotted out this J. Mendel look for the taping of 2013's Christmas in Washington. It's a really special dress — the last time she wore it was at a reception at Buckingham Palace last summer.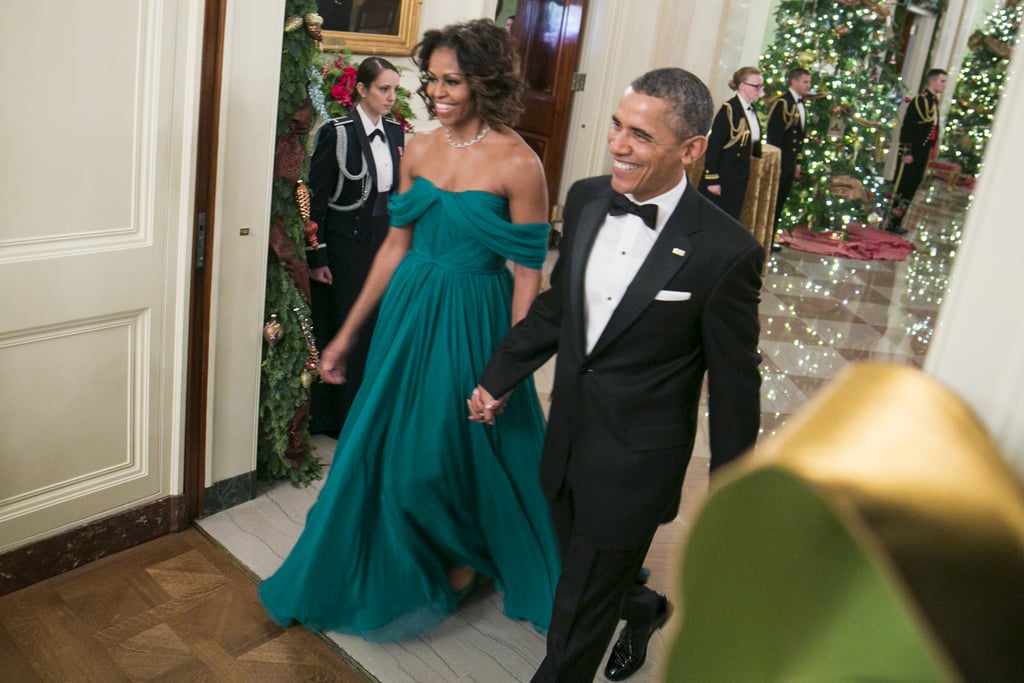 A hand-draped gown by Marchesa made for the perfect look to host the Kennedy Center honorees with President Obama. A delicate necklace and a box clutch completed the outfit.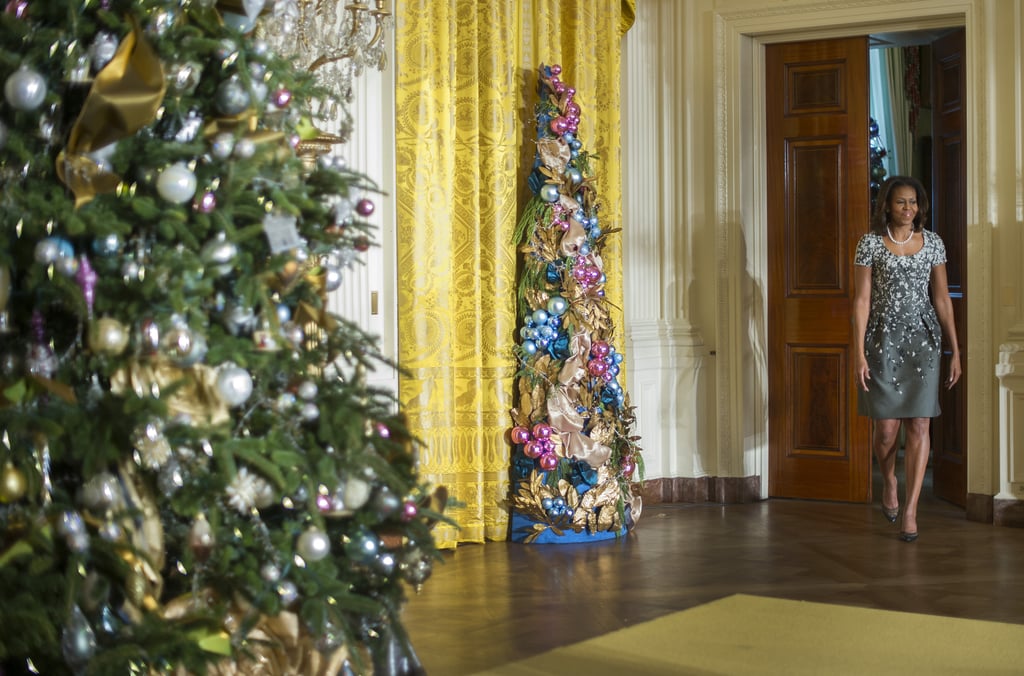 Michelle Obama chose a floral-print Carolina Herrera dress to unveil the 2013 White House Christmas decorations.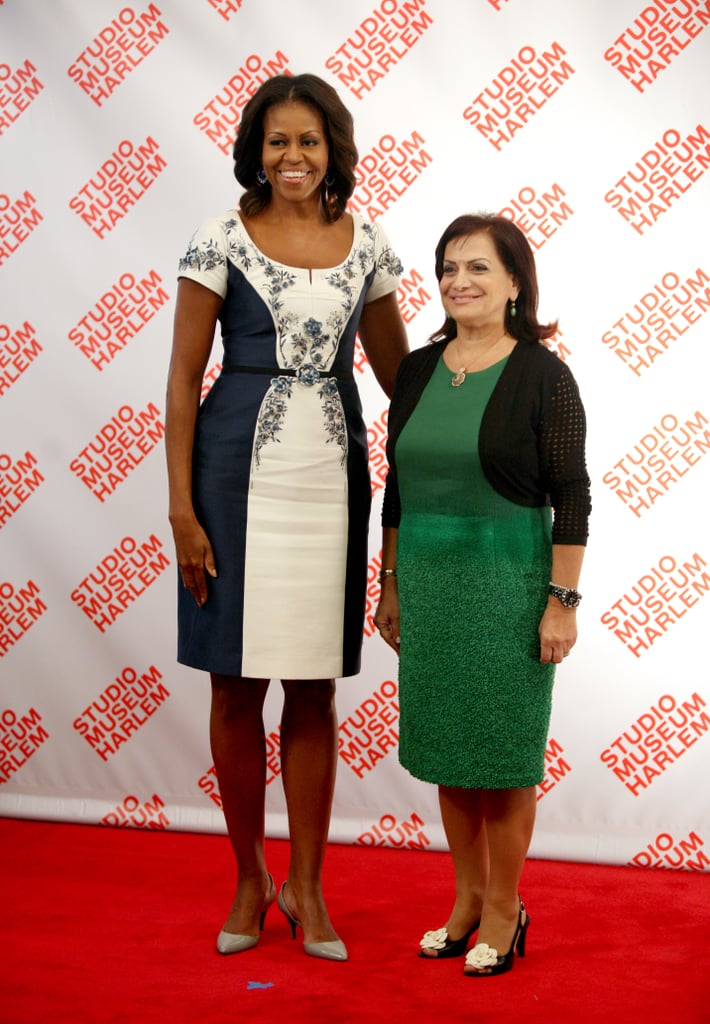 Michelle Obama looked lovely in a navy-and-white floral dress and gray slingback pumps at a first ladies lunch at the Studio Museum in Harlem in NYC.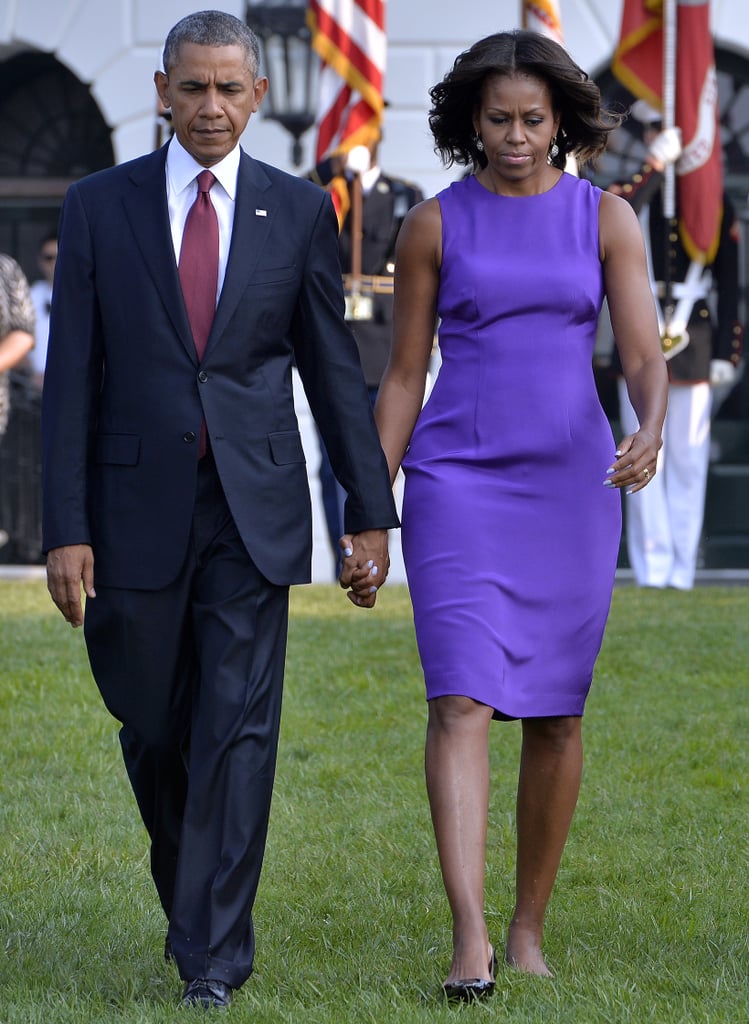 President Obama and the first lady, clad in a royal-purple shift, walked hand in hand during the 9/11 anniversary memorial in Washington. That dress needed little else but small drop earrings and black patent pumps.
Michelle Obama stole the show in a strapless plaid gown at the Congressional Black Caucus Foundation dinner in Washington DC.
Michelle isn't afraid to take a few risks, which she showed when she wore a mixed-print floral dress to the screening of The Powerbroker: Whitney Young's Fight For Civil Rights.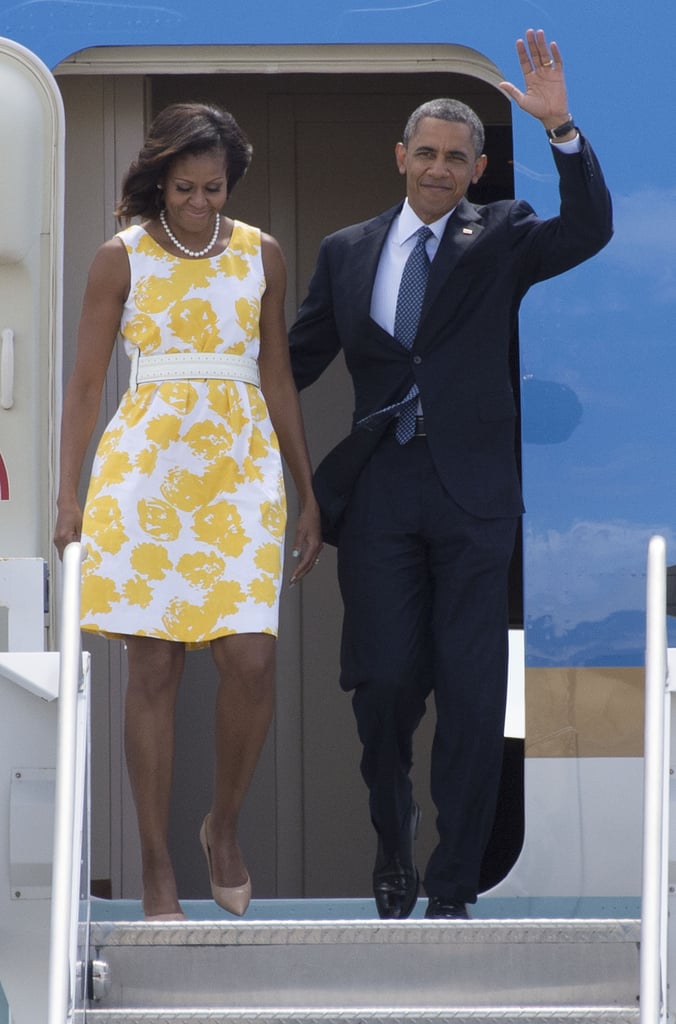 Michelle proved she is the queen of shopping when she stepped off Air Force One in a yellow and white dress by Talbots [9] (a steal at only $56!) which she accessorized with a white belt.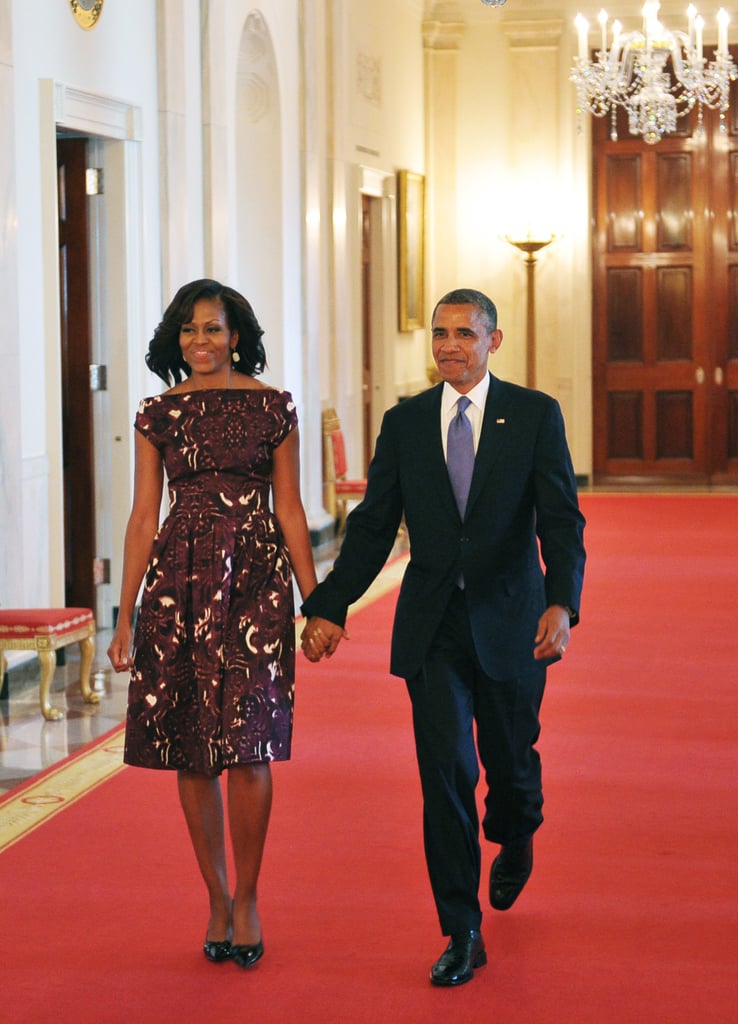 Michelle went for a boatneck dress sporting and intricate deep red and white pattern when she accompanied her husband to the National Medal of Arts and National Humanities Medal presentation ceremony.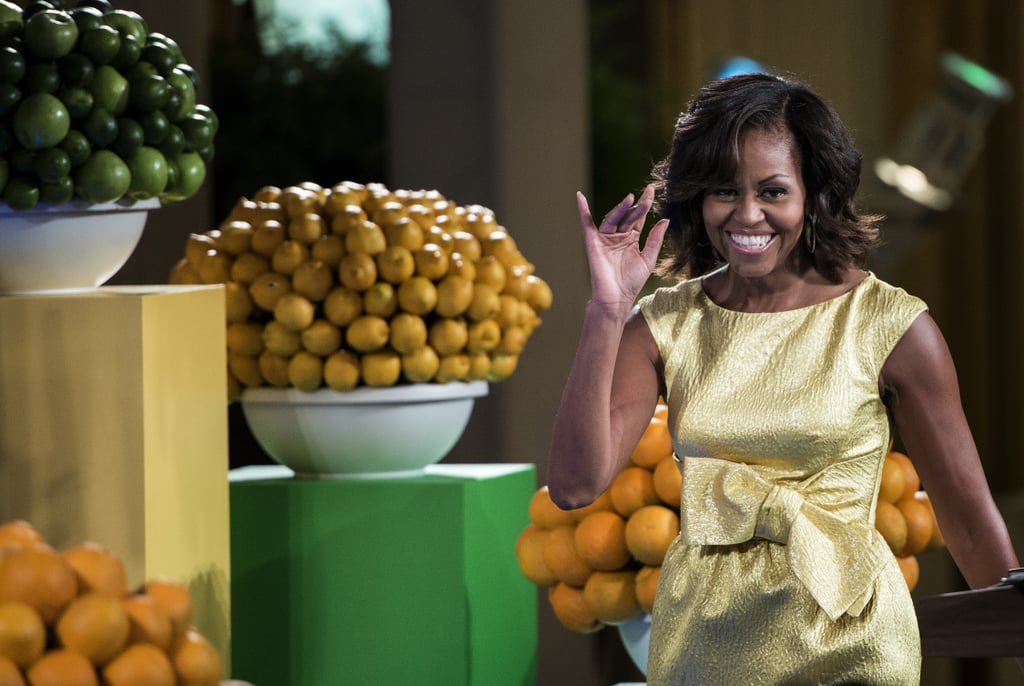 Michelle Obama shined in a gold metallic Michael Kors dress featuring an oversize bow at a kids' state dinner held at the White House.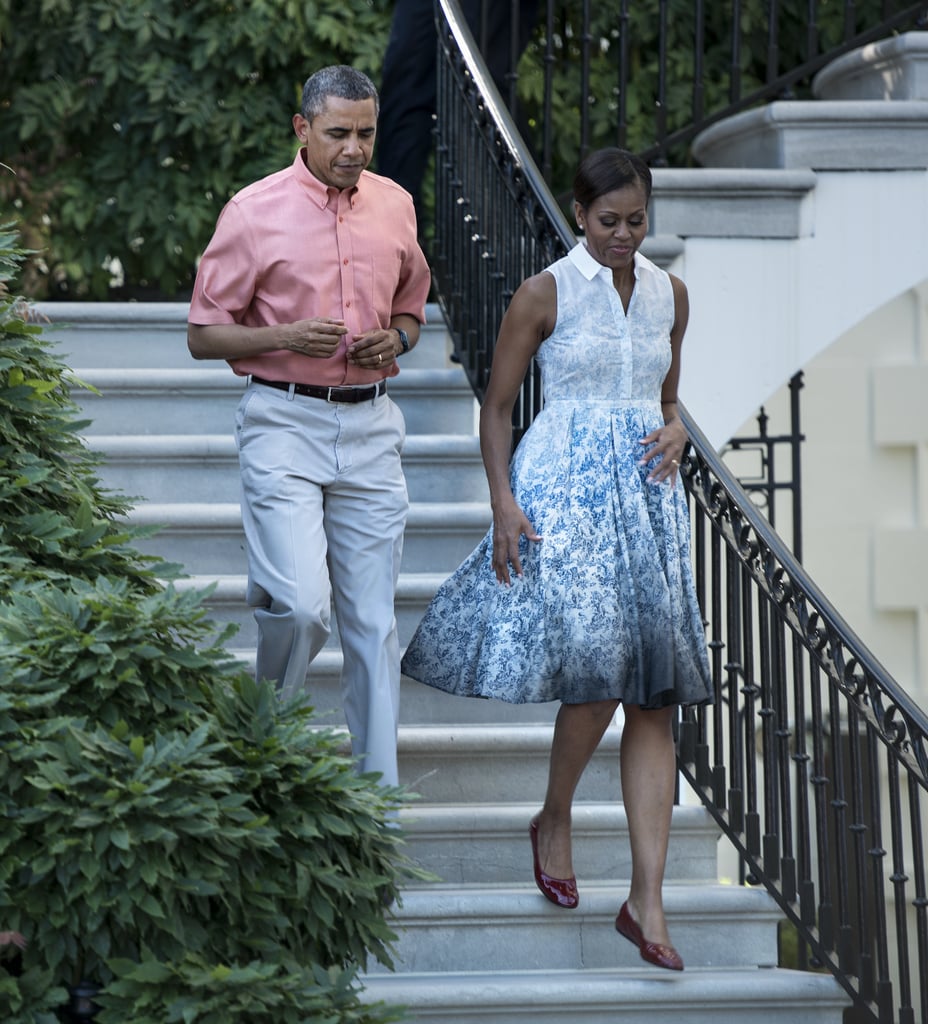 President Obama and Michelle Obama walked down to the White House's South Lawn with the first lady looking retro in a blue printed shirtdress and red patent ballet flats.
During an official dinner in Tanzania, Michelle Obama tucked a crisp white short-sleeved Zero + Maria Cornejo blouse into a striped orange skirt, then added shine via a gold belt and hoop earrings.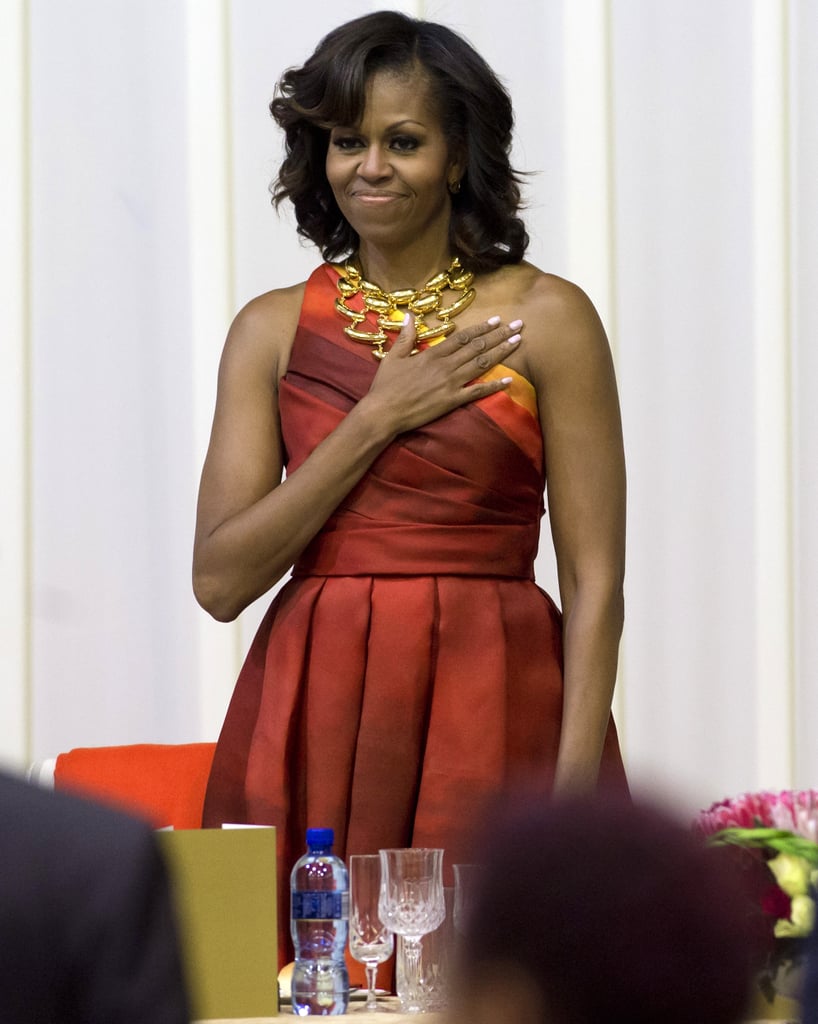 Michelle Obama was fabulous as ever in a sunset-print, one-shoulder Naeem Khan dress and Robert Lee Morris gold necklace during a dinner in South Africa.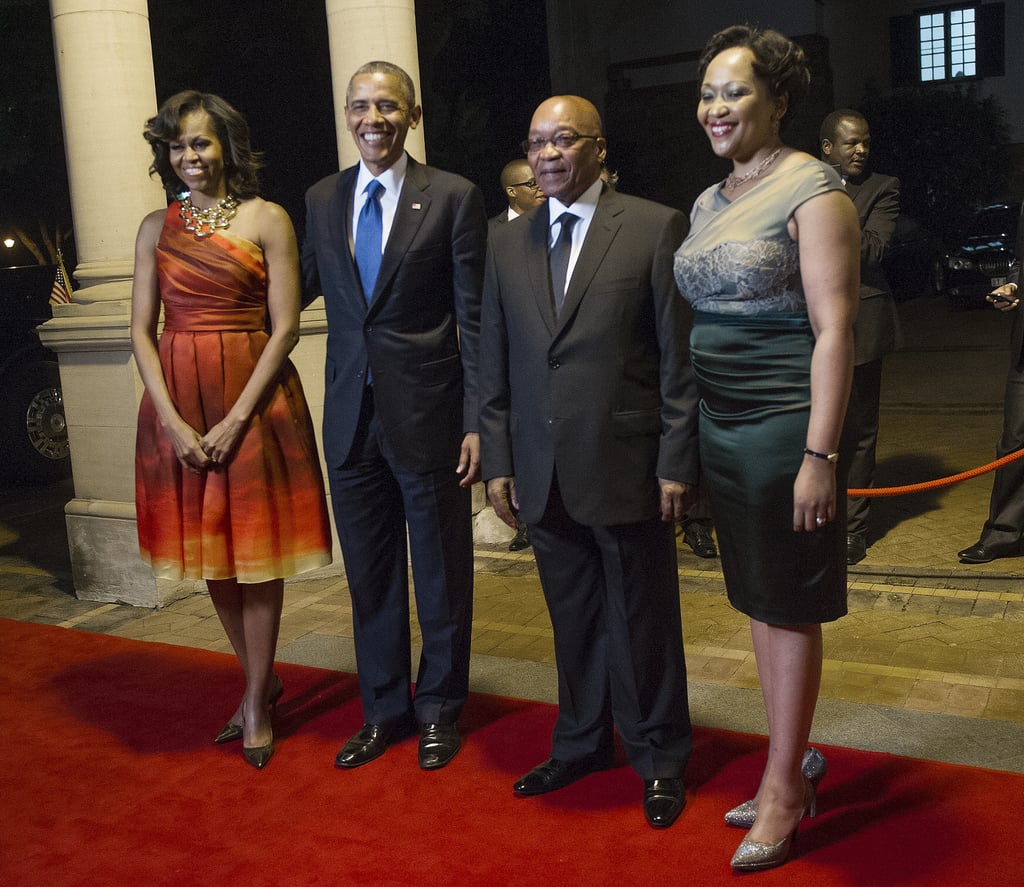 Michelle's dress featured a retro fit-and-flare silhouette.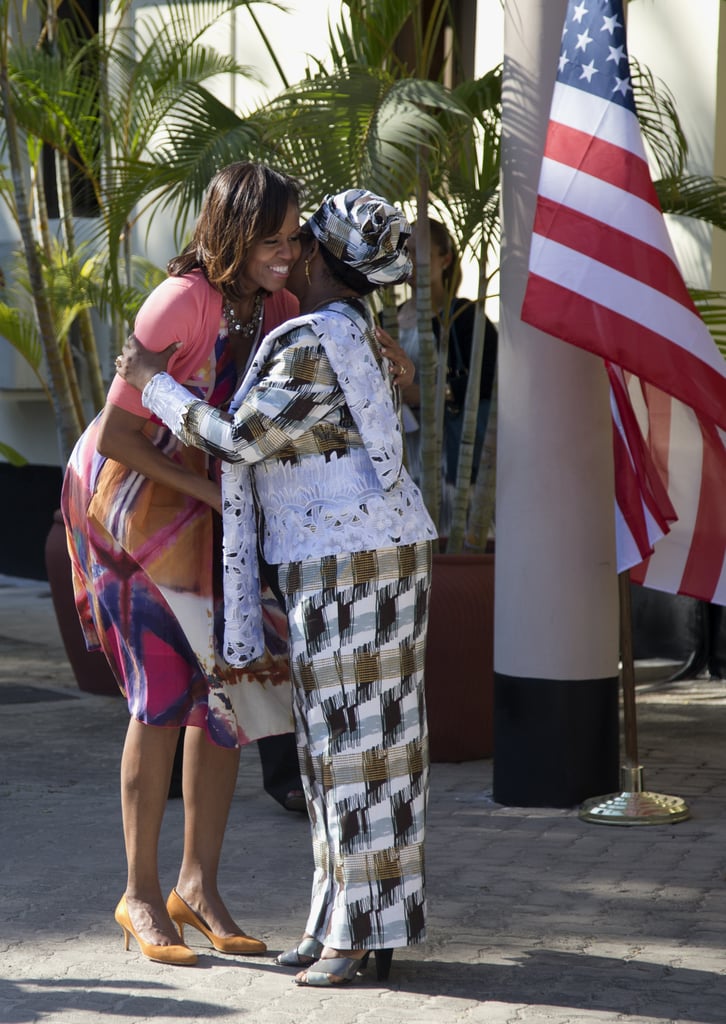 While embracing Tanzanian First Lady Salma Kikwete, the first lady showed off a multicolored dress with a coordinating coral cardigan.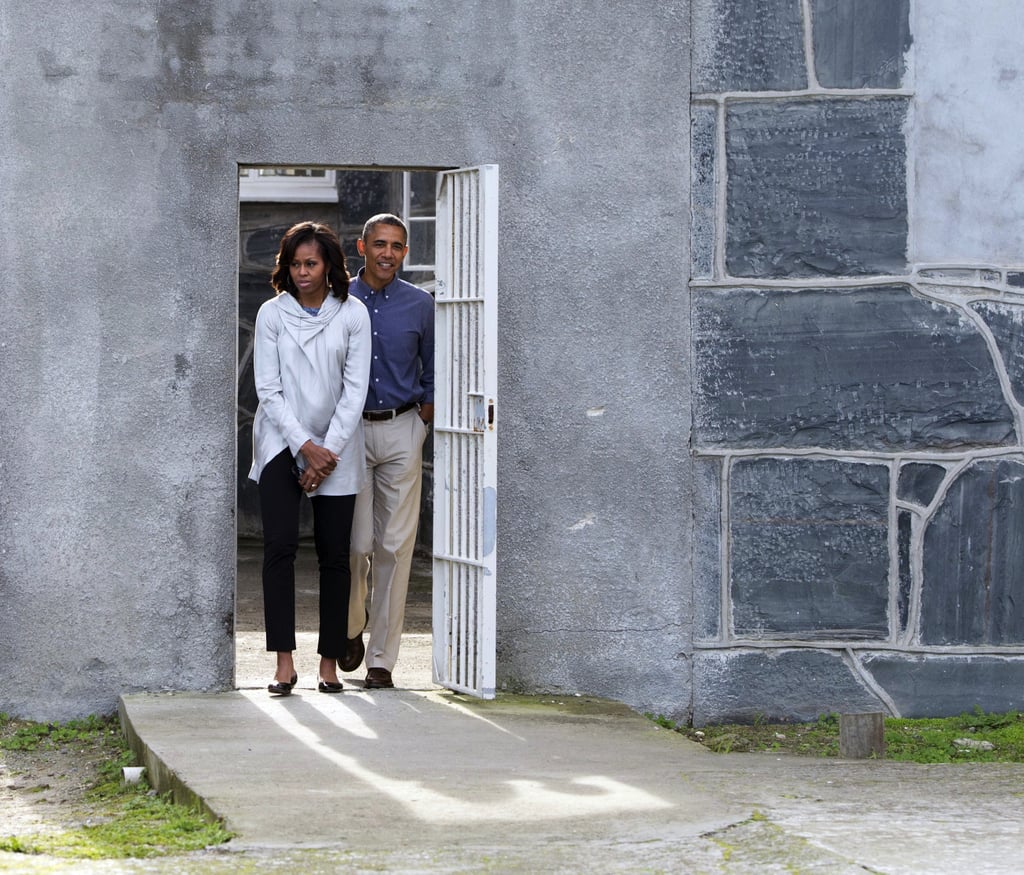 For her visit to Robben Island in South Africa, Michelle kept her look much more subdued in black cropped trousers and a gray cowl-neck jacket.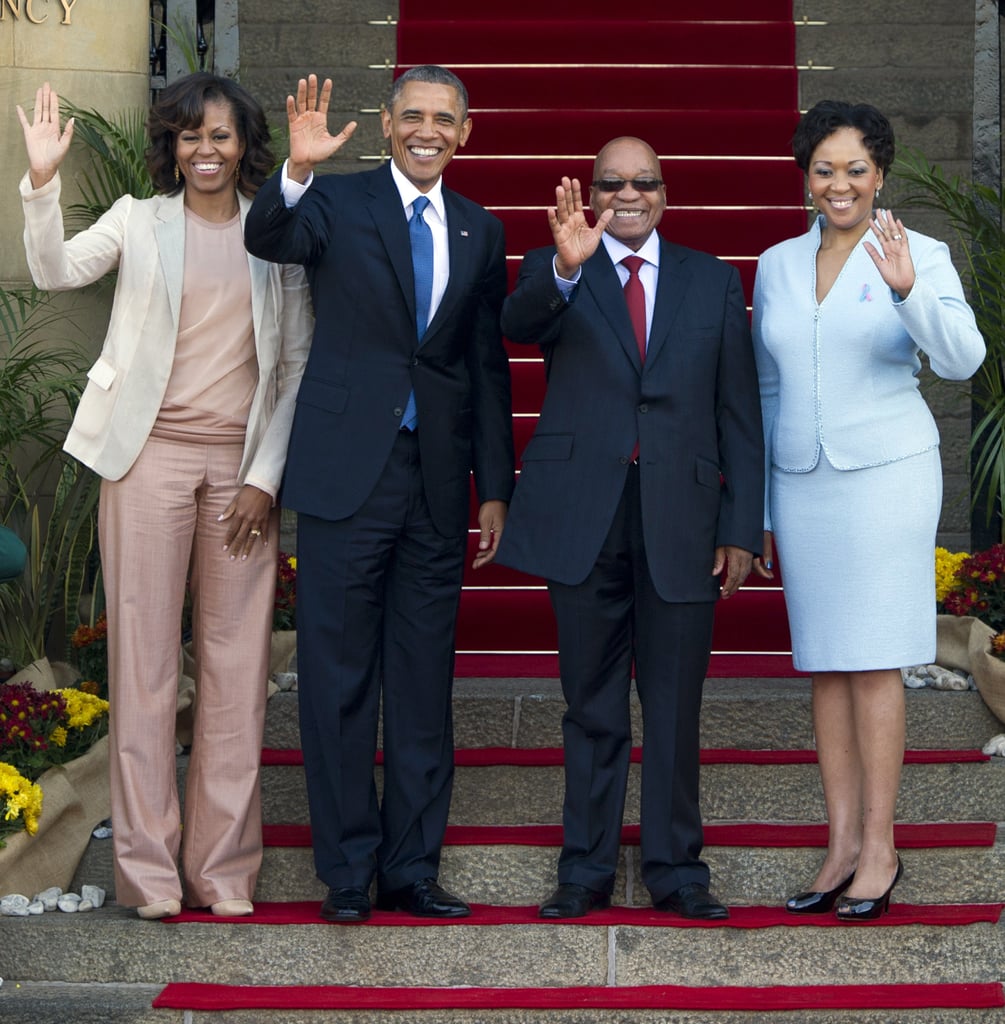 The first lady tried out a more relaxed silhouette as she and President Obama stood alongside South African President Jacob Zuma and his wife Thobeka Madiba-Zuma.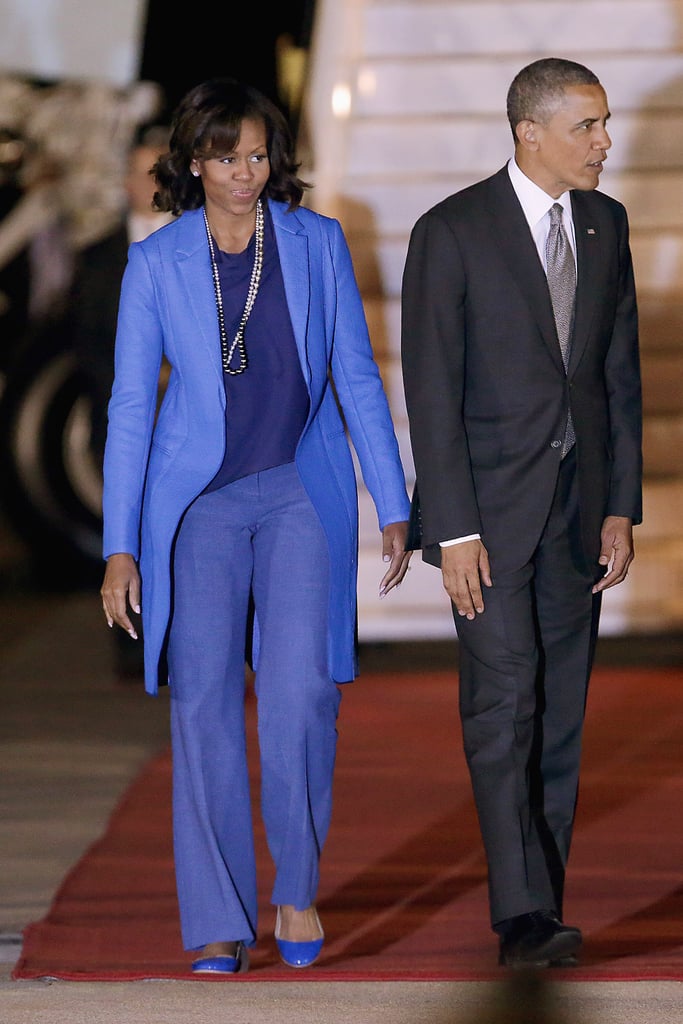 Michelle Obama stuck to various shades of blue in Pretoria, South Africa. To break up the monochrome look, she wore two Pearl Paradise necklaces.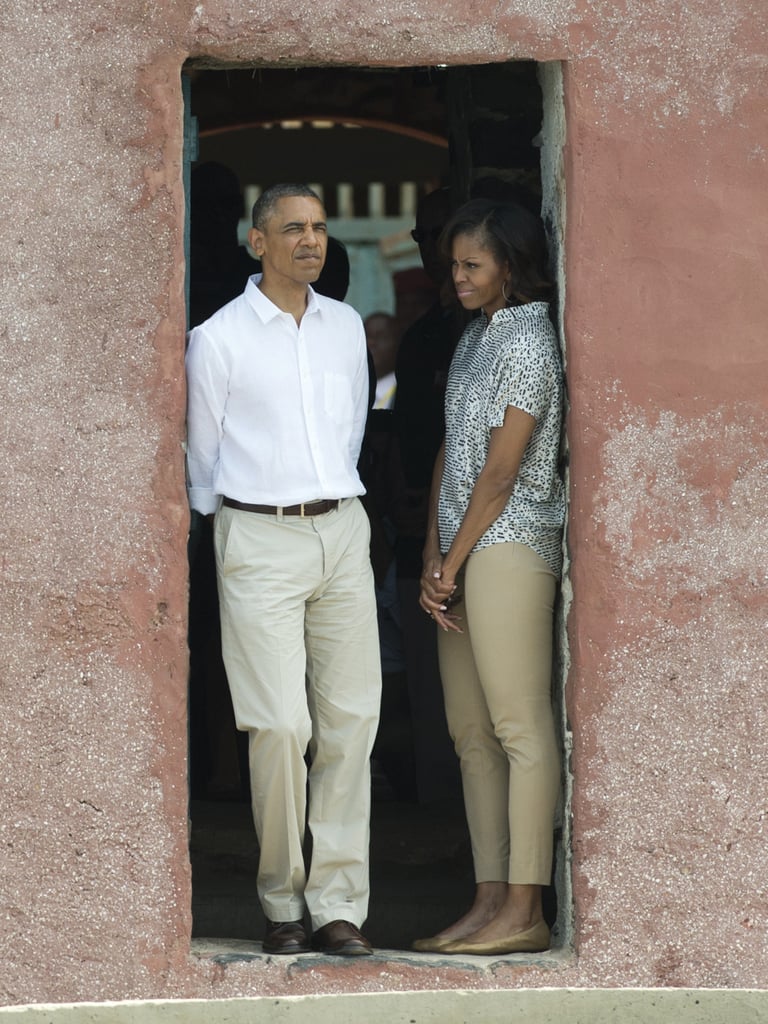 The first lady was laid-back but undeniably put-together in khaki cropped trousers and a printed blouse while visiting the Door of No Return in Dakar with the president.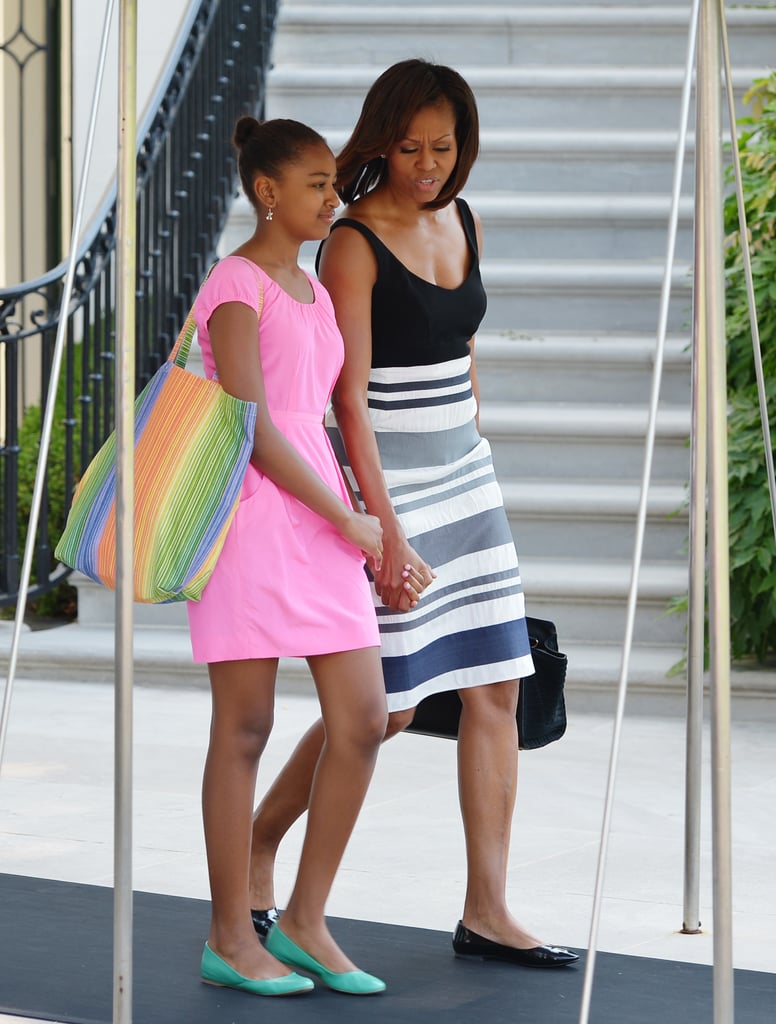 Michelle Obama looked resort chic in a striped dress and patent ballet flats as she and daughter Sasha made their way to board Marine One in Washington, D.C.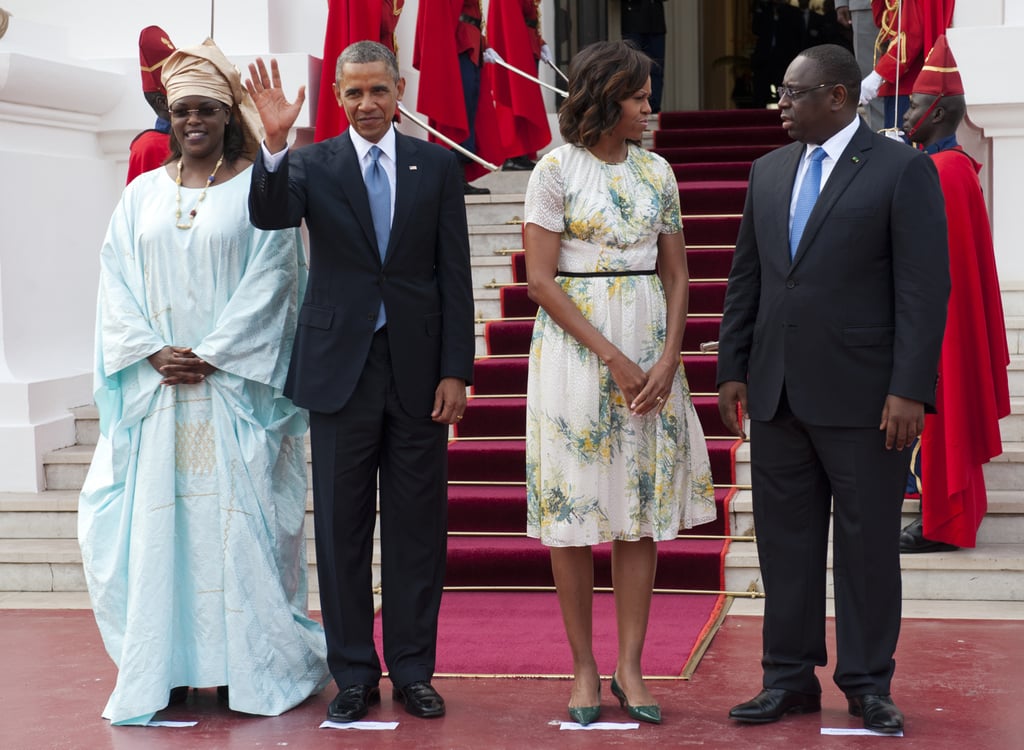 The first lady was a breath of fresh air in a retro floral dress and green kitten pumps as she and President Obama were greeted by Senegal's President at the Presidential Palace in Dakar.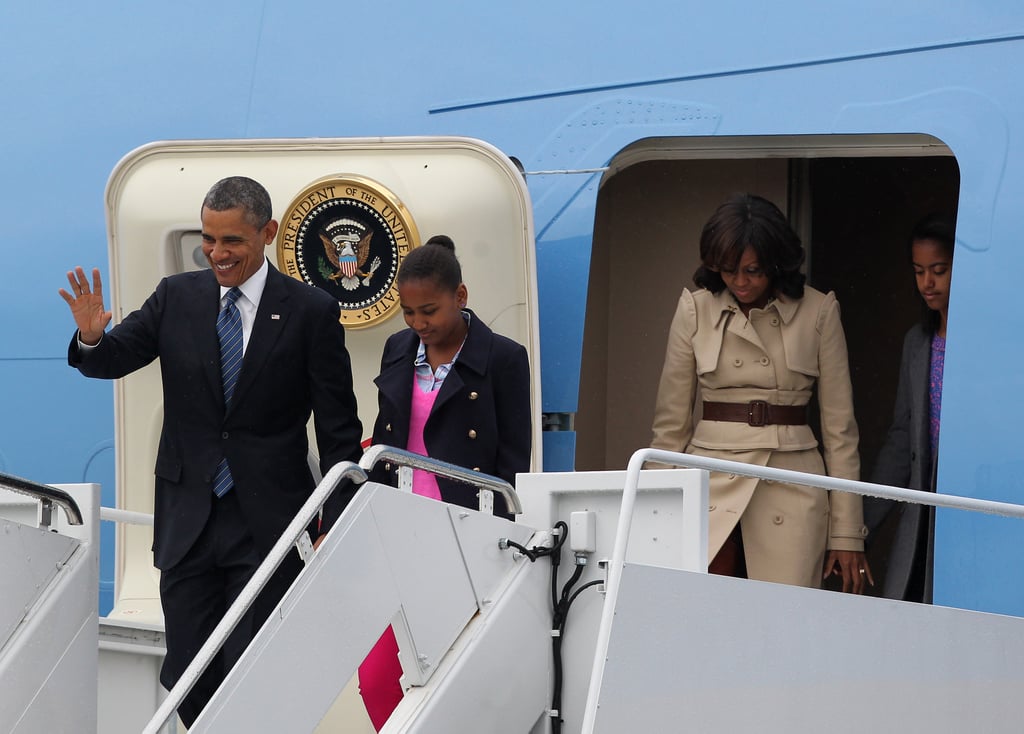 The first family landed in Belfast, and upon exiting Air Force One, Michelle Obama showed off a beautiful, buttery Burberry trench coat.
Inside, when Michelle took off her coat, she revealed an equally stylish ensemble: a nude sheer-sleeved blouse and rust-colored trousers, accessorized with a multistrand necklace and nude patent pumps.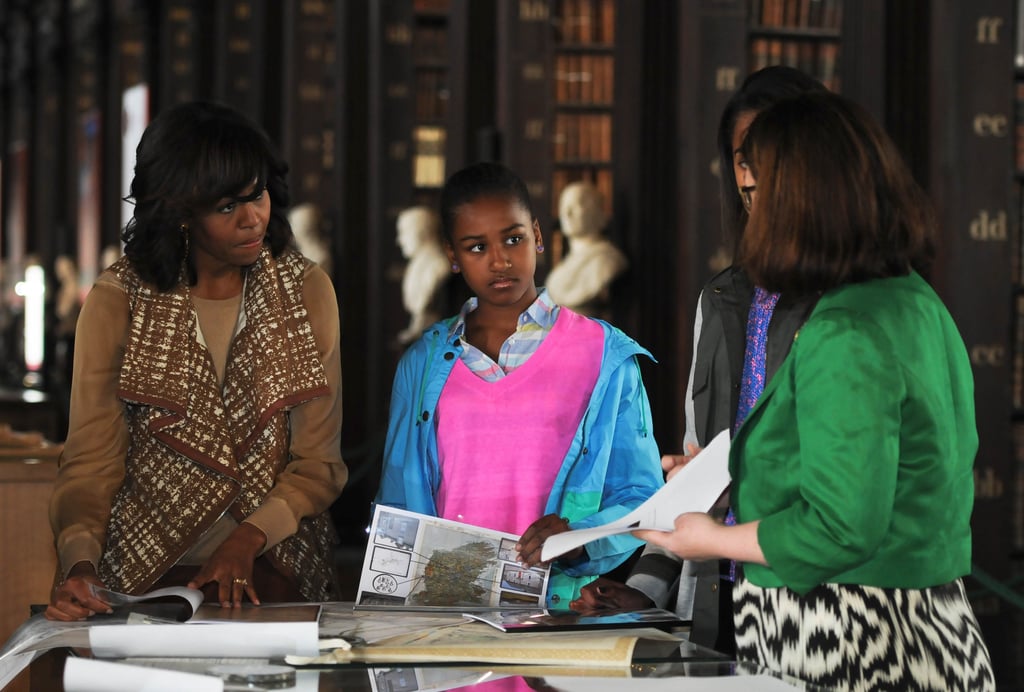 Michelle Obama donned a statement Lela Rose vest while visiting the Long Hall Library in Trinity, Ireland.
Michelle Obama's First Lady Style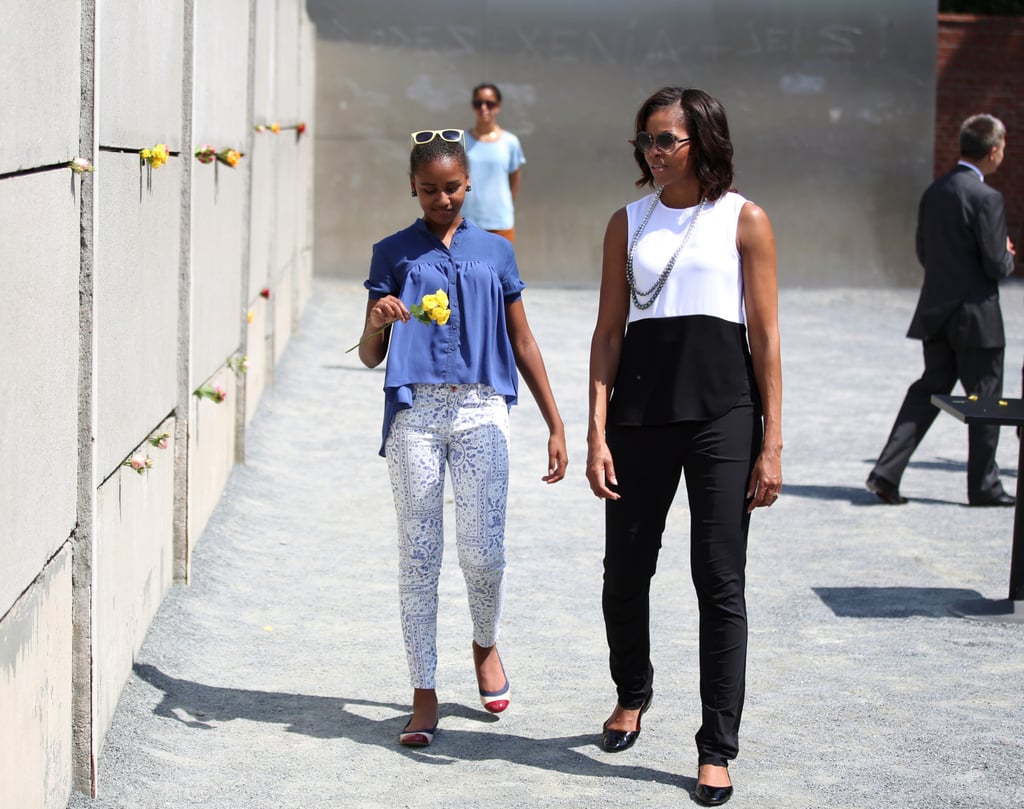 Michelle Obama toured Berlin looking chic as ever in a black and white outfit. Her gray sunglasses, matching Pearl Paradise necklace, and black patent flats were the perfect add-ons.
Michelle painted herself all black while in Berlin. We spied an edgy studded belt underneath her draped top.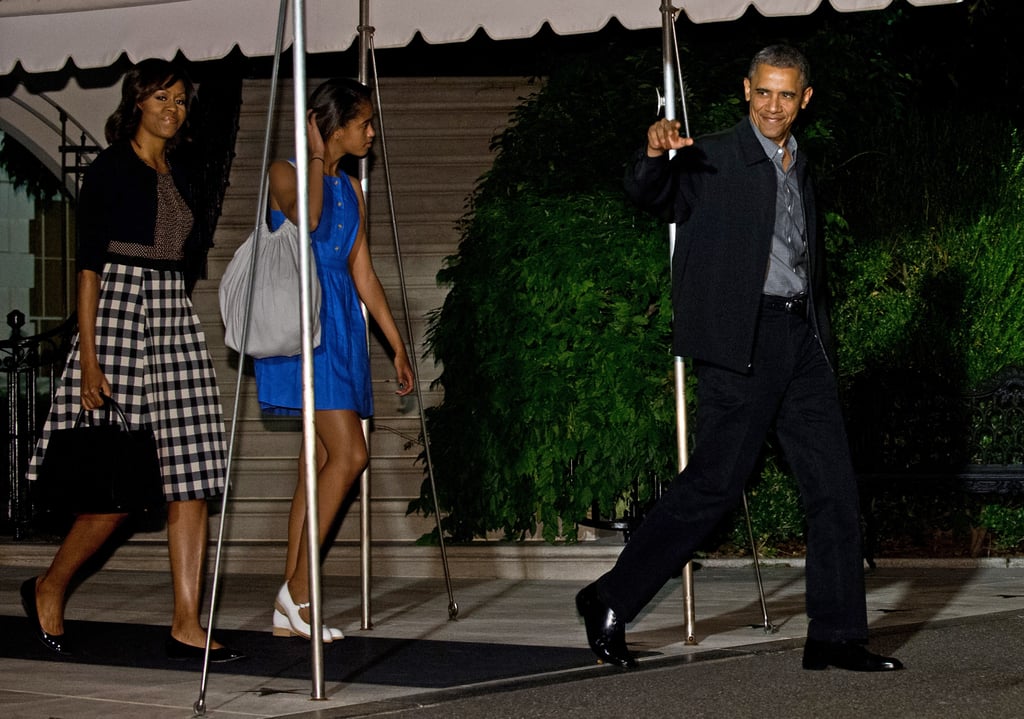 Michelle Obama worked a ladylike Tracy Reese combo frock when departing the white house with daughter Malia and the president.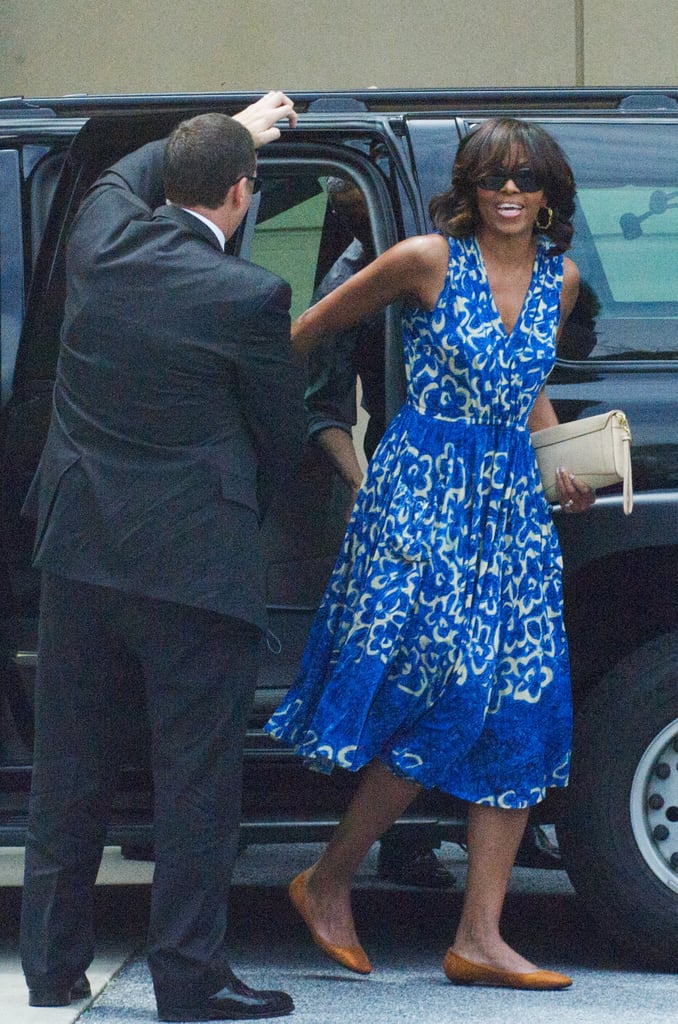 The FLOTUS showed off a blue-printed Tracy Reese dress and flats on her way into Sasha's dance performance in June 2013.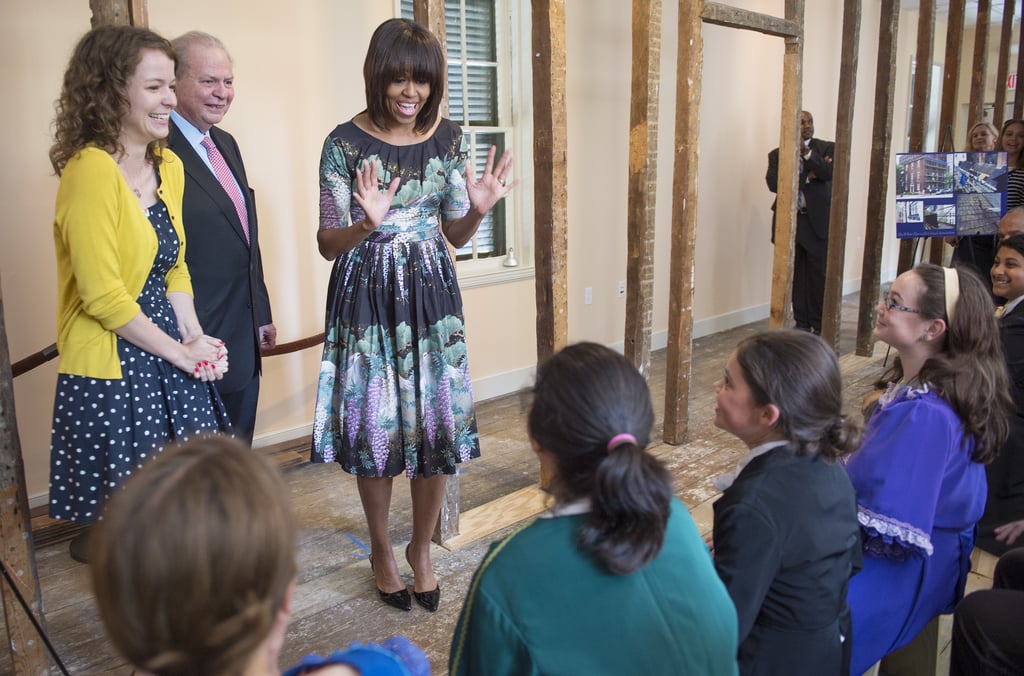 While visiting a classroom in Fairfax, VA, the first lady selected a polished and printed fit-and-flare Tracy Feith sheath and a pair of classic pumps.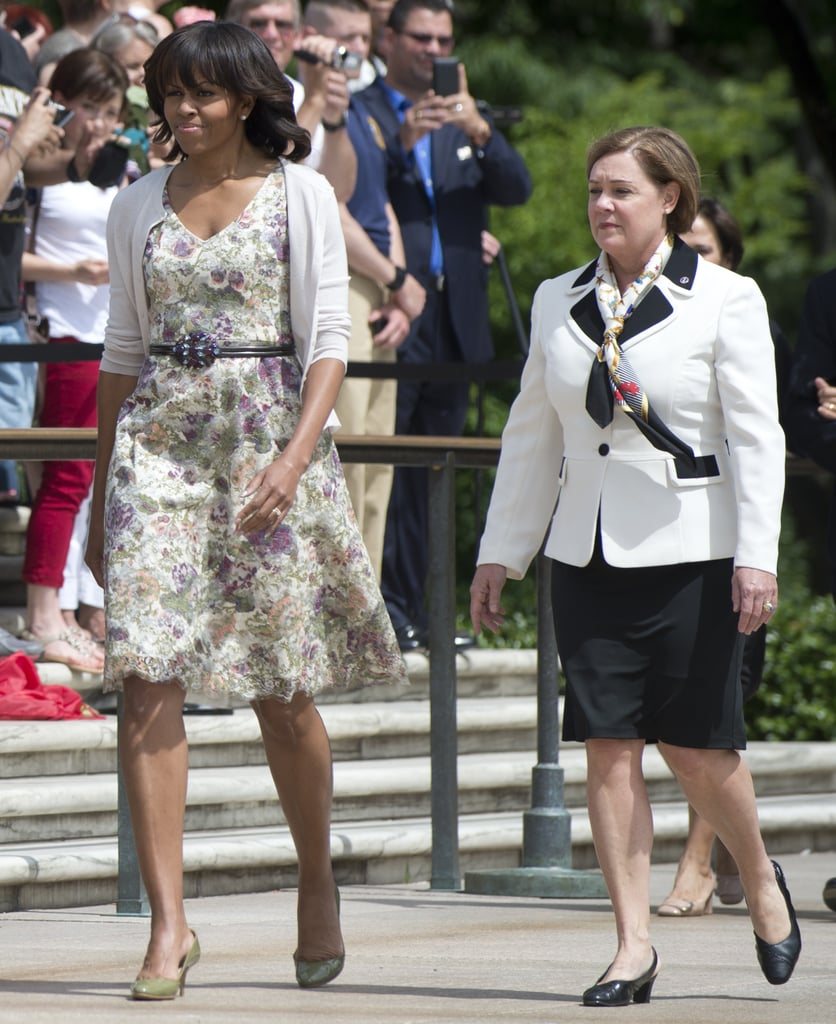 For a Memorial Day appearance at Arlington National Cemetery, Michelle outfitted a floral-print dress with a cardigan and an embellished belt.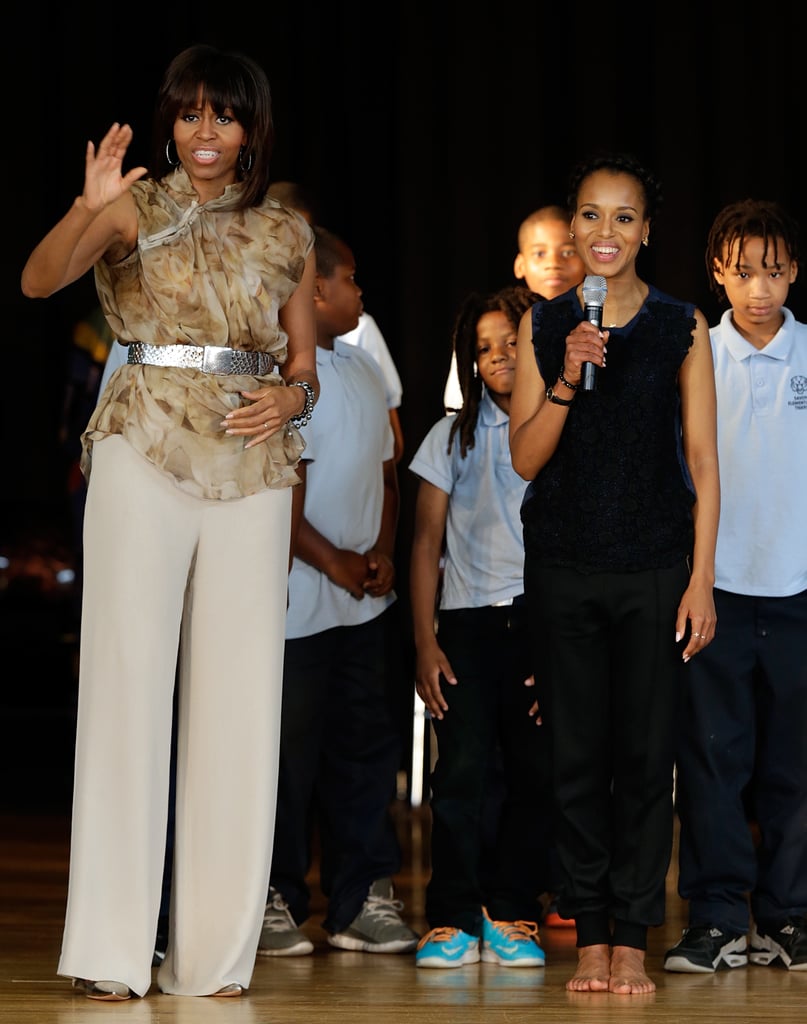 The FLOTUS looked equal parts sophisticated and cool in a flowy blouse, wide-leg trousers, and a metallic belt while speaking at an event at the Savoy School in May.
Prince Harry and Michelle Obama joined forces to honor military mothers at the White House in early May. For the occasion, the FLOTUS wore a gorgeous floral-print Prabal Gurung dress.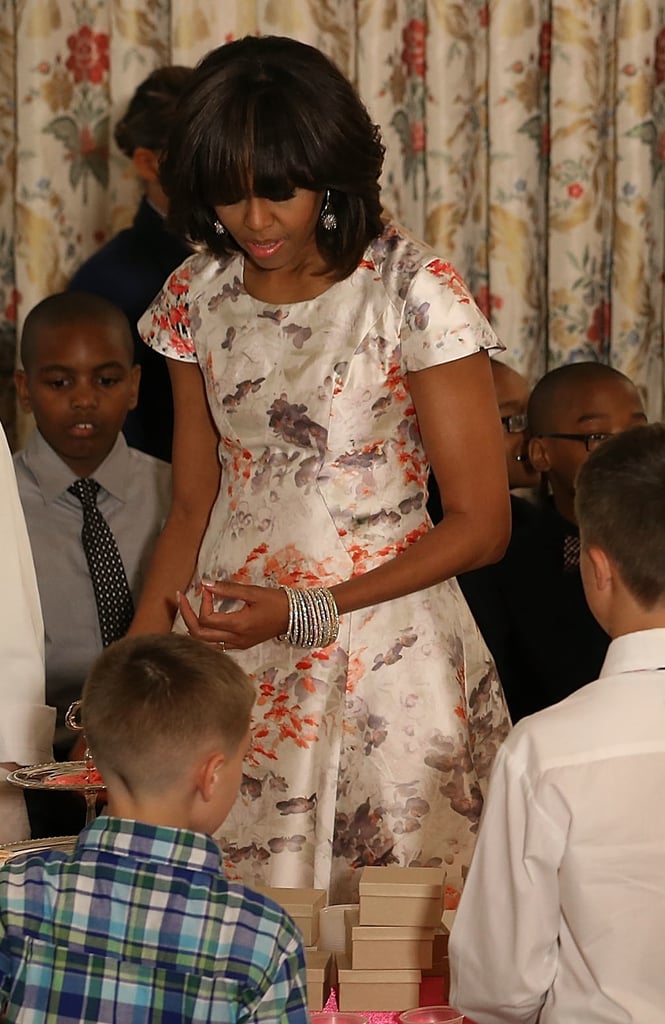 A better look at Michelle Obama's ultrapretty Prabal Gurung Resort '13 dress, complete with a stack of bangles and drop earrings.
Michelle Obama paired an embellished navy top with an even more dynamic skirt on bottom. The blue and gold color pattern only elevated the crisp pleats and subtle embroidery.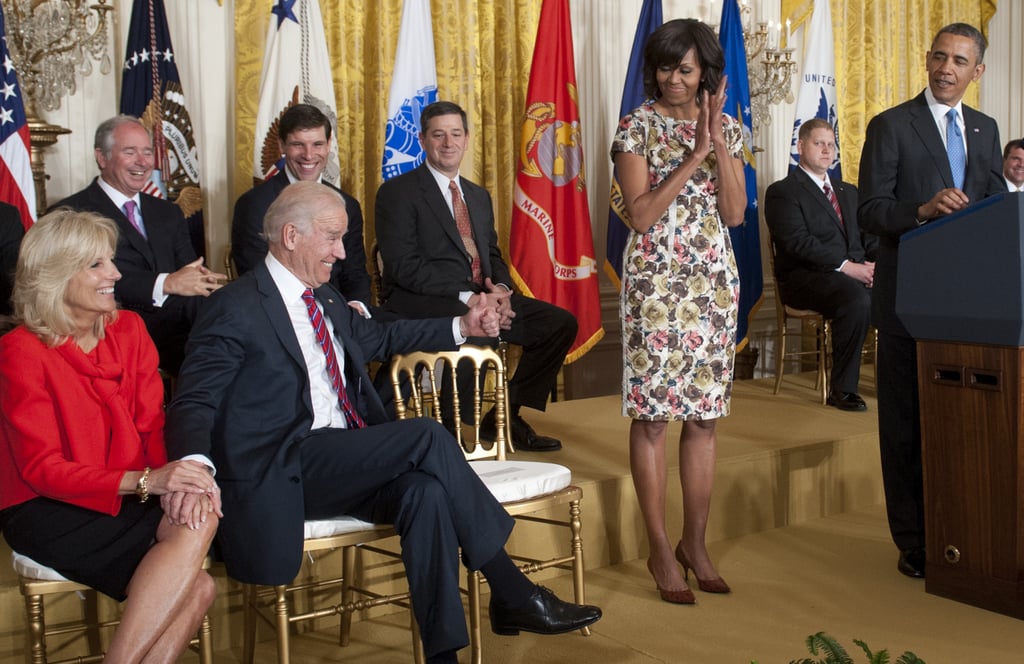 You may recognize this Thakoon floral-print dress from a 2008 presidential debate — the FLOTUS recycled the pretty number for an event held in the East Room of the White House in April. To polish off the look, she styled her dress with red pumps.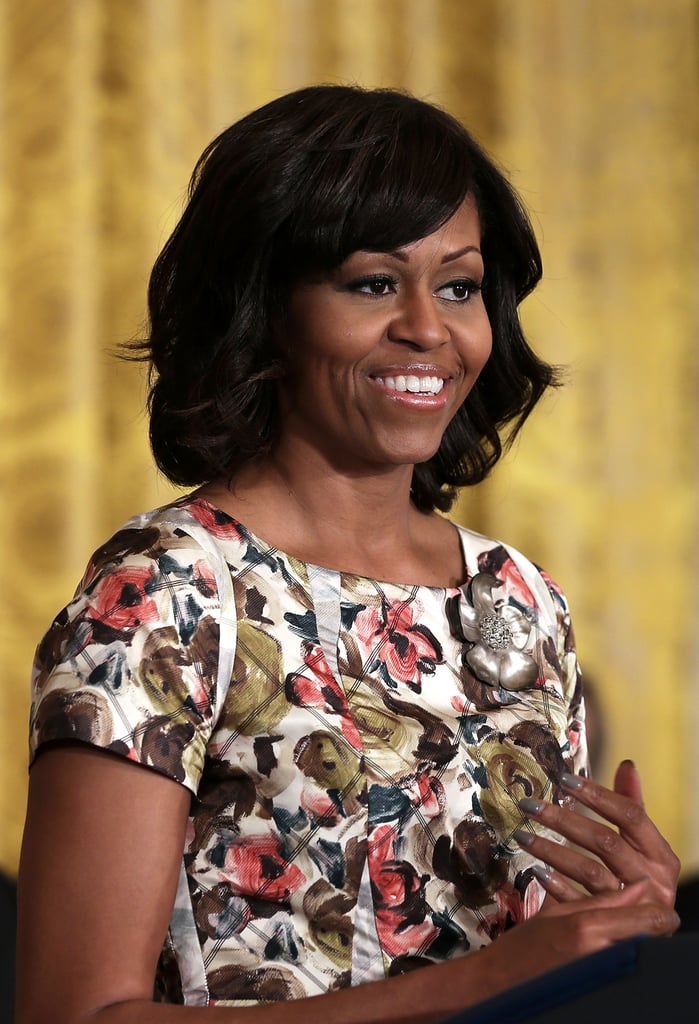 Let's zoom in on the "inside out" floral pattern of Michelle Obama's Thakoon dress.
Michelle Obama wore a powder blue Zac Posen set, then paired it with sleek black accessories and an oversize pearl necklace for her visit to Texas in late April.
Michelle Obama completed the Zac Posen look with a pair of understated heels and layers of pearls, sitting next to the president at the dedication ceremony.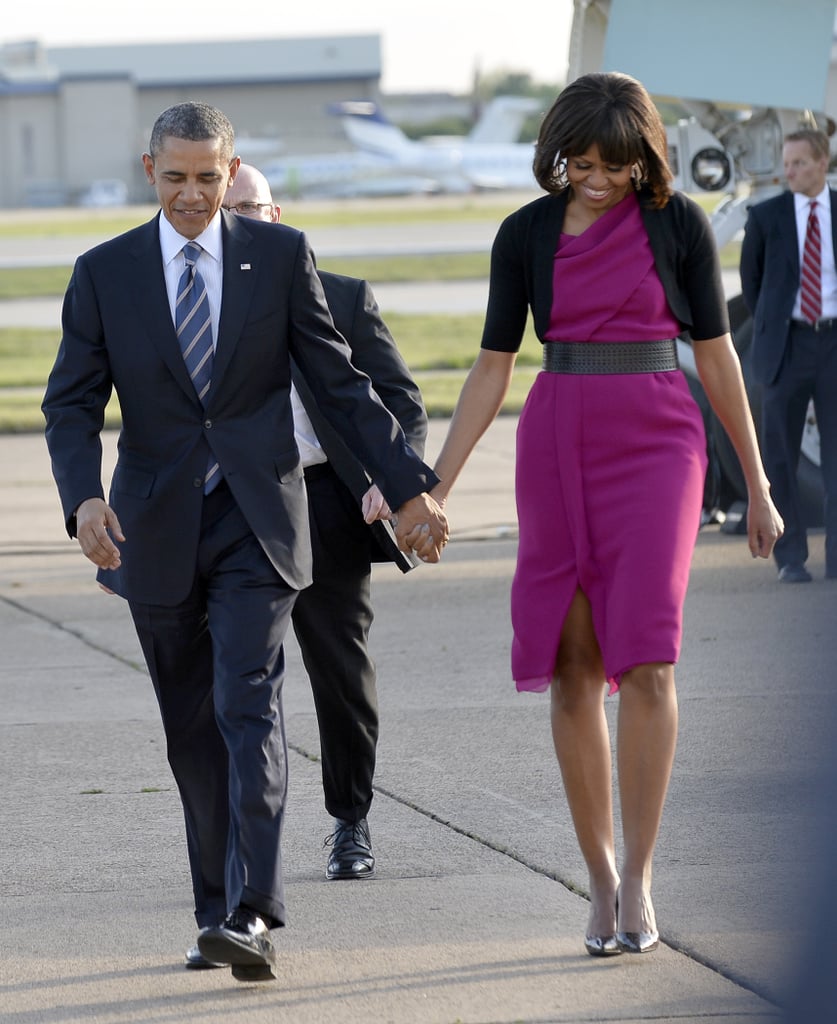 Michelle Obama and the president arrived hand in hand in Dallas in April. Michelle opted for a bright, belted sheath dress by Roksanda Ilincic and classic pumps.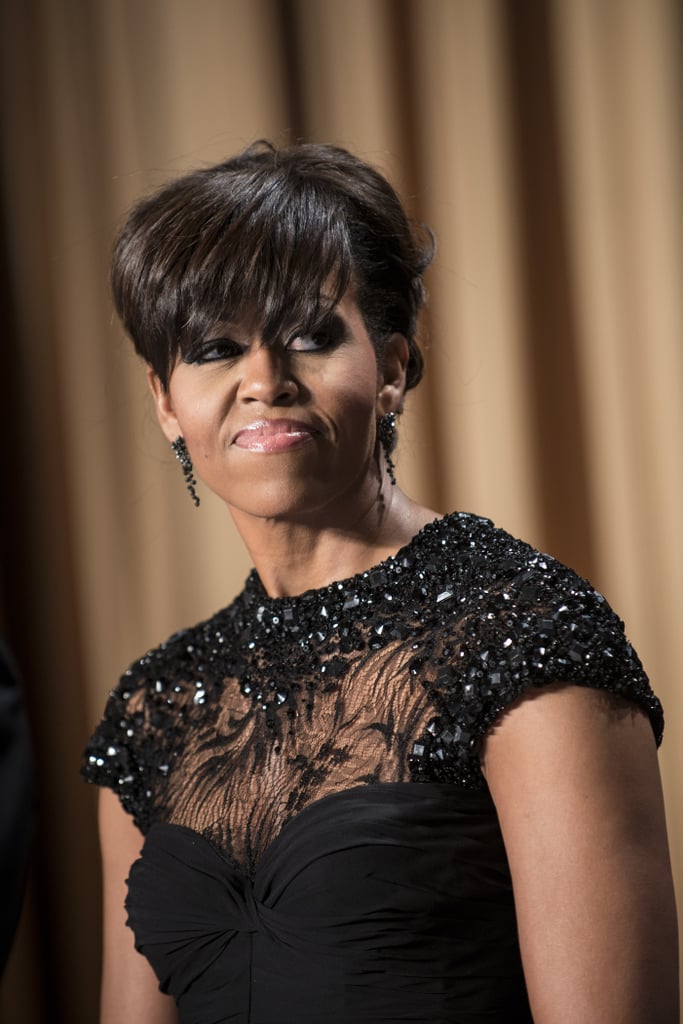 For the 2013 White House Correspondents' Association Dinner, Michelle Obama chose a black beaded, draped chiffon gown by designer Monique Lhuillier.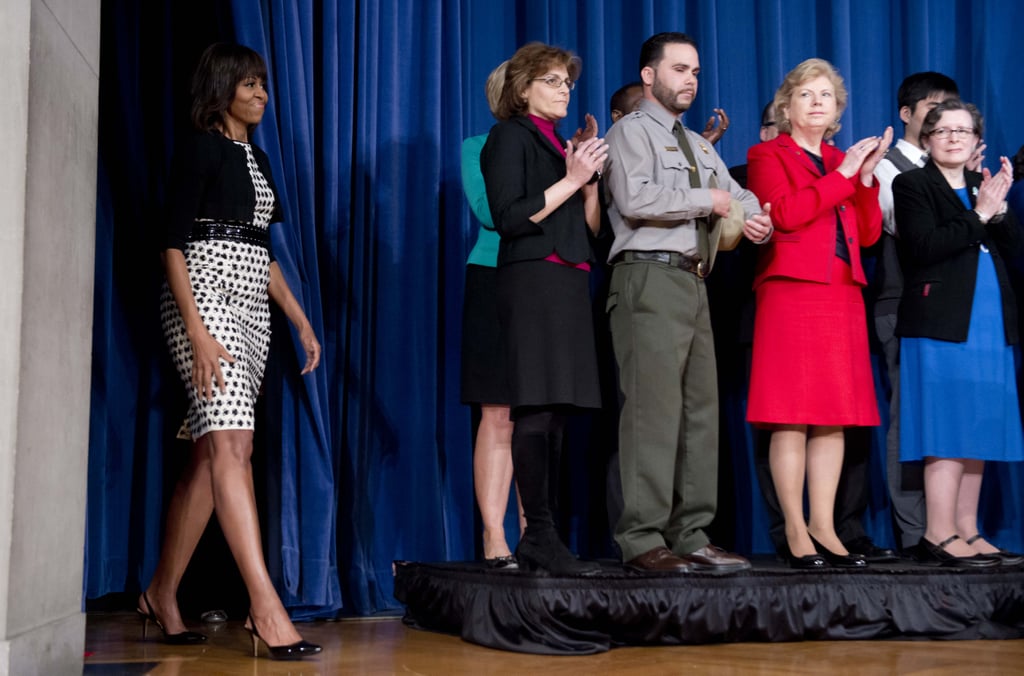 For a speaking engagement at the Department of the Interior in April, Michelle Obama selected a polished, printed Jason Wu sheath and a cropped jacket.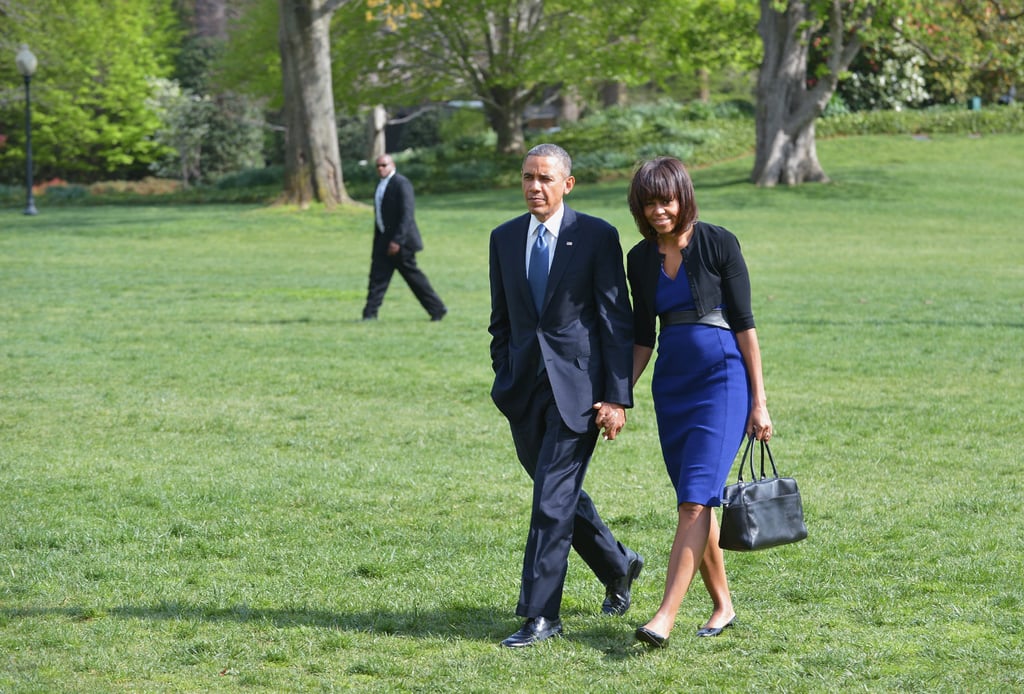 President Obama and Michelle Obama stepped out together in matching shades of blue in mid-April.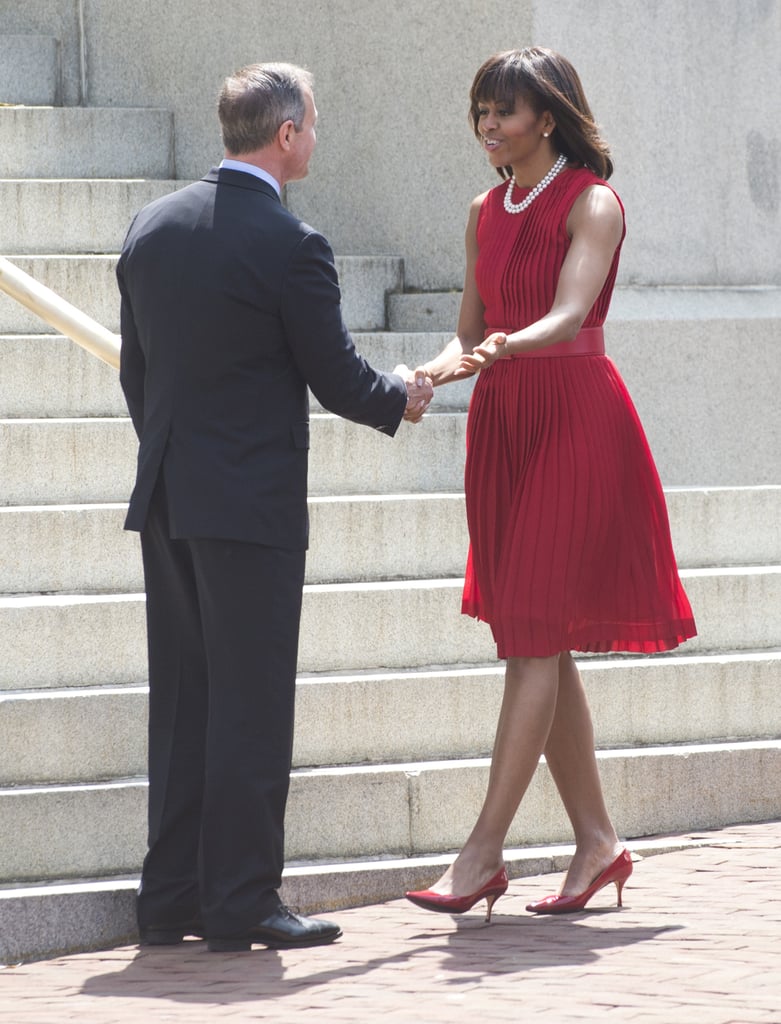 Michelle Obama chose a red pleated Michael Kors dress — complete with matching low-heeled pumps and a double strand of pearls — for a bill signing in Maryland in April.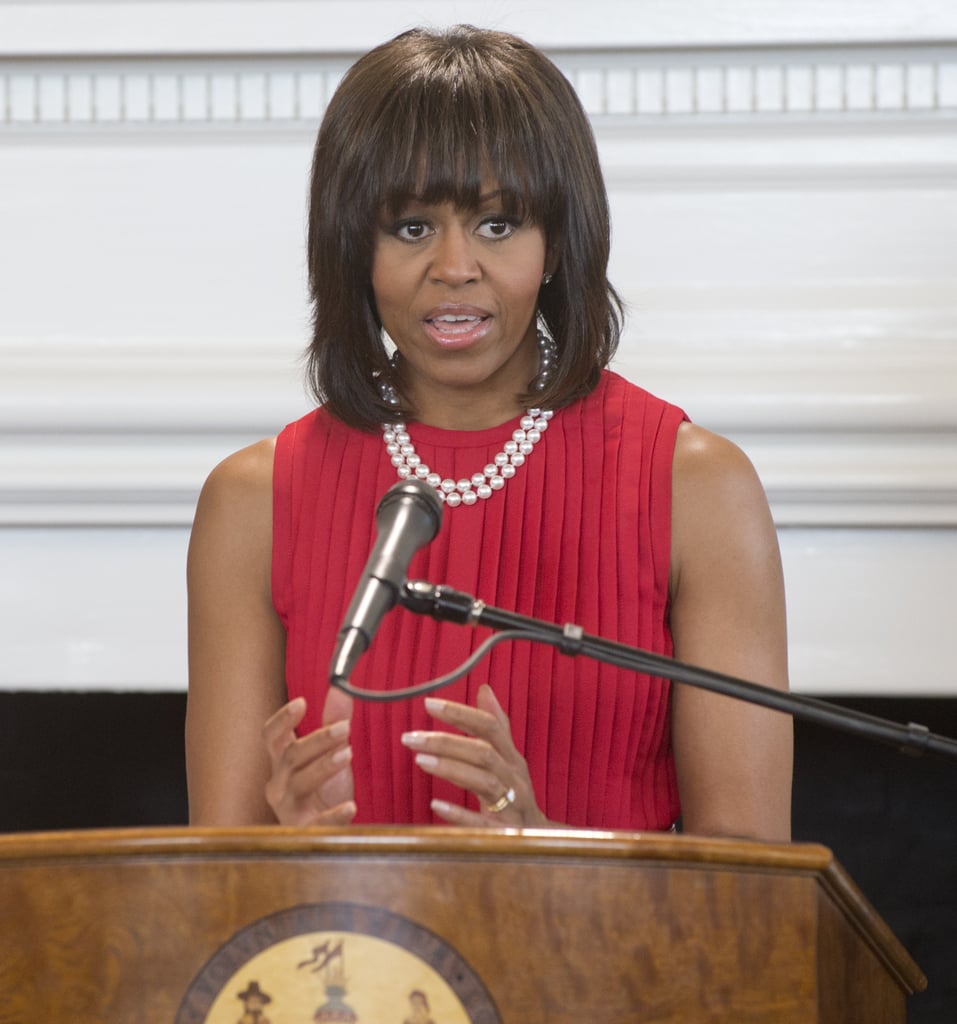 The crisp red pleats of her Michael Kors sheath provided the perfect color complement to her double strand of pearls.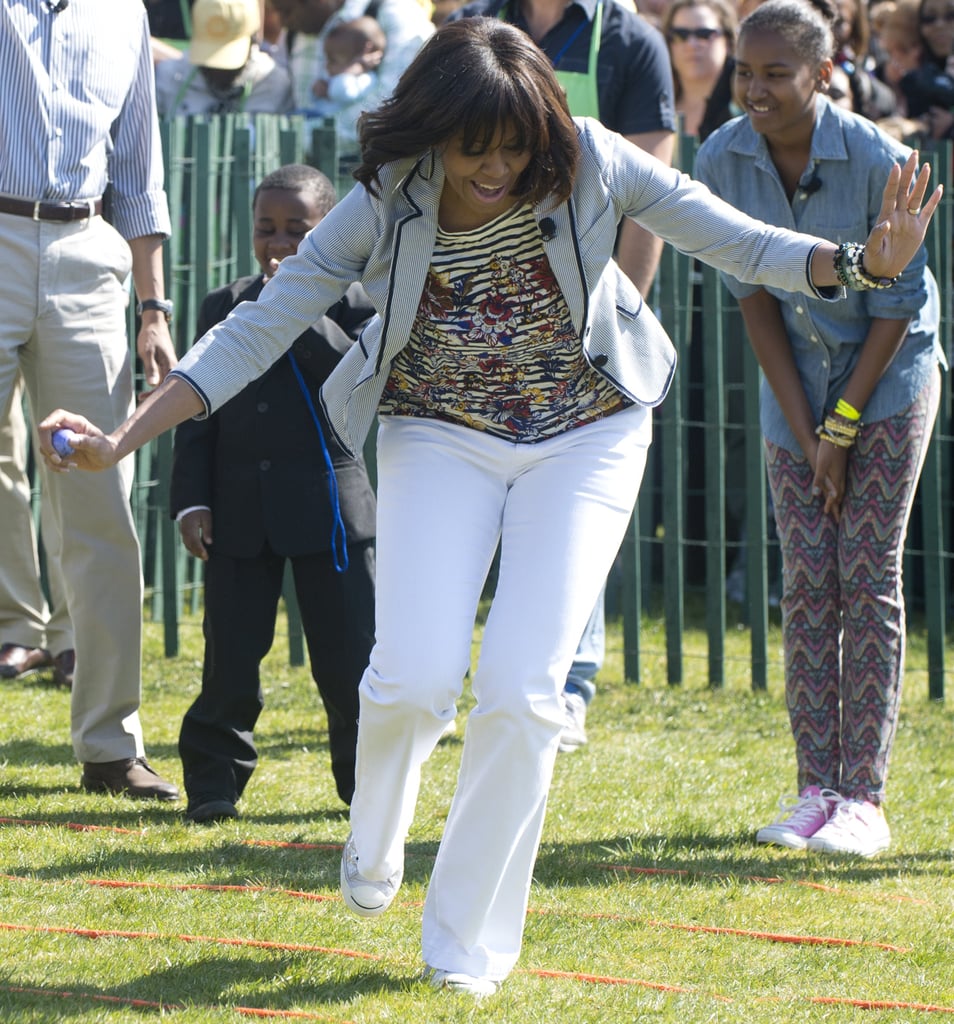 For the 2013 White House Easter Egg Roll, Michelle Obama looked fresh in pieces she's actually already worn before. She styled white pants with a striped and floral J.Crew t-shirt and a seersucker Talbots blazer.
One more look at the cool juxtaposition of her striped floral t-shirt by J.Crew mixed with a seersucker blazer by Talbots.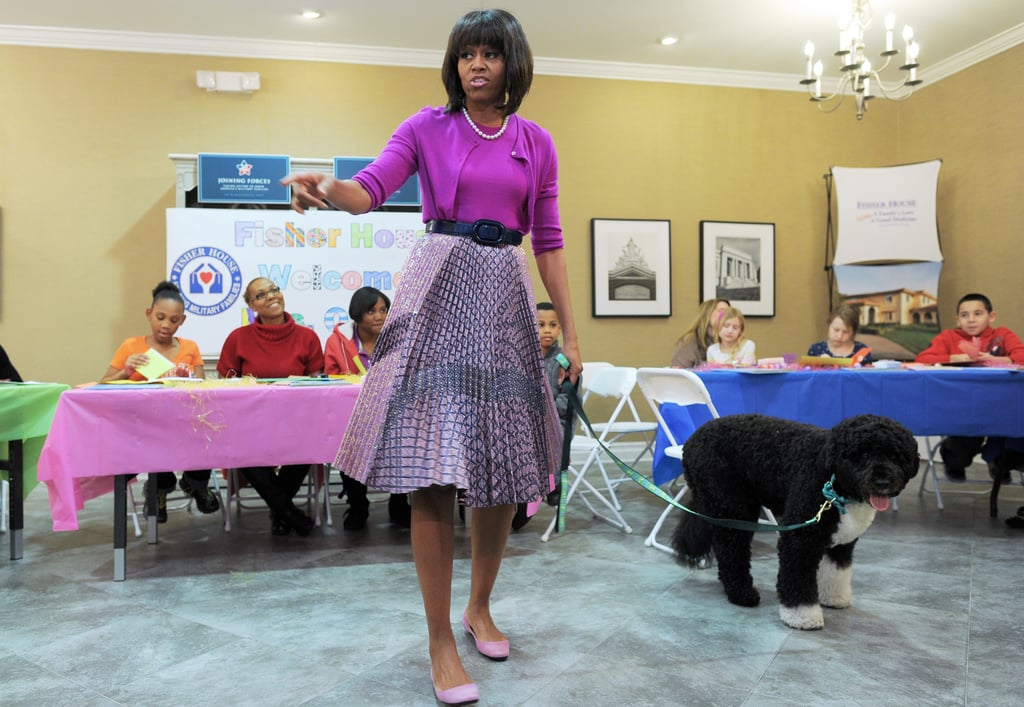 During Easter weekend, she belted a fuchsia-hued J.Crew Collection sweater set with a printed and pleated knee-length skirt, then finished off the entire look with sweet pastel pink flats.
The Obama family looked impeccably stylish on Easter Sunday, and Michelle Obama's Prabal Gurung dress and coat certainly proved a winning number.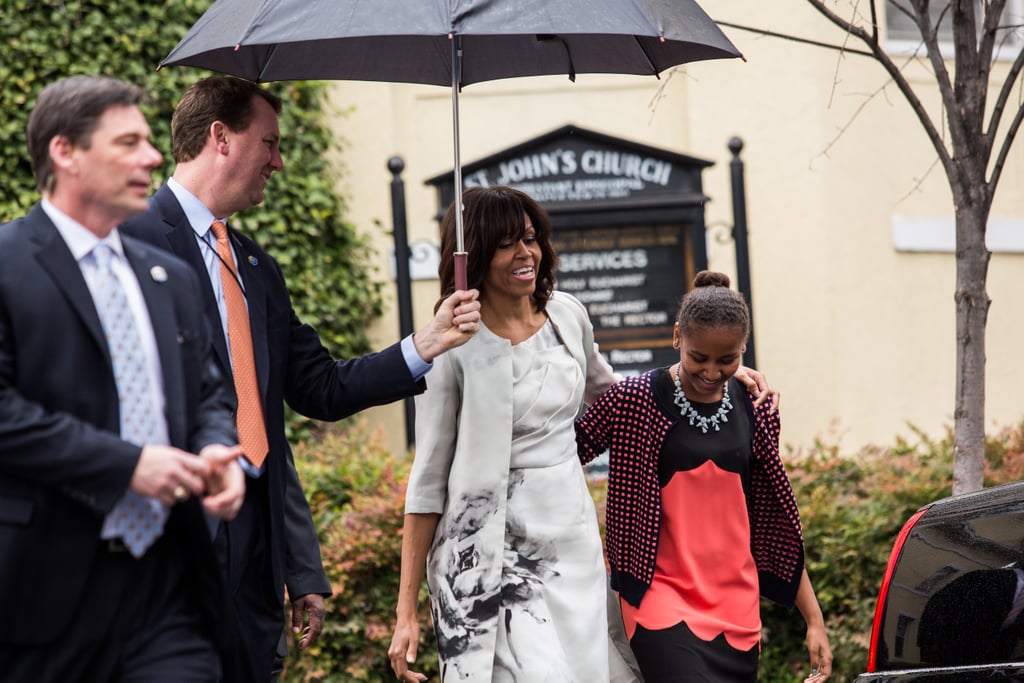 We couldn't resist another shot of the FLOTUS's matching Prabal Gurung look — the exaggerated floral print is a fitting pick for Easter Sunday.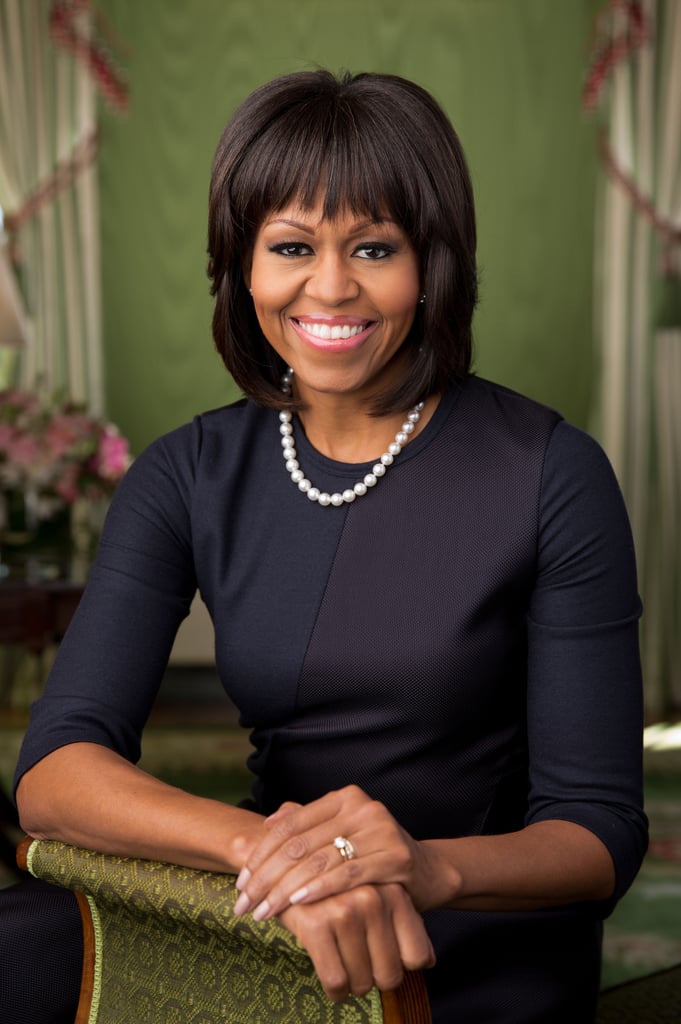 For her (updated) White House official portrait, Michelle chose a customized navy blue Reed Krakoff sheath, and paired it with a single strand of pearls.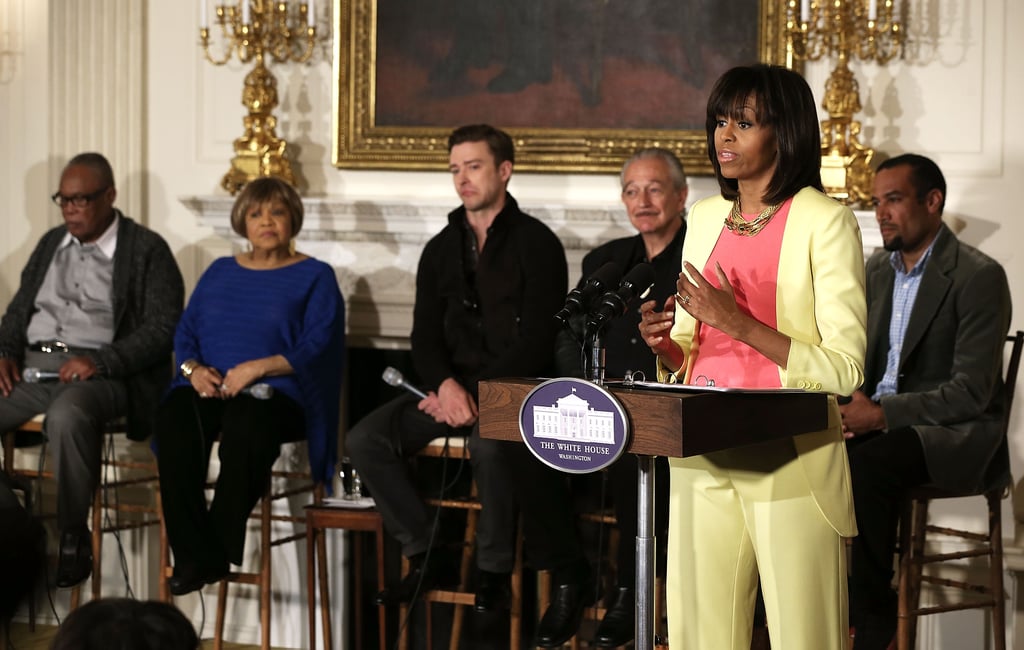 Michelle Obama took a very bright approach, thanks to a lemon-yellow Preen suit from the label's Spring '12 collection, in early April.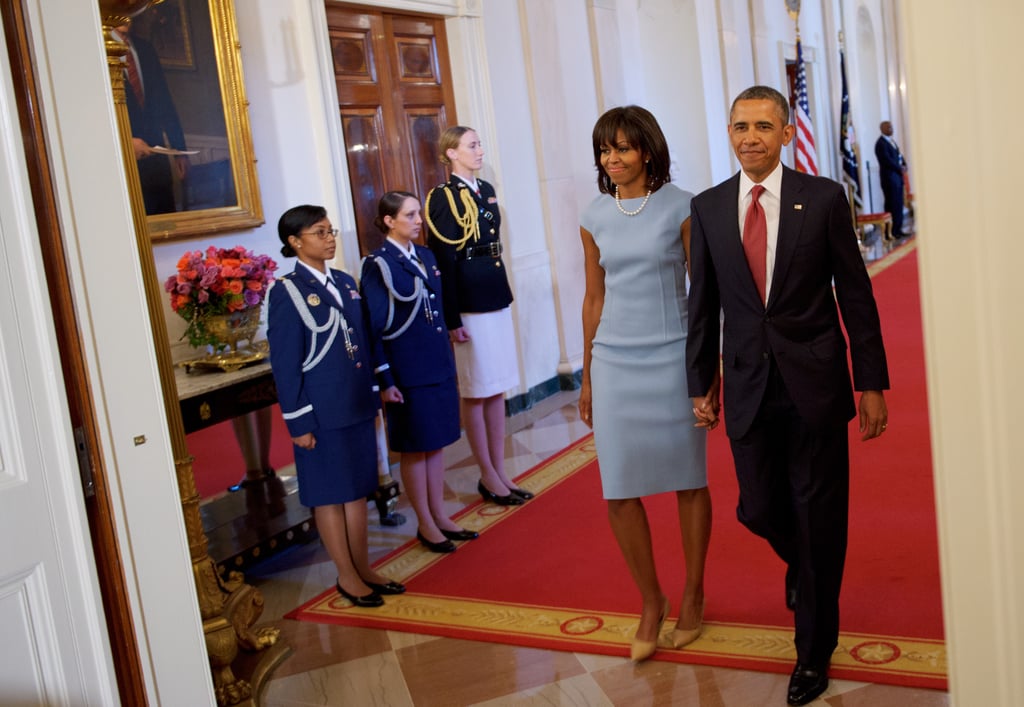 Michelle Obama wore a pastel blue Michael Kors sheath, along with pearls and nude pumps, to a medal of honor presentation in April.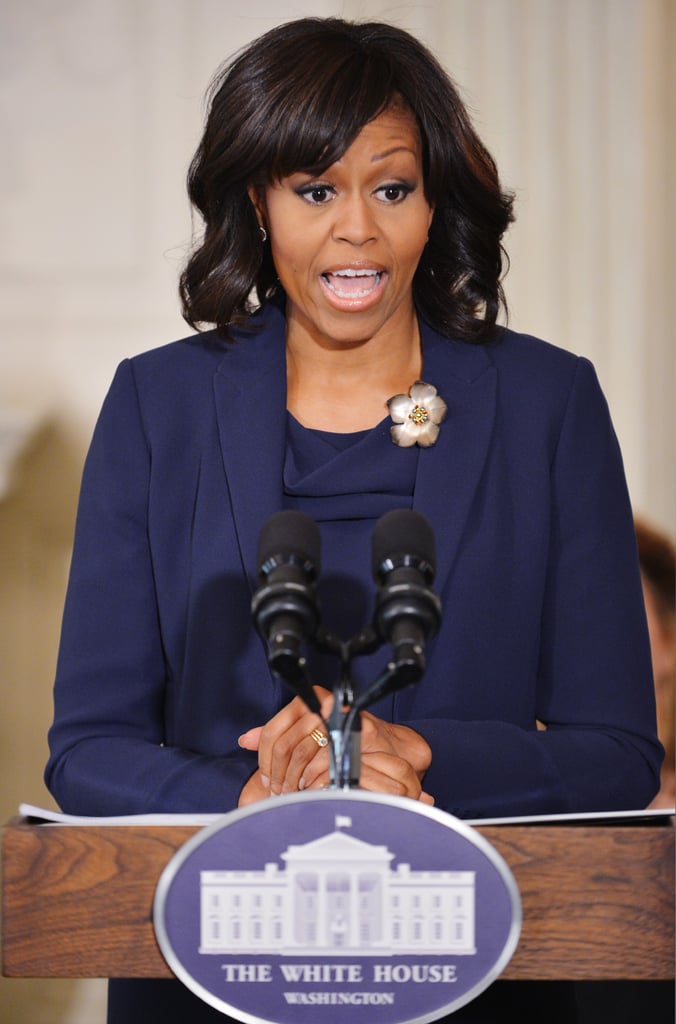 She accented a navy blue suit with an ultrafeminine floral brooch.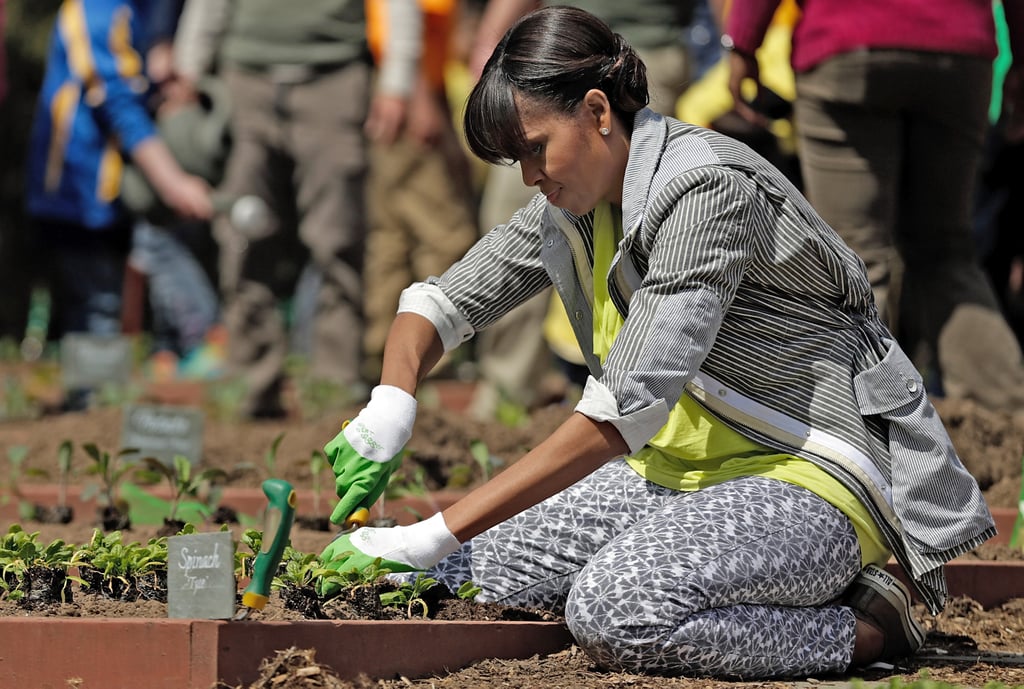 Even when she's gardening, Michelle Obama looks great. For the fifth annual White House Garden Kitchen event, the FLOTUS paired a citron-hued top with printed denim and low-top Converse.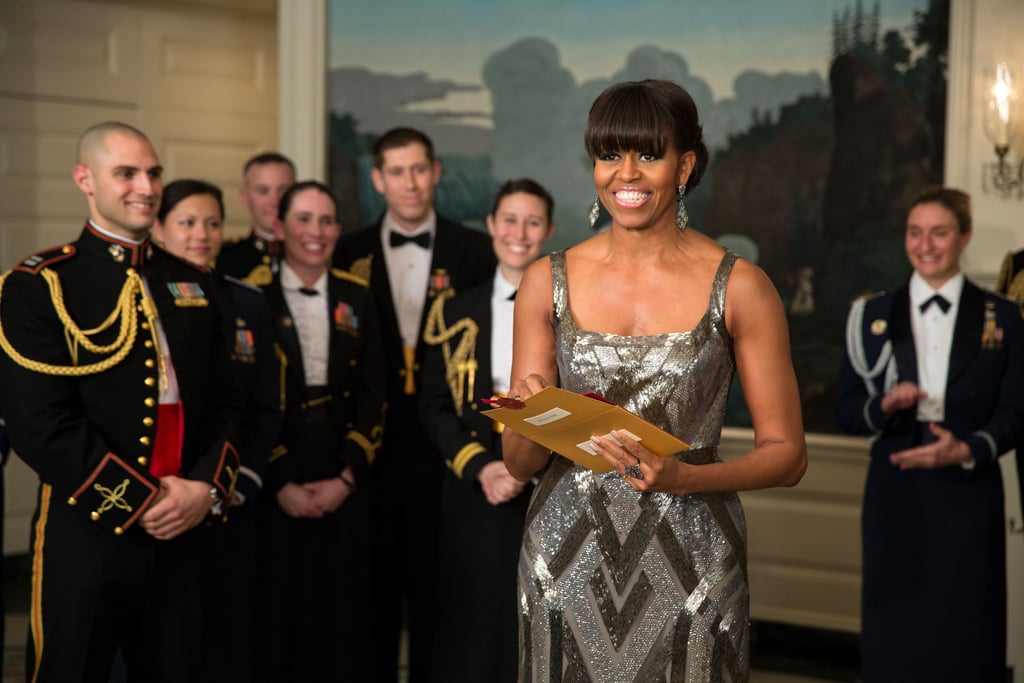 And the award goes to . . . Michelle Obama and her stunning custom-made silver art deco-inspired Naeem Khan gown on this year's Oscars night. She presented the award for best picture via satellite, and still managed to turn heads.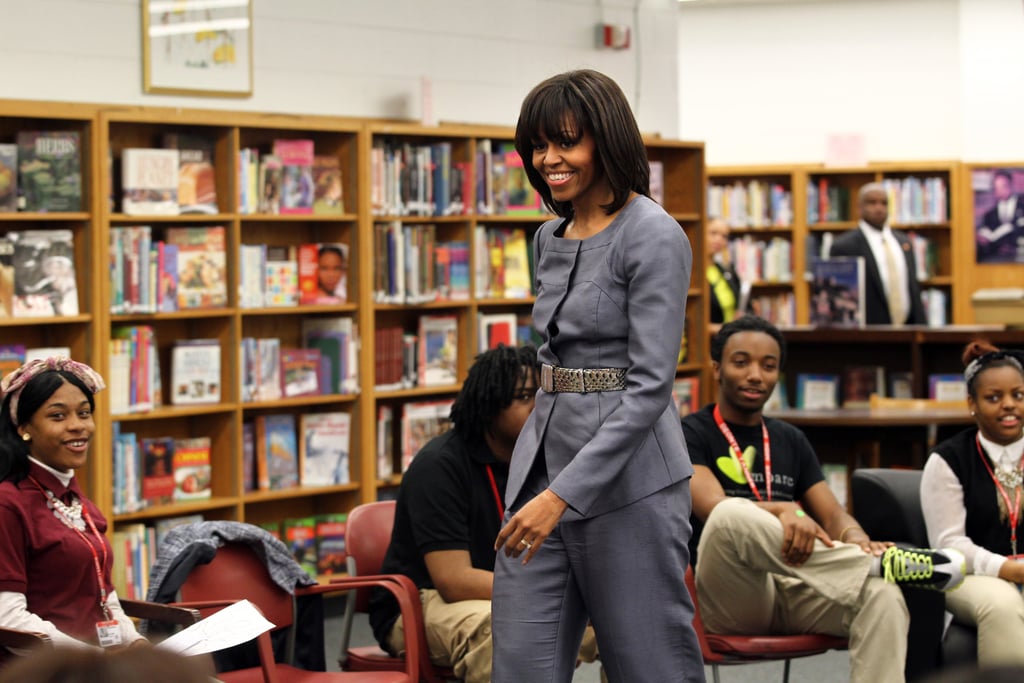 The FLOTUS never disappoints on the accessories front, and this latest take on a belted look is proof. She chose a subdued Narciso Rodriguez suit for a school visit in Chicago in early April, but punched it up with a metallic reptilian-textured belt.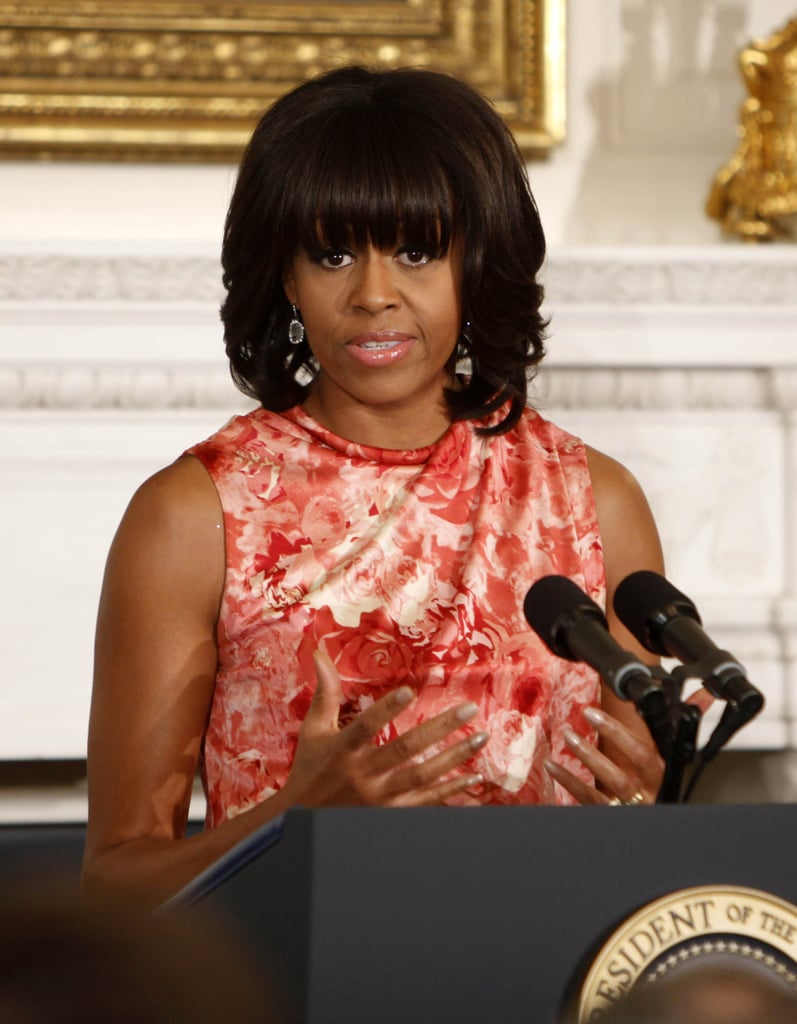 If you recognize this rose-washed Rachel Roy tweed dress, you'd be right — the FLOTUS wore it first in 2009 for an interview with Barbara Walters.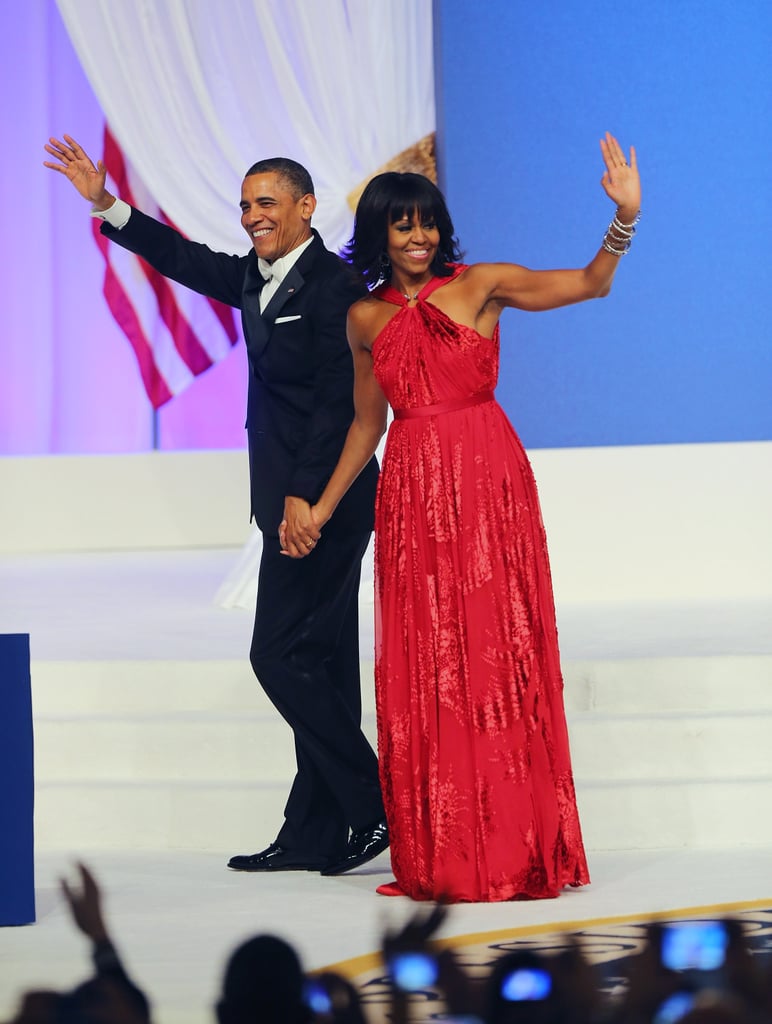 Michelle Obama stunned in a custom ruby chiffon and velvet gown by Jason Wu that reportedly features a custom diamond halter ring by Kimberly McDonald. The FLOTUS finished off her look with Jimmy Choo shoes.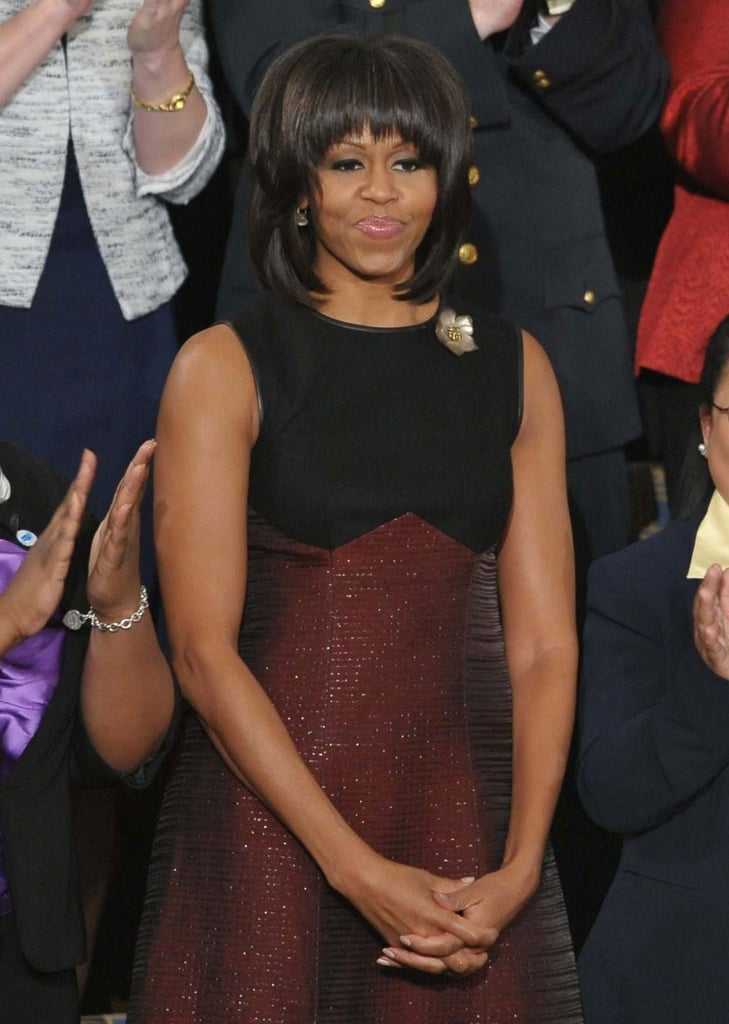 Michelle Obama chose designer Jason Wu again for the president's State of the Union address. Her sleeveless black-and-oxblood A-line dress showed off her form via an empire-waist silhouette, while the sparkly-meets-tweed finish gave her outfit an extra dose of flair.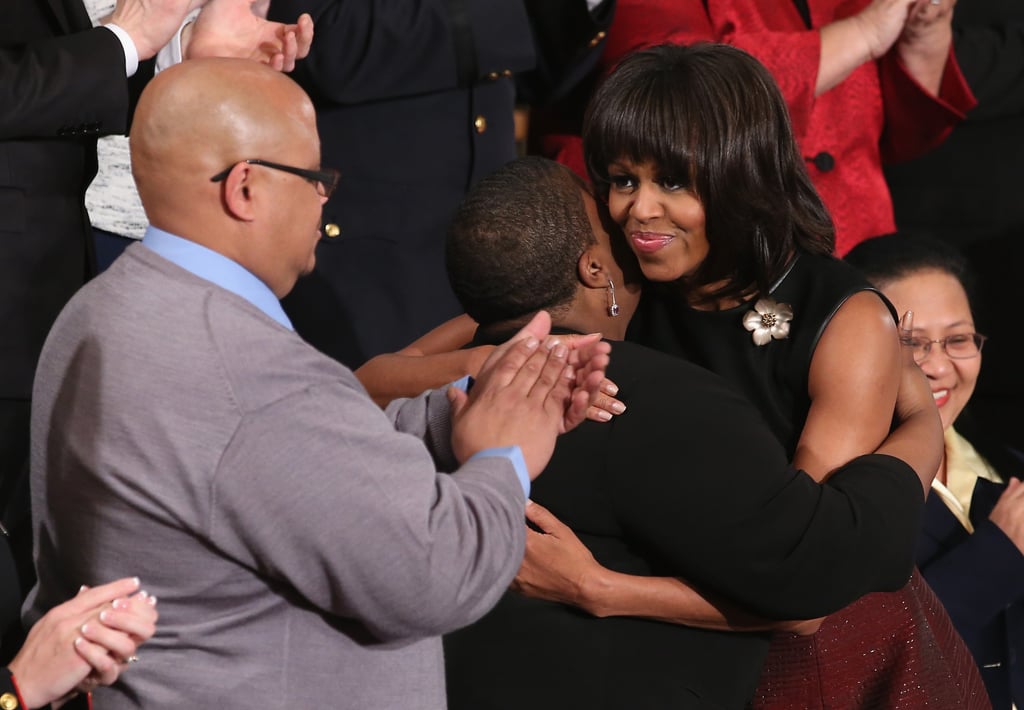 The FLOTUS embellished her Jason Wu dress at the State of the Union with a ladylike Alexis Bittar floral brooch at the neckline.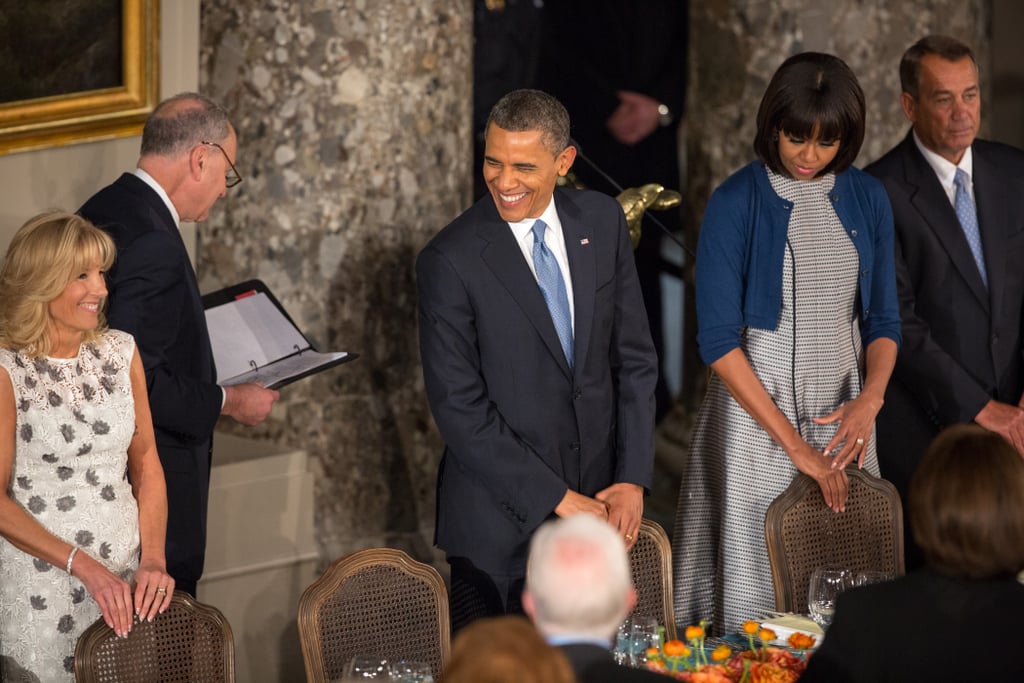 The Obamas headed into the inaugural lunch, where Michelle stuck with a Thom Browne printed dress and added a cropped blue Reed Krakoff cardigan.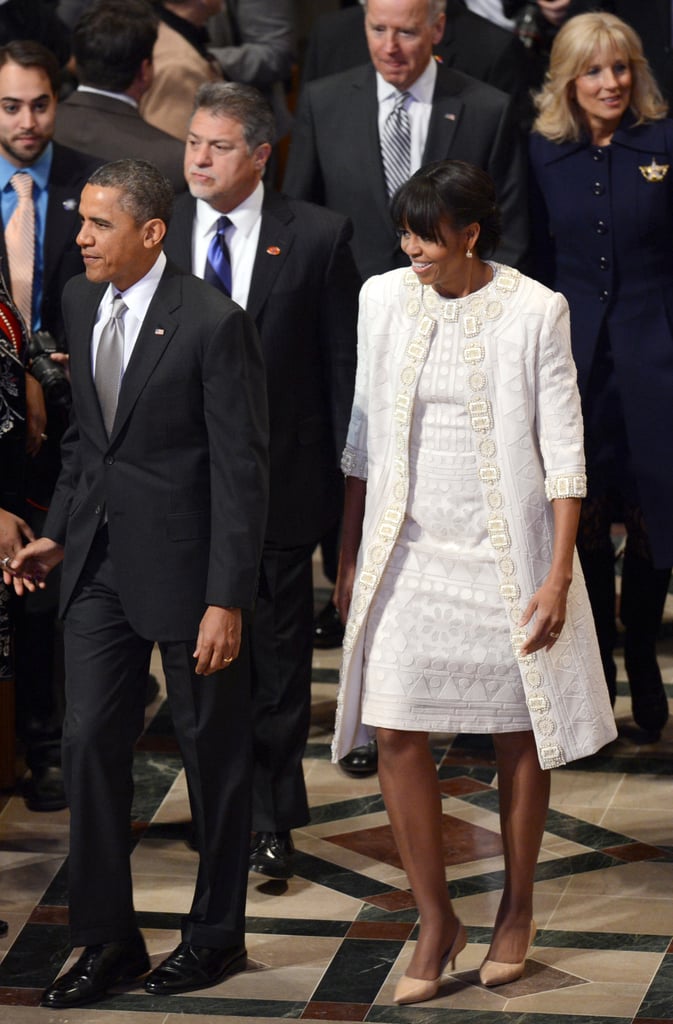 The day after the inaugural ball, Michelle Obama attended the national prayer service (the final inauguration event), at the Washington National Cathedral wearing a custom ivory wool-applique Naeem Khan coat and matching sleeveless dress.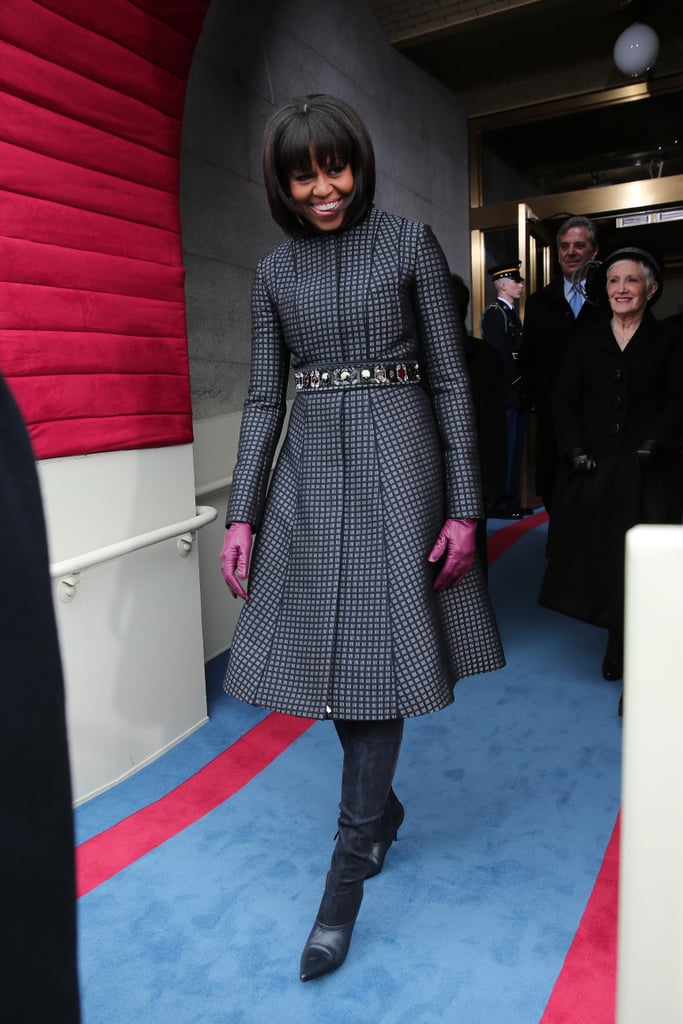 Michelle Obama is wintry perfection as she steps out at the Capitol. She kept the Thom Browne coat, belted it with a J.Crew embellished belt, added suede knee-high boots and berry-hued gloves, and made us fall in love with her all over again.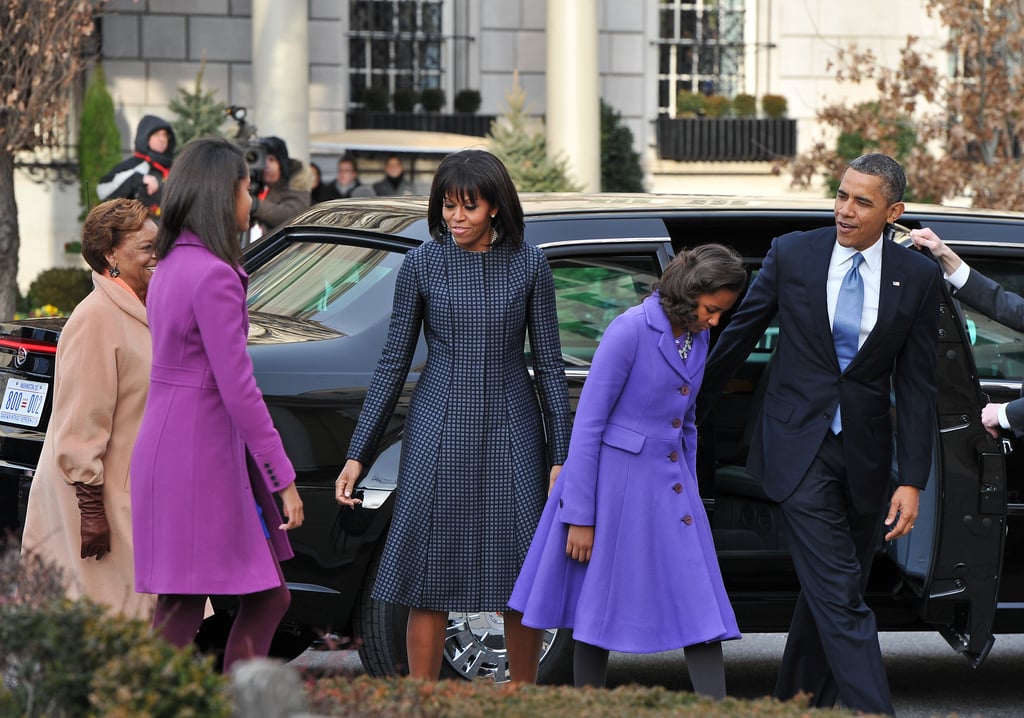 Michelle arrived at St. John's Church this morning with her family wearing a navy fit-and-flare Thom Browne coat paired with J.Crew pumps.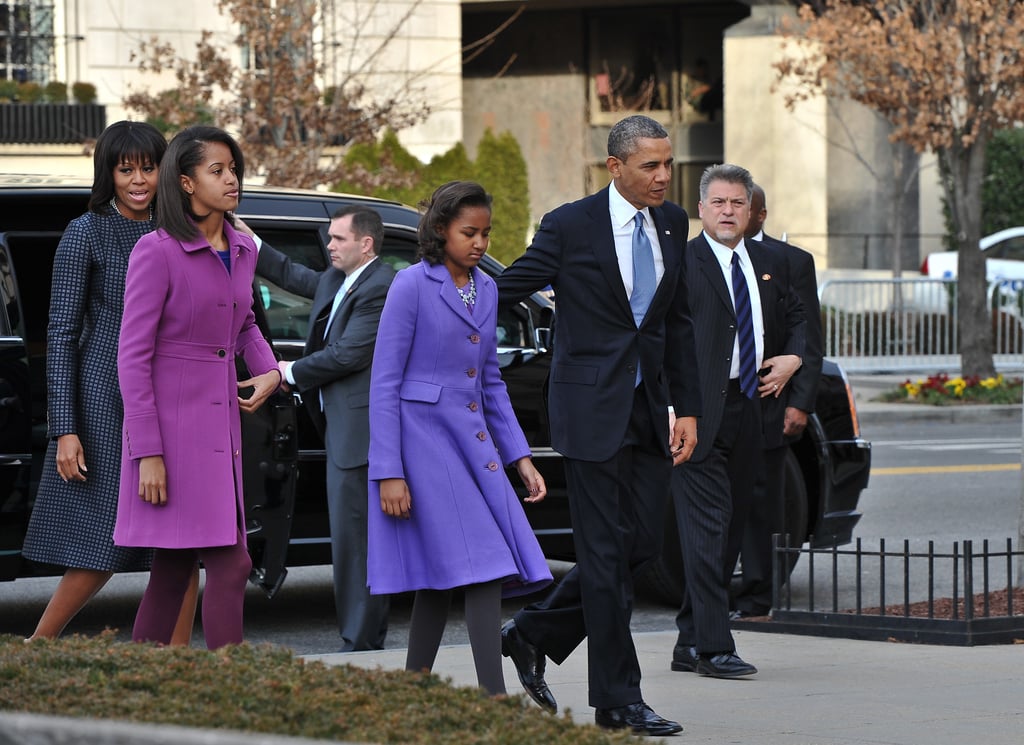 We love how Michelle's daughters Malia and Sasha showed off equally gorgeous plum-hued coats.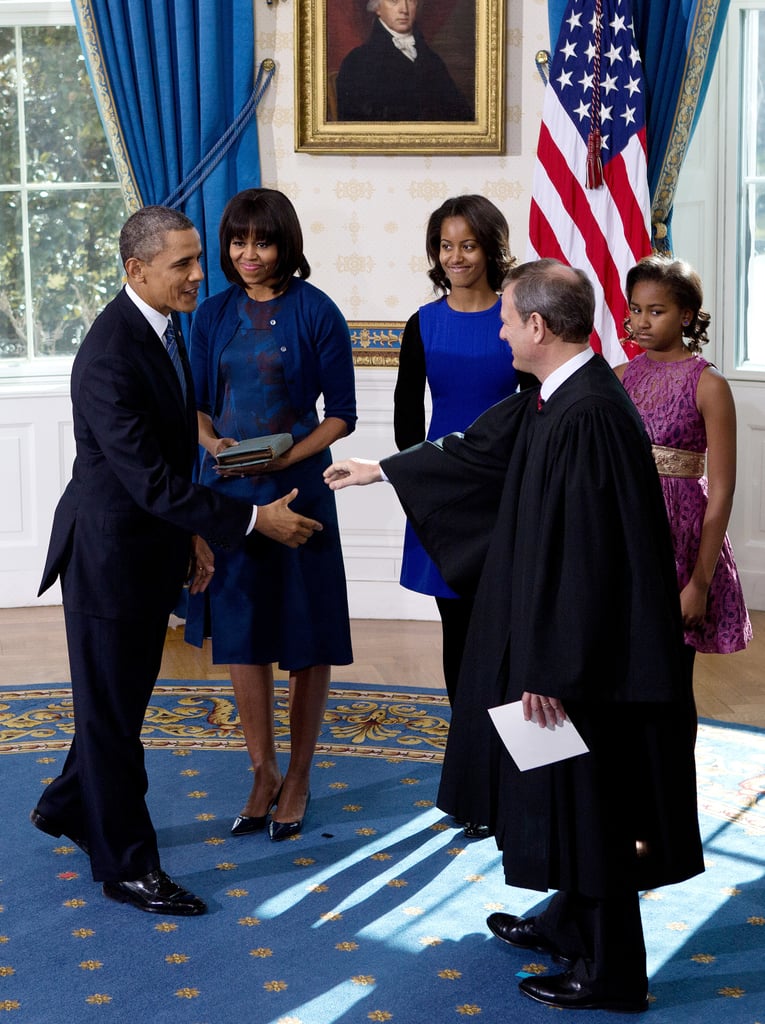 A full-length shot of Michelle's Reed Krakoff ensemble at the swearing-in ceremony at the White House.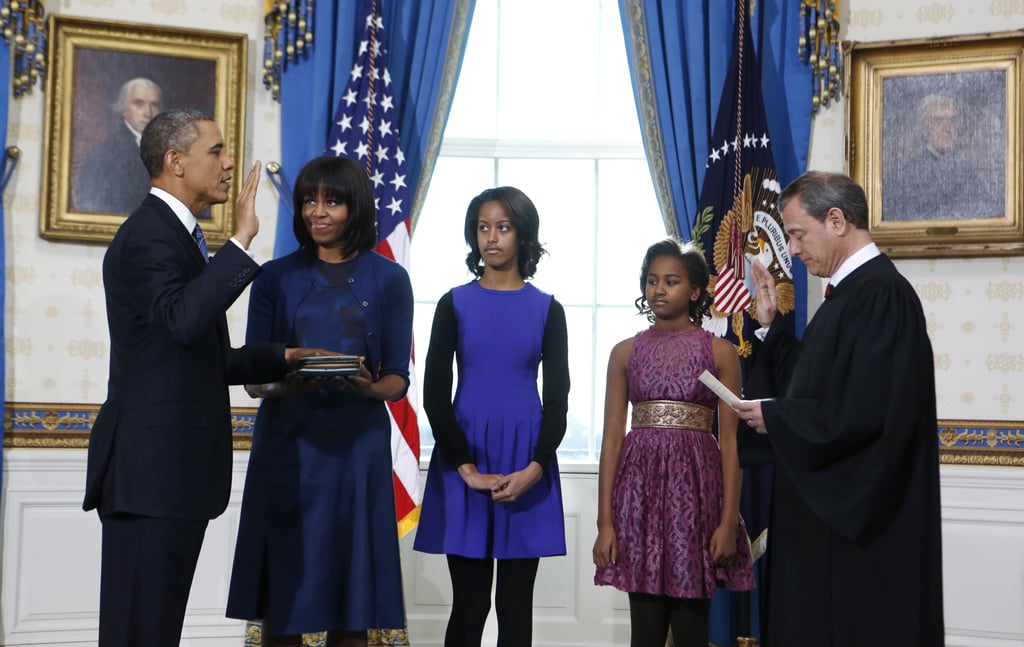 For the Sunday swearing-in ceremony held in the Blue Room of the White House, Michelle Obama chose the color du jour: blue. Wearing a printed Reed Krakoff sheath with a solid-hued cardigan and low black heels, Michelle looked every bit the polished FLOTUS.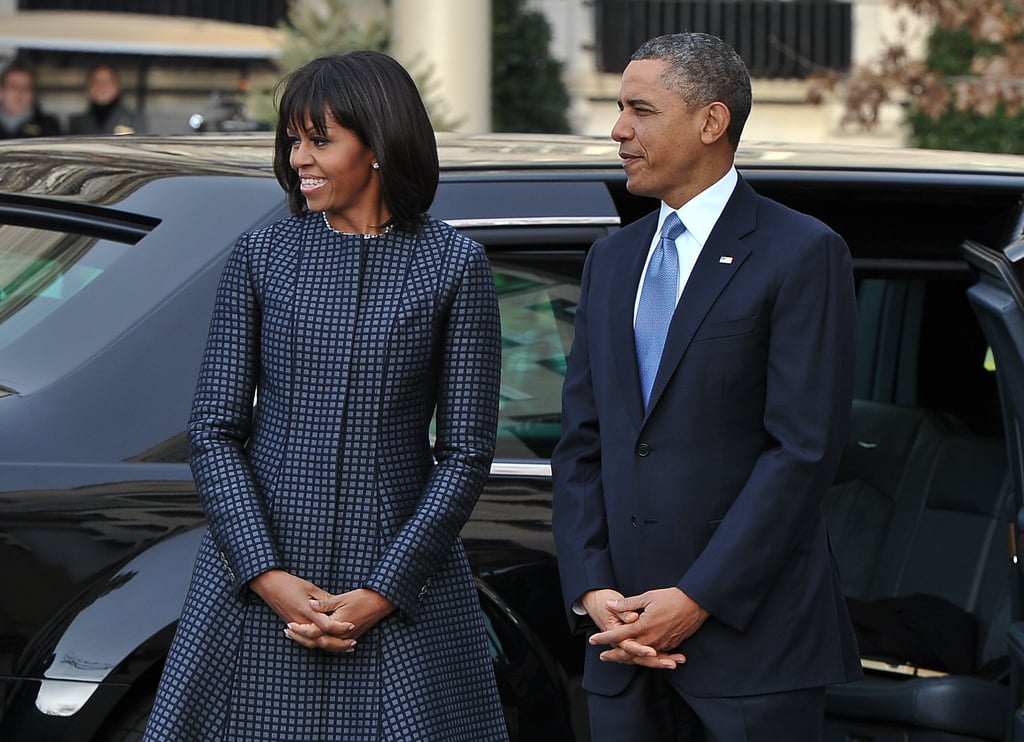 Michelle kept the rest of her look simple, accessorizing with diamond stud earrings by Cathy Waterman.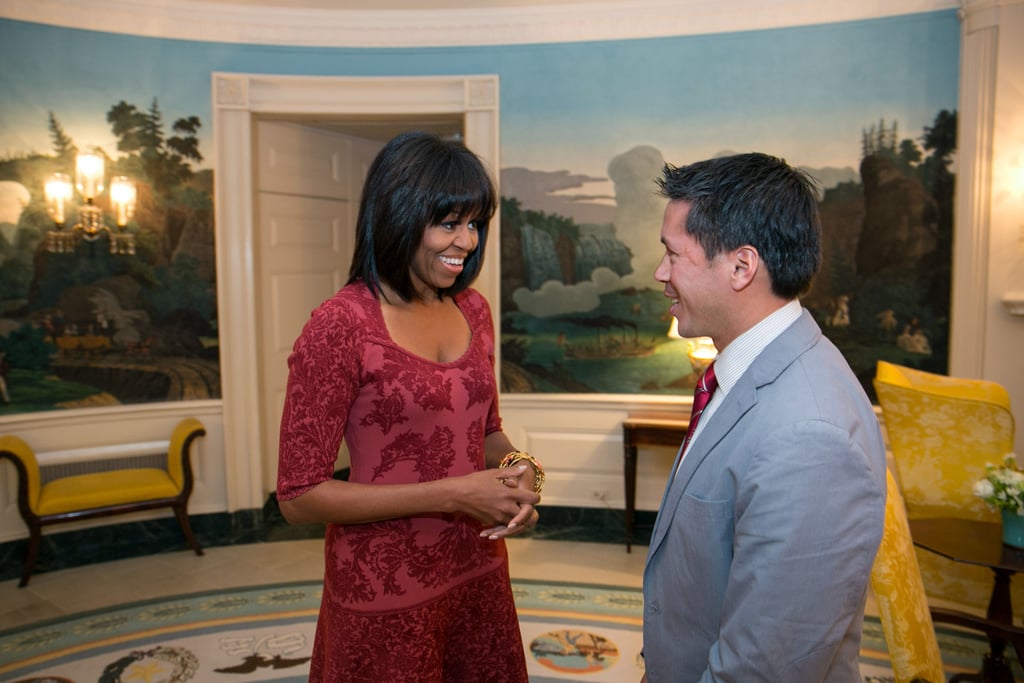 New bangs, same knockout style — this time in a fitted dark pink Zac Posen knit dress.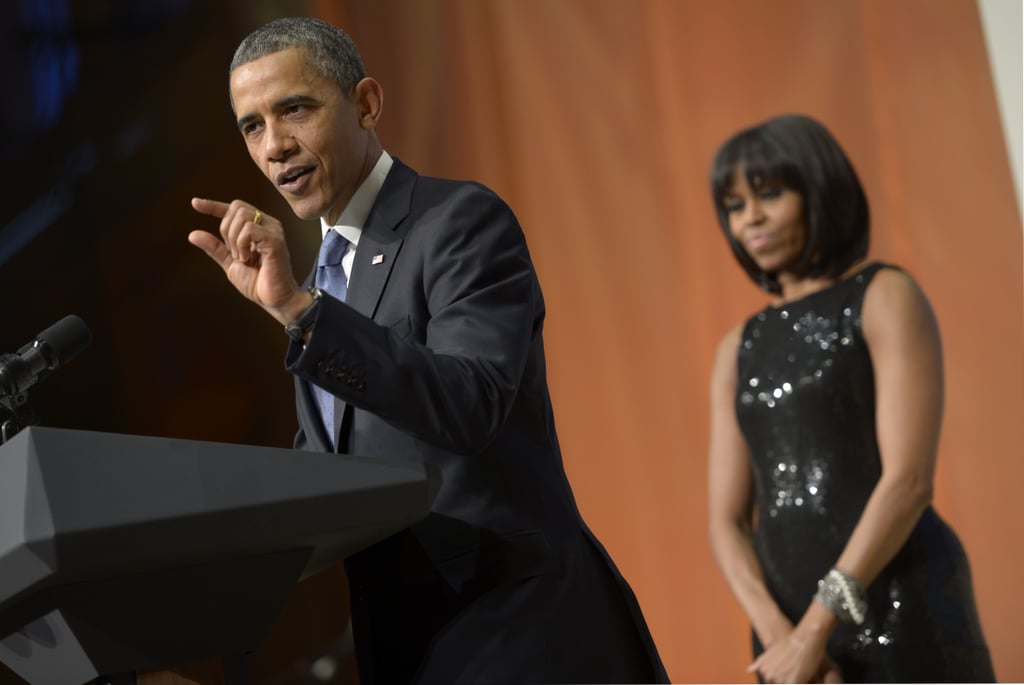 Even in the background, Michelle shines, especially with a little help from this black shimmery Michael Kors gown.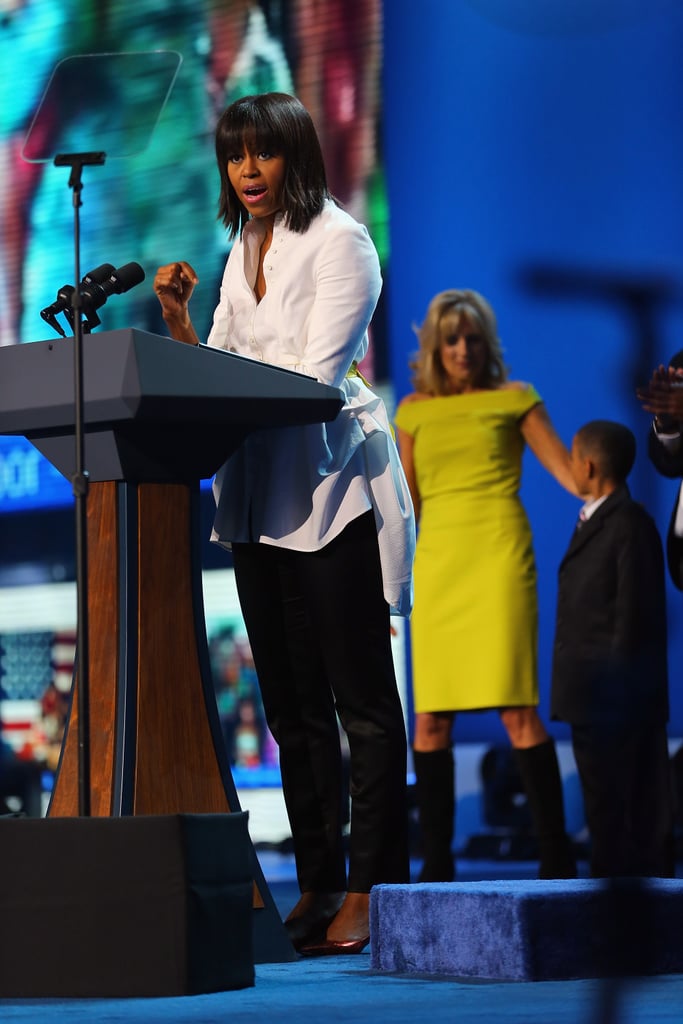 Michelle partnered a crisp white Alexander McQueen Spring '11 jacket (one she's been spotted in before) with black trousers and a yellow embellished waist belt at the Kids' Inaugural Concert.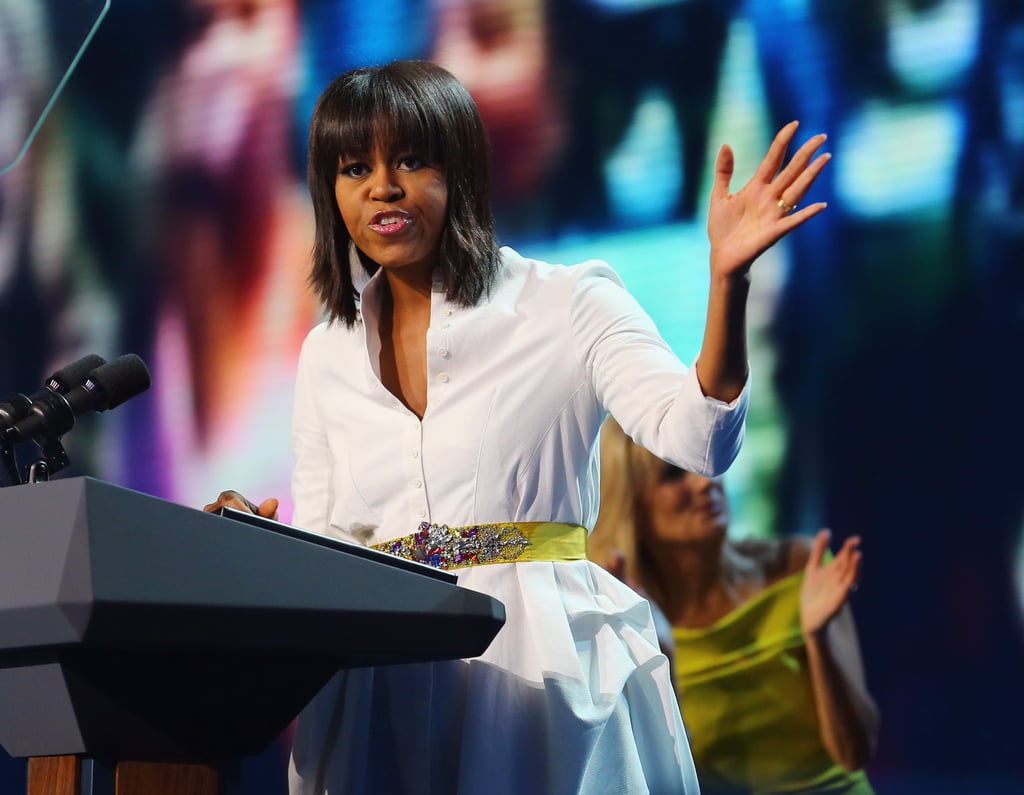 Here's a close-up of that gorgeous embellished yellow belt — a perfect standout complement to her voluminous white Alexander McQueen jacket.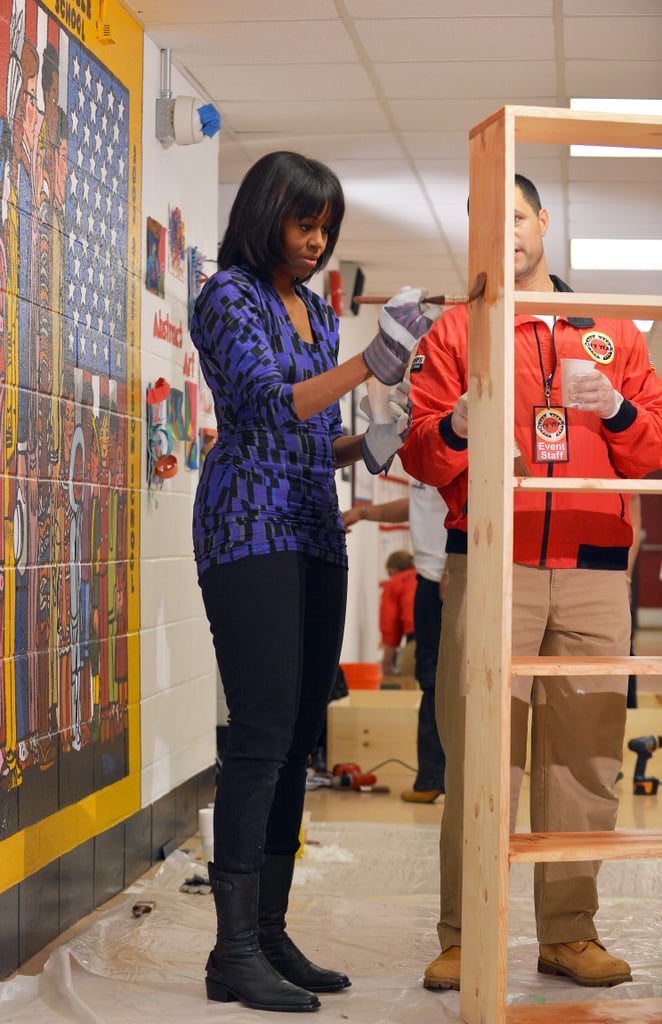 For this weekend's National Day of Service, Michelle channeled her craftier side, all while looking chic in a printed purple top, dark-wash jeans, and knee-high black boots.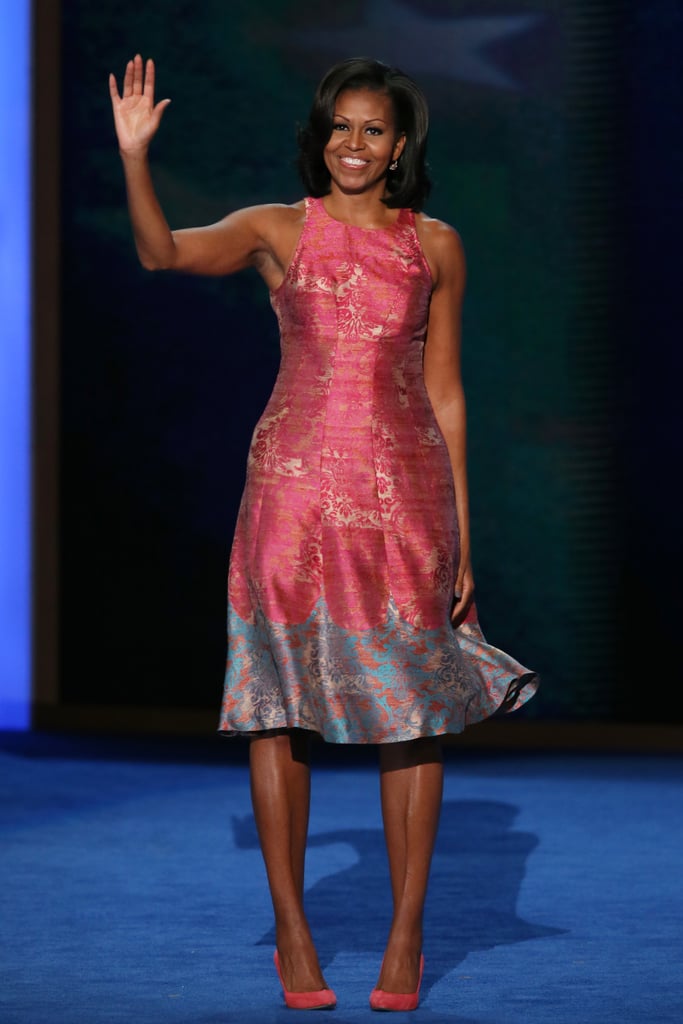 She stole the show — with her speech and her style — on day one of the DNC, and we're pretty sure this pink and gold toile Tracy Reese dress and J.Crew pumps combo helped to keep all eyes on her.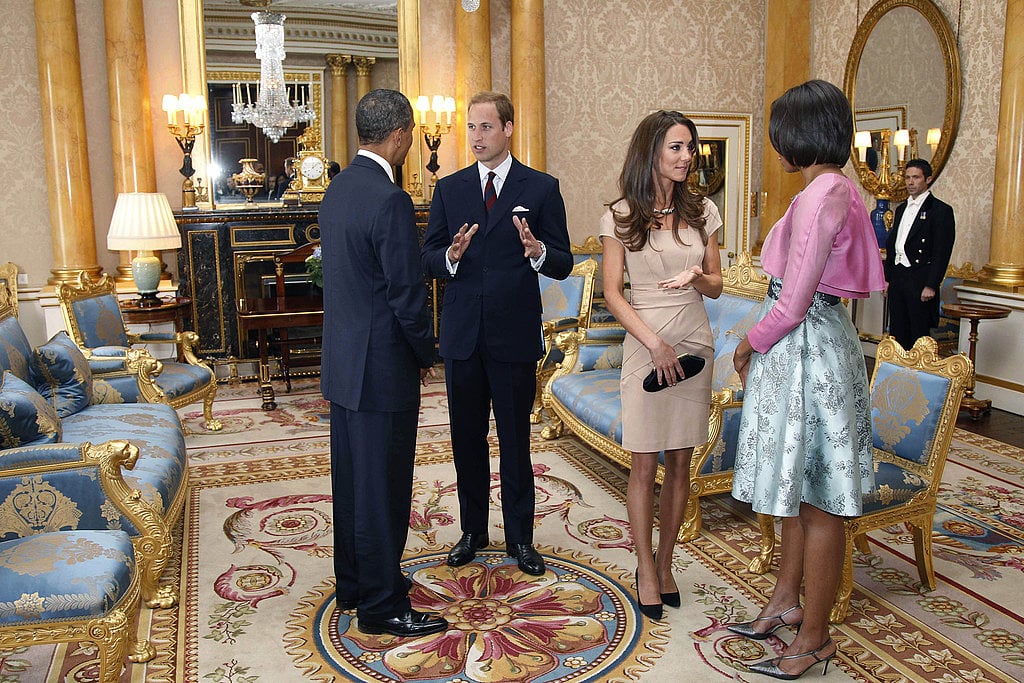 Michelle wore a pale-green Barbara Tfank dress with a cropped pink jacket during a visit with the royal newlyweds.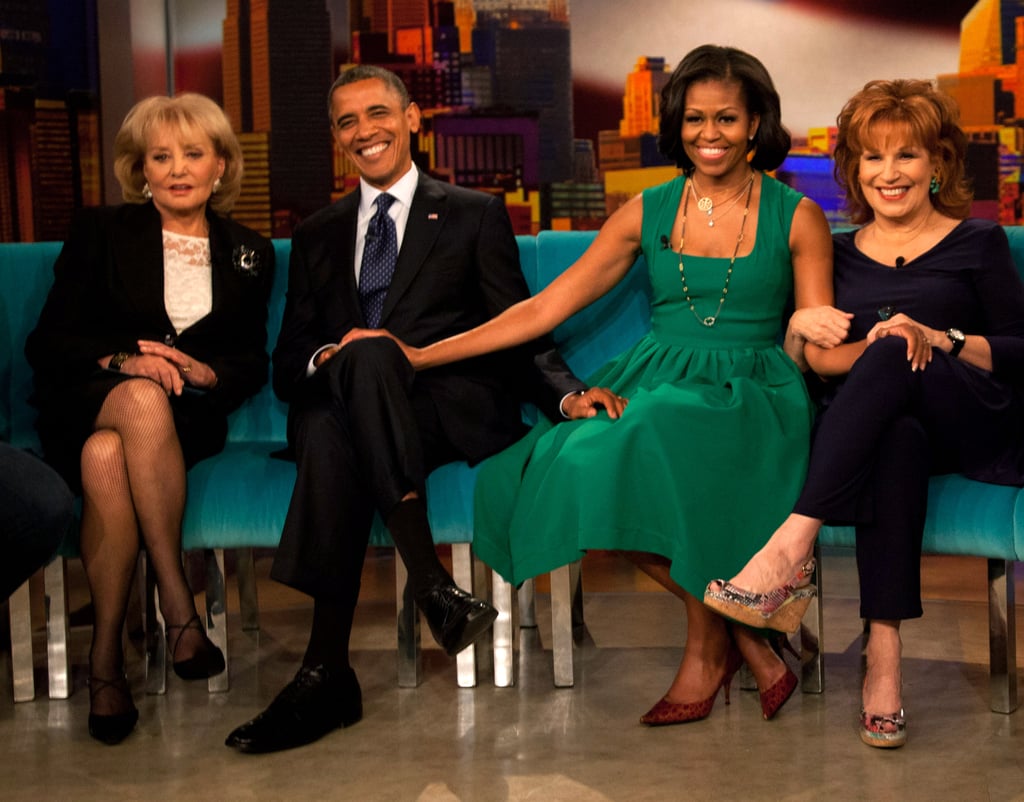 We love how she paired a longer beaded necklace with a square-neckline dress and maroon pumps for a campaign visit to The View.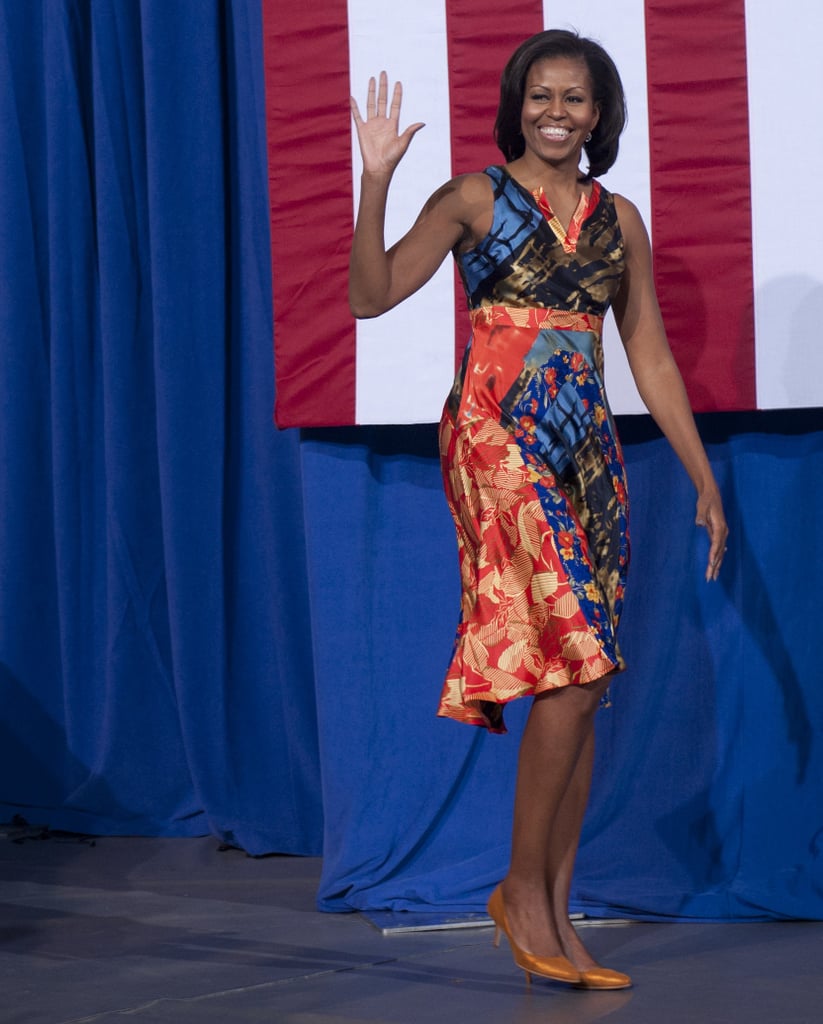 She debuted this boldly printed Duro Olowu dress at the University of Washington in Fredericksburg, VA. To finish off the look, she wore low-key tan pumps.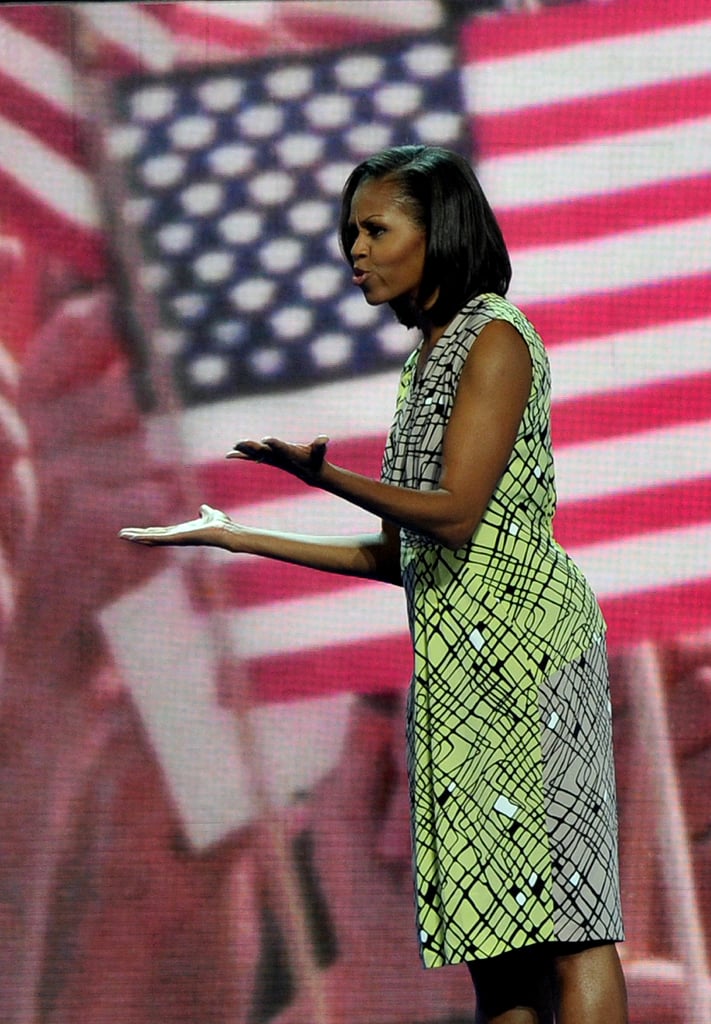 One more look at this insanely cool Diane von Furstenberg abstract print.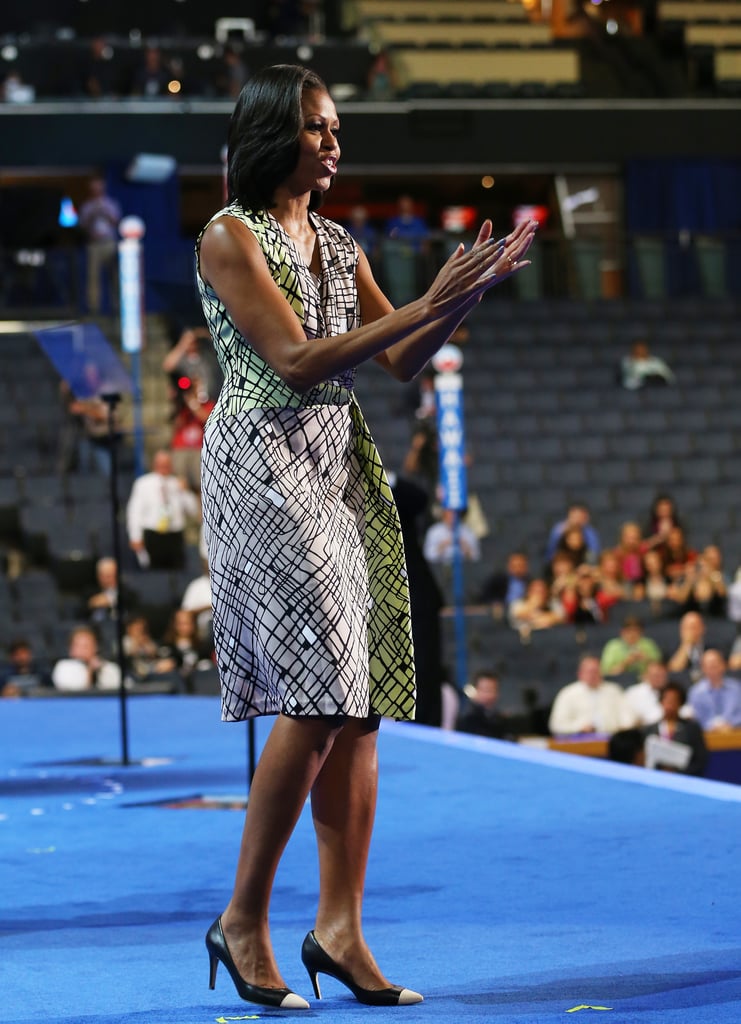 During a soundcheck pre-DNC festivities, the FLOTUS was spotted in a cool tan-and-lime abstract-printed Diane von Furstenberg dress with cap-toe Giuseppe Zanotti pumps.
Michelle opted for a longer version of Boy by Band of Outsiders's popular toile-print sleeves cotton dress, which she paired with a patent belt, ballet flats, and a light-blue cardigan.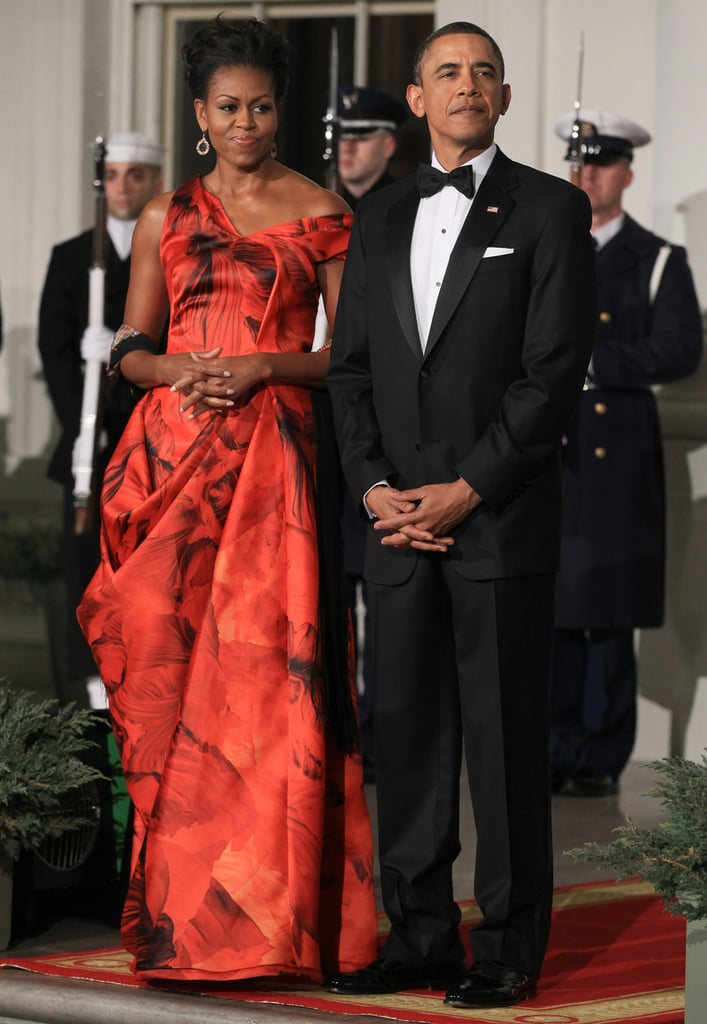 Michelle stunned in this red-and-black gown by Sarah Burton for Alexander McQueen.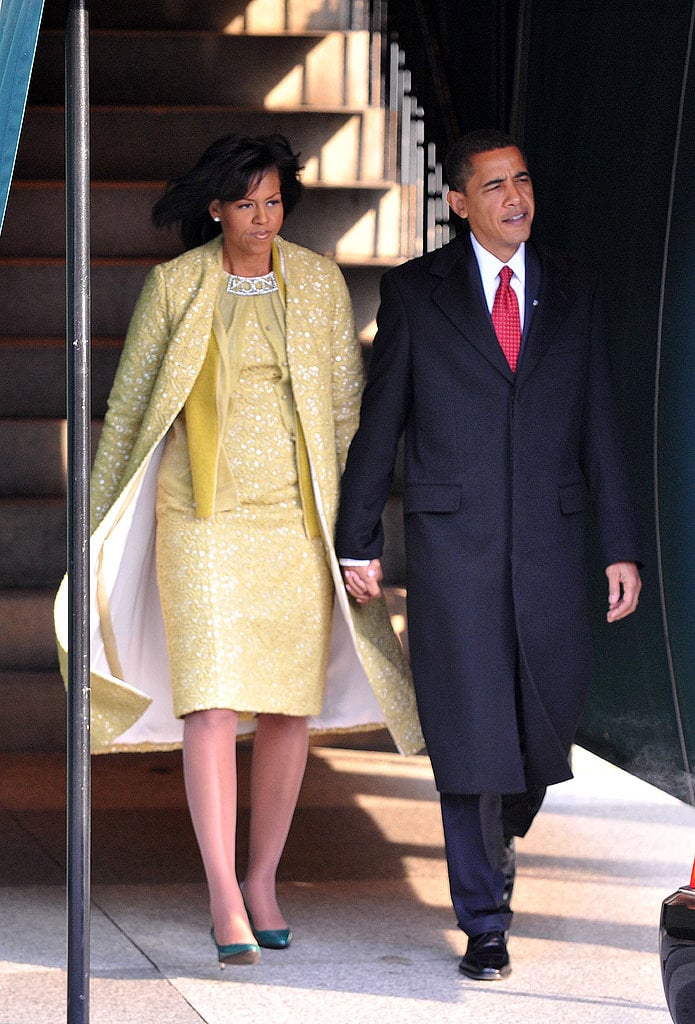 For President Obama's swearing-in ceremony in January 2009, Michelle delighted in a custom, lemon-hued Isabel Toledo coat and dress. She paired the sunny outfit with olive-green leather gloves and her favorite green Jimmy Choo shoes.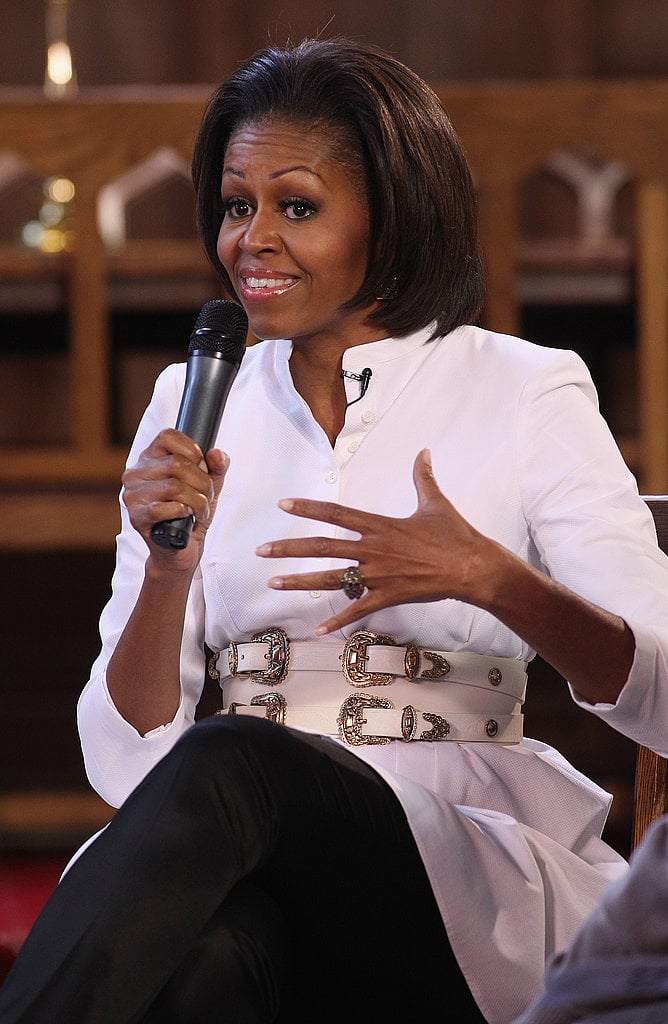 Michelle rocked a fierce Alexander McQueen outfit for an appearance at Oxford University.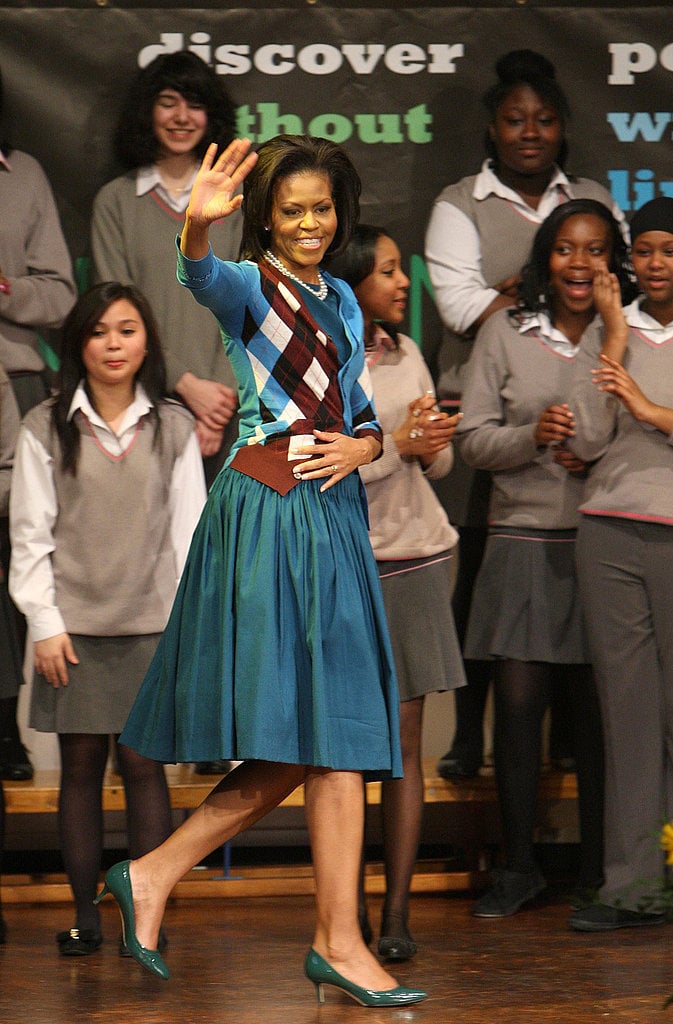 We're in love with this Junya Watanabe for Comme Des Garcons asymmetrical cardigan and Jason Wu dress combo. To finish the look, Michelle wore green Jimmy Choos.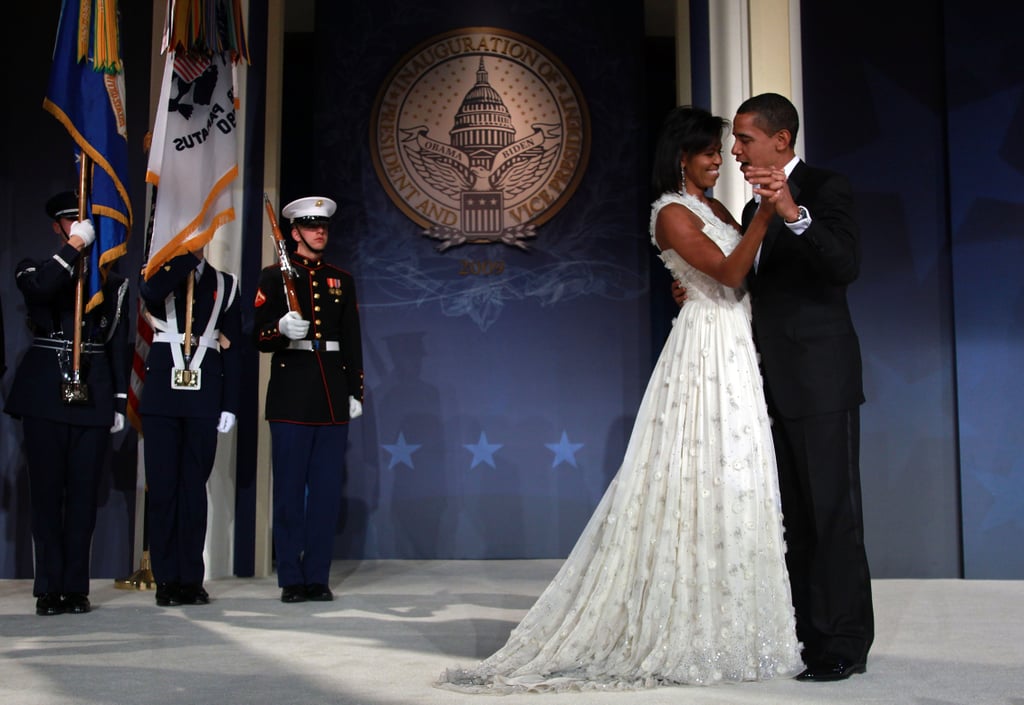 How could we ever forget the white ethereal Jason Wu gown Michelle wore on the night of President Obama's inaugural ball? It was a remarkable dress.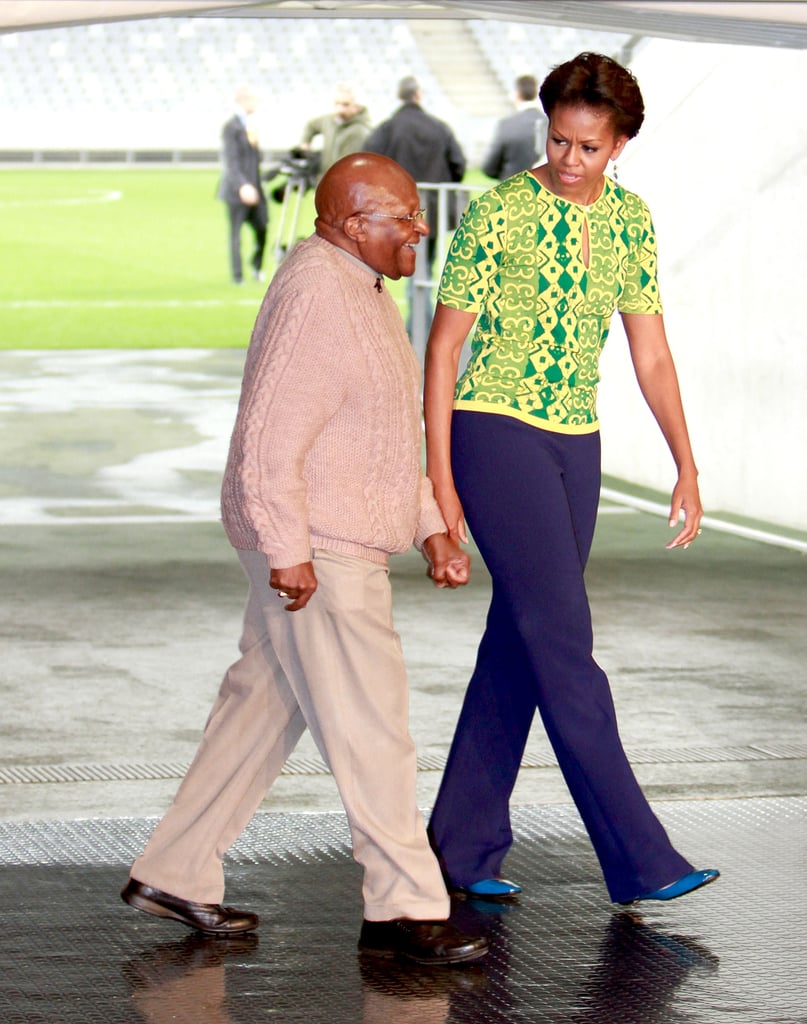 We're loving this printed neon blue-and-yellow Duro Olowu top and navy pant combo Michelle wore during her trip to South Africa.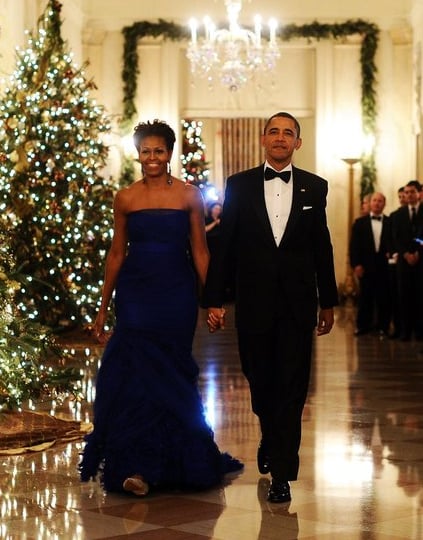 The FLOTUS was the belle of the ball in a custom strapless cobalt tulle Vera Wang gown. Her blue dress stole the show at the 34th annual Kennedy Center Honors.
The first lady spoke at the Time 100 gala in 2009, wearing a black Michael Kors gown cinched with a Peter Soronen corset belt.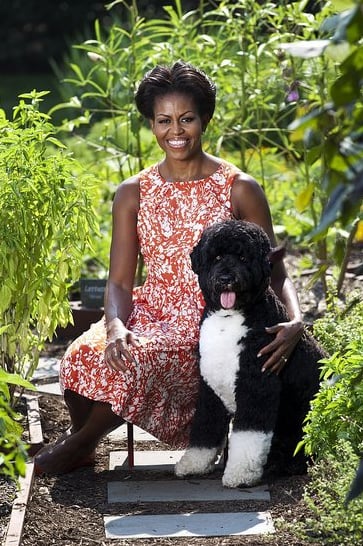 Michelle looked adorable in this official White House photo, with her cutest accessory, Bo, no less!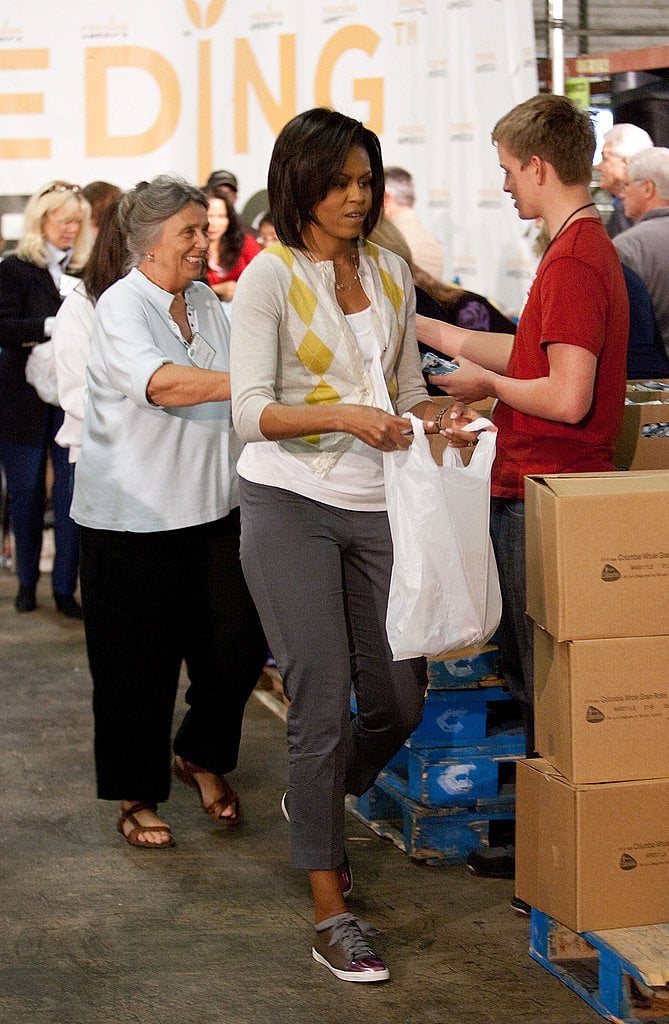 The FLOTUS sported J.Crew's signature argyle cardigan with cropped gray pants and snazzy Lanvin sneakers.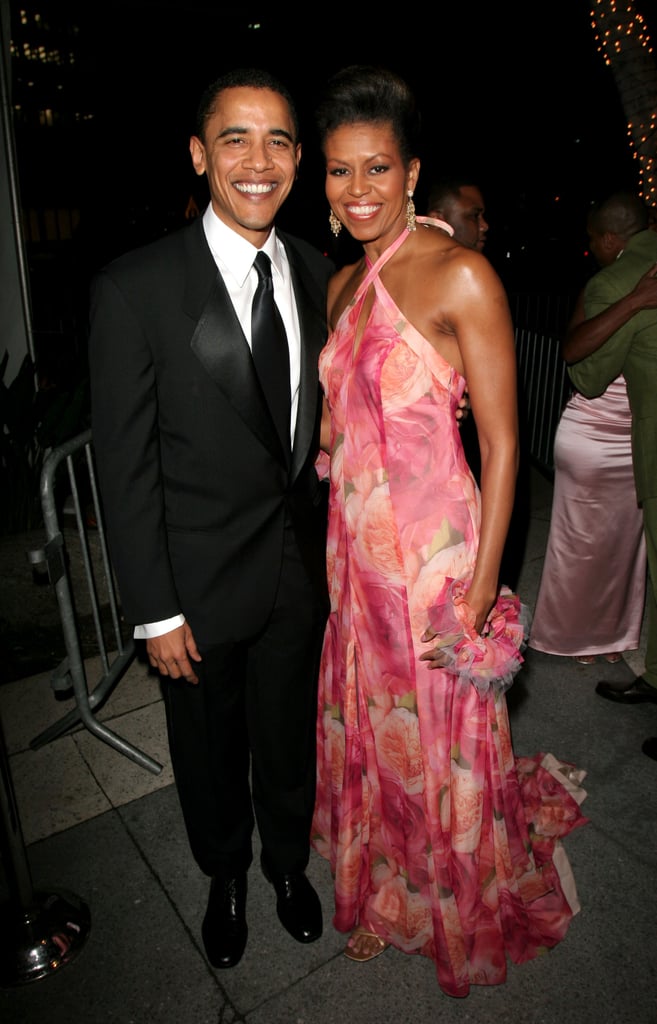 Even before she was the first lady, Michelle knew how to wear bright and bold colors perfectly. She and the then-senator attended the 36th annual NAACP Image Awards in 2005.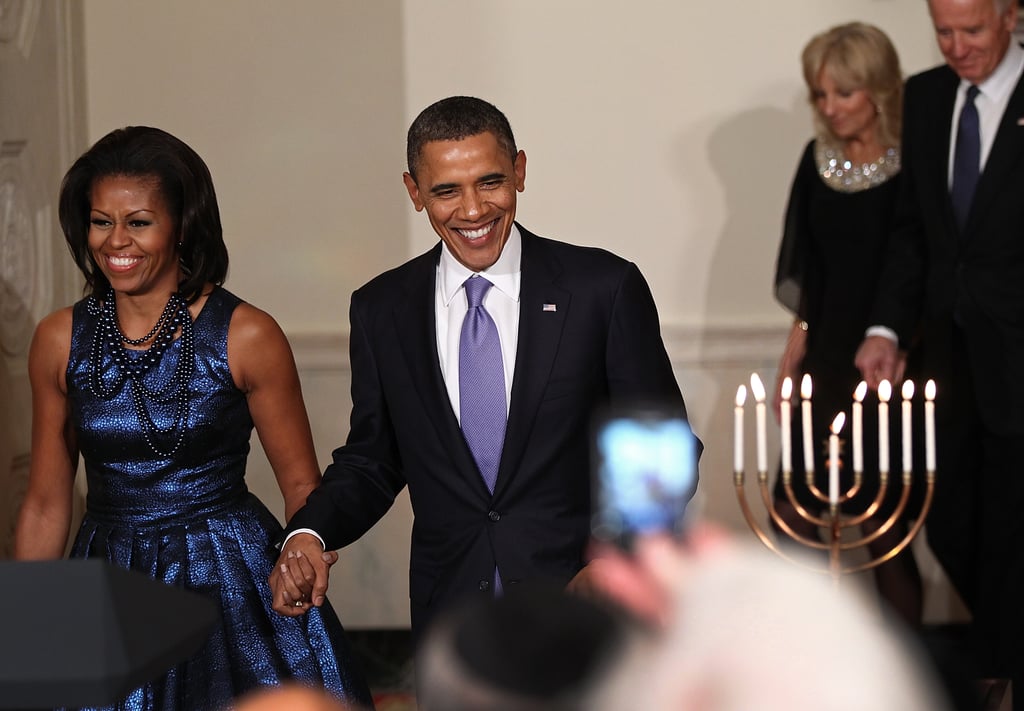 For the 2011 Hanukkah reception, the first lady wore a metallic blue Rodarte cocktail dress, complete with oversized blue beaded necklaces.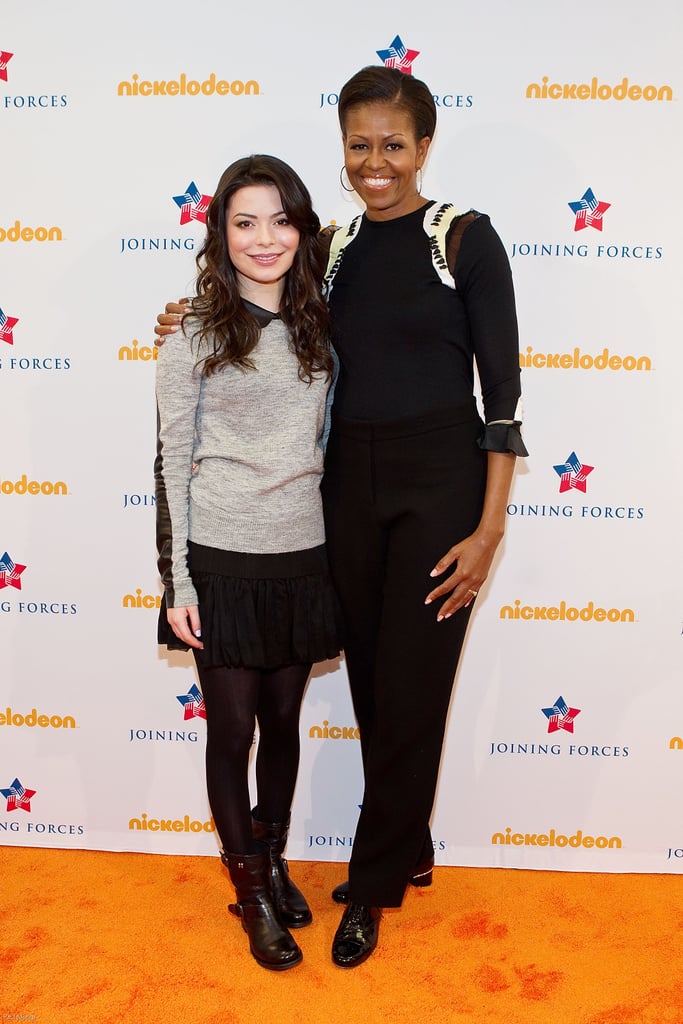 Michelle attended a screening of Nickelodeon's iCarly in a sleek black outfit. We especially loved the details on the shoulders and her shiny black brogues.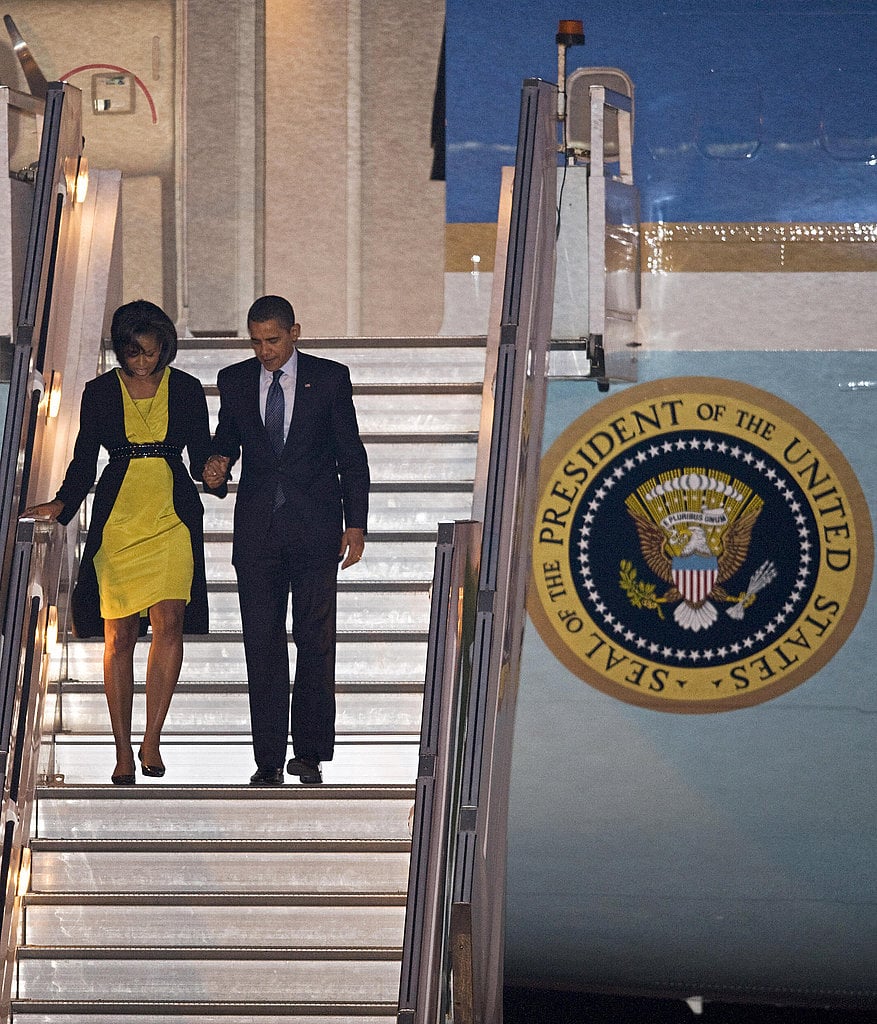 Michelle wowed upon deplaning from Air Force One in a bright yellow Jason Wu dress with a black Michael Kors coat, cinched with a black Alaia belt.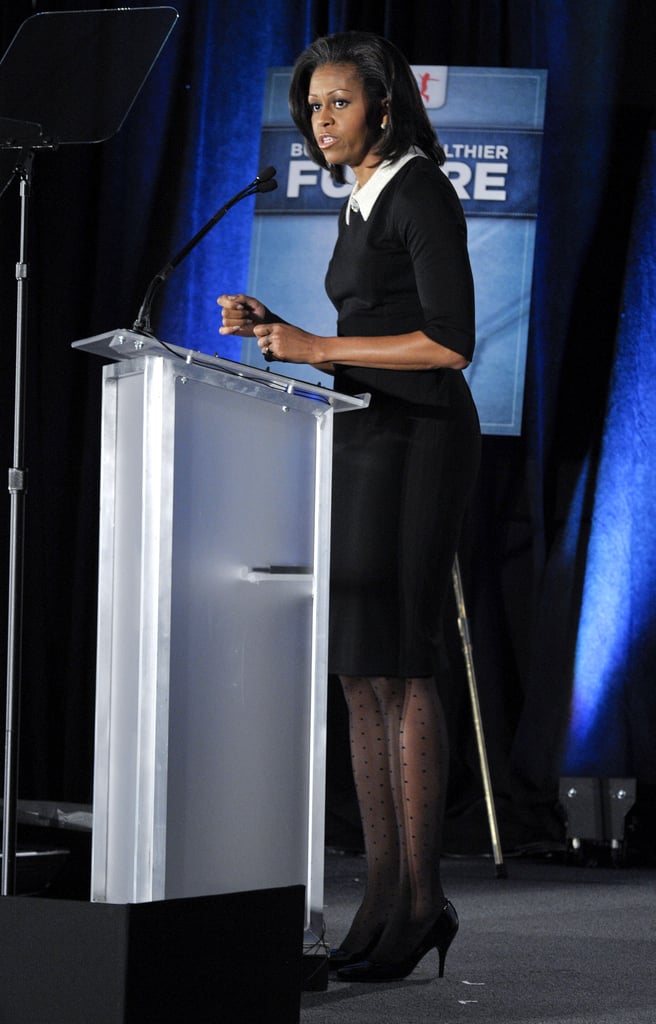 Michelle looked professional and superchic in this collared Jason Wu dress. The polka-dot tights were an added accessory bonus!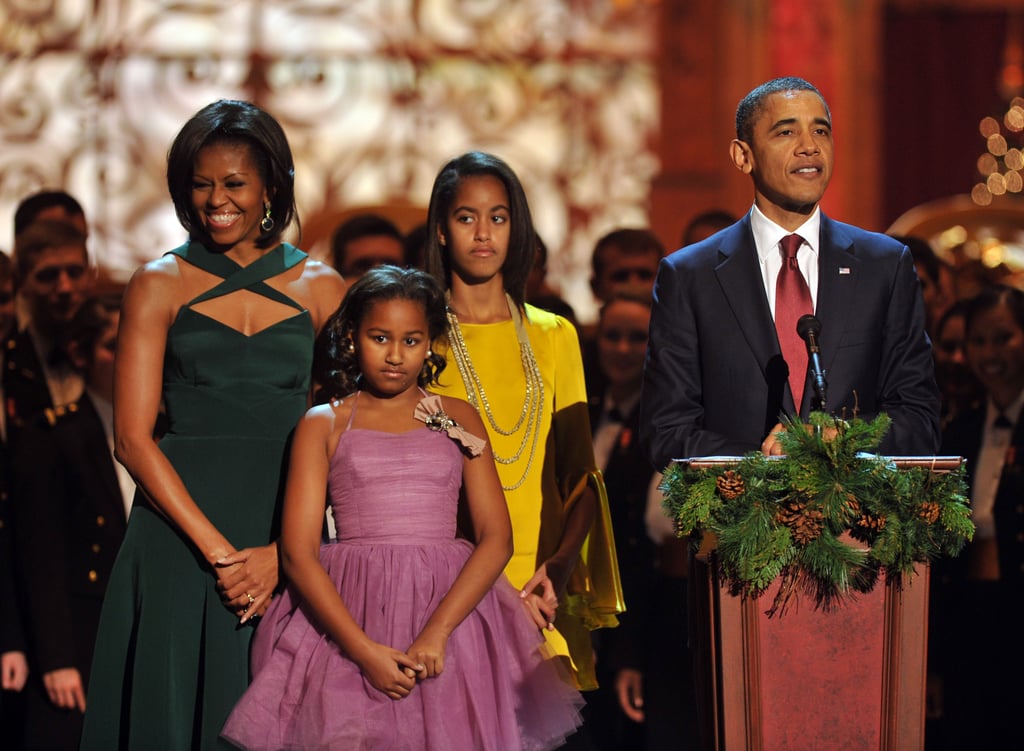 She wore a jewel-toned Cushnie et Ochs gown for the Christmas in Washington taping last December.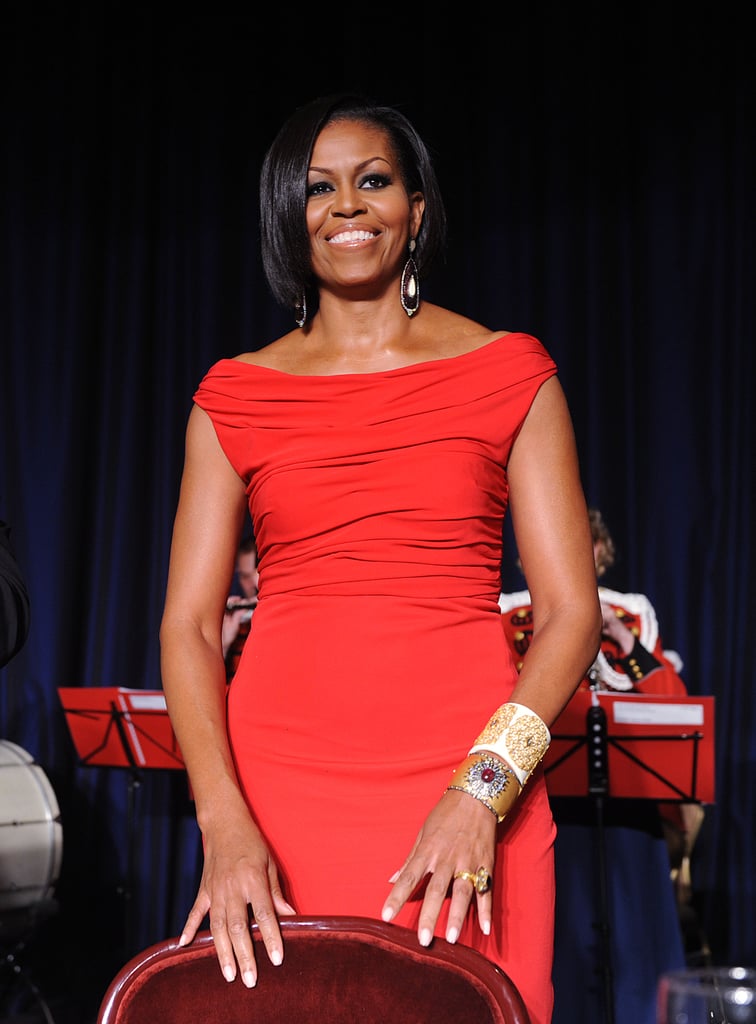 Michelle chose a red, drapey Prabal Gurung gown for the 2010 White House Correspondents' Dinner.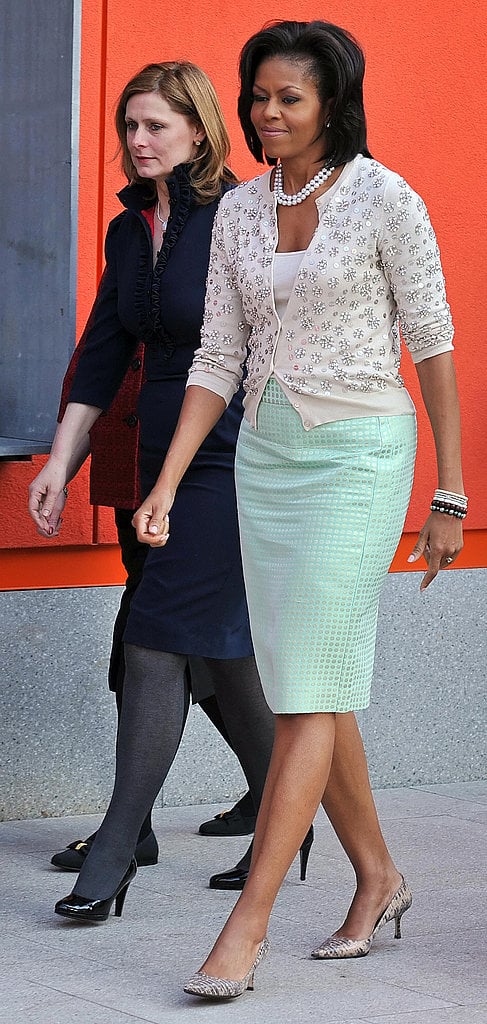 Michelle is known for her ability to mix-and-match high and low brands to perfection. She looked gorgeous in a jeweled cardigan and mint-colored J.Crew pencil skirt.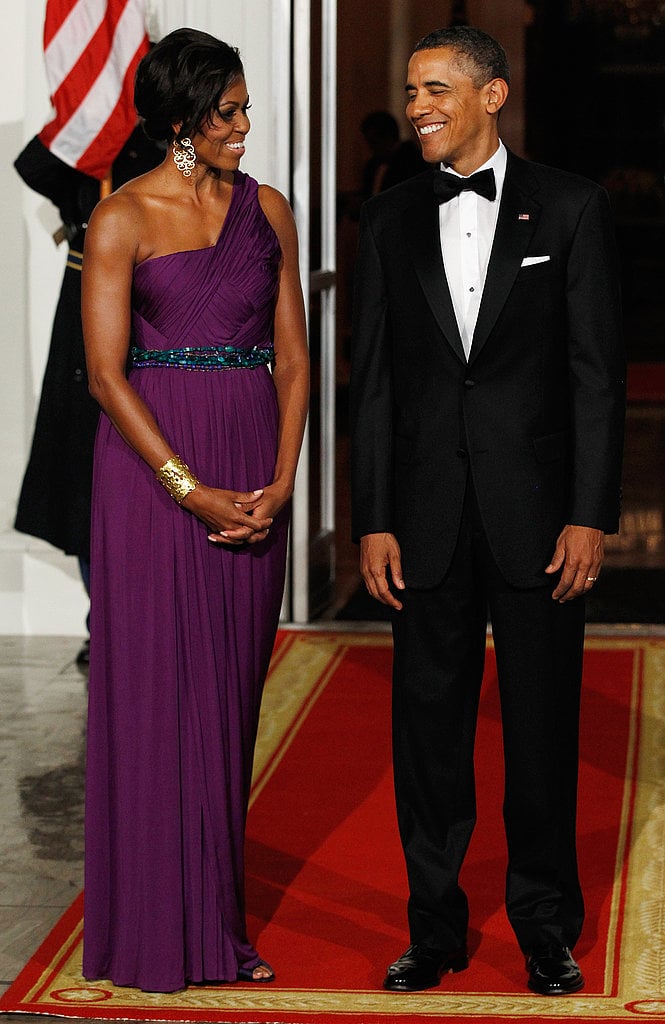 Michelle Obama stole the show in a deep purple gown by American designer Doo.Ri at a state dinner welcoming South Korea. The statement gold earrings, matching cuff, and turquoise beaded belt only added an extra dose of glam.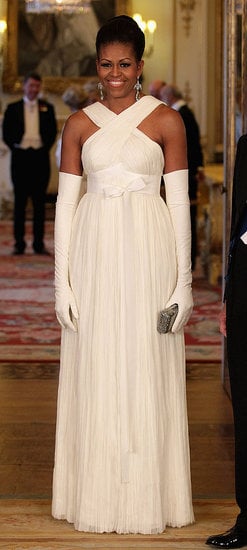 We think Michelle channeled her inner princess in a cream Tom Ford gown at a state dinner at Buckingham Palace.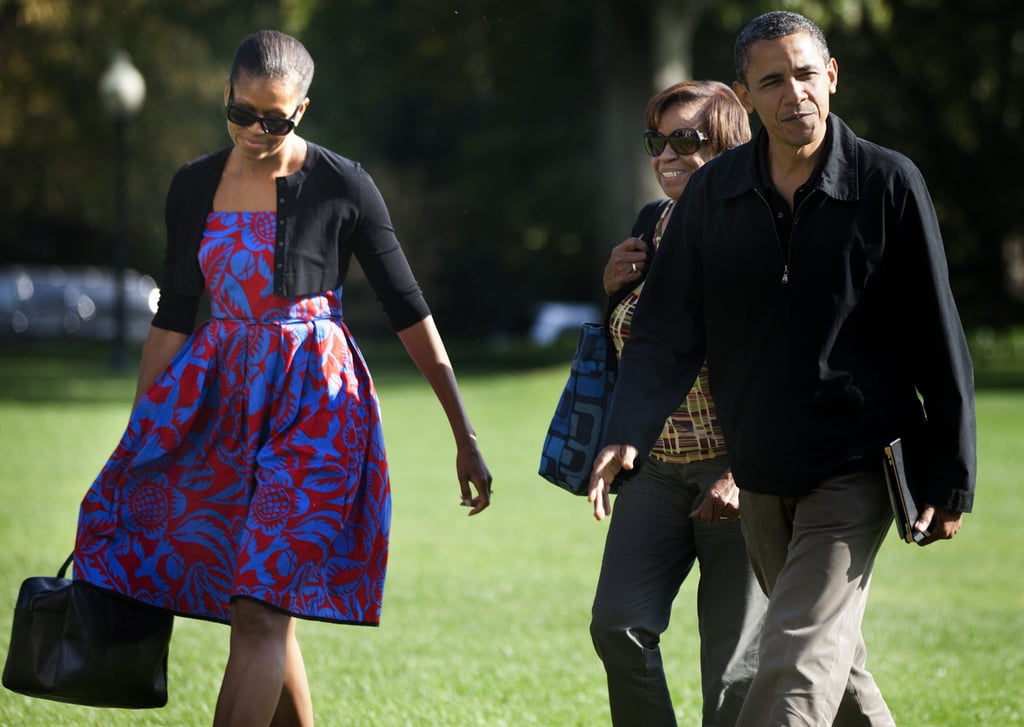 The first lady chose a bright floral Sophie Theallet dress and a black cardigan for a walk across the White House front lawn.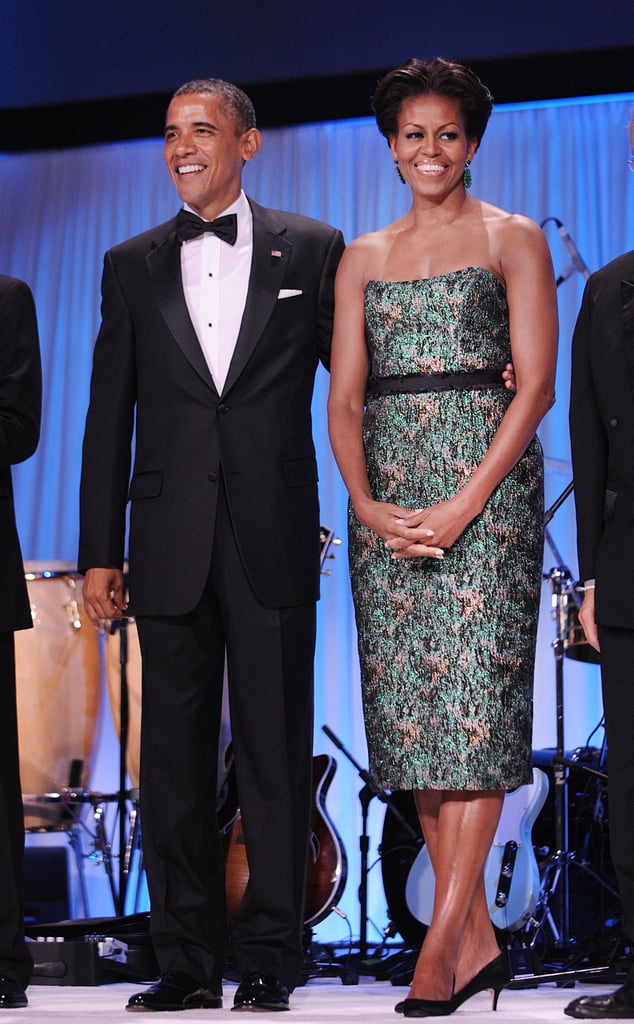 Michelle wore a strapless patterned frock with a black waist sash for an evening out.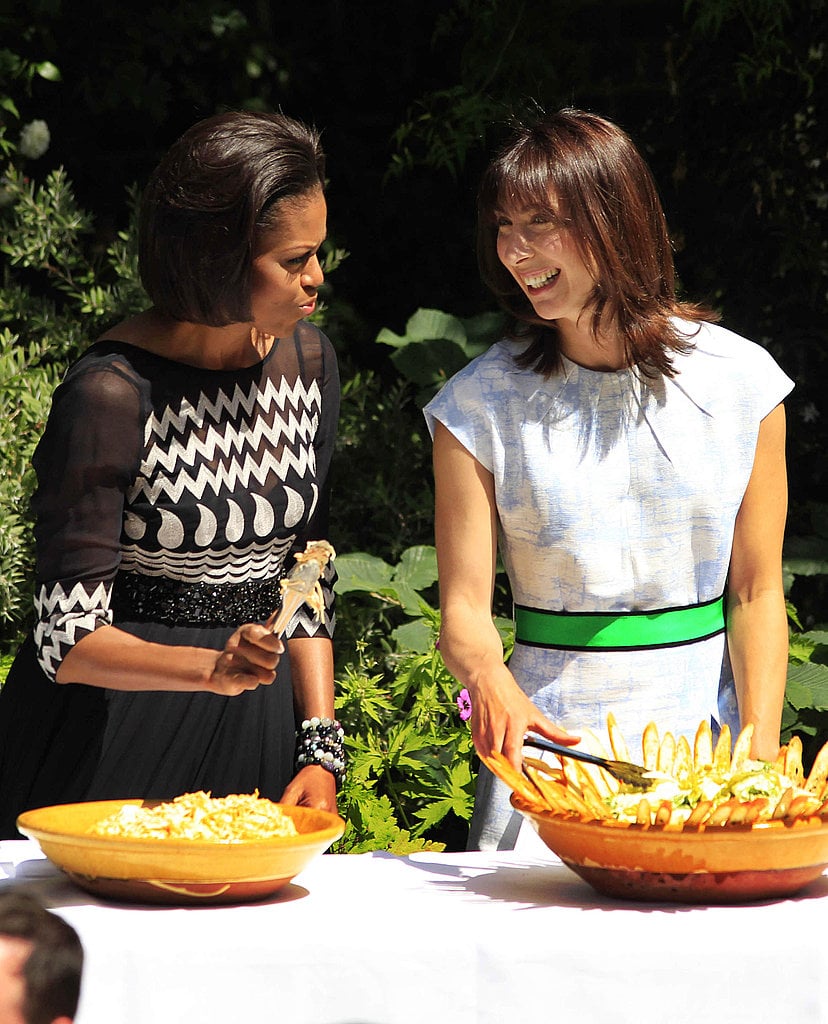 How cute did Michelle look in a printed, black-and-white Tracy Reese dress at a picnic with Prime Minister David Cameron's wife, Samantha?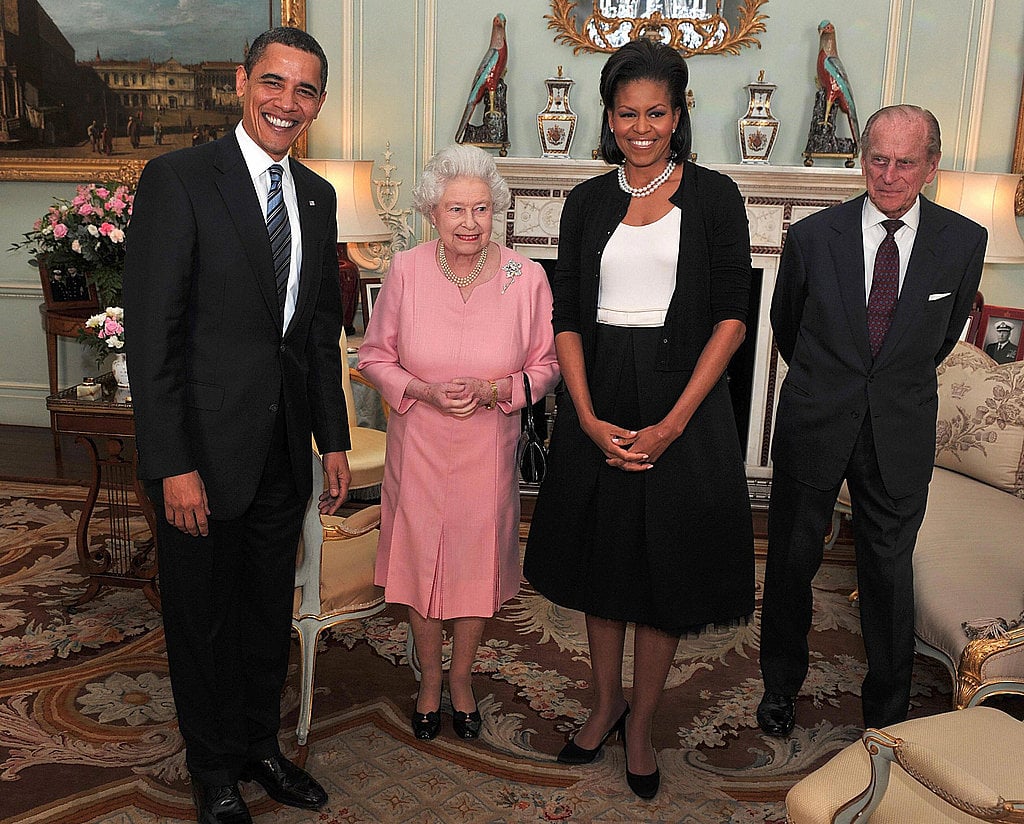 During a visit with the queen, Michele's black-and-white Isabel Toledo dress was layered with an Alaia black cardigan.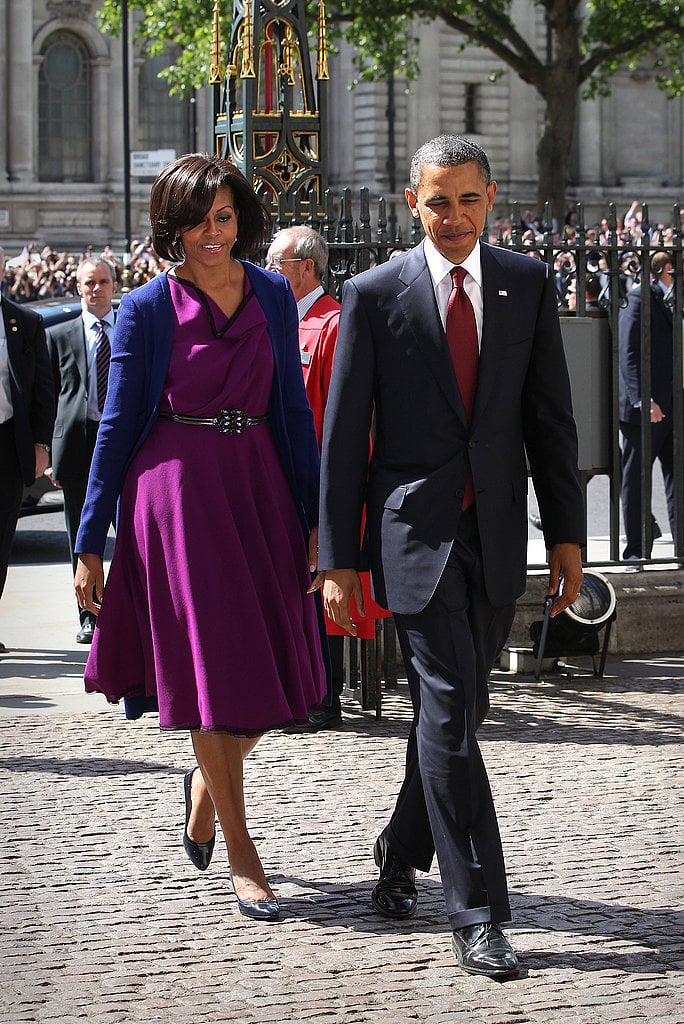 The FLOTUS has her finger on the pulse of new, edgy designers. Here, Michelle paired a Roksanda Ilincic dress with a Narciso Rodriguez coat.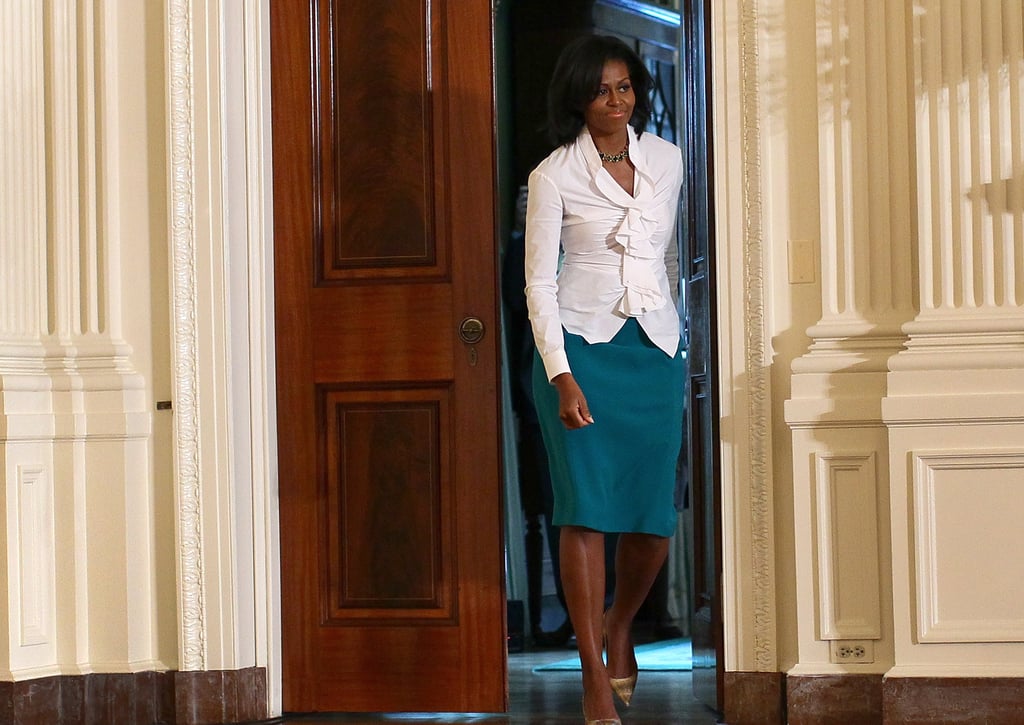 For a White House speaking event, Michelle chose a white ruched blouse with a teal skirt and nude pointy-toe pumps.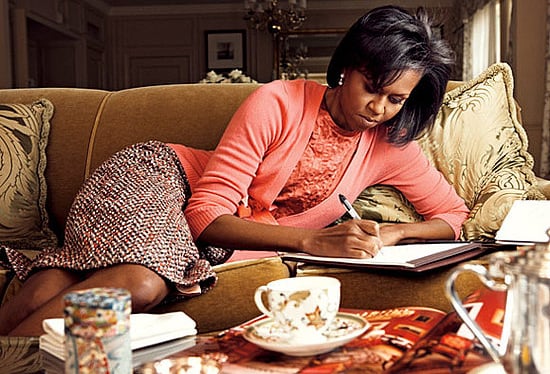 Michelle posed in a salmon J.Crew cardigan while on set for a Vogue photo shoot.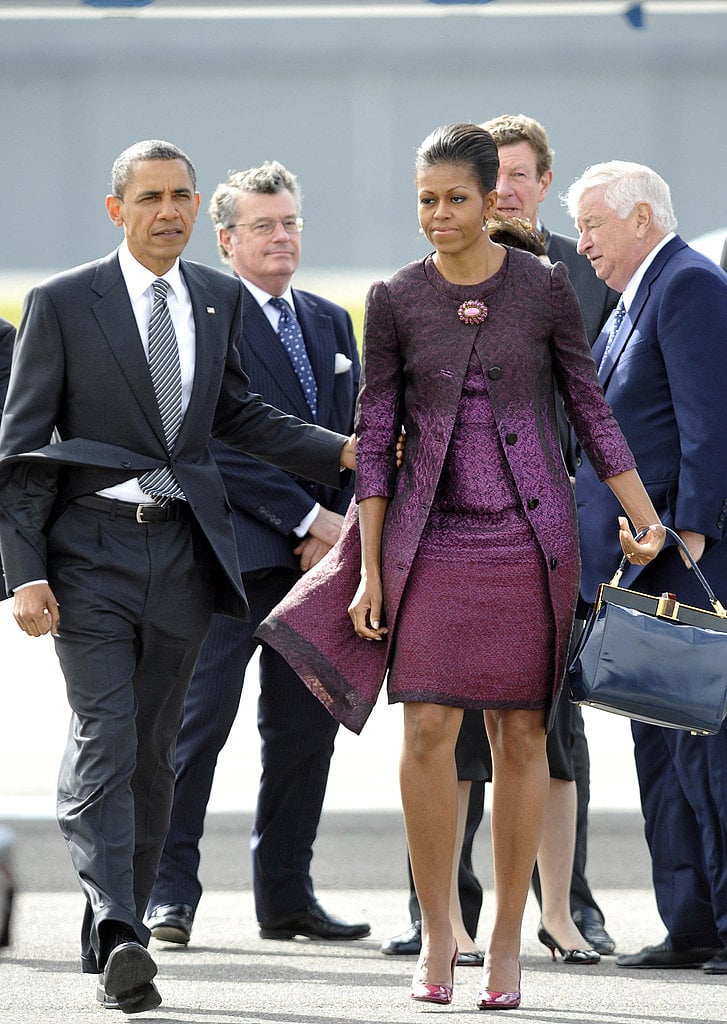 Leaving London, Michelle chose a purple ombré Peter Som dress and coat.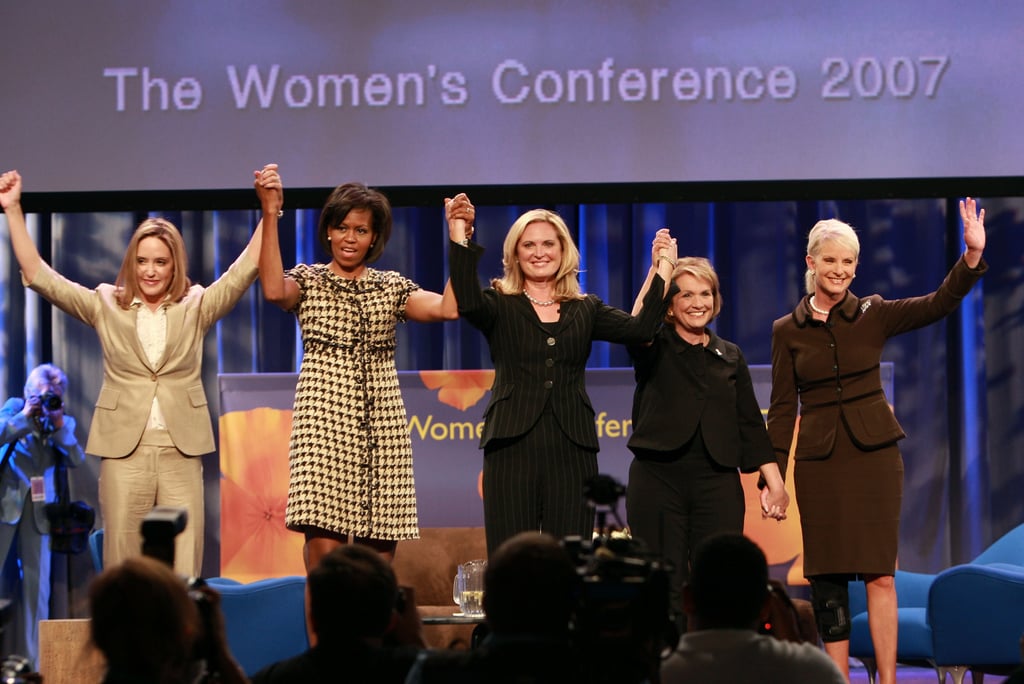 Michelle wore a retro houndstooth-printed cowl-neck dress to The Women's Conference in Long Beach, CA, in 2007.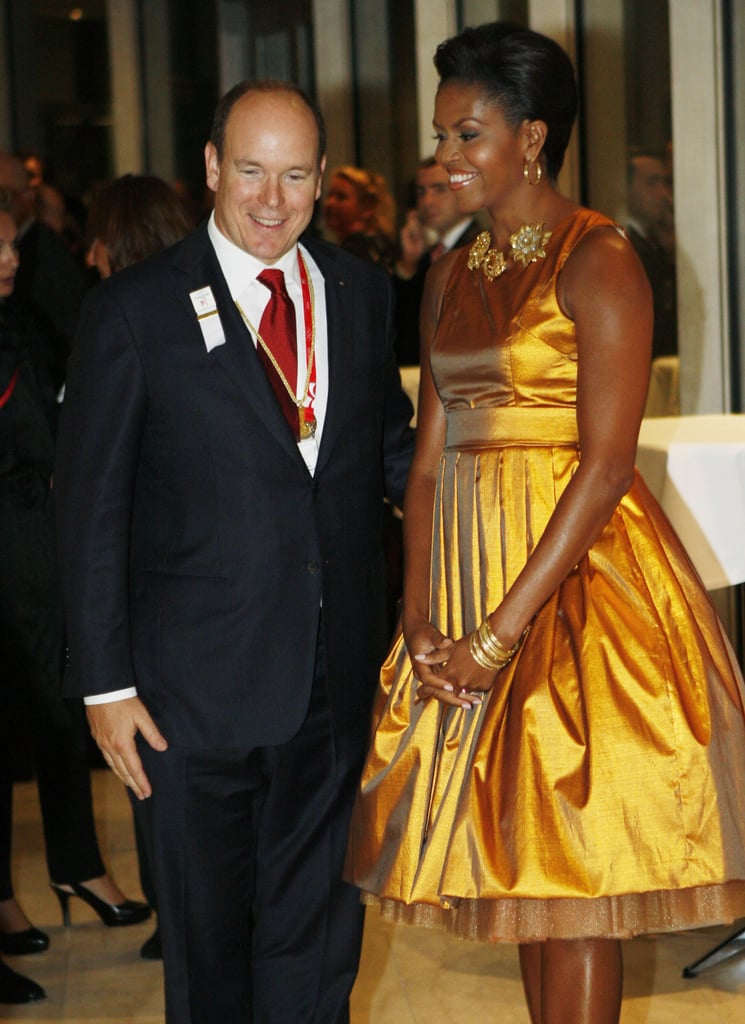 Michelle wore a sunny Rodarte frock during an Olympic venue announcement in 2009.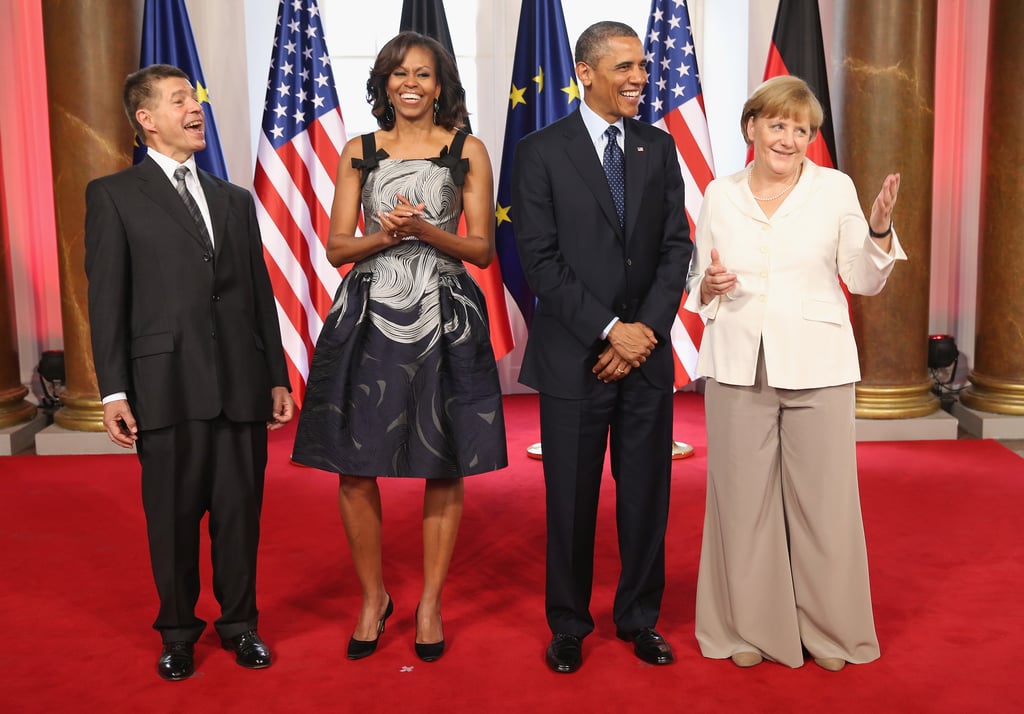 For her latest European appearance, a dinner at the Charlottenburg Palace in Berlin, Michelle Obama looked undeniably fabulous in a printed fit-and-flare dress — we especially adore the bow detail.
Michelle wore a bright blue, one-shoulder Peter Soronen gown for a presidential event.
To deliver a speech on the history of music and dance, the FLOTUS wore a red jacket-and-skirt combo. The side-bow detail on the jacket neckline is sweet and playful.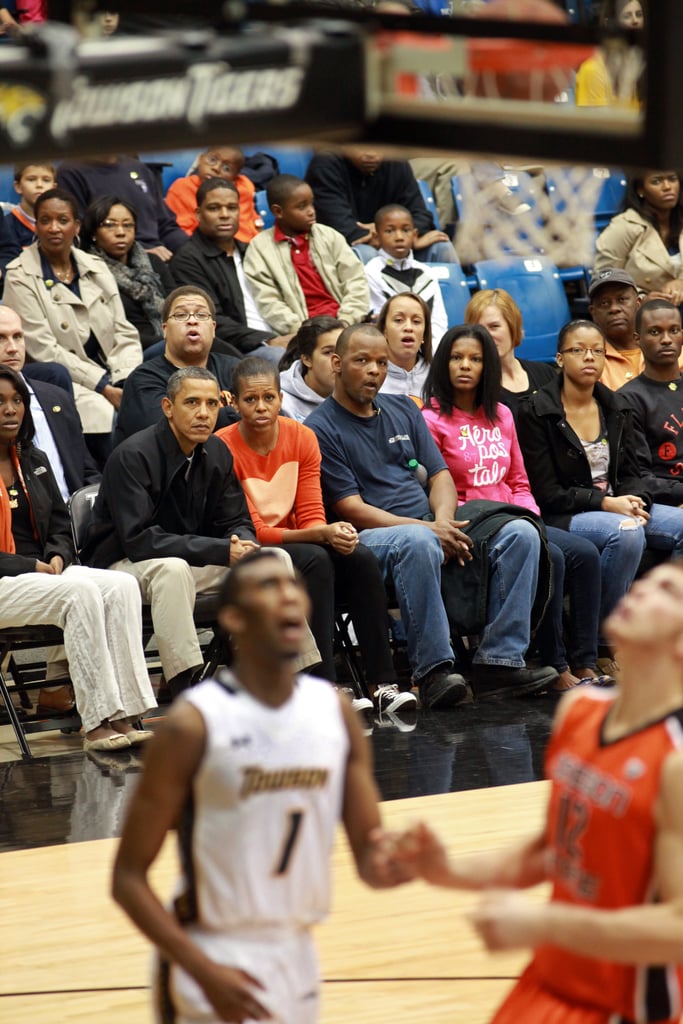 Dressed in Converse and a sweet J.Crew sweater, Michelle and President Obama watched a basketball game in their down time.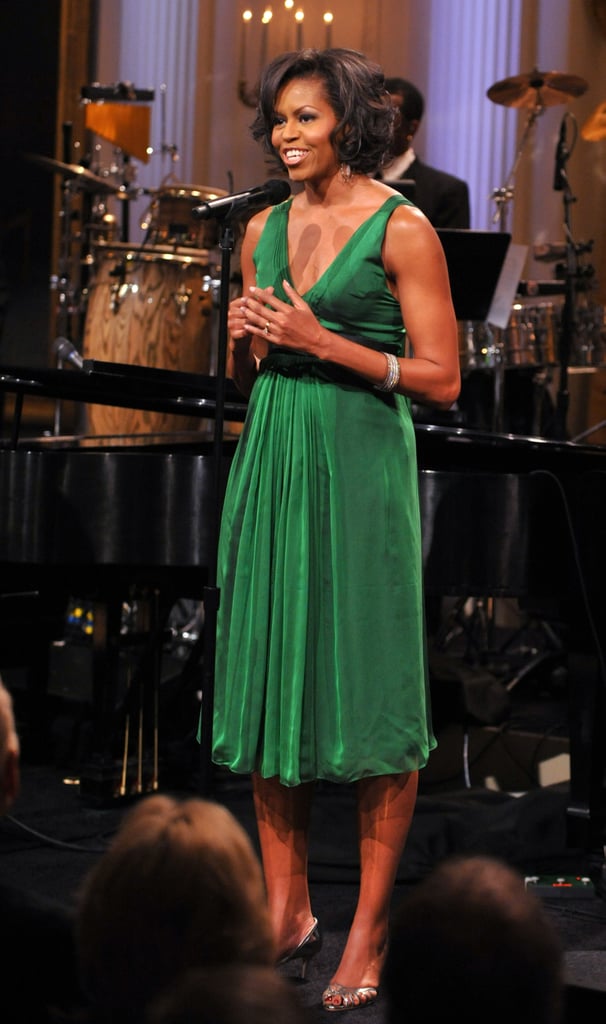 This gorgeous green dress was designed by Stevie Wonder's wife, Kai Milla.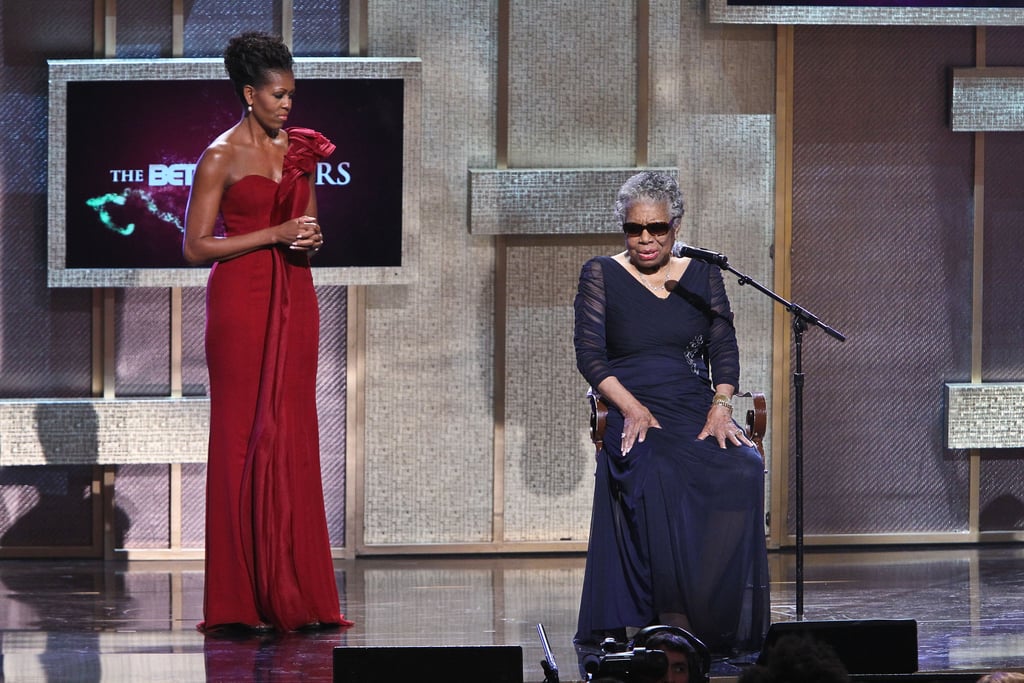 Michelle wore a gorgeous scarlet organza one-shoulder creation by J. Mendel for the 2012 BET Honors held in Washington DC.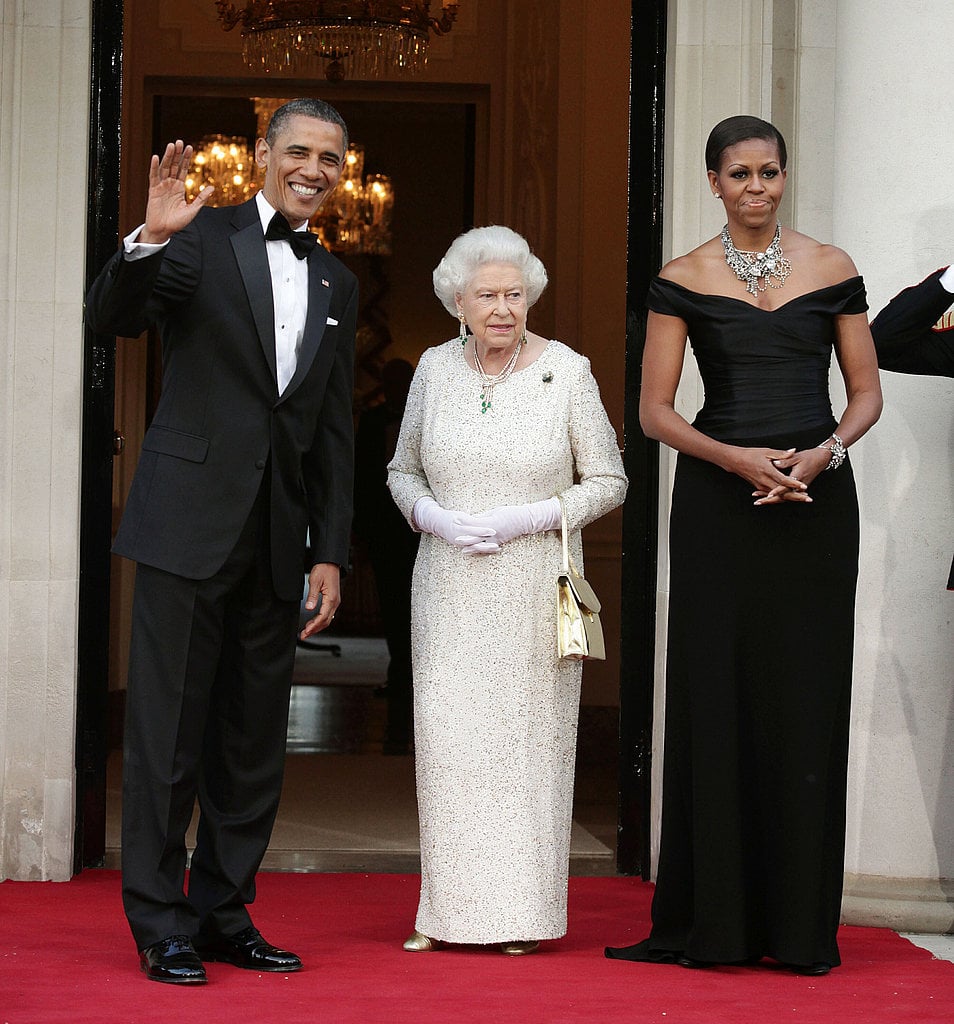 The first lady donned an elegant Ralph Lauren gown for a dinner at the US Embassy in London.
Michelle chose a Narciso Rodriguez black-and-camel coat and separates combo for the We Are One concert in early January 2009. She added gorgeous Loree Rodkin chandelier earrings, too.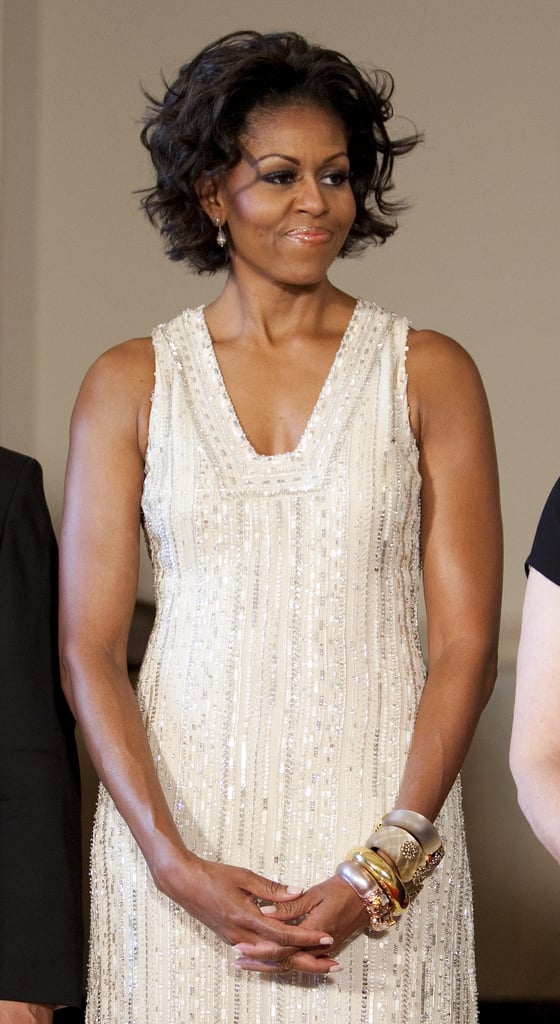 For a state dinner, the first lady stepped out in a white embellished gown by Naeem Khan and paired it with a stack of chunky bangles by Alexis Bittar.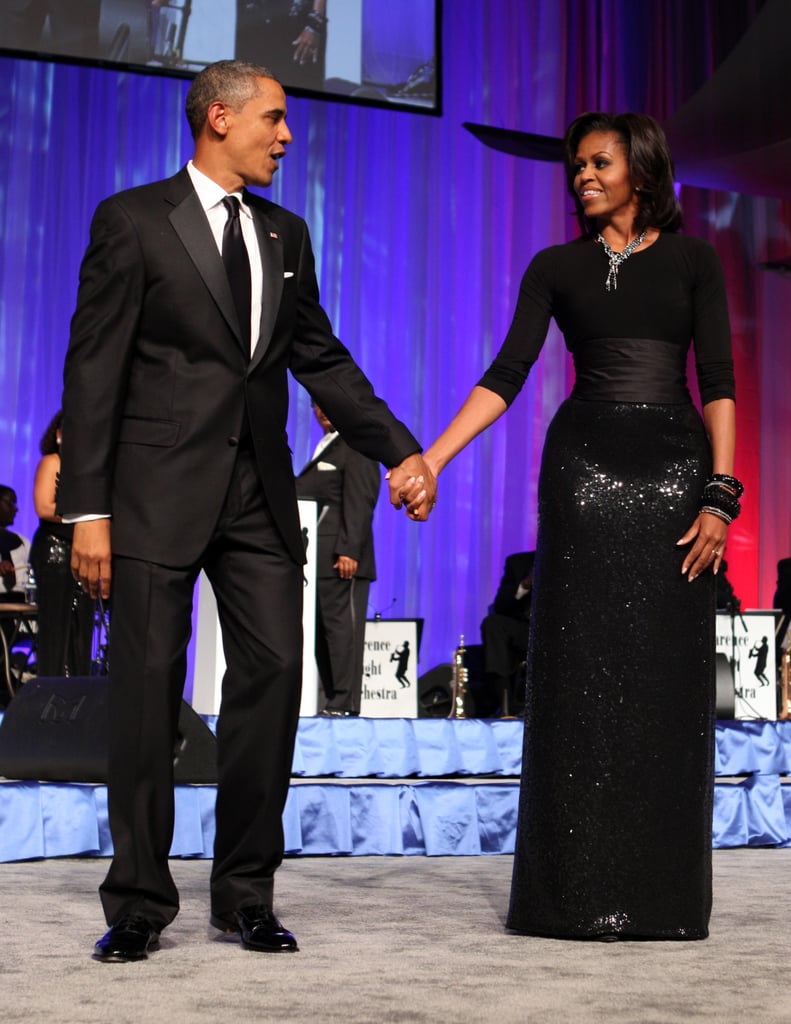 She wore a stunning black gown, complete with sparkly cummerbund, for an appearance at the annual Phoenix Awards in 2011.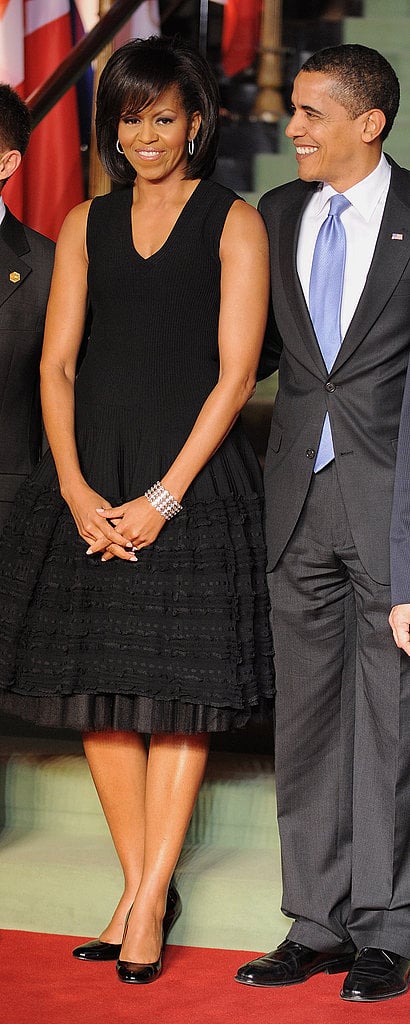 Michelle wore Azzedine Alaia to a NATO conference in early 2011.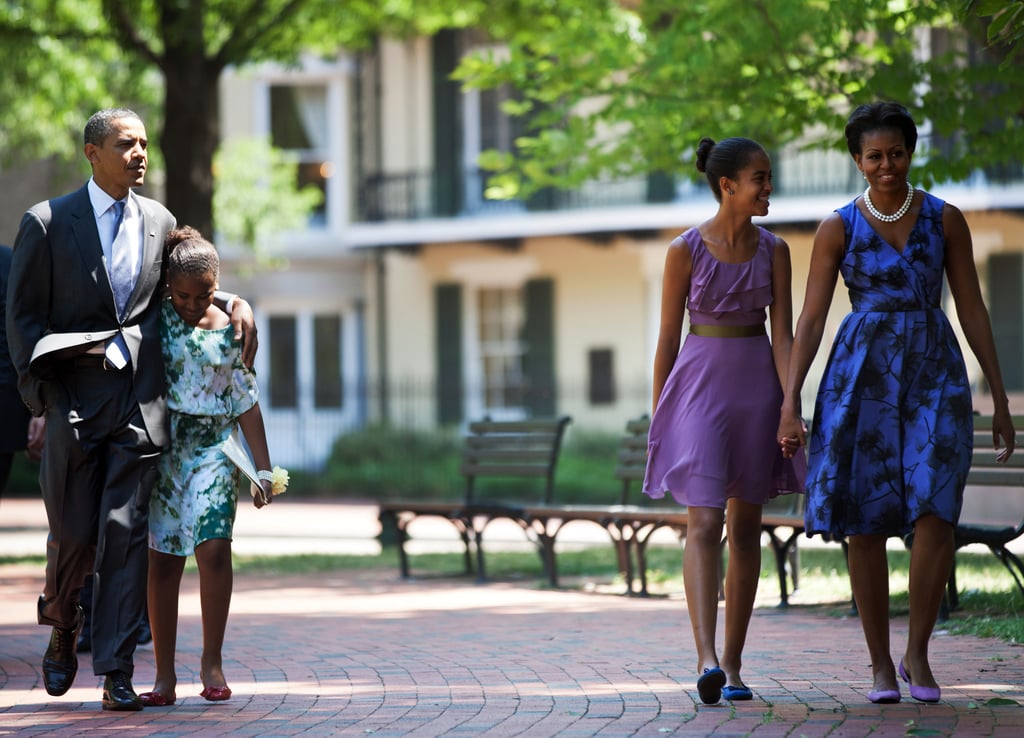 She opted for bright, blue, and airy — with a classic strand of pearls and purple flats — for a Sunday morning walk with her family.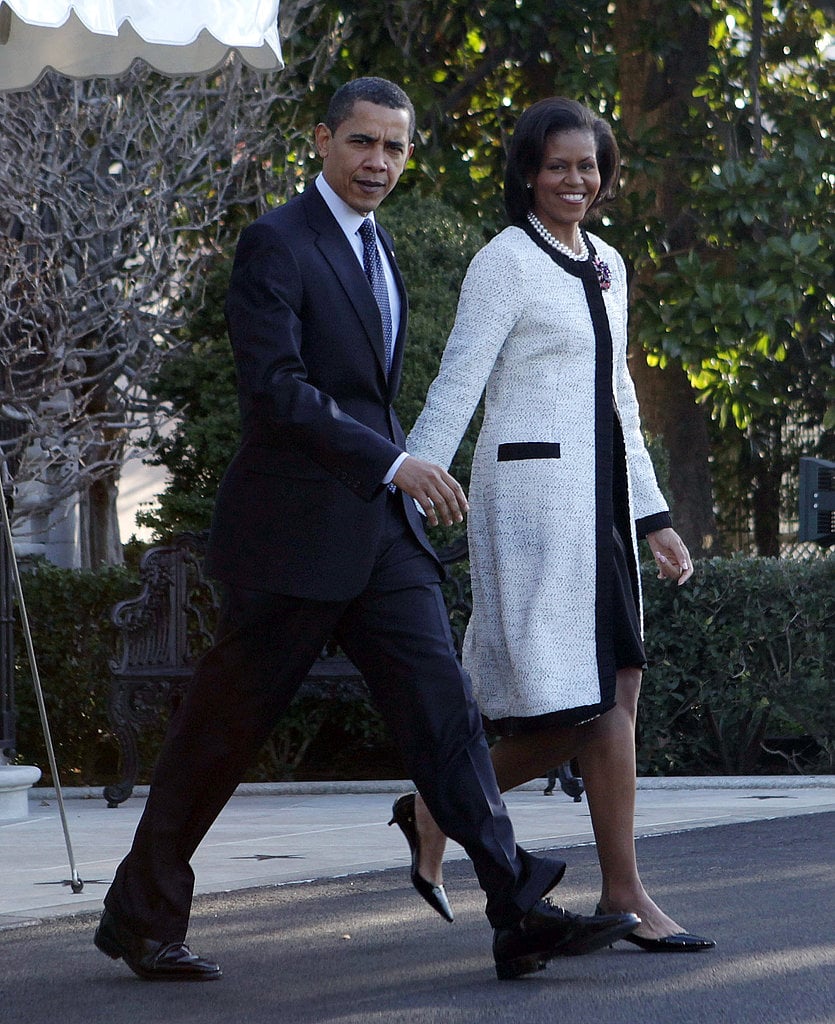 Here, she opted for classic elegance in a custom ivory Thakoon coat with black trim.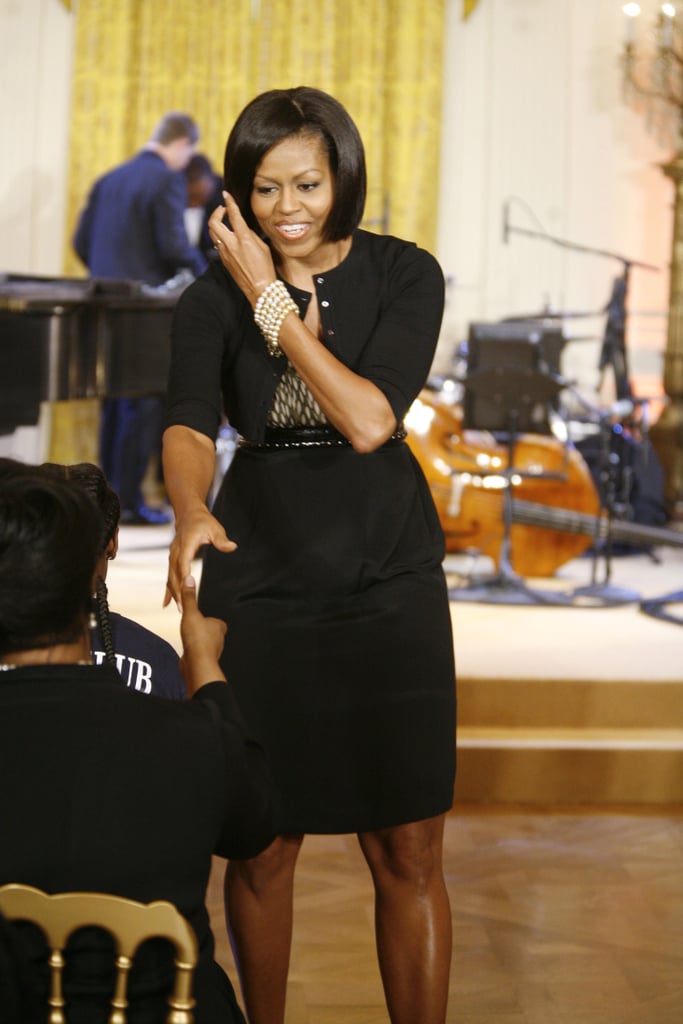 She paired a cool green-and-white polka-dot blouse with a black pencil skirt and black cardigan. The stack of pearl bracelets gave the FLOTUS an extra boost of classic elegance.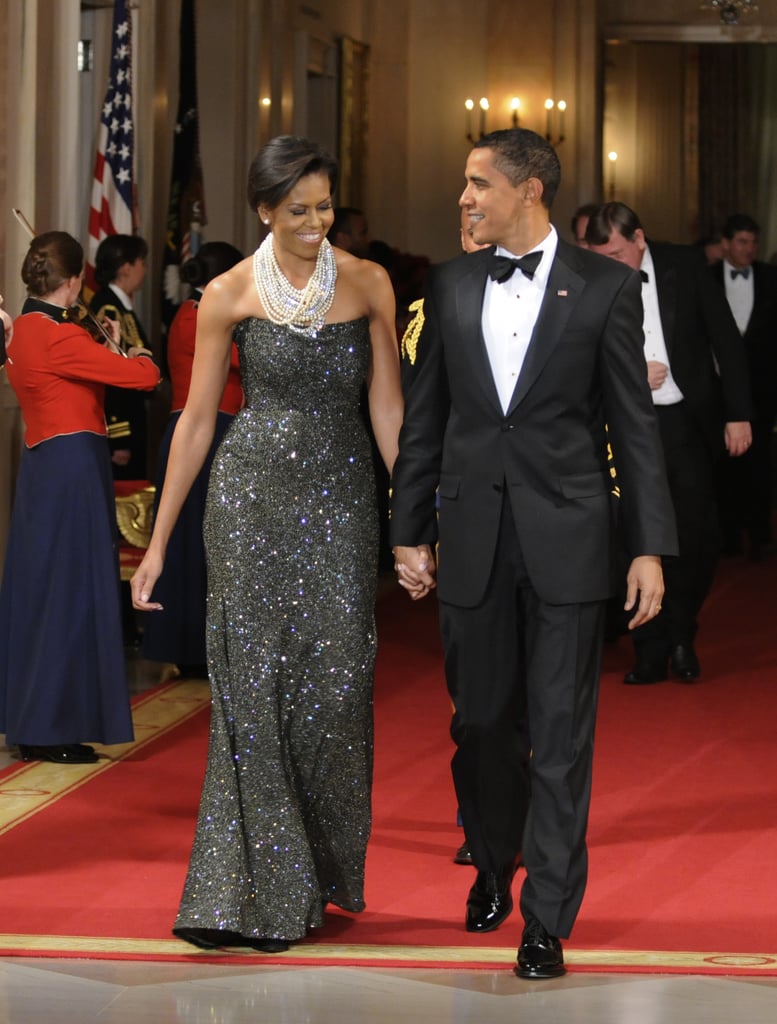 The presidential couple sparkled — largely in part to Michelle's one-of-a-kind Peter Soronen creation.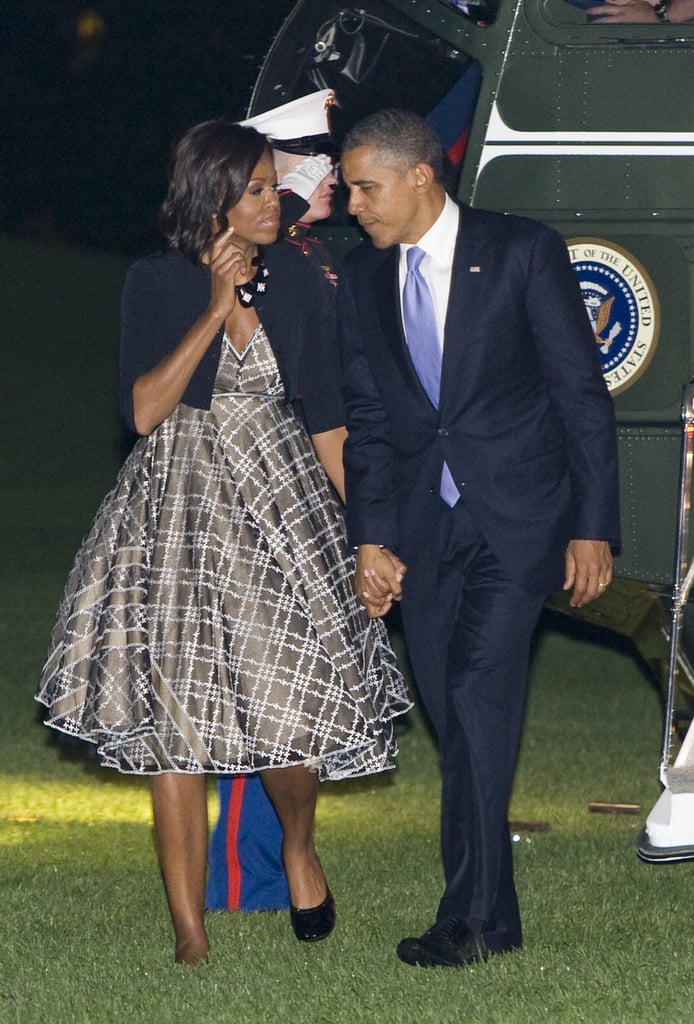 Arriving back at the White House, Michelle was spotted in an olive, tartan-inspired circle dress with a black cardigan.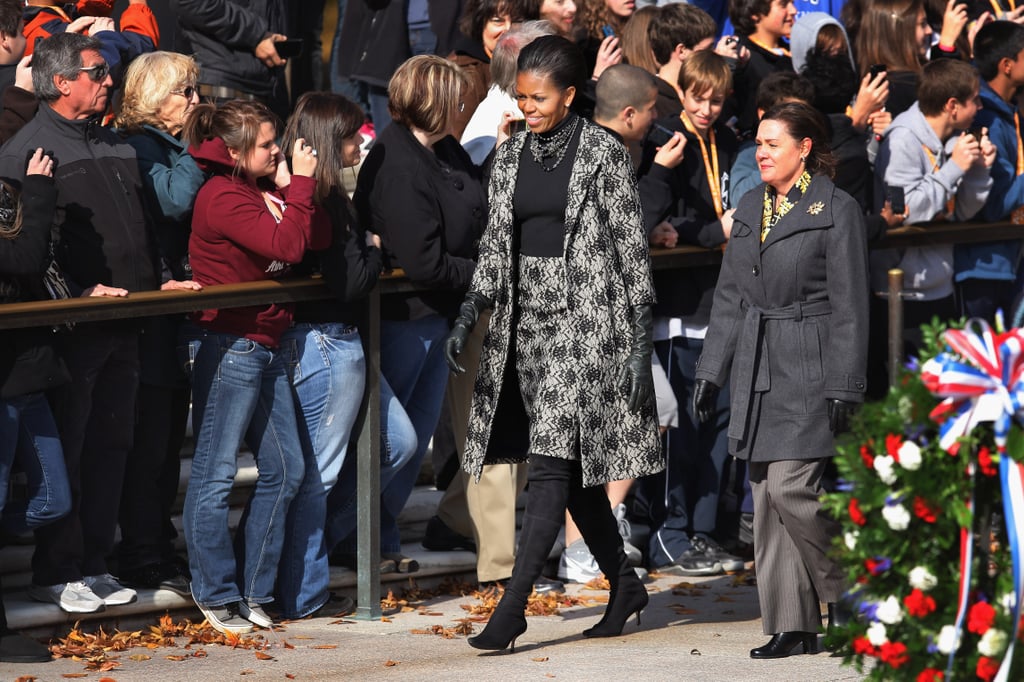 Michelle looked ultrachic in a black-and-gray printed coat and skirt on a cold DC day. She added knee-high black boots to finish off the look.
The FLOTUS wore a gray-and-pink dress during a summit in Hawaii.
Michelle stopped by The Tonight Show With Jay Leno [10] in a mint-colored J.Crew skirt and a gold-toned Michael Kors top.
Obama's First Lady Style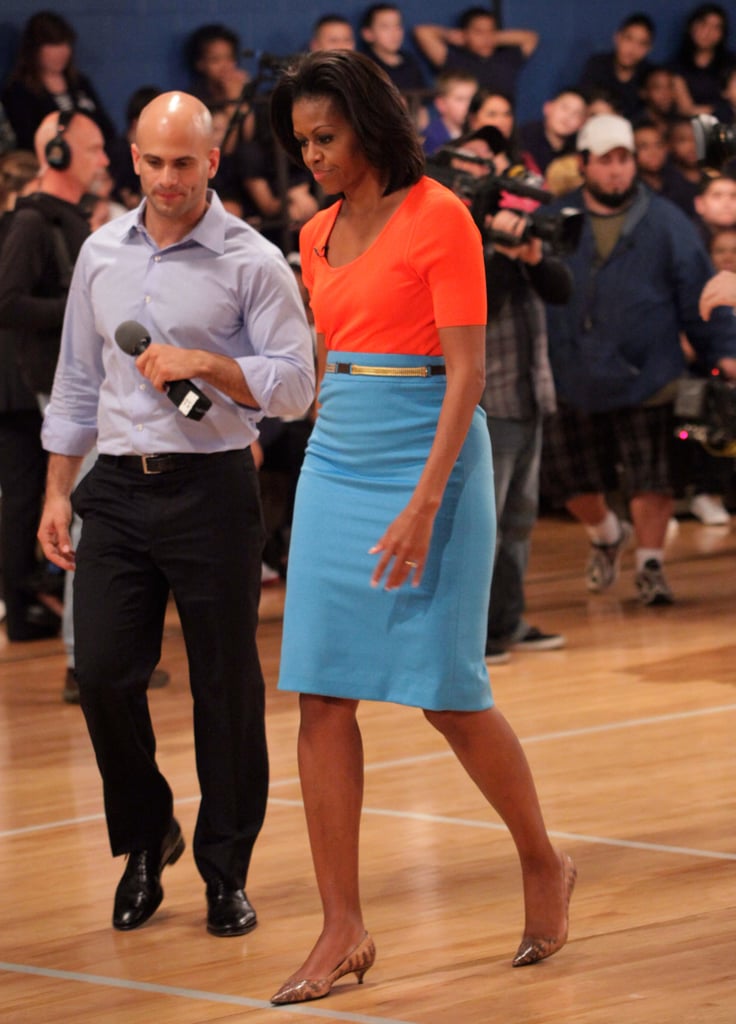 Michelle brought a cheery colorblocked look to her Let's Move campaign event. She paired an orange scoop-neck top with a bright blue pencil skirt, cinched at the waist with a thin white belt.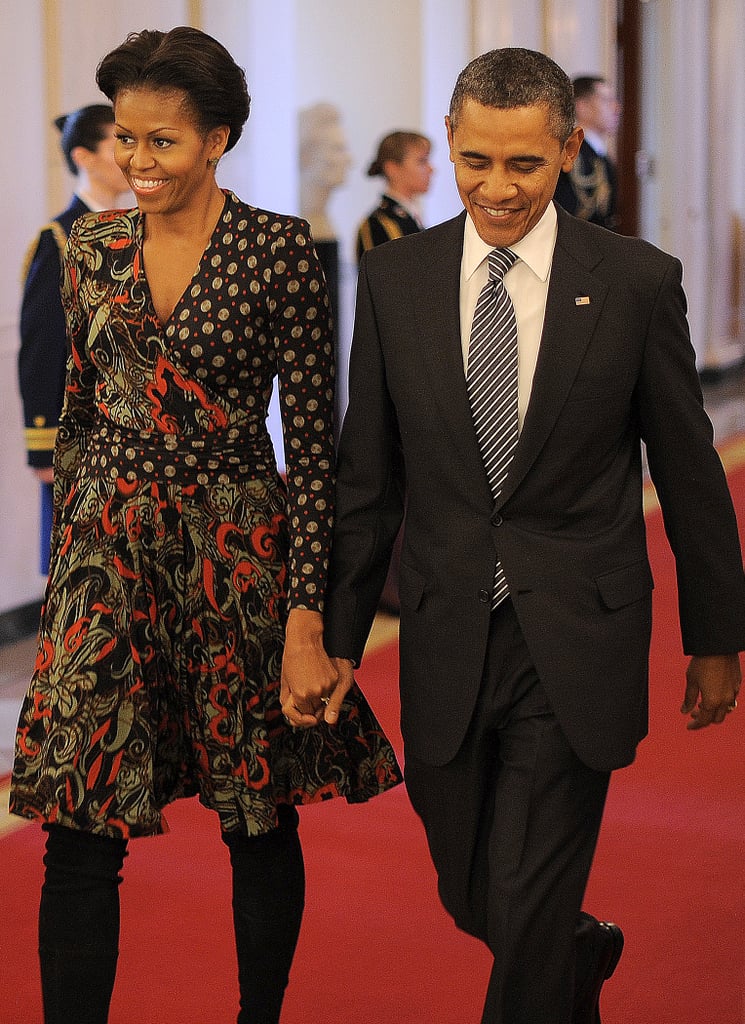 For a White House event, Michelle stepped it up in a mixed-print wrap dress and black boots.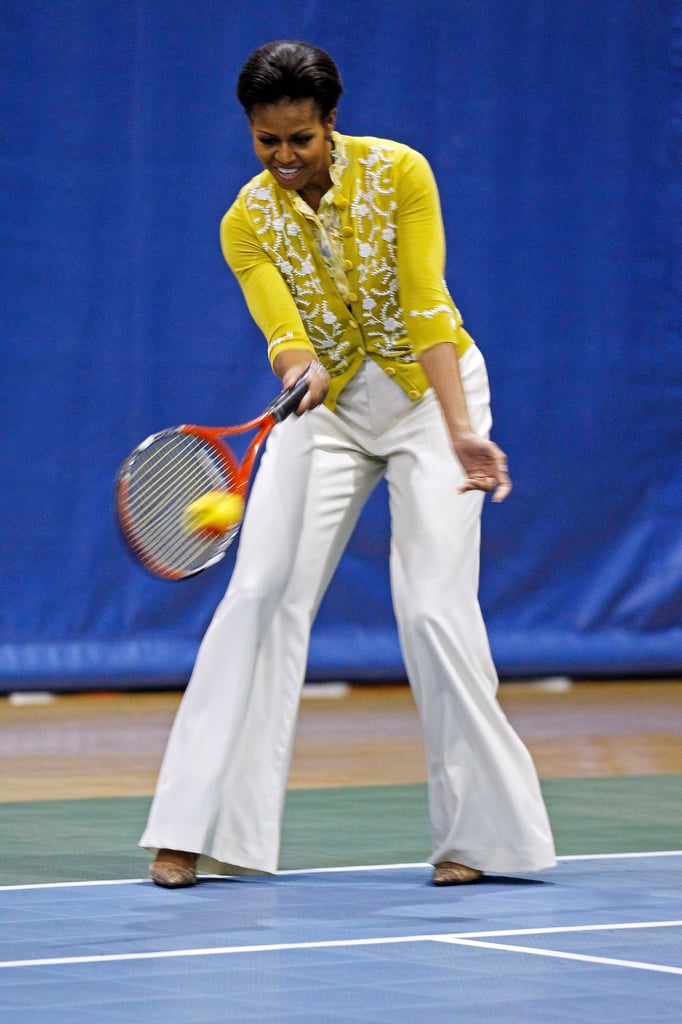 Match point! Michelle showed her sporty side by playing tennis with schoolchildren in wide-leg trousers by Zero + Maria Cornejo and a L'Wren Scott blouse and cardigan.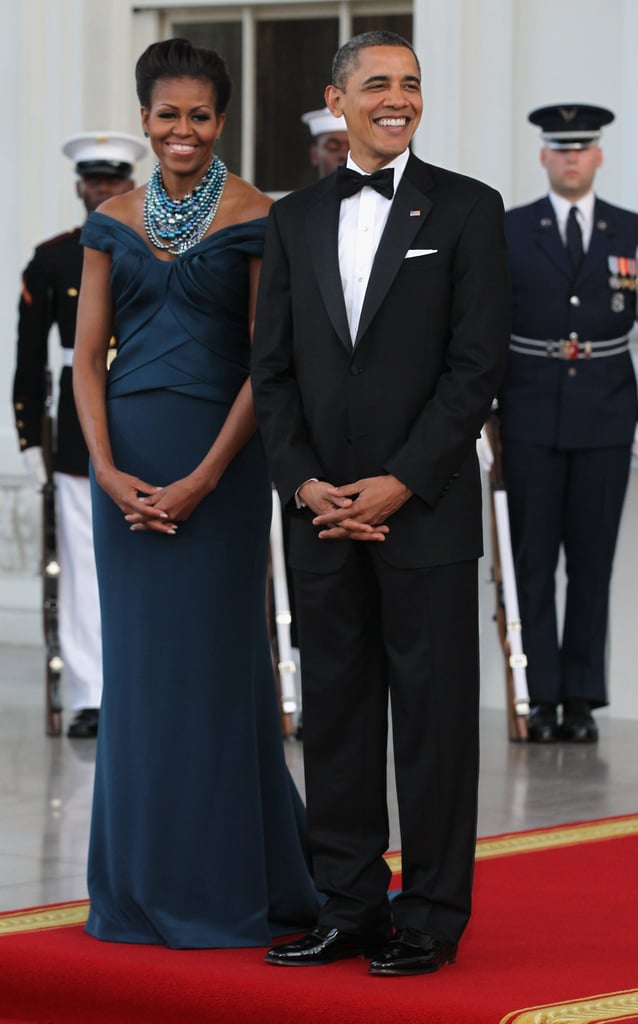 President and Mrs. Obama hosted the visit of UK Prime Minister David Cameron and his wife, Samantha, in 2012. Michelle looked positively glowing in an elegant Marchesa off-the-shoulder gown, accessorized with strands of Tom Binns pearls.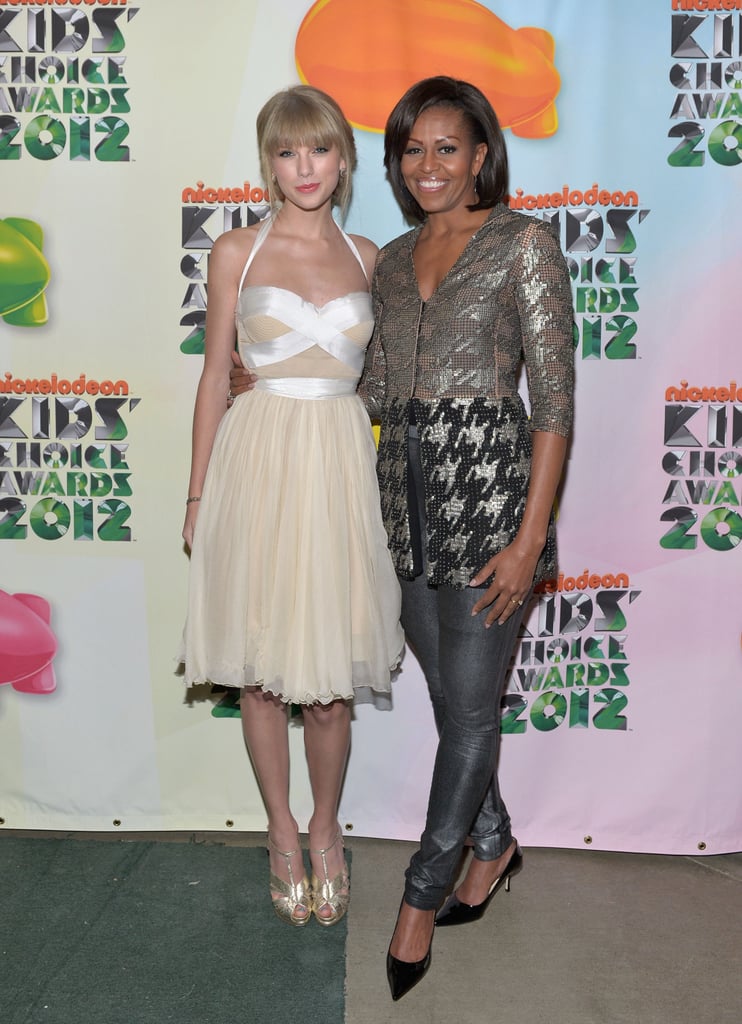 For the 2012 Kids' Choice Awards, the FLOTUS went all out in a Wes Gordon top with Helmut Lang foil jeans. It was a cool, refreshing, and perfectly age-appropriate look.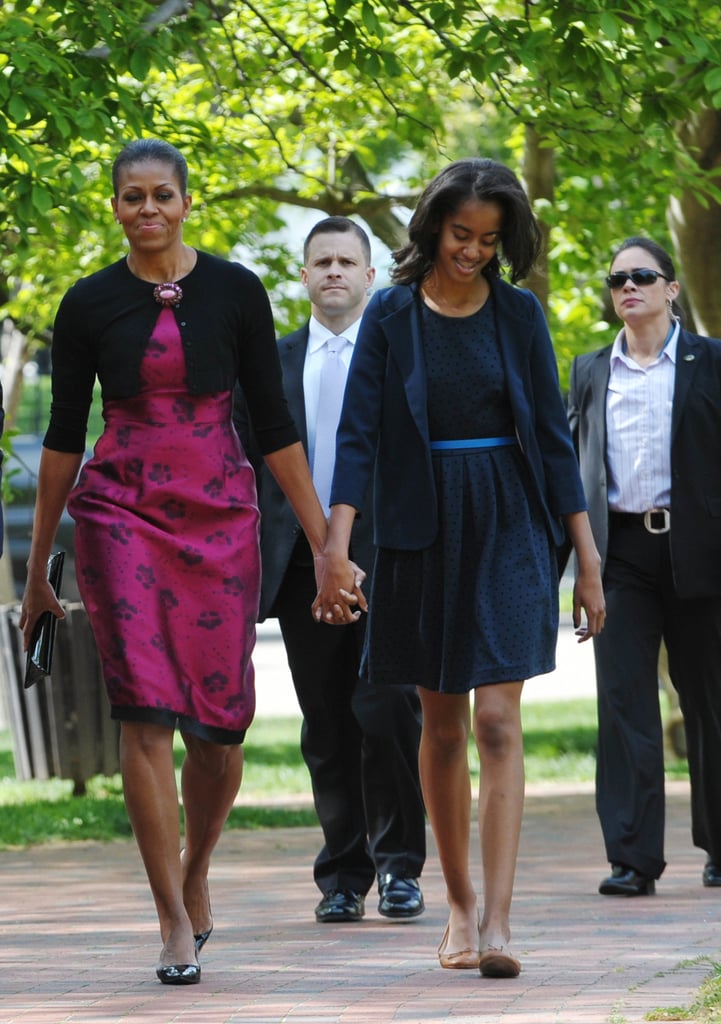 Michelle walked with older daughter Malia Obama after Easter church services in Washington DC. She wore a gorgeous pixelated jacquard dress by Thakoon.
The first lady hosted an event for children in the East Room of the White House as part of Bring Your Children to Work Day in 2012. She took questions from her pint-sized guests in a salmon-hued L'Wren Scott ensemble.
For the 2012 White House Correspondents' Dinner, Michelle wore a stately Naeem Khan gown.
We love how this bold, blue sheath dress looked on Michelle; the color popped against her skin, and she smartly adorned it with an Erickson Beamon brooch.
Michelle attended a Mother's Day [11] event in a sunny yellow Rachel Roy dress that she's worn before.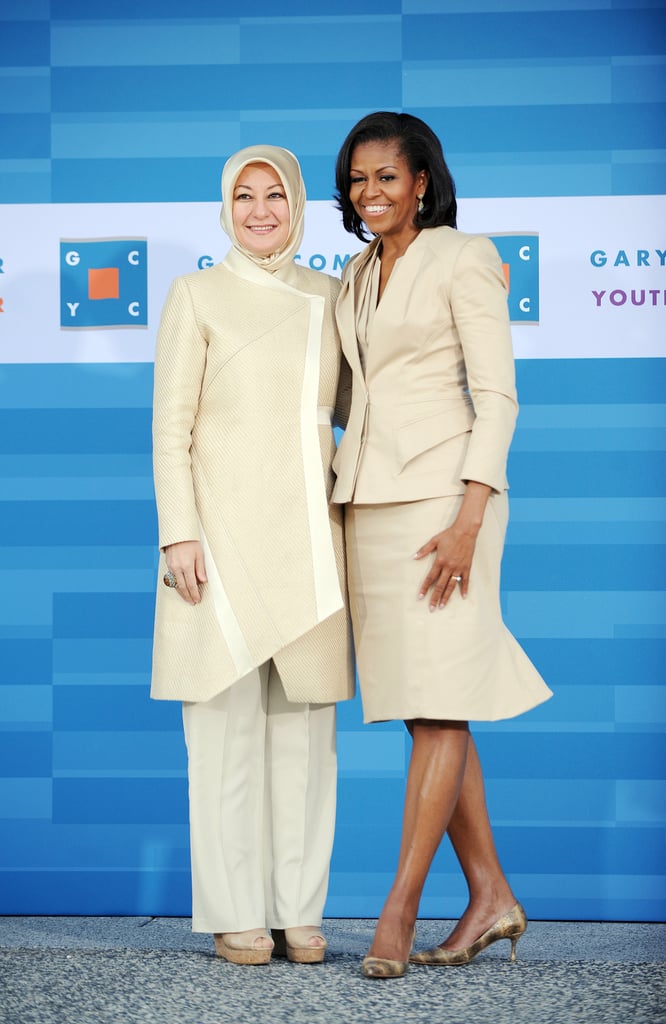 The FLOTUS went sleek and sophisticated in a cream-colored skirt and jacket that was made for her by Zac Posen.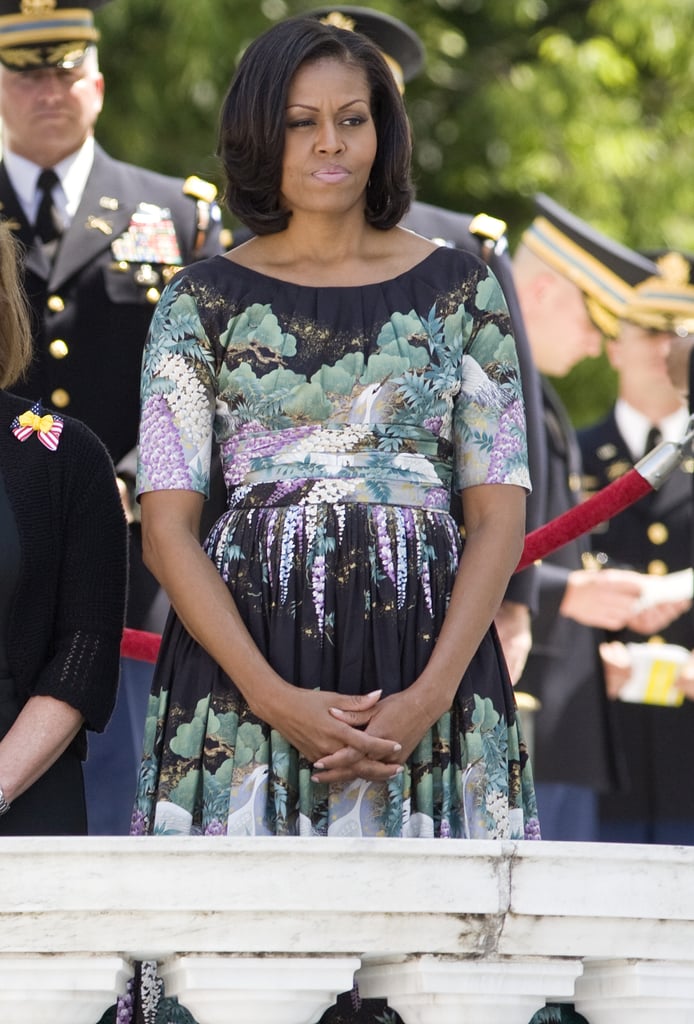 Michelle's Memorial Day 2012 look consisted of this graphic floral Tracy Feith dress.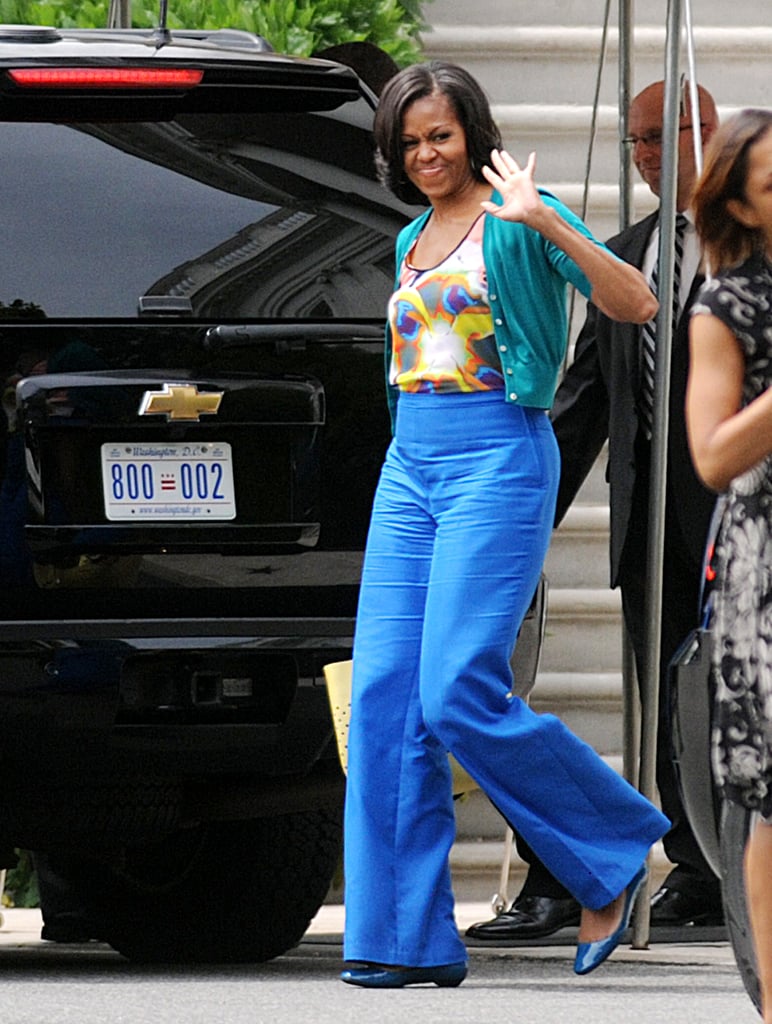 The first lady attended an event at the Sidwell Friends School in a cute, colorful look. She paired cobalt trousers with a printed tank and topped it with a turquoise sweater.
Michelle's black-and-white floral Prabal Gurung dress stole the show at a White House event with Laura Bush.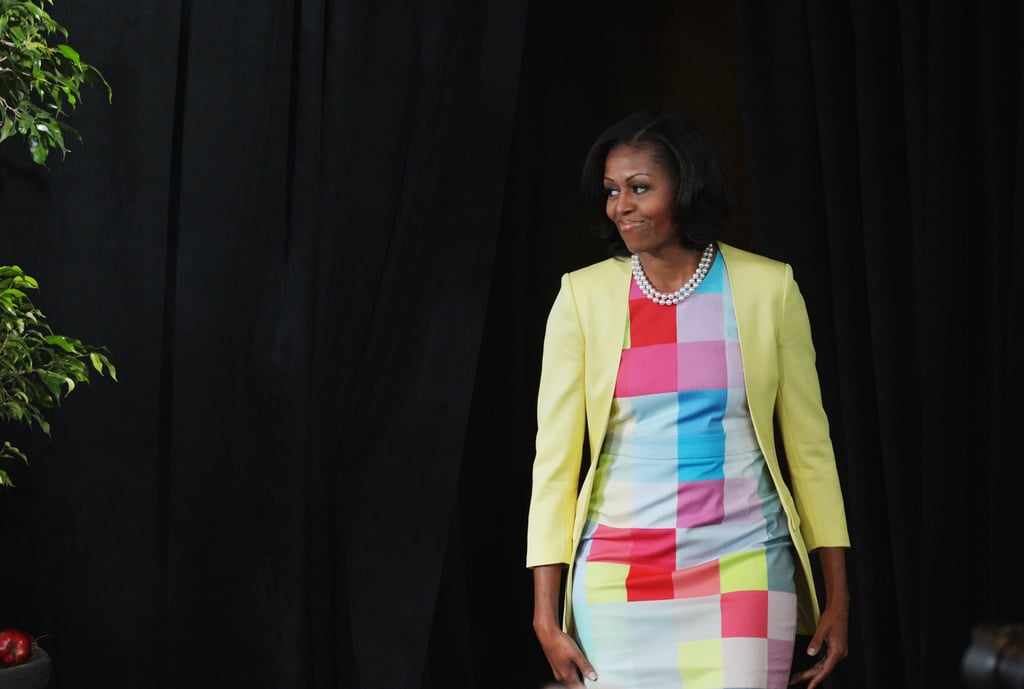 Michelle sported a pixel-print dress by Preen, which she topped with a honeydew-hued jacket.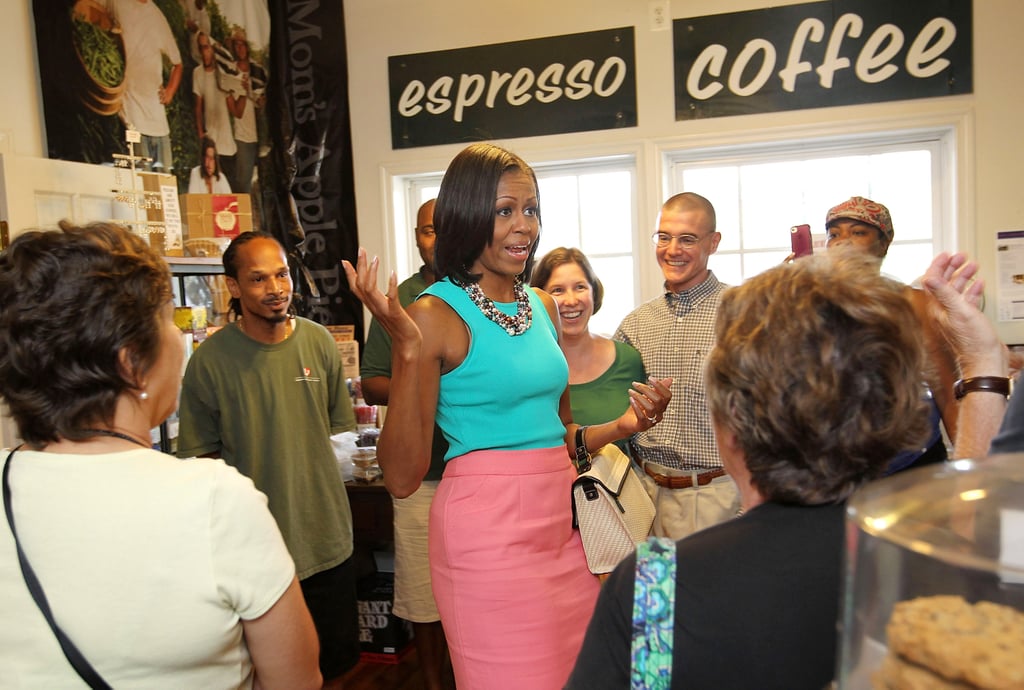 Michelle visited a bakery in Virginia wearing a spirited colorblock look. She tucked an Ann Taylor tank into a bright pink skirt and carried a Jason Wu for Target handbag. Talk about affordable fashion!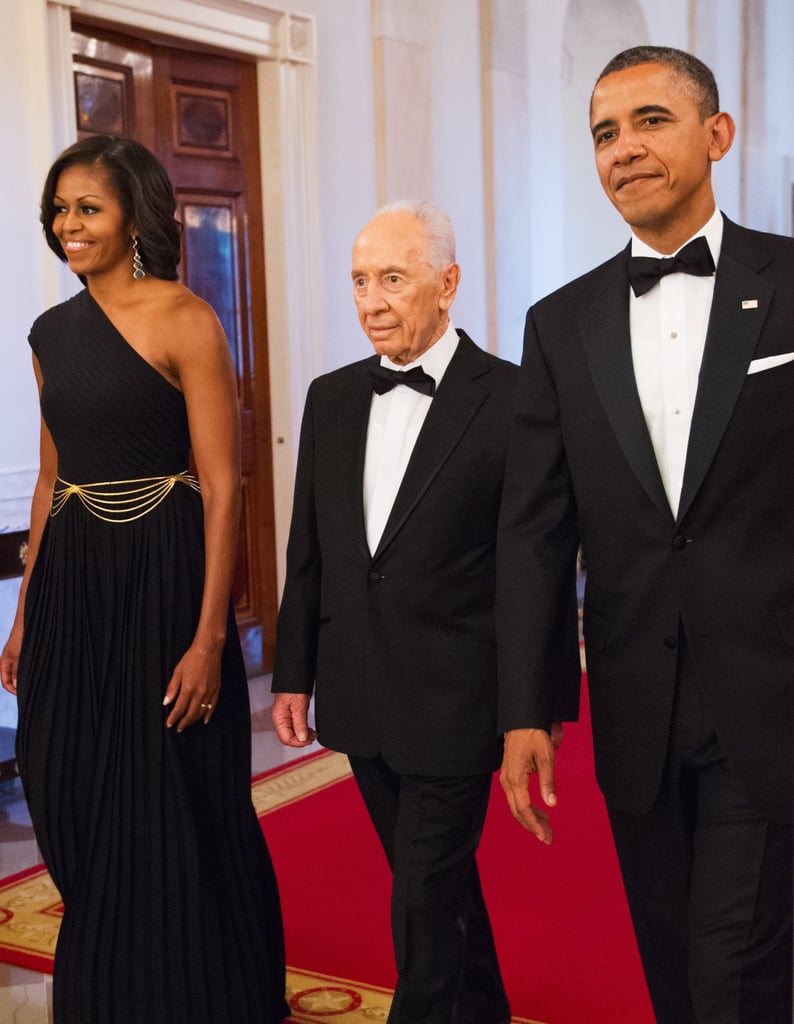 Michelle wore a black, one-shoulder Michael Kors gown with gorgeous drop earrings by House of Lavande.
Michelle Obama's First Lady Style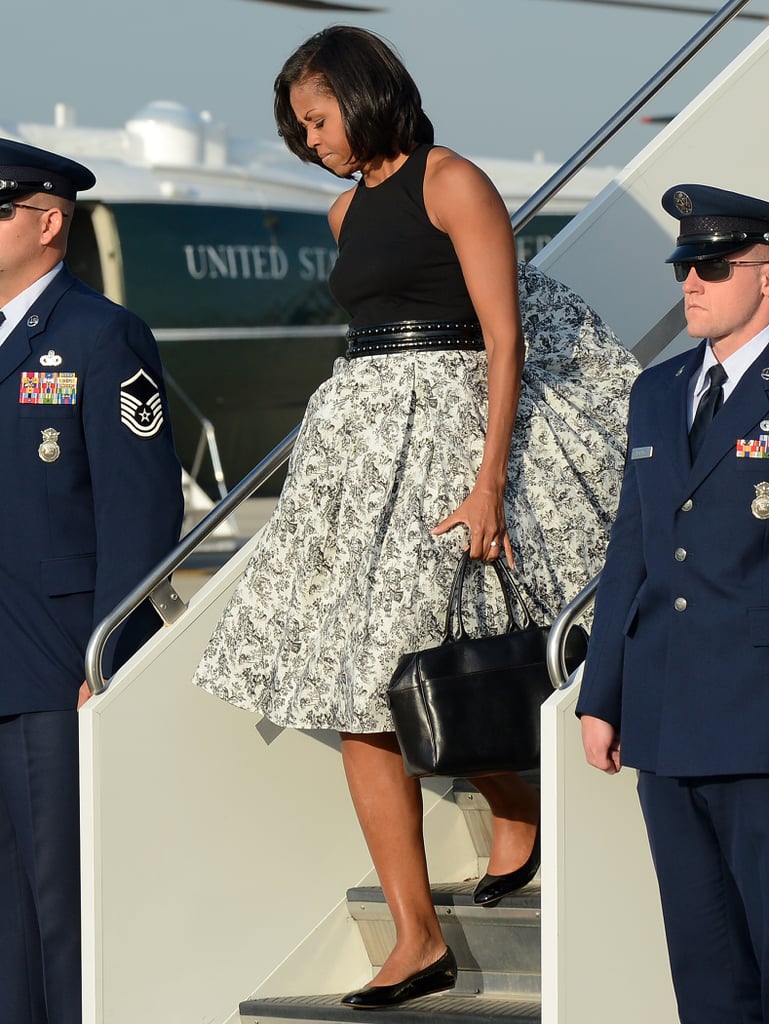 Michelle exhibited perfect-pitch travel style in a Boy by Band of Outsiders toile skirt with a black tank and Alaia belt.
Michelle Obama's First Lady Style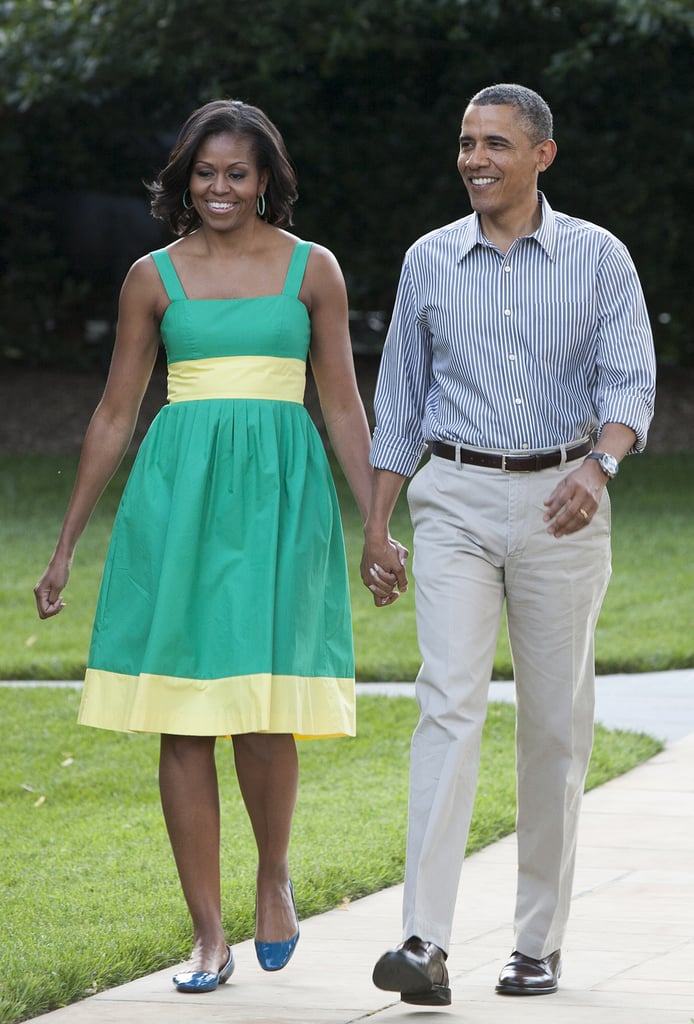 Michelle stepped out with Barack in a summery green-and-yellow colorblock sundress.
Michelle Obama's First Lady Style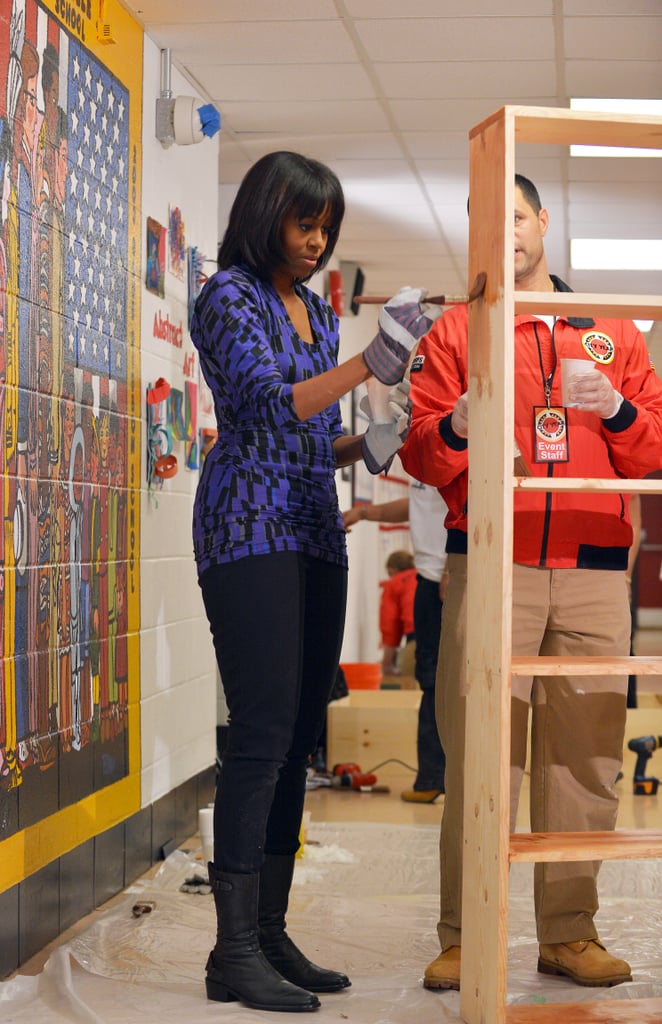 For this weekend's National Day of Service, Michelle channeled her craftier side, all while looking chic in a printed purple top, dark-wash jeans, and knee-high black boots.
Michelle Obama's First Lady Style
A full-length shot of Michelle's election night look.
Michelle Obama's First Lady Style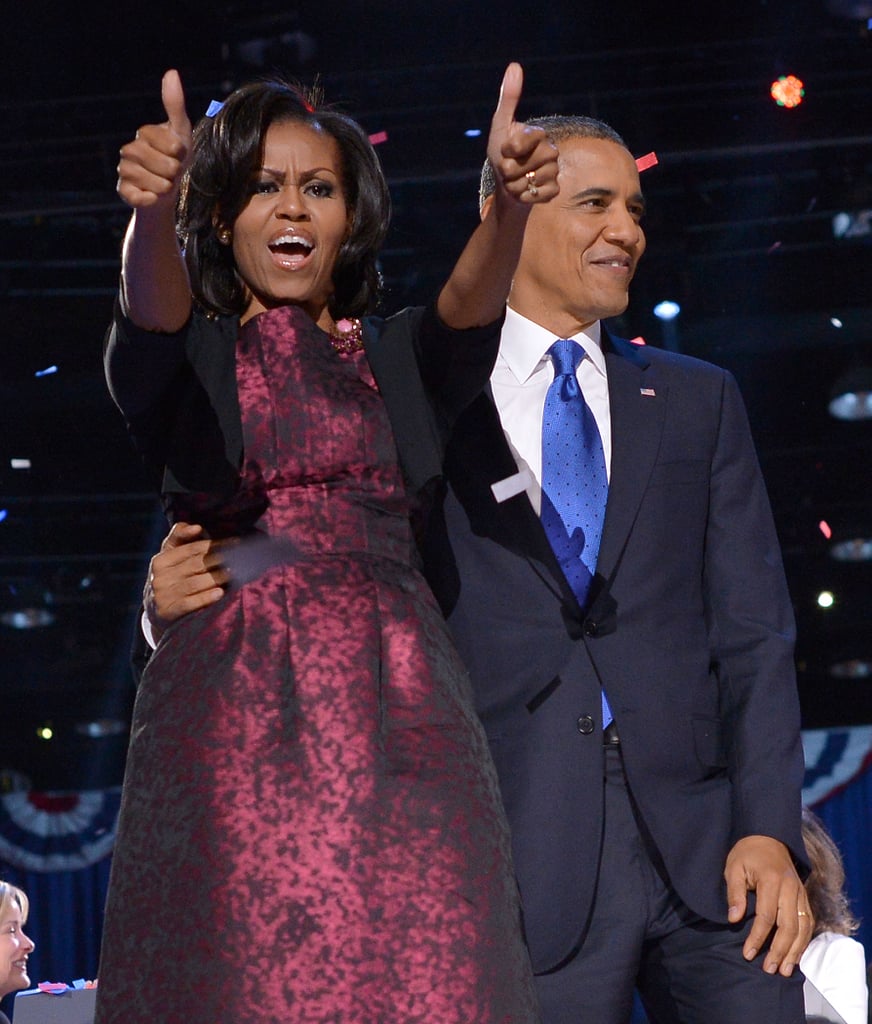 On election night, Michelle Obama celebrated her husband's win wearing a shimmery burgundy brocade dress by Michael Kors — a dress she's worn twice before — with a cropped black cardigan, black patent pumps, and a brooch.
Michelle Obama's First Lady Style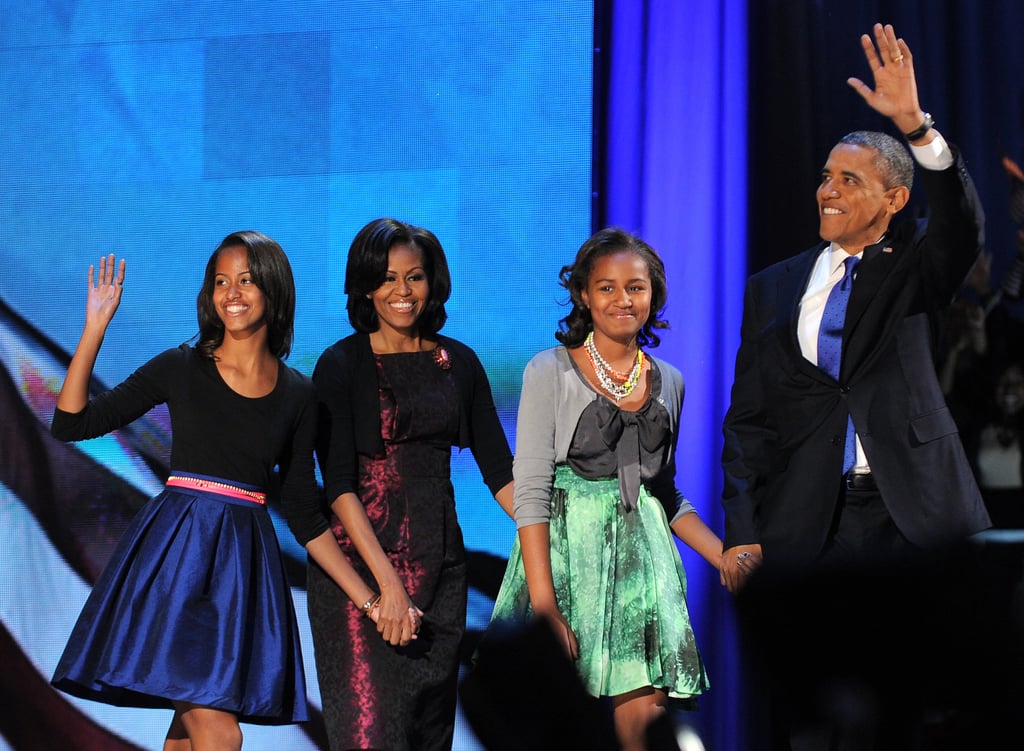 Look at how much their daughters have grown! Malia donned a royal blue full skirt with a simple black top and pink belt, while Sasha wore a green printed skirt by Chris Benz with a gray top, cropped cardigan, and cute multicolored necklace.
Michelle Obama's First Lady Style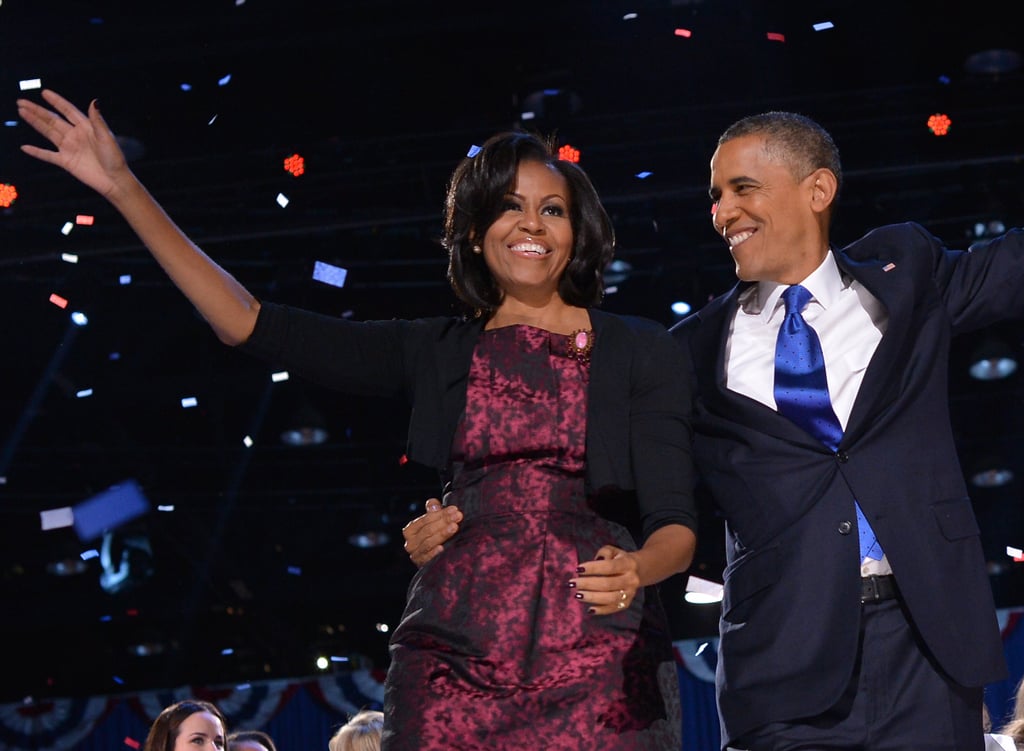 Another shot of the happy couple.
Michelle Obama's First Lady Style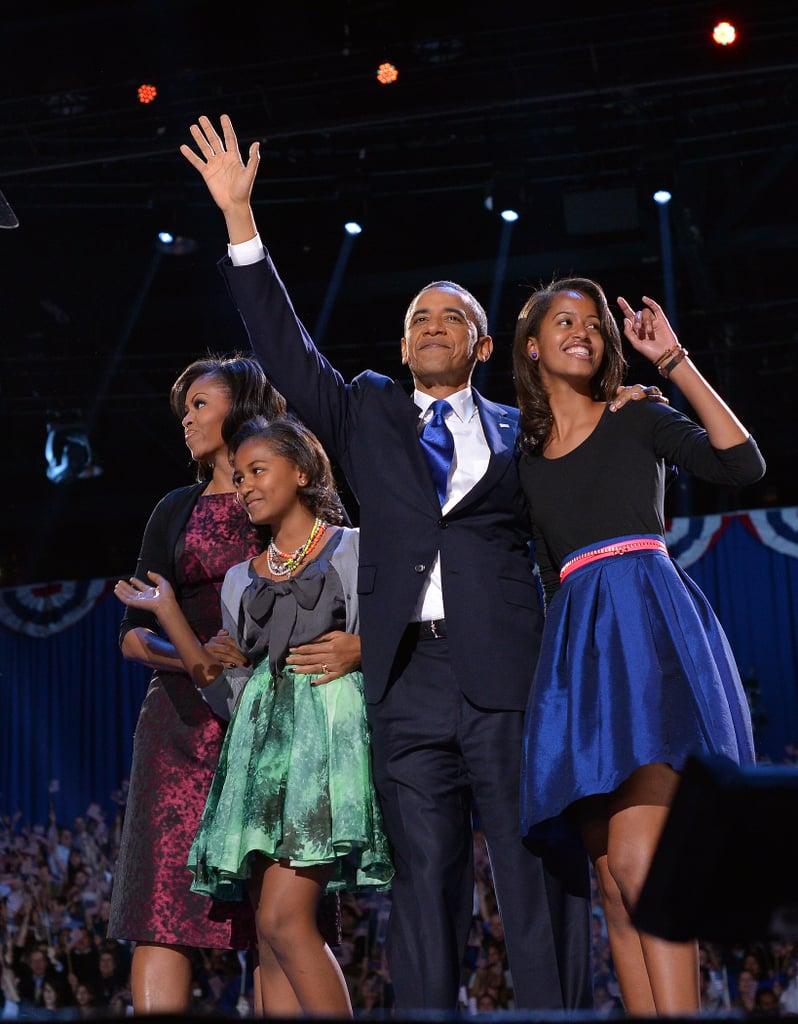 A shot of the happy presidential family! Click on to see all of Michelle Obama's campaign looks.
Michelle Obama's First Lady Style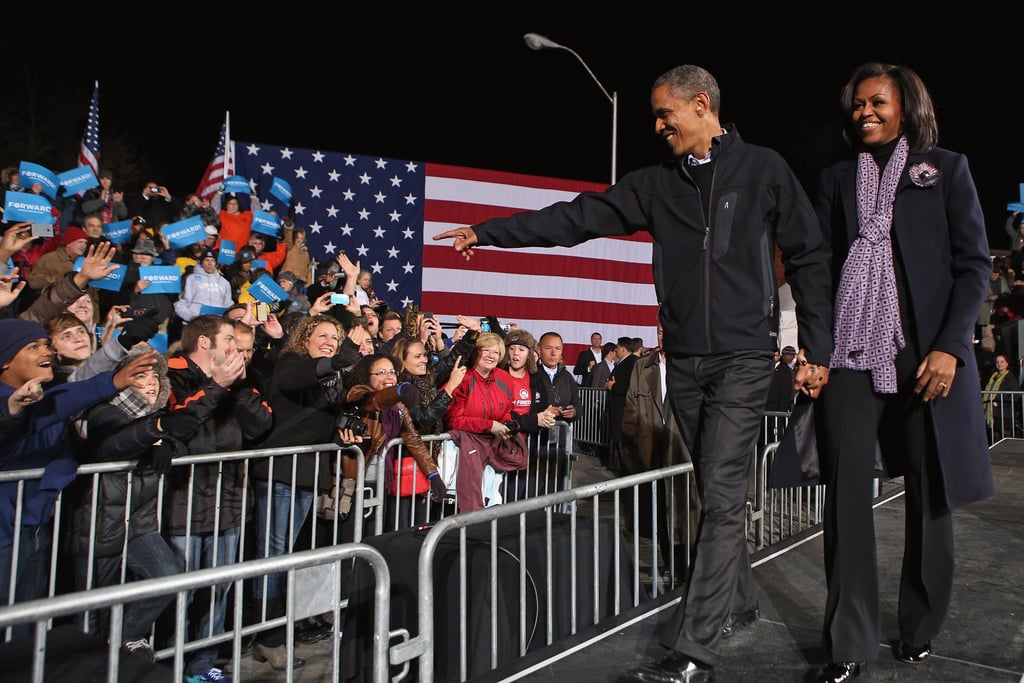 Michelle and the president greeted supporters in Des Moines, IA, and while it must have been a chilly evening, she looked every part the polished FLOTUS with a long printed scarf and floral pin.
Michelle Obama's First Lady Style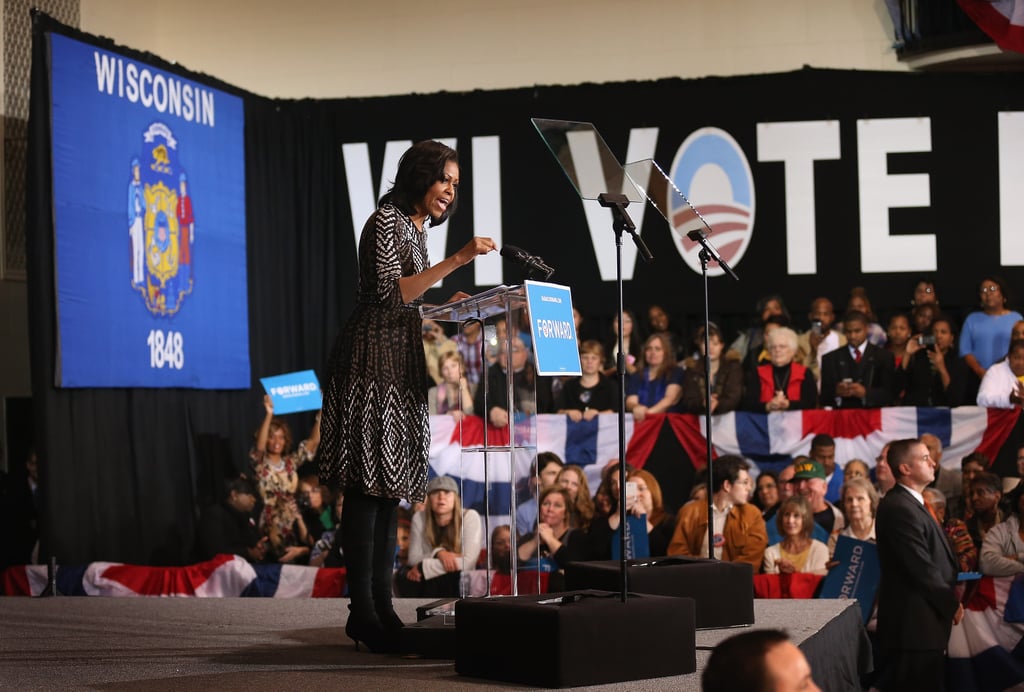 A full-length look at Michelle's printed BCBG Max Azria dress, which she paired with black knee-high boots. A perfect Fall outfit, in our opinion.
Michelle Obama's First Lady Style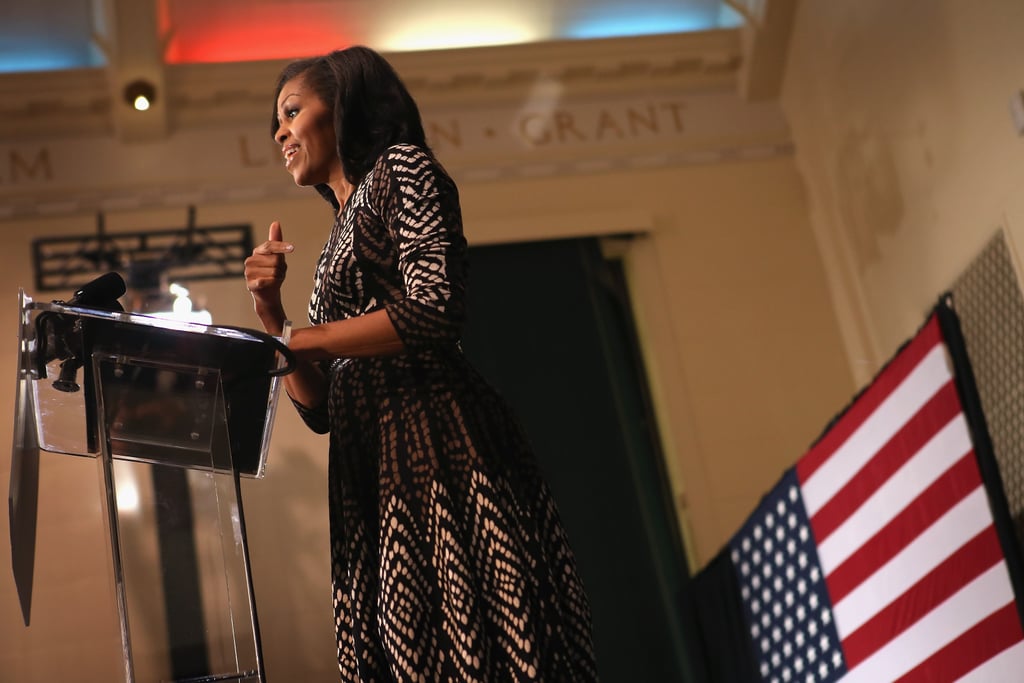 The FLOTUS chose a BCBG Max Azria geometric jacquard dress for a speaking engagement in Racine, WI.
Michelle Obama's First Lady Style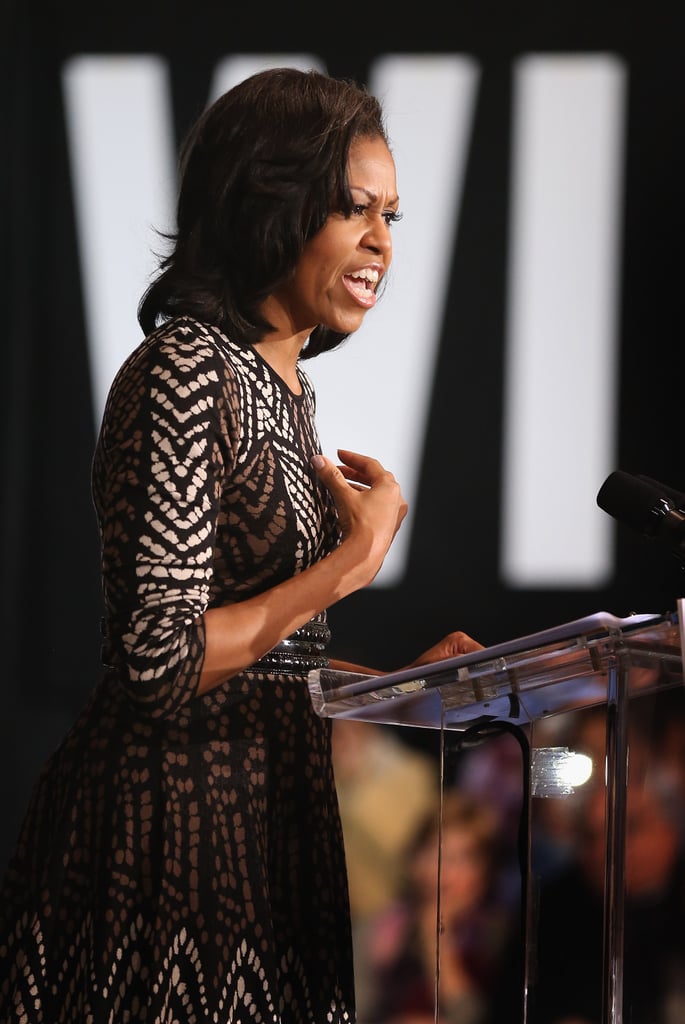 A close-up of the intricate geometric design of Michelle's BCBG Max Azria sheath.
Michelle Obama's First Lady Style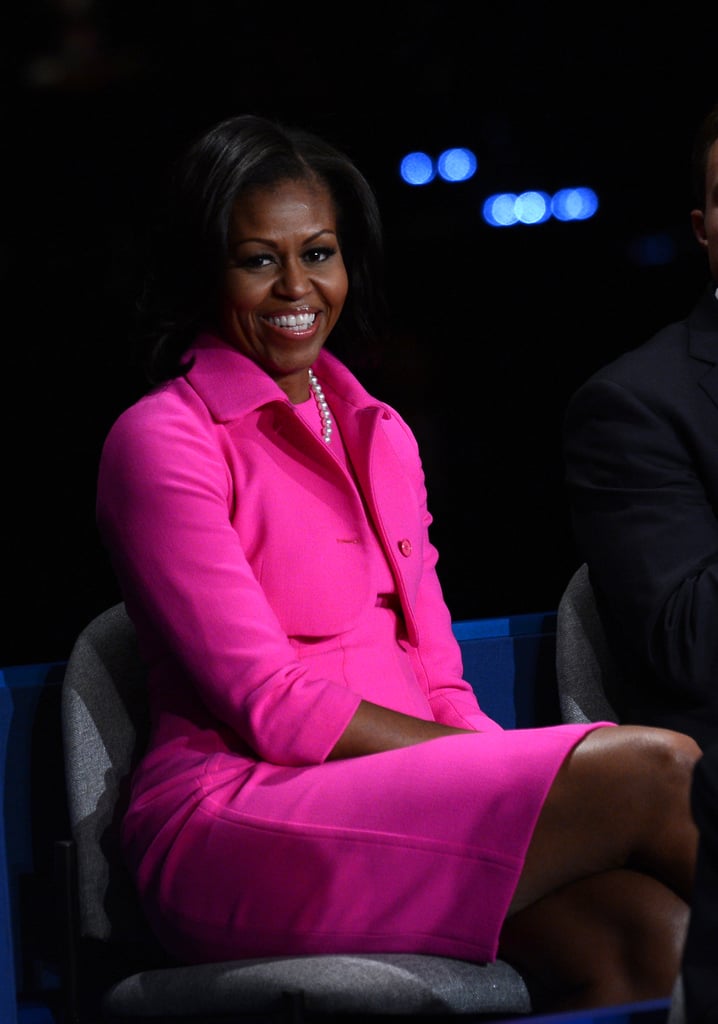 Michelle Obama wore an electric pink dress-and-jacket combo by Michael Kors to the second presidential debate at Hofstra University.
Michelle Obama's First Lady Style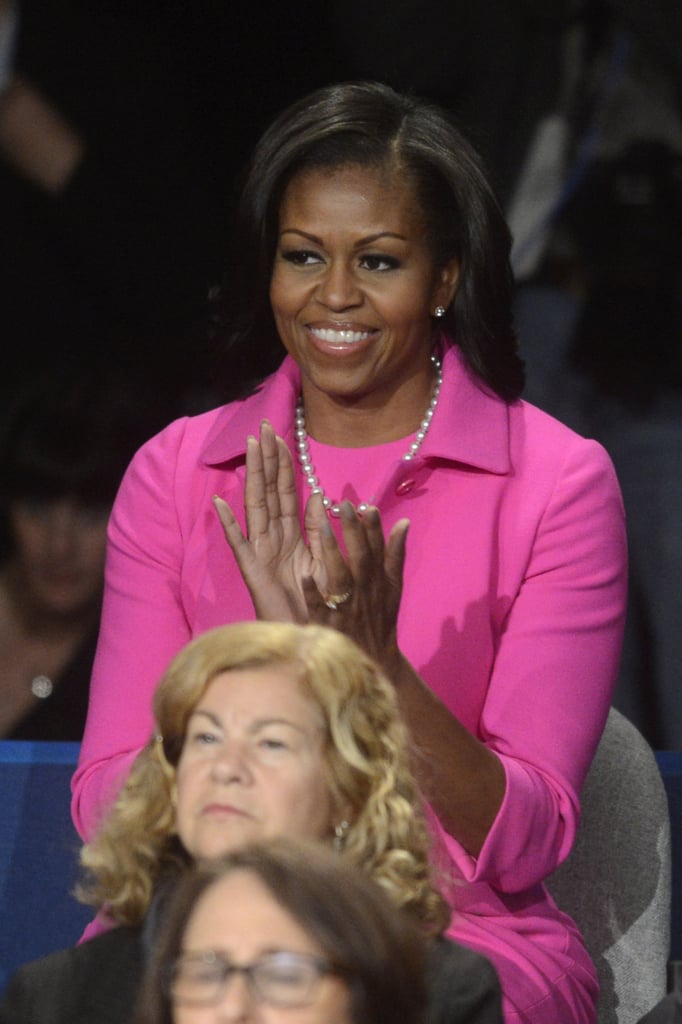 She paired her "PopSugar pink" Michael Kors dress with a single strand of pearls — it was both a bold choice and an elegant one.
Michelle Obama's First Lady Style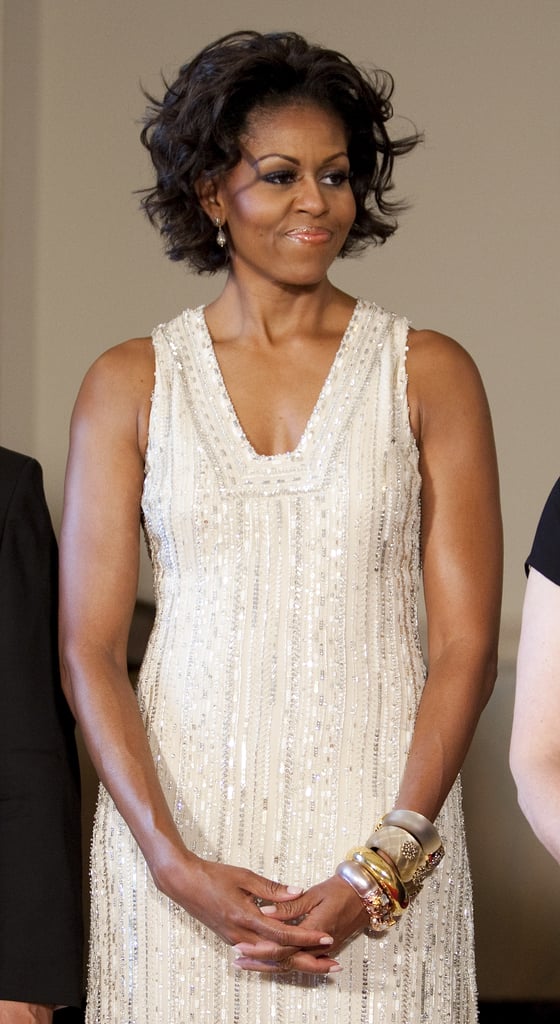 For a state dinner, the first lady stepped out in a white embellished gown by Naeem Khan and paired it with a stack of chunky bangles by Alexis Bittar.
Michelle Obama's First Lady Style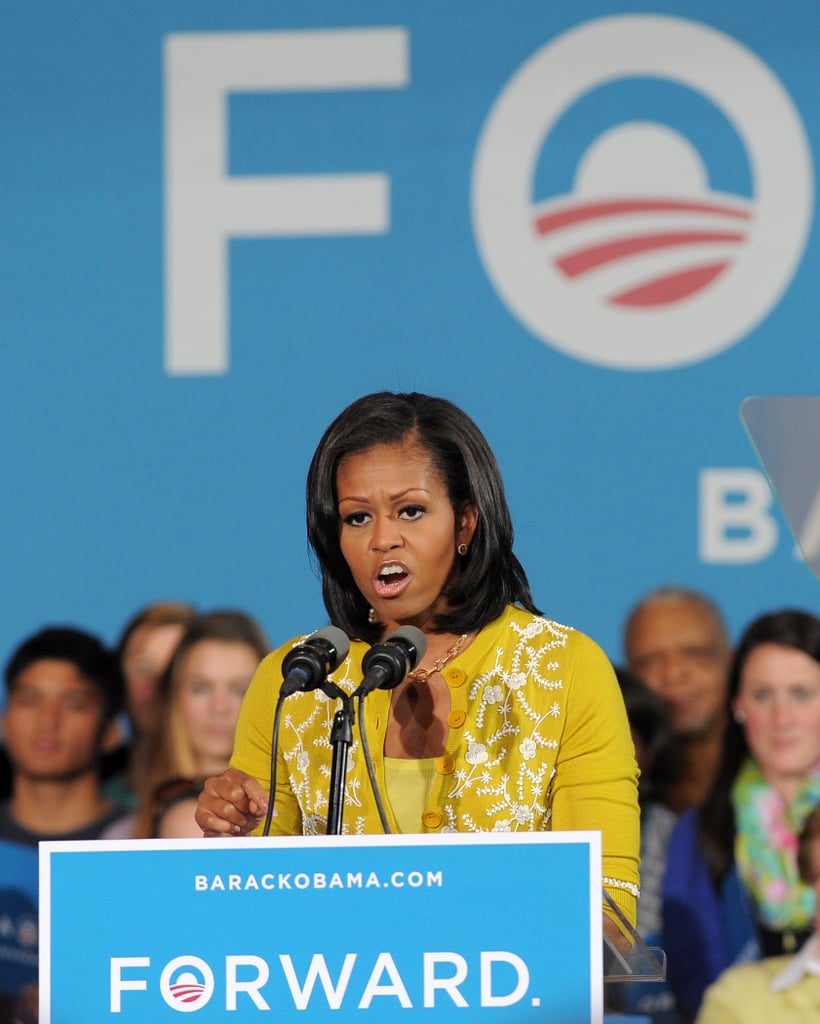 Her floral-embroidered cardigan set got an extra dose of colorful intrigue via its Fall-perfect saffron hue.
Michelle Obama's First Lady Style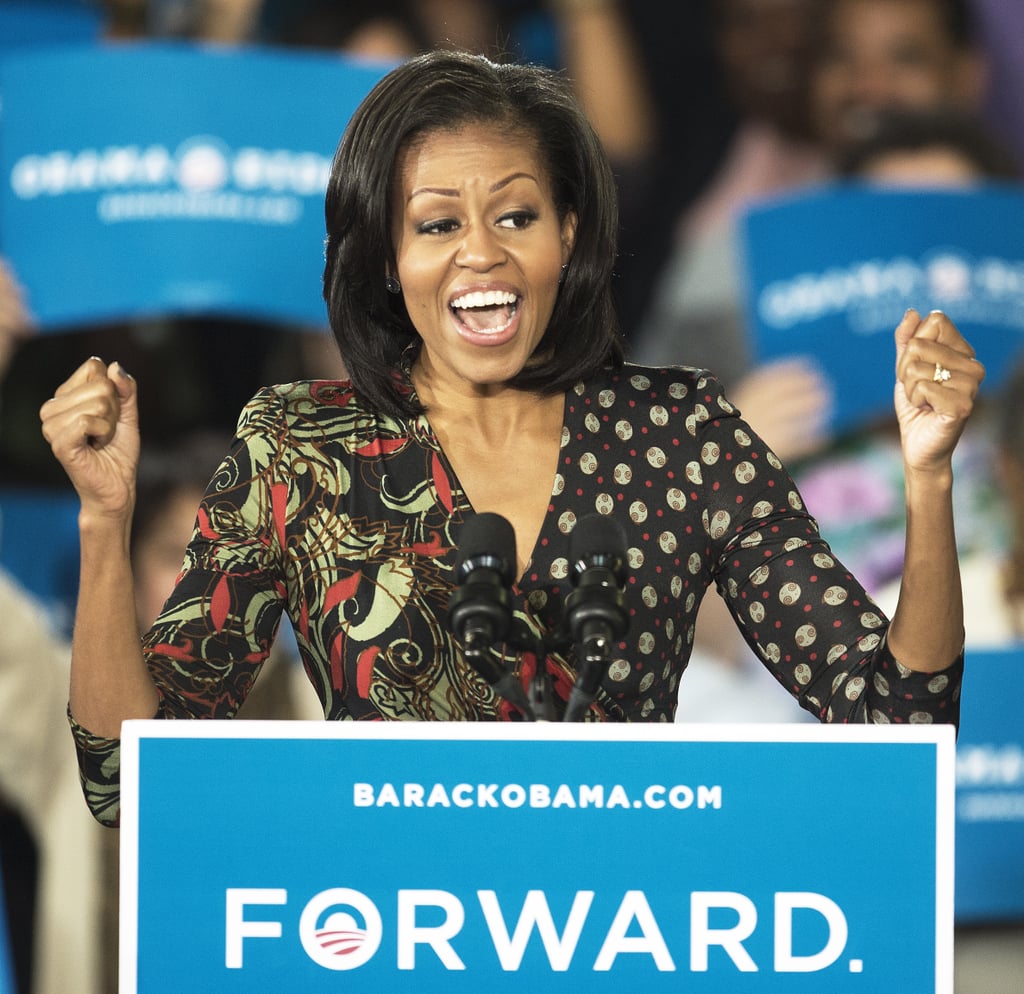 In her latest campaign trail appearance, Michelle chose a wrap-style dress in a mixed print design. We love the cool neutral tones against a decidedly more psychedelic pattern — a quirky-meets-subdued juxtaposition.
Michelle Obama's First Lady Style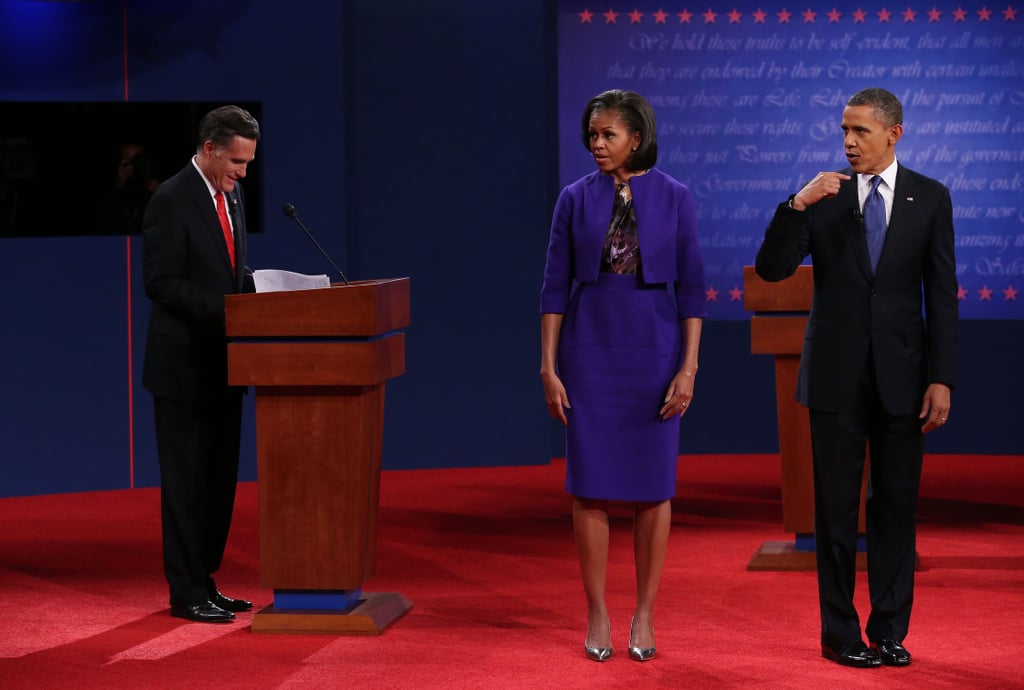 For the first presidential debate last week, Michelle Obama wore a royal blue Preen skirt suit — with just a pop of a floral silk blouse peeking through.
Michelle Obama's First Lady Style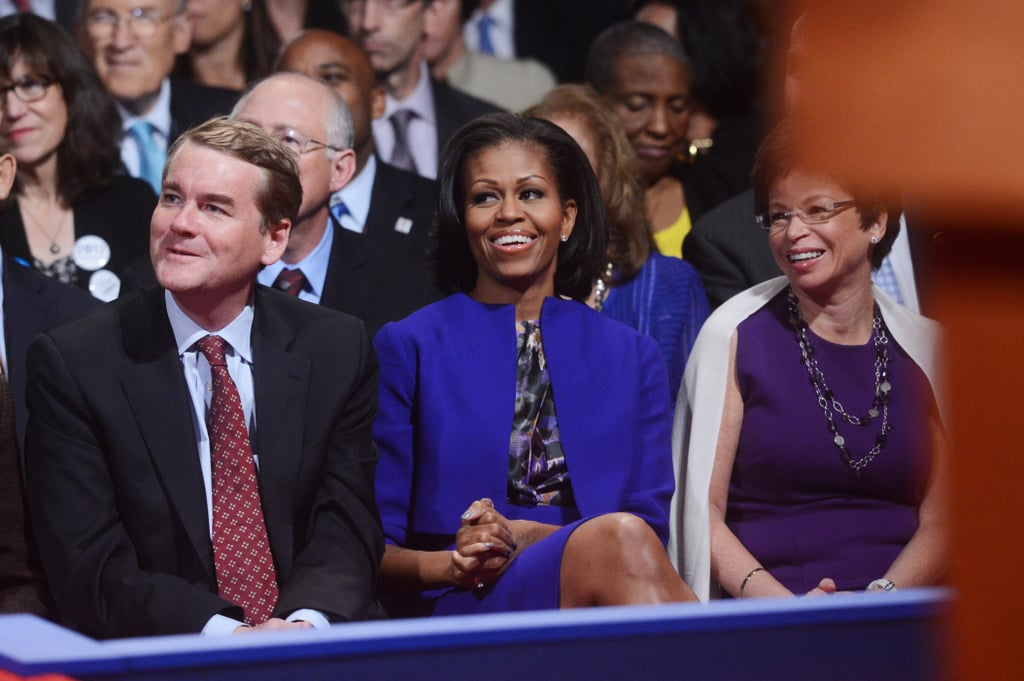 A better look at the printed blouse she paired with her blue Preen skirt suit.
Michelle Obama's First Lady Style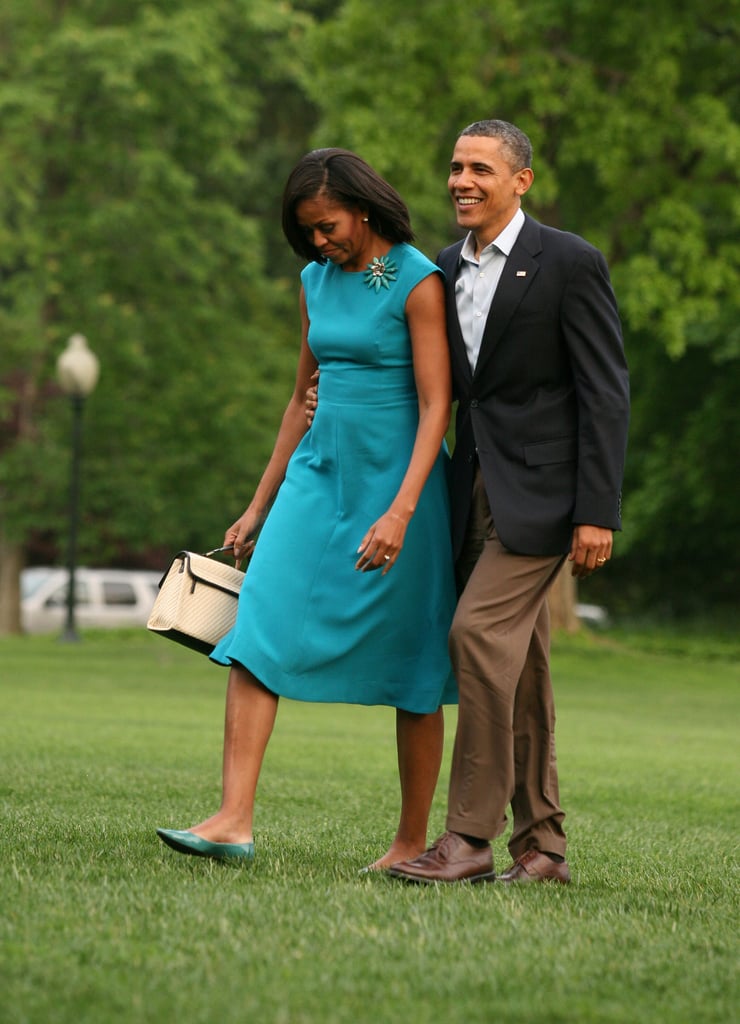 President Obama officially kicked off his 2012 campaign for reelection on May 5, and Michelle certainly dressed the part in a fitted blue sheath. Her Erikson Beamon brooch pin gave her knee-length sheath a classic vintage feel.