Best Pants For Your Body Type
Best Work Pants For Your Body
Like us on Facebook
Lucky magazine is one of our favorite sources for great shopping tips. We're thrilled to share this fabulous story on getting the right fit for your work pants from our friends at Lucky!

By definition, they're not going to seem as fun as your red jeans or printed pants. But sensible and professional as they might be, there's no reason your work trousers shouldn't be every bit as flattering.
To look taller . . .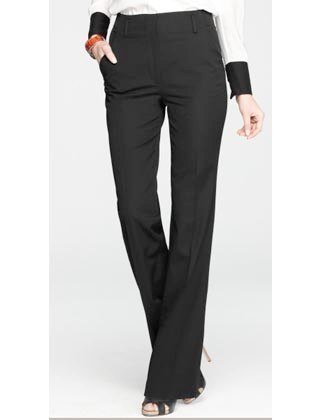 . . . choose a pant with a hem that just barely skims the floor. It'll create the illusion of longer legs without overwhelming you in fabric. Labels that offer petite sizing — like these, with a 30" inseam instead of 33.5" — are probably the easiest way to do this.

Stretch twill high waist pants, $88, Ann Taylor, anntaylor.com

Click over to Lucky to see and shop the whole story.




For more fashion and style from Lucky, here are more Lucky stories.

Related Links:
Could Stuart Weitzman Be the Next Manolo Blahnik?
The 25 Best Cities for Shopping
Lucky Haul: Alexa Chung Edition