Drawing on the city's preppy-punk aesthetic, the looks at London Fashion Week relied on plaid and leather, of course, but also borrowed-from-the-boys button-downs and modern riffs the classics, like a great sleeveless blazer — or in Poppy Delevingne's case, just a great British designer (that's a lovely Erdem [1] dress she's wearing). But don't just take our word for it, click through to see more than 100 of our favorite snaps straight from LFW.
Source: IMAXtree
Taylor Tomasi Hill looked perfectly outfitted for a day in London, with a varsity jacket to top her butt-down and fluted skirt.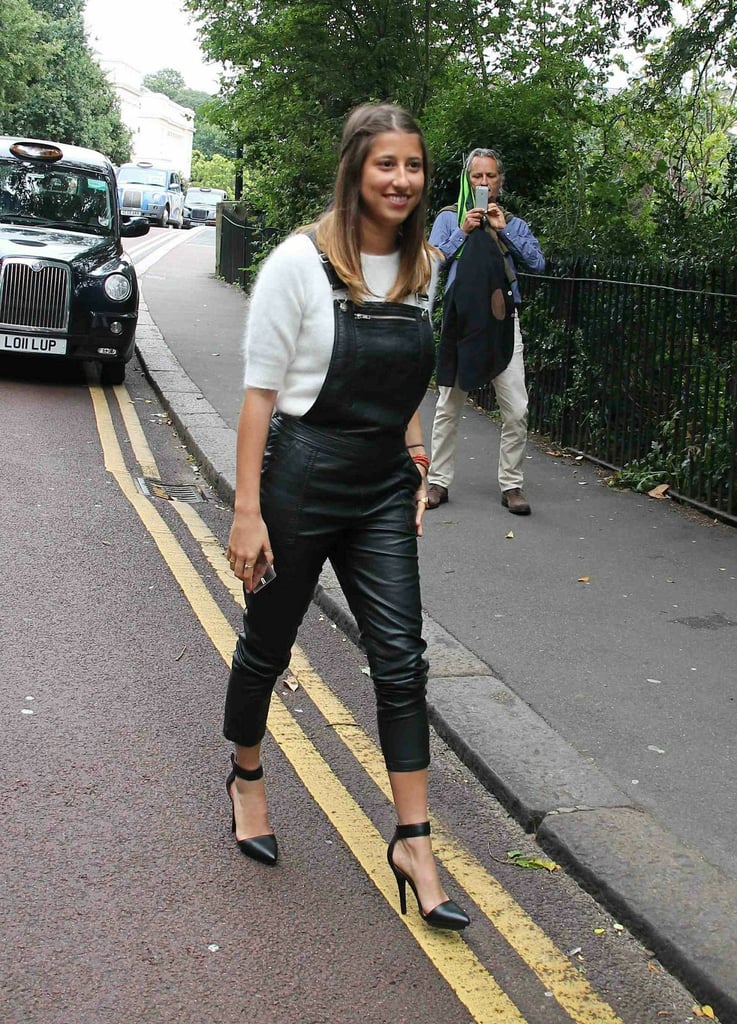 The proof of just how cool overalls can look is this.
Source: Hannah Freeman [2]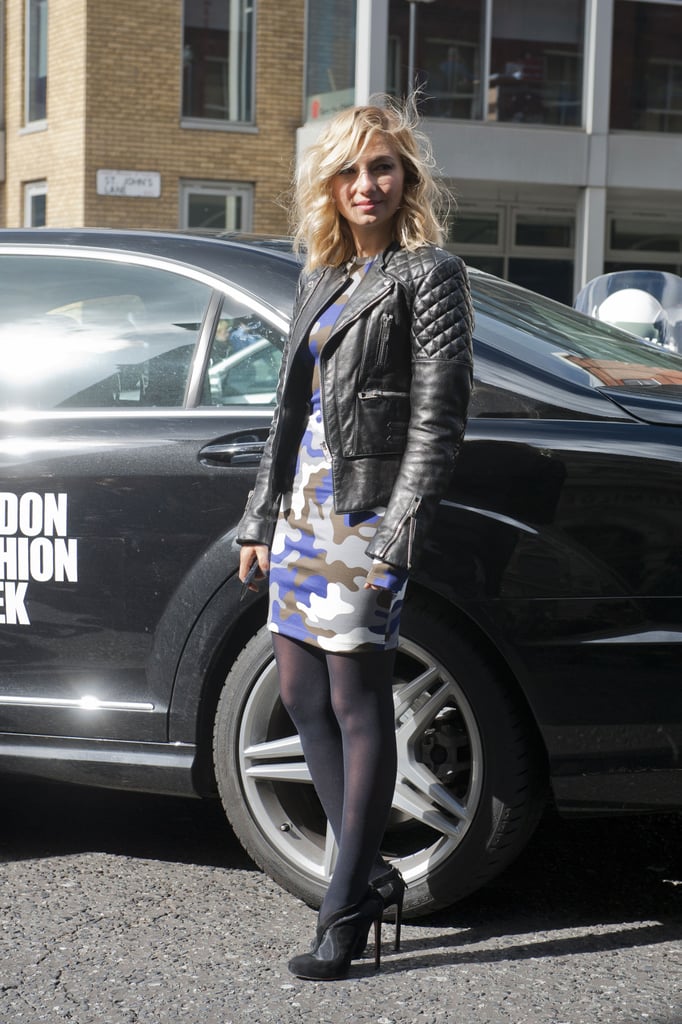 Camo goes so well with a little leather.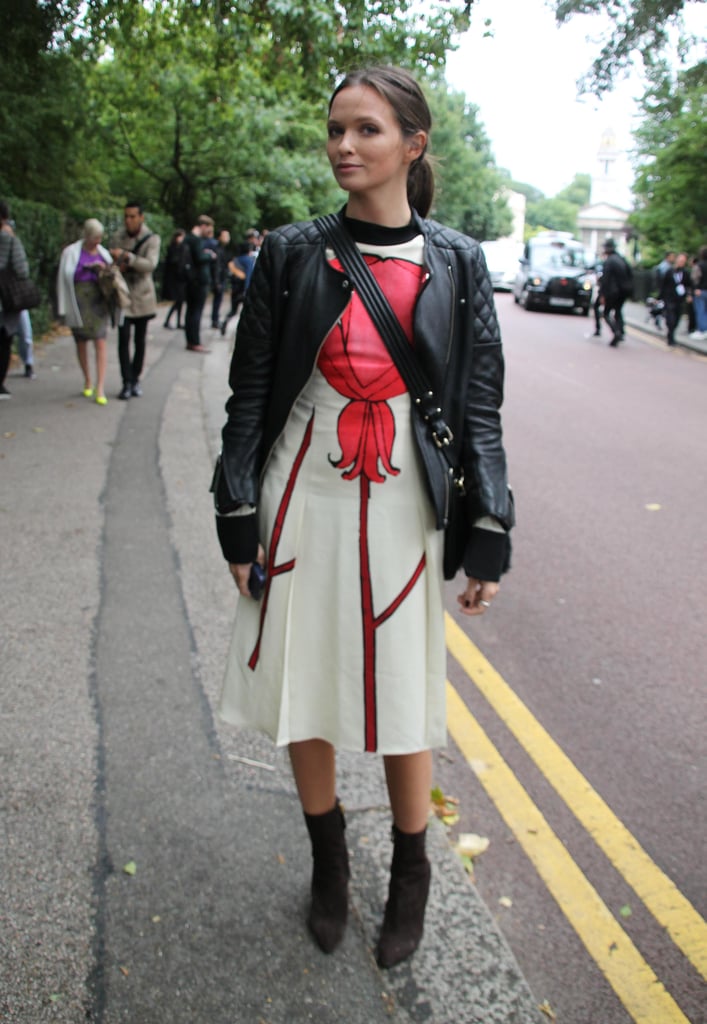 A ladylike dress with a tough-girl layering job.
Source: Hannah Freeman [3]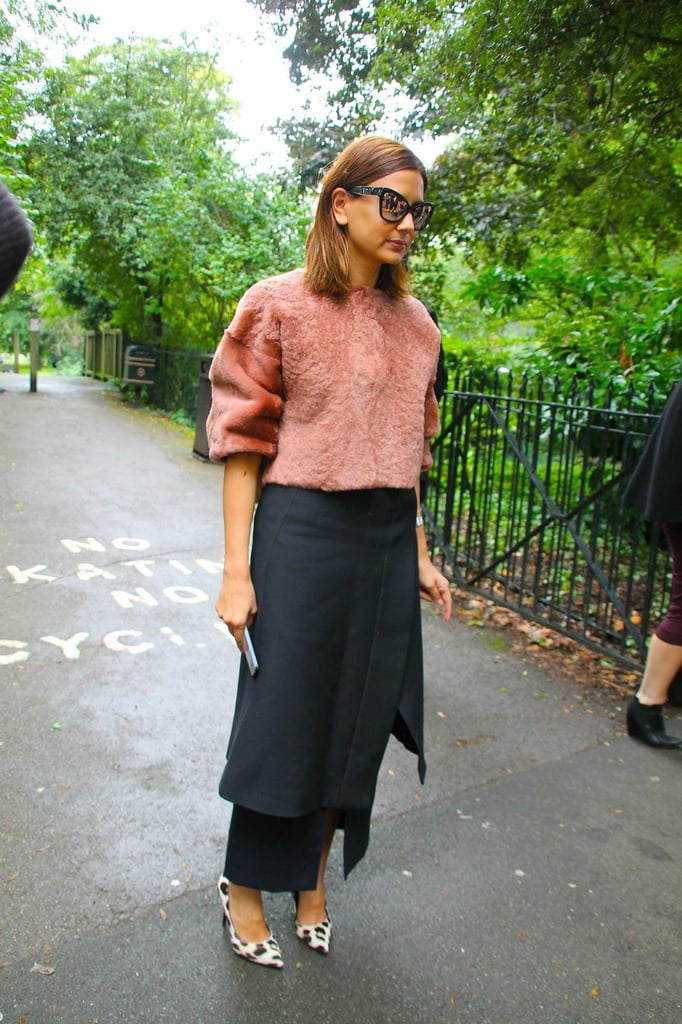 Christina Centenera added a cozy topper to an architectural skirt.
Source: Hannah Freeman [4]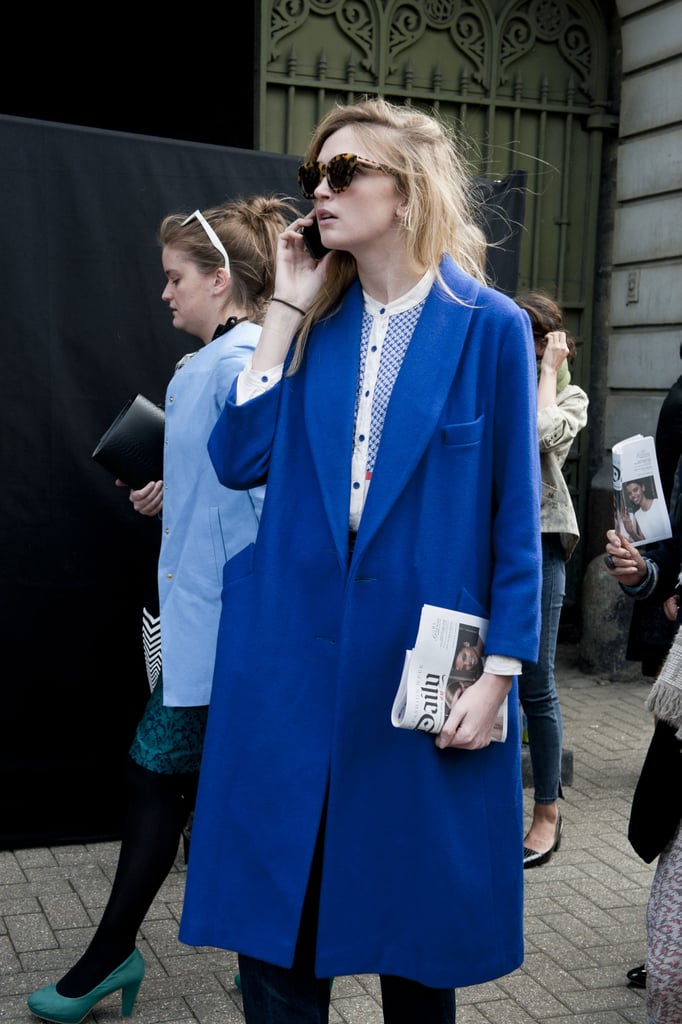 Sophisticated and bright, just the way we like our outerwear.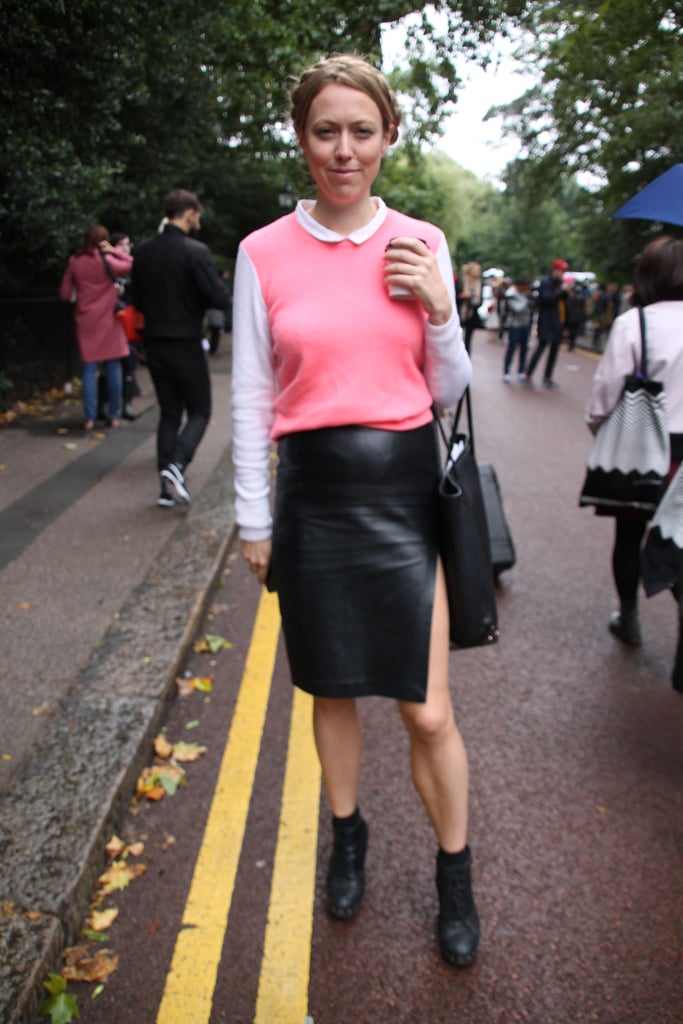 Demure up top, but with a little leather and a flash of leg, this look got a sexier spin on bottom.
Source: Hannah Freeman [5]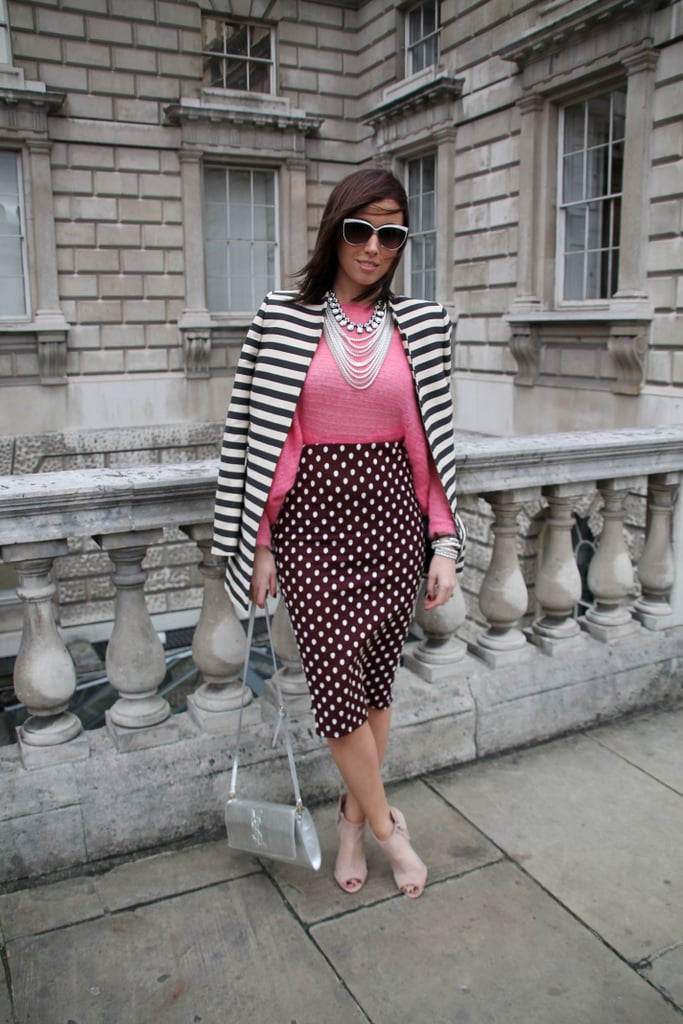 Polka dots and stripes never looked quite so glam.
Source: Hannah Freeman [6]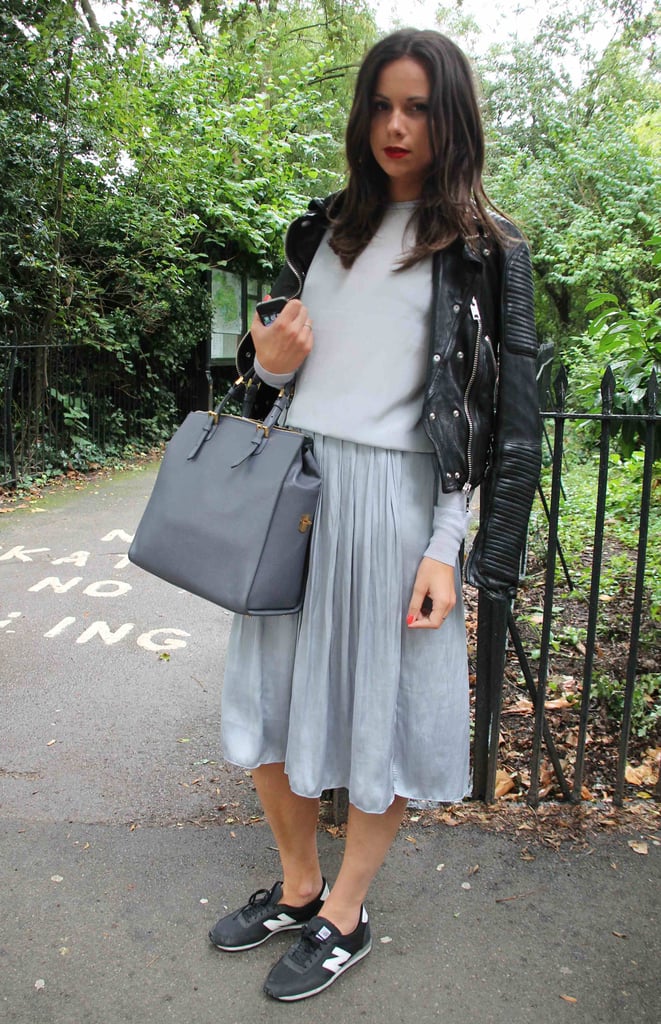 Fashion-conscious meets fitness-conscious.
Source: Hannah Freeman [7]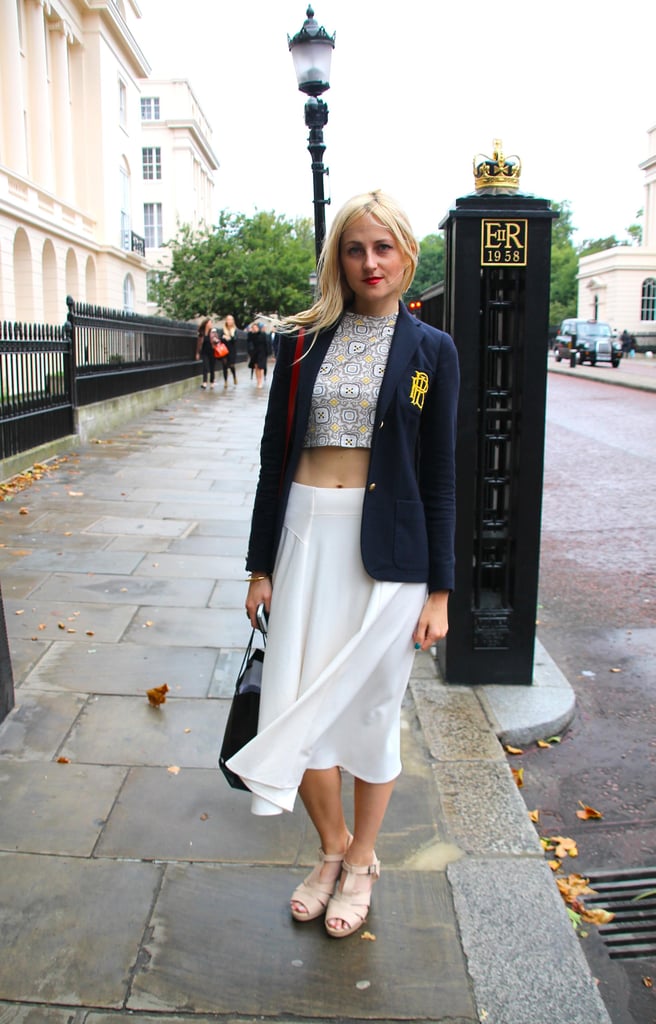 Prep-school rebel.
Source: Hannah Freeman [8]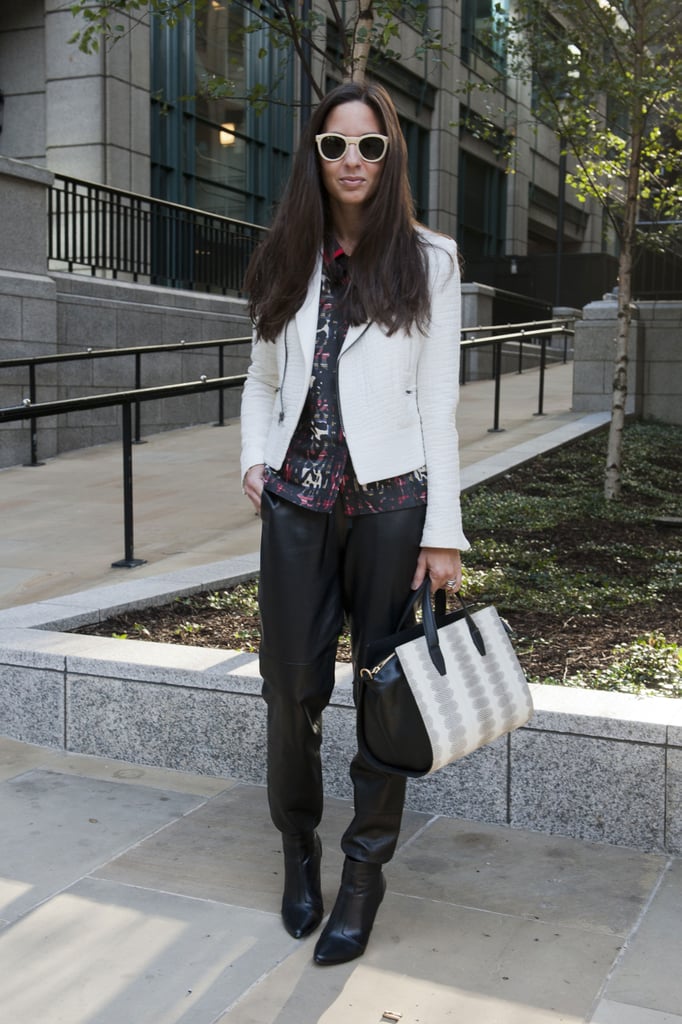 She knows her way around a cool-girl mix, from her frames, to her tweedy jacket, leather pants, and Alexander Wang bag, this look screams on-trend.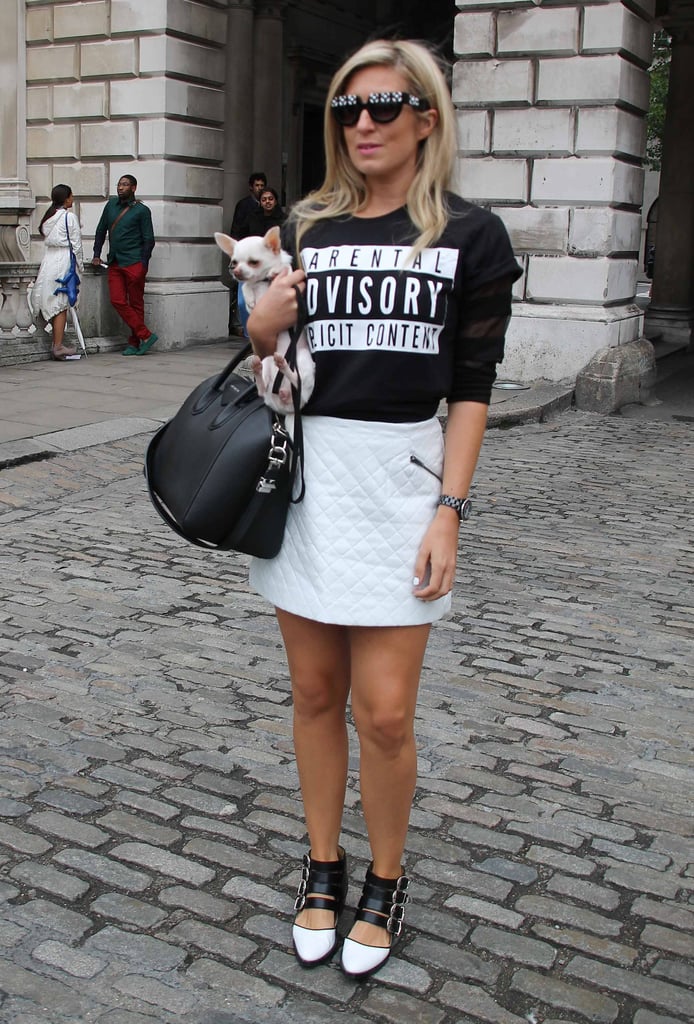 Does this sweatshirt [9] look familiar?
Source: Hannah Freeman [10]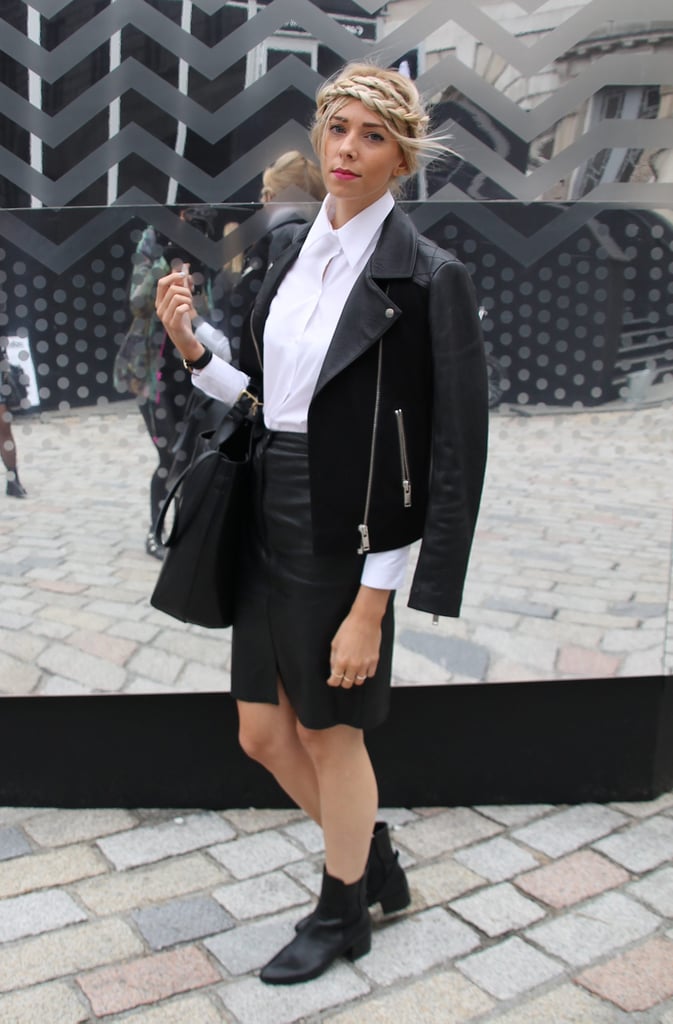 A smart black and white mix.
Source: Hannah Freeman [11]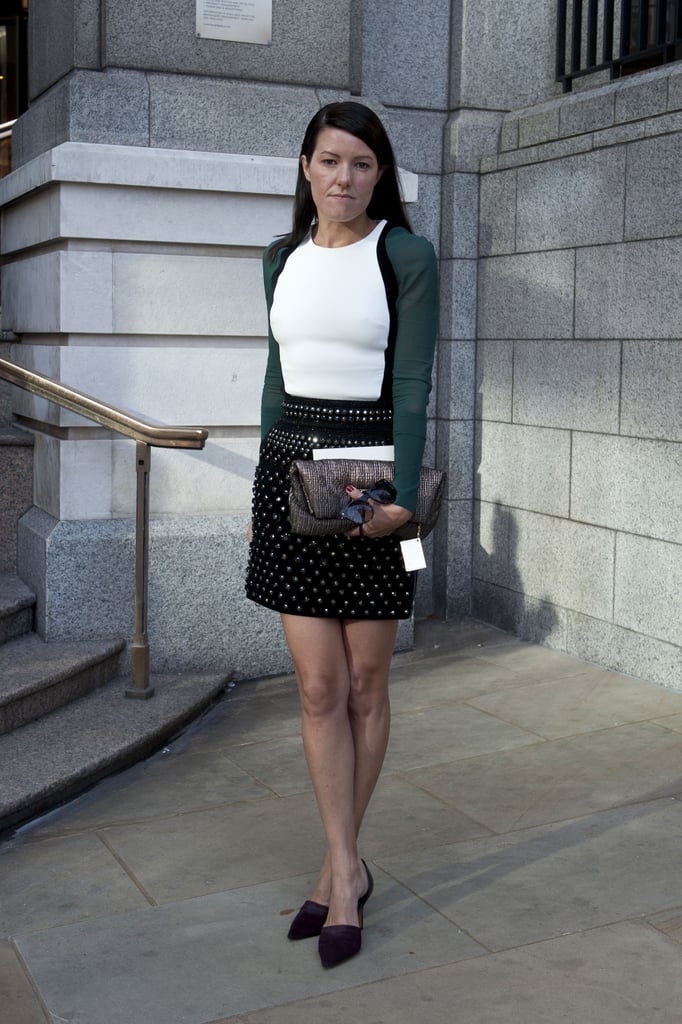 Prim and proper with a shot of embellishment on her skirt.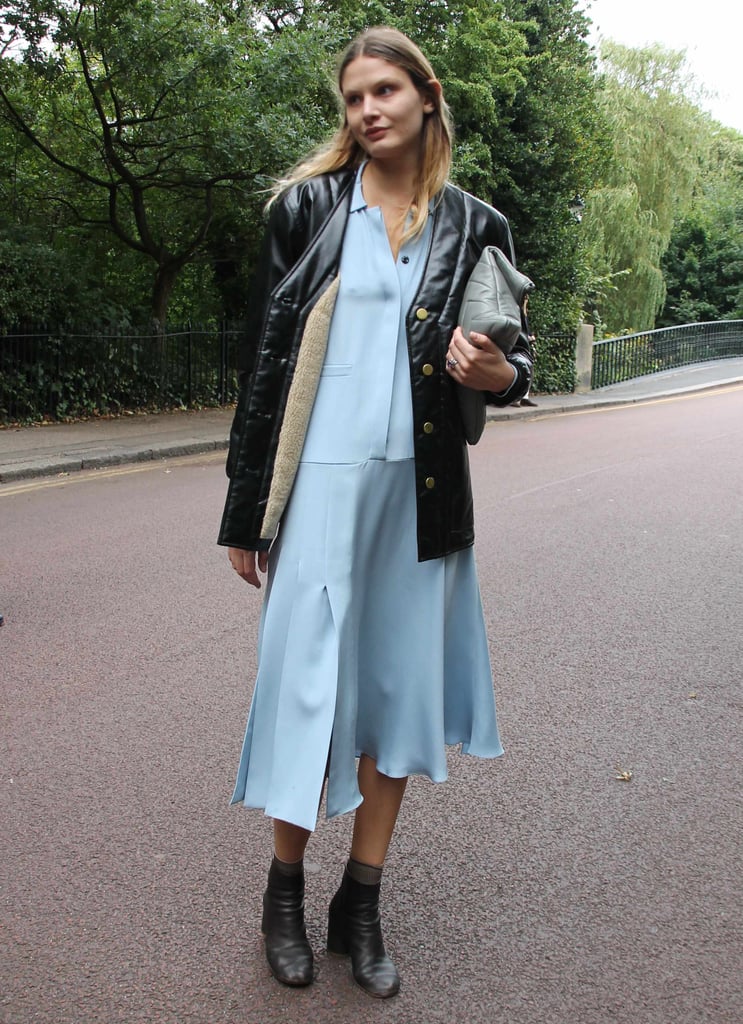 We love how this pale blue softened up her black leather pieces.
Source: Hannah Freeman [12]
Pretty in a pink coat and polka-dot heels.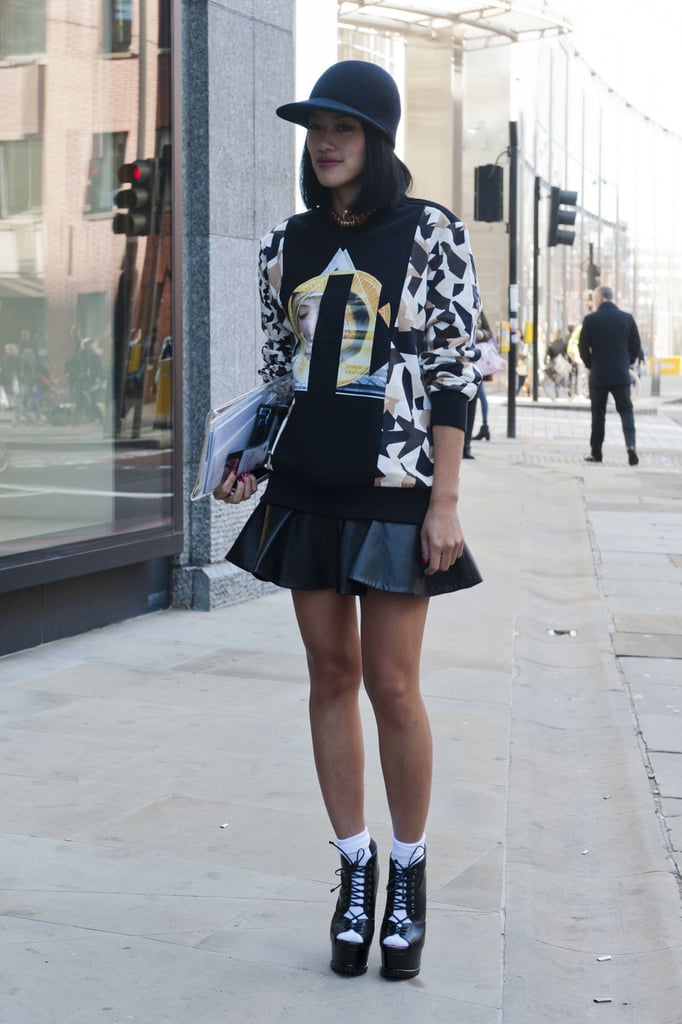 A high-wattage top doesn't mean you can't wear high-wattage heels, too.
Miroslava Duma was right on trend in plaid pencil and a crop top.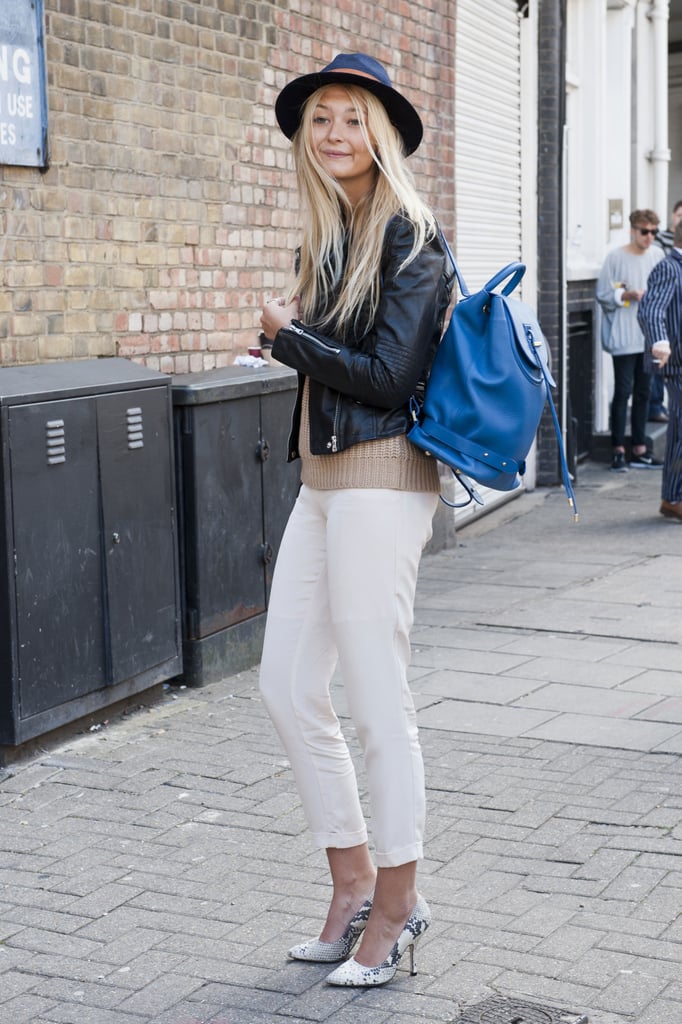 We can't get enough of her bright blue backpack.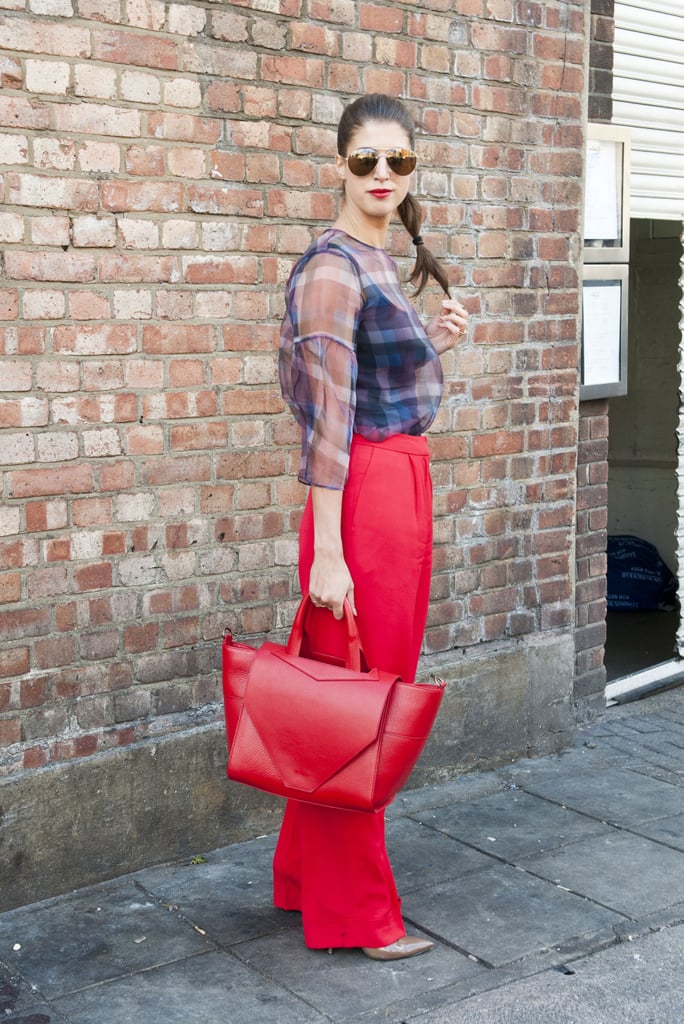 Red rules.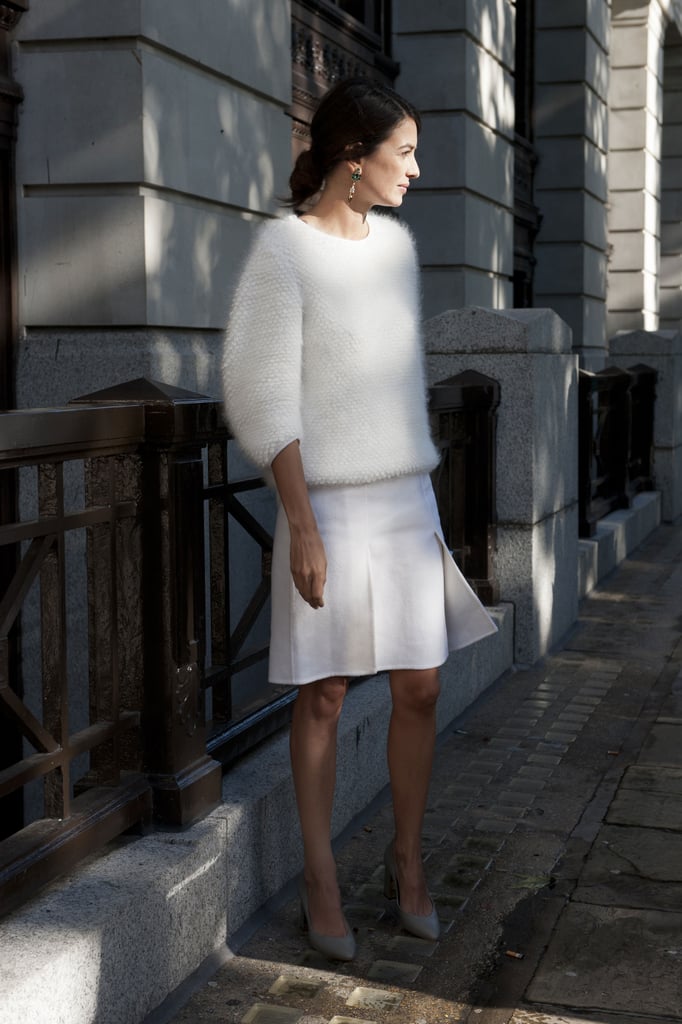 Her sweater just begs to be touched.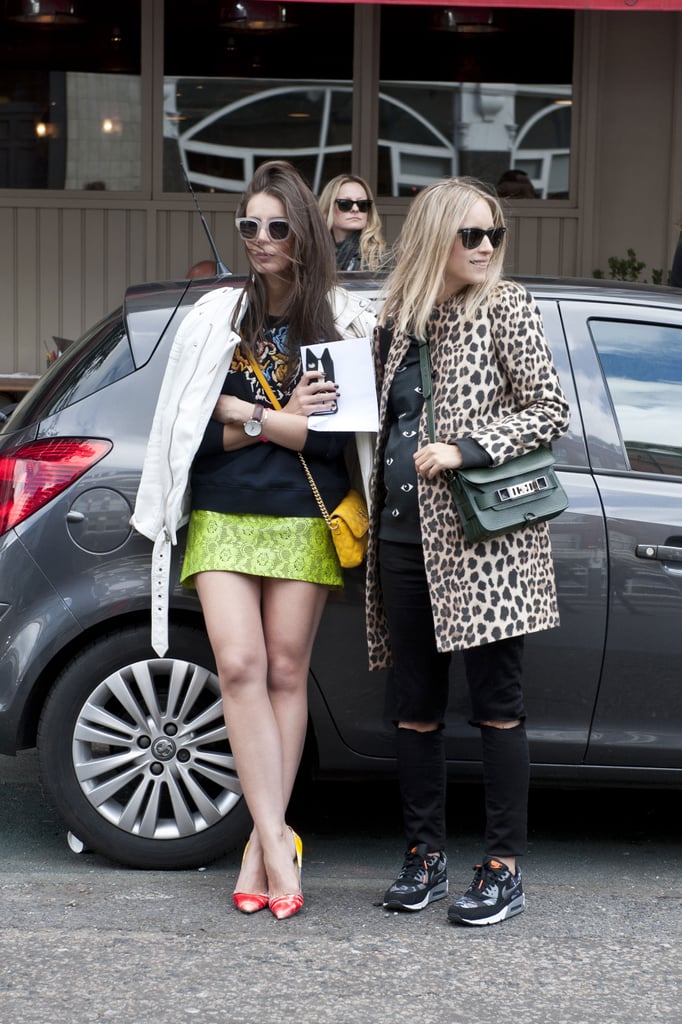 One look and you know this on-trend pair must be headed to Fashion Week.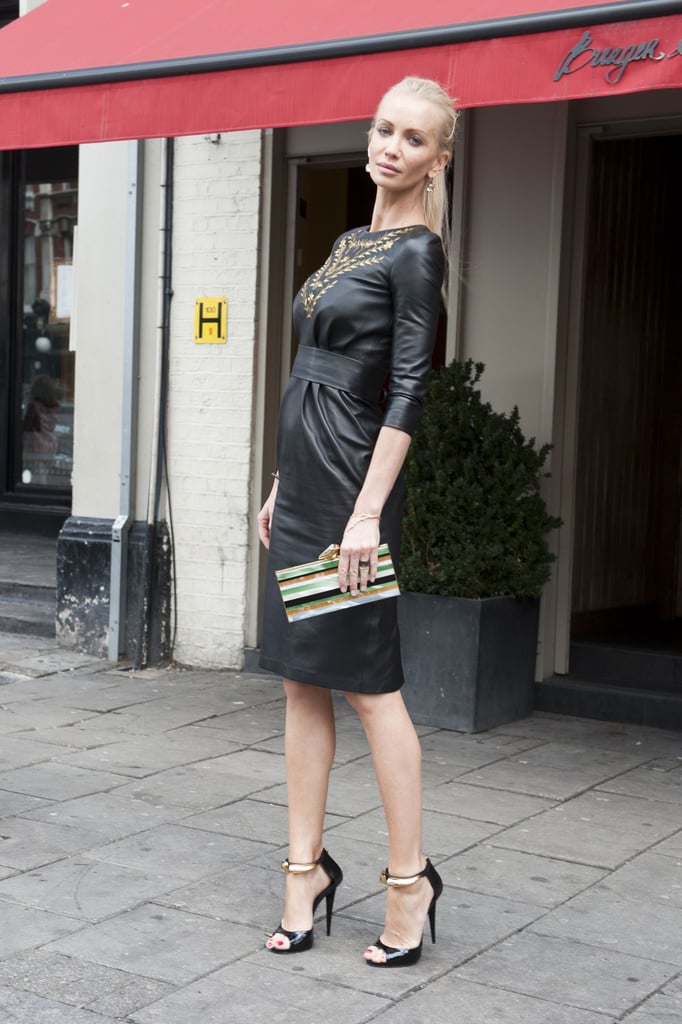 Lovely in leather.
Blogger Ella Catliff borrowed a bit from the boys and outfitted her pleated leather skirt with a button-down and a varsity jacket.
Zanna Roberts Rassi styled up her rugby-striped Burberry dress with edgy leather accents.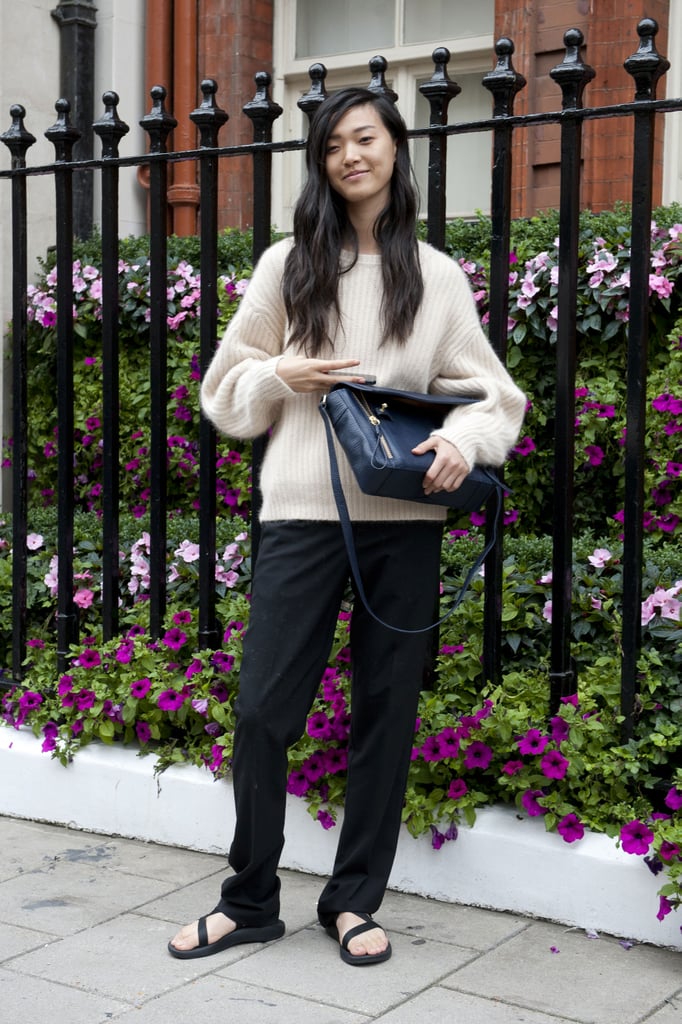 Easy doesn't have to mean boring — here's the proof.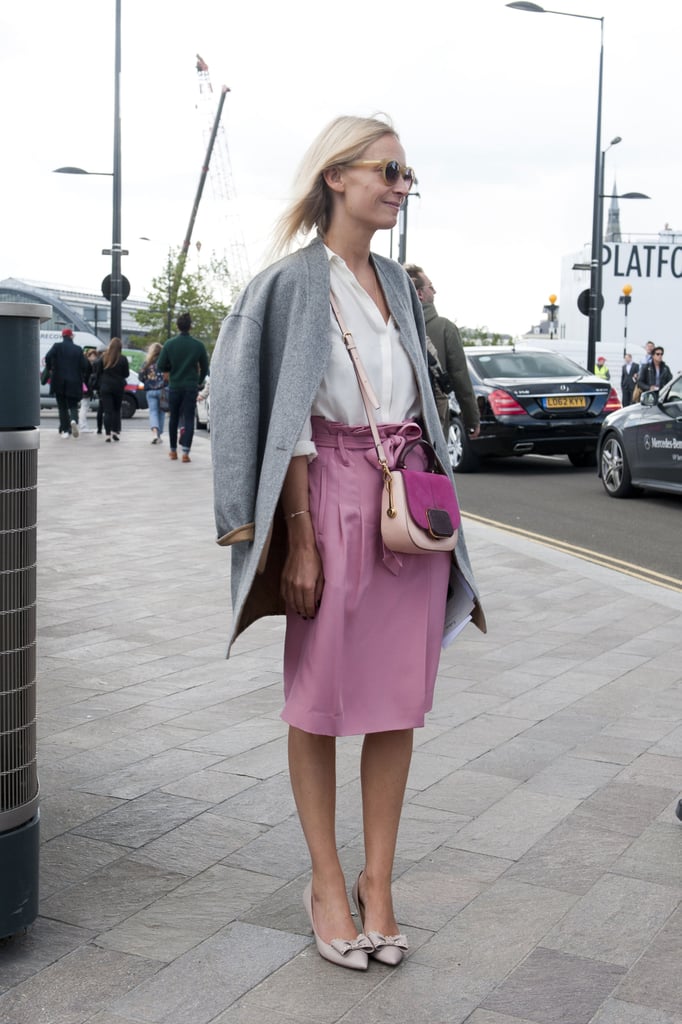 Not too girlie, but with bows on her heels and pink on her skirt, this look is completely lovely.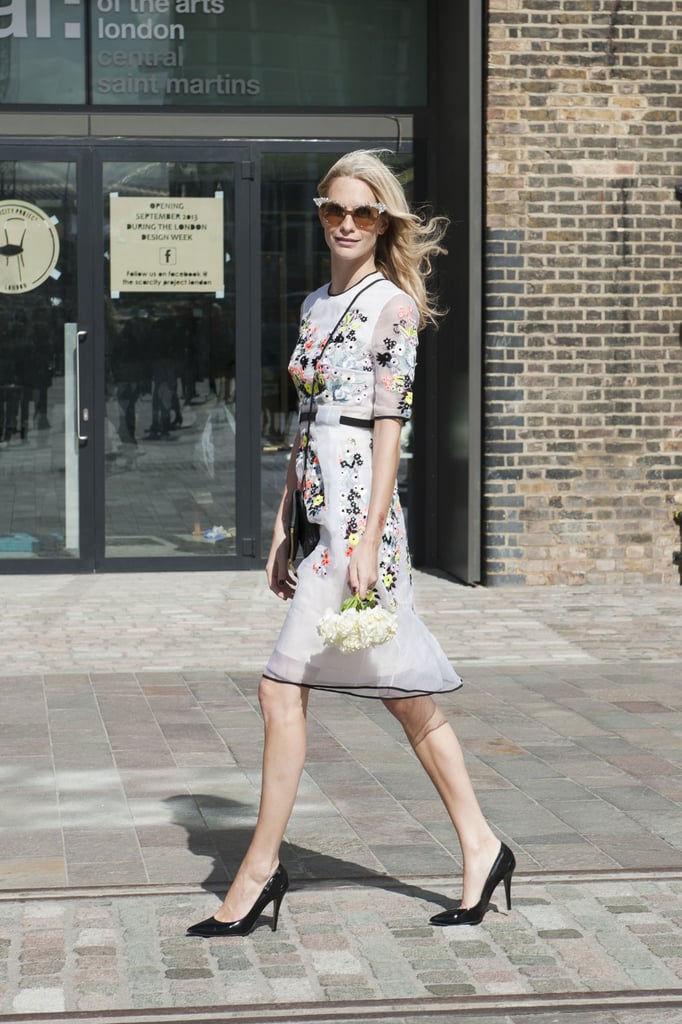 There's really just one word that comes to mind spotting Poppy Delevingne in Erdem: perfect.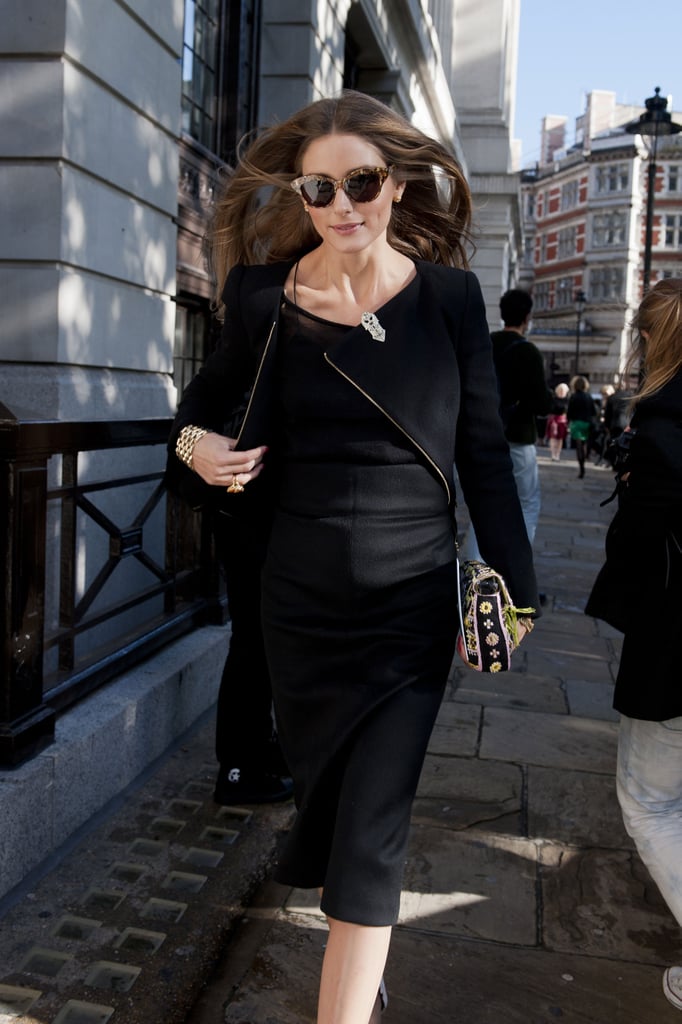 Olivia Palermo looked perfectly poised in black while running from show to show.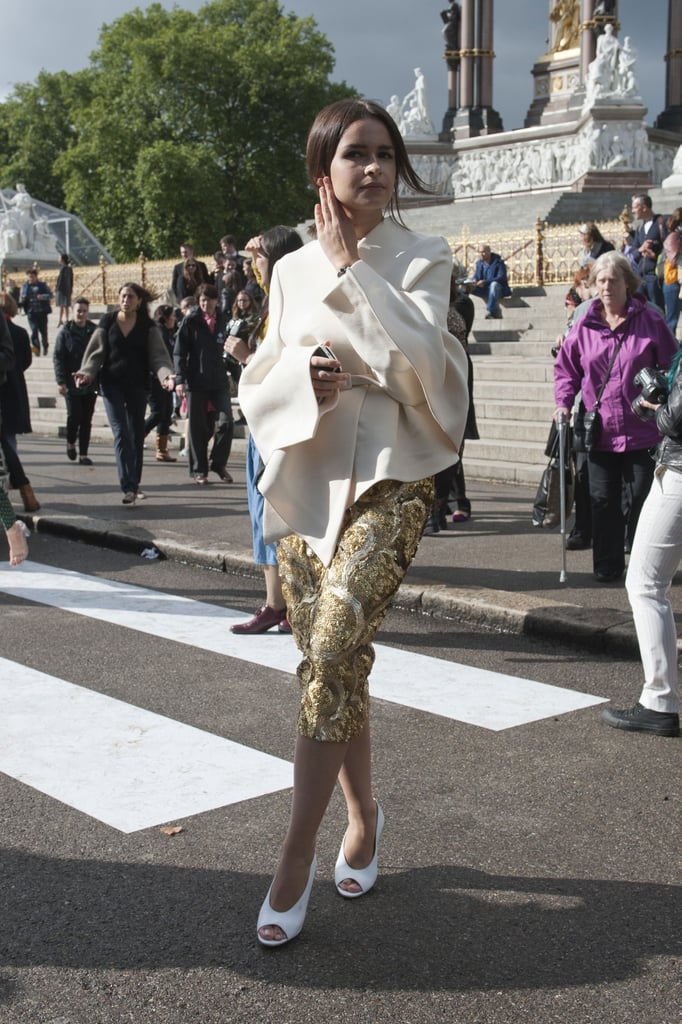 Miroslava Duma gave us a dramatic look on the go.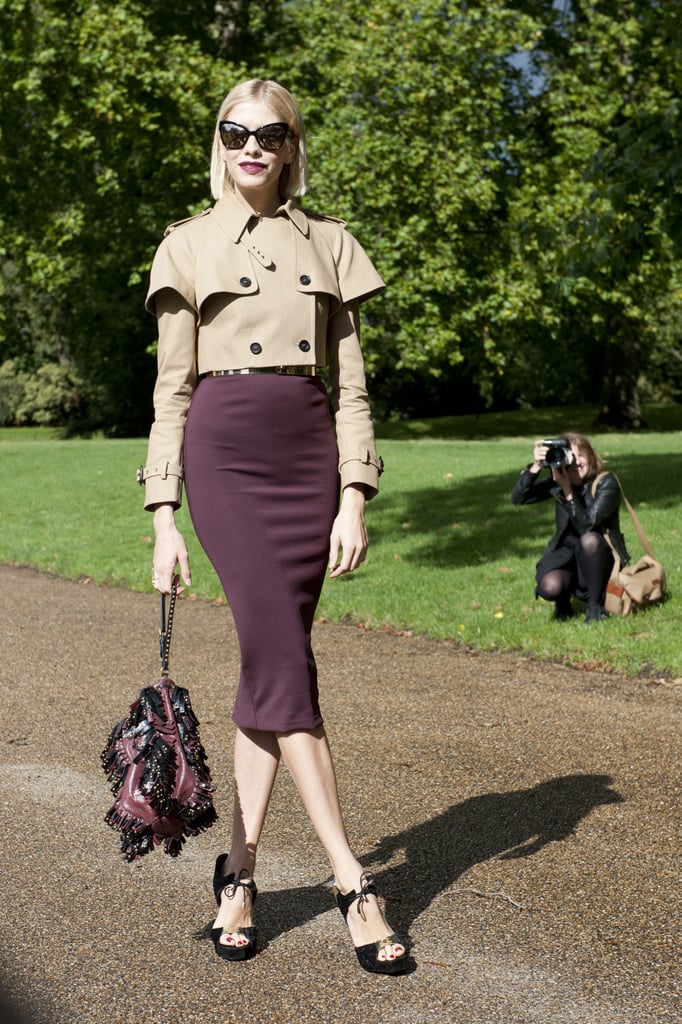 Elena Perminova matched her lipstick to her skirt and topped of the look with a sharp, cropped trench.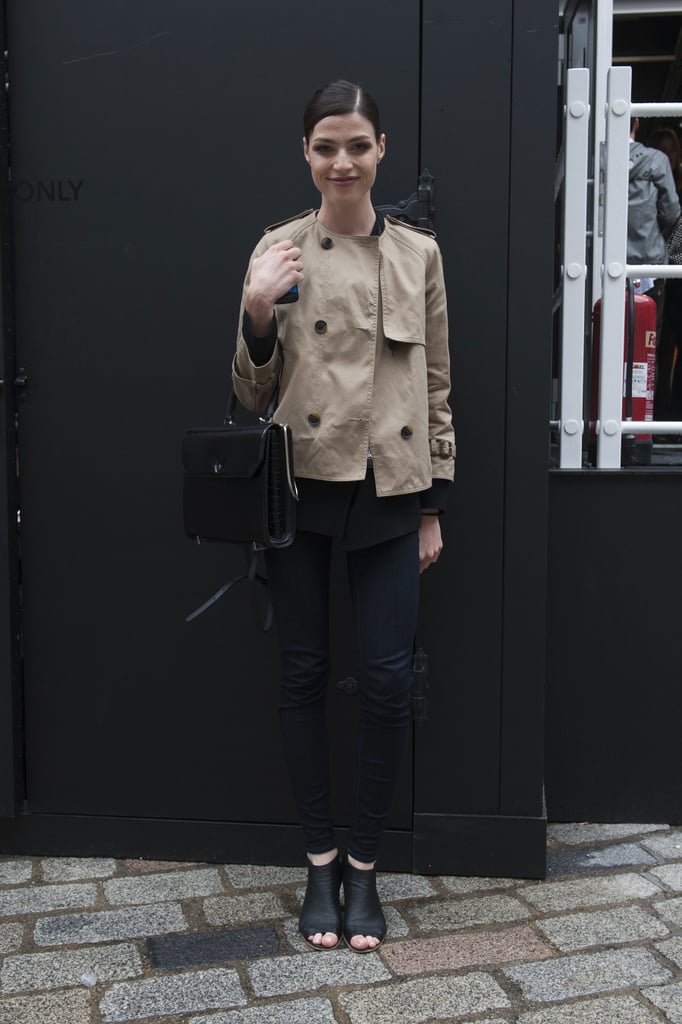 Classic up top, modern on bottom.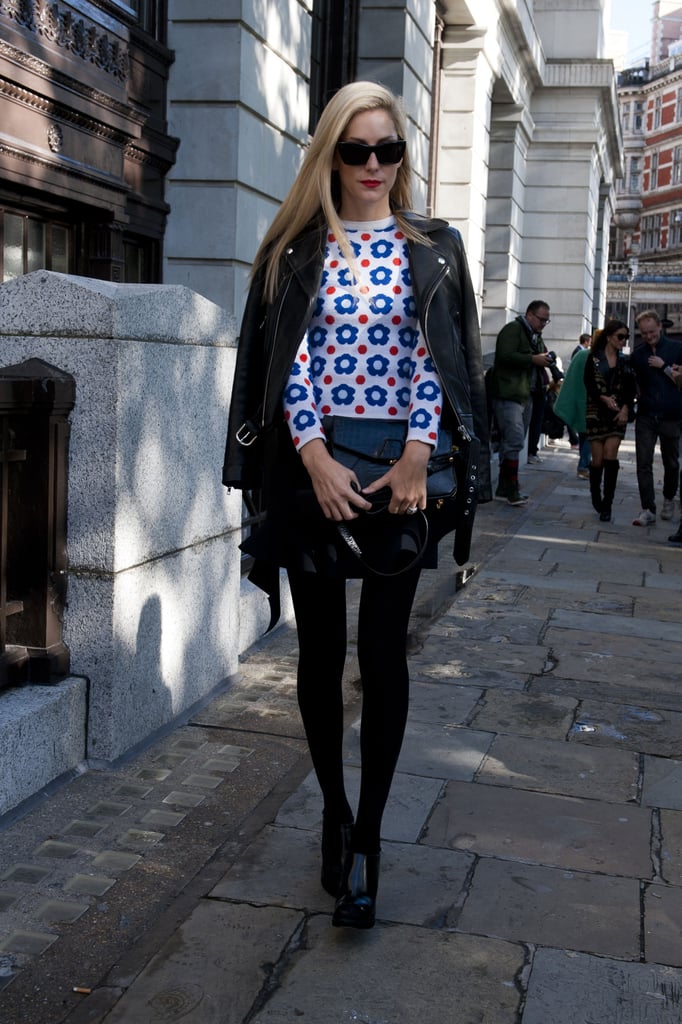 Joanna Hillman countered a quirky sweater with sleek black.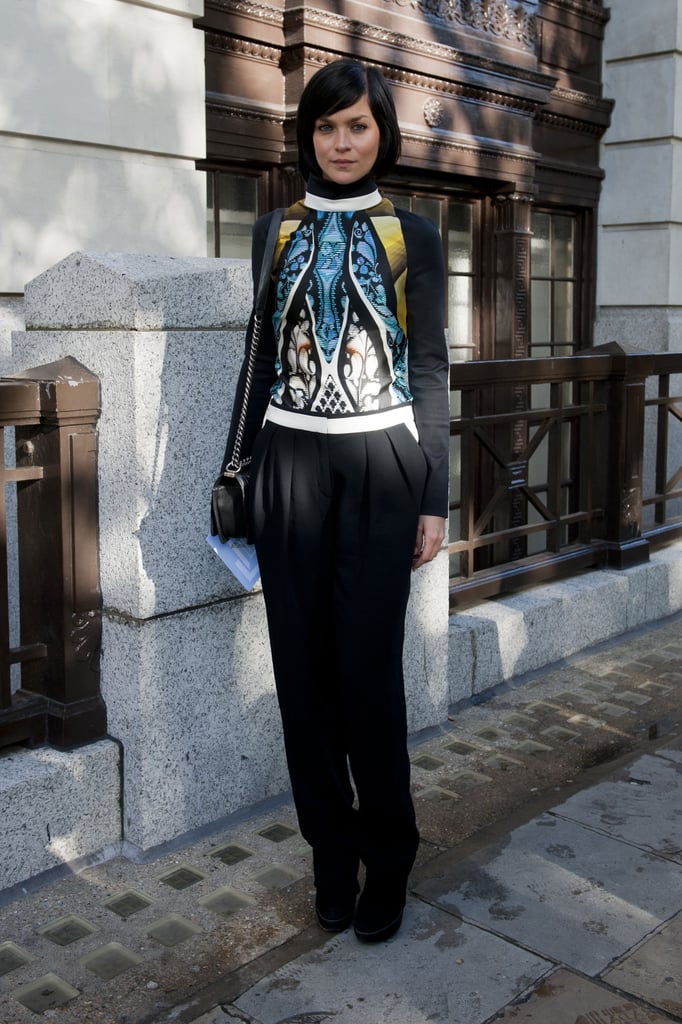 Leigh Lezark's punchy knit was the perfect complement to clean black pants.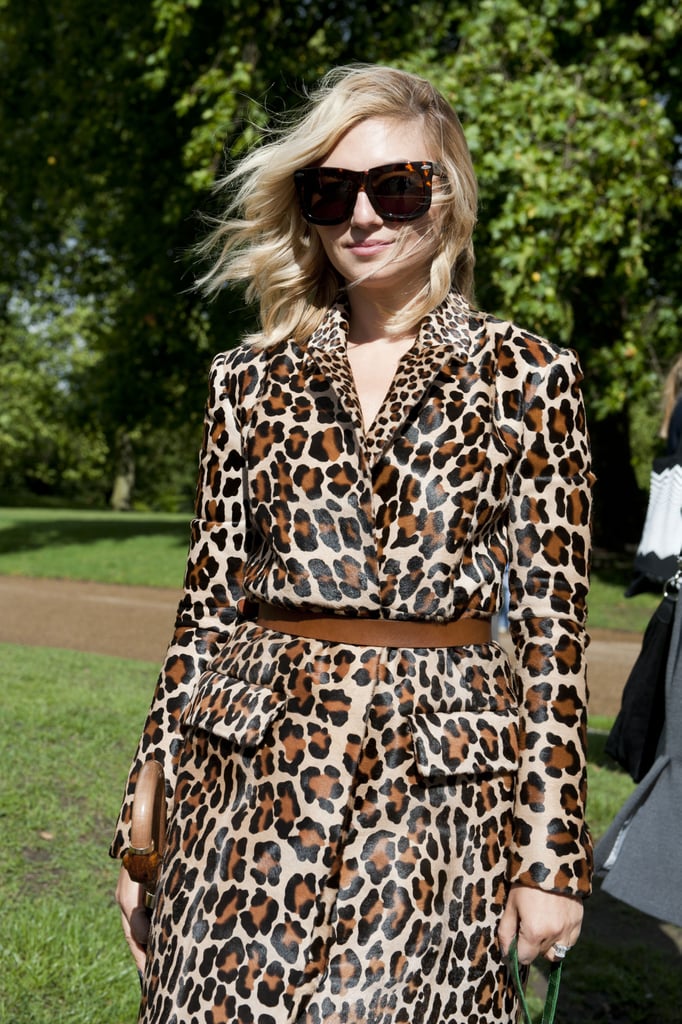 When your coat looks this good, you don't need to worry about what you put on underneath it.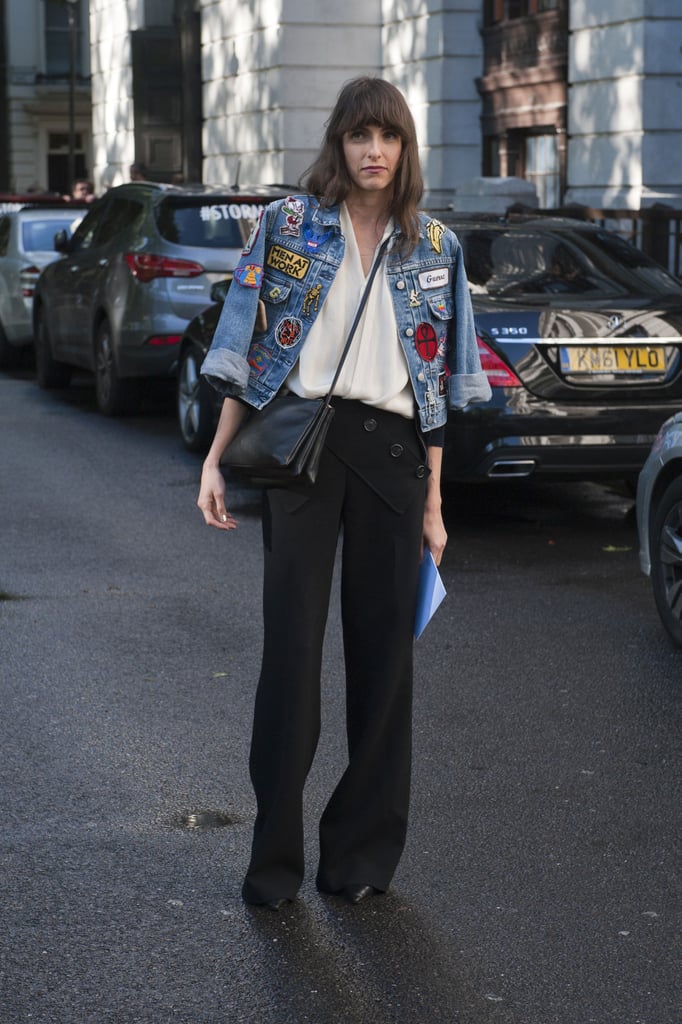 Gigi Guerra gave her trousers and top an anything-but-average finish with a patch-covered denim jacket.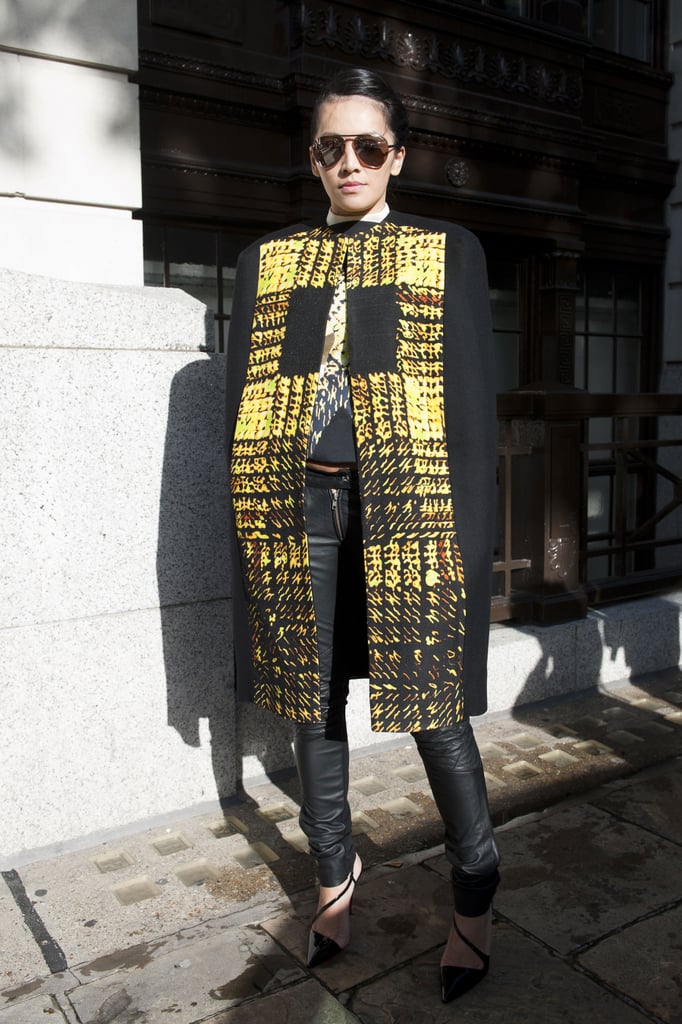 This coat was made for turning heads.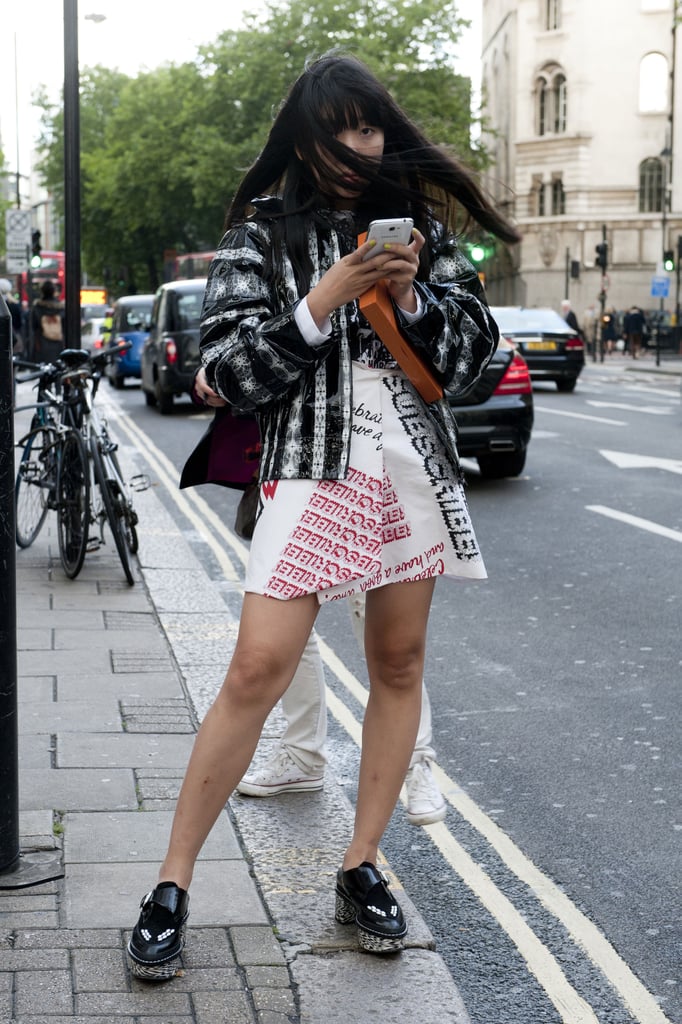 Susie Bubble did her thing in statement pieces and crazy-cool footwear.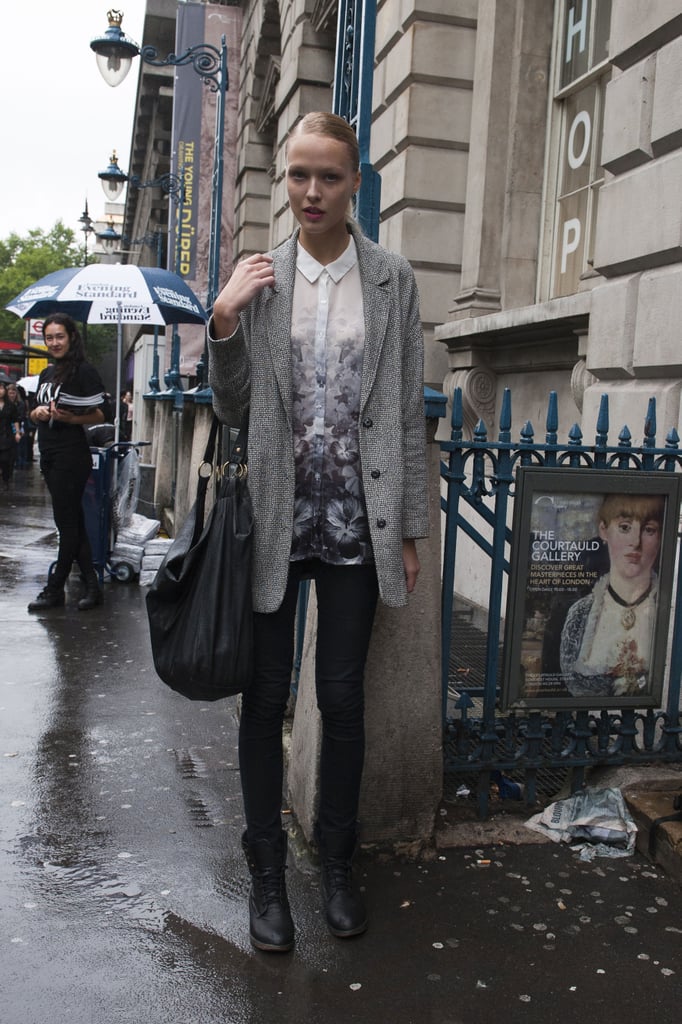 Tomboy style with a jolt of florals.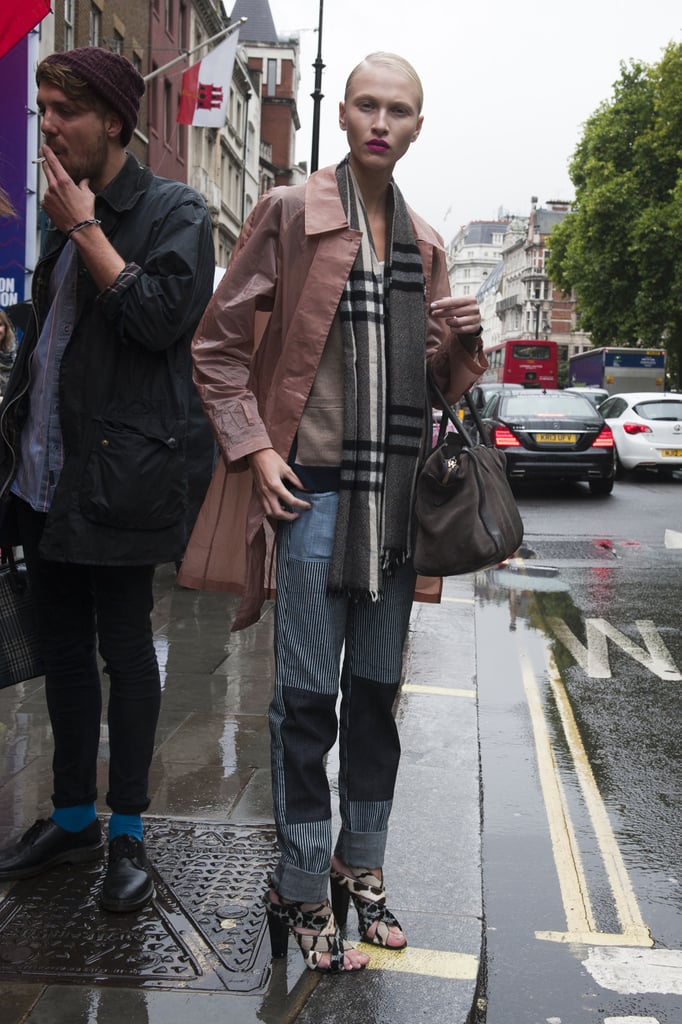 We're all about those patchwork pants.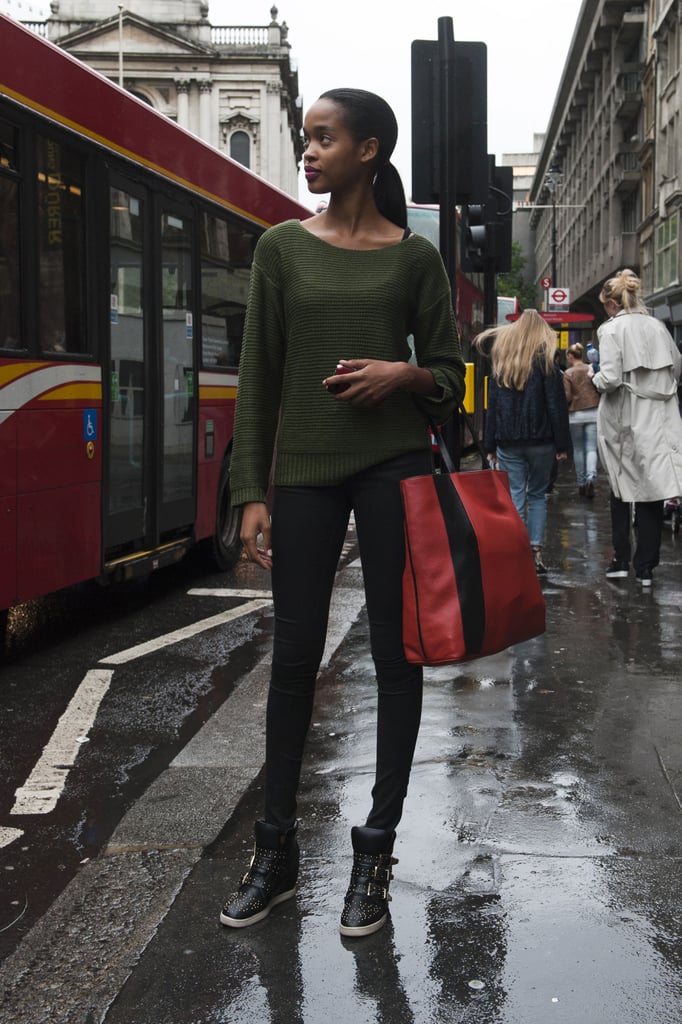 The best way to finish off such a simple look? With studded high-tops, of course.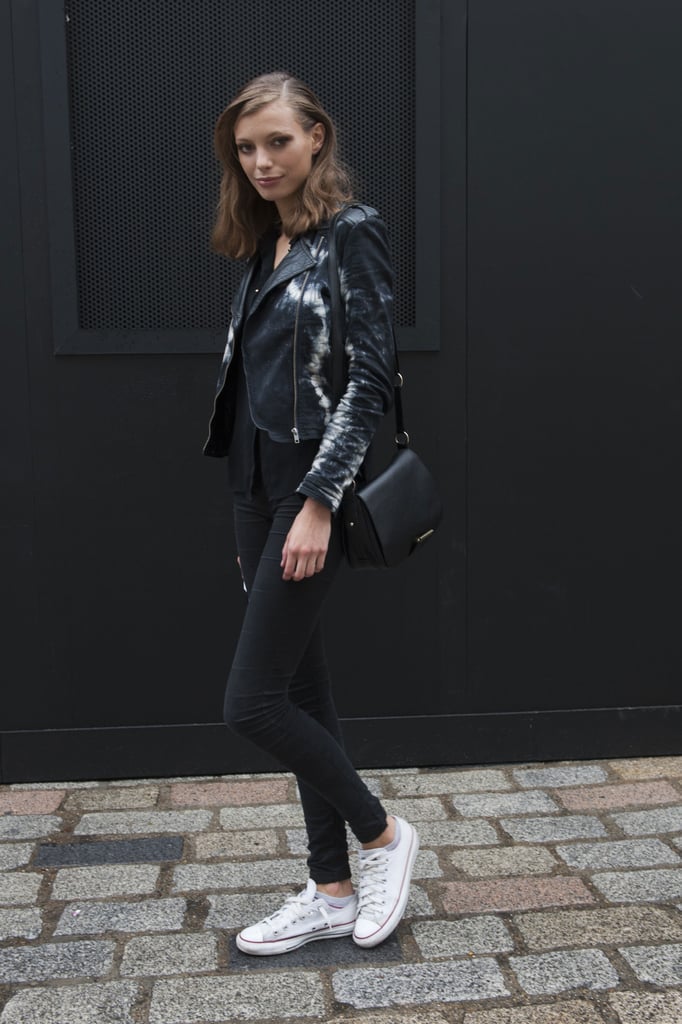 The classic model-off-duty uniform.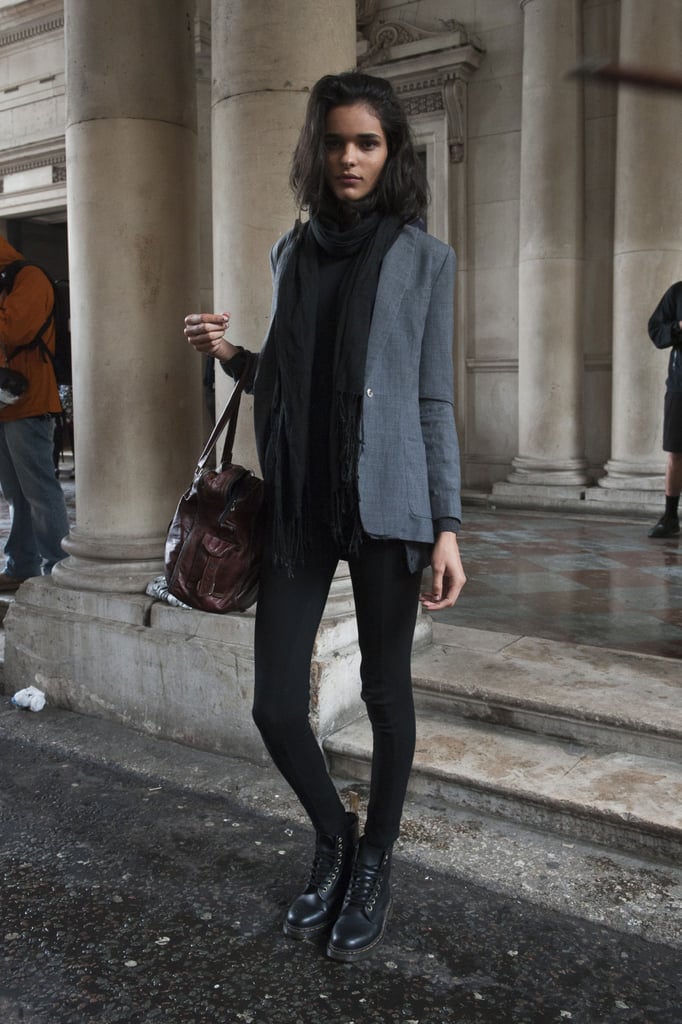 Doc Martens toughened up her linen blazer.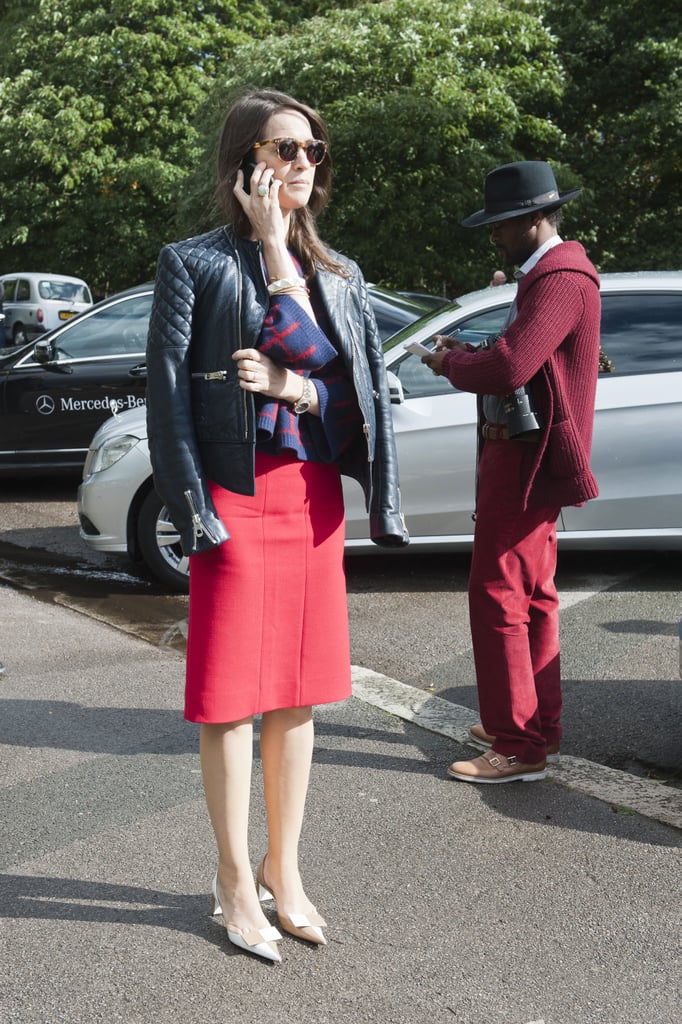 Our shoes might just be our favorite part of this look.
We've developed quite a crush on that hunter green leather jacket.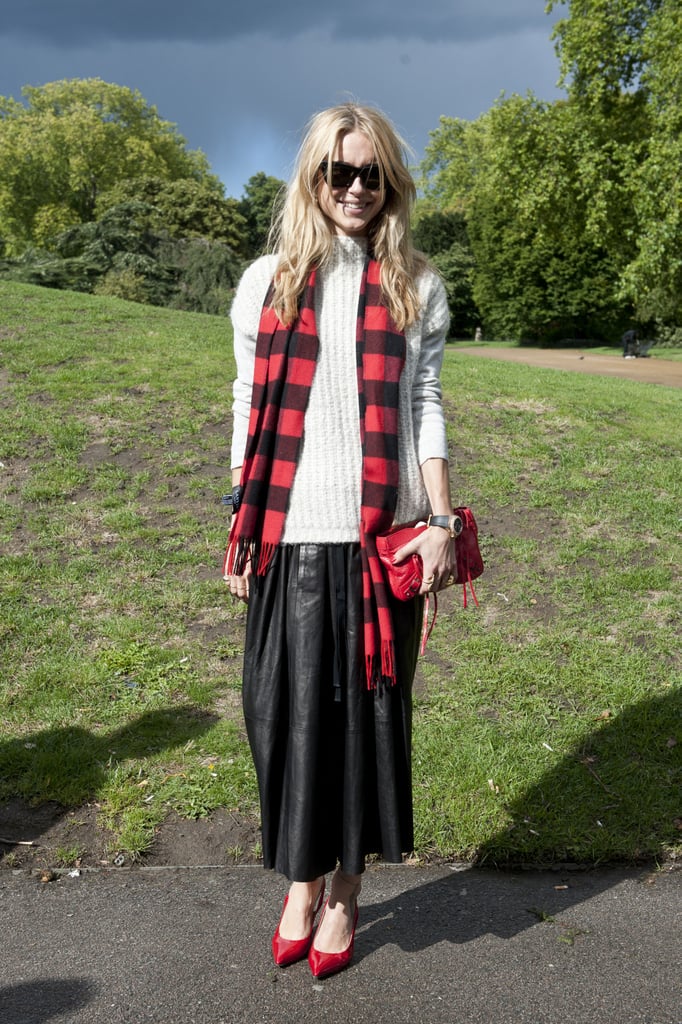 Channeling Fall with a checked scarf and a fuzzy knit.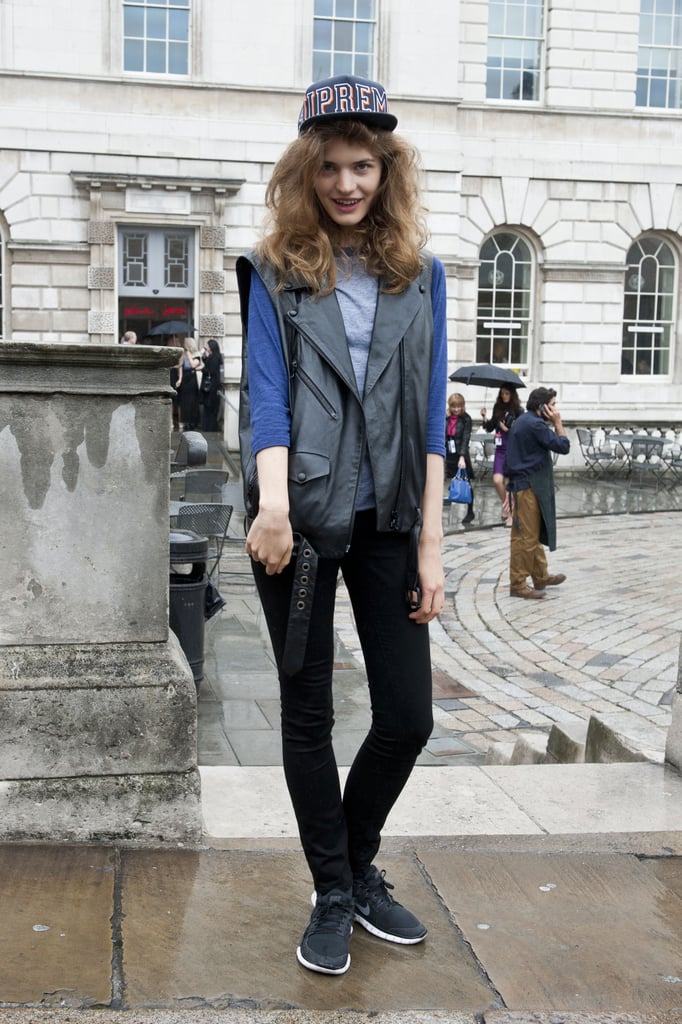 Sporty, from her baseball cap right down to her Nikes.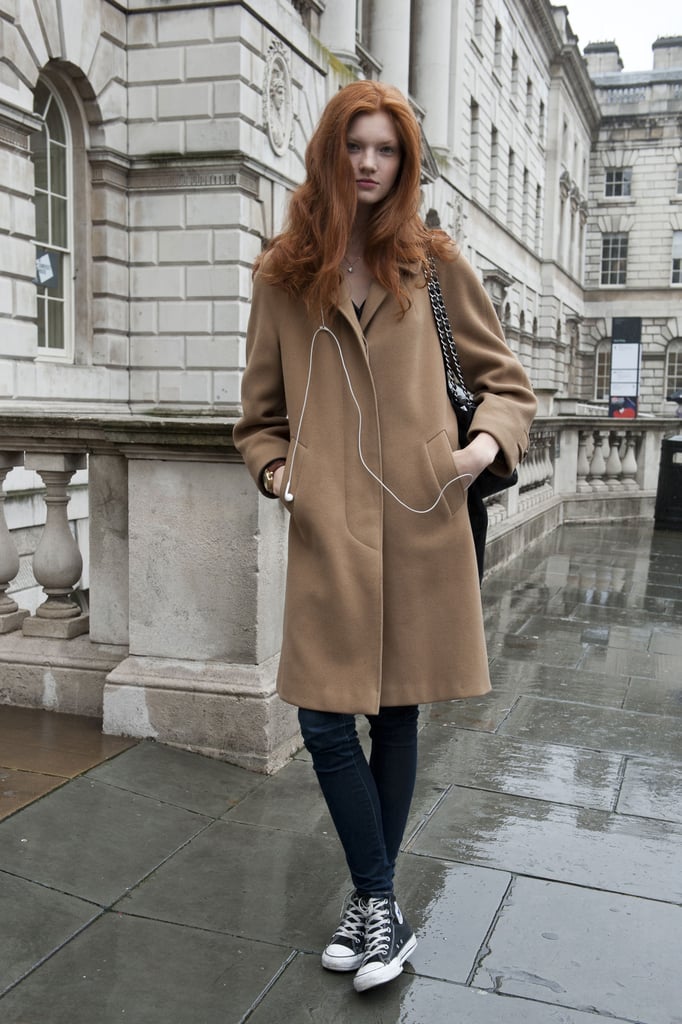 A model style citizen in a classic camel coat.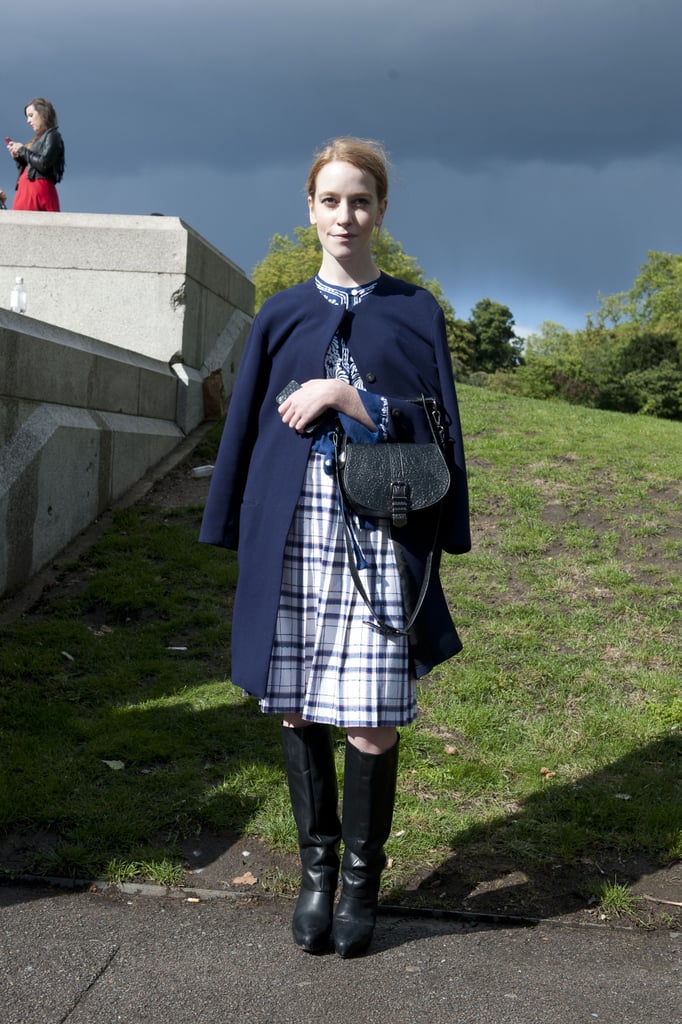 It took tougher boots to ground this ladylike look.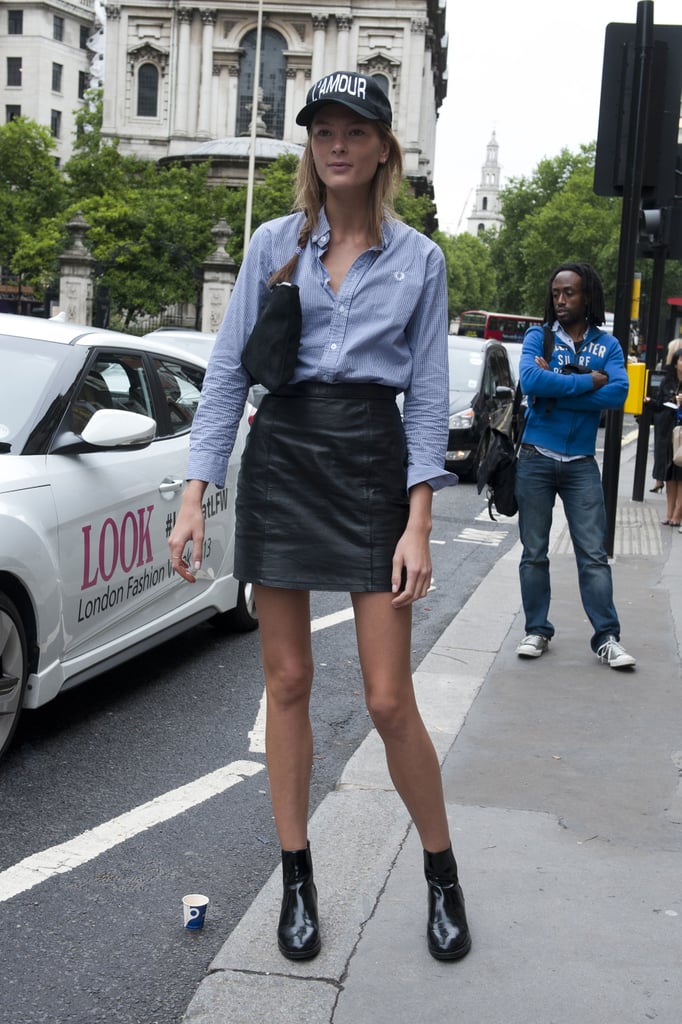 Leather skirts and button-down shirts look better together.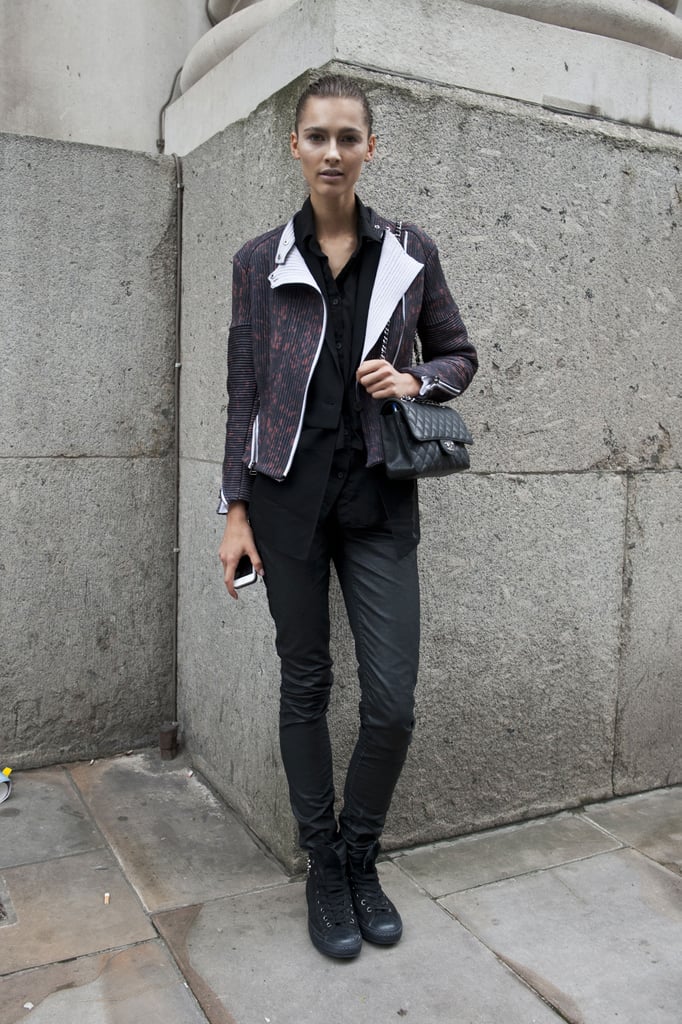 Check out the print on that moto jacket.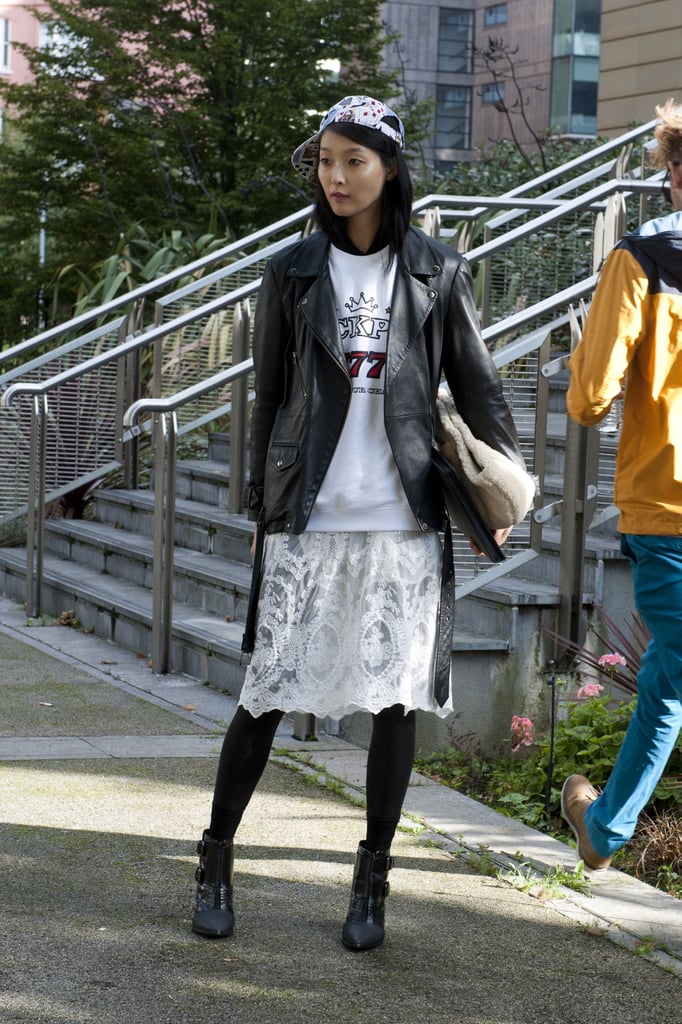 Mismatched and ready to go.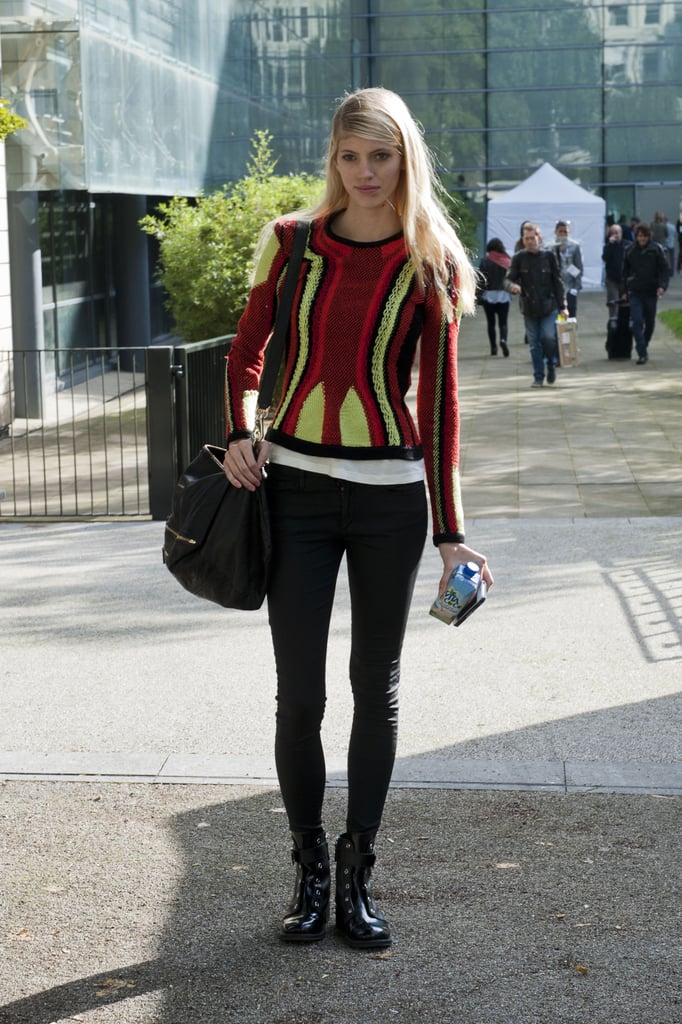 Talk about a statement sweater.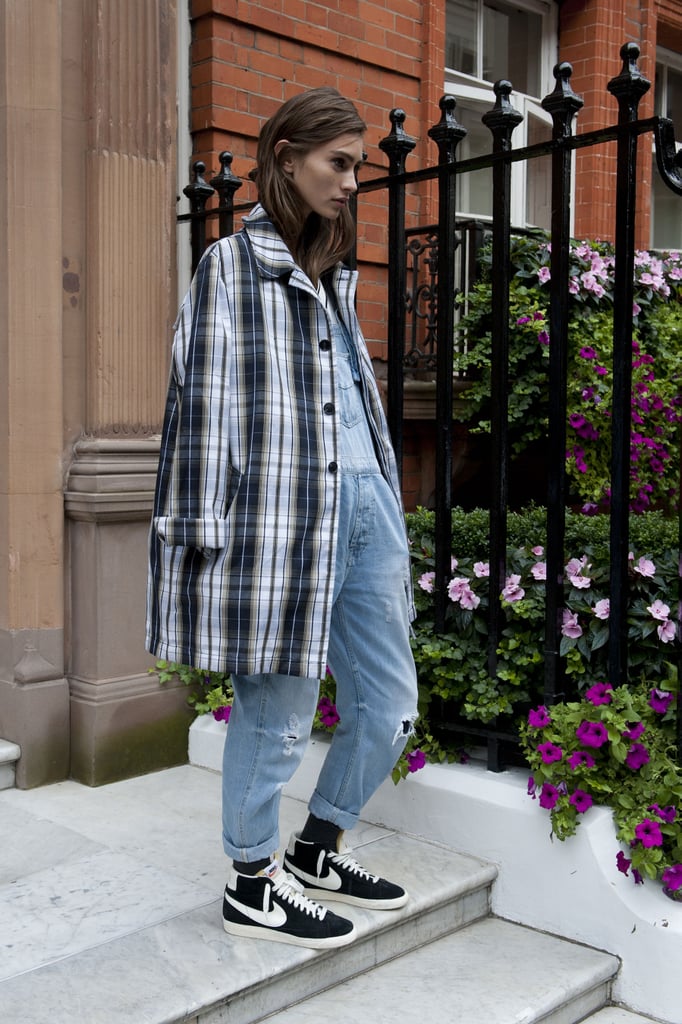 We're stealing this effortless way to style overalls.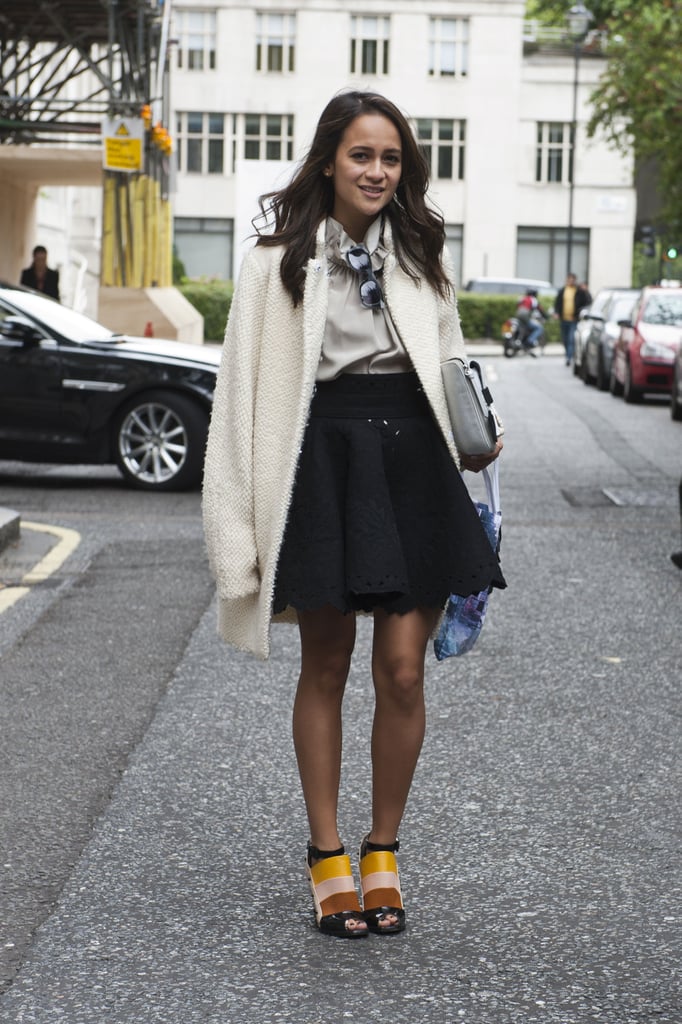 Bright Fendi heels had a killer effect on this sweet style.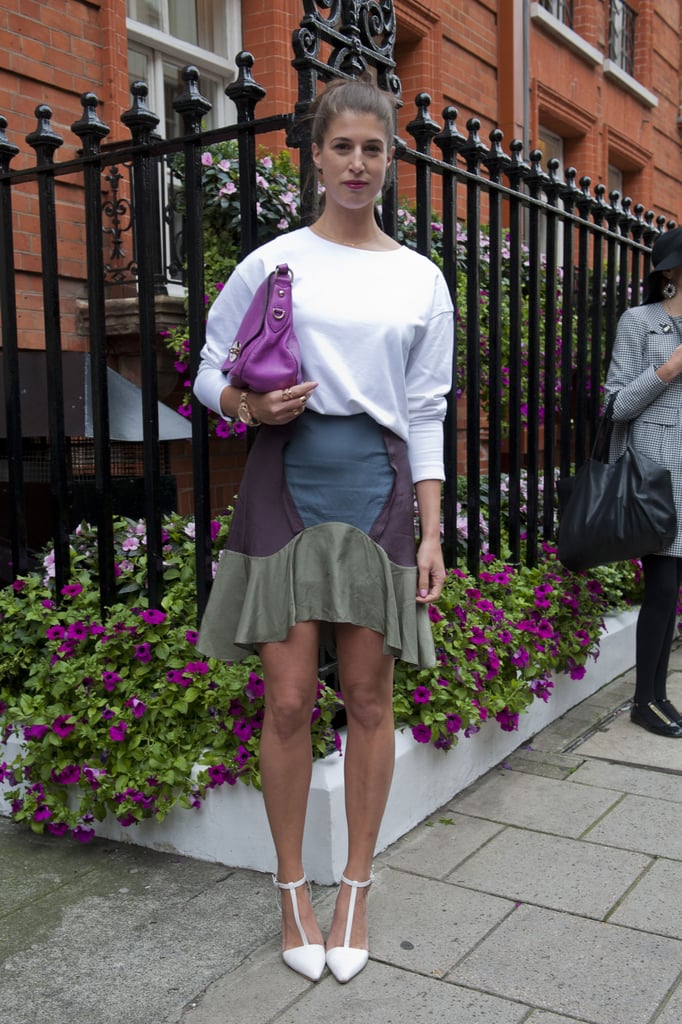 Colorblocking in a moody Fall palette meets crisp white counters.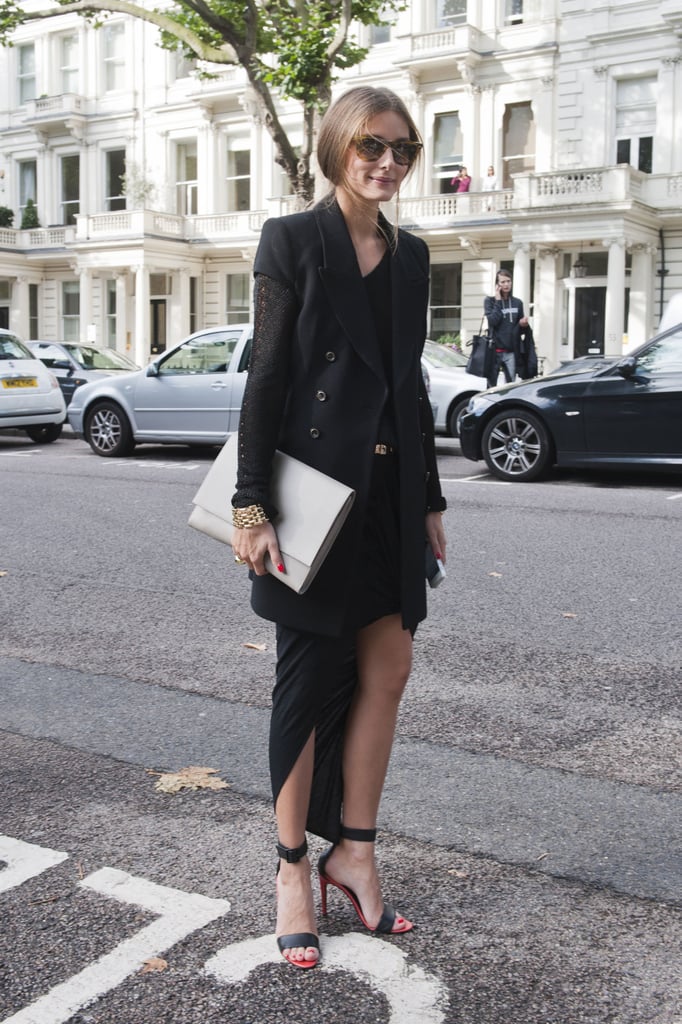 Olivia Palermo amped up an all-black look with a sleeveless blazer, ankle-strap Tibi heels, and an oversize clutch.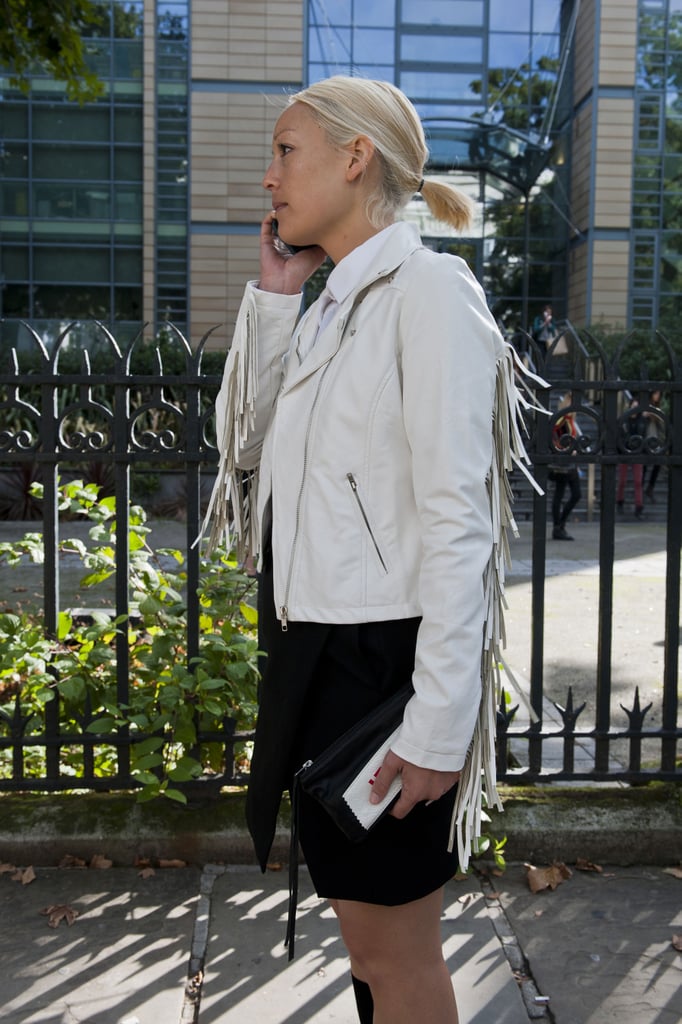 We fell for the fringe in this look.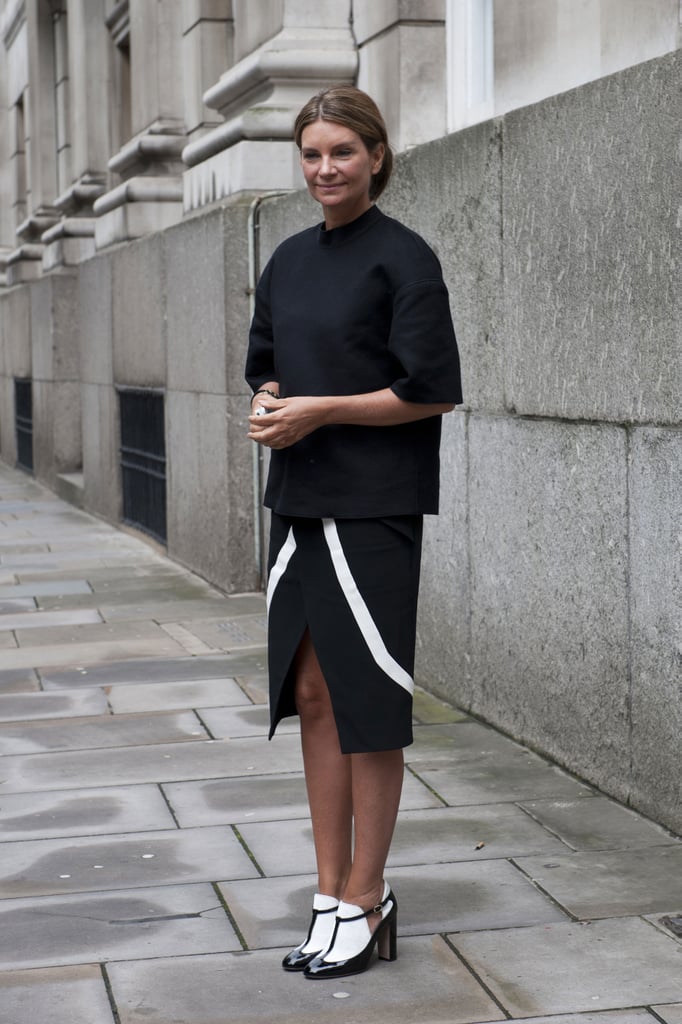 She fully committed to the black and white palette, right down to her Valentino heels.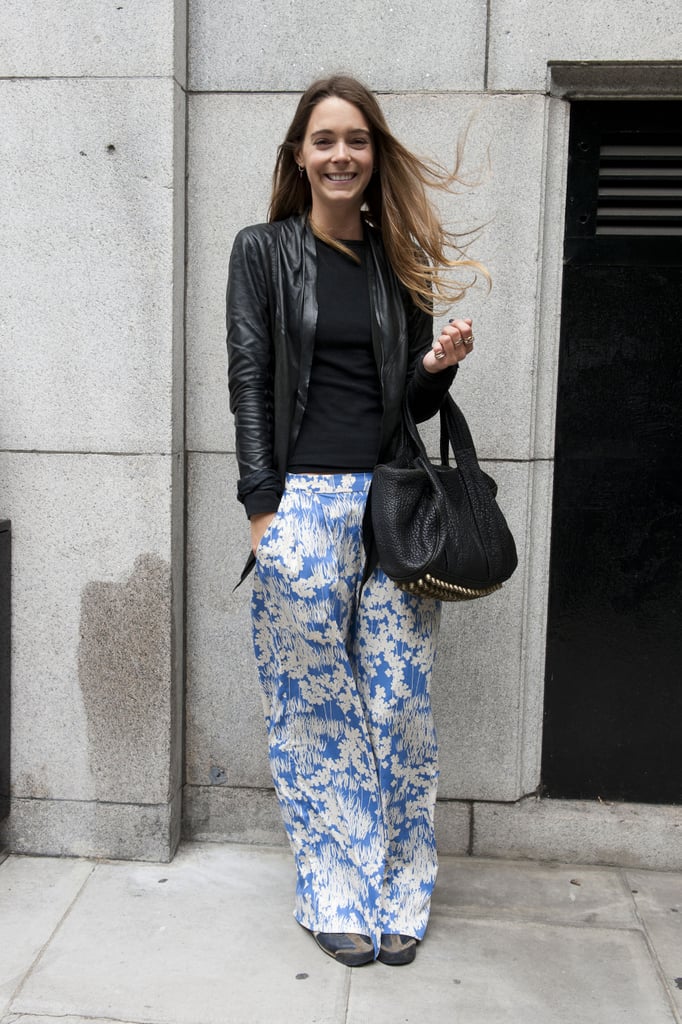 You have to smile when you see those pants.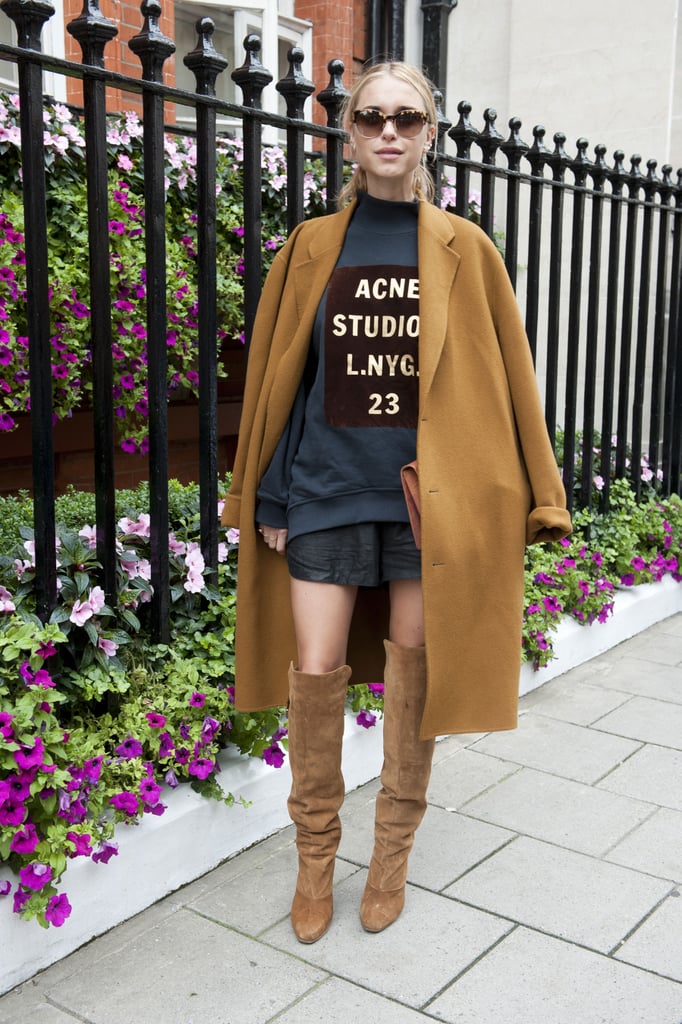 We love everything about this look, but mainly those amazing suede boots.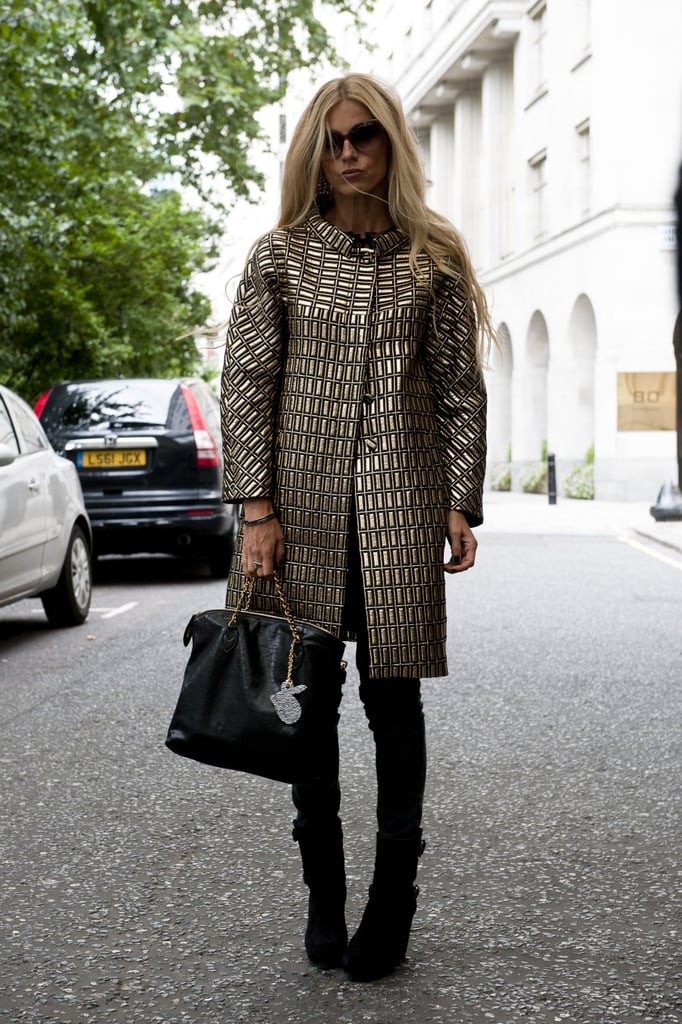 A metallic coat was the star of this look.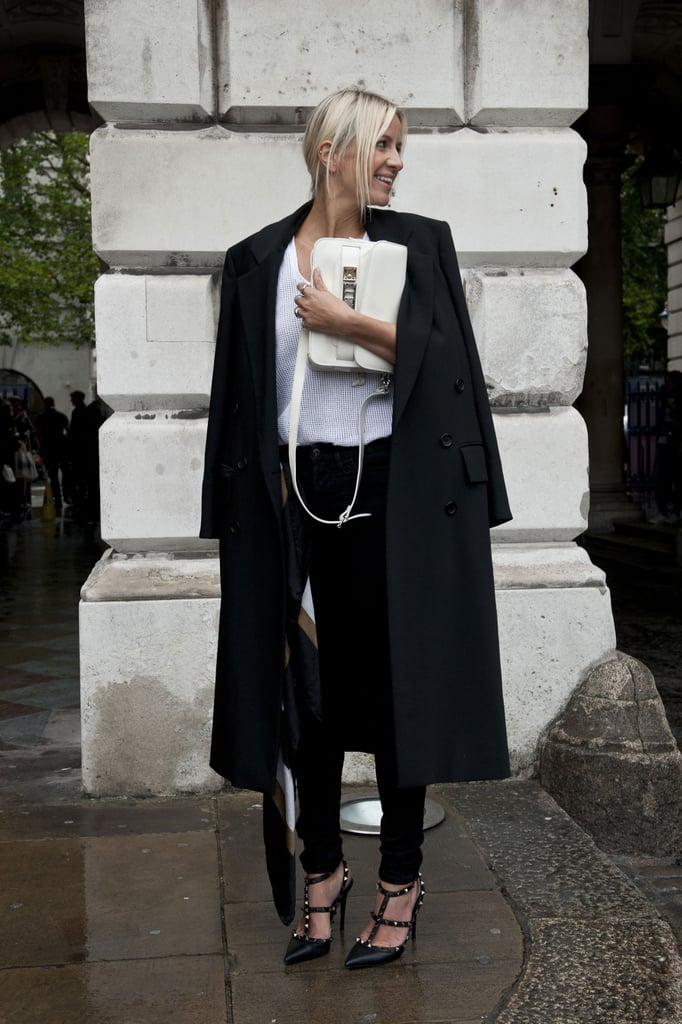 White and black, with only the best accessories, like her Proenza bag and Valentino heels.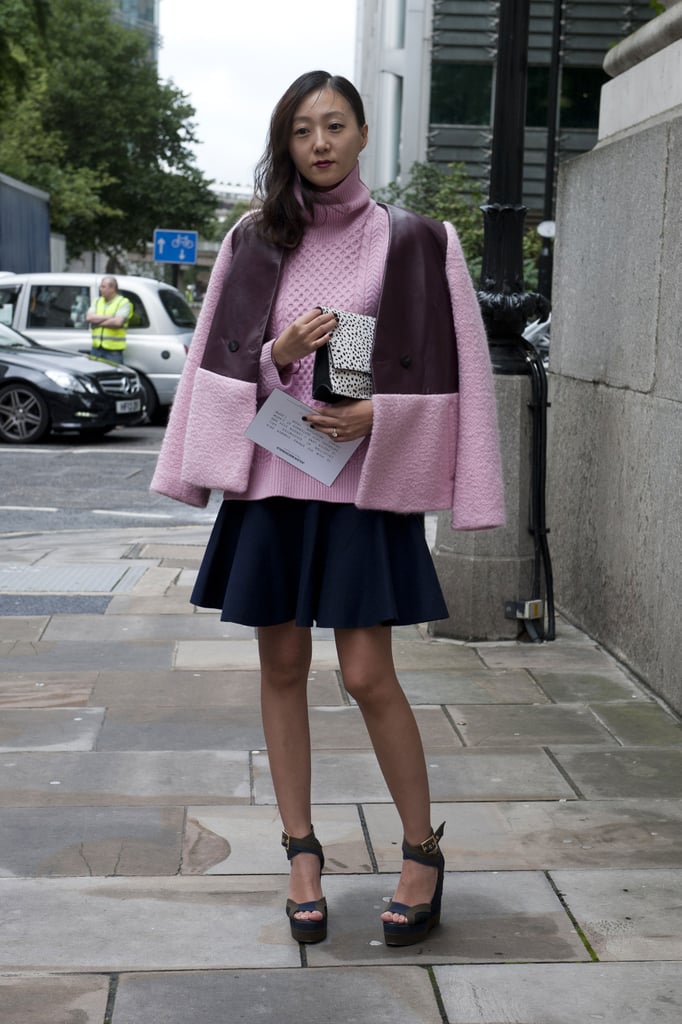 Pink lady up top, trendsetter on bottom.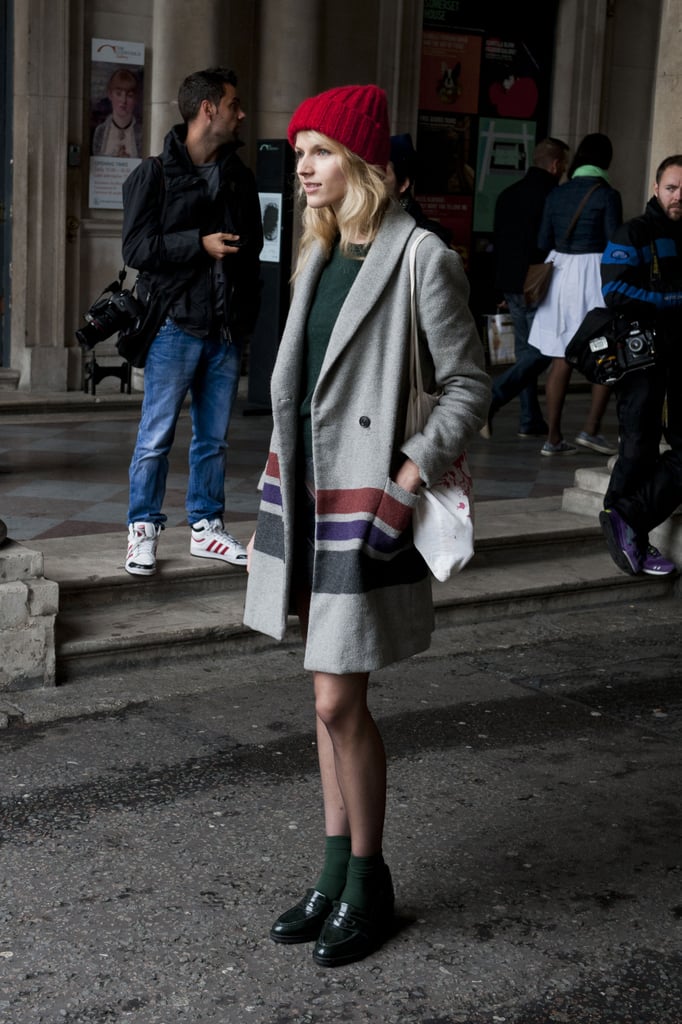 Classics, done tomboy style.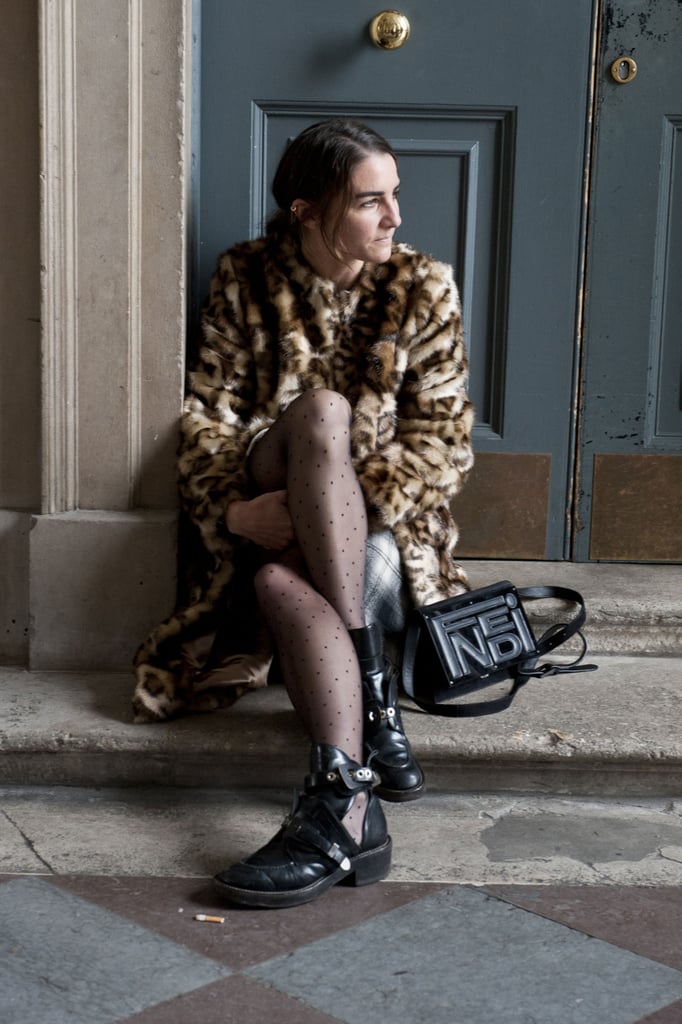 Paging Kate Moss [13] — this downtown-rocker girl took a page straight from the supermodel's style book.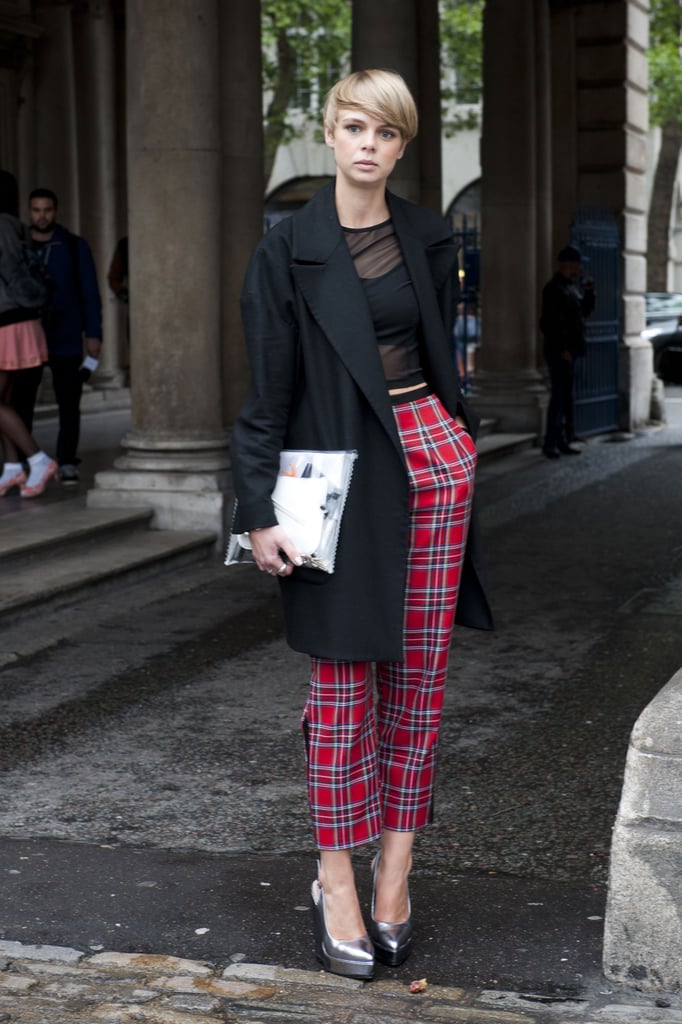 Pulling off plaid like a pro.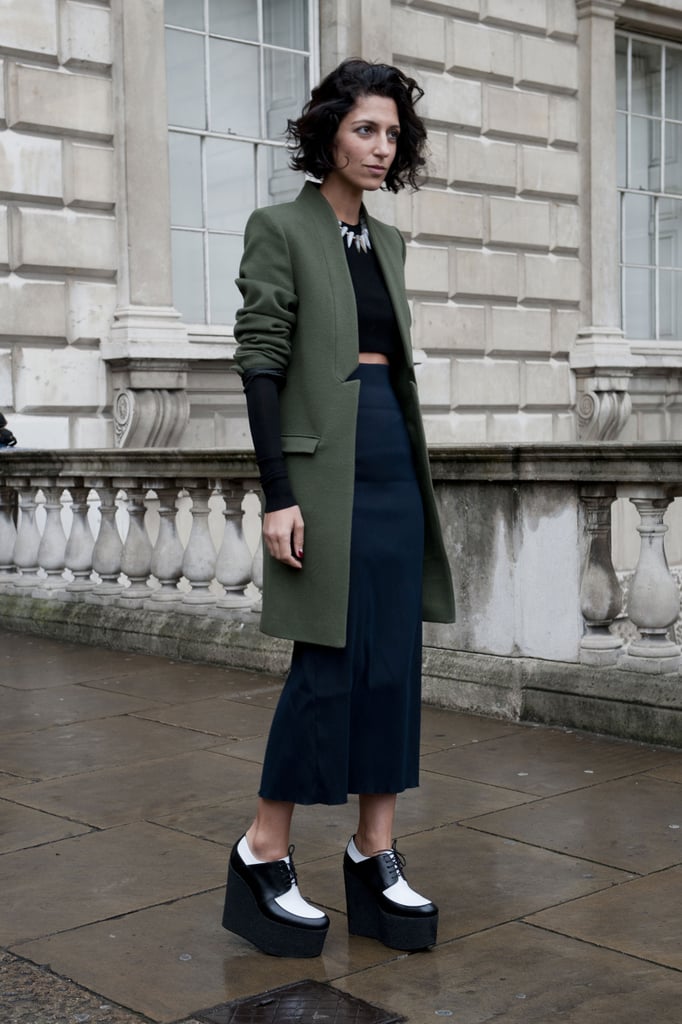 We can't get enough of her shoes.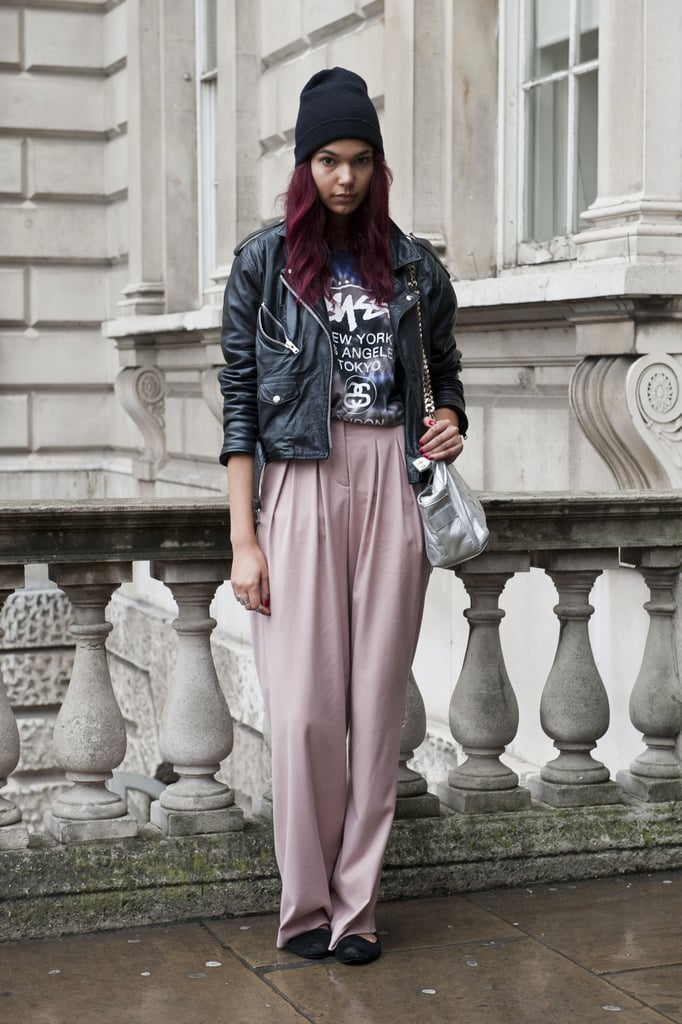 This is how you do classic tailoring with a punk-rock spin.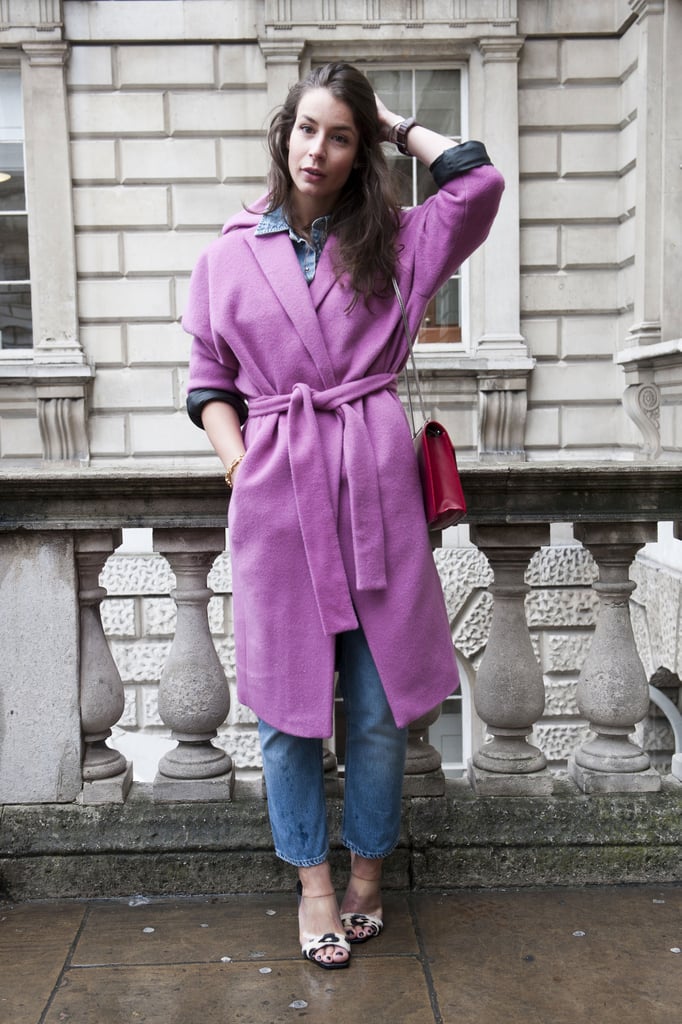 Purple that managed to be cool and classic — and not too girlie.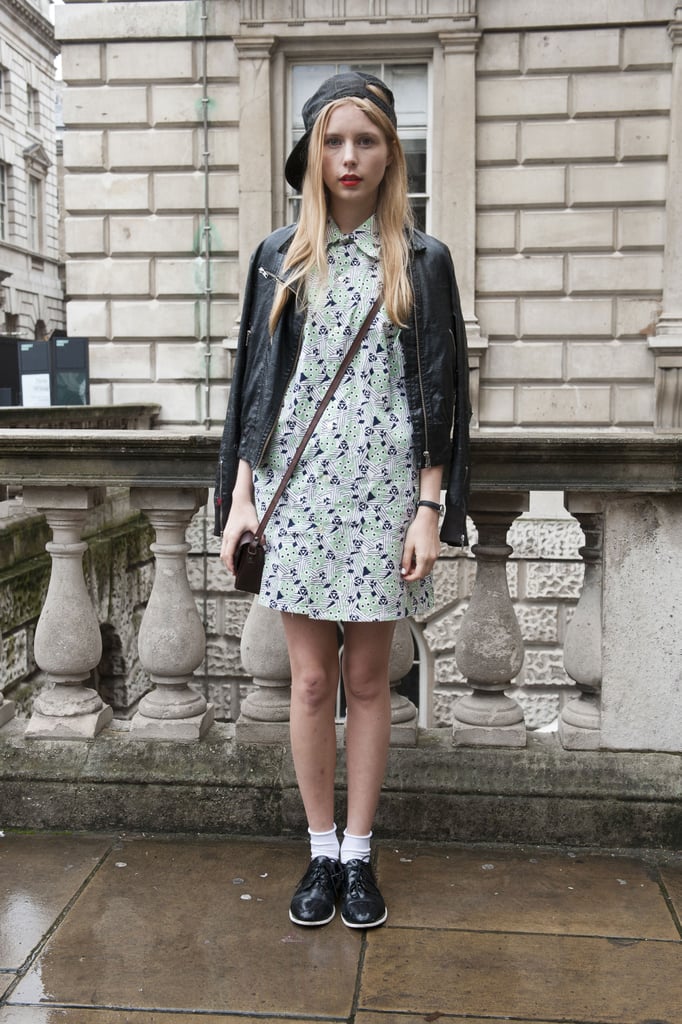 All about a wow print and a cool jacket.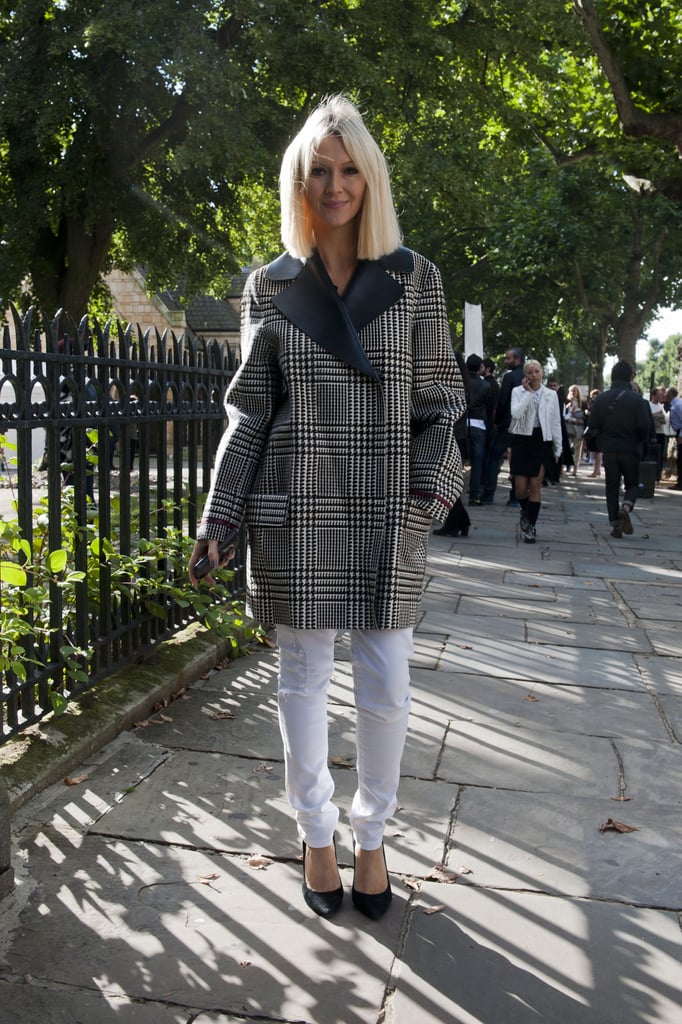 Zanna Roberts Rassi took her white jeans right into Fall with a checked coat.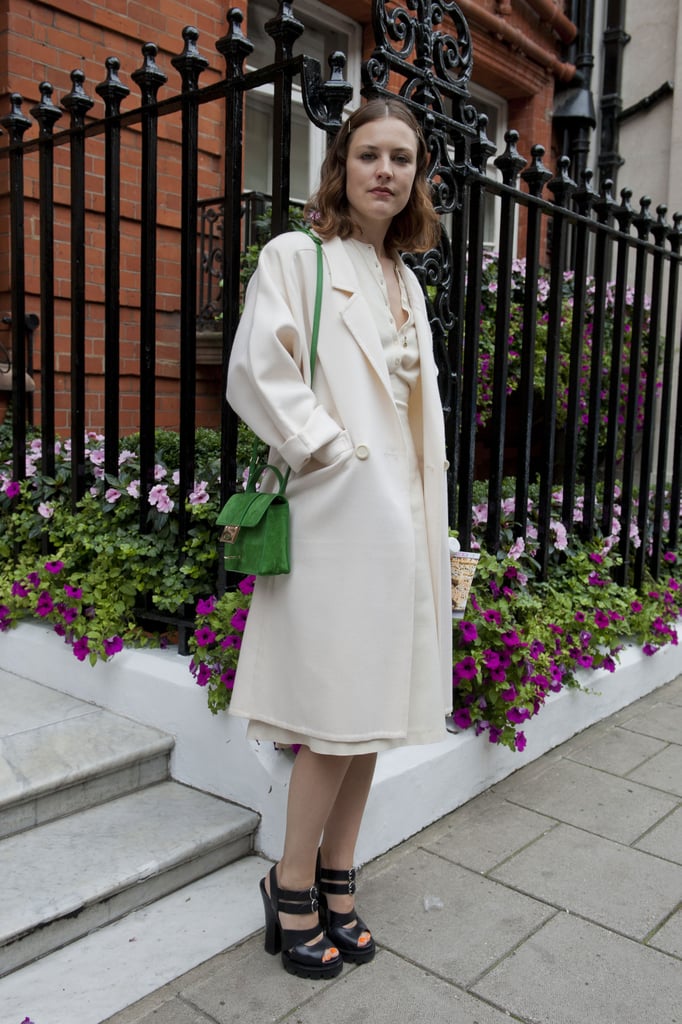 Everything about this says ladylike, except for the chunky-soled platforms.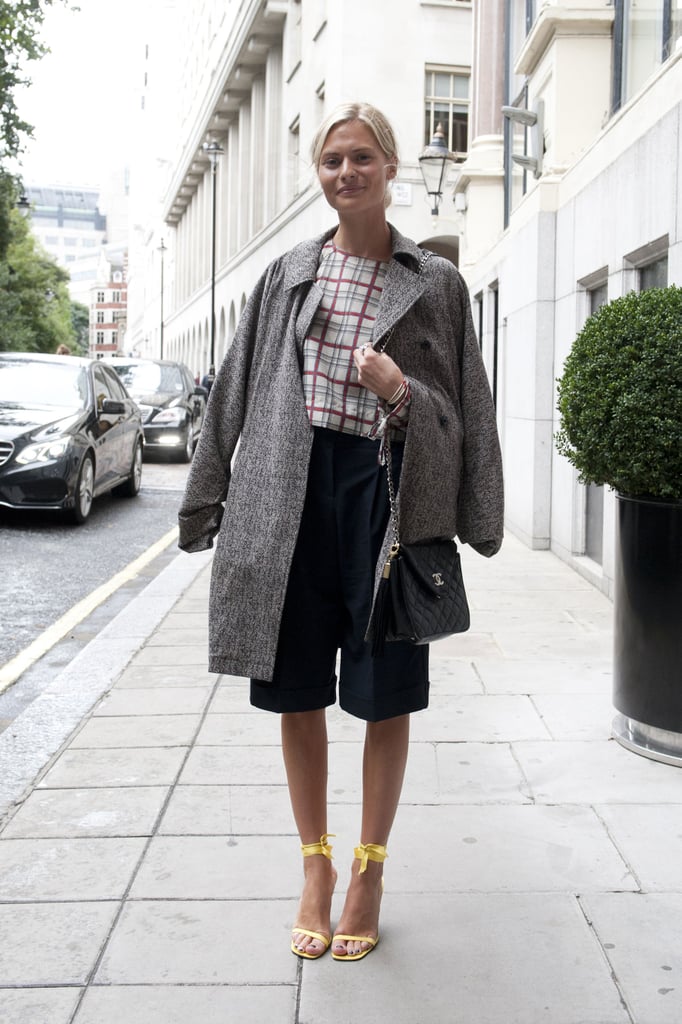 She balanced tomboy bermuda shorts and a menswear coat with the prettiest kind of ankle-strap sandals.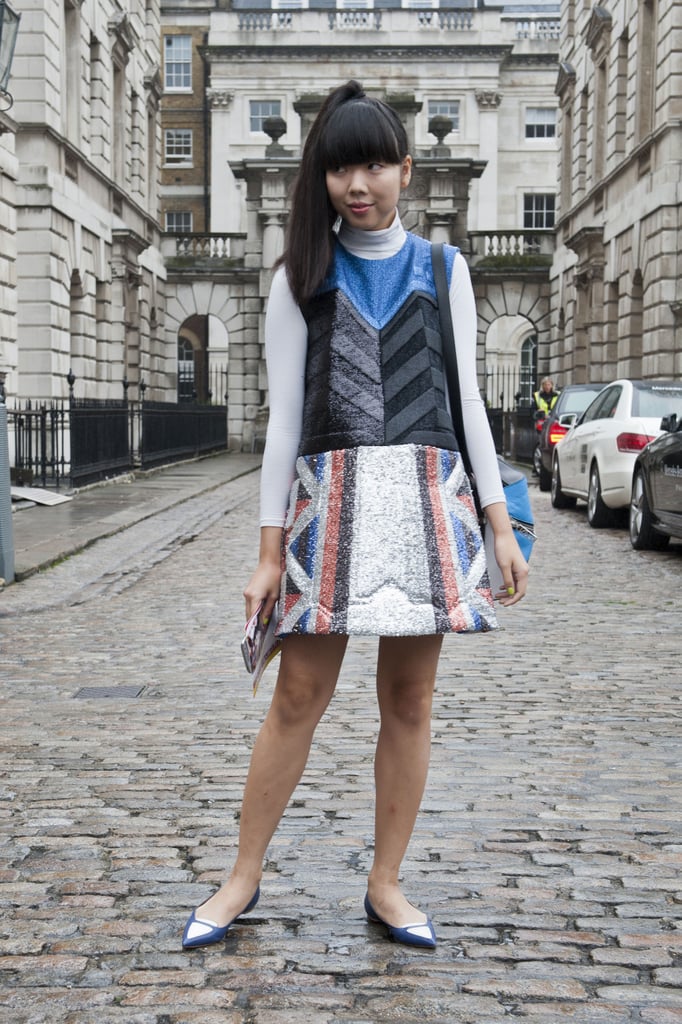 Susie Bubble said it all with her dress.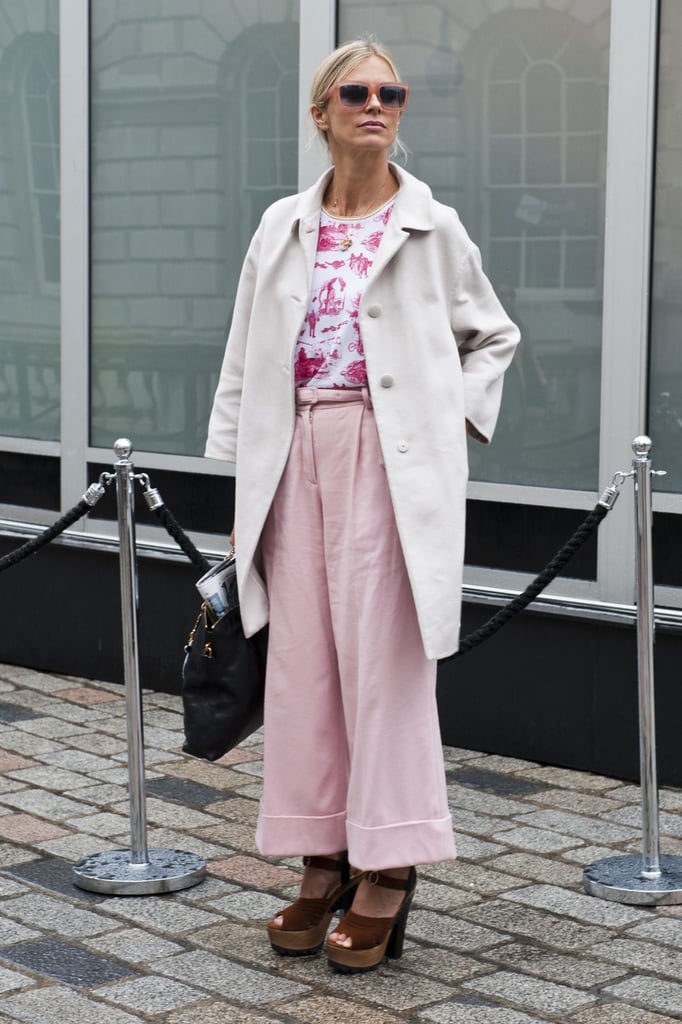 Pink is hardly your typically girlie fare when worn like this.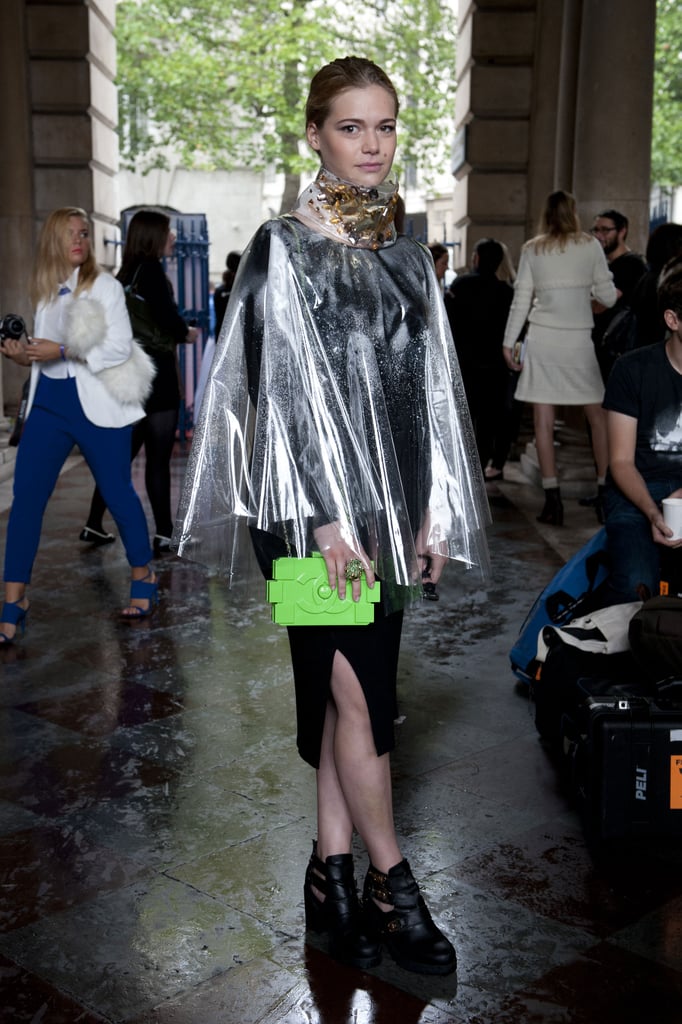 The coolest kind of rainy-day gear, complete with a neon Chanel clutch.
Borrowed-from-the-boys stripes and trousers.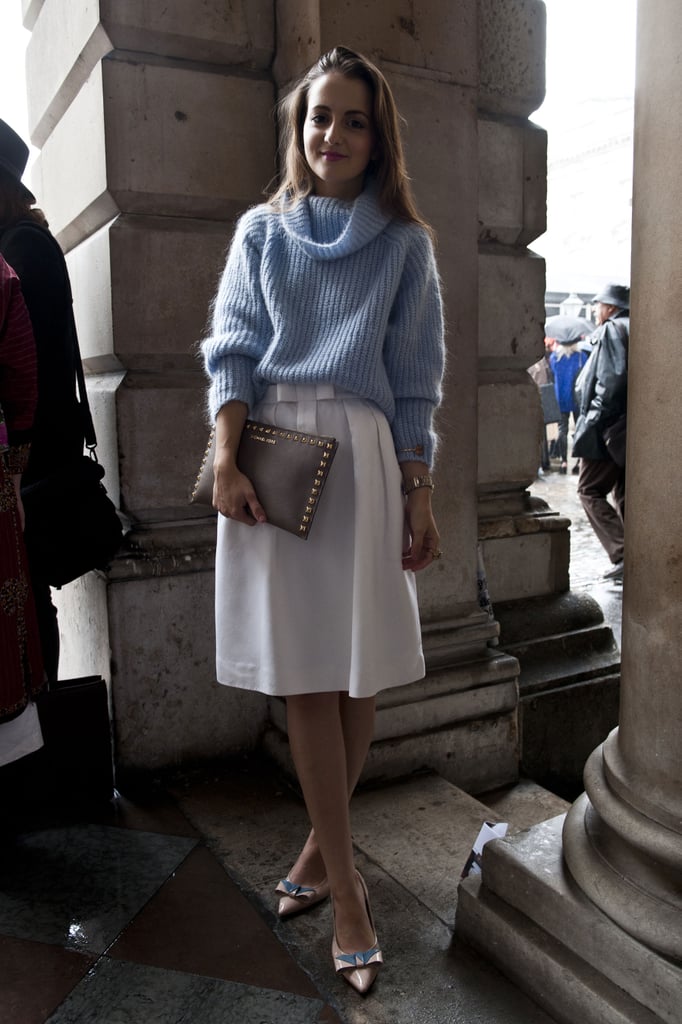 Lovely and ladylike, with a cozy layer to top it all off.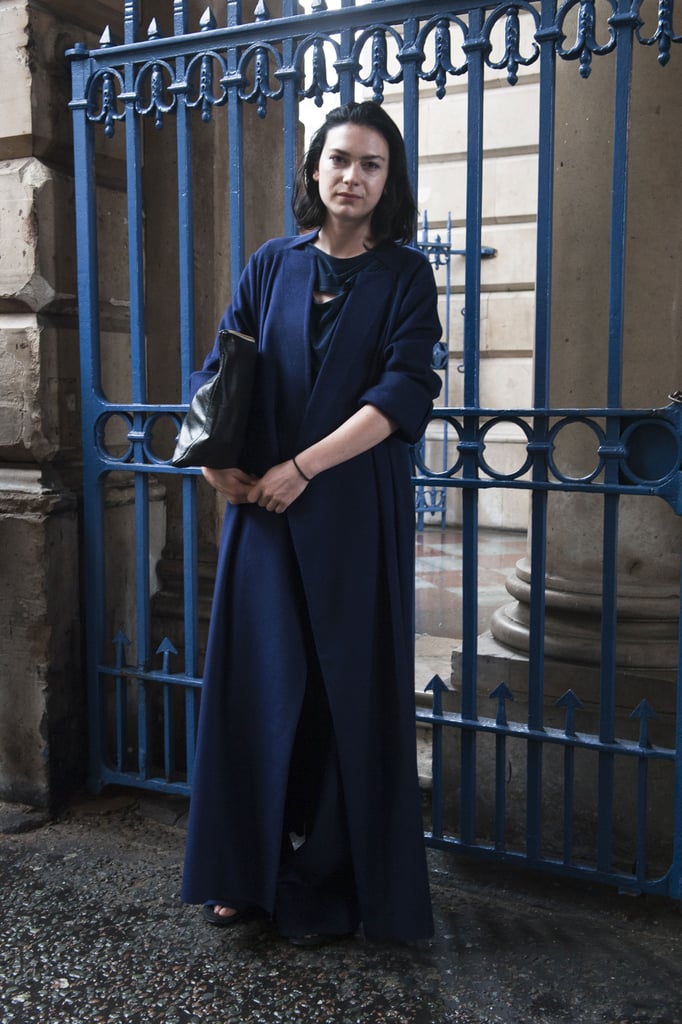 An elegant black and navy combo.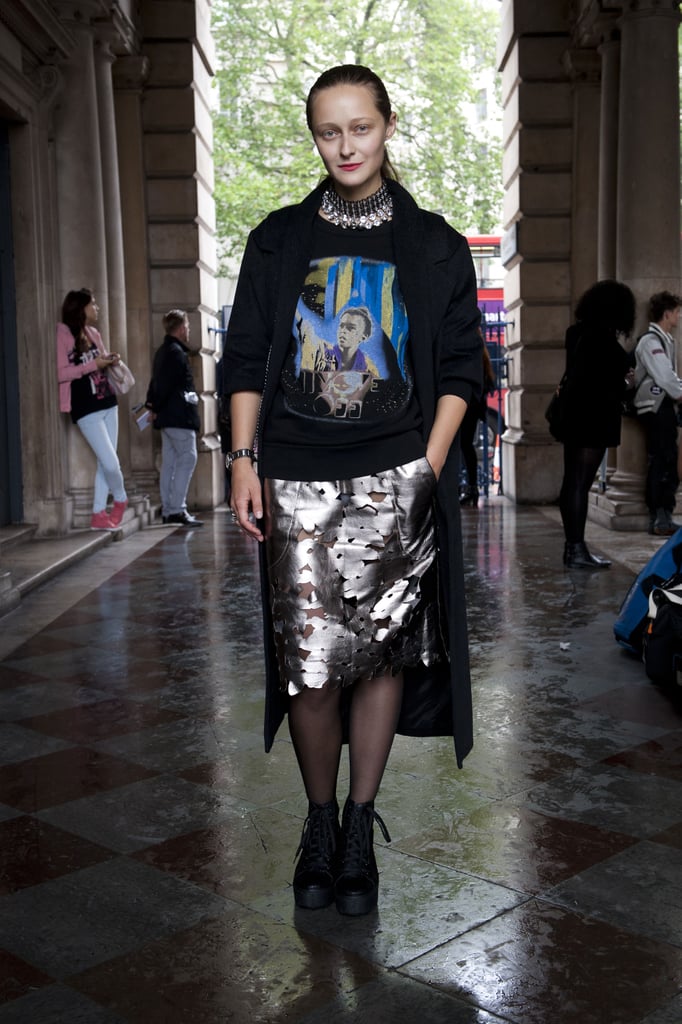 Mismatched-cool, thanks to her graphic tee and metallic pencil skirt.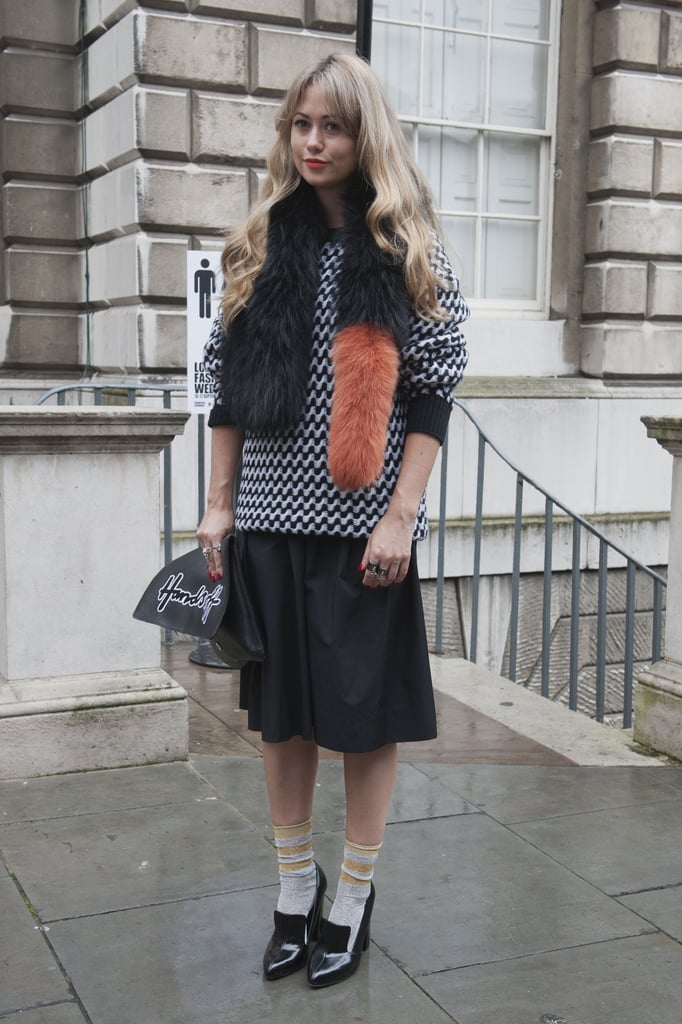 She perfected the London-town look with loafers and socks.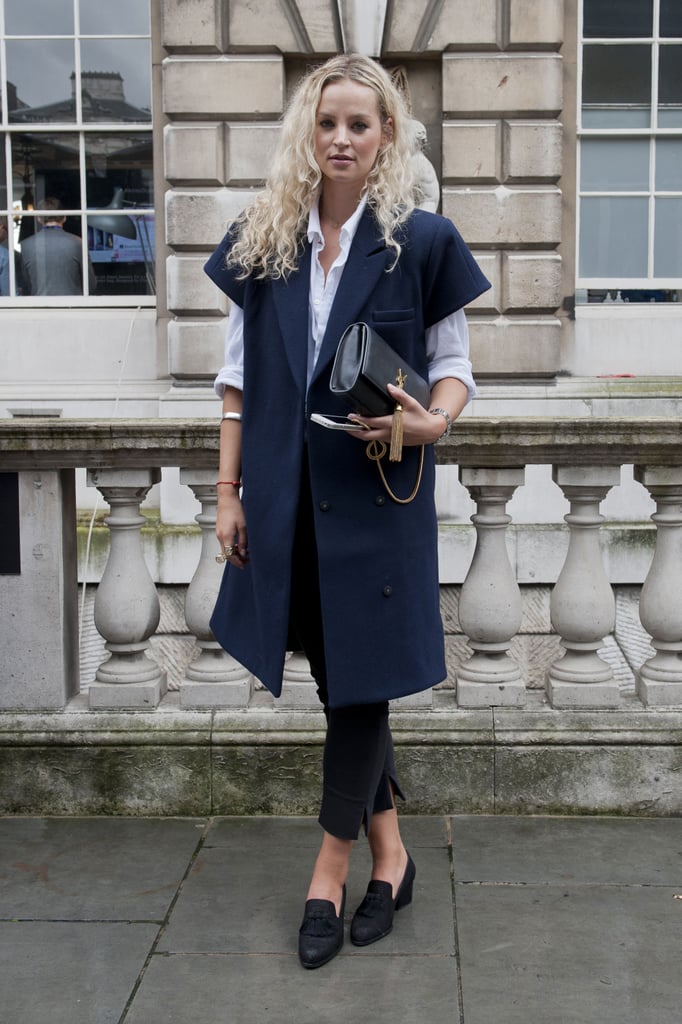 A sleeveless blazer gave this white and black look a polished finish.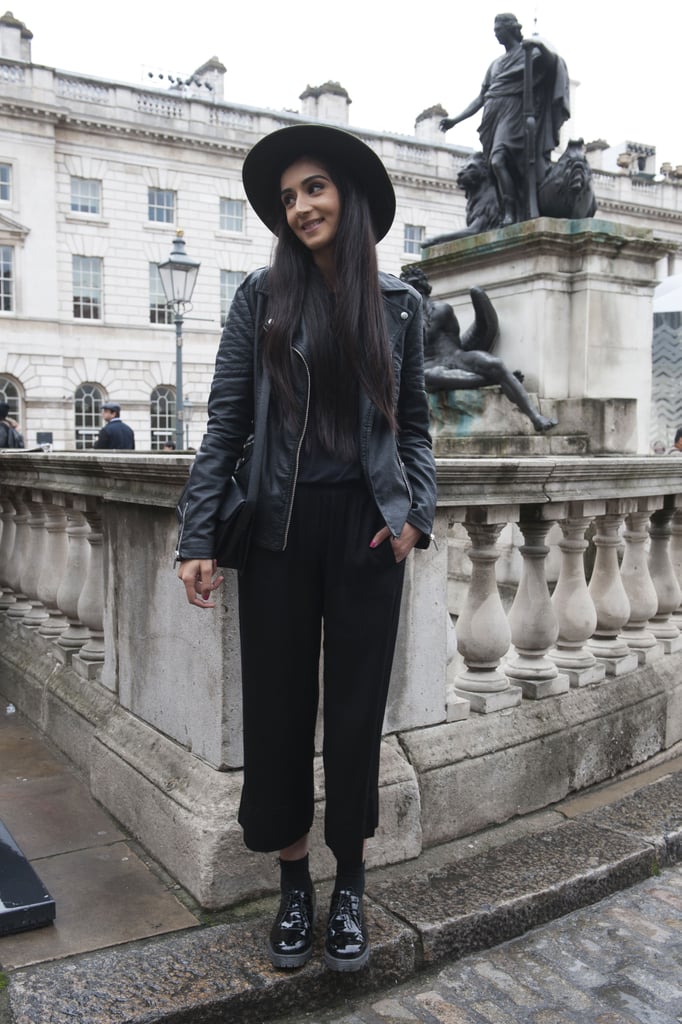 All black with a boho-cum-punk twist.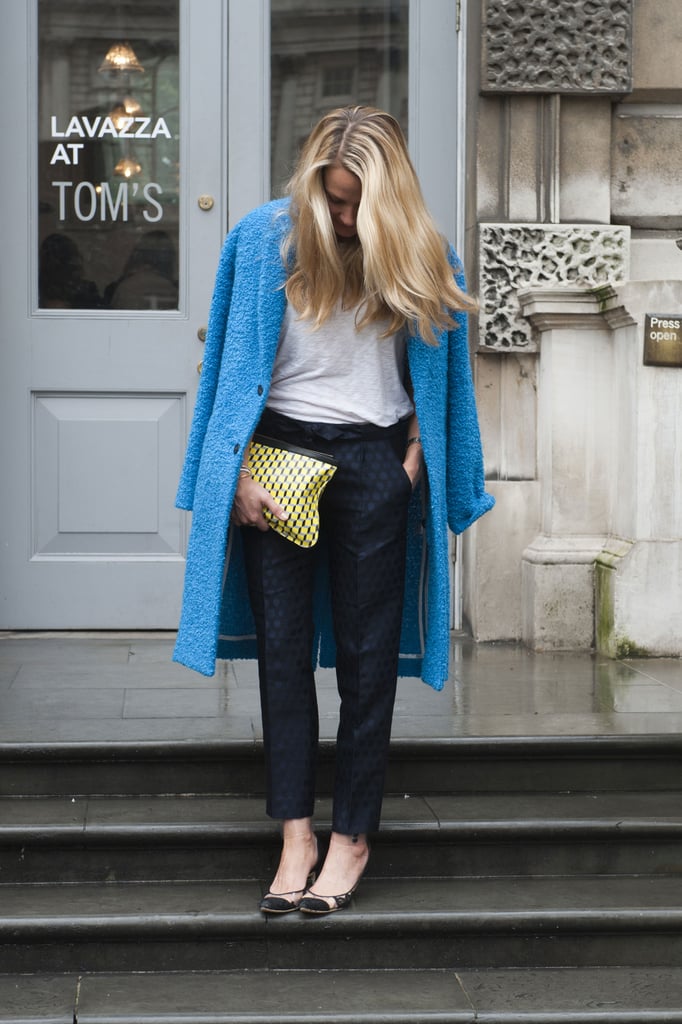 We love the shoes, too — but we're more infatuated with that brilliant blue coat.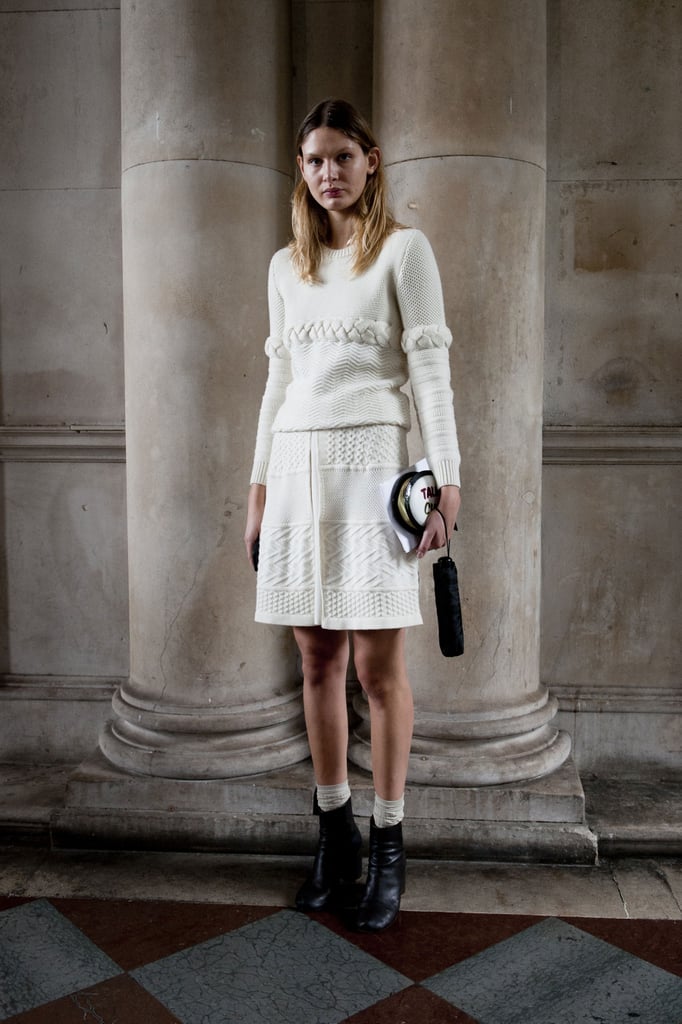 This white-on-white look was all about the texture — and the great accessories.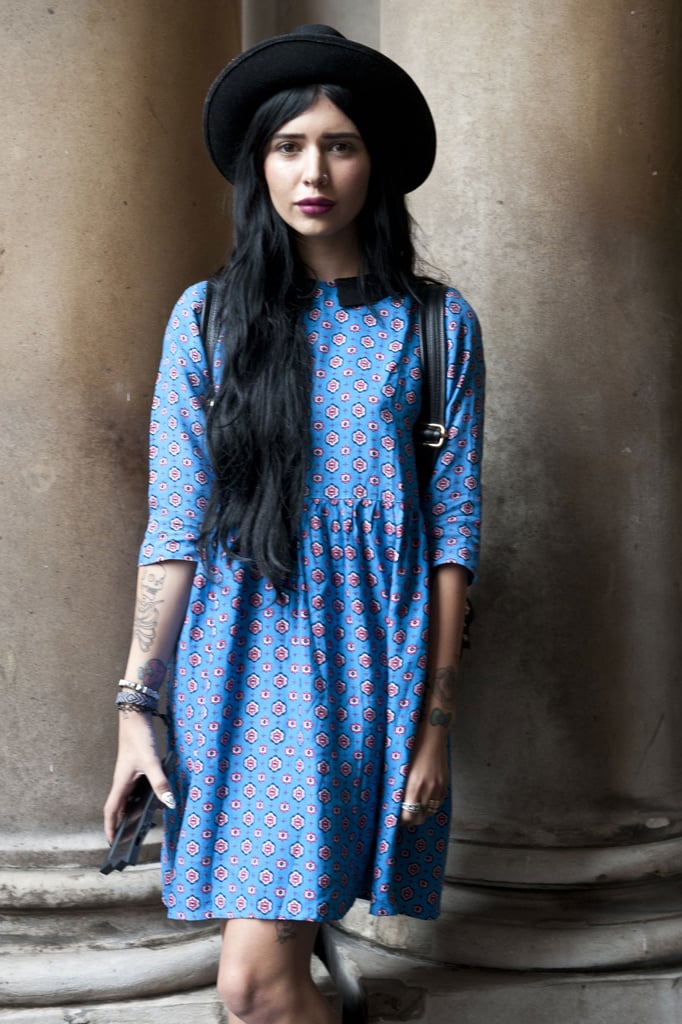 A little boho, a little girlie.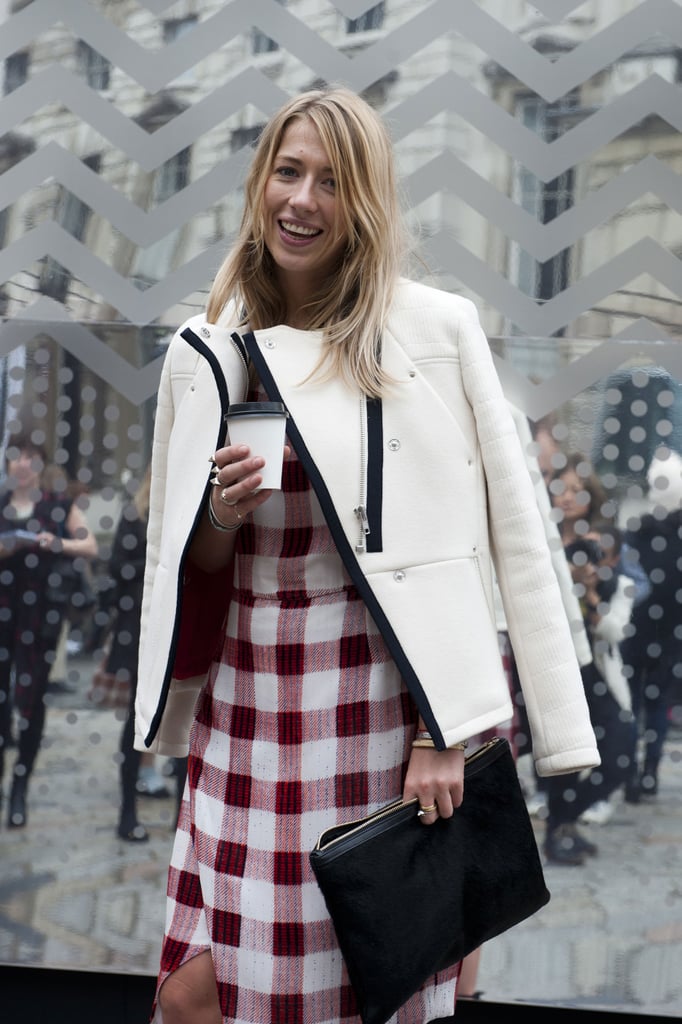 We can't decide what we love more — that jacket or that plaid.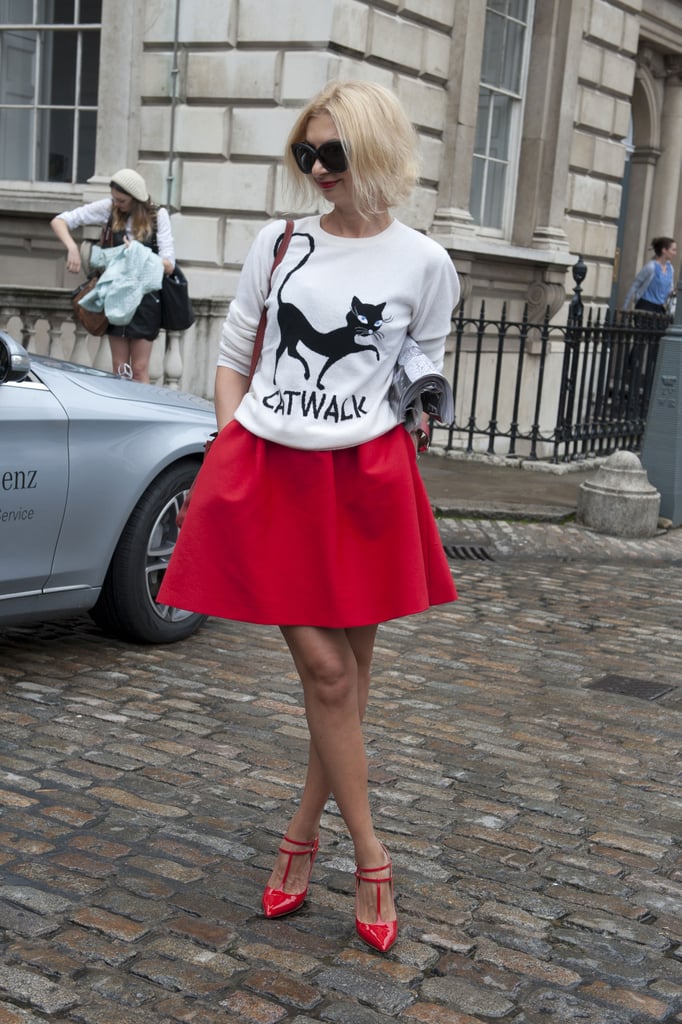 A perfectly punny knit.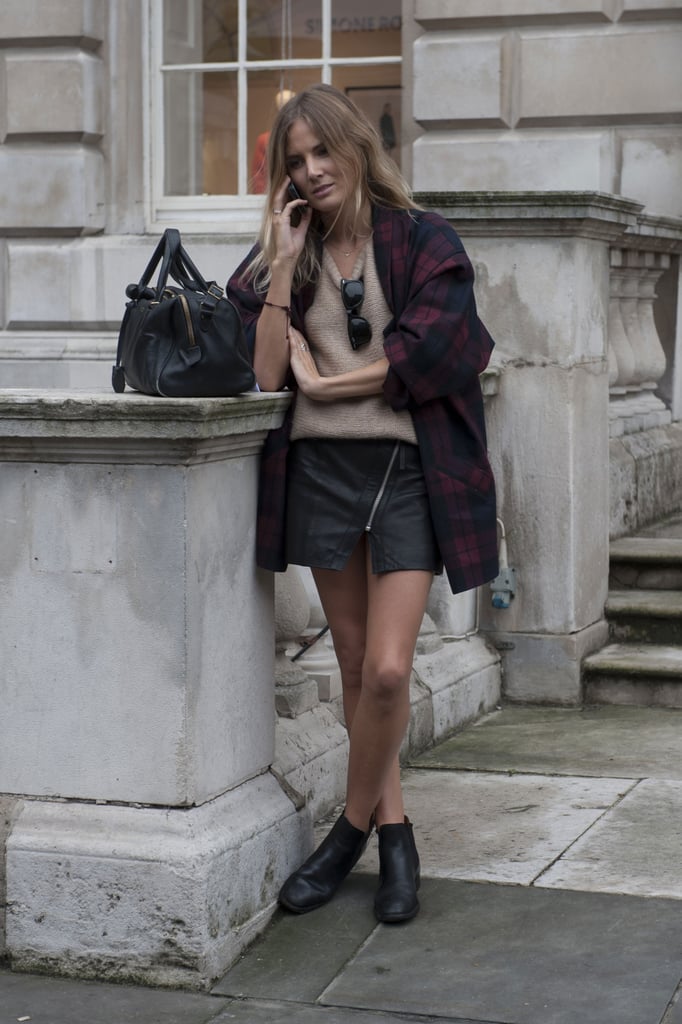 It doesn't take a lot, but a little plaid and leather gave this street style moment some punk appeal.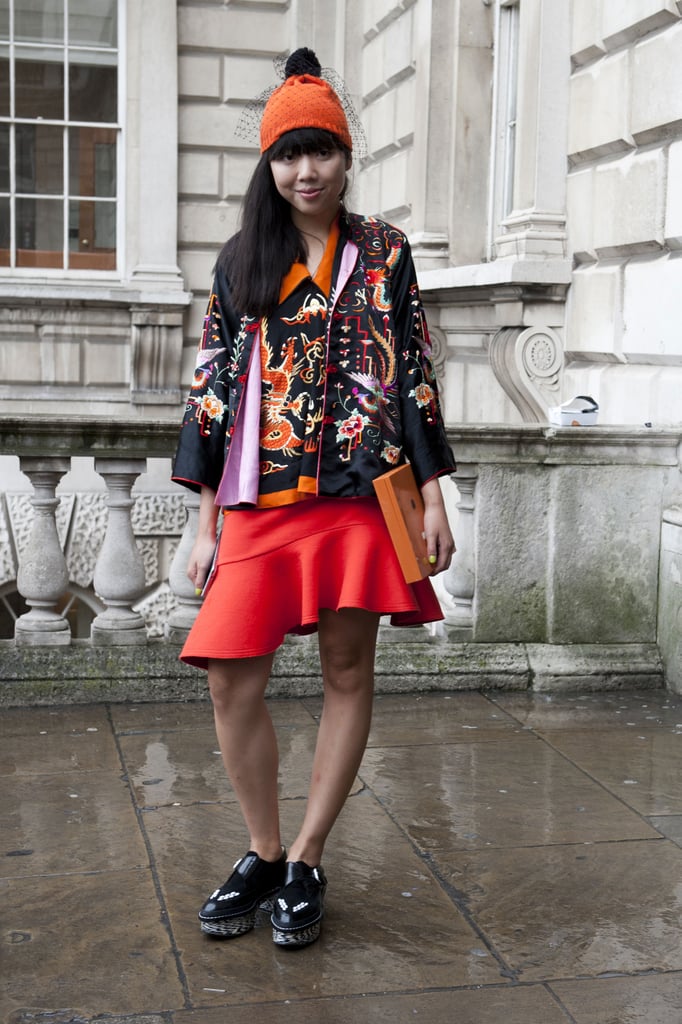 Susie Bubble's whimsical mix caught our eye outside the shows.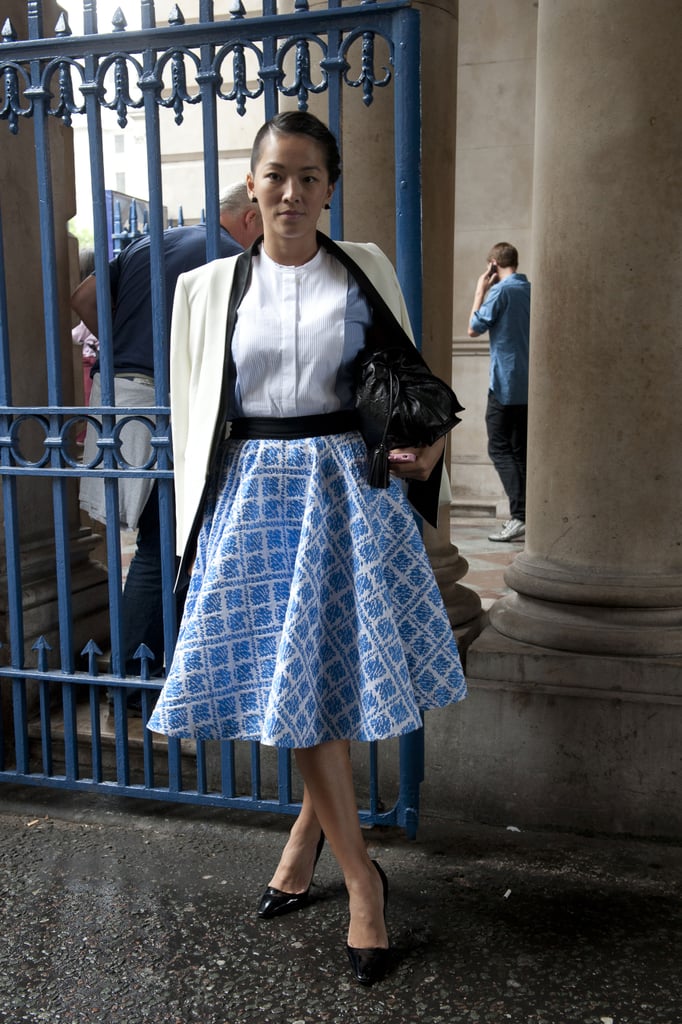 What's not to love about her menswear tux look on top and ladylike flair on bottom?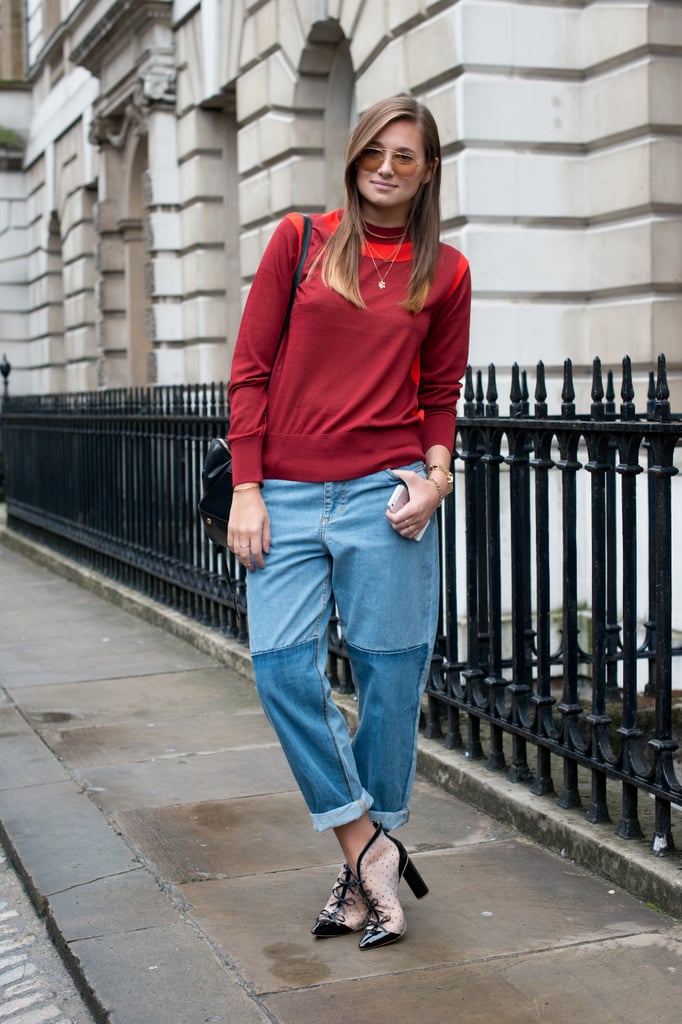 Boyfriend denim was just the right counter for girlie, delightful heels.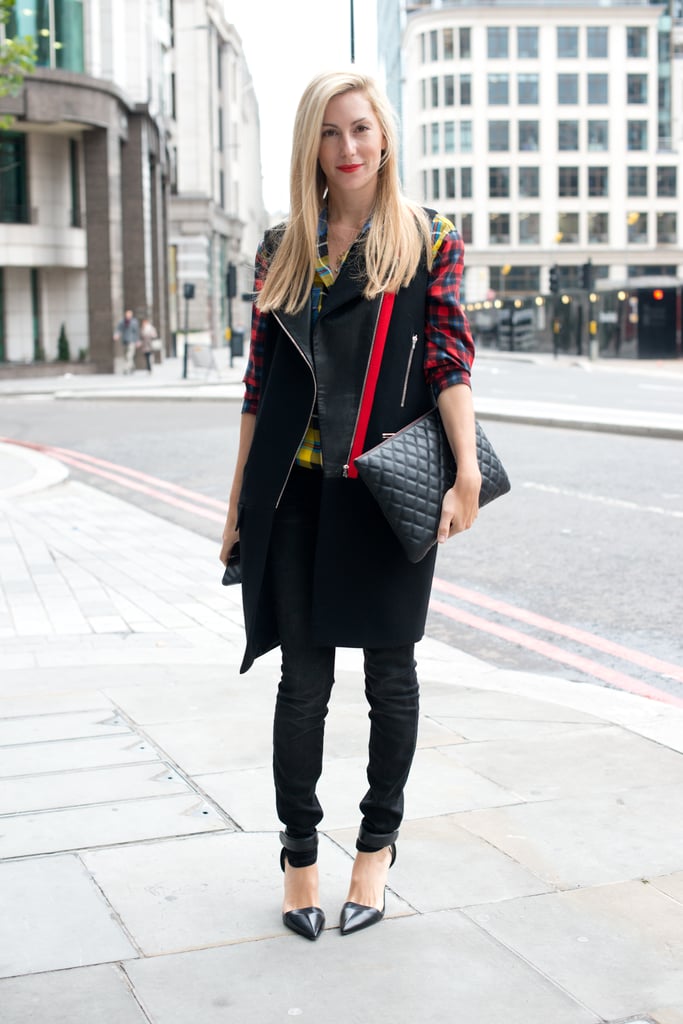 Joanna Hillman adopted the London dress code with a biker vest and a plaid button-down.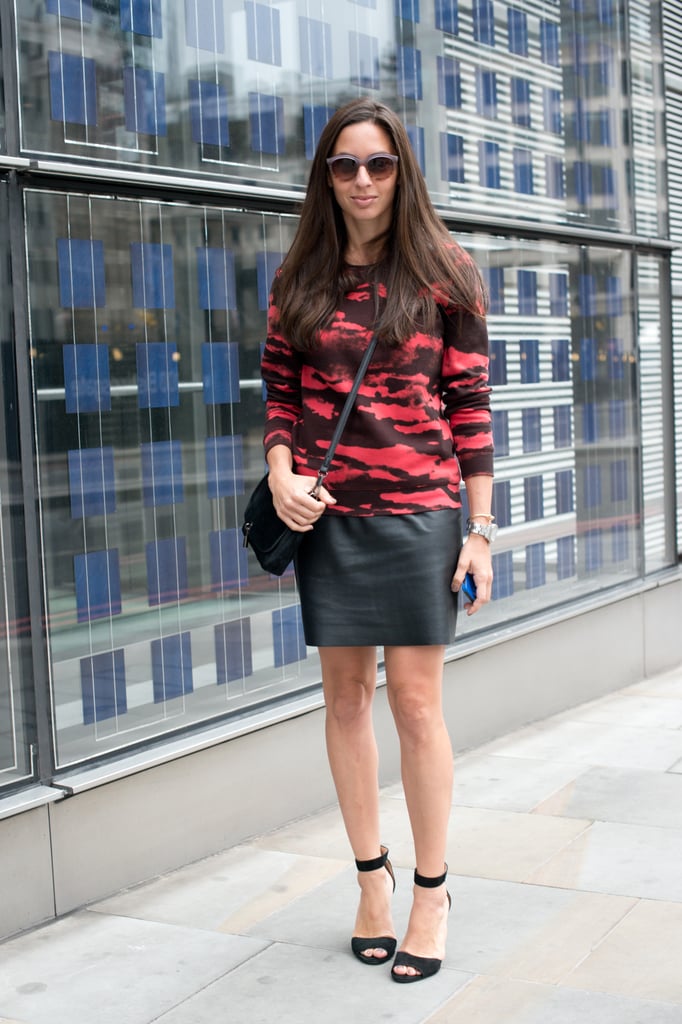 Camo and leather said tough girl, but ankle-strap heels said something slightly more glam.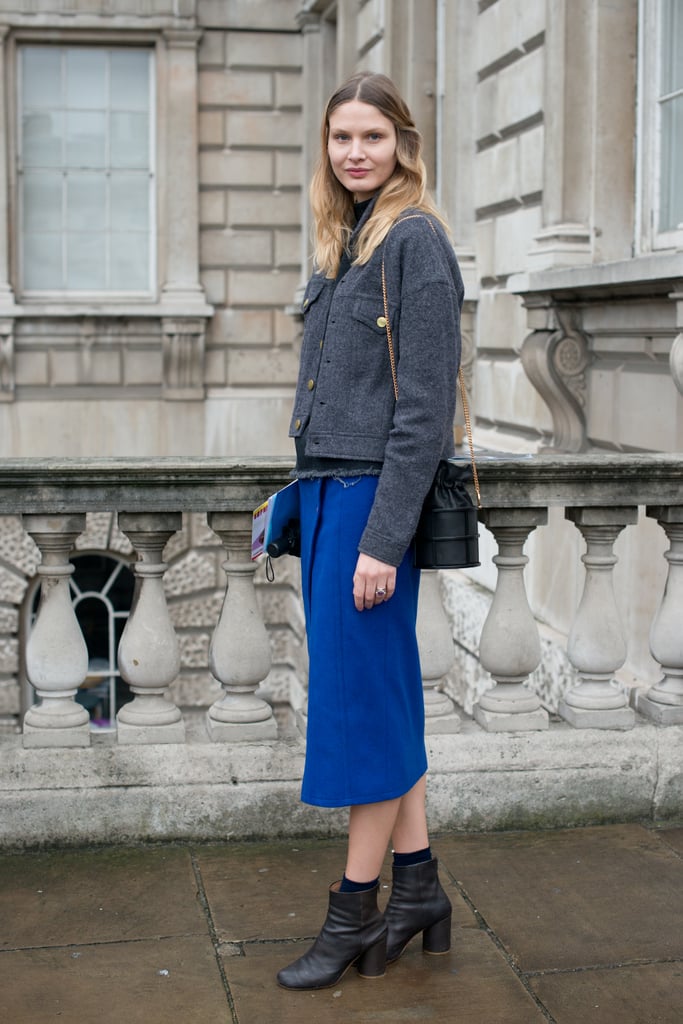 One part minimalist, one part tomboy.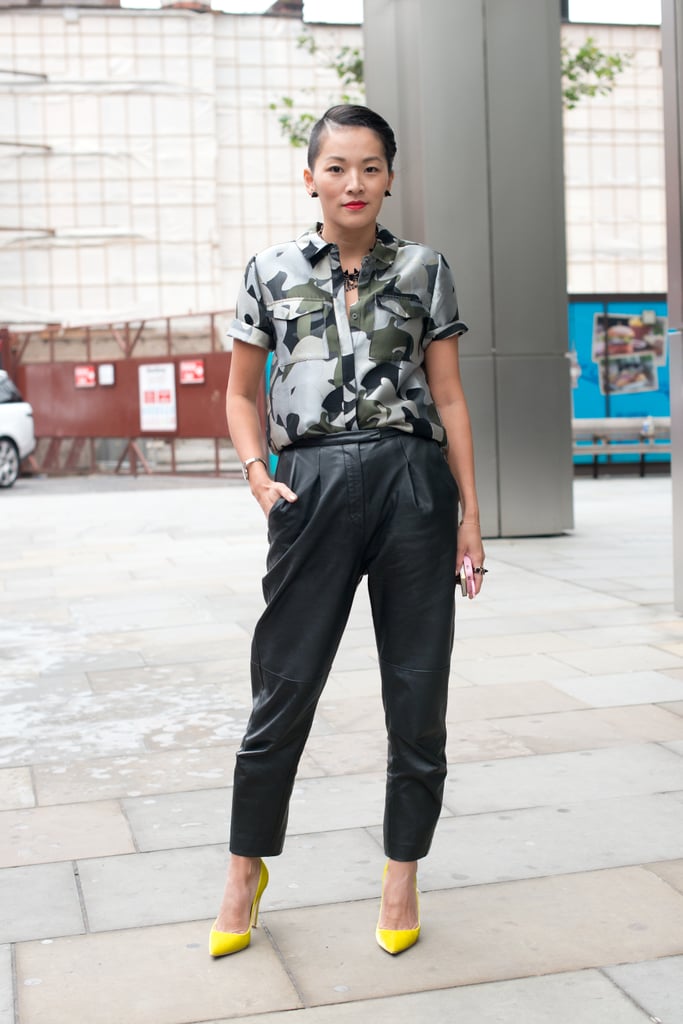 Another showgoer took on the cool-girl styling formula: camo and leather.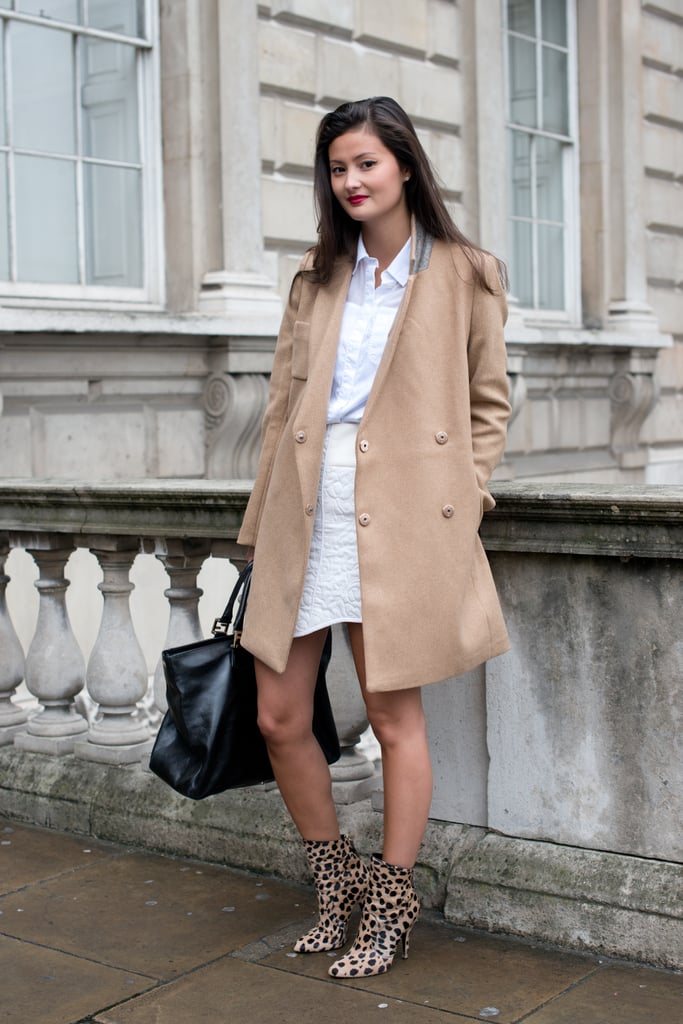 The camel coat — and those leopard print boots — made the look.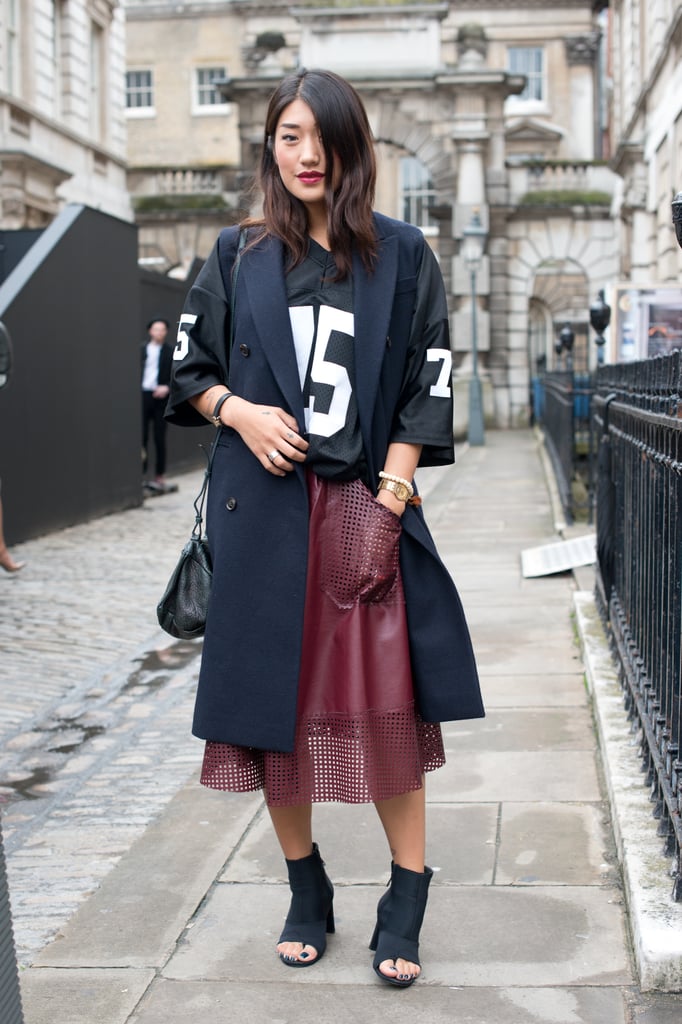 The proof that you can totally wear your jersey (or your boyfriend's) off the field.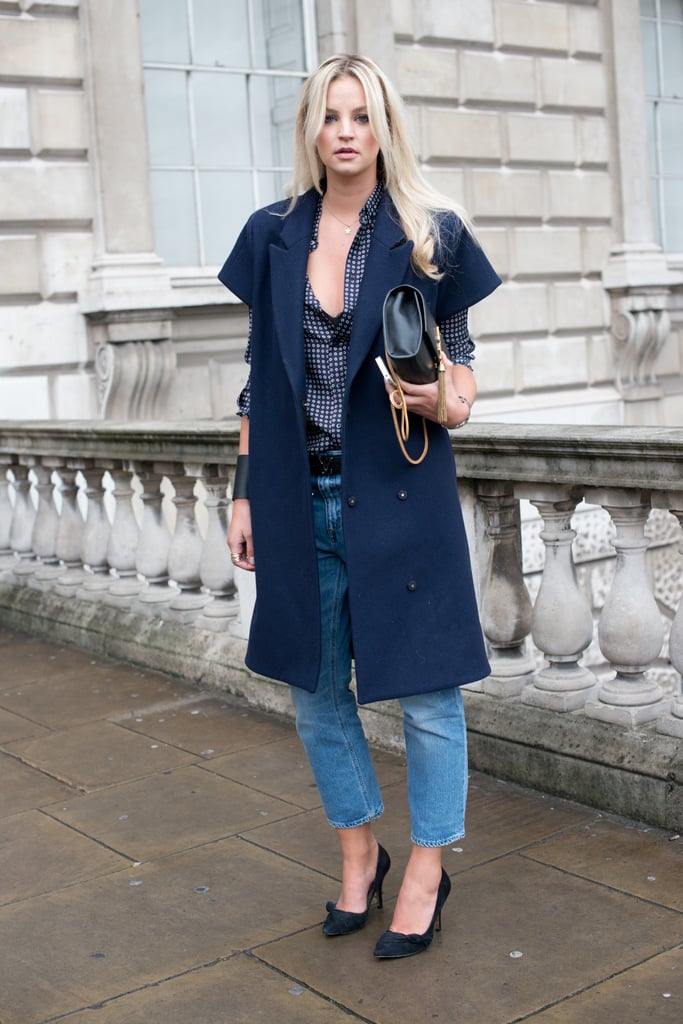 Sleeveless blazers ruled outside the tents.
What better to polish off a pretty tiered dress than a leather moto jacket?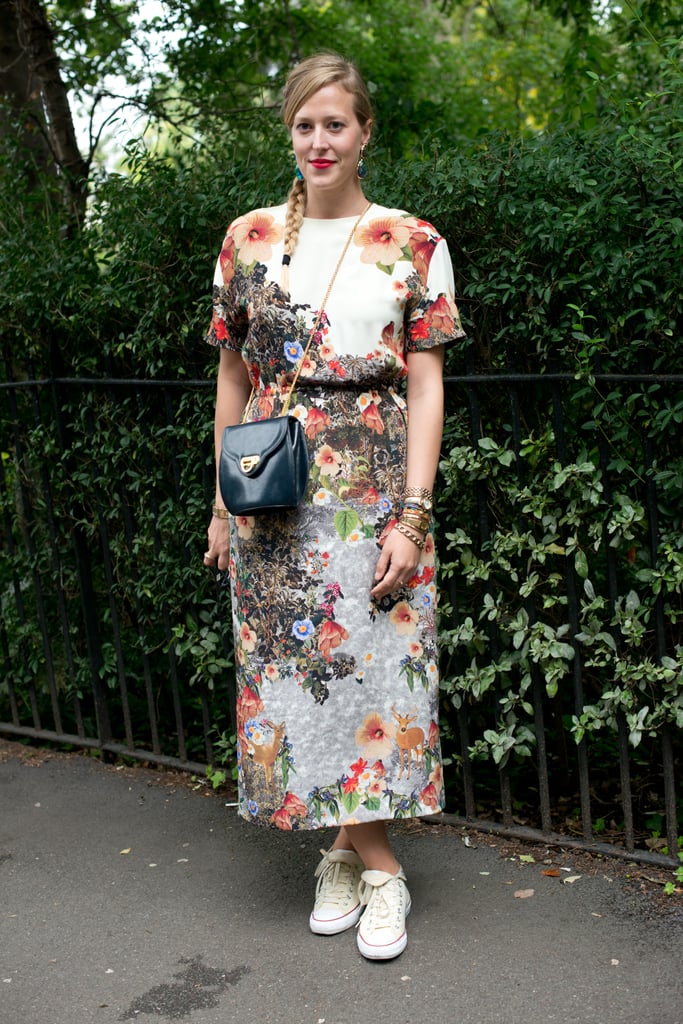 Lucky's Verena Von Pfetten knew the power of a statement dress — and the fact that you can always wear your dresses with Converse.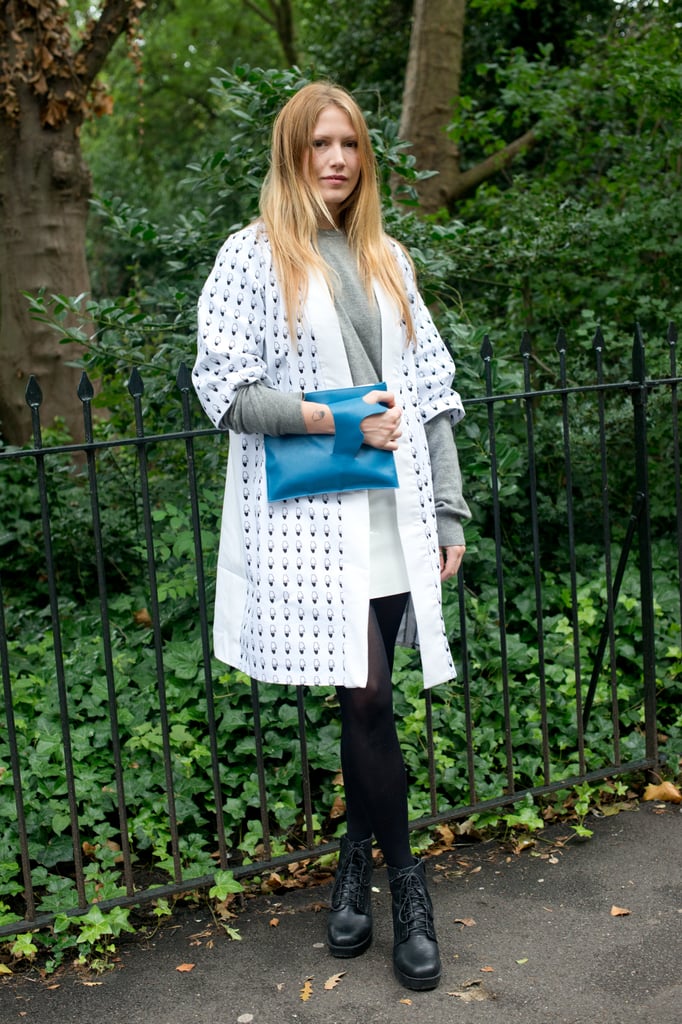 Her printed cardigan and blue zippered clutch added a little quirk to a sweatshirt and tights.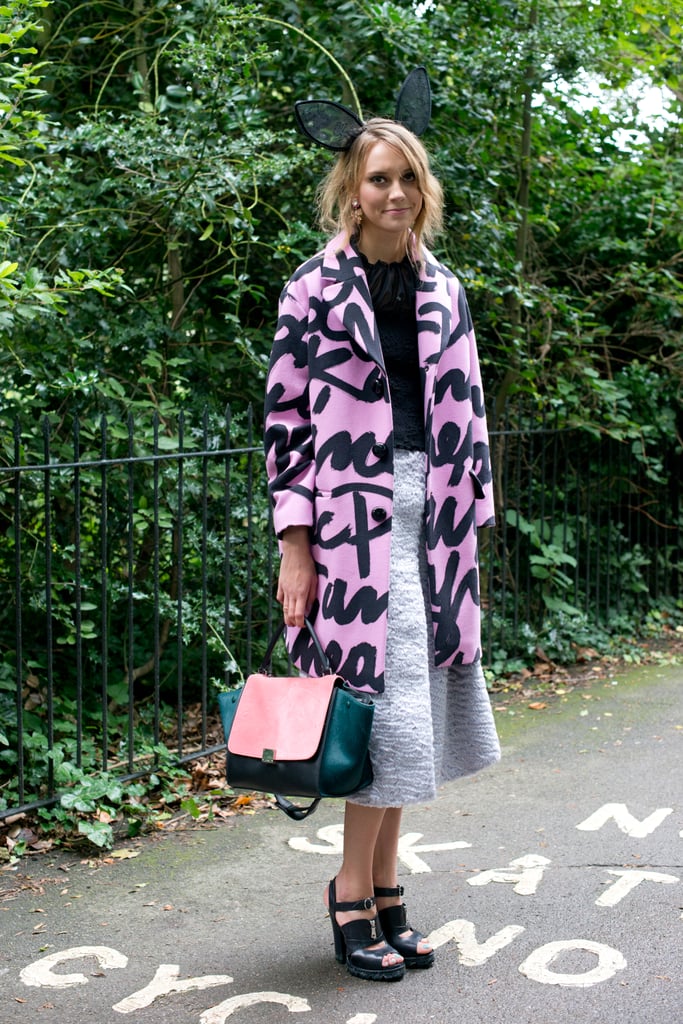 This showgoer didn't shy away from statement-making pieces, opting for bunny ears, a graffiti-printed coat, and a bright, colorblock Céline bag.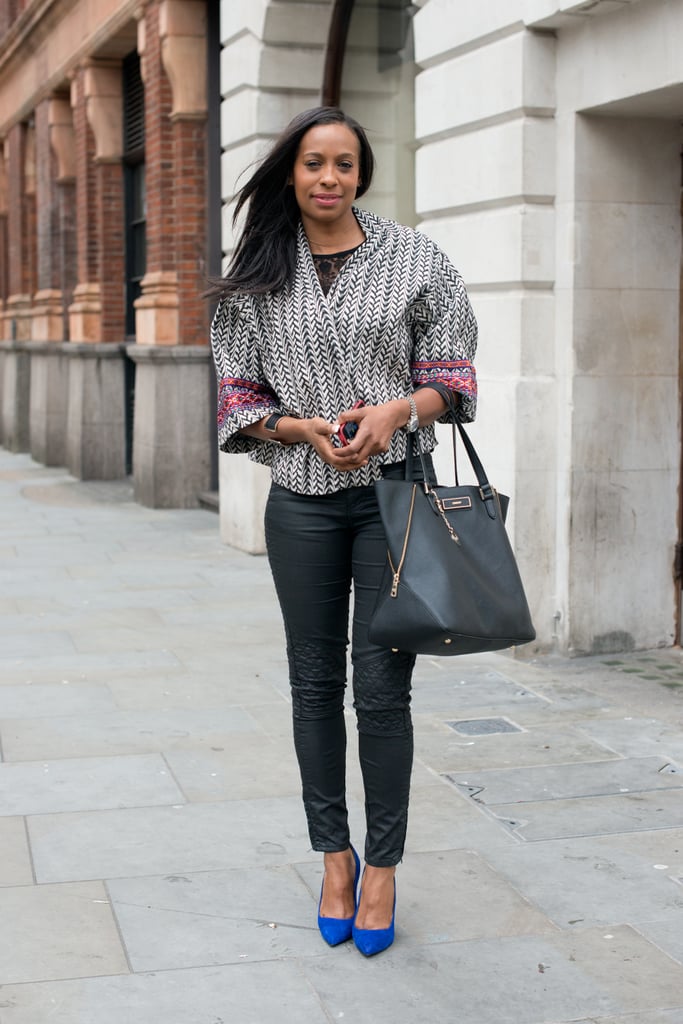 An eclectic print and blue suede heels brightened up her black pants and tote.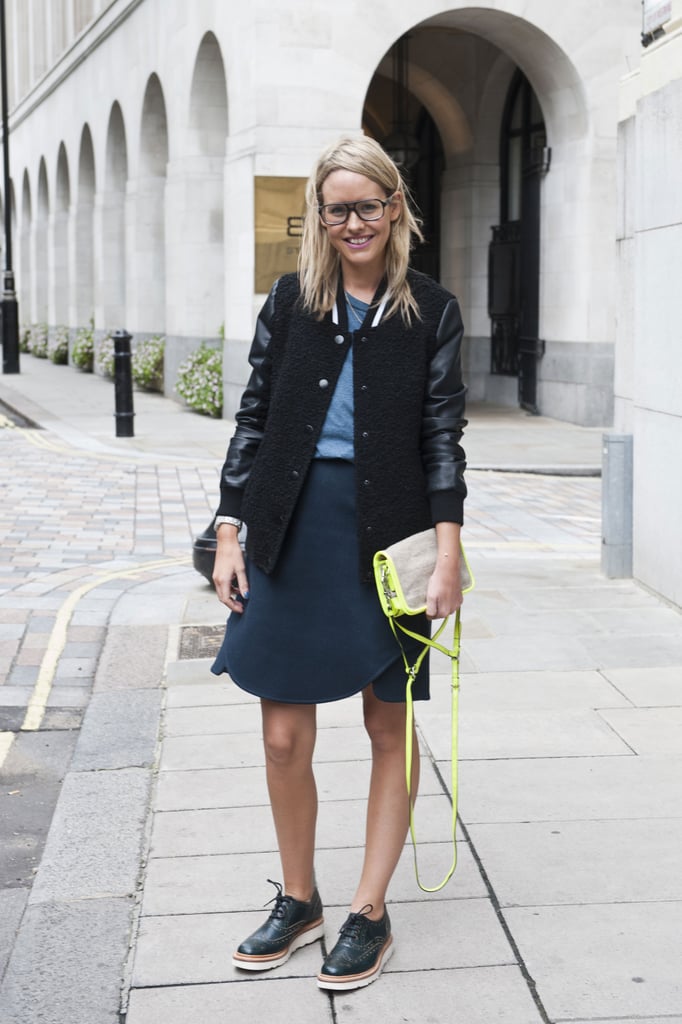 Schoolgirl style never looked this cool.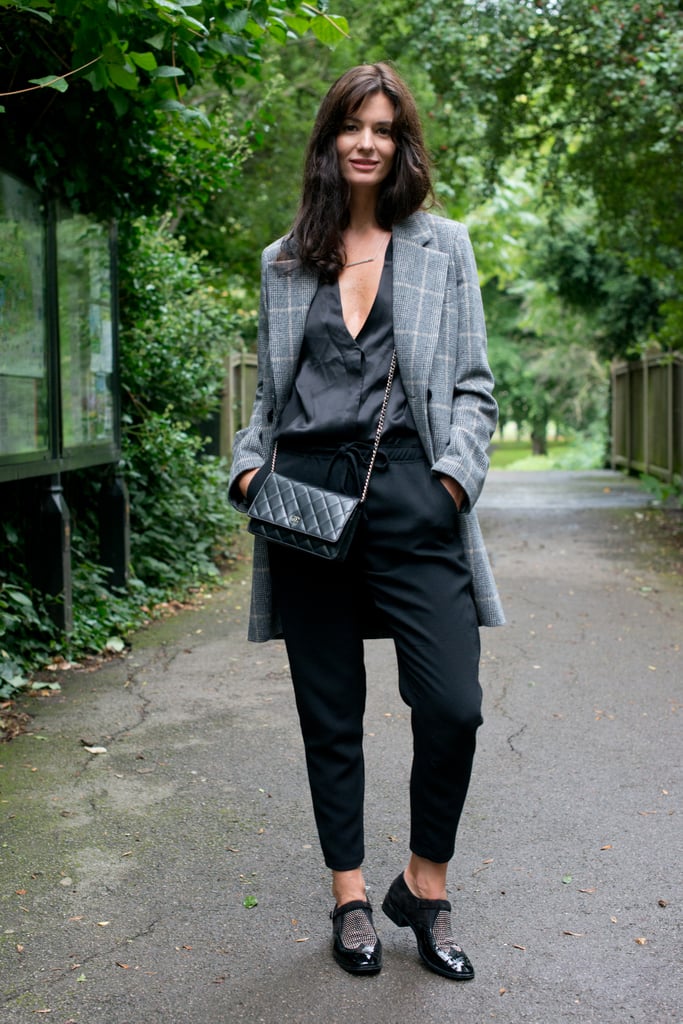 Her play on the classics was spot on with a checked coat, studded brogues, and a little Chanel bag.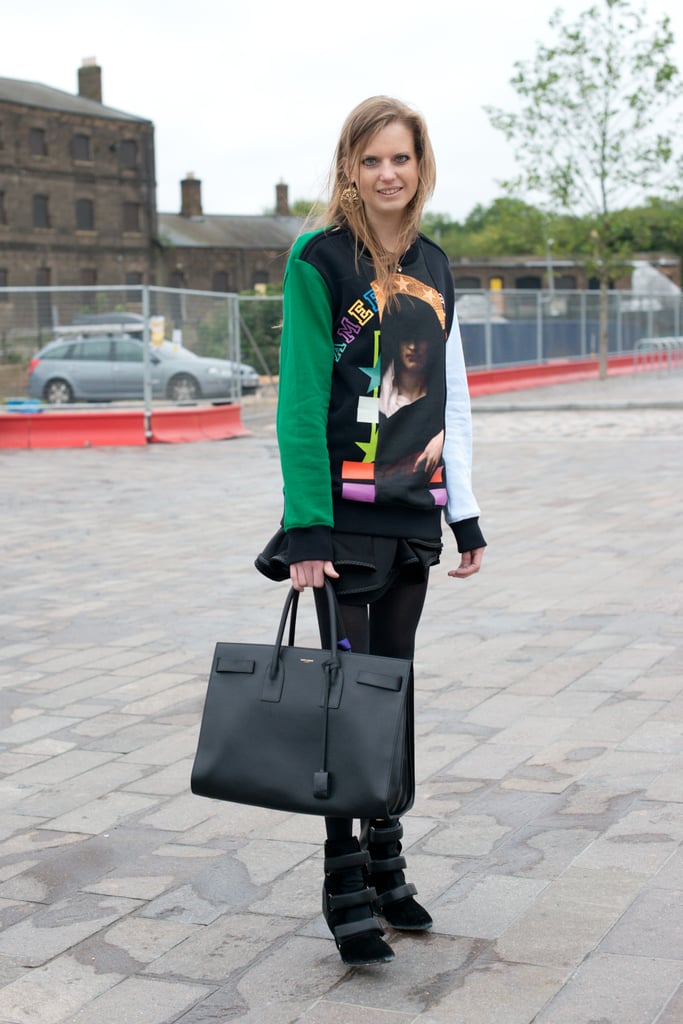 Luxe pieces abound in this cool ensemble, from her Saint Laurent bag to her Givenchy sweatshirt and Isabel Marant boots.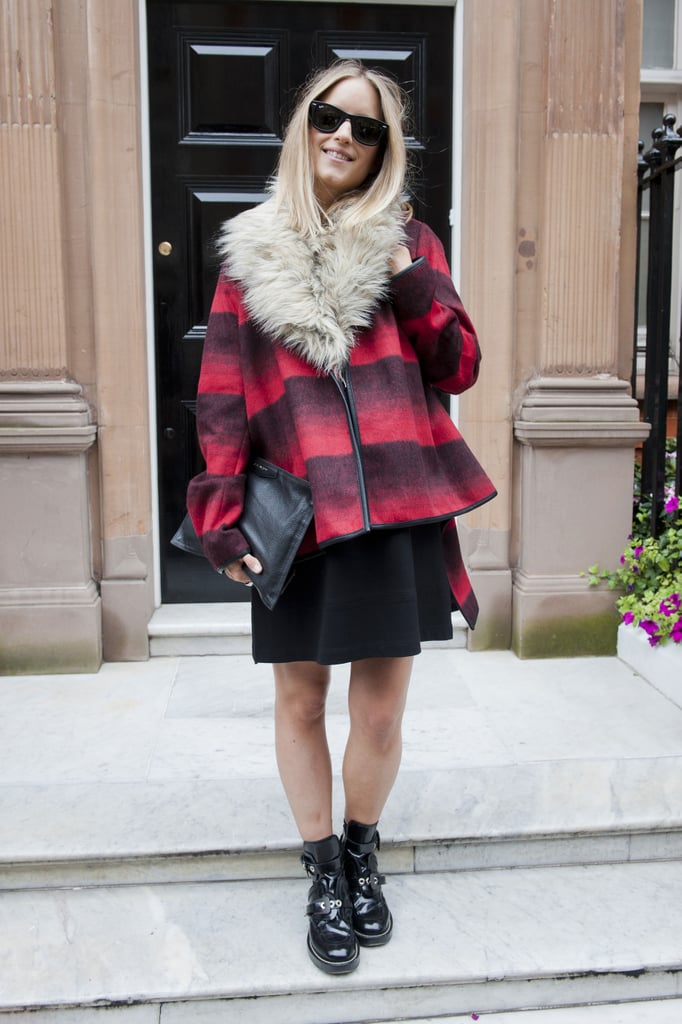 Something to steal for Fall — a little plaid with a furry collar.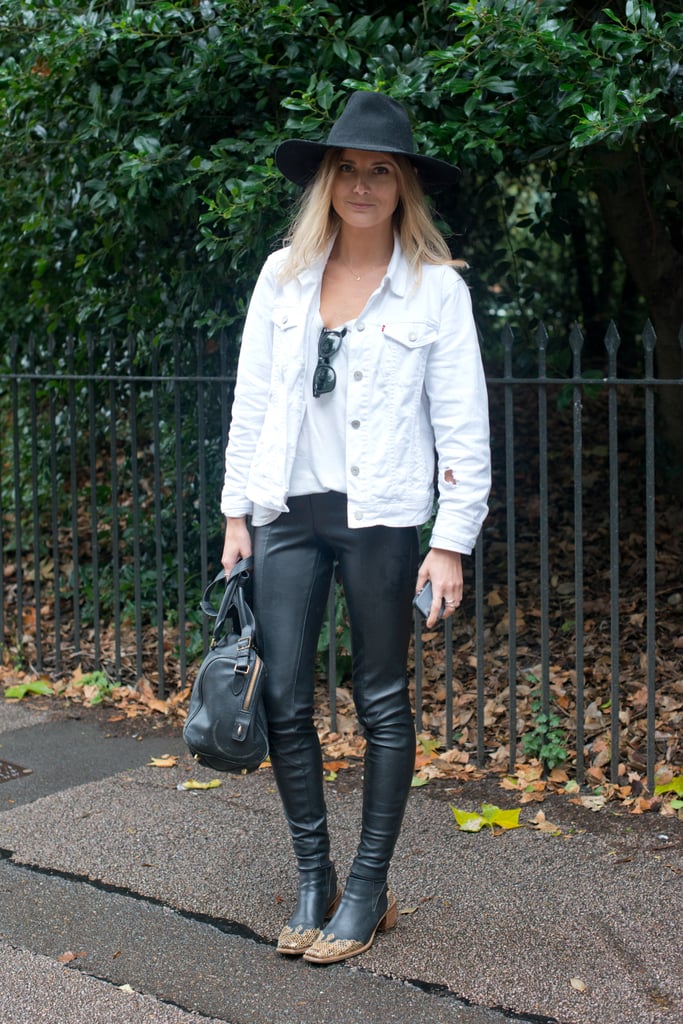 White and black that's more dressed down than totally sleek.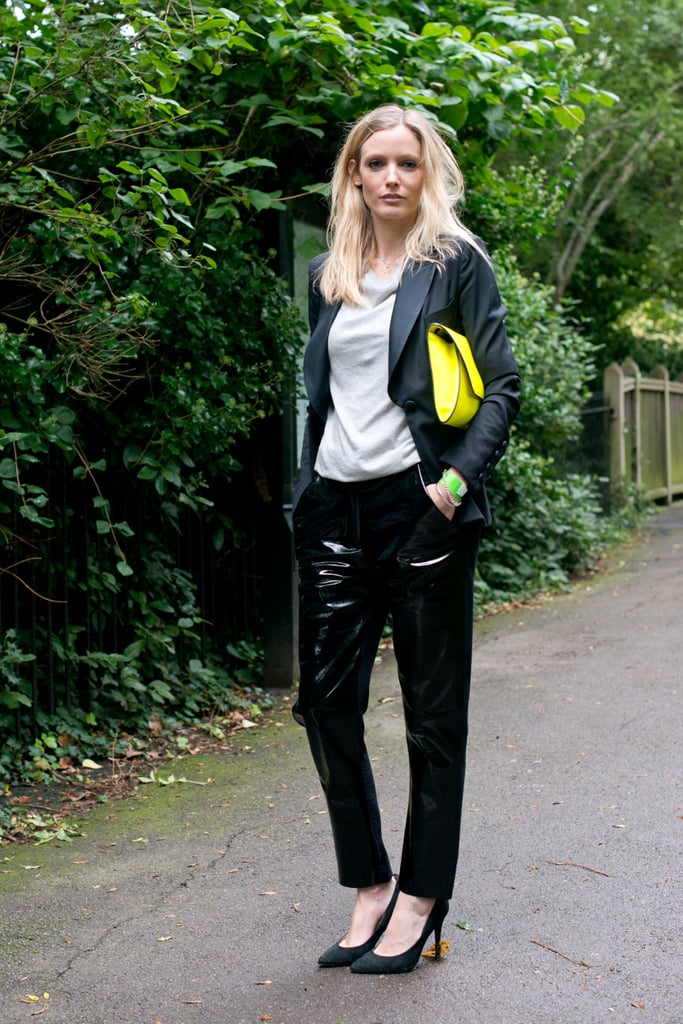 A cool trick — keep your palette understated, then add a punch with your clutch.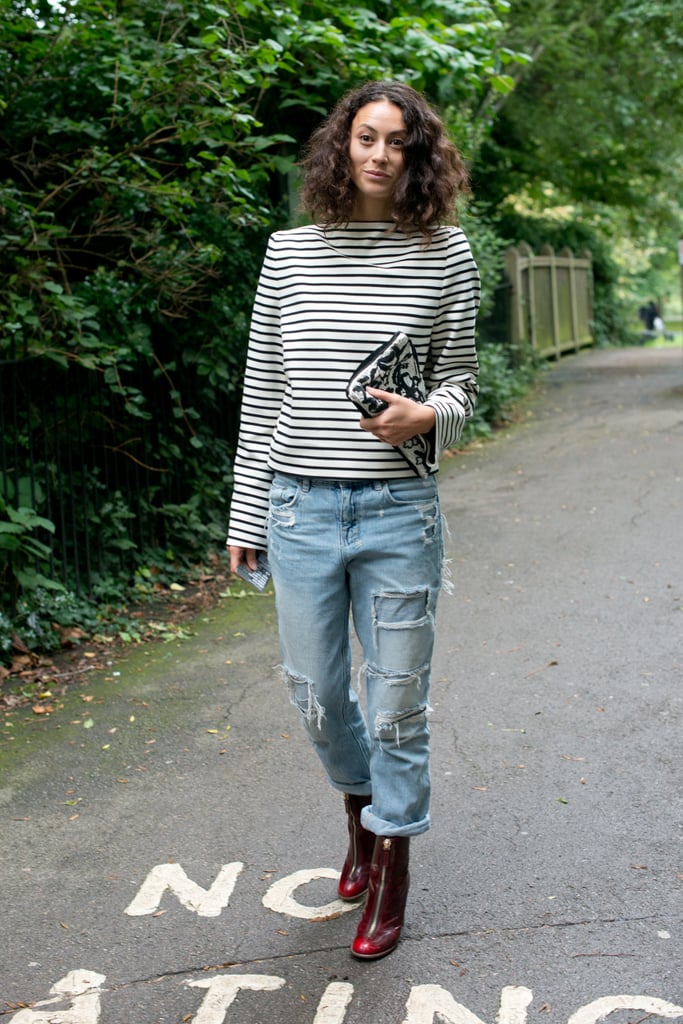 The top and jeans might have been totally casual, if not for the addition of an embroidered clutch and a pair of burgundy boots.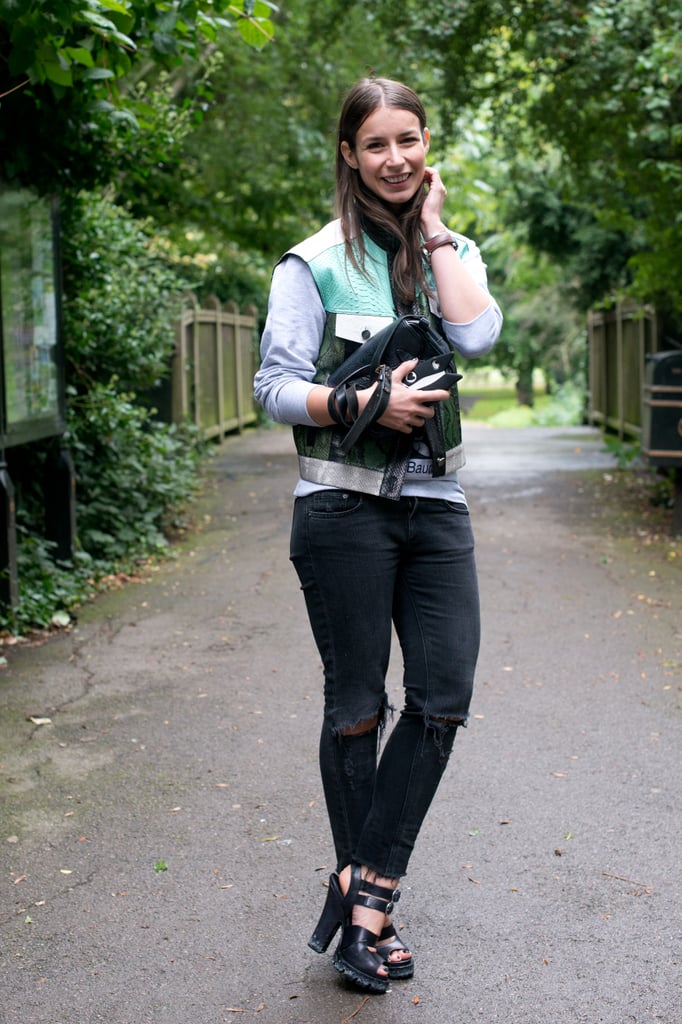 A patchwork, exotic vest made this denim moment a standout.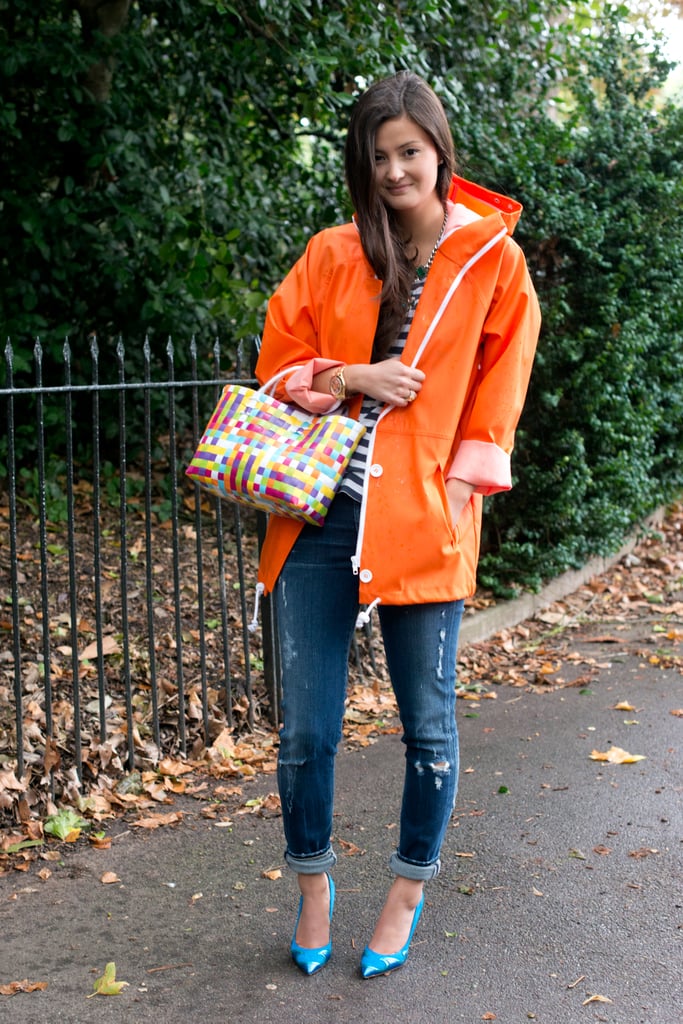 We're always suckers for cute rain gear.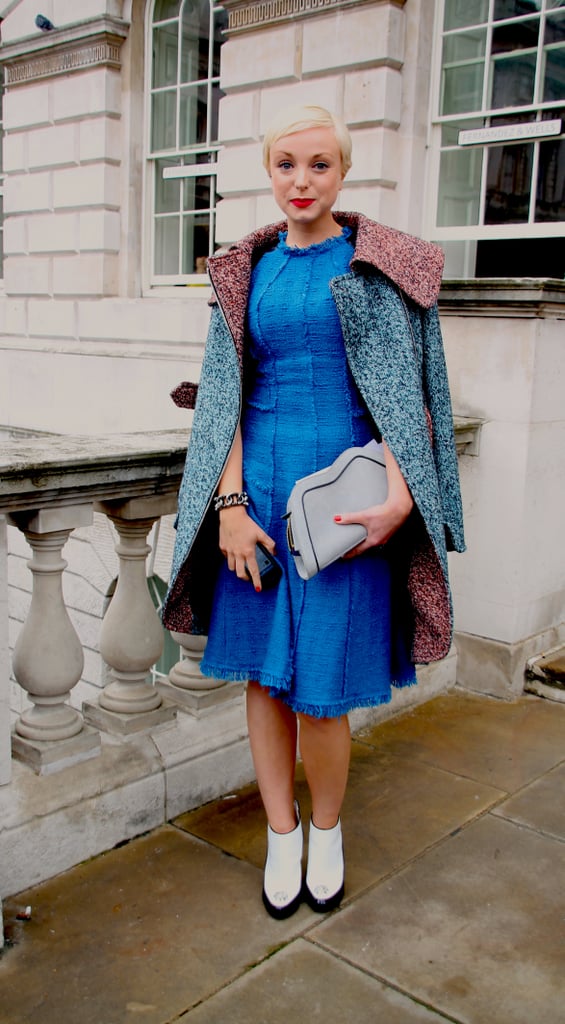 There's nothing we don't love about her little tweed dress.
Source: Hannah Freeman [14]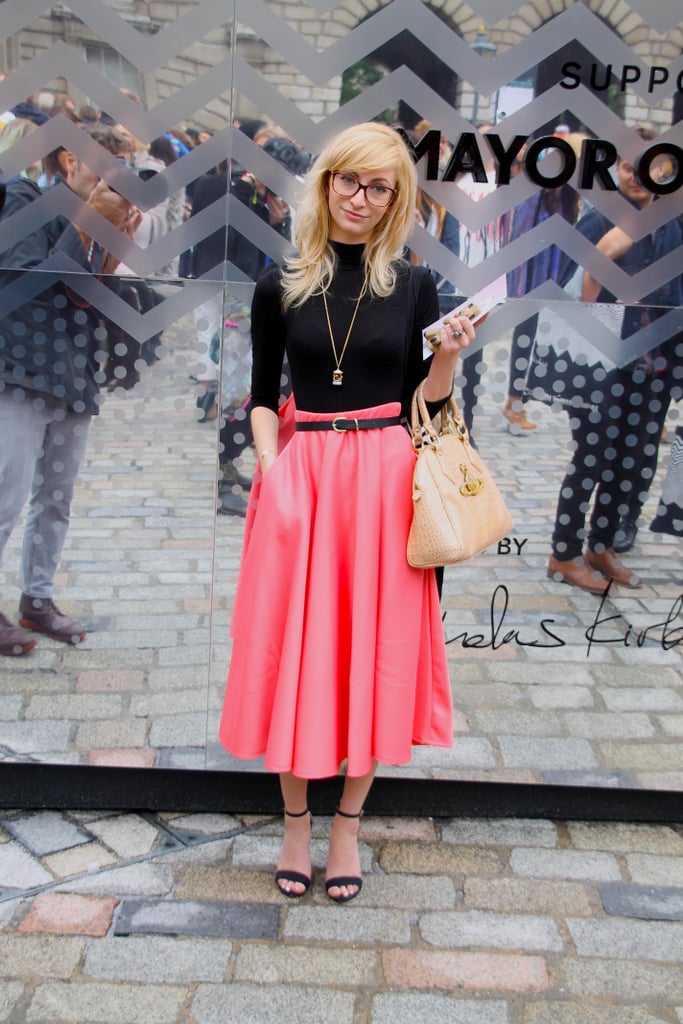 A pop of pink makes the look.
Source: Hannah Freeman [15]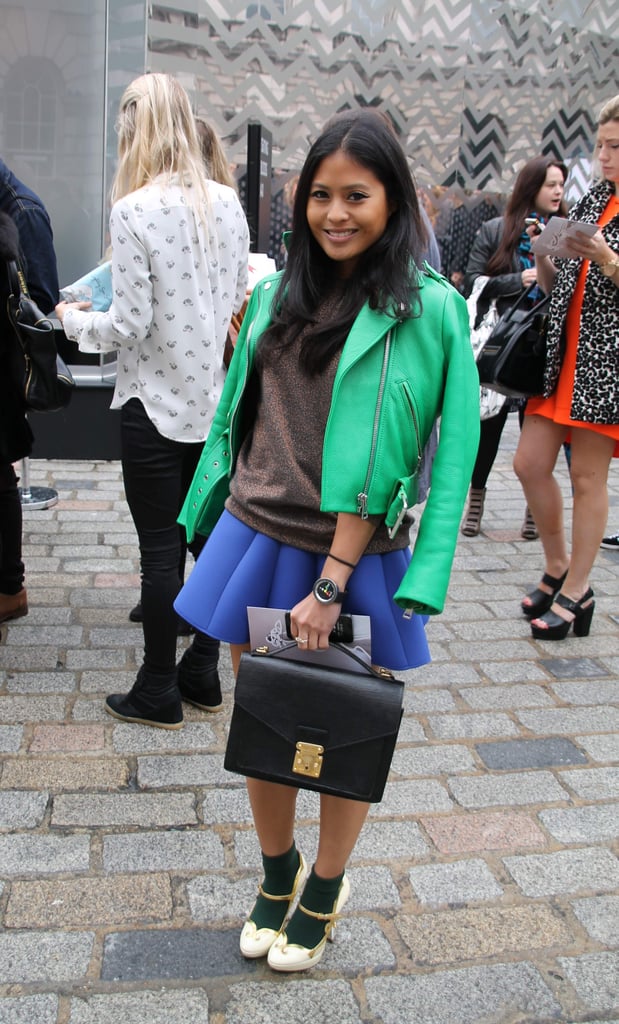 Talk about a cool color story.
Source: Hannah Freeman [16]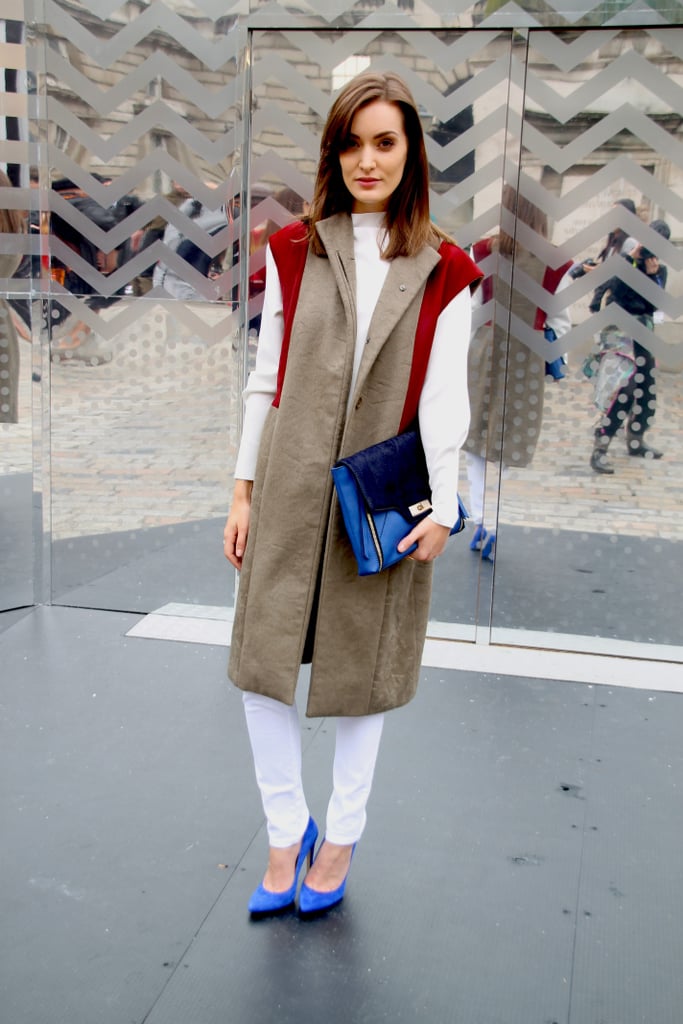 It's official — sleeveless blazers are the toppers of choice at LFW.
Source: Hannah Freeman [17]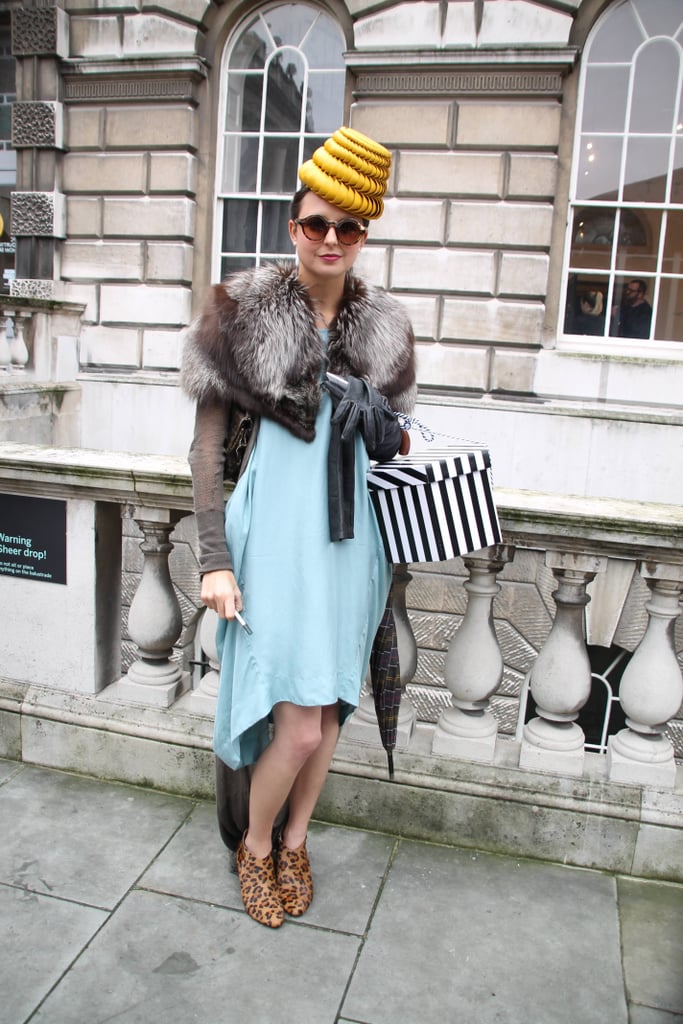 What's Fashion Week without a little whimsy?
Source: Hannah Freeman [18]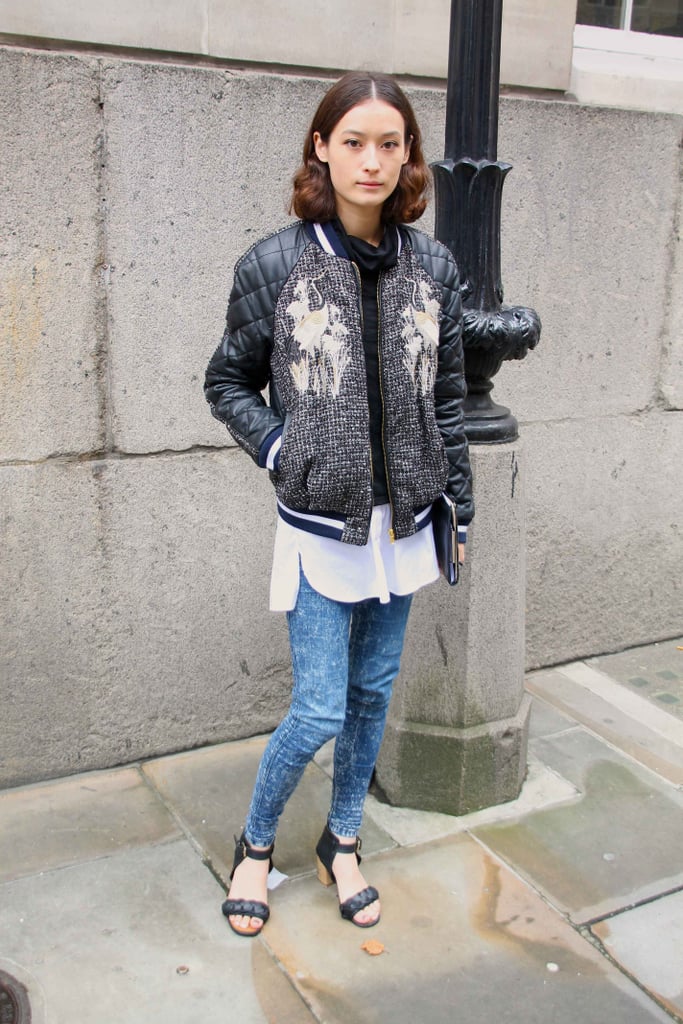 Downtown cool looks just like this.
Source: Hannah Freeman [19]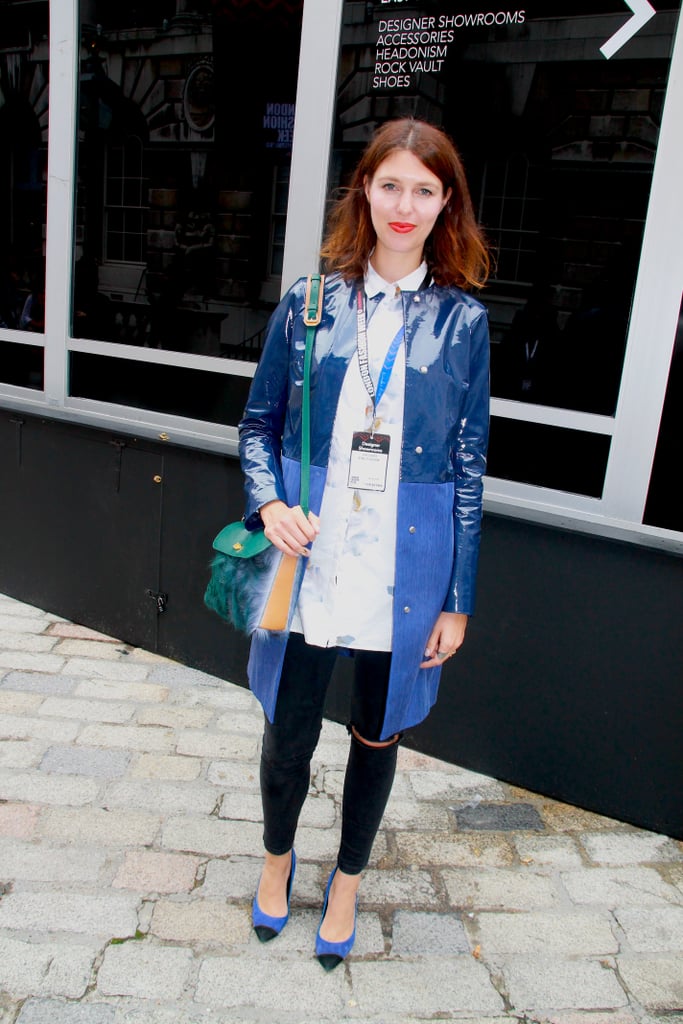 Her coat and heels were made for each other.
Source: Hannah Freeman [20]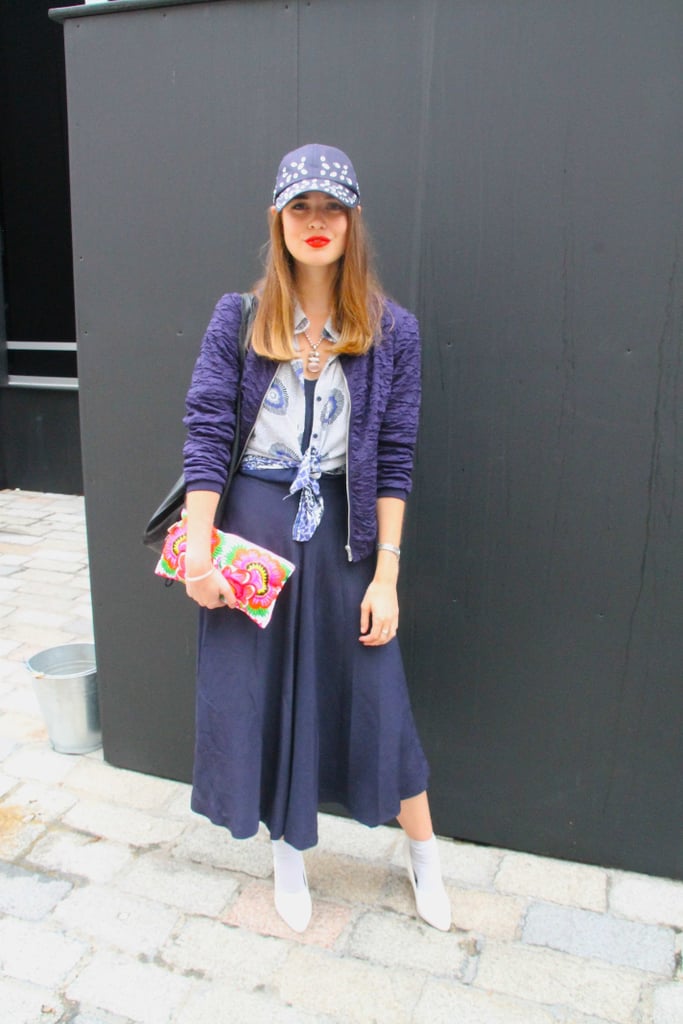 Sporty and sweet with a baseball cap, red lip, and pumps and socks.
Source: Hannah Freeman [21]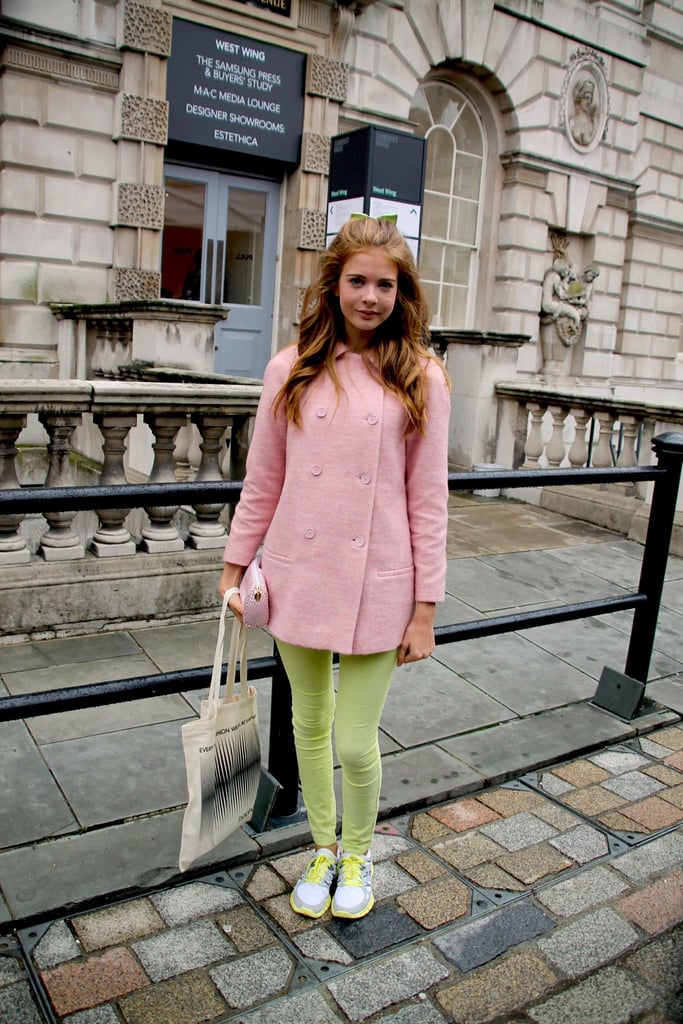 How exactly do you manage to look so charming in your sneakers?
Source: Hannah Freeman [22]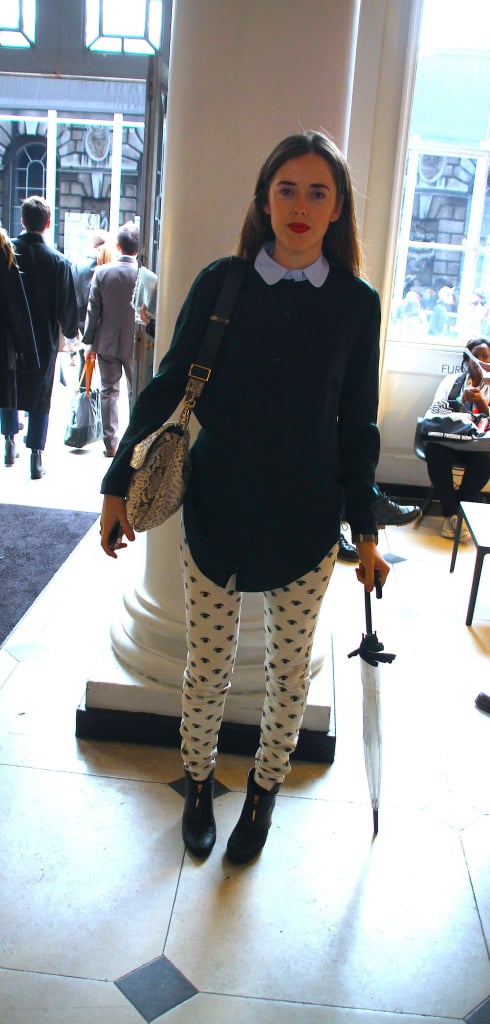 We're all about the printed pants and the charming button-up and knit.
Source: Hannah Freeman [23]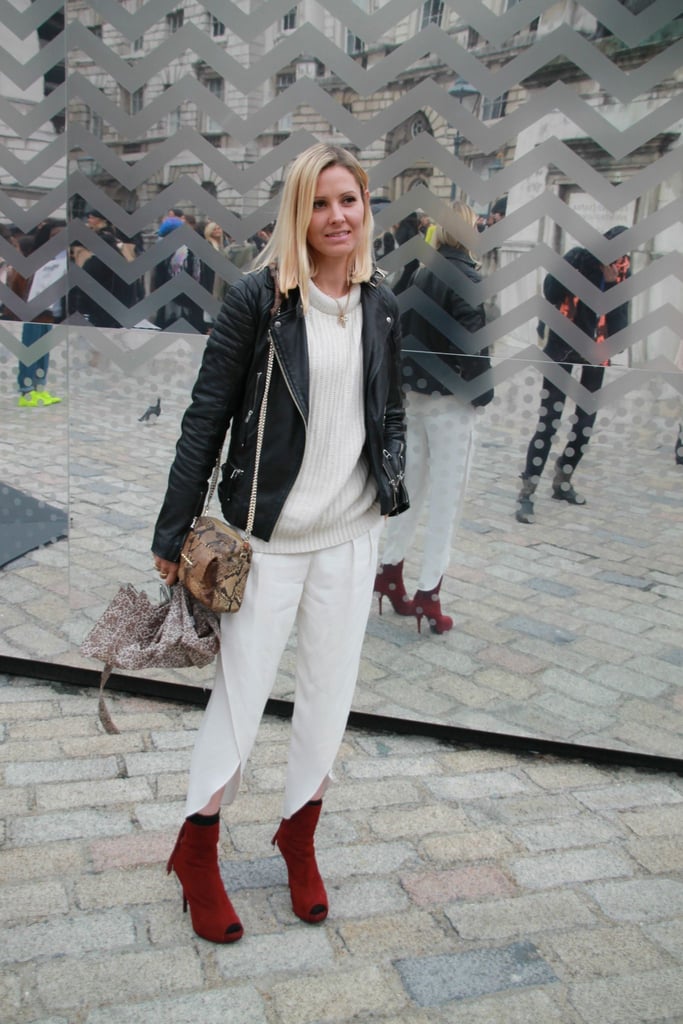 Red heels were meant for turning heads, even in a more understated look.
Source: Hannah Freeman [24]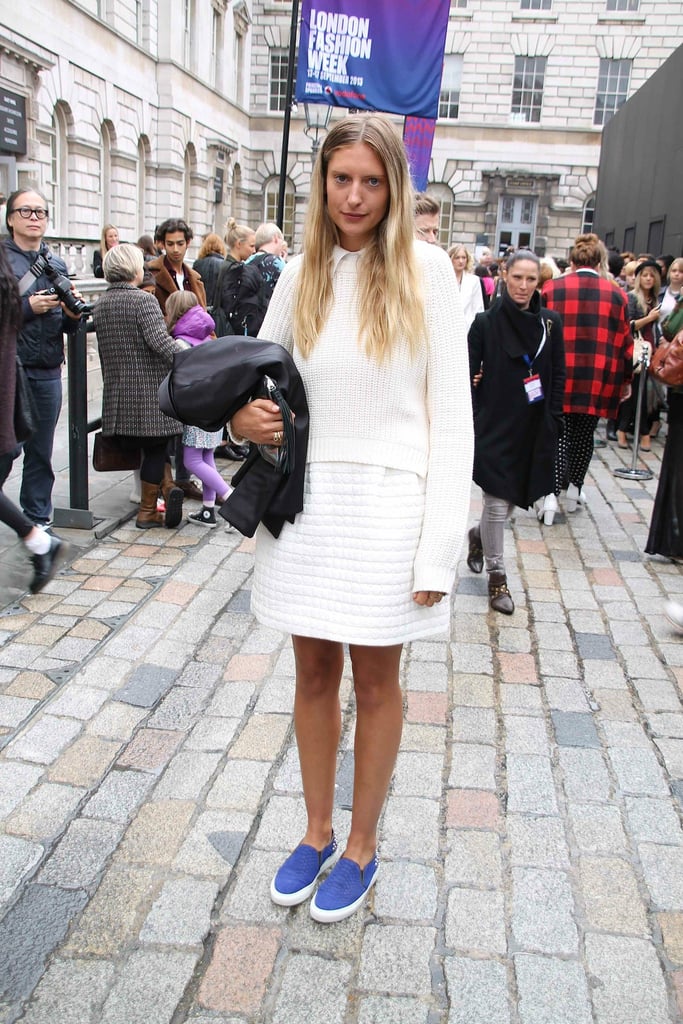 Slip-on sneakers gave her look a tomboy twist.
Source: Hannah Freeman [25]
---
Links:
[1] http://www.fabsugar.com/Erdem-Spring-2014-Runway-Show-London-Fashion-Week-31691418?ref=30512353
[2] http://www.twitter.com/highfashhannah
[3] http://www.twitter.com/highfashhannah
[4] http://www.twitter.com/highfashhannah
[5] http://www.twitter.com/highfashhannah
[6] http://www.twitter.com/highfashhannah
[7] http://www.twitter.com/highfashhannah
[8] http://www.twitter.com/highfashhannah
[9] http://www.fabsugar.com/Rihanna-Alexander-Wang-Parental-Advisory-Sweatshirt-31712654
[10] http://www.twitter.com/highfashhannah
[11] http://www.twitter.com/highfashhannah
[12] http://www.twitter.com/highfashhannah
[13] http://www.popsugar.com/Kate-Moss
[14] http://www.twitter.com/highfashhannah
[15] http://www.twitter.com/highfashhannah
[16] http://www.twitter.com/highfashhannah
[17] http://www.twitter.com/highfashhannah
[18] http://www.twitter.com/highfashhannah
[19] http://www.twitter.com/highfashhannah
[20] http://www.twitter.com/highfashhannah
[21] http://www.twitter.com/highfashhannah
[22] http://www.twitter.com/highfashhannah
[23] http://www.twitter.com/highfashhannah
[24] http://www.twitter.com/highfashhannah
[25] http://www.twitter.com/highfashhannah

---