The Fashion Week crowd is notorious for having a killer accessory lineup — think 3.1 Phillip Lim, Kenzo, Prada, and lots of Valentino in tow. But beyond the bags, there were also lace-ups heels, statement jewels, and this season's newest must-have accessory, the baseball cap, to contend with. Get a closer look at all the accessory highlights from New York Fashion Week right here.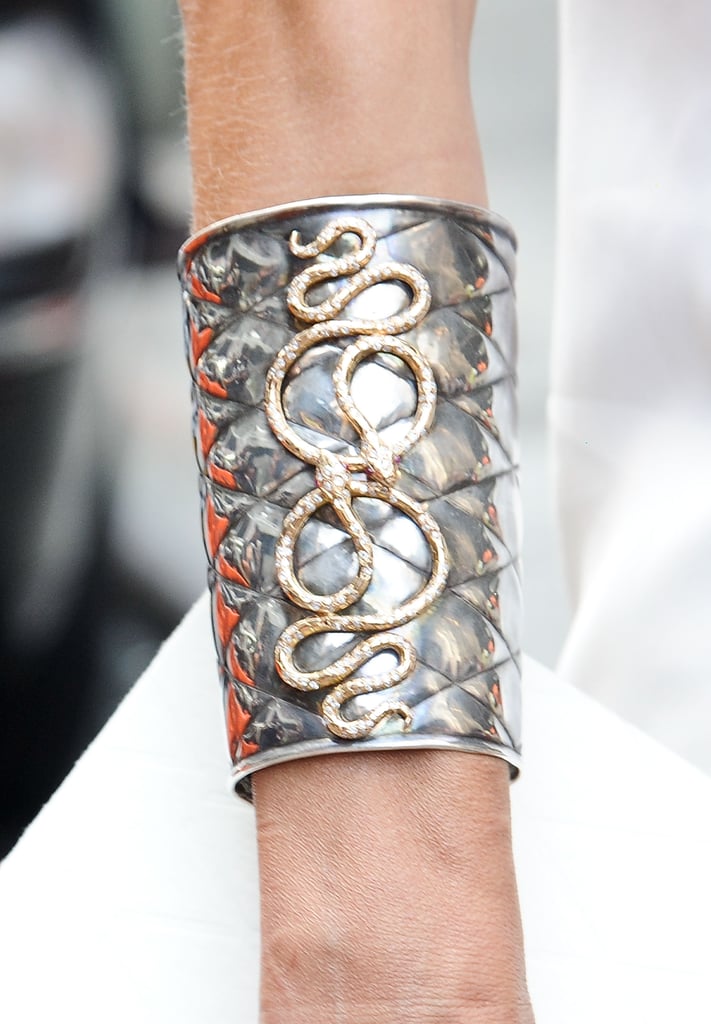 Armed with a gorgeous cuff.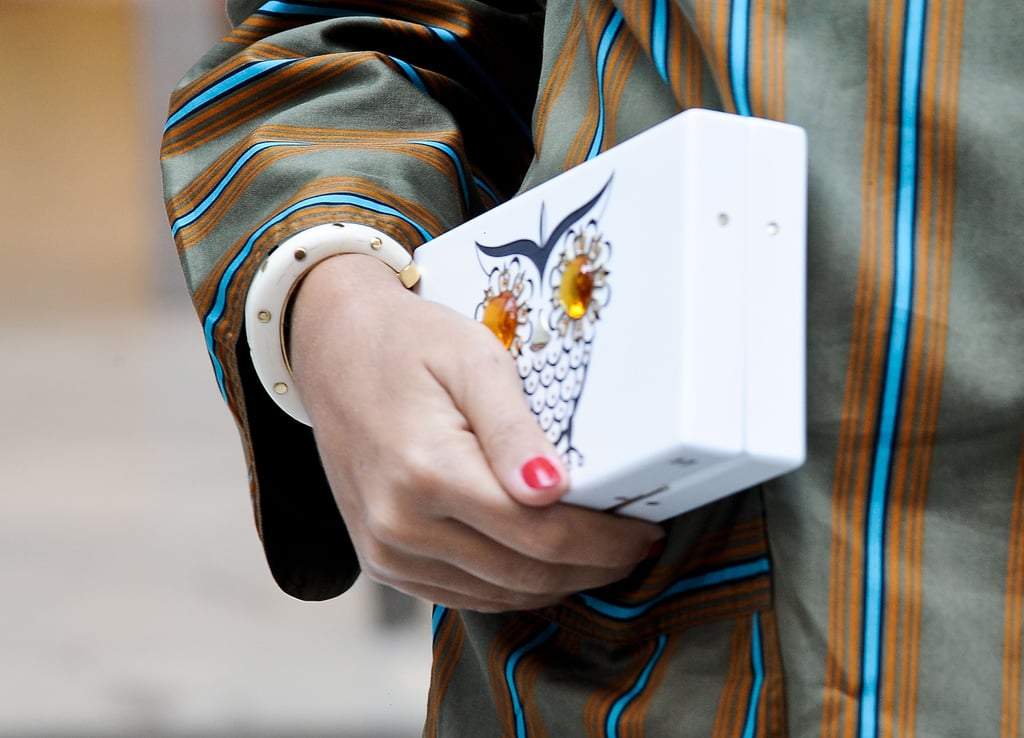 We adore this quirky clutch.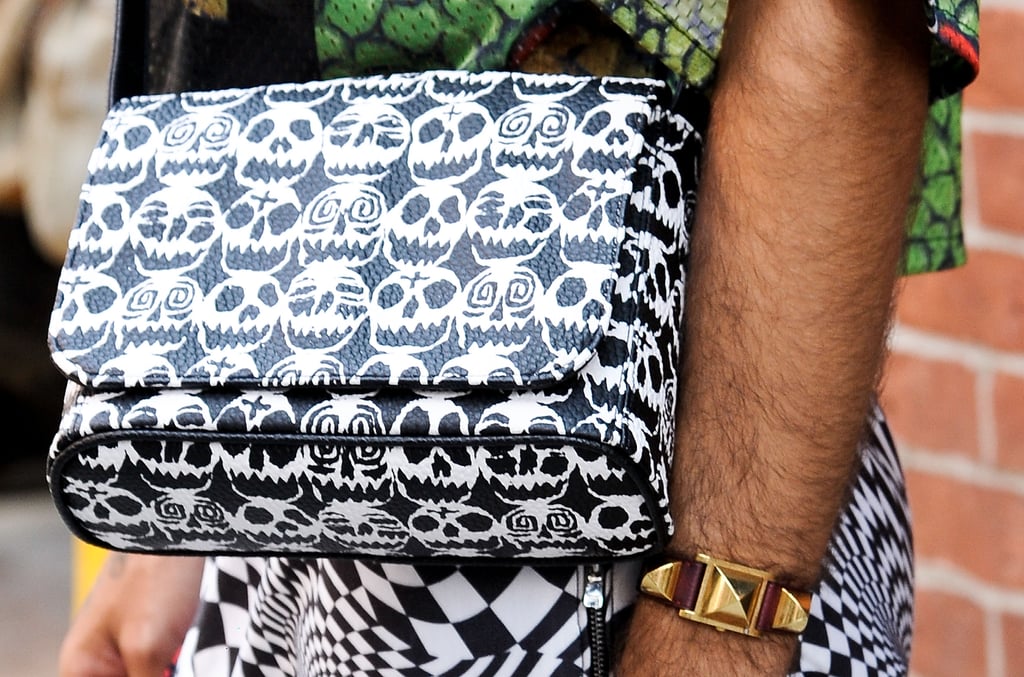 Skulls made a high-impact print.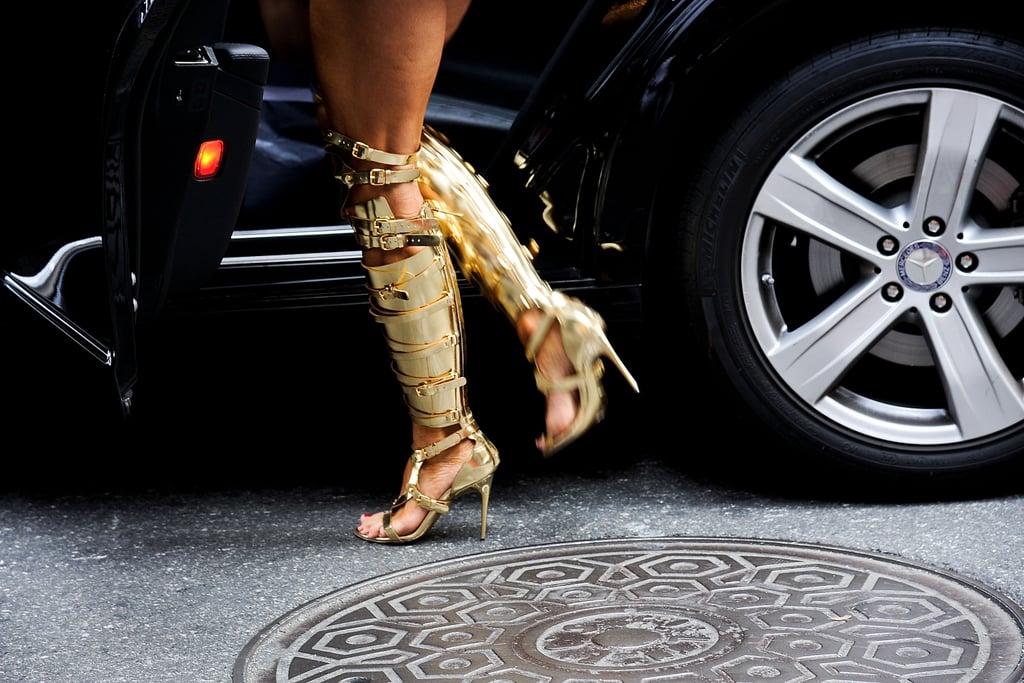 Anna Dello Russo gets our vote for most awesome heels at Fashion Week.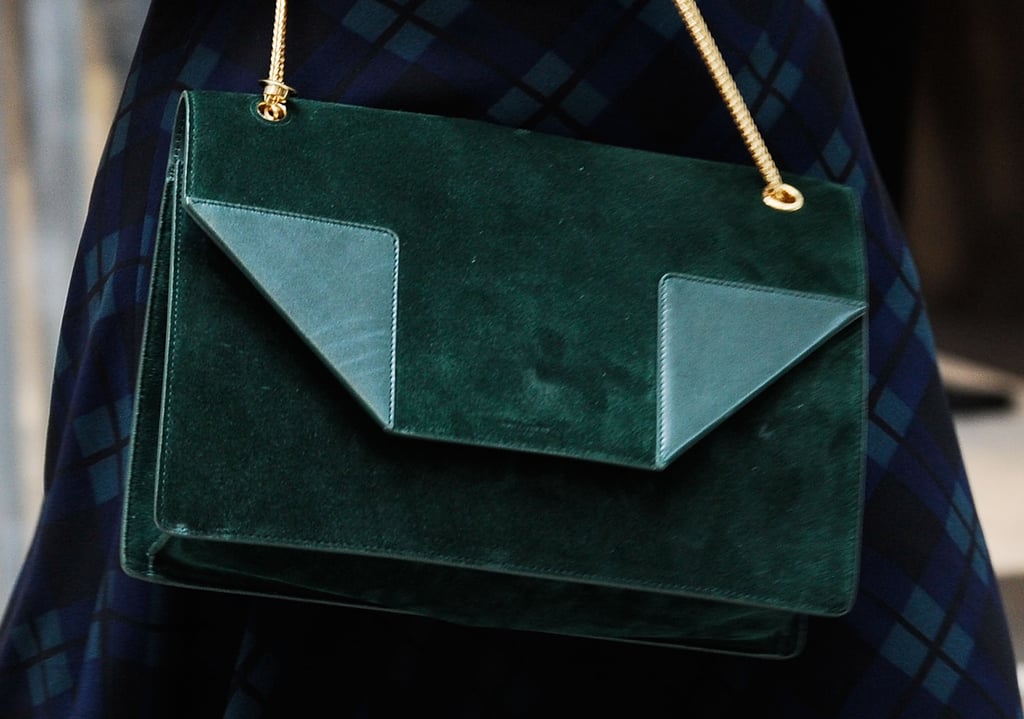 A covetable suede bag in a gorgeous hunter green.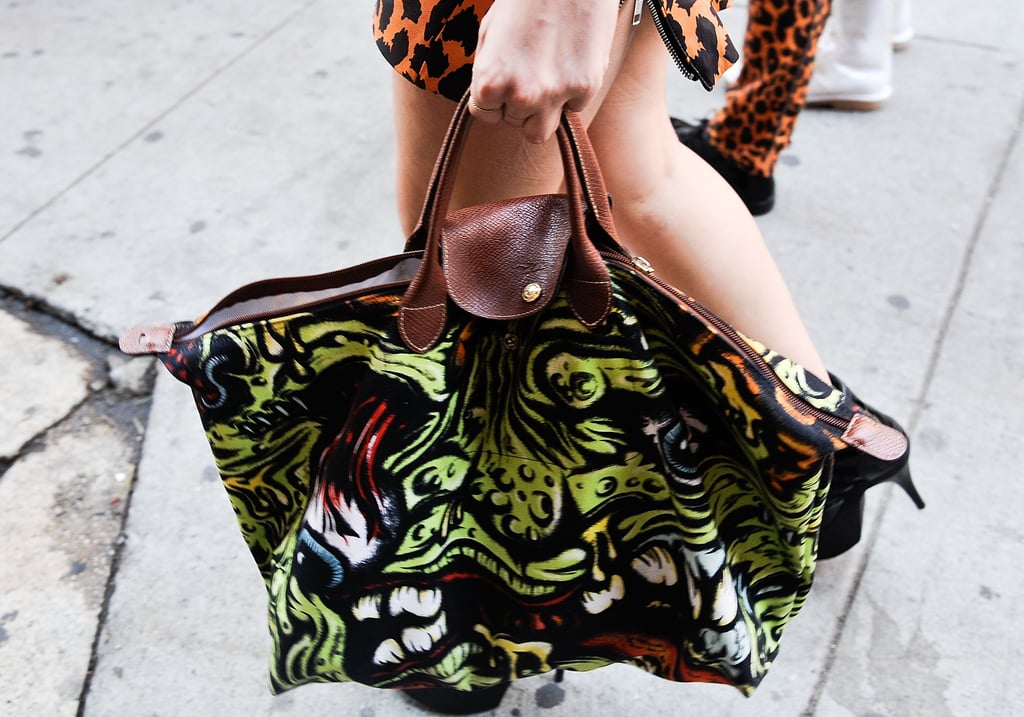 A Longchamp tote in a brilliant wash of print.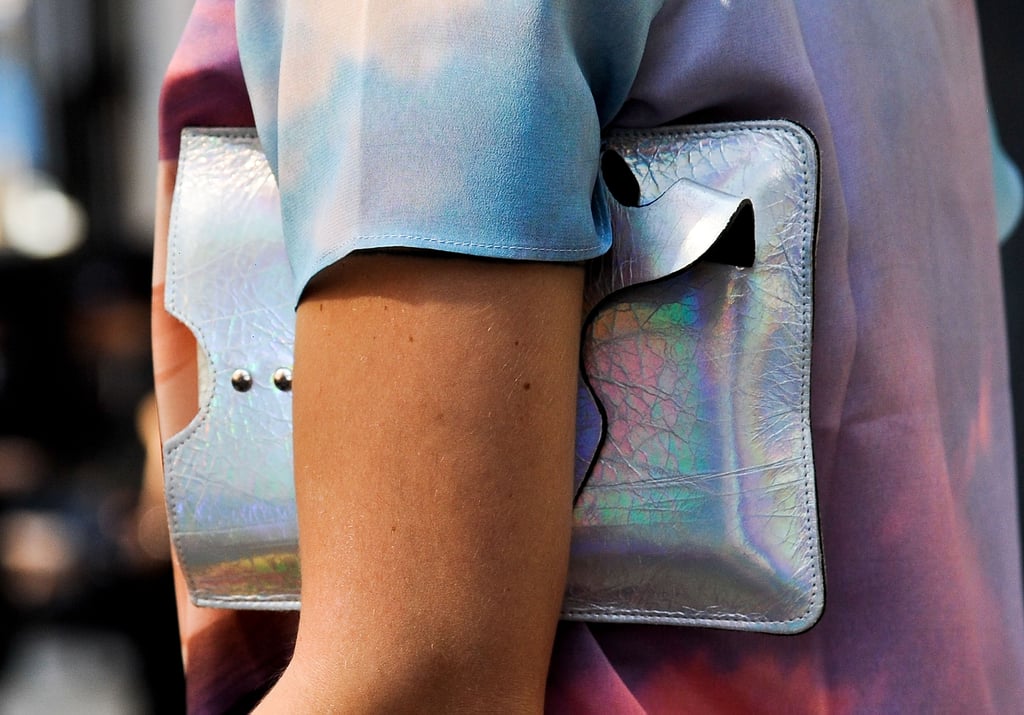 A holographic clutch against a little ombre is completely eye-catching.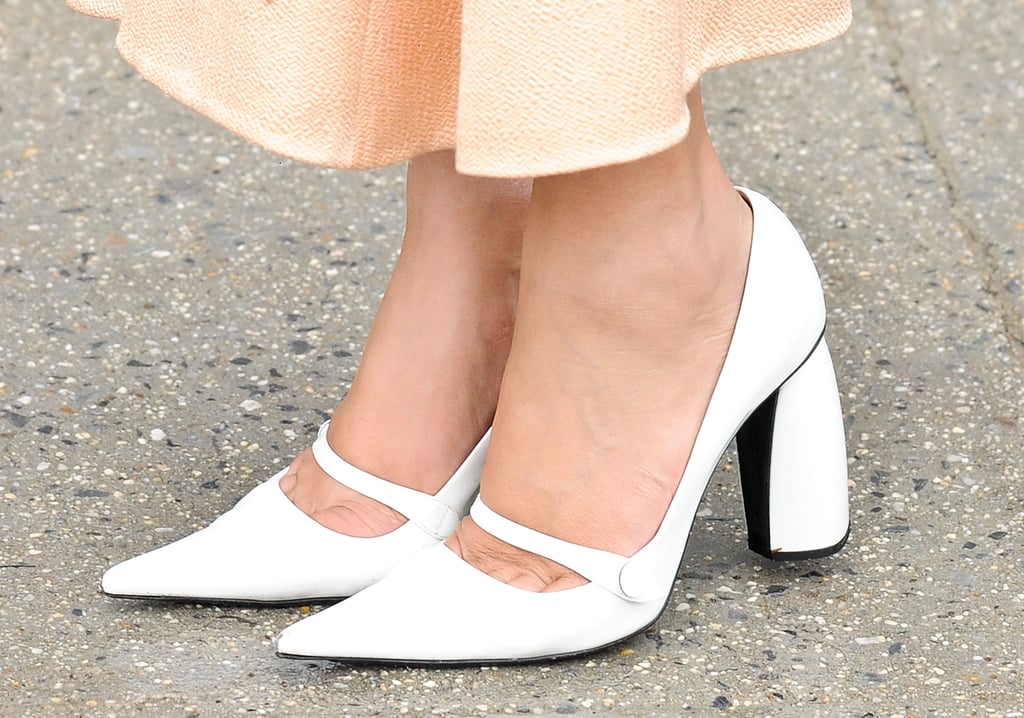 Nicole Warned showed off some chic white pumps.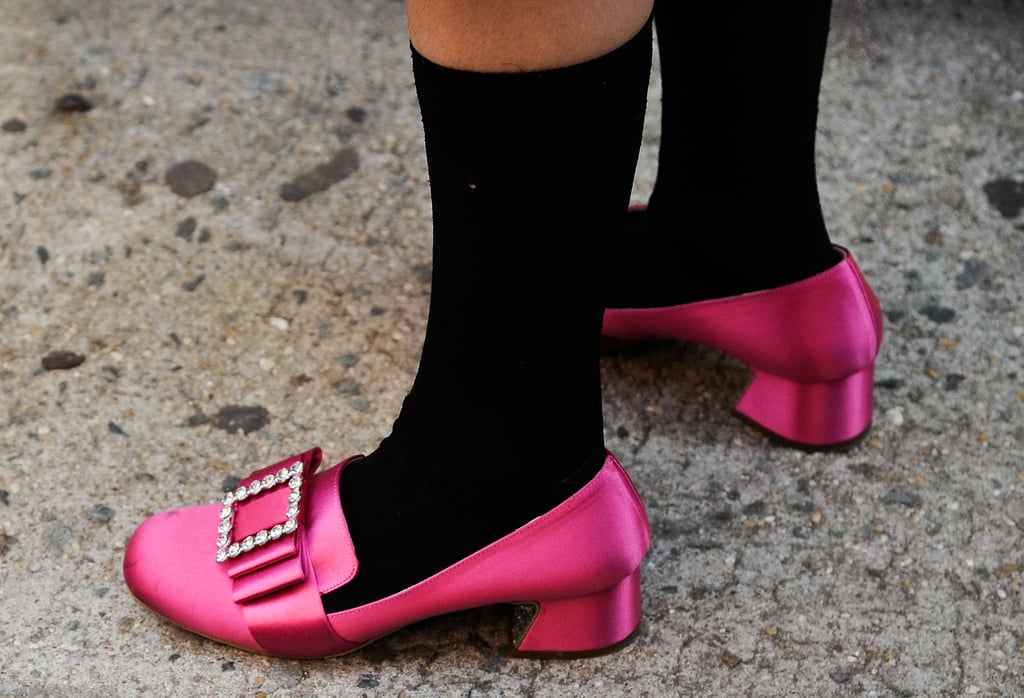 A stark contrast between her bright loafers and socks.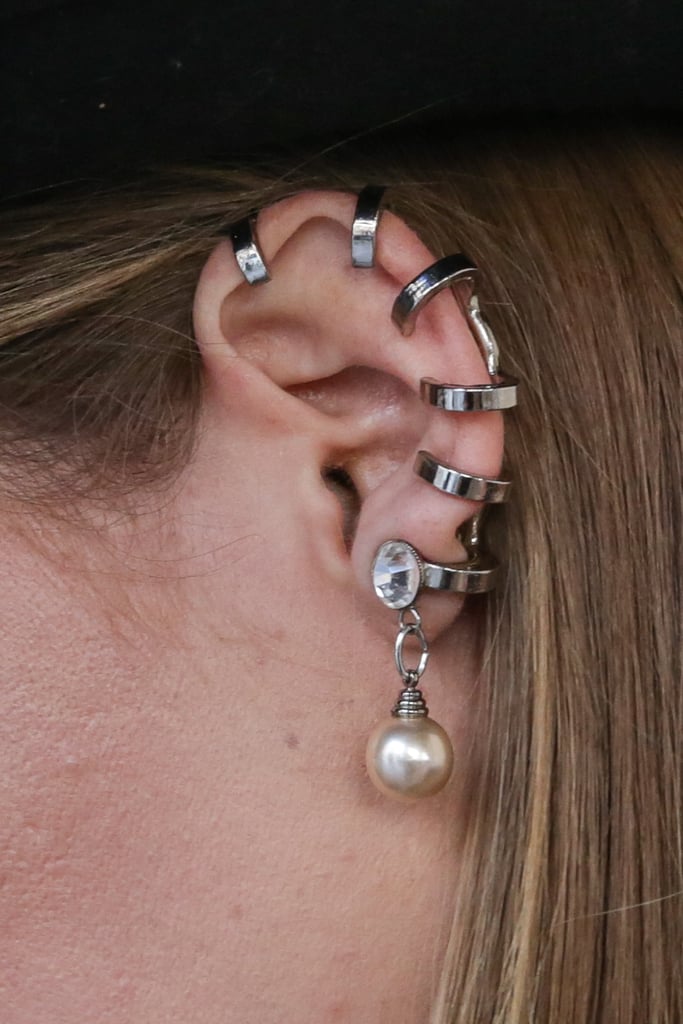 An army of ear cuffs.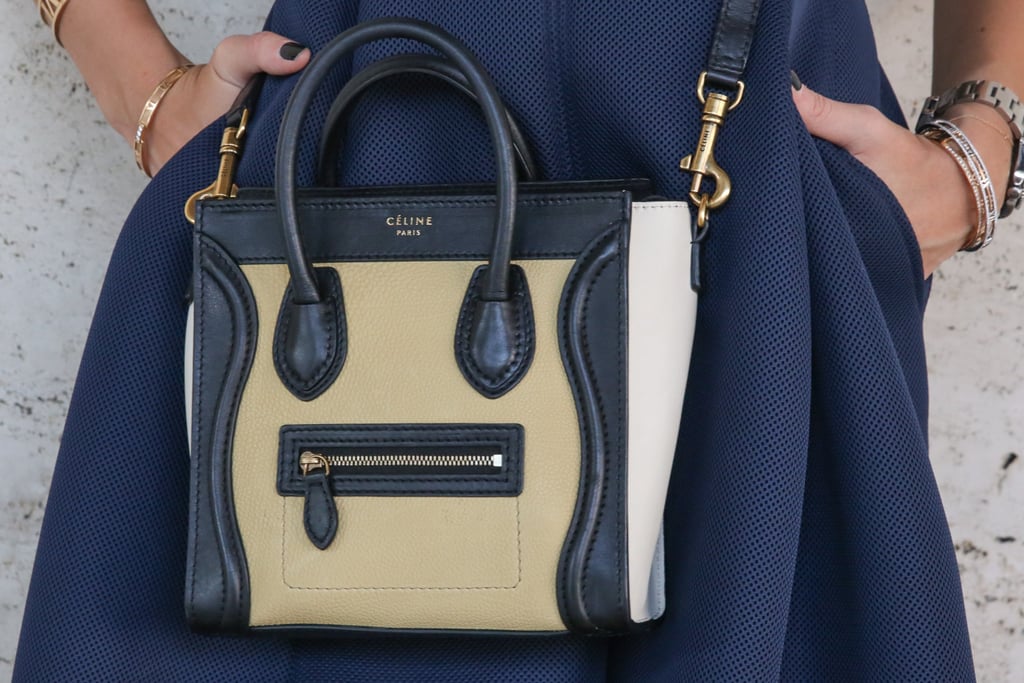 A close up on a chic Celine.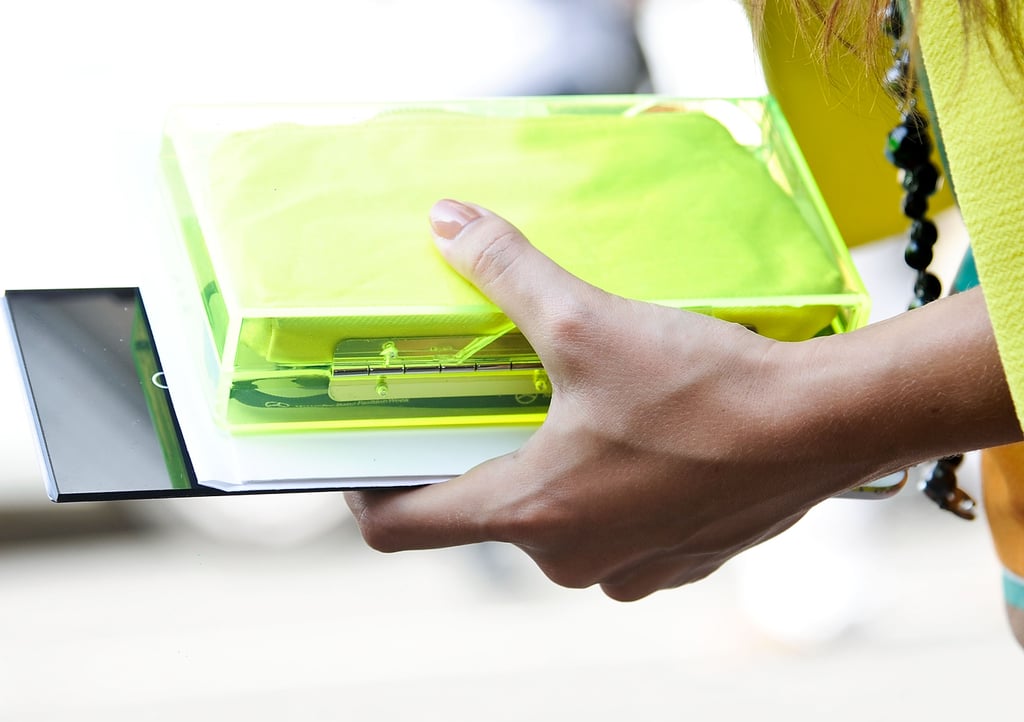 A shot of neon took this clutch up a notch.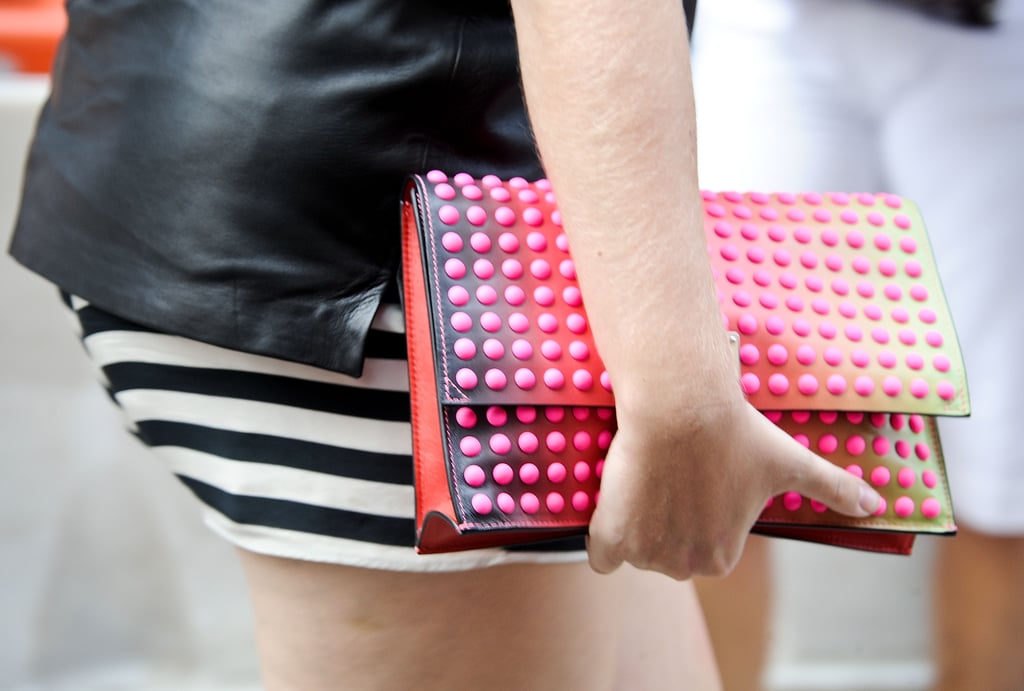 Clutches seemed to be the carryall of choice — this one came brighter than most.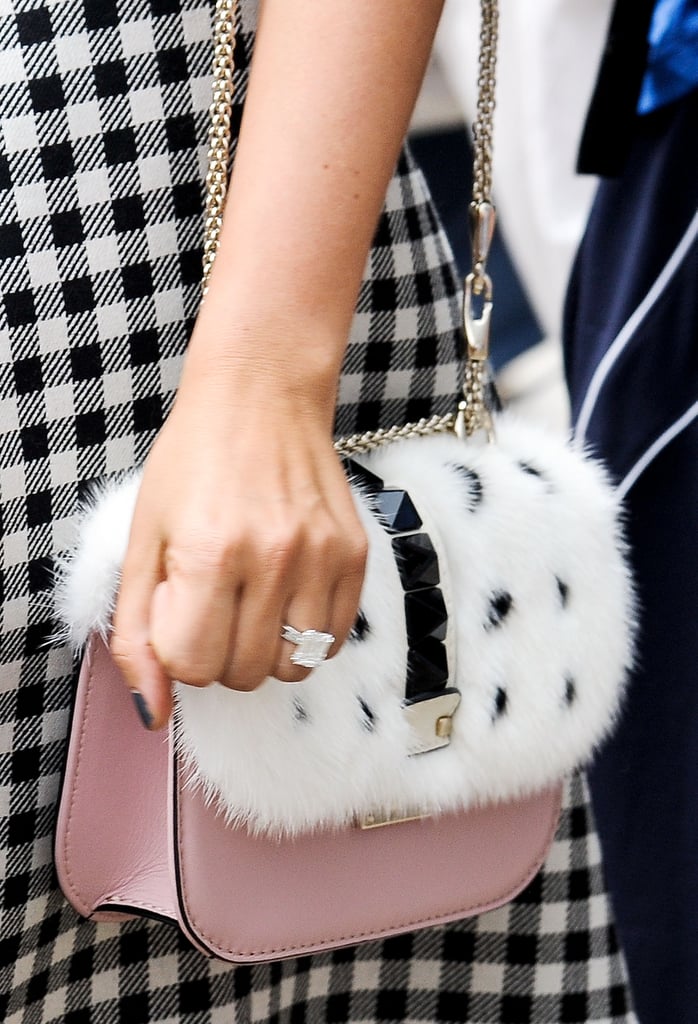 Texture meets a pretty pale pink on this Valentino bag.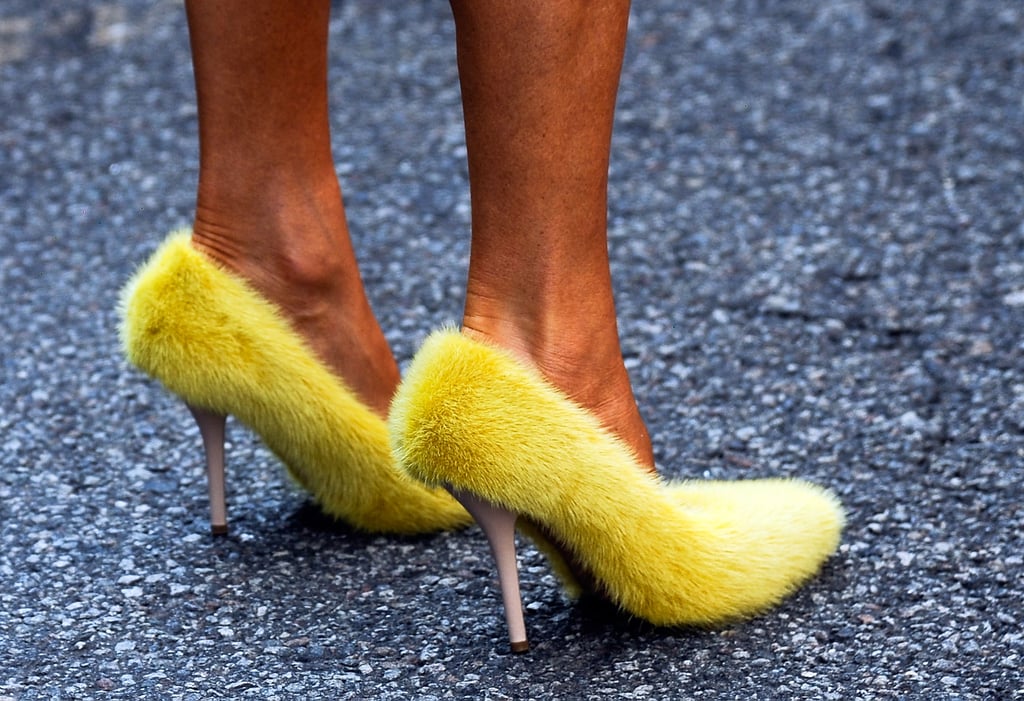 Big Bird? Nope, that's Anna Dello Russo in Celine's fuzzy yellow pumps.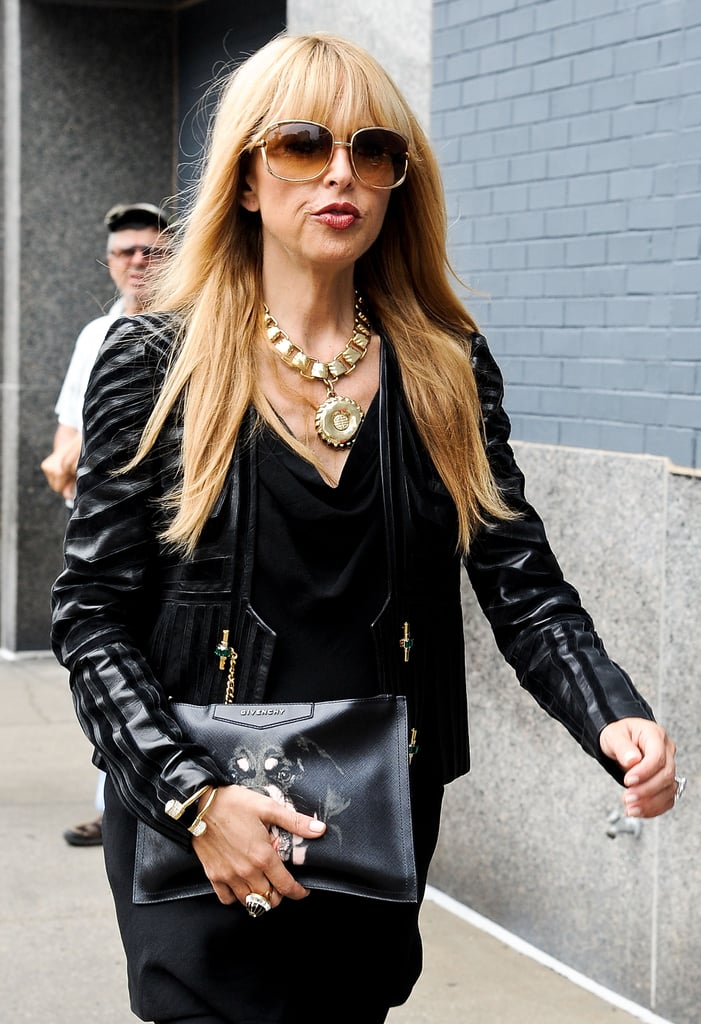 Rachel Zoe [1] armed herself with heavy metal jewels and her '70s frames.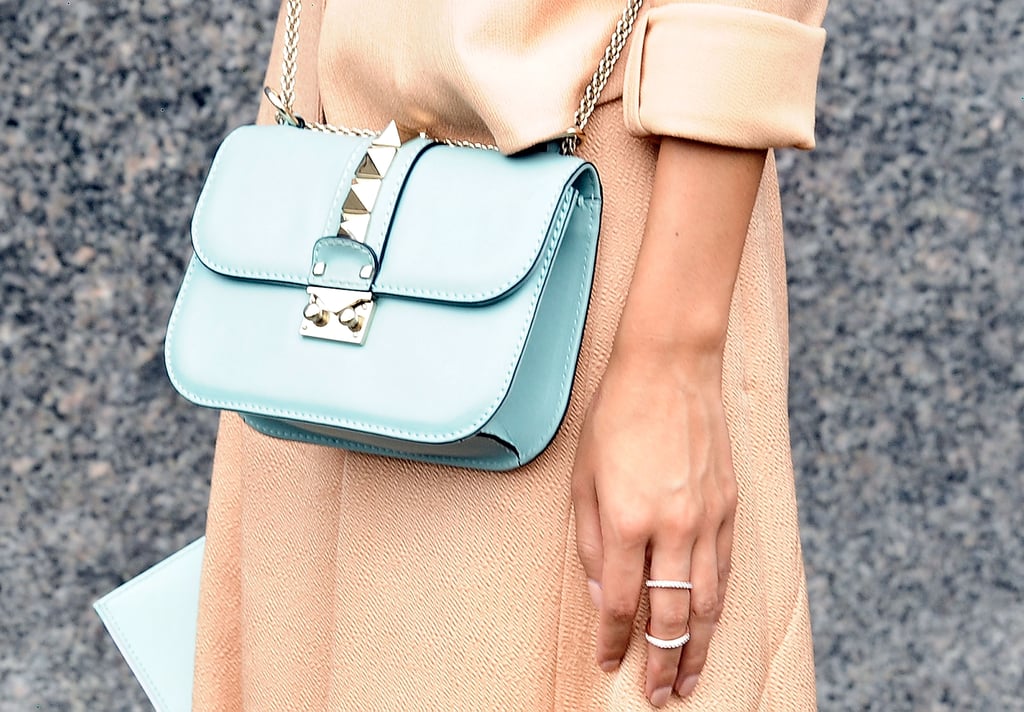 A pale blue bag was a perfect match against a pstel dress.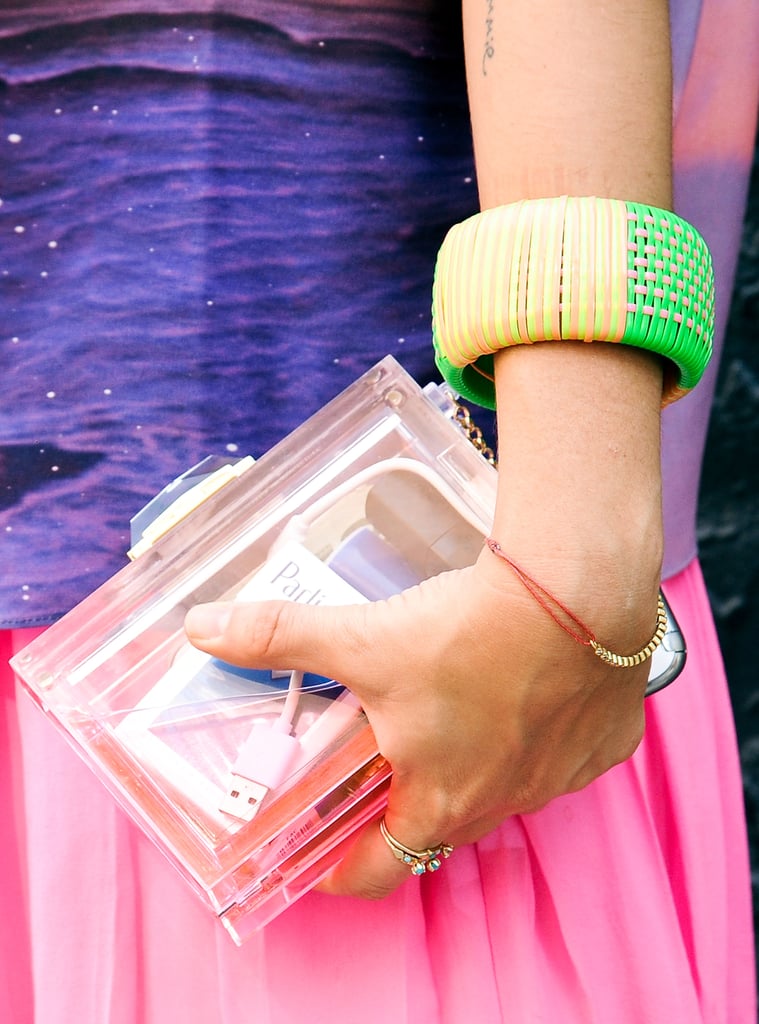 A lucite clutch looked lovely against a splash of color.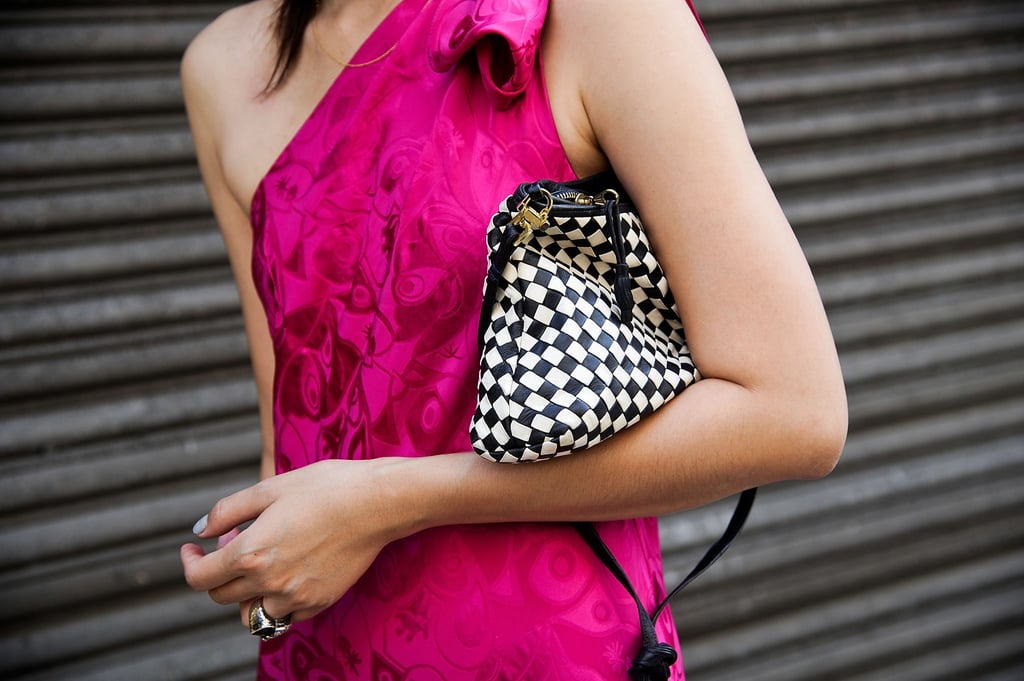 A vintage Bottega Venetta clutch popped against a pretty fuchsia dress.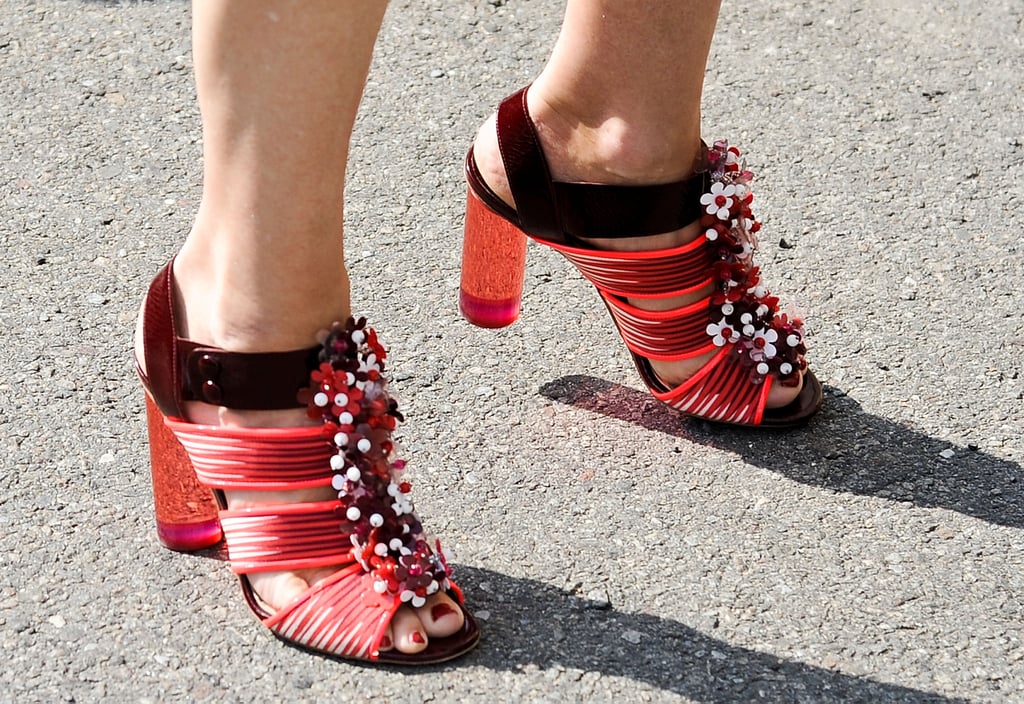 The coolest kind of quirky heels.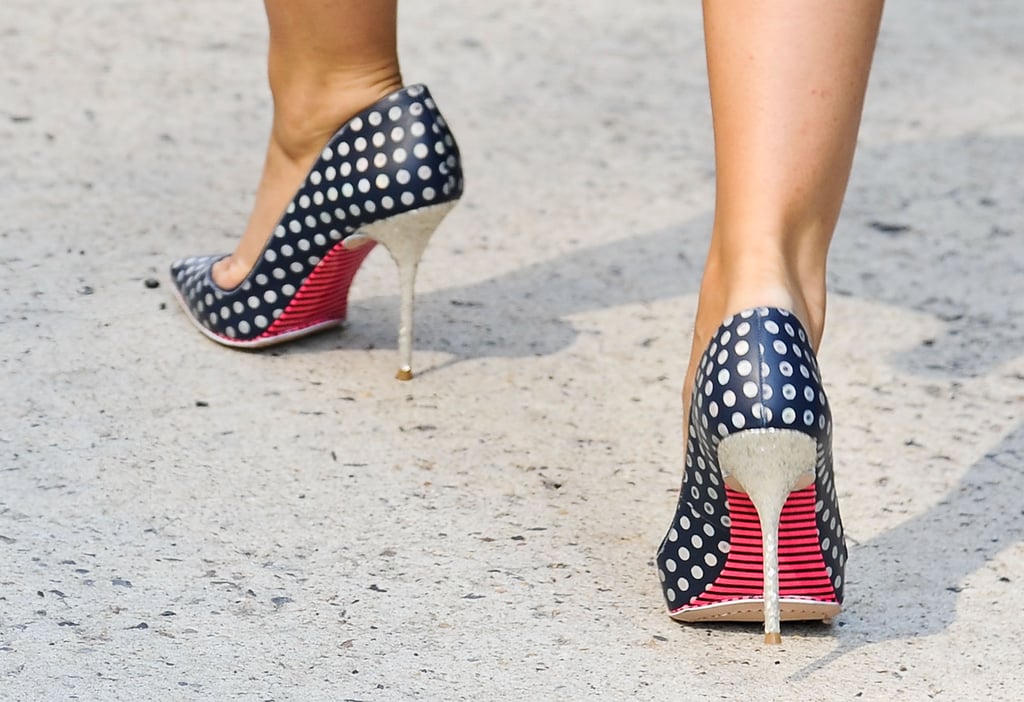 This heel packed a punch with stripes and polka dots.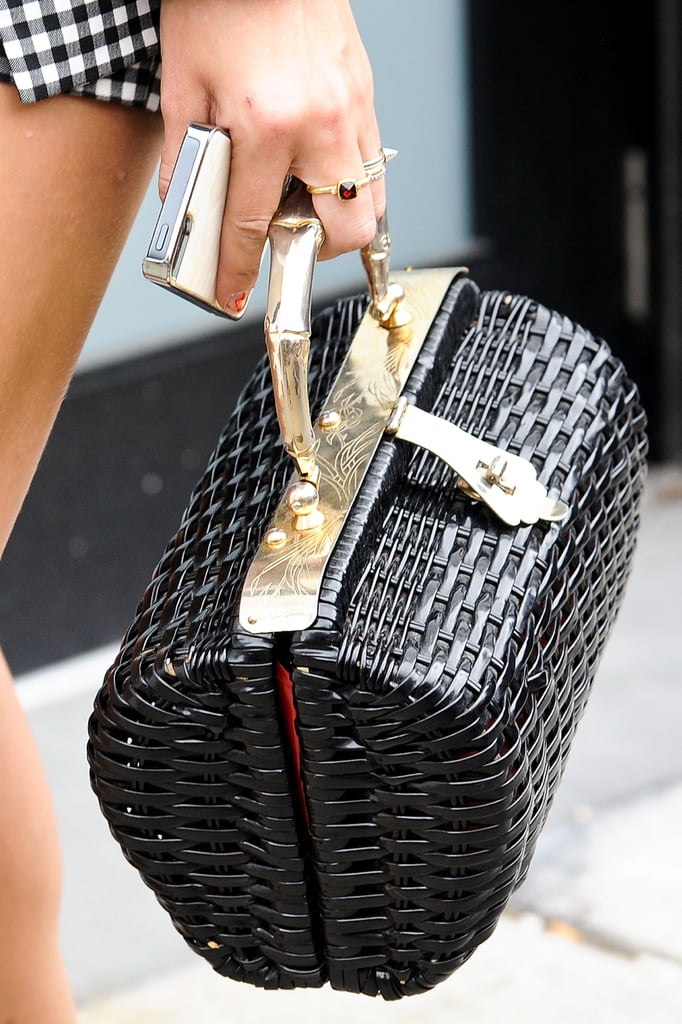 That's not a picnic basket — it's one very chic way to tote your stuff.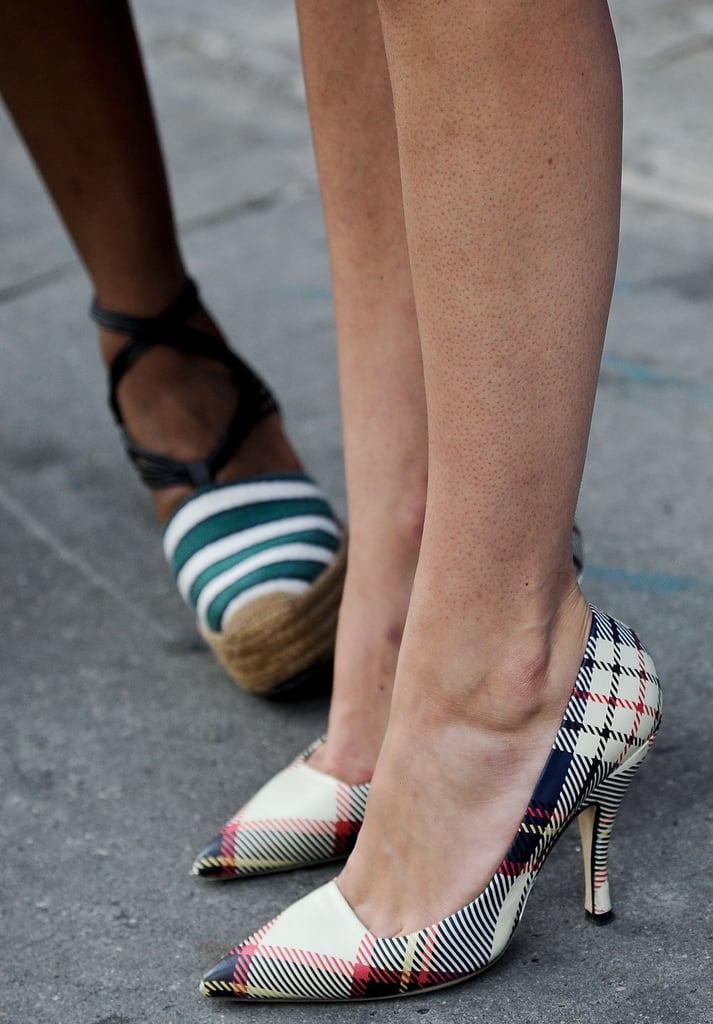 Striped and plaid and totally awesome.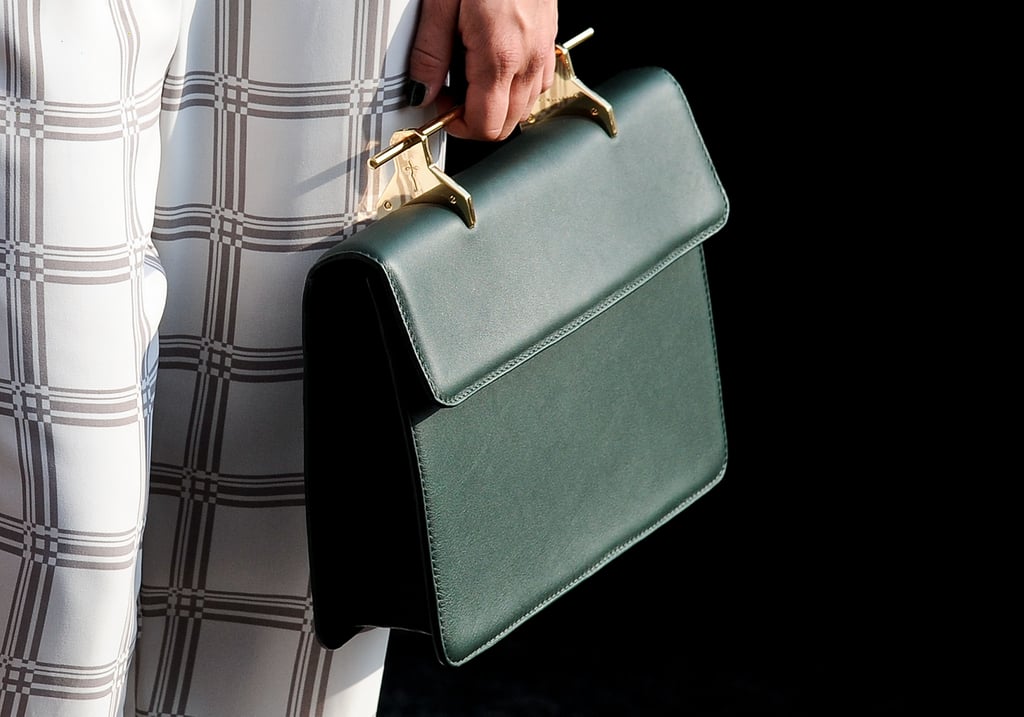 Unique top handle meets classic handbag for a truly covetable design.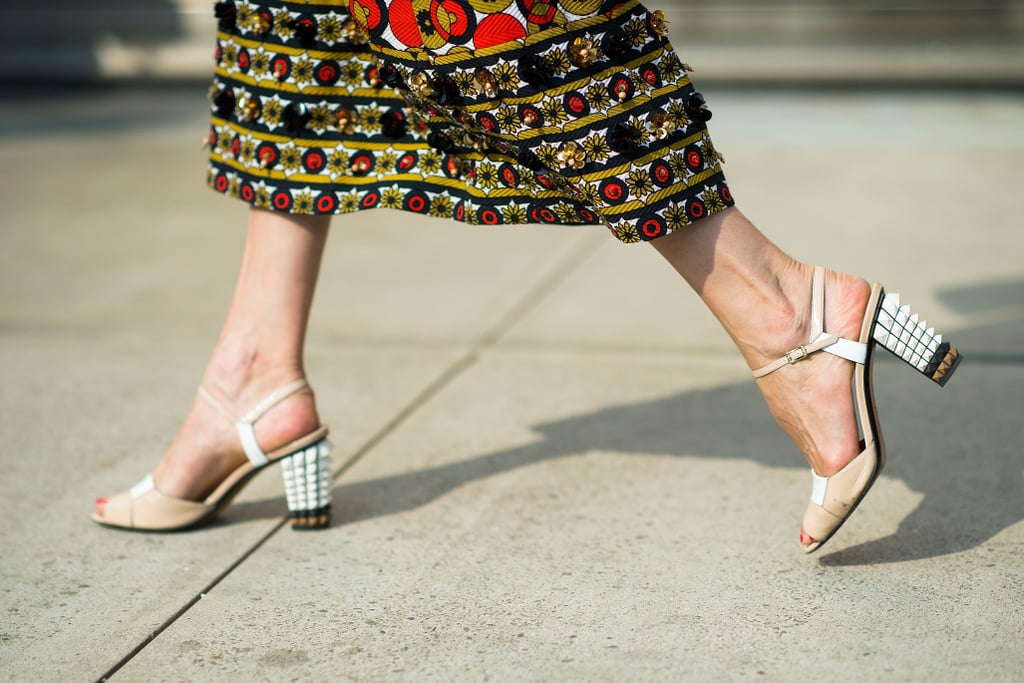 Heels with personality.
There's nothing we don't love about a Balenciaga bag, especially when it's patchworked.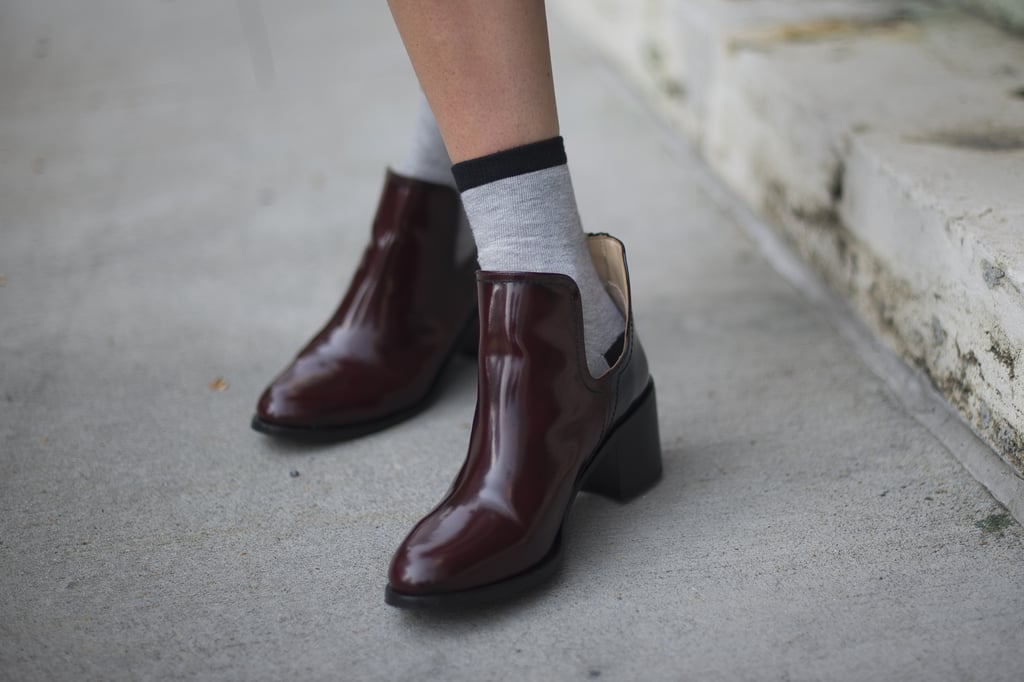 A menswear-inspired Fall boot in the richest burgundy — what's not to like?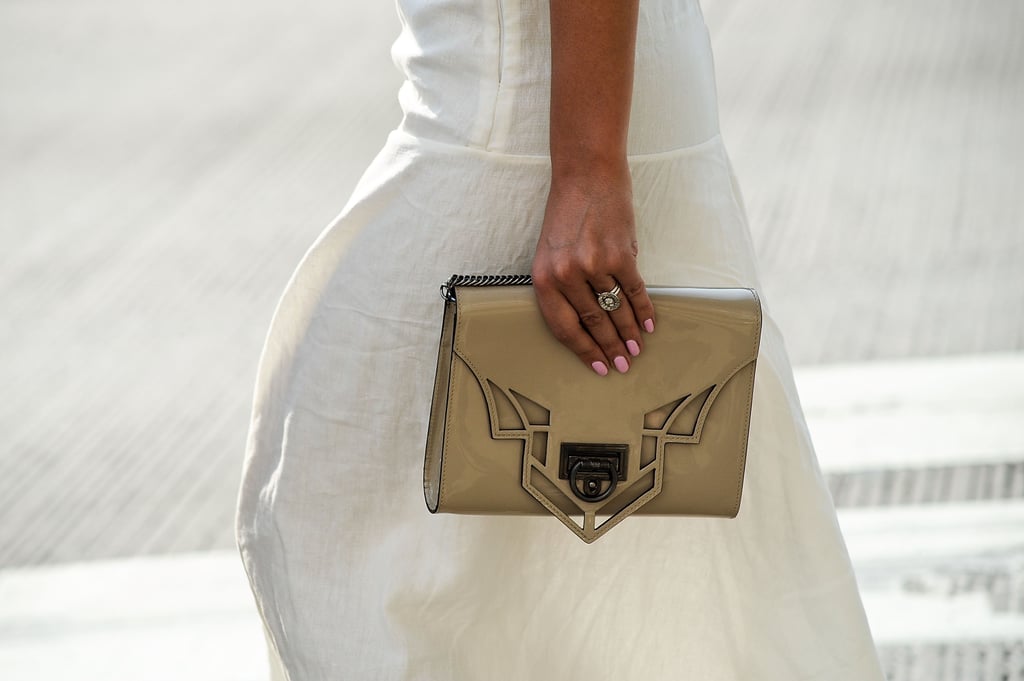 An understated clutch paired perfectly with a simple white dress.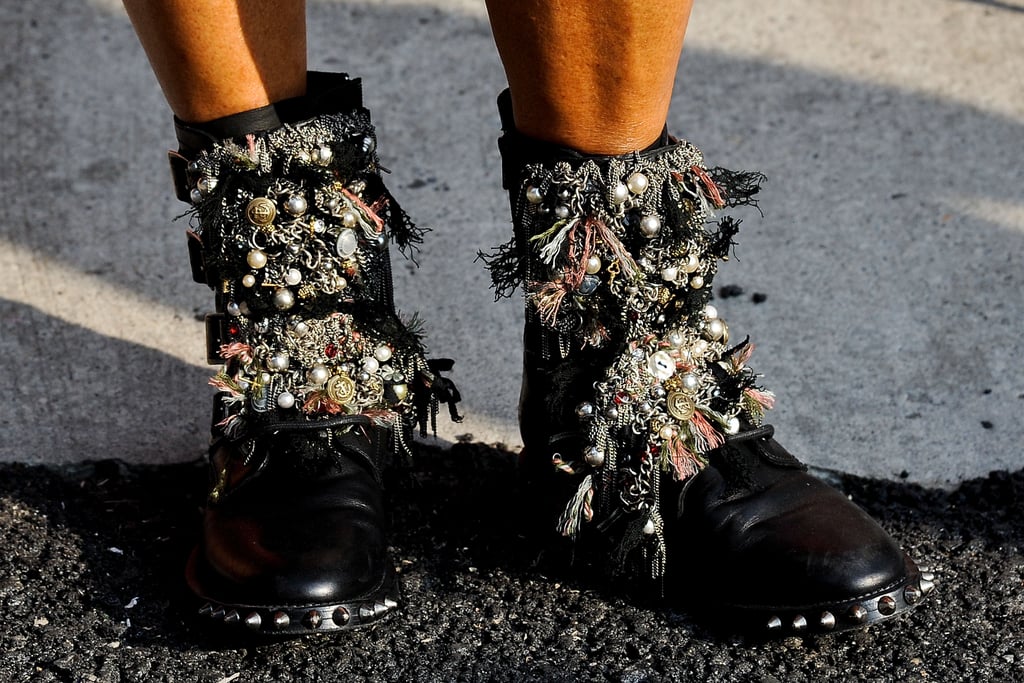 Anna Dello Russo took the Saint Laurent Fall '13 boots from the runway to the street.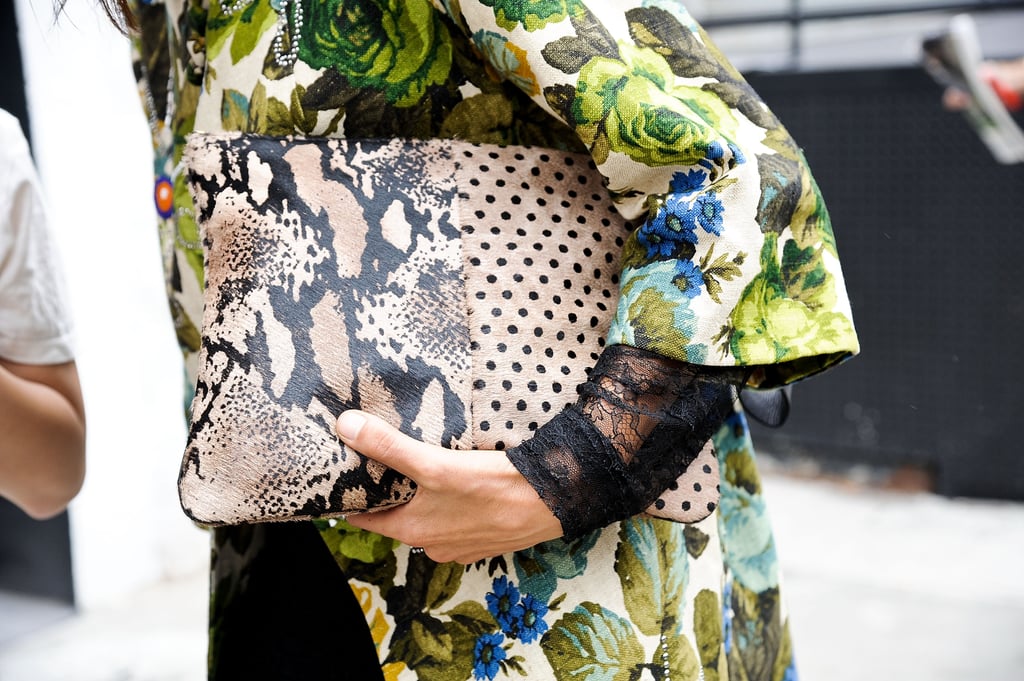 We love a little print juxtaposition, like florals and an exotic clutch.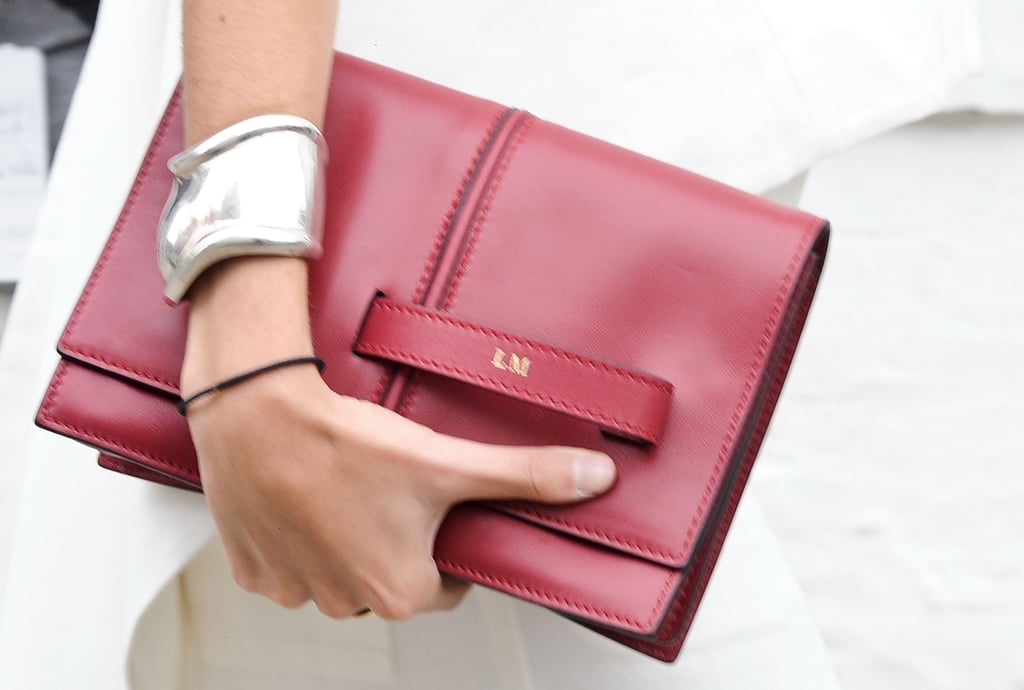 The chicest kind of monogramming.
Coordinated style.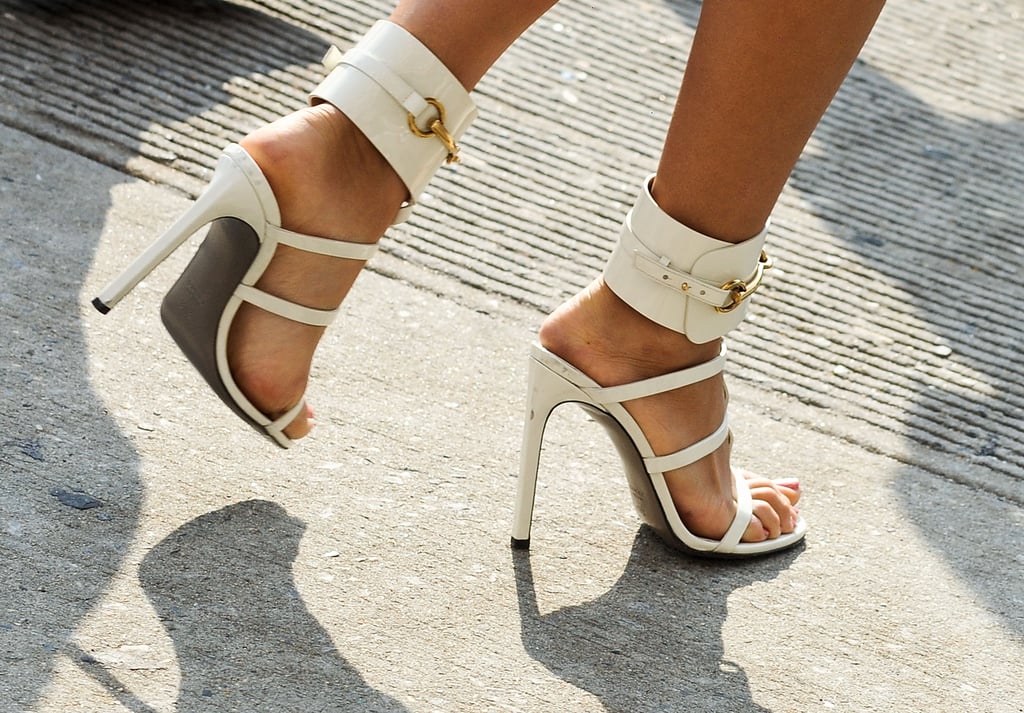 Bright white Gucci heels.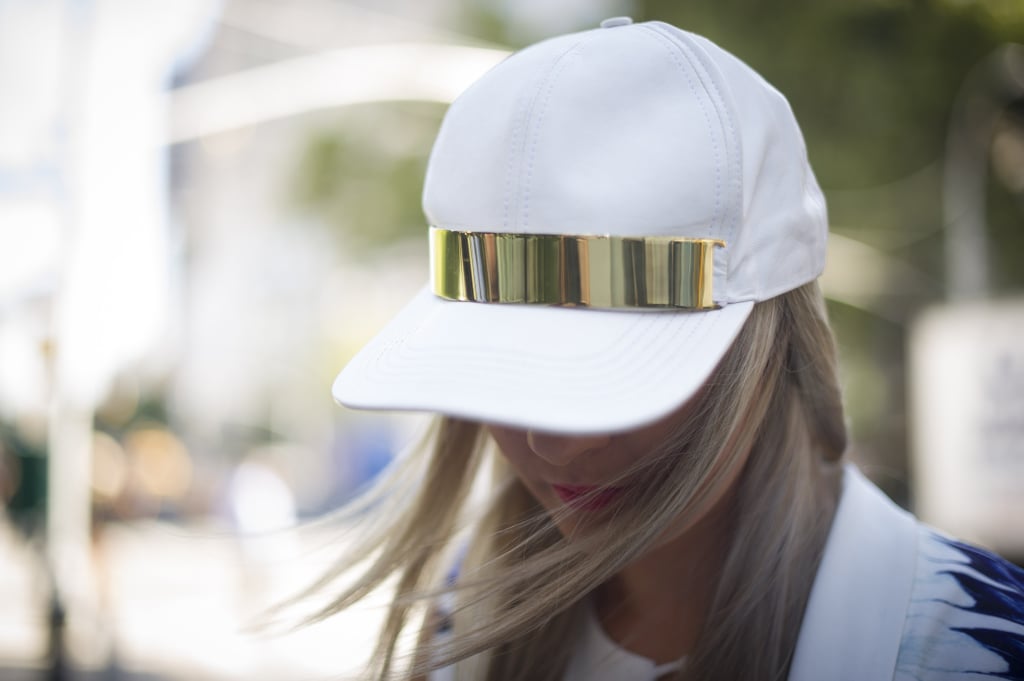 Metallic detail made this cap so much cooler.
Classic leather offset bold prints.
High-wattage lace-ups.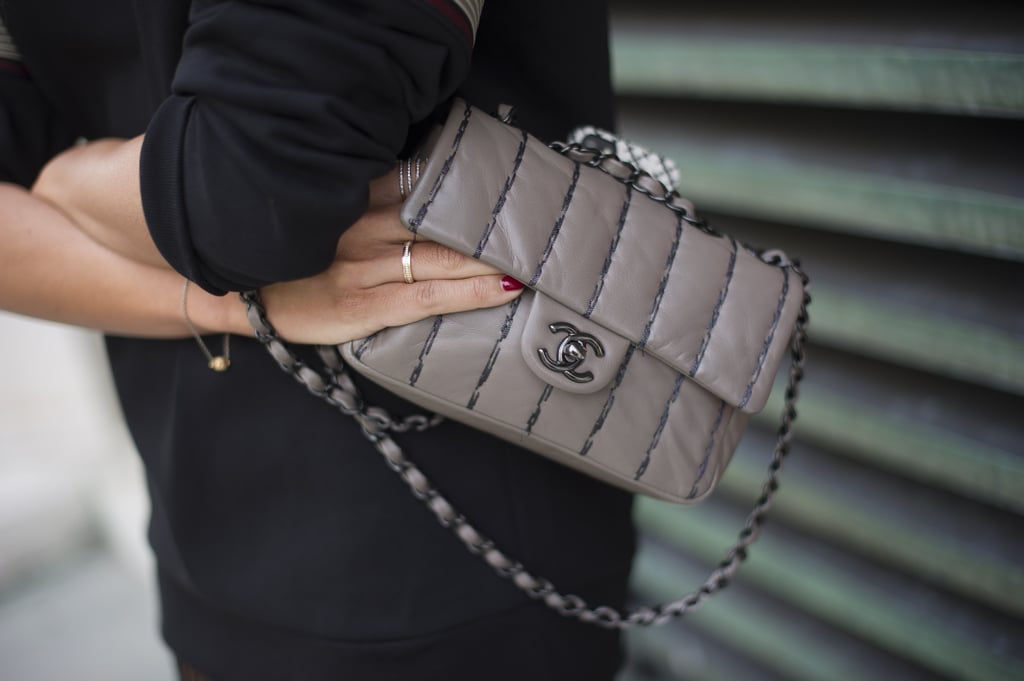 Classic Chanel in a perfect Fall hue.
Her earrings are worth a closer look.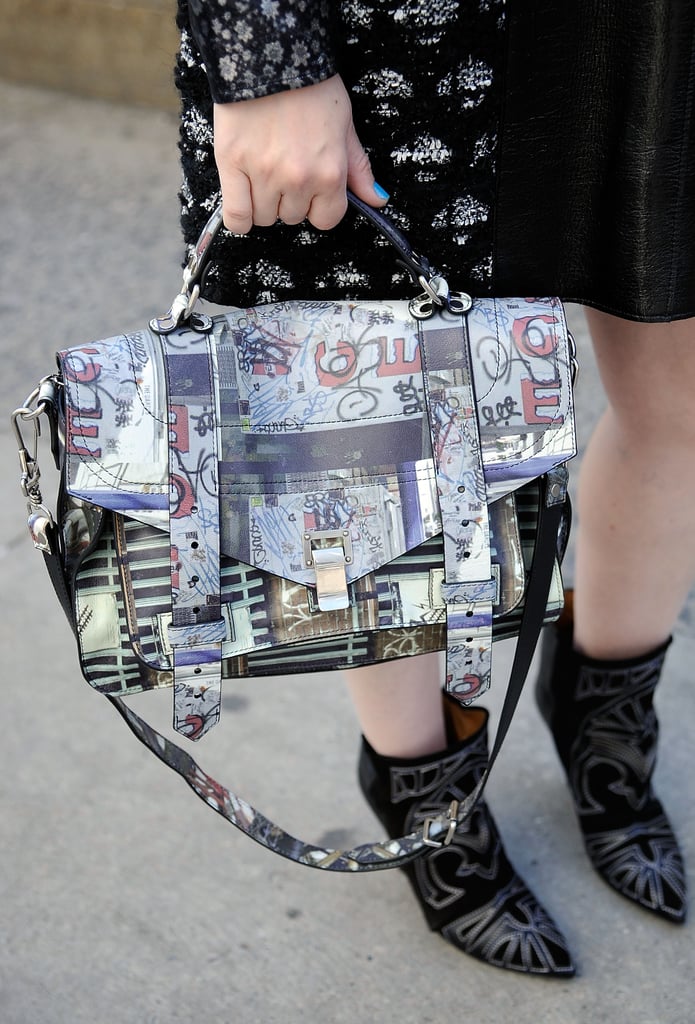 We can't decide what we love more, those Isabel Marant boots or that Proenza Schouler bag.
Statement shoes are even more attention-grabbing with statement socks.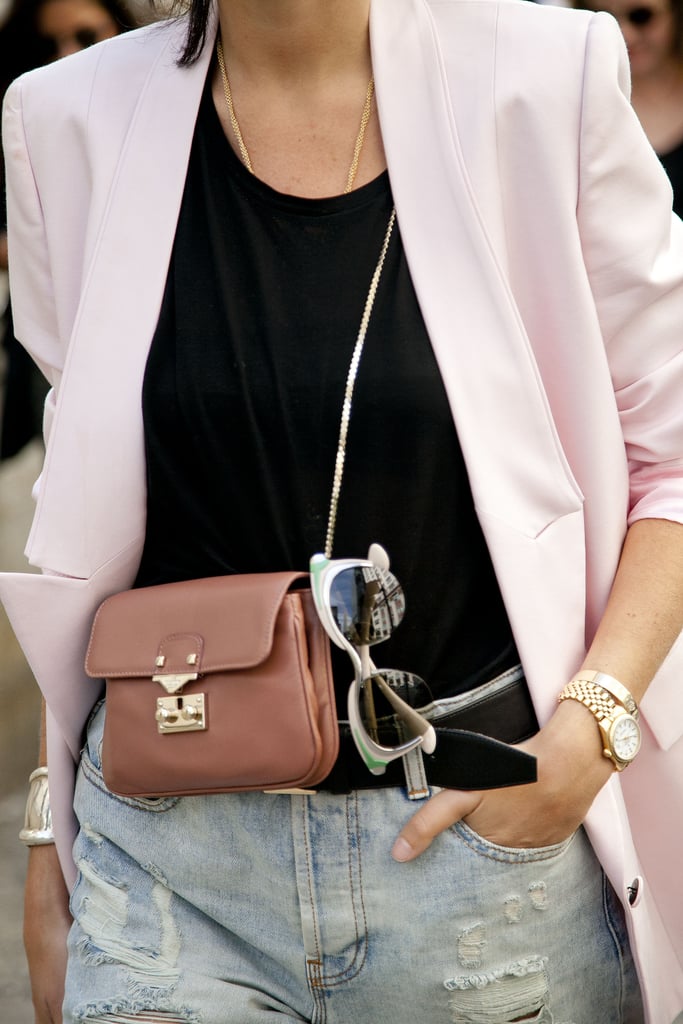 A mini bag isn't just adorable; we also love that it's entirely functional.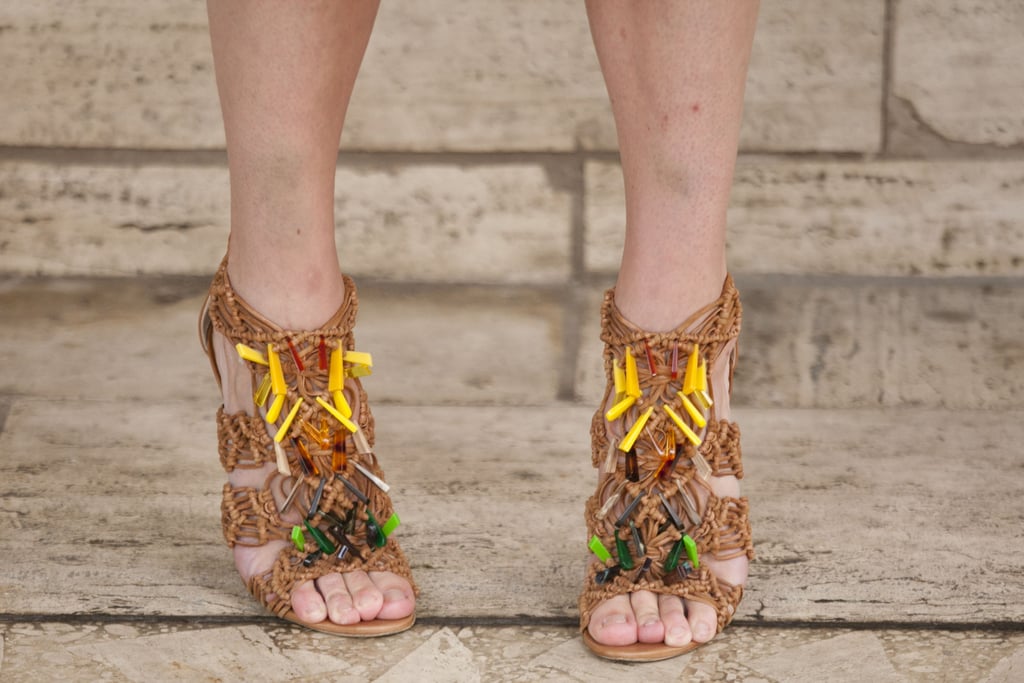 This is how you say "fun" with your footwear.
The most creative of clutches — yep, that's not a paper.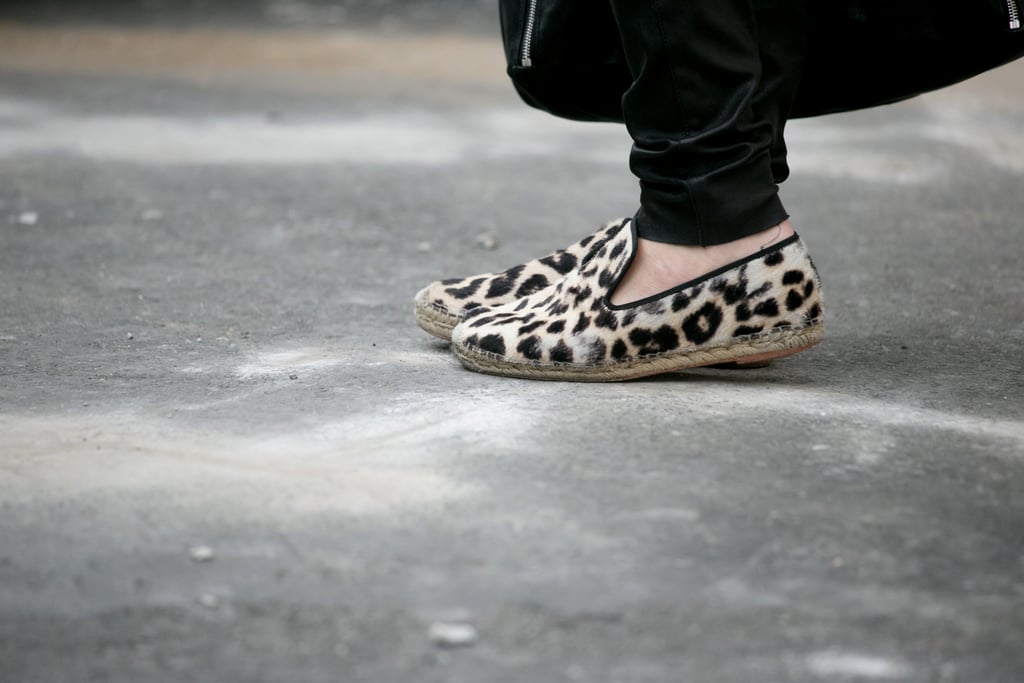 Flats that pack a printed punch.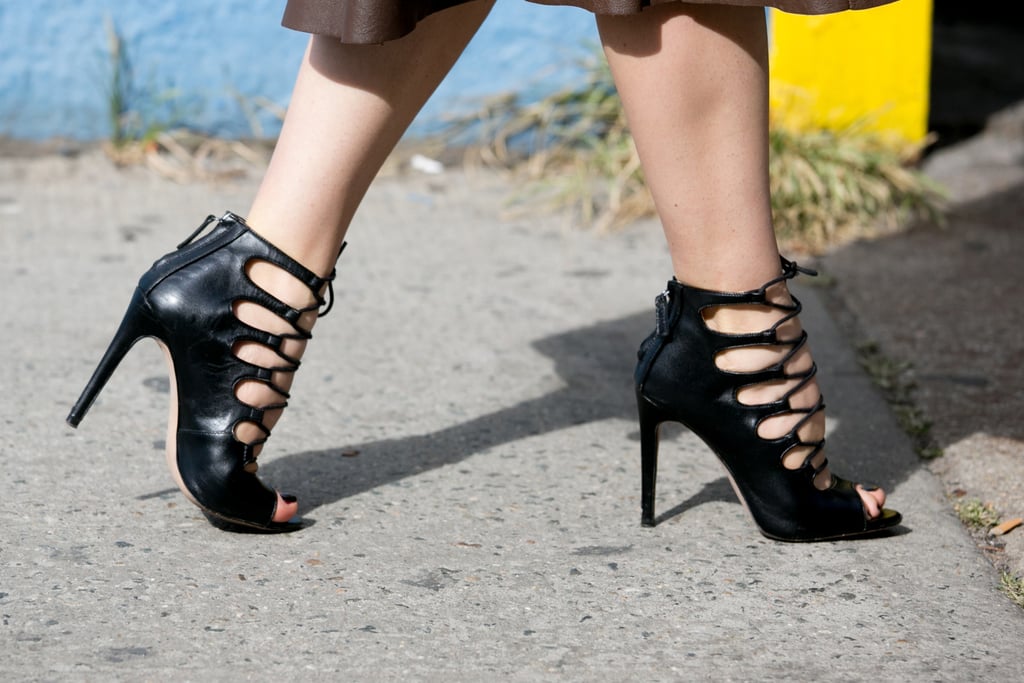 Hot to trot in Zara heels.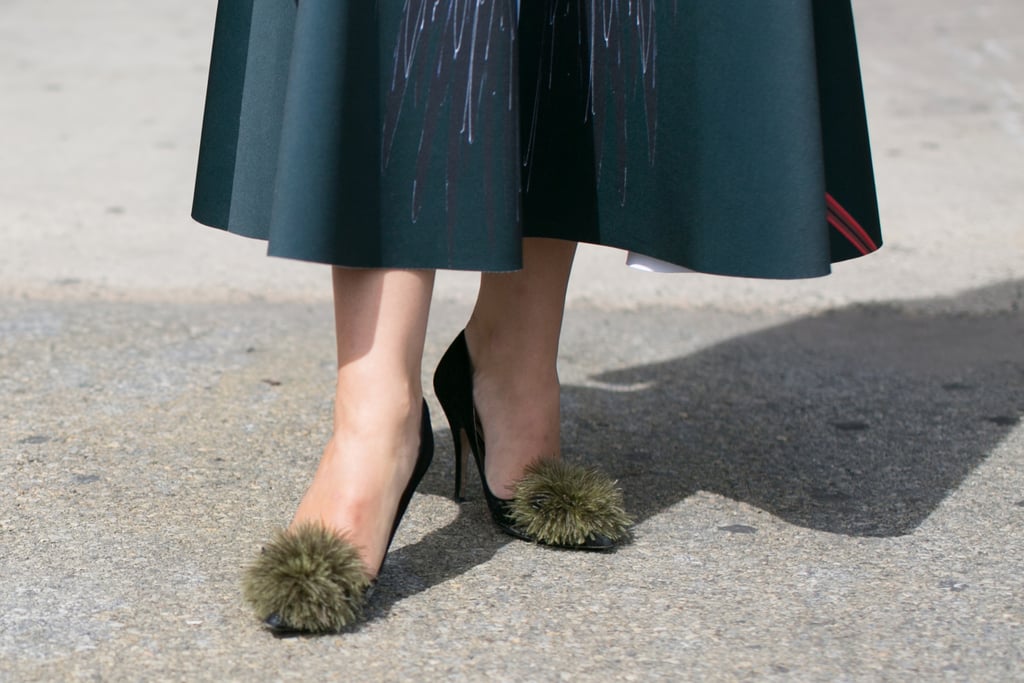 Why not update your everyday pumps with pom-poms?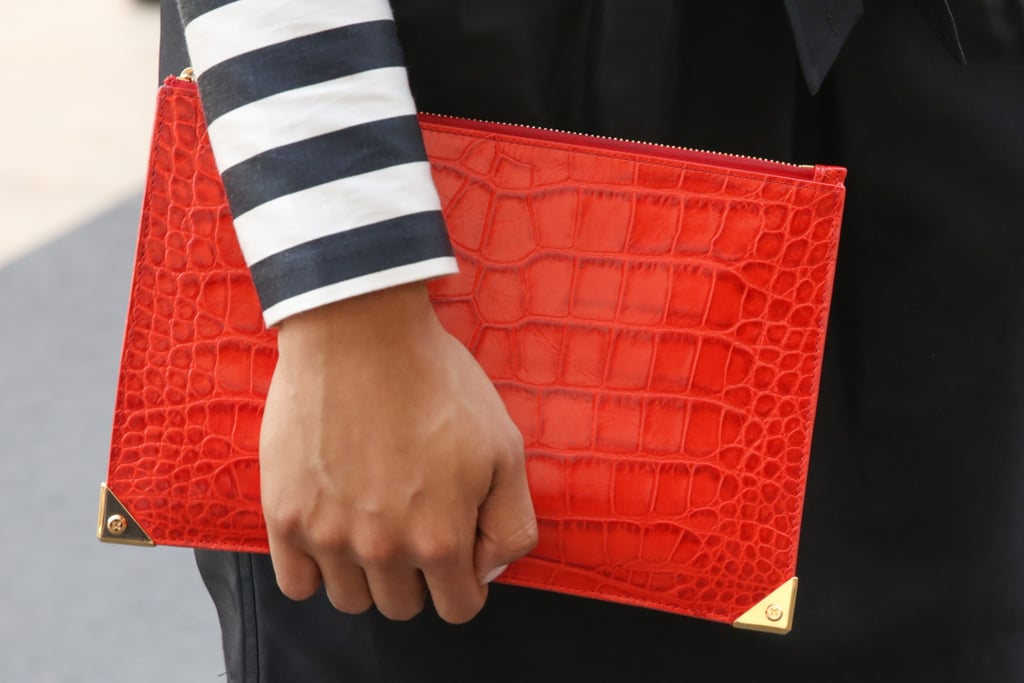 A pop of red and an exotic finish.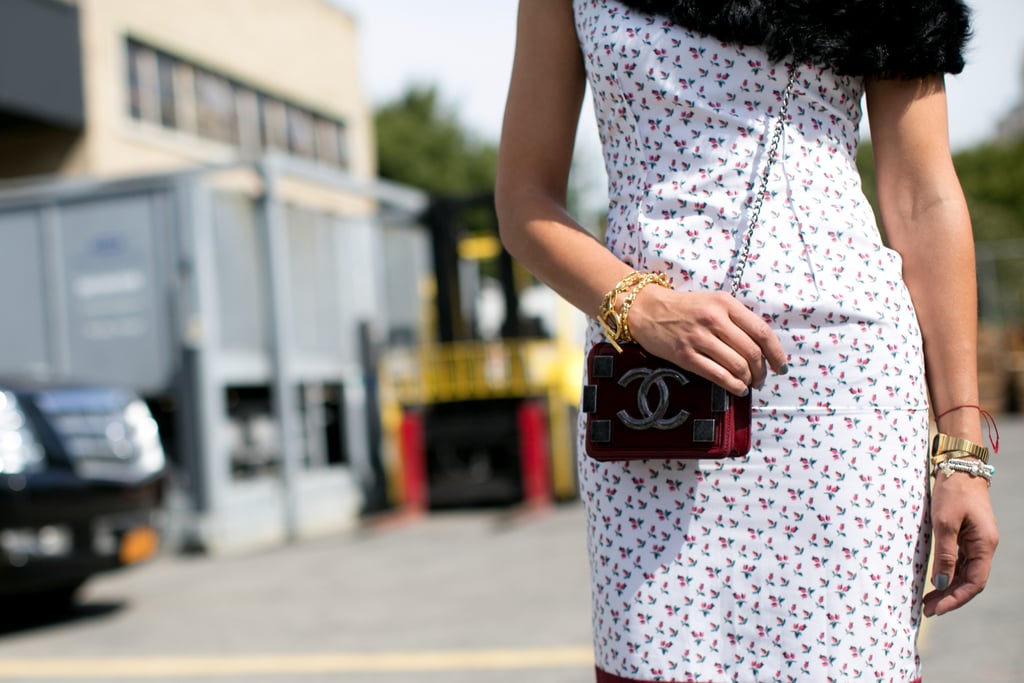 It doesn't have to be big; even a mini Chanel bag makes a statement.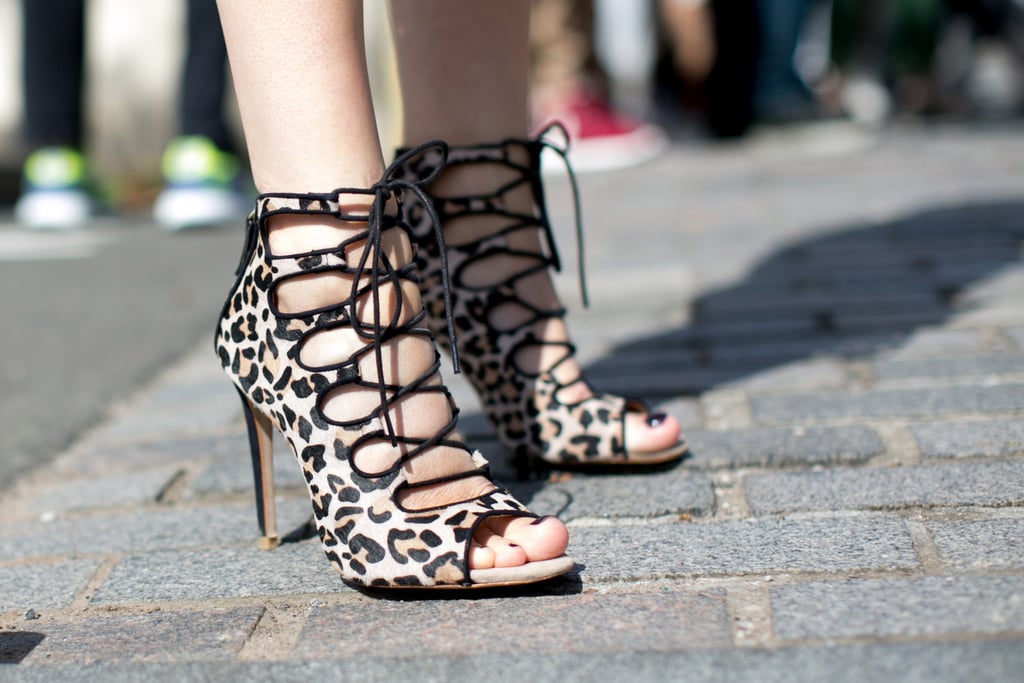 This showgoer brought her footwear A-game in Zara leopard-print lace-ups.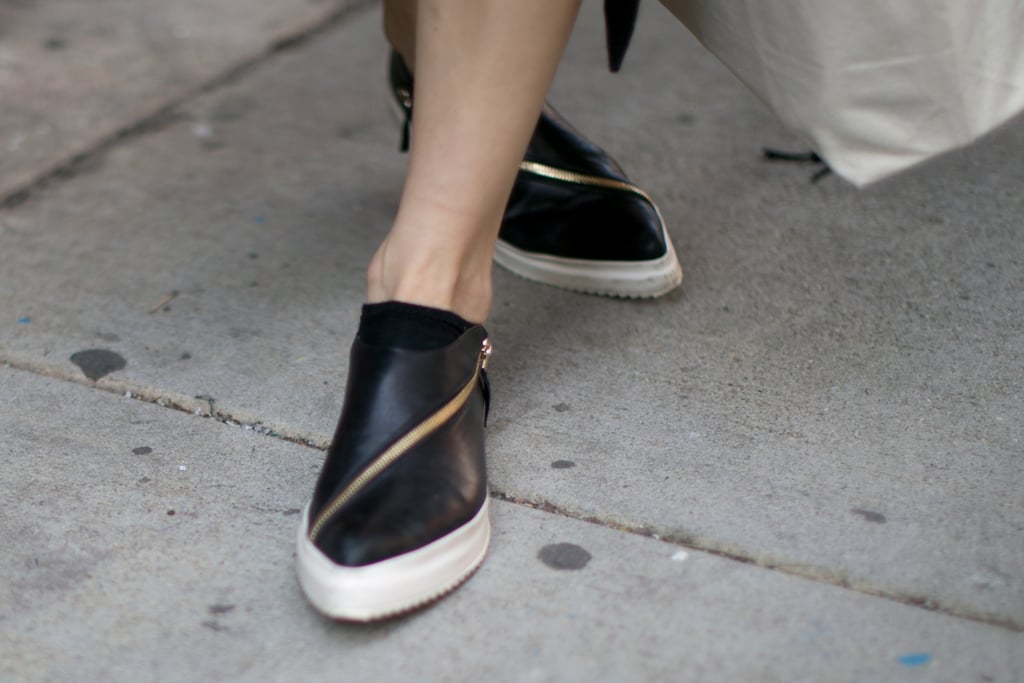 Slip-ons never looked cooler.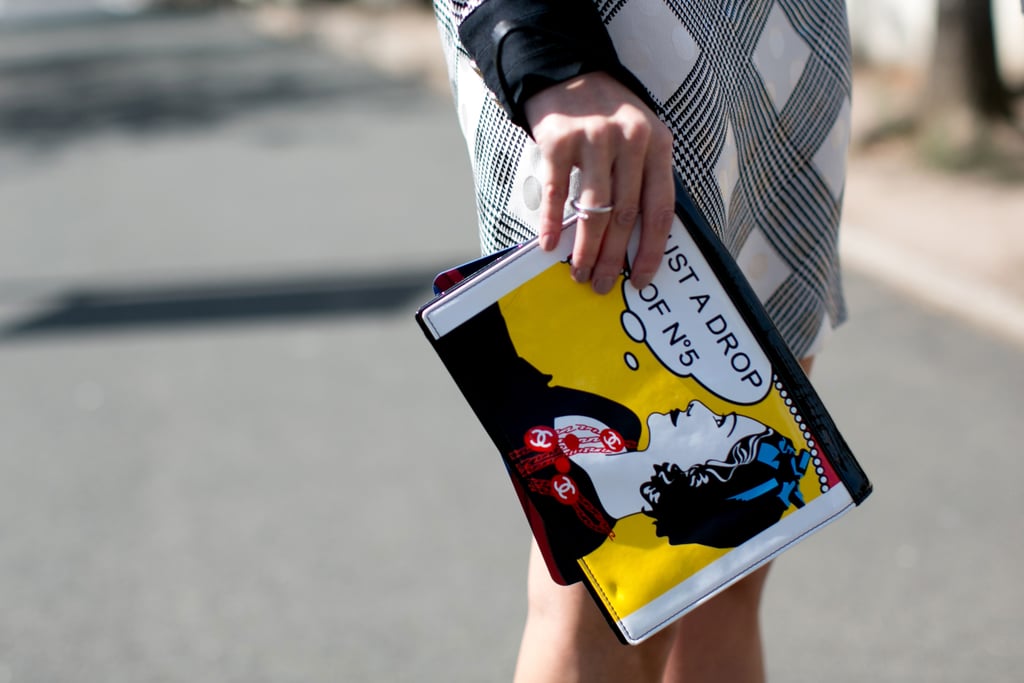 A clutch that does the talking.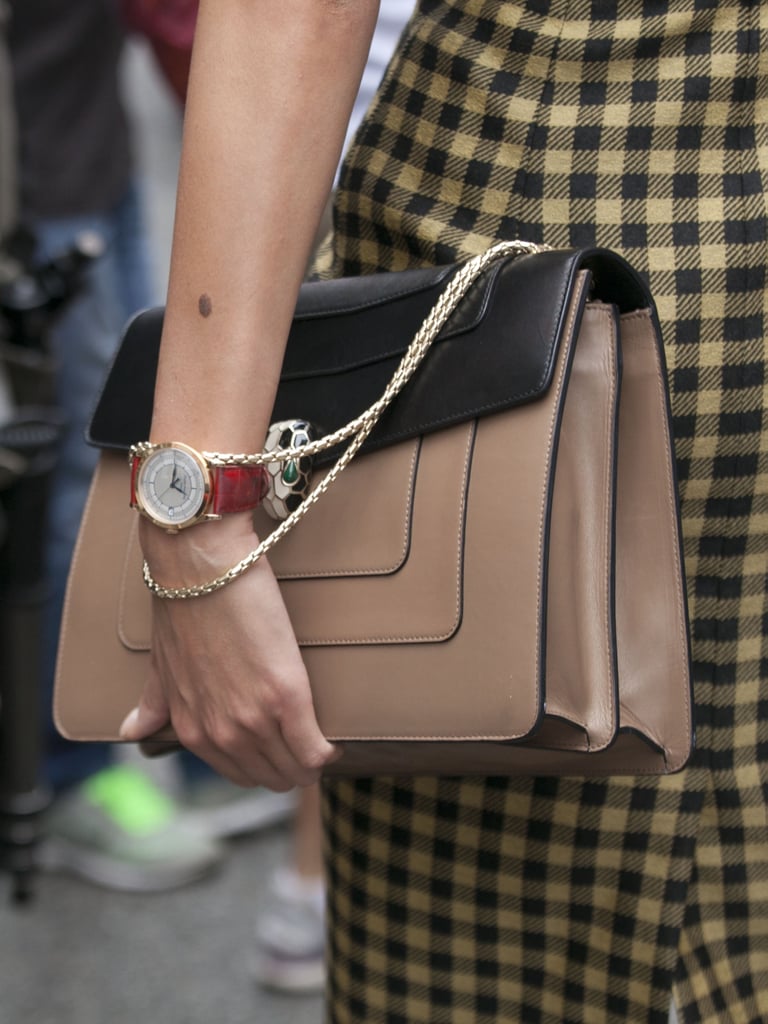 A timeless watch and a timeless handbag teamed up.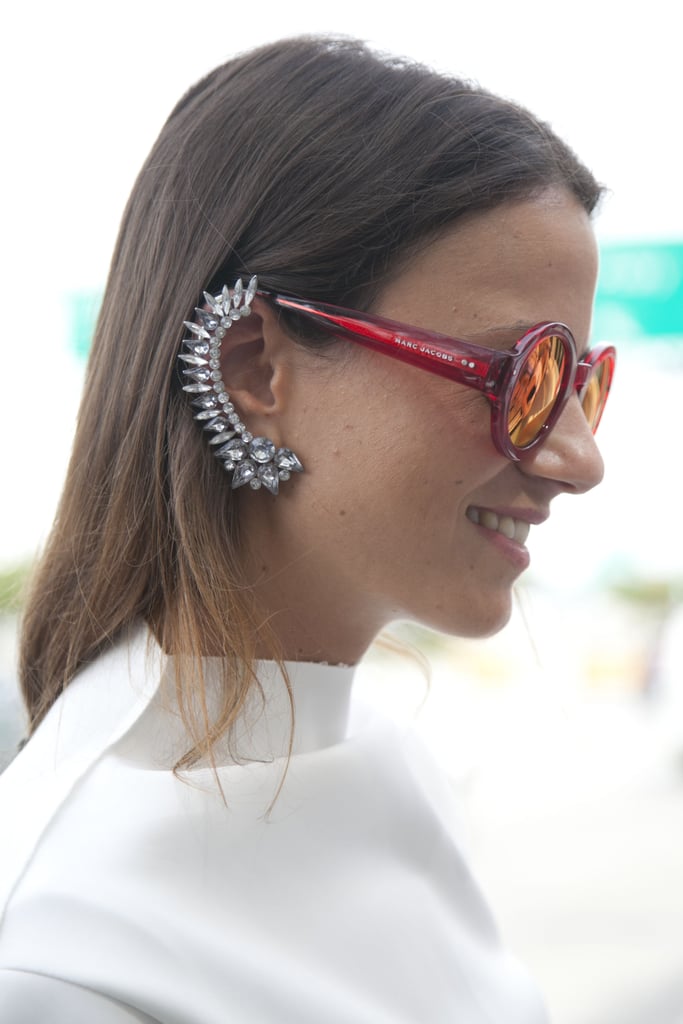 A seriously fierce ear cuff offset surfer-girl shades.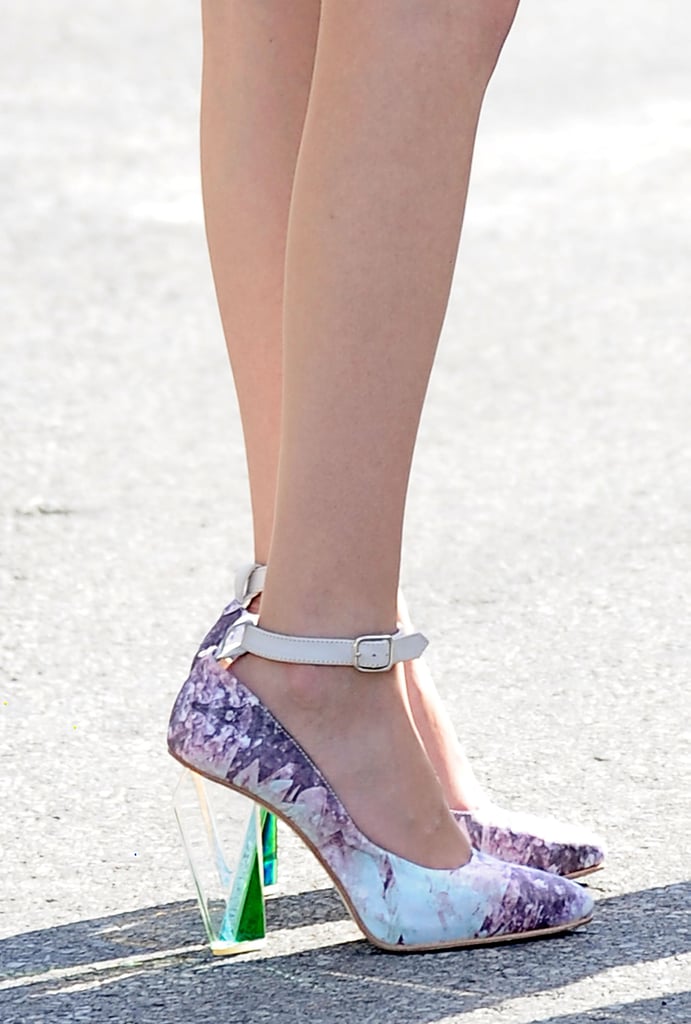 The heels may be clear, but you can't miss these pumps.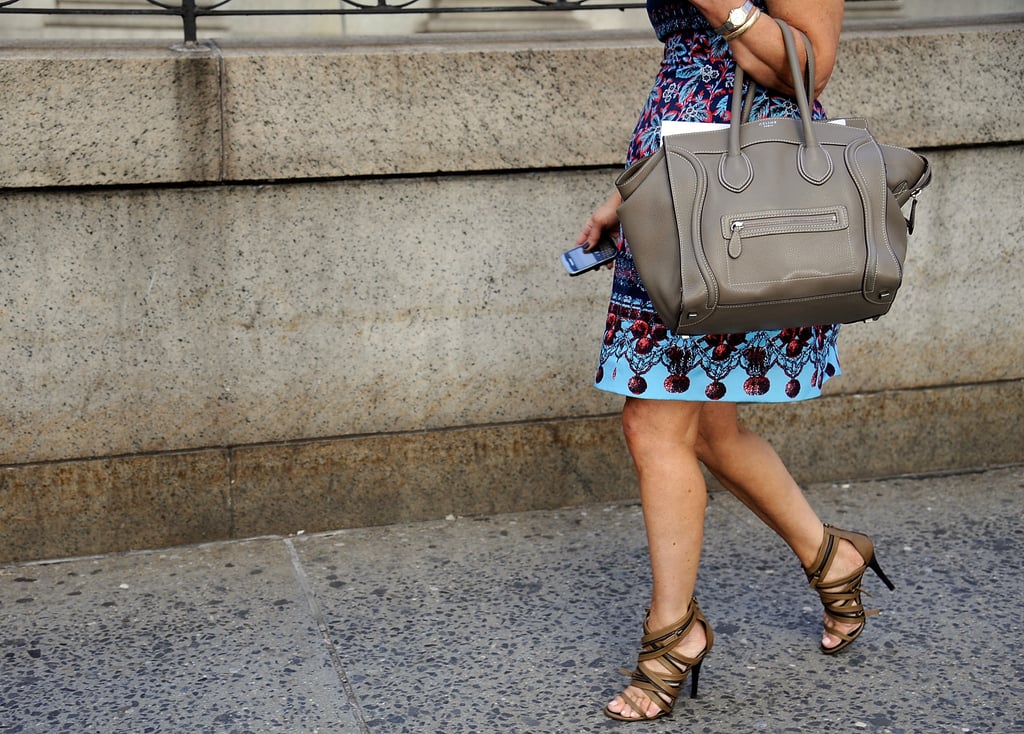 Leave it to a Céline tote to add luxe to just about anything.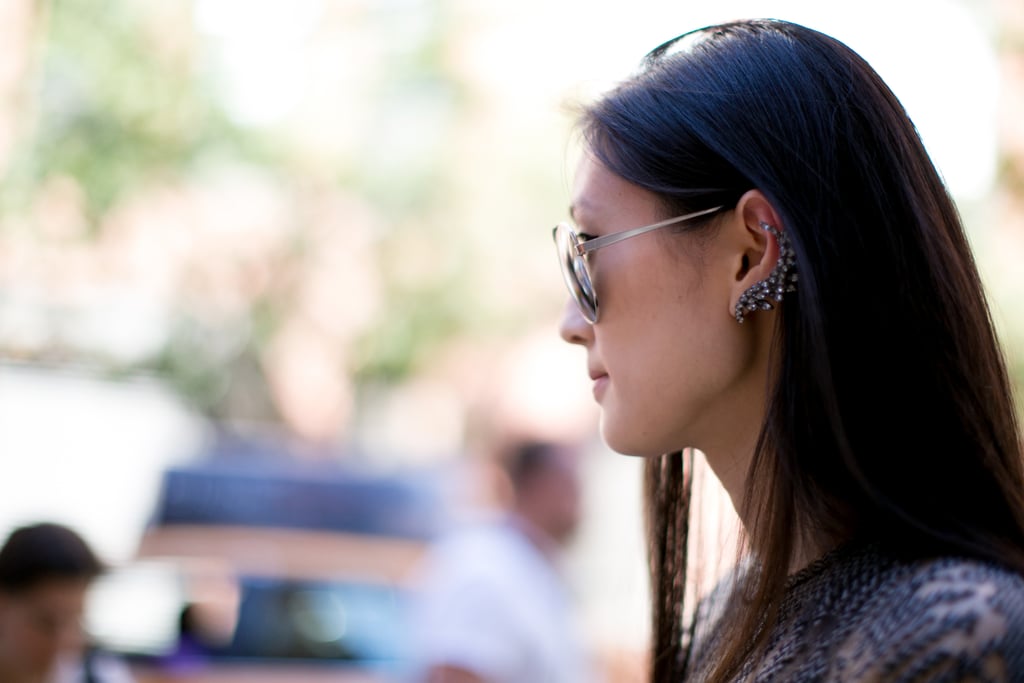 Her ear cuff deserves a closer look.
Bet you never thought a jersey would look this good with a gold clutch.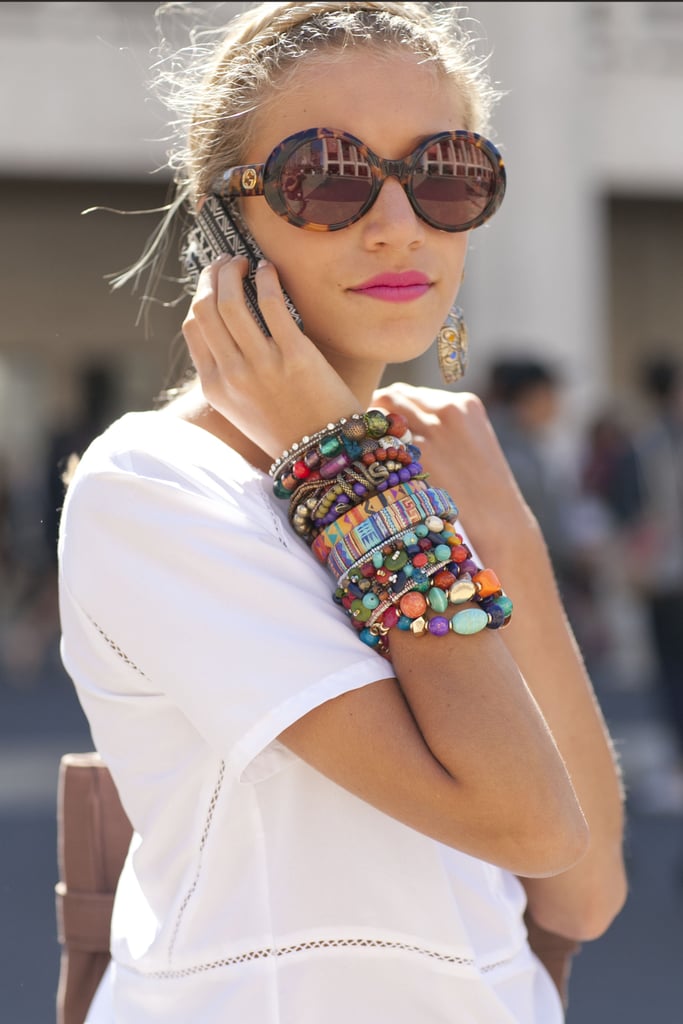 A rainbow-bright wrist and major shades.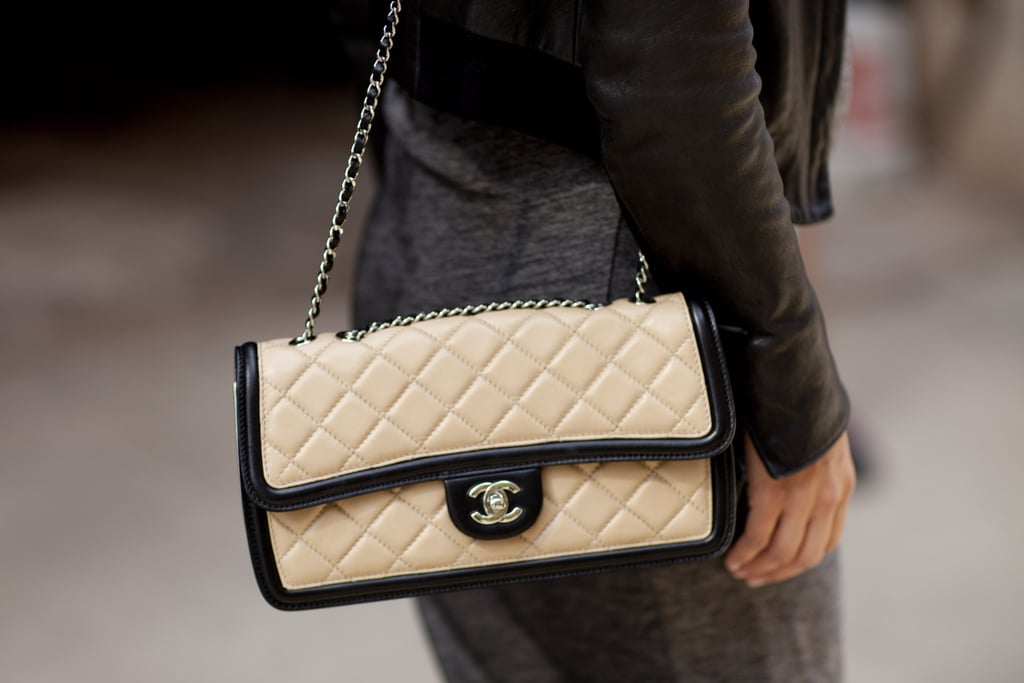 The chicest kind of Chanel.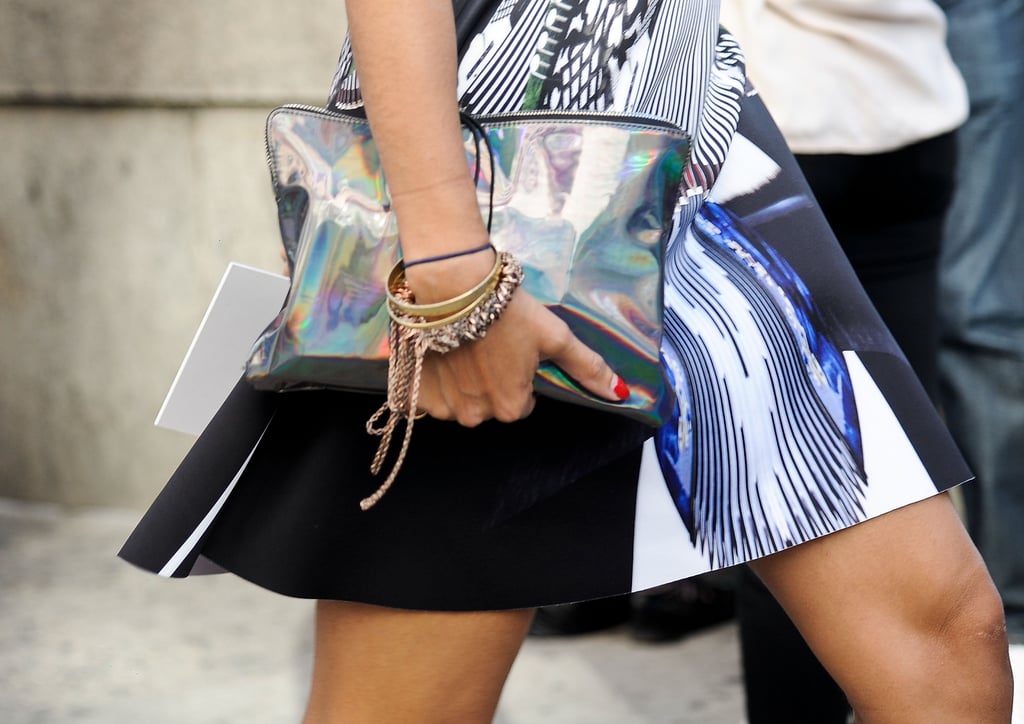 What do you wear with a Clover Canyon dress? A holographic clutch, of course.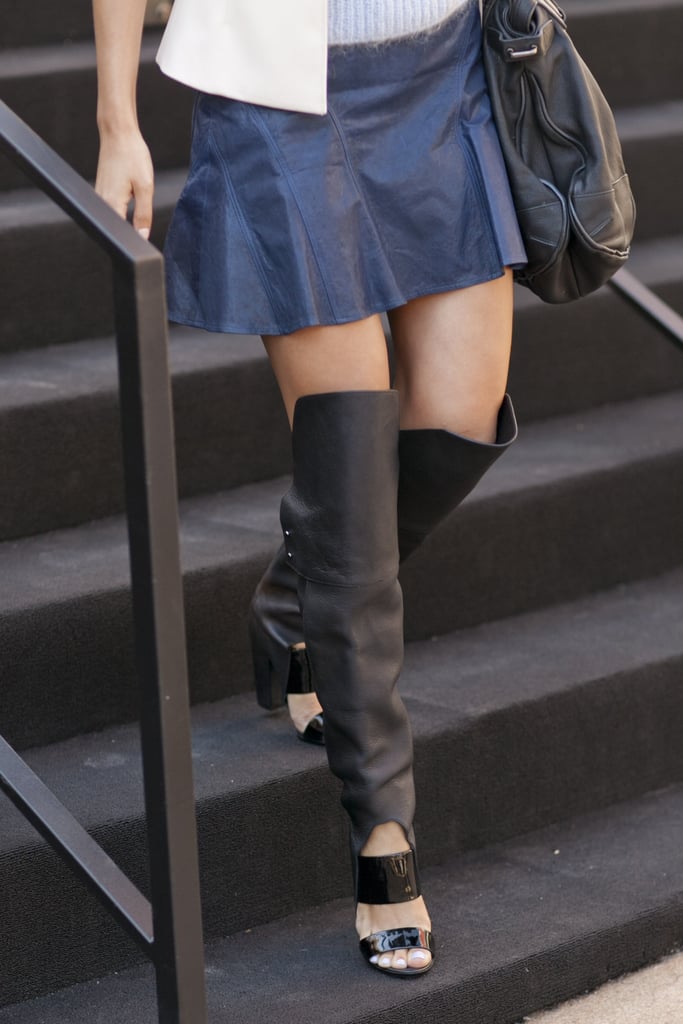 Major thigh-highs with a serious miniskirt.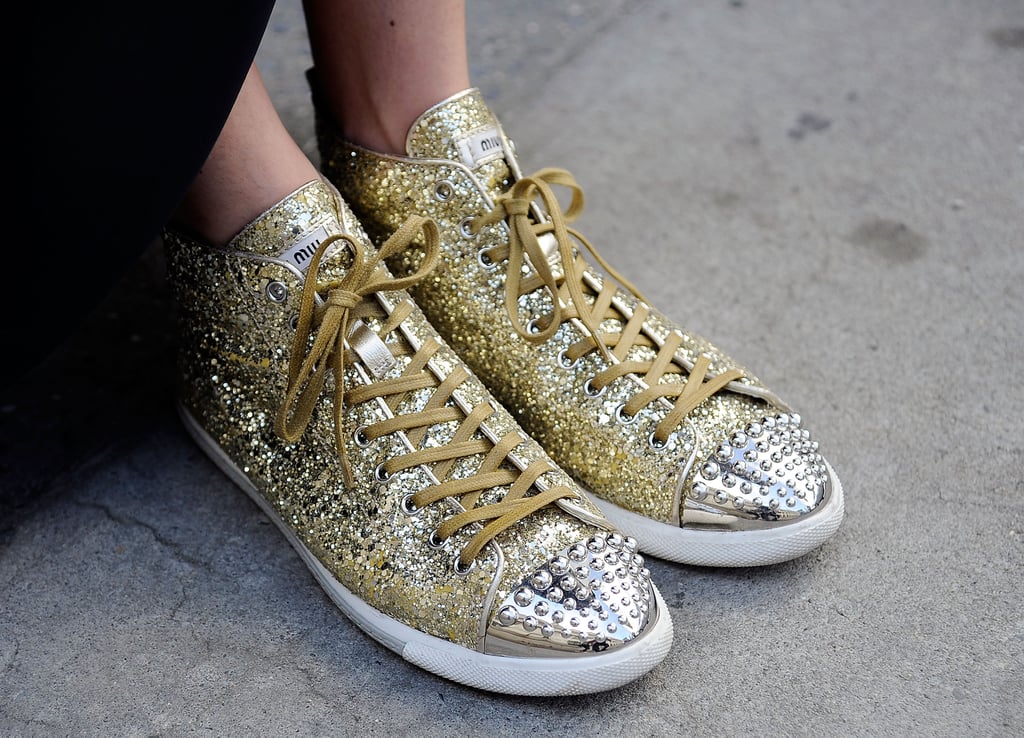 Happy feet, thanks to a pair of studded and sparkly Miu Miu kicks.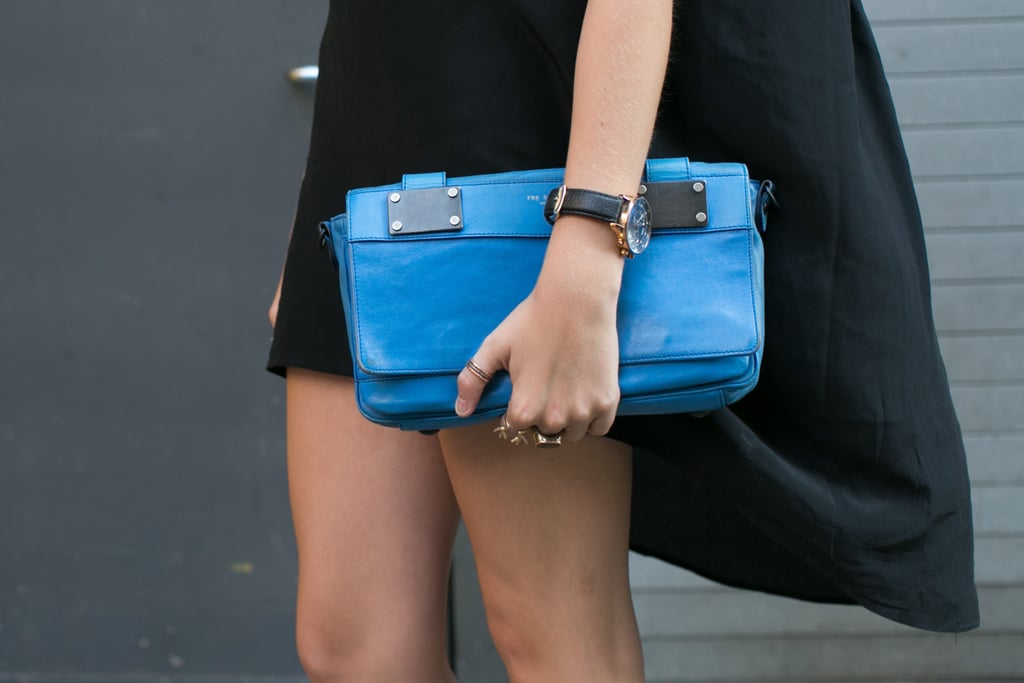 Black and blue never looked better.
A Fashion Week warrior — with the footwear to prove it.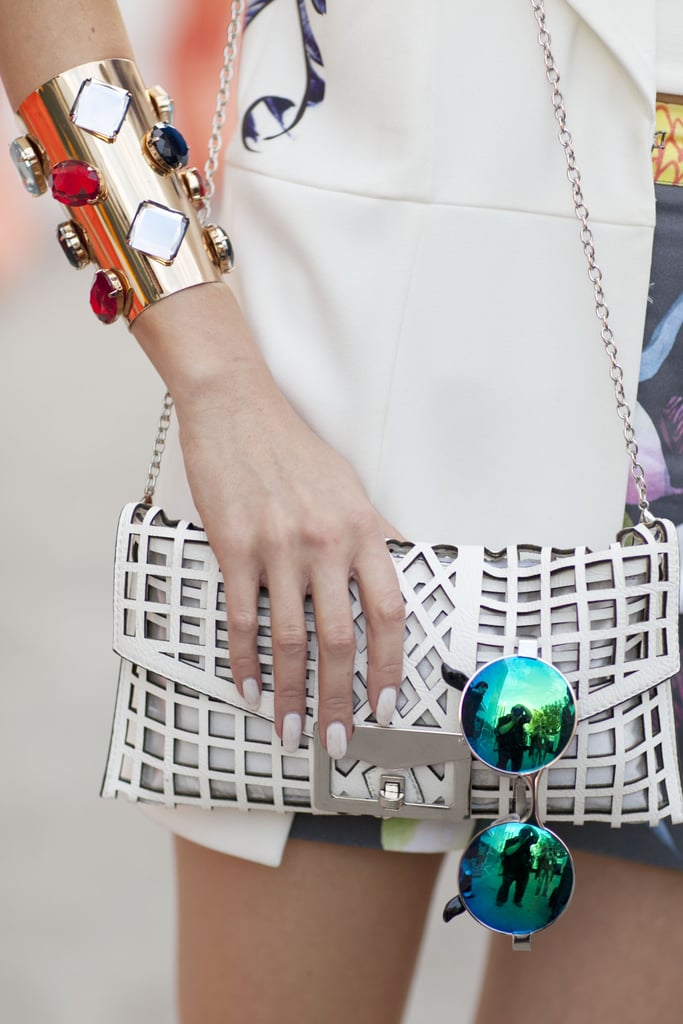 Armed with the coolest kind of accessories.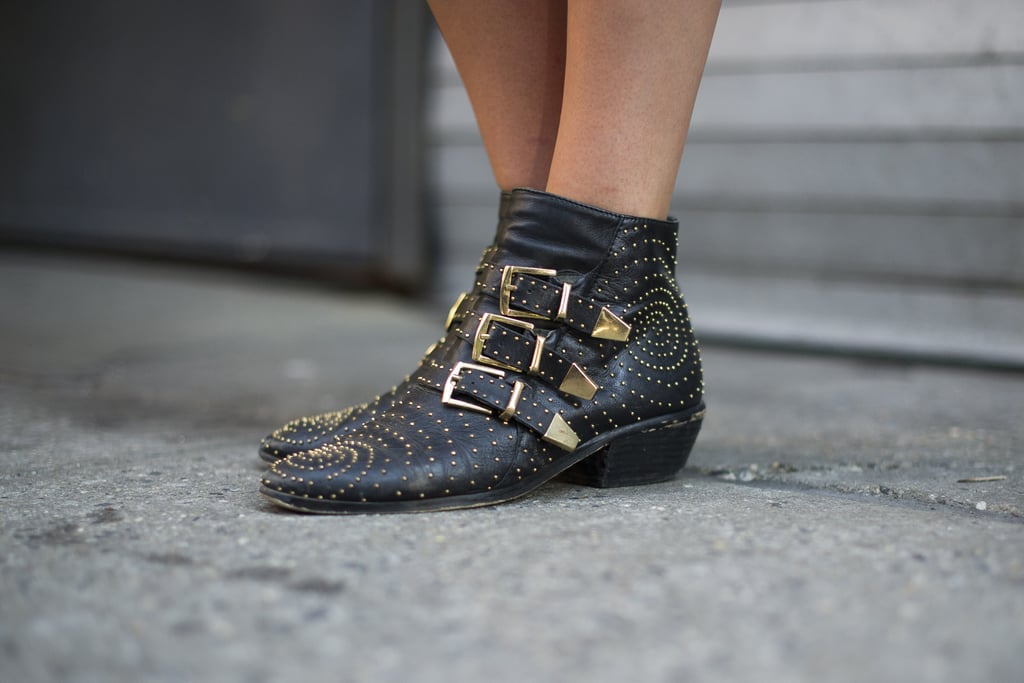 Buckled up and studded.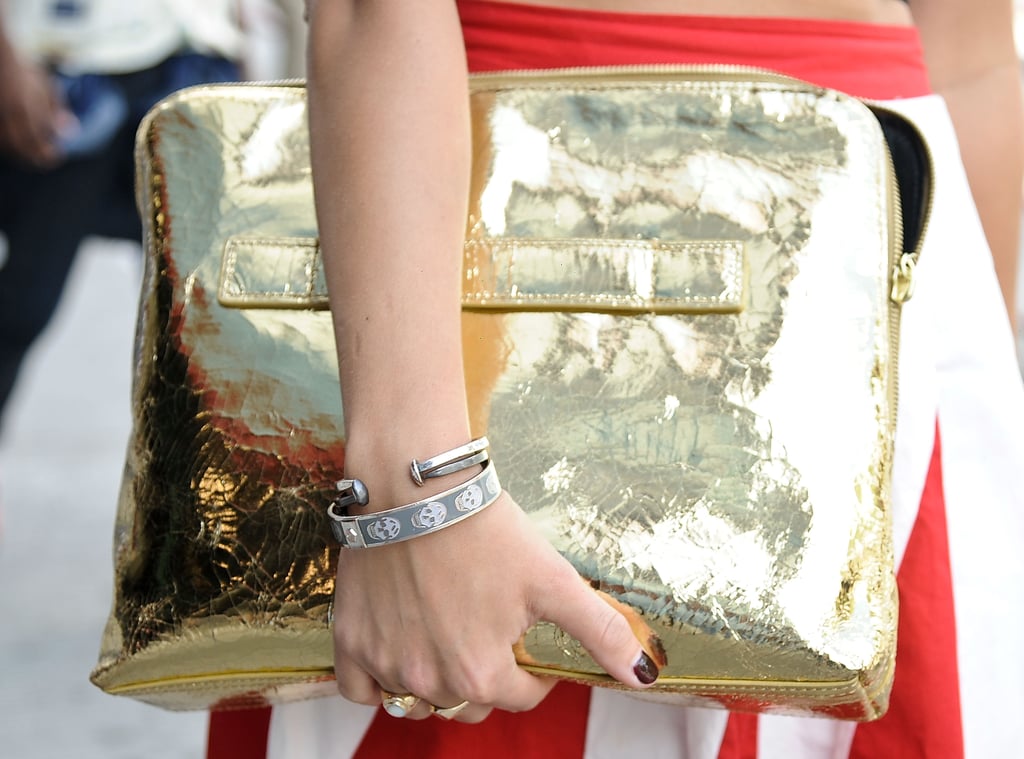 This street style moment was pure gold.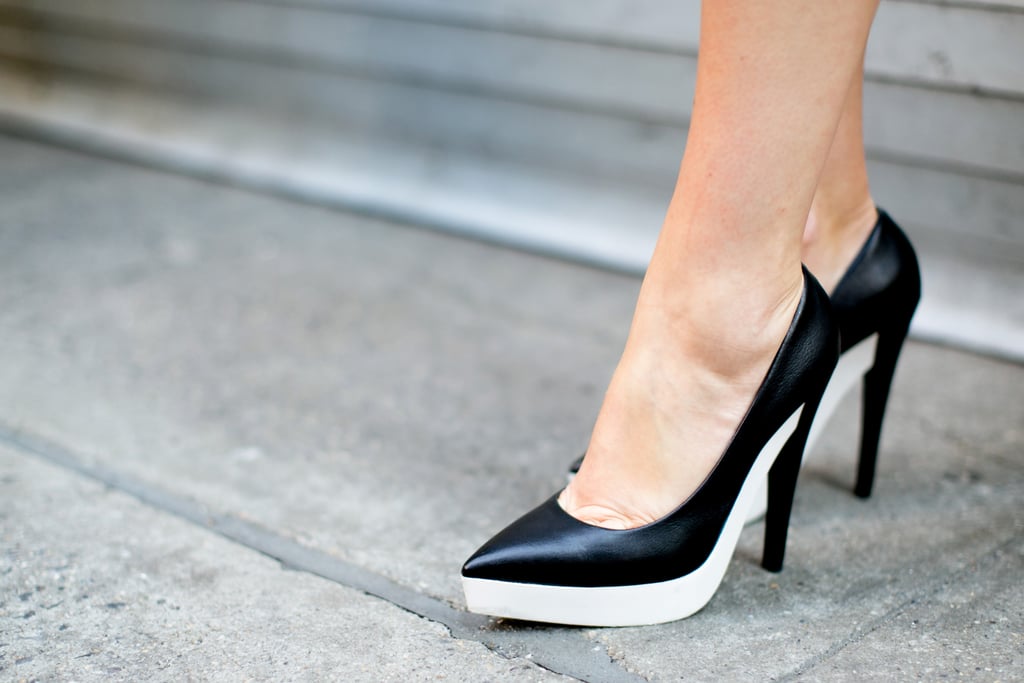 Always a classic.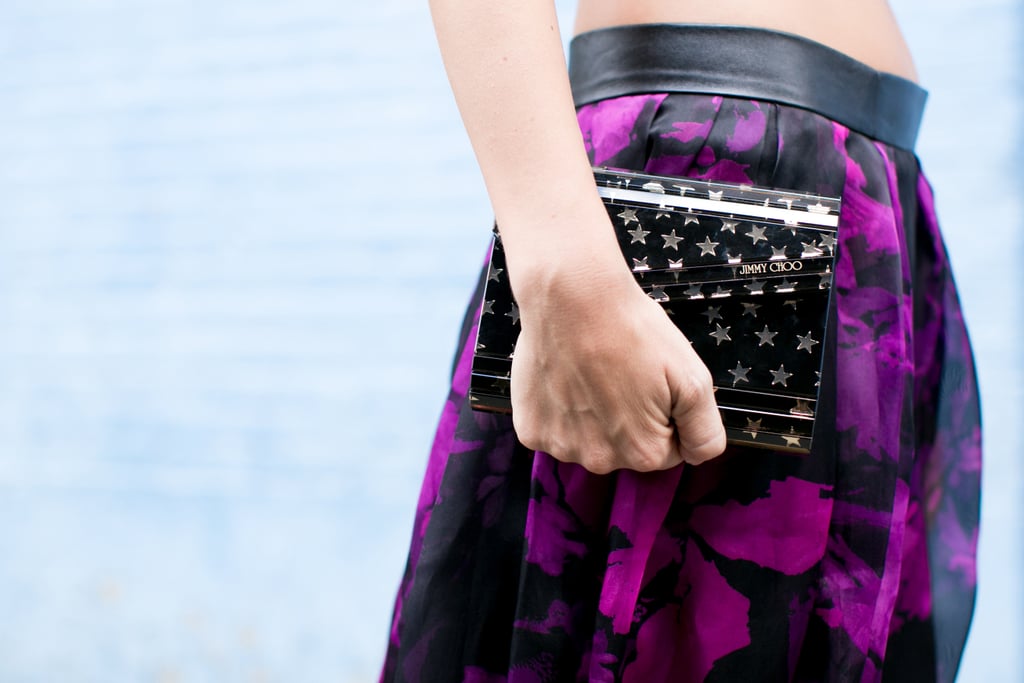 A star-studded Jimmy Choo clutch paired perfectly with a bold camo print.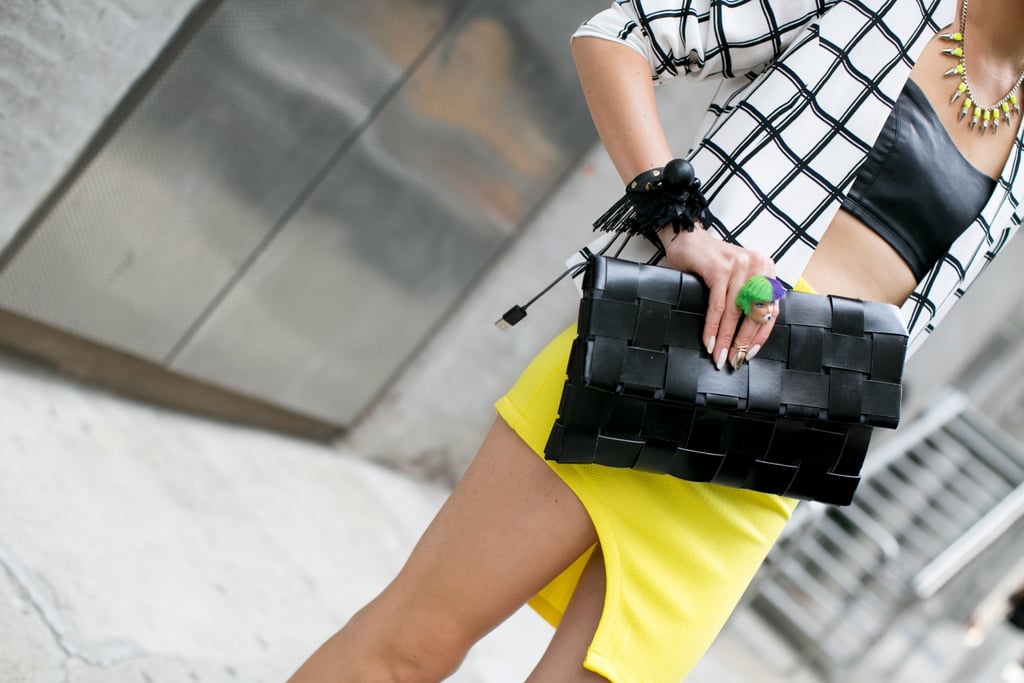 Just the way we like our clutches, oversize and roomy enough to hold everything we need.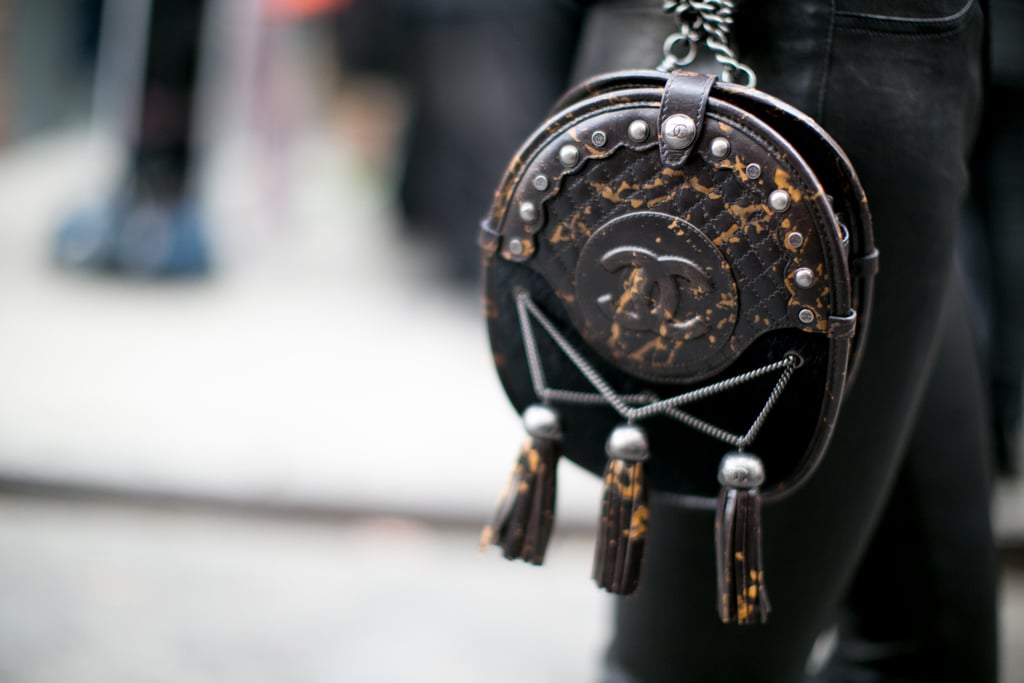 A standout Chanel.
A perfect play on black and white prints, echoed right on her clutch.
A little neon made this necklace pop.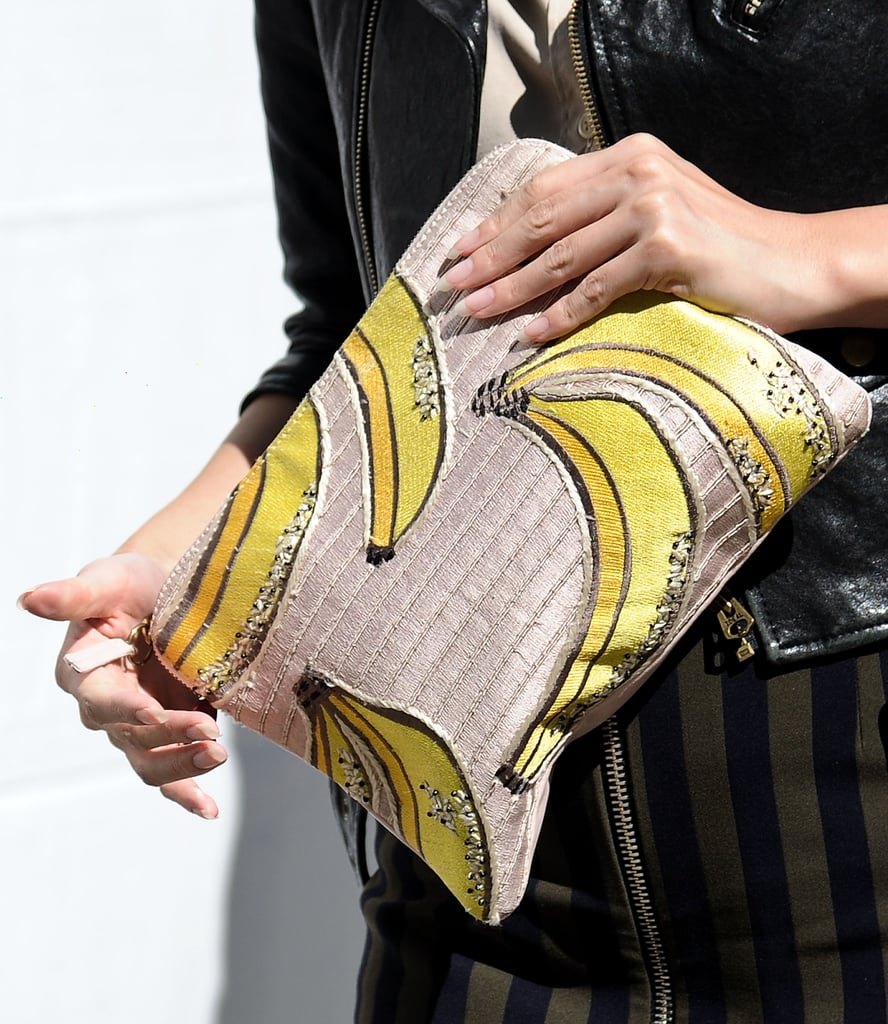 We're totally bananas for this clutch.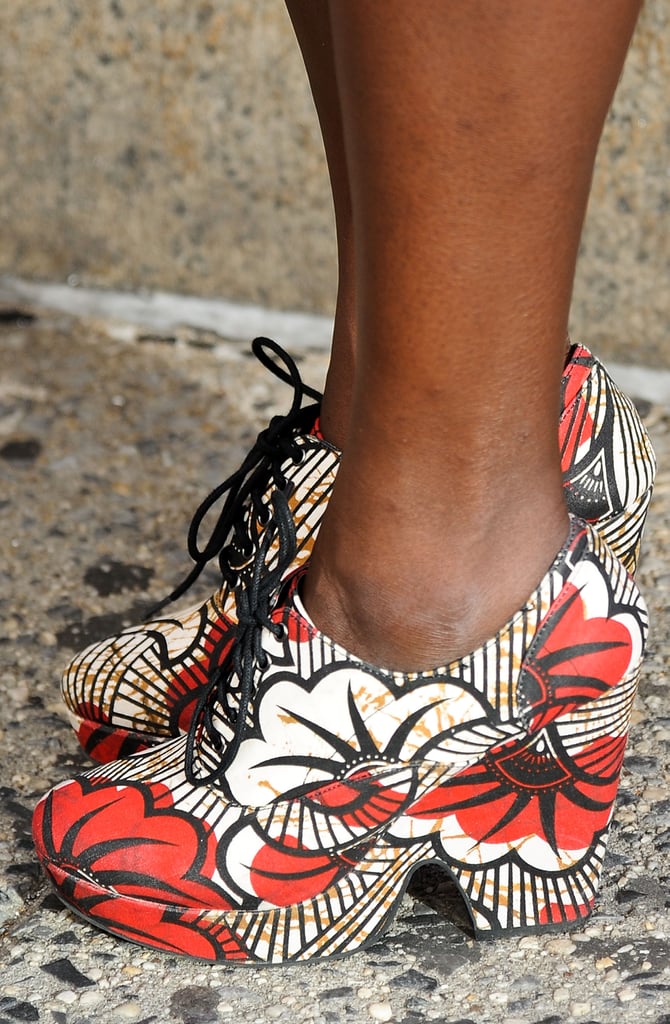 A sensible shoe that packed a major printed punch.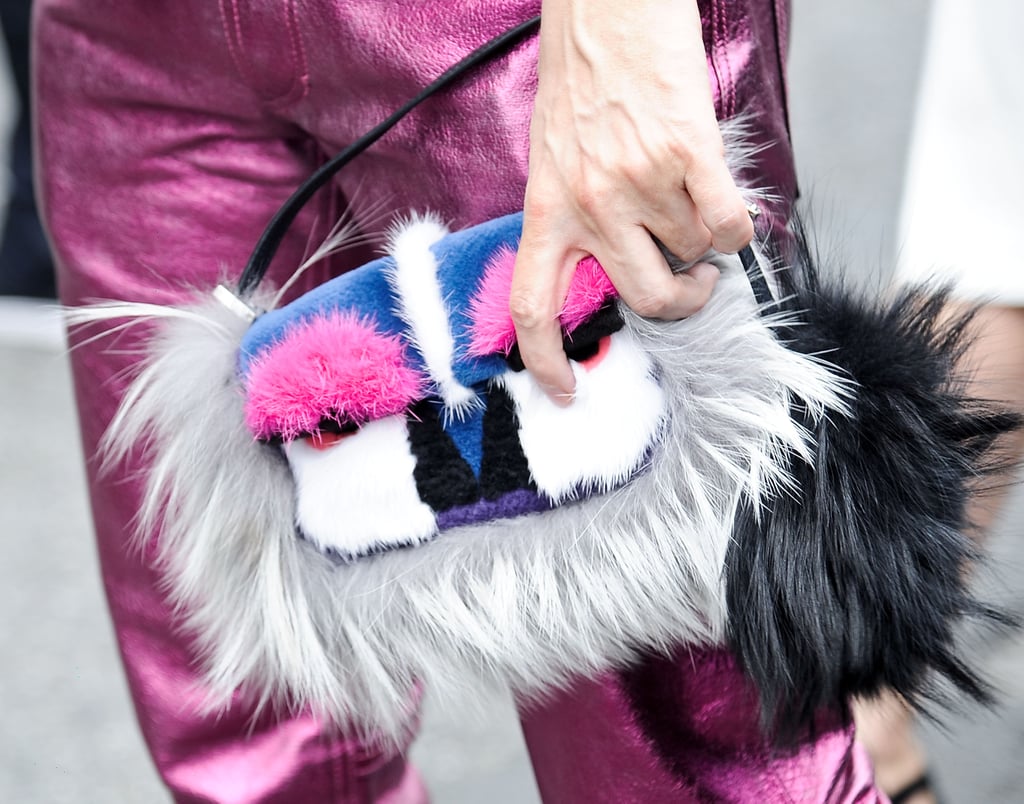 We spy a feathered Fendi.
It's all about the detail on this leather belt.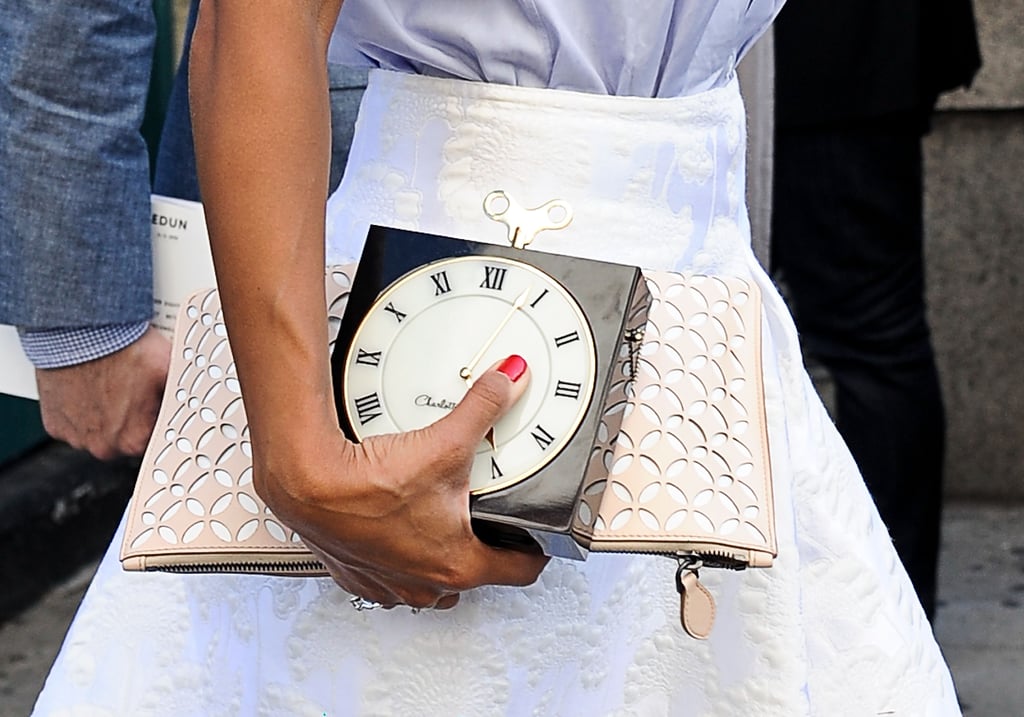 Two clutches are better than one, especially when one is this cute.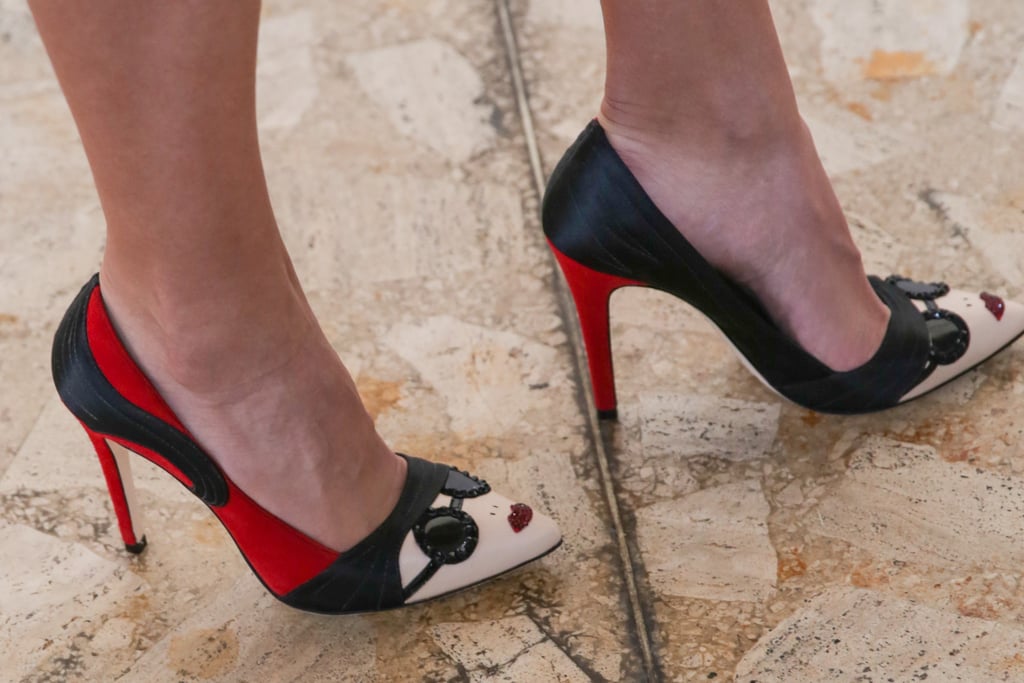 Cheeky Alice + Olivia heels.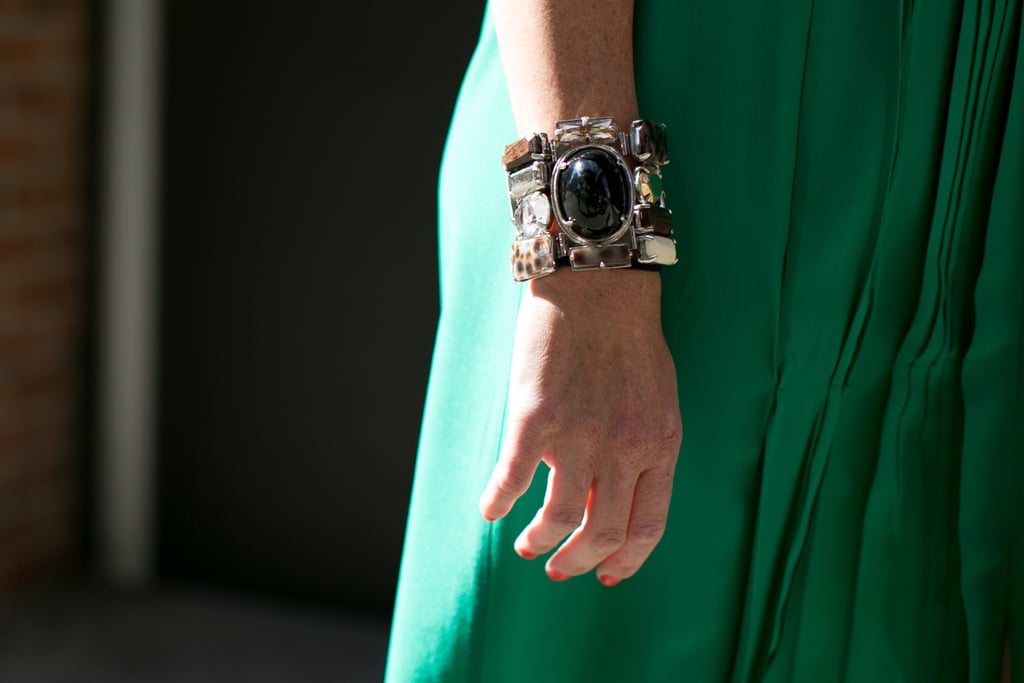 A bit of arm candy.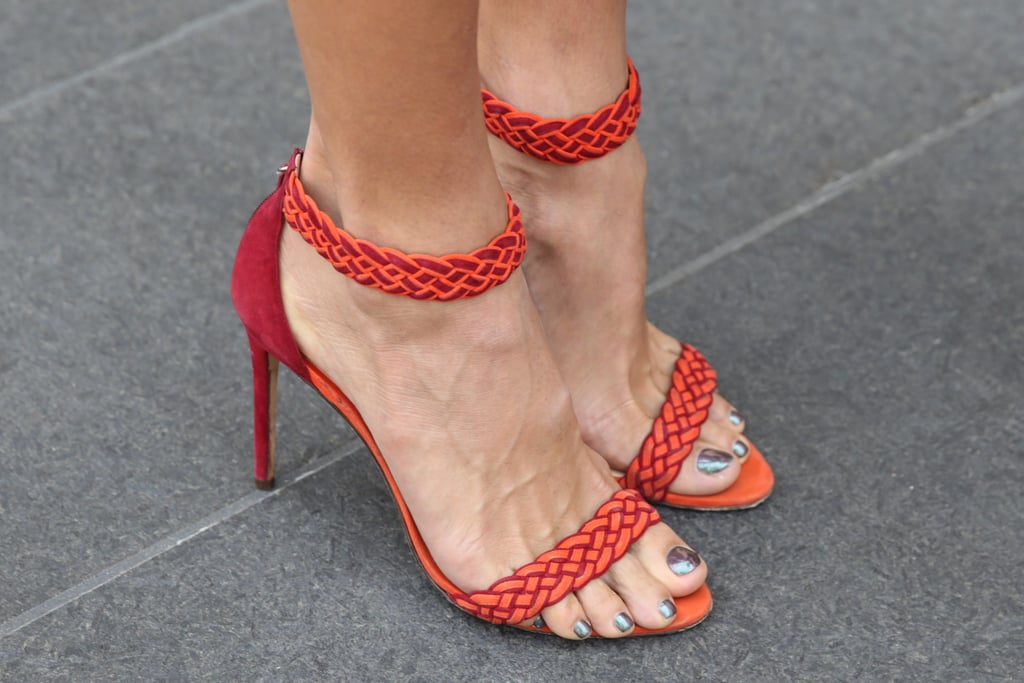 Braided detailing and a flash of red on these Alexandre Birman heels.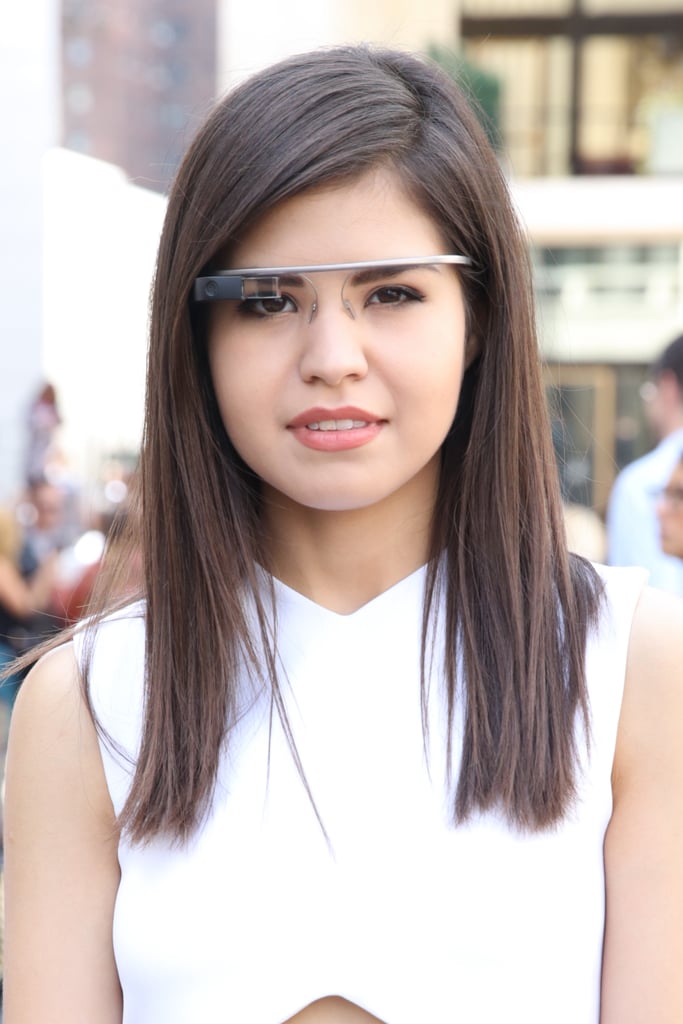 Google Glass, the coolest kind of glasses.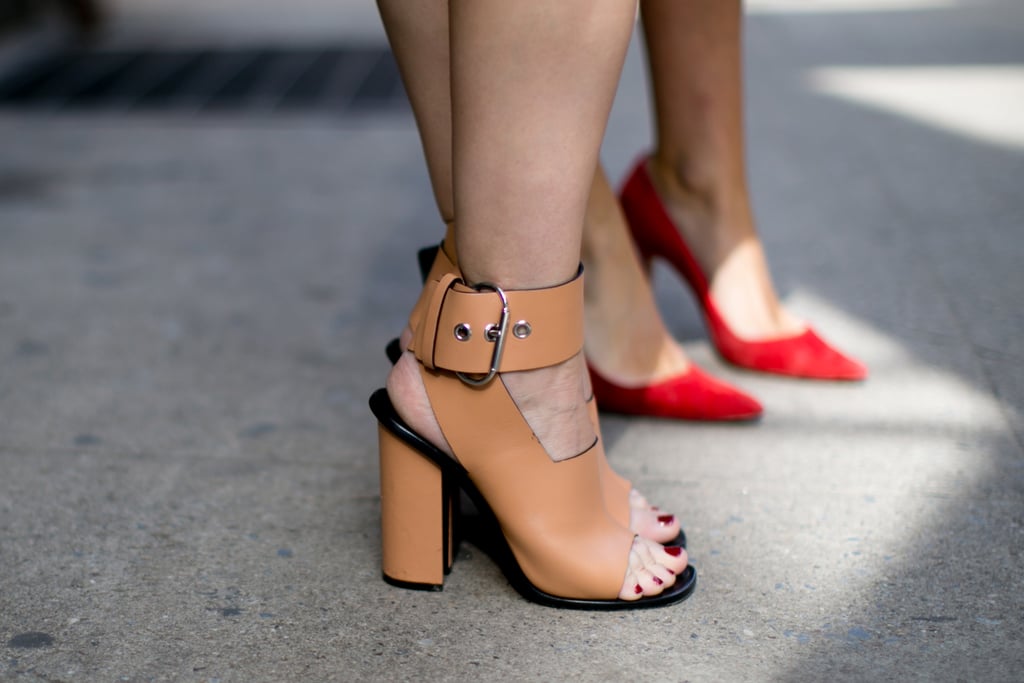 Shoe envy.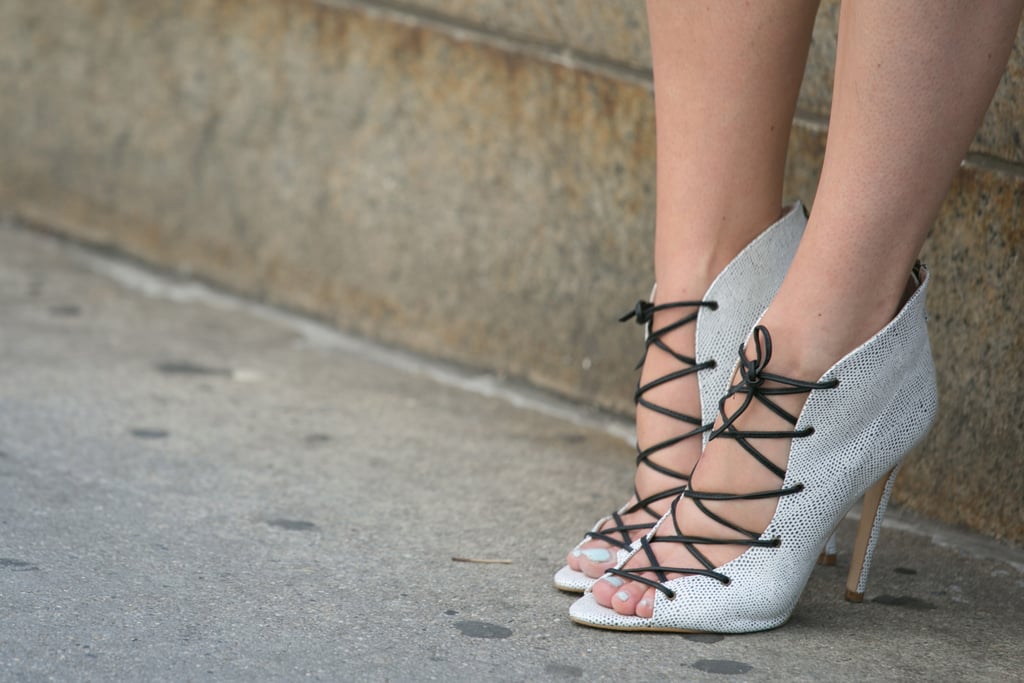 Clearly, lace-ups are having a moment.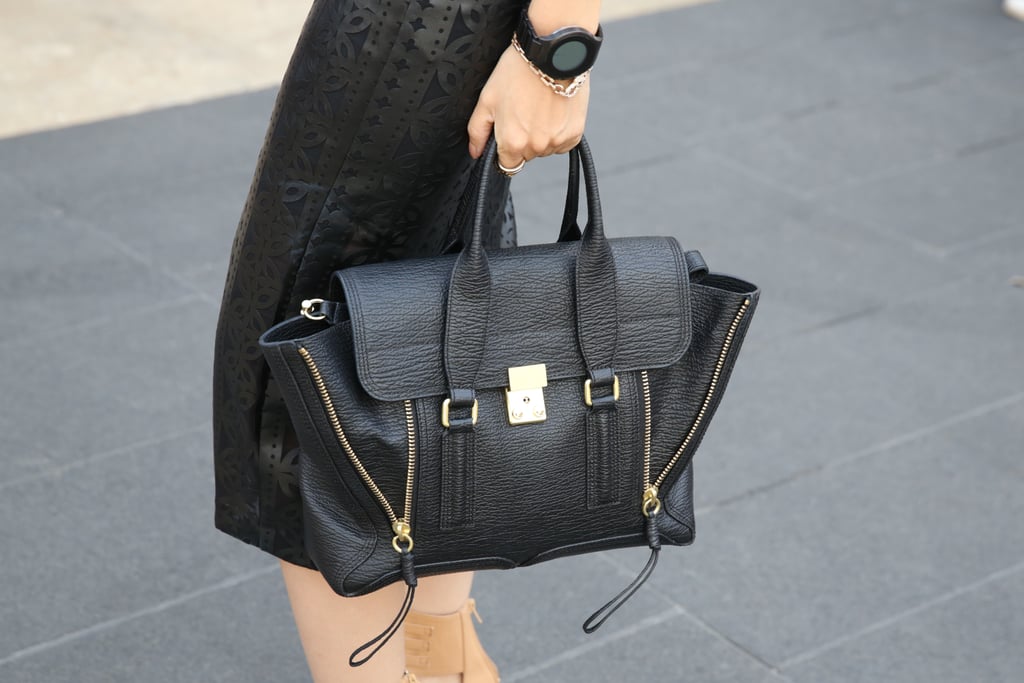 A sleek 3.1 Phillip Lim Pashli spotted outside the tents.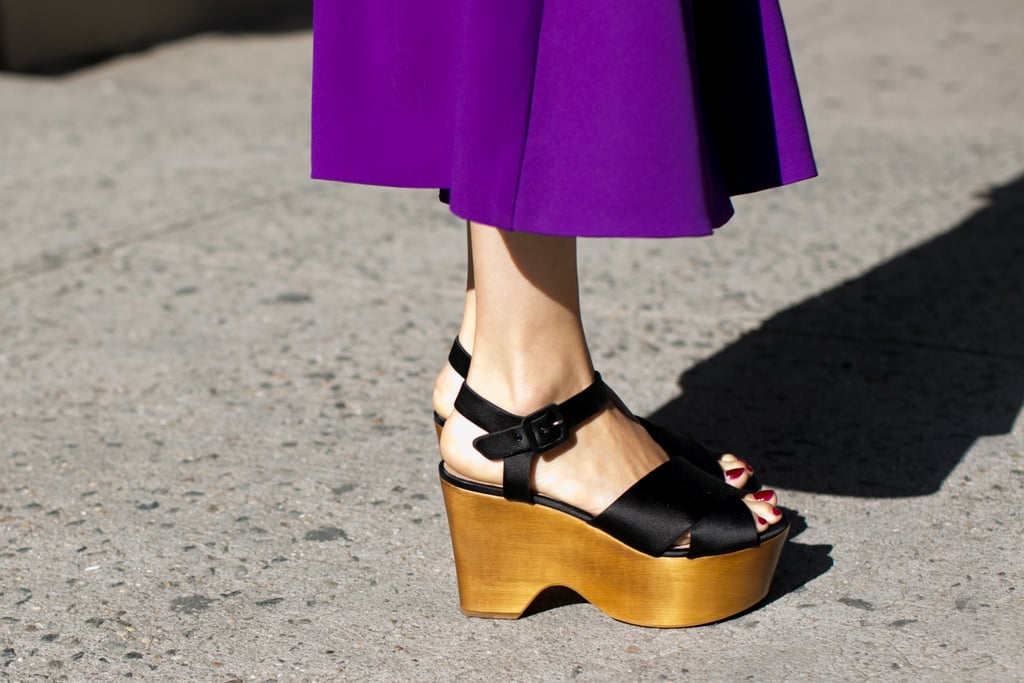 The height of fashion.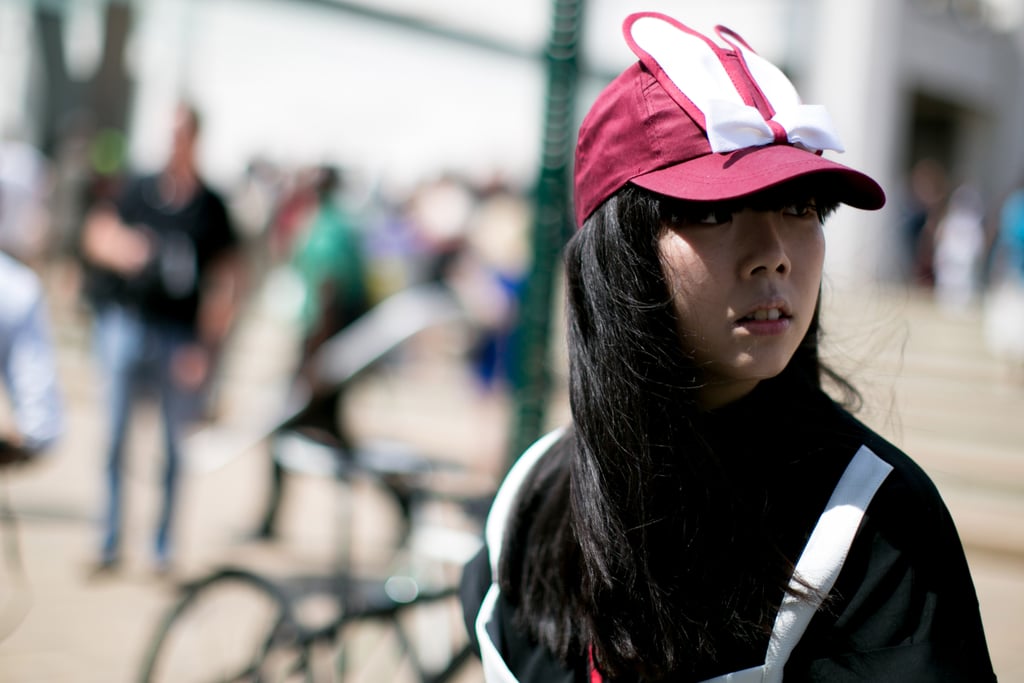 Check out Susie Bubble's rabbit ears.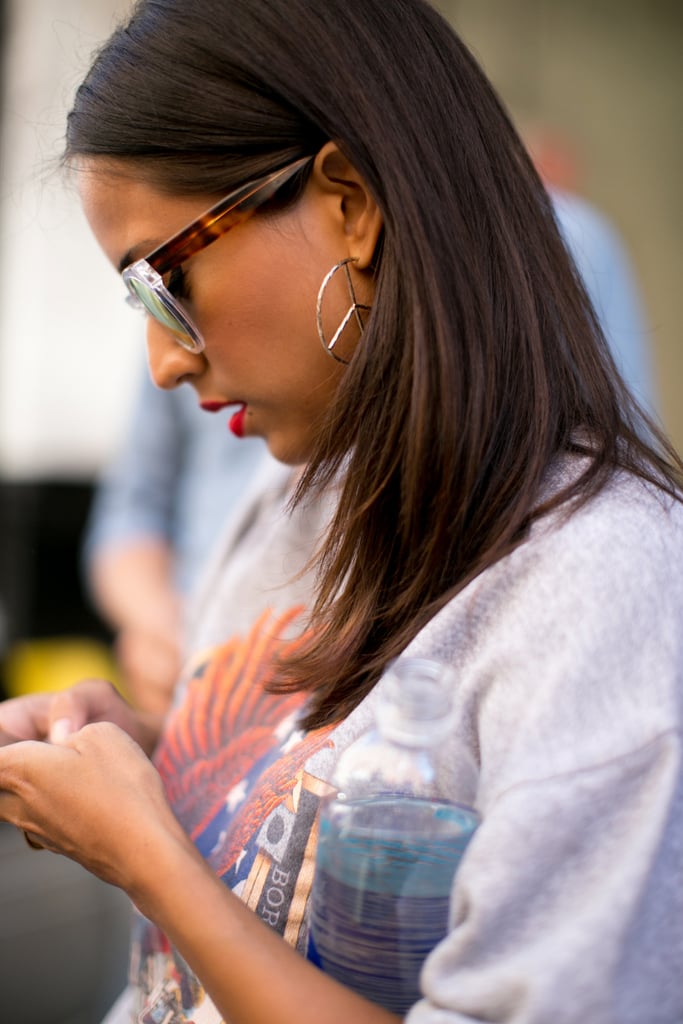 We dig those peace-sign jewels.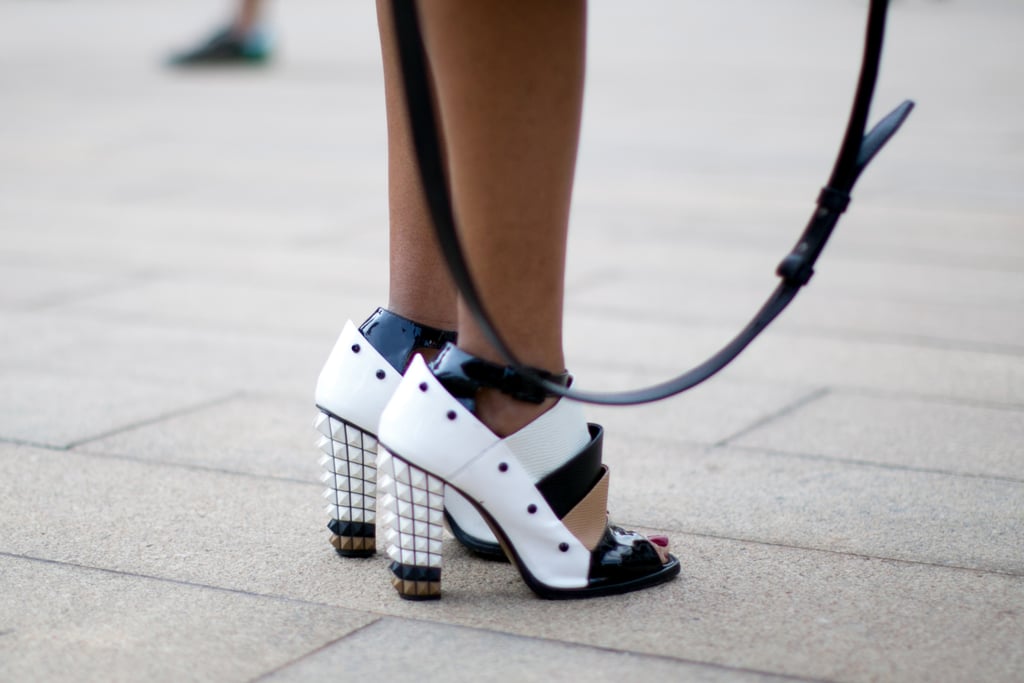 Black and white with a futuristic edge.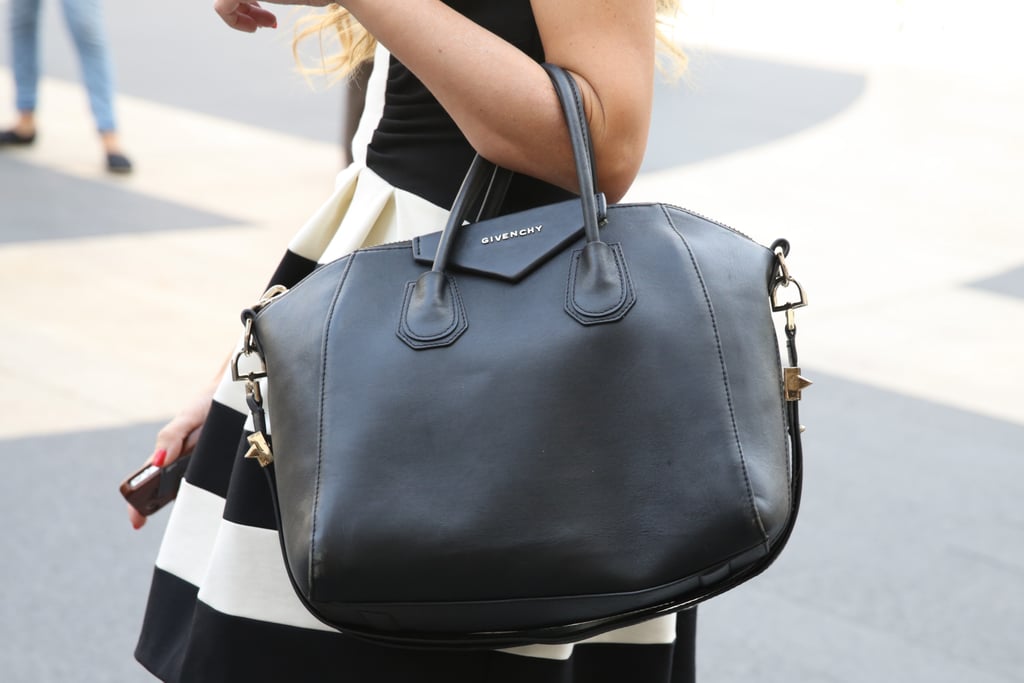 A luxe Givenchy on the way into the tents.
Silver lace-ups were major head-turners.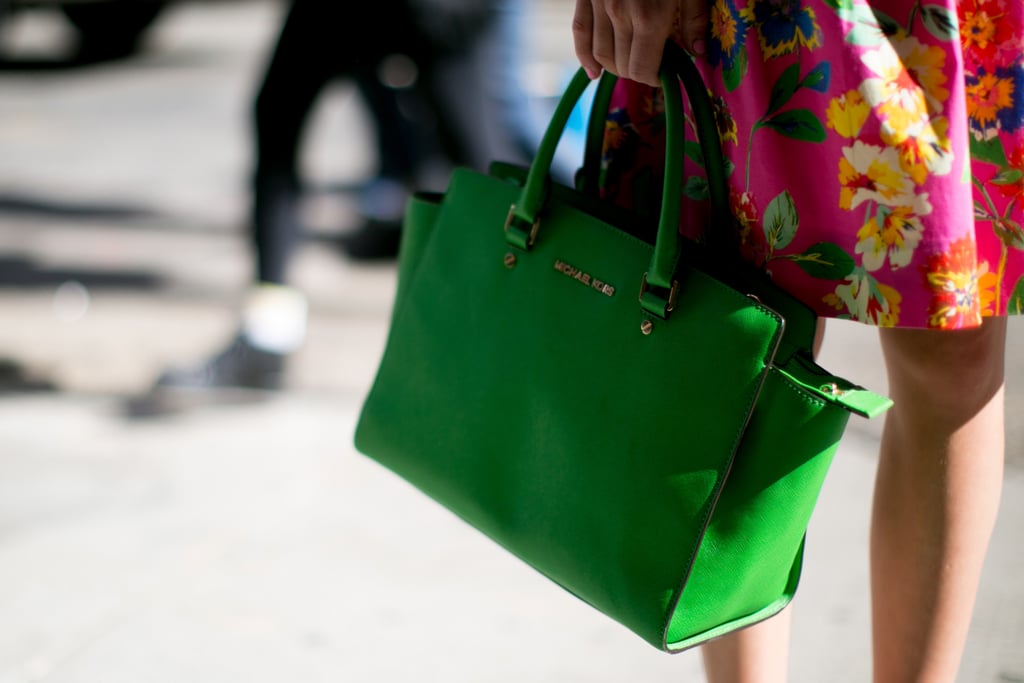 We're green with envy over this Michael Kors tote.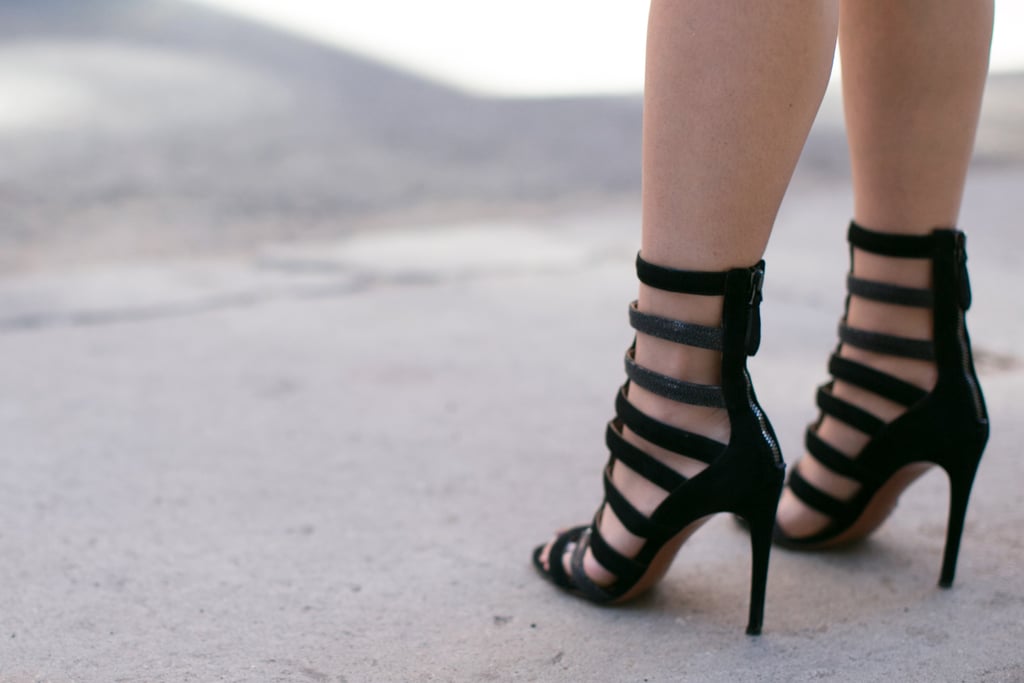 Now, that's some fierce footwear.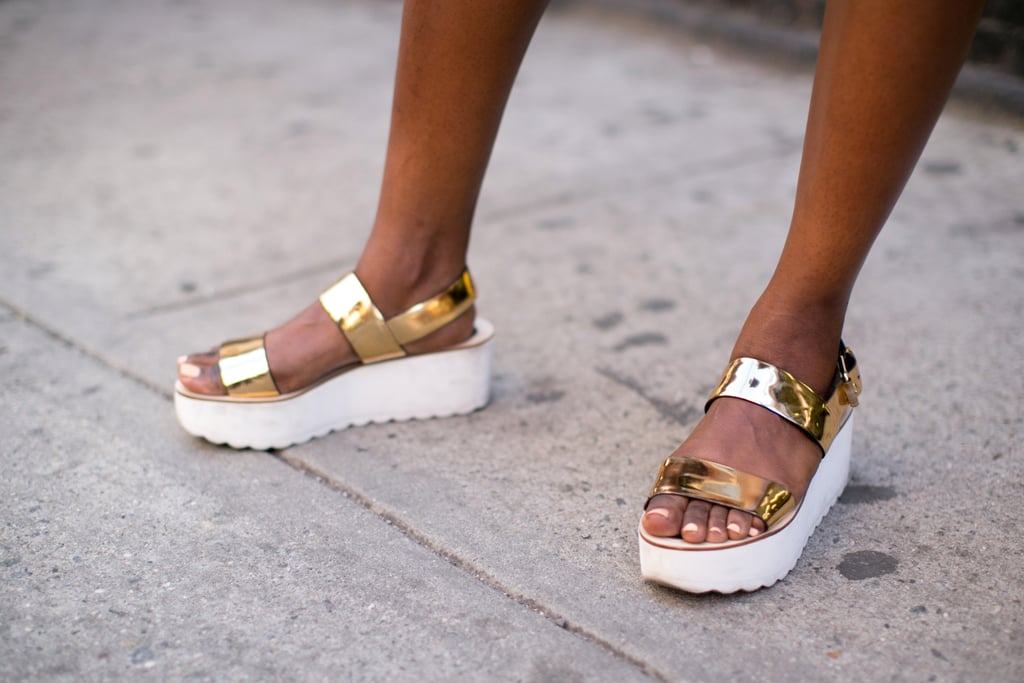 Flatforms in this metallic gold finish were made for turning heads.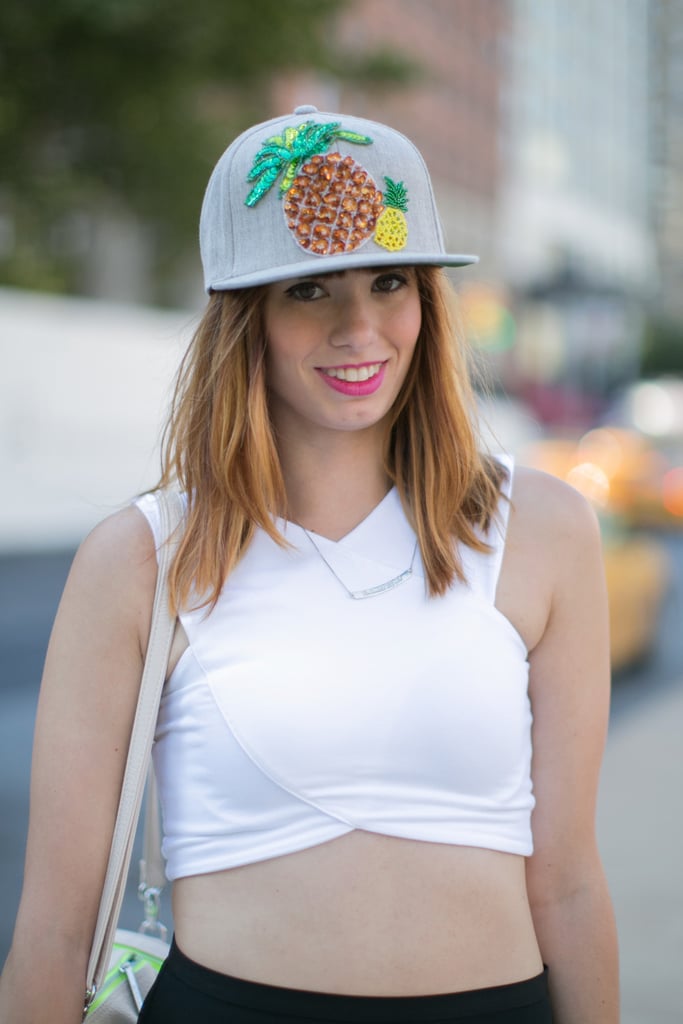 There's a pineapple on her head!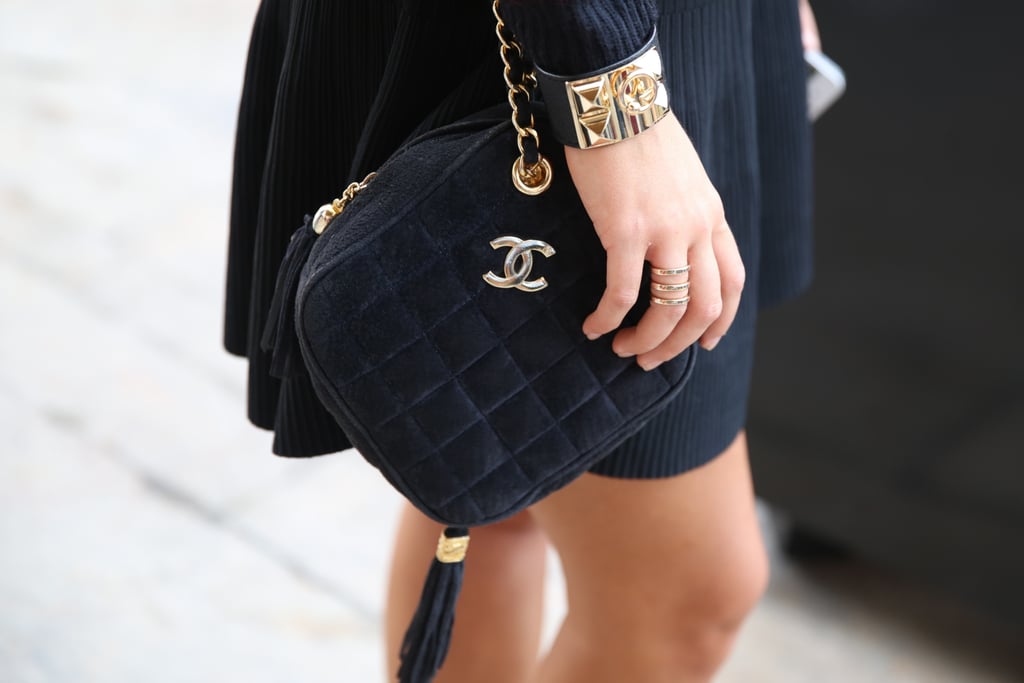 A quilted Chanel.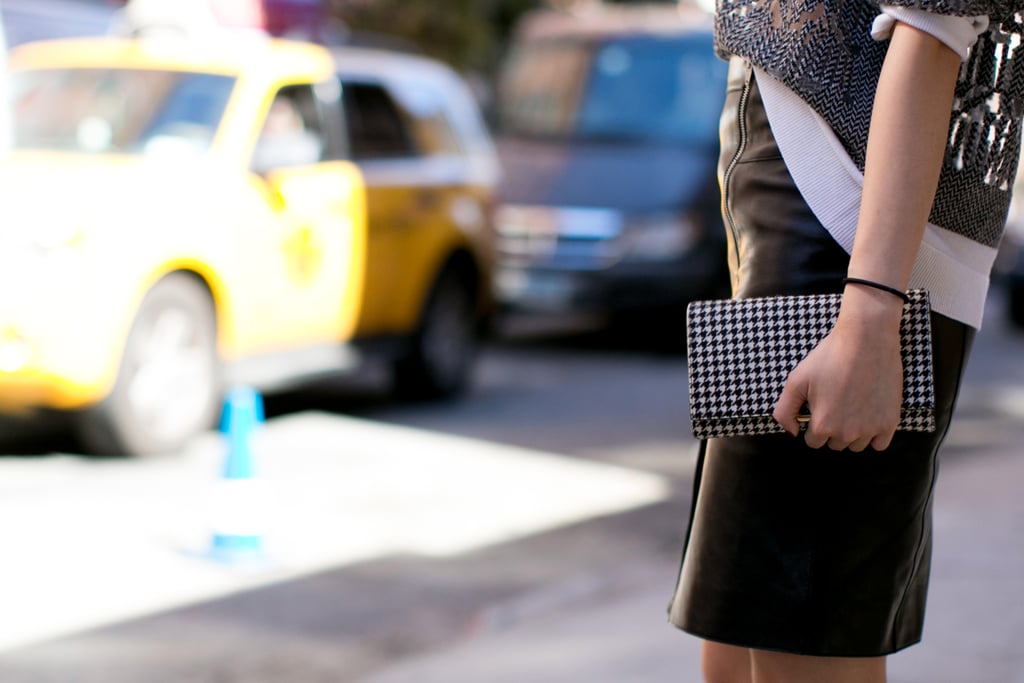 A pop of houndstooth.
Polka dots in hand on her Comme des Garcons clutch.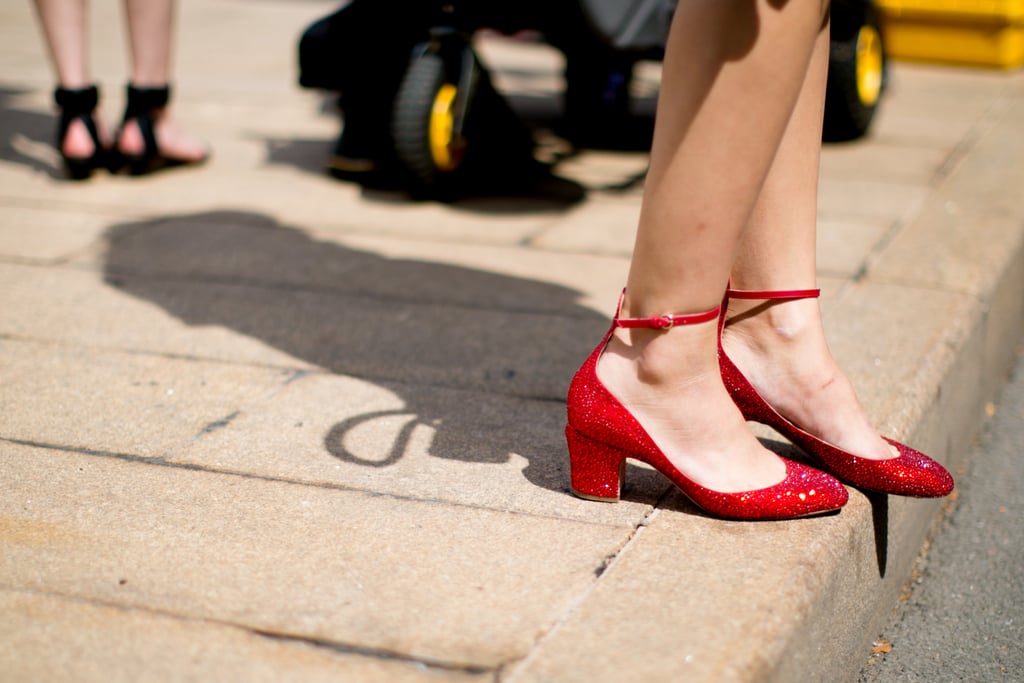 Chic low heels are our favorite kind of heels.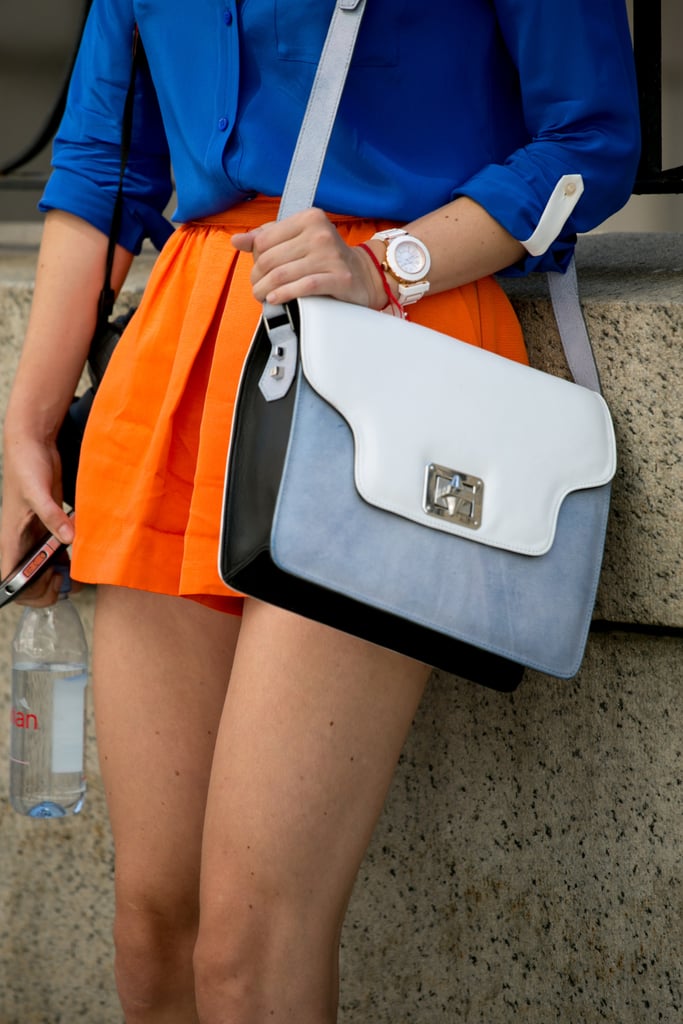 Totally colorblock.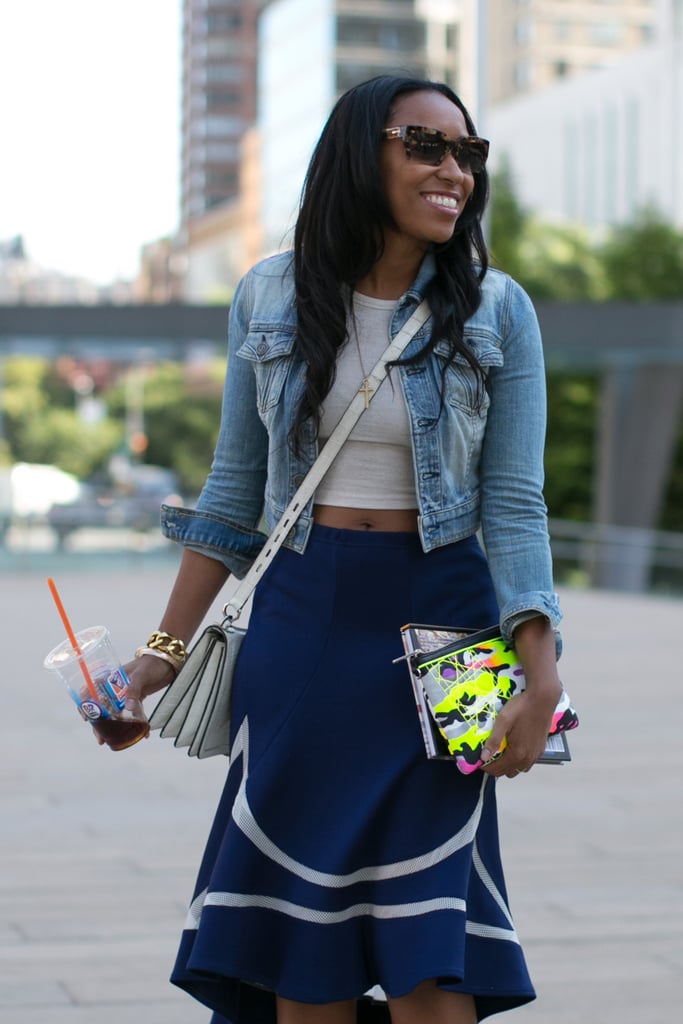 Shiona Turini proved two bags are way better than one.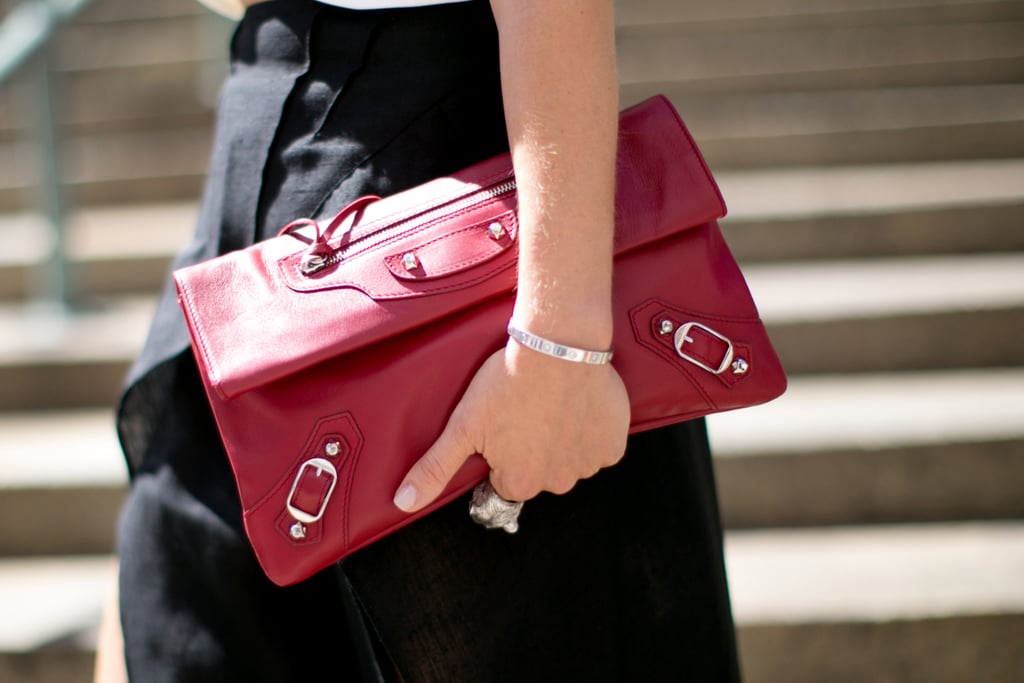 Keep calm and carry on in style with Balenciaga.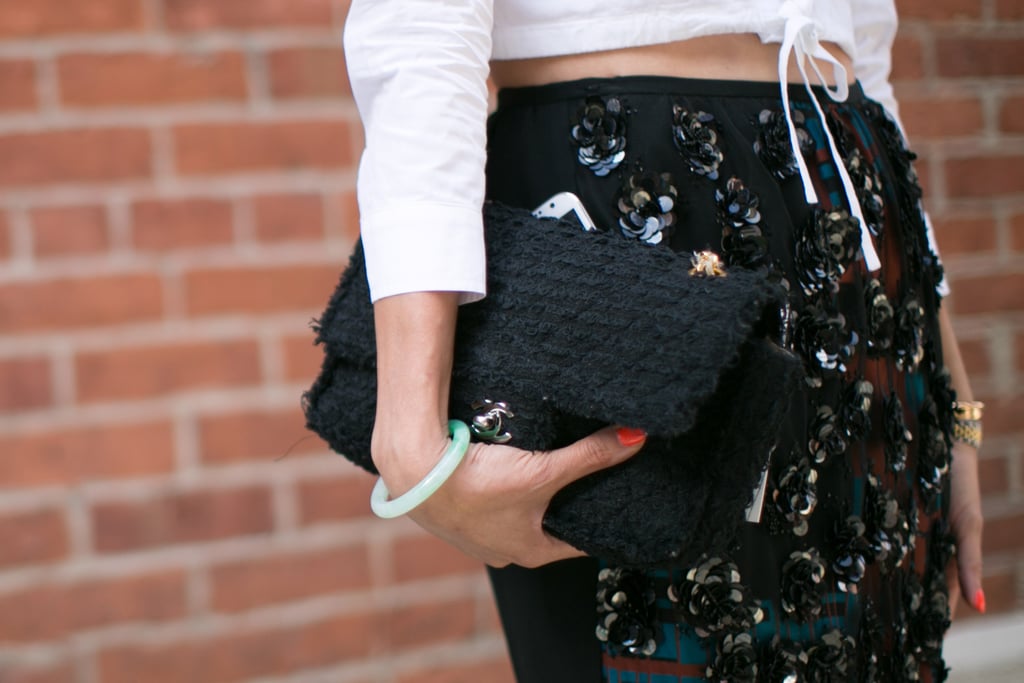 Eva Chen held her enviable Chanel tight.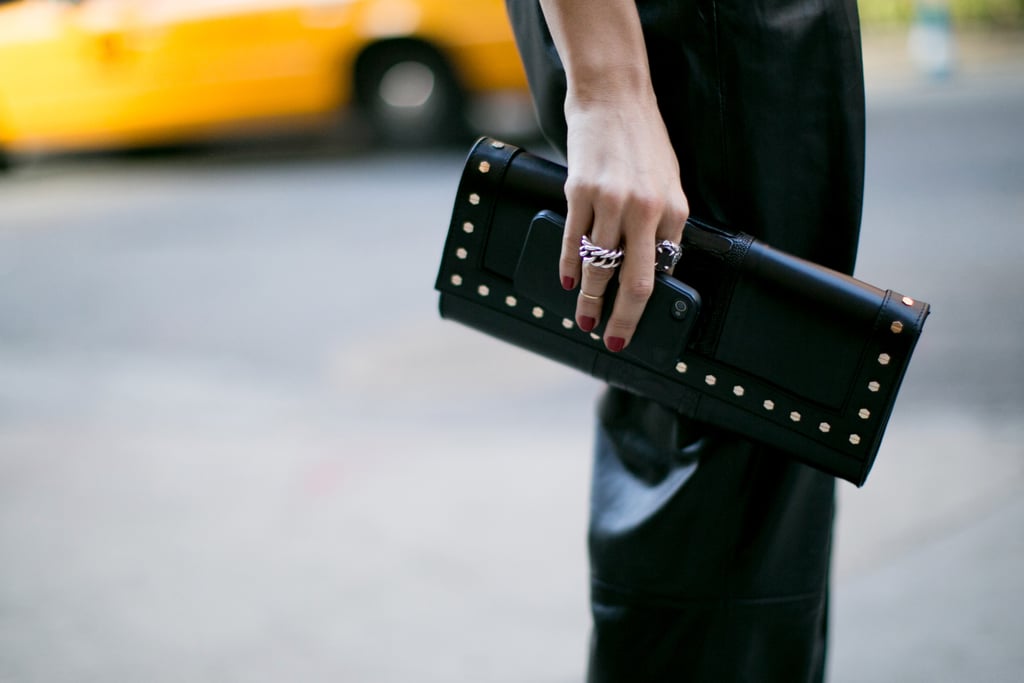 We spied another Valentino clutch on the street.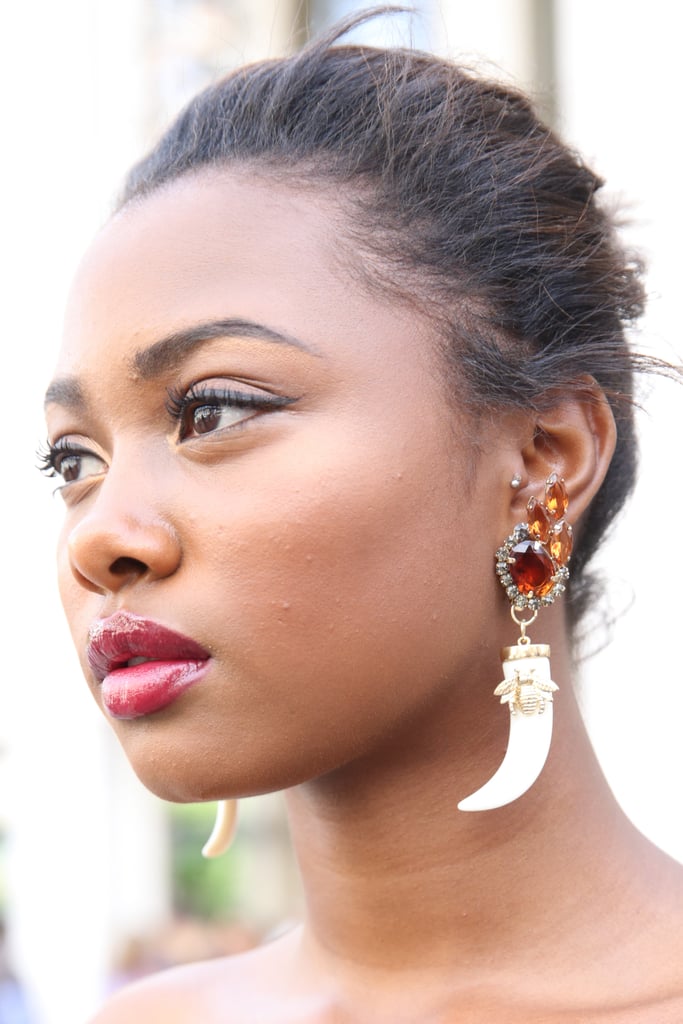 Feast your eyes on these decadent earrings.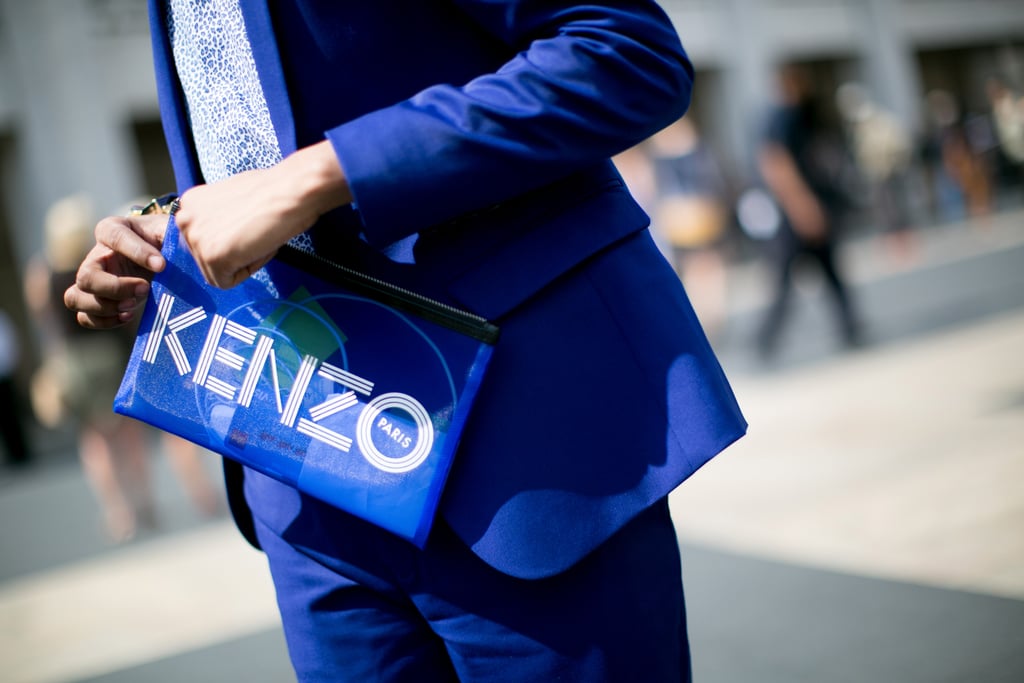 How cool is Kenzo?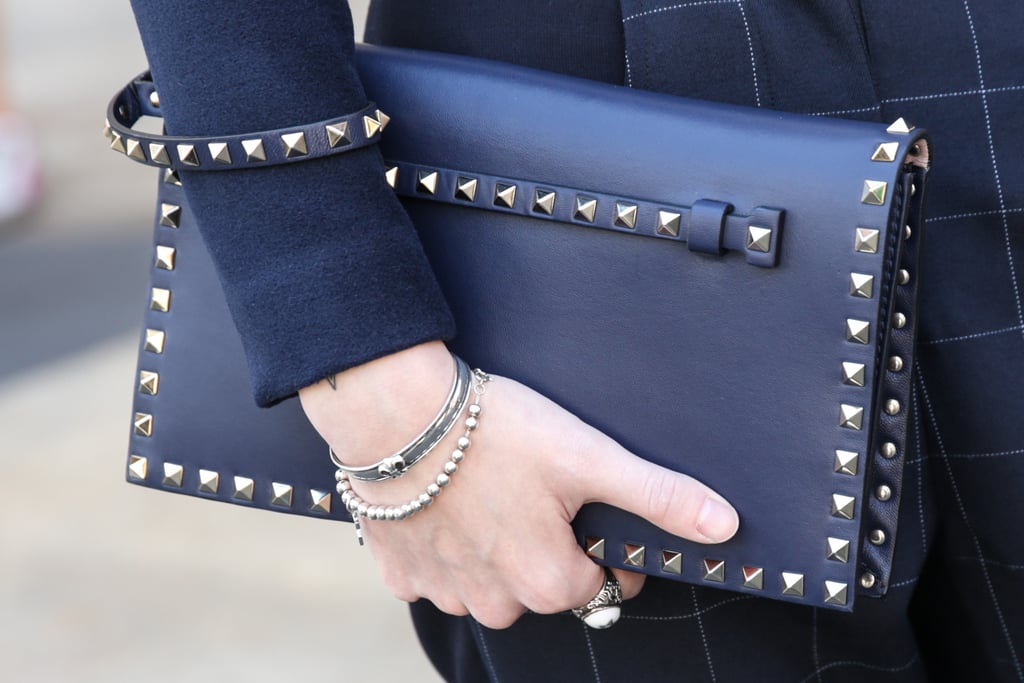 Naturally, Valentino is a favorite among the showgoers.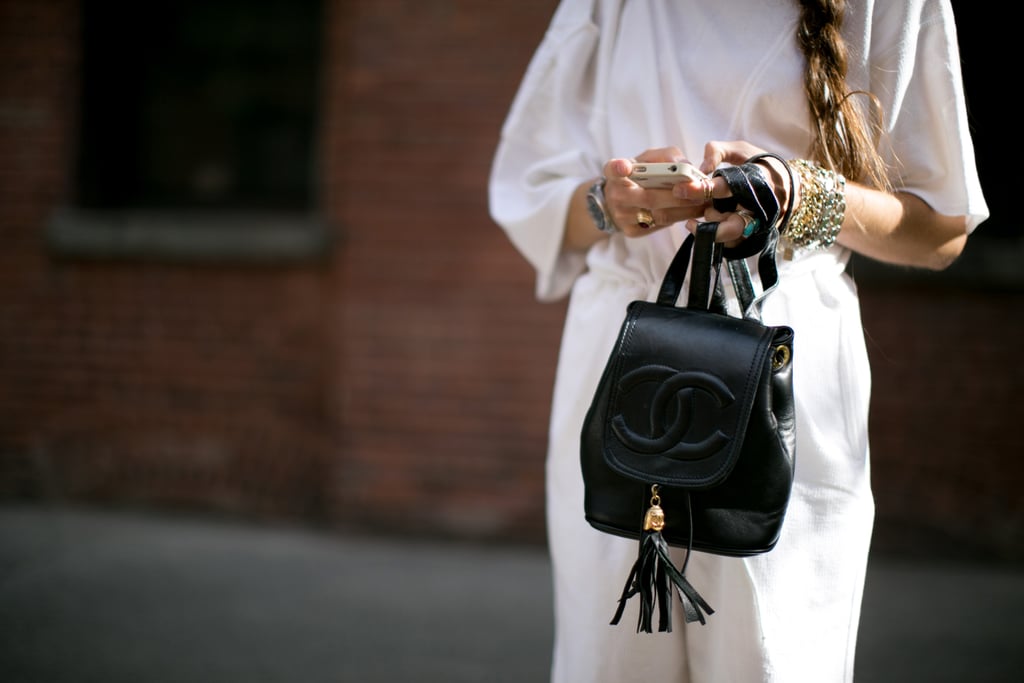 When you're toting a tassled Chanel backpack, you can keep the rest simple.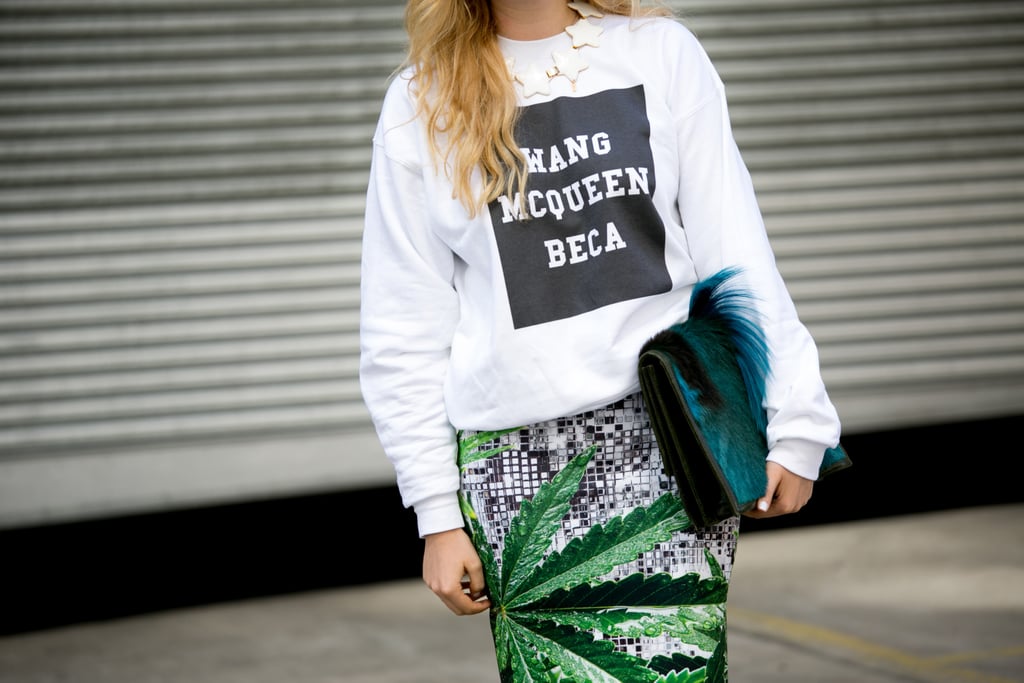 Very apropos Fashion Week gear, no?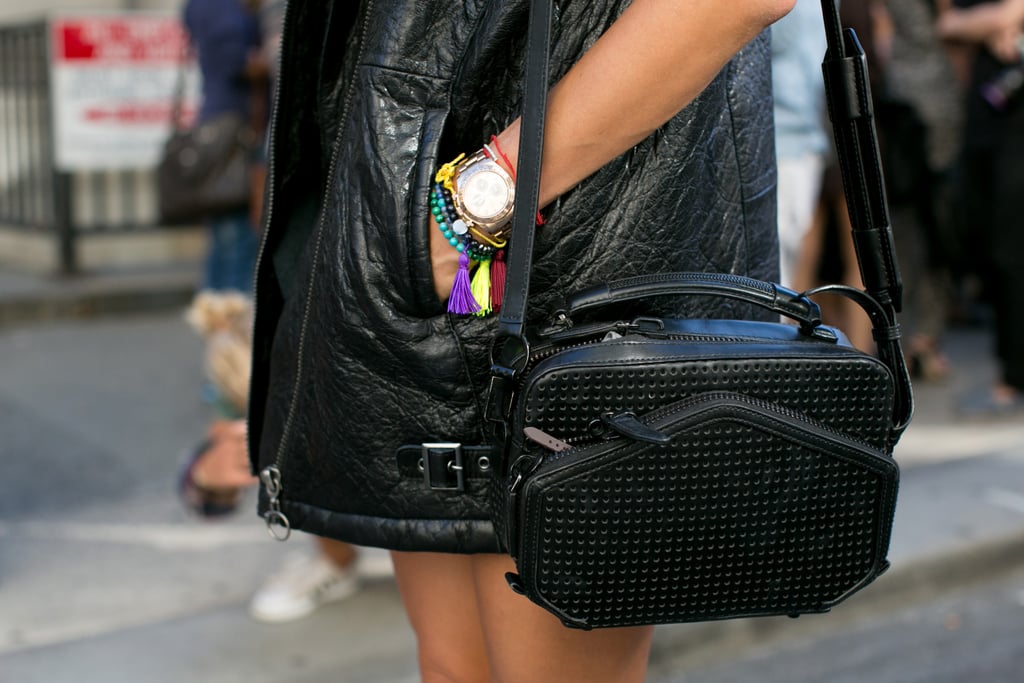 Urban warrior.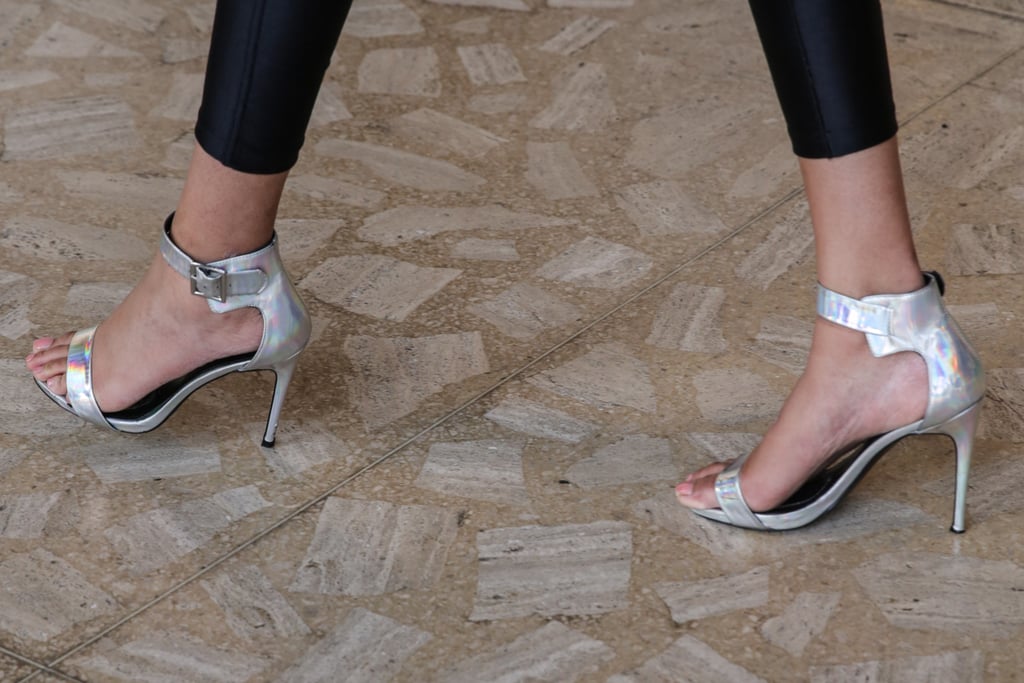 High-wattage heels.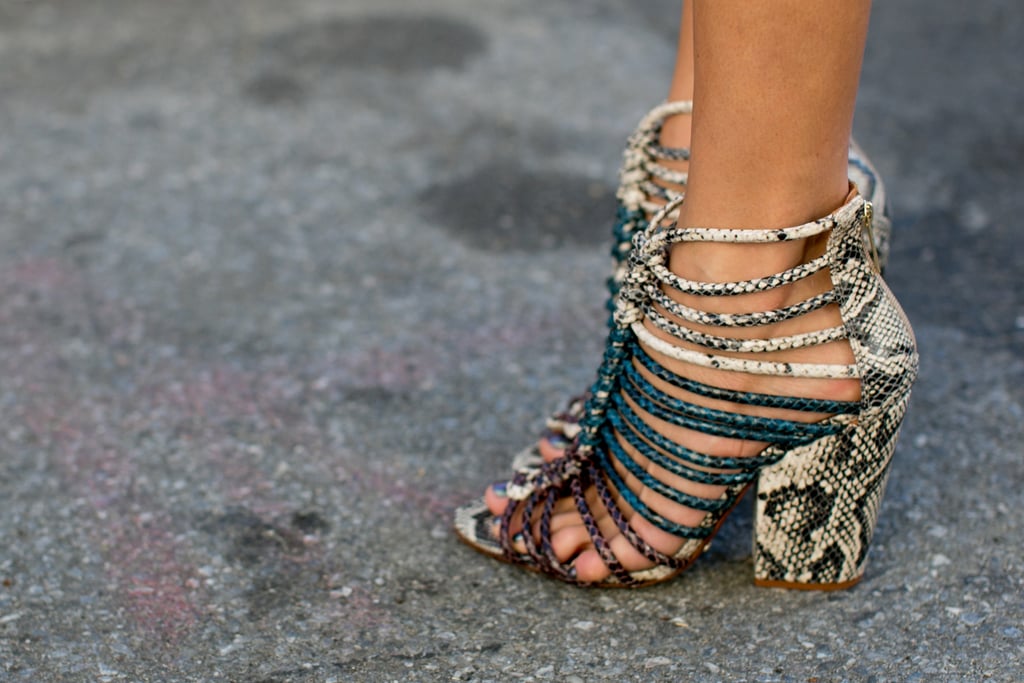 Strap-happy heels.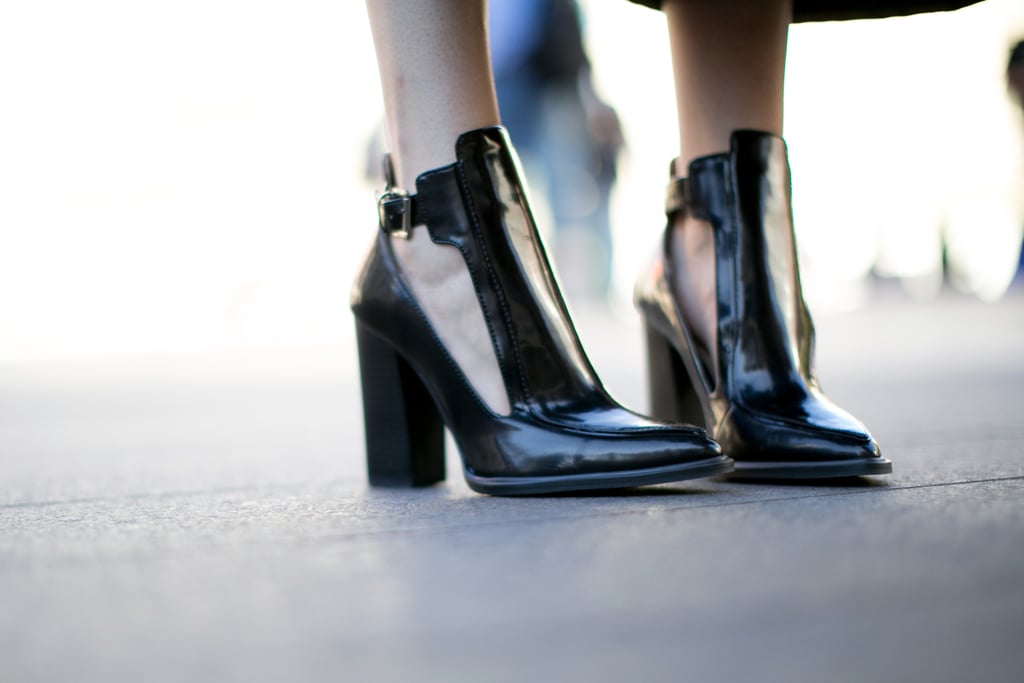 Just how we like our boots – with cutouts and a chunky, walkable heel.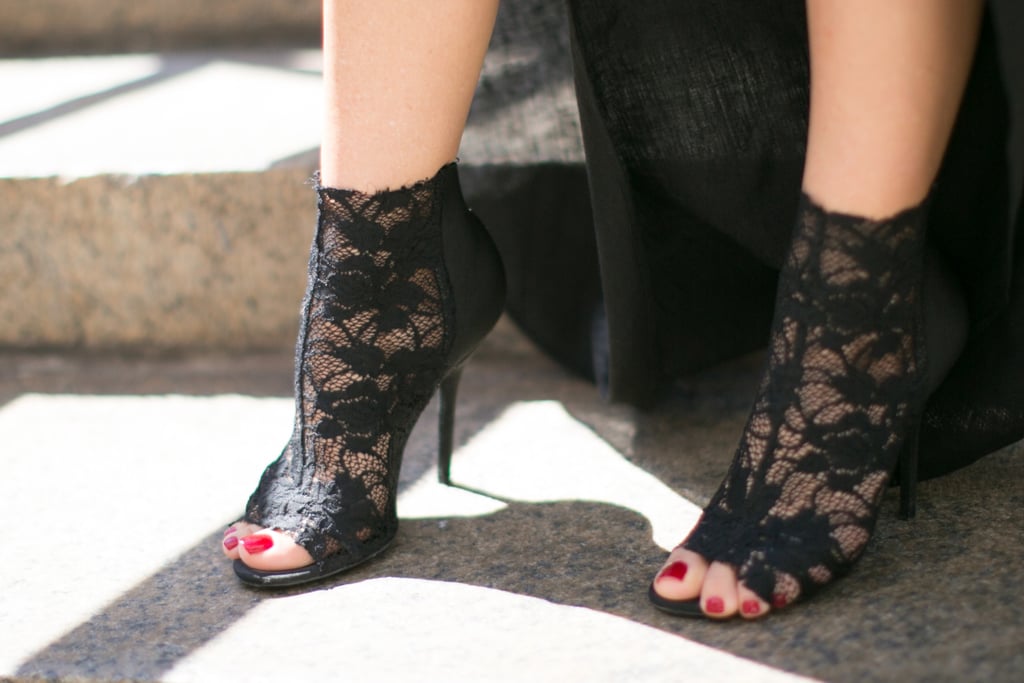 The sexiest kind of heels.
Bold blue on her bag, sleek white on her heels.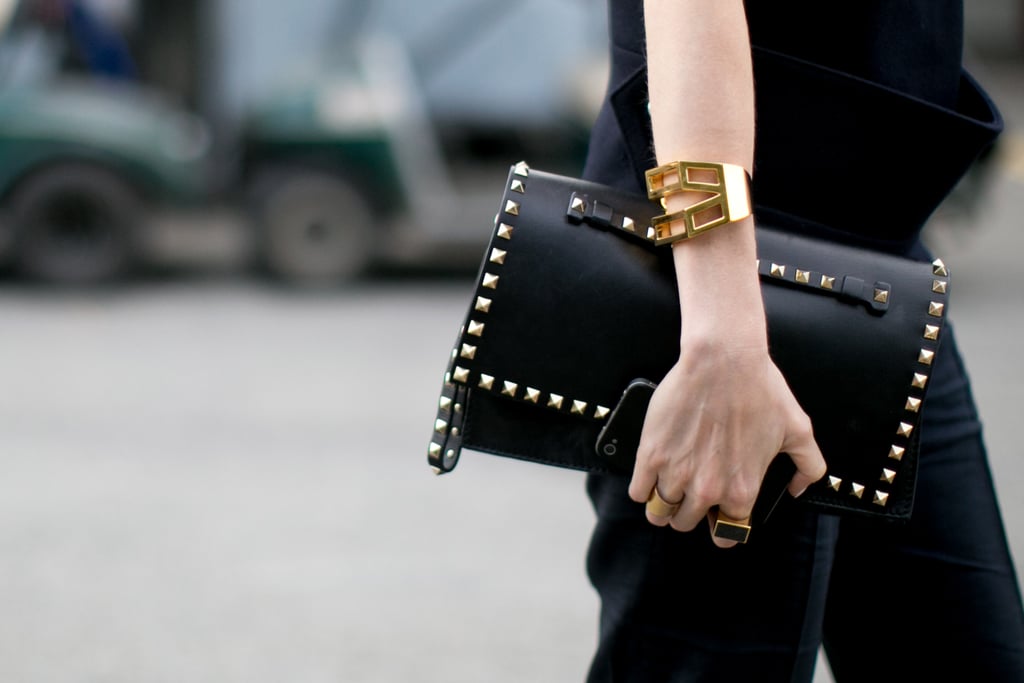 Count it — another Valentino clutch in hand.