If you don't already have one last good weekend getaway planned – be it to a sunny beach, a lakeside cabin, or a bustling city – for the final days of Summer, then you should really probably get on that. And if you do, then your next priority is bagging the perfect piece of luggage to take with you. The joy of the hottest months of the year is that you can pack light, so we suggest doing away with bulky suitcases and opting for a strict no-checked-bag policy.
To that end, we've shopped the most stylish weekender bags on the market, all the perfect size to pack-and-go. After all, weekends only last so long. Make them count.
Lipault Two-Wheeled Satchel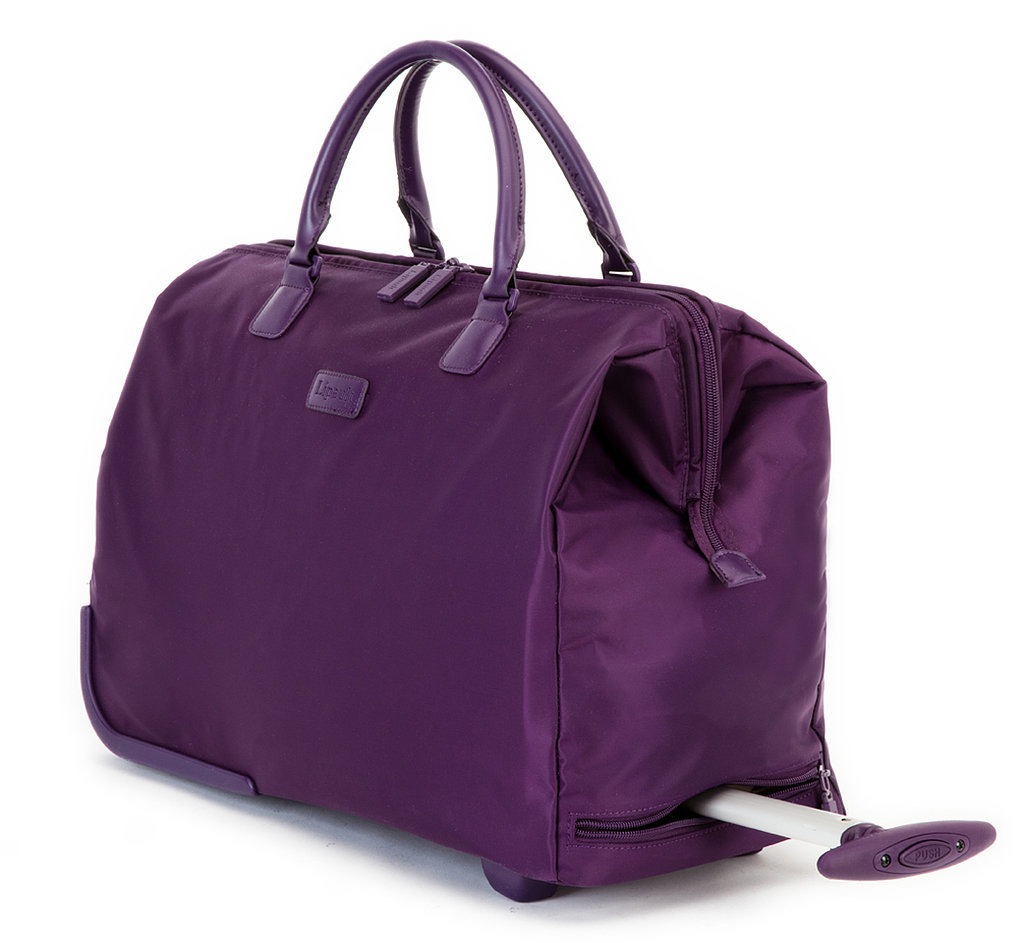 Lipault [1] has long been known for its practical luggage – both soft-sided and foldable suitcases – so it's no surprise they have a Lipault two-wheeled satchel [2] ($179) that, with its multiple carry methods, makes weekend trips a breeze.
Deux Lux Baha Weekender
Stripes are inherently Summer-ready, especially when done in nautical navy. This Deux Lux canvas bag [3] ($155) with faux-snakeskin trim and handles as as casual-cool as a carryall gets.
Sole Society Cassidy Vegan Weekender
If you are looking for a luxe travel bag that can last you beyond the Summer months, but don't want to spend a fortune? Or have anti-leather leanings? This classic black top-handle bag by Sole Society [4] ($70) is 100-percent vegan.
LeSportsac Luggage Large Weekender
Does a basic black tote bag feel too boring to you? Artist Curtis Kulig, who created a series of orginal designs for LeSportsac, probably thought the same thing when he put his watercolor skills to use on this painterly weekender bag from the brand's "Love Me" campaign [5] ($128).
Clare Vivier Leather Weekender
Fashion most definitely meets function with this oversized Clare Vivier bag [6] ($483): the bold green calfskin will get you noticed and the roomy shape will give you enough space to bring home a few extra souvenirs.
ASOS Holdall Bag
If your idea of vacation is touring around a big city, you might be partial to the illustrated buildings printed on this zippered ASOS duffel bag [7] ($42).
Mara Hoffman Weekend Bag
Why not make your travel bag a statement piece? The fluorescent tribal-inspired print on this Mara Hoffman trapeze tote [8] ($286) is as striking as anything you'll be packing.
Sabrina Tach Mulero Duffel Bag
For a quick overnight stay, the structured silhouette of this smooth pony hair Sabrina Tach Mulero Duffel Bag [9] ($300) is all you'll need. Handcrafted by the artisans at Sabrina Tach [10], all materials are sourced from free-range, eco-friendly Uruguayan estancias.
Baggu Canvas Weekender
Baggu [11] has come a long way since the days of their multi-colored packable shopping bags. And that couldn't be more clear than with this gray mountain goat bag [12] ($82), which is the perfect print (and size) for adventure-seekers on a deadline.
Everlane The Canvas Weekender
Everlane [13] is the master of perfect basics, and this just-big-enough zip-up suitcase in canvas blue stripe [14] ($95) is nothing new from the brand, and that's the way we like it. So timeless, we hope this staple stays in the brand's inventory for years to come.
Kipling with Natalie Joos Art Messenger Bag
We love a good collaboration, and pairing the longstanding travel expertise of Kipling [15] with the technicolor aesthetic of street style star Natalie Joos is a perfect summer fling. We're partial to this coral and orange bag [16] ($149). Plus, the gorilla charm is everything.
Fresco Fabrics Weekender Bag
Lime green and blue never looked like such a perfect pair until they showed up on this Fresco Fabrics satchel [17] ($230). Plus, the festive Ikat print makes it plane-to-pool ready.
Marc by Marc Jacobs Pretty Nylon Weekender Bag
Some trips are more rugged than others, and if you know you'll be putting your bag through the ringer (or jamming it into the trunk of an already-packed car), we recommend this super-durable black-and-white Marc by Marc Jacobs tote [18] ($378), which is made with lightweight durable nylon.
MCM Medium Stark Weekender
MCM [19] is having a major fashion revival this season, no doubt made clear by its constant appearance on the arms of our favorite street style stars. The logo-printed pebbled canvas of the label's
duffle bag [20] ($895) will make you look well-prepared on your next road trip and trendsetting on your Instagram feed.
Kate Spade Saturday Small Weekender Bag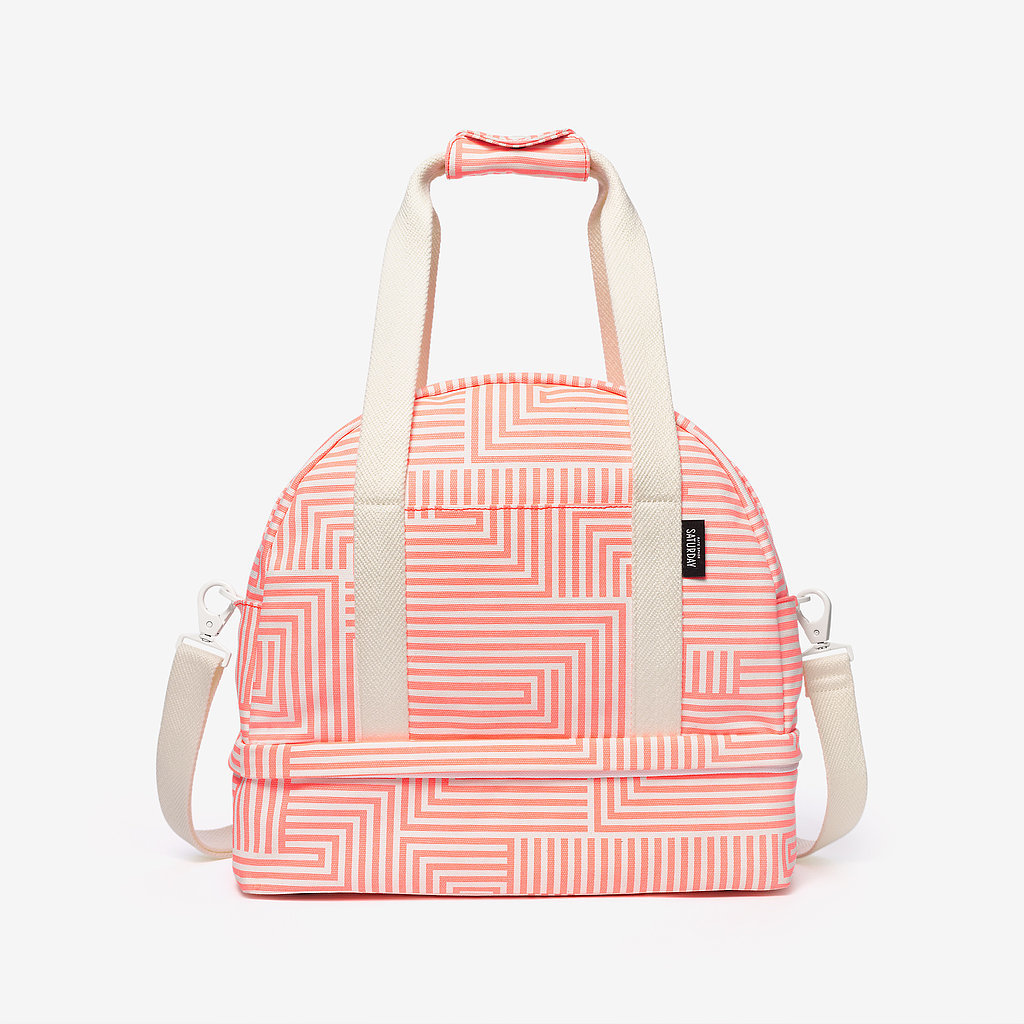 For the lightest of packers, the Kate Spade Saturday mini-weekender in neon coral [21] ($160) is perfect: with a zippered shoe compartment and two interior drawstring pockets, it's primed for the expert in organized minimalism.
Adidas by Stella McCartney Gym Bag
For those whose idea of a great vacation is running on the beach (not just lying on it), Adidas by Stella McCartney Small Gym Bag [22] ($120)
Forever 21 Baja Beauty Weekender
Southwestern flair and an affordable price tag can be found in this Forever 21 satchel [23] ($28) that has such a vintage feel, your travel companions won't believe you just got it.
Coach The Weekend Borough Bag
If your weekend travel is more business than pleasure, you'll still be pleased upon packing this crisp white edgepaint leather bag [24] ($1,200). Professional enough for a business trip, this oversized version of Coach's bestseller includes five interior compartments that combine security with ease of access.
Tumi Super Leger Duffel
Want to ditch your heavy-duty rolling suitcase but still hate the neck pain of toting a well-stuffed weekend bag? Enter Tumi's electric blue nylon carry-on bag [25] ($425). It can be slung over your shoulder or glide along with hard-to-notice base wheels and a hidden retractable handle.
Herschel Supply Co. Novel Duffle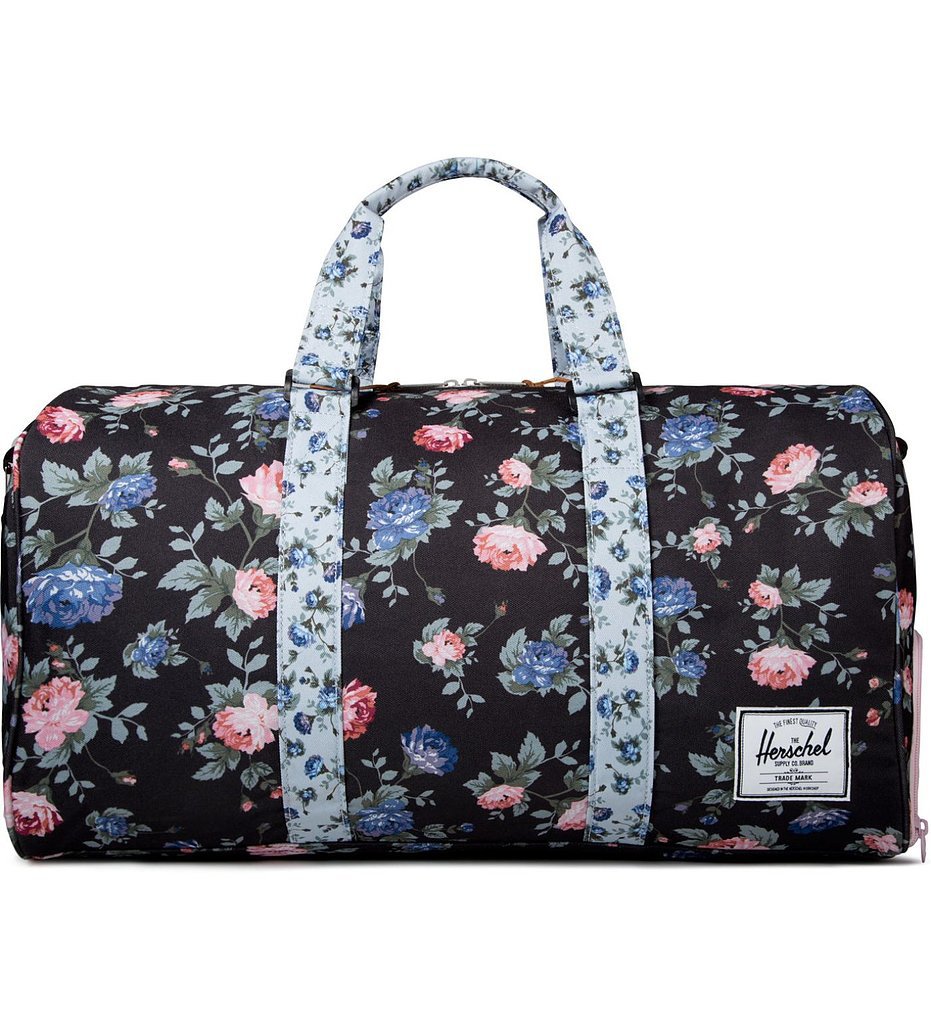 Heading on a girls' getaway? Channel your feminine side with Herschel Supply's floral-print bag [26] ($80) in the brand's most popular shape. As part of the special Fine China collection, the flower motif is actually inspired by the elegance of afternoon tea.
Haiku Weekender
Does packing make you see red? Then you might as well go full-force with this bold fire-engine hued Haiku weekender bag [27] ($163).
Jack Spade Dipped Carpenter Bag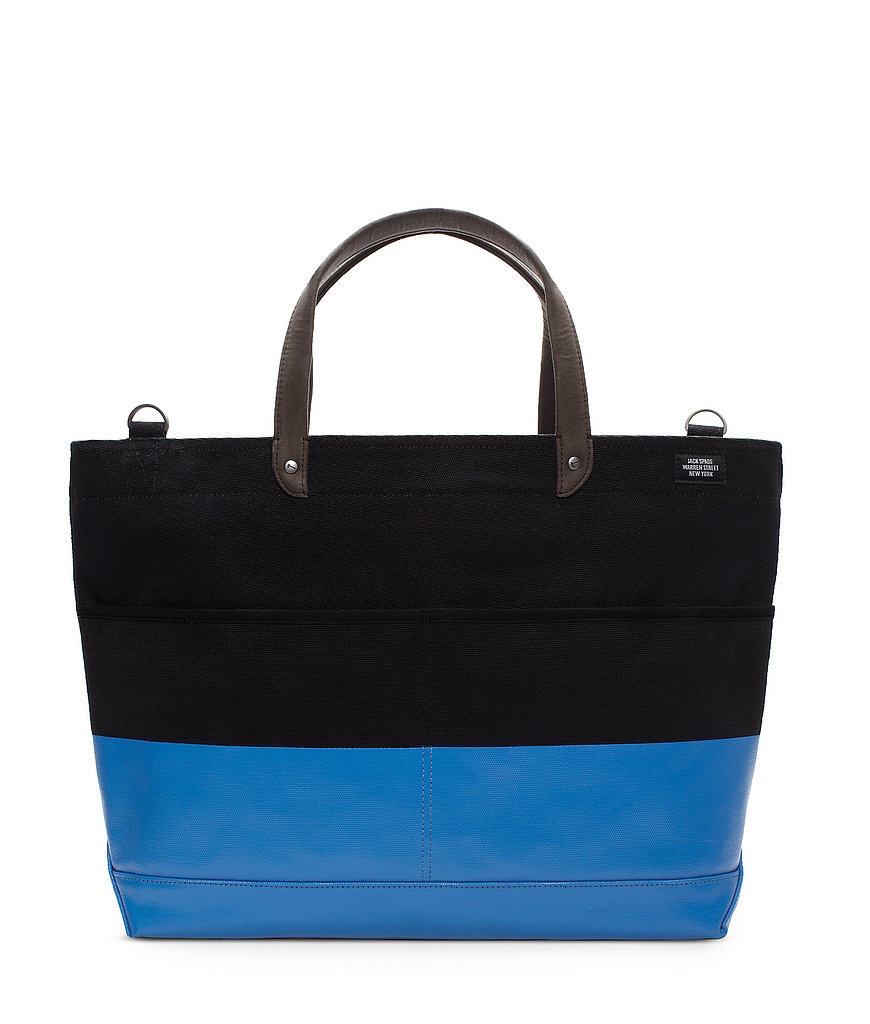 Sometimes, it just makes sense to borrow from the boys. Such is the case with the Kate Spade [28] mens spinoff brand's heavyweight blue-dipped carpenter carryall [29] ($295), inspired by the utility and shape of traditional tool bags.
Henri Bendel Jetsetter Satchel
An updated version of a classic luxury handbag, this water-repellent nylon Henri Bendel satchel with Saffiano leather trim [30] ($248) is finished with side gussets that unlatch to reveal even more room, making it the most versatile shape in the label's travel collection.