Swimsuit shopping is a unique battle for anyone, especially if you're self-conscious about being smaller up top. Arm yourself with tricks, and you'll be able to stroll seaside with confidence.
Flaunt what you have, and fake what you don't. If you're looking to create more cleavage, opt for an underwire bra top (or padding). A structured top will shape what you have, while padded cups can actively fake more if that's the look you're after.
Distract, distract, distract. Ruffles, bold prints, and splashes of color are all far busier than a simple, solid suit and can claim an onlooker's attention.
Embrace what you can wear. Tiny tops and unique shapes are cute but often spell disaster for women with larger chests. Trendy styles are easy to conquer when support isn't mandatory, so go ahead and play around with fun cuts.
Now that you're up to speed, just scroll down to shop 11 of the cutest suits for small-busted beach babes.
Photo courtesy of Zimmermann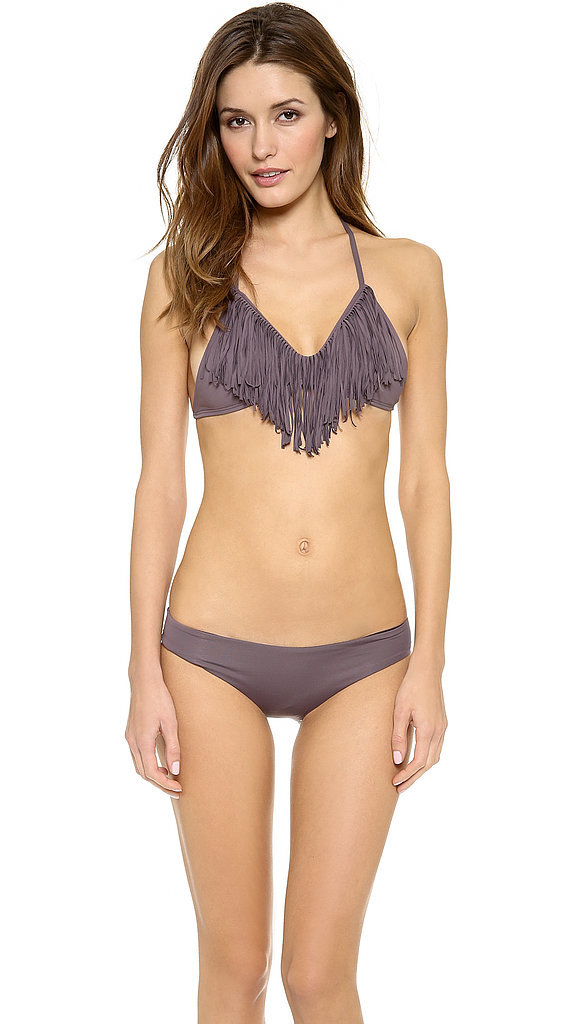 The fringe of this L*Space top [1] ($73) and bottom [2] ($60) adds dimension and movement to your overall bikini look.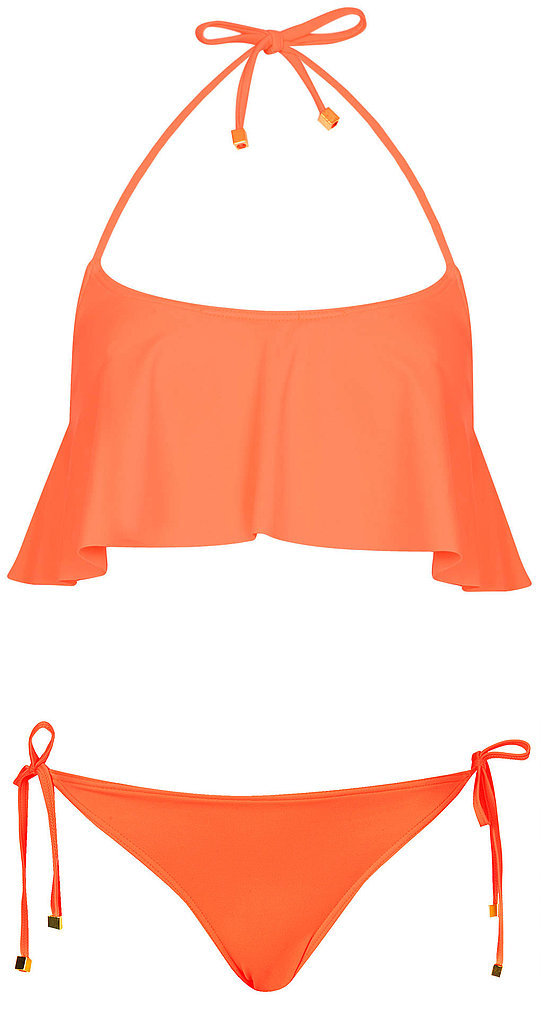 An apron up top like this orange Topshop find [3] ($28) will move in whatever beachy breeze you're lounging in, creating a sort of optical illusion that keeps people guessing what (or how much) you're really hiding under there. Shop the matching bottoms [4] ($16) for a full look.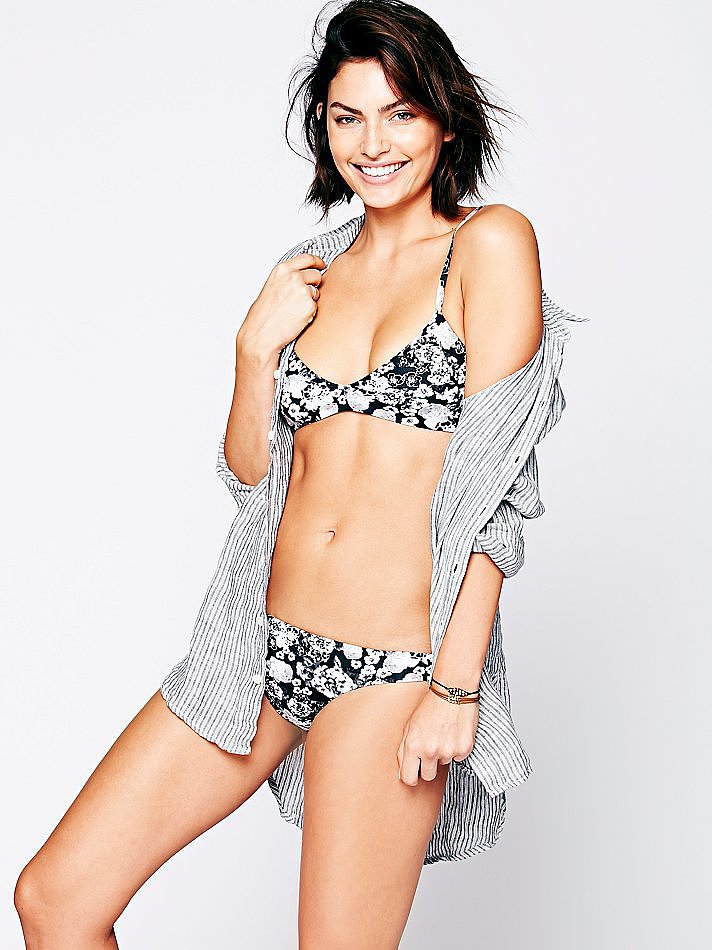 The bright print of this Free People top [5] ($60) and bottom [6] ($58) is busy, distracting people from noticing how little you have up top.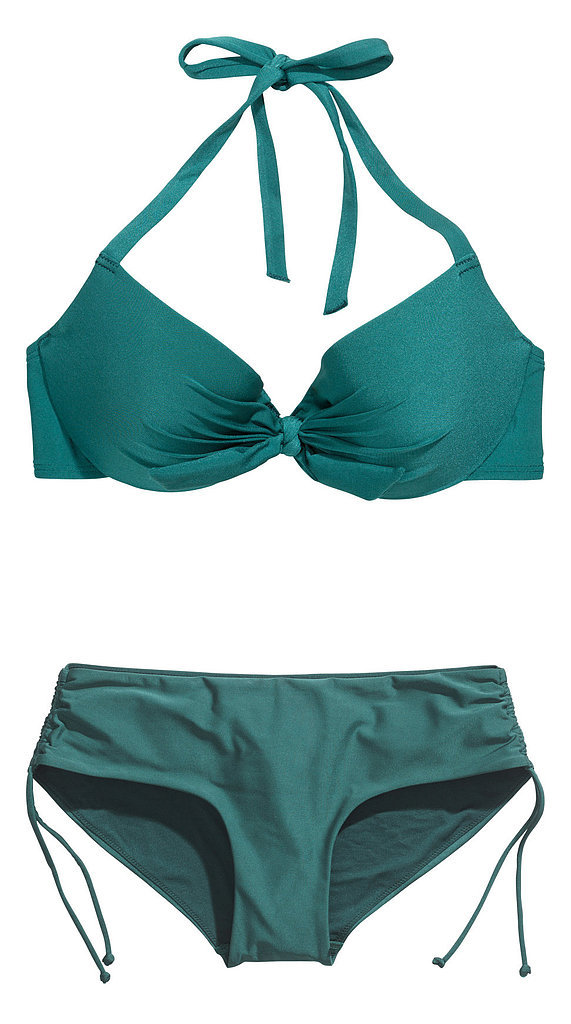 The surest way to fake a bigger bust? Padding. A center bow can also be a smart tool to pull the cups closer together, ensuring a better fit (and creating some cleavage). Try the tactic with H&M's bikini top [7] ($18) and bottoms [8] ($13).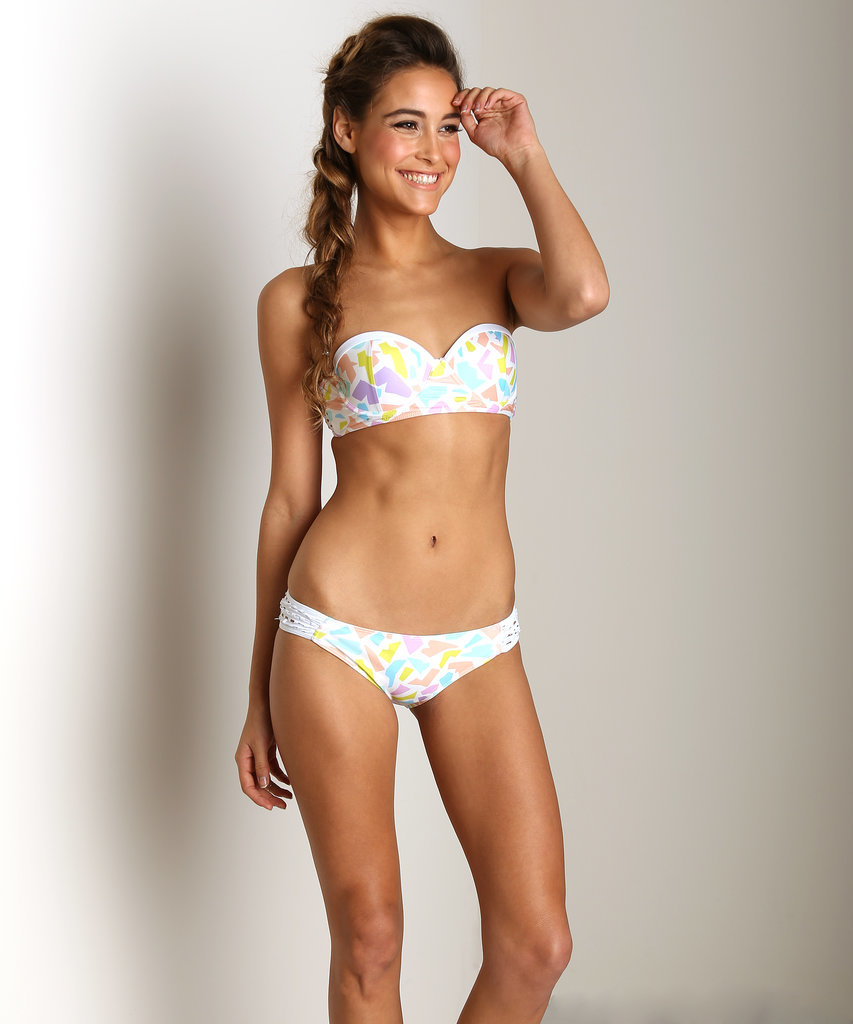 If you want to go strapless, avoid a rectangular bandeau style top. With dips on top and underwires, this Beach Riot top [9] ($107, $95 for bottoms [10]) from Largo Drive flatters what you've got.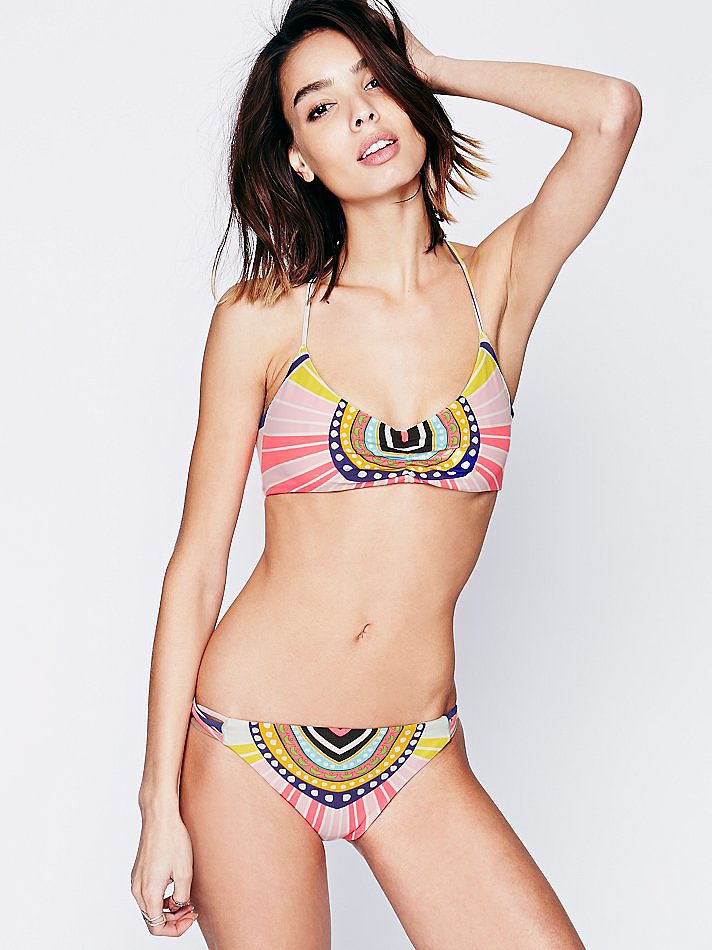 Triangle tops, while traditional, are among the least flattering cuts for a petite build. Instead, look for a top with wide scoop neckline like this Mara Hoffmann for Free People top [11] ($118) and bottom [12] ($112).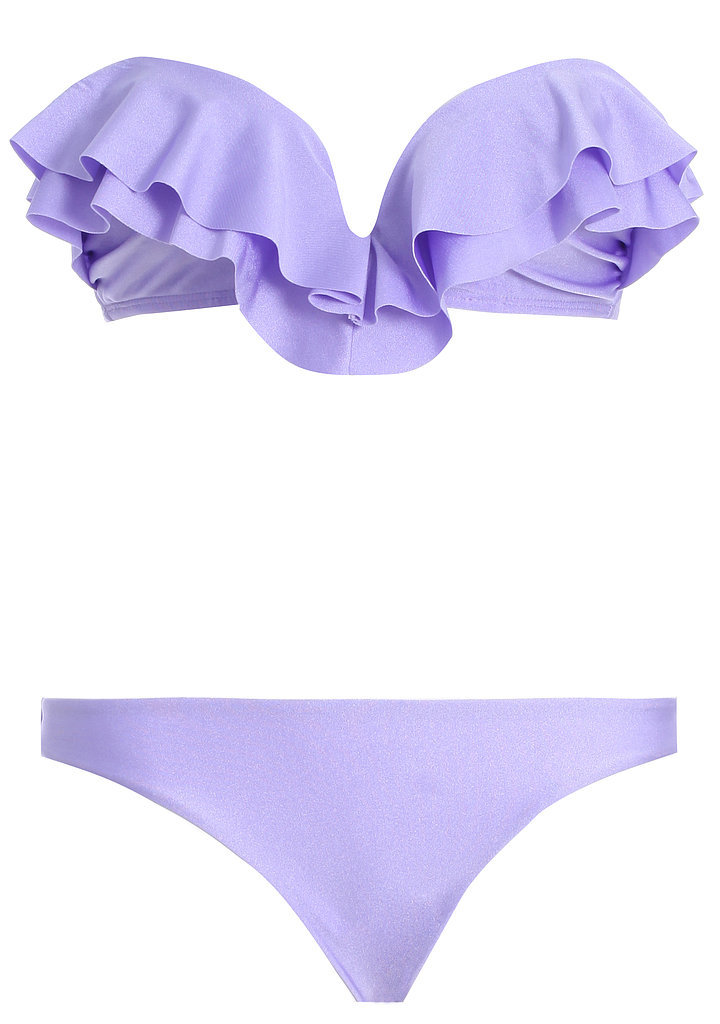 Layered ruffles, like the ones on this bright Zimmermann suit [13] ($250), are fun to wear and add volume that a simple string bikini can't.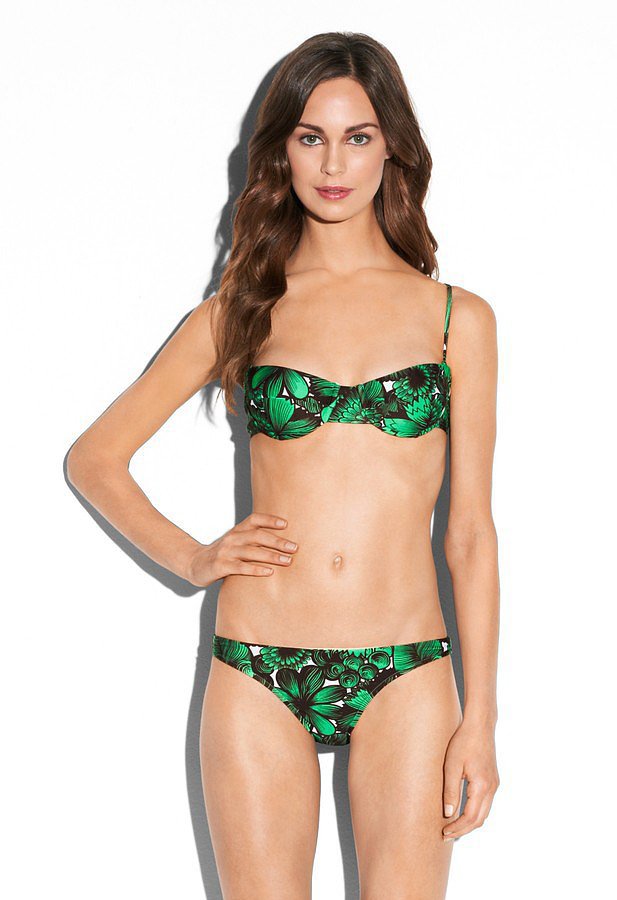 Give whatever you've got the biggest boost you can with a bikini built like a bra. We love Milly's green printed top [14] ($105) and bottoms [15] ($90).
The cool cut of this One Teaspoon top [16] ($78) would be a disaster for anyone with a larger chest. Luckily, small-busted ladies can pull it off with ease. Don't forget to buy the matching bottoms [17] ($74), too!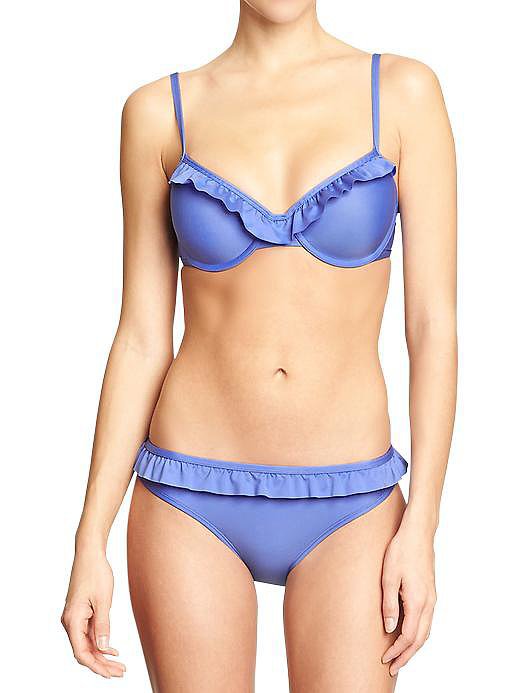 Ruffles and underwire? This Old Navy top [18] ($23) and bottom [19] ($23) are perfect for anyone trying to feign some extra size up top!
If you prefer your suits in one-piece, skip a solid color in favor of a bright, busy print. And be daring with the neckline: the low dipping U of this Bantu find [20] ($185) will highlight whatever natural curves you've got.