Today is Beyoncé's 33rd birthday! It's been a big year for the star, dropping a new visual album [1] overnight without warning, embarking on the On the Run tour [2] alongside Jay Z, and owning every red carpet [3] she's graced with her presence. She is the queen, after all. Beyoncé Knowles has been bringing the glamour since her days in Destiny's Child — but this is a star who continued to shine solo, both professionally and sartorially.
Beyoncé's fashion persona has always been one of funky glamour, bright hues, and lots of embellishment, which she always rocks with the utmost humility and sophistication. This is a diva who stays true to her taste, but tweaks herself to the times, opting for sexy, swingy frocks; tailored blazers; and artfully draped, often sheer gowns. Whether on stage, on the streets, or on the red carpet, B knows how to work it, own it, and leave us wanting more. In honor of her big day, we're celebrating with a look back at her most memorable fashion looks.
— Additional reporting by Sarah Wasilak
2014, MTV Video Music Awards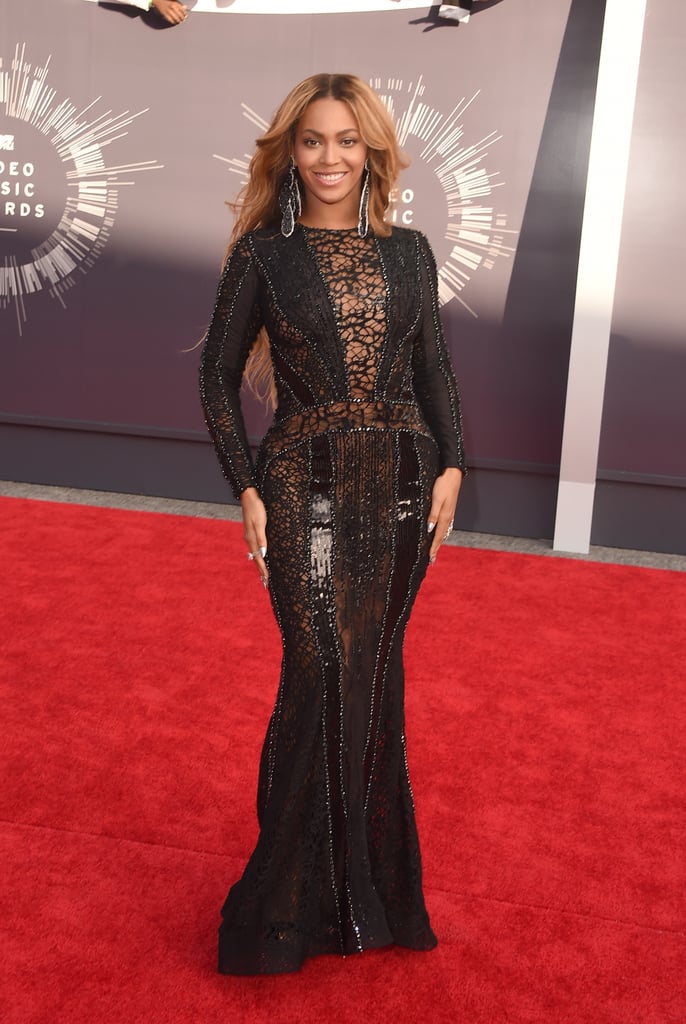 For the red carpet, Beyoncé chose a beaded and lace design by Nicolas Jebran that might've appeared too busy on someone else. But leave it to Queen Bey to pull off the look along with the addition of chunky drop earrings.
2014, MTV Video Music Awards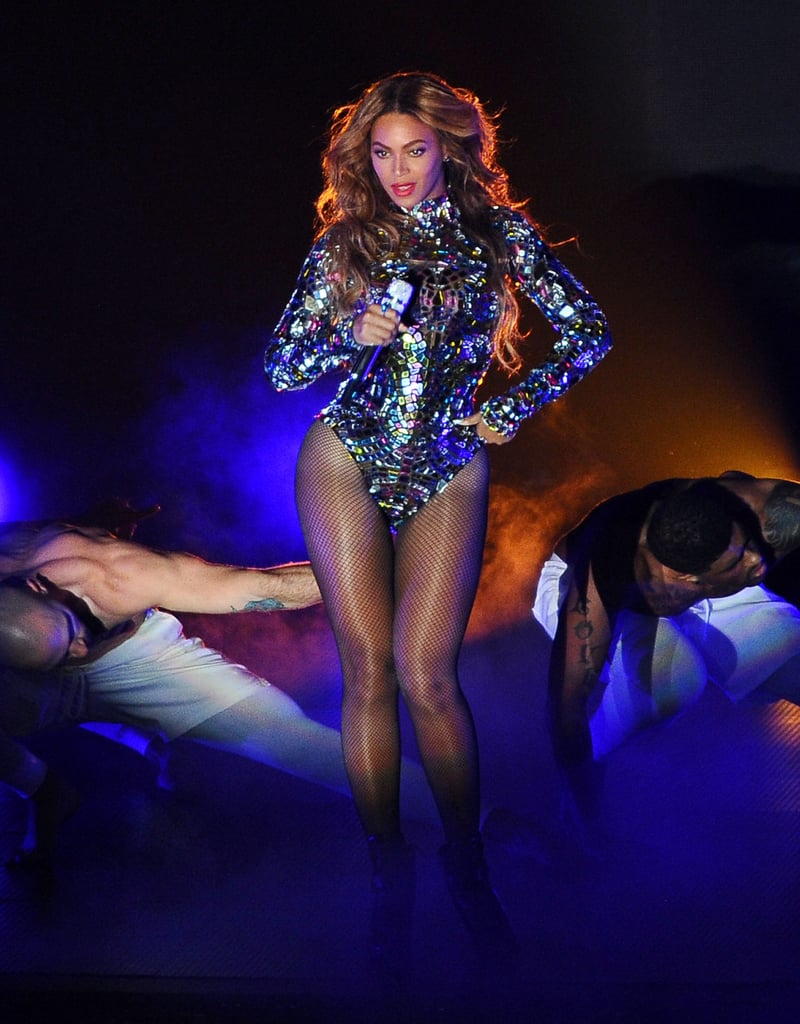 A tunic version of this custom bejeweled bodysuit went down Tom Ford's Spring 2014 runway. But Beyoncé shut it down with one of her best performances in history in this high-cut leotard alternative.
2014, MTV Video Music Awards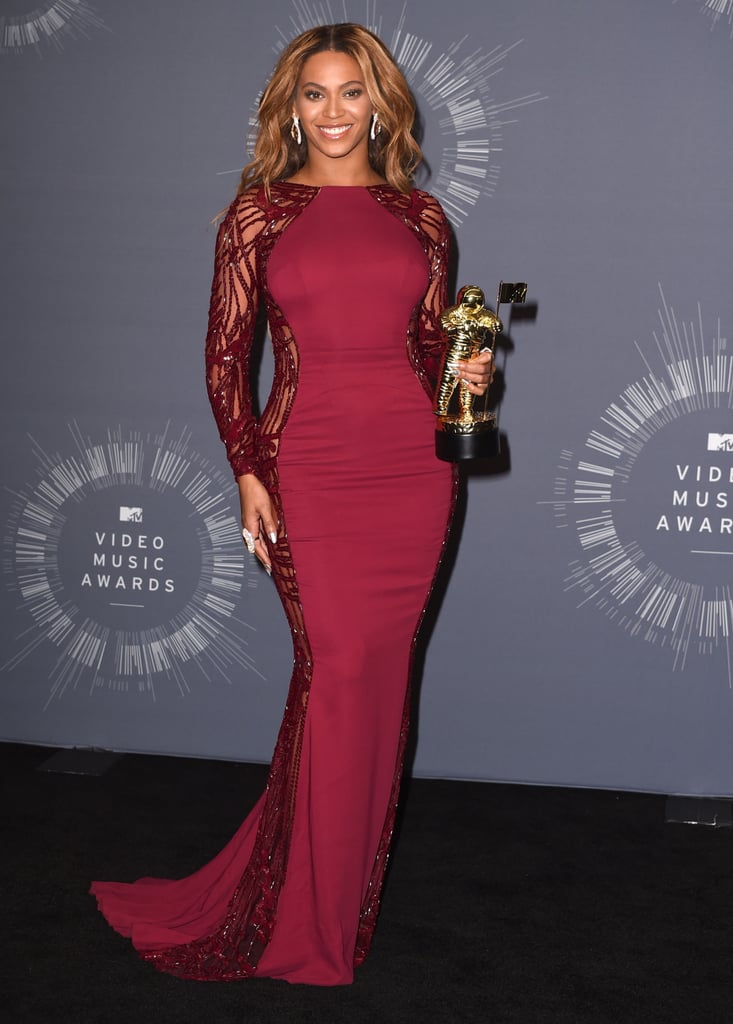 After her performance, Beyoncé slipped on this long-sleeve cranberry number by Zuhair Murad — a surprising shade for the star but sheer and sparkling in all the right places, nonetheless.
2014, Chime For Change Anniversary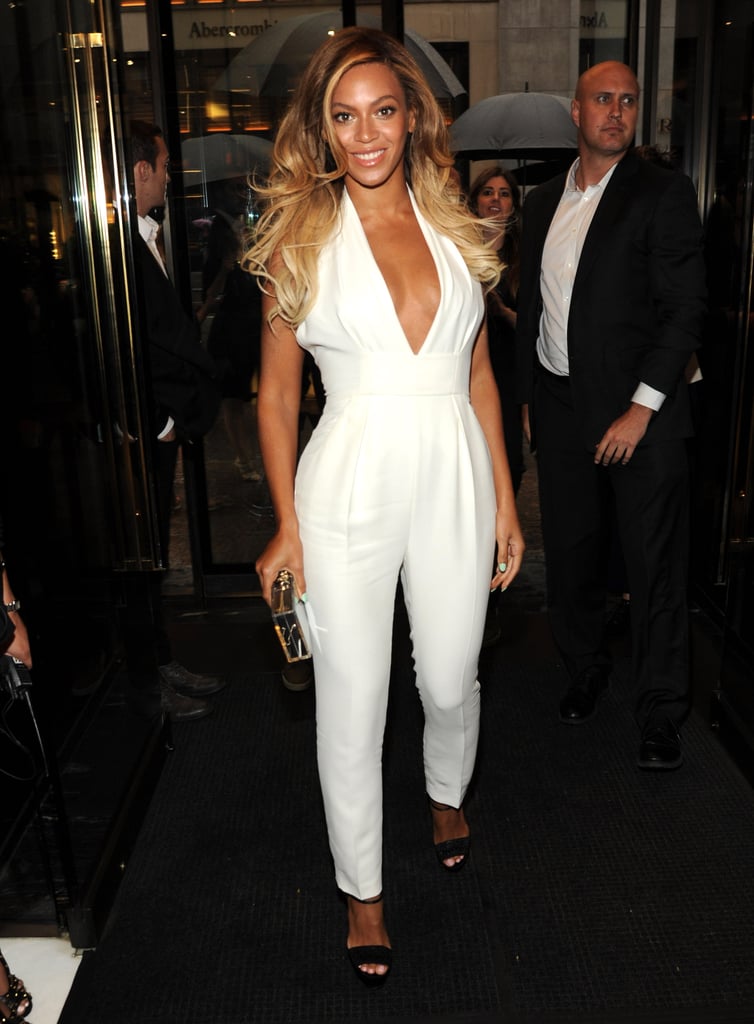 No one can rock a jumpsuit like Beyoncé, and we prefer to see her in clean, structured looks like this one. Usually black or white, her go-to, tailored designs are always ultraflattering.
2014, Met Gala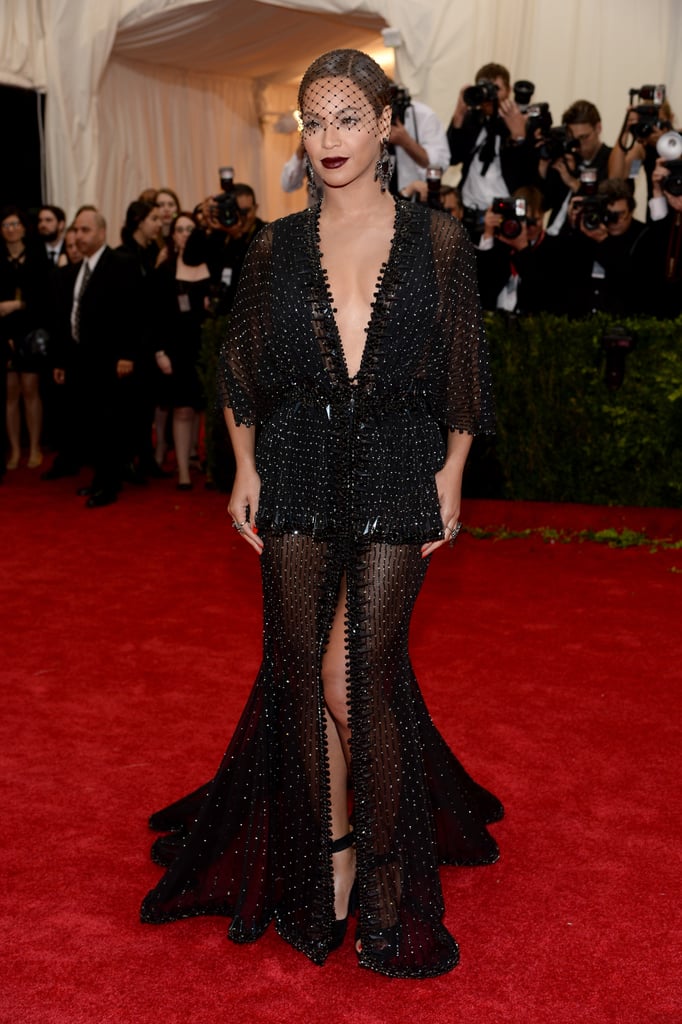 All was still when Beyoncé finally arrived to the 2014 Charles James Met Gala exhibit sporting a plunging neckline design by Givenchy, which was complete with a veil and vampy makeup.
2014, Super Saturday Night Show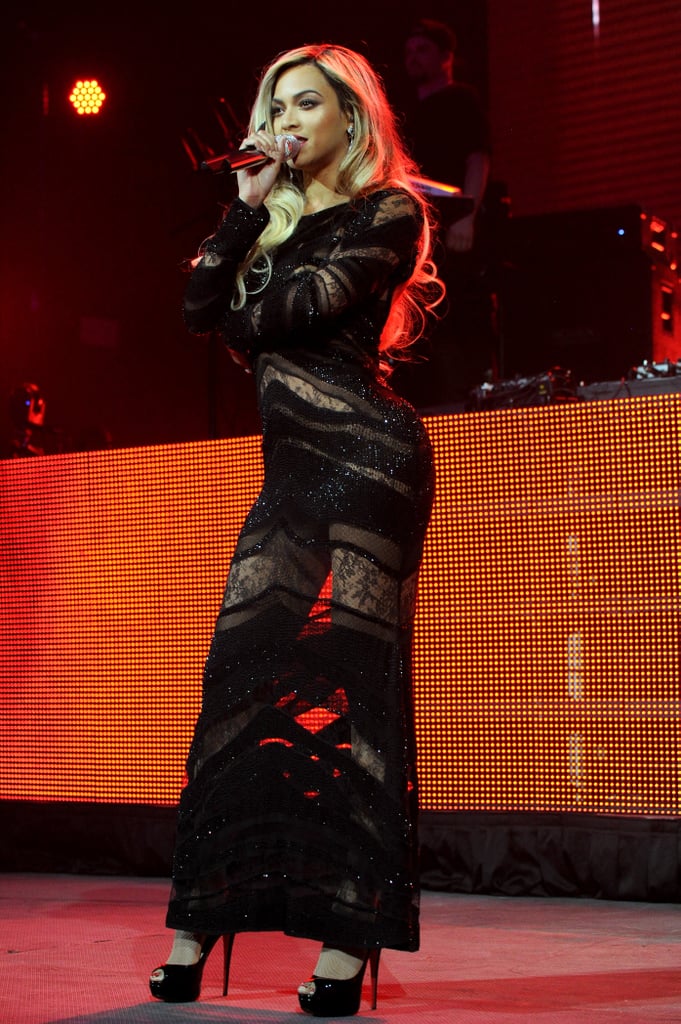 Beyoncé sizzled in a slinky, sheer black dress at the Saturday Super Bowl party this year.
2014, Grammy Awards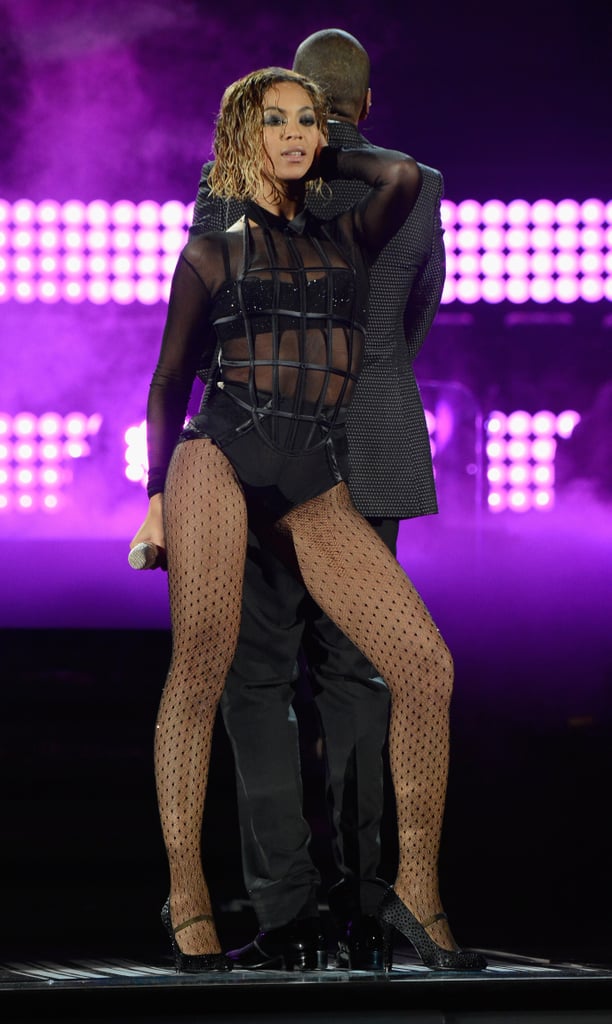 If anyone can make a bodysuit look this good, it's Beyoncé. The star performed "Drunk in Love" with Jay Z dressed in Saint Laurent tights, a La Perla collar, a Nichole de Carle bodysuit, and Stuart Weitzman heels.
2014, Grammy Awards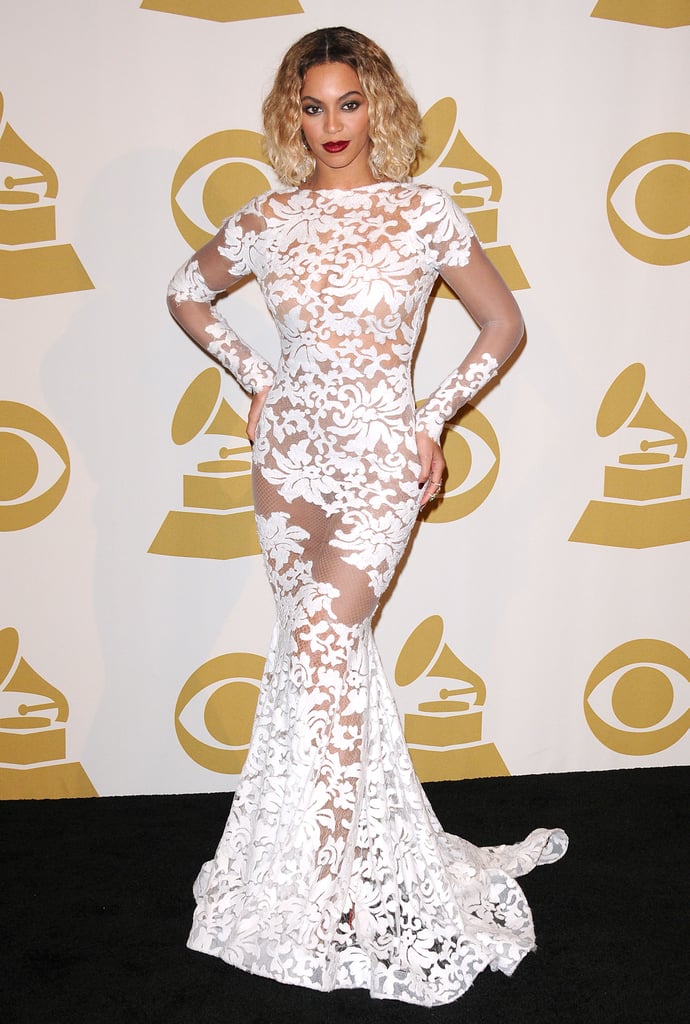 At the 56th Grammy Awards, Beyoncé chose a curve-hugging custom Michael Costello gown after her performance with Jay Z.
2013, Release Party For Self-Titled Visual Album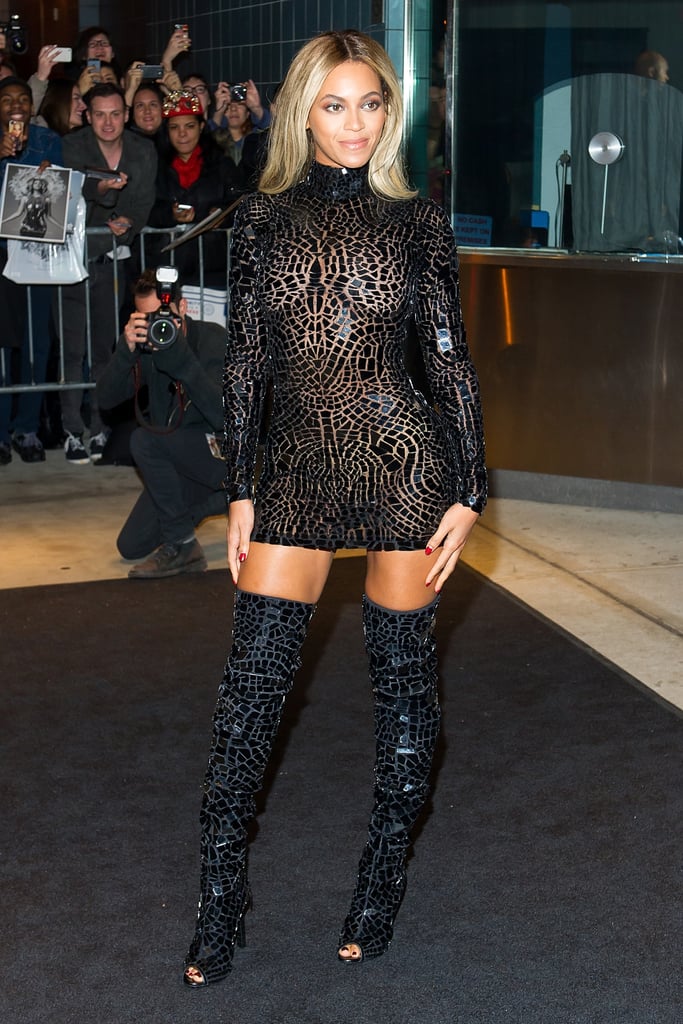 Beyoncé rocked shimmering head-to-toe Tom Ford for the screening of her 17 videos included in Beyoncé, the album she dropped overnight.
2013, Met Gala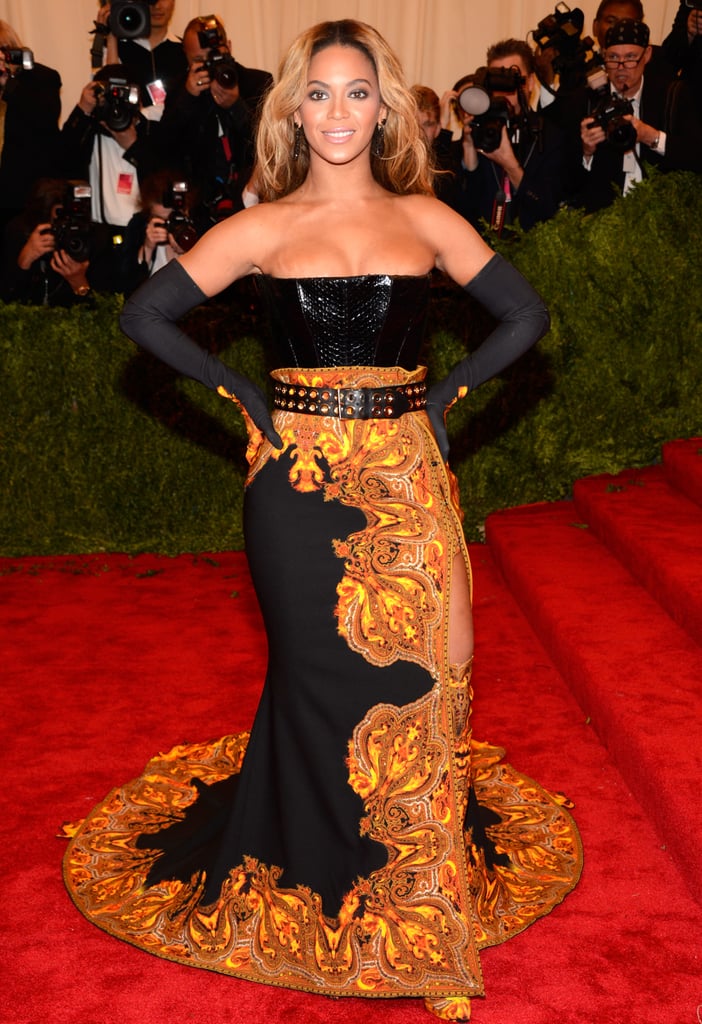 Beyoncé drew all eyes in with her Givenchy look, which included a long flame-embroidered skirt with flame cutouts and matching thigh-high boots, python leather corset, and python belt with gold eyelets.
2013, Chime For a Change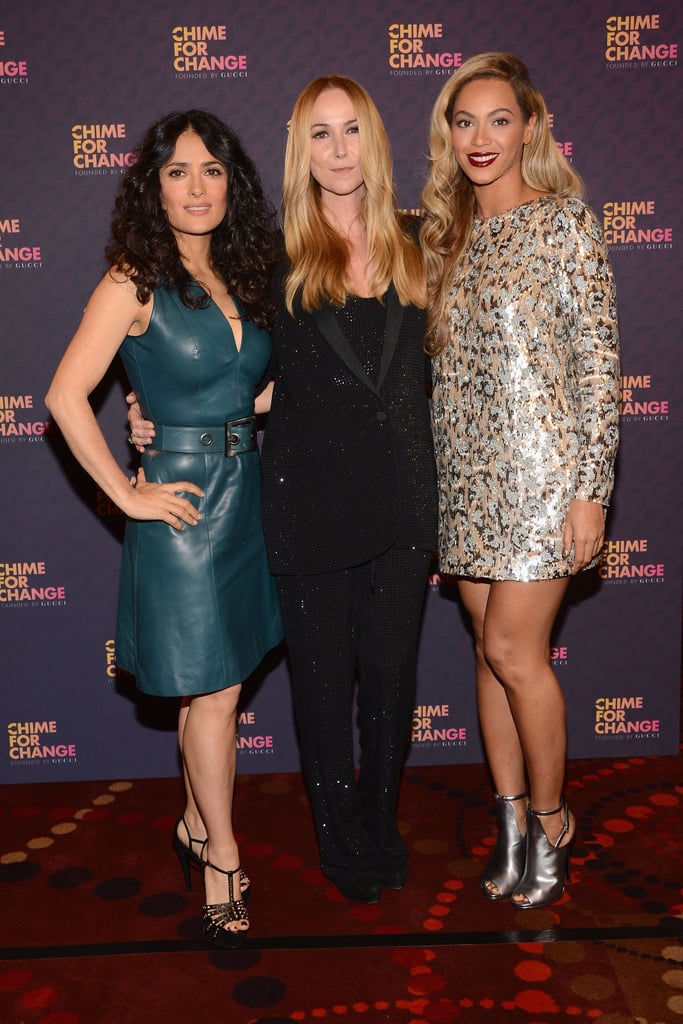 A Gucci-clad Beyoncé, Salma Hayek [4], and Gucci's Frida Giannini presented a united glamour front while smiling for the cameras in London.
2013, Life Is But a Dream Premiere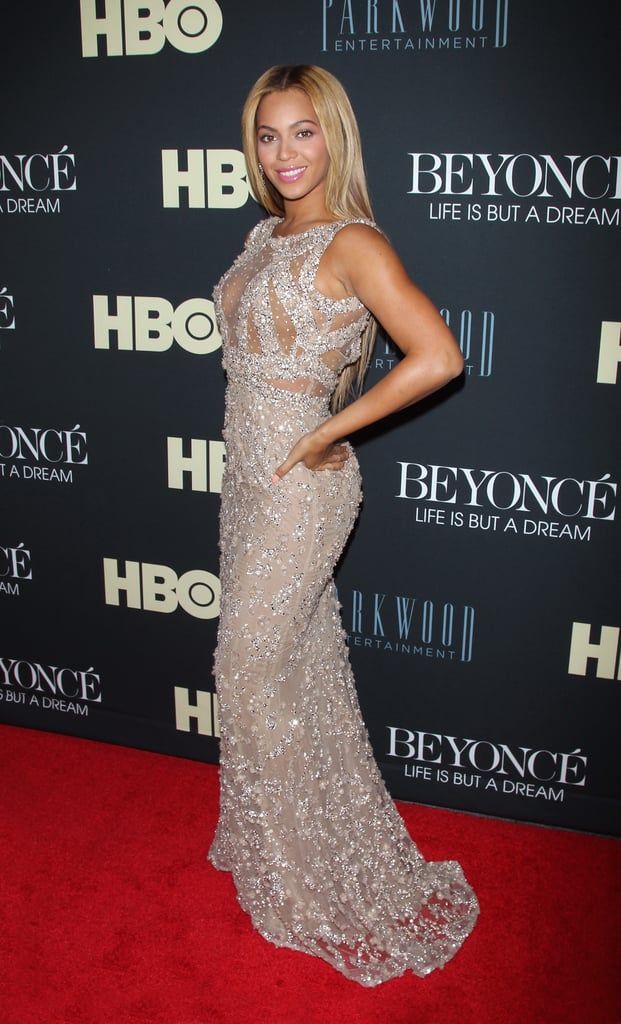 The lady of the moment sparkled in an embellished Elie Saab gown for the NYC premiere of her Beyoncé: Life Is But a Dream documentary.
2013, V Festival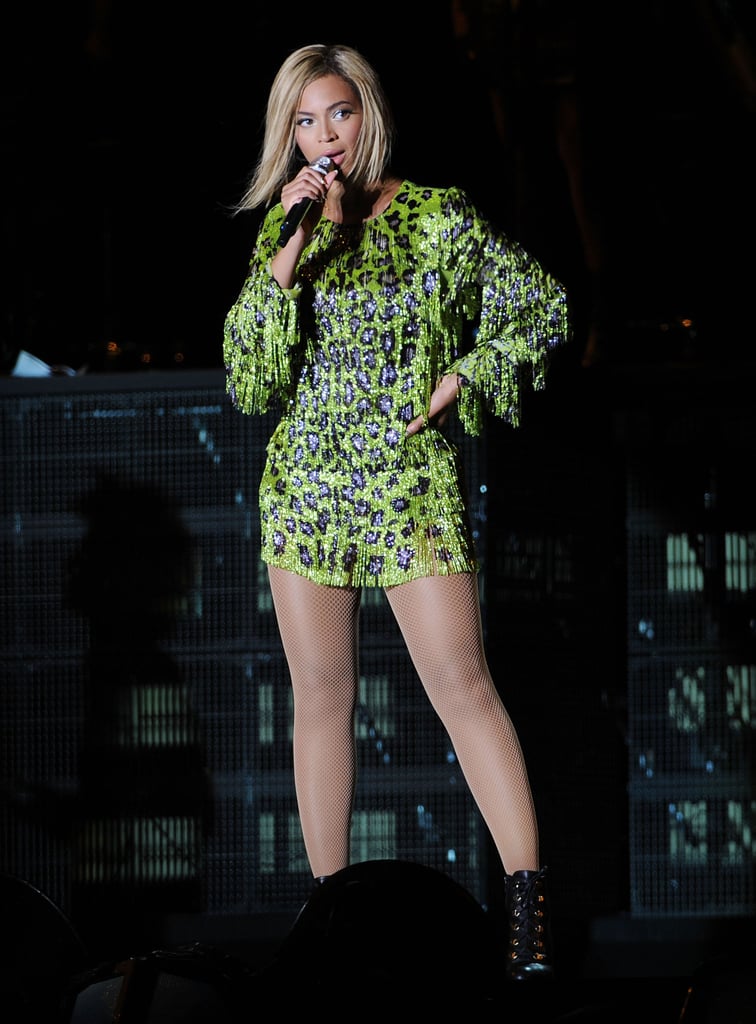 Showing off her newly cropped locks [5] and a fringed Emilio Pucci look, B hit the stage at the V Festival.
2013, Presidential Inauguration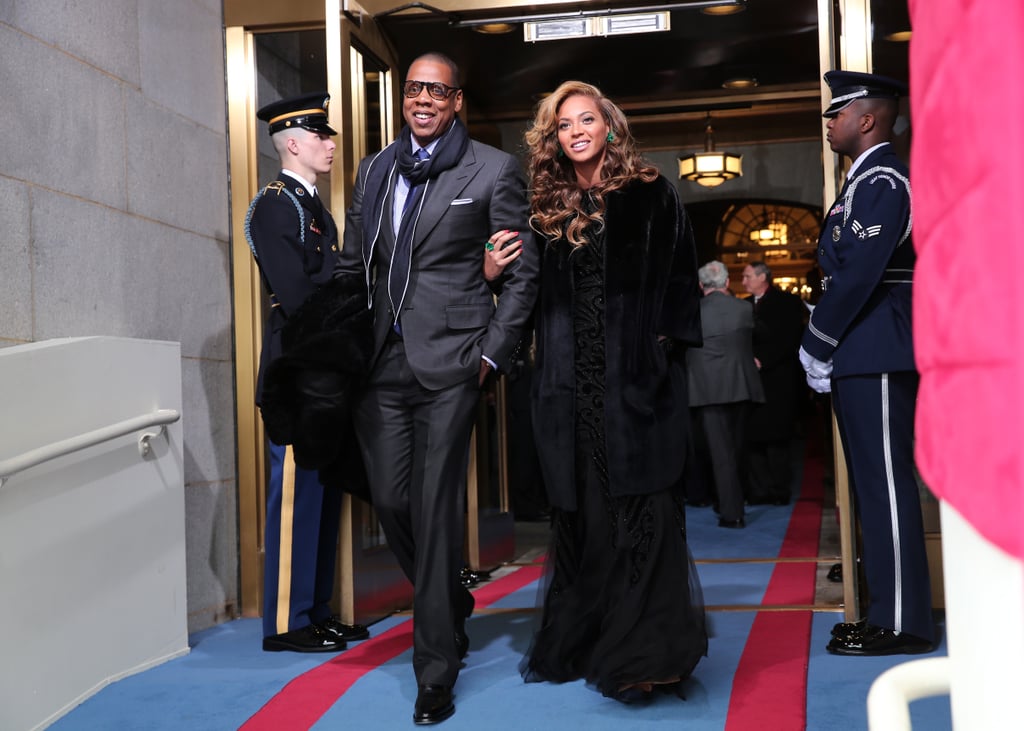 Beyoncé arrived at the 2013 Inauguration Day hand in hand with Jay Z, working a black embellished Emilio Pucci gown layered with a knee-length Christian Dior coat.
2013, Grammy Awards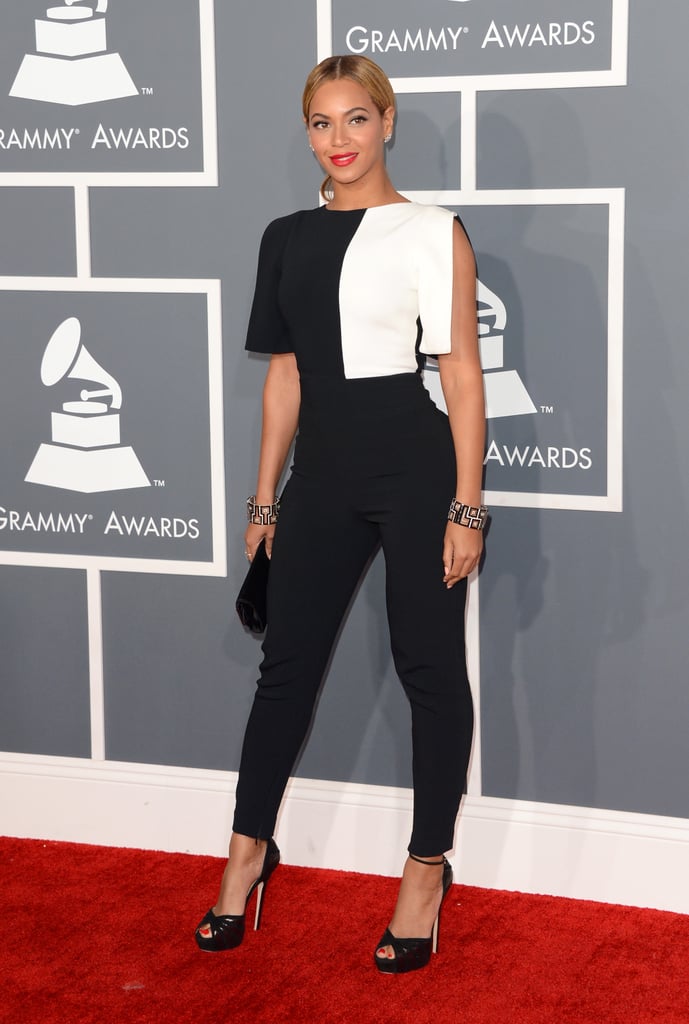 Beyoncé was a standout in a chic black-and-white jumpsuit by Osman Yousefzada.
2013, Super Bowl XLVII Halftime Show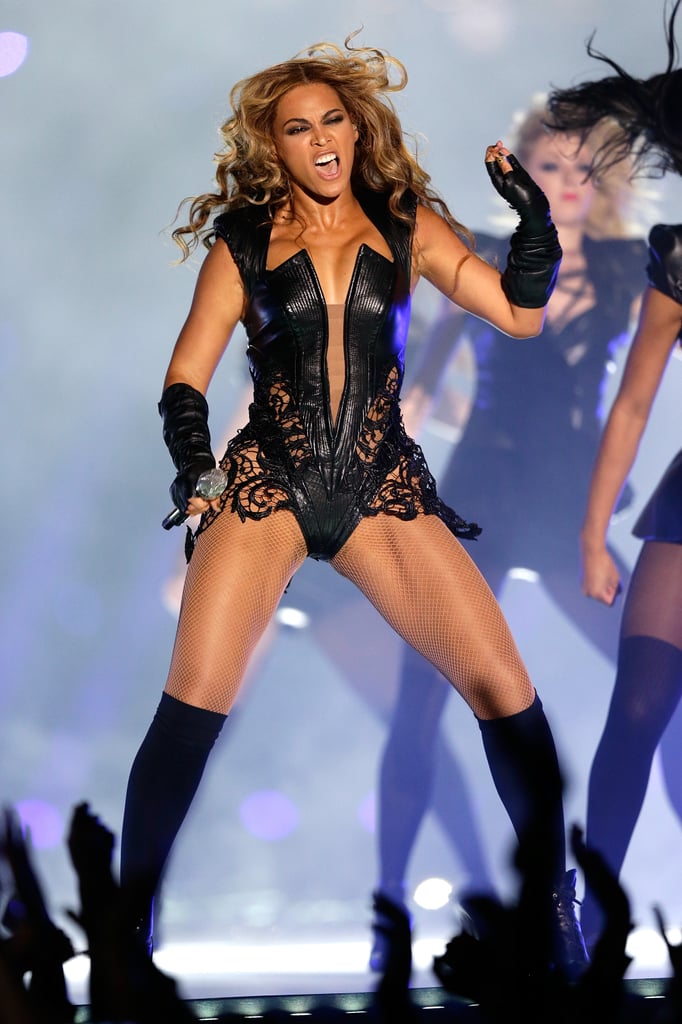 The diva donned a seriously sexy Rubin Singer creation composed of a leather and lace futuristic silhouette, with Proenza Schouler boots, for the Super Bowl halftime show.
2013, Super Bowl XLVII Halftime Press Conference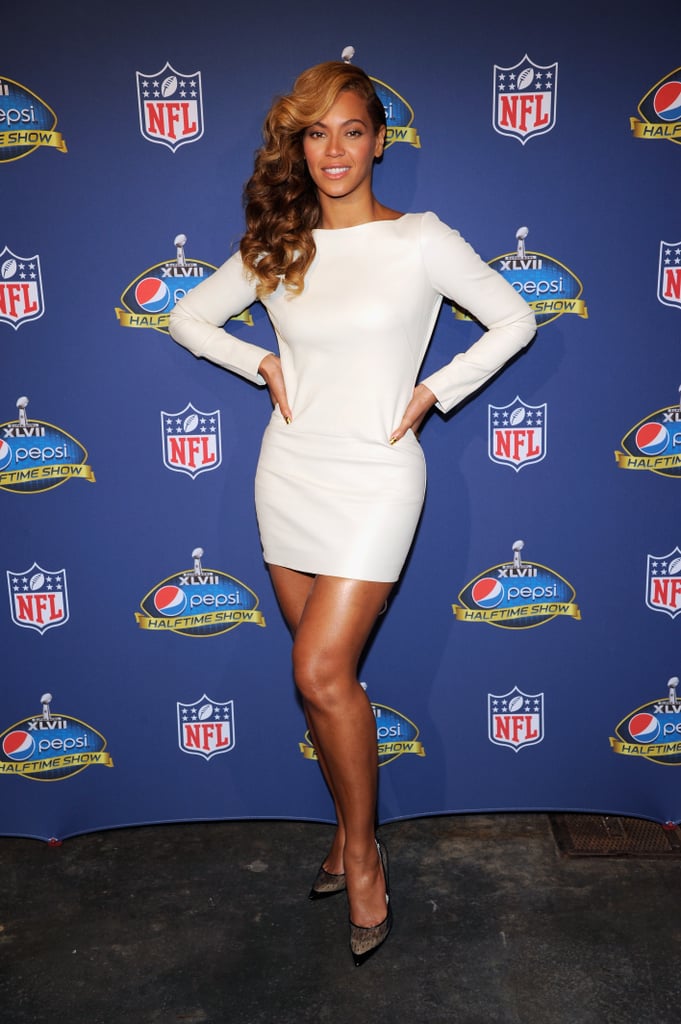 Beyoncé did right by a sexy white leather Olcay Gulsen minidress and mesh polka-dot pumps.
2012, BET Awards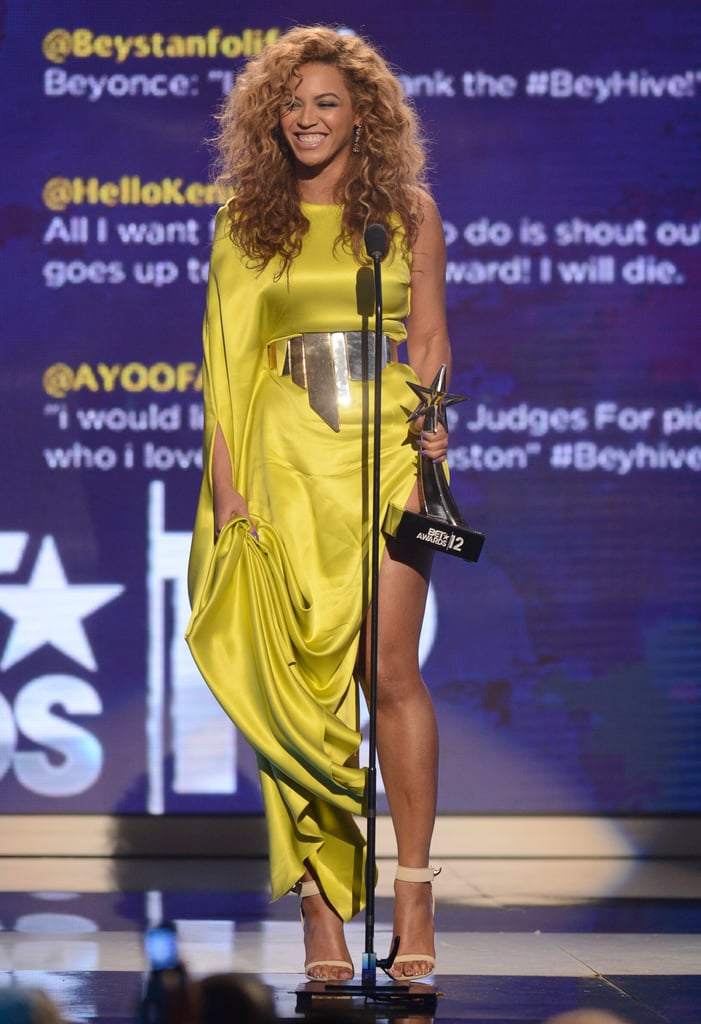 We love how the bright chartreuse hue of Beyoncé's Stéphane Rolland Couture dress complemented her skin tone.
2012, New York City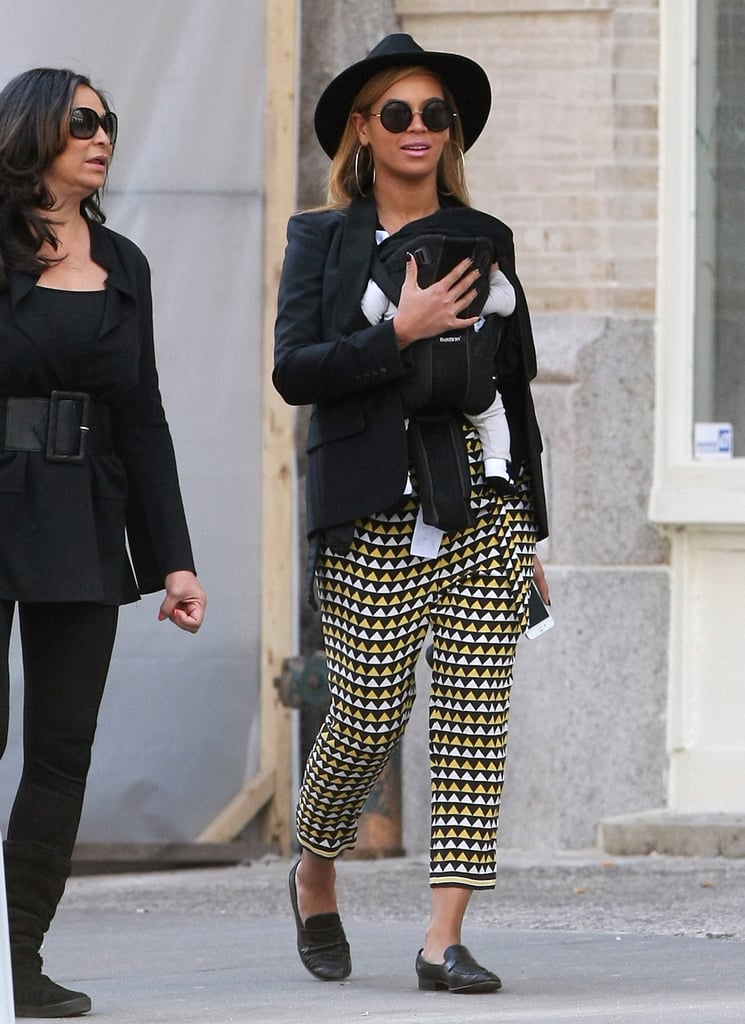 Beyoncé took a walk with Blue and her mom, Tina, wearing printed Easton Pearson pants and slick leather loafers.
2012, New York City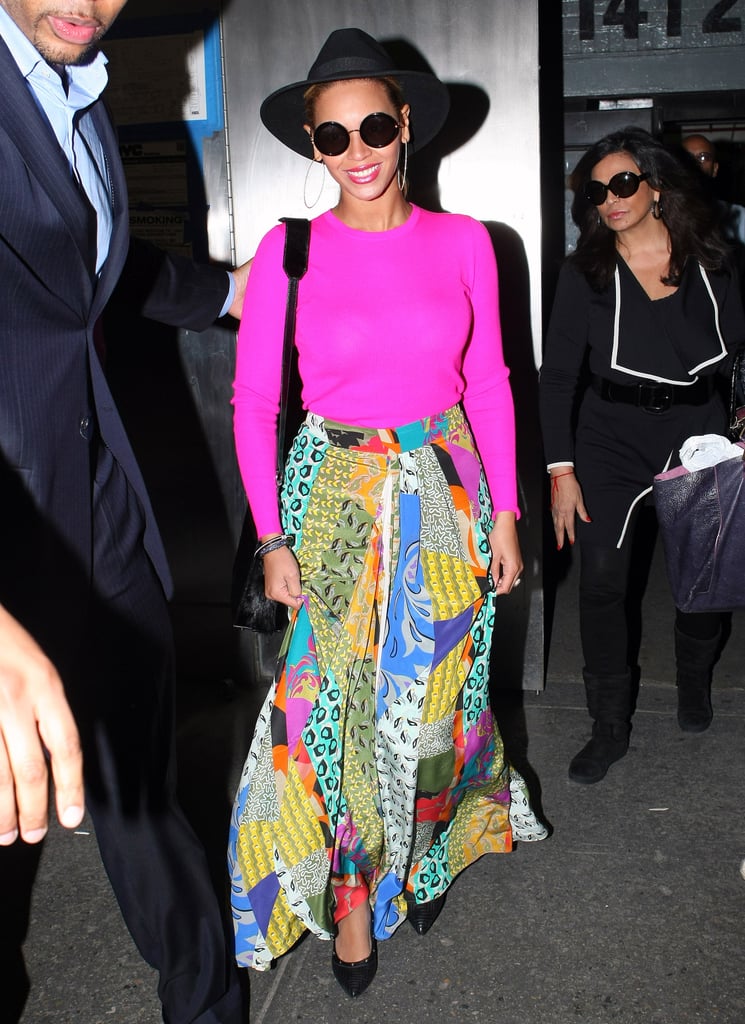 Beyoncé brightened things up with an Etro printed maxi skirt and a neon-pink Michael Kors sweater.
2012, Brooklyn Nets Game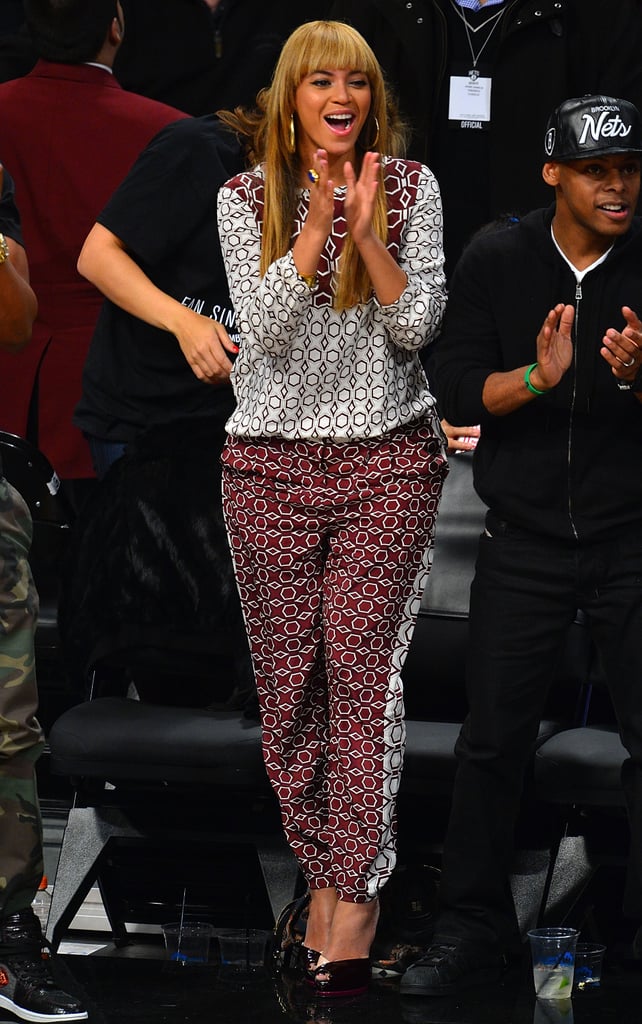 A printed Tibi combo was Bey's look of choice for a November 2012 basketball game.
2012, Atlantic City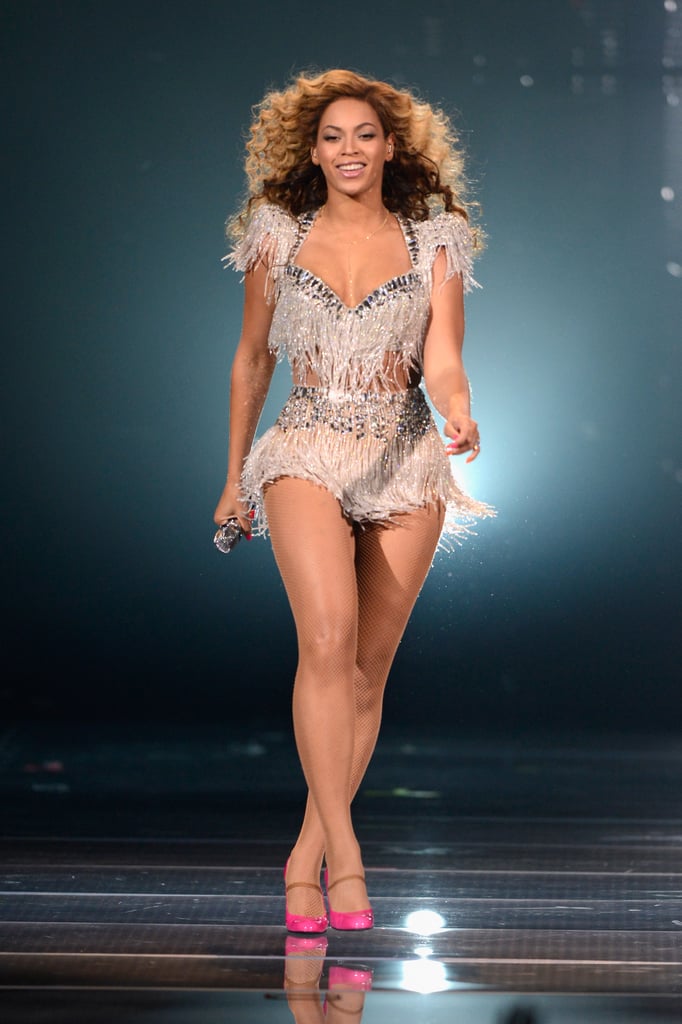 Beyoncé hit the stage in Atlantic City in a glitzy minidress and pink heels.
2012, Paris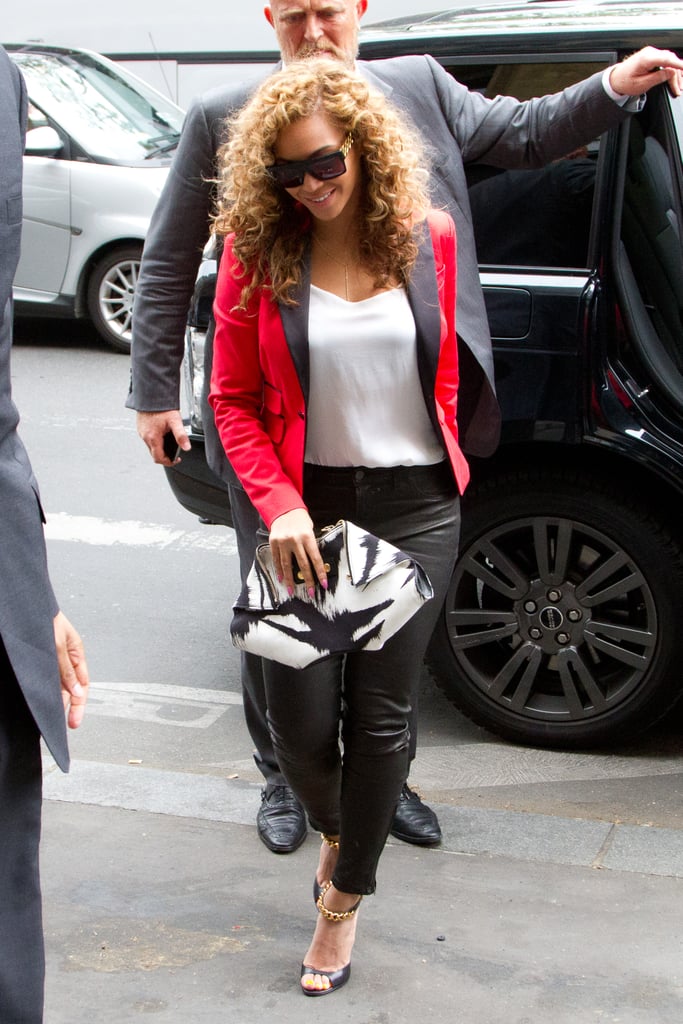 During her Parisian excursion, Bey styled a red contrast-collar Dsquared blazer with a white silk tank, black leather J Brand pants, and chain-strap sandals. A tiger-print Alexander McQueen clutch and funky flat-top sunglasses rounded up her street style.
2012, Met Gala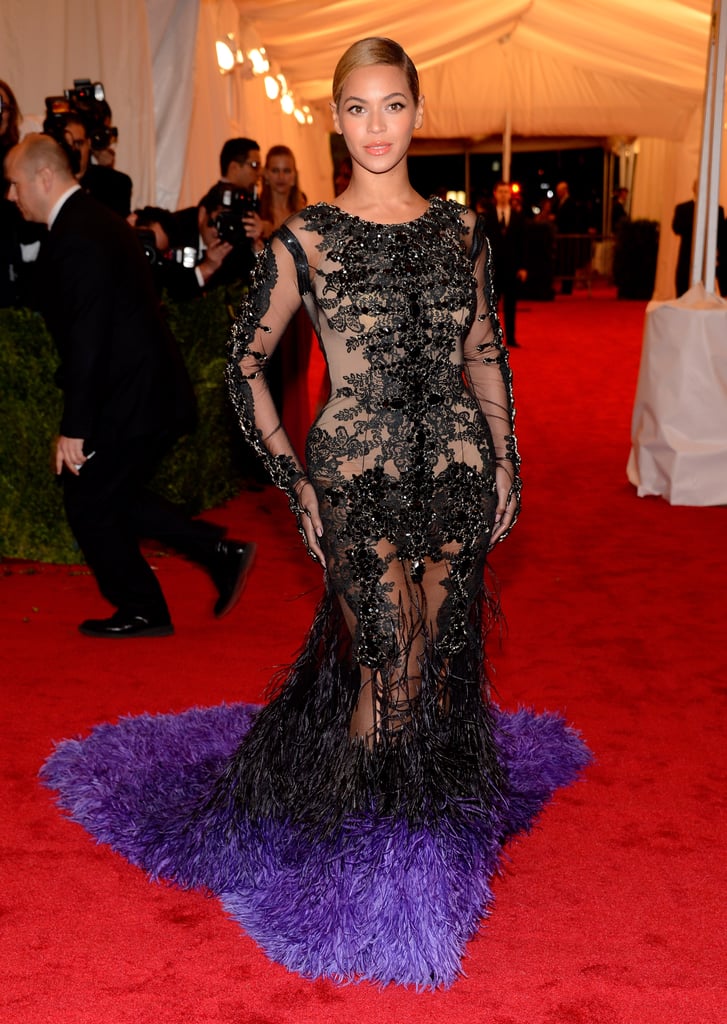 Beyoncé donned an ornate feathered Givenchy gown on the red carpet.
2012, Carnegie Hall

Beyonce Knowles [6] sparkled in a Monique Lhuillier dress at husband Jay-Z's charity concert.
2011, New York City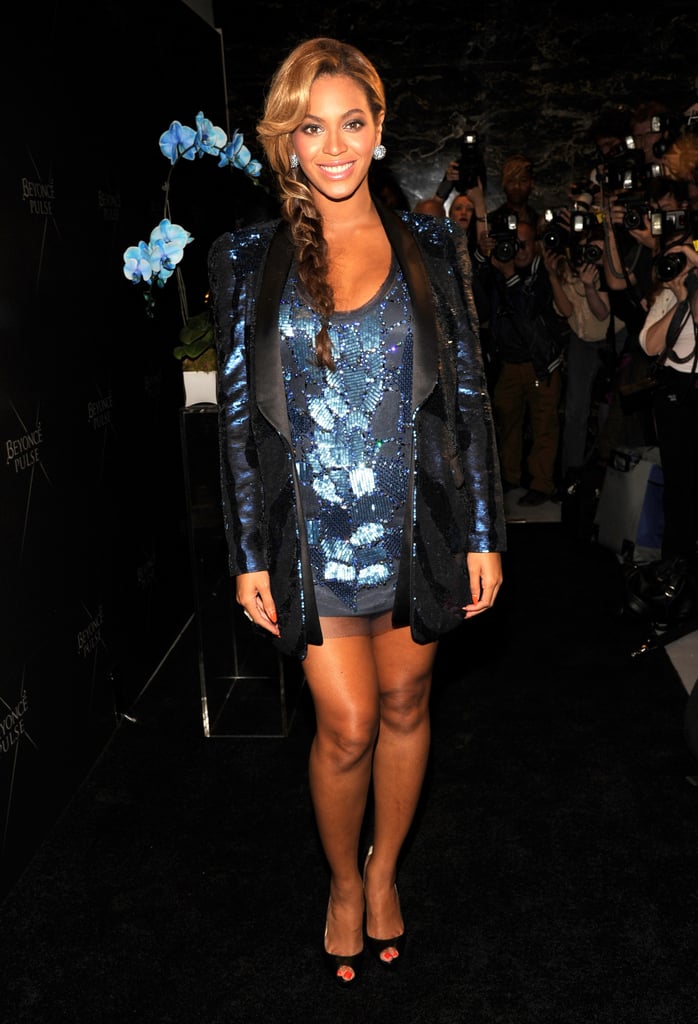 Beyoncé Knowles picked a loose-fitting, sequined minidress to launch her fragrance Pulse in NYC.
2011, New York City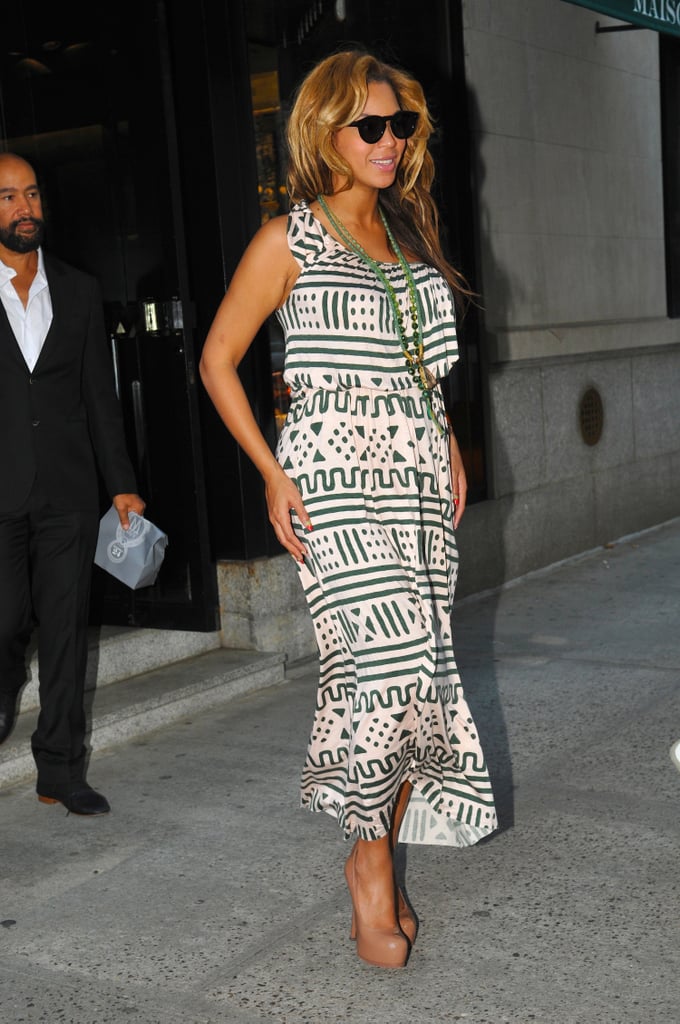 Beyoncé Knowles dressed her baby bump in a printed dress and nude platforms.
2011, New York City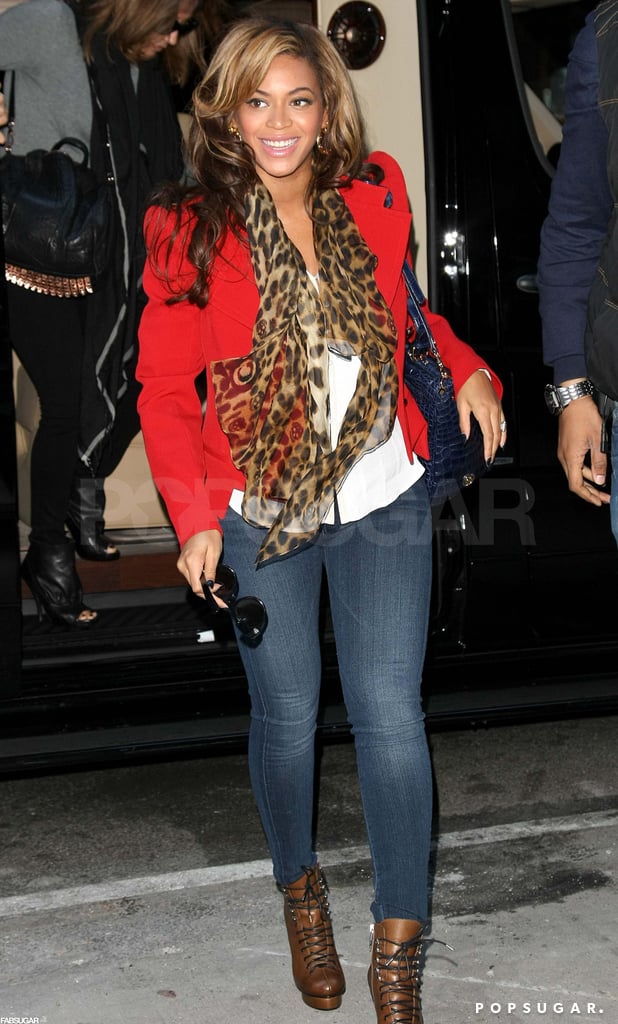 A pregnant Beyoncé Knowles was spotted out in NYC in a red blazer and leopard-print scarf.
2011, New York Fashion Week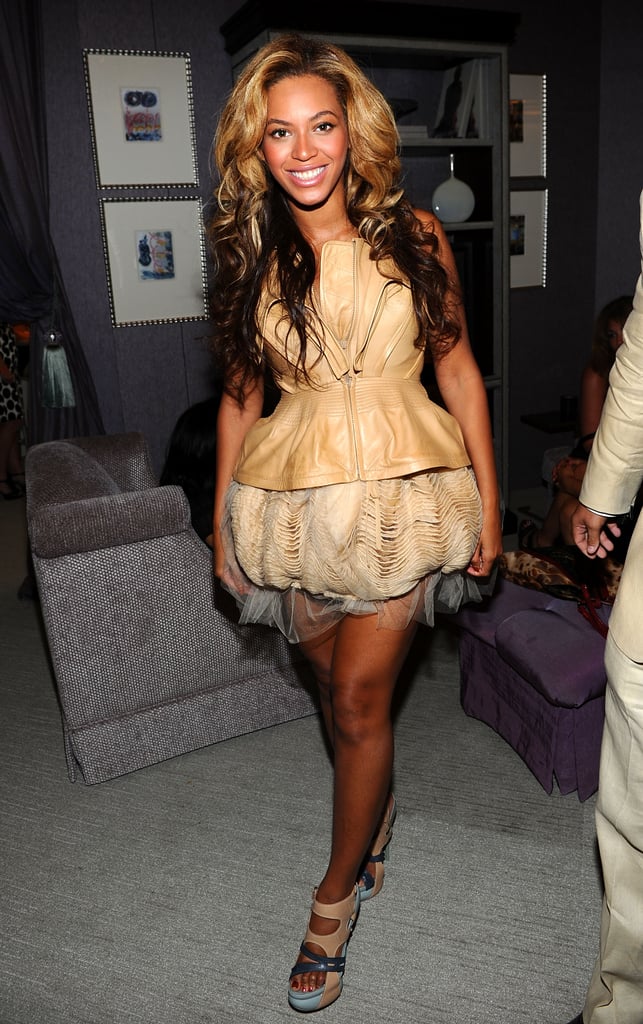 Beyoncé rocked a nude Vera Wang pouf dress with killer heels during New York Fashion Week.
2011, MTV VMAs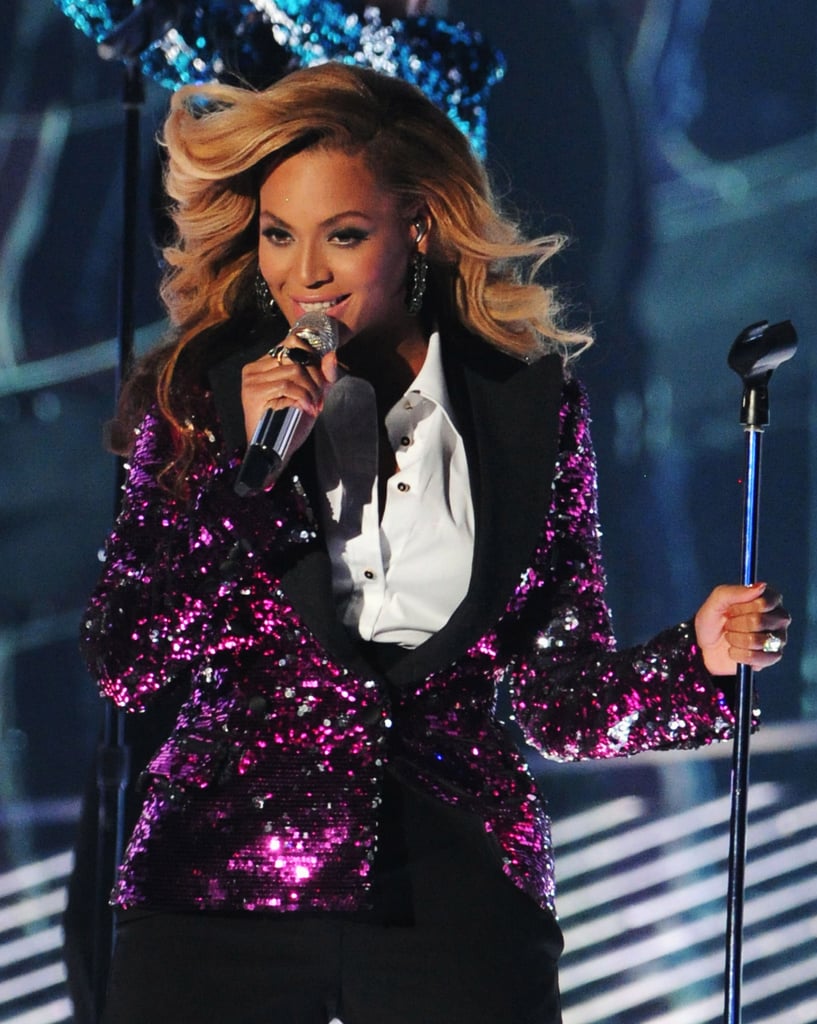 B wore this purple sequined Dolce & Gabbana jacket while performing "Love on Top," and later unbuttoned it to reveal her baby bump.
2011, MTV VMAs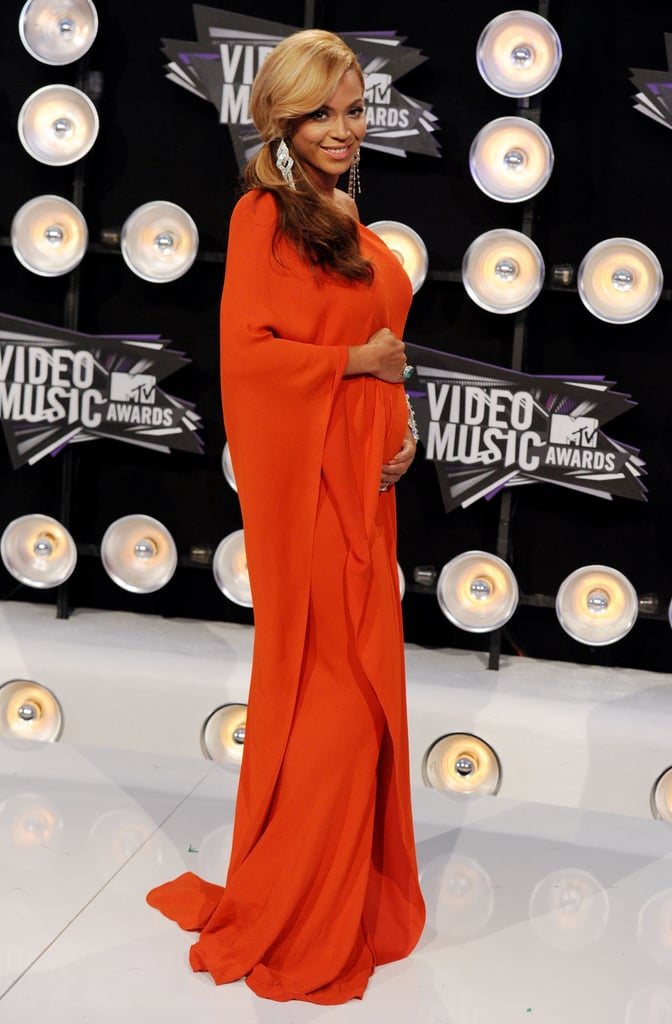 This bright orange Lanvin gown looked gorgeous on Beyoncé, and showed off her growing baby bump.
2011, Watch the Throne Listening Party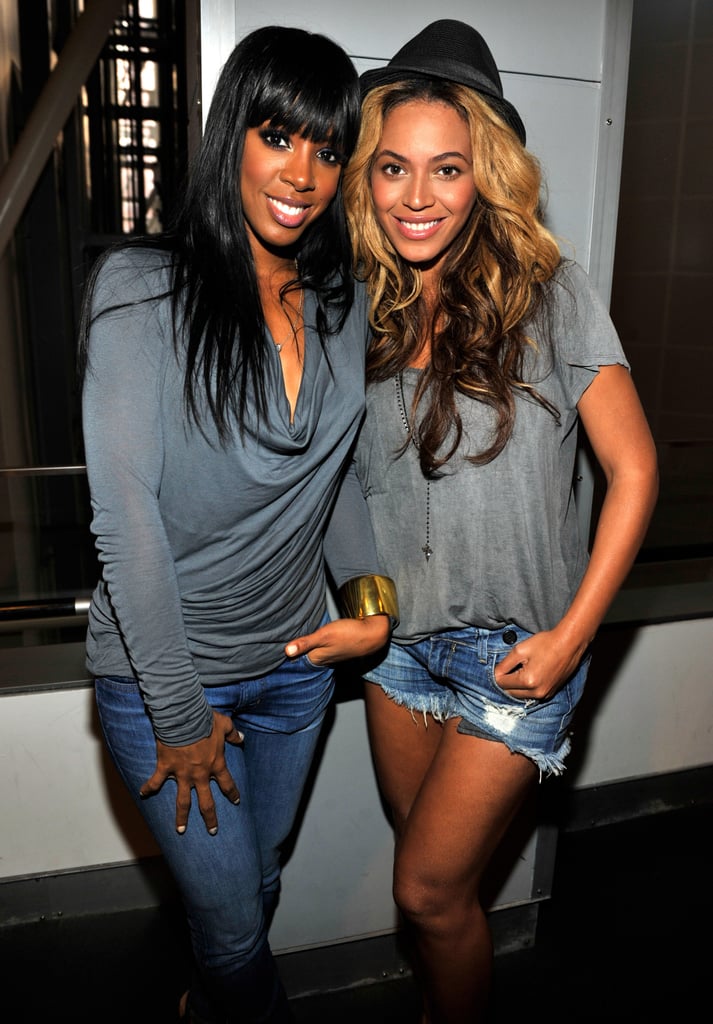 At a listening party for Jay-Z and Kanye West [7]'s album, Beyoncé went casual in a floaty gray tee, denim cutoffs, and a black fedora.
2011, Good Morning America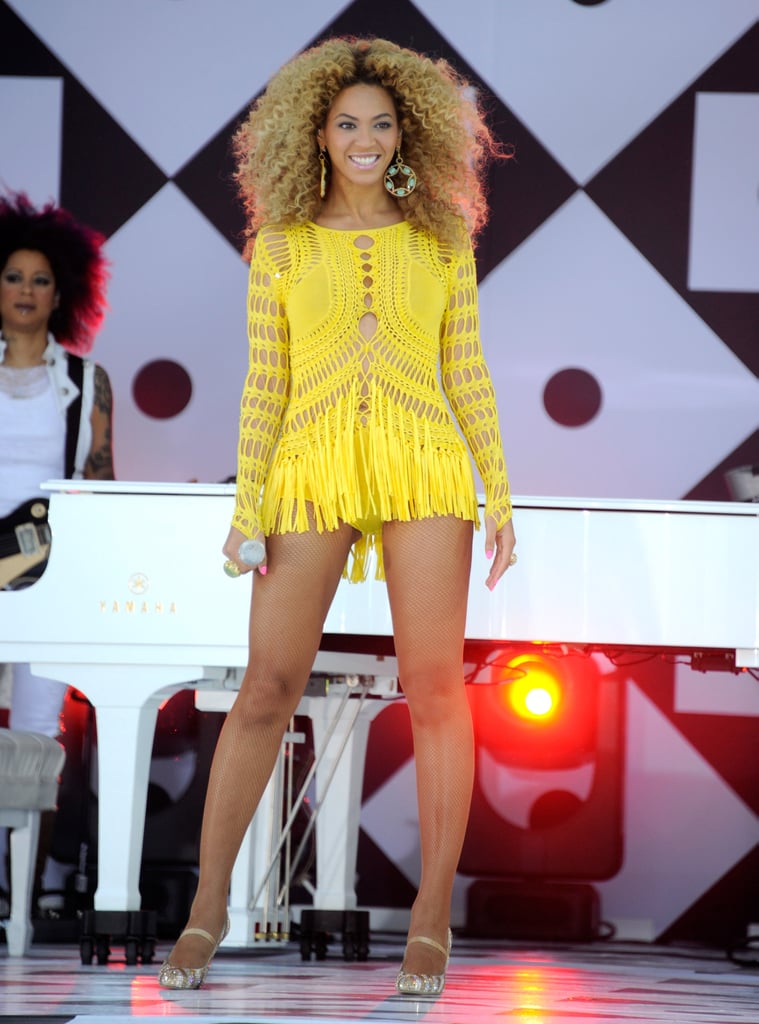 Beyoncé performed on Good Morning America wearing a sexy yellow crochet Mark Fast dress.
2011, Billboard Music Awards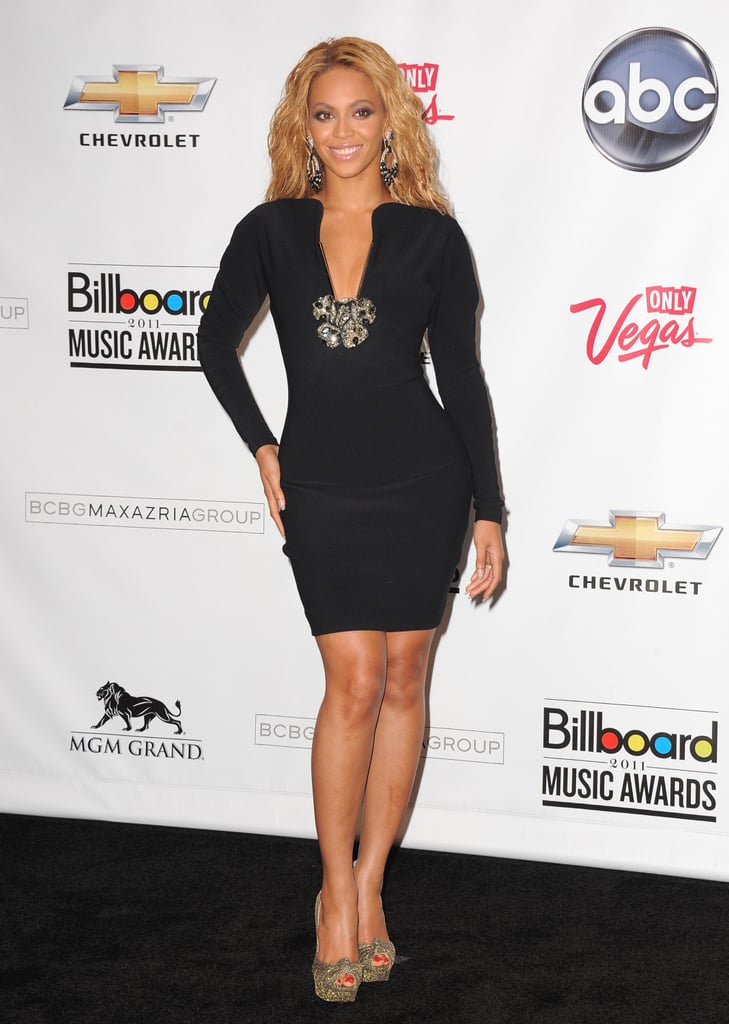 Beyoncé flaunted her curves in this body-conscious Lanvin dress and Christian Louboutin heels.
2011, Oprah Farewell Event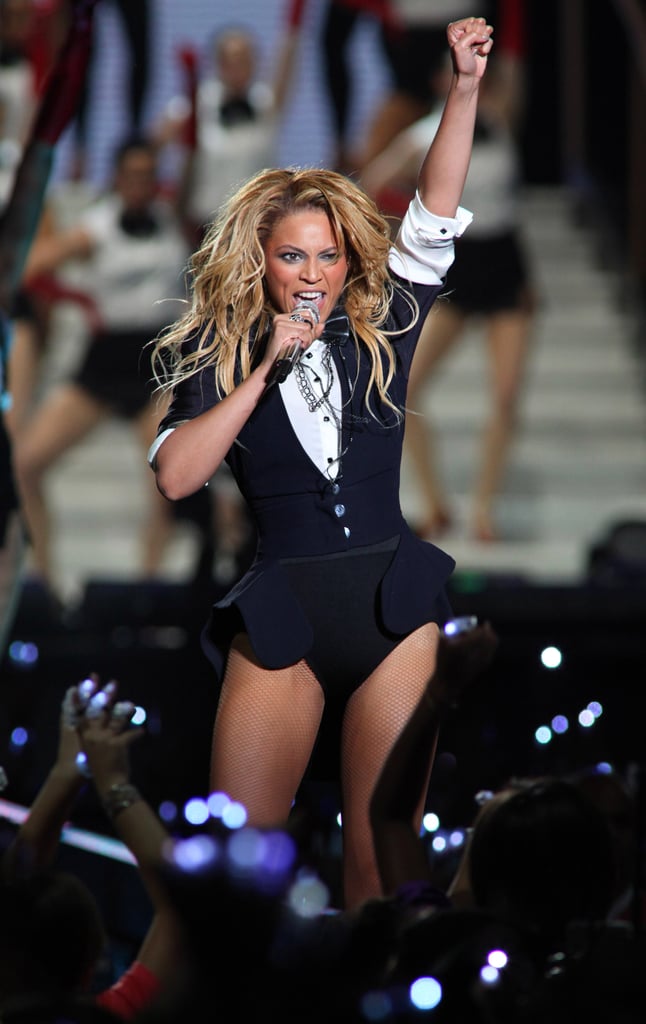 Beyoncé performed in a menswear-inspired ensemble for Oprah Winfrey [8]'s farewell concert.
2011, Met Gala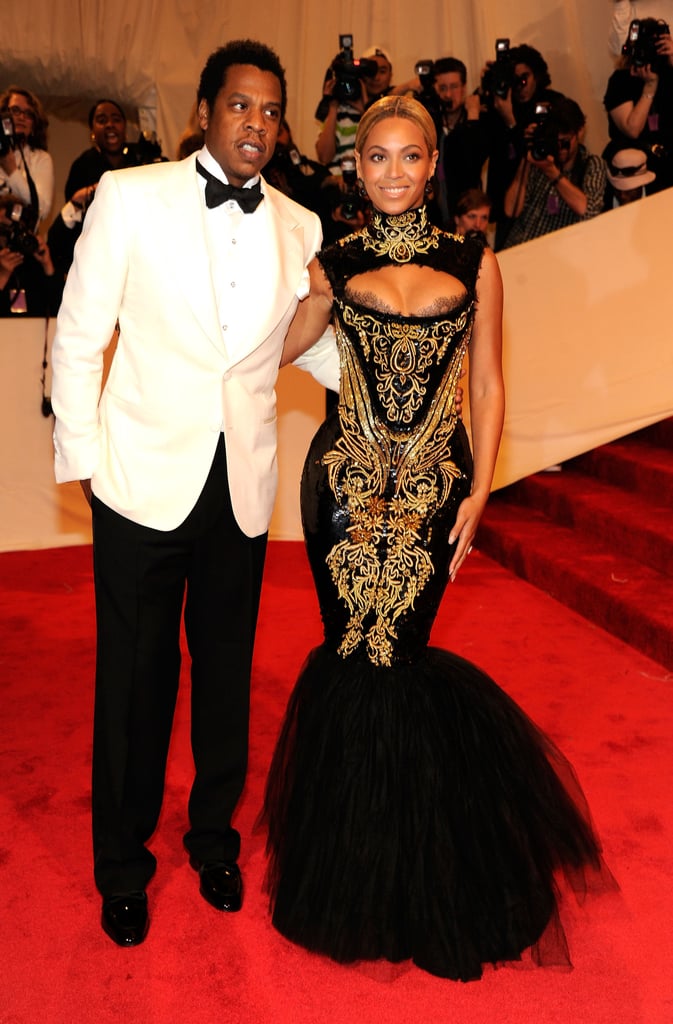 Beyoncé, pictured on the red carpet with Jay-Z, wore this stunning gold-embroidered Pucci gown to the Costume Institute Gala.
2011, In Paris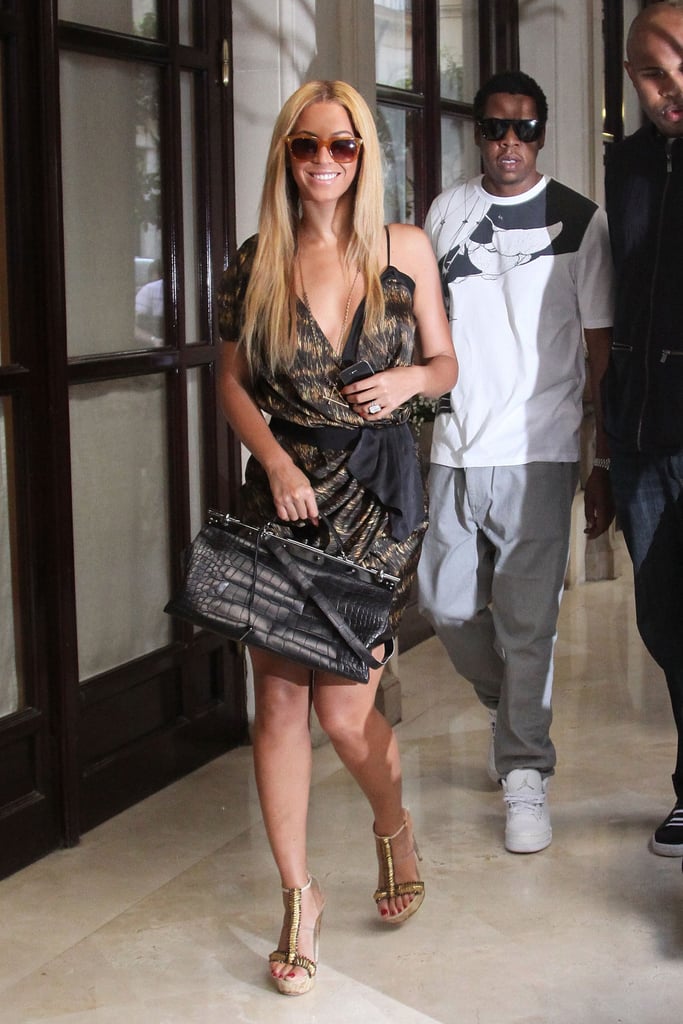 Beyoncé strolled the Paris streets in an Isabel Marant dress and sky-high Alexander McQueen heels.
2011, Grammy Awards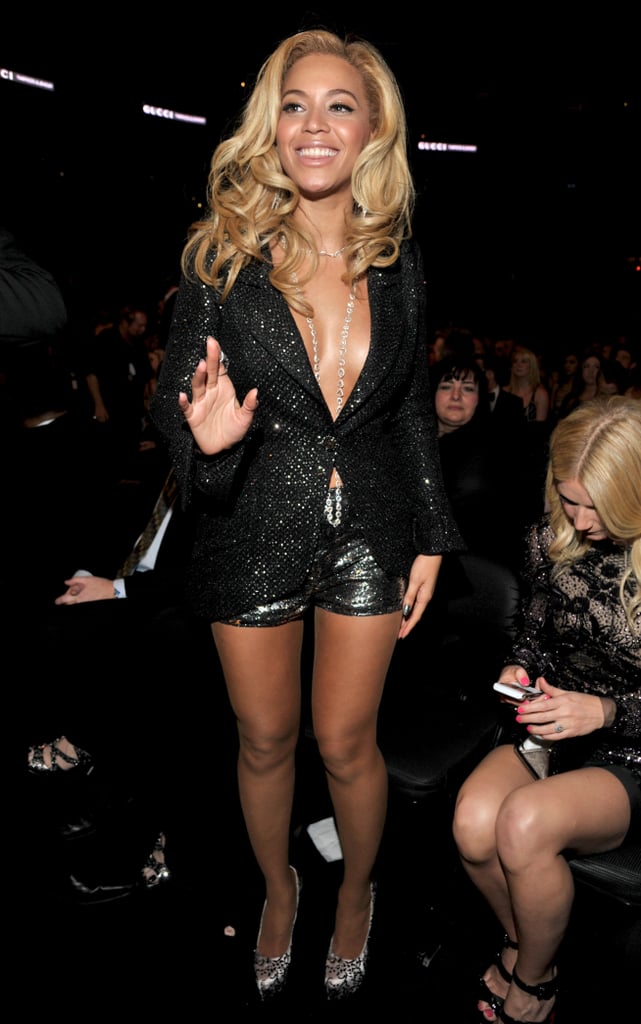 Beyoncé showed lots of leg in a Chanel shorts and jacket set.
2011, In NYC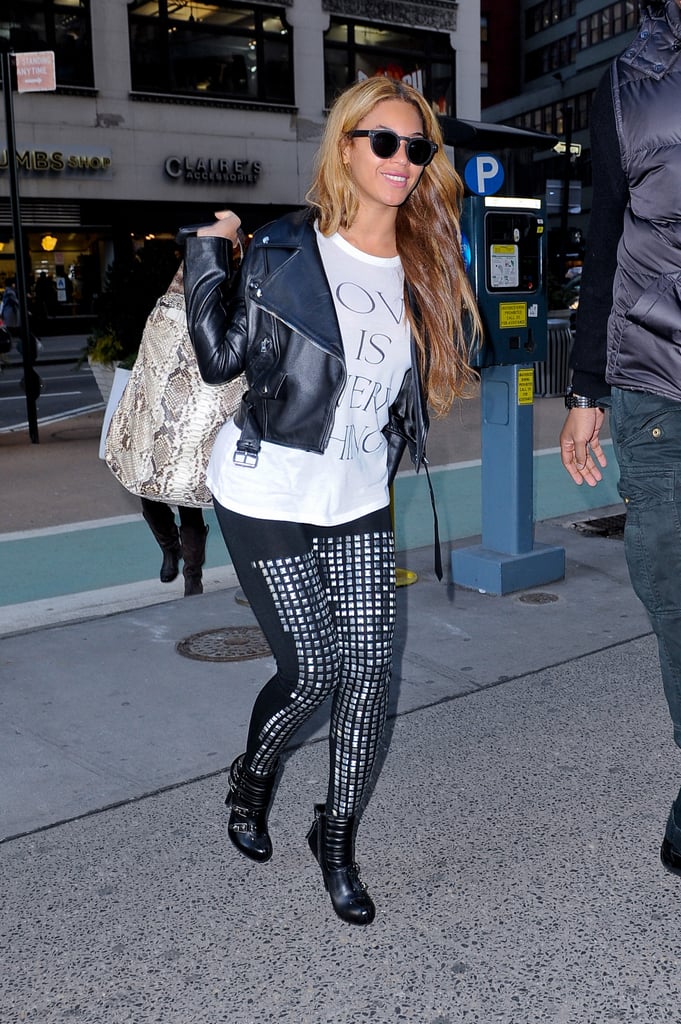 B brought rock-star cool to the city with studded House of Dereon leggings and a leather jacket.
2011, NBA All-Star Game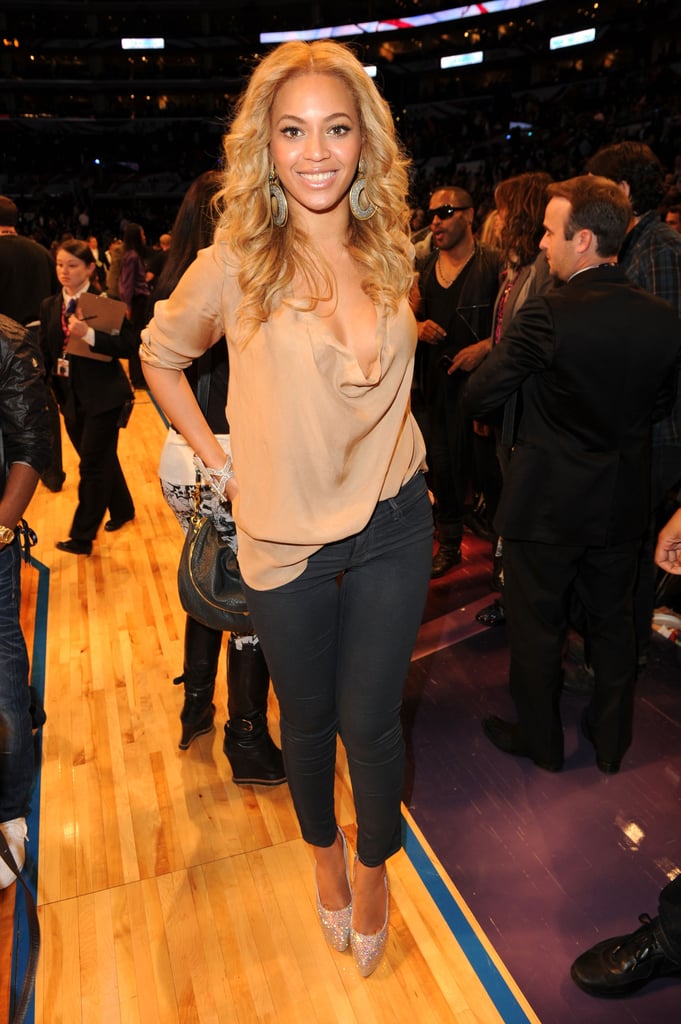 Looking cool and casual in J Brand jeans, Louboutins, and a Haute Hippie tee.
2010, I Am...World Tour Screening
For the screening of her world tour film, Beyoncé wore an embroidered mini dress by Naeem Khan.
2010, In NYC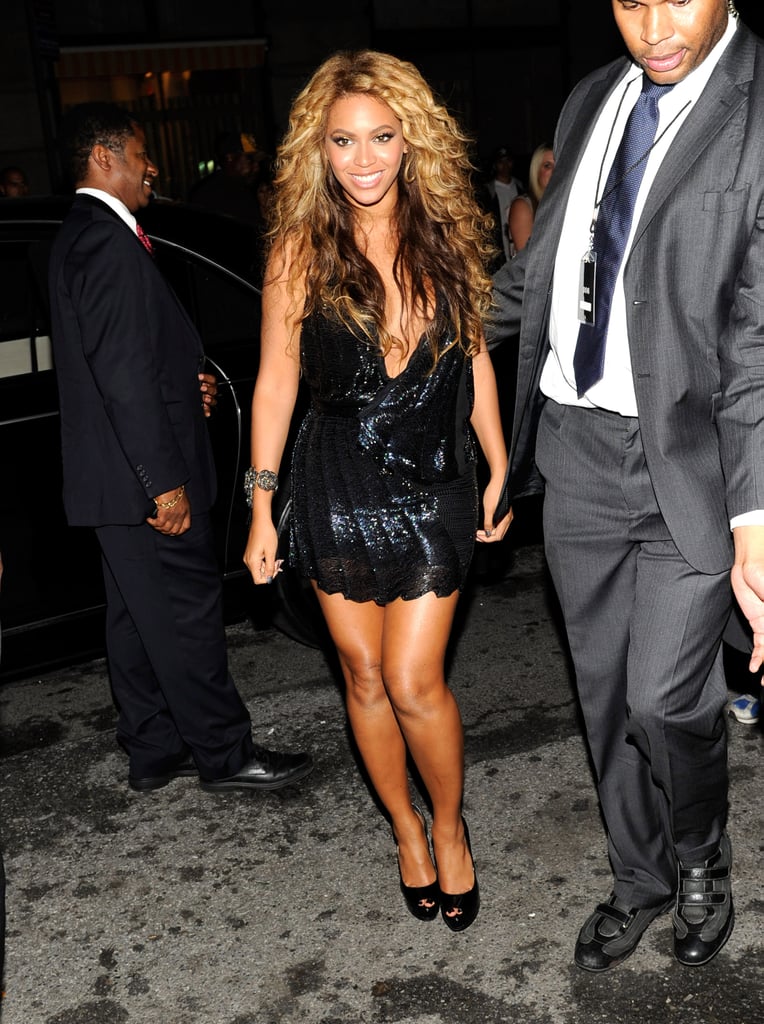 Beyoncé dazzled in a supershort Roberto Cavalli frock after attending an NYC concert.
2010, Coachella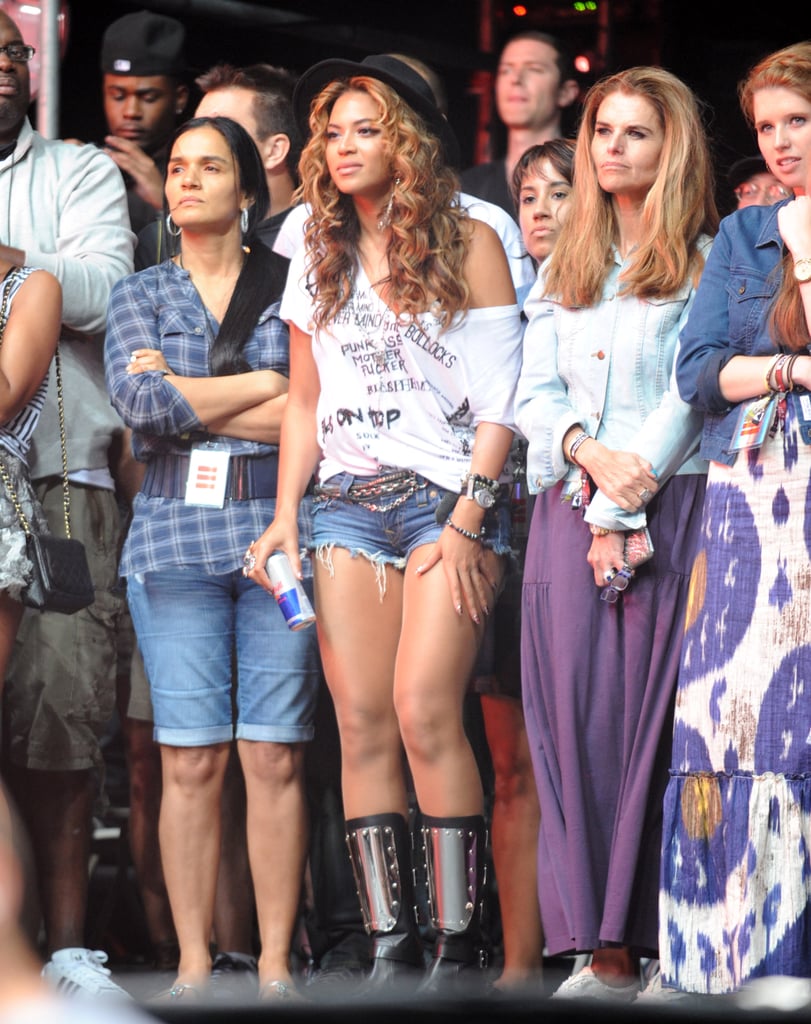 Beyoncé watched her hubby perform at the music festival in denim True Religion cutoffs and biker-chic Chanel boots.
2010, Grammy Awards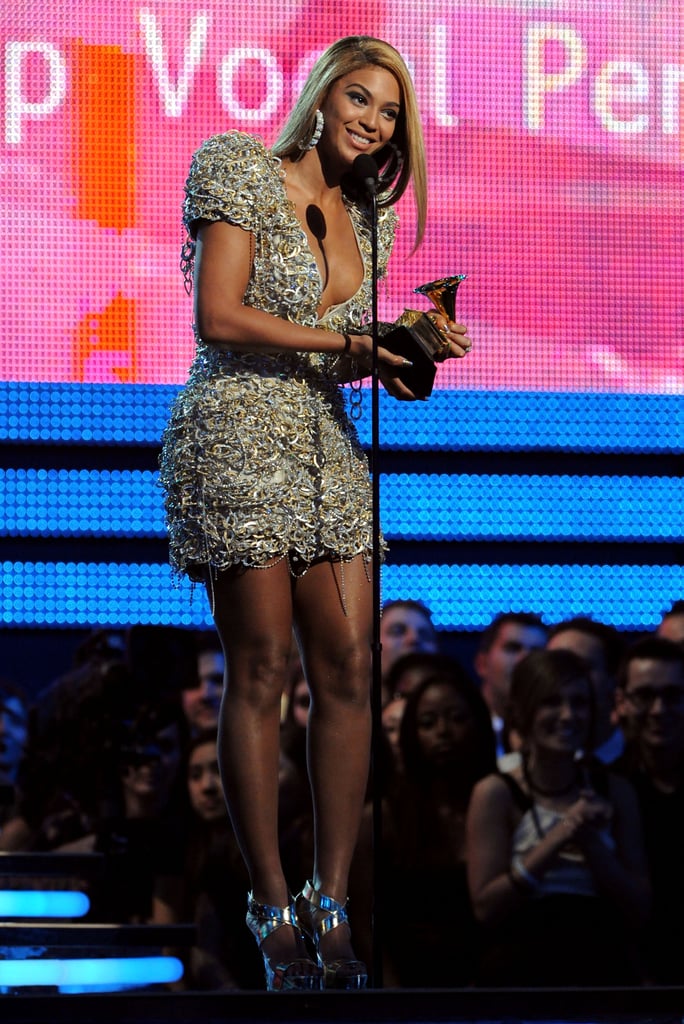 Beyoncé accepted an award in a stunning Armani Prive dress and Ruthie Davis shoes.
2010, Grammy Awards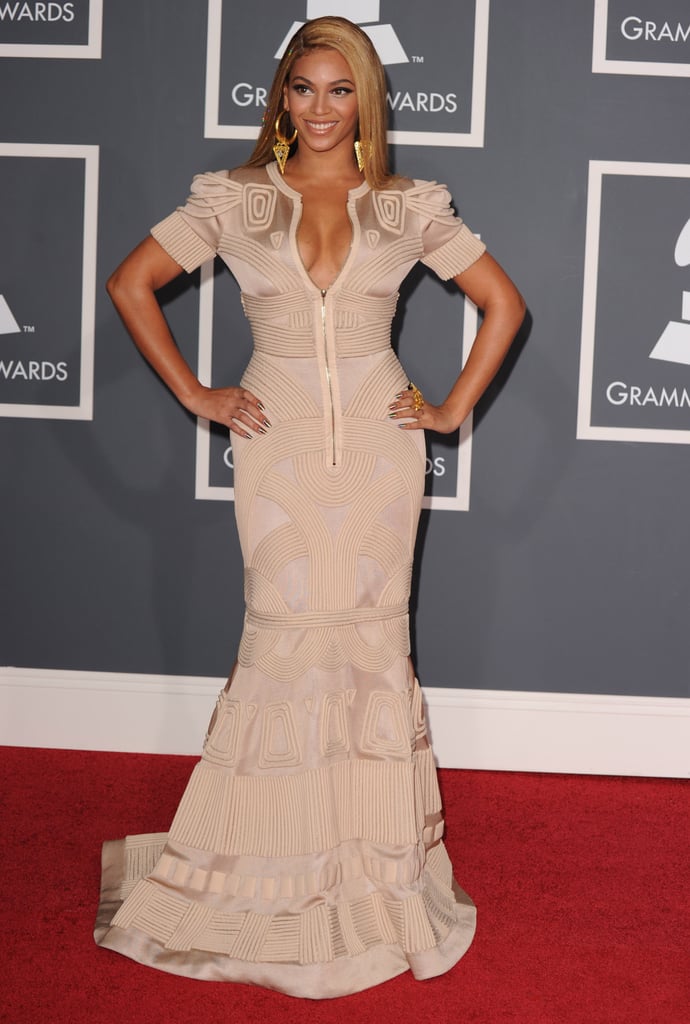 Hitting the red carpet in a dusty pink Stephane Rolland gown.
2009, MTV Europe Music Awards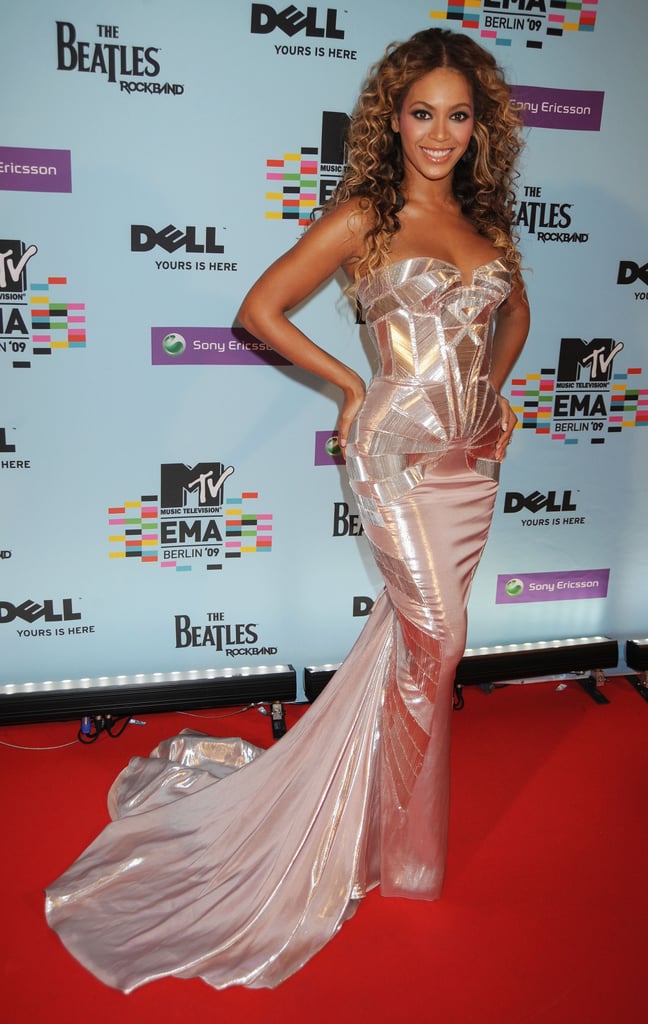 Simply stunning in an Atelier Versace fishtail gown.
2009, Billboard Women in Music Event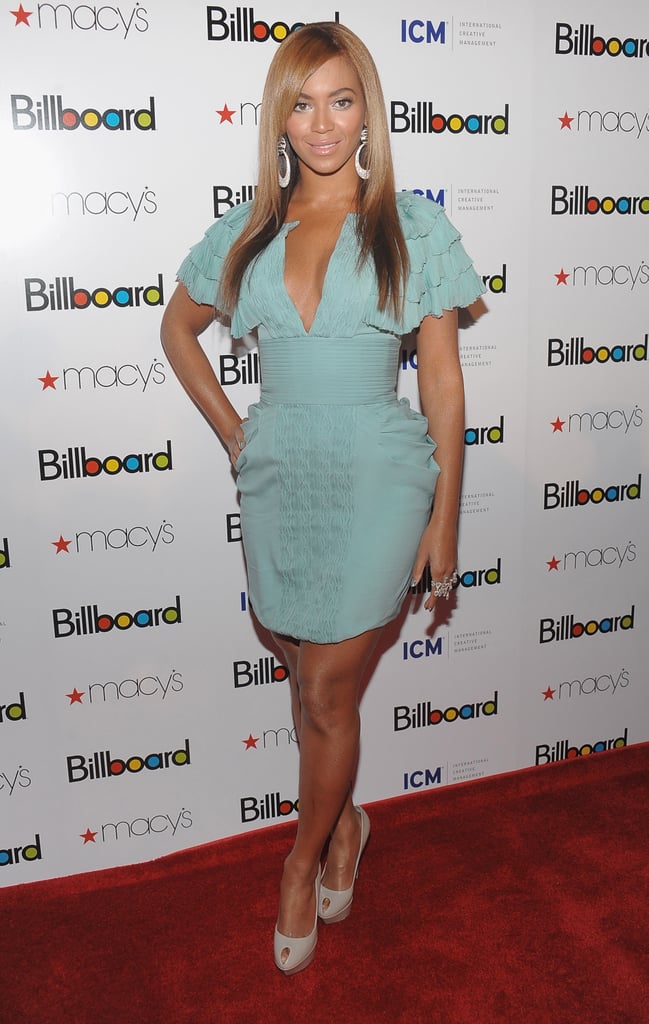 Looking chic and sophisticated in an icy blue Malandrino dress.
2009, MTV VMAs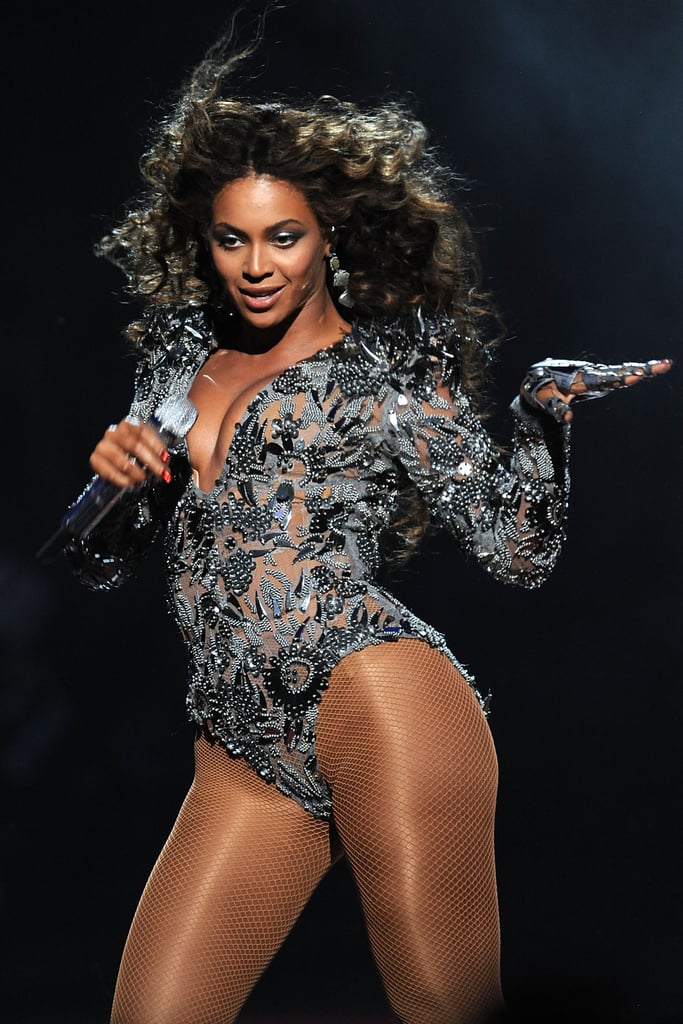 Beyoncé performed in a dazzling beaded bodysuit at the '09 VMAs.
2009, MTV VMAs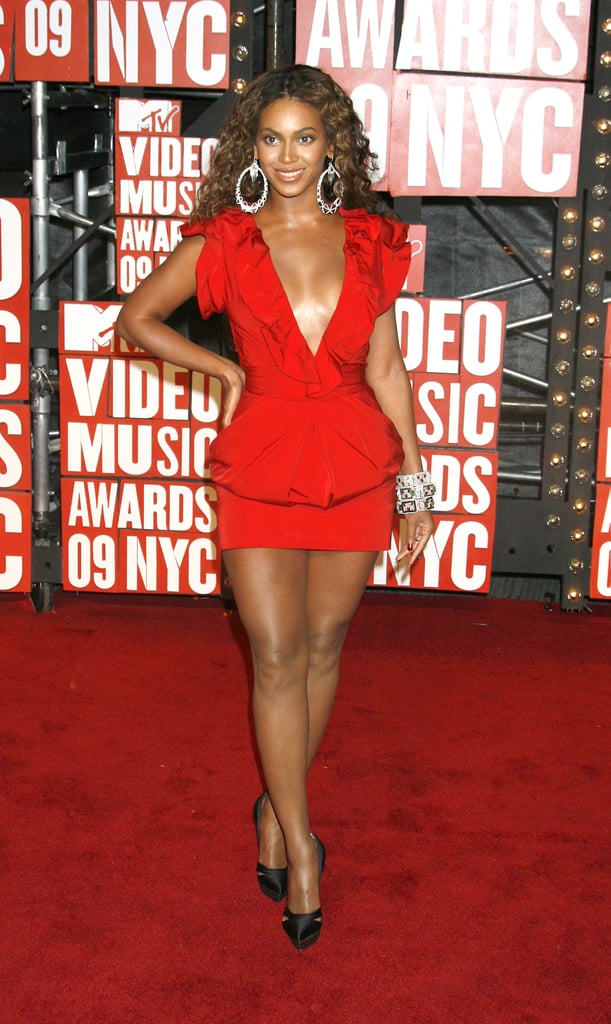 Beyoncé looked hot in a deep v-neck dress by Roberto Cavalli and lots of Lorraine Schwartz diamonds.
2009, NYC Screening of Obsessed
Making her mark on the red carpet in a sexy asymmetrical Balmain gown.
2009, In London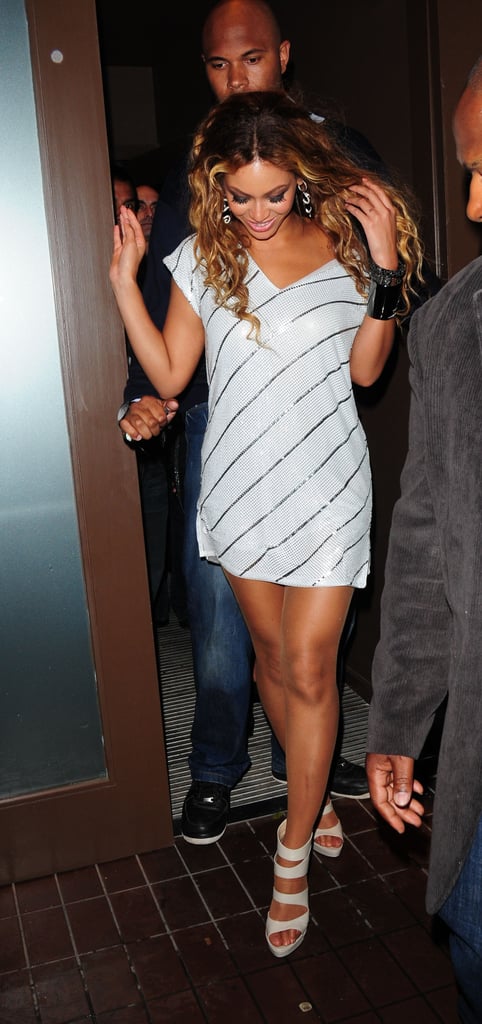 Wearing a sexy striped Reiss dress to a London nightclub.
2009, BET Awards
Beyoncé rocked this multicolored Balmain dress on the red carpet.
2008, Kennedy Center Honors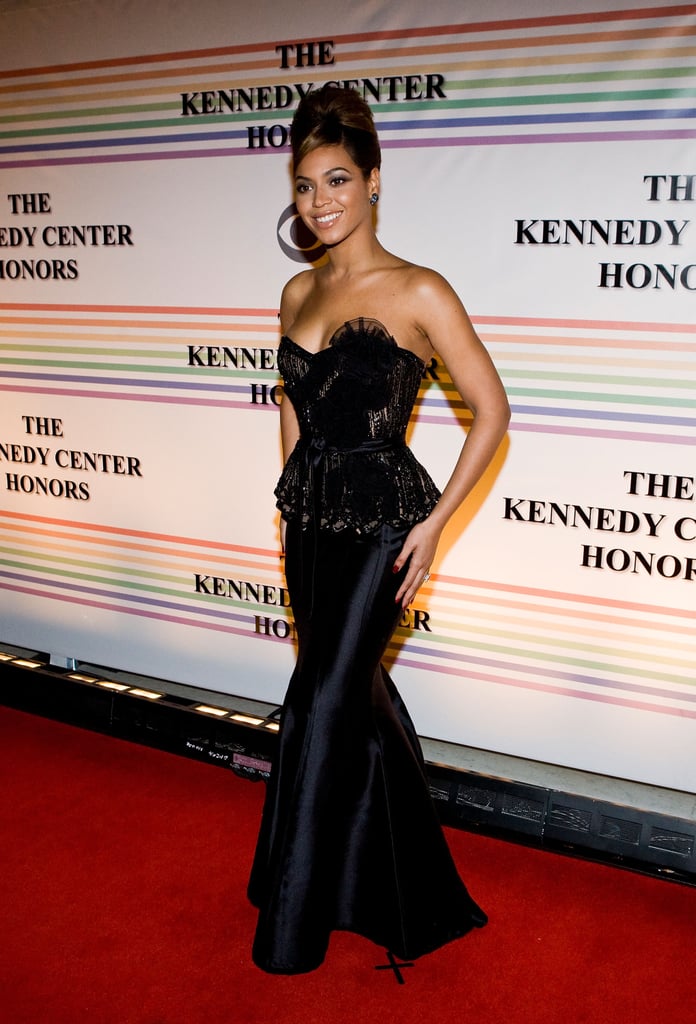 Looking like the picture of Hollywood glamour in a black Zuhair Murad gown.
2008, American Music Awards
Wearing a hot graphic look while performing in '08.
2008, MTV Europe Music Awards
Beyoncé performed in a futuristic Gareth Pugh dress.
2008, In NYC
In an Etro minidress with leggings and ankle boots after an appearance on TRL.
2008, Sony/BMG Grammy Afterparty
In a sunny yellow Jef Billings gown and diamond drop earrings.
2007, Golden Globe Awards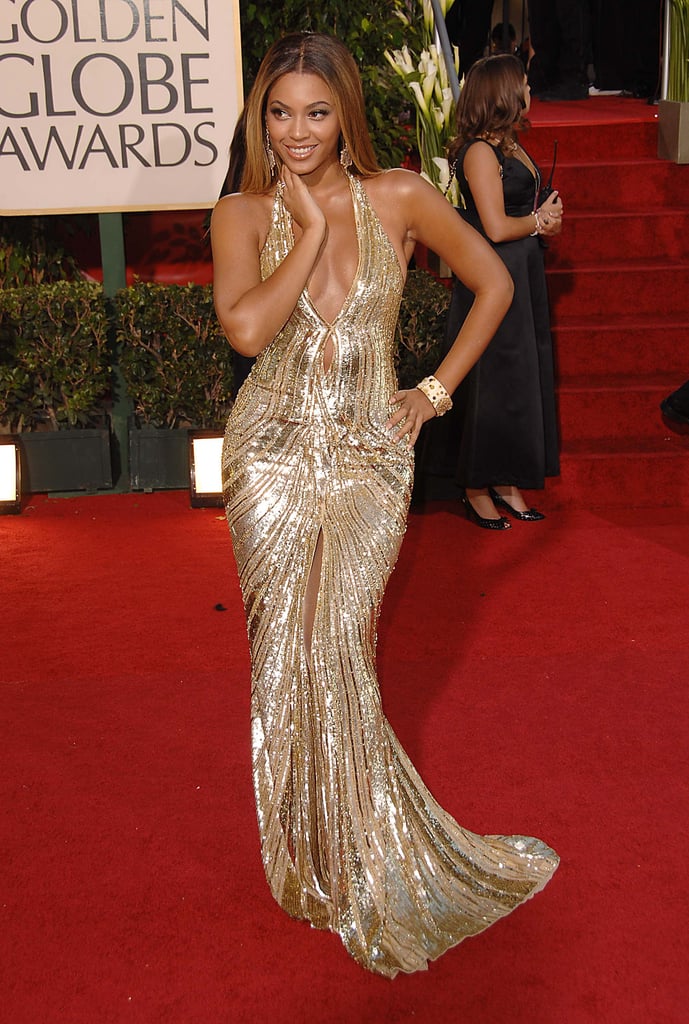 B vamped it up in a gold sequin Elie Saab dress.
2007, AmfAR New York City Gala
This light pink, deep v-neck gown complemented Beyoncé's flawless skin tone.
2007, Sony/BMG Grammy Afterparty
Beyoncé showed yet another sexy side of herself in a backless sequined gown.
2006, In NYC
Beyoncé channeled the swinging '60s in a bright yellow getup and hot pink headband.
2006, T-Mobile NBA All-Star Party
Stepping out in a kelly green pencil dress and black heels.
2006, Late Night With David Letterman
Looking pretty in pink before making a TV appearance.
2006, Paris Fashion Week
Beyoncé was straight out of Bonnie and Clyde while attending Paris fashion shows.
2005, Vanity Fair Oscar Party
Beyoncé wore this cool baby blue Roberto Cavalli dress to the Oscars afterparty.
2005, MTV TRL
In '05, Beyoncé went western in a denim bustier dress and wide leather belt.
2005, New York Fashion Week
While attending Fashion Week shows, B kept warm in a fur coat.
2004, Macy's
Beyoncé showed she can get down with denim while promoting her True Star fragrance at Macy's.
2004, MTV Video Music Awards
Wearing a custom-made gold short suit by her mom, Tina Knowles.
2004, The Verizon Ladies First Tour
In a gold getup for a 2004 performance.
2004, BET Awards
Beyoncé stayed tastefully sexy on the red carpet in '04.
2004, Grammy Awards
Beyoncé wore this pink beaded and feathered frock while performing with Prince.
2003, Billboard Music Awards
Beaded fringe and dripping in diamonds in '03.
2003, Fashion Rocks
Beyoncé looked like liquid silver in this minidress.
2003, MTV TRL
Beyoncé went casual in '03 with loose-fitting cargo pants and a bustier top.
2003, VH1 Divas Duets
In an artful webbed gown before performing.
2002, Austin Powers in Goldmember Premiere
Beyoncé channeled her '70s-cool character Foxy Cleopatra in a sassy fringe minidress.
2001, MTV Movie Awards
Beyoncé wore a yellow dress and matching flower in her hair.
1999, Soul Train Lady of Soul Awards
With the original members of Destiny's Child in matching black sequined ensembles.