The excitement of Beyoncé's Mrs. Carter Show World Tour hasn't dimmed any; in fact, with every onstage ensemble, we're reminded just why Queen Bey has earned her status as the ultimate performer. The singer has not disappointed in sequins, leotards, curve-hugging jumpsuits, baseball caps, and sheer details, courtesy of custom designs from Emilio Pucci and Kenzo. Take a closer look at her stage-style moments thus far.
— Additional reporting by Marisa Tom
Showing off her newly cropped locks [1] and a fringed Emilio Pucci look, B hit the stage at the V Festival.
There's maybe nothing hotter than Beyoncé's glittering blue bodysuit.
Beyoncé struck a fierce pose in her equally fierce gold and black bodysuit with a tiered asymmetrical skirt.
Beyoncé rocked black-and-white Gucci — with a touch of red on her heels — while belting out a song on stage.
Queen Bey took the stage in a sheer and embellished Givenchy Haute Couture bodysuit, complete with tough-girl Stuart Weitzman boots.
Beyoncé channeled a boho-goddess vibe in a fringed minidress and thigh-high lace-up boots.
Check out the embellished and fringed detailing on Beyoncé's minidress.
Beyoncé popped in her custom-made Emilio Pucci acid green, purple, and black leopard-print beaded dress while performing in LA.
The singer got wild in her equally bold getup.
Beyoncé pulled off a beaded leotard and over-the-knee lace-up boots.
Beyoncé got frisky in a colorful animal-print bustier Kenzo ensemble.
The back of Beyoncé's Kenzo shorts featured a tiered tail. She completed the look with nude fishnet stockings and colorful booties.
Beyoncé was undeniably red hot in her flowy gown.
It was all about that detailed bodice and fiery hue.
The singer belted out a tune wearing a sequined animal-print minidress with lace-up boots.
Beyoncé serenaded the crowd in a plunging black leather leotard and matching thigh-high boots.
Beyoncé was on fire — literally — in yet another sequined number.
Beyoncé and her dancers busted a move in matching black and gold getups.
A closer look at Beyoncé's black and gold look.
The back side featured a tiered skirt, which was as sassy as the front.
Beyoncé rocked it out in a black leather Emilio Pucci ensemble, including a double-breasted blazer dress and thigh-high boots.
The singer coordinated with her leather-clad backup singers.
Beyoncé busted a move in her studded Givenchy cape getup.
Beyoncé shimmered in a plunging purple sequined jumpsuit.
The purple jumpsuit showed off the singer's curves perfectly.
Beyoncé rocked an all-black look, including a studded one-piece with a matching Givenchy cape.
Beyoncé's luscious curls popped out of her studded baseball cap.
Beyoncé looked out on her fans wearing a white, sheer striped leotard with nude fishnet tights — we especially love the fringed shoulder detail.
While interacting with her fans, Beyoncé sparkled (literally) in a purple plunging sequined jumpsuit.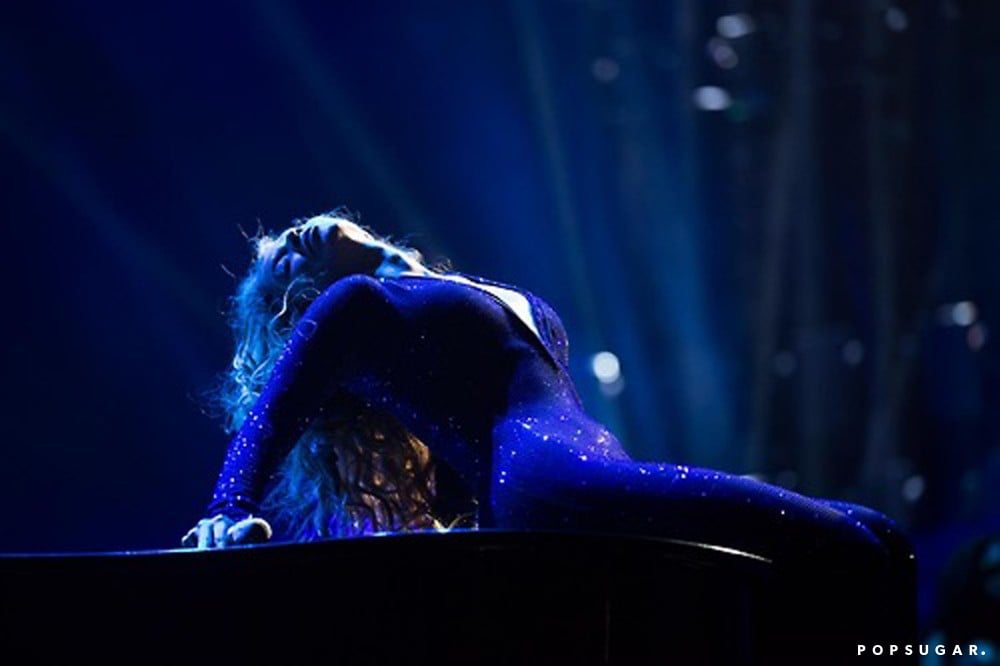 The singer arched her back in her purple sequined jumpsuit.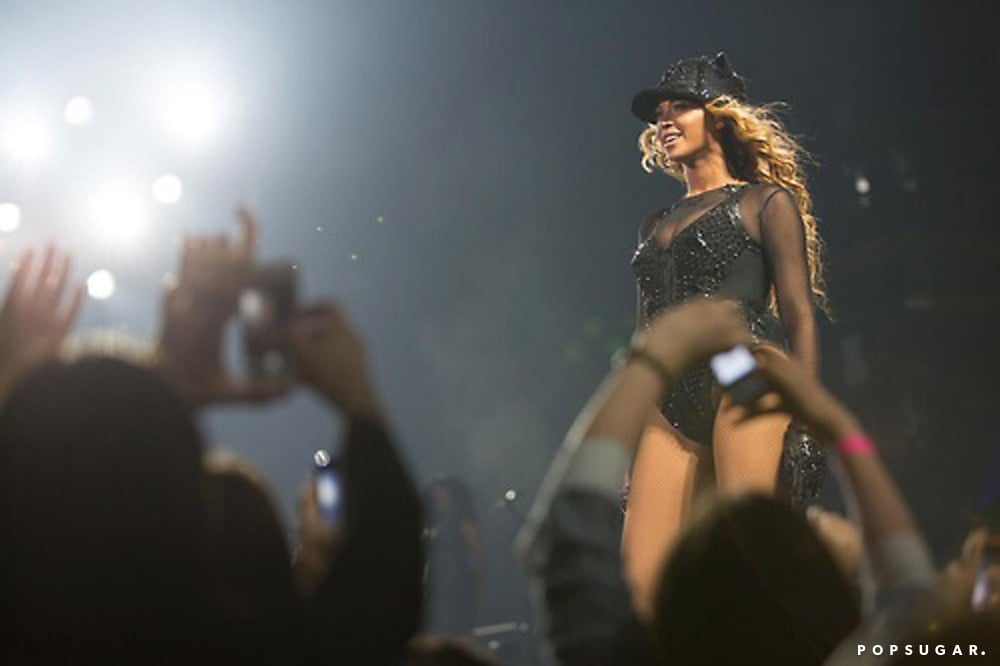 Beyoncé showed off a sportier look: a black embellished leotard with sheer sleeves and a matching baseball cap.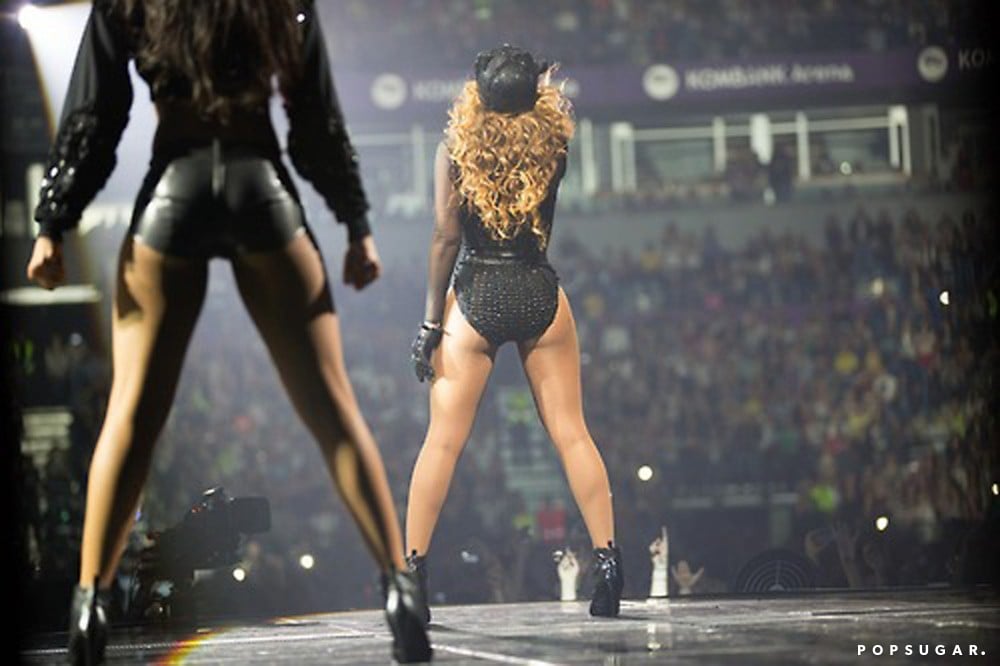 The rear view of Beyoncé's sporty getup — check out the awesome details: black leather glove and high-heeled booties.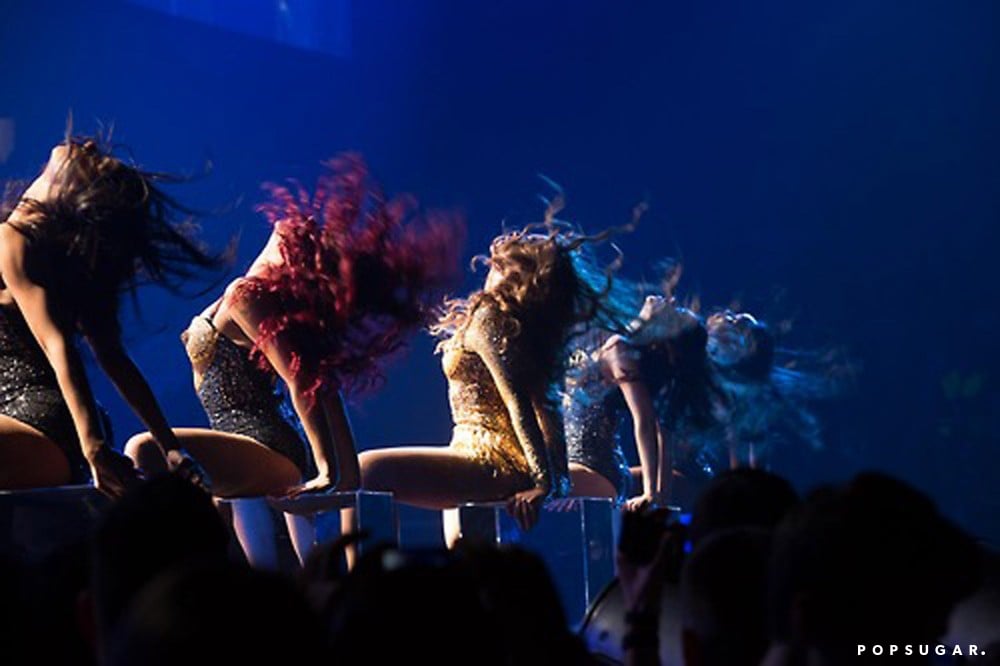 Beyoncé and her dancers all shined in embellished numbers on stage.