With camouflage invading our favorite brands, we could hardly wait to wear the print — thankfully, it's never too soon to give your look a little military-inspired makeover. Starting with these 17 pieces, we're outfitting our look with a tough-girl, cool-girl, even girlie-girl take on the pattern that, in every case, is just as statement-worthy.
If you need convincing, then think sweet ballet flats with a camouflage finish, a classically vintage army jacket, and a city-perfect carryall courtesy of Phillip Lim. In short, you can wear it just about any way you want to. Just click through to shop the coolest camo on the market now.
Source: Getty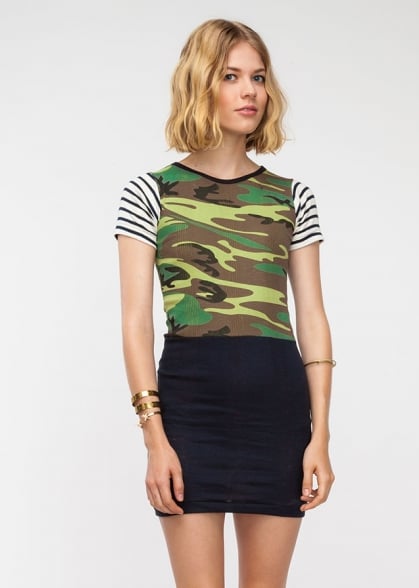 Edith A. Miller's combo crewneck dress [1] ($161) combines stripes and camo for a knockout little day dress — not to mention an ultraflattering colorblock effect.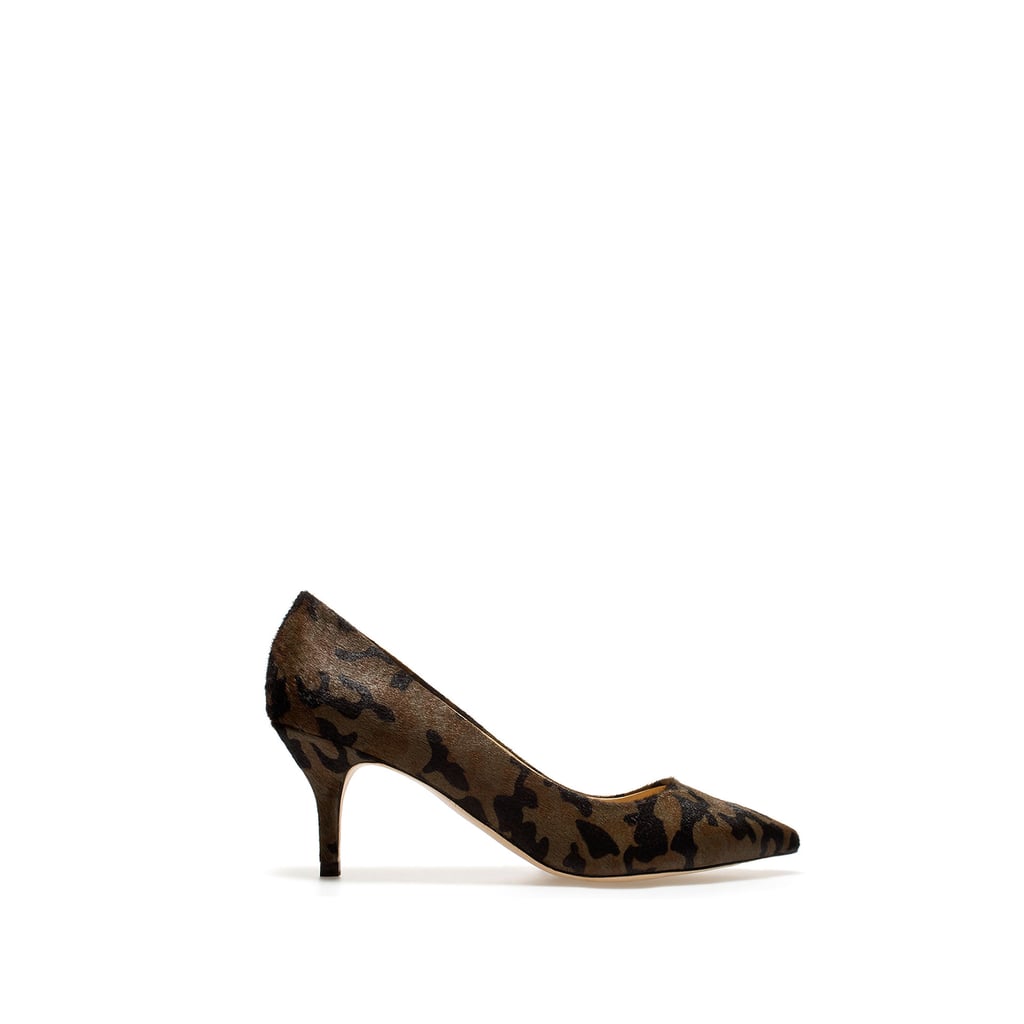 Zara's leather court shoe [2] ($50, originally $90) is one of the chicest takes on camo — that's also office-appropriate.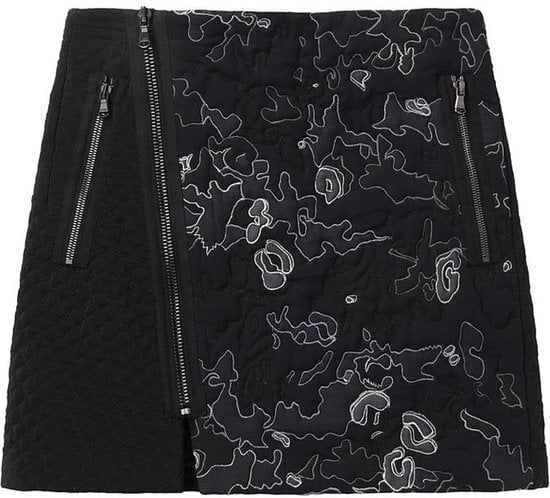 Sign us up for this quilted take on camo [3] ($425) via 3.1 Phillip Lim — we can wear it now with sandals and later with ankle boots.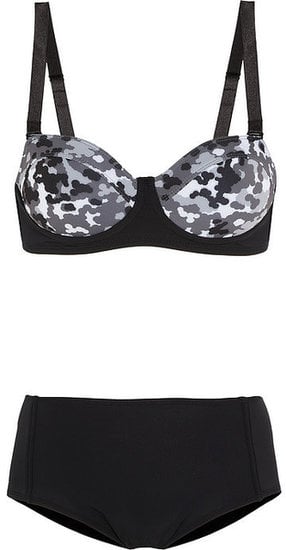 Camo at the beach? This Beth Richards Brigitte camo-print underwired bikini [4] ($260) makes it possible with a cool-girl upgrade on a classic silhouette.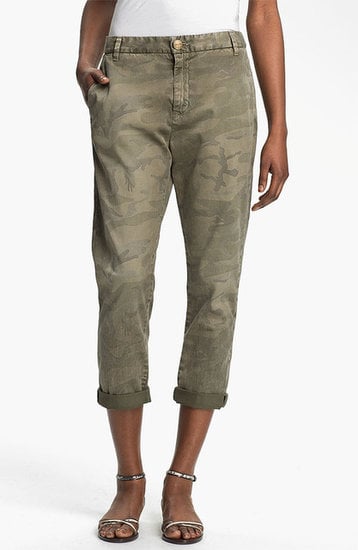 You'll live in these tomboy-feeling Current/Elliott Buddy printed twill trousers [5] ($238).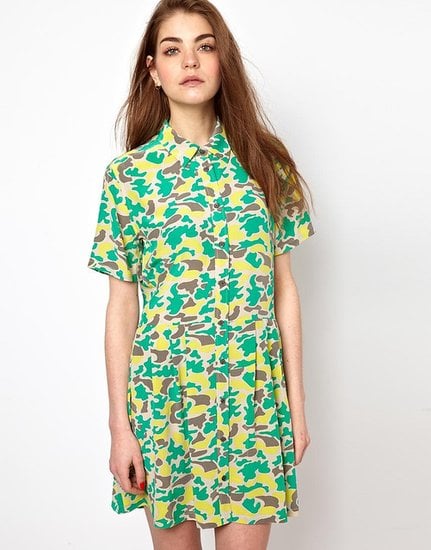 A classic silhouette with a totally on-trend print makes this Equipment Naomi silk shirtdress [6] ($592) the best of both worlds.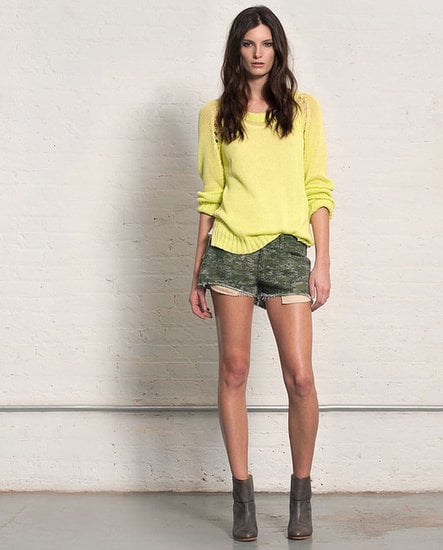 This pair of Rag & Bone Mila shoes [7] ($154) might be at the top of our list. We'd wear them now with a cool white tank and gladiator sandals, but come Fall, we'd add a pair of ankle boots and a cozy sweater.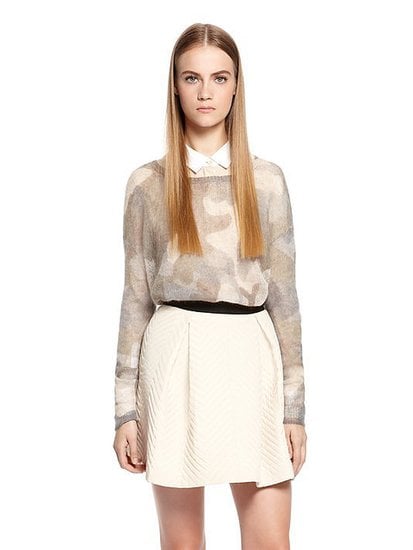 This DKNY scoop-neck pullover sweater [8] ($235) is subtle enough for even camo skeptics.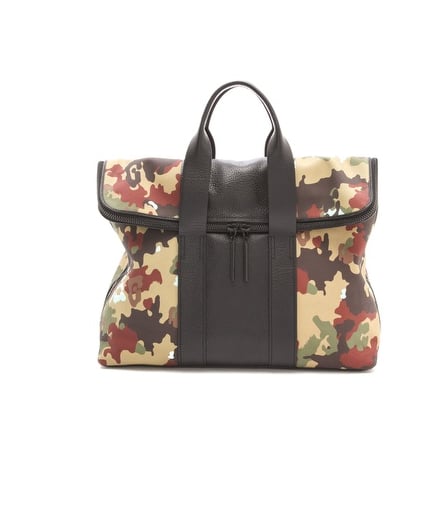 We can think of few carryalls with as much personality as this 3.1 Phillip Lim canvas 31 Hour bag [9] ($595).
Yes, you can totally make camo print girlie — this Cynthia Rowley brocade flounce dress [10] ($525) is the proof.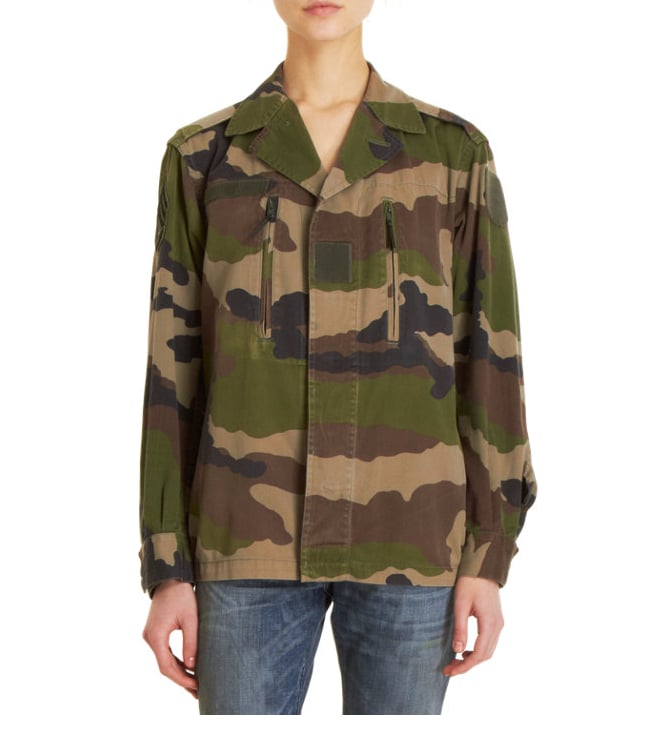 Complete your wardrobe with a vintage classic — you'll find yourself wearing this Barneys New York Co-Op vintage army jacket [11] ($289) with just about everything in your closet.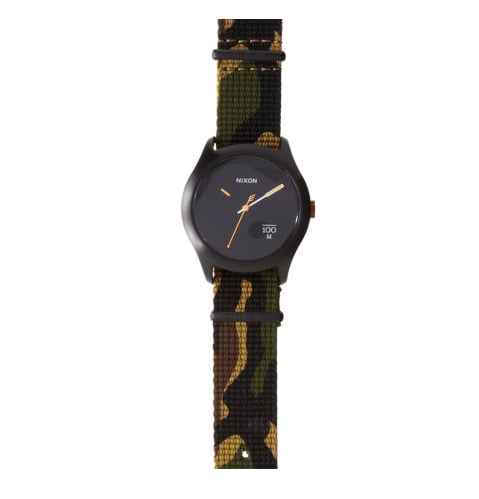 Take the trend for a test drive with this Nixon The Quad Surplus watch [12] ($125).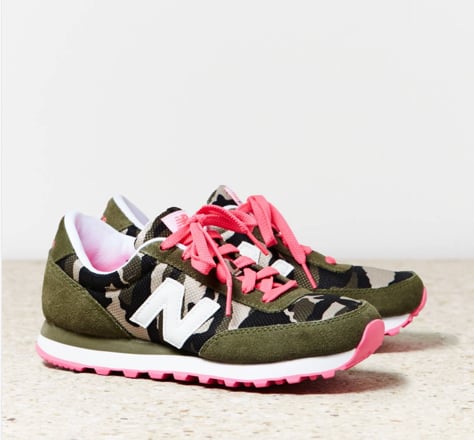 Score two trends in one with these New Balance 501 Sneakers [13] ($65).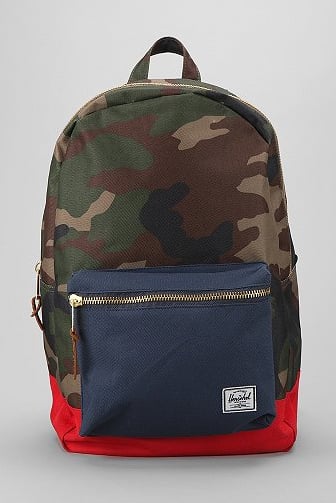 We'd add this Herschel Supply Co. Camo Colorblock Settlement Backpack [14] ($64) to our off-duty cutoffs and t-shirts to amp things up a bit.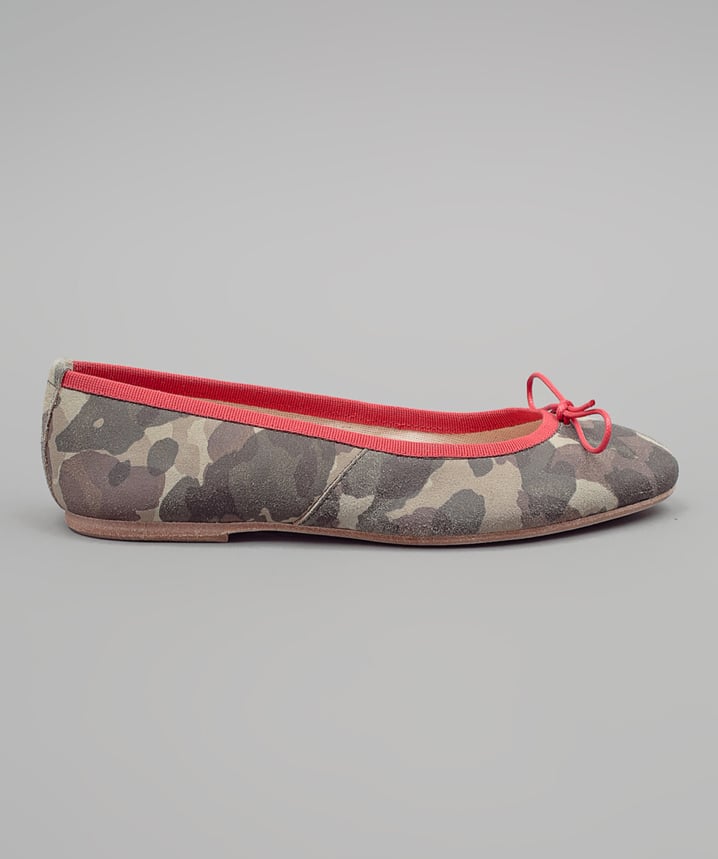 We love that this Madison et Cie Camo Ballet Flat [15] ($165) walks the line between classic, girlie, and totally on-trend.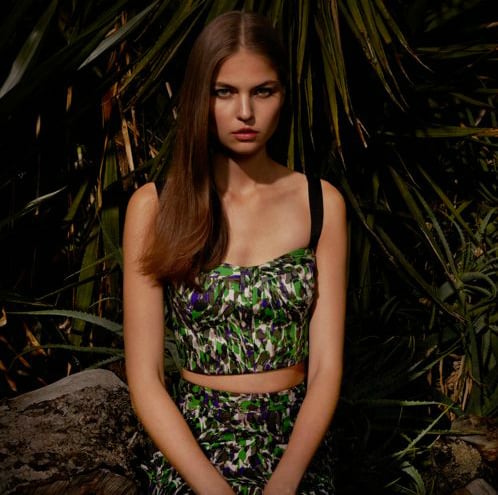 Not for the wallflowers, this Club Monaco Jade Bra Top [16] ($99) makes a statement. Try it with high-waisted cutoffs for a hot night in the city.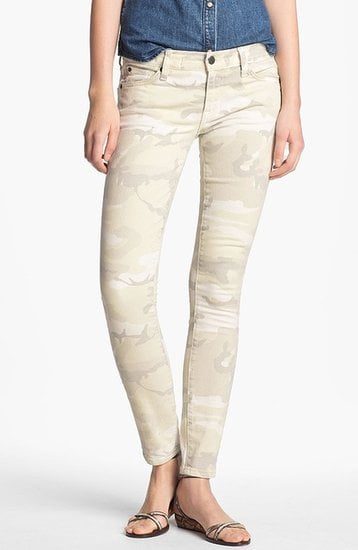 The sandy hue of Textile Elizabeth and James's Debbie Camo Print Stretch Jeans [17] ($190) makes it easy to mix and match the clothes already in your closet.
---
Links:
[1] http://www.shopstyle.com/item/edith-a-miller-need-supply-co-dresses-combo-crew-neck-mini-dress/431616154?pid=uid2601-1693699-98
[2] http://www.zara.com/us/en/woman/shoes/leather-court-shoe-c434549p1194108.html
[3] http://www.shopstyle.com/item/31-phillip-lim-la-garconne-skirts-quilted-biker-skirt/430008338?pid=uid2601-1693699-98
[4] http://www.shopstyle.com/item/netaporter-twopiece-swimwear-beth-richards-brigitte-camoprint-underwired-bikini/432607200?pid=uid2601-1693699-98
[5] http://www.shopstyle.com/item/currentelliott-nordstrom-pants-shorts-the-buddy-print-twill-trousers/400942472?pid=uid2601-1693699-98
[6] http://www.shopstyle.com/item/equipment-asos-day-dresses-naomi-silk-shirt-dress-in-bright-camo/430604784?pid=uid2601-1693699-98
[7] http://www.shopstyle.com/item/camo-rag-bone-shorts-mila-short/403712225?pid=uid2601-1693699-98
[8] http://www.shopstyle.com/item/camo-dkny-crewnecks-scoopnecks-scoopneck-pullover-with--print/431931068?pid=uid2601-1693699-98
[9] http://www.shopstyle.com/item/31-phillip-lim-shopbopcom-satchels-canvas-31-hour-bag/432535865?pid=uid2601-1693699-98
[10] http://www.shopstyle.com/item/cynthia-rowley-shopbopcom-day-dresses-brocade-flounce-dress/430201611?pid=uid2601-1693699-98
[11] http://www.shopstyle.com/item/barneys-new-york-coop-barneys-new-york-jackets-vintage-army-jacket/432283616?pid=uid2601-1693699-98
[12] http://www.shopstyle.com/item/nixon-barneys-new-york-watches-the-quad-surplus/432291113?pid=uid2601-1693699-98
[13] http://www.shopstyle.com/item/new-balance-american-eagle-sneakers-501-sneaker/432607689?pid=uid2601-1693699-98
[14] http://www.shopstyle.com/item/herschel-urban-outfitters-backpacks-supply-co-camouflage-colorblock-settlement-backpack/422930934?pid=uid2601-1693699-98
[15] http://www.shopstyle.com/item/tucker-madison-la-camisoles-cami-print-top-summer/155279195?pid=uid2601-1693699-98
[16] http://www.shopstyle.com/item/club-monaco-jade-bra-top/431042657?pid=uid2601-1693699-98
[17] http://www.shopstyle.com/item/textile-elizabeth-and-james-nordstrom-stretch-denim-debbie-camo-print-stretch-jeans/422540021?pid=uid2601-1693699-98

---