Though there are countless designers to choose from when a woman wants to look beautiful, when her goal is to be a lady, nobody suits her better than Carolina Herrera. Perhaps that's because Herrera herself is the quintessential lady in her signature crisp, white button-downs and neatly shorn locks. The Venezuelan beauty's personal style — formed from the early age of 13 when she first attended Haute Couture shows — is as much an influence on her feminine and printed gowns as the botanical inspirations she finds for her often floral designs. Click through to see where Herrera's been as we look forward to where she's going for Spring 2015.
Fall 2014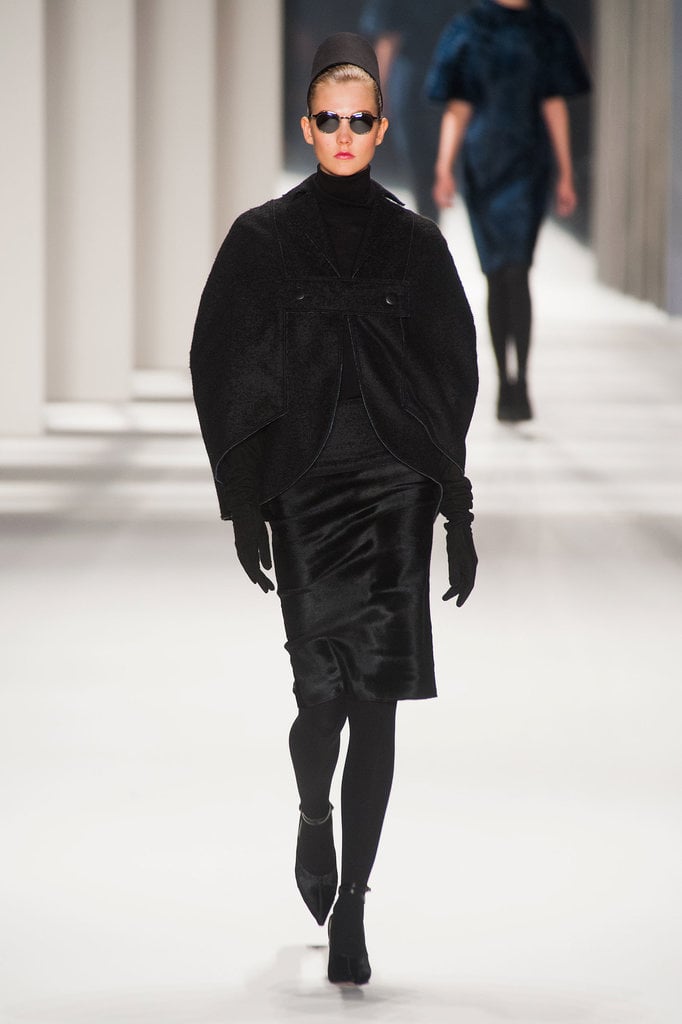 With cone hats, major dangling earrings, and beehive buns, the mood was firmly set for a romp through the late '60s on Park Avenue.
Fall 2014
Mink sweaters, bell-sleeve jackets, trapeze dresses, and even a broadtail dress made for a luxe collection that Herrera referred to as "an exploration of soft construction and volume" in her show notes.
Fall 2014
Prints played a major part, with bold red and cobalt providing the background for a firestone pattern on floating organza gowns.
Spring 2014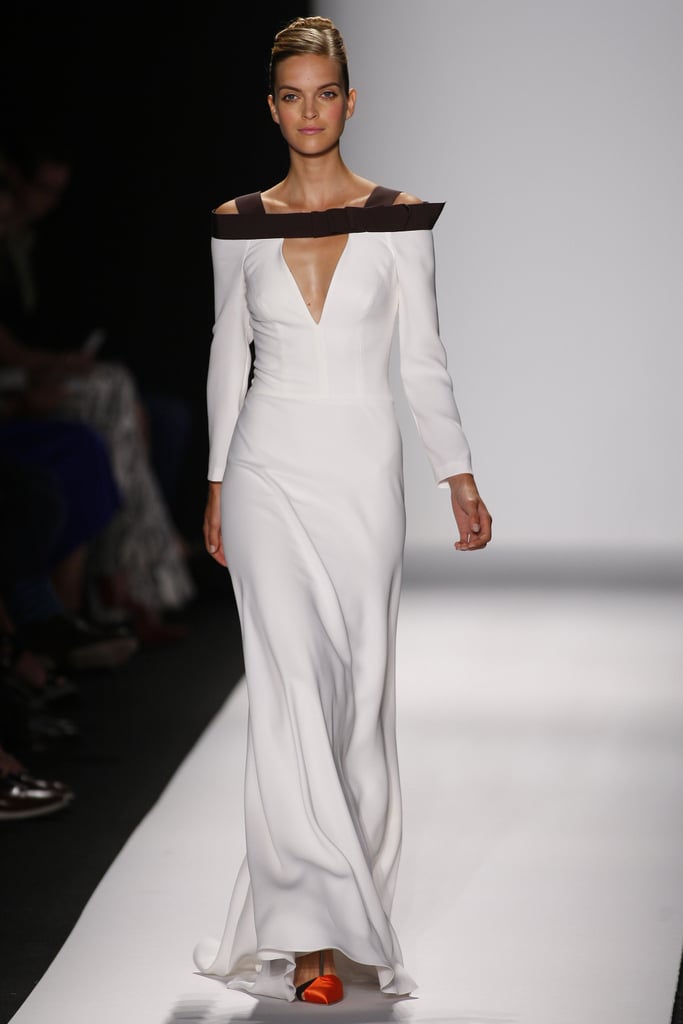 Herrera graced us with crisp, clean designs as well, like this white gown that took advantage of the linear influence.
Spring 2014
Layering geometric shapes over a coral column, the designer emphasized the importance of shapes.
Spring 2014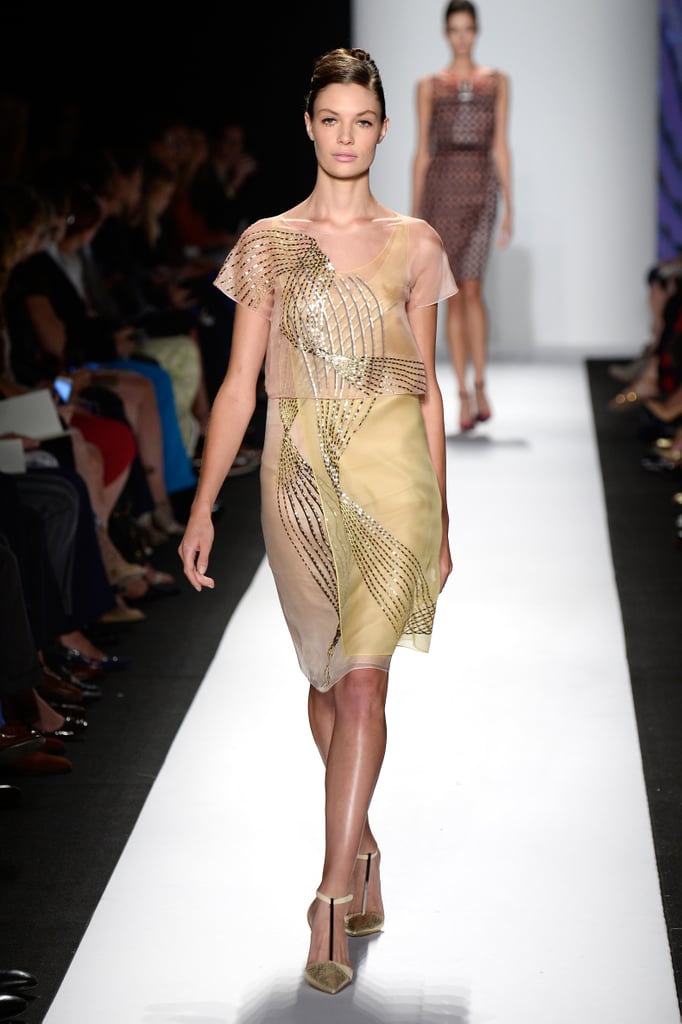 Herrera gave us a lesson in geometry with linear and abstract prints.
Fall 2013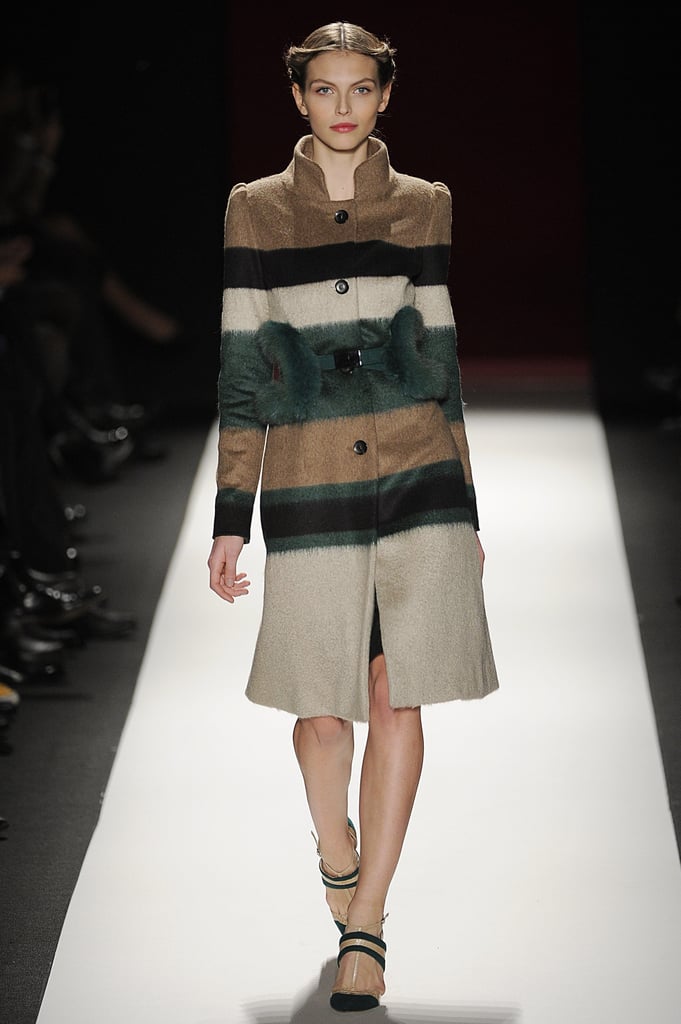 Warm hues and bold stripes made this coat a topper you wouldn't want to take off once inside.
Fall 2013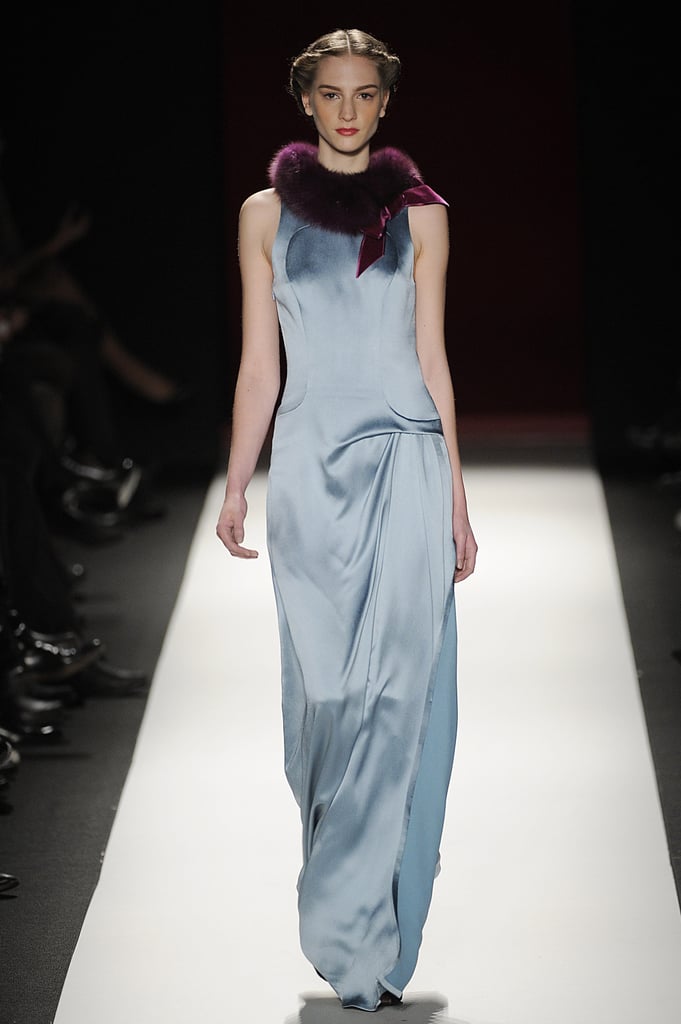 Structured silk and plush fur epitomized the luxury of this collection.
Fall 2013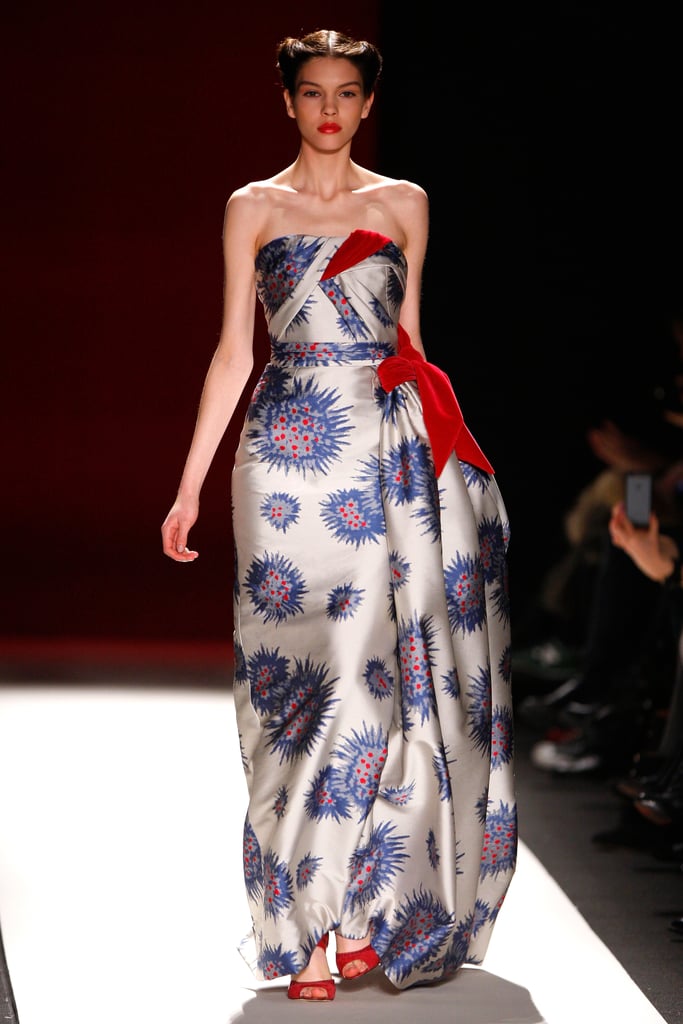 After a more subdued collection, Herrera made a return to glamour with her opulent Fall collection.
Spring 2013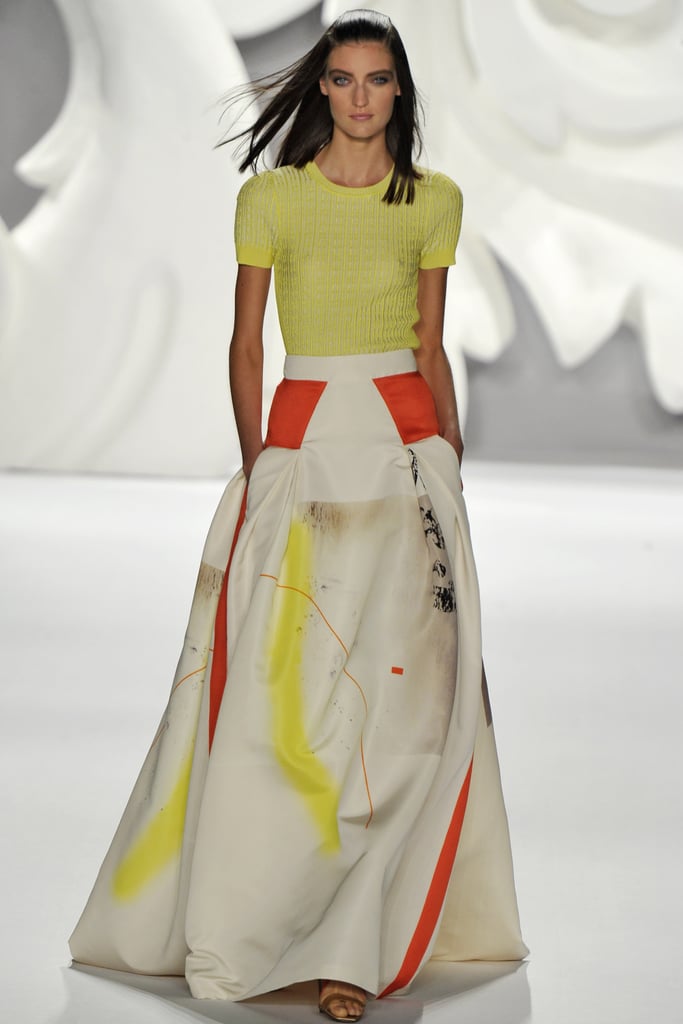 If anyone doubted yellow and orange go together, Herrera proved them wrong.
Spring 2013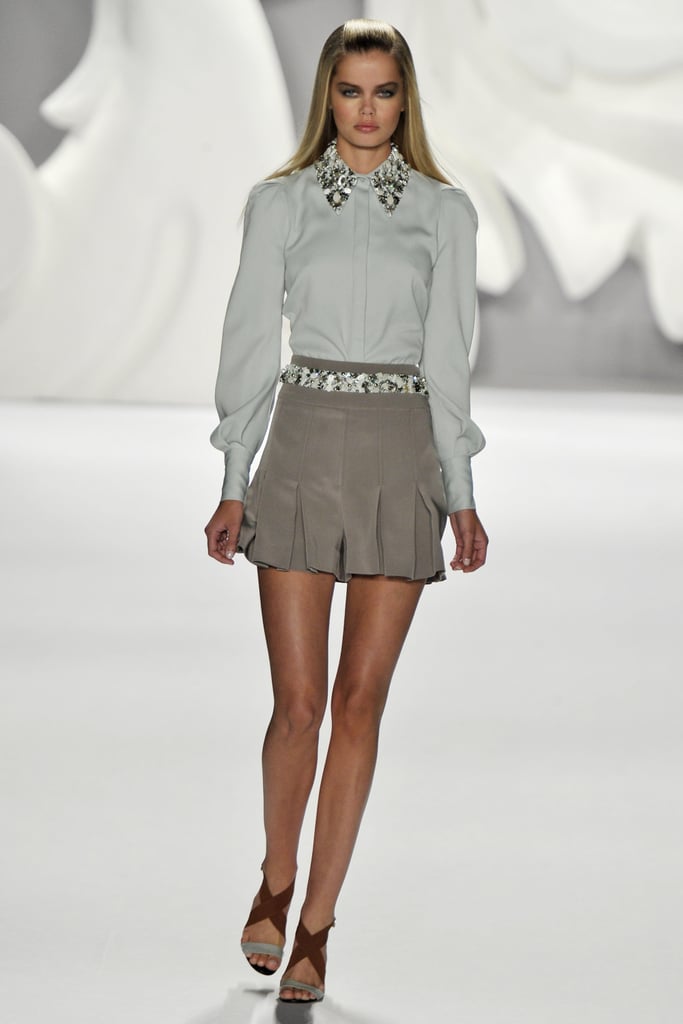 Mint made for a serene palette in a collection that was punctuated with pops of bold flame.
Spring 2013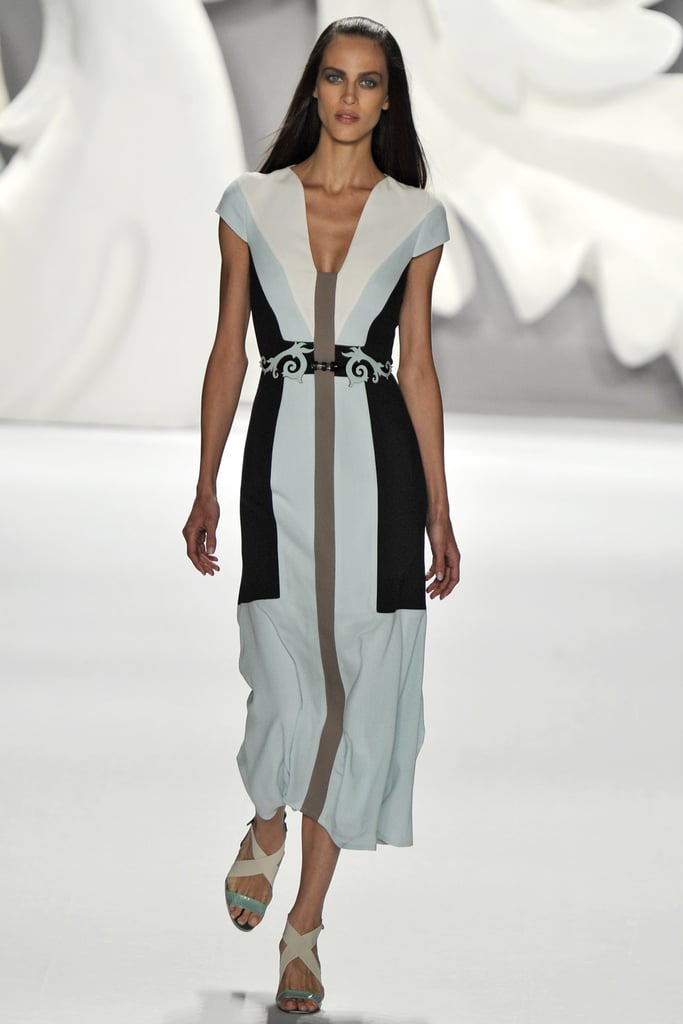 The cool Grecian influence came through in oceanic hues and decorative motifs.
Fall 2012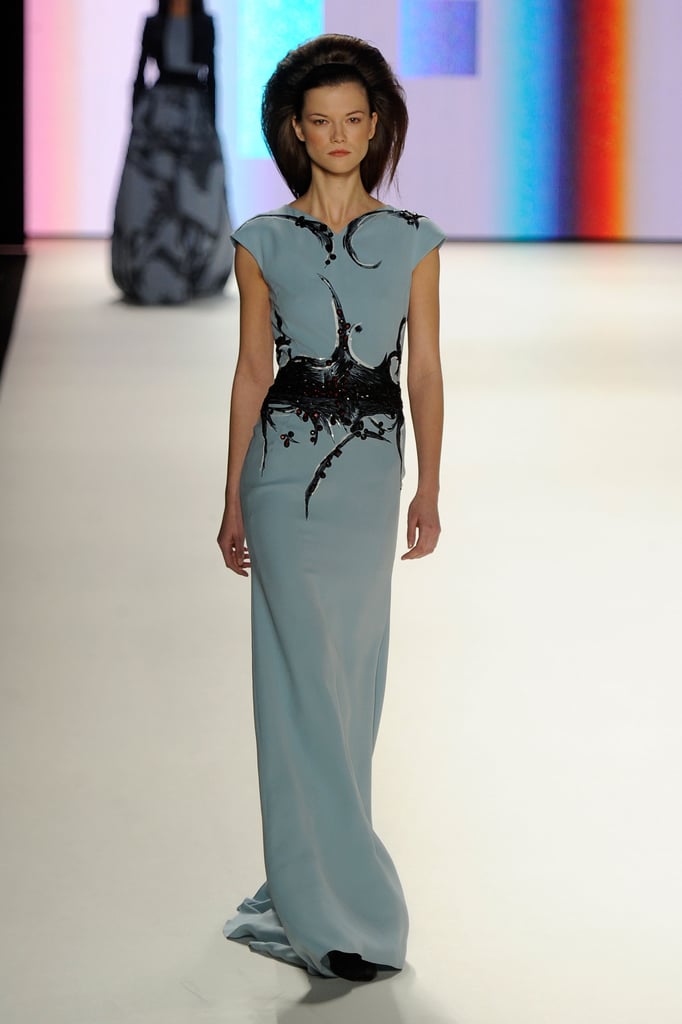 Inspired by painters, Herrera's Fall 2012 collection was touched by brushstrokes.
Fall 2012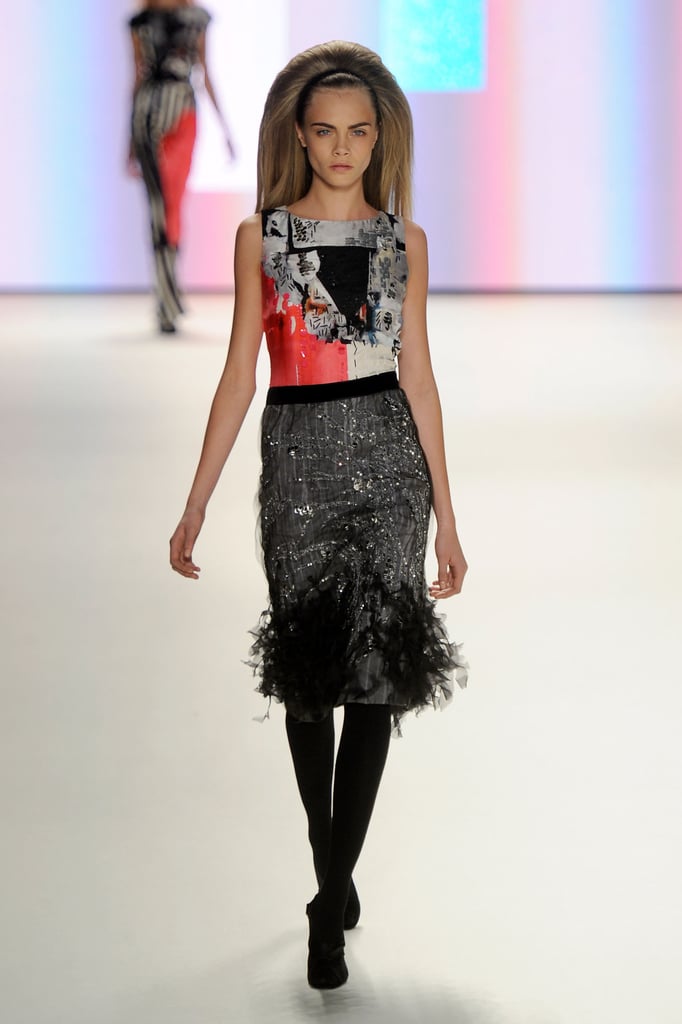 Once again mixing prints and textures, Herrera's Fall 2012 cocktail dress was a playful party number.
Fall 2012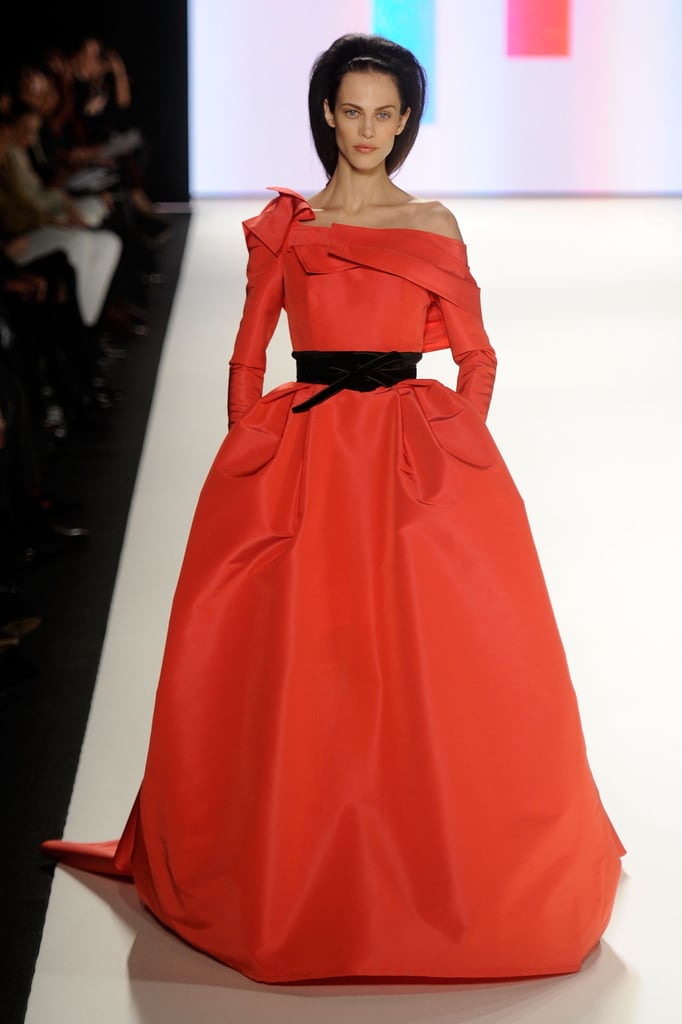 Herrera defined "showstopper" with her dramatic, off-the-shoulder ballgown.
Spring 2012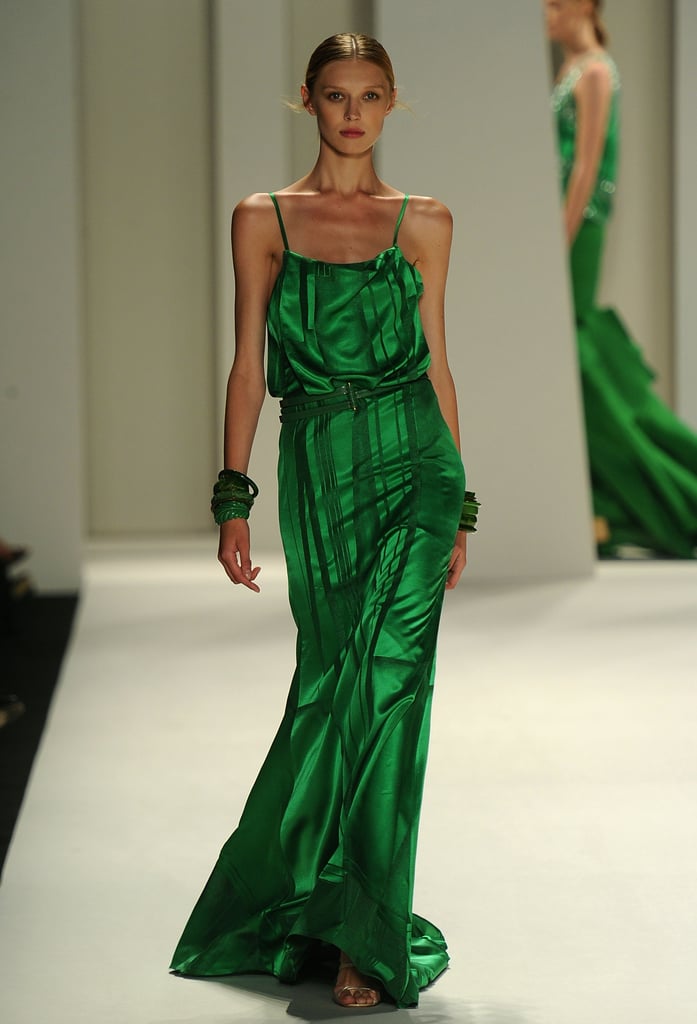 This red-carpet-worthy number was given its moment in the spotlight by Olivia Munn.
Spring 2012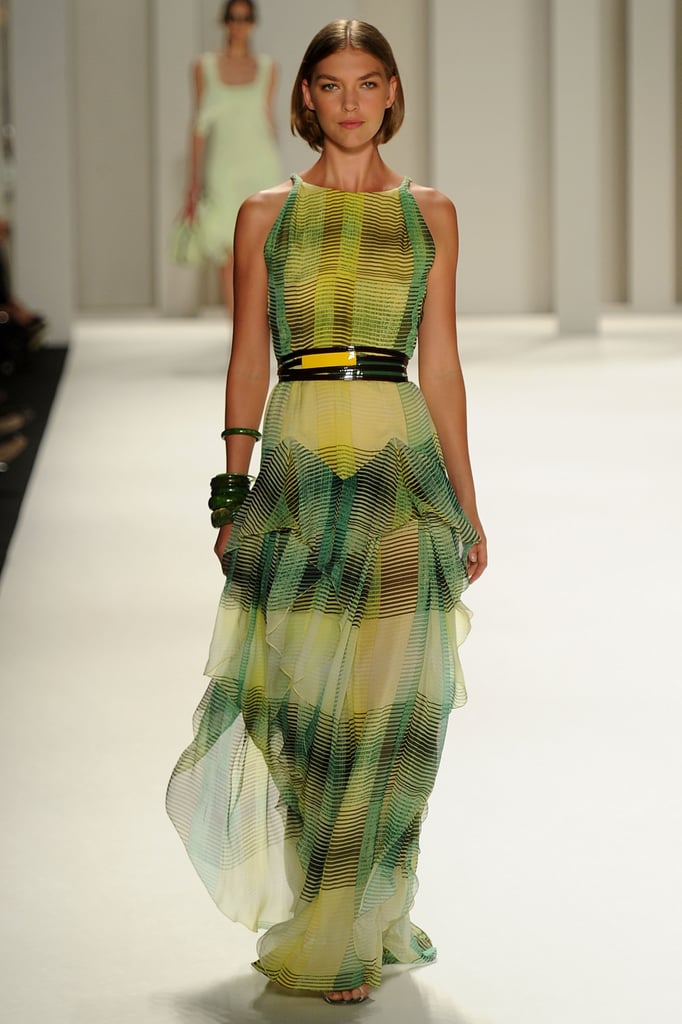 A nipped waist was balanced with the relaxed charm of this chiffon gown.
Spring 2012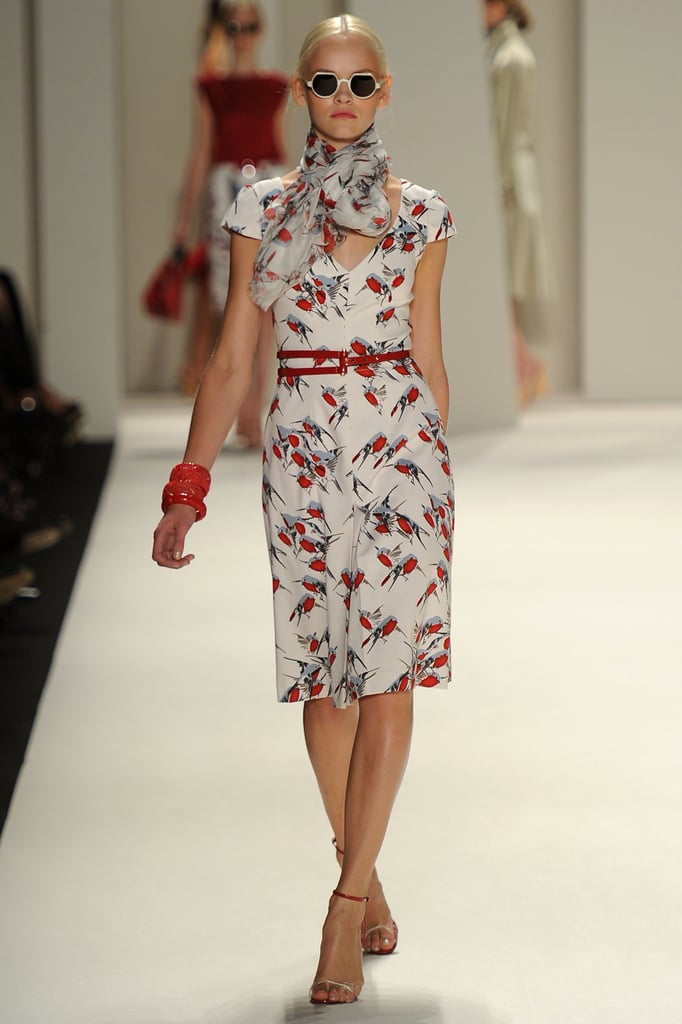 In Spring 2012, Herrera went to the birds, literally, and found inspiration from our feathered friends.
Fall 2011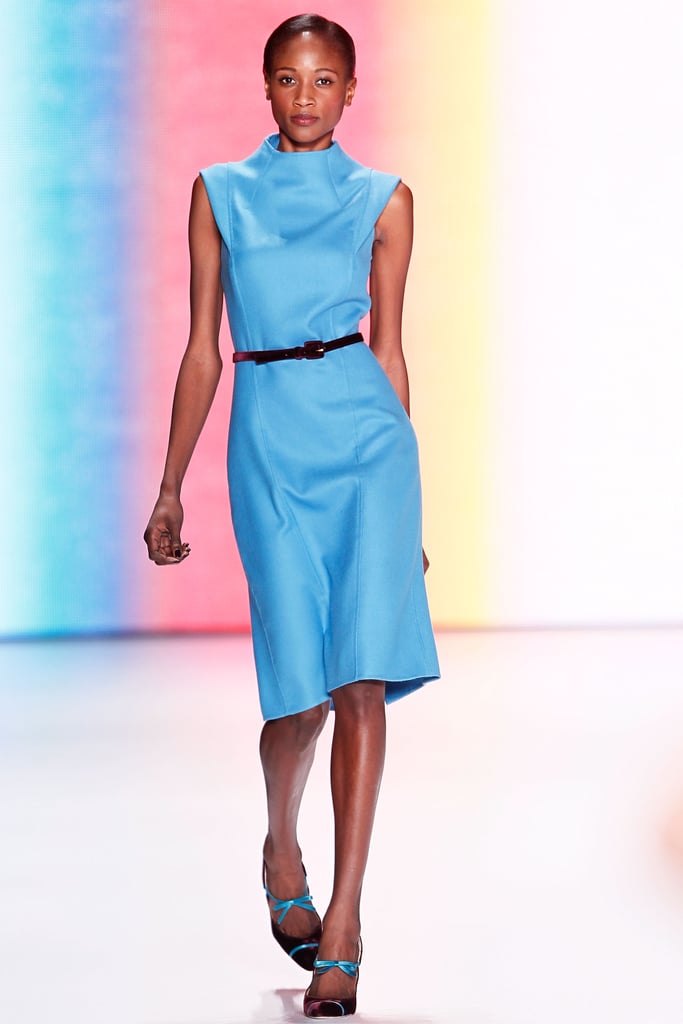 For Fall 2011, a pretty pastel blue stole the show.
Fall 2011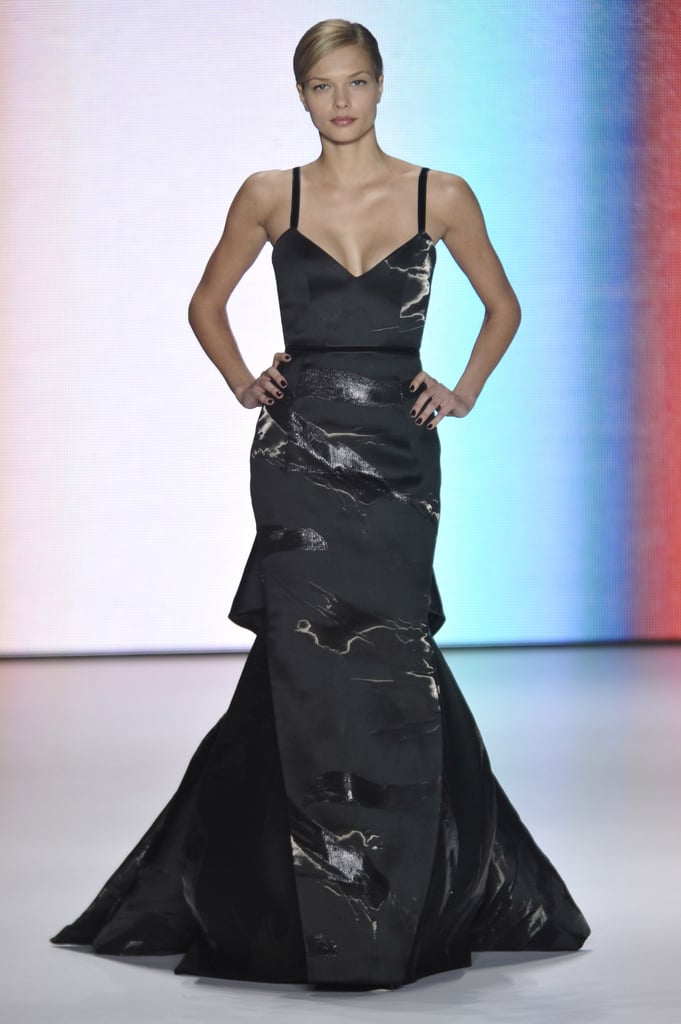 Even though she's a master of color, Herrera proved that she does simple black just as impressively.
Fall 2011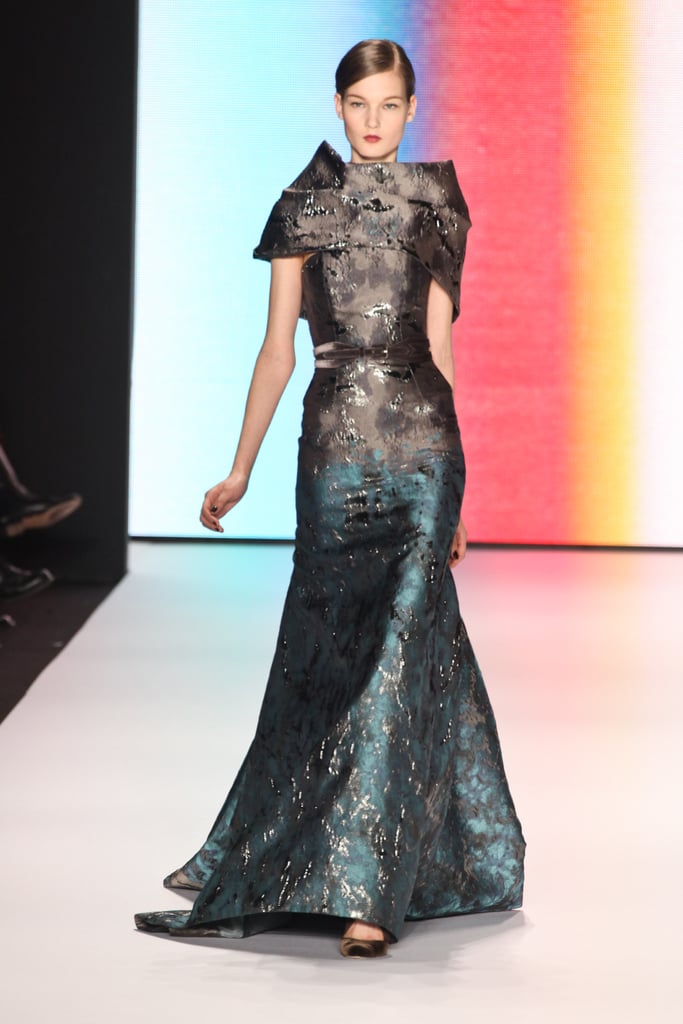 Herrera's ombré gown moved as effortlessly as the colors transitioned from top to bottom.
Spring 2011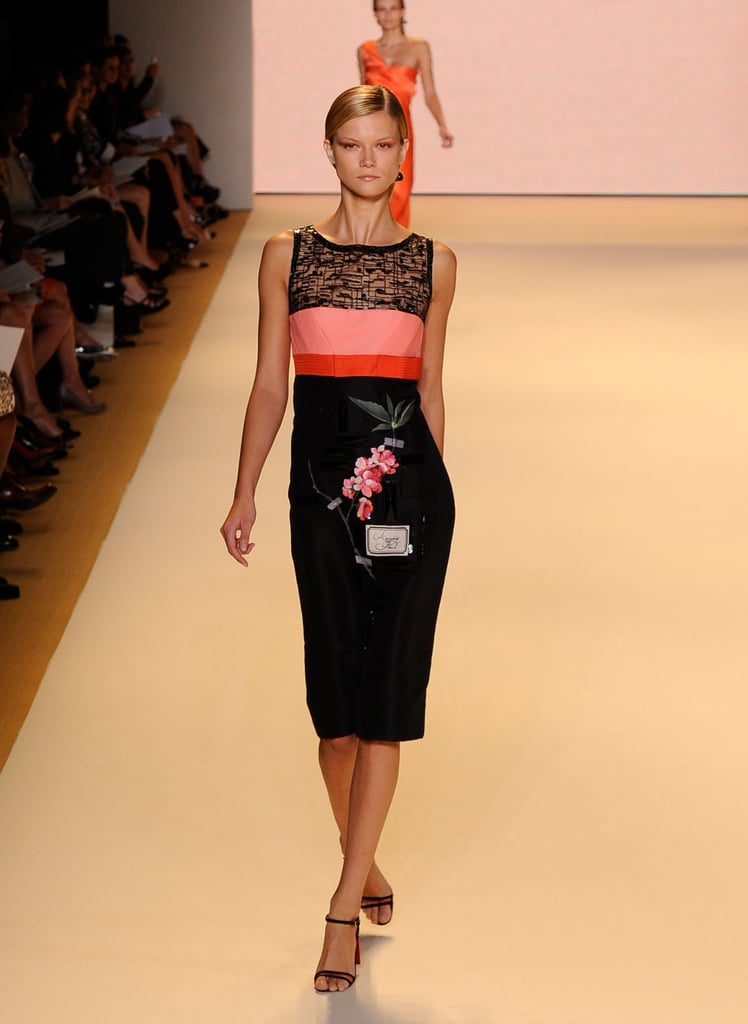 Herrera wasn't afraid to mix unexpected fabrics and colors.
Spring 2011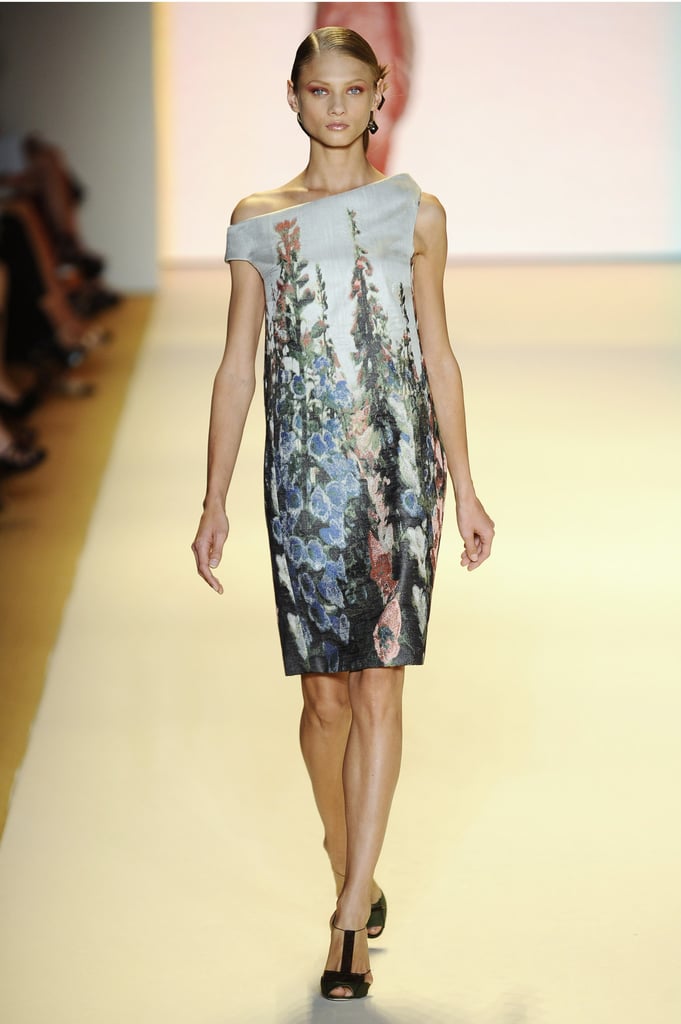 You could spot this floral shift as a Herrera from a mile away.
Spring 2011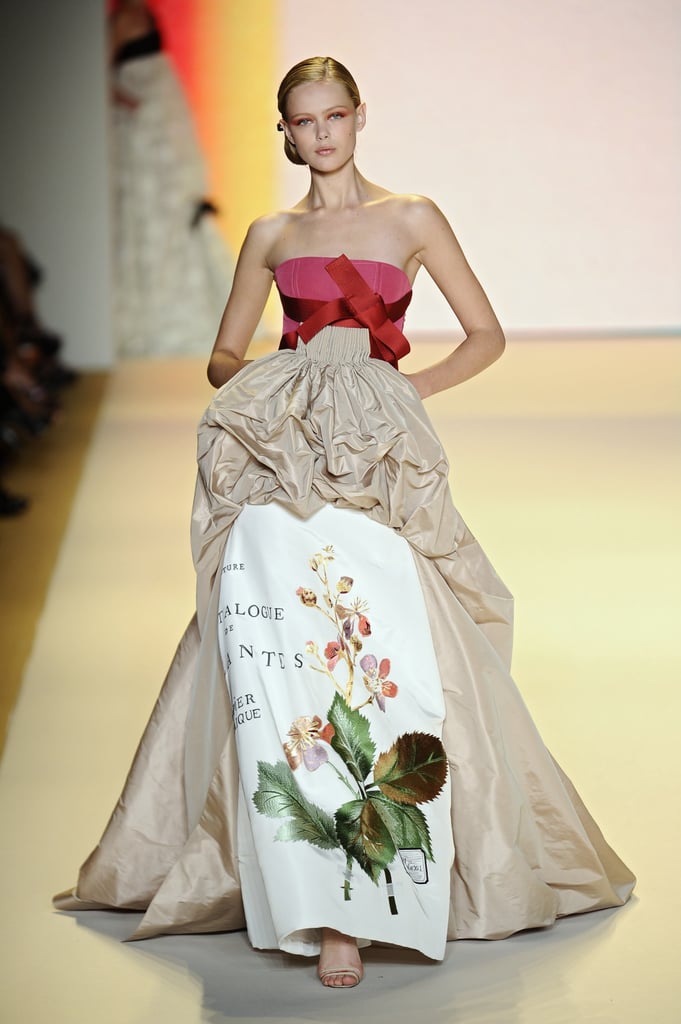 Painterly botanical prints and experimental shapes made for a memorable moment.
Fall 2010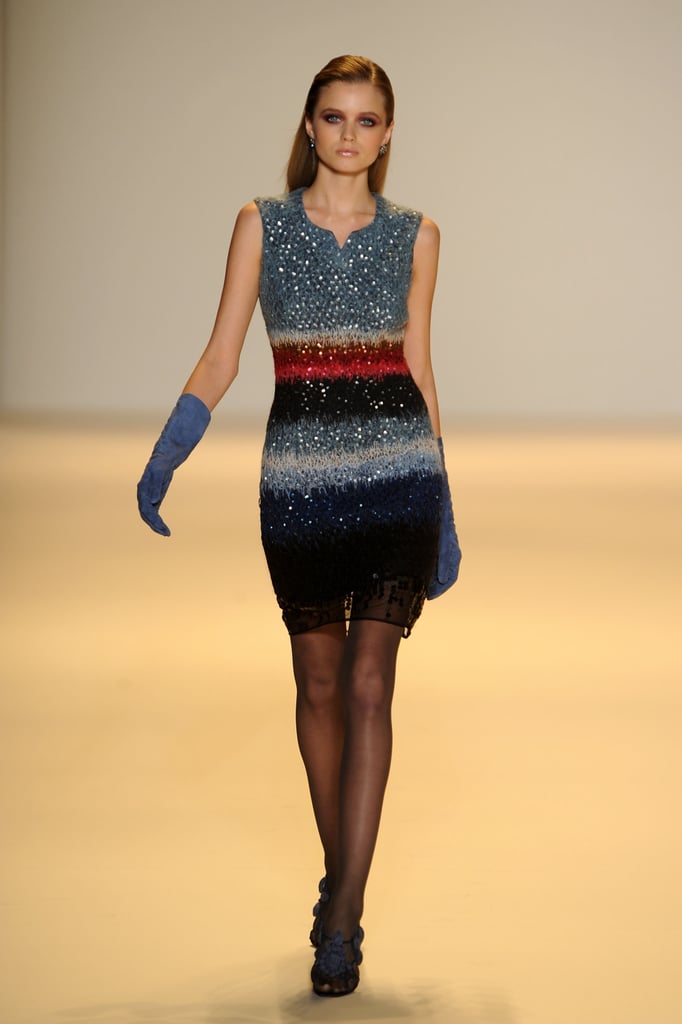 Herrera's cocktail dress was young and playful thanks to stripes of color and a hint of shimmer.
Fall 2010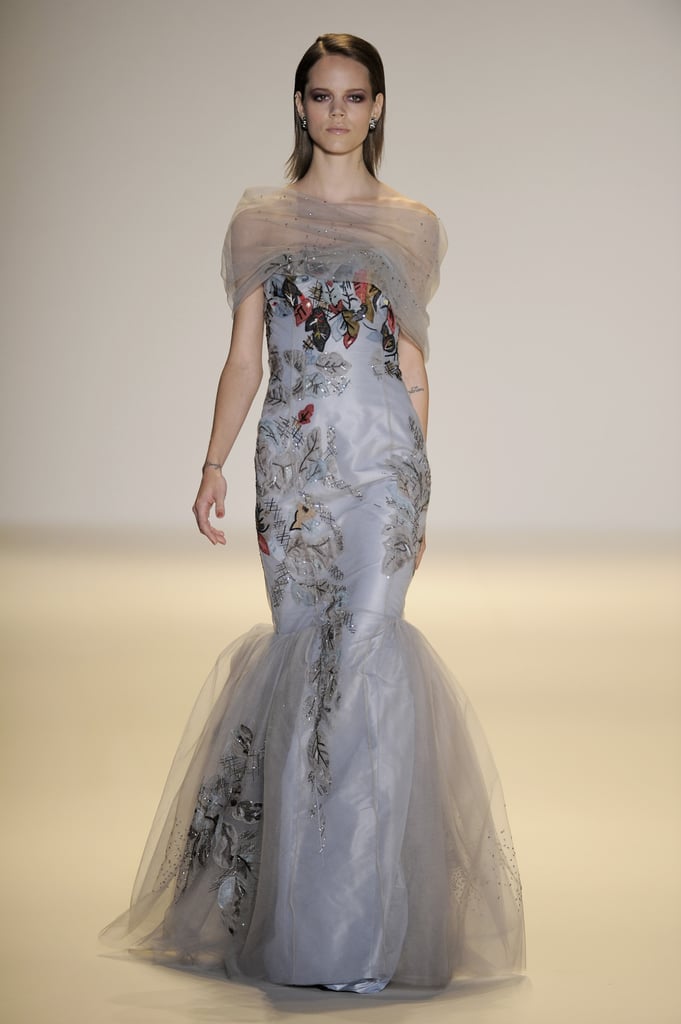 An airy tulle wrap made this gown worthy of a princess.
Fall 2010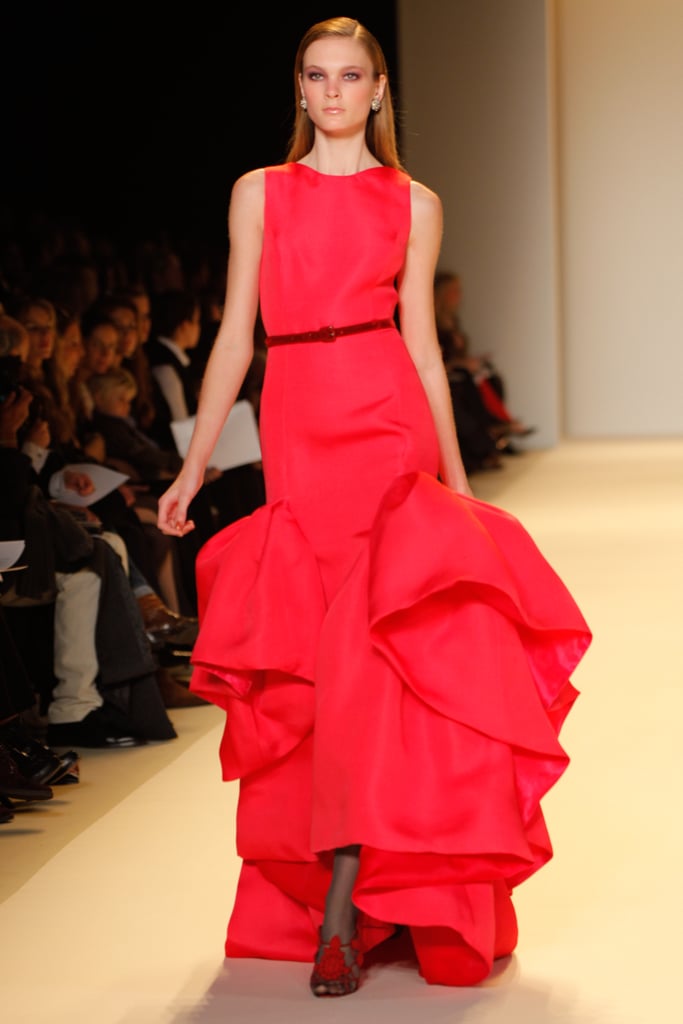 Herrera played with volume in this iconic, structural gown.
Spring 2010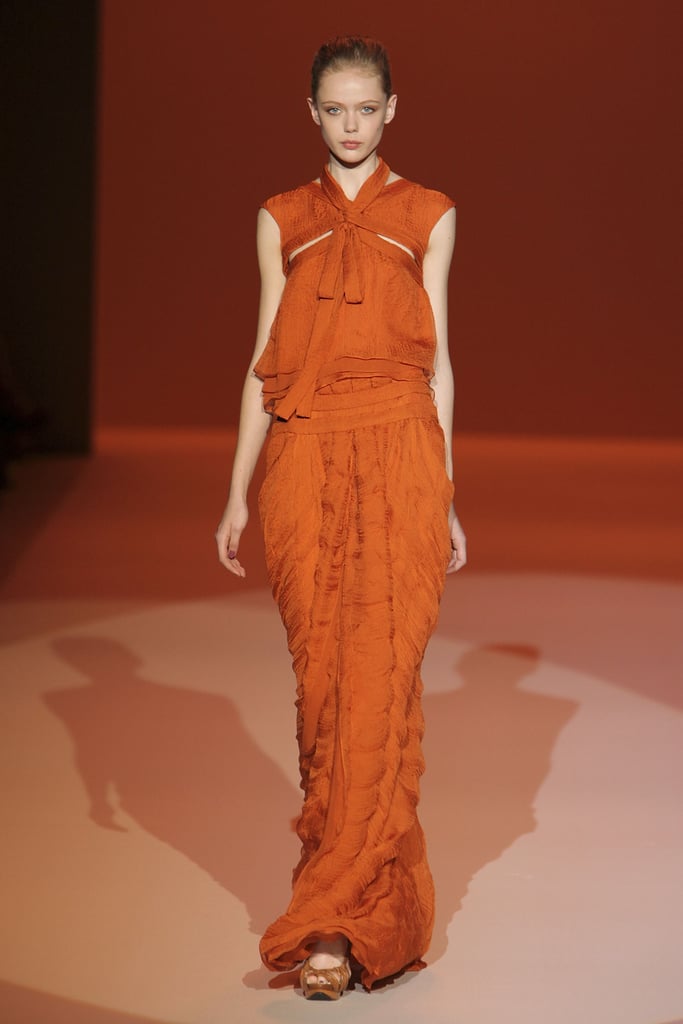 The cutouts kept an otherwise covered-up design sexy.
Spring 2010
Another bridal-worthy design in Herrera's runway would later influence her wedding [1] designs.
Spring 2010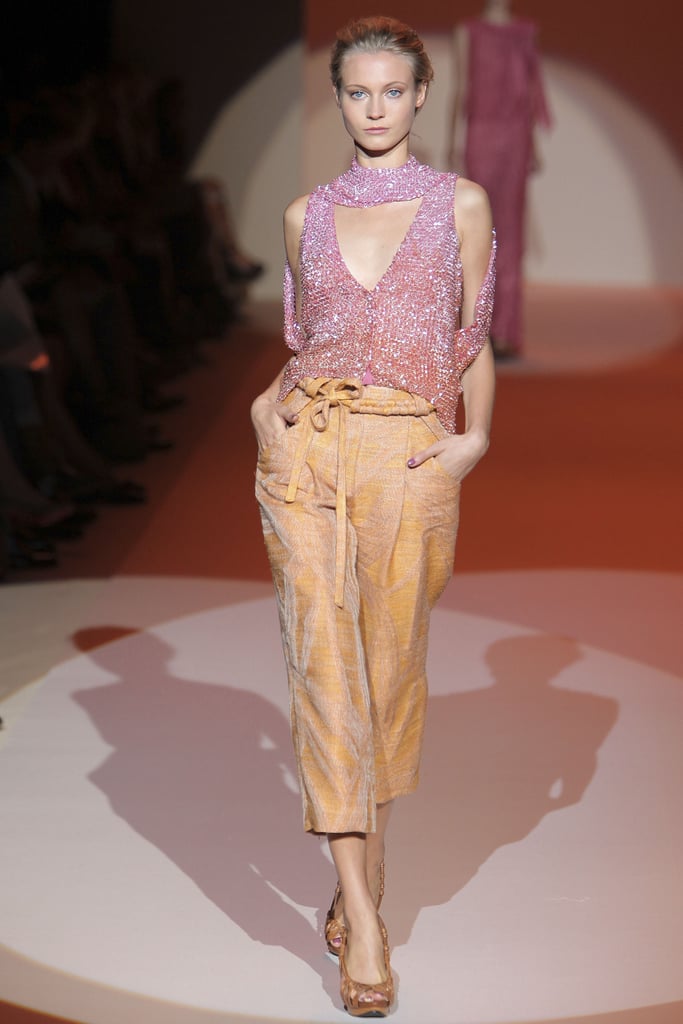 Things took a turn for the laid-back at the Spring 2010 show, where billowy and pastel designs made for a relaxed collection.
Fall 2009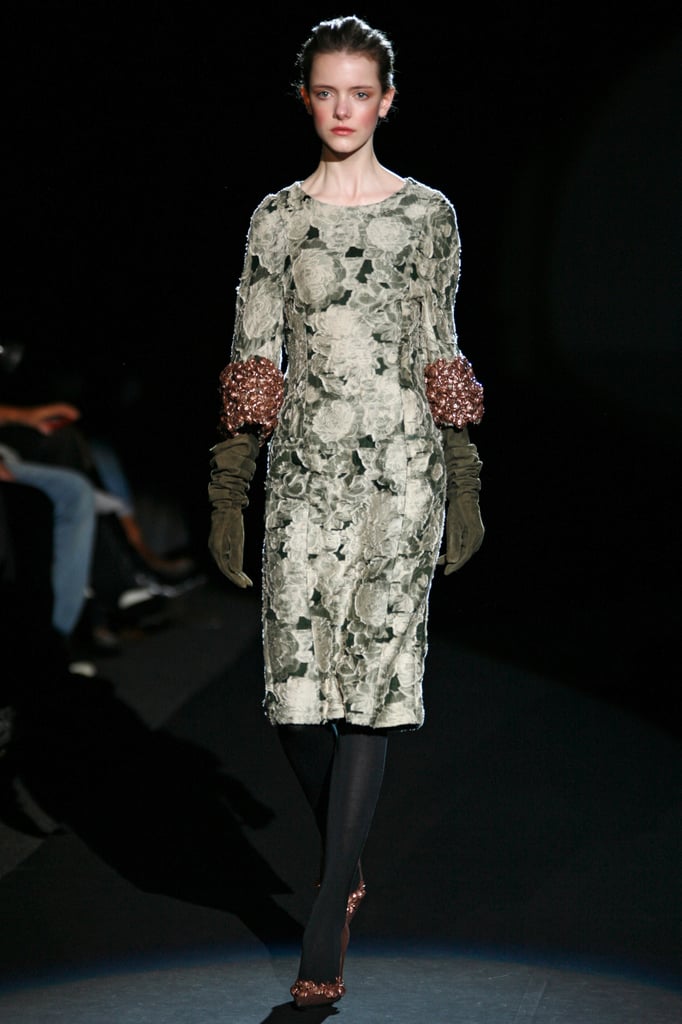 Brocade looked classic when paired with opera gloves and embellished cuffs.
Fall 2009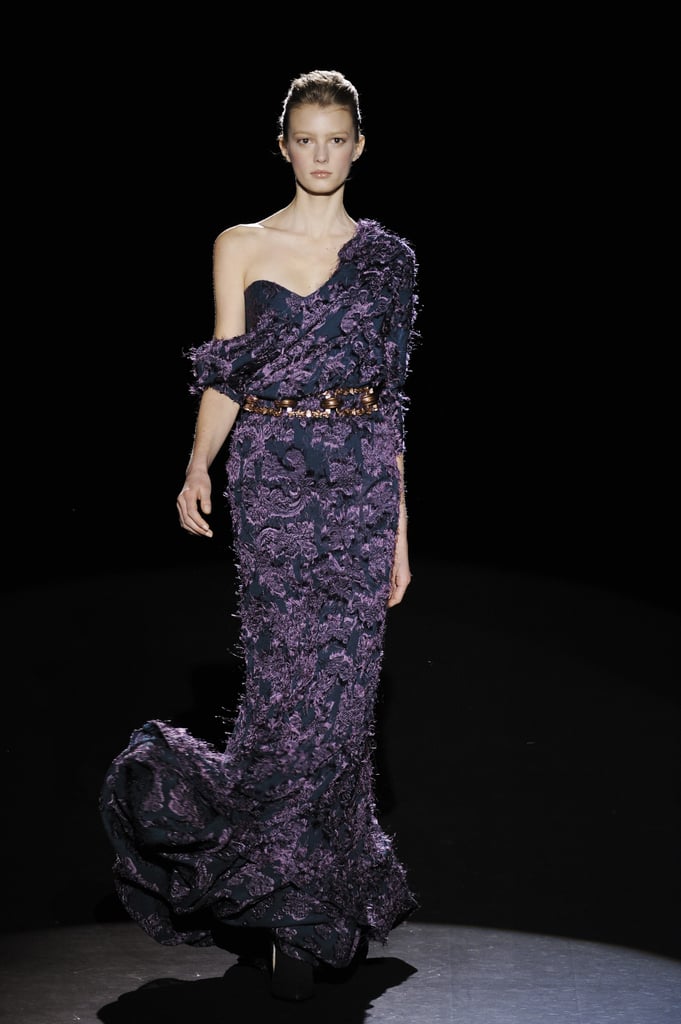 Undone as this dress was, it still had the Herrera refinement.
Fall 2009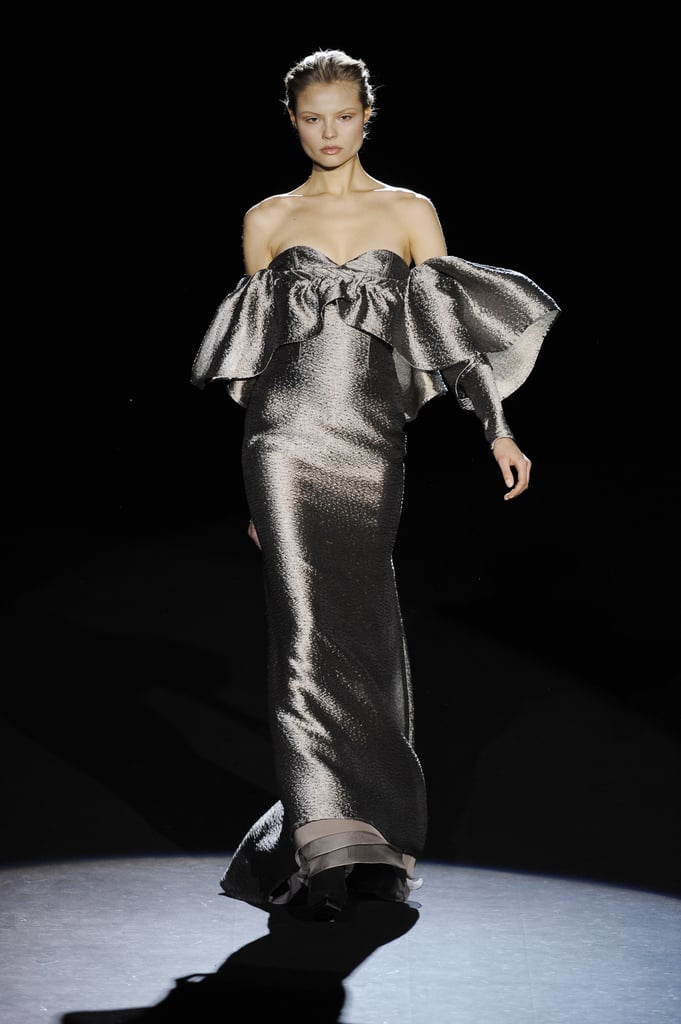 Herrera brought the glam drama to the runway for Fall 2009 with powerful mermaid gowns and off-the-shoulder numbers.
Spring 2009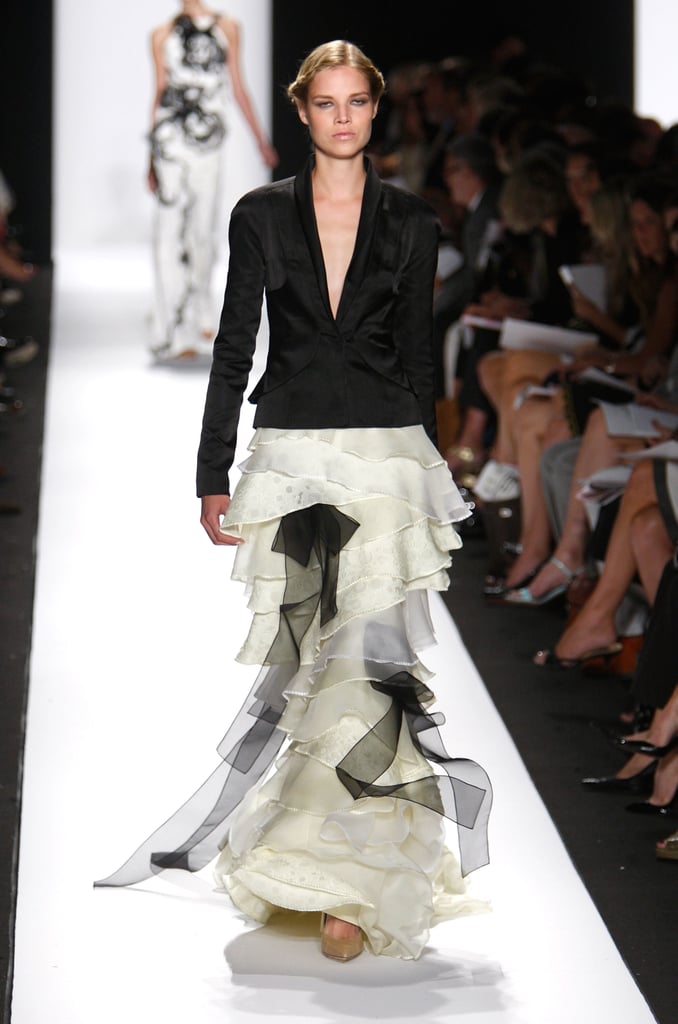 Carefully layered ribbon added a textural element to many of Herrera's Spring 2009 dresses and skirts.
Spring 2009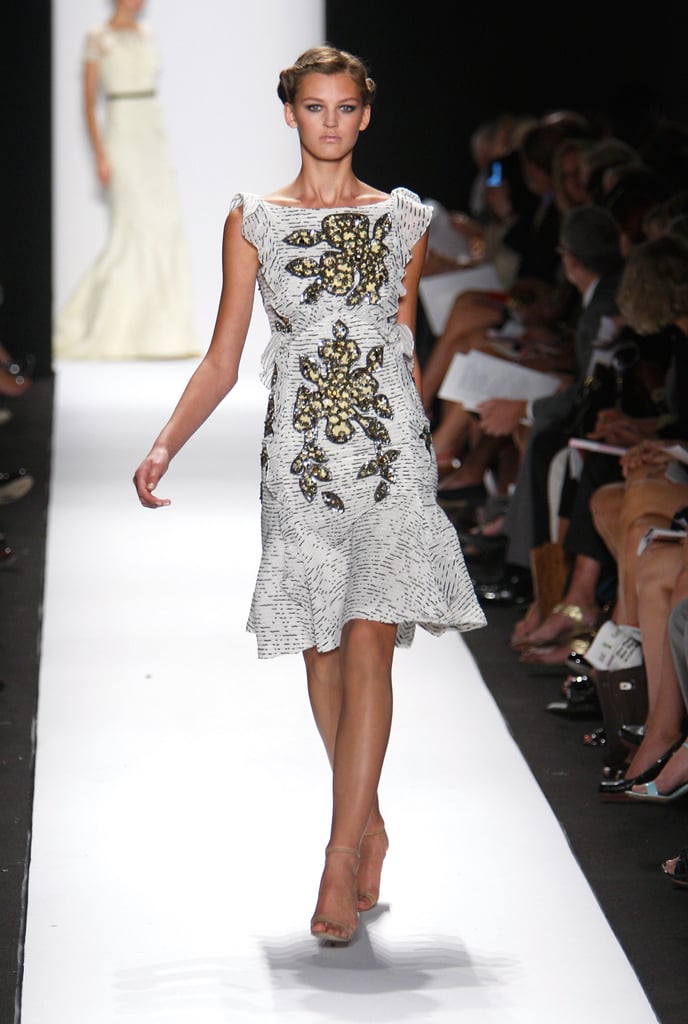 Prints on prints were done in a way that only Herrera can.
Spring 2009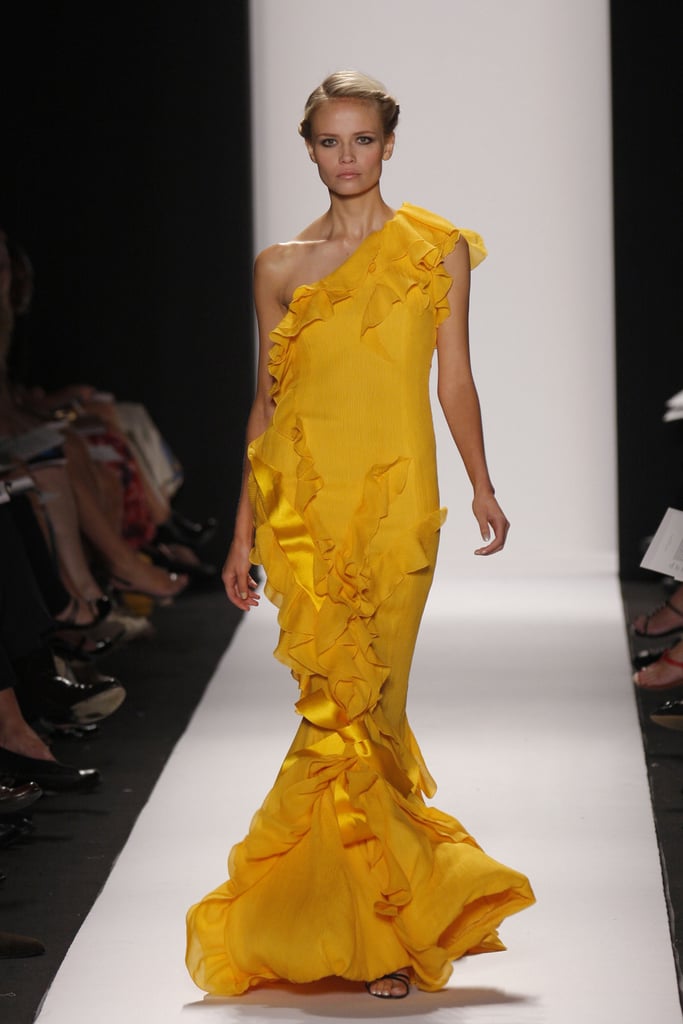 Pretty ruffles enhanced the designer's Spring 2009 runway, which featured tiers of bold marigold, scarlet, and even black dresses.
Fall 2008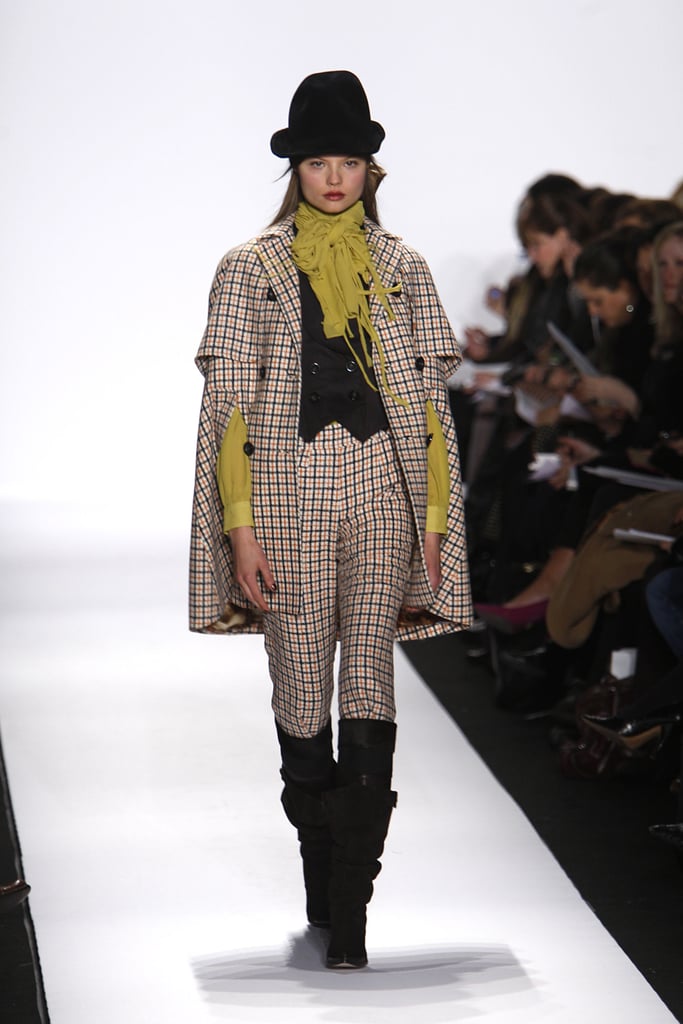 Borrowing from the boys, plaid suiting was at its most feminine on the Herrera runway.
Fall 2008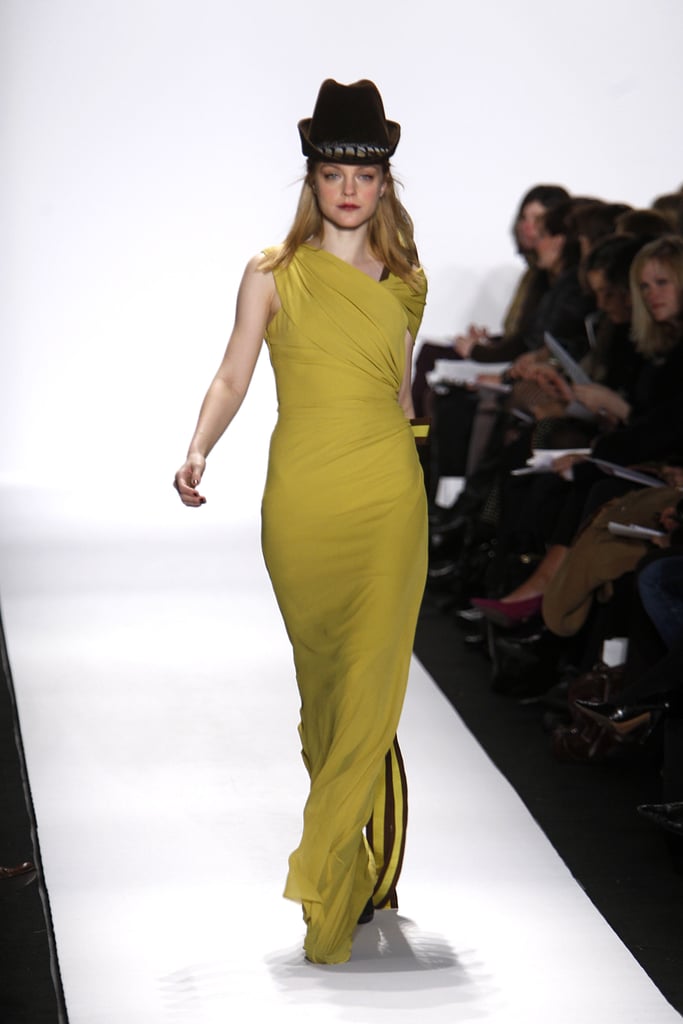 Dandy hats embraced the English country tone of the designer's autumnal collection.
Fall 2008
For Fall 2008, Herrera went to the woods for a hunting inspiration.
Spring 2008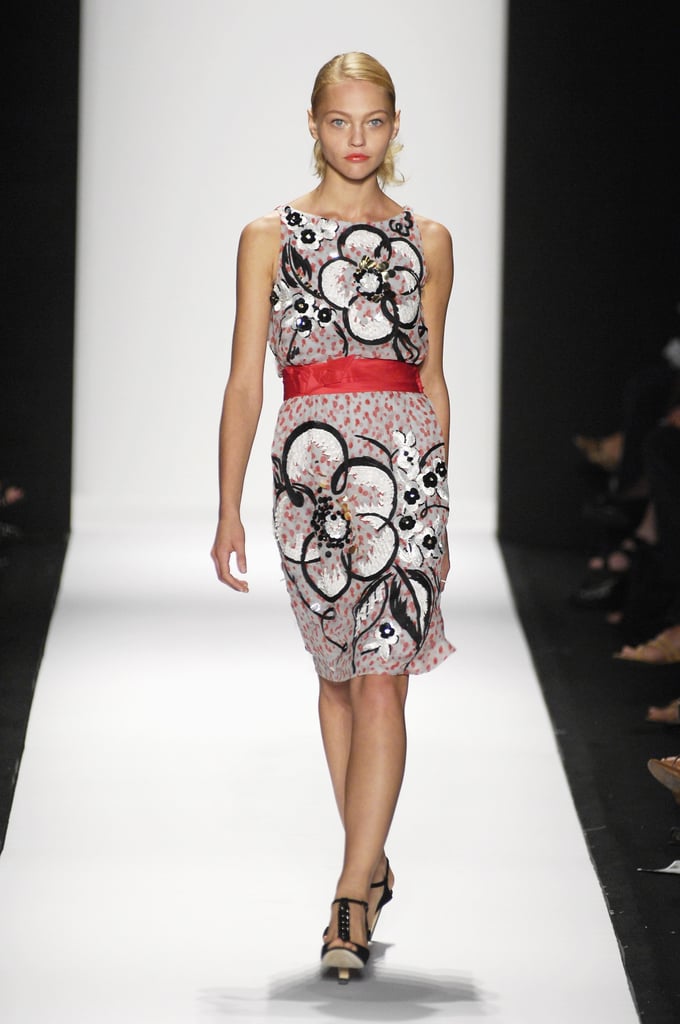 Sketched flowers added extra eye appeal to these pretty prints.
Spring 2008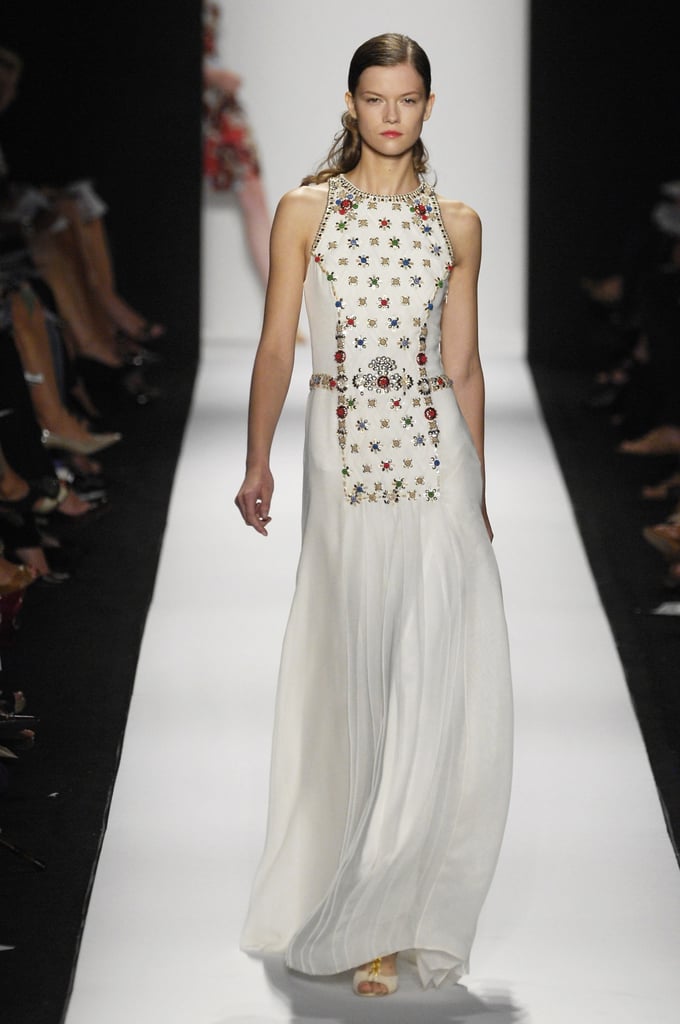 One of her strongest designs, the bodice of this design looked like a warrior's chest plate.
Spring 2008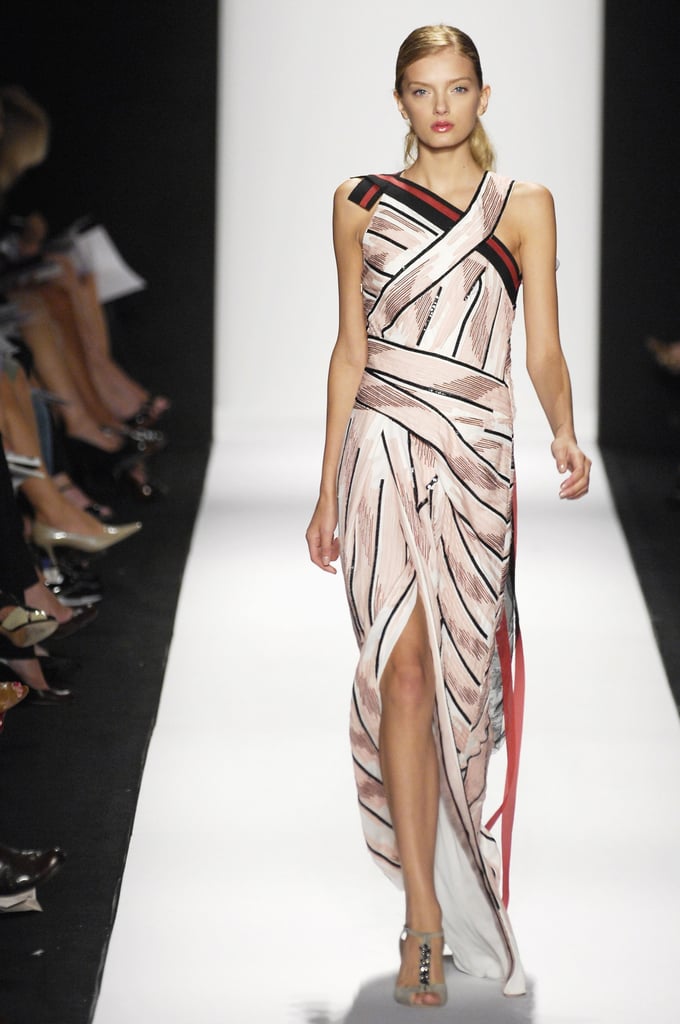 Herrera highlighted the female form with a carefully contoured piecework print.
Fall 2007
Embellished with sparkle, the pockets on Herrera's cocktail dress were both functional and fashionable.
Fall 2007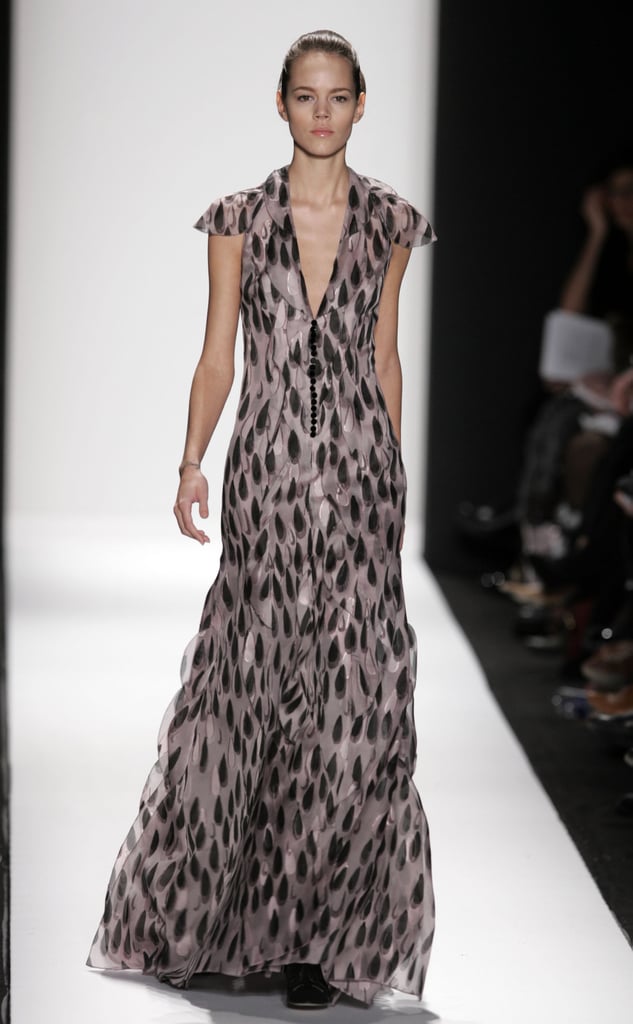 The way this printed gown moved reflected the laid-back glamour of the Herrera woman.
Fall 2007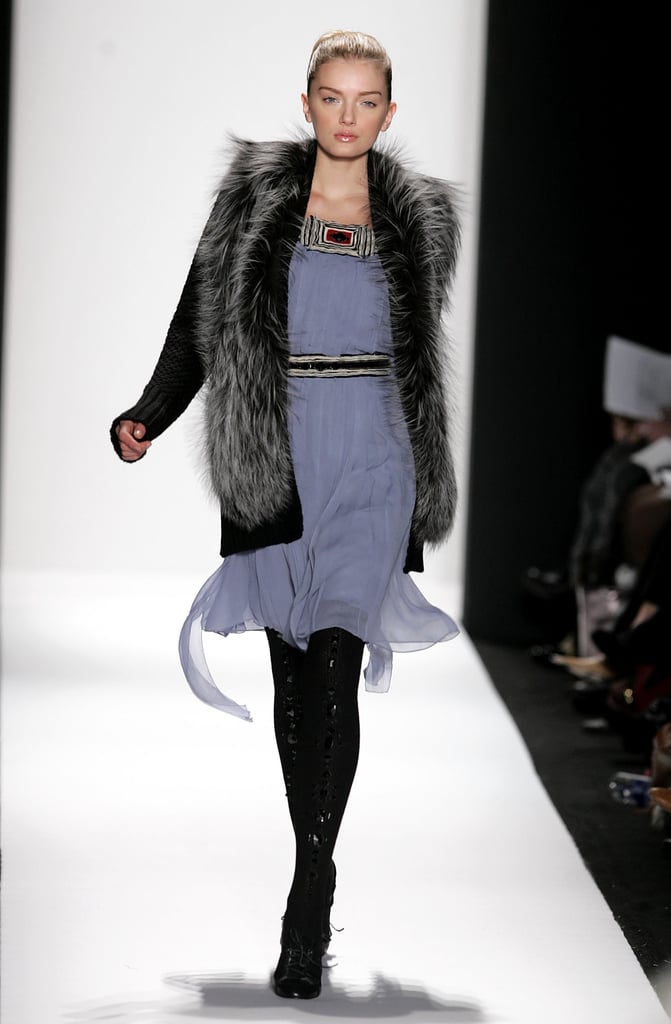 Herrera would have you layer with nothing less glamorous than fur!
Spring 2007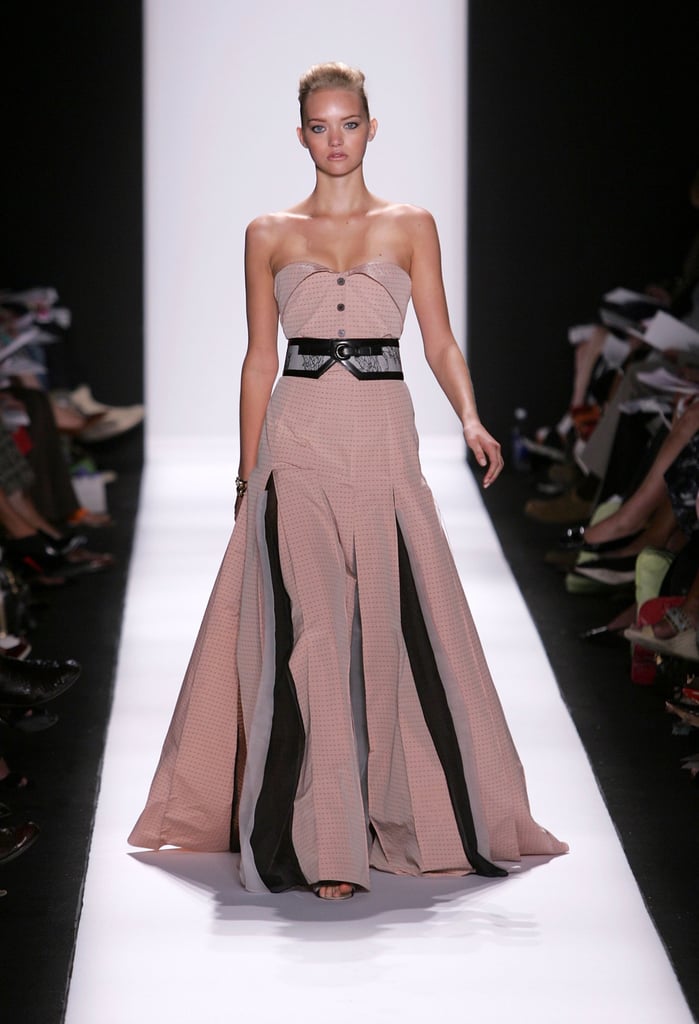 The bodice of this dress (structured and folded) is one that's seen often throughout her collections.
Spring 2007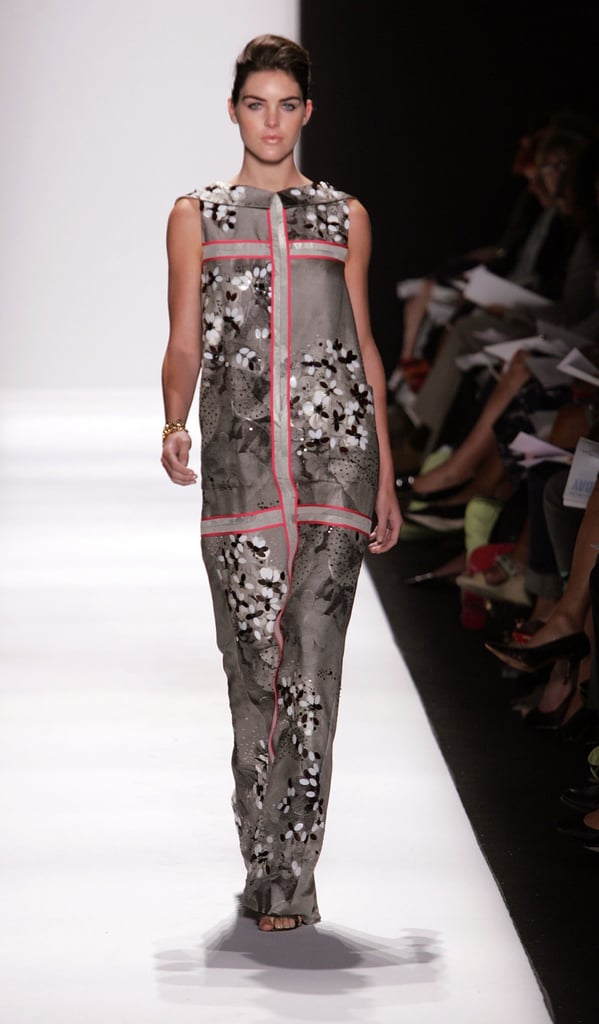 Sticking to a floral motif for Spring 2007, Herrera experimented with a new, boxy silhouette.
Spring 2007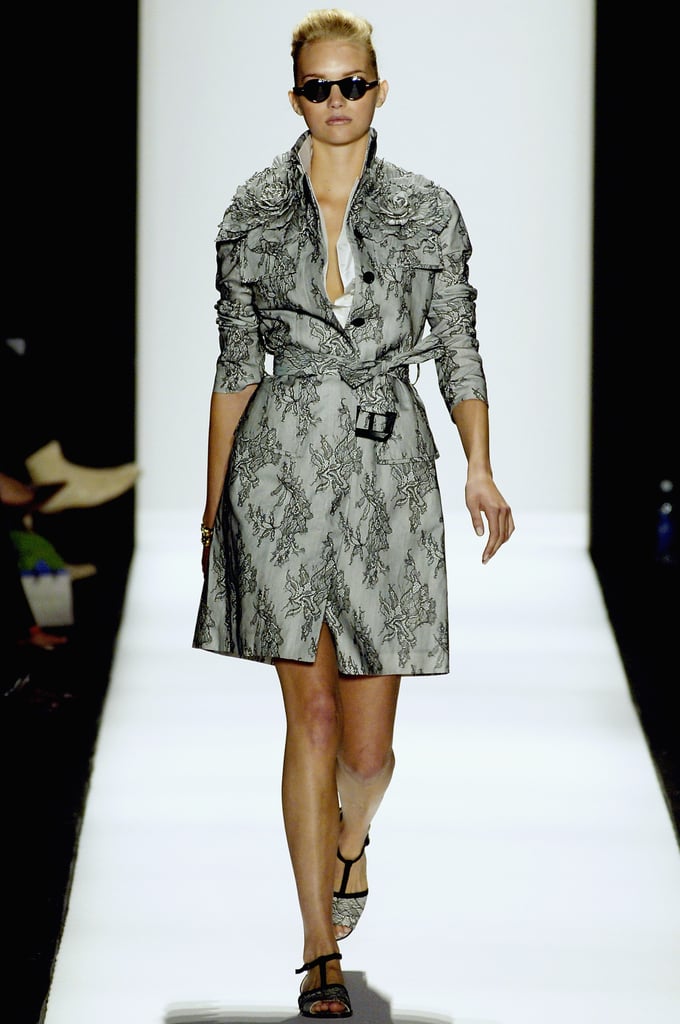 When you're wearing a dress as lovely as Herrera's, why hide it under anything less pretty?
Spring 2006
When she does black, surprising elements like ornate beading or vibrant straps make her dresses anything but basic.
Spring 2006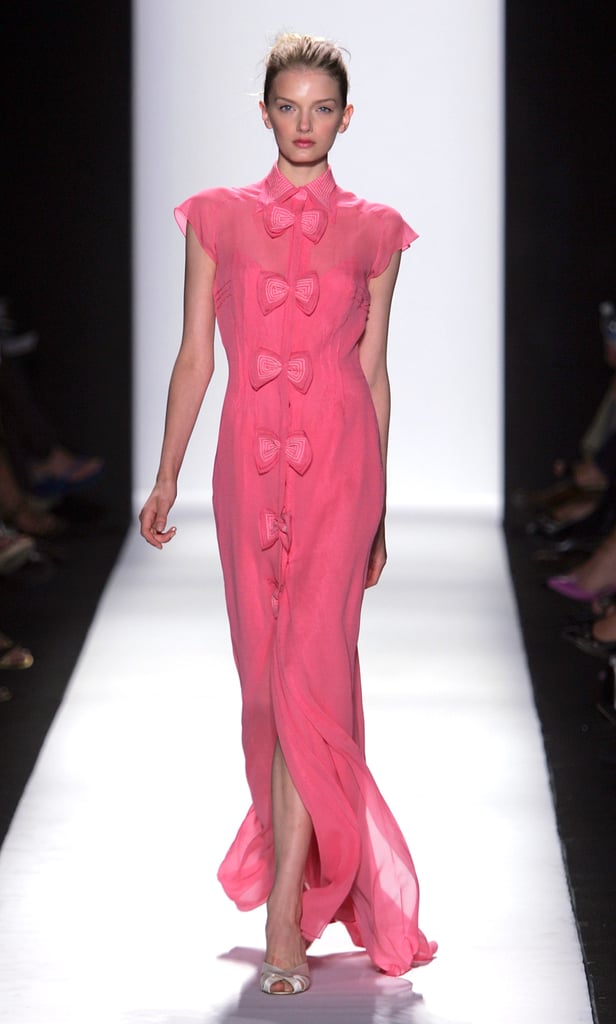 Does it get any more girlie than a pretty pink dress decked in bows?
Spring 2006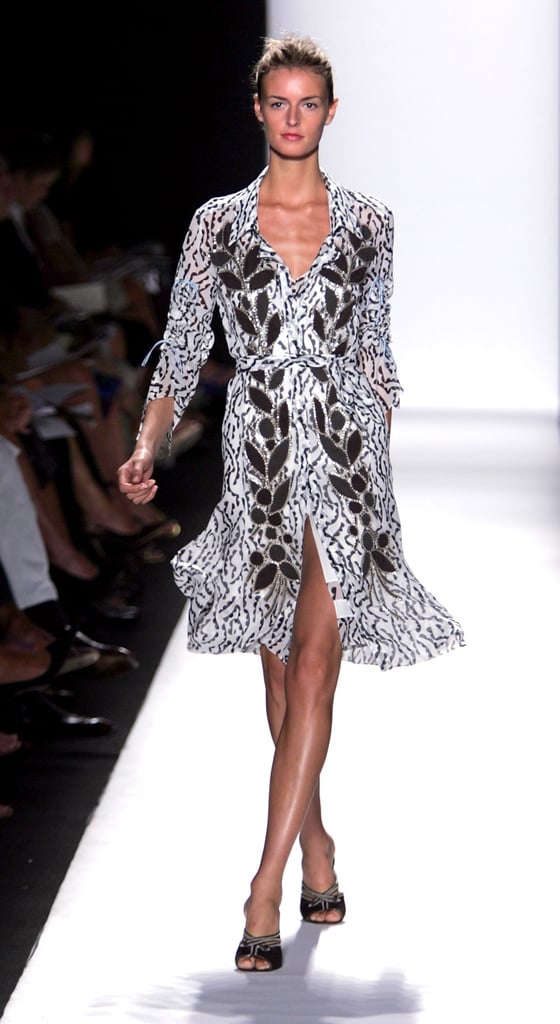 Herrera doubled up on the prints for this airy design.
Fall 2005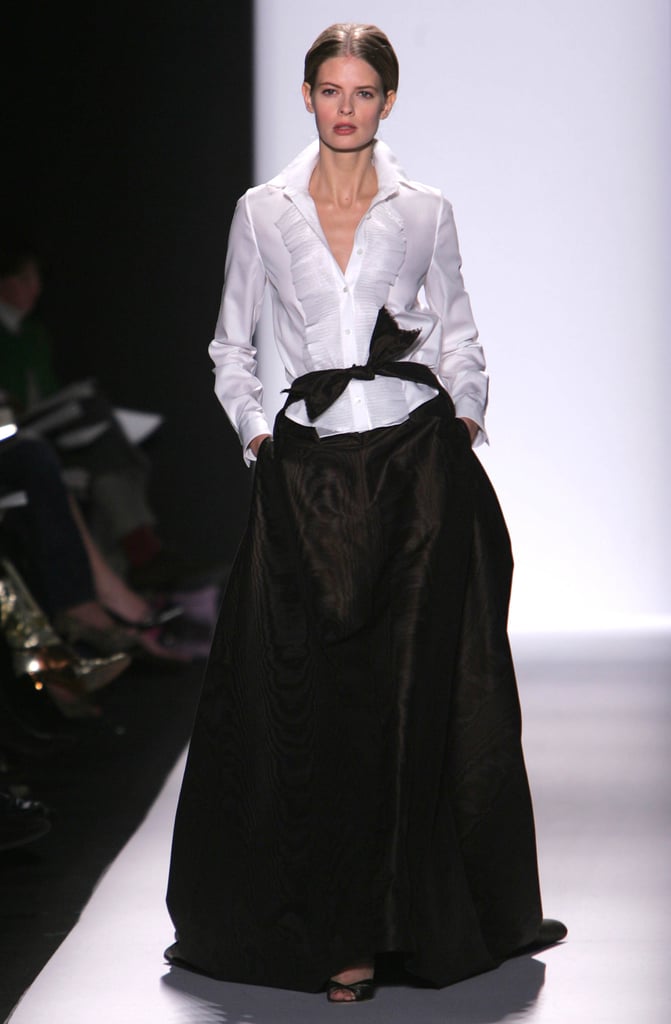 Her personal uniform occasionally makes its way onto the runway.
Fall 2005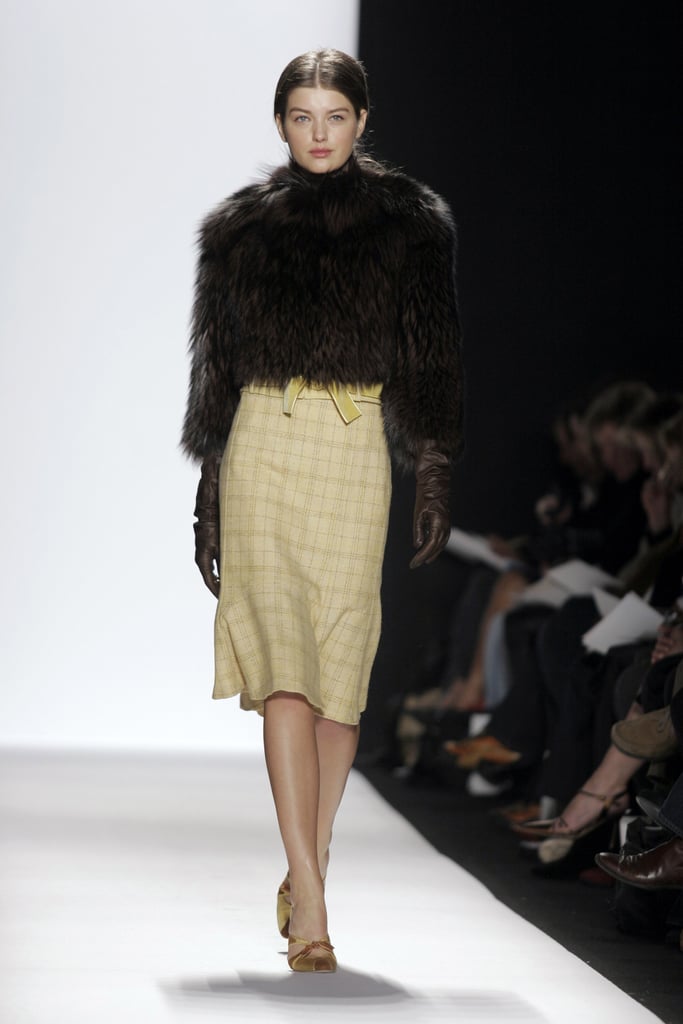 A frequent wearer of separates herself, Herrera knows her way around a pencil skirt.
Fall 2005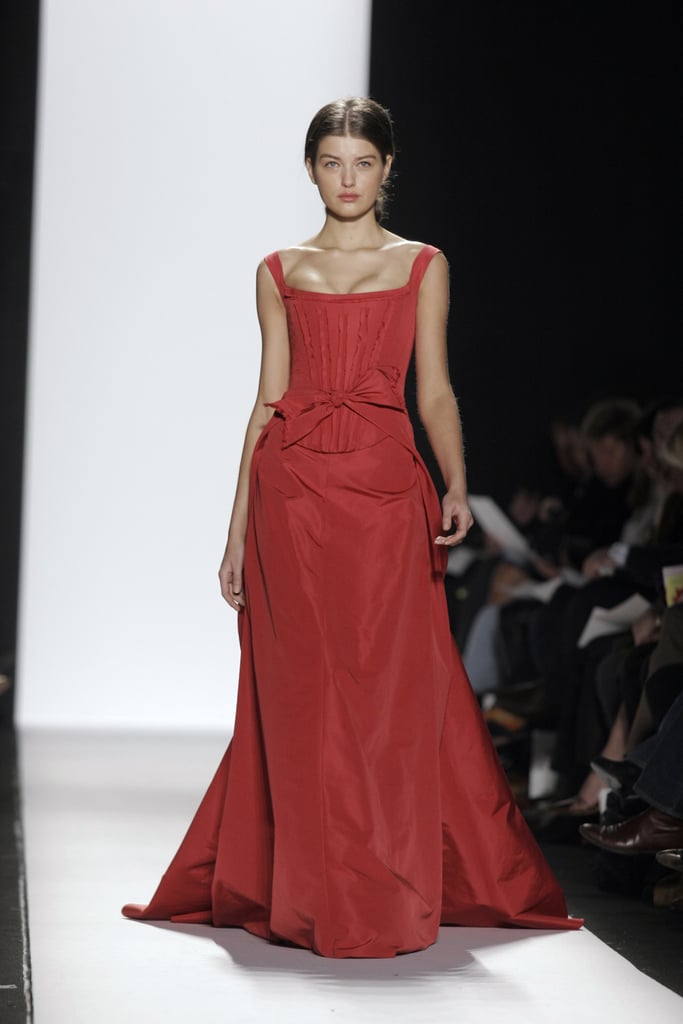 A rich, structured red gown was Herrera through and through.
Spring 2005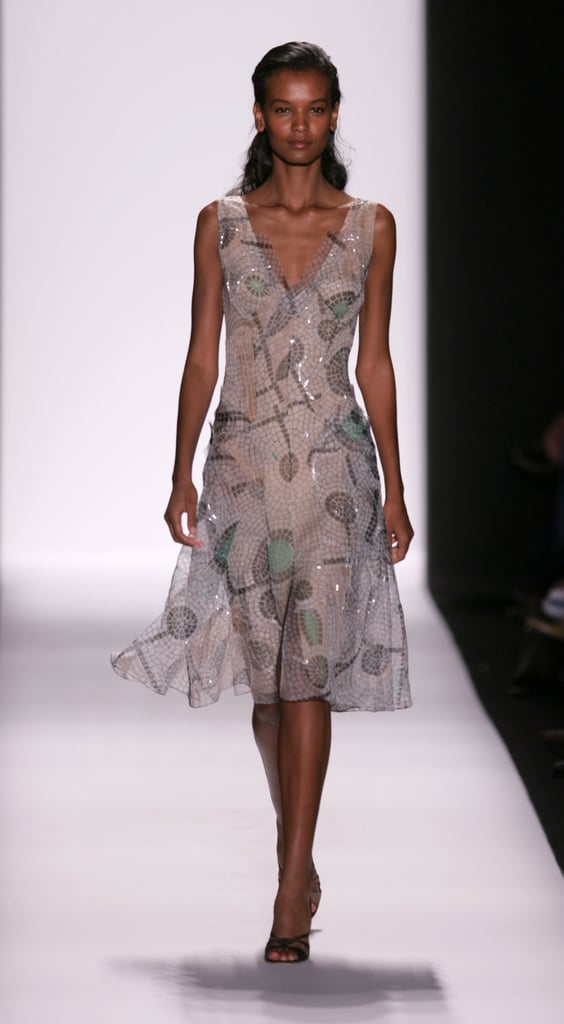 Herrera's prints look just as elegant for day as they do for evening.
Spring 2005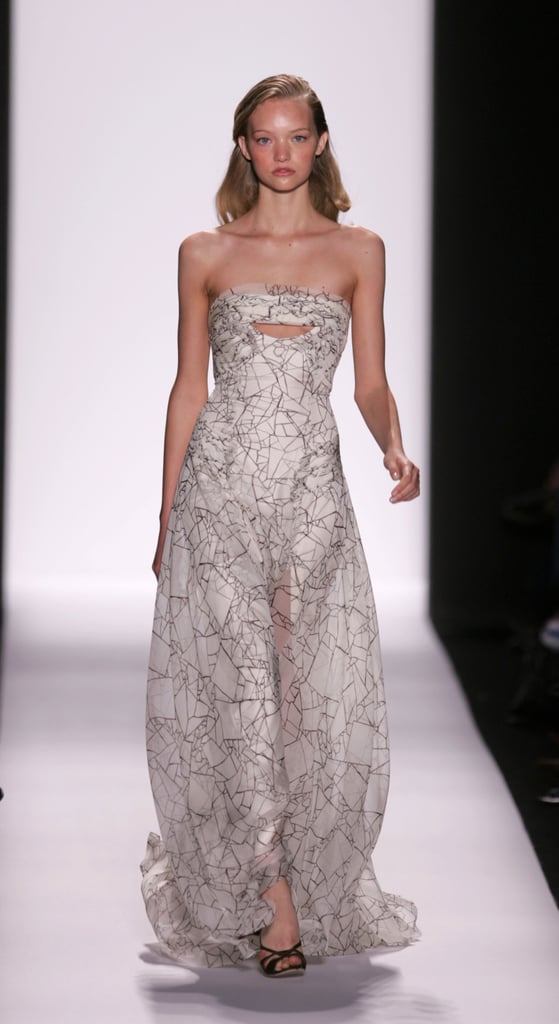 Does anything flow like this gown?
Spring 2005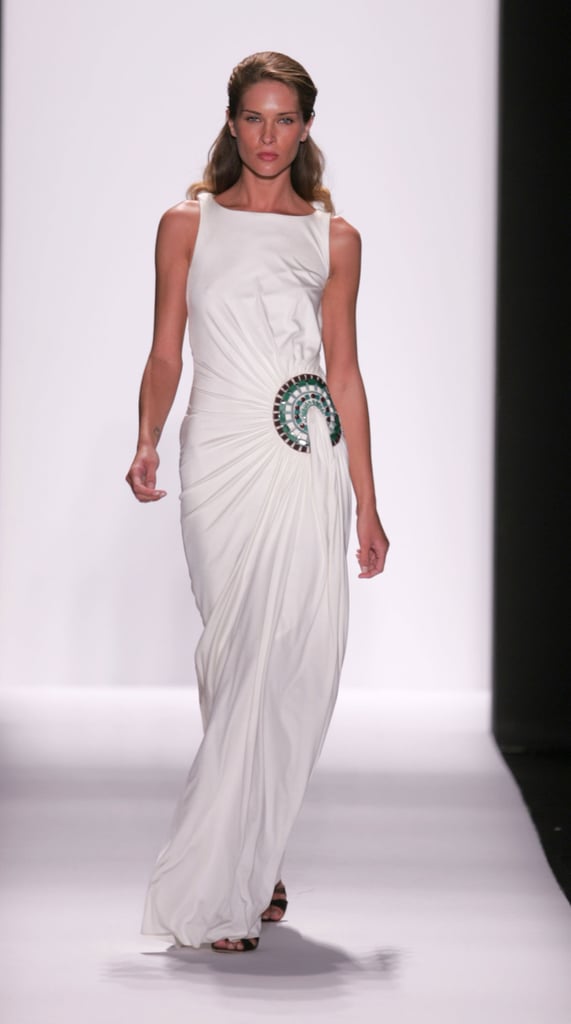 Herrera's white gown served as a reminder that designing for brides is another of her strengths.
Fall 2004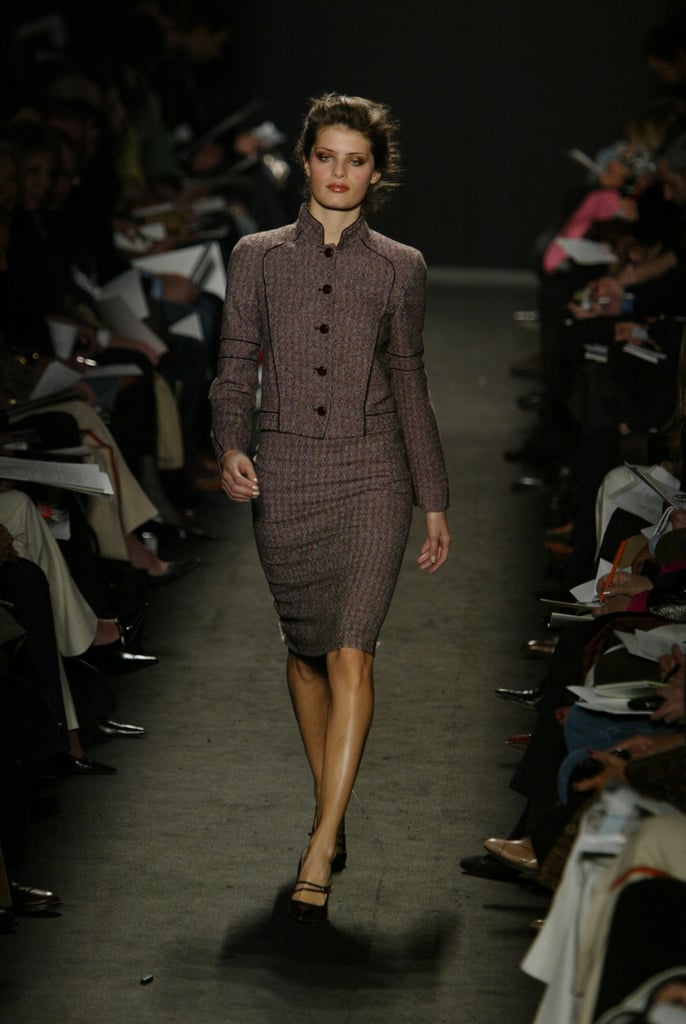 Structured suits are another telltale sign you're looking at the work of Herrera.
Fall 2004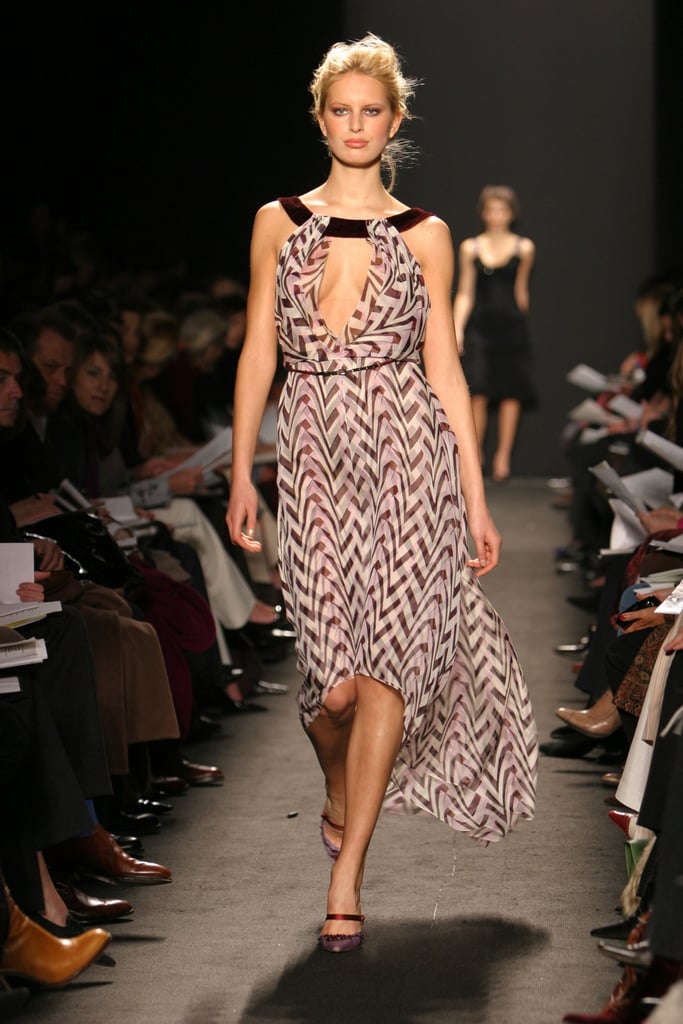 With the way this dress moved, you could imagine Herrera wearing it on a luxurious yachting vacation.
Fall 2004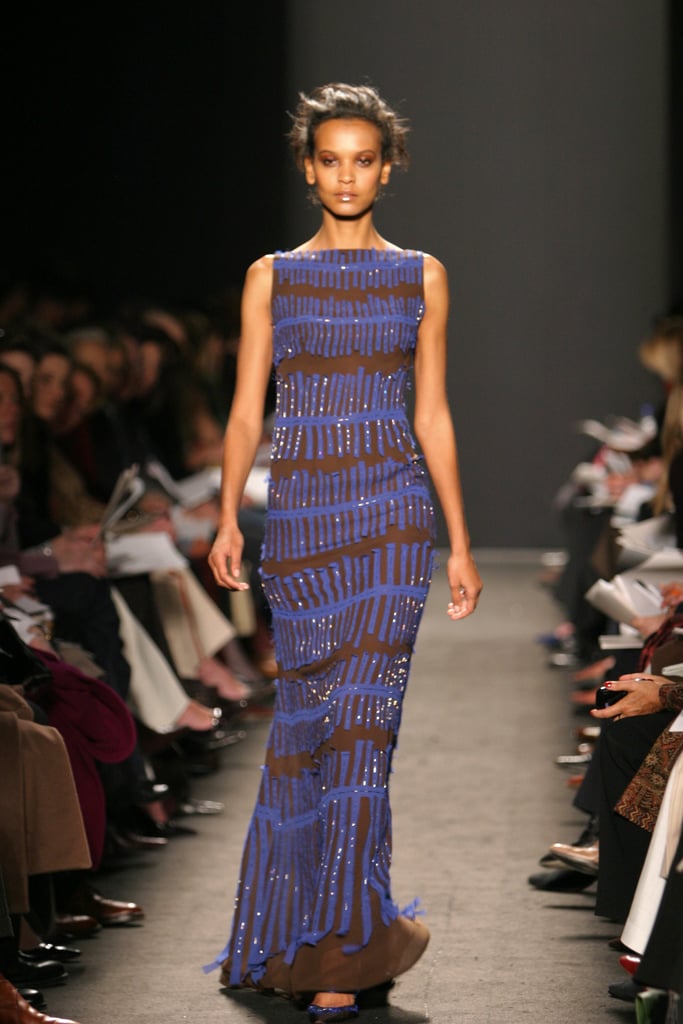 When Herrera does sparkle, she keeps it understated.
Spring 2004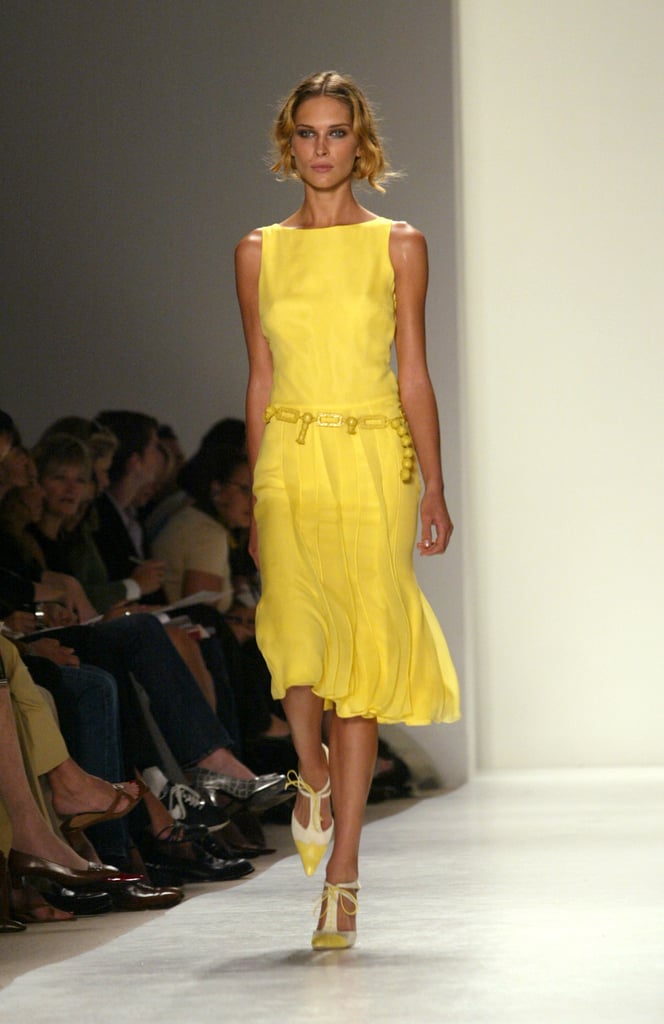 Color is one of Herrera's strengths, and this dress was evidence.
Spring 2004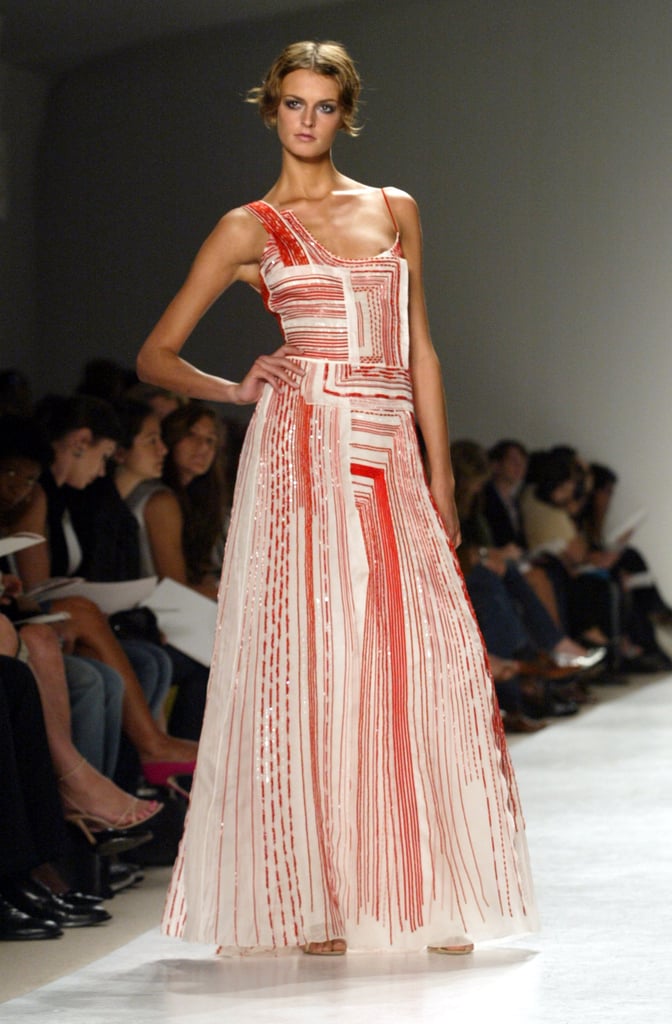 A true Herrera signature, this patchwork print and bold hue would become a recurring theme in future collections.
Spring 2004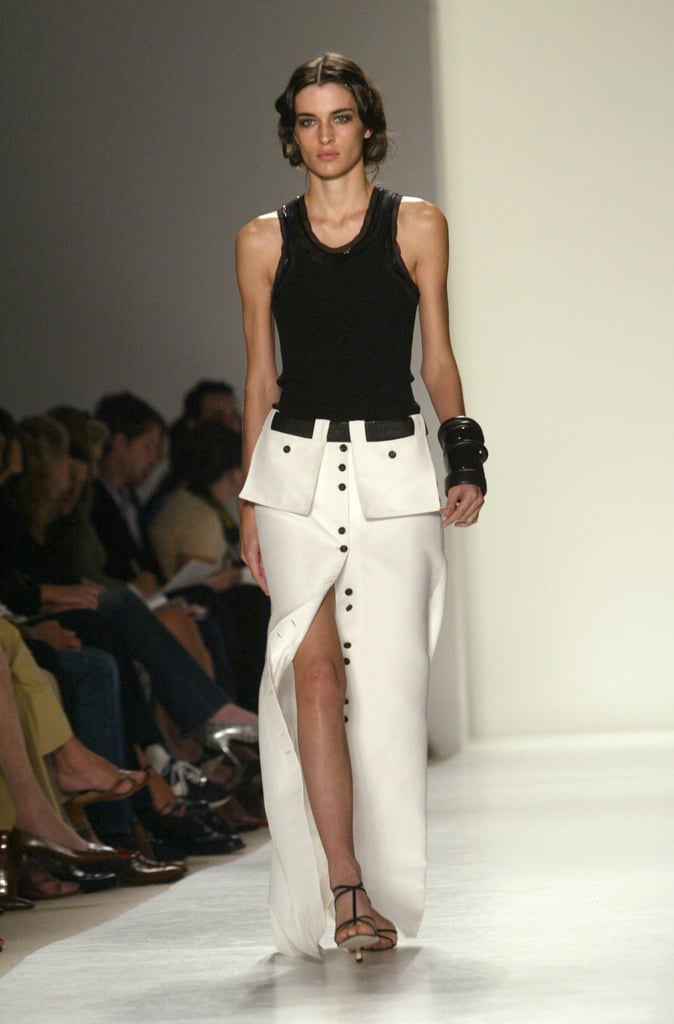 Something a bit more sleek and sporty hit the runway for Herrera's Spring 2004 collection.
Fall 2003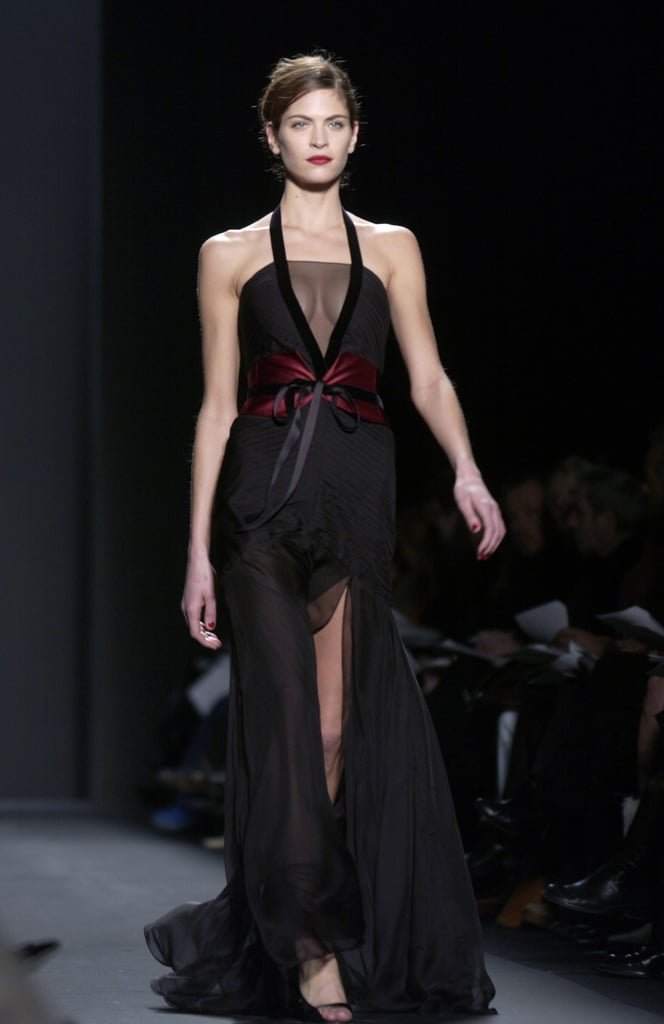 This striking silhouette was given feminine appeal from a delicate bow.
Fall 2003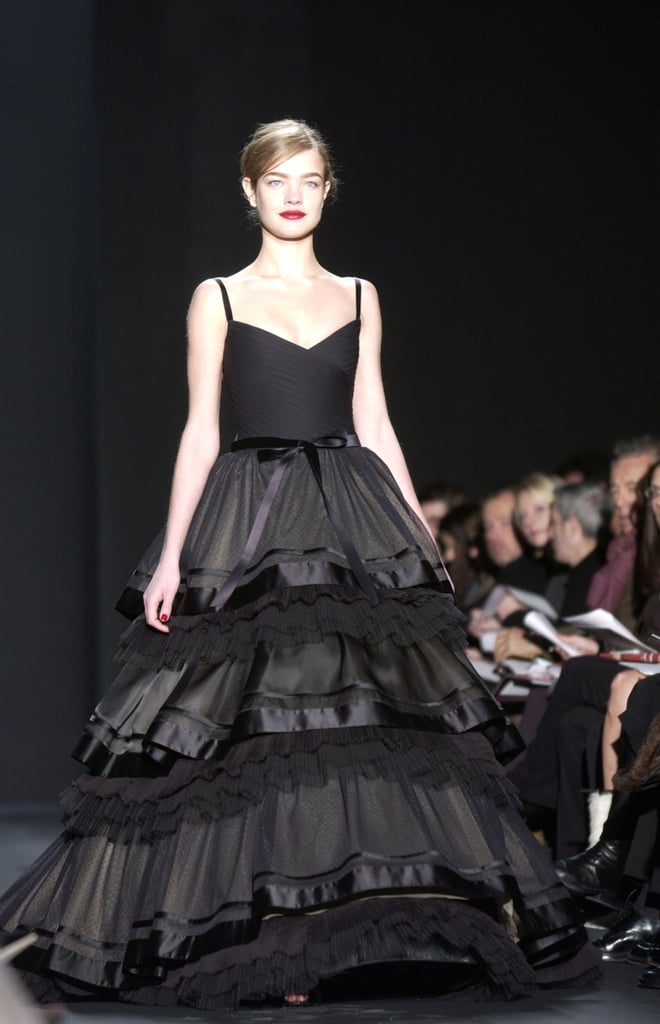 Tiers of black tulle made for a stunning gown.
Fall 2003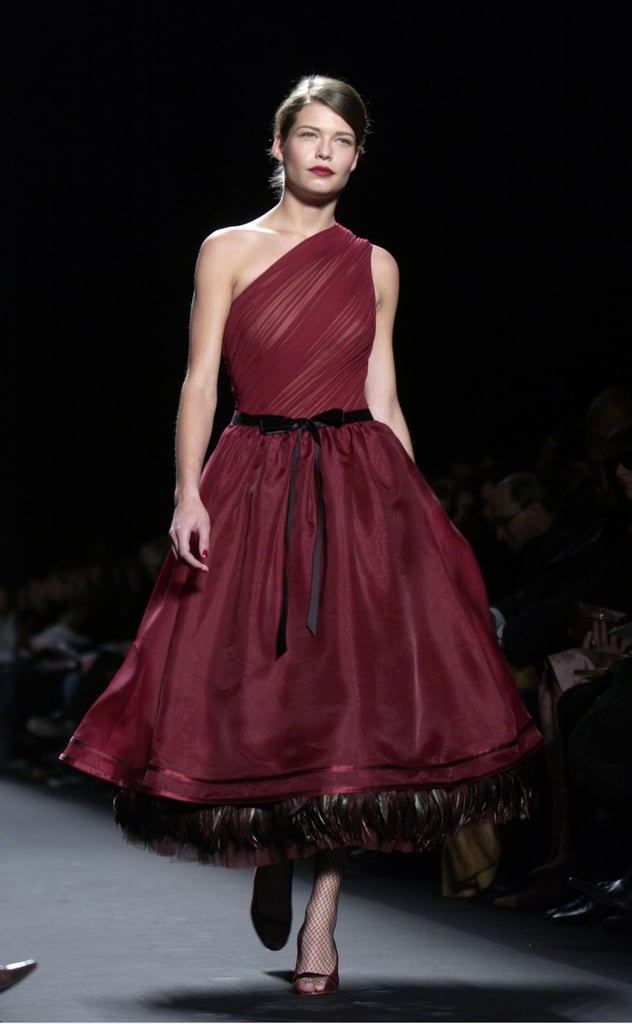 A rich burgundy hue added to the luxurious tone of this asymmetric cocktail dress.