Cristóbal Balenciaga would have turned 119 years old today — and we imagine that if the legendary designer were still with us, he'd have complete and total confidence in the man who's now responsible the Balenciaga brand, Alexander Wang.
Wang took over the brand when Nicolas Ghesquière, who'd been Balenciaga's creative director for over 15 years, stepped down from the role in November 2012. Less than a month later, Balenciaga announced that Wang's first show for the brand would take place in time for Fall 2013. The collection he delivered was an impeccably chic black-and-white offering that nodded to the house's iconic history and got rave reviews from many critics.
It also got good ratings from many of the women who wear it. Everyone from Carey Mulligan [1] to Kerry Washington has been spotted in Wang's wares for Balenciaga, taking them all over the world for red carpets and everyday outings alike. Take a look at the well-heeled women who've worn the brand since Wang took over below.
Kerry Washington at the Golden Globes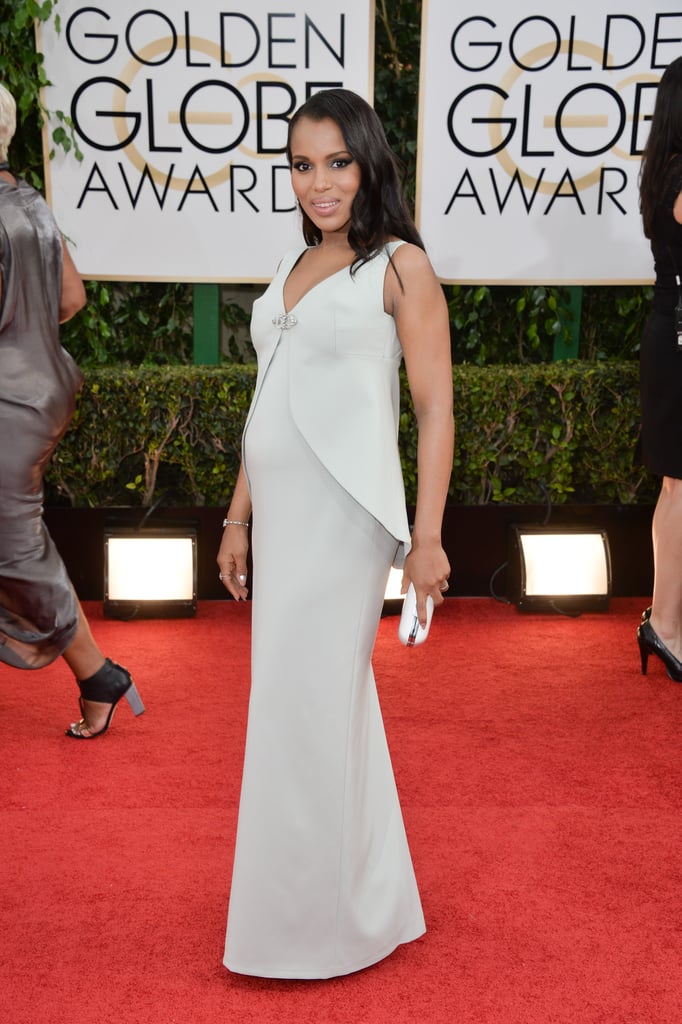 The mother-to-be wasn't scandalous at all in a pale green custom creation [2] from the Balenciaga atelier.
Kristen Wiig at the Hollywood Premiere of The Secret Life of Walter Mitty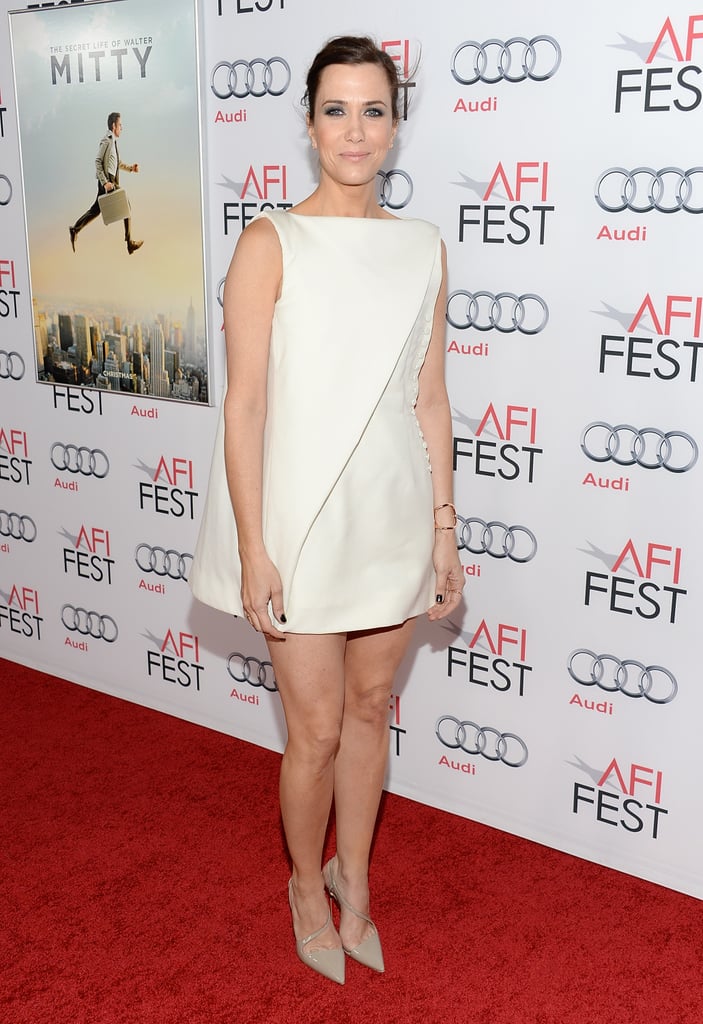 Now this is some serious fashion. Kristen Wiig bared her legs in this generous white shift dress at the Hollywood premiere of The Secret Life of Walter Mitty.
Emma Watson at British GQ's Men of the Year Awards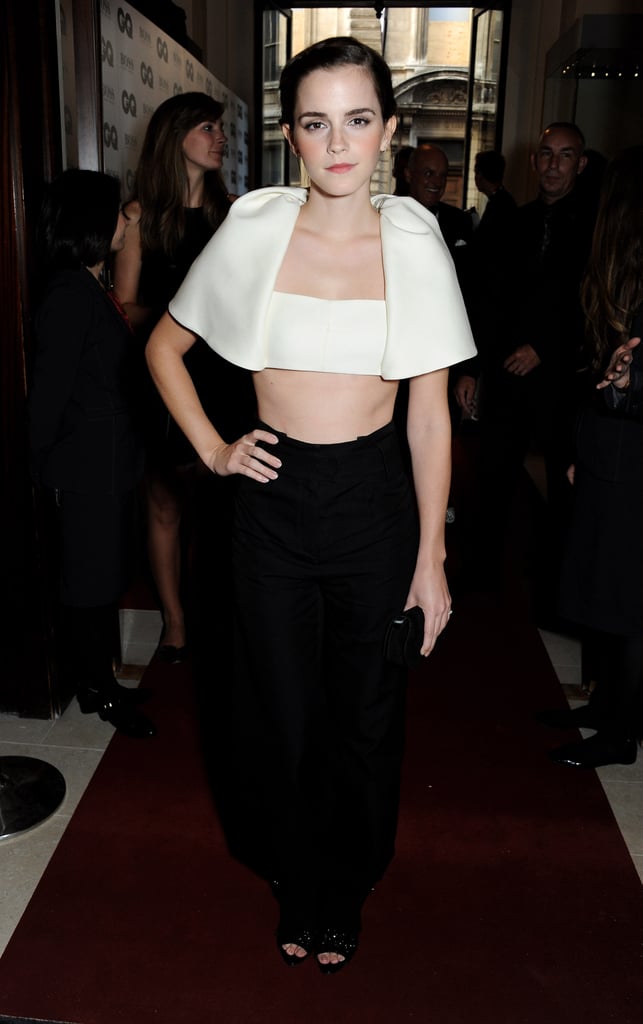 Hermione who? Emma Watson [3] looked polished, grown up, and sleek in the Balenciaga crop top and trousers she wore in London last year.
Cate Blanchett at the New York Premiere of Blue Jasmine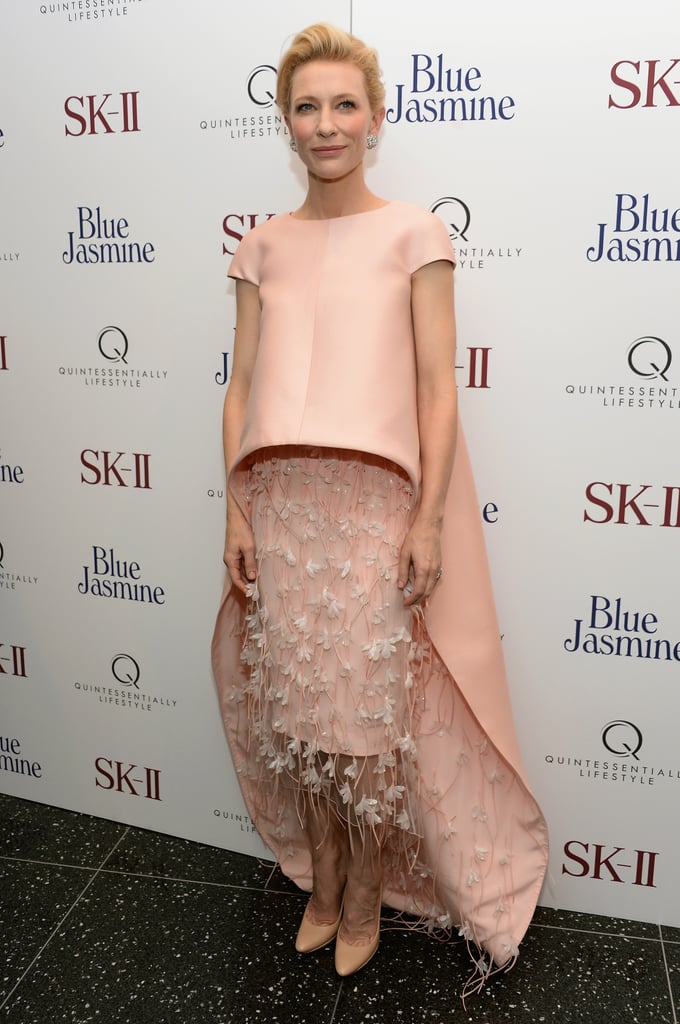 Cate Blanchett [4] looked like a pale pink flower in this stunning skirt and top at the New York premiere of Blue Jasmine.
Carey Mulligan at the Cannes Premiere of The Great Gatsby
At The Great Gatsby photocall during the 2013 Cannes Film Festival, Carey Mulligan [5] showed off yet another Balenciaga look, this time a very chic black jumpsuit.
Ruth Wilson at the Berlin Premiere of Lone Ranger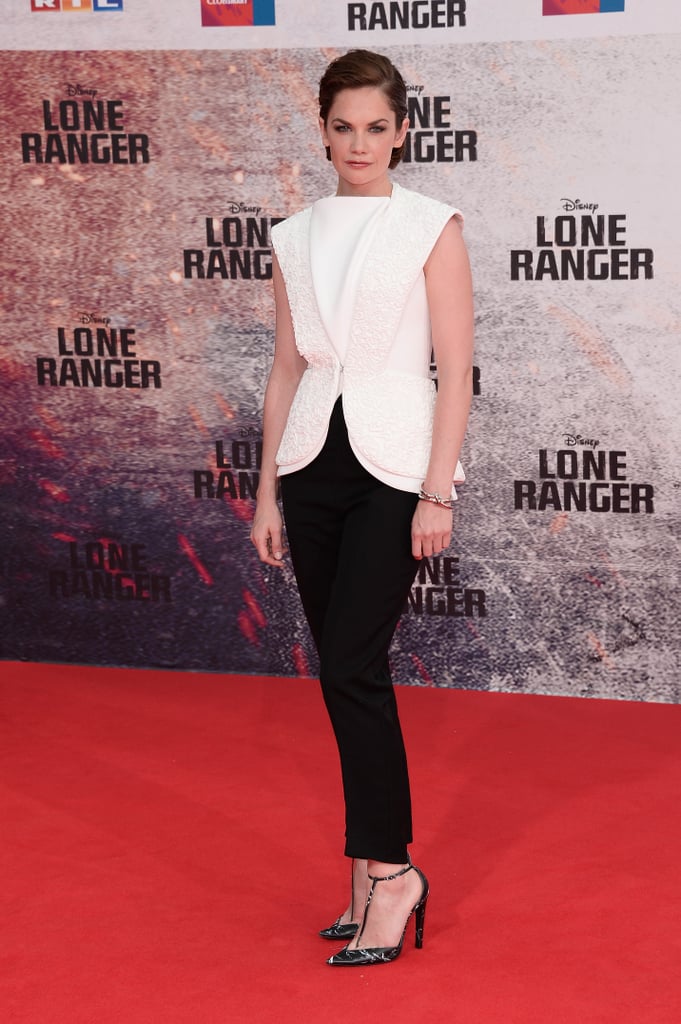 At the Lone Ranger Berlin premiere, Ruth Wilson was futuristic in a white textured vest and black cropped trousers [6], Alexander Wang creations for the house of Balenciaga.
Elizabeth Olsen at Comic-Con 2014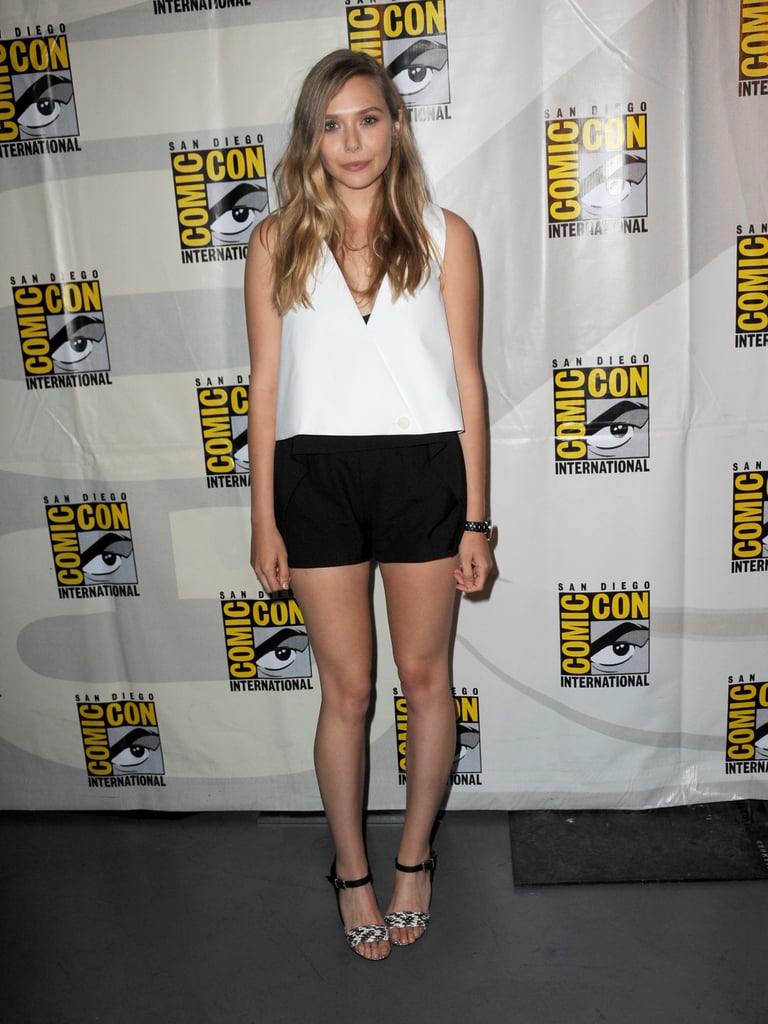 Elizabeth Olsen put her svelte legs on display in a Balenciaga by Alexander Wang ensemble from the Pre-Spring 2014 collection. She paired a white v-neck top with black shorts at the Godzilla preview at Comic-Con.
Brit Marling at the Hollywood Premiere of The East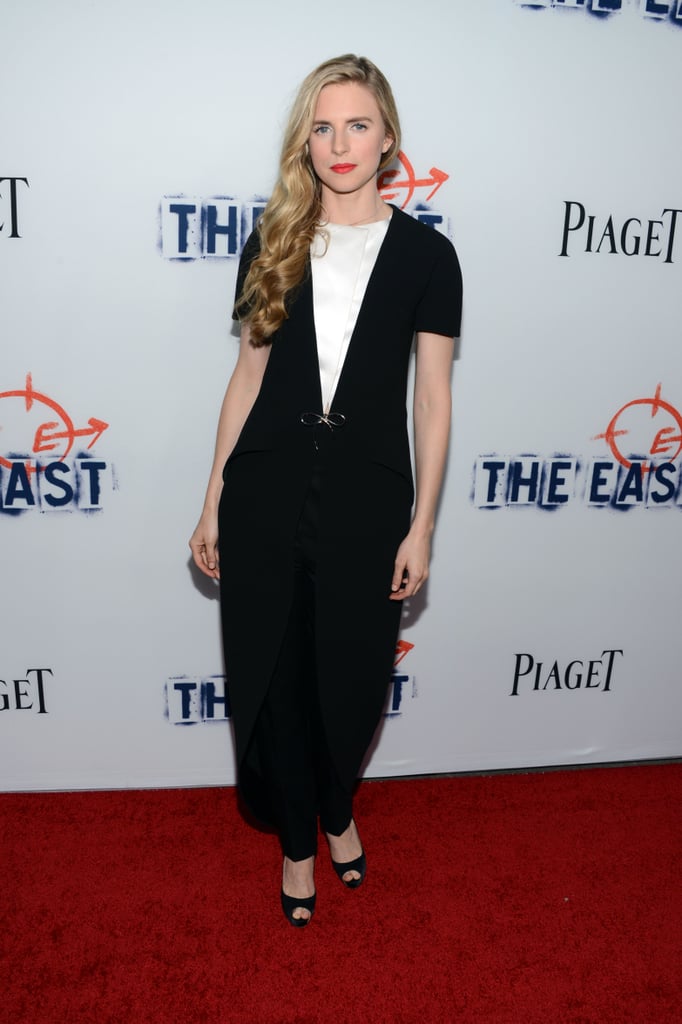 At The East premiere in Hollywood, Brit Marling was fashion forward in her black and white Balenciaga jumpsuit [7], which she polished up with red lips and peep-toe pumps.
Julianne Moore at the 2013 Met Gala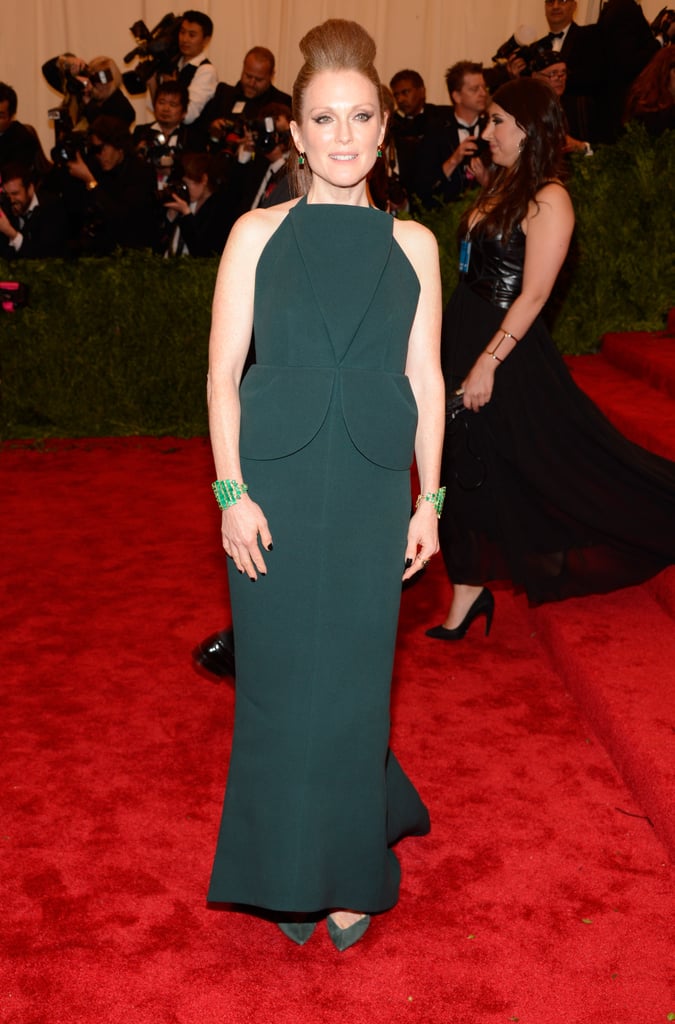 Julianne Moore fused punk with sophisticated in her green origami-style Balenciaga gown at the 2013 Met Gala in NYC.
Carey Mulligan at the 2013 Met Gala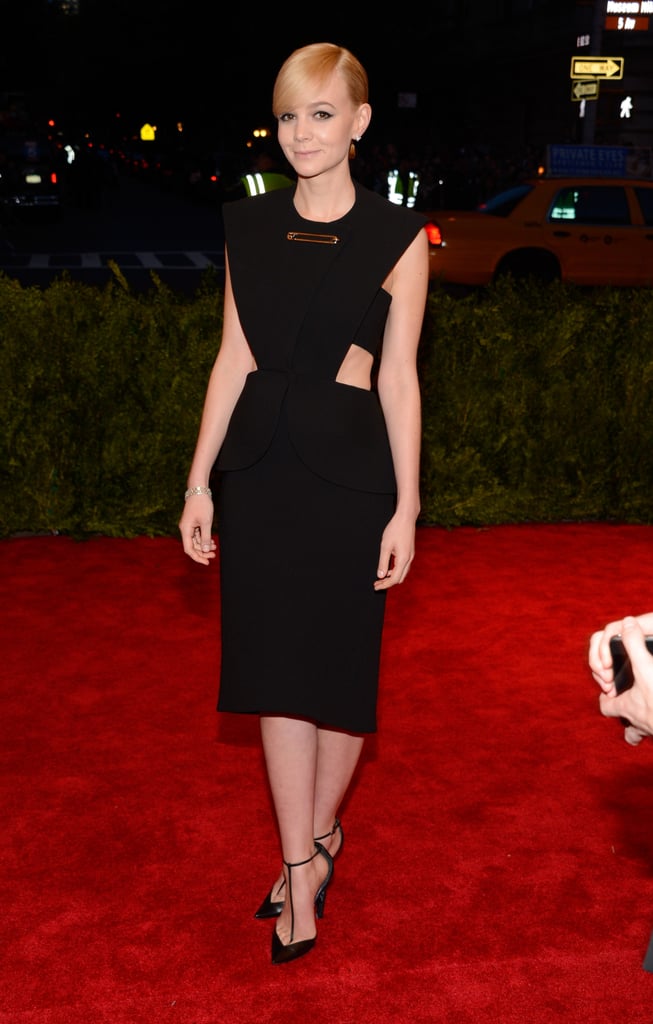 If you recall, Carey Mulligan [8] chose a cutout LBD from Alexander Wang's debut collection for Balenciaga [9] for the 2013 Met Gala in NYC. The safety pin design totally fit the night's theme — Punk: Chaos to Couture.
Lady Gaga in New York City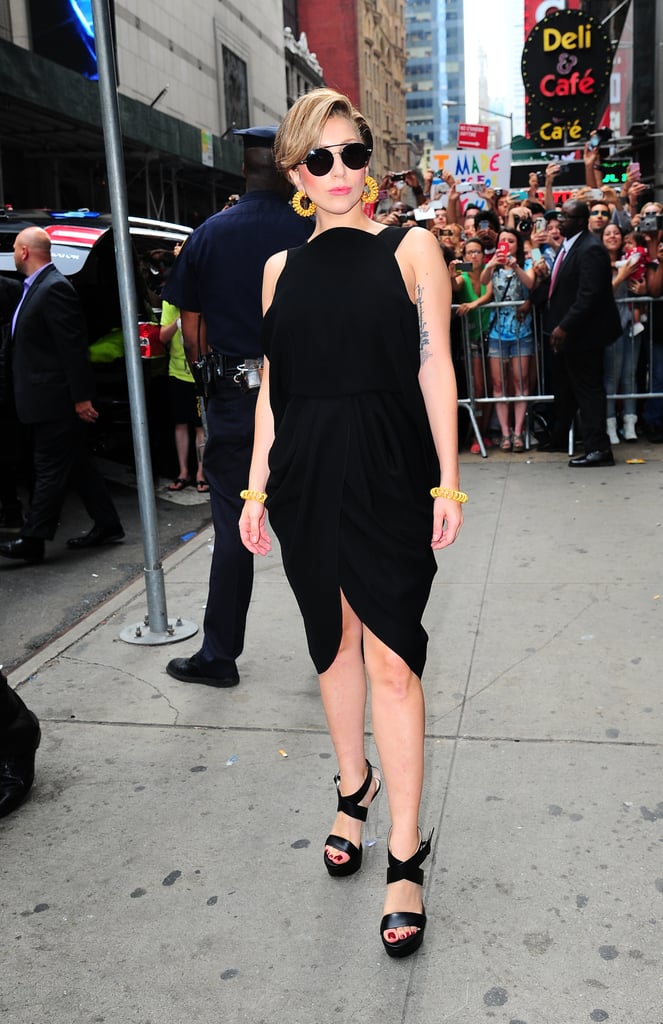 While out and about in NYC, Lady Gaga [10] again looked to Balenciaga, this time in a draped Resort 2014 dress and dramatic jewels.
Lady Gaga in Los Angeles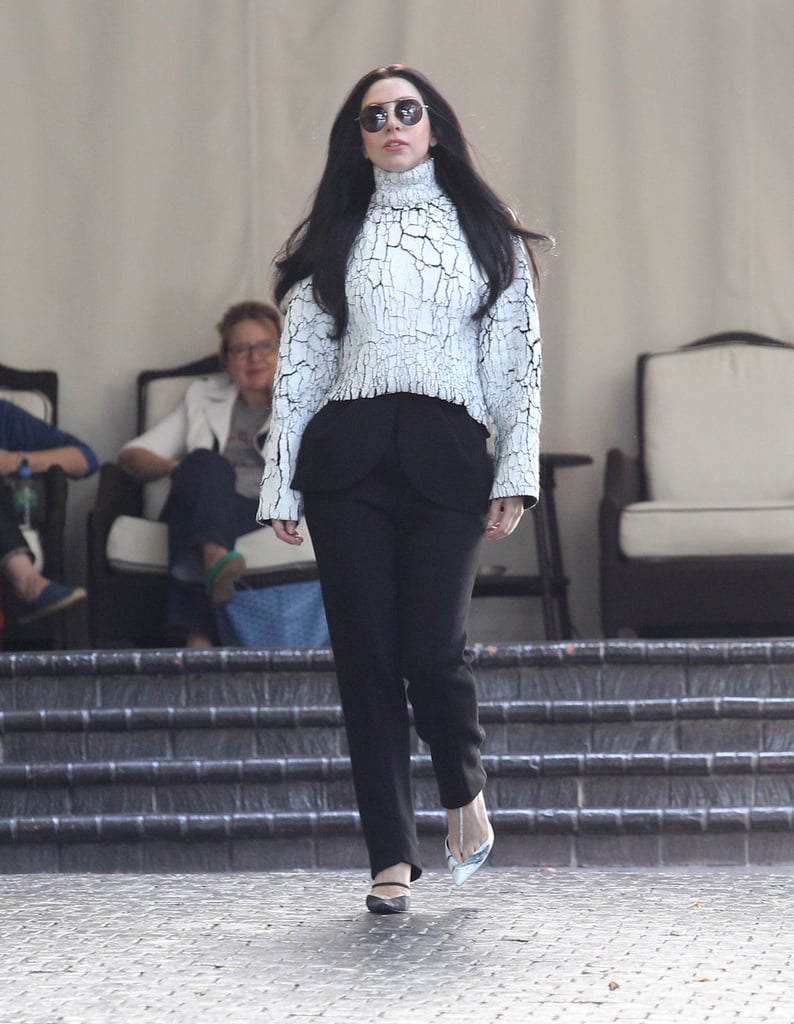 It wouldn't be hard to confuse this shot of Lady Gaga [11] with a snap from the Fall 2013 Balenciaga collection — the artist chose a crackled sweatshirt top and peplum-trimmed pants from the line for an appearance in LA.