Celebrity Fashion Quiz 2010-02-27 08:03:22
CelebStyle Smarts
Like us on Facebook
As you can see, celebs were totally feeling dark hues this week. Kylie Minogue smiled in black and khaki, Mary-Kate Olsen attended London Fashion Week in (almost) all-black, and Mila Kunis wore a sexy LBD to a red carpet event. Think you know the details of their outfits? Confirm that below.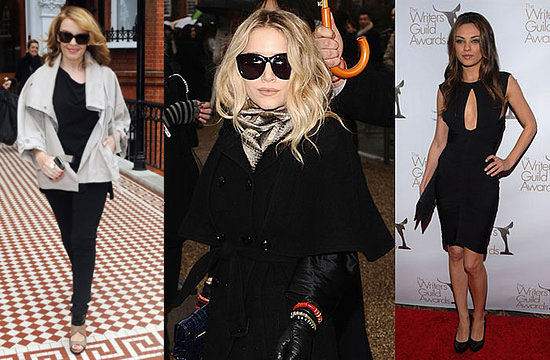 CelebStyle Smarts
What did I call the hole on the bodice of Mila Kunis's LBD?
What kind of shoes did Mary-Kate Olsen wear with her all-black ensemble?
To which designer's event did Rosario Dawson wear blue?
True or false: Sarah Michelle Gellar's over-the-knee boots had high-heels.
What kind of jacket did Kylie Minogue wear over her all-black outfit?
Link Love