Celine Fall 2016 Collection
Phoebe Philo Strikes the Perfect Match With Céline's Fall '16 Collection
ADVERTISEMENT ( more slides)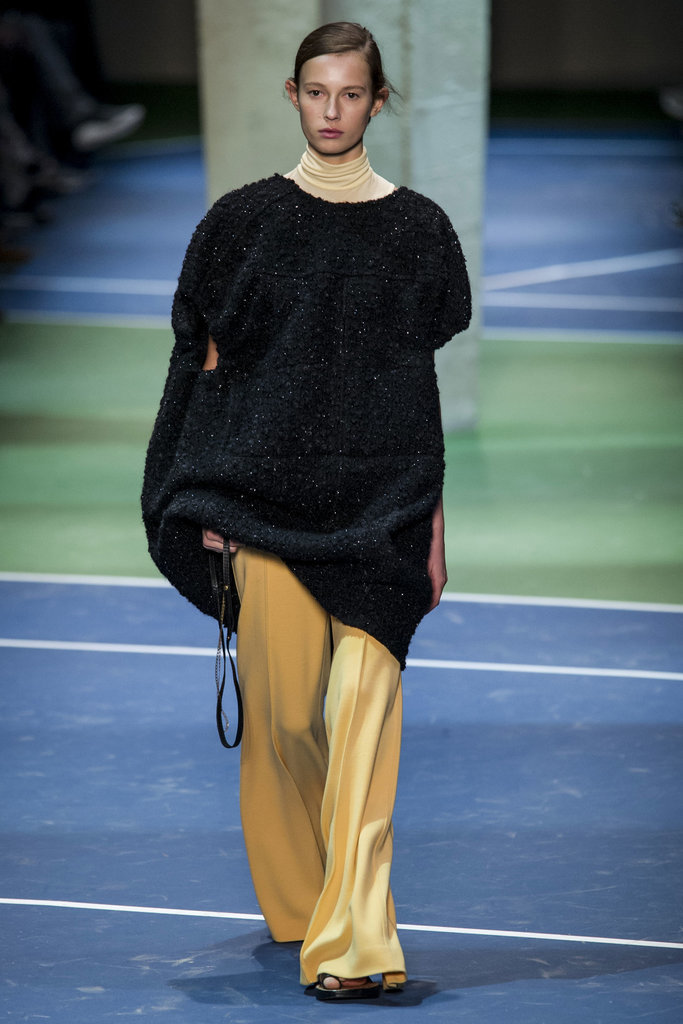 1
Phoebe Philo Strikes the Perfect Match With Céline's Fall '16 Collection
The
Fall '16
Céline show was situated on a lined sports court surrounded by stadium seating. But this wasn't a tennis match — it was designer Phoebe Philo's game, and these were the rules. It's not about whether you have the It bag or that milky leather trench, but the way you wear it. The straps of clutches were tied, almost forcefully, up a model's wrist to best accentuate the rest of her outfit. Pouches were strung around the waist, not quite hiding behind coats, but showing just enough of themselves to strike a balance. Buttons popped, and belts were unhinged just so you could peek at the interior shade of a strap. Noisy, asymmetrical sweaters featured two sleeves, but girls only slipped their arms through one. Who cares? No one wondered why. The satin dresses with ruching could be worn alone, and surely some women will wear them that way. But Philo wants you to layer them over her trousers, which pool just so that the toes peek out when you take a step in your slider sandals. It may be Fall, but when you see the Céline models stomp the runway so confidently, you trust their feet won't be cold. Finally, will all women soon be wearing their totes strapped across their chests like makeshift crossbodies? It's a trend already popping up on the streets, perhaps for convenience. But if anyone can confirm the coolness and staying power of
a styling move
, it's Philo.
Trends: Dresses over pants, all strapped up, pooling trousers.
Colors: Black, milky mustard, cream, khaki, and sporty spurts of green and blue.
Shoes: Toe-strap sliders and the classic leather-wrapped Céline pump.
Editor's Pick: A textured camel coat with two mismatched leather panels that wrap around the shoulders like straps.
Key Look: The shapely oversize black sweaters (some played up with shimmer) with sleeves to be utilized, or not. Complete with roomy wear-all-day pants.
What You Shouldn't Miss: The way two models lightly clasped their cloaks like robes, a feminine touch.