As sad as it is to wave goodbye to Summer, there's something exciting about pulling out your wintertime coats. A good topper is priceless for elevating a look, adding some panache, and, of course, keeping a girl warm. Whether you're on the hunt to update your collection or simply want to know what shapes you'll be seeing out and about this season, we've assembled the best trends from the Fall 2013 runways [1] and shopped them out to give you plenty of options.
Jump to a trend:
Minimalist [2]
Parka [3]
Belted [4]
Bomber [5]
Oversize [6]
Camel [7]
Fur [8]
Ladylike [9]
Military-Inspired [10]
Motorcycle [11]
Minimalist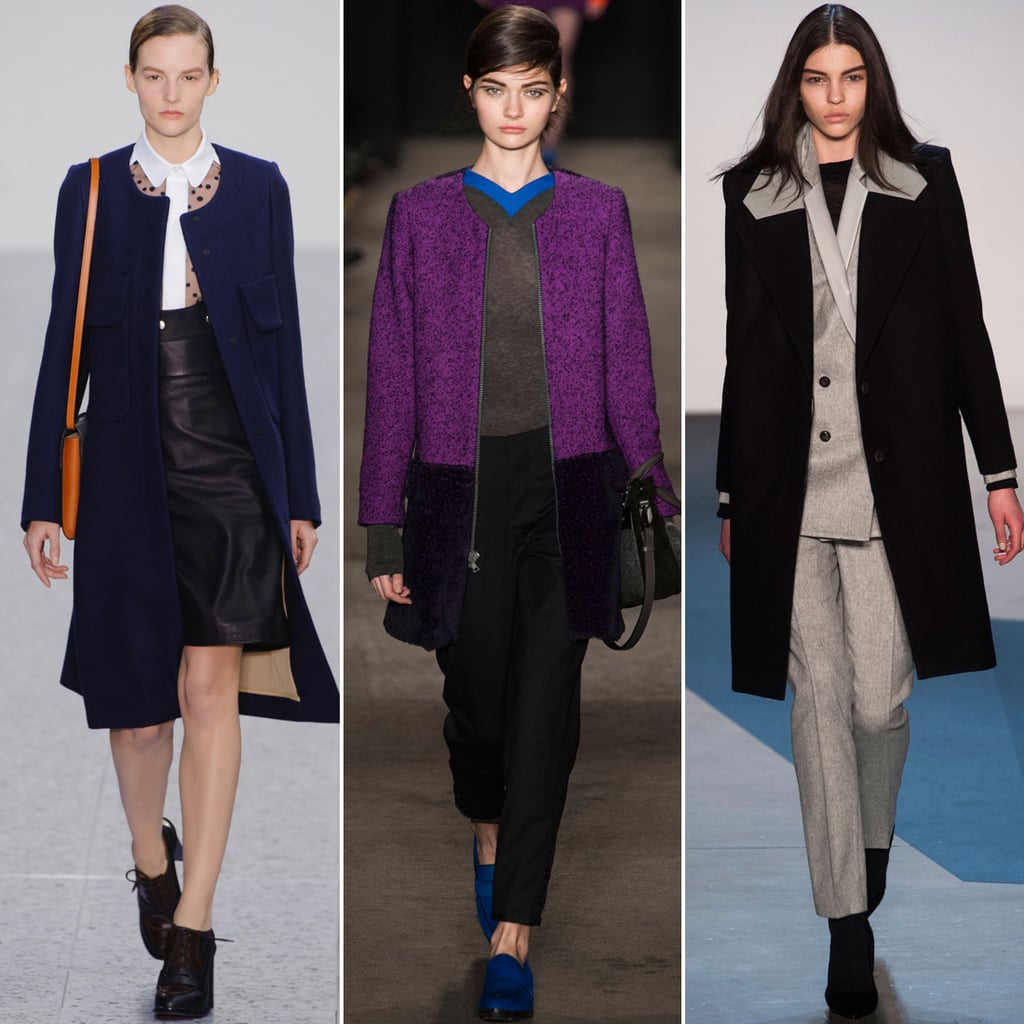 Why we love it: The ultraclean look is sleek, sophisticated, and easy to wear. It can easily adapt to any wardrobe or be the focal point of the entire season — lady's choice.
How to wear it: Wearing a beautifully tailored coat is practically brainless. It looks sharp worn into the office and with skinny jeans on the weekend. If you're looking to invest in a single piece, then let this be it.
Runway: Chloé [12], Rag & Bone [13], and Helmut Lang [14]
Minimalist

Helmut Lang Meta Long Coat [15] ($895)
Minimalist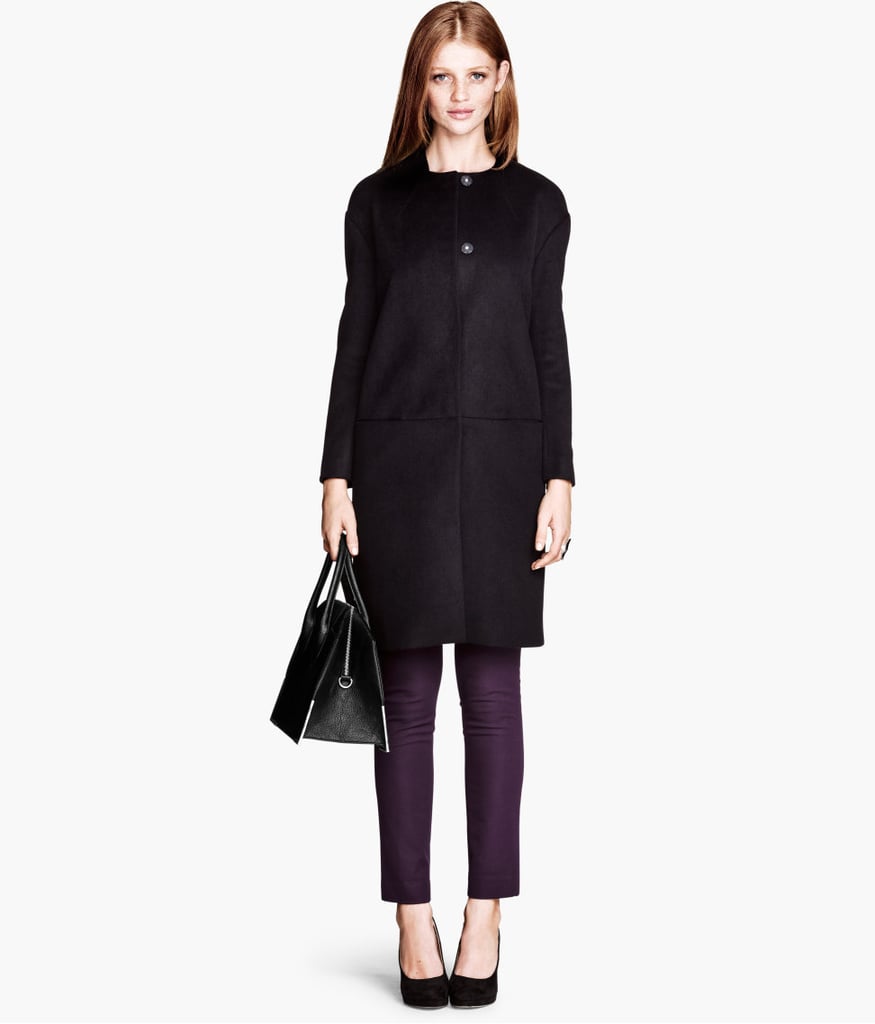 H&M Wool Coat [16] ($80)
Minimalist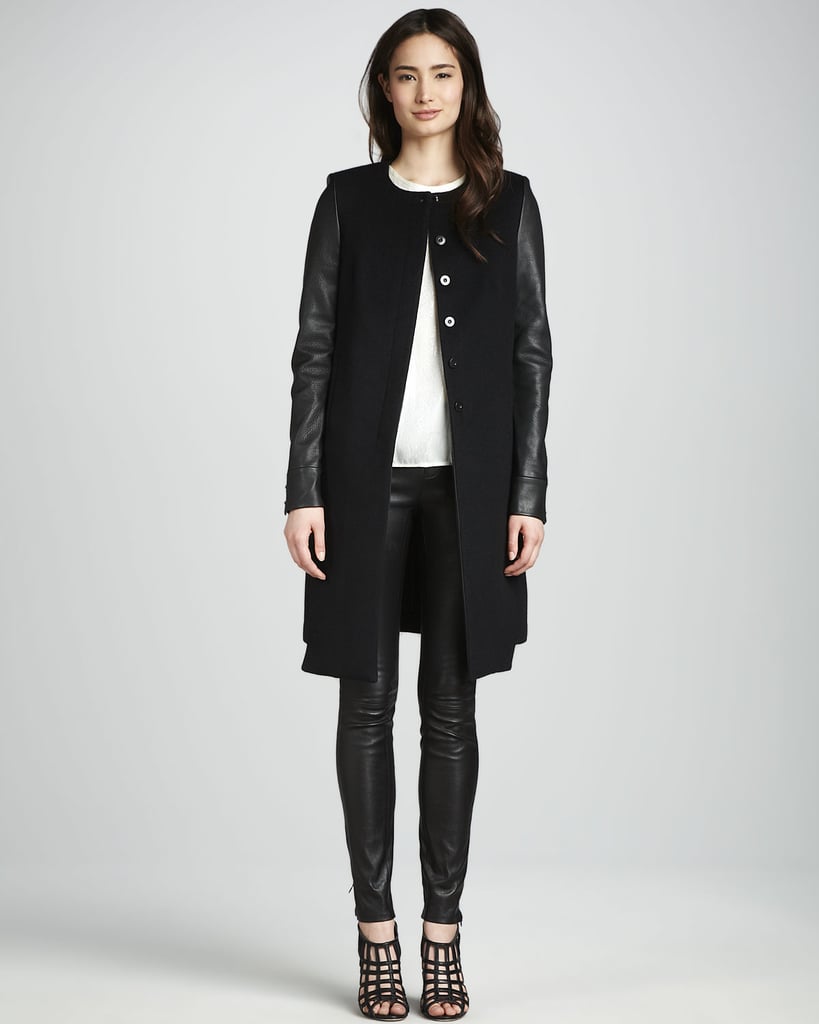 J Brand Ready to Wear Emilie Leather-Sleeve Wool Coat [17] ($1,995)
Minimalist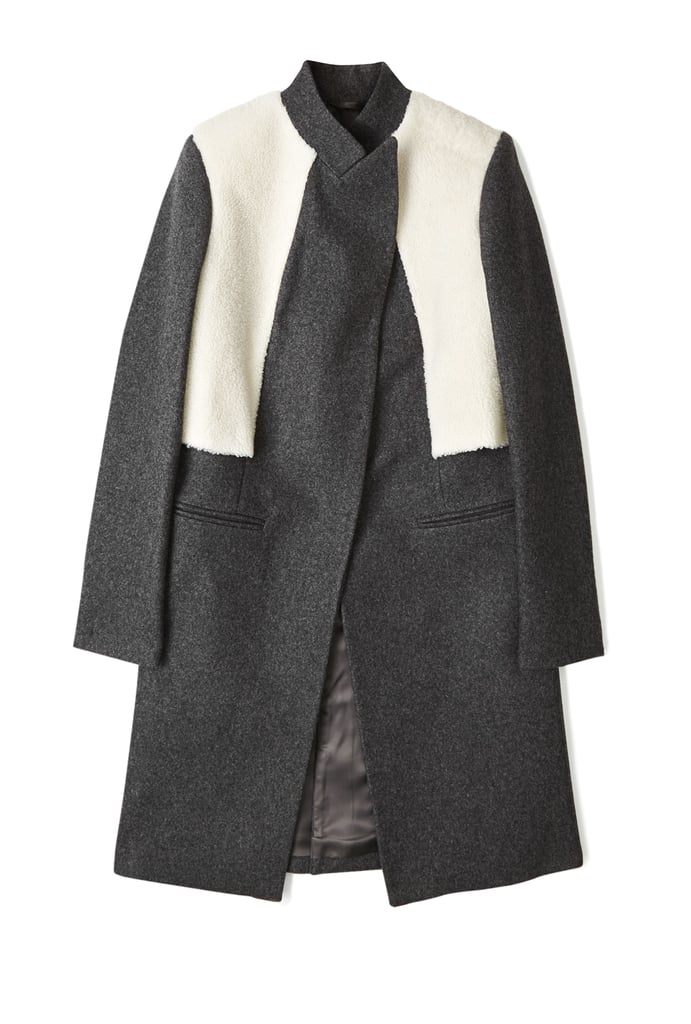 Neil Barrett Shearling Panel Wool Coat [18] ($1,581)
Minimalist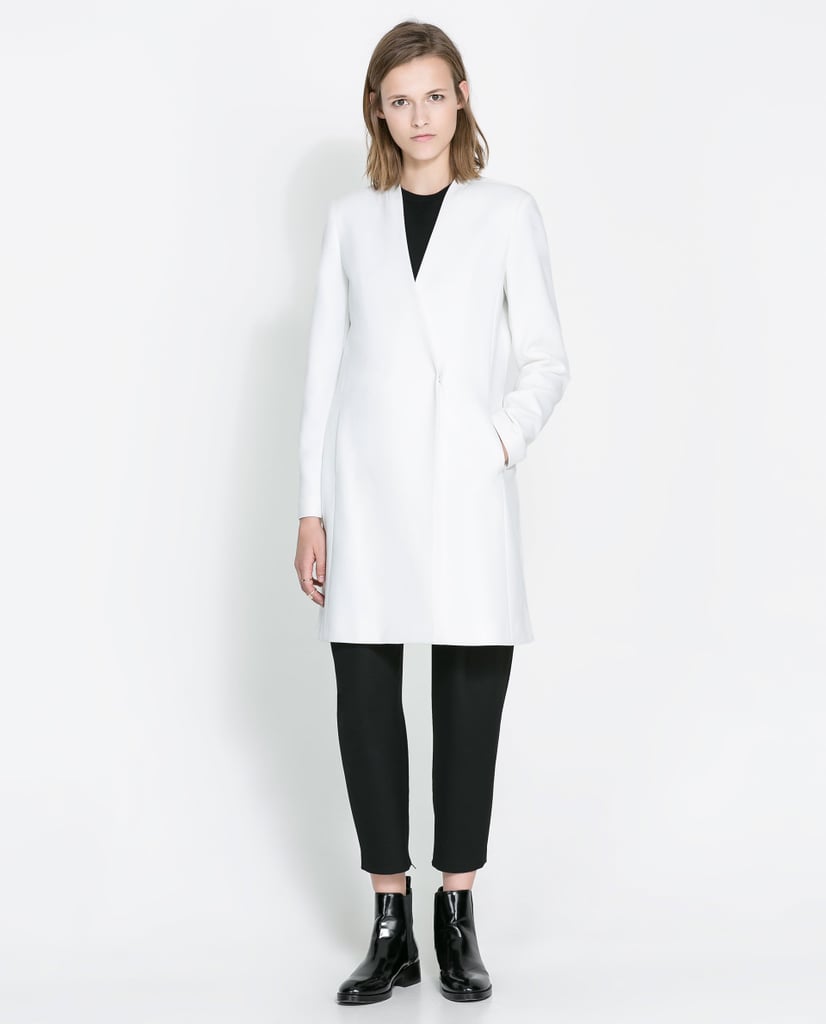 Zara Double-Breasted Coat [19] ($119)
Minimalist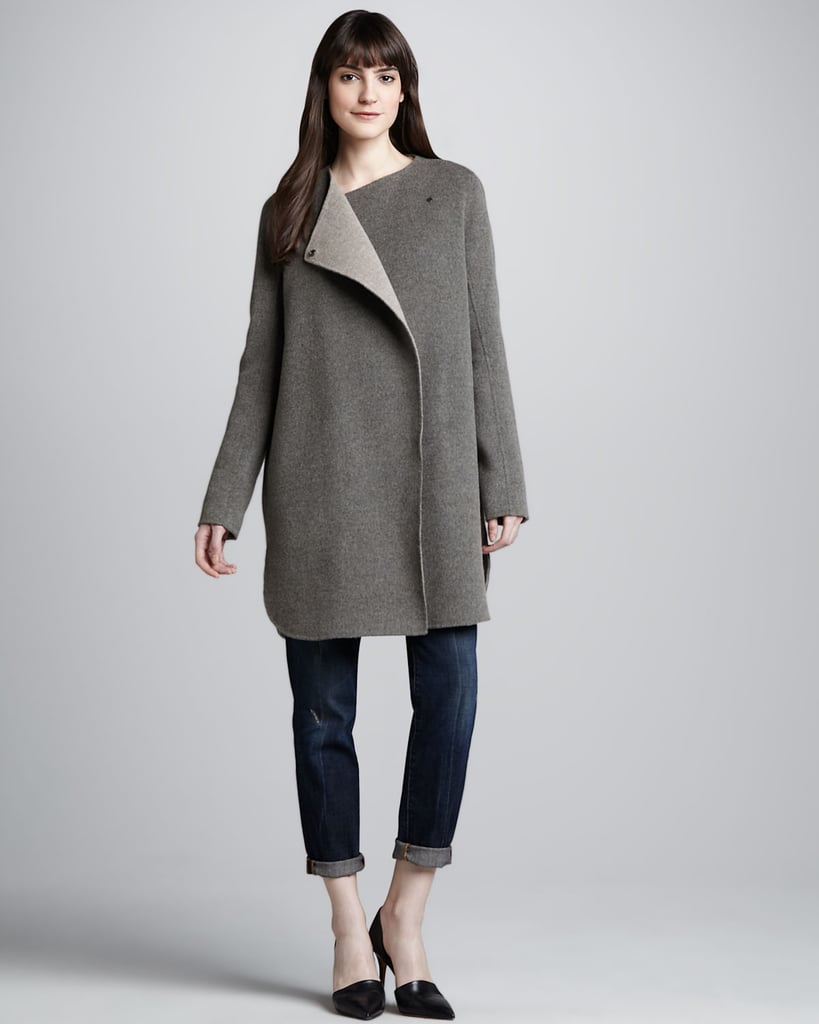 Vince Asymmetric Felt Coat [20] ($675)
Parka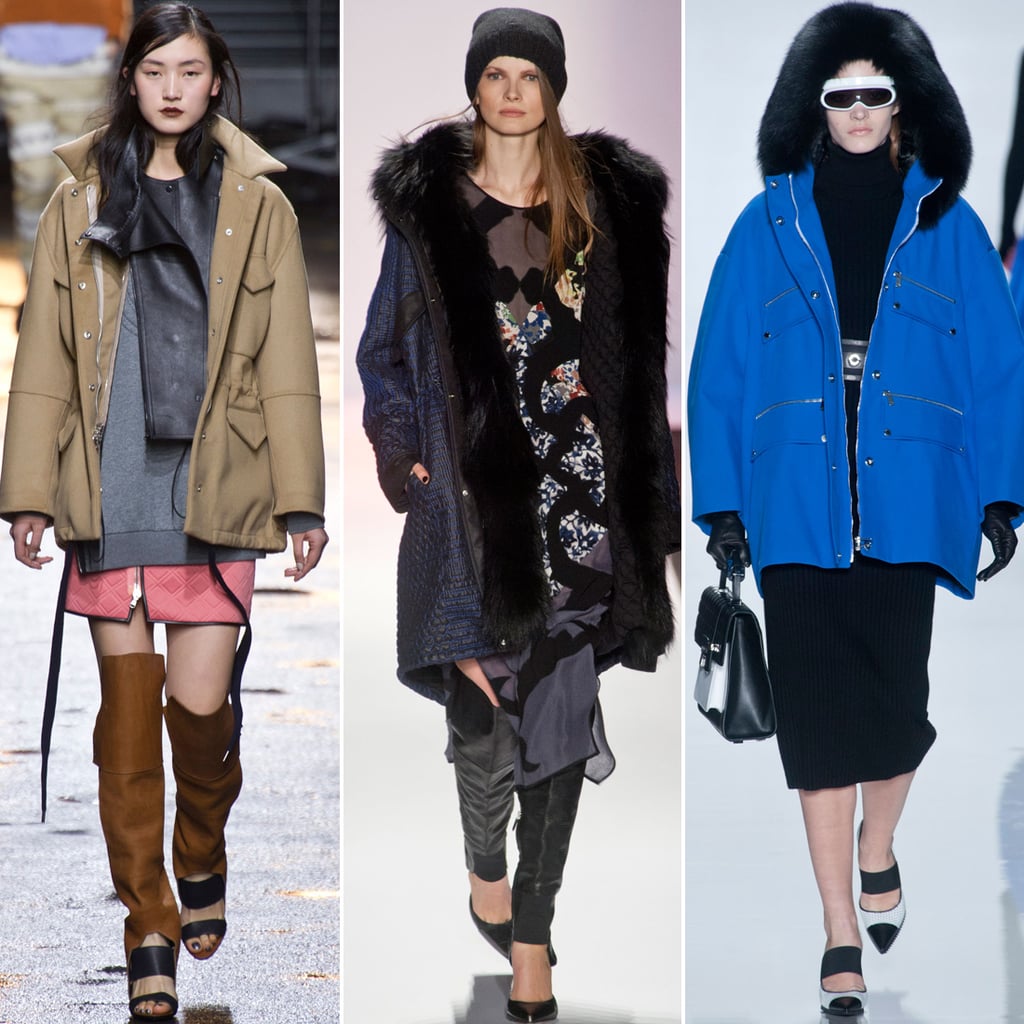 Why we love it: Seen on the runway, the unfussy parka might be all fashion, but design details are still rooted in the style's practical DNA. Roomy with a cinched waist and traditionally with a hood, the new version looks cool while keeping you warm.
How to wear it: In early Fall, roll up the sleeves and throw it over your short-sleeved dresses and tees. When real Winter rolls around, wear it solo or layer it with sweaters and sweats for ultimate bundling.
Runway: 3.1 Phillip Lim [21], BCBG Max Azria [22], and Michael Kors [23]
Parka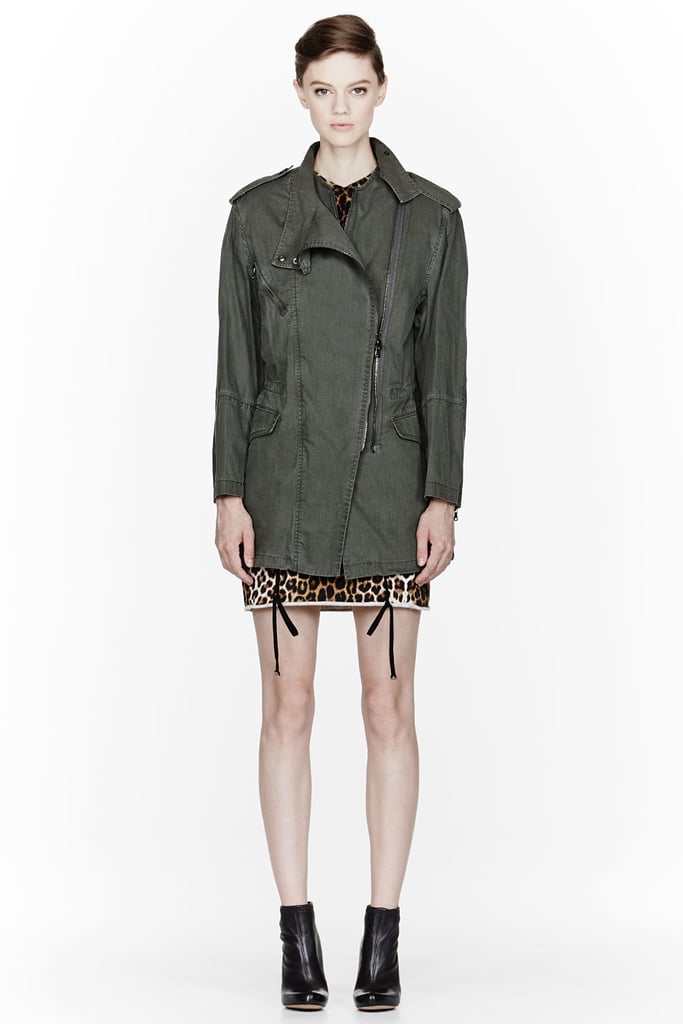 3.1 Phillip Lim Fur-Lined Layered Parka [24] ($1,095)
Parka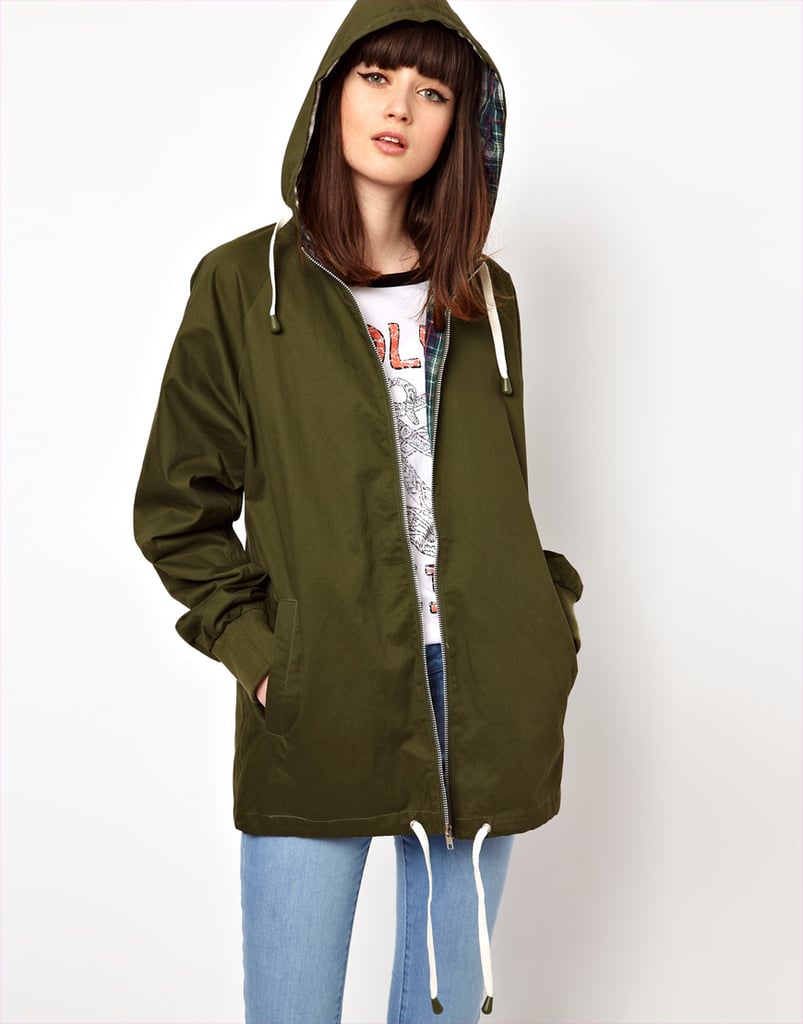 Pop Boutique Anorak [25] ($64)
Parka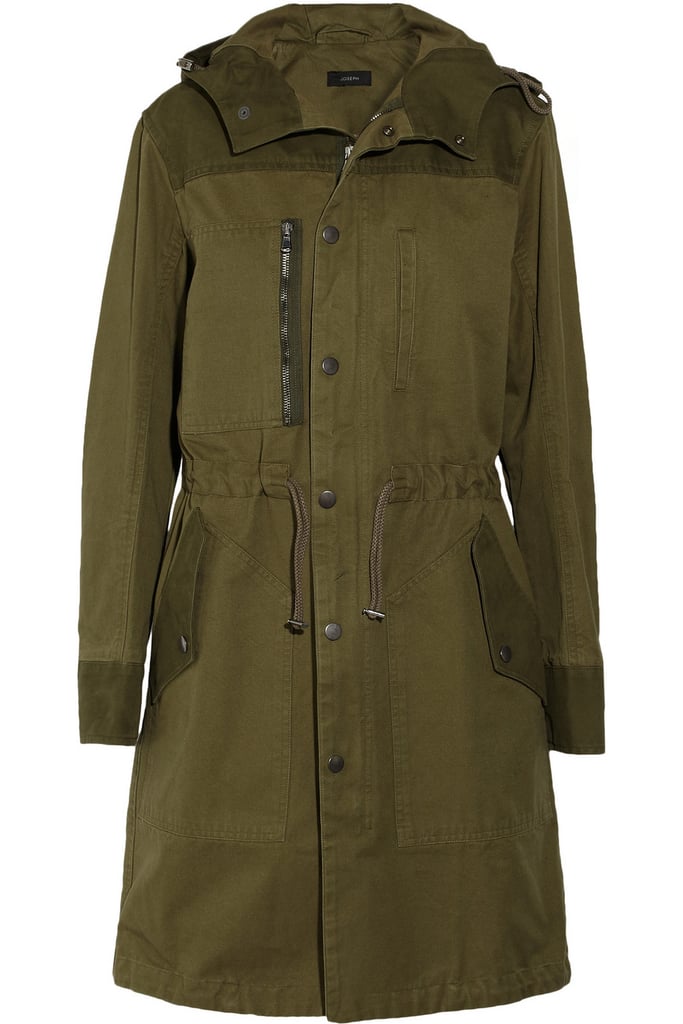 Joseph Quad Cotton-Twill Parka [26] ($975)
Parka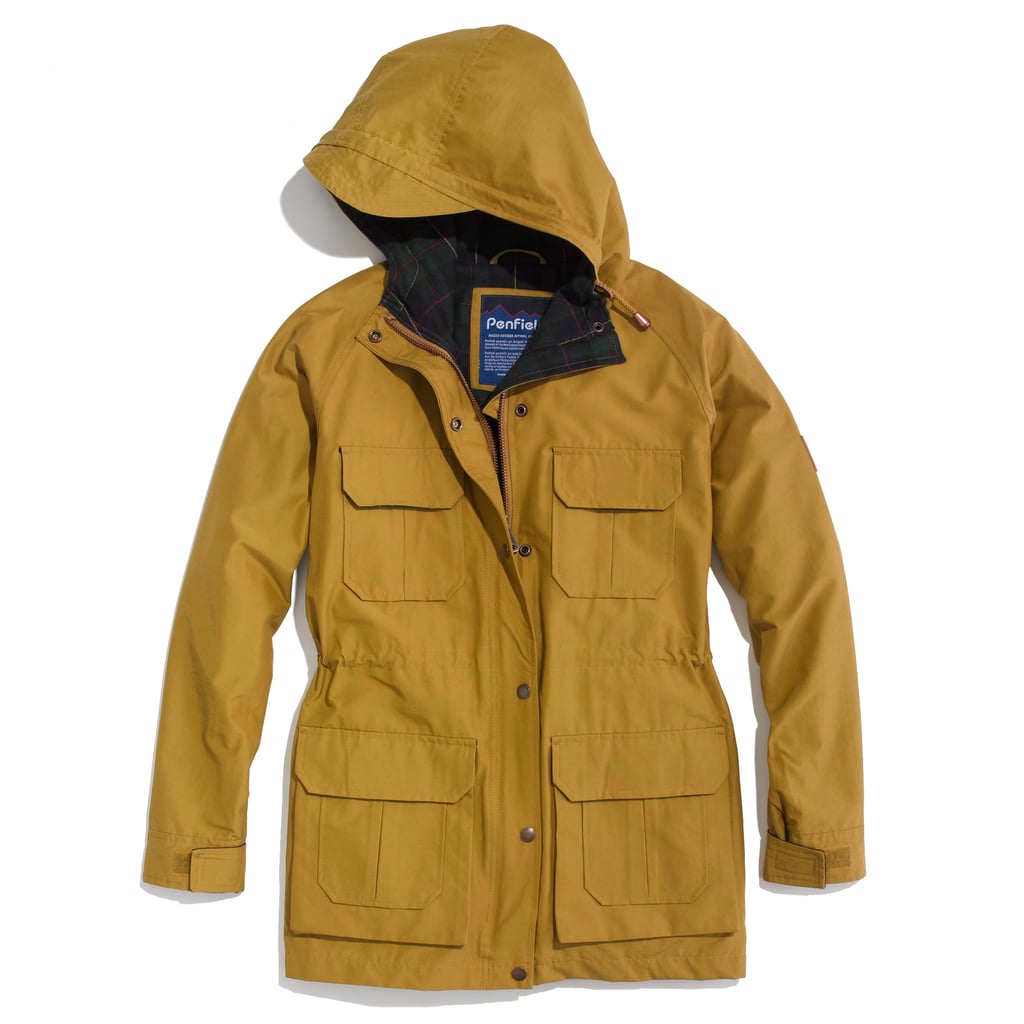 Penfield Kasson Parka [27] ($185)
Parka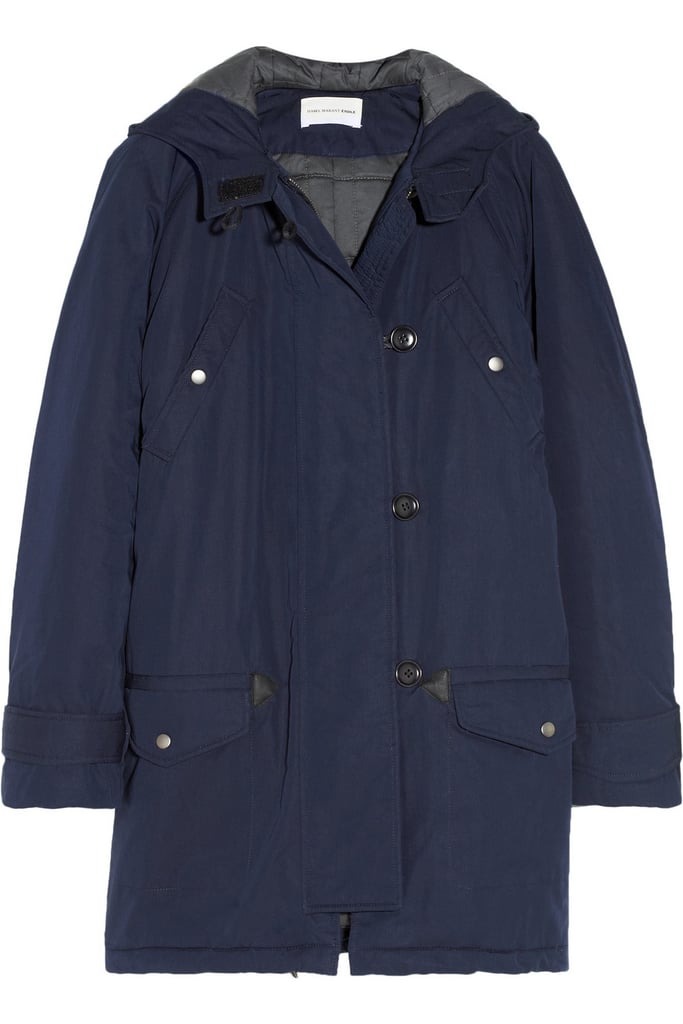 Étoile Isabel Marant Farren Hooded Cotton-Blend Parka [28] ($800)
Parka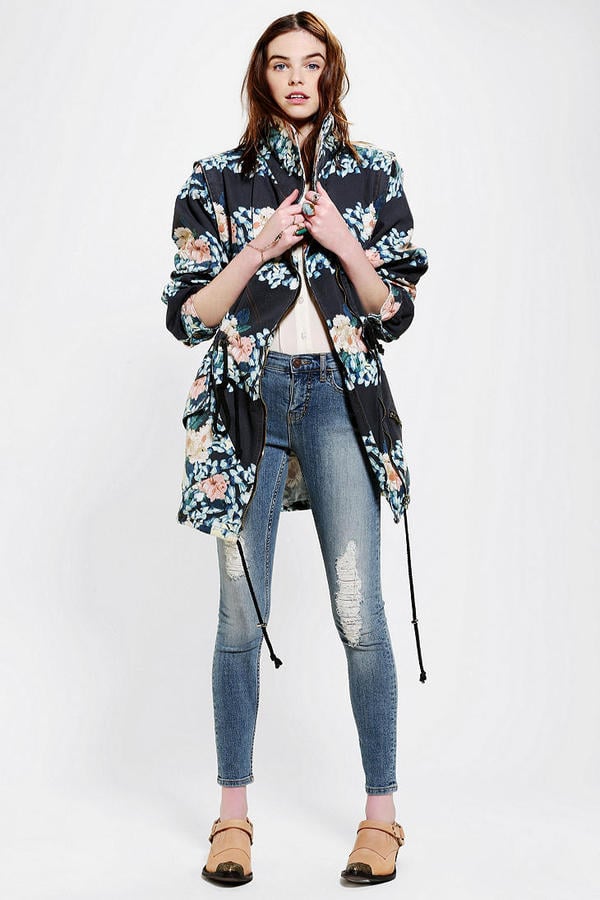 Somedays Lovin Convertible Daffodil Denim Coat [29] ($99)
Parka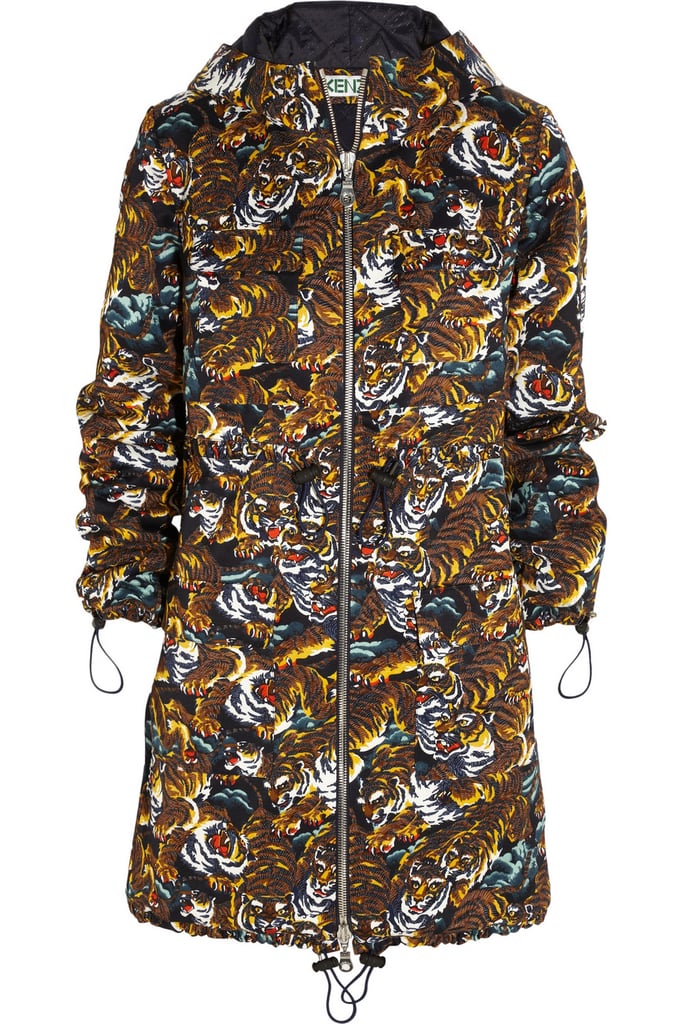 Kenzo Tiger Jungle-Print Cotton-Blend Twill Parka [30] ($1,445)
Belted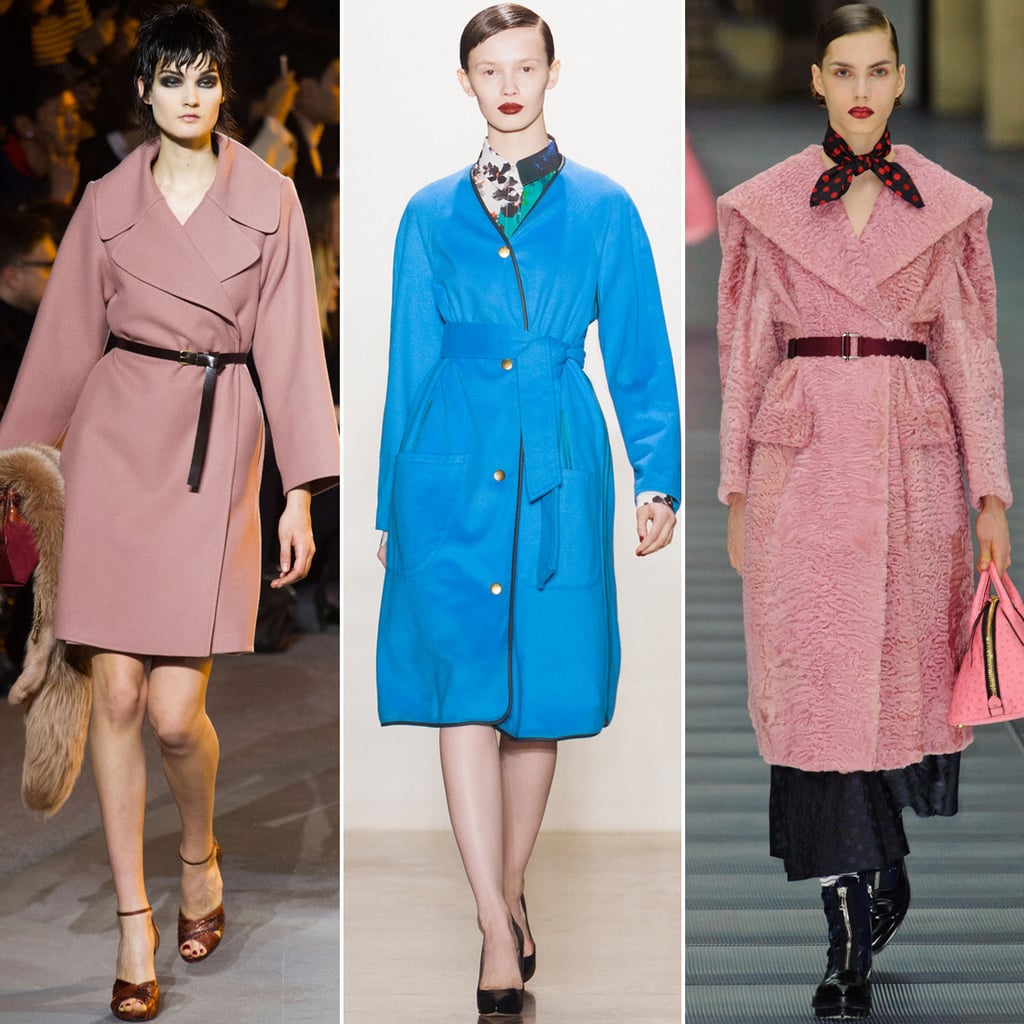 Why we love it: Compared to dainty dresses and feminine skirts, a coat can feel so . . . boring. But this sweet style, whether supersaccharine or made for the working woman, is far from masculine.
How to wear it: Experiment with your tying strategy to mix things up. Casually knotted can read laid-back Saturday, while a proper tie or hook feels all buttoned-up. Already own a coat this shape? Experiment with a regular belt!
Runway: Marc Jacobs [31], Peter Som [32], and Miu Miu [33]
Belted

Nina Ricci Tweed Knit Four-Snap Button Coat [34] ($2,400)
Belted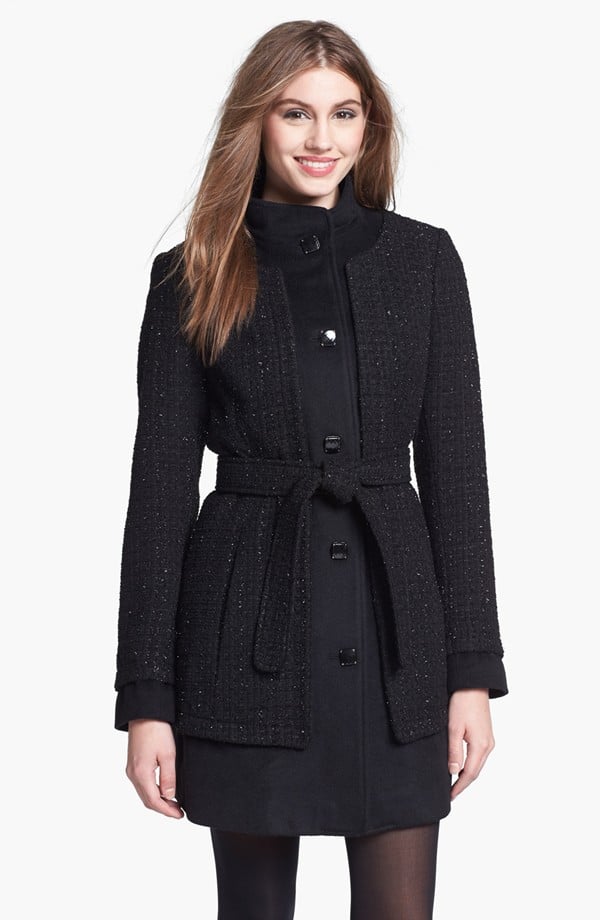 Ivanka Trump Belted Tweed Overlay Coat [35] ($228)
Belted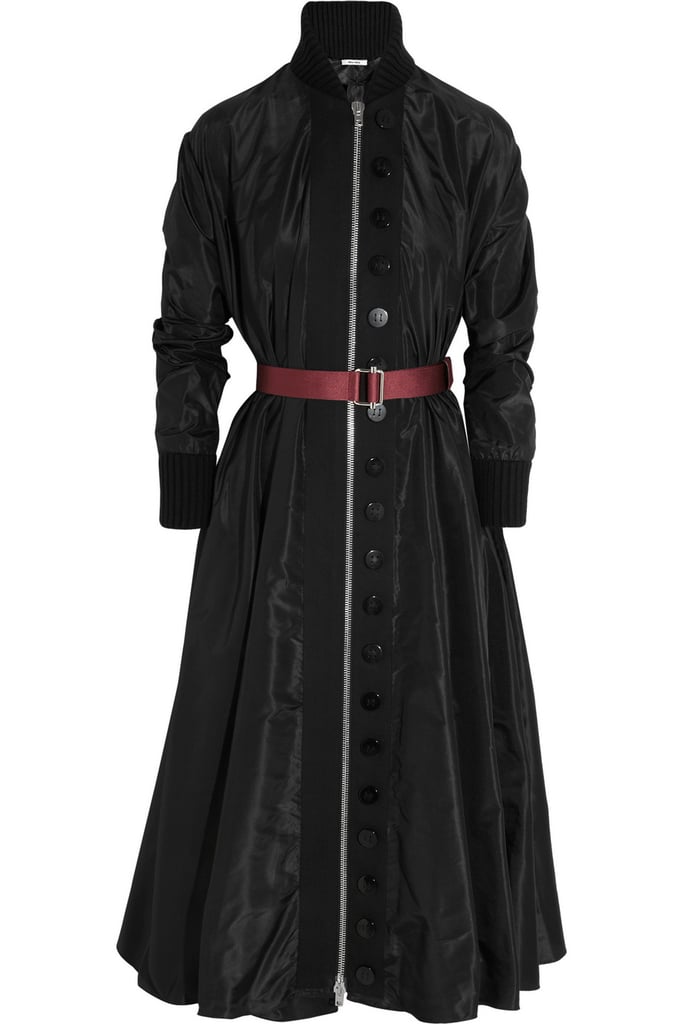 Miu Miu Belted Silk-Taffeta Coat [36] ($2,890)
Belted
Carven Contrast Collar Tweed Coat [37] ($903)
Belted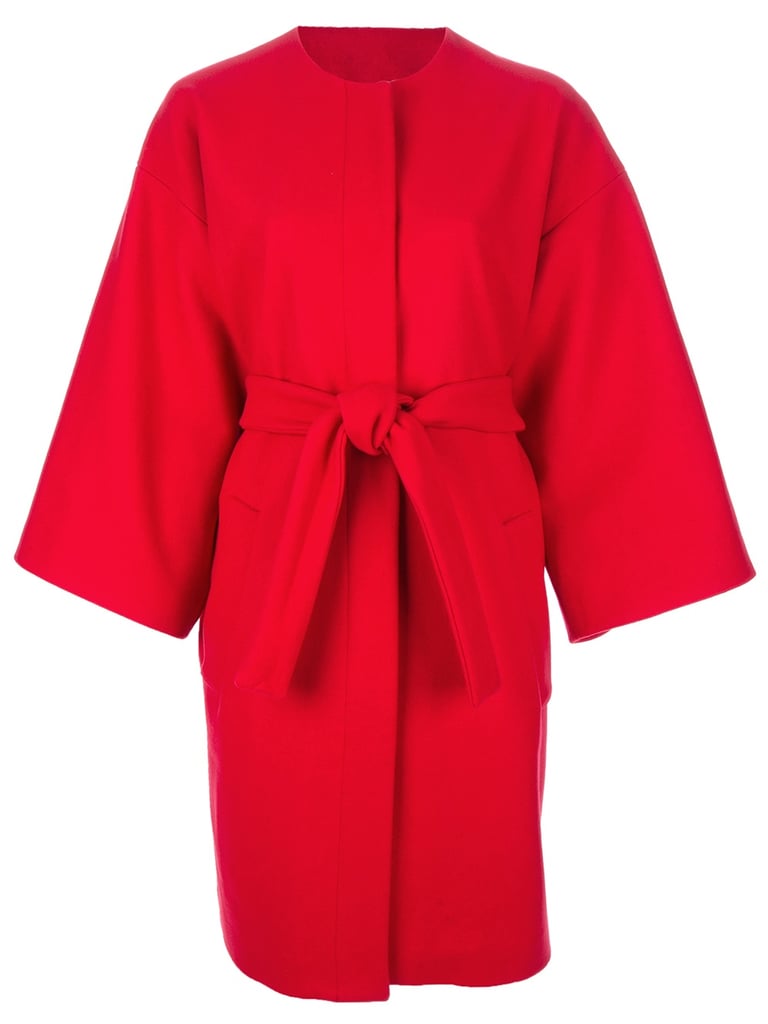 MSGM Belted Coat [38] ($599)
Belted
Trina Turk Jami Wrap Coat [39] ($560)
Bomber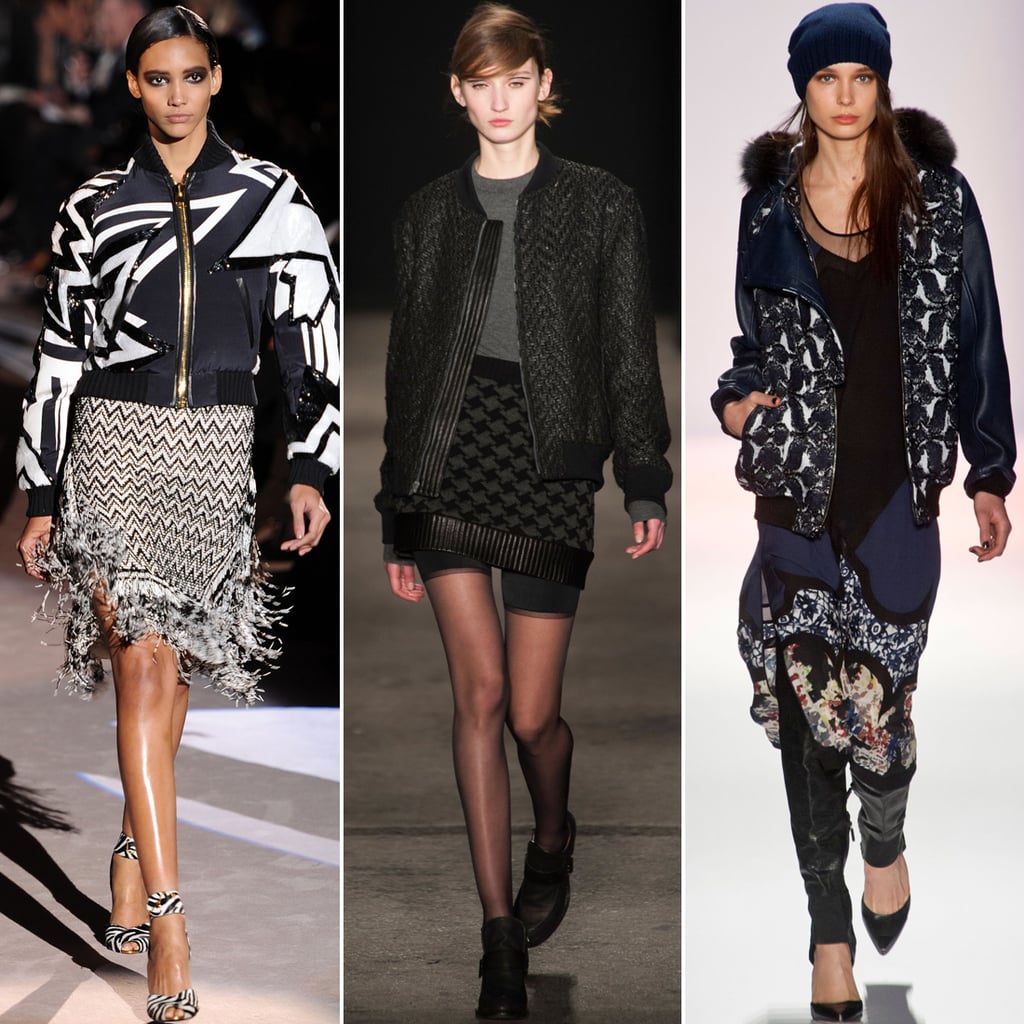 Why we love it: There's something inherently sporty about the style, with its banded cuffs and bottom. And whenever designers bring something back from the closets of our memory (letterman jackets, anyone?), we cheer.
How to wear it: The silhouette naturally makes for the perfect off-duty topper, sure, but try it styled with a sleek dress or flared skater skirt, and we're really talking.
Runway: Tom Ford [40], Rag & Bone [41], and BCBG Max Azria [42]
Bomber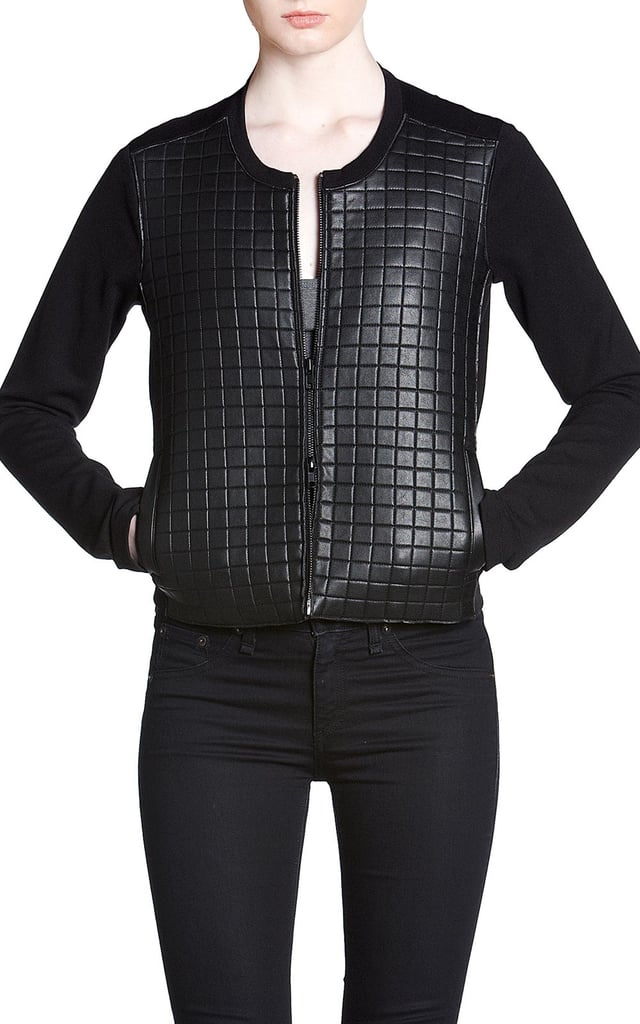 Bailey 44 Off the Grid Jacket [43] ($284)
Bomber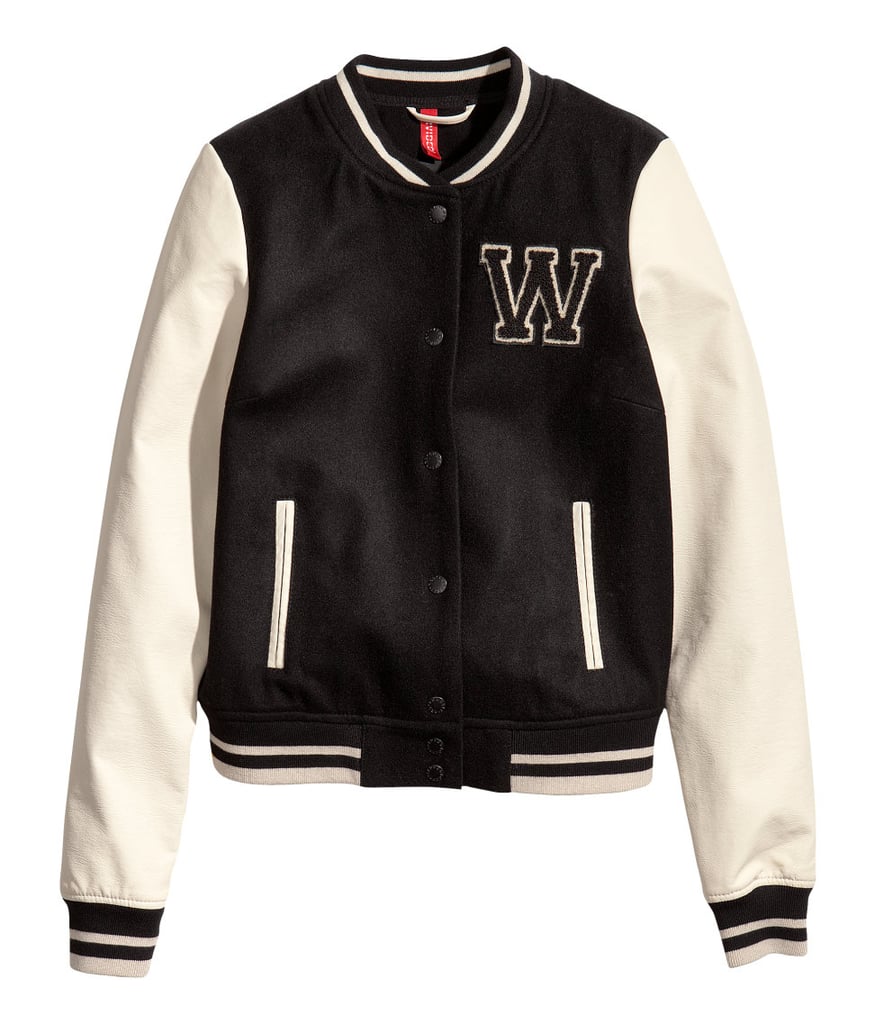 H&M Baseball Jacket [44] ($50)
Bomber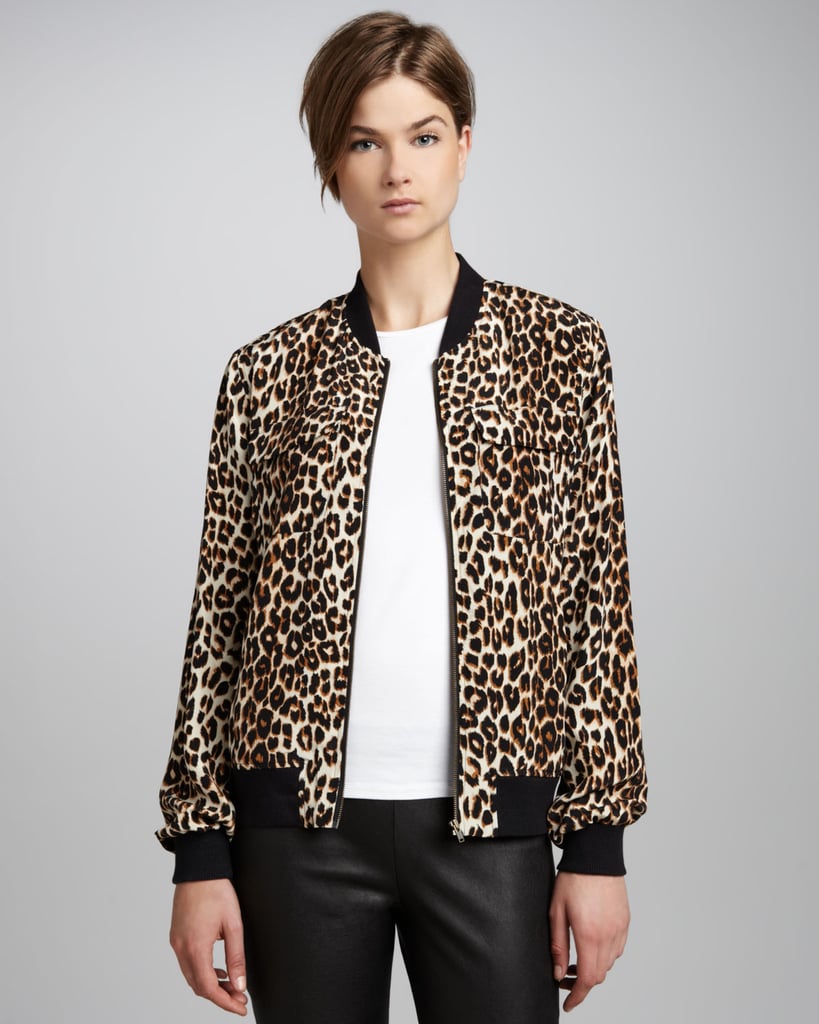 Equipment Abbot Leopard Print Bomber Jacket [45] ($298)
Bomber
Elizabeth and James Lena Quilted Jacket [46] ($295)
Bomber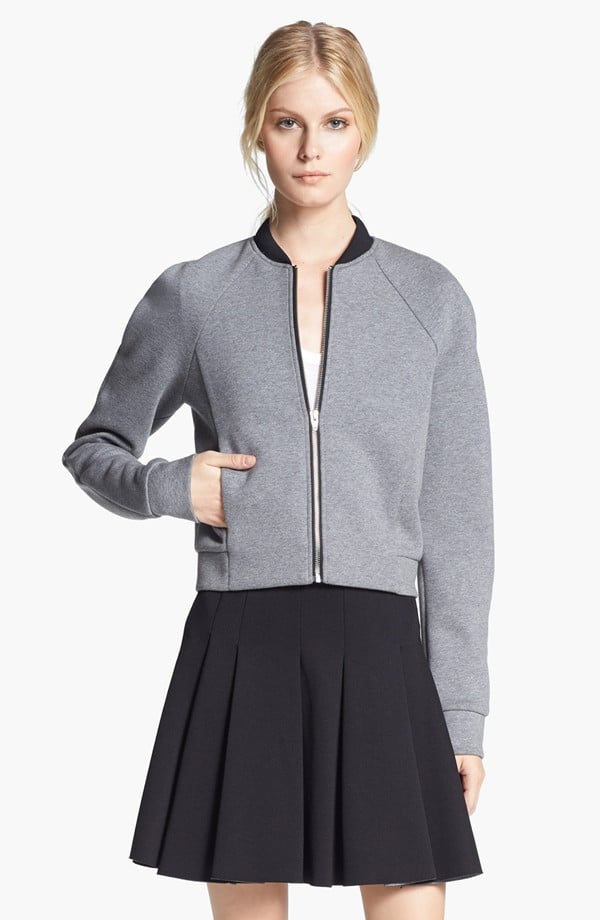 T by Alexander Wang Bonded Jersey and Neoprene Jacket [47] ($340)
Bomber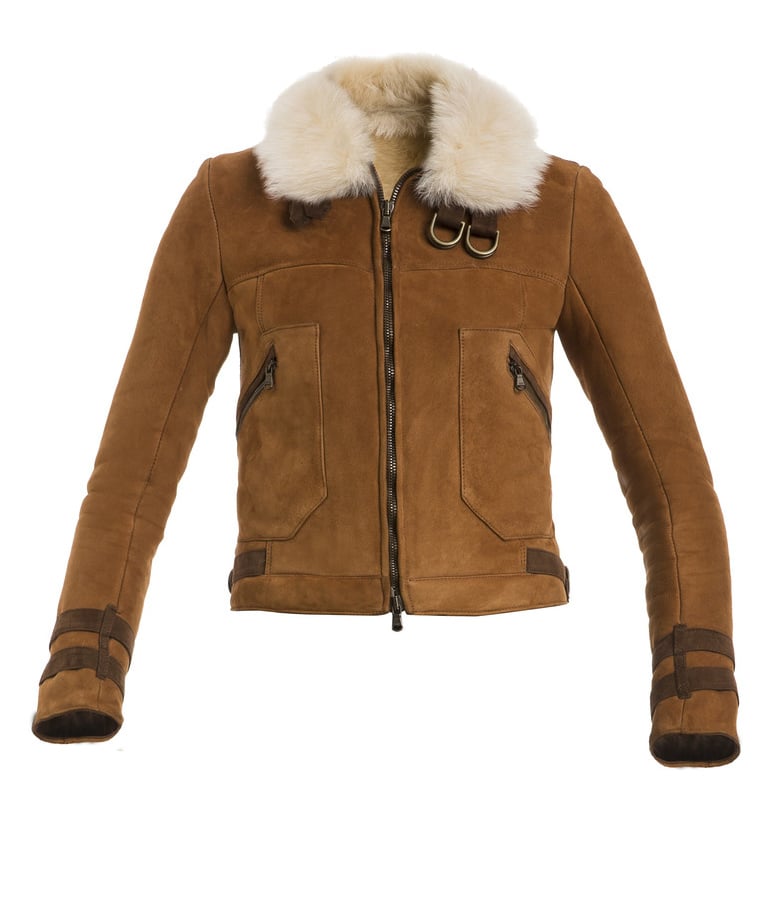 Veronica Beard The Shearling Jacket [48] ($2,995)
Oversize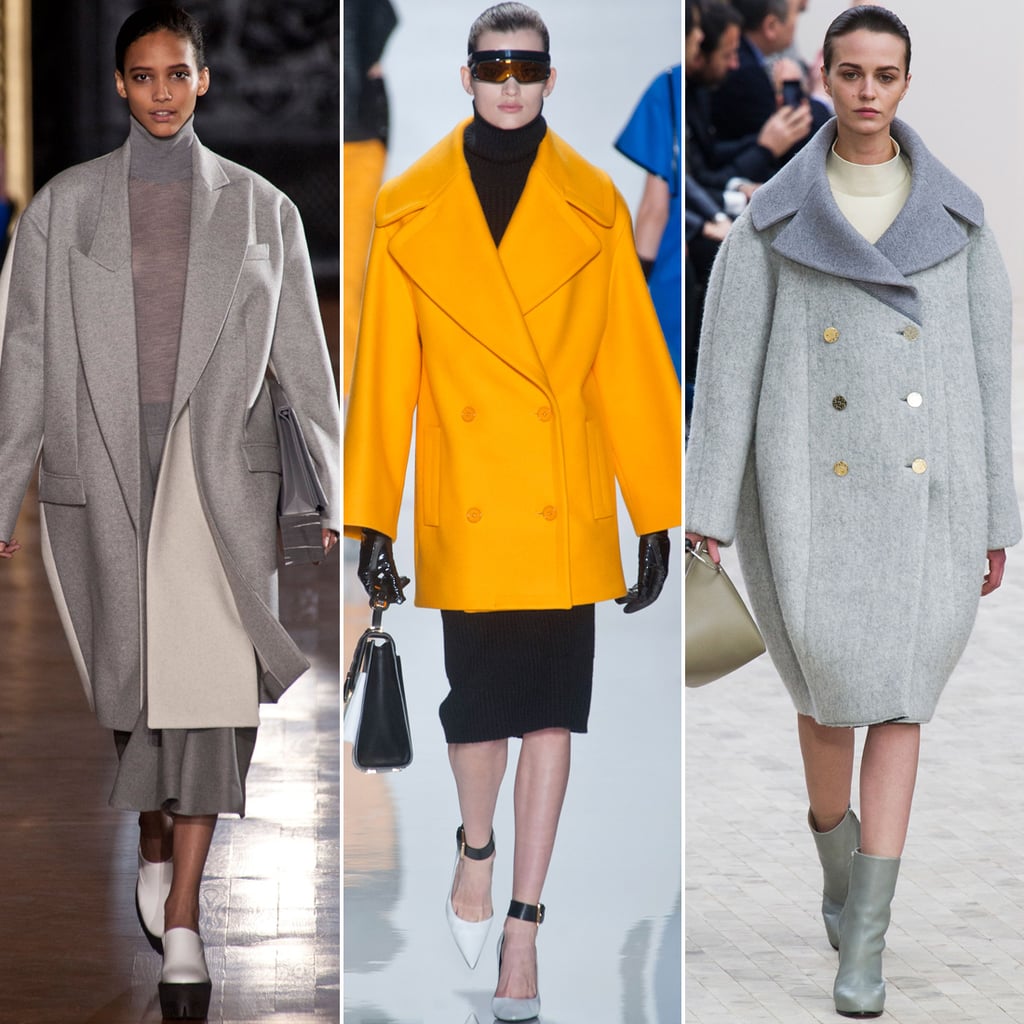 Why we love it: Anything that tests the boundaries of accepted silhouettes is met with glee by jaded fashion editors. It feels avant-garde but comfy, making for a total win-win situation for the cozy mentality of Fall and Winter.
How to wear it: The trendy shape is a standout and totally comfortable with being the focal point of your entire outfit. Temper its size by wearing with skinny jeans and trousers (read: skip your wide-leg pants when taking this out for a spin).
Runway: Stella McCartney [49], Michael Kors [50], and Céline [51]
Oversize

A.L.C. Betancoart Coat [52] ($995)
Oversize
Marimekko Navakka Coat [53] ($498)
Oversize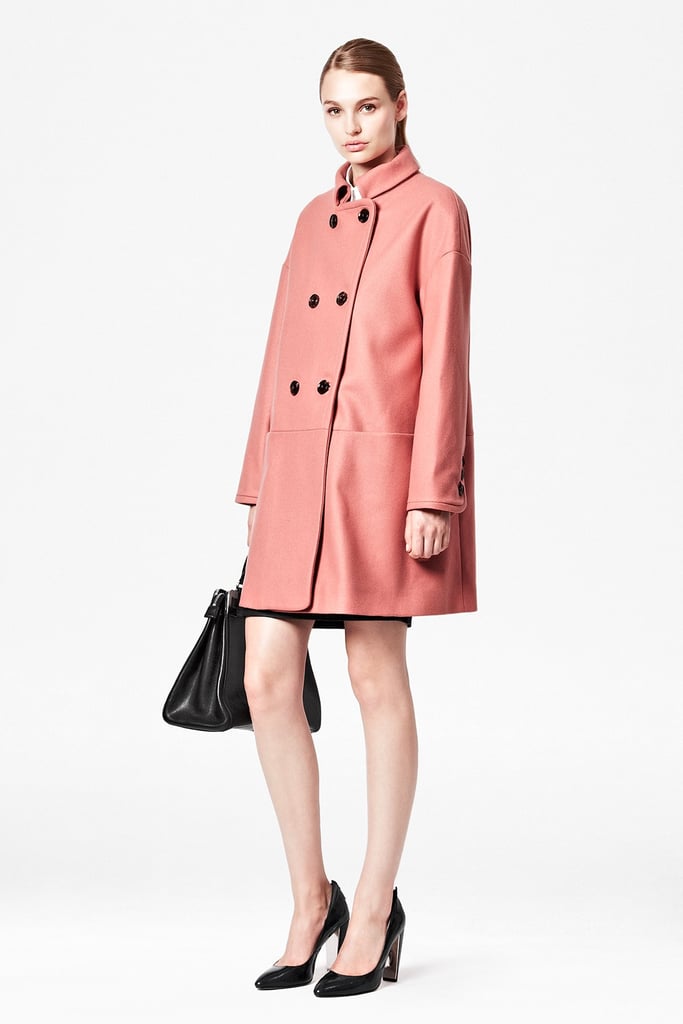 French Connection Glorious Wool Oversized Coat [54] ($348)
Oversize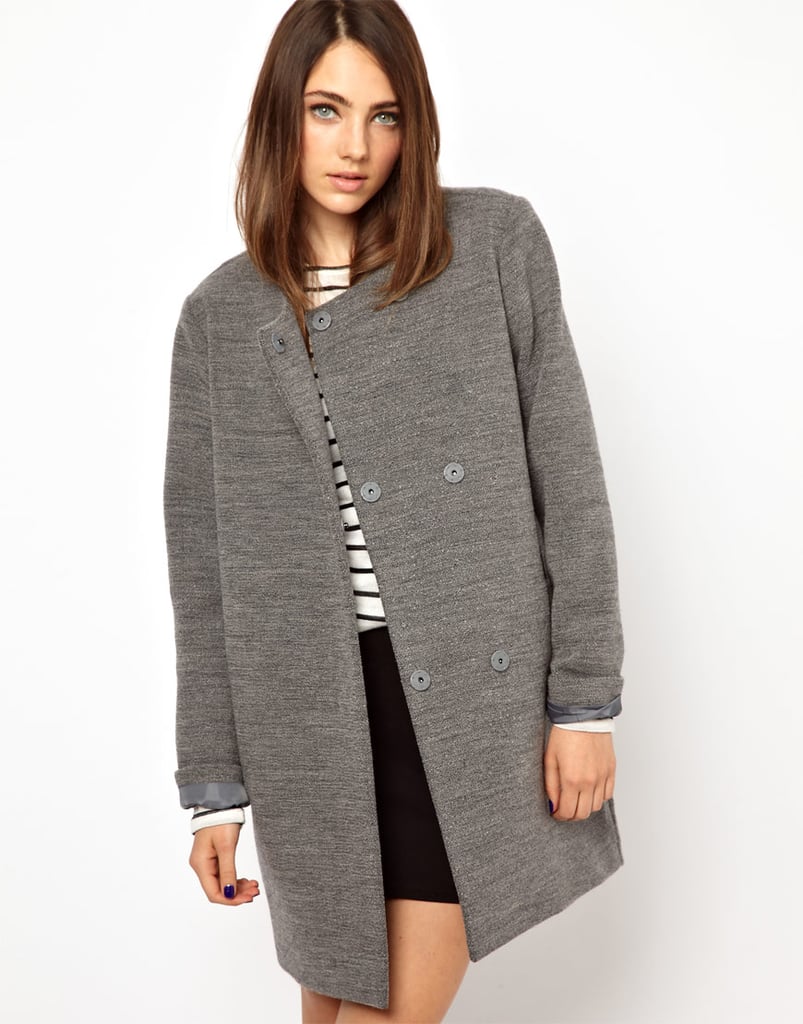 Monki Oversized Boyfriend Coat [55] ($107)
Oversize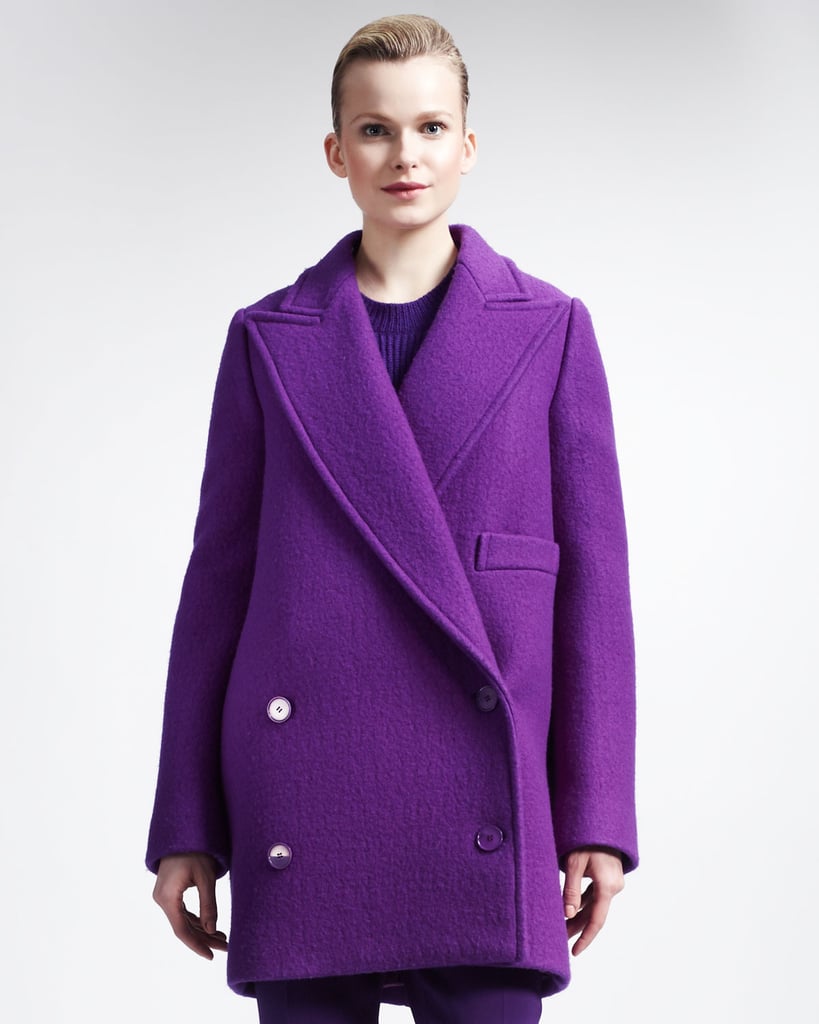 Stella McCartney Double-Breasted Exaggerated-Lapel Coat [56] ($2,085)
Oversize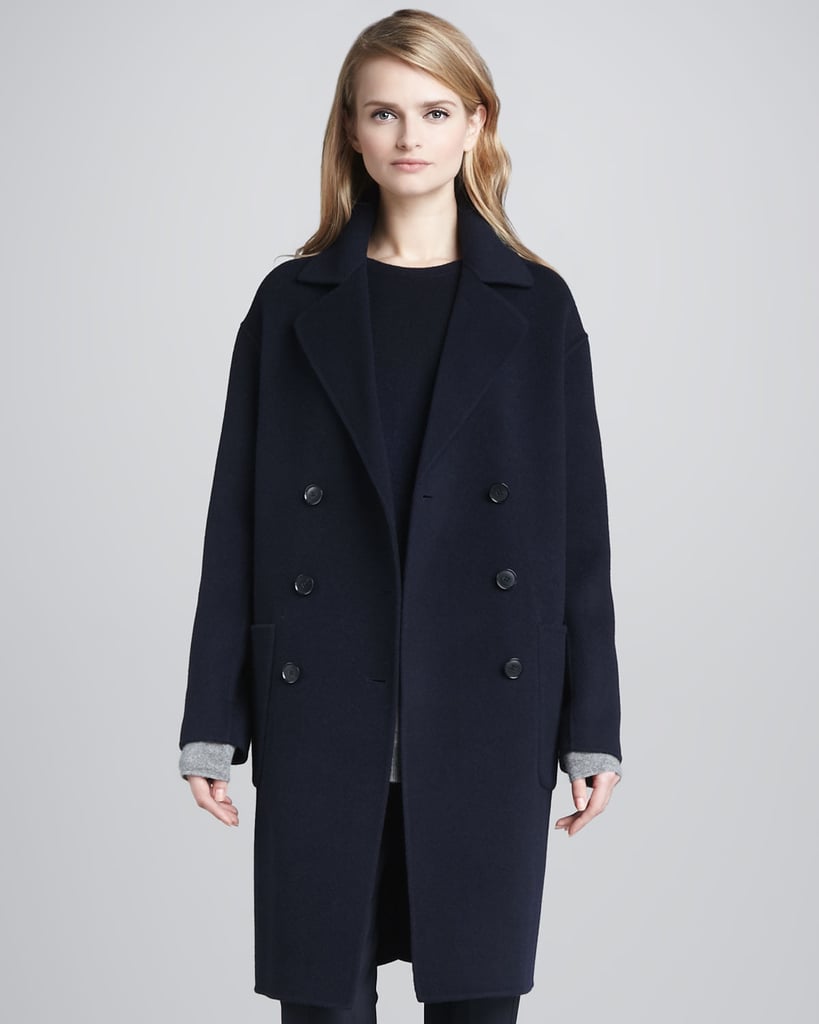 Vince Double-Breasted Overcoat [57] ($675)
Oversize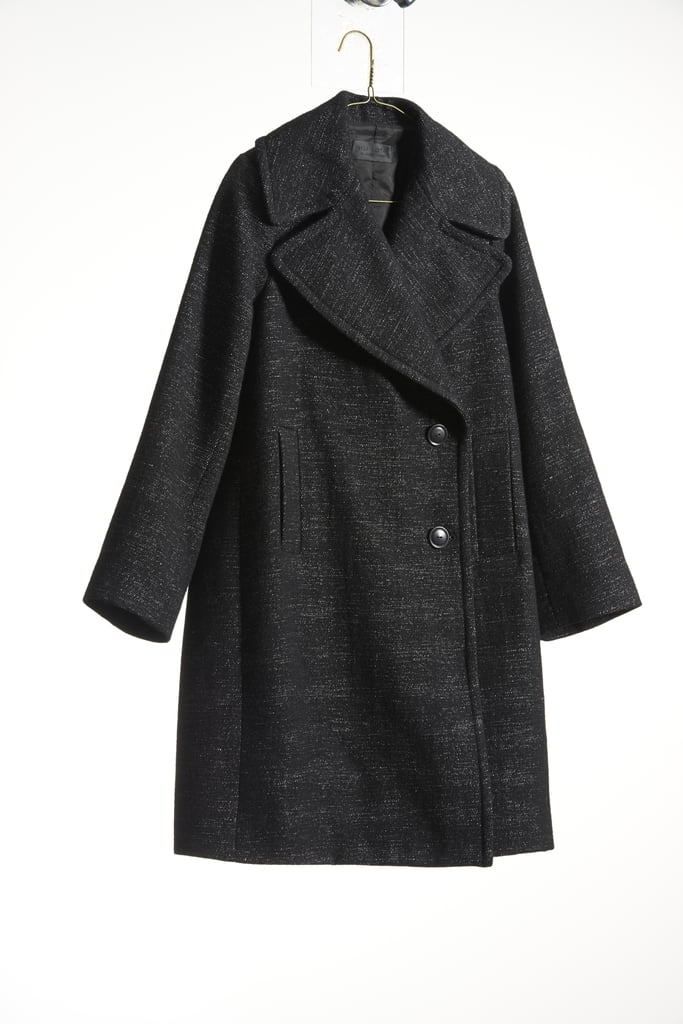 Nili Lotan A-Line Coat [58] ($925)
Camel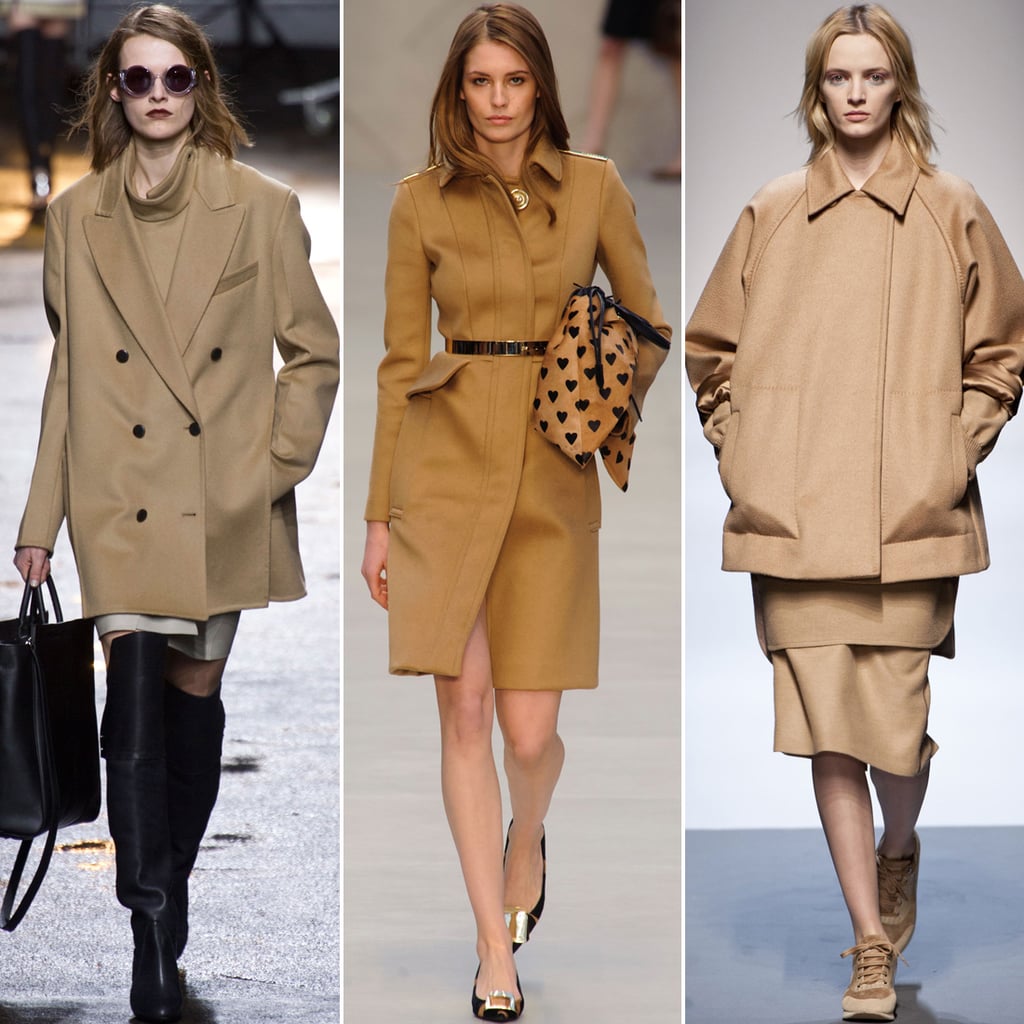 Why we love it: Pieces become classics for a reason, and the timeless camel coat is a perfect example. No matter the shape, it speaks a language that everyone knows, and adding one to your closet is a smart investment.
How to wear it: Embrace the style's preppy roots by wearing it with plenty of sweaters and loafers. It's the professional's coat of choice, too, making it smart for wearing into work (or an interview).
Runway: 3.1 Phillip Lim [59], Burberry Prorsum [60], and Max Mara [61]
Camel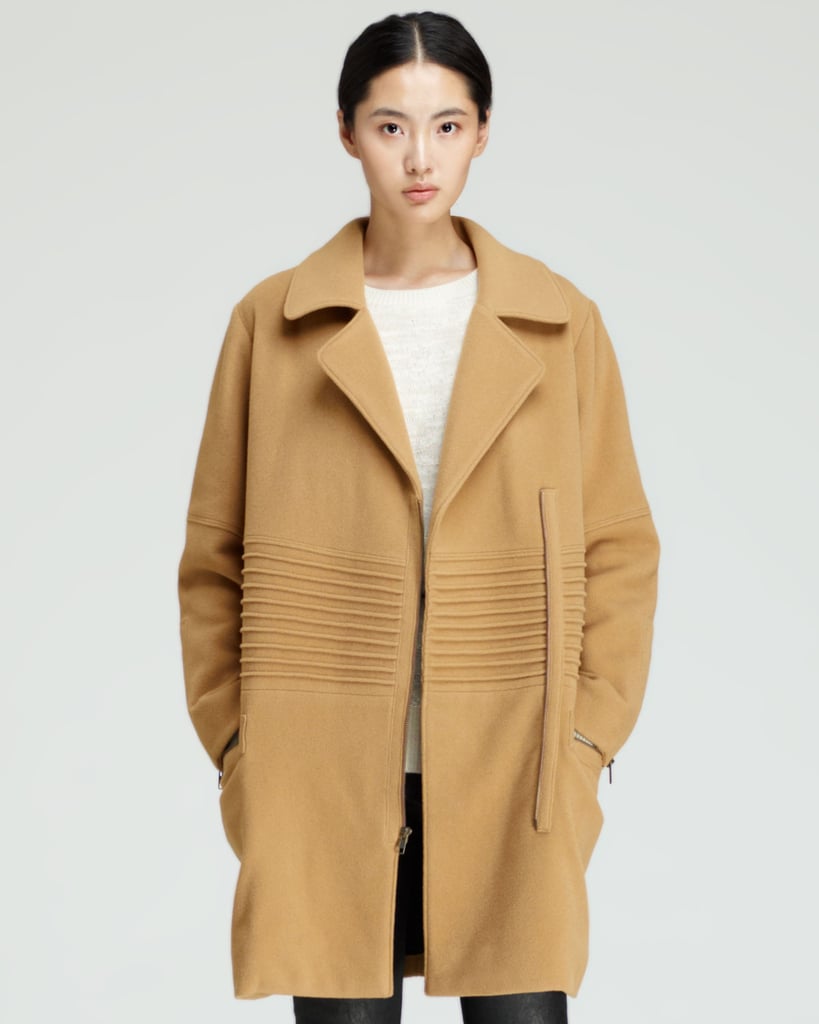 10 Crosby Derek Lam Engineered Long Oversized Moto Coat [62] ($795)
Camel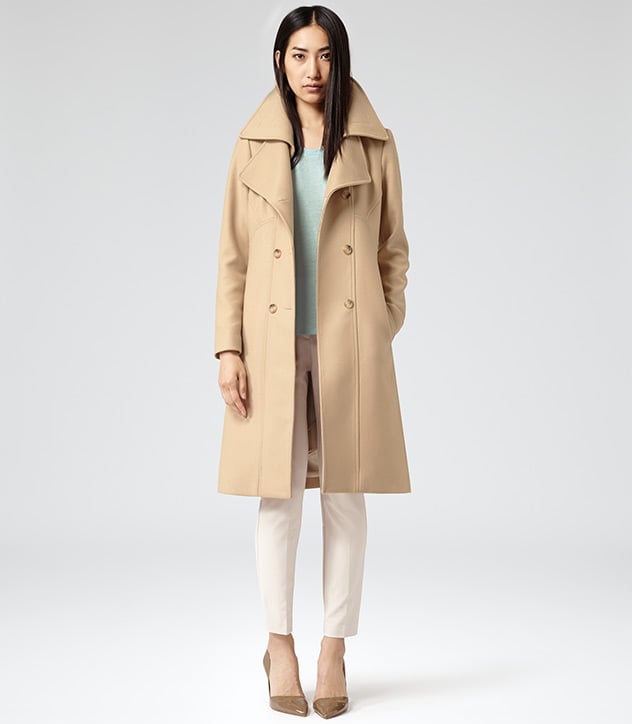 Reiss Board Large Collar Overcoat [63] ($660)
Camel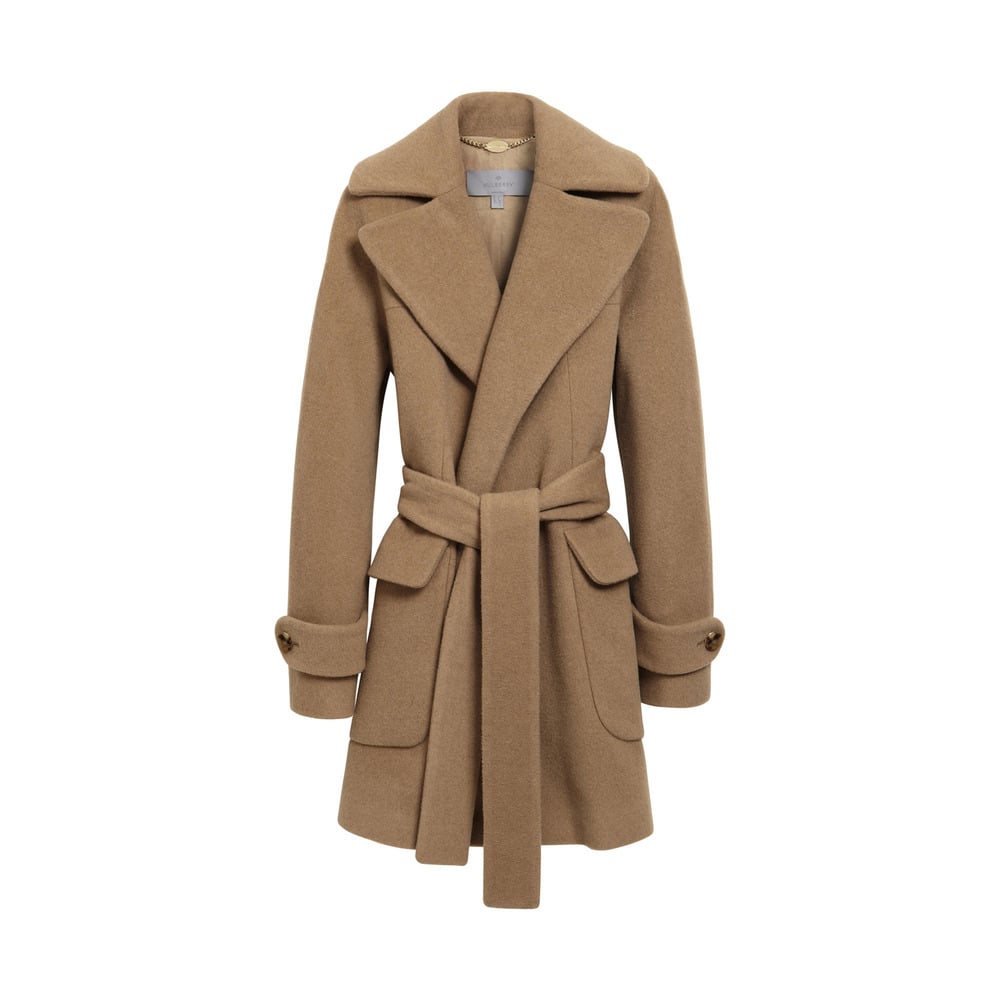 Mulberry Blanket Coat [64] ($2,100)
Camel
Club Monaco Samone Coat [65] ($369)
Camel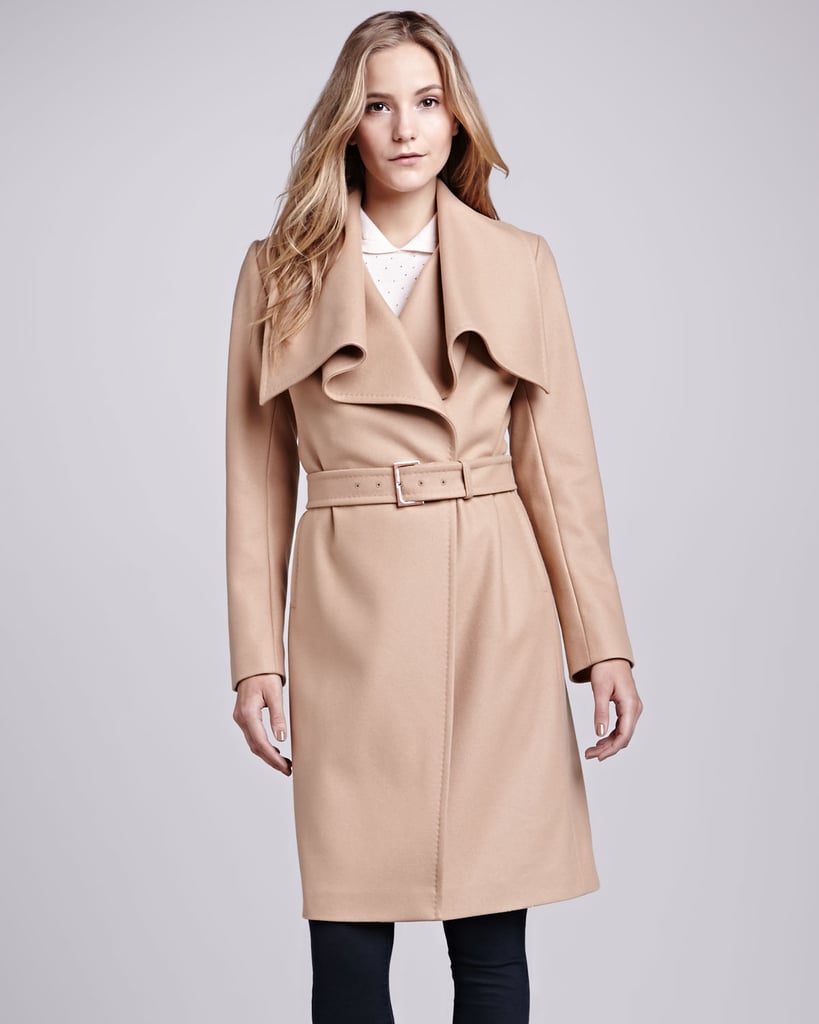 Ted Baker Madigan Belted Drape-Front Coat [66] ($525)
Camel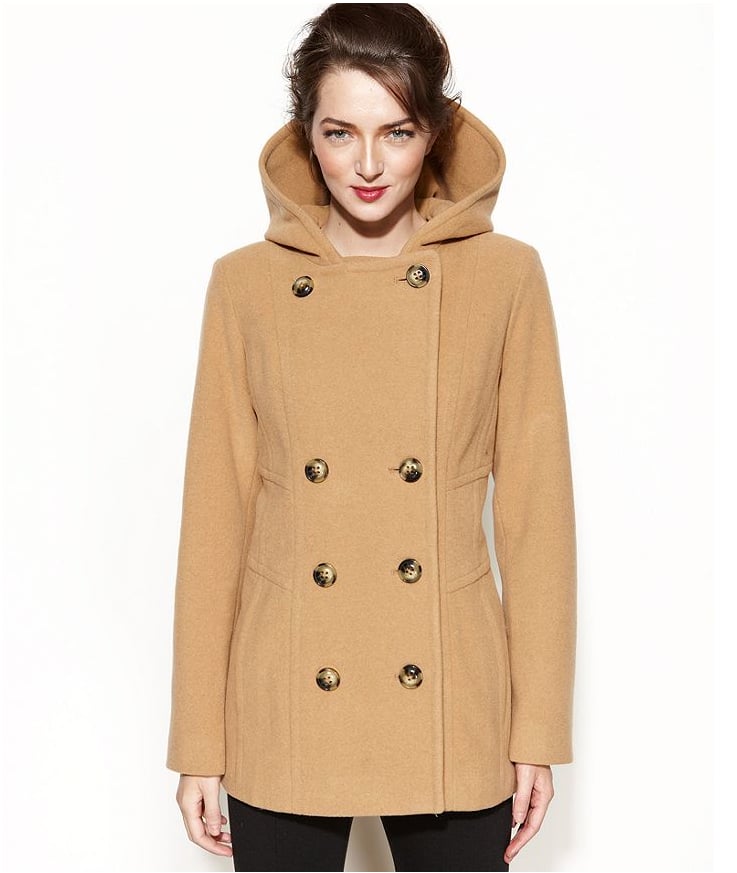 Jason Kole Double-Breasted Wool-Blend Coat [67] ($195)
Camel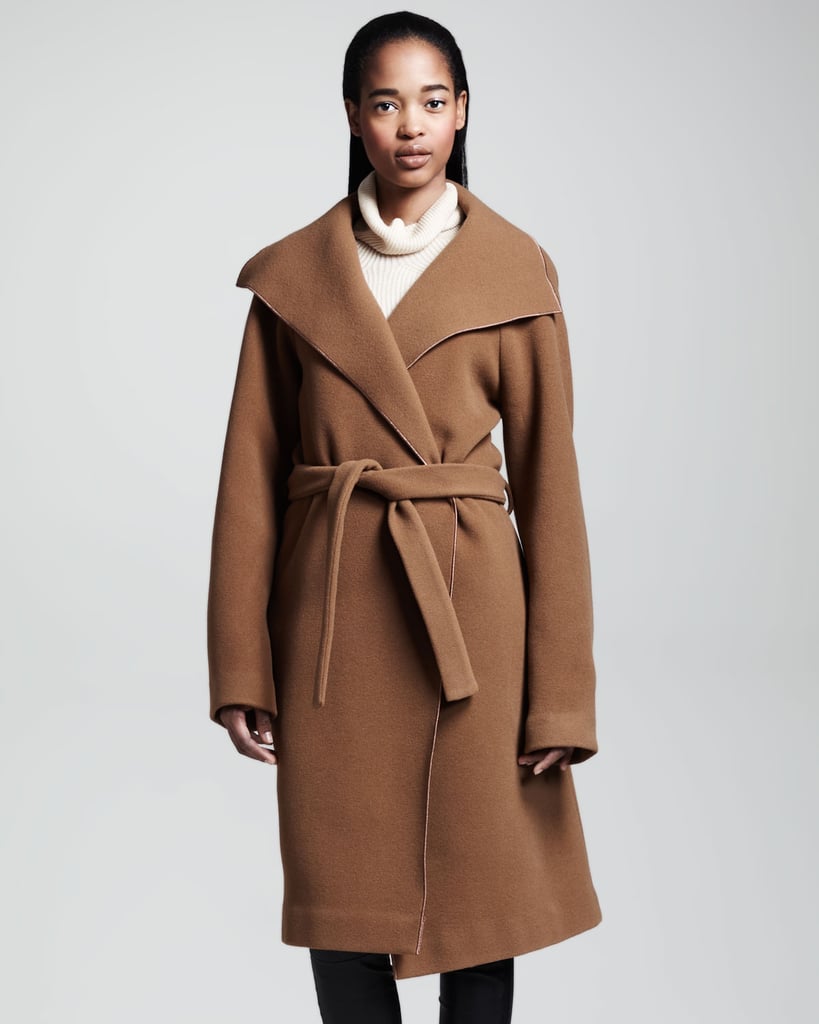 The Row Brushed Twill Coat [68] ($2,050)
Fur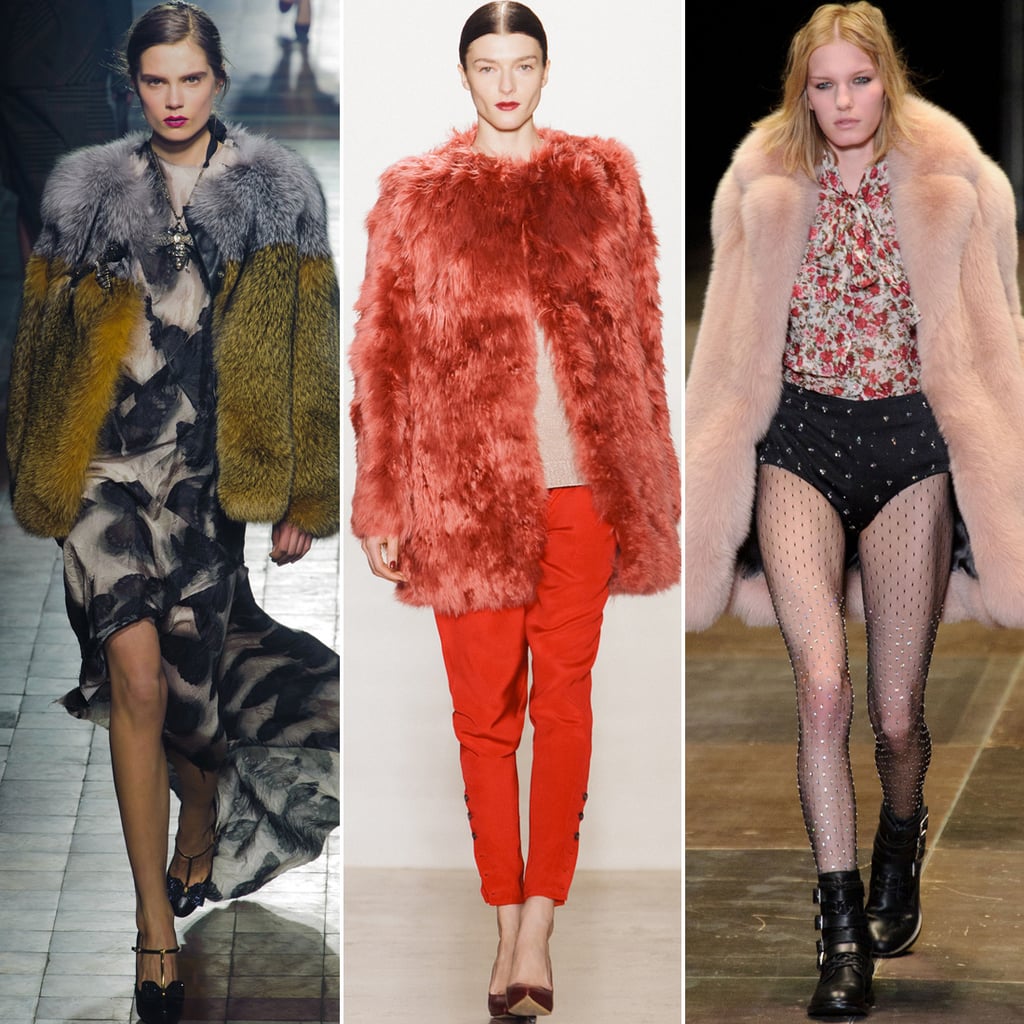 Why we love it: Whether you prefer your fluff faux or real, we're not judging. It's the luxuriously soft, playful look we're loving. Worn with beat-up jeans in the vein of Kate Moss [69] or a bit more proper like that other Kate (Middleton, of course), we're loving it for Fall.
How to wear it: To avoid looking like you're playing dress-up in Grandmother's clothes, don't wear it with anything formal. Instead, pair it with unexpected pieces like distressed denim or oversize button-downs.
Runway: Lanvin [70], Peter Som [71], and Saint Laurent [72]
Fur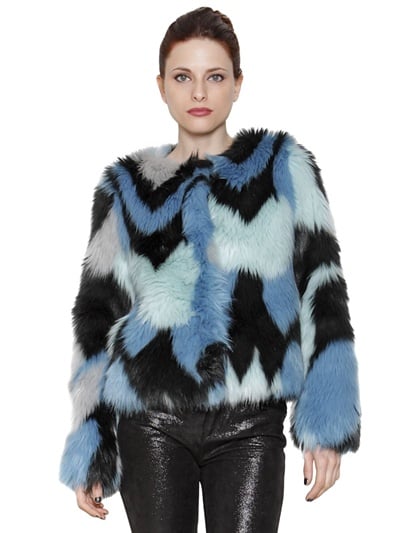 Armani Jeans Multicolor Faux Fur Coat [73] ($470)
Fur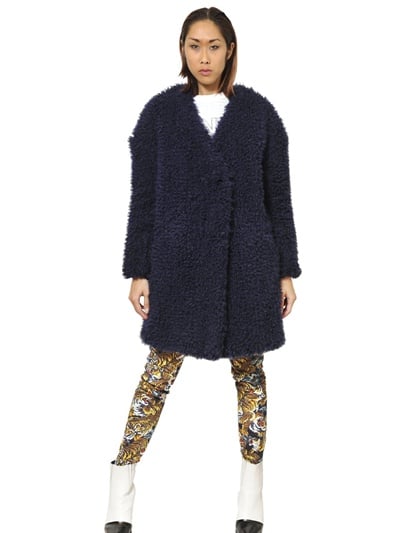 Kenzo Faux Fur Coat [74] ($836)
Fur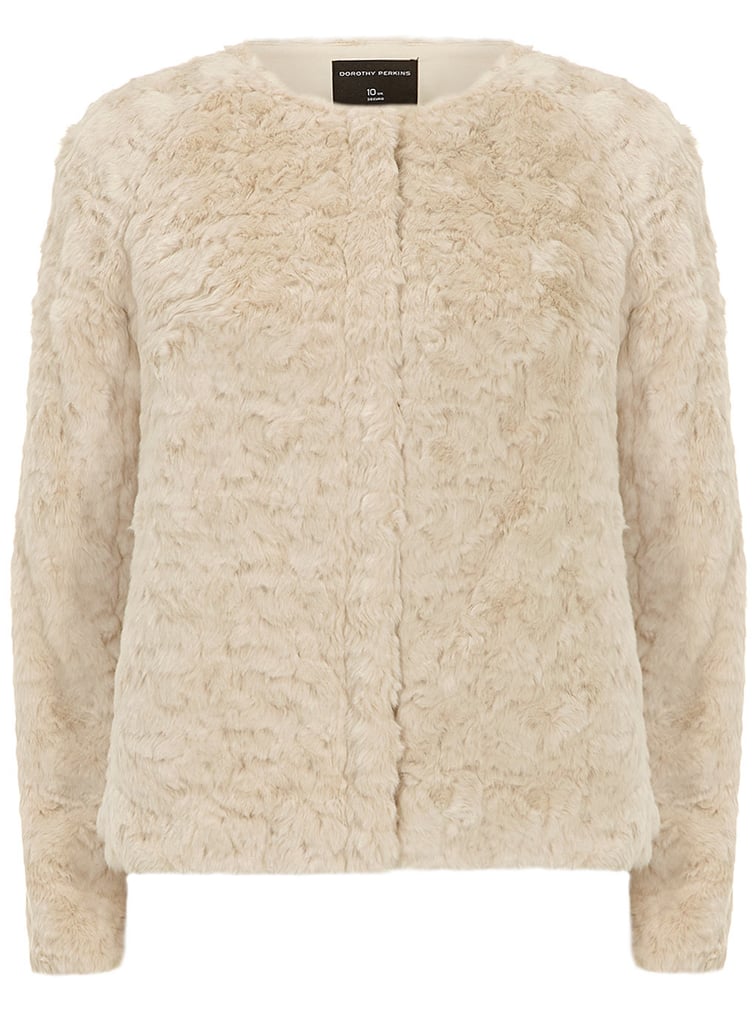 Dorothy Perkins Faux Fur Jacket [75] ($99)
Fur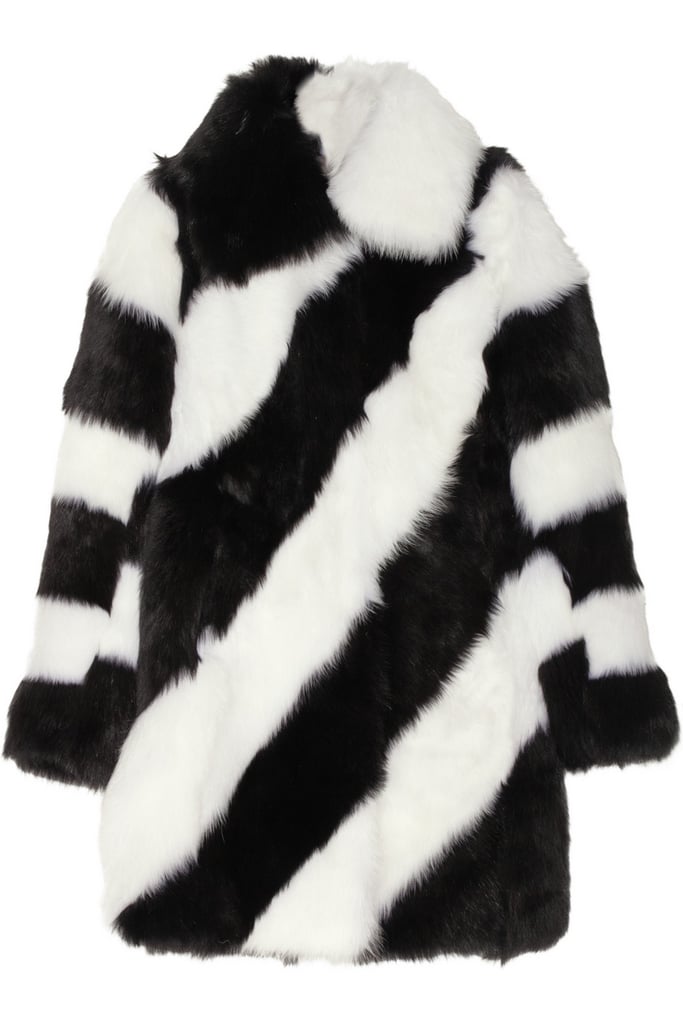 Joseph Betty Striped Shearling Coat [76] ($3,395)
Fur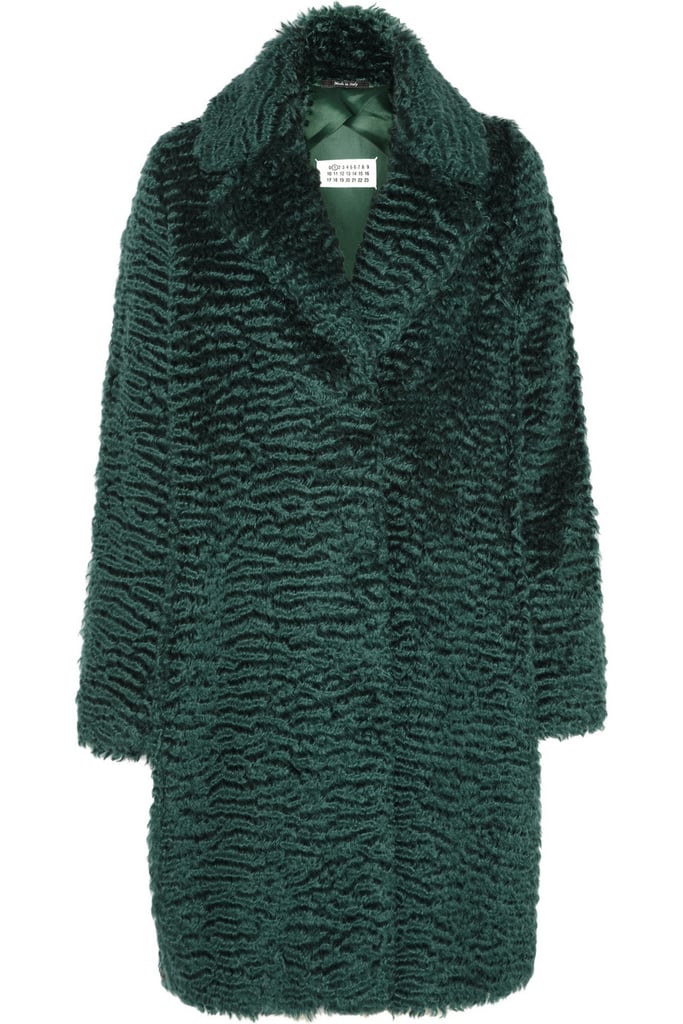 Maison Martin Margiela Faux Fur Mohair-Blend Coat [77] ($3,580)
Ladylike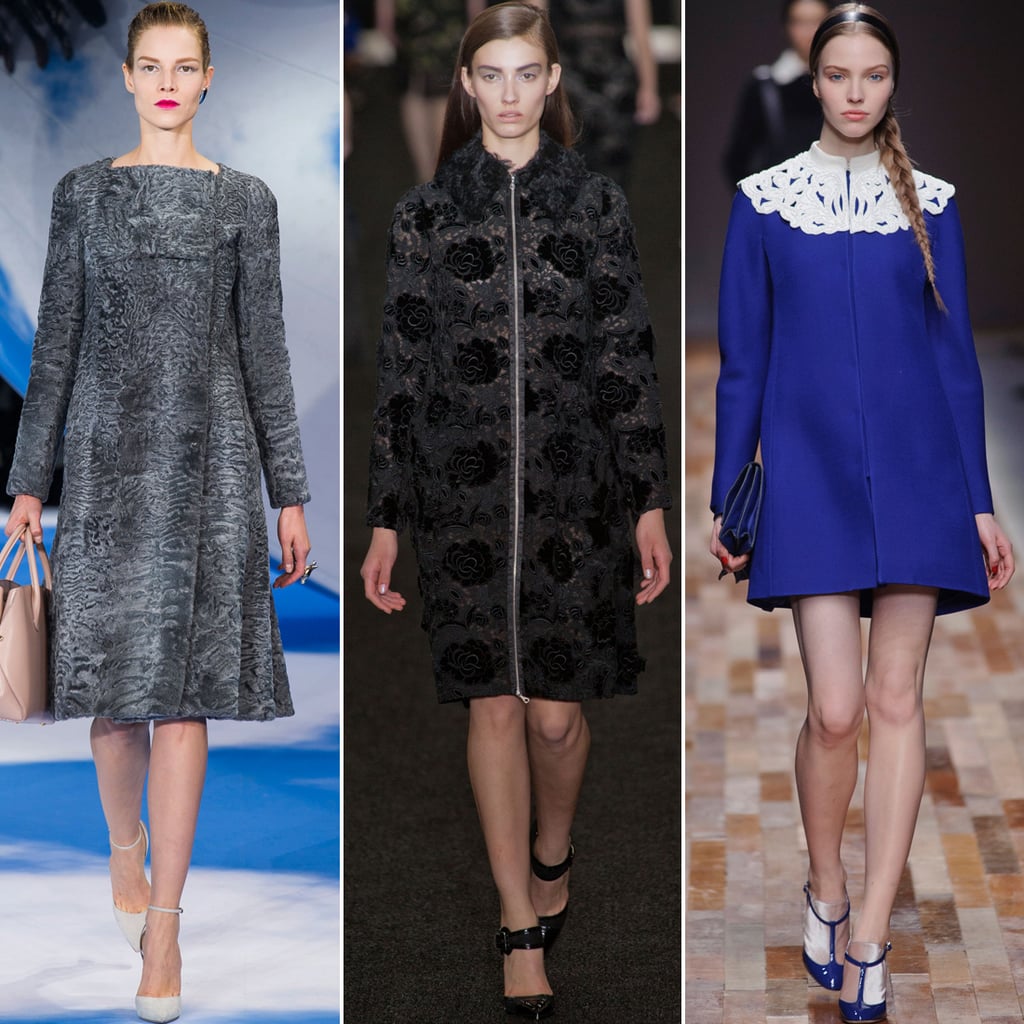 Why we like it: One of the best things about chillier weather is getting instantly transformed with the addition of a coat. Ladylike styles add polish instantly, and when it's all zipped up, no one will be able to tell what you've got on underneath (beloved but old t-shirts included).
How to wear it: Don't go halfway. This look is best with other similar pulled-together pieces like an a-line or pencil skirt and pumps.
Runway: Christian Dior [78], Erdem [79], and Valentino [80]
Ladylike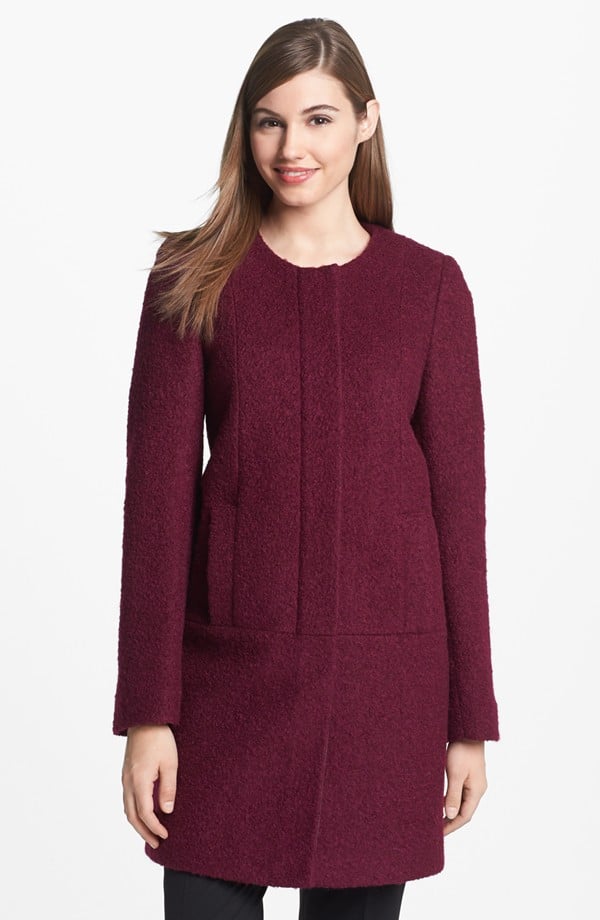 DKNY Collarless Boucle Coat [81] ($198)
Ladylike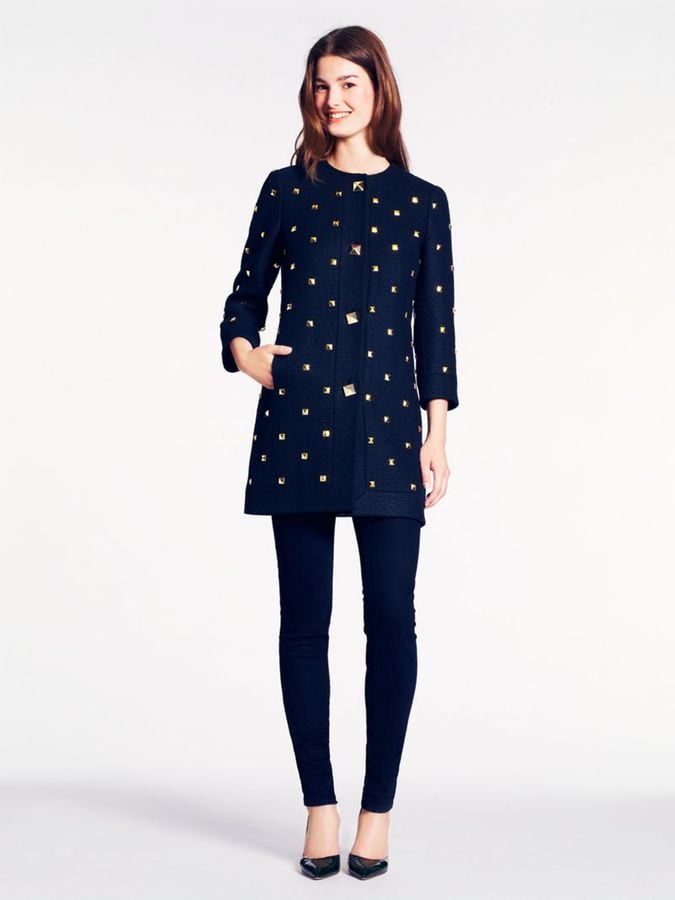 Kate Spade New York Spencer Coat [82] ($848)
Ladylike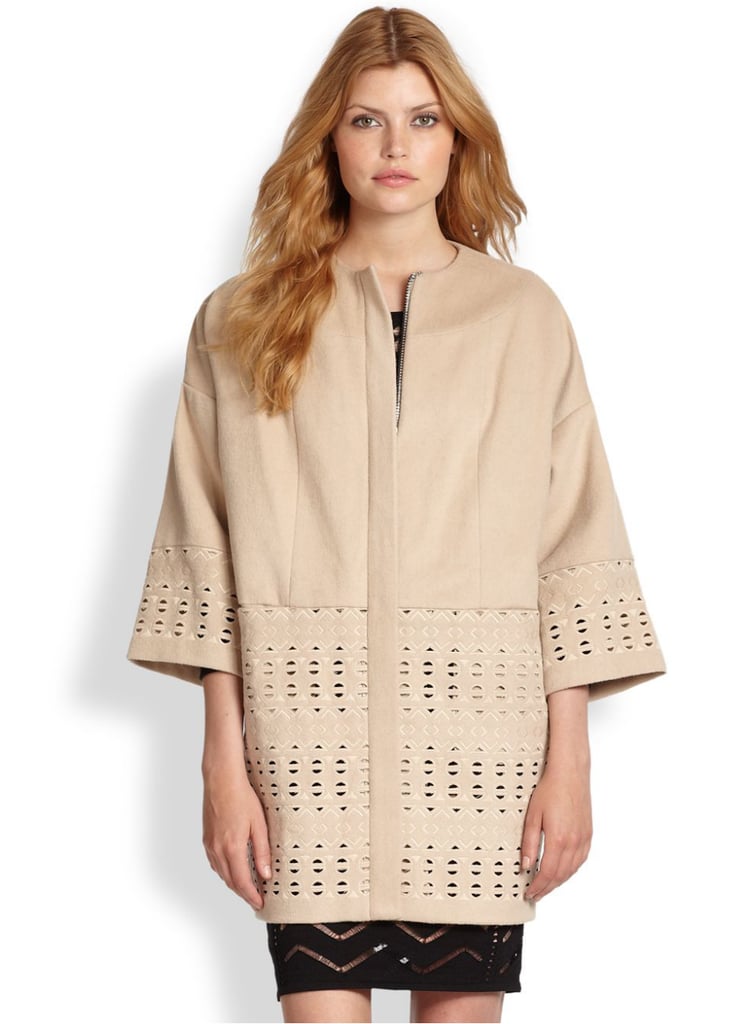 Catherine Malandrino Alma Wool Felt Coat [83] ($297)
Ladylike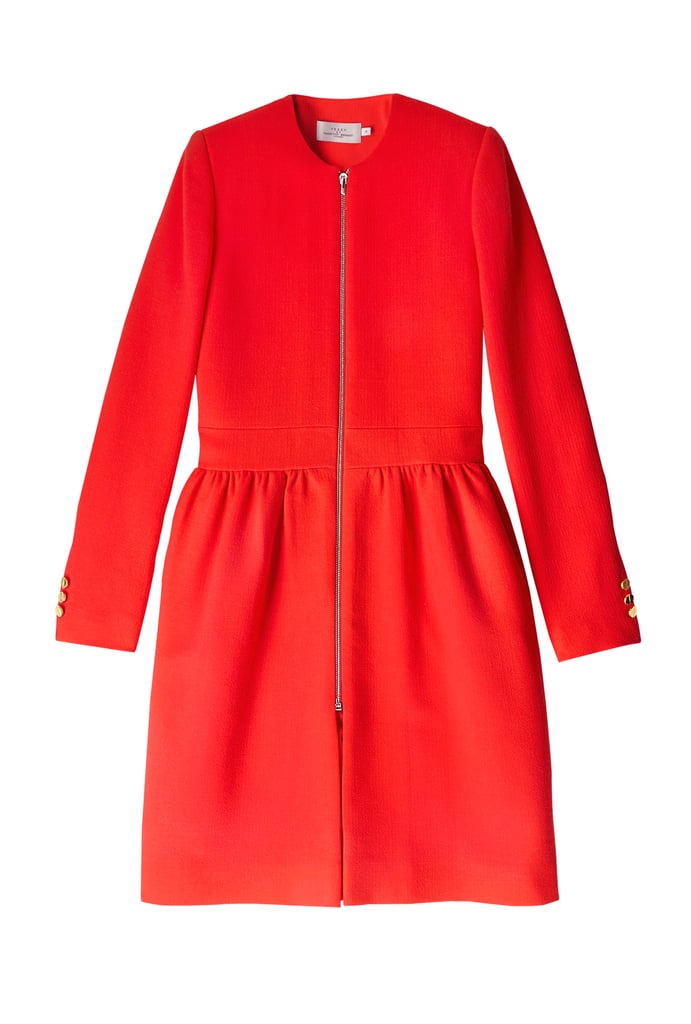 Preen Red Crepe Robyn Coat [84] ($1,492)
Ladylike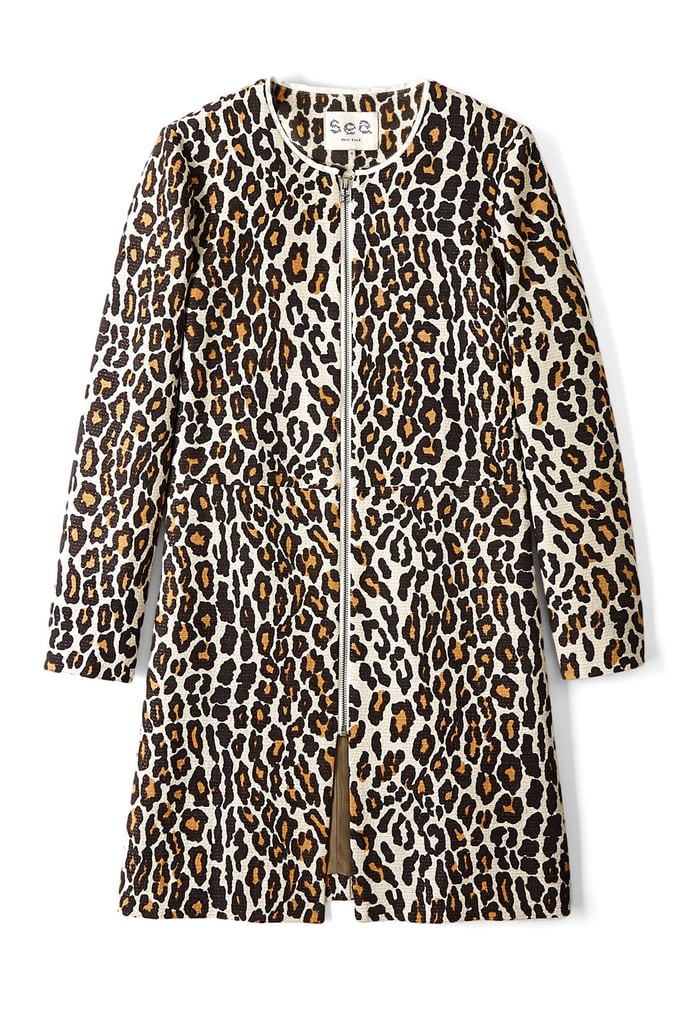 Sea NY Raffia Leopard Duster Coat [85] ($715)
Ladylike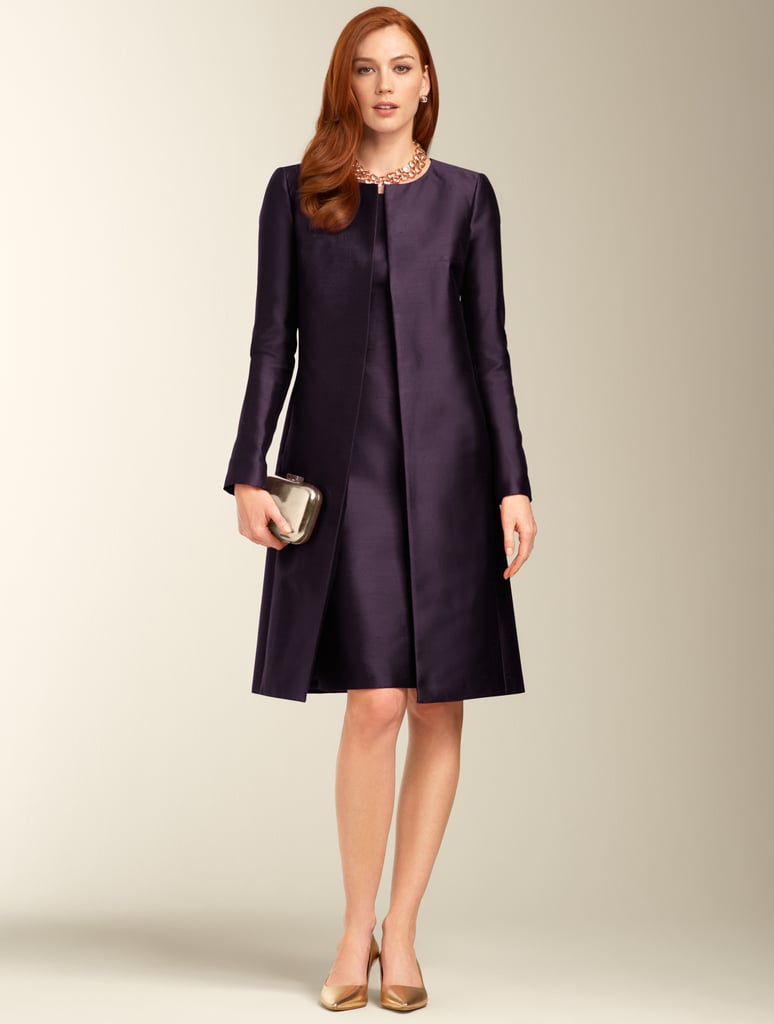 Talbots Doupioni No-Close Duster [86] ($249)
Military-Inspired
Why we like it: The most demure fashion follower gets tougher whenever there's a piece of military-inspired garb around. Tailored and authoritative by nature, this coat is one you should use to really take charge of the season.
How to wear it: The strong feeling of this style works best with other pieces borrowed from the boys. Try wide-leg pants and a silk button-down for work and jeans and a sweater for your days off.
Runway: Prabal Gurung [87], Jason Wu [88], and Burberry Prorsum [89]
Military-Inspired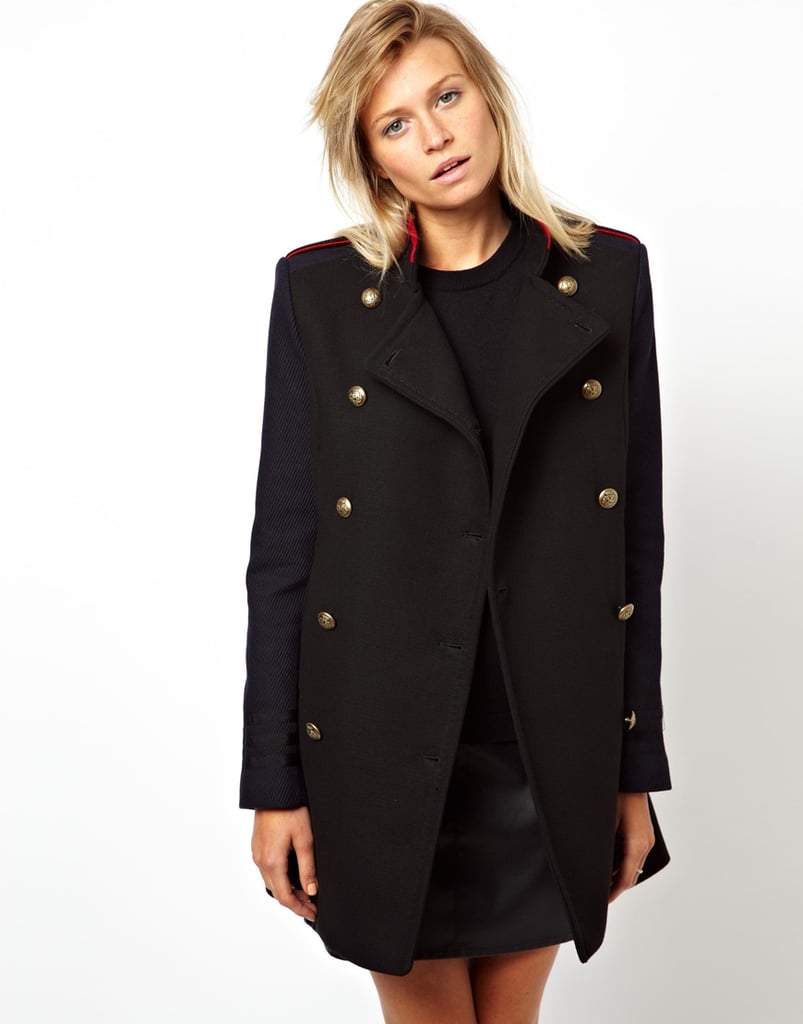 Mango Contrast Military Coat [90] ($228)
Military-Inspired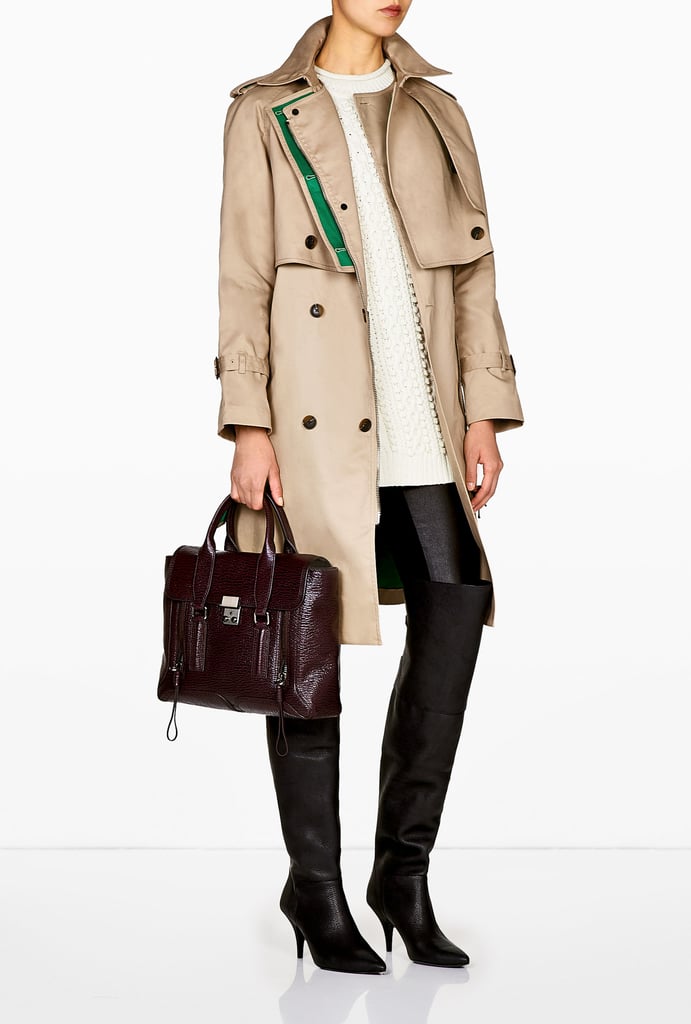 3.1 Phillip Lim Double Face Cotton Layered 2 Piece Trench Coat [91] ($950)
Military-Inspired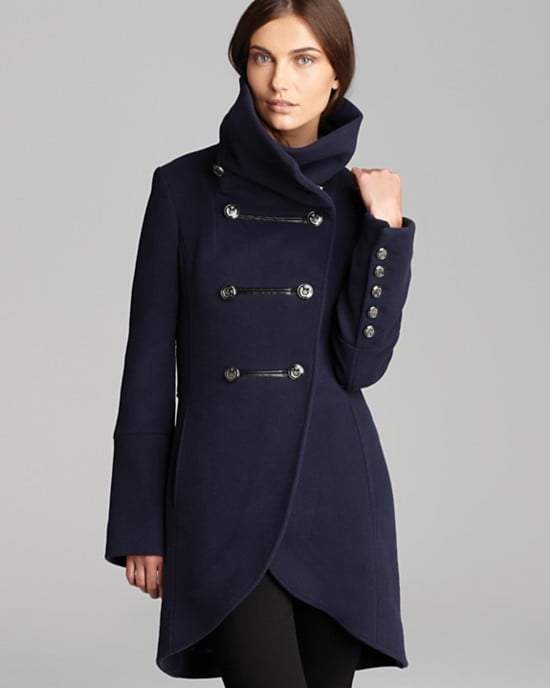 Mackage Wool Diana Military Coat [92] ($630)
Military-Inspired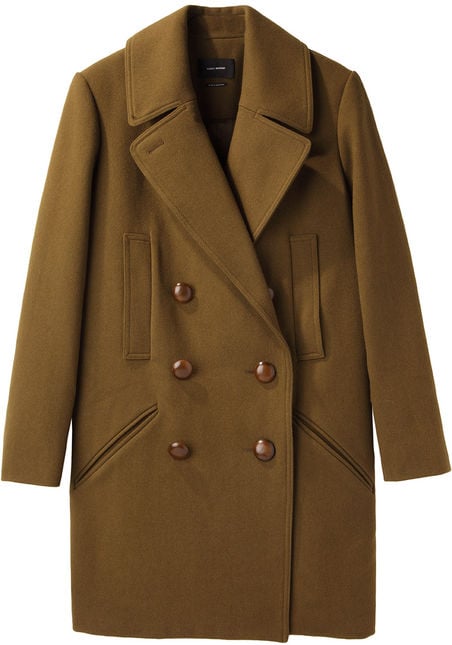 Isabel Marant Ziggy Wool-Blend Brushed-Twill Coat [93] ($1,575)
Military-Inspired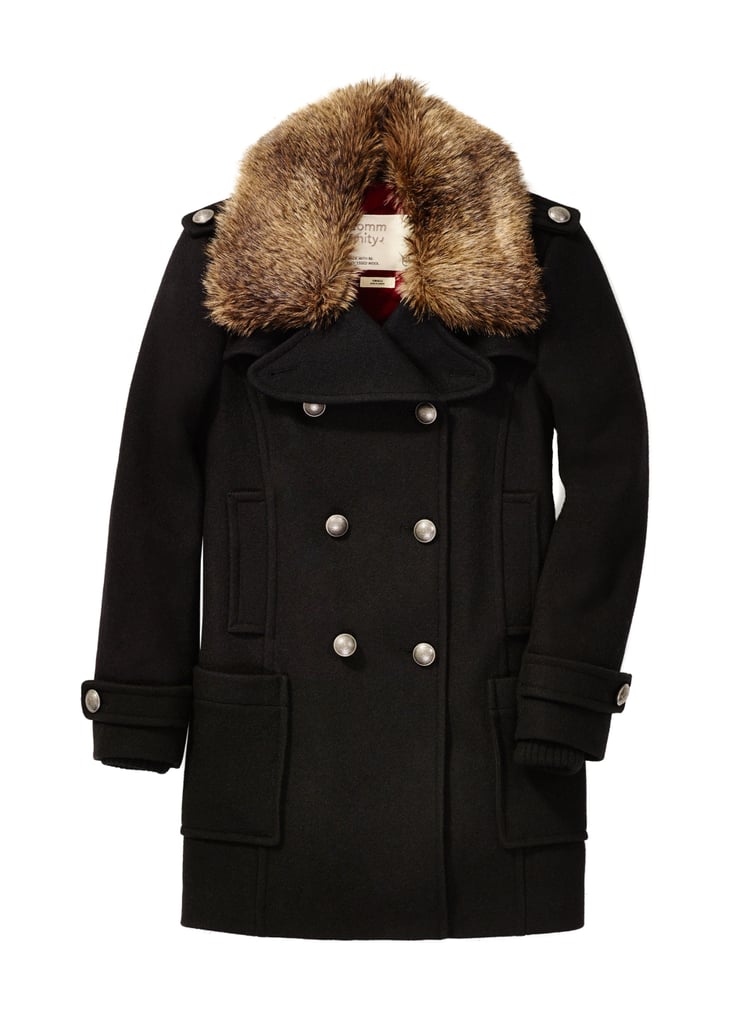 Community Cadet Coat [94] ($325)
Military-Inspired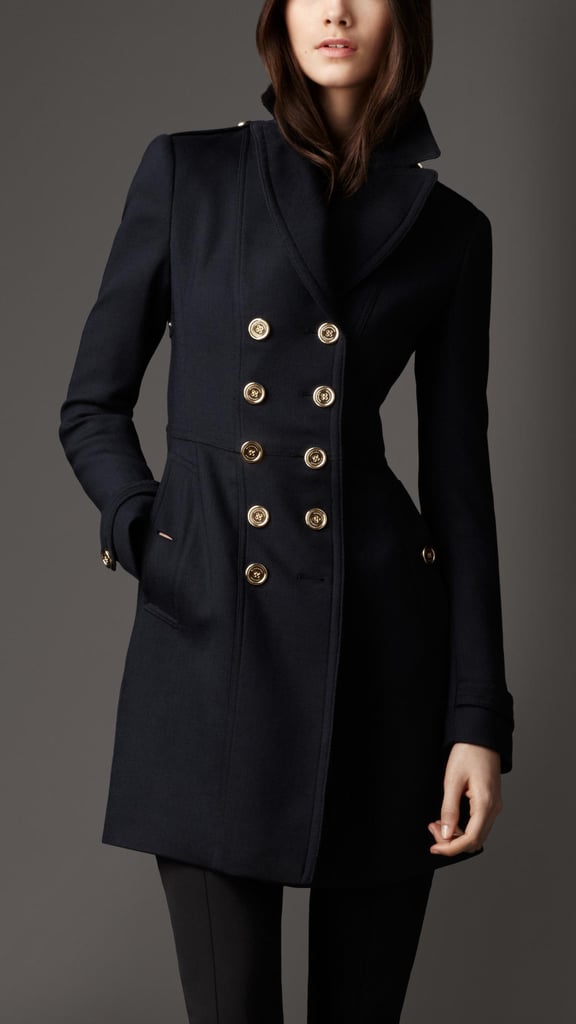 Burberry Virgin Wool Blend Pea Coat [95] ($1,595)
Military-Inspired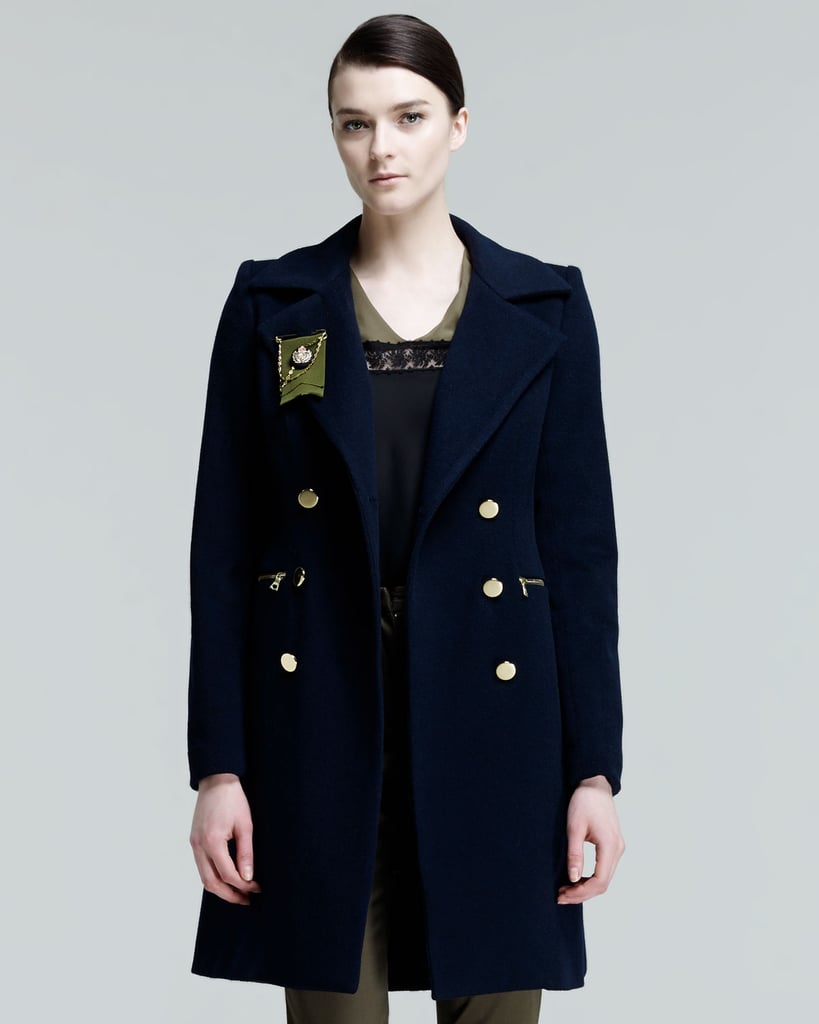 Nonoo Double-Breasted Zip-Pocket Coat With Pin [96] ($795)
Motorcycle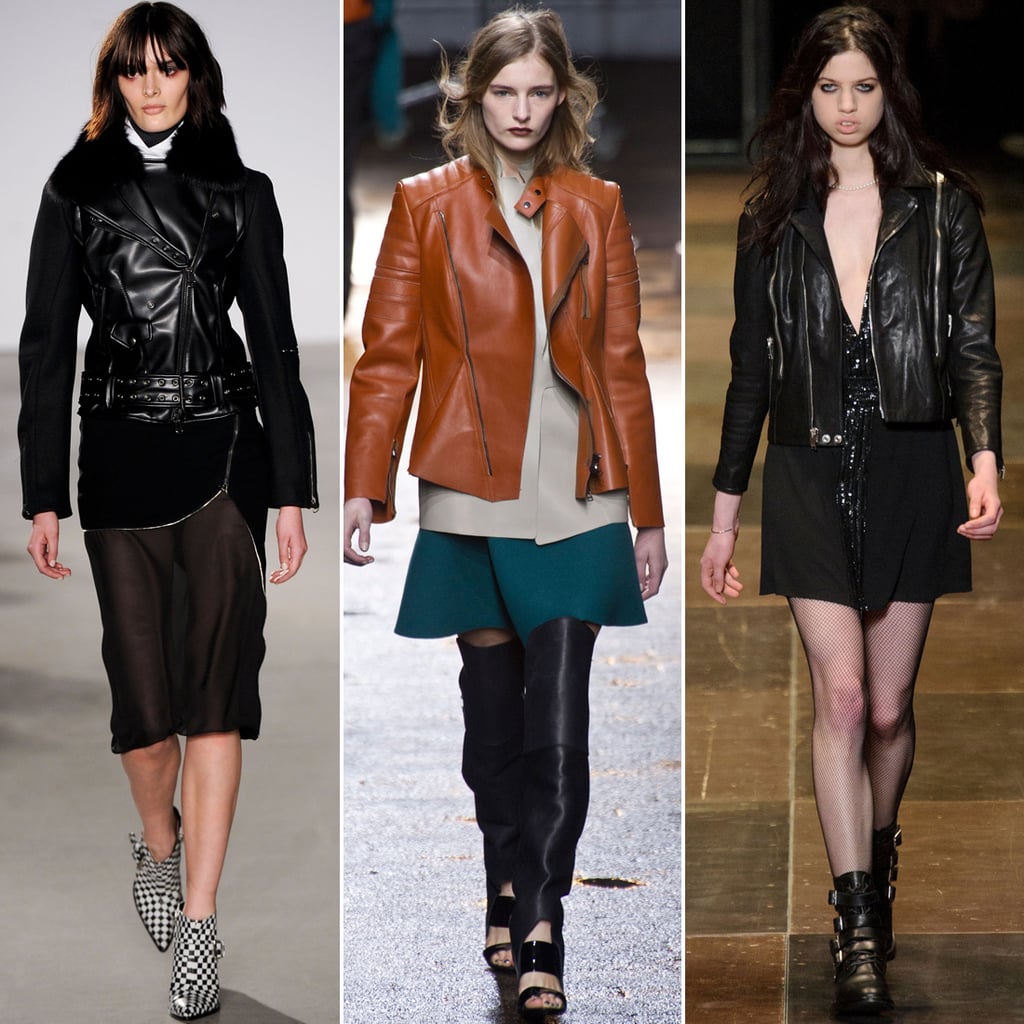 Why we love it: The motorcycle jacket has been sending out the sexy-tough vibe ever since it landed on James Dean. It's not different in the 21st century, when ladies everywhere routinely count on one to add an edge to casual weekend outfits and ball gowns alike.
How to wear it: Style this piece as you would a blazer or cardigan — with anything. It's a cinch with whatever you already own, whether skinny jeans or a formfitting sheath.
Runway: Altuzarra [97], 3.1 Phillip Lim [98], and Saint Laurent [99]
Motorcycle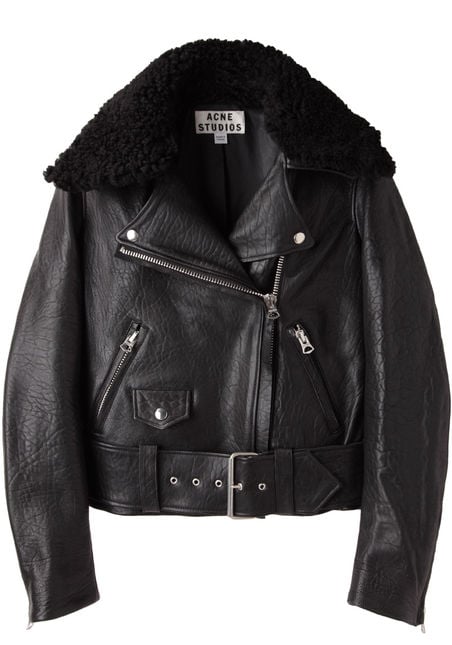 Acne Mape Leather Jacket [100] ($1,950)
Motorcycle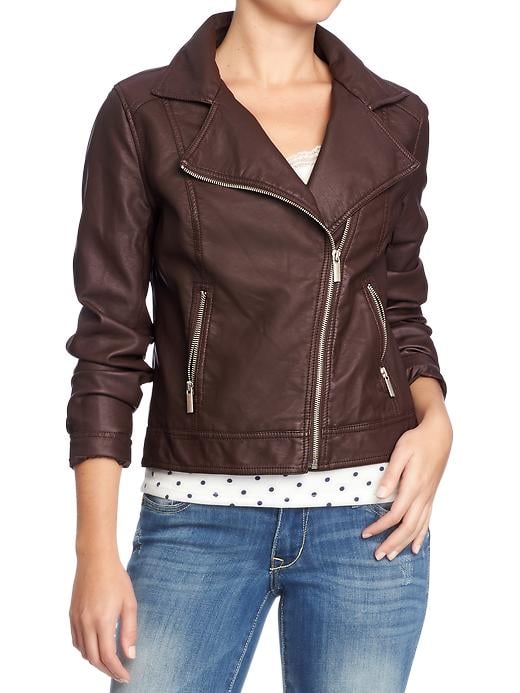 Old Navy Faux-Leather Moto Jacket [101] ($50)
Motorcycle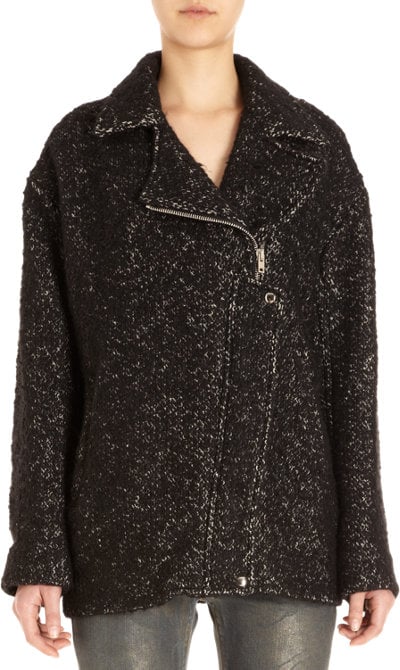 IRO Oversized Tweed Coat [102] ($690)
Motorcycle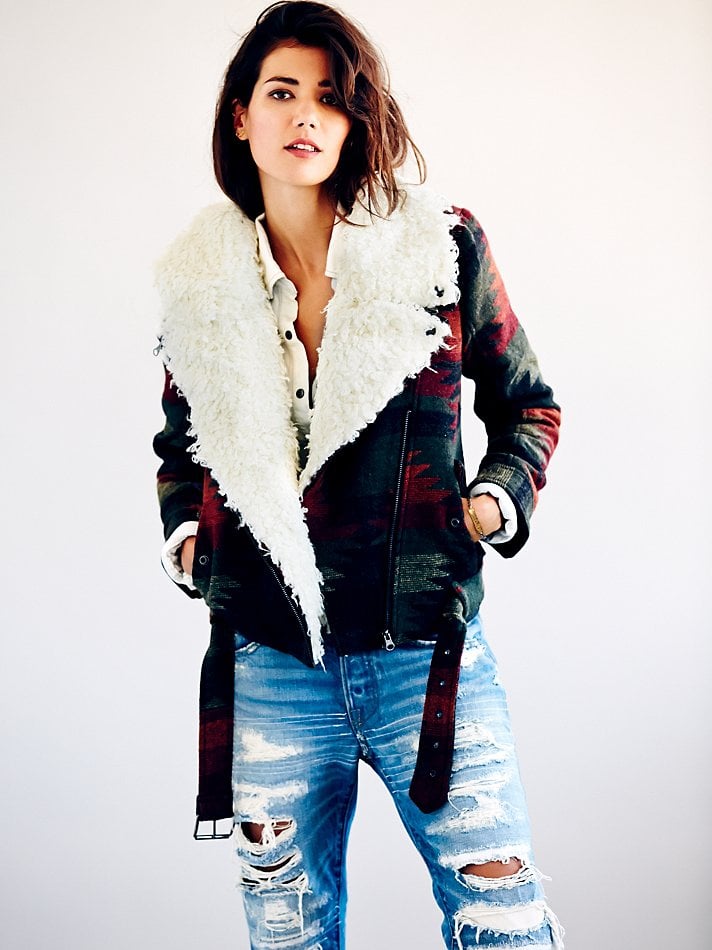 Free People Wool Sherpa Moto Coat [103] ($298)
Motorcycle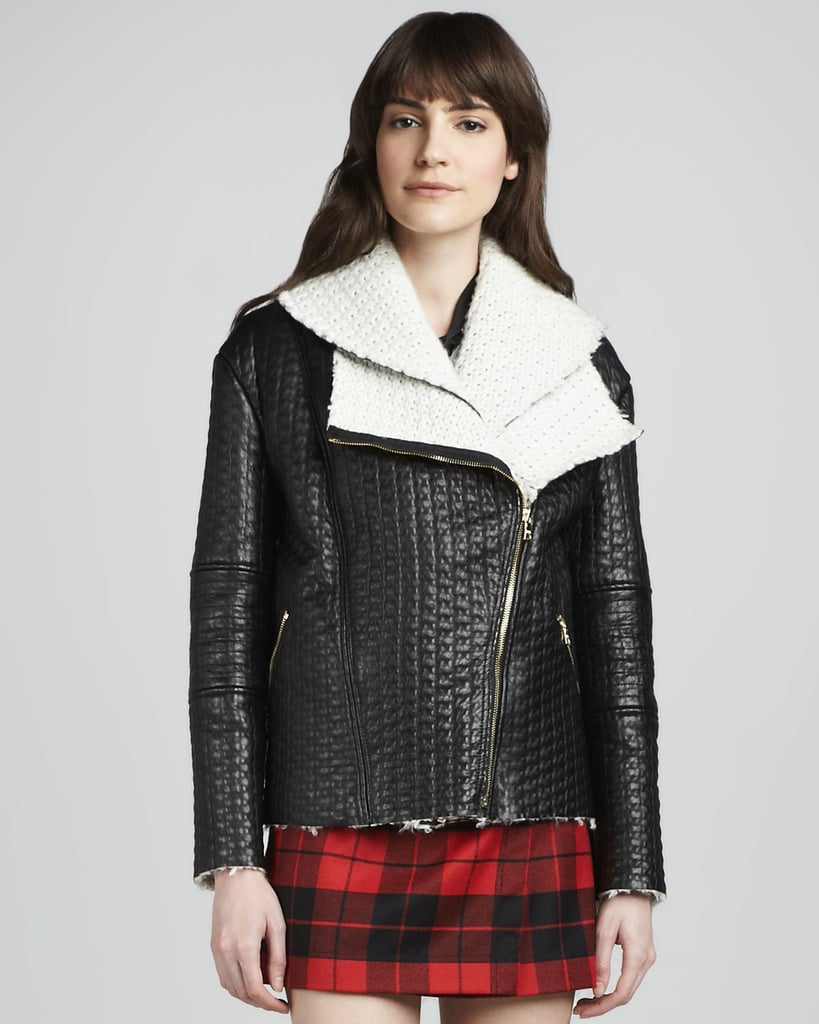 Alice + Olivia Carrie Textured-Leather Double-Collar Jacket [104] ($1,496)
Motorcycle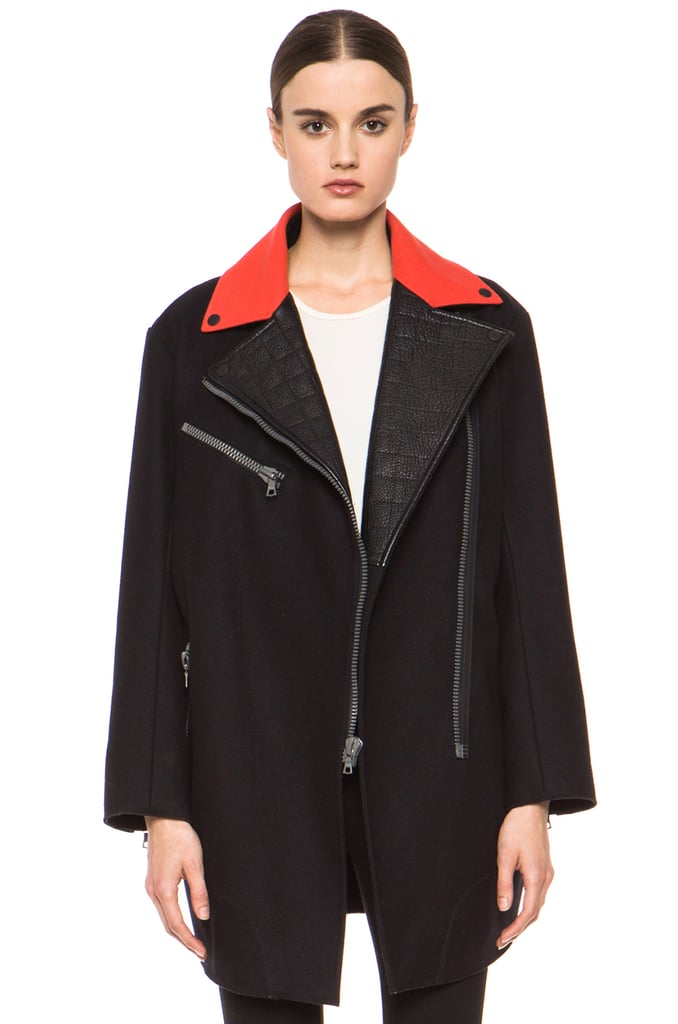 Rag & Bone Turner Coat [105] ($1,195)