For more than 40 years, Diane von Furstenberg has designed beautiful, covetable dresses and ready-to-wear pieces for a strong, stylish, independent woman. Among her other chic milestones? Giving us a plethora of signature wrap-dress prints and being honored with the CFDA lifetime achievement award. That said, each season DVF delivers a runway collection that celebrates bold femininity via print, color, and ultrawearable silhouettes. There's a sense of playfulness, with a sophisticated finish, that evolves with the ebb and flow of trends. Scroll through for our runway retrospective — and take a look at what the designer and CFDA president's got in store for fashion weeks to come [1].
Fall 2014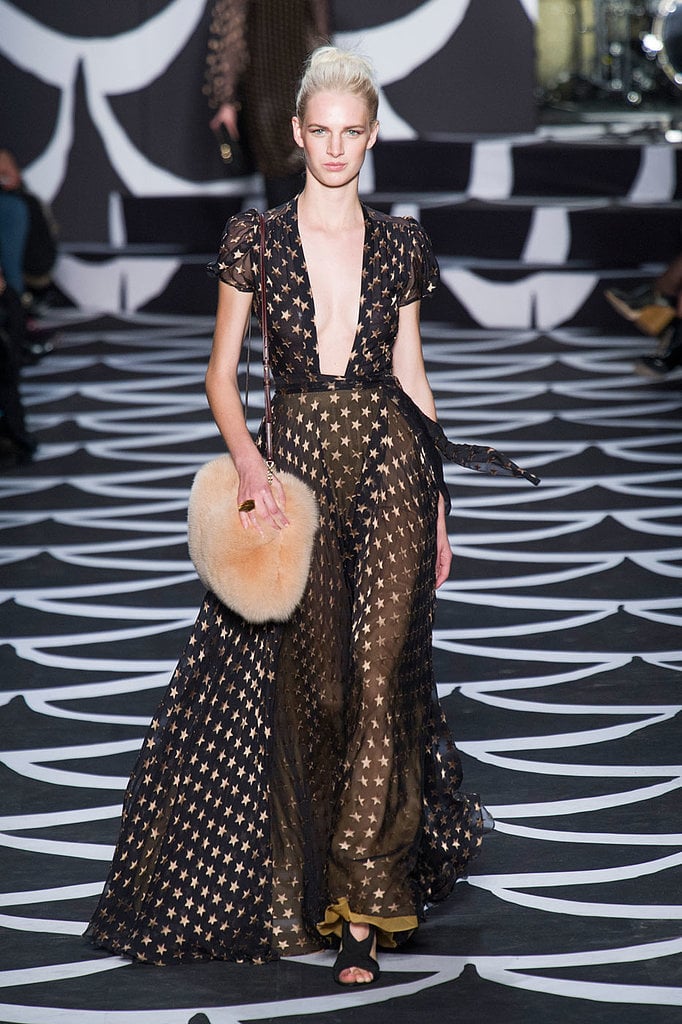 DVF paired playful prints — from half-moons to ocean waves to gold stars — with sexy silhouettes.
Fall 2014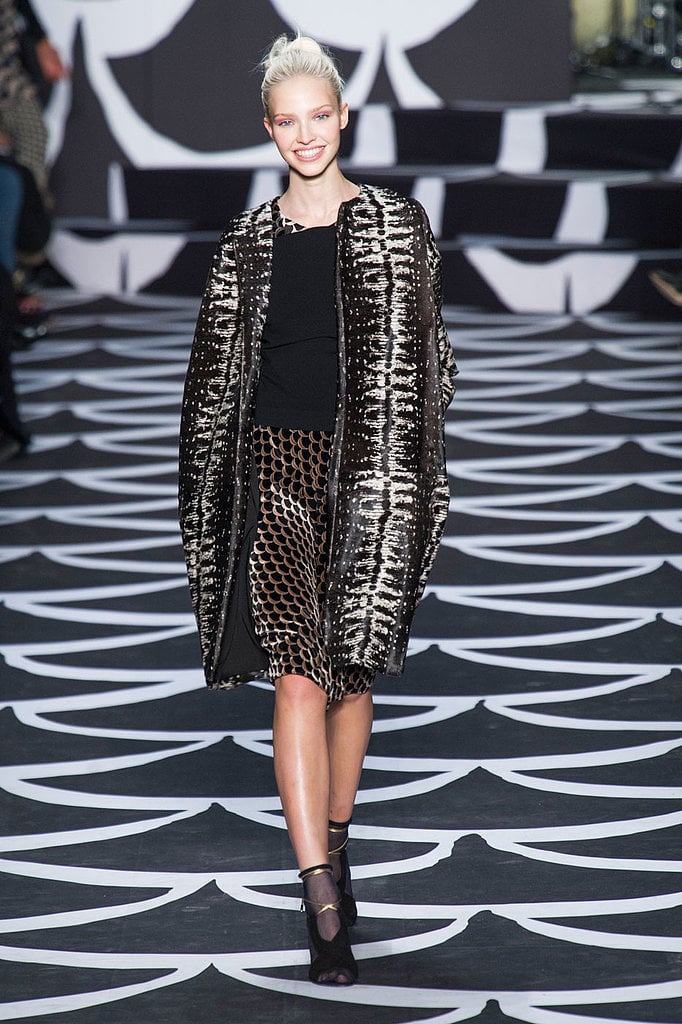 What earned Von Furstenberg a few extra points this time were her toppers, namely this black-and-white jacquard coat and a multicolor fur cocoon statement-maker.
Fall 2014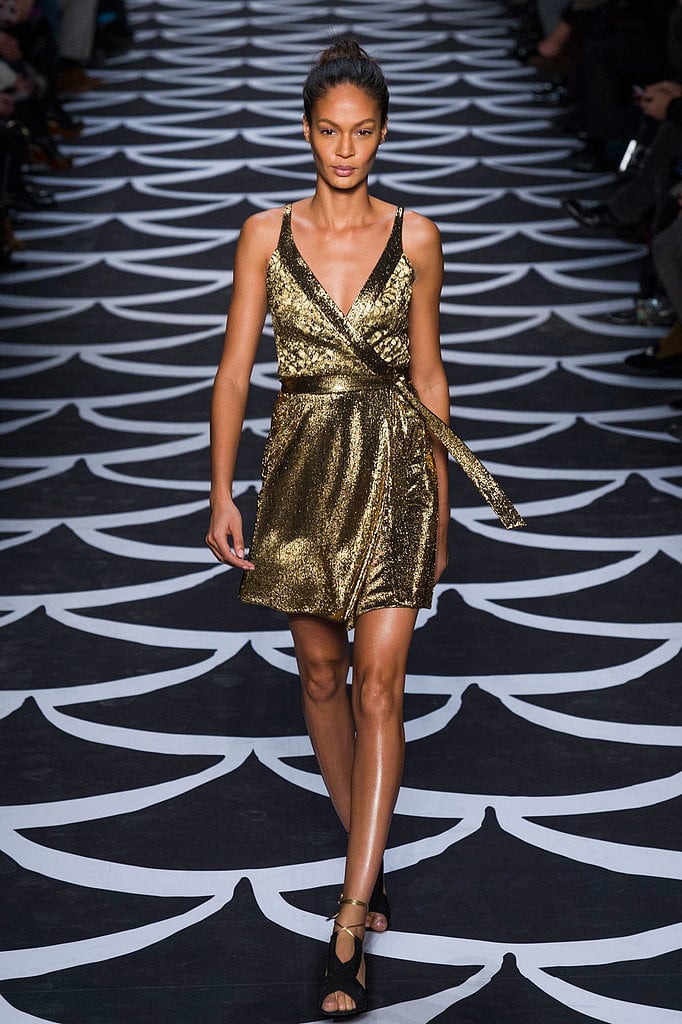 A surprise finale with an unofficial party uniform of gold wrap dress after sexy gold wrap dress stormed the stage to dance with the band St. Vincent.
Spring 2014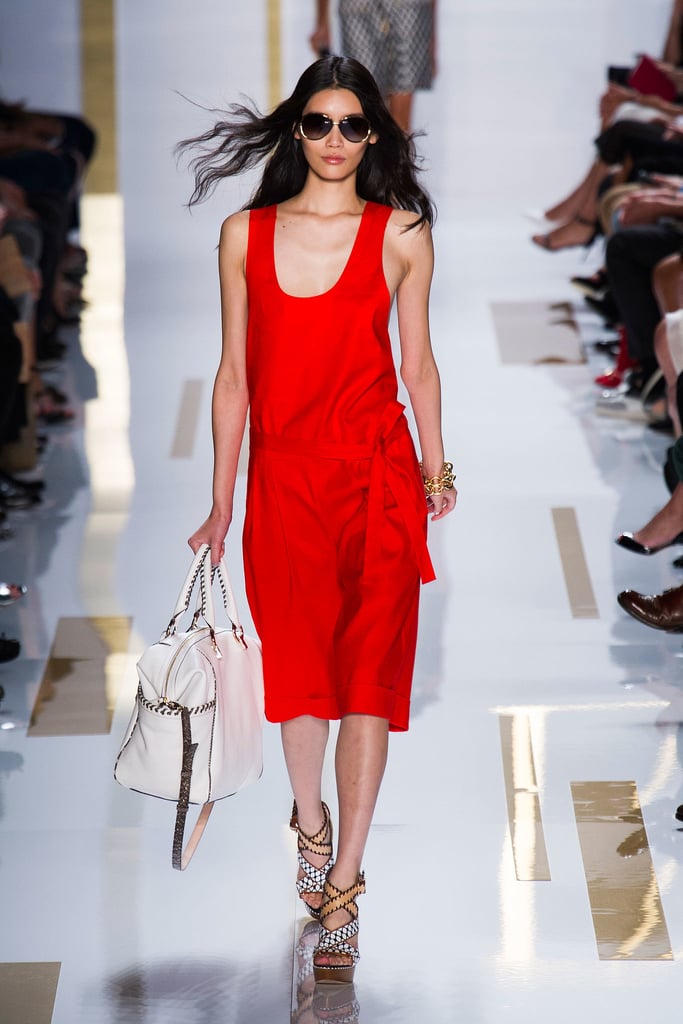 Pieces to attract the laidback tomboys had a moment, too, including loose, comfy-looking short sets.
Spring 2014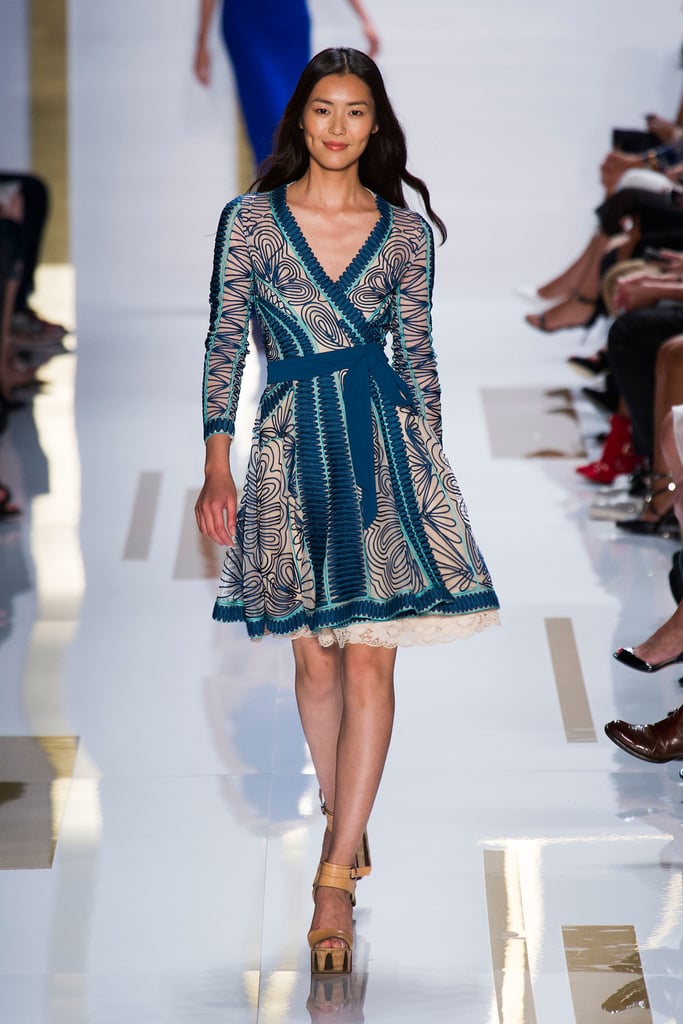 DVF must've already started thinking about her upcoming wrap dress anniversary. The style reappeared on the runway, albeit done in a slightly bolder silhouette.
Spring 2014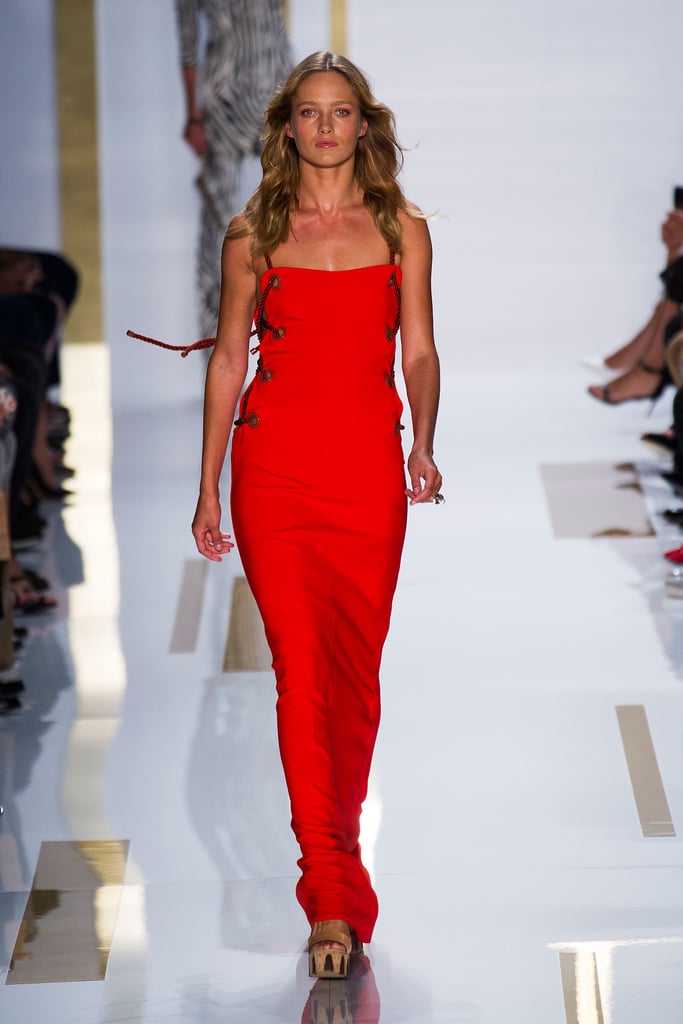 There was a sexy beach vibe imbued throughout the entire collection, with dresses both long and short that could easily be imagined thrown over a bikini.
Fall 2013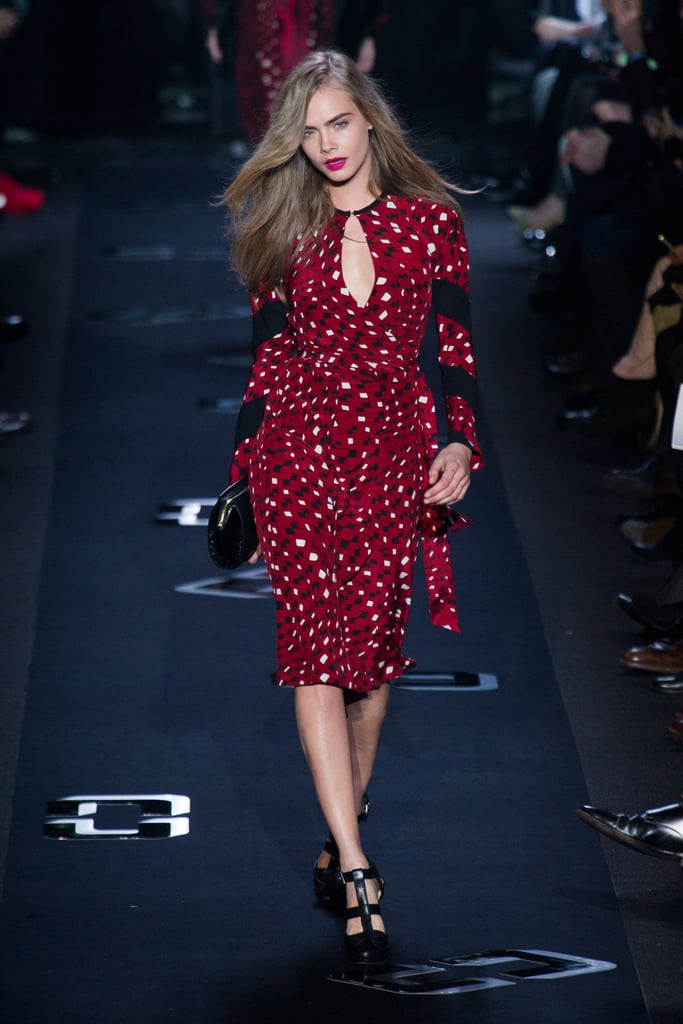 It wouldn't be a Diane von Furstenberg collection without a great printed dress.
Fall 2013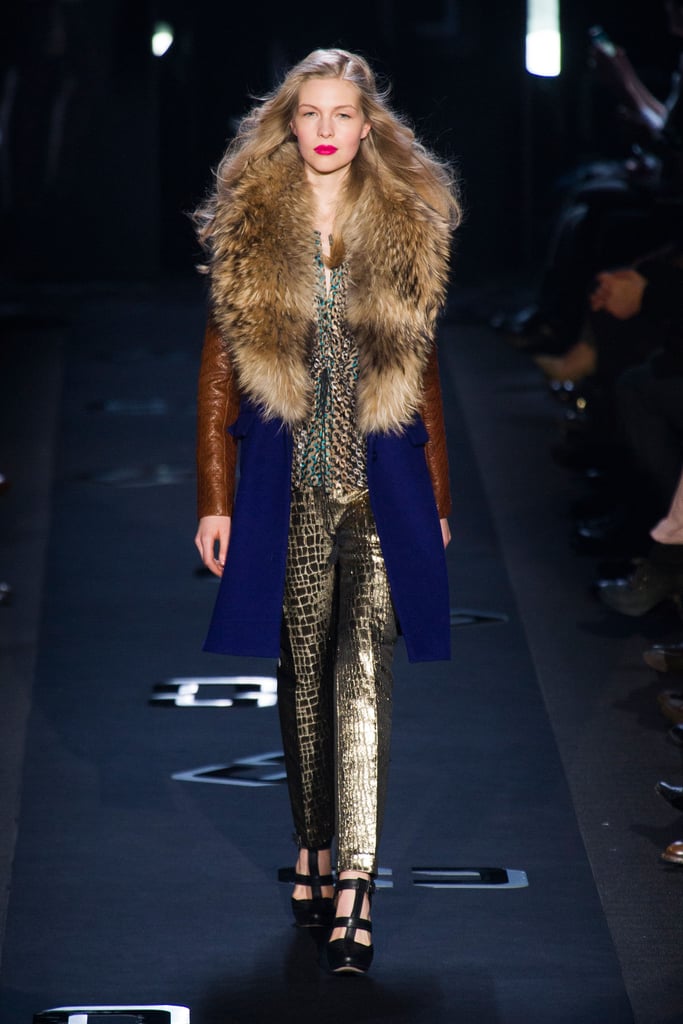 All about texture with layers of fur, high shine, and a hint of leather.
Fall 2013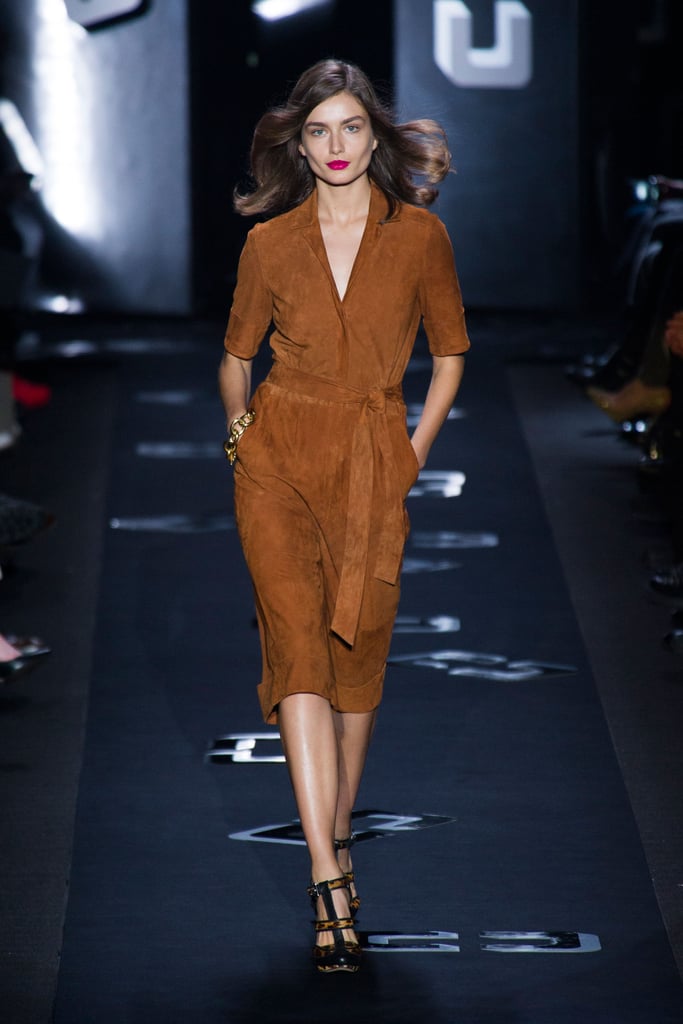 Diane gave us a new wrap dress to love — in suede.
Spring 2013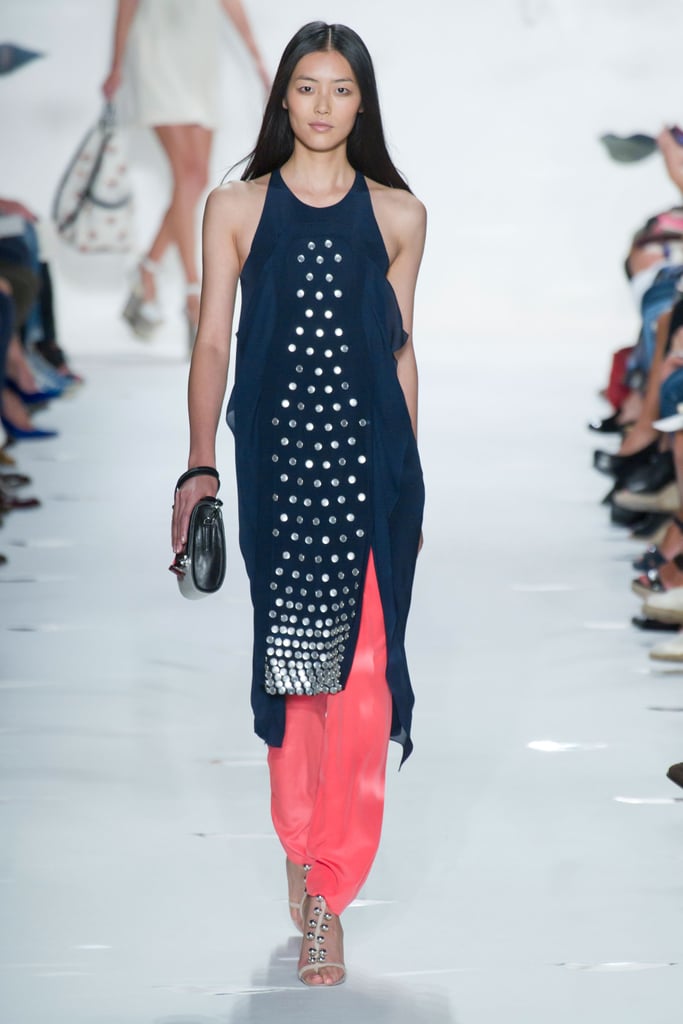 Tunics over trousers created a long, lean shape on the Spring '13 runway.
Spring 2013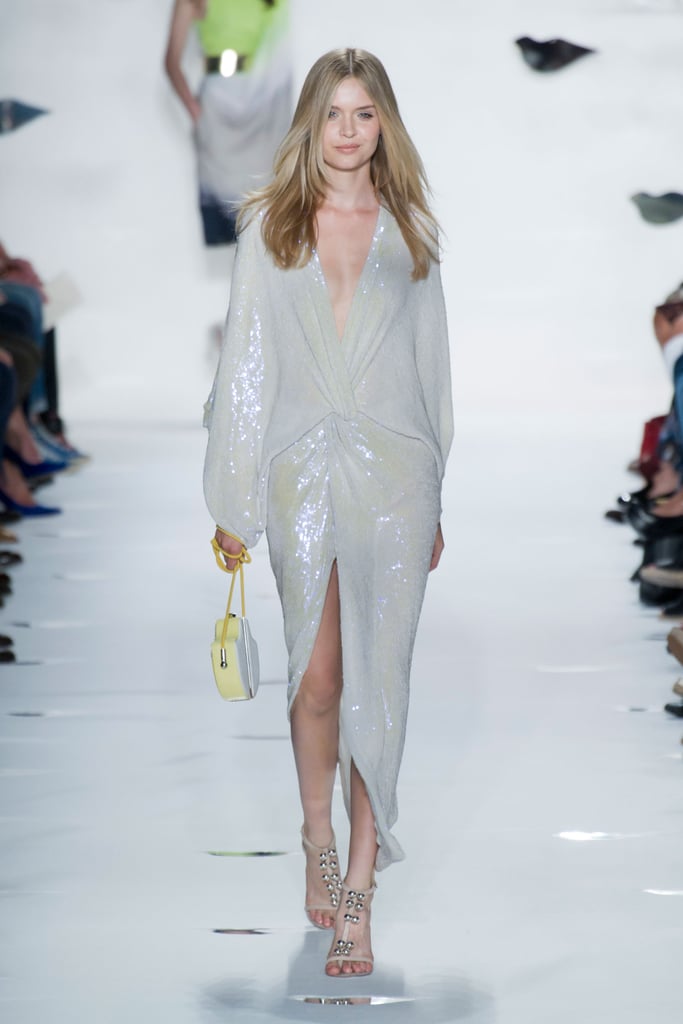 We love the billowy exaggerated sleeves on this sequined number.
Spring 2013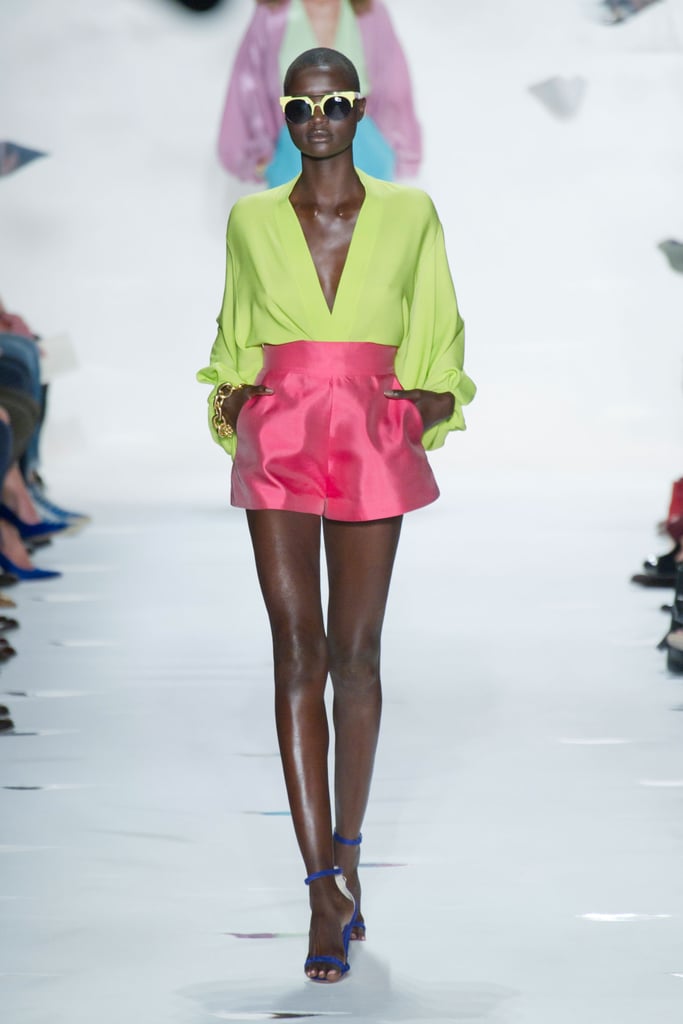 Bold color featured in the 70's inspired collection.
Spring 2013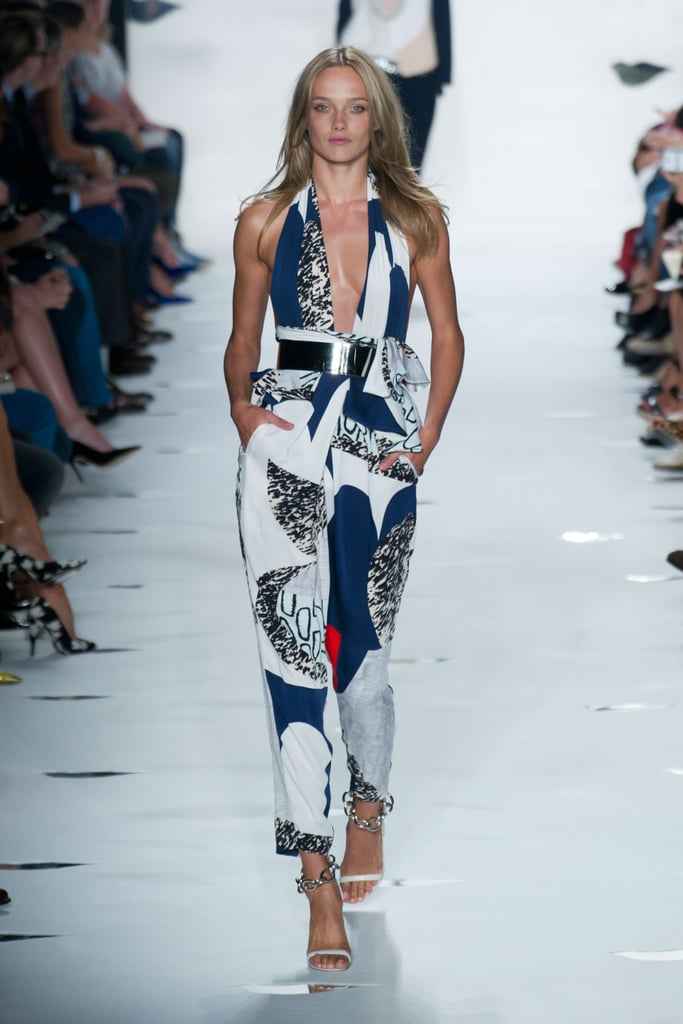 DVF sent a printed jumpsuit down the runway for Spring.
Fall 2012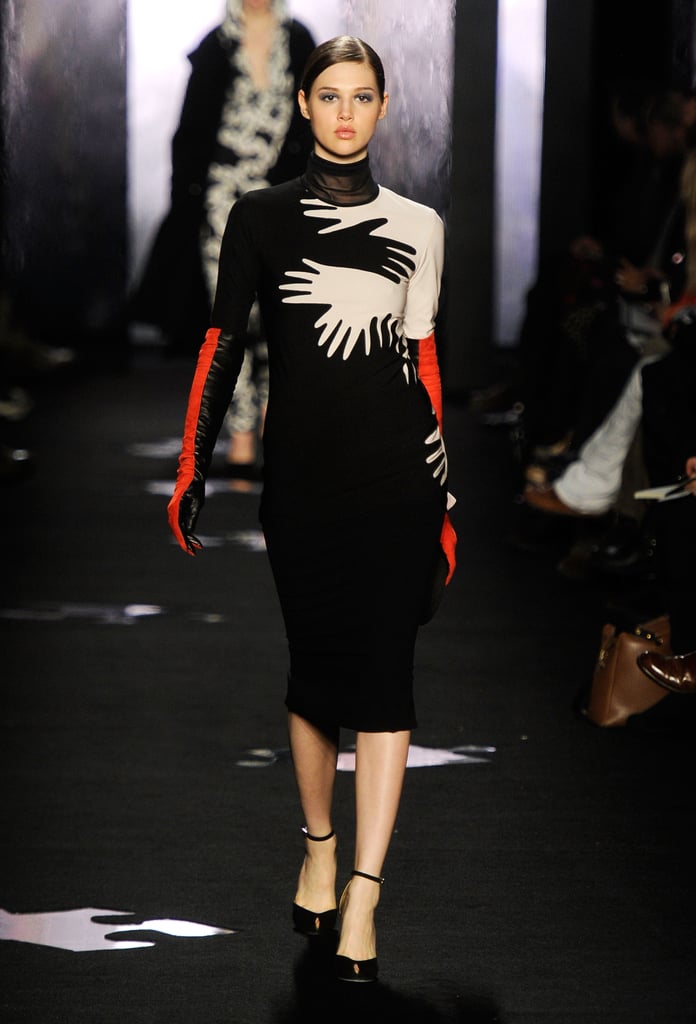 Cheeky prints packed a major punch on her Fall '12 runway.
Fall 2012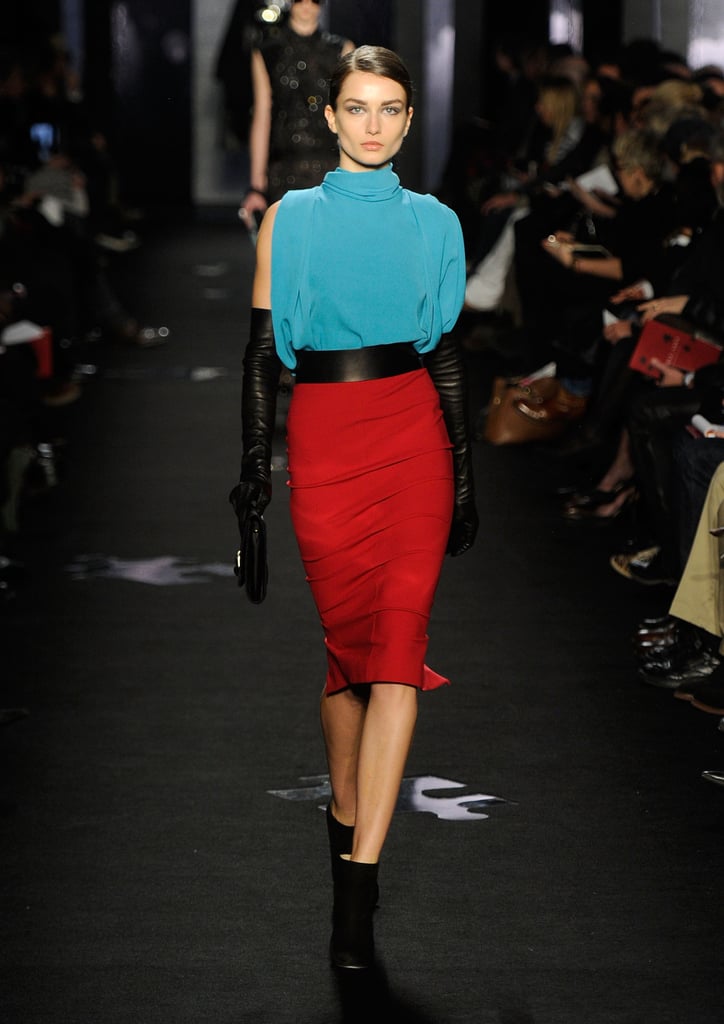 DVF reworked the sheath dress in bold colorblocking.
Spring 2012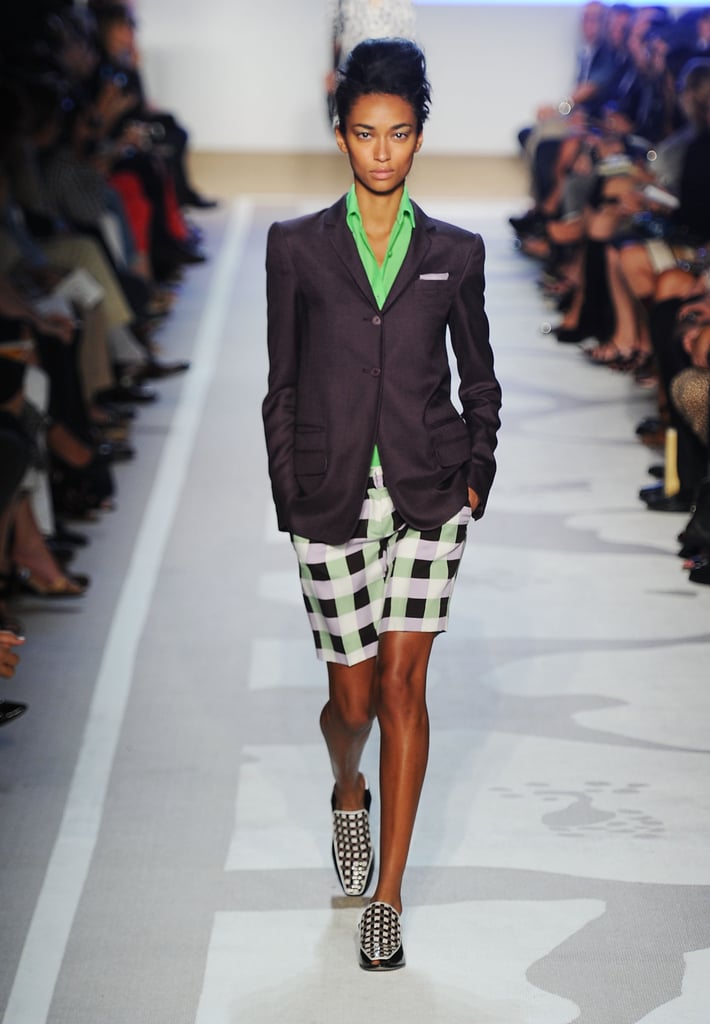 DVF presented structured blazers and preppy shorts for Spring.
Spring 2012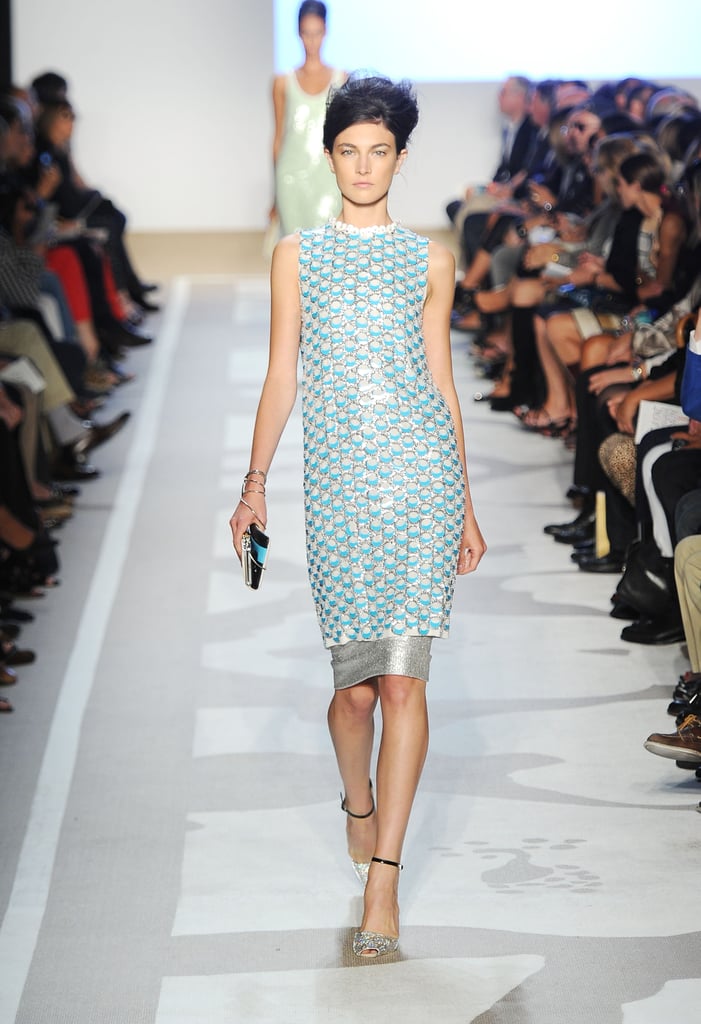 Beyond her signature prints and wrap dresses, the designer included shimmery sheaths, too.
Spring 2012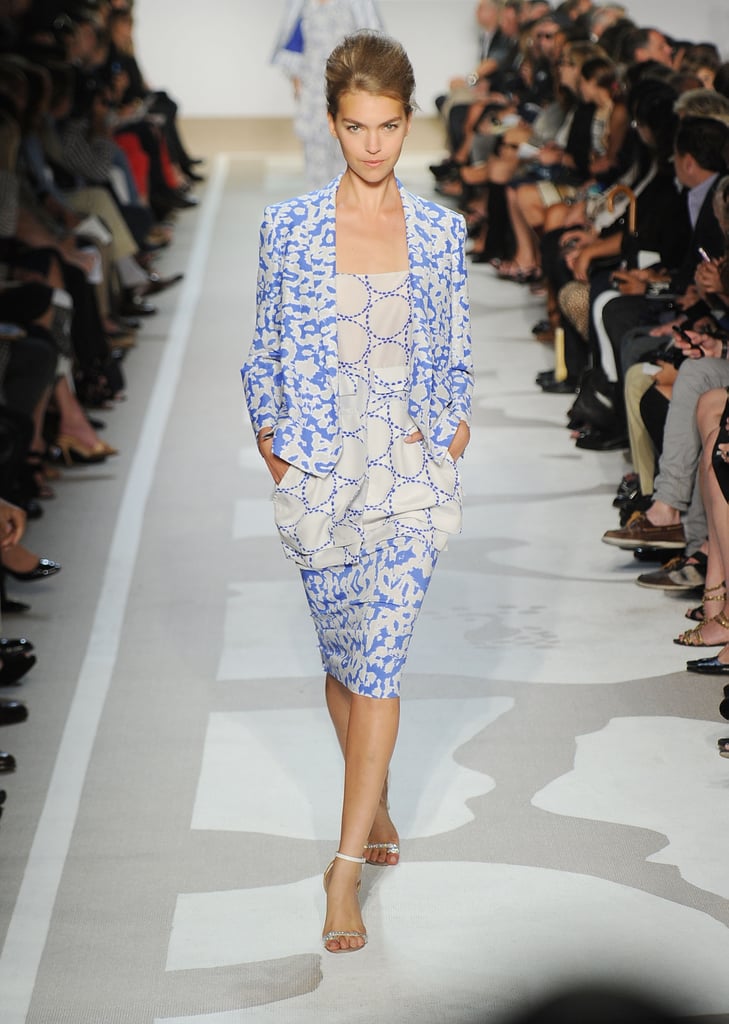 Sweet blue prints popped up on ladylike pieces on DVF's Spring '12 runway.
Fall 2011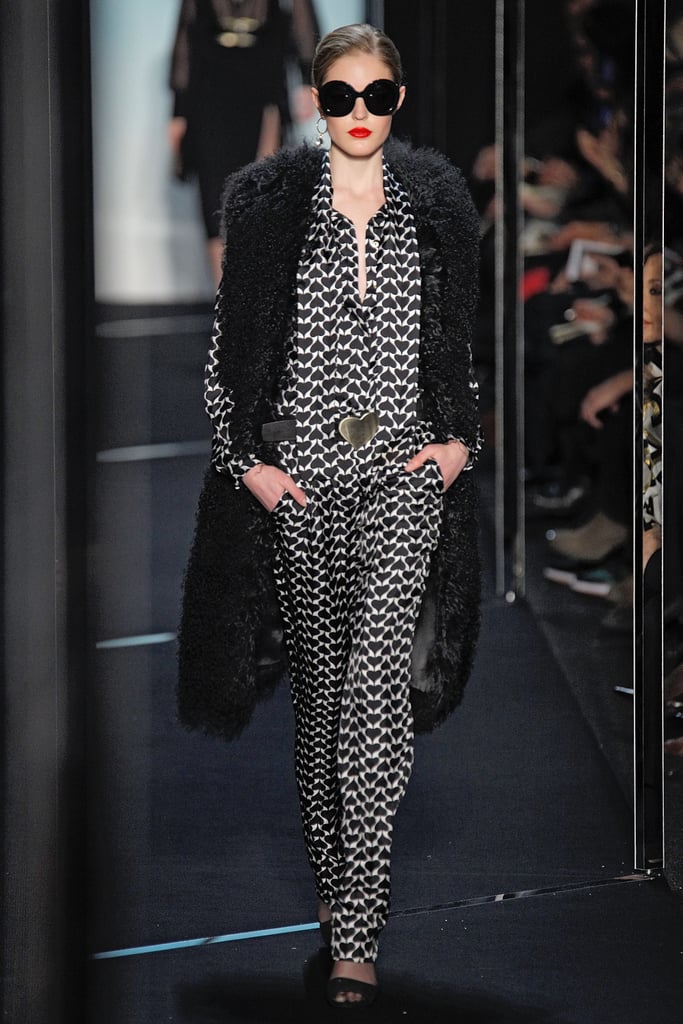 Allover print accented with a fur vest on the Fall '11 runway.
Fall 2011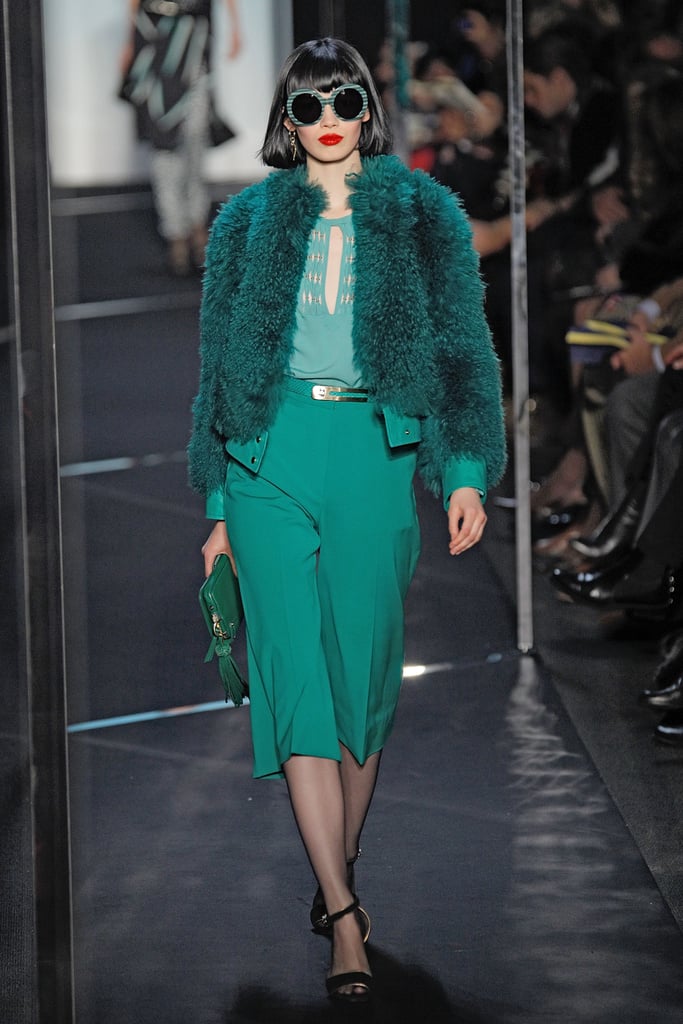 Playful tone-on-tone looks from the Fall 2011 collection.
Fall 2011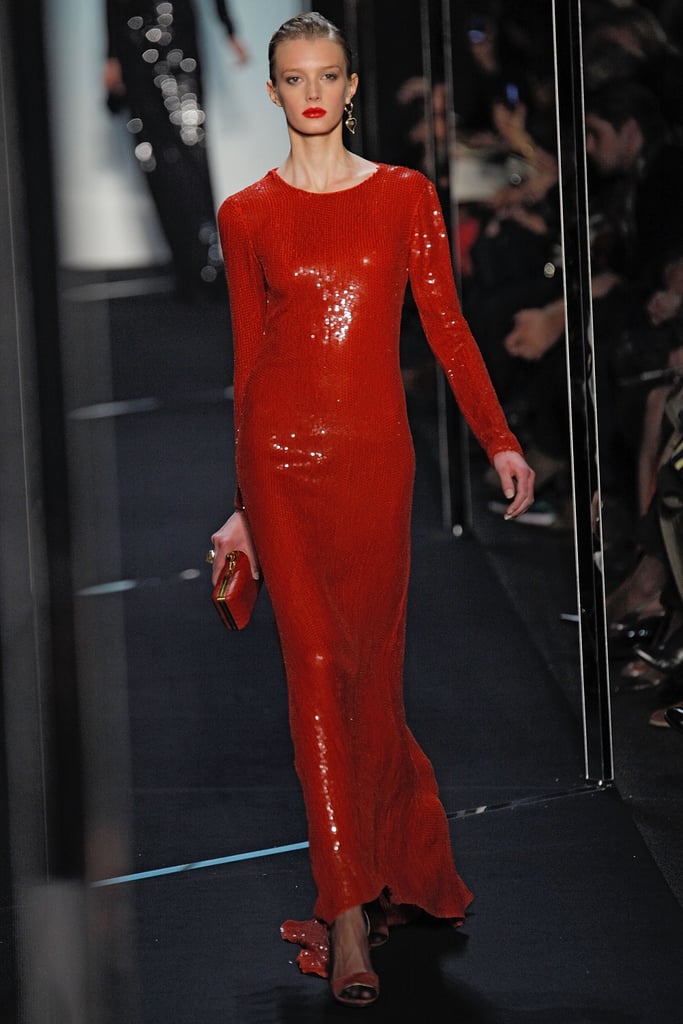 A memorably rich red gown from DVF's Fall '11 lineup.
Spring 2011
Rich color and tribal accents also made an appearance in DVF's Spring '11 looks.
Spring 2011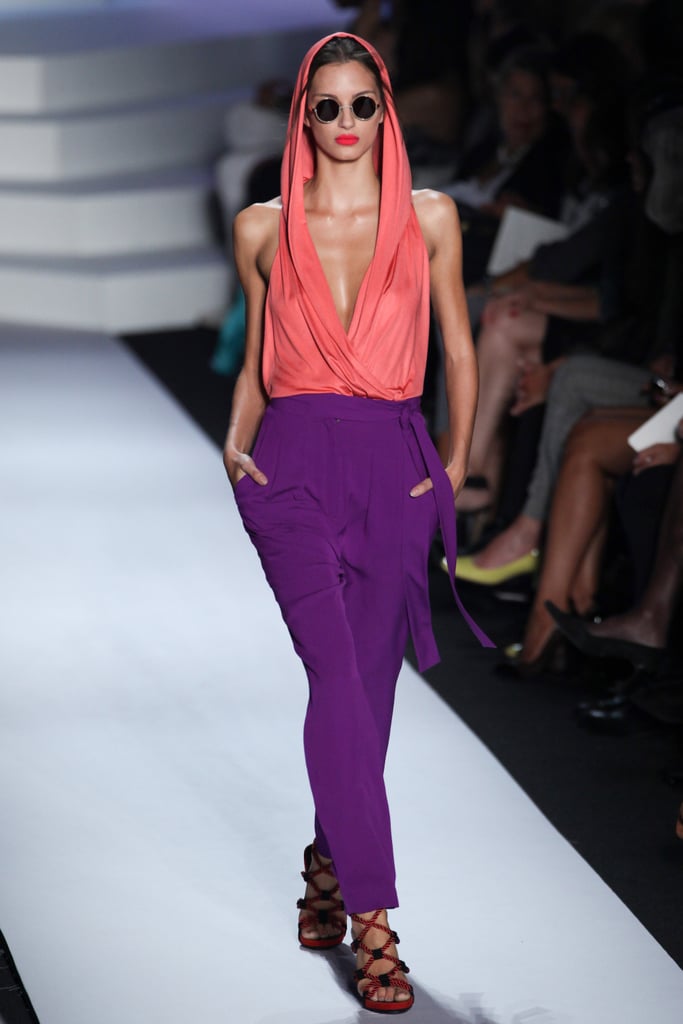 Sophisticated colorblocked looks marked DVF's Spring '11 collection.
Spring 2010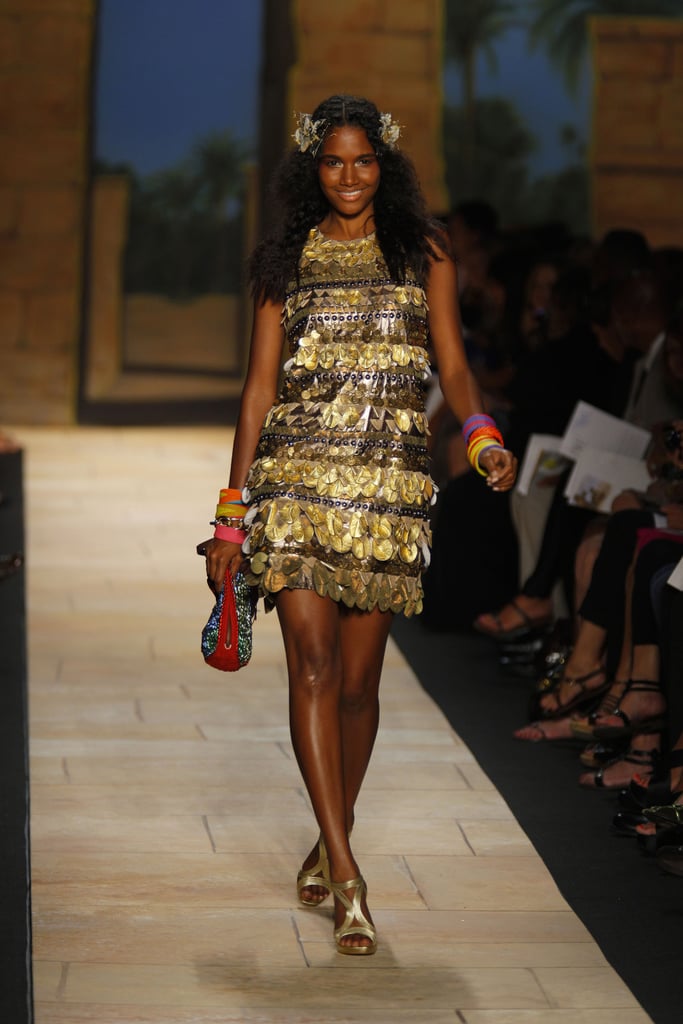 A metallic mini at the Spring '10 show.
Spring 2010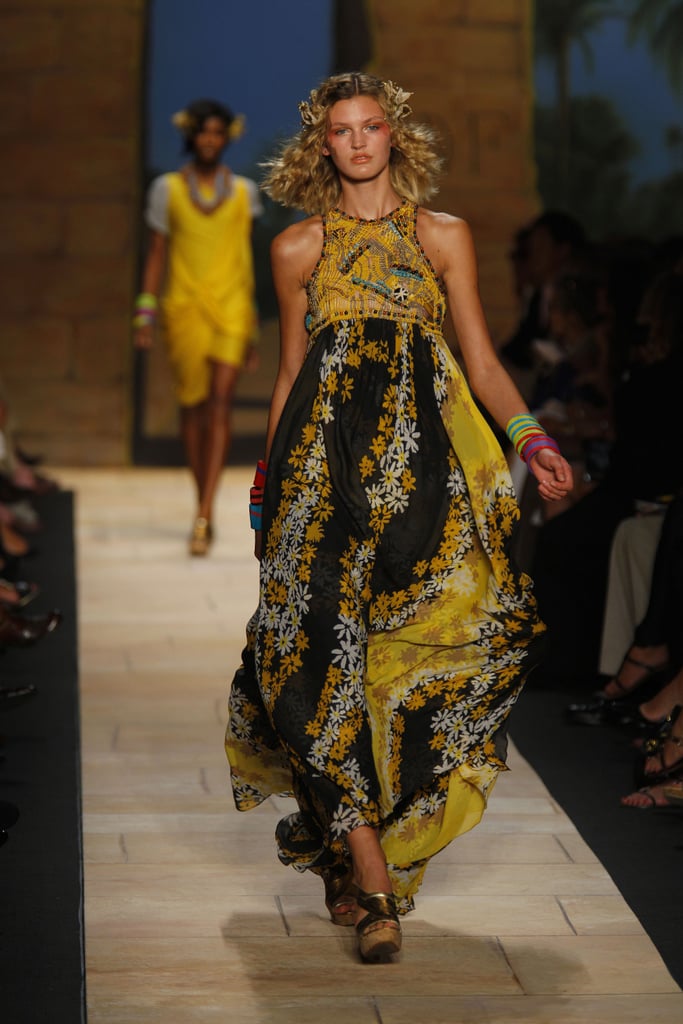 Breezy yellow prints for Spring 2010.
Fall 2009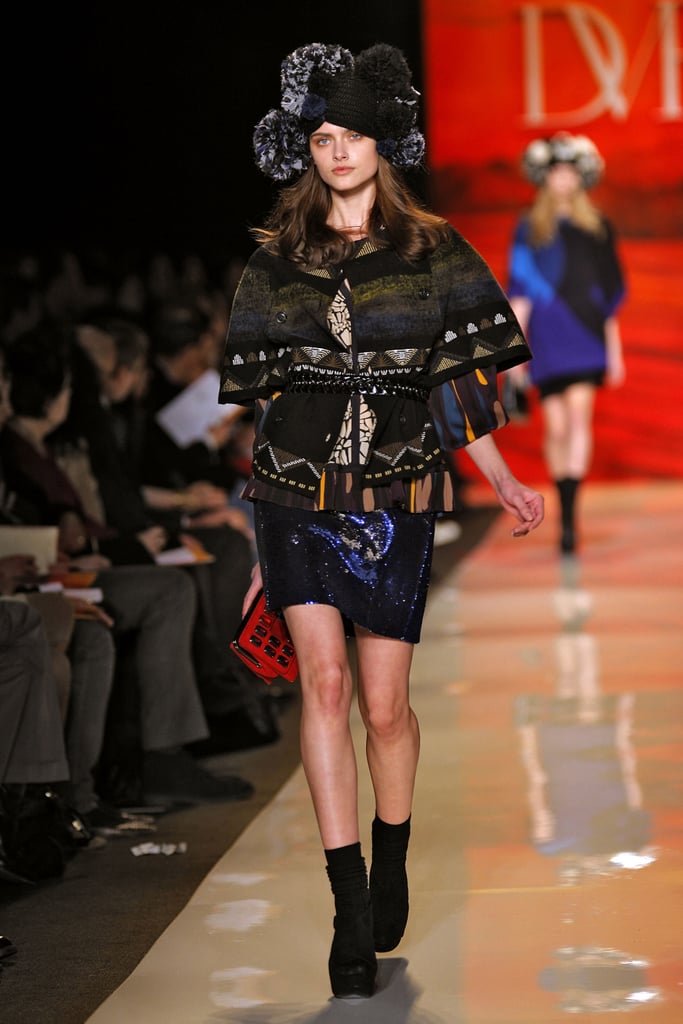 Rich prints and knits, topped with fur hats for Fall '09.
Fall 2009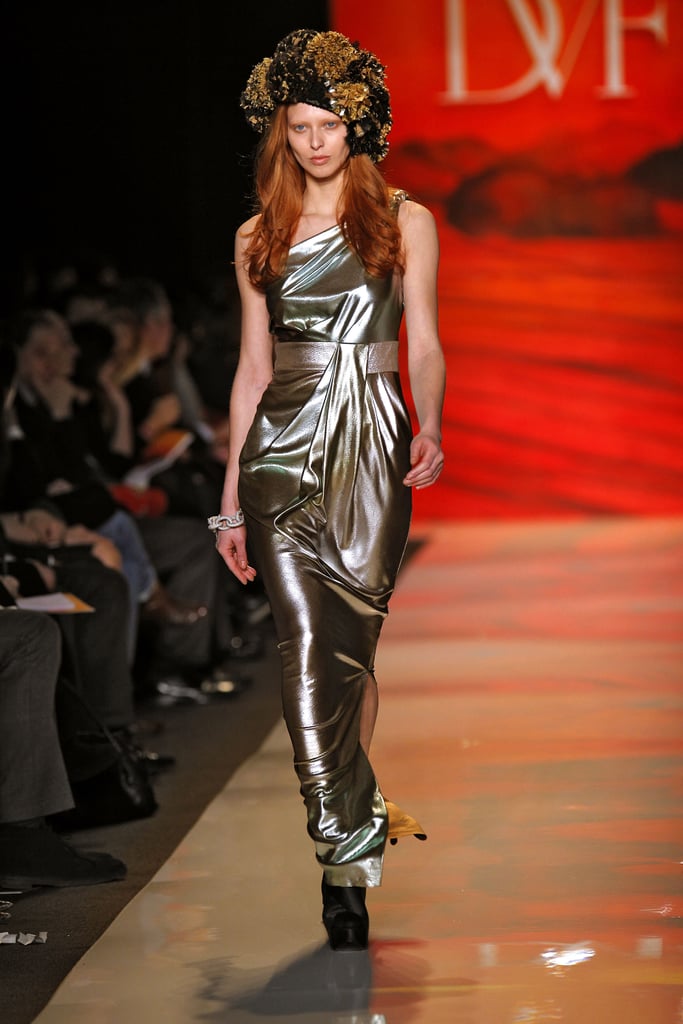 Metallics and fur at the Fall 2009 show.
Spring 2009
Coco Rocha showed off a short LWD at DVF's Spring '09 show.
Spring 2010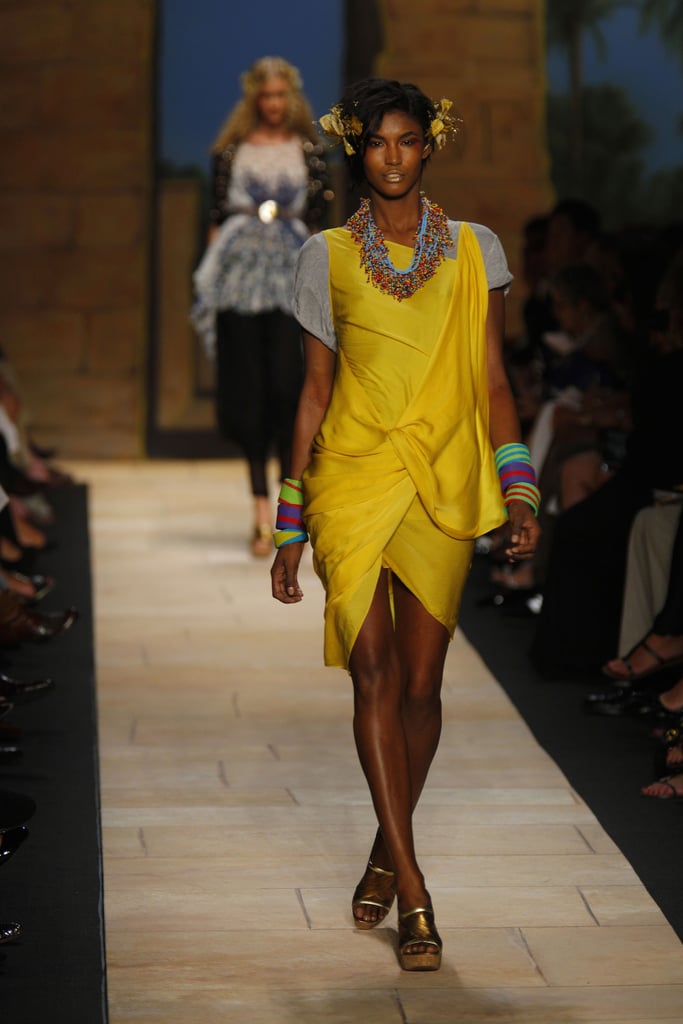 Spring 2010 brought sophisticated cuts in brilliant hues.
Spring 2009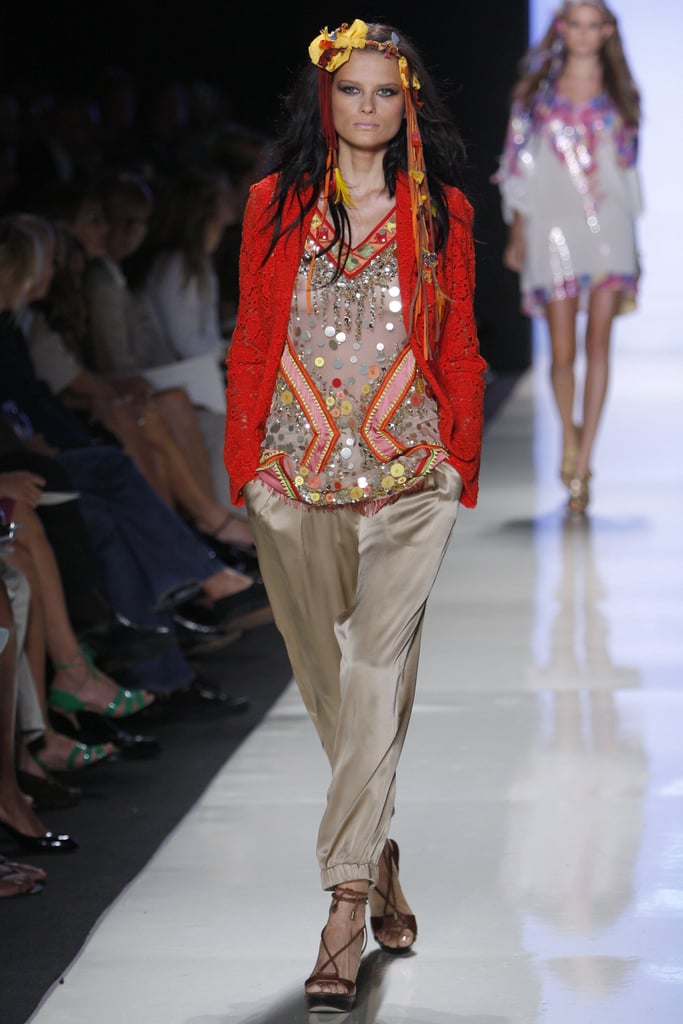 A beautifully embellished top and silky pants brought an eclectic, worldly vibe to the Spring '09 collection.
Fall 2009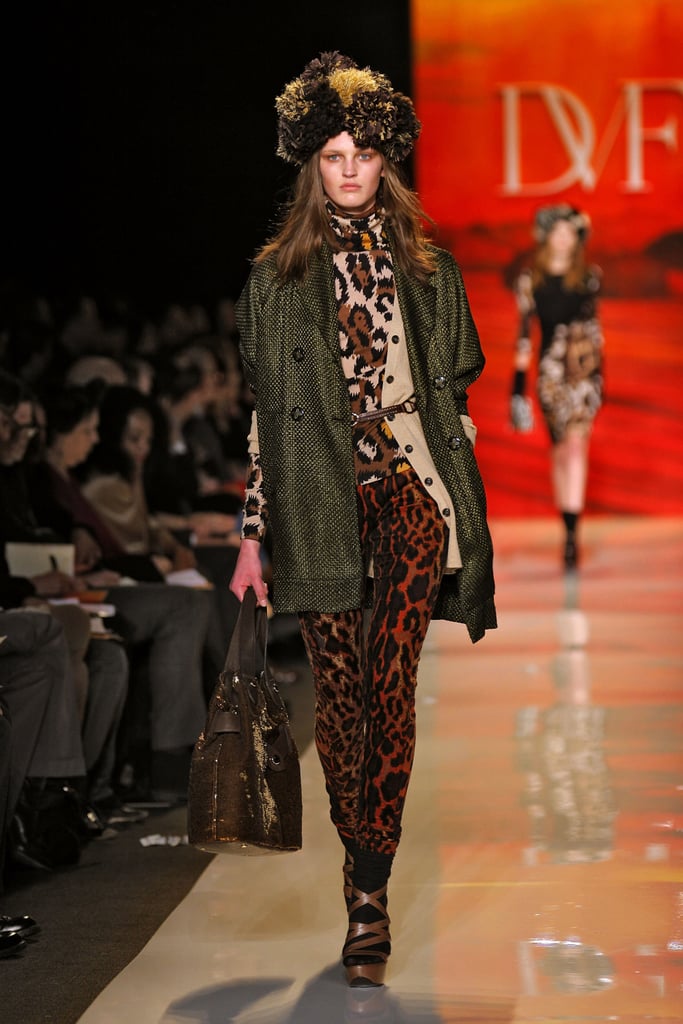 Fall 2009 was marked by the designer's love of print and the amazing fur hats.
Fall 2008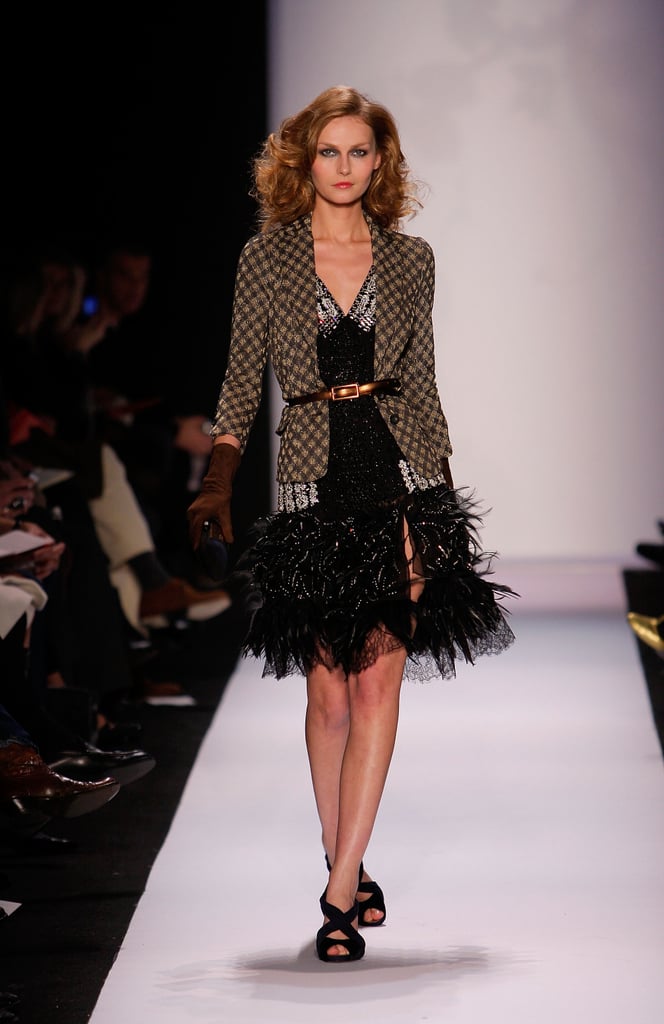 The Fall 2008 Collection was marked with structured, cinched waists and tailored separates, as well as luxurious details, like feather-adorned dresses.
Spring 2008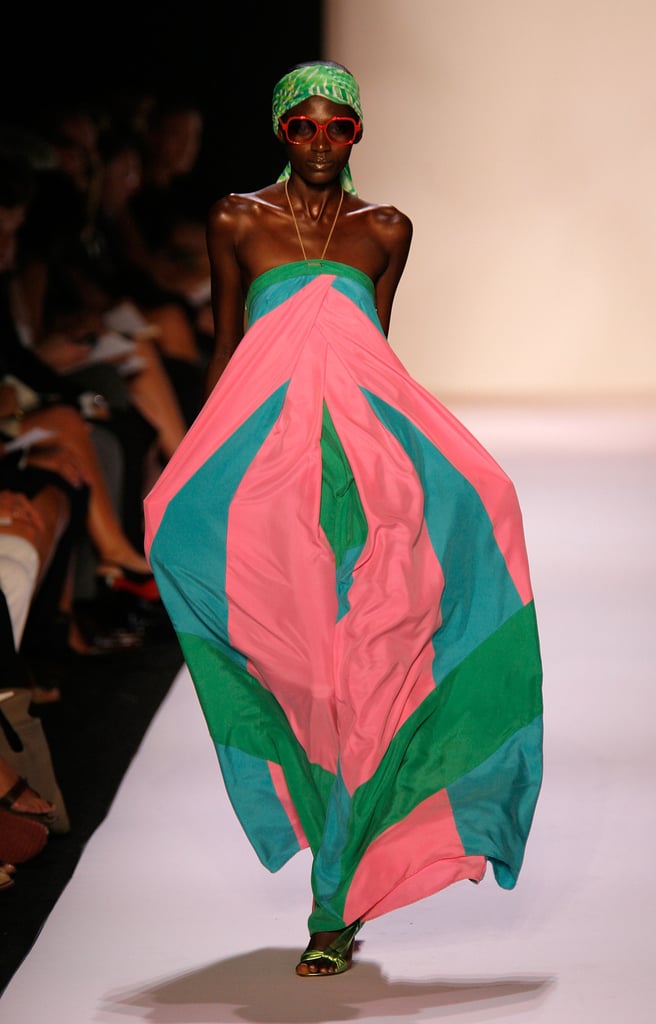 The 2008 Spring collection showcased bold colorblocked maxis.
Fall 2006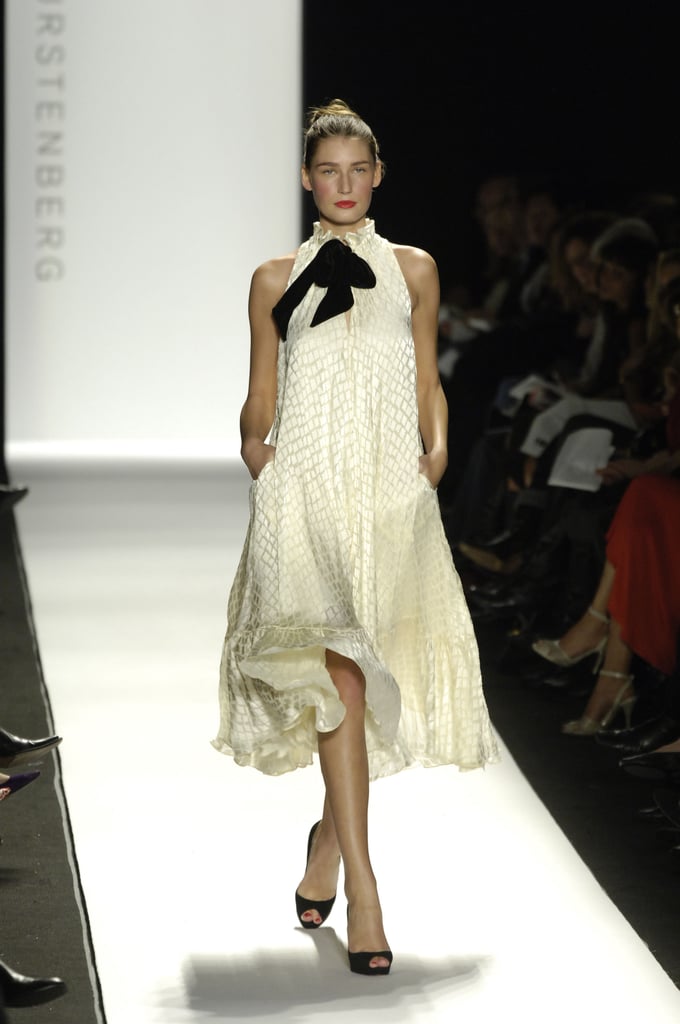 The designer's Fall 2006 collection showed ladylike details, like this bow-adorned dress.
Spring 2006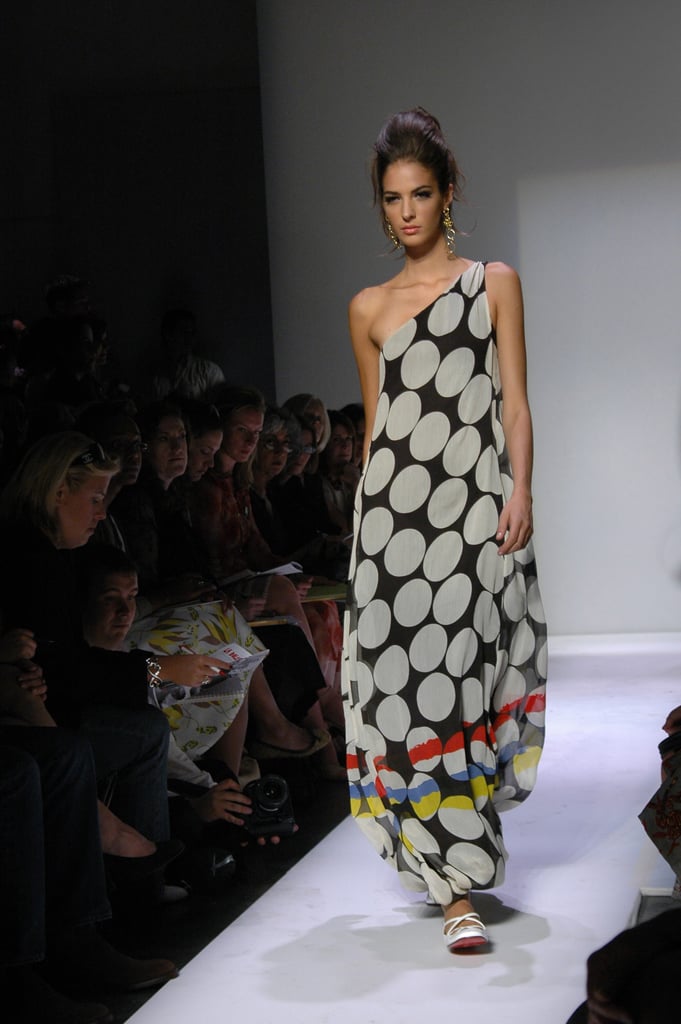 The designer's Spring '06 collection was on par with her signature aesthetic: breezy, easy feminine dresses in colors and prints.
Spring 2004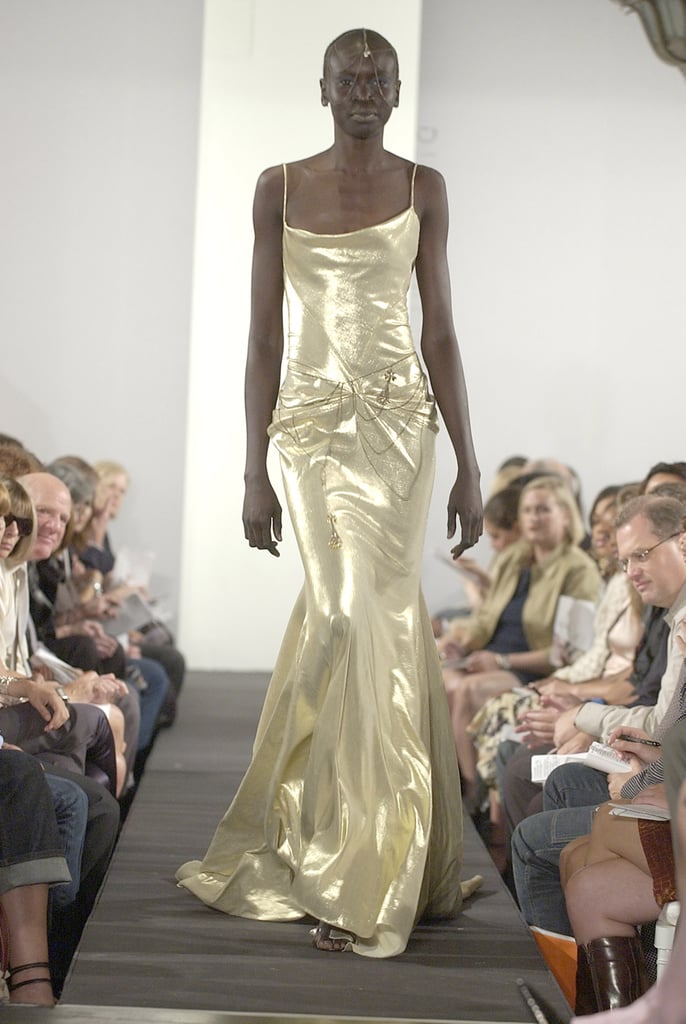 DVF's Spring 2004 collection showcased femininity, like Alek Wek in goddess-worthy gold.
Fall 2003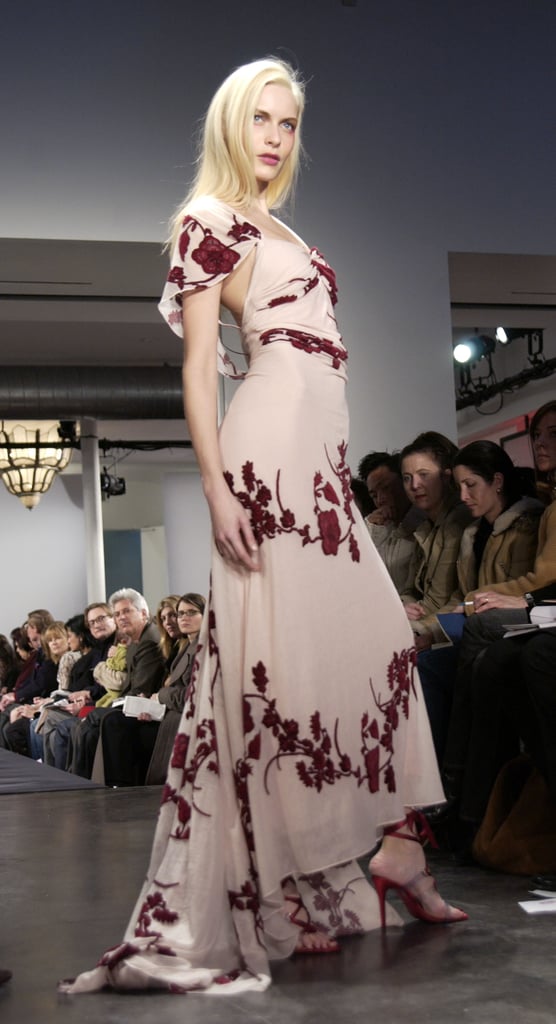 DVF showed gorgeous, floor-length floral for Fall '03.
Spring 2005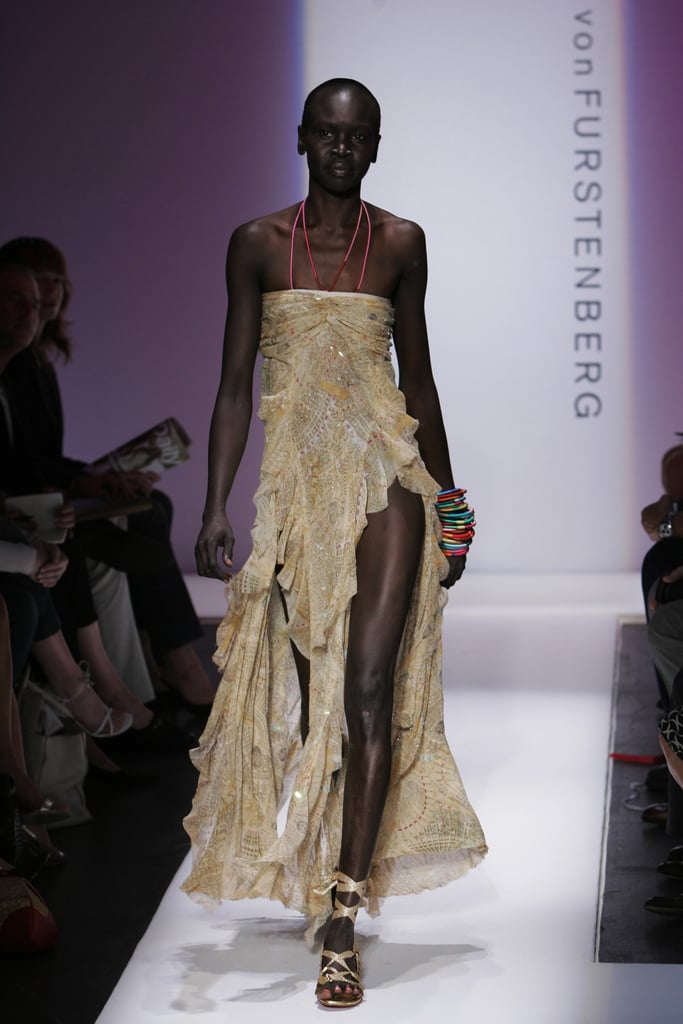 Alek Wek showed off a gorgeous, leg-revealing gown on the runway for Spring '05.
Spring 2005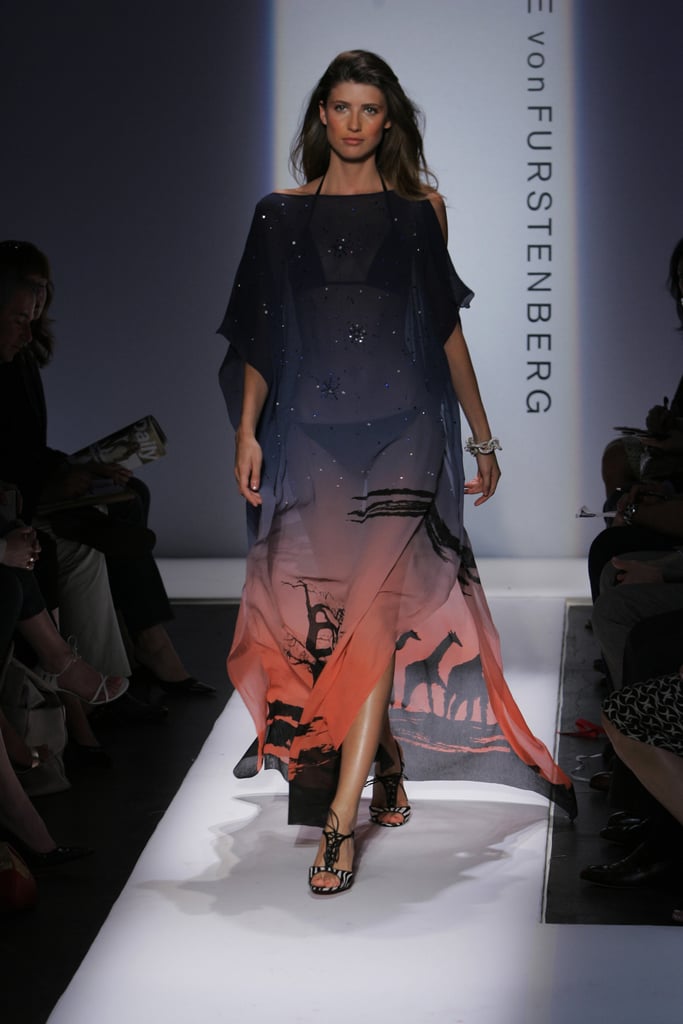 Moody-hued caftans and cover-ups on the Spring '05 runway.
Spring 2004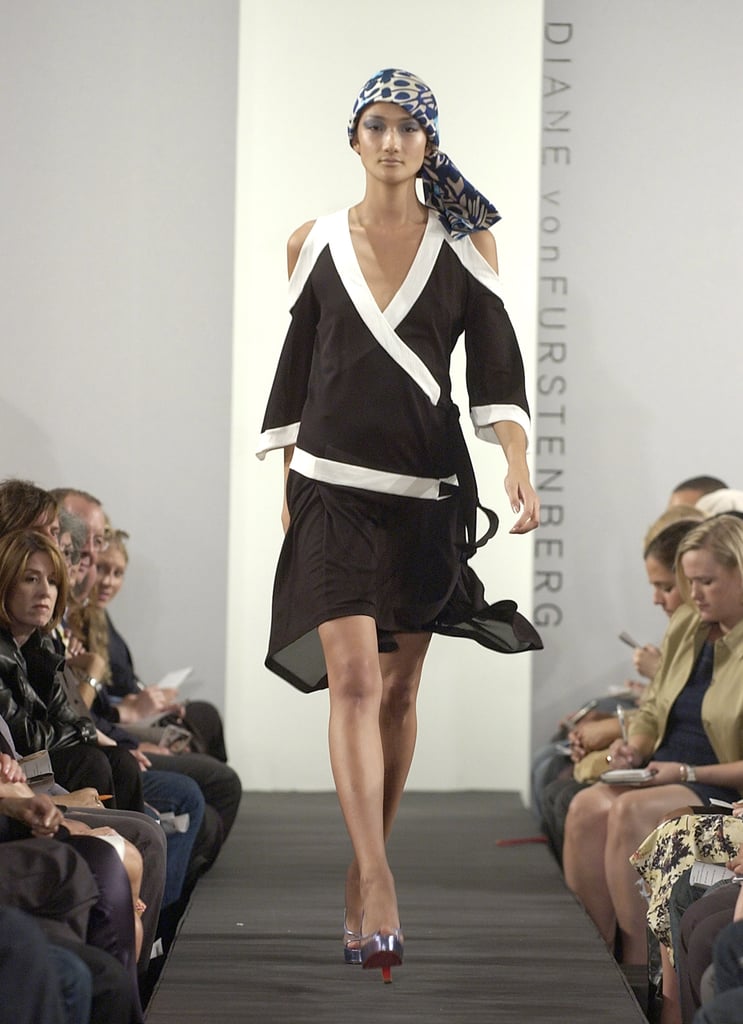 The designer showcased breezy silhouettes for Spring '04.
Spring 2003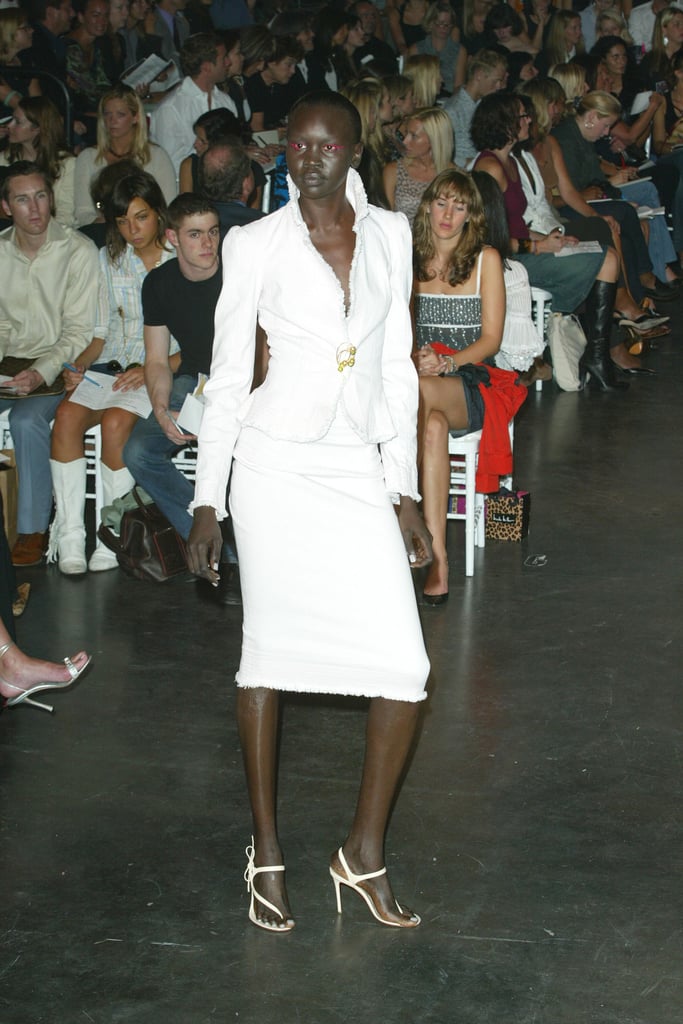 In Spring 2003, the designer delivered stark white separates and sophisticated cuts.
Fall 2003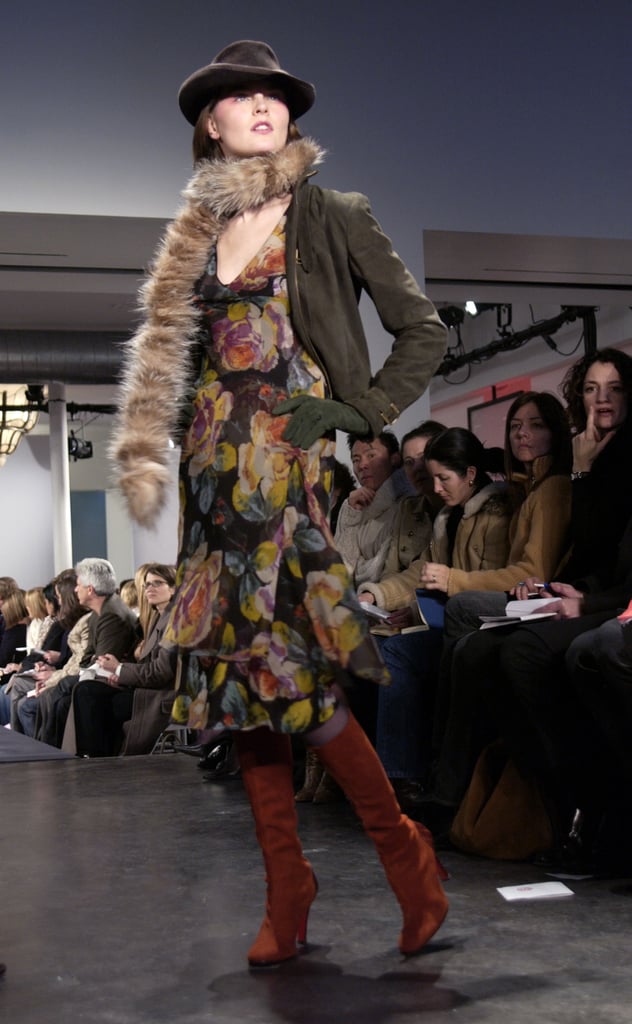 Autumn hues ruled at DVF's Fall '03 show.
Fall 2002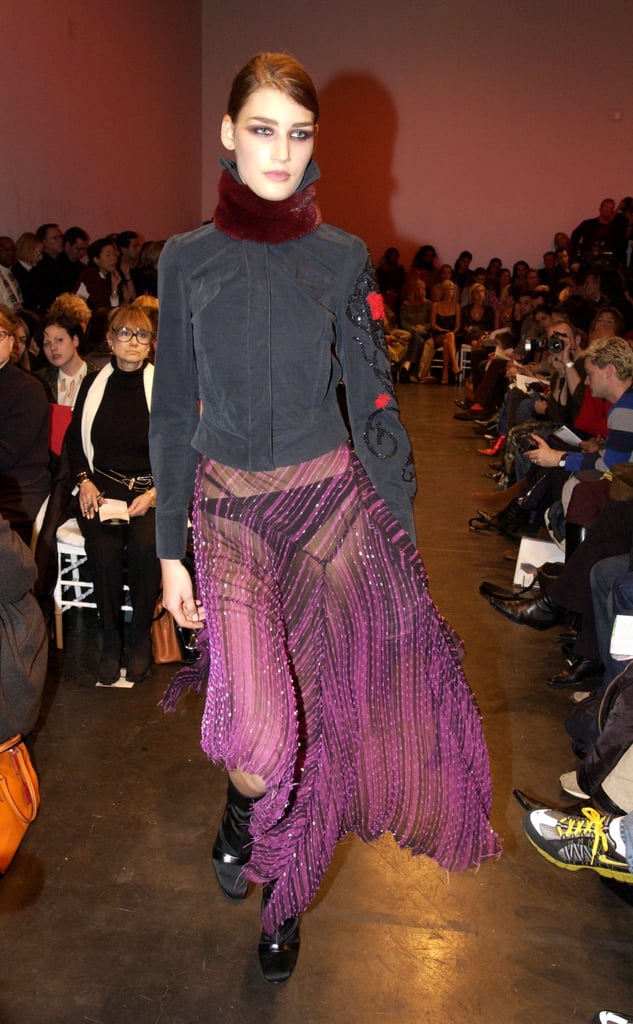 For DVF's Fall 2002 collection, sheer maxi skirts and rich cranberry hues were on display.