If we could take one dress off the red carpet and make it our own (for almost any and all occasions), Ellen Pompeo's relaxed, cream-colored Lanvin maxi dress would be a front-runner. The Grey's Anatomy leading lady — and favorite dramatic TV actress nominee — chose a deep-V, cuffed-sleeve, pleated skirt dress for her awards-show appearance. The excellence of this look could be pinpointed right down to every accessorized detail, namely, her wide black waist belt, long gold Sydney Evan chain necklace, gold box clutch, and edgy gold Sydney Evan rectangle bracelet. Aside from the eye-catching accents, she kept her hair low-key (read: superstraight), her makeup minimal, and her shoes well hidden. Although, we did manage to catch a glimpse, and it looks as if Ellen went with a classic black Christian Louboutin heel. Are you on board with her look?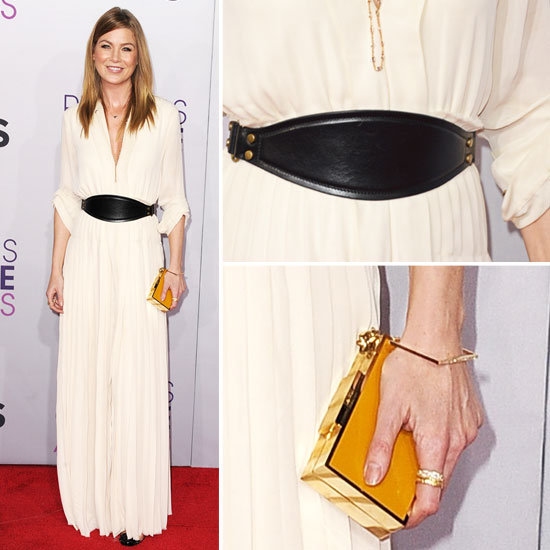 Make sure to vote on all of our
People's Choice Awards red-carpet polls here
!