September is basically the December of the fashion industry. Because of Fashion Week and the official start of the Fall fashion season, it's by far our busiest — and most exciting and most stressful — time of the year. So, if you are anything like us, you need to come prepared. That's why we are starting the month with an arsenal of stylish products that everyone (NYFW showgoers or not!) will want to have in their closets.
From back-to-school-inspired skirts to our pick for Fall's big pinstripe trend, we're ready to celebrate our version of the holiday season. Shop all of our editors' September must-have style picks, right here. And merry Fashion Month!
McQ Alexander McQueen Front Pleat Plaid Skirt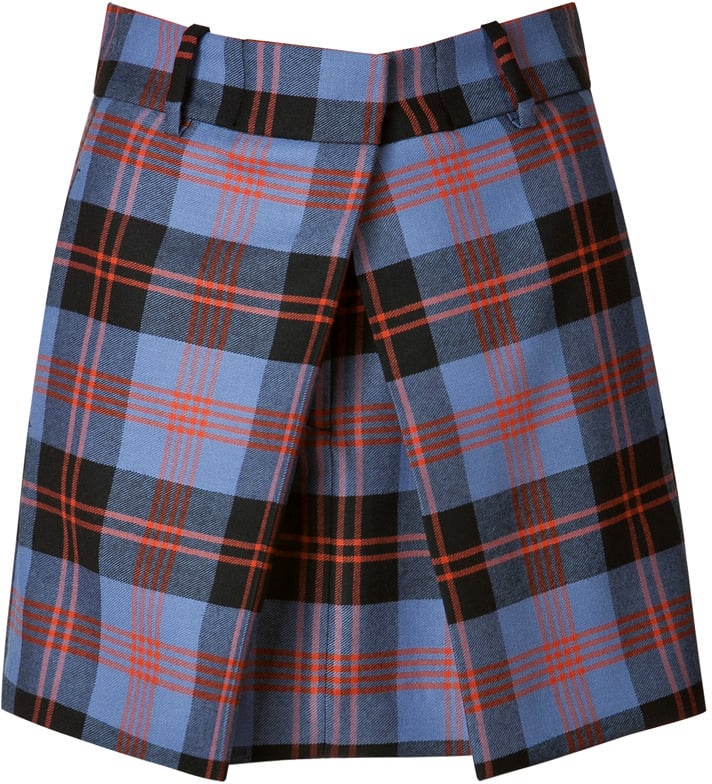 It's been awhile since I wore a school uniform, but I have to confess I kind of miss that first-day-of-school feeling. Luckily, McQ has captured the back-to-school spirit for grown-ups in this chic plaid skirt [1] ($490). How to style it? You'd struggle to stop me from adding a fluffy cardigan and Mary Janes, à la Cher from Clueless!
— Gemma Cartwright, POPSUGAR UK editor
Venessa Arizaga Chill Pill Pearl Necklace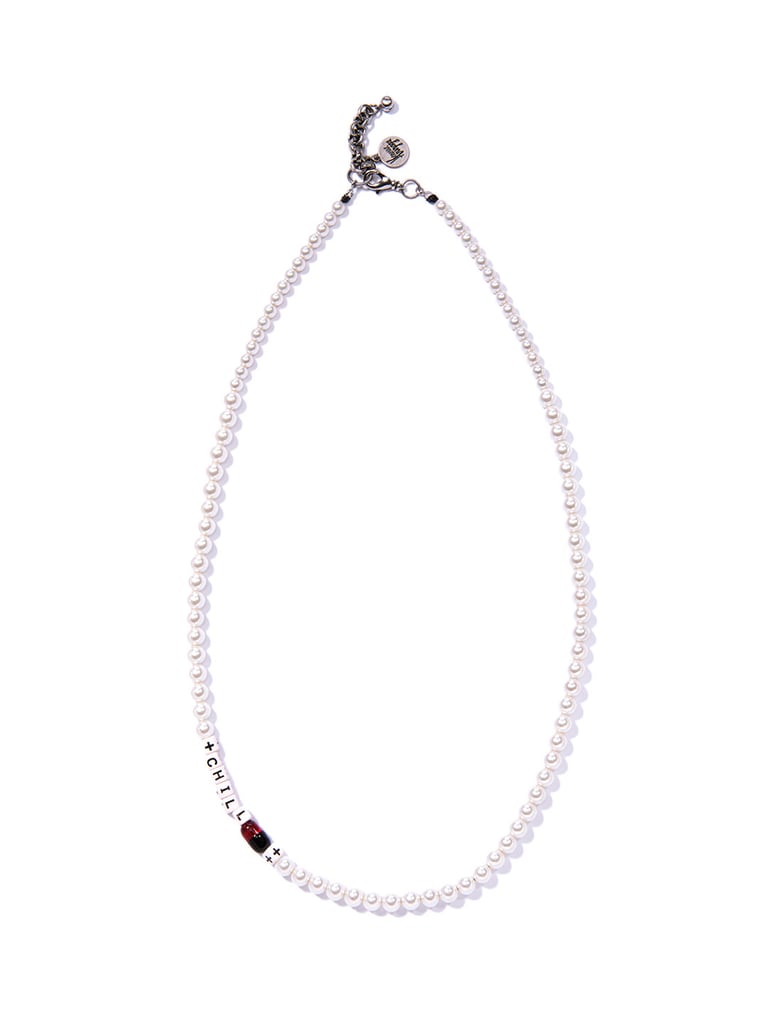 Because every so often I need to be reminded to take a chill pill [2] ($170) — especially during the busy month of September!
— Randy Miller, associate editor
Anya Hindmarch Corn Flakes Imperial Clutch
I'm all about quirky accessories, and I used to eat Corn Flakes for breakfast every day as a kid. So maybe it's because I'm feeling nostalgic, but I'd love to add this Anya Hindmarch clutch [3] ($1,595) to my wardrobe.
— Sarah Wasilak, editorial assistant
Freda Salvador Star Booties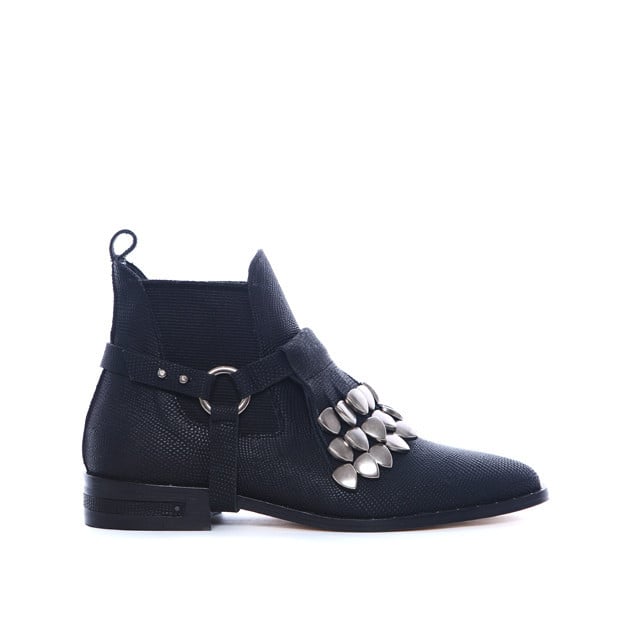 I've fallen in love with a pair of boots. It's embarrassing to admit, but like with a cute Tinder match, I find myself constantly going online to check out these Freda Salvador Star Booties [4] ($595). They are perfect for Fall and versatile, thanks to the removable harness. Plus, unlike an online date, they'll stick with me all the way through Winter.
— Aemilia Madden, editorial assistant
Isabel Marant Raquel Poncho Sweater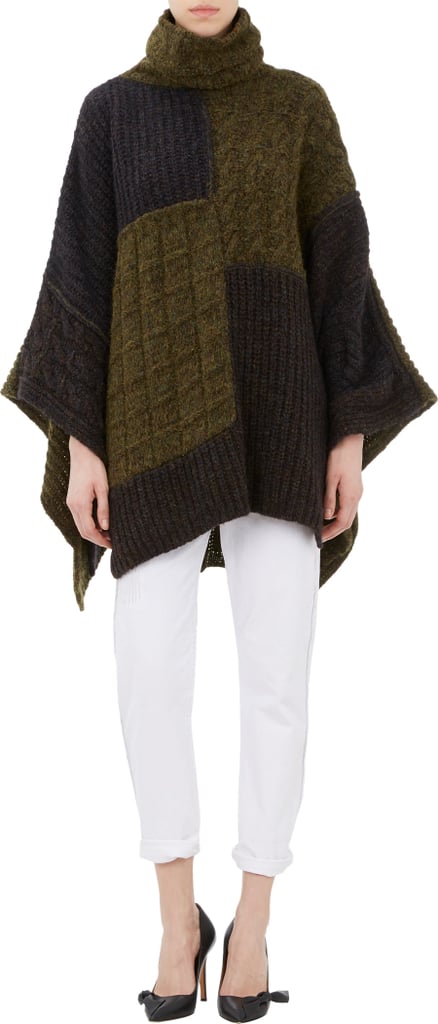 Fair warning: you will definitely be seeing me in a poncho this Fall. If I'm lucky, it'll be this cozy Isabel Marant patchwork one [5] ($860).
— RM
Loeffler Randall Mini Rider Satchel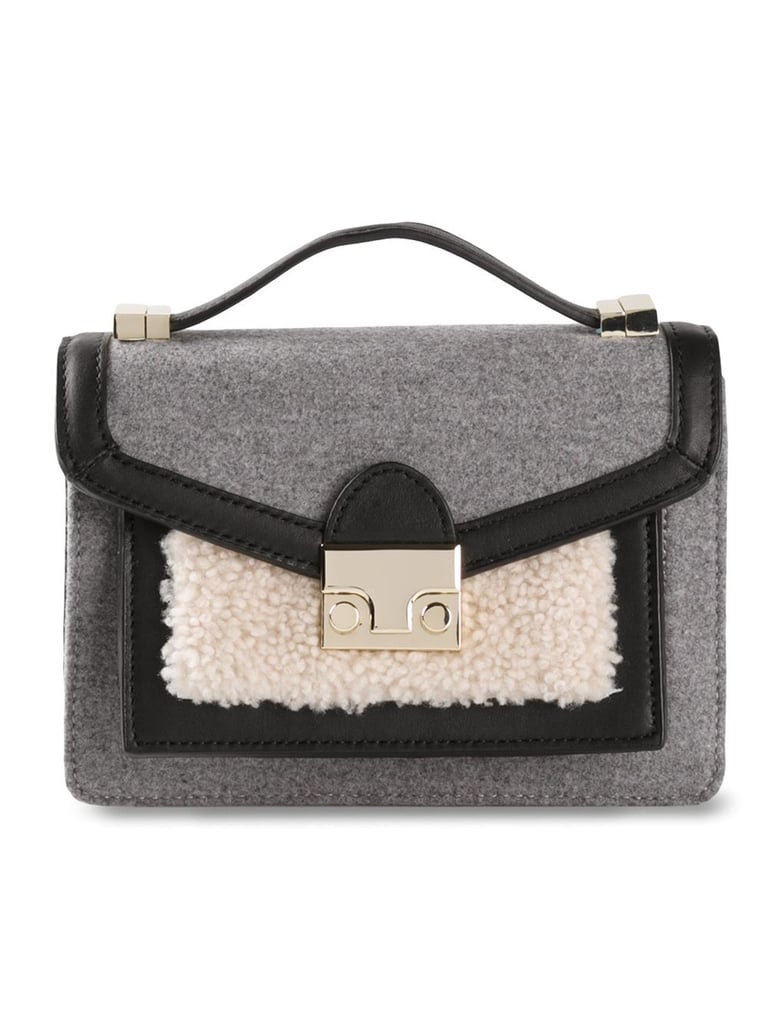 Loeffler Randall released the Rider mini bag [6] ($425), and I'm smitten. I can't get enough of the adorable shearling or the adorable size — now, I promise to condense everything I need to fit in just this one little carryall.
— Hannah Weil, associate editor
Vince Camuto One-Button Pinstripe Blazer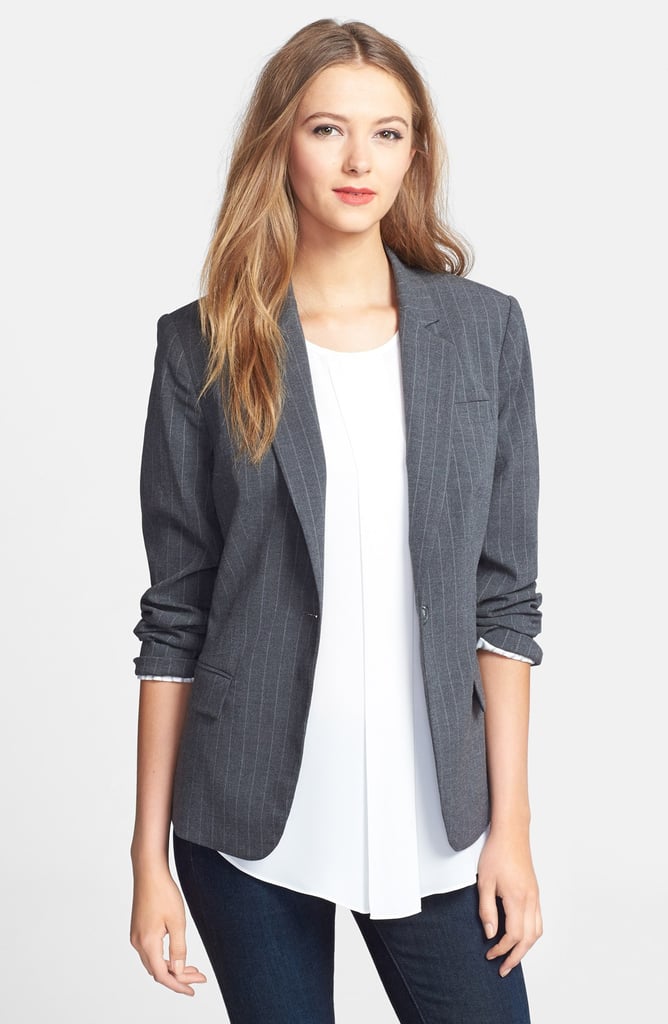 After learning so much about the history of pinstripes [7] recently, I'm definitely going to jump on the Fall 2014 trend with this Vince Camuto one-button pinstripe blazer [8] ($179).
— Kate Schweitzer, contributing editor
Mangrove Tie-Dye Mania Scarf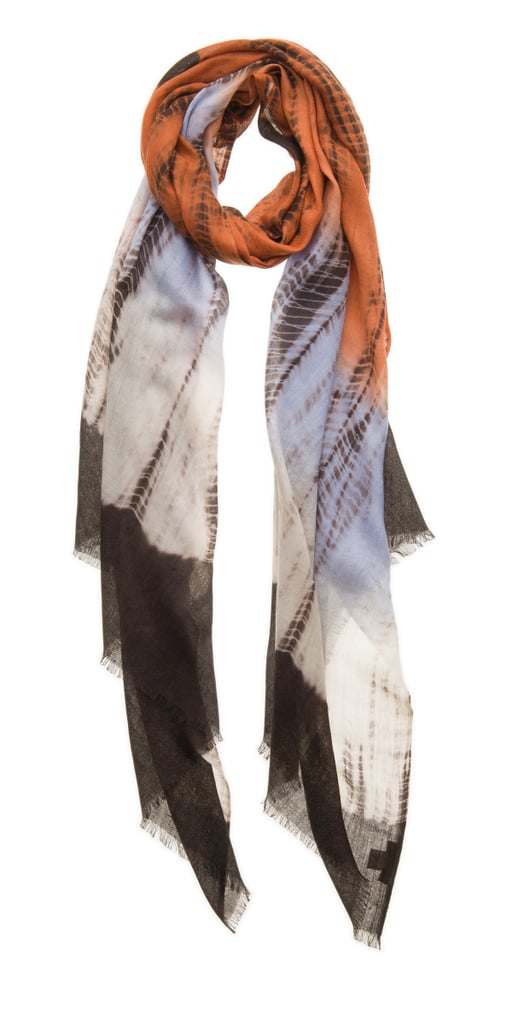 I'm not one to DIY [9], but I'm pretty sure I'm going to take credit for the cool homespun feel of this Mangrove tie-dye scarf [10] ($120), a perfect between-season accessory.
— KS
AYR Robe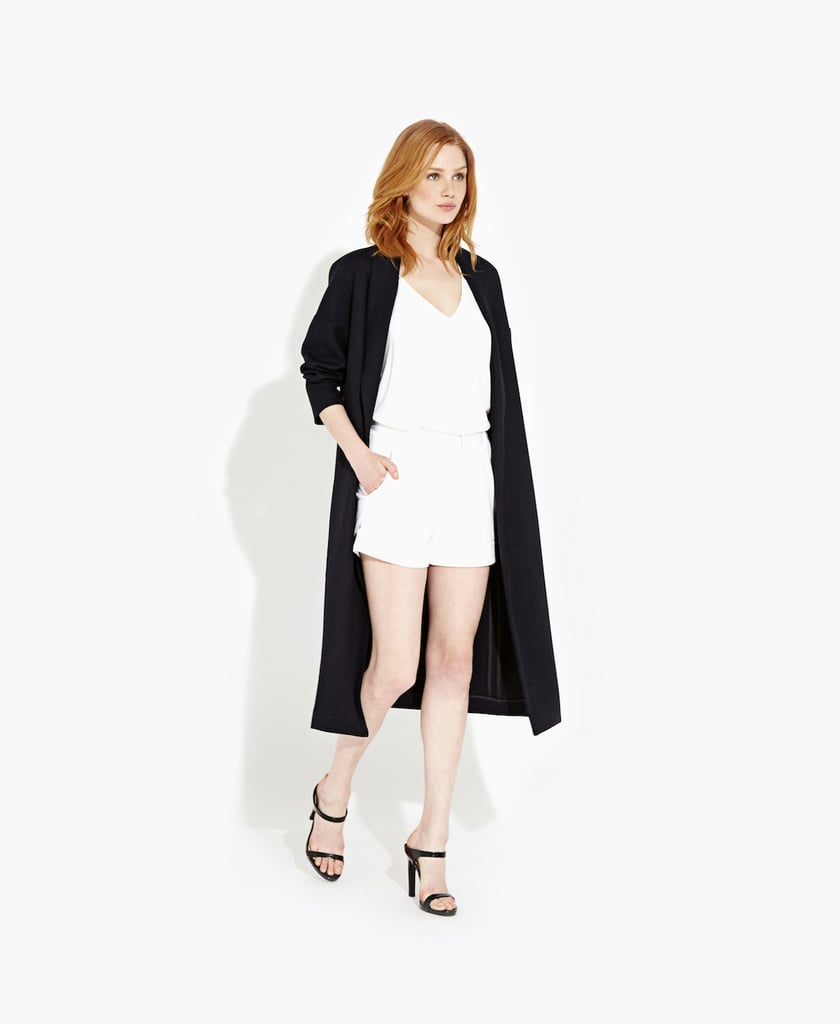 I never knew how much I needed a robe coat until I saw this AYR version [11] ($485). Now, I don't know how I lived without it for so long!
— Allison McNamara, reporter
Pamela Love Sun Ray Studs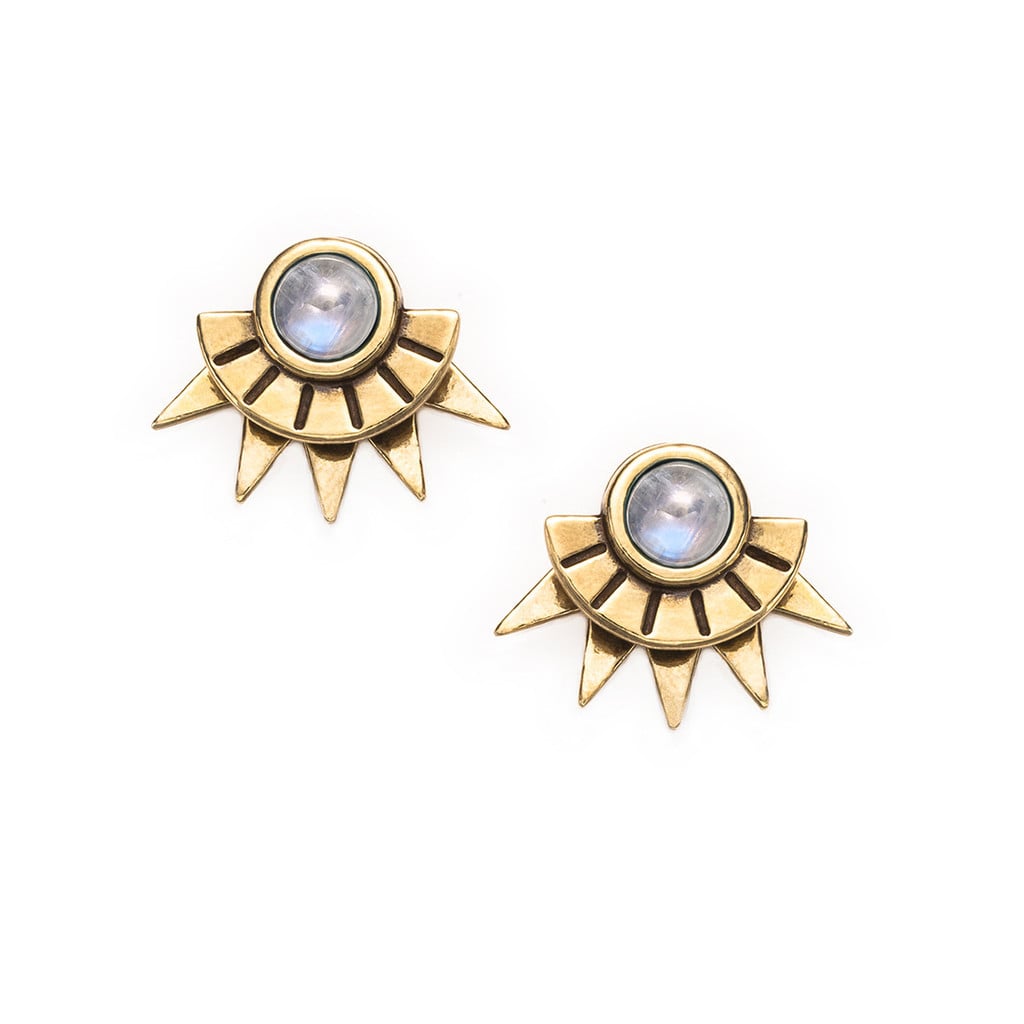 I love earrings, but I tend to be the type who puts a pair in and just wears them forever. That wouldn't be such a bad thing in these Pamela Love Sun Ray Studs [12] ($185). The design reminds me of the jewelry I lusted over when I took a road trip on Route 66: a little bit Western with the ability to look great with jeans or an LBD.
— AM
River Island Tank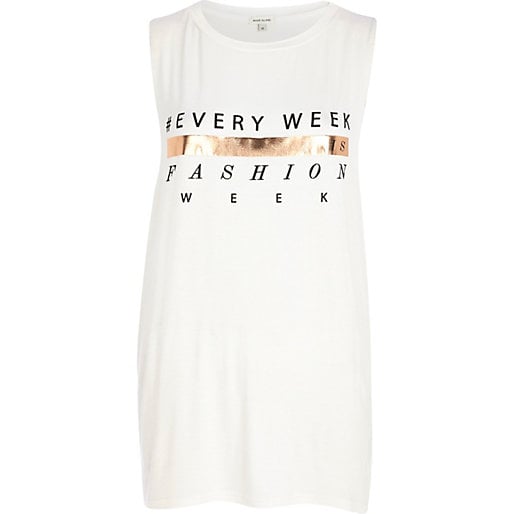 September is a busy time if you work in fashion, and for the next four weeks, this River Island tee [13] ($44) is particularly appropriate. Even if you're not attending the shows, it offers up a fun (and affordable) way to get into the spirit of Fashion Week.
— GC
Tory Burch Davies Sneaker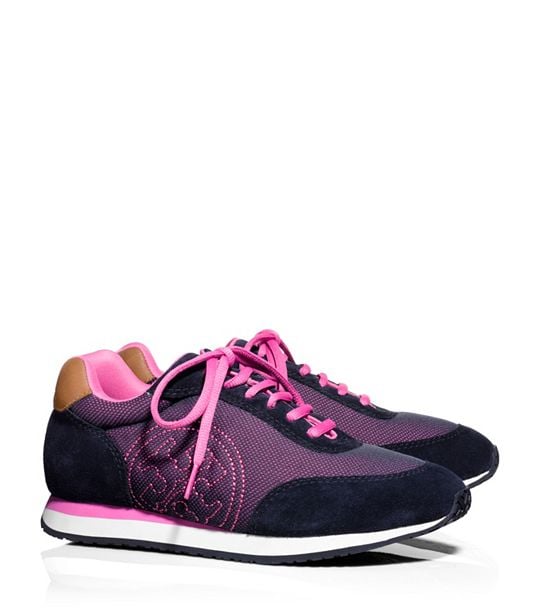 If Tory Burch and Karl Lagerfeld say it's OK to wear sneakers [14], you don't have to tell me twice. This navy and hot-pink pair [15] ($185) is so stylish, the only running I'll be doing in them is to the subway.
— RM
Carven Leopard Print Flared Skirt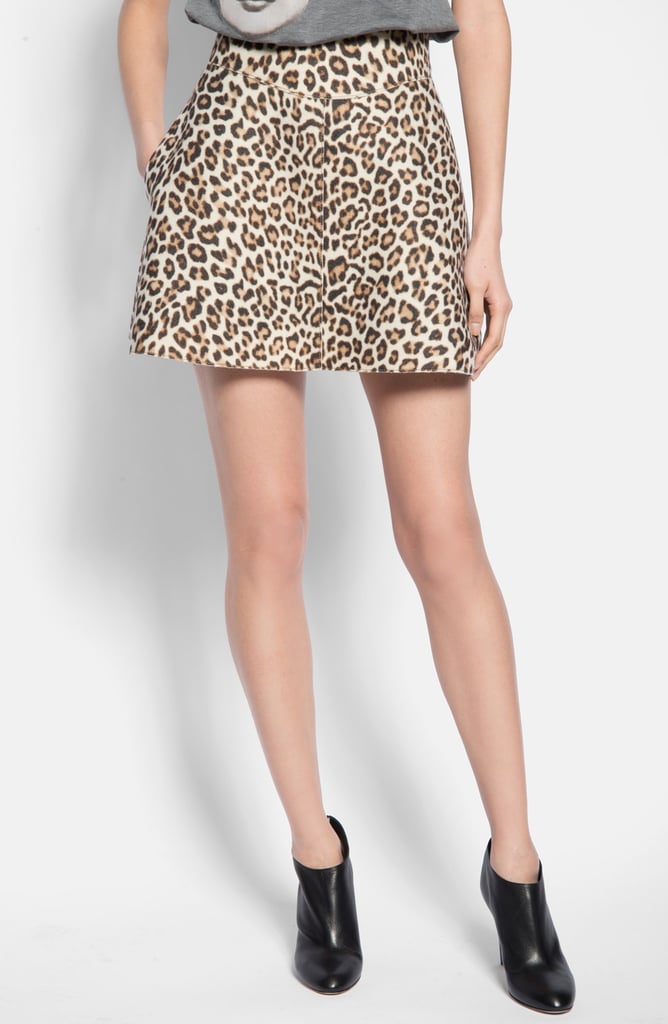 Not that I haven't always had a place in my heart — and closet — for a little leopard print. But, since it's made a full-fledged comeback for Fall, I'm about to make this Carven skirt [16] ($490) my go-to.
— HW
Reformation Hawthorne Overall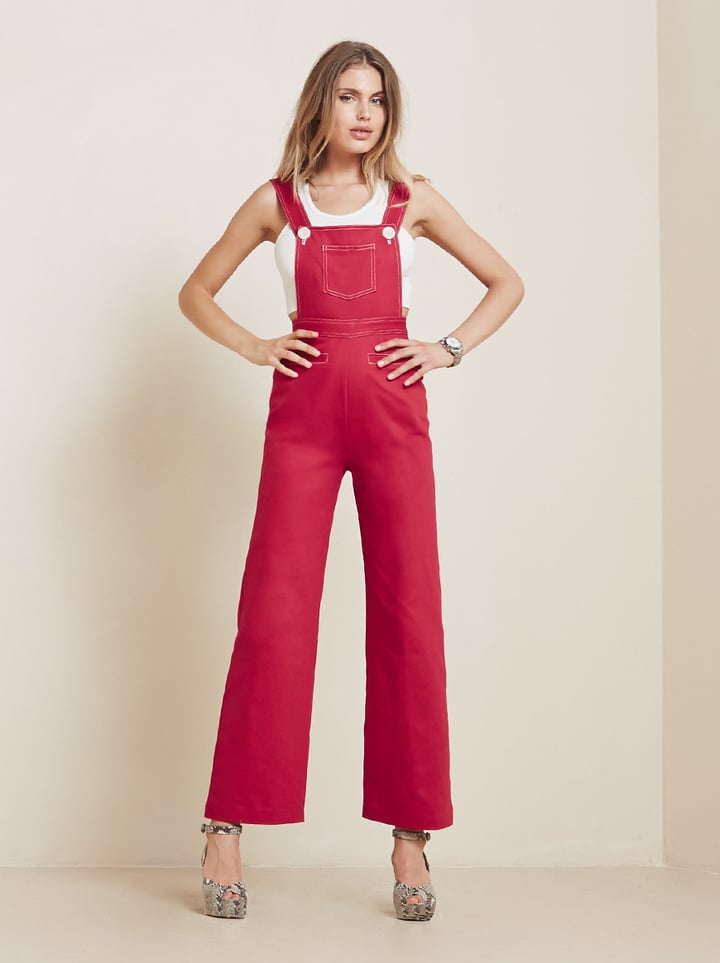 Getting ready for Fashion Week is like getting ready to go back to school, and these Reformation overalls [17] ($218) are all I'll need to feel like the coolest kid on the first day of class.
— HW
Hermès Les Canyons Etoiles Scarf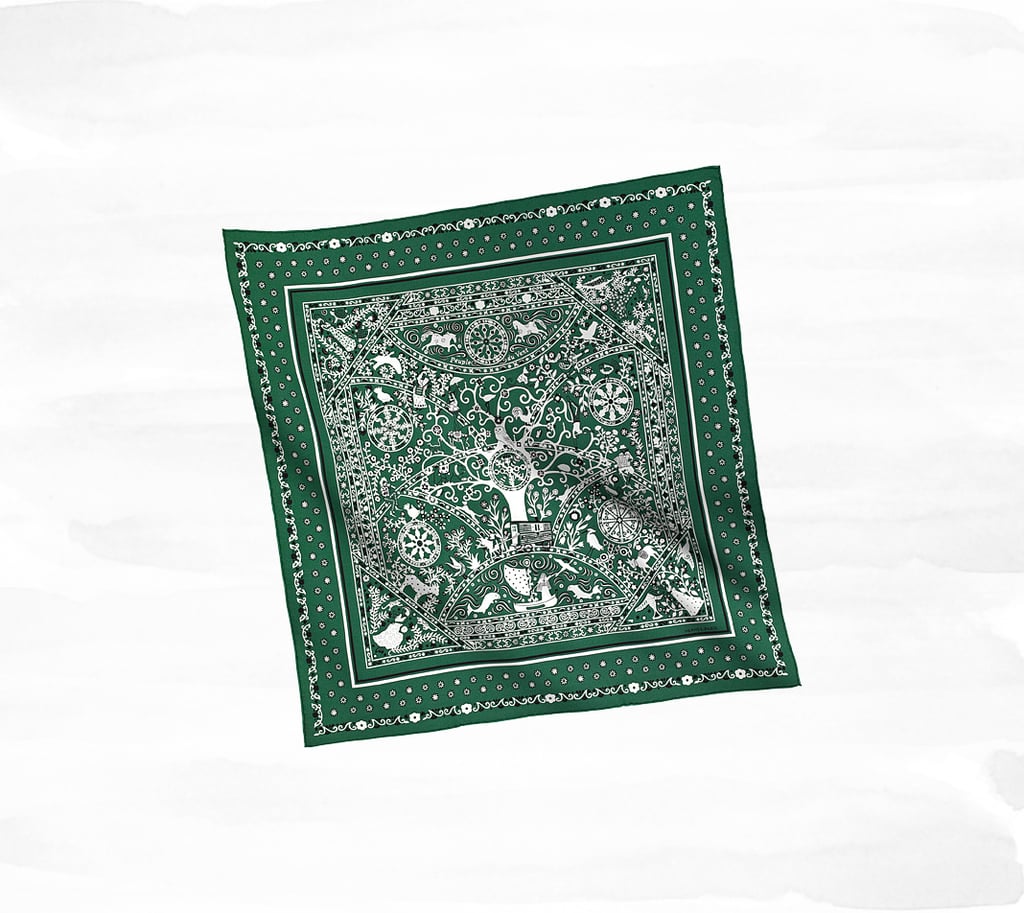 I'm obsessed with wearing bandannas as headbands, and there's something about the Western vibe these Hermès scarves [18] ($195) give off that feels appropriate for Fall. I'd choose the hunter-green shade in the hopes it might bring out my eyes.
— SW
Kenneth Cole Reaction Slip-Ons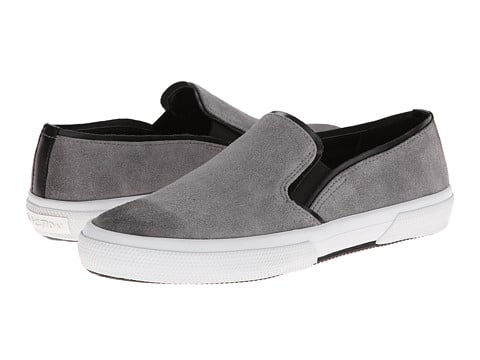 Now that I'm reporting from the Midwest, I'm going to have to cautiously attempt the whole normcore thing. These Kenneth Cole slip-on sneakers [19] ($79) are a good cool-yet-comfortable starting point.
— KS
Gap Fitted Boyfriend Shirt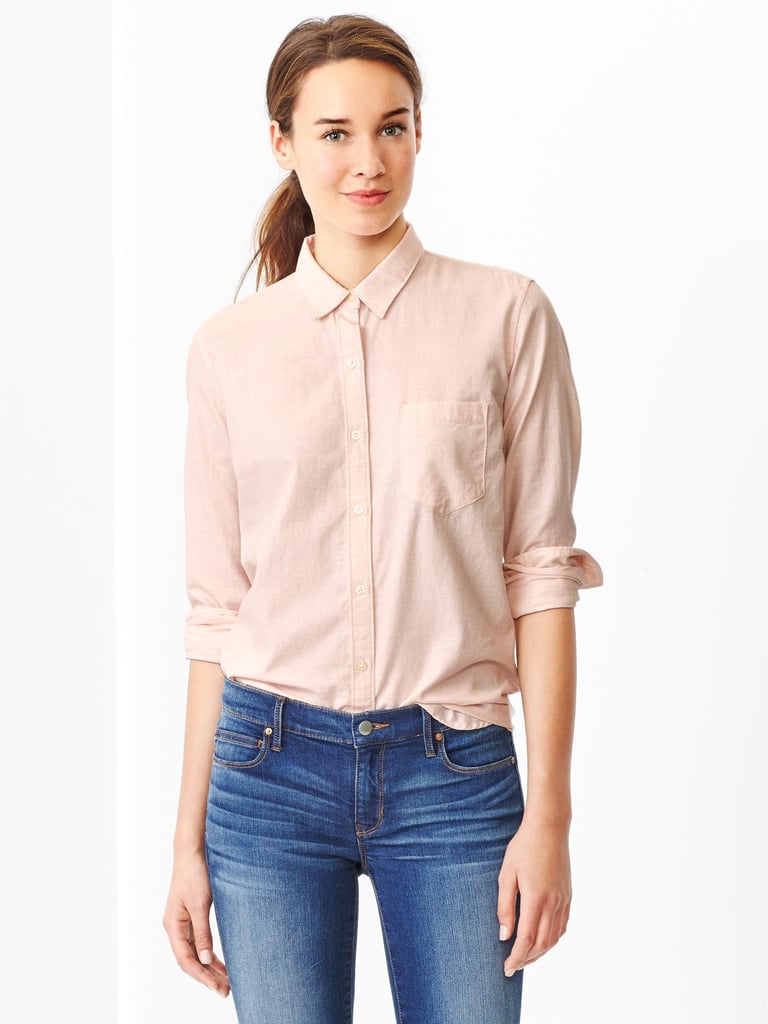 Blushy basics, like this Gap fitted boyfriend shirt [20] ($50), let me hold on to the last of Summer, even though Fall is slowly creeping up.
— AM
Michael Kors Statement Choker Necklace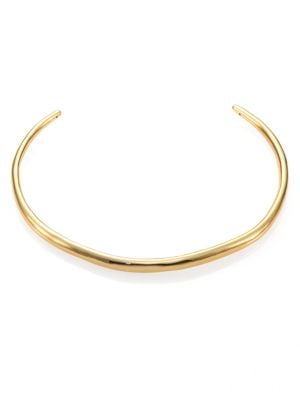 I couldn't help but obsess over Hannah's choker roundup [21], and now the necklaces are all I can think about. I'd love a sleek gold style, like this one by Michael Kors [22] ($145, available for preorder) that I can wear with my longer, daintier chains.
— SW
MyOtherBag Elizabeth Tote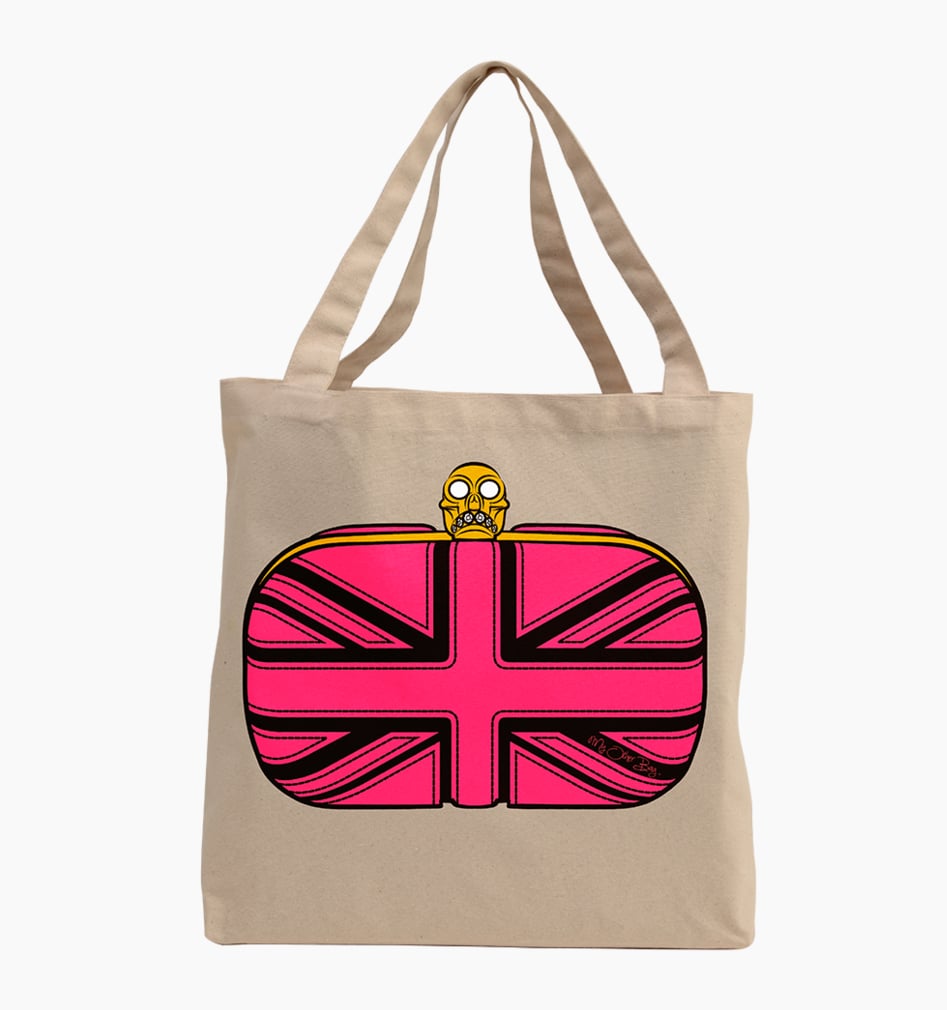 Bottom line: MyOtherBag's painted tote [23] ($35) is the closest I'll ever get to working a day clutch (and definitely the closest I'll get to the Alexander McQueen version).
— KS
Whistles Dylan Leather Biker Jacket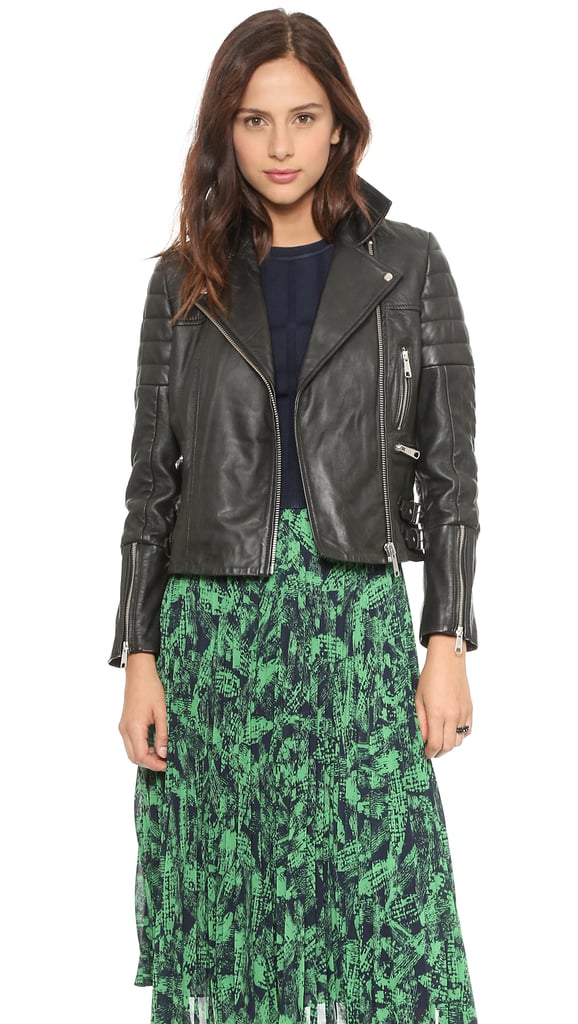 As the temperature drops, it's time to bring out the warmer layers, and nothing says Autumn (or Fall) like a leather jacket. The Whistles Dylan Leather Biker Jacket [24] ($575) is a modern classic style that is worth every penny. I love using leather to add an edge to Summer florals so I don't have to pack them away quite so early!
— GC
Acne Heeled Loafer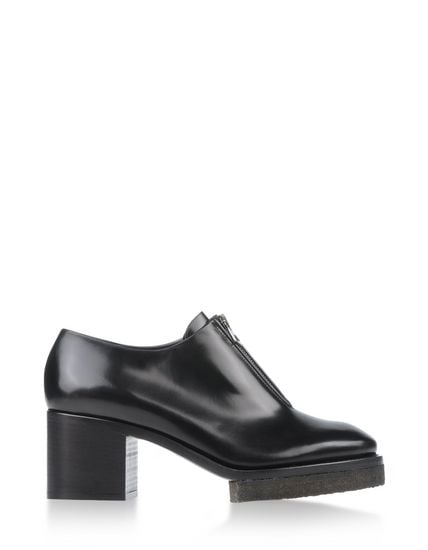 Have you seen a cooler heeled loafer than this one by Acne [25] ($600)? Didn't think so.
— AM
Reformation Turner Two-Piece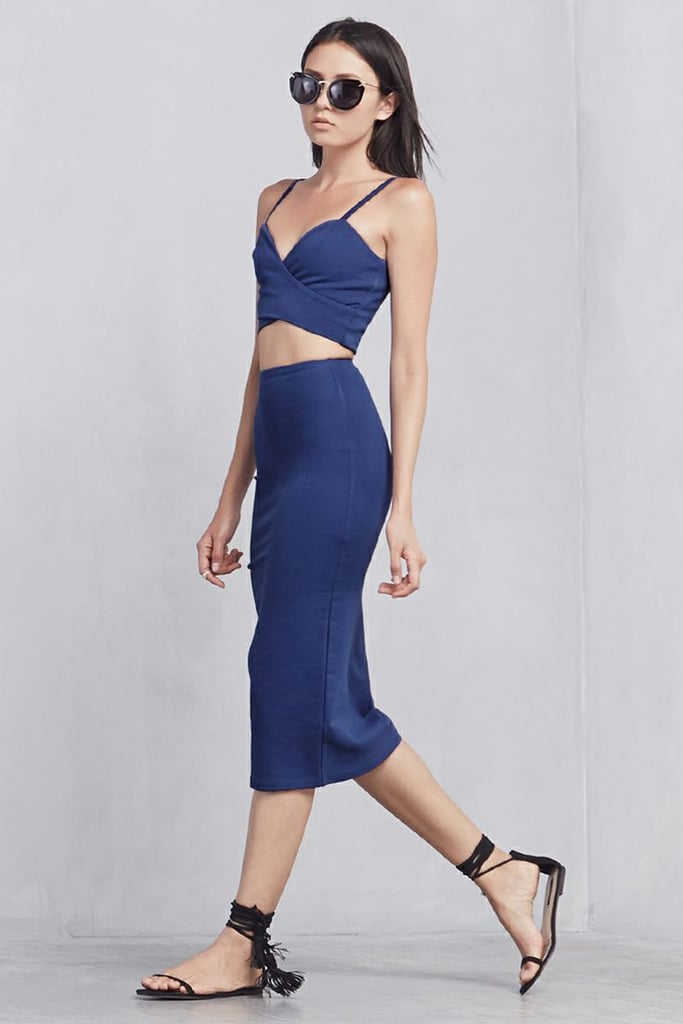 I'm using every last excuse to show off a bit of extra skin before it's finally sweater weather. This striped Reformation Turner two-piece [26] ($148) has a little bit of French flair and is a great alternative to a slinky dress. The long skirt helps balance out the bare midriff, so you look sexy with a little extra je ne sais quoi.
— AM