Season after season, you can count on this elite group of insiders to deliver because beyond the big collections, industry upsets, and daily fashion news, these are the fashion world's real fixtures! Each one — be it Anna Dello Russo with her quintessentially over-the-top accessories and thigh-high minis or Olivia Palermo [1] with her crafty mix of labels and layers — has captivated us with a style all her own, no matter what the passing trend. So, we're celebrating these style-setting stars with a look at the who's who of the fashion world's most fabulous. Study up and get ready for a whole new season of street style [2] throughout all of Fashion Month.
Jenna Lyons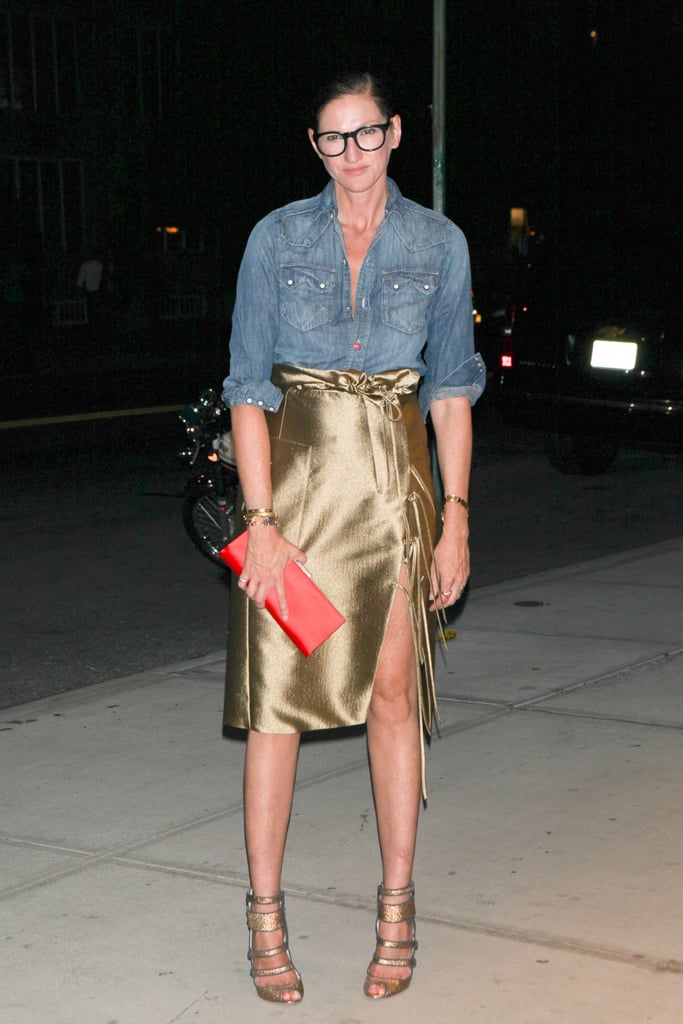 Who: Creative director and president of J.Crew, veritable styling authority.
Why we love her: Too many reasons to count, really (doesn't everyone have a girl crush on Jenna?!). She could single-handedly be credited with taking the J.Crew label from a sleepier American classic to full-on fashion brand, with collections showing at Fashion Week and a slew of successful designer collaborations under her belt. But it's not just her business savvy; it's her personal style [3]. She's launched a legion of Lyons fans all looking to mimic her effortless and totally uncanny sartorial eye, which is no easy task.
Key pieces: An unexpected arsenal of sequins, camo print, jacquard, boyfriend denim, and grandpa cardigans to mix and match. Rules to live by: layer fearlessly, and whenever in doubt, throw on a statement necklace and a great pair of heels.
Shiona Turini
Who: Fashion editor and stylist, former fashion market director at Cosmopolitan and CR Fashion Book — and before that held accessories director and market editor posts at Teen Vogue and W, respectively.
Why we love her: Practically a Fashion Week veteran at this point, with the résumé that proves it — we've loved watching Shiona hone her sophisticate-meets-rebel style. Without fail, there's at least one piece from every one of her outfits that we have to have, though her head-to-toe mashups (that typically border on edgy) are much harder to re-create, often crafted in layers of high-wattage accessories and designer finds.
Key pieces: Sleek pencil skirts, fierce footwear, It bags, and cool-girl t-shirts.
Nicole Warne
Who: Australian-born blogger and online vintage boutique owner (follow her online adventures and shop at Gary Pepper Girl [4]).
Why we love her: In a word, she's charming. But other words come to mind, too — creative, inventive, entrepreneurial, and utterly chic. She's a breath of fresh air in the street style crowd, offering ladylike wares and sharp suits instead of over-the-top accessories or blinding metallic footwear.
Key pieces: She's clean, preppy, and playful, so bright pieces are a must and so is tailoring. Look for suits, classic stripes, and sweet dresses, then mix them up with vintage-feeling jewels and a pop of color on a structured bag. J.Crew is a must shop to nail this look.
Christine Centenera
Who: Fashion director at Vogue Australia.
Why we love her: She nails the sleek brand of cool-girl styling like nobody else. Rumor has it Kanye West's makeover of wife Kim Kardashian [5] was even inspired by Centenera (who served as one of Kanye's fashion consultants on his own line). She has an eye for statement pieces but knows how to work a slick silhouette to counter studs, high-impact footwear, and edgy accent pieces.
Key pieces: Centenera gravitates toward labels with a modern feel à la Balmain, Givenchy, and Tom Ford. She looks to architectural details, wrap skirts, asymmetrical hemlines, and strategic cuts to make an impact. As for the details, she's not afraid to go luxe with fur, leather, and bold booties and heels to finish even the most casual ensembles.
Joanna Hillman
Who: Style director at Harper's Bazaar.
Why we love her: As a style mix master and an industry insider, she's a constant source of inspiration (outfit and otherwise). Her résumé speaks for itself — a stylist's assistant alongside Lori Goldstein, three years as senior market editor at Teen Vogue — and so does her style. Her job is traveling the globe sourcing major trends and must haves, so it's only natural that Joanna has the personal styling skills to go with it.
Key pieces: She's eclectic but with a posh edge. In her arsenal: fur layers, moto jackets, leather miniskirts and pants, and always an It bag and a red lip.
Miroslava Duma
Who: Co-founder of Buro 24/7, Russian It girl.
Why we love her: She's equal parts sweetheart and style rebel, stepping out in a sweet collared mini one minute and leather shorts and a tweedy cape the next. There's never a dull moment watching Miroslava make her way from show to show.
Key pieces: Dresses from Miu Miu, YSL heels, and Chanel bags. Look to statement jewels, playful proportions, and sky-high heels to get the look.
Caroline Issa
Who: CEO of the Tank Group (encompassing Tank magazine, Because magazine, and Tank Form Creative Agency), style star.
Why we love her: She's smart and style savvy — and what's better than that? She's a businesswoman who's launched a serious career on the front lines of the publishing world at Tank for the past 10 years. She's a fashion entrepreneur — who now has her own collection with Nordstorm [6] — and she's just as fun to watch about town and around the tents — or making a cameo in a J.Crew campaign.
Key pieces: Caroline offers the sophisticate's take on the trends. She's daring with pops of color and statement accessories, but she doesn't lose sight of classic silhouettes. She always shows off an impeccable fit — and you can bet she's got a slim sheath dress and polished suiting in her arsenal.
Natalie Joos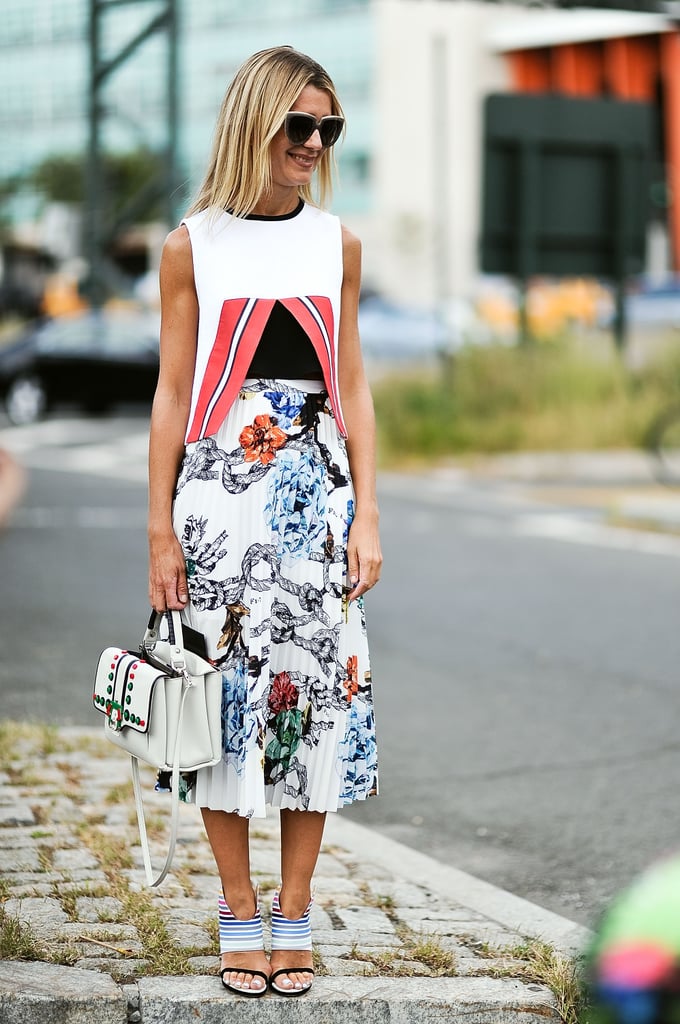 Who: Casting agent, fashion consultant, and blogger (check her out at Tales of Endearment [7]).
Why we love her: It's not hard to see — her passion for fashion is practically contagious. It's apparent from every vibrantly hued, printed, and heavily accessorized ensemble that she has fun with clothes. The Belgium-born style pro practically catapulted to street style fame (appearing alongside Taylor Tomasi Hill and Miroslava Duma at Fashion Week), all while casting major campaigns and shows for the likes of Helmut Lang, Karen Walker, and Hugo Boss.
Key pieces: She's not afraid of bold hues, accents, prints, or cuts. She's equal parts quirky and polished — a lover of vintage and labels like Peter Pilotto, Stella McCartney, Pierre Hardy, and Marni.
Carine Roitfeld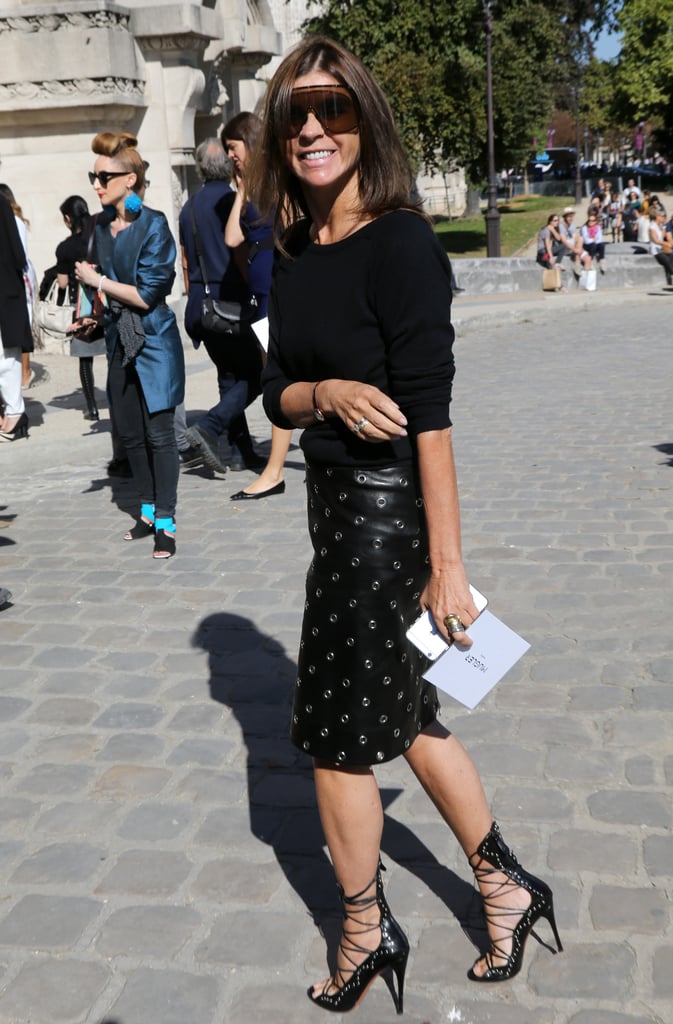 Who: Former editor in chief of Vogue Paris, founder and editor of CR Fashion Book.
Why we love her: Carine's goth-sophisticate style is uniquely hers. She's cool, confident, and a little irreverent, making her all the more exciting to watch as she makes her way around Fashion Week in a sexy take on modern, womanly dressing.
Key pieces: Slim-fit pencil skirts, button-downs, ankle-strap stilettos, statement-making boots, and a smoky eye. She also has a penchant for edgier labels like Givenchy and Balmain.
Shala Monroque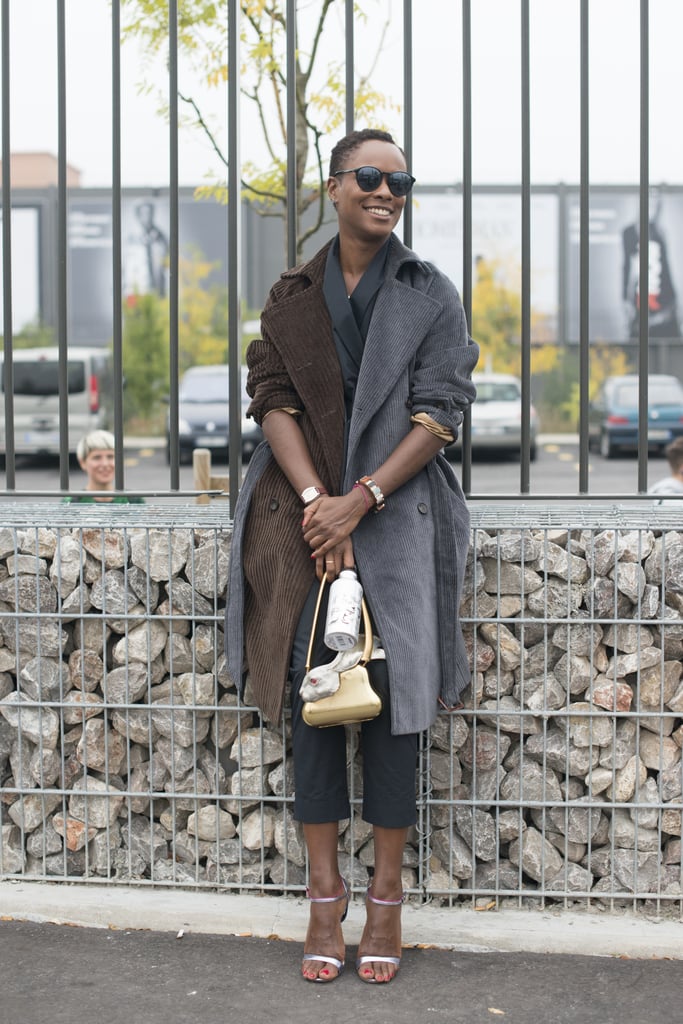 Who: Art consultant, creative director at Garage magazine.
Why we love her: With a love of vibrant color and fearless take on prints and outfit pairing, it makes sense that the Caribbean-born Shala works in both the fashion and art worlds. Her love of art has led her from her post at Pop magazine to take on her own venture (with close friend Dasha Zhukova) to collaborate on Garage — a magazine that combines culture, art, and, of course, fashion. Oh, and did we mention she's kind of Prada's unofficial muse?
Key pieces: Full skirts, kitten heels (Prada, of course), and pops of brilliant color and whimsical print artfully balanced with ladylike cuts.
Olivia Palermo
Who: Reality TV star turned trendsetter, collaborator, and editor of her own fashion website, OliviaPalermo.com [8].
Why we love her: Olivia's won us over with her flawless styling. What can we say? She knows what works but isn't afraid to experiment either, boldly mixing prints, accessories, and labels. She'll accessorize a Valentino dress with Topshop heels or a Giambattista Valli shift with a Zara bag; when it comes to high-low mix-ups, Olivia is the mix master.
Key pieces: Olivia's built a wardrobe rife with classics, like a great button-down, perfect-fit skinnies, and tailored blazers and trousers, but her outfit flair comes from a cool blend of the trends, like printed pants, lace-up booties, and peplum. Look to Olivia's favorite labels like Tibi, Giambattista, Valentino, and high-street finds from Topshop and Zara to channel her feminine, eclectic feel.
Anna Wintour
Who: Editor in chief of Vogue since 1988.
Why we love her: What's Fashion Week without the editrix in chief? She's a style world institution, and spotting that signature bob at any show is a treat.
Key pieces: Always totally polished and perfectly ladylike, Anna has an affinity for Carolina Herrera dresses and Manolos, but she'll mix it up with luxe furs, a statement coat, and a flash of jewels at her collar — signature oversize shades required.
Elena Perminova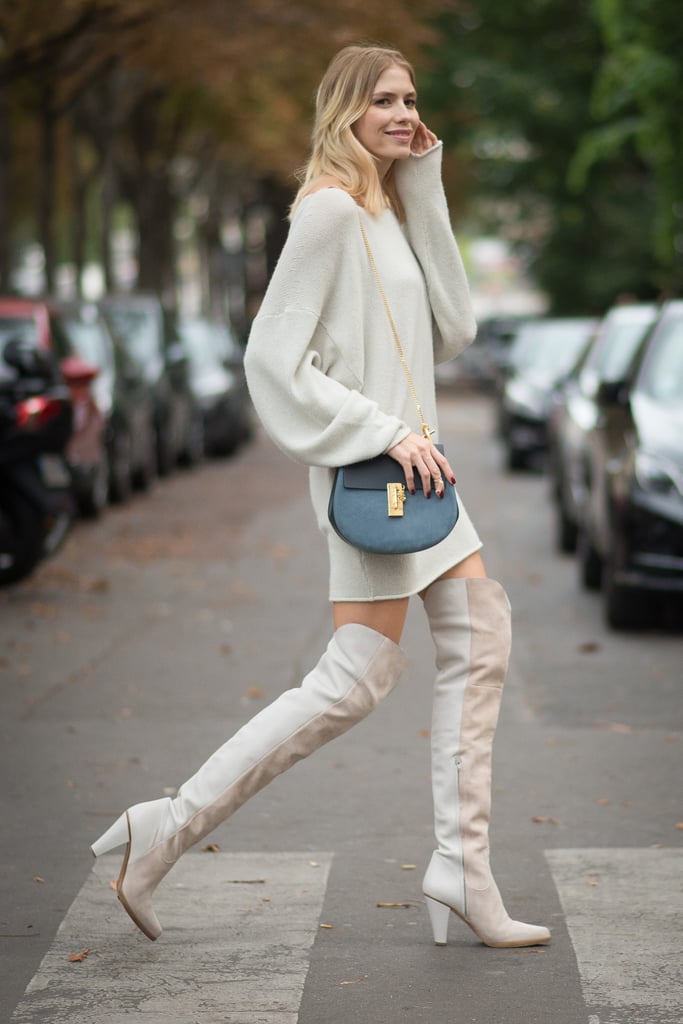 Who: Model and Russian socialite.
Why we love her: You're most likely to spot Elena hanging with a veritable who's who of Russian fashion darlings (you know, Ulyana, Miroslava). But even when she isn't flanked by an army of fashion warriors, she's turning heads all on her own. With her supermodel frame and collection of straight-from-the-runway wares, she might as well be on the catwalk.
Key pieces: Nothing is off limits. We've seen Elena embrace a veritable pu pu platter of trends with ease, donning Kenzo's It sweatshirt one minute and Dior the next. To keep up with this street style star, you need designers on speed dial and overnight delivery.
Source: Le 21ème | Adam Katz Sinding [9], Greg Kessler [10], IMAXTREE [11]
Poppy Delevingne
Who: British model and fashion darling who has served as both brand ambassador for Chanel and the British Fashion Council — not to mention Cara Delevingne's big sis.
Why we love her: Good looks aside, Poppy has a way with clothes. The leggy blonde is a natural at trendspotting and high-low styling with labels like ASOS and Topshop. Her looks are covetable while seeming totally accessible.
Key pieces: Poppy relies on downtown staples like leather jackets, miniskirts, rocker-chic tees, and ankle boots to mix with more polished pieces like fitted trousers and tweedy jackets. The It girl has a soft spot for Chanel and Isabel Marant.
Emmanuelle Alt
Who: Editor in chief of Vogue Paris.
Why we love her: Emmanuelle is a testament to knowing what works and sticking to it, and you have to admire that. Given that she is constantly surrounded by the latest trends and momentary fads, it's kind of refreshing that she holds firm to her own slightly rocker-infused, Parisian-chic style formula.
Key pieces: Menswear-style button-downs, skinny trousers, blazers, and pumps. For a little variation, Emmanuelle will look to cutout booties or throw a vest, fringed jacket, or printed coat over her "uniform."
Sarah Rutson
Who: Vice president of global buying for NET-A-PORTER and former fashion director at Lane Crawford.
Why we love her: This Hong Kong fashion vet is a trendsetter. She's totally tapped into the Asian fashion market — an explosive destination for the future of designers and the industry at large. But she's just as chic as she is smart; you can spot her at Fashion Week with a slick mix of what's new. She never goes overboard. Her outfits are not costume-like but rather a calculated assortment of the season's It trends that look entirely effortless — never like work.
Key pieces: Pencil skirts, bold prints, tailored outerwear, and sophisticated-cum-trendsetting heels. Look for labels like Carven, Alexander Wang, Givenchy, and Alaïa heels.
Anna Dello Russo
Who: Editor at large and creative consultant for Vogue Japan.
Why we love her: What's not to love about the totally eccentric Anna? The fashion veteran is practically a show unto herself come Fashion Week and, really, all year round. Her passion for fashion knows no bounds — need the proof? She's confessed to using adhesive heating pads to strut her stuff in minidresses in the dead of Winter. And with her love of bold print, color, and statement accessories, her H&M collaboration was nothing short of a big deal.
Key pieces: When it comes to ADR, more is more (well, except when it comes to her thigh-high hemlines). Opt for major baubles, embellished heels, high-impact shades, and hats and fascinators to dress the part. She doesn't have a go-to designer per se, but you can find her in bold prints by Peter Pilotto, Marni, and Prada and sexier silhouettes from Dolce & Gabbana and Versace. When it comes to getting this look, go big or go home.
Hanneli Mustaparta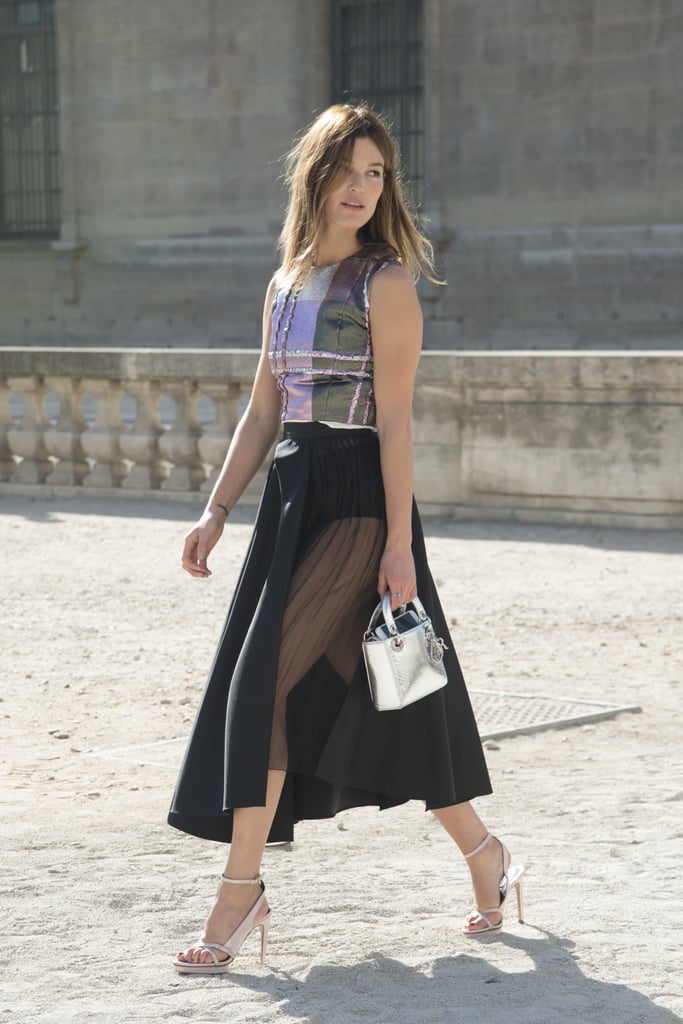 Who: Model turned street style blogger, stylist, and Vogue contributor.
Why we love her: The Norwegian beauty started out in front of the camera but quickly established herself as a talent behind the lens, taking street style to her own blog. The genetically blessed Hanneli makes taking fashion risks (like hot pants and crop tops) look easy and balances a crafty cool-girl aesthetic with classic pieces like structured handbags, blazers, and button-downs. We love the surprise factor in her Fashion Week looks — whether it's a pair of thigh-high lace-ups or a shot of high-octane color, she always throws us a curveball.
Key pieces: Hanneli relies on an eclectic, bold mix but favors designers like Mulberry, Stella McCartney, and Phillip Lim. Stick to chunky sweaters, platform ankle boots, minis and shorts (to show off your stems), cropped knits, and quirky shades (and a camera in hand) to zero in on her look.
Ulyana Sergeenko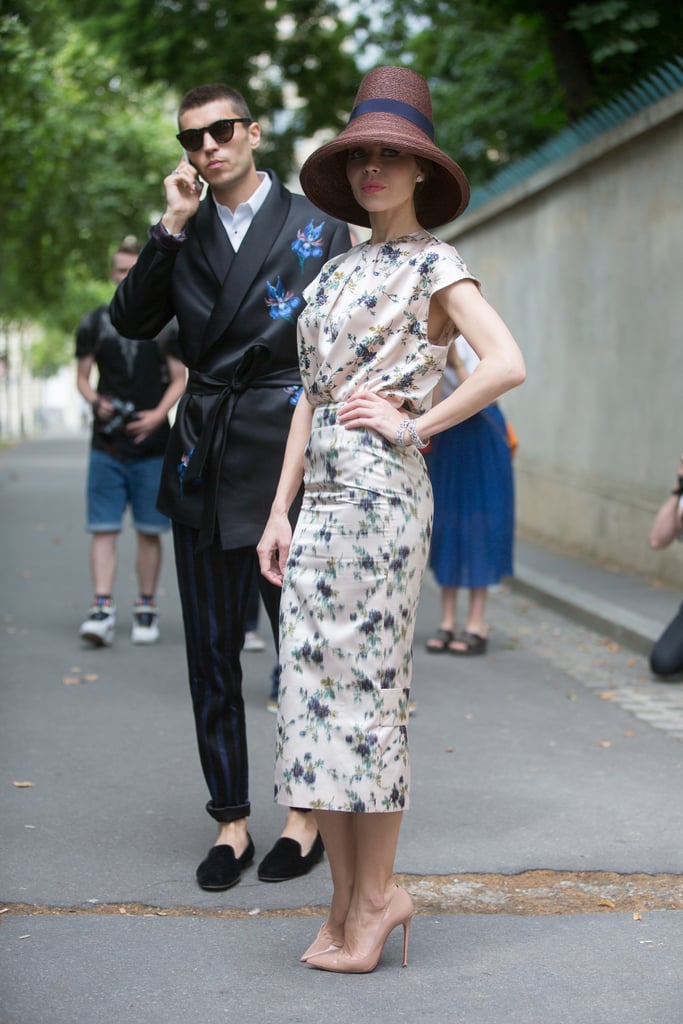 Who: Designer and member of the Russian fashion pack.
Why we love her: Even if you don't know her name, you've likely seen her in countless street style photos, making her way around the globe's Fashion Week events in a breathtaking display of couture. She indulges our fashion fantasies, bringing Dior ballgowns to life on the street and daring to wear headpieces and the highest of heels with total abandon.
Key pieces: Not your ordinary lineup of trendy wares. To get this look, invest in the real thing — like iconic Louis Vuitton dresses — or re-create the feel with totally feminine, ornately embellished full skirts, blouses, and dresses. When in doubt, repeat after us: drama, drama, drama.
Julia Sarr-Jamois
Who: Senior fashion editor at i-D Magazine.
Why we love her: She's the original cool girl — before the term was ever put into widespread use. She's original, crafting her own authentic look with a mashup of miniskirts, statement jackets, and sneakers (well before we all started wearing them). Somehow, she always seems light-years ahead of us all when it comes to the trends, and as if that wasn't enough, we've always been jealous of that hair, too.
Key pieces: Miniskirts, graphic sweatshirts, distressed denim, and accessories with pops of color or a luxe jacket to tie it all together.
Chiara Ferragni
Who: Fashion fixture and famed blogger of The Blonde Salad [12].
Why we love her: Somehow, even when she's decked head to toe in Chanel, she manages to seem approachable with girl-next-door charm. She's fashion-fierce and often on the front lines of Fashion Week, getting snapped more than Jennifer Lawrence [13] on the Oscars red carpet. Above all, Chiara does it all with a smile — tirelessly posing for shots and making the rounds from show to show, in no less than three outfit changes per day. We don't know how she does it.
Key pieces: Head-to-toe designer statement pieces. If there's a new fashion sweatshirt, a Chanel handbag, or a knee-high gladiator sandal, she's got it. She's armed to deliver the wow factor with every appearance.