Last month it was announced that Gisele Bündchen and Tom Brady [1] have listed their Los Angeles mansion for a staggering $50 million [2]. And while the pictures of their chateau (and its price tag) were certainly impressive, there's still nothing that gets our jaws to drop quite like Gisele's sexiest red carpet moments. Whether she's feeling playful, romantic, or fashion-forward, Gisele chooses creations that cater to her signature head-turning style, verifying her moniker, "The Body."
In honor of her 34th birthday, we've scrubbed through hundreds of red-hot looks — it's a tough job, but someone's got to do it — to bring you the crème de la crème of Bündchen's sensuous style. But enough talk; we'll let the pictures speak for themselves.
Gisele Bündchen in Anthony Vaccarello at the 2013 Met Gala
Bündchen fully embraced the 2013 Met Gala's punk chaos theme, selecting a revealing Anthony Vaccarello LBD with rock-chic grommet detailing and coordinating chain-link accessories.
Gisele Bündchen in Versace at the 2008 Met Gala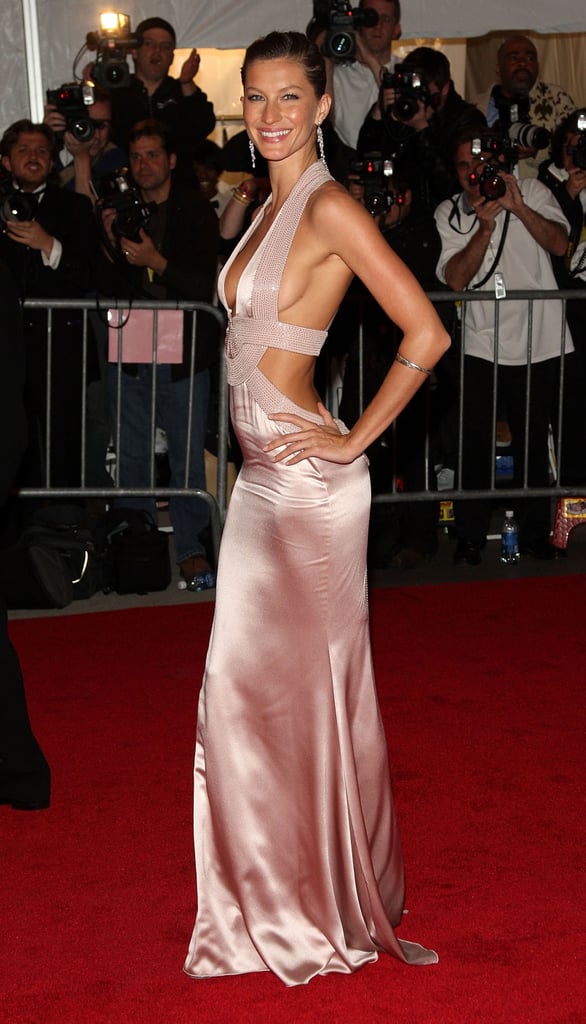 Jaws dropped when Gisele stepped out in a showstopping soft pink satin Versace number at the 2008 Met Gala. The model showed off her flawless figure with sultry cutouts that left little to the imagination.
Gisele Bündchen in Hervé Leger at a 2010 Press Event in Paris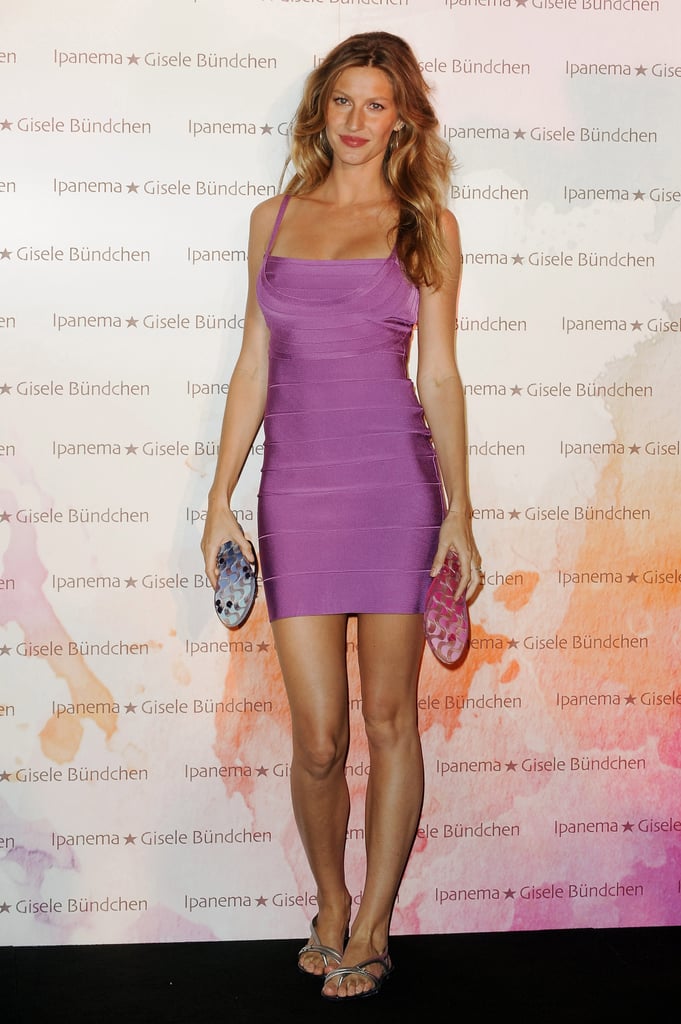 For a 2010 Ipanema Footwear event in Paris, Bündchen stunned in a violet bandage dress from Hervé Leger.
Gisele Bündchen a Fuchsia Gown at the 2006 Met Gala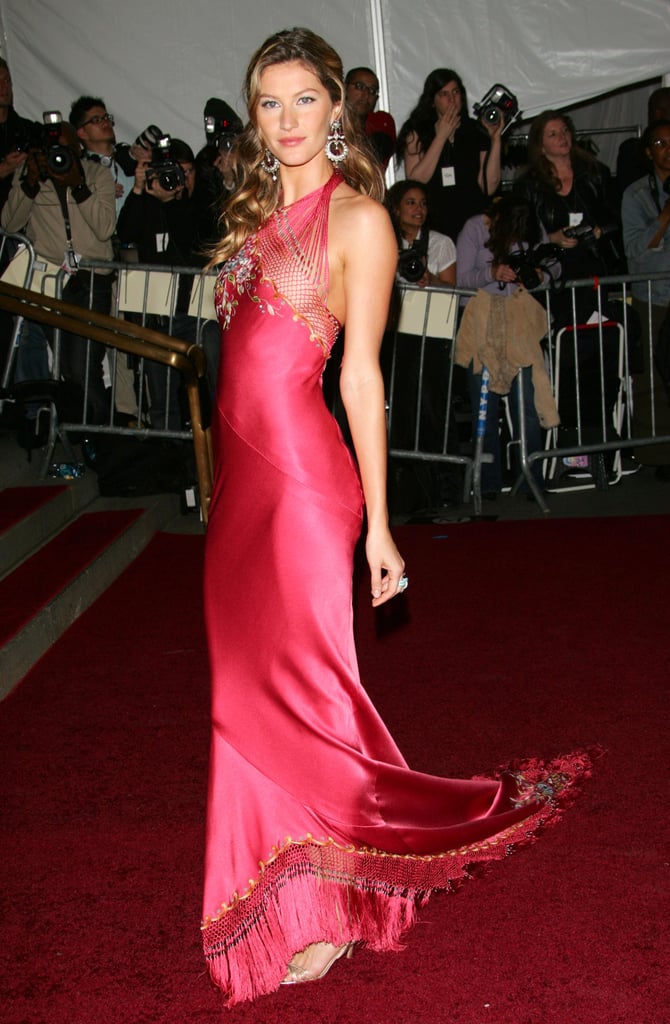 Hitting the 2006 Met Gala red carpet in a satin fuchsia gown, featuring peekaboo netting and floral embroidery, Bündchen affirmed her model nickname, "The Body."
Gisele Bündchen in Sequin Givenchy at the 2008 Met Gala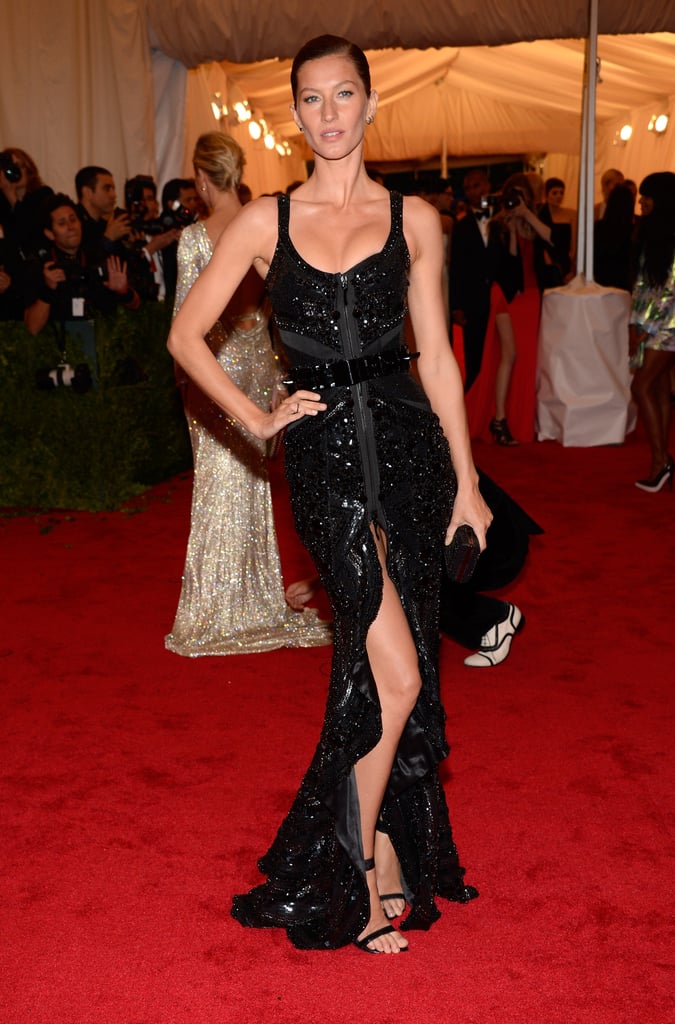 For the 2008 Met Gala, Gisele emitted a dark romantic glamour working a glittering Givenchy gown featuring a ruffle-trimmed, thigh-baring slit.
Gisele Bündchen in a White Bandage Dress at a 2008 Vogue Eyewear Event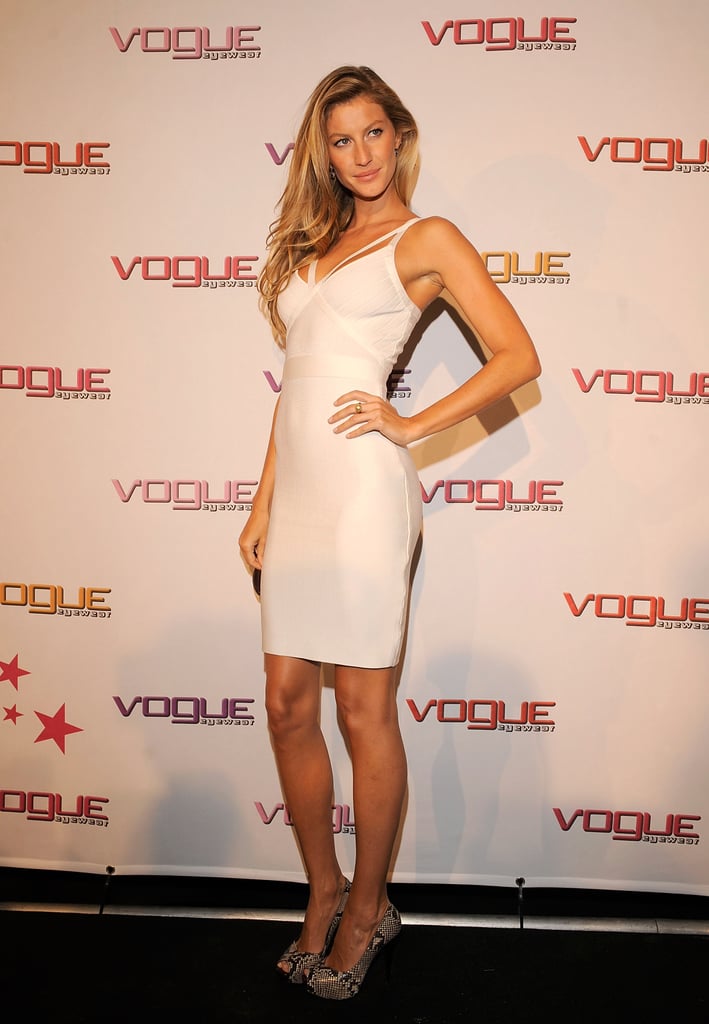 Gisele Bündchen was the definition of white hot working a sleek snowy bandage dress for a Vogue Eyewear event in 2008.
Gisele Bündchen in Versace at the 2009 Met Gala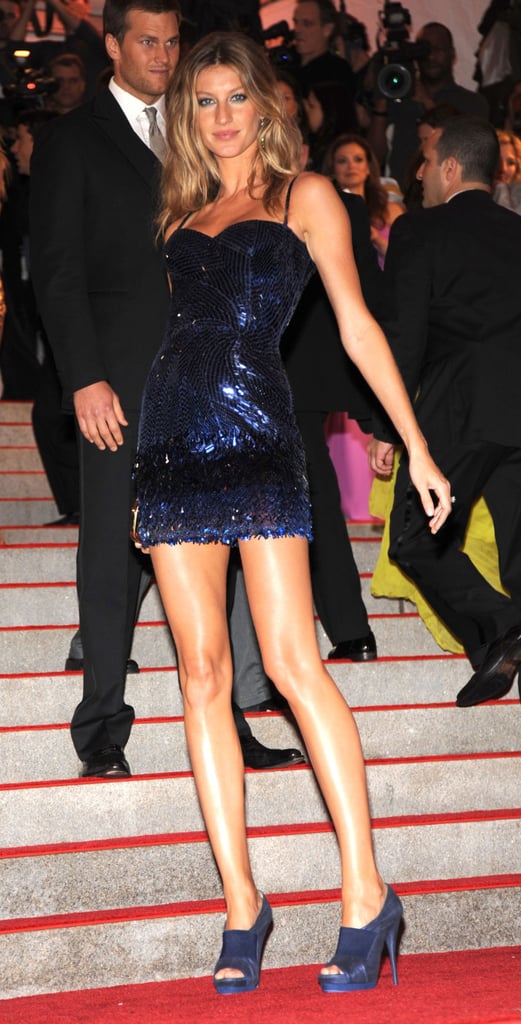 Gisele had us seeing stars at the 2009 Met Gala. While her midnight-blue Versace sparkler was dazzling in its own right, we couldn't stop starring at her perfectly toned, mile-long legs.
Gisele Bündchen in a Metallic Versace Gown at a 2009 NYC Gala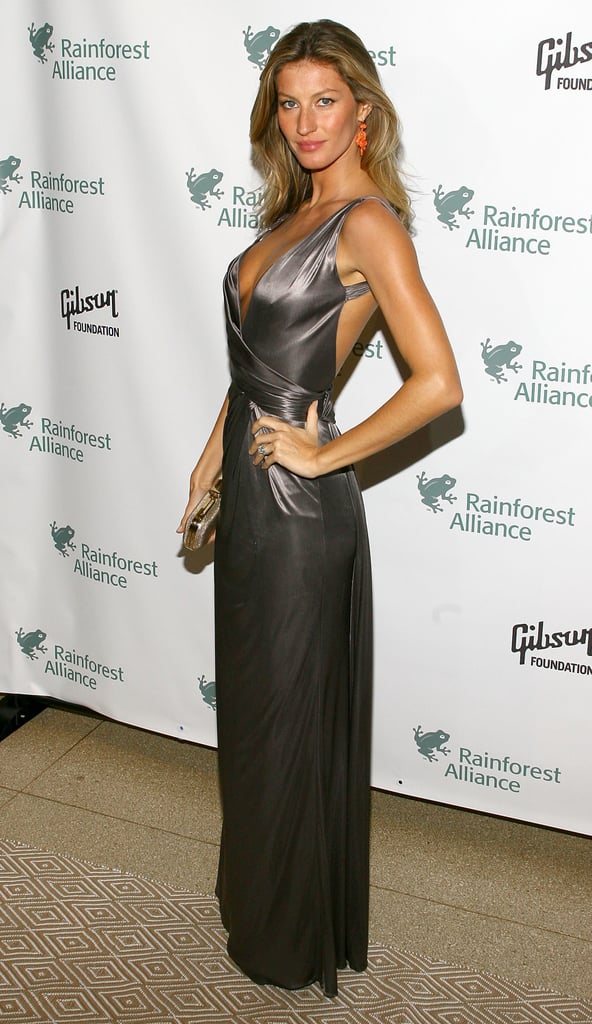 For a 2009 NYC Gala, Bündchen owned her model stance in a metallic open-back Versace wrap dress which she paired with bold coral earrings and a dazzling gold clutch.
Gisele Bündchen in a White Gown at the 2007 Met Gala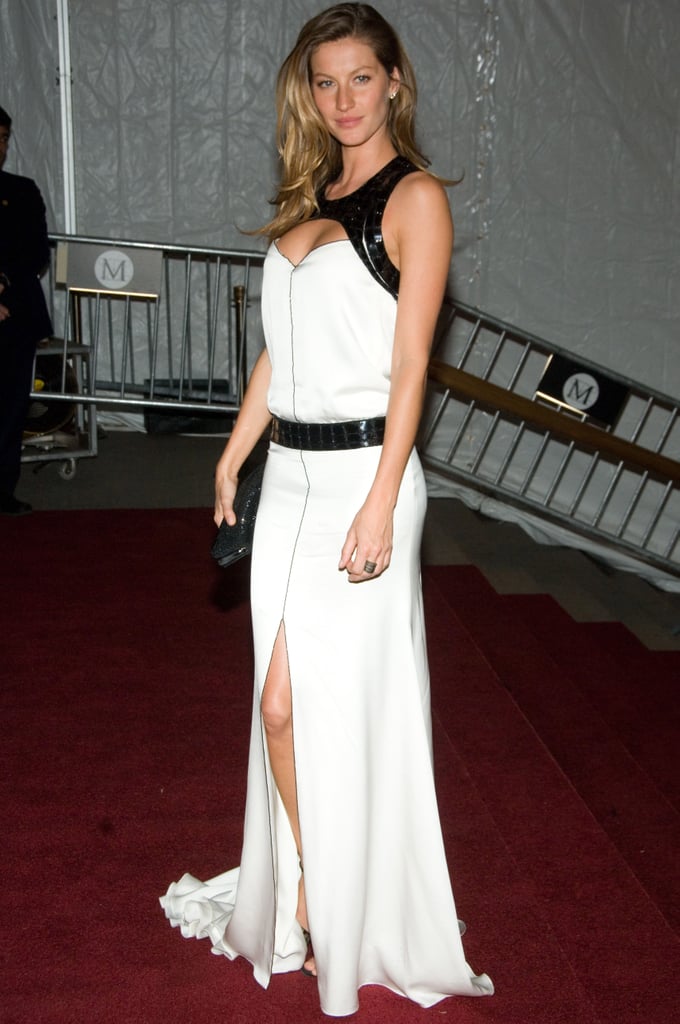 Gisele Bündchen roughed up her ethereal white gown with black leather accents and strategically placed cutouts for the 2007 Met Gala.
Gisele Bündchen in Alexander Wang at the 2010 Met Gala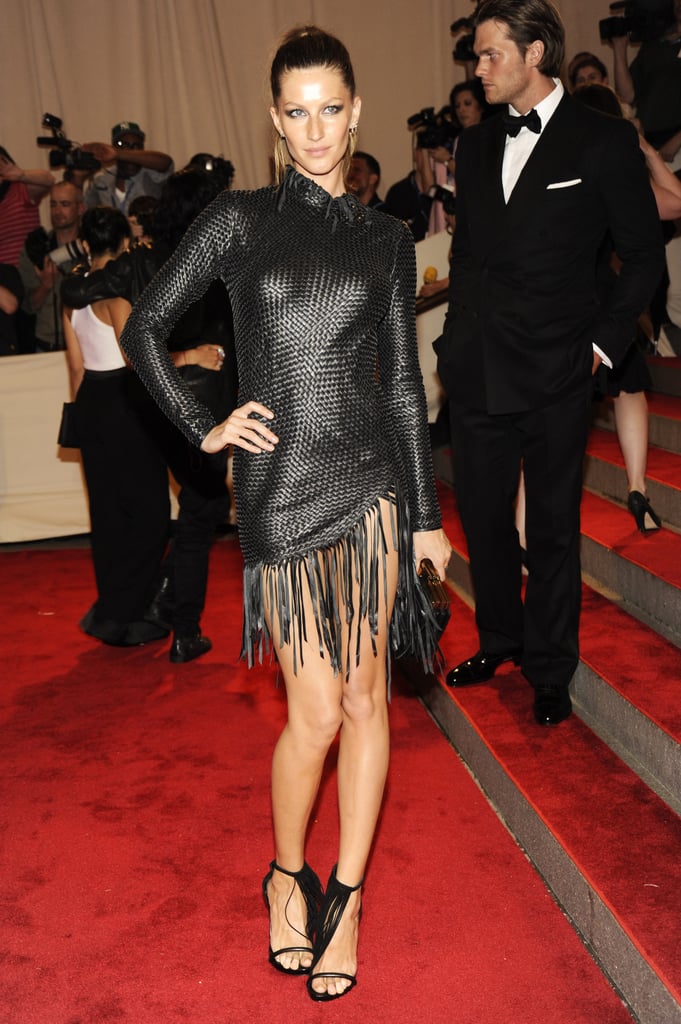 The Brazilian beauty brought major edge to the 2010 Met Gala red carpet, swapping her body-hugging gowns for this woven leather Alexander Wang with a playful fringed hem and coordinating strappy sandals.
Gisele Bündchen in Atelier Versace at a 2013 WSJ Magazine Party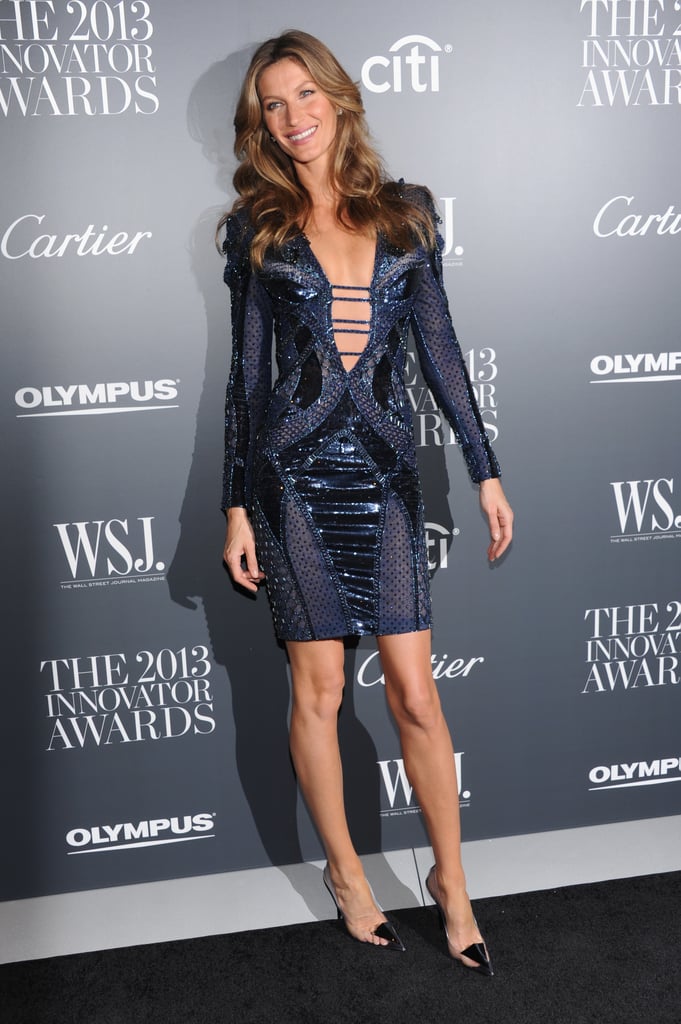 Gisele shined bright in a plunging Atelier Versace creation for WSJ Magazine's Innovator of the Year Awards in NYC.