ADVERTISEMENT ( more slides)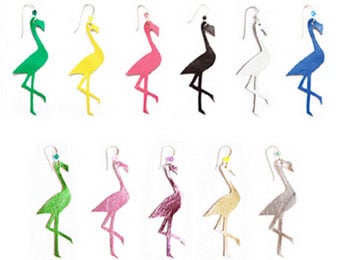 Flamingos aren't necessarily jewelry designer Julia Nielsen's favorite type of bird. They're just the first best-selling piece of jewelry - pink Flamingo earrings, $18 - that she ever sold. That's where the inspiration for the name Flamingo came from.

Besides flamingos, Julia's designs also include birds, skulls, leaves, balls and more. The Sweden-based designer started off as a graphic designer back in 1997 and decided to pursue her passion for creating jewelry in 2003. She loves to work with leather because you have many more possibilities in terms of color. And you can see from her designs that she sure likes color! Julia also incorporates silver plated metal to her fun designs.
To see more of the Flamingo collection,