Halloween-Inspired Jewelry
Ghoul Jewels: Halloween-Inspired Jewelry
Like us on Facebook
Lucky magazine is one of our favorite sources for great shopping tips. We're thrilled to share this fabulous story from our friends at Lucky!
Halloween's just a couple weeks away — and if you're anything like us, you're still torn between several costume options. But no matter whether you're dressing up like the "Gangnam Style" guy or Honey Boo Boo, anyone can get into the spooky, scary spirit of All Hallows' Eve with a few ghoulish baubles.
Click through for 10 creepy-cool necklaces, rings, bracelets and earrings you can wear long after trick-or-treating time's over. As for your prop bottle of "go-go juice," you're probably best off retiring that on November 1.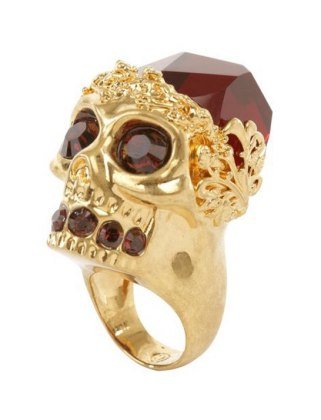 A lot of the skull-motif jewelry on the market nowadays looks, well, cute. This little guy, with his blood-red eyes and mouth, is downright creepy—and awesome.

alexander mcqueen gold ruby stone skull cocktail ring, $475, alexandermcqueen.com

Click over to Lucky to see and shop them all.

For more fashion and style from Lucky, here are more Lucky stories.

How It's Made: Hanky Panky
Chic Charity: Oscar de la Renta's The Pink Shop