How to Organize Your Jewelry
How to Get Your Jewelry Organized in Style!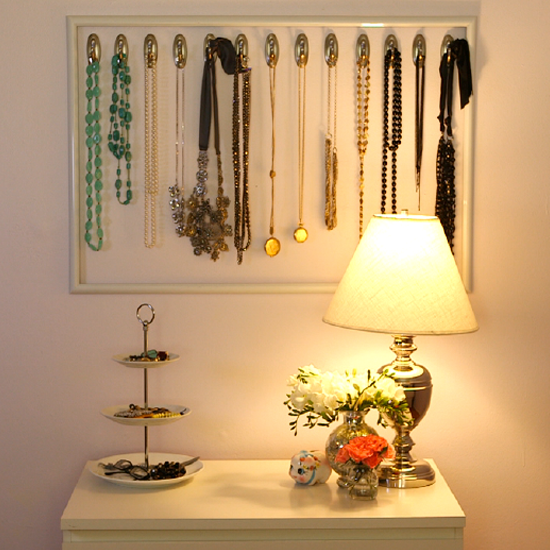 Finding a cute and functional way to store all of your necklaces, rings, and bracelets can be a challenge, so we brought in organizational expert Beth Ziegler, founder of Bneato, who gave us some valuable tips on how to store all of our baubles. Depending on what kind of space you have, you can display your accessories in dressers or tuck them away in organized drawers. Watch today's how-to for some useful tips on how to get your jewelry into tip-top shape. Also, if you're looking to clean out your entire closet, take a look at our closet organizing segment. On Allison McNamara: Topshop blouse, Topshop jacket.
View Transcript »
Transcript
Hi, it's Allison McNamara, and for today's How-To, we're going to show you how to organize all of your jewelries. Finding a functional and cute way to store all of your necklaces and bracelets can be a challenge, so we brought in an organizational expert. Beth Ziegler, founder of Bneato, give us a few tips on how to get tidy. So what is the first step when we're getting organized? You really want to assess what you've got. So, you're going to want a clear space. In Katie's case, we used her bed and we actually laid a sheet down to pull everything out of the drawers and off the counter tops. Then, we sorted like with like, we purged what we didn't want, and we set up a spot to place for things to donate. And use Post it notes if possible just to differentiate what you're getting rid off. Once everything is organized in their respective places to donate and to keep, what is the next step? So the next step is really going to be deciding do you want stuff displayed or do you want stuff stored? the great thing with Katie's [sp?] place is she actually has options to do both. We used the wall and used a really cool frame and set that as sort of the boundary for her necklaces. I love good idea because then you can really personalize it with a vintage frame or whatever fits your style and your room. Your space is often going to dictate that, but in Katie's space, she had the best of both worlds. She had vertical space faced her wall and she had two really great drawers that we utilized for storing a lot of stuff too. Now I got my eye on this over here. Tell me what it is exactly. It's a three-tier cake plate. Basically you're going to want to display some pretty stuff. It makes it more inviting and it really allows you to see what you've got. I love this, and this is yeah, like you said, a great way to go vertical on your counter top or on your dresser. And this is an easy way to throw on those items that you wear all the time or if you're at night, you come home and don't want to take everything and put it away, go on here. It looks cute. Totally. Love that. If you've got a drawer space, this is another great way to organize your jewelry. You're first gonna wanna measure the space, so when you go to the store you can pick out the proper container. And there are two different types of containers you can buy, you can get opaque or clear. I tend to really like clear, because I feel like it keeps the space uniform and you can really see what you've got. It really depends on your style. So once we've gotten home and we have our containers, what is the first step to getting these drawers organized? I really like lining the drawers, it's sort of unifies the space and adds your own personal touch. You really wanna let the container dictate what's going to go in it. So, the circular containers are great for smaller items like rings, and we've got square containers for your bangles and the longer, sort of vertical items are gonna fit great in a slender container. We're clean, we're pretty, we're all nice and organized. Any final words of advice? With organizing, maintenance is half the battle. So, when you take stuff out, put it back after you worn it. Also, use the container as a boundary for the items, so when things starts to pile up, that's the time to get rid of stuff. You're really going to want to purge items, but you can always maximize your space by getting containers that go vertical. Well, thank you so much for these amazing tips, Beth. You guys now have no excuse for not getting organized. These are some great tips. Getting all your jewelry into tiptop shape. Thank you so much for watching us here on FabSugar TV. I'm Allison McNamara and I'll see you next time.