We can't pinpoint the exact moment it happened, but at some point, boyfriend jeans became a wardrobe classic. Want to argue? The laid-back style can be dressed up or down, has a ton of celebrity endorsements [1], and can be worn by pretty much any generation. In other words, if you don't already own a pair, it's time to reconsider.
Whether you're just setting out to buy your first pair or can already count a few in the closet, a little extra styling inspiration never hurts. As fashion week pulses on in Europe, we're taking a glance at the street style moments from New York [2], London [3], and Milan [4] to bring you seven different examples of how to style your denim.
Monday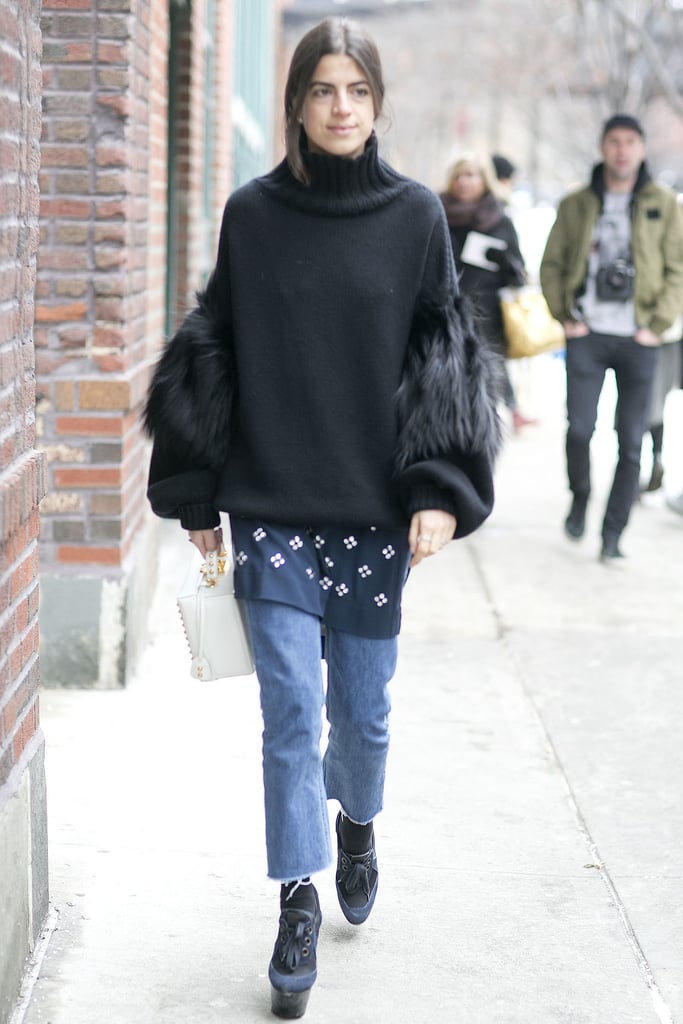 The easiest way to make boyfriend jeans 9-to-5 appropriate is to really style them. Take a page from Leandra Medine's book and make yours the most normal part of your outfit, layering a long top (or short dress) over them and topping it off with a bold sweater.
Source: Tim Regas
Tuesday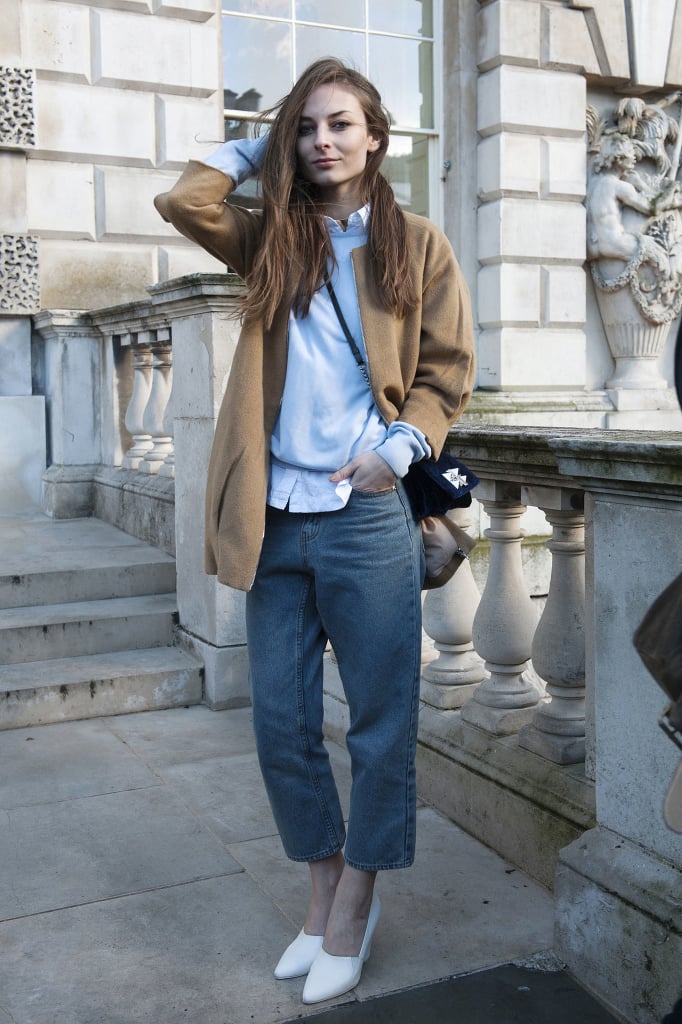 While the vast majority of boyfriend denims come distressed, pairs exist that, while baggy, are still properly finished. Pick a hemmed pair to wear with preppy basics like a button-up layered under a crewneck sweater and camel coat, for a combo that'll work easily at your desk.
Wednesday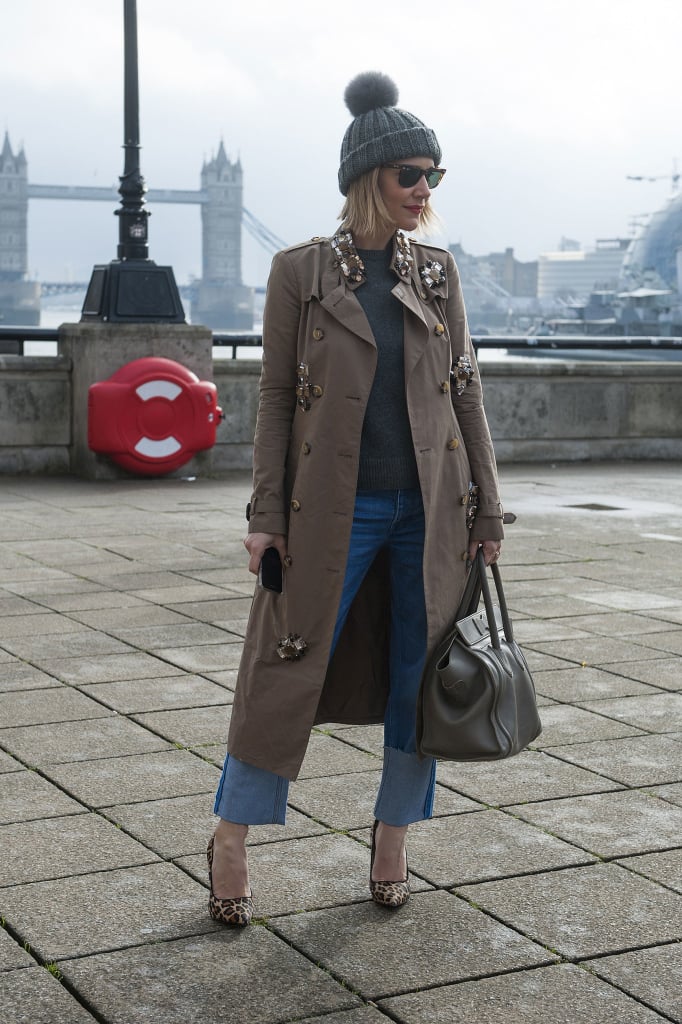 A would-be-overwhelming pair feels more manageable with a thick cuff that shows a flash of ankle (and consequently, gorgeous heels). Since the oversize style is masculine, keep the rest feminine: opt for the aforementioned heels, plus a fitted sweater and girlie coat.
Thursday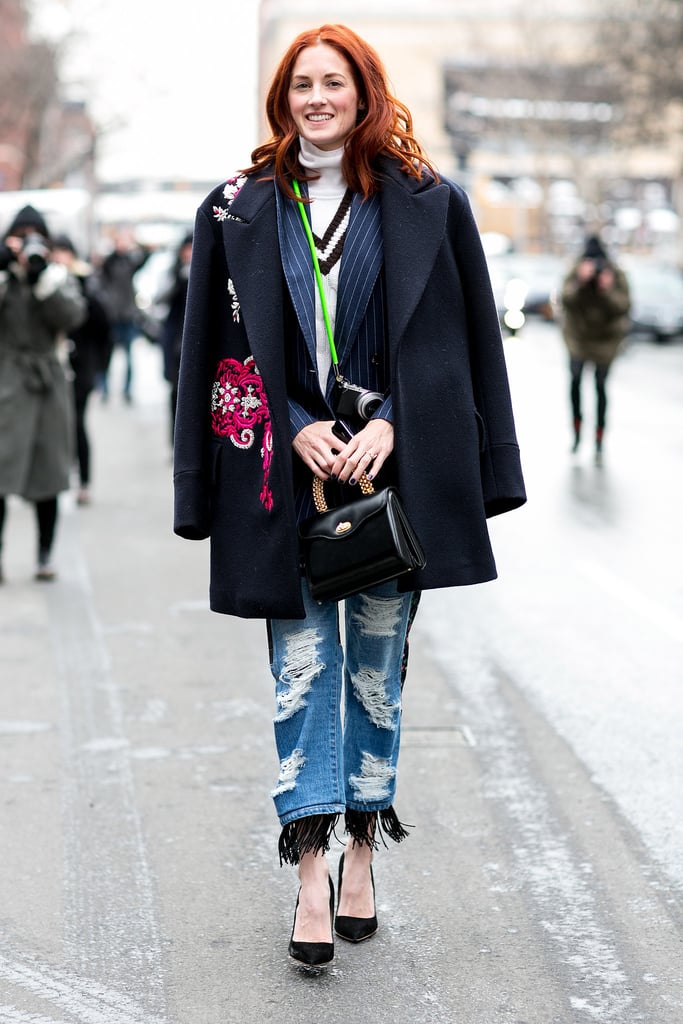 Planning drinks with co-workers when the office closes on Thursday? Use a light workday to have a bit more fun with the staple, and search for a heavily ripped, fringed pair like the one we spotted on Taylor Tomasi Hill.
Friday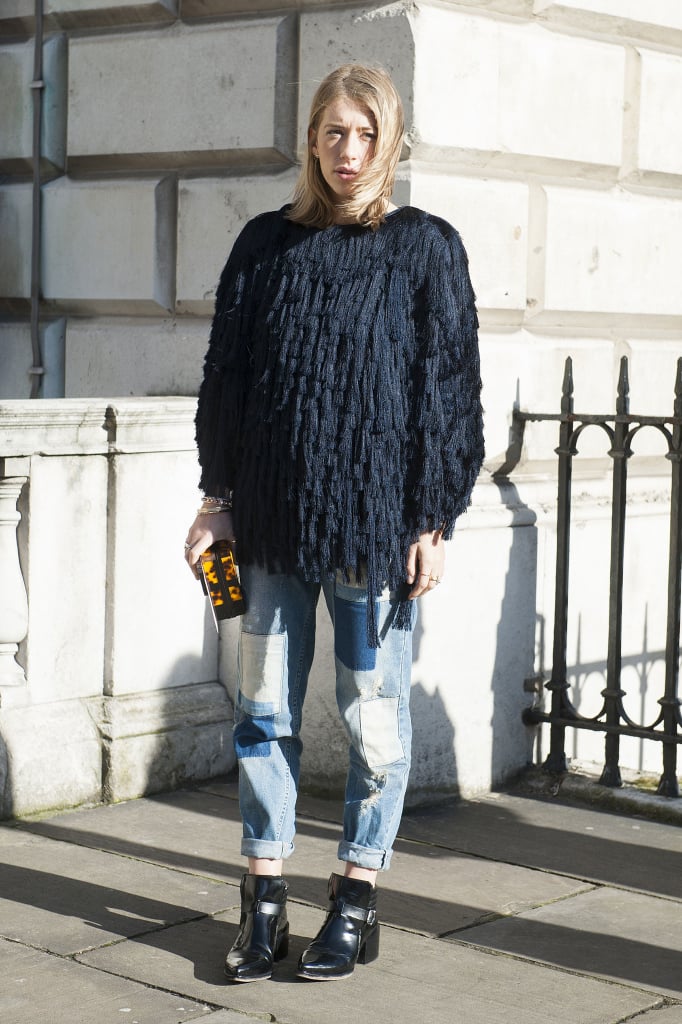 If torn jeans really won't fly at your office, consider another vintage-looking style that shows less skin: patchwork jeans. Pairing the seen-better-days look with a slouchy top can feel too relaxed, so try with a fashion-girl piece like this woolly, texture-happy sweater.
Saturday
For a day of browsing shops and early afternoon cocktails, make the baggy style ultracasual by shopping for one in a light rinse. Go all the way by topping it with an equally sun-stained chambray or bleached top. In warmer climates? Skip this street styler's jacket in favor of a simple white tee.
Source: Melodie Jeng/The NYC Streets
Sunday
And the quickest way to make the jeans work for a polished brunch uptown (with the in-laws or a professional mentor you need to impress, perhaps?). Pick a classically polished white button-up and top it with a tailored jacket or fuzzy fur like Sarah Harris did.
Source: Tim Regas