How to Update Your Denim Shorts With Aztec Print
DIY: Give Your Jean Shorts a Tribal Update!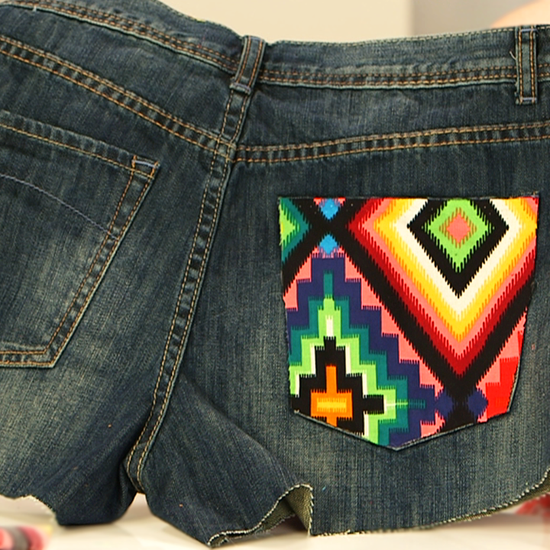 Warm Summer days are the norm come August, so accordingly, we're showing you how to update a pair of basic denim shorts with a cool Aztec print. We saw tribal and Navajo patterns at Mara Hoffman for Spring 2012, inspiring us to re-create this look for ourselves. In today's DIY, we're adding a vibrant print to our favorite go-to cutoffs: watch to see how it's done! On Allison McNamara: Topshop dress.
View Transcript »
Transcript
Hi. It's Allison McNamara. Welcome back to FabSugar TV. For today's DIY, I'm gonna show you how to give your denim shorts a fun makeover with tribal inspired fabrics and the best part, they are one-of-a-kind. Here's what you'll need. Denim shorts, colorful fabric, a pen, scissors and a glue gun and a glue stick. The first step is to find out where you want to put your fabric. You can really personalize it. You can do the entire front, one side, the back pocket, whatever. I'm going to do one side and a back pocket today. You need to cut out a square fabric that's bigger than the area that you're going to glue it onto. So I'm doing this portion and I cut out a square bigger than my side of my shorts. So the first thing you need to do here is glue down the longest side, the longest straight side, glue your fabric down to that and you are going to use that as a starting point for the rest of your shorts. You want to start with a really nice, clean, straight line though, so I'm going to re-cut that. So a nice, clean, straight line. Take your glue gun and glue this one long portion. So now I'm gluing it along the edge of the shorts, this long edge. The best part about this DIY is that if it's a little off, it's totally okay because it adds personality. So right now I'm gonna glue along this small portion right here as well, so to my pockets. So now we need to go around the pockets. This is probably the trickiest part because it's curved. So what I'd like to do is take your pen and kind of just really lightly just draw a few little markers for yourself so that way you can cut along that. So I'm gonna cut along the line I just drew. And now we're gonna glue down the pocket. Make sure to pad it down on the glue so it really sticks. And little frays are okay. It's gonna add that kind of cool vibe to it, a little fraying. Now we're gonna do this side right here. I'm going to trace it with my pen to make sure I'm cutting in the right place. All right. Now we're on the last and final glue section for this side. So take my scissors and follow along. And again, it doesn't have to be perfect. It's the imperfections that make it really cool. So what do you think? I've done the front part, and now I'm going to do the back pocket. It`s way easier. So again, you are going to repeat the same steps. So cut out an area that's bigger than your pocket and repeat the same steps as before, so you have a nice straight line and you're going to glue that down. Now we're going to cut down the other side of the pocket, using the seam as a guide. This totally jazzes up your shorts especially if you have like an old pair that you don't really like or you don't wear very often, this is an easy way to update them. You can also cut off your shorts or for jeans, make them shorter, that's what I did with these, and I added a little split on the side to make them a little bit more rugged. All right, final step. Gluing down the last section of my pocket. And in just a few minutes, you've instantly jazzed up your old shorts with really festive tribal prints. I hope you guys enjoyed today's DIY. Make sure to come back here for lots more. I'm Allison McNamara and I'll see you next time.