The crop top could be your best friend in sweltering 90-degree heat. Or, it could be your worst enemy . . . That all depends on how you wear it. It's a bit of a balancing act — keeping it classy and not revealing too much. Who better to help show the way than a crew of trendsetters who have already mastered the art of street style? Read on for five ways to style the bold trend right.
The Cool-Girl Crop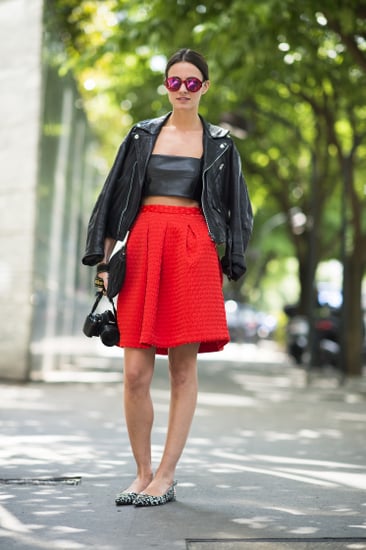 To achieve that cool, eclectic mix employed by the stylish downtown set, it's all about the proportions — not to mention a skilled play on leather and eyelet. Keep the waist on your skirt high to reveal only a sliver of skin. Then, pare down the head-turning effect with girlie flats.
Three ways to wear the crop top now — and one for later — when you read on.
The Daytime-Appropriate Crop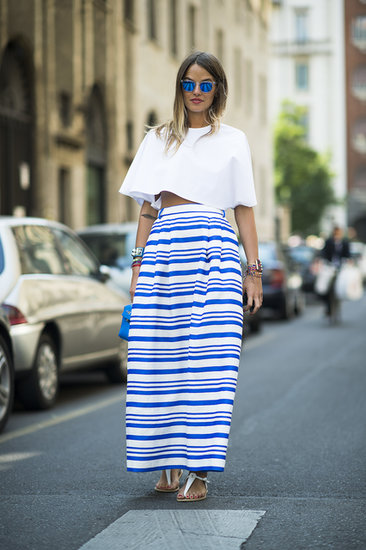 When in doubt, keep your crop top boxy and breezy — the closer it fits to the body, the sexier it'll look. Again, it's a balancing act. She countered a flash of midriff with a high waist and a maxi hemline, plus a pair of flat sandals to make it feel easy — not over-the-top.
The Sophisticated Crop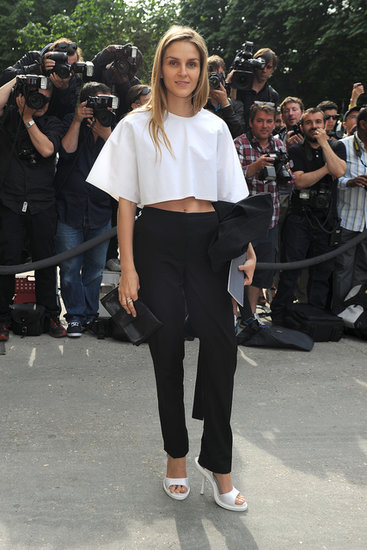 It was the sleek black and white palette that set this one apart. No bells or whistles, save for the on-trend top that revealed just a hint of her tummy. Meanwhile, the rest of her look felt classic, especially her tailored bottoms and an understated clutch. Thus, the effect was polished, not in-your-face.
The Transitional Crop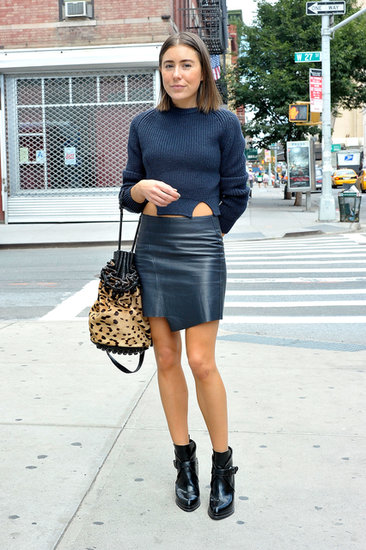 Crop tops can be Fall-appropriate as long as they're finished in the right materials and paired with seasonal accents. Here, it wasn't about revealing a lot. She nodded to the trend with a shorter-knit top, then finished it off with a leather skirt, ankle boots, and a heavier animal-print bucket bag that all hinted at a more Autumn state of mind.
The Layered Crop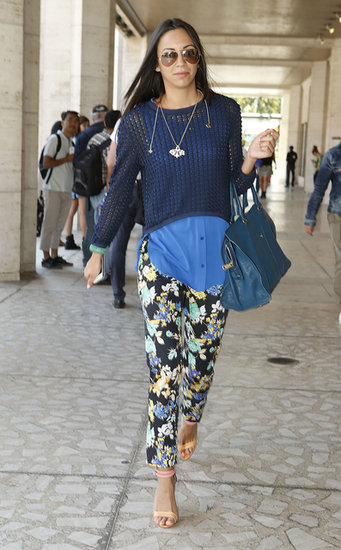 This is your safest bet if you're at all timid about trying the trend. Feel free to layer up a cropped knit or tee over a breezy full-length shirt, like so. It's more covered-up, sure, but just like this bit of street style, the feel is still totally on-trend — and even better, it's a styling trick you can employ year-round.
Inspired? Shop our favorite crop tops below to get started!